Conor McGregor Mentions Khabib Nurmagomedov's Wife, Mother, and Kids After Mocking Death of Retired Fighter's Father
"How bout you go spend some time with your kids and family for a change and keep my name out of your mouth," McGregor also warned after Nurmagomedov called him "evil' for a second time.
---
Nurmagomedov Calls McGregor "Evil"
Retired MMA fighter Khabib Nurmagomedov has addressed the now-deleted tweet Conor McGregor posted last month in which he mocked the passing of Nurmagomedov's father, who died from coronavirus complications last year.
Though the rivalry between the two dates back years, their most recent spat kicked off when Nurmagomedov congratulated Dustin Poirier for winning his trilogy fight against McGregor.
At the time, Nurmagomedov tweeted, "Good always defeats evil." In response, McGregor said, "Covid is good and father is evil?"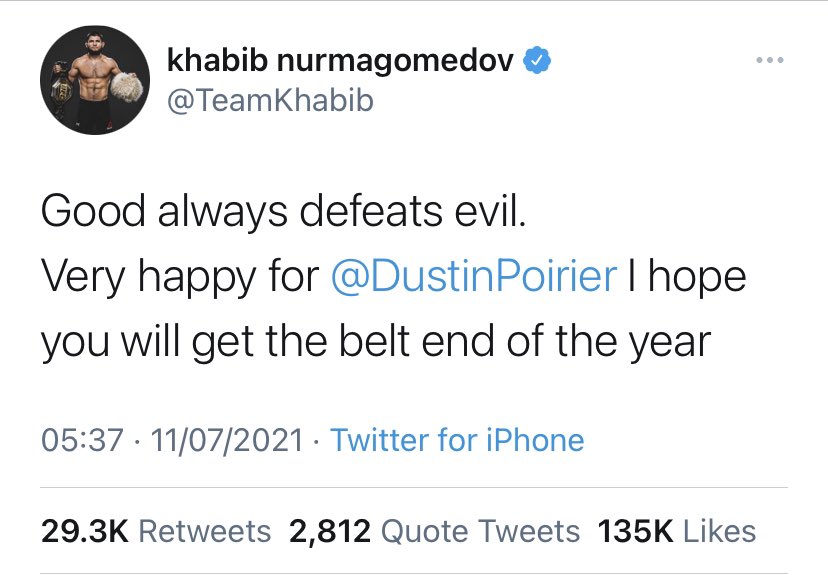 Fellow fighters and fans have since condemned McGregor for crossing the line with his reply. For instance, UFC commentator and former two-weight UFC champion Daniel Cormier, who is a close friend of Nurmagomedov's, said during his ESPN show "DC & RC" that McGregor's post was a "cry for help."
"He is just taking it way too far. When you're dealing with death and Covid and all these other things that we've dealt with over the last year and a half, that's all off-limits," he added.
"Conor has all the money in the world, he has all the fame, but now when you start to dig at that level, it's like somebody needs to get to McGregor and help him to start to kind of re-shift his mind and his focus and get him back to a better place. It's unfortunate."
In a recent interview on the "Hotboxin with Mike Tyson" podcast featuring former UFC star Henry Cejudo, Nurmagomedov was asked about McGregor's remarks.
"Only evil can talk about your father, wife, kids, religion," he said."If you're [a] normal human, you're never going to talk about this stuff."
He also speculated that McGregor may have been intoxicated when he tweeted, noting McGregor often tweets and later deletes his online outbursts.
McGregor Tweets About More of Nurmagomedov's Family Members
After a clip of Nurmagomedov's response began grabbing attention online, McGregor launched a new tweet that again mentioned the former fighter's relatives.
"I wanna eat his children!!!! When's the last time he's even seen them actually? His wife? Mother?" he wrote. "How bout you go spend some time with your kids and family for a change and keep my name out of your mouth before you get trapped somewhere again you mightn't be so lucky next time."
McGregor has since deleted the tweet and is facing renewed backlash for showing little regret about his previous post.
"Emancipation" Producer Apologizes, Hopes He Did Not "Distract" From Film's Message By Bringing Photo of Enslaved Man to Premiere 
He said he plans on donating his collection of historical images to appropriate institutions.
---
McFarland Brings "Whipped Pete" Photo to Premiere 
"Emancipation" producer Joey McFarland apologized on Sunday after facing backlash for bringing the original 1863 photo of the enslaved person the film is based on to the premiere.
"I wholeheartedly apologize to everyone I have offended by bringing a photograph of Peter to the Emancipation premiere," he wrote in a statement on Instagram. "My intent was to honor this remarkable man and to remind the general public that his image not only brought about change in 1863 but still resonates and promotes change today."
The photo, frequently dubbed "Whipped Peter," is one of the most famous images depicting the gruesome realities of slavery in America. He is facing away from the camera, revealing the severe scarring all across his back. According to the Library of Congress, the formerly enslaved man was actually named Gordon. Will Smith plays him in "Emancipation," which follows his escape from slavery.
While walking the red carpet of the film's premiere, McFarland carried the photo with him.
"I have the photo. This is the original photograph from 1863," he told Variety. "I wanted it to be here tonight. I wanted a piece of Peter to be here tonight."
While lamenting the fact that so many historical artifacts have not been properly preserved, McFarland told Variety that he "took it upon [him]self to curate and build a collection for future generations." He said his collection will be donated after he dies. 
His remarks were met with swift criticism from those who thought it was inappropriate for McFarland to not just own the picture, but to bring it to a Hollywood event. 
"Why do you own the photograph? Why did you bring it to a movie premiere if the intent is to preserve it respectfully?" The Black List founder Franklin Leonard tweeted.
"I don't know, man, but bringing 'a piece of Peter' that you 'own' to the red carpet of a movie that's personally enriching you so that you can collect more slave memorabilia that you'll keep until your death," he added along with a giphy of Kenan Thompson saying "yikes."
McFarland Acknowledges Historical Photos "Belong to the World"
Others argued that the photo should belong to Gordon's family.
"Being in possession of a symbol that reflects our trauma is exactly what our oppressor would do. He is his ancestor's child," another person added.
In his apology, McFarland said that he hopes his actions "don't distract from the film's message, Peter's story and just how much impact he had on the world."
Throughout the development of "Emancipation," McFarland said he discovered many photos of overlooked individuals with important historical stories. He said he always planned to donate them and believes "there is no better time to begin that process than now."
"These photographs, which existed before me, will be around long after I am gone; they belong to the world," he wrote.
Joe Rogan Holds Spot As Top Podcaster on Spotify in 2022
Earlier this year, some threatened to boycott the platform over Rogan and the health misinformation he shared on his show. 
---
For the third year in a row, "The Joe Rogan Experience" was the number one podcast on Spotify, the company revealed in its yearly "Wrapped" feature on Wednesday.
"The Joe Rogan Experience" became exclusive to Spotify in 2020 after the host signed a lucrative deal with the audio streaming platform. "Call Her Daddy" by Alex Cooper, also a Spotify exclusive, followed Rogan on the charts. "Anything Goes With Emma Chamberlain," which will become exclusive to the service next year, came in third.
Rogan's podcast has made several headlines over the last year as the podcaster faced backlash from medical professionals and major musicians for touting COVID-19 misinformation. Niel Young asked to have his music removed from Spotify in protest of the company's deal with Rogan, and several other artists soon followed. 
Just a few days later, several clips resurfaced of Rogan using a racial slur. Many called to boycott Spotify for platforming Rogan, but his popularity did not seem to fade by the year's end. 
There are over four million podcasts available to stream on Spotify and over the last year, the platform has expanded into new markets. 
It also has started launching podcasts from several high-profile figures, including Kim Kardashian's "The System," and Meghan Markle's "Archetypes." Both of those debuted mid-year and did not crack the annual top-five list.
Comedian Gives David Beckham Ultimatum: Exit Role at Qatar World Cup Or £10K in Donations Gets Shredded
"Not just the money, but also your status as a gay icon will be shredded," Joe Lycett said in a video.
---
Pressure on Beckham
Comedian Joe Lycett posted a video on Sunday saying he would shred £10,000 if soccer star David Beckham does not pull out of his deal to be an ambassador for the Qatar World Cup. 
Ahead of the event, which kicks off on Nov. 20, many have been raising concerns about human rights abuses in Qatar. The country criminalizes homosexuality, and it can be punishable by death. 
Beckham's deal to represent the country was reportedly worth £10 million, and many are frustrated that the athlete took such a big check from a country with known anti-LGBTQ laws. In his video, Lycett noted that Beckham has been openly supportive of his gay fans and was the first premiere footballer to do a photoshoot with a gay magazine.
In an attempt to get Beckham to bow out of his role, Lycett, who is pansexual, offered an ultimatum.  
"If you end your relationship with Qatar, I'll donate this £10,000 of my own money, that's a grand for every million you're reportedly getting, to charities that support queer people in football," he stated. "However, if you do not, at midday next Sunday, I will throw this money into a shredder."
"Not just the money, but also your status as a gay icon will be shredded."
Beckham's Reputation "Shredded"
Lycett said he would livestream the money shredding if that's what the situation comes to. If Beckham does not back out of the World Cup, Lycett noted he will be forced to "commit what might be a crime," as destroying legal tender is against the law in the U.K.
"Although even then, I reckon I'll get off more lightly than I would if I got caught whacking off a lad in Doha," Lycett quipped.
Lycett then linked to a website titled https://benderslikebeckham.com/, which includes a written version of his message, as well as a countdown to when he will either shred the cash or send it to a non-profit. 
Lycett is not the only U.K star to raise concerns about issues in Qatar. Singer Dua Lipa shut down speculation that she would be performing at the World Cup over the weekend by saying she has no intentions to visit the country until "it has fulfilled all the human rights pledges it made when it won the right to host" the event. 
Other stars, however, including BTS's Jung Kook, are slated to take the stage.