Conor McGregor Mentions Khabib Nurmagomedov's Wife, Mother, and Kids After Mocking Death of Retired Fighter's Father
"How bout you go spend some time with your kids and family for a change and keep my name out of your mouth," McGregor also warned after Nurmagomedov called him "evil' for a second time.
---
Nurmagomedov Calls McGregor "Evil"
Retired MMA fighter Khabib Nurmagomedov has addressed the now-deleted tweet Conor McGregor posted last month in which he mocked the passing of Nurmagomedov's father, who died from coronavirus complications last year.
Though the rivalry between the two dates back years, their most recent spat kicked off when Nurmagomedov congratulated Dustin Poirier for winning his trilogy fight against McGregor.
At the time, Nurmagomedov tweeted, "Good always defeats evil." In response, McGregor said, "Covid is good and father is evil?"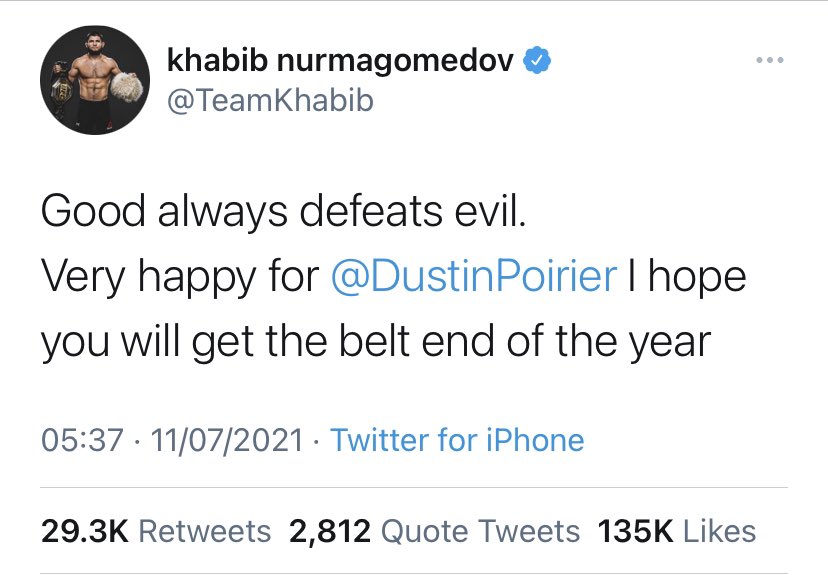 Fellow fighters and fans have since condemned McGregor for crossing the line with his reply. For instance, UFC commentator and former two-weight UFC champion Daniel Cormier, who is a close friend of Nurmagomedov's, said during his ESPN show "DC & RC" that McGregor's post was a "cry for help."
"He is just taking it way too far. When you're dealing with death and Covid and all these other things that we've dealt with over the last year and a half, that's all off-limits," he added.
"Conor has all the money in the world, he has all the fame, but now when you start to dig at that level, it's like somebody needs to get to McGregor and help him to start to kind of re-shift his mind and his focus and get him back to a better place. It's unfortunate."
In a recent interview on the "Hotboxin with Mike Tyson" podcast featuring former UFC star Henry Cejudo, Nurmagomedov was asked about McGregor's remarks.
"Only evil can talk about your father, wife, kids, religion," he said."If you're [a] normal human, you're never going to talk about this stuff."
He also speculated that McGregor may have been intoxicated when he tweeted, noting McGregor often tweets and later deletes his online outbursts.
McGregor Tweets About More of Nurmagomedov's Family Members
After a clip of Nurmagomedov's response began grabbing attention online, McGregor launched a new tweet that again mentioned the former fighter's relatives.
"I wanna eat his children!!!! When's the last time he's even seen them actually? His wife? Mother?" he wrote. "How bout you go spend some time with your kids and family for a change and keep my name out of your mouth before you get trapped somewhere again you mightn't be so lucky next time."
McGregor has since deleted the tweet and is facing renewed backlash for showing little regret about his previous post.
Chris Pratt Denies Association With Hillsong Church: "I've Never Actually Been"
The church has been accused of having anti-LGBTQ ties, something Pratt has taken a hit for.
---
Pratt Addresses Hillsong Controversy
After several years of facing criticism for his alleged ties to the controversial Hillsong Church, actor Chris Pratt said he has "never actually been" to the church and is "not a religious person."
The Hillsong Church has been condemned for being anti-LGBTQ. The issue received increased attention in 2019 when actor Elliot Page tweeted, "If you are a famous actor and you belong to an organization that hates a certain group of people, don't be surprised if someone simply wonders why it's not addressed."
"Being anti LGBTQ is wrong, there aren't two sides," he continued.
At the time, Pratt responded to the allegations by saying that "nothing could be further from the truth" and that he believes "everyone is entitled to love who they want." He doubled down on his denial in a profile published Tuesday in Men's Health.
"I never went to Hillsong. I've never actually been to Hillsong," he told the outlet. "I don't know anyone from that church."
Instead, Pratt said he attends Zoe Church in Los Angeles, though not exclusively. According to Men's Health, Zoe Church is not without its issues. The church was founded by a pastor who produced a film that equated "sexual brokeness" to "same-sex attraction." Other outlets have also described it as a Hillsong affiliate.
Pratt faced his biggest wave of backlash in 2020 when Internet memes declared him the "worst" Chris compared to other actors with the same first name, including Chris Evans, Chris Hemsworth, and Chris Pine. A slew of celebrities quickly came to Pratt's defense, arguing the criticism was unjustifiably mean. Their speedy responses only heightened the online conversation and many of the celebrities who spoke out were eventually mocked for doing so.
Pratt Says He is Not Religious
As for why the Internet has become increasingly anti-Pratt, his alleged association to Hillsong was a major factor. Some also speculated he was a supporter of Donald Trump as he did not join his "Avengers" co-stars for a Joe Biden fundraiser, though Pratt is not usually politically outspoken in either direction.
Pratt believes the backlash against him started when he gave a speech at the MTV Movie Awards in 2018 where he said, "God is real. God loves you. God wants the best for you." He understands why those remarks may have rubbed people the wrong way.
"Maybe it was hubris. For me to stand up on the stage and say the things that I said, I'm not sure I touched anybody," he told Men's Health. "Religion has been oppressive as fuck for a long time. I didn't know that I would kind of become the face of religion when really I'm not a religious person."
He went on to explain that in his eyes, there is a difference between adhering to certain customs and believing in God versus using God to control and harm people and justify hatred.
"The evil that's in the heart of every single man has glommed on to the back of religion and come along for the ride," he said.
Jodie Sweetin Releases Statement After Getting Pushed By Officers at Pro-Choice Protest: "This Will Not Deter Us"
"Love everyone out there in the streets fighting for what's right," she wrote on Instagram.
---
Actress Pushed at Protest
After viral footage showed Jodie Sweetin getting pushed to the ground by officers with the Los Angeles Police Department while attending a pro-choice protest, the "Full House" actress said demonstraters "will continue fighting" for their rights.
Sweetin was attending a protest off the 101 freeway on Saturday following the Supreme Court's decision to overturn Roe v. Wade.
Photojournalist Mike Ade, who captured the video, said the actress was "trying to lead a group of peaceful protestors away from the freeway" when officers pushed her. Sweetin was standing on a curb when she was pushed and fell down on the cement road. Ade wrote that she was "fortunately…okay."
Ade shared a handful of other videos depicting officers using similar tactics on other protesters. As these videos started circulating online, many became outraged by the LAPD's response to the protests.
Sweetin Addresses Incident
Following the incident, Sweetin released a statement where she said the fight against the court's decision is not over.
"I'm extremely proud of the hundreds of people who showed up yesterday to exercise their First Amendment rights and take immediate action to peacefully protest the giant injustices that have been delivered from our Supreme Court," Sweetin said. "Our activism will continue until our voices are heard and action is taken. This will not deter us, we will continue fighting for our rights. We are not free until ALL of us are free."
Sweetin also shared footage of the incident and other clips of officers clashing with protesters on her Instagram story. She cheered protesters in a comment on a video of the push shared by a social justice group called The Progressivists.
"Love everyone out there in the streets fighting for what's right," she wrote.
According to a statement obtained by Deadline, the LAPD is looking into the matter.
"The LAPD is aware of a video clip of a woman being pushed to the ground by officers not allowing the group to enter on foot and overtake the 101 freeway," the statement said. "The force used will be evaluated against the LAPD's policy and procedure."
Dave Chappelle Decides Against Having Former High School's Theater Named After Him
"The idea that my name will be turned into an instrument of someone else's perceived oppression is untenable to me," the comedian reportedly said.
---
Theater Named Announced
Comedian Dave Chappelle opted on Monday to not have the theater at his alma mater high school named after him, according to a report from The Washington Post.
The Duke Ellington School of the Arts in Washington D.C. previously planned to name its theater in honor of Chappelle, as he is a distinct alum and donor. While Chappelle formerly said such a gesture would be "the most significant honor of [his] life," he announced during Monday's naming ceremony that it would bear a different title.
The school's theater will instead be called the Theater for Artistic Freedom and Expression.
A naming ceremony was initially set to take place in November, but was postponed after the comedian began facing backlash for transphobic jokes in his Netflix special "The Closer."
Among other things, he said he was "Team TERF," which stands for trans-exclusionary radical feminist. He also made a joke about Caitlyn Jenner and remarks comparing the genitalia of transgender women to Beyond and Impossible meat.
The jokes embroiled Chappelle in controversy, and reports claimed that some students at Duke Ellington took issue with the comments. When Chappelle ended up visiting the school amid the scandal, Politico reported that one student told the comedian, "I'm 16 and I think you're childish, you handled it like a child."
Chappelle Defends Controversial Special
According to The Post, Chappelle said the criticism against him "sincerely" hurt, but added that "the Ellington Family is my family." He claimed he did not want the theater being named after him to distract students. 
"The idea that my name will be turned into an instrument of someone else's perceived oppression is untenable to me," he said according to Josh Rogin, a columnist for the outlet.
Rogin also tweeted that Chappelle took time out of the ceremony to slam the criticisms levied against him, accusing upset students of promoting someone else's agenda.
"These kids didn't understand that they were instruments of oppression," he reportedly said.
"You cannot report on an artist's work and remove artistic nuance," Chappelle continued while denouncing the press coverage of his Netflix special.
According to David Frum, a staff writer for The Atlantic who attended the ceremony, Chappelle suggested he was open to potentially adding his name to the theater at a later date when the community is ready.