Conor McGregor Mentions Khabib Nurmagomedov's Wife, Mother, and Kids After Mocking Death of Retired Fighter's Father
"How bout you go spend some time with your kids and family for a change and keep my name out of your mouth," McGregor also warned after Nurmagomedov called him "evil' for a second time.
---
Nurmagomedov Calls McGregor "Evil"
Retired MMA fighter Khabib Nurmagomedov has addressed the now-deleted tweet Conor McGregor posted last month in which he mocked the passing of Nurmagomedov's father, who died from coronavirus complications last year.
Though the rivalry between the two dates back years, their most recent spat kicked off when Nurmagomedov congratulated Dustin Poirier for winning his trilogy fight against McGregor.
At the time, Nurmagomedov tweeted, "Good always defeats evil." In response, McGregor said, "Covid is good and father is evil?"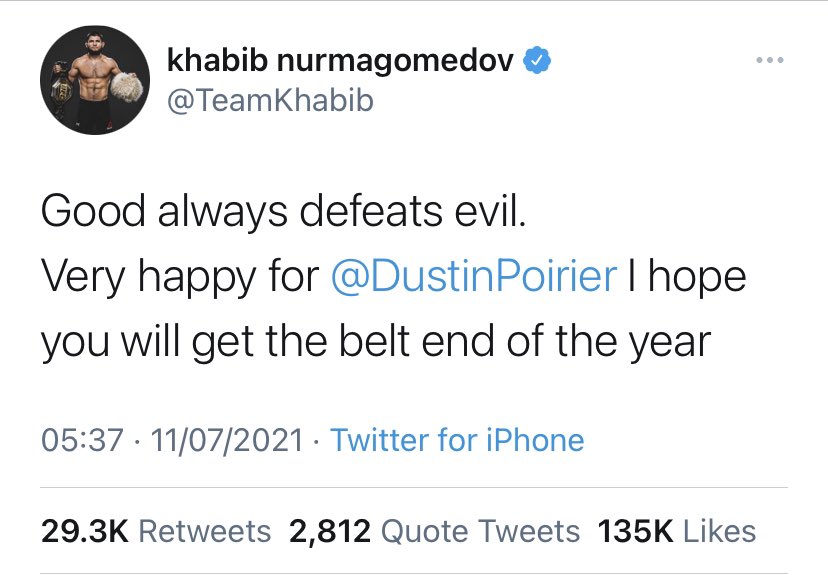 Fellow fighters and fans have since condemned McGregor for crossing the line with his reply. For instance, UFC commentator and former two-weight UFC champion Daniel Cormier, who is a close friend of Nurmagomedov's, said during his ESPN show "DC & RC" that McGregor's post was a "cry for help."
"He is just taking it way too far. When you're dealing with death and Covid and all these other things that we've dealt with over the last year and a half, that's all off-limits," he added.
"Conor has all the money in the world, he has all the fame, but now when you start to dig at that level, it's like somebody needs to get to McGregor and help him to start to kind of re-shift his mind and his focus and get him back to a better place. It's unfortunate."
In a recent interview on the "Hotboxin with Mike Tyson" podcast featuring former UFC star Henry Cejudo, Nurmagomedov was asked about McGregor's remarks.
"Only evil can talk about your father, wife, kids, religion," he said."If you're [a] normal human, you're never going to talk about this stuff."
He also speculated that McGregor may have been intoxicated when he tweeted, noting McGregor often tweets and later deletes his online outbursts.
McGregor Tweets About More of Nurmagomedov's Family Members
After a clip of Nurmagomedov's response began grabbing attention online, McGregor launched a new tweet that again mentioned the former fighter's relatives.
"I wanna eat his children!!!! When's the last time he's even seen them actually? His wife? Mother?" he wrote. "How bout you go spend some time with your kids and family for a change and keep my name out of your mouth before you get trapped somewhere again you mightn't be so lucky next time."
McGregor has since deleted the tweet and is facing renewed backlash for showing little regret about his previous post.
Woman Who Accused Nicki Minaj's Husband of Rape Details the Couple's Alleged Efforts to Silence Her
In her first televised interview, Jennifer Hough opened up about the alleged 1994 rape, saying she's "tired of being afraid."
---
Jennifer Hough's Accusations Against Nicki Minaj and Kenneth Petty
A woman who is suing rapper Nicki Minaj and her husband Kenneth Petty for allegedly pressuring her to recant claims that Petty raped her in 1994 spoke out about her case Wednesday on "The Real."
Jennifer Hough said she and Petty were both 16 at the time of the alleged rape. She claims she was walking to school when Petty led her into a home at knifepoint before assaulting her. He was charged with first-degree rape and eventually pleaded guilty to attempted rape. According to The New York Times, he spent four and a half years in prison.
In August, she filed a lawsuit claiming that after Petty failed to register as a sex offender last year, Minaj and Petty began repeatedly harassing and intimidating her into taking back her claim. Hough said that Minaj personally called her and offered to fly her to LA to talk, but Hough declined, trying to explain to Minaj that the assault really happened.
Hough also said that both she and members of her family have been subject to calls and unsolicited visits from people she believes are associated with the couple. In some cases, those people allegedly offered hefty financial rewards if she recanted the rape claim. Hough said that at one point, an intermediary even had a prepared statement recanting the accusation and said she would receive $20,000 upon signing it.
According to The Times, which viewed the lawsuit, Hough "has not worked since May of 2020 due to severe depression, paranoia, constant moving, harassment and threats from the defendants and their associates. She is currently living in isolation out of fear of retaliation."
Hough Speaks Out
Now, she is speaking out against the couple and the intimidation she has allegedly endured as a result of their actions.
"I'm tired of being afraid," Hough said on "The Real." "I feel like the actions that were taken in regards to this whole situation have put me in a different type of fear, at my age now, and it was wrong. And I don't want to be afraid anymore."
Hough went on to describe the alleged rape in detail, oftentimes getting emotional when recalling that day. When asked if the four and a half years Petty spent behind bars felt like "justice," she said she had never thought about her case that way because she had spent so many years blaming herself.
"I just knew he did what he did and he went to jail and I had to leave my family," she continued. "I had to leave my home. And I had to move away. So, yeah, I never really gave it much thought."
Minaj has largely defended her husband, whom she married in 2019. She previously wrote on Instagram that Petty was 15 and in a relationship with Hough at the time of the alleged rape. Hough said Minaj's statement was not true and forced her to relive her trauma.
"I just felt woman to woman, that was wrong of her because I don't know you," Hough added. "And you don't know me to know that that statement you put out to the world to be true. You have 150-something million followers. They all believed it."
Why Hough Is Telling Her Story
Hough said the alleged harassment from Minaj and Petty has added another level of stress to her life. She claimed she has been threatened for turning down their offers and standing her ground on her story.
"The last incident was when one of their associates put $20,000 on my lap and I still kept saying 'no,'" she said. "The last message I received was that I should have taken that money because they're going to take that money to put on my head."
Hough said she is speaking out to let others know that this form of intimidation is wrong.
"What they did to me and my family wasn't okay and it wasn't right," Hough said. "And it doesn't matter how much money you have. It doesn't matter what your status is. You can't intimidate people to make things go better for you."
"I want my daughters to know that as they grow, as they experience life as they come in contact with friends, family, strangers whatever, that they'll have the strength to know that they have a voice, and they should use it. And don't ever let anybody try to silence them."
Disney Says Talent Deals Must Change Amid Pandemic as It Battles Scarlett Johansson Lawsuit
CEO Bob Chapek said talent is Disney's "most important asset" and claimed the company is undergoing a "reset" regarding its contracts.
---
Bob Chapek Says Talent Contracts Are Going Through a Reset
Disney CEO Bob Chapek said Tuesday that going forward, talent contracts at the studio "will have to reflect the fact that the world is changing."
His remarks come as Disney battles a lawsuit from actress Scarlett Johansson alleging breach of contract for her work on "Black Widow." While making his claims at a virtual Goldman Sachs conference, Chapek did not mention Johansson by name, but he did directly address the issues Hollywood is facing when it comes to compensating talent amid the pandemic.
As COVID-19 halted filmgoing, many movies expected to be box office hits were instead released directly to streaming, while others were released in theaters and on streaming platforms the same day. These models are drastically different from the exclusive theatrical release that films and the stars in them have come to expect over the last several decades.
"We're sort of putting a square peg in a round hole right now where we've got a deal conceived under a certain set of conditions, that actually results in a movie that is being released in a completely different set of conditions," Chapek said during the conference via numerous reports. "So there's a bit of a reset that's going on right now, and ultimately we'll think about that as we do our future talent deals and plan for that and make sure that that's incorporated."
"But right now, we've got sort of this middle position where we're trying to do right by the talent," he added. "I think the talent's trying to do right by us, and we're just sort of figuring out our way to bridge the gap."
Chapek also referred to talent as Disney's "most important asset" and said that historically, the company has had a "very symbiotic" relationship with its talent regarding the deals they strike together.
Scarlett Johansson Vs. Disney
That symbiotic relationship is now being put to the test by Johanssen, who hit Disney with a lawsuit in July over its decision to release her "Black Widow" standalone picture for a premium fee on Disney+ the same day it hit the big screen. The actress claims that her contract guaranteed an exclusive theatrical release for the film and that her salary was largely based on what it grossed at the box office. Because viewers had the option to purchase it for streaming at home, she claims she did not see "the full benefit" of her deal.
Disney claimed the lawsuit had no merit. It also released a scathing statement saying that Johansson's legal effort showed a "callous disregard" for the harmful and prolonged effects of COVID-19, especially since she allegedly received $20 million upfront for "Black Widow."
Disney is hoping to solve the matter via private arbitration. Johannson's legal team wants to take the dispute to court.
So far, "Black Widow" has raked in $377 million worldwide. It broke pandemic box office records during its opening weekend but still has not made nearly as much as it likely would have prior to the pandemic.
As for whether or not the dual release strategy actually tanked the film's earnings, that is hard to say. By comparison though, Marvel's "Shang-Chi," which was released exclusively in theaters, is already set to catch up to "Black Widow" at the box office. The film has been out for just under a month and has already made $306 million worldwide. 
While many expected to see other A-list actors follow Johannson's lead and likewise file lawsuits against studios who threw their titles on streaming, so far Disney has had seemingly no issue striking more deals with its talent. In the past several months, it has locked in sequels with stars like Emma Stone, Dwayne "The Rock" Johnson, and Emily Blunt.
Alissa Violet Sues FaZe Clan Over Stock It Allegedly Owes Her
The social media star says she was promised stock in FaZe Clan as part of a previous settlement but has yet to receive her shares.
---
Alissa Violet Sues FaZe Clan
Social media influencer Alissa Marie Violet Butler, known online as Alissa Violet, is suing digital entertainment and esports collective FaZe Clan over stock she is allegedly owed.
According to a Monday report from The Washington Post, Butler's case stems from a previous lawsuit that involved both her and FaZe Clan. The report says that in 2018, Butler transferred her shares in a media company she co-founded called Clout Gang to a different company called Hubrick Limited as part of an agreement with FaZe Clan. At the time, Hubrick and FaZe Clan were partnering to develop both businesses.
Per The Post, several other FaZe Clan members were part of a similar exchange where they transferred their FaZe Clan shares for Hubrick shares as well. The partnership between the two companies crumbled, however, leading to a legal frenzy. Butler, FaZe Clan, Clout Gang, and more ended up accusing Hubrick of fraud in a lawsuit. Hubrick tossed the allegation right back at them in a countersuit.
To resolve the matters, The Post says Butler and FaZe Clan "entered into an oral agreement to settle the lawsuits with Hubrick," which involved Butler giving up her Hubrick stock and dropping her claims against the company. In return, she would then receive FaZe Clan common stock.
Butler says that despite holding up her end of the bargain, she has still not received stock in FaZe Clan.
Responses to Lawsuit
Butler has over 10 million followers on Instagram and another 3.7 million subscribers on YouTube. She has had a career in modeling and picked up a handful of acting credits in television shows and music videos. She previously dated the co-owner of FaZe Clan, FaZe Banks.
According to The Post, FaZe Clan is valued at around $300 million.
"If Faze Clan simply abided by its promise to compensate her, Alissa would not have had to sue Faze Clan," Butler's attorney, Bryan Freedman, said to The Post.
FaZe Clan defended itself in a statement to the outlet, saying it "denies generally and specifically each and every allegation contained in the Complaint."
FaZe Clan CEO Lee Trink also sent an email to The Post claiming that the matter will likely be resolved.
"Stories get created out of any disagreement or dispute, big or small," he wrote. "On this particular matter we're in close communication and confident it'll be resolved amicably."
It is unclear how much Butler is seeking in her suit.