South Korean Lawmakers Demand Tokyo Olympics Boycott Over Inclusion of Disputed Islets in Official Japanese Map
The islets have long been a diplomatic sticking point between the two countries, with each seeing the islands represented as the territory of the other in maps as extremely provocative.
---
Boycott Calls
South Korean lawmakers asked their country on Wednesday to boycott the Tokyo Summer Olympics after Japan released a map that shows the disputed Dokdo islets as Japanese territory.
In a Facebook post on Thursday, former South Korean Prime Minister Lee Nak-Yon said "Japan's Olympic organizing committee is marking Dokdo as Japanese territory, and dismissing Korea's demands to correct it."
"The Olympic Charter states it pursues political neutrality, and Japan's act is against the Olympic spirit that pursues harmony. I also urge the International Olympic Committee (IOC) to take prompt and stern action against Japan's move."
"If Japan continues to refuse (to correct), the Korean government should take all possible measures, including a boycott of the Games," Lee added.
His inclusion among the politicians demanding a change to the map is notable as he's the man who will likely take President Moon Jae-In's position in the Democratic Party and be a front runner for next year's presidential election. Foreign Minister Chung Eui-Yong said on Friday that the country will deal with the matter "as strongly as possible," adding, "We will not tolerate (Japan's) wrongful actions relating to Dokdo."
History of Tensions
The inclusion of Dokdo as Japanese territory was only noticeable if one zoomed in on the map since the marking was no more than a small dot. That may be fitting, as the islets are little more than largely inhospitable rocks in the middle of the ocean.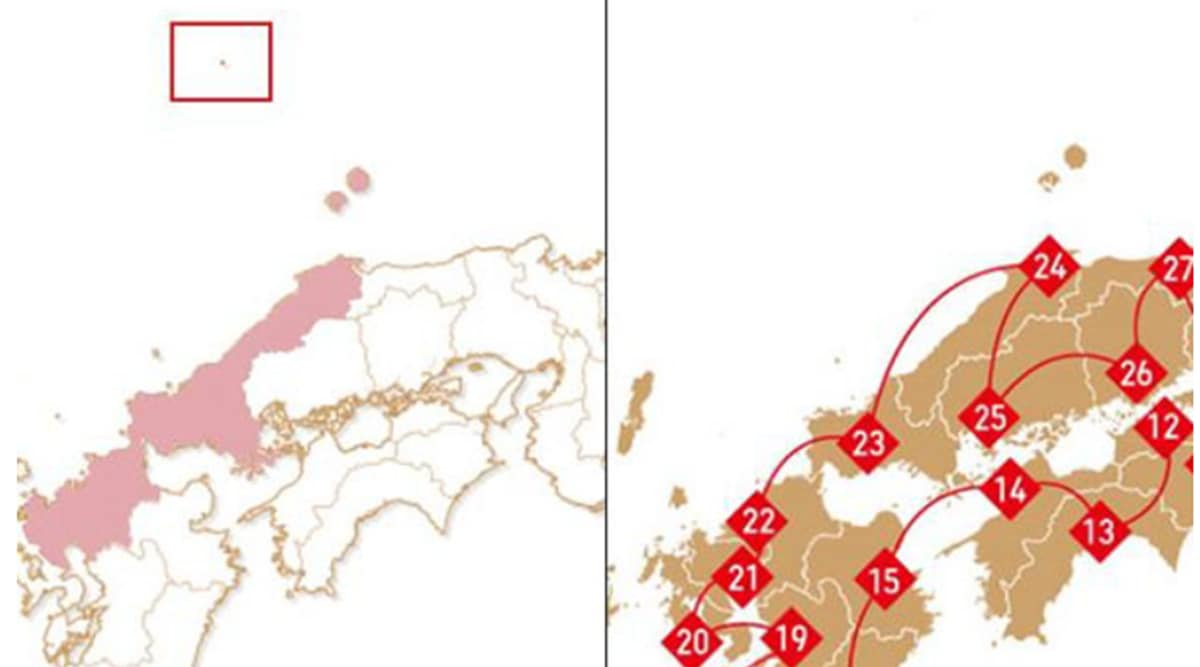 Japan has refused to change the map, saying that it was only meant to show the route of the Olympic torch and the inclusion of Takeshima — the Japanese name for the islets — wasn't meant to be political. That stance hasn't stopped other prominent South Korean politicians from asking that a boycott take place unless the map is changed. Another former Prime Minister, Chung Sye-Kyun, also urged the government to consider a boycott pending changes to the map.
The Korean Sport and Olympic Committee issued a formal complaint about the map to the Japanese Olympic Committee, although it's not expected to get a response.
For Koreans, Dokdo is a political lightning rod. It's just one of many political squabbles the country has with Japan, almost all of which stem from its annexation into the Empire of Japan in the early 20th century.
That 40 year period was marked by widespread abuses, including the forcing of women into sexual slavery. Japan has largely refused to acknowledge or apologize for its actions during that period, and its claims to Dokdo stem from its Korean annexation. For many Koreans, that makes the entire affair a stark reminder of Japan's brutal occupation.
95-Year-Old Woman Dies After Police Tases Her in Nursing Home
The officer involved was suspended with pay and charged with assault.
---
A 95-year-old Australian woman whom police tasered in a nursing home last week has reportedly died from her injuries.
Clare Nowland, who had dementia and required a walking frame to stand up and move, was living at the Yallambee Lodge in Cooma in southeastern Australia.
At about 4:15 a.m. on May 17, police and paramedics responded to a report of a woman standing outside her room with a steak knife.
They encountered Nowland, then reportedly tried to negotiate with her for several minutes, but she didn't drop the knife.
The five-foot-two, 95-pound woman walked toward the two officers "at a slow pace," police said at a news conference, so one of them tasered her.
She fell to the floor and reportedly suffered a fractured skull and a severe brain bleed, causing her to be hospitalized in critical condition.
Nowland passed away in a hospital surrounded by her family, the New South Wales police confirmed in a statement today.
After a week-long investigation, the police force also said that the senior constable involved would appear in court next week to face charges of recklessly causing grievous bodily harm, assault occasioning actual bodily harm, and common assault.
NSW police procedure states that tasers should not be used against elderly or disabled people absent exceptional circumstances.
Following the incident, community members, activists, and disability rights advocates expressed bewilderment and anger at what they called an unnecessary use of force, and some are now questioning why law enforcement took so long to prosecute the officer involved.
U.K. Police Face Backlash After Arresting Anti-Monarchy Protesters
London Mayor Sadiq Khan said that some of the arrests "raise questions" and "investigations are ongoing."
---
The Public Order Act
A controversial protest crackdown law in the U.K. is facing criticism after dozens of anti-monarchy protesters were arrested during the coronation ceremony in London over the weekend.
The law, dubbed the "Public Order Act" was passed roughly a week ahead of the coronation for King Charles III. It gives police more power to restrict protesters and limits the tactics protesters can use in public spaces. It was condemned by human rights groups upon its passing, and is facing a new round of heat after 52 people were arrested over coronation protests on Saturday.
In a statement, the Metropolitan Police said protesters were arrested for public order offenses, breach of the peace and conspiracy to cause a public nuisance. The group said it gave advance warning that its "tolerance for any disruption, whether through protest or otherwise, will be low and that we would deal robustly with anyone intent on undermining the celebration."
It is currently unclear how many of those arrested were detained specifically for violating the Public Order Act, however, some of those arrested believe the new law was used against them.
"Make no mistake. There is no longer a right to peaceful protest in the UK," Graham Smith, the CEO of anti-monarchy group Republic tweeted after getting arrested. "I have been told many times the monarch is there to defend our freedoms. Now our freedoms are under attack in his name."
An Attempt to "Diminish" Protests
During a BBC Radio interview, Smith also said he believes the dozens of arrests were premeditated.
"There was nothing that we did do that could possibly justify even being detained and arrested and held," Smith claimed.
"The whole thing was a deliberate attempt to disrupt and diminish our protest."
Yasmine Ahmed, the U.K. Director of Human Rights Watch, also tweeted that the arrests were "disgraceful."
"These are scenes you'd expect to see in Russia not the UK," she wrote.
When asked about the controversy, Prime Minister Rishi Sunak told reporters officers should do "what they think is best" in an apparent show of support for the Metropolitan Police.
For his part, London Mayor Sadiq Khan said he is looking into the matter.
"Some of the arrests made by police as part of the Coronation event raise questions and whilst investigations are ongoing, I've sought urgent clarity from Met leaders on the action taken," Khan tweeted.
Foreign Nationals Make Mad Dash out of Sudan as Conflict Rages
The conflict's death toll has surpassed 420, with nearly 4,000 people wounded.
---
As the 10-day-long power struggle between rival generals tore Sudan apart, foreign governments with citizens in the country scrambled to evacuate them over the weekend.
On Sunday, U.S. special forces landed in the capital Khartoum and carried out nearly 100 American diplomats along with their families and some foreign nationals on helicopters.
An estimated 16,000 Americans, however, remain in the country and U.S. officials said in a statement that a broader evacuation mission would be too dangerous.
Christopher Maier, the assistant secretary of defense for special operations and low-intensity warfare, said in a statement that the Pentagon may assist U.S. citizens find safe routes out of Sudan.
"[The Defense Department] is at present considering actions that may include use of intelligence, surveillance and reconnaissance capabilities to be able to observe routes and detect threats," he said.
Germany and France also reportedly pulled around 700 people out of the country.
More countries followed with similar efforts, including the United Kingdom, Italy, Spain, the Netherlands, Canada, China, Saudi Arabia, Lebanon, and Indonesia.
Yesterday, a convoy carrying some 700 United Nations, NGO, and embassy staff drove to Port Sudan, a popular extraction point now that the airport in Khartoum has closed due to fighting.
Reports of gunmen prowling the capital streets and robbing people trying to escape, as well as looters breaking into abandoned homes and shops, have persuaded most residents to stay indoors.
Heavy gunfire, airstrikes, and artillery shelling have terrorized the city despite several proposed ceasefires.
Over the weekend, the reported death toll topped 420, with nearly 4,000 people injured, though both numbers are likely to be undercounted.