South Korean Lawmakers Demand Tokyo Olympics Boycott Over Inclusion of Disputed Islets in Official Japanese Map
The islets have long been a diplomatic sticking point between the two countries, with each seeing the islands represented as the territory of the other in maps as extremely provocative.
---
Boycott Calls
South Korean lawmakers asked their country on Wednesday to boycott the Tokyo Summer Olympics after Japan released a map that shows the disputed Dokdo islets as Japanese territory.
In a Facebook post on Thursday, former South Korean Prime Minister Lee Nak-Yon said "Japan's Olympic organizing committee is marking Dokdo as Japanese territory, and dismissing Korea's demands to correct it."
"The Olympic Charter states it pursues political neutrality, and Japan's act is against the Olympic spirit that pursues harmony. I also urge the International Olympic Committee (IOC) to take prompt and stern action against Japan's move."
"If Japan continues to refuse (to correct), the Korean government should take all possible measures, including a boycott of the Games," Lee added.
His inclusion among the politicians demanding a change to the map is notable as he's the man who will likely take President Moon Jae-In's position in the Democratic Party and be a front runner for next year's presidential election. Foreign Minister Chung Eui-Yong said on Friday that the country will deal with the matter "as strongly as possible," adding, "We will not tolerate (Japan's) wrongful actions relating to Dokdo."
History of Tensions
The inclusion of Dokdo as Japanese territory was only noticeable if one zoomed in on the map since the marking was no more than a small dot. That may be fitting, as the islets are little more than largely inhospitable rocks in the middle of the ocean.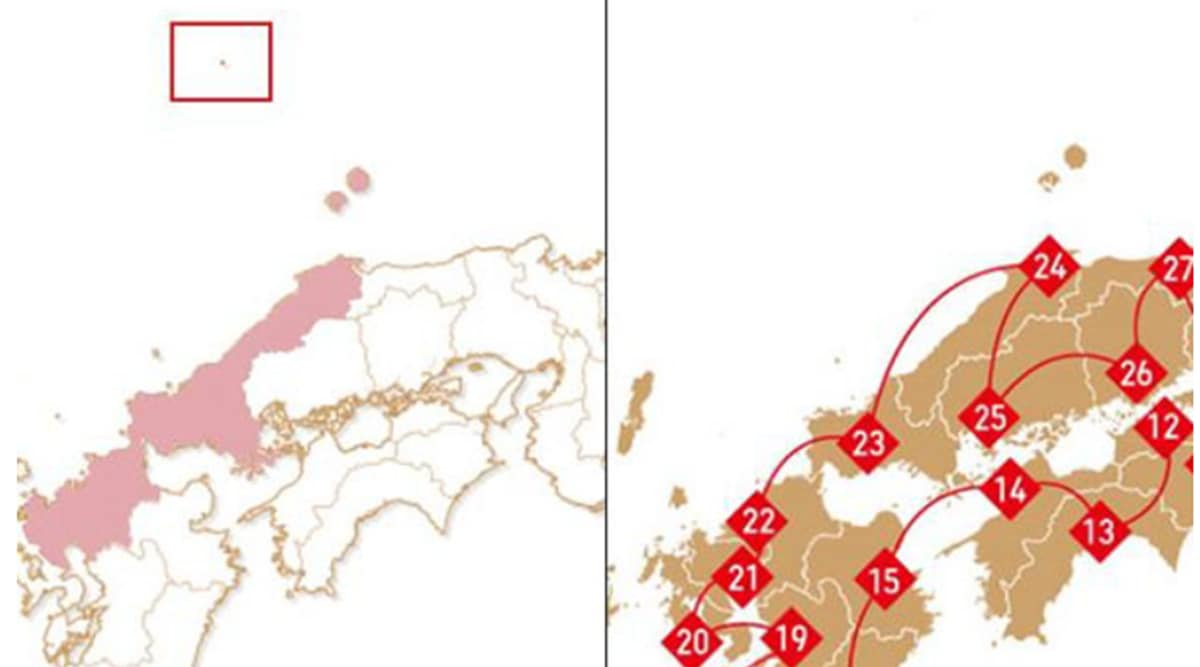 Japan has refused to change the map, saying that it was only meant to show the route of the Olympic torch and the inclusion of Takeshima — the Japanese name for the islets — wasn't meant to be political. That stance hasn't stopped other prominent South Korean politicians from asking that a boycott take place unless the map is changed. Another former Prime Minister, Chung Sye-Kyun, also urged the government to consider a boycott pending changes to the map.
The Korean Sport and Olympic Committee issued a formal complaint about the map to the Japanese Olympic Committee, although it's not expected to get a response.
For Koreans, Dokdo is a political lightning rod. It's just one of many political squabbles the country has with Japan, almost all of which stem from its annexation into the Empire of Japan in the early 20th century.
That 40 year period was marked by widespread abuses, including the forcing of women into sexual slavery. Japan has largely refused to acknowledge or apologize for its actions during that period, and its claims to Dokdo stem from its Korean annexation. For many Koreans, that makes the entire affair a stark reminder of Japan's brutal occupation.
Flight Deporting Refugees From U.K. to Rwanda Canceled at Last Hour
The United Nations High Commissioner for Human Rights said the U.K.'s asylum policy sets a "catastrophic" precedent.
---
Saved By The Bell
The inaugural flight in the U.K. government's plan to deport some asylum seekers to Rwanda was canceled about an hour and a half before it was supposed to take off Tuesday evening.
A last-minute legal intervention by the European Court of Human Rights (ECHR) halted the flight. Tuesday's flight originally included 37 people, but after a string of legal challenges that number dwindled to just seven.
In its ruling for one of the seven passengers, a 54-year-old Iraqi man, the court said he cannot be deported until three weeks after the delivery of the final domestic decision in his ongoing judicial review proceedings.
Another asylum seeker, a 26-year-old Albanian man, told The Guardian he was in a "very bad mental state" and did not want to go to Rwanda, a country he knows nothing about.
"I was exploited by traffickers in Albania for six months," he said. "They trafficked me to France. I did not know which country I was being taken to."
A final domestic effort to block the flight in the Court of Appeals failed on Monday. The High Court will make a ruling on the asylum policy next month.
Britains Divided by Controversial Policy
U.K. Home Secretary Priti Patel spoke to lawmakers after the flight was canceled, defending the asylum policy and saying preparations for the next flight will begin immediately.
"We cannot keep on spending nearly £5 million a day on accommodation including that of hotels," she said. "We cannot accept this intolerable pressure on public services and local communities."
"It makes us less safe as a nation because those who come here illegally do not have the regularized checks or even the regularized status, and because evil people-smuggling gangs use the proceeds of their ill-gotten gains to fund other appalling crimes that undermine the security of our country," she continued.
The United Nations High Commissioner for Human Rights, Filippo Grandi, told CBC the policy sets a "catastrophic" precedent.
"We believe that this is all wrong," he said. "This is all wrong. I mean, saving people from dangerous journeys is great, is absolutely great. But is that the right way to do it? Is that the right, is that the real motivation for this deal to happen? I don't think so. I think it's… I don't know what it is."
An Iranian asylum seeker in a British detention center who was told to prepare for deportation before being granted a late reprieve was asked by ABC whether he ever thought the U.K. would send him to Africa.
"I thought in the U.K. there were human rights," he said. "But so far I haven't seen any evidence."
The Conservative government's plan was announced in April, when it said it would resettle some asylum seekers 4,000 miles away in Rwanda, where they can seek permanent refugee status, apply to settle there on other grounds, or seek asylum in a safe third country.
The scheme was meant to deter migrants from illegally smuggling themselves into the country by boat or truck.
Migrants have long made the dangerous journey from Northern France across the English Channel, with over 28,000 entering the U.K. in boats last year, up from around 8,500 the year prior. Dozens of people have died making the trek, including 27 who drowned last November when a single boat capsized.
Ryanair Draws Outrage, Accusations of Racism After Making South Africans Take Test in Afrikaans
Afrikaans, which is only spoken as a first language by around 13% of South Africa, has not been the country's national language since apartheid came to an end in 1994.
---
Airline Won't Explain Discrimination
Ryanair, Europe's largest airline, has received widespread criticism and accusations of racism after it began requiring South African nationals to complete a test in Afrikaans to prove their passport isn't fraudulent.
The airline told BBC the new policy was implemented because of "substantially increased cases of fraudulent South African passports being used to enter the U.K."
Among other questions, the test asks passengers to name South Africa's president, its capital city, and one national public holiday.
Ryanair has not said why it chose Afrikaans, the Dutch colonial language that many associate with white minority rule, for the test.
There are 11 official languages in South Africa, and Afrikaans ranks third for usage below Zulu and IsiXhosa. Only around 13% of South Africans speak Afrikaans as their first language.
"They're using this in a manner that is utterly absurd," Conrad Steenkamp, CEO of the Afrikaans Language Council, told reporters. "Afrikaans, you have roughly 20% of the population of South Africa understand Afrikaans. But the rest don't, so you're sitting with roughly 50 million people who do not understand Afrikaans."
"Ryanair should be careful," he continued. "Language is a sensitive issue. They may well end up in front of the Human Rights Commission with this."
Ryanair's policy only applies to South African passengers flying to the United Kingdom from within Europe, since it does not fly out of South Africa.
The British government has said in a statement that it does not require the test.
Anyone who cannot complete the test will be blocked from traveling and given a refund.
Memories of Apartheid Resurface
"The question requiring a person to name a public holiday is particularly on the nose given that SA has a whole public holiday NEXT WEEK commemorating an historic protest that started in response to language-based discrimination," one person tweeted.
South African citizen Dinesh Joseph told the BBC that he was "seething" with anger when asked to take the test.
"It was the language of apartheid," he said, adding that it was a trigger for him.
Officials in the country were also surprised by Ryanair's decision.
"We are taken aback by the decision of this airline because the Department regularly communicates with all airlines to update them on how to validate South African passports, including the look and feel," South Africa's Department of Home Affairs said in a statement.
Any airline found to have flown a passenger with a fake passport to the U.K. faces a fine of £2,000 from authorities there. Ryanair has also not said whether it requires similar tests for any other nationalities.
Many people expressed outrage at Ryanair's policy and some told stories of being declined service because they did not pass the test.
Leaked Documents and Photos Give Unprecedented Glimpse Inside Xinjiang's Detention Camps
The so-called vocational schools, which China claims Uyghurs enter willingly as students, oversee their detainees with watchtowers armed with machine guns and sniper rifles, as well as guards instructed to shoot to kill anyone trying to escape.
---
Detained for Growing a Beard
The BBC and a consortium of investigative journalists have authenticated and published a massive trove of leaked documents and photographs exposing the Chinese government's persecution of Uyghur Muslims in unprecedented detail.
According to the outlet, an anonymous source hacked several police computer servers in the northwestern Xinjiang province, then sent what has been dubbed the Xinjiang police files to the scholar Dr. Adrian Zenz, who gave them to reporters.
Among the files are more than 5,000 police photographs of Uyghurs taken between January and July 2018, with accompanying data indicating at least 2,884 of them were detained.
Some of the photos show guards standing nearby with batons.
The youngest Uyghur photographed was 15 at the time of their detention, and the oldest was 73.
One document is a list titled "Relatives of the Detained," which contains thousands of people placed under suspicion for guilt by association with certain family members. It includes a woman whose son authorities claimed had "strong religious leanings" because he didn't smoke or drink alcohol. He was jailed for ten years on terrorism charges.
The files also include 452 spreadsheets with information on more than a quarter of a million Uyghurs, some of whom were detained retroactively for offenses committed years or even decades ago.
One man was jailed for ten years in 2017 because he "studied Islamic scripture with his grandmother" for a few days in 2010.
Authorities targeted hundreds more for their mobile phone use, like listening to "illegal lectures" or downloading encrypted apps. Others were punished for not using their phones enough, with "phone has run out of credit" listed as evidence they were trying to evade digital surveillance.
One man's offense was "growing a beard under the influence of religious extremism."
The Most Militarized Schools in the World
The files include documents outlining conditions inside Xinjiang's detention camps, or so-called "Vocational Skills Education and Training Centers."
Armed guards occupy every part of the facilities, with machine guns and sniper rifles stationed on watchtowers. Police protocols instruct guards to shoot to kill any so-called "students" trying to escape if they fail to stop after a warning shot.
Any apprehended escapees are to be taken away for interrogation while camp management focuses on "stabilizing other students' thoughts and emotions."
The BBC used the documents to reconstruct one of the camps, which data shows holds over 3,700 detainees guarded by 366 police officers who oversee them during lessons.
If a "student" must be transferred to another facility, the protocols say, police should blindfold them, handcuff them and shackle their feet.
Dr. Zenz published a peer-reviewed paper on the Xinjiang police files, in which he found that more than 12% of Uyghur adults were detained over 2017 and 2018.
"Scholars have argued that political paranoia is a common feature of atrocity crimes," he wrote. "Here, it is suggested that the pre-emptive internment of large numbers of ordinary citizens can be explained as a devolution into political paranoia that promotes exaggerated threat perceptions."