Texas Mayor Tells "Lazy" Residents "No One Owes You" Anything Amid Power Outages
When residents in Colorado City, Texas turned to a local Facebook group to ask if the city or county had emergency shelter plans in place to keep people warm amid power outages, Mayor Tim Boyd shared a Facebook message that sparked outrage.
"Sink or swim it's your choice! The City and County, along with power providers or any other service owes you NOTHING! I'm sick and tired of people looking for a damn handout!" he wrote before suggesting that those struggling are "lazy."
"Only the strong will survive and the weak will parish," he added. "Get off your ass and take care of your own family!"
Hours later, Boyd said he was speaking as a citizen since he had already turned in his resignation and had not signed up to run for mayor again ahead of the deadline a few days ago. It's unclear when he actually resigned and he is still listed as mayor on the city's website.
---
Mayor Under Fire
The mayor of Colorado City, Texas is facing intense backlash for comments he made on Facebook Tuesday claiming the local government has no responsibility to assist residents struggling amid historic winter temperatures.
The remarks came after community members turned to a local Facebook page asking if the city or county had emergency shelters in place to keep people warm amid widespread power outages.
In response, Mayor Tim Boyd wrote, "No one owes you [or] your family anything; nor is it the local government's government's responsibility to support you during trying times like this!"
"Sink or swim it's your choice!" He continued. "The City and County, along with power providers or any other service owes you NOTHING! I'm sick and tired of people looking for a damn handout!"
Boyd argued that residents should come up with their own plans to keep their families safe. Those that are sitting at home in the cold waiting for assistance, he said, are "lazy" as a direct result of their raising.
"Only the strong will survive and the weak will parish," he continued, likely meaning perish in his statement.
He blamed the calls for basic services like heat and electricity a product of a "socialist government where they feed people to believe that the FEW will work and others will become dependent for handouts."
He closed by telling locals to "quit crying," adding, "Get off your ass and take care of your own family!"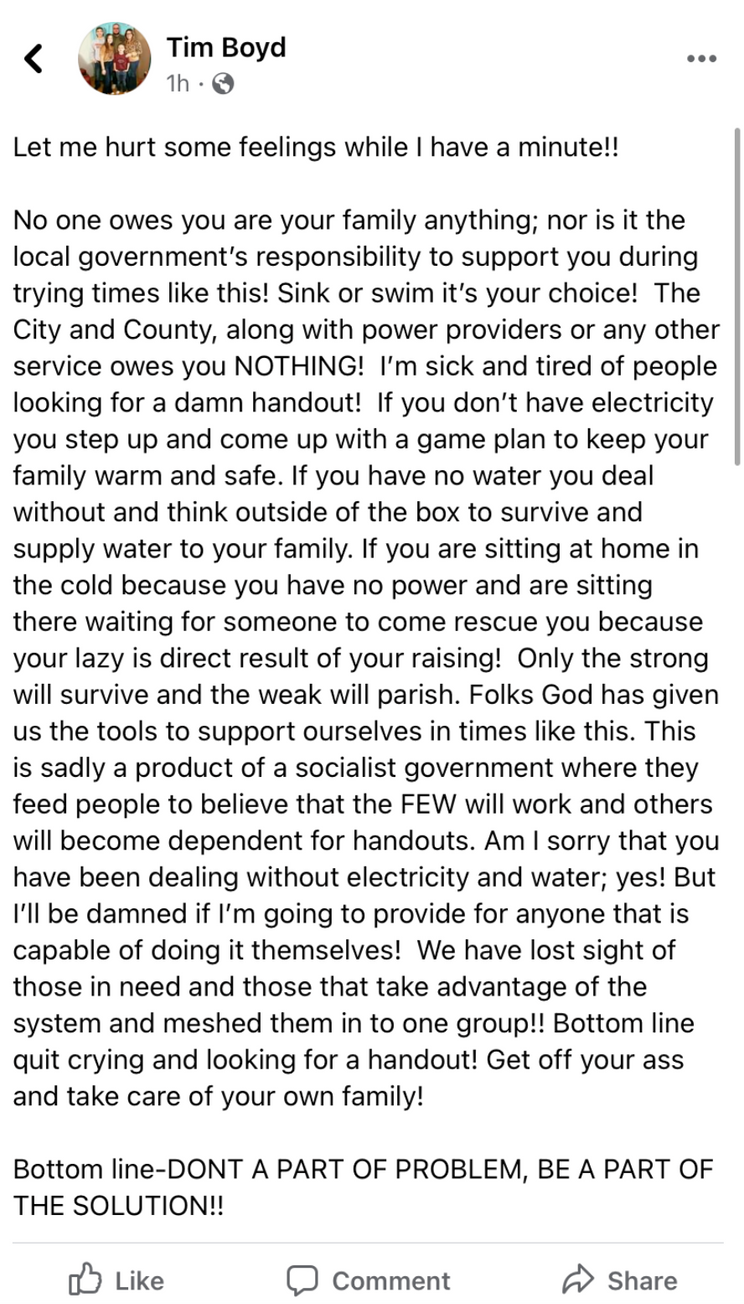 Mayor Doubles Down, Says He Already Resigned
That now-deleted post drew immediate backlash as Texans continue to slam the government for not delivering adequate support amid the storm.
The outrage eventually prompted Boyd to write a follow-up post, which he also later deleted.
In it, he claimed that his comments "were taken out of context" and did not apply to the elderly; however, he continued to double down.
"I was only making the statement that those folks that are too lazy to get up and fend for themselves but are capable should not be dealt a handout. I apologize for the wording and some of the phrases that were used!"
Boyd said he already turned in his resignation and had not signed up to run for mayor again ahead of the deadline a few days ago. He also said he wished he would've kept his words to himself or been more descriptive, and he added that all the anger and harassment since his post has caused his wife to lose her job.
Ultimately, he said he was speaking as a citizen since he is no longer mayor and called for the harassment of his family to stop.
According to The Washington Post, it isn't immediately clear if he resigned before or after writing his controversial Facebook post. As of early Wednesday morning, the paper noted that he was still listed as mayor on Colorado City's website, and city council agendas showed that he had served in that role as recently as last week.
College Board Changes AP African American Studies After Backlash From DeSantis Amid Education Culture War
As requested by DeSantis, the College Board removed lessons on contemporary topics including Black Lives Matter, queer studies, and reparations.
---
College Board Rolls Out Curriculum
The College Board, which oversees Advanced Placement high school courses, announced an official curriculum framework for its new, landmark Advanced Placement African American studies on Wednesday.
The announcement, made on the first day of Black History Month, has faced scrutiny for seeming to scale back a number of relevant subjects that Florida Gov. Ron DeSantis (R) and other state education officials had criticized.
In January, DeSantis said that the new course would be banned in Florida unless changes were made, arguing that a draft version of the course was "woke."
Education officials claimed that the class, which had been in the making for nearly a decade, violated a recent state law dubbed the Stop WOKE Act. The legislation regulates public school instruction on race by banning critical race theory and any education that describes some groups as oppressed and others as privileged based on race or sex.
Democrats denounced DeSantis' action as a political stunt and urged the College Board to maintain its principles.
According to reports, many historical topics like slavery largely remain intact from the previous draft. However, important contemporary issues like Black Lives Matter, affirmative action, queer studies, reparations, and intersectionality — all of which Florida leaders objected to — were removed from curriculum requirements and are no longer part of the AP exam.
Instead, those areas of study have been downgraded to be part of a list of options students can pursue for a mandatory research project. The College Board also added a new research project idea to that list that will certainly please the right: "Black conservatism."
It has additionally been reported that the organization pulled names of multiple Black authors the state education officials had flagged as problematic, including many famous and pioneering Black scholars who wrote about critical race theory, the queer experience, and Black feminism.
The College Board defended itself against criticism in a press release announcing the changes, claiming that the process of developing the framework "has operated independently from political pressure."
DeSantis' Ongoing Culture War
DeSantis' attempts to influence the national curriculum of an AP course are just his latest in a much broader effort to control what is and is not taught in public schools.
Just one day before the College Board announced the revised course, the governor outlined what The New York Times described as "his most aggressive swing yet at the education establishment."
Specifically, he proposed a massive overhaul to higher education in the state that would defund and eliminate diversity and equity programs, mandate courses on Western civilization, and reduce tenure protections that are essential to ensure professors have freedom of expression.
Furthermore, the effects of another law DeSantis signed last year are now just beginning to materialize. The policy, which went into effect this July, requires every school book to be age-appropriate, "free of pornography," and "suited to student needs." 
To follow those guidelines, school books have to be approved by a certified media specialist who has undergone specific training.
Notably, the law also states that teachers can be charged with third-degree felonies if they "knowingly or unknowingly" give students access to a book that the specialists say is harmful — meaning that they could face up to five years in prison and a $5,000 fine.
Last month, the state education department clarified that the rule does not just apply to school libraries, but also to any books a teacher keeps in their classroom too.
Multiple outlets reported this week that records they obtained show at least two school districts have now directed teachers to either remove their books or hide them until review to avoid the possibility of going to jail.
Biden Announces Plan to End COVID Emergency in May
The decision would drastically change the government's long-standing pandemic response and shift Americans' access to COVID-related services.
---
Emergency Declarations at an End
In a statement Monday, The White House announced that it would be ending the COVID national emergency and public health emergency declarations on May 11.
The move will entirely restructure the federal government's response to the pandemic to treat it as endemic and upend policies that have been in place for the last three years. Although more than 500 people in the U.S. are still dying from COVID on average each day — which is around two times the number of daily deaths during a bad flu season — life has largely returned to normal.
Most Americans are vaccinated, and even President Joe Biden himself said the pandemic was "over" back in September. The new announcement comes in part as a response to resolutions Republicans brought to the House floor last week that would end the declarations immediately.
"An abrupt end to the emergency declarations would create wide-ranging chaos and uncertainty throughout the health care system — for states, for hospitals and doctors' offices, and, most importantly, for tens of millions of Americans," the White House argued.
Lapses in Coverage and Care
Federal officials decided that a phase-out would make more sense because the U.S. has come to rely on several systems and benefits under the emergencies.
One of the most significant changes that will have the biggest impact on Americans in their day-to-day lives is access to COVID tests, treatments, and vaccines that have been free throughout the pandemic.
Once the emergencies end, a very complex wave of changes will take place that differs from person to person depending on their insurance — or lack thereof — and even possibly what state they live in.
Currently, people with private health insurance or Medicare coverage have been allowed eight free COVID tests a month and insurers had to cover those tests, even if they were administered out of network.
Once the emergency ends, some Americans will have to pay out of pocket, as well as for antiviral COVID treatments like Paxlovid. 
Notably, it has been reported that vaccines will still be included for all those people covered by both private and public insurance. That, however, may not be the case for those without insurance — a group that is also more likely to be the most affected by rising costs for tests and treatments.
Jen Kates, a senior vice president at the Kaiser Family Foundation, told The Washington Post that when the emergency declarations end, states that opted to provide Medicaid coverage for tests, treatments, and shots will lose the federal funds that matched costs at 100%.
"To me, that's the biggest issue for the general public to think about," she said. "The uninsured and underinsured have no guaranteed access to covid vaccines, tests or treatments."
When it comes to vaccines, those costs could be significant. Moderna and Pfizer have both said they might charge as much as $130 per dose of vaccine once the federal government stops paying and the shots are transitioned to the private market. That figure is nearly quadruple what federal offices have paid for the doses.
The shift to the private market could happen fairly soon, especially because Republicans have refused Biden's request that they put billions of dollars towards additional free COVID testing and shots to extend those efforts.
There could also be a spike in the number of uninsured or underinsured Americans because the $1.7 trillion spending bill passed last year ends a rule that banned states from kicking people off Medicaid, leaving millions at risk of losing coverage.
Other Possible Outcomes
Ending the declarations could also set up a battle around immigration because the Biden administration has said the move will bring an end to Title 42 — the Trump-era public health measure that placed restrictions on border crossings and other migrant policies.
Biden has previously tried to cut the program, but the Supreme Court kept it in place. House Republicans rejected the White House's claim that the program would be terminated, arguing it is not tied to the public health emergency.
Beyond that, the termination of the declarations would require health providers to make numerous adjustments because many of the flexibilities they were allowed in a number of areas would be cut.
As a result, the administration says a phase-out of those policies over the next few months is necessary, arguing that hospitals and nursing homes "will be plunged into chaos" if they are cut immediately. House Republicans, however, are insistent on moving forward their legislation that would do just that, though the Democratic-controlled Senate could block their proposals.
Conservatives are Mad at "Woke" Xbox for Minor Climate-Related Updates
The fury comes after Xbox announced it was slightly altering existing consoles to better utilize and save energy.
---
Same War, New Battlefield
Mere days after M&M canceled their "spokescandies" due to backlash from the right, led largely by Fox News' Tucker Carlson, conservatives have found a new front for their ongoing culture war: Xbox.
Carlson spent months complaining that small character redesigns were "woke" because they made the animated anthropomorphized M&M's — in his own words — "less sexy." His campaign finally proved successful on Monday when the company announced it would be doing away with the spokescandies and replacing them with actress Maya Rudolph.
Conservatives, now facing a sudden dearth of non-issues to complain about, quickly found a new issue to rage against. Xbox announced in a blog post earlier this month that it is making minor updates to lower its environmental impact as part of an effort to reach Microsoft's goal of being carbon-negative by 2030.
Now, instead of having an Xbox wake up to update games, apps, and software during random times of the night, it will do that at a time of night when a user's local energy grid is generating the most power it can from renewable sources.
Xbox also said it would automatically update some older consoles to a power-saving mode that aims to reduce electricity consumption when it is turned off — a feature that is already the default on newer consoles.
According to The Verge, the only difference for users is that an Xbox in power-saving mode takes around 15 seconds to boot up instead of doing so immediately as the console does in "sleep" mode. The change is a small price to pay for what the outlet described as "significant" energy savings.
Xbox Under Fire
To many leading conservative voices, the minimal shifts were just another example of "woke" culture.
While discussing M&M's spokescandies Tuesday morning, "Fox and Friends" co-host Ainsley Earhardt brought up Xbox's new changes with Fox radio host Jimmy Failla.
"So Xbox has also announced that they're going woke too, you know, because of climate change," Earhardt said.
"I mean, it's crazy what they're doing, but we understand what this is. It's not that it's actually going to offset emissions, okay — the level of reduction is infinitesimal,"  Failla claimed, without evidence. "But they're trying to recruit your kids into climate politics at an earlier age; make them climate conscious now."
"Yeah, I didn't think of that — you're right, they're going after the children," Earhardt agreed, despite the fact that internal data from Microsoft shows just around 10% of Xbox owners are under the age of 18.
Other prominent conservatives also did their part to bait Americans into anger on social media, including America's Foundation, which posted a tweet stating that "the woke brigade is after video games."
The post linked an article from the right-wing website TheBlaze, which asserted that "Xbox will force gamers to power down to fight climate change." That, however, is false — Xbox has said users can switch back and change the settings any time they want
Still, top lawmakers continued to share the article and spread its false claims, including Sen. Ted Cruz (R-Tx.).
"First gas stoves, then your coffee, now they're gunning for your Xbox," he wrote in the post, which was flagged by Twitter and given an "added context" warning.
The same warning, however, was not placed in a very similar post by Rep. Troy Nehls (R-Tx.), who also shared the article.
"They want to take your guns. They want to take your gas stoves. And now they want to take your Xbox. What's next?" he wrote.