Texas Mayor Tells "Lazy" Residents "No One Owes You" Anything Amid Power Outages
When residents in Colorado City, Texas turned to a local Facebook group to ask if the city or county had emergency shelter plans in place to keep people warm amid power outages, Mayor Tim Boyd shared a Facebook message that sparked outrage.
"Sink or swim it's your choice! The City and County, along with power providers or any other service owes you NOTHING! I'm sick and tired of people looking for a damn handout!" he wrote before suggesting that those struggling are "lazy."
"Only the strong will survive and the weak will parish," he added. "Get off your ass and take care of your own family!"
Hours later, Boyd said he was speaking as a citizen since he had already turned in his resignation and had not signed up to run for mayor again ahead of the deadline a few days ago. It's unclear when he actually resigned and he is still listed as mayor on the city's website.
---
Mayor Under Fire
The mayor of Colorado City, Texas is facing intense backlash for comments he made on Facebook Tuesday claiming the local government has no responsibility to assist residents struggling amid historic winter temperatures.
The remarks came after community members turned to a local Facebook page asking if the city or county had emergency shelters in place to keep people warm amid widespread power outages.
In response, Mayor Tim Boyd wrote, "No one owes you [or] your family anything; nor is it the local government's government's responsibility to support you during trying times like this!"
"Sink or swim it's your choice!" He continued. "The City and County, along with power providers or any other service owes you NOTHING! I'm sick and tired of people looking for a damn handout!"
Boyd argued that residents should come up with their own plans to keep their families safe. Those that are sitting at home in the cold waiting for assistance, he said, are "lazy" as a direct result of their raising.
"Only the strong will survive and the weak will parish," he continued, likely meaning perish in his statement.
He blamed the calls for basic services like heat and electricity a product of a "socialist government where they feed people to believe that the FEW will work and others will become dependent for handouts."
He closed by telling locals to "quit crying," adding, "Get off your ass and take care of your own family!"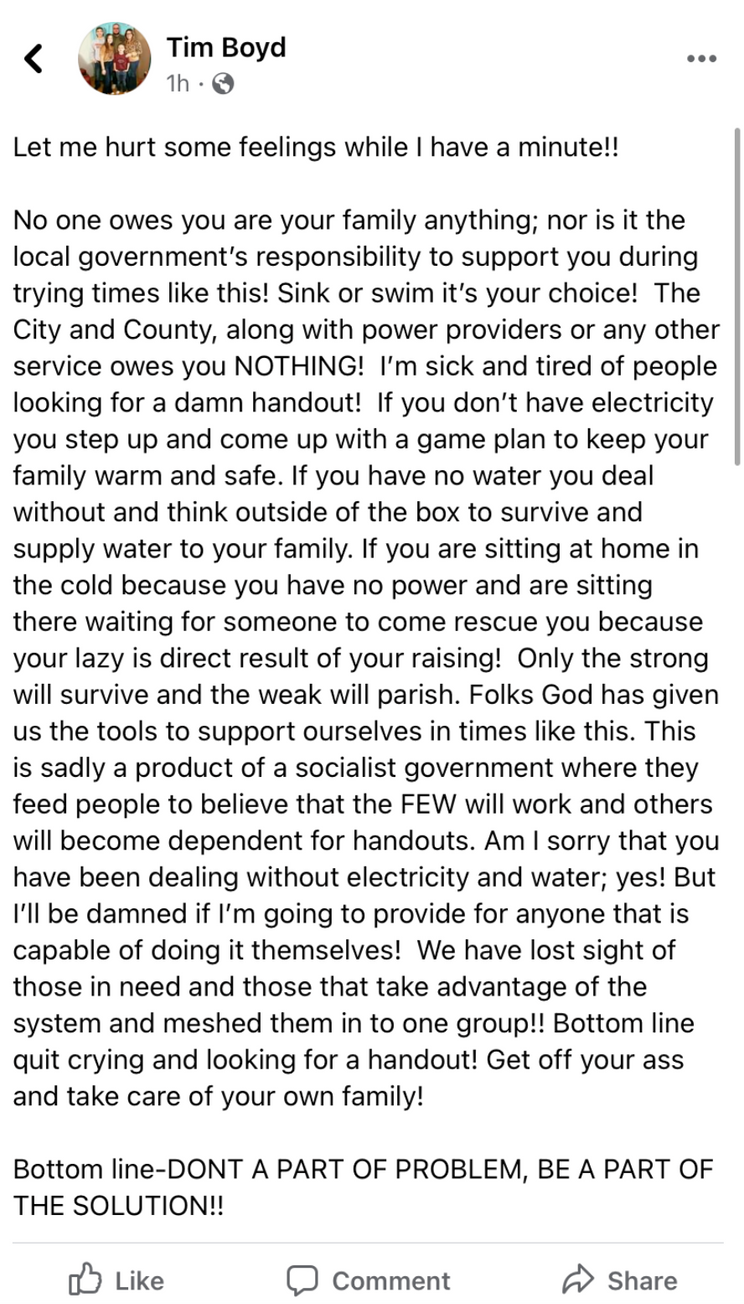 Mayor Doubles Down, Says He Already Resigned
That now-deleted post drew immediate backlash as Texans continue to slam the government for not delivering adequate support amid the storm.
The outrage eventually prompted Boyd to write a follow-up post, which he also later deleted.
In it, he claimed that his comments "were taken out of context" and did not apply to the elderly; however, he continued to double down.
"I was only making the statement that those folks that are too lazy to get up and fend for themselves but are capable should not be dealt a handout. I apologize for the wording and some of the phrases that were used!"
Boyd said he already turned in his resignation and had not signed up to run for mayor again ahead of the deadline a few days ago. He also said he wished he would've kept his words to himself or been more descriptive, and he added that all the anger and harassment since his post has caused his wife to lose her job.
Ultimately, he said he was speaking as a citizen since he is no longer mayor and called for the harassment of his family to stop.
According to The Washington Post, it isn't immediately clear if he resigned before or after writing his controversial Facebook post. As of early Wednesday morning, the paper noted that he was still listed as mayor on Colorado City's website, and city council agendas showed that he had served in that role as recently as last week.
Lawmakers Call For Action as Oil Companies Post Record Profits Amid Rising Gas Prices
A recent analysis from the Center for American Progress found that the top five oil companies earned over 300% more in profits during the first quarter of 2022 than the same period last year.
---
As Consumer Prices Climb, Big Oil Profits
American oil companies are facing increased scrutiny over profiteering practices as gas prices continue to surpass record highs driven by Russia's ongoing war in Ukraine.
Last week, costs surged to above $4 per gallon in all 50 states for the first time ever, according to the auto club AAA. Prices are currently averaging over $4.59 per gallon nationwide, which is 50% higher than they were this time last year.
In addition to consumers hurting at the pump, there are also rising concerns for industries that rely on fuel and oil like trucking, freight, airlines, and plastic manufacturers.
To account for high prices, some in sectors have responded by ramping up prices further down the supply chain to account for costs, putting even more of a burden on consumers to pay for everyday items.
But as Americans struggle with sky-high gas prices at a time of record inflation, recently released earnings reports show that many of the world's largest oil companies thrived in the first quarter of 2022.
ExxonMobil more than doubled its earnings from the same period last year, reporting a net profit of $5.5 billion. Meanwhile, Chevron logged its best quarterly earnings in almost a decade, and Shell had its highest earnings ever.
According to a new analysis conducted by the Center for American Progress, the top five oil companies — including the three mentioned above —  earned over 300% more in profits this quarter than during the same time last year.
"In fact, these five companies' first-quarter profits alone are equivalent to almost 28 percent of what Americans spent to fill up their gas tanks in the same time period," the report noted.
Per Insider, for at least four of those companies, that growth marks a tremendous increase in profits from even before the pandemic.
Lawmakers Ramp-Up Efforts to Reduce Prices
To address these startling disparities, federal lawmakers have moved in recent weeks to increase pressure on oil companies and take steps to lower prices.
On Thursday, the House of Representatives passed a bill proposed by Rep. Katie Porter (D-Ca.) that aims to reduce gas prices. The legislation, called The Consumer Fuel Price Gouging Prevention Act, would give the president the authority to issue an Energy Emergency Declaration that would be effective for up to 30 days with the possibility of being renewed.
In that emergency period, it would be illegal for anyone to increase gas or home energy fuel prices to a level that is exploitative or "unconscionably excessive."
The proposal would also give the Federal Trade Commission the power to investigate and manage instances of price gouging from larger companies and give state authorities the ability to enforce price-gouging violations in civil courts.
The bill, which has already seen widespread opposition from Republicans and extensive lobbying from pro-oil interest groups, faces an uphill battle in the 50-50 split Senate.
During debate on the act Thursday, Rep. Porter delivered an impassioned speech accusing oil companies of driving their record profits by using their market power to unfairly increase prices.
"The oil and gas industry currently has more than 9,000 permits to drill for oil on federal land, but they are deliberately keeping production low to please their investors and increase their short-term profits," she said. "Even when the price of crude oil falls, oil and gas companies have refused to pass those savings on to consumers."
"Let me be clear: price gouging is anti-capitalist," Porter continued. "It exploits a lack of competition, which is a hallmark of capitalism. It is an effort to juice corporate profits at the expense of customers. Energy markets are reeling because of Russia's invasion of Ukraine. Big oil companies, however, are using this temporary chaos to cover up their abuse."
Lincoln College to Close for Good After COVID and Ransomware Attack Ruin Finances
Last year, 1,043 schools in the U.S. were the victim of ransomware attacks, including 26 colleges or universities, according to an analysis by Emsisoft.
---
One of the Only Historically Black Colleges in the Midwest Goes Down
After 157 years of educating mostly Black students in Illinois, Lincoln College will close its doors for good on Friday.
The college made the announcement last month, citing financial troubles caused by the coronavirus pandemic and a ransomware attack in December.
Enrollment dropped during the pandemic and the administration had to make costly investments in technology and campus safety measures, according to a statement from the school.
A shrinking endowment put additional pressure on the college's budget.
The ransomware attack, which the college has said originated from Iran, thwarted admissions activities and hindered access to all institutional data. Systems for recruitment, retention, and fundraising were completely inoperable at a time when the administration needed them most.
In March, the college paid the ransom, which it has said amounted to less than $100,000. But according to Lincoln's statement, subsequent projections showed enrollment shortfalls so significant the college would need a transformational donation or partnership to make it beyond the present semester.
The college put out a request for $50 million in a last-ditch effort to save itself, but no one came forward to provide it.
A GoFundMe aiming to raise $20 million for the college only collected $2,452 as of Tuesday.
Students and Employees Give a Bittersweet Goodbye
"The loss of history, careers, and a community of students and alumni is immense," David Gerlach, the college's president, said in a statement.
Lincoln counts nearly 1,000 enrolled students, and those who did not graduate this spring will leave the institution without degrees.
Gerlach has said that 22 colleges have worked with Lincoln to accept the remaining students, including their credits, tuition prices, and residency requirements.
"I was shocked and saddened by that news because of me being a freshman, so now I have to find someplace for me to go," one student told WMBD News after the closure was announced.
When a group of students confronted Gerlach at his office about the closure, he responded with an emotional speech.
"I have been fighting hard to save this place," he said. "But resources are resources. We've done everything we possibly could."
On April 30, alumni were invited back to the campus to revisit the highlights of their college years before the institution closed.
On Saturday, the college held its final graduation ceremony, where over 200 students accepted their diplomas and Quentin Brackenridge performed the Lincoln Alma Mater.
Last year, 1,043 schools in the U.S. were the victim of ransomware attacks, including 26 colleges or universities, according to an analysis by Emsisoft.
U.S. Tops One Million Coronavirus Deaths, WHO Estimates 15 Million Worldwide
India's real COVID death toll stands at about 4.7 million, ten times higher than official data, the WHO estimated.
---
One Million Dead
The United States officially surpassed one million coronavirus deaths Wednesday, 26 months after the first death was reported in late February of 2020.
Experts believe that figure is likely an undercount, since there are around 200,000 excess deaths, though some of those may not be COVID-related.
The figure is the equivalent of the population of San Jose, the tenth-largest city in the U.S., vanishing in just over two years. To put the magnitude in visual perspective, NECN published a graphic illustrating what one million deaths looks like.
At the beginning of the pandemic, the White House predicted between 100,000 and 240,000 Americans would die from the coronavirus in a best-case scenario.
By February 2021, over half a million Americans had died of COVID.
The coronavirus has become the third leading cause of death in the U.S. behind heart disease and cancer.
The pandemic's effects go beyond its death toll. Around a quarter of a million children have lost a caregiver to the virus, including about 200,000 who lost one or both parents. Every COVID-related death leaves an estimated nine people grieving.
The virus has hit certain industries harder than others, with food and agriculture, warehouse operations and manufacturing, and transportation and construction seeing especially high death rates.
People's mental health has also been affected, with a study in January of five Western countries including the U.S. finding that 13% of people reported symptoms of PTSD attributable to actual or potential contact with the virus.
Fifteen Million Dead
On Thursday, the World Health Organization estimated that nearly 15 million people have died from the pandemic worldwide, a dramatic revision from the 5.4 million previously reported in official statistics.
Between January 2020 and the end of last year, the WHO estimated that between 13.3 million and 16.6 million people died either due to the coronavirus directly or because of factors somehow attributed to the pandemic's impact on health systems, such as cancer patients who were unable to seek treatment when hospitals were full of COVID patients.
Based on that range, scientists arrived at an approximate total of 14.9 million.
The new estimate shows a 13% increase in deaths than is usually expected for a two-year period.
"This may seem like just a bean-counting exercise, but having these WHO numbers is so critical to understanding how we should combat future pandemics and continue to respond to this one," Dr. Albert Ko, an infectious diseases specialist at the Yale School of Public Health who was not linked to the WHO research, told the Associated Press.
Most of the deaths occurred in Southeast Asia, Europe, and the Americas.
According to the WHO, India counts the most deaths by far with 4.7 million, ten times its official number.