LeBron James Slams Youth Football Coach for Hitting Player in Viral Video. Child's Mother Says She Doesn't Want To Press Charges
A former youth football coach in Savannah Georgia, who was caught on video repeatedly hitting a child during a game, is facing heat from internet users and athletes like LeBron James for his behavior.
The coach was identified as Gerrel Williams, and he released a video apology saying, "I shouldn't have disciplined him in public, I should've waited till we got back for doing what he did… He forgave me and his parents have forgiven me, so nobody else should be bashing me."
The team's organizers initially defended him, though they later announced his termination. Williams was also banned from the league's games and fired from his role as a counselor at a detention center for the Chatham County Sheriff's Office.
The child's mother told local reporters she did not want to press charges and knows "that none of these coaches would harm (the) kids."
---
Viral Video
A mother whose child was repeatedly hit by his youth football coach in a now-viral video says she does not want to press charges against the man who struck him, according to the Savannah Morning News.
The video shows the coach, who has since been identified as Gerrel Williams, yelling at the young player before striking him in the face.
He continues to yell and hits the child once more, this time slamming him down onto the ground.
The player picks himself up and endures more screams from his coach. At one point, Willaims even get close to the child's face, grabs him by the helmet, and sends him off the field.
According to local news reports, the team is called the Savannah Gators, a youth football team for players ages 9 and under. This specific incident, however, happened in Florida while they were playing in the American Youth Football National Championships.
Reactions From Athletes
People online were quick to call the coach's actions disgusting, including major athletes.
Former NFL tight end turned sports analyst Shannon Sharpe said he would have stepped in, whether it was his own child or not.
NBA star LeBron James expressde a similar sentiment on his Instagram story, writing: "Ain't no way!! Couldn't be my kid. Hell if I there and it's not even my kid we gone have more than words for sure."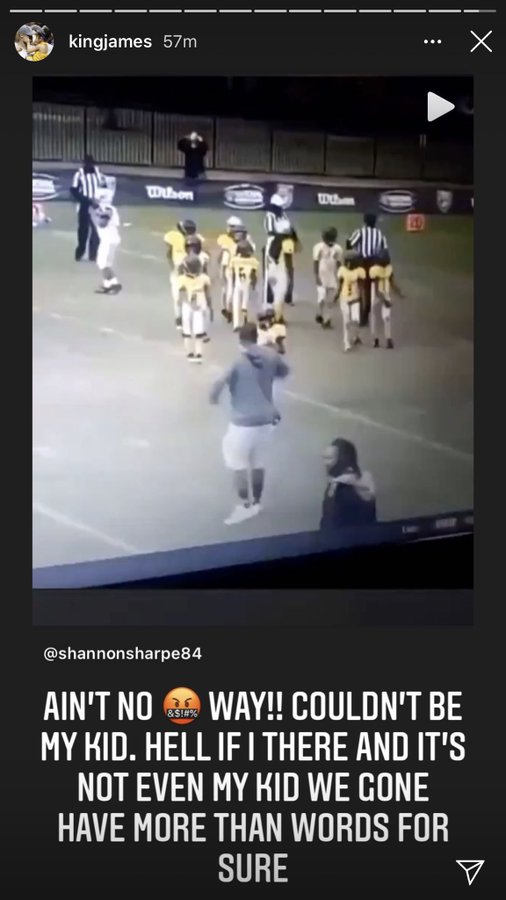 Savannah Gators Respond
As far as what the Team's organizers have said, there's a post floating around on social media that was allegedly posted and later deleted from the team's official Facebook page.
"Please keep the negative comments off this page please this organization has great coaches," it reads. "We understand what we all saw yesterday was disturbing to us all but let's not blame everyone for one mans actions"
"The guy in the video is our 9U head coach he is a good guy that just took it a little to far on a 9U player."
From the organization! pic.twitter.com/IanqctjuZu

— Geoffrey Todd (@TeamTodd_CEO) December 9, 2020
The coach also released an apology video that is stirring up even more outrage.
"I'ma apologize for my actions about what took place, but at the end of the day, I am a man and I'm not gonna make no excuses for what I did. I was wrong," he said before his statement took a turn.
"I shouldn't have disciplined him in public, I should've waited till we got back for doing what he did. At the end of the day, I apologize to him, the kids, the city down here, and my family back at home. I do apologize. There's no excuse for my actions.
"He forgave me and his parents have forgiven me, so nobody else should be bashing me," he added.
His weakass apology. That wasn't his kid and the parents forgave him? Smh couldn't be mine. pic.twitter.com/deFKpVTYNP

— TK F. (@BornARam916) December 10, 2020
The Savannah Gators also released a statement saying Williams would be removed from the coaching role, though the message was later taken down and replaced with a new post.
"We don't allow or condone any of our coaches to hit a child in no way, shape or form with the name Savannah Gators we made a mistake and we will learn from this as we Move forward," it said.
December 9, 2020
According to an incident report from the Chatham County Sherrif's office, the person in charge of the American Youth Football National Championship advised the officer handling the incident that the coach was expelled from the league and was no longer able to attend any more games.
The report also says the player's mother told authorities she was aware of what happened but did not want to press charges.
She even told the Savannah Morning News she did not want to talk about what happened, but knows "that none of these coaches would harm (the) kids."
According to the Savannah Morning News, Williams was also employed by the Chatham County Sheriff's Office as a counselor in its detention center.
As of Thursday, Williams is no longer an employee of the CCSO.
SCOTUS Rules in Favor of Police in Two Qualified Immunity Cases
The move further solidifies the contentious legal doctrine that protects officers who commit alleged constitutional violations.
---
SCOTUS Hears Qualified Immunity Cases
The Supreme Court on Monday ruled in favor of police in two separate cases involving qualified immunity, the controversial legal doctrine that shields officers accused of violating constitutional rights from lawsuits.
The topic has become a major flashpoint in debates over police reform and curbing police violence since the protests against racial injustice and police brutality in the summer of 2020.
On one side, supporters of qualified immunity claim it is necessary to ensure that police can do their jobs without worrying about frivolous lawsuits.
However, opponents argue that judicial interpretations of the doctrine over time have given police incredibly broad legal immunity for misconduct and use of excessive force. Under a previous Supreme Court ruling, in order for officers to be held liable, plaintiffs have to show that they violated rights "clearly established" by a previous ruling.
In other words, officers cannot be held liable unless there is another case that involves almost identical circumstances.
As a result, many argue the doctrine creates a Catch-22: Officers are shielded from liability because there is no past precedent, but the reason there is no past precedent is because officers are shielded from liability in the first place.
An Ongoing Debate
Critics argue that the two cases the Supreme Court saw Monday illustrate that double bind, as both involved accusations of excessive force commonly levied against police.
In one case, officers used non-lethal bean bag rounds against a suspect and knelt on his back to subdue him. In the other, police shot and killed a suspect after he threatened them with a hammer.
The justices overturned both lower-court rulings without ordering full briefing and argument because of the lack of precedent. The court issued the decisions in unsigned orders with no dissent, signaling they did not even see the cases as close calls.
Advocates for qualified immunity claim the decisions signal that the current Supreme Court is not open to changing qualified immunity, and the most likely path for opponents of the doctrine is legislation.
While Democrats in Congress have made numerous efforts to limit qualified immunity, including most recently in the George Floyd Justice In Policing Act passed by the House earlier this year, all those attempts have been blocked by Republicans.
At the state level, dozens of bills have been killed after heavy lobbying from police unions. As a result, it remains unclear what path proponents for reform have at this juncture.
Florida School Says Students Vaccinated Against COVID-19 Must Stay Home for 30 Days
The school falsely claimed that people who have just been vaccinated risk "shedding" the coronavirus and could infect others.
---
Centner Academy Vaccination Policy
A private school in Florida is now requiring all students who get vaccinated against COVID-19 to quarantine for 30 days before returning to class.
According to the local Miami outlet WSVN, Centner Academy wrote a letter to parents last week describing COVID vaccines as "experimental" and citing anti-vaccine misinformation.
"If you are considering the vaccine for your Centner Academy student(s), we ask that you hold off until the Summer when there will be time for the potential transmission or shedding onto others to decrease," the letter reportedly stated.
"Because of the potential impact on other students and our school community, vaccinated students will need to stay at home for 30 days post-vaccination for each dose and booster they receive and may return to school after 30 days as long as the student is healthy and symptom-free."
The Centers for Disease Control and Prevention (CDC) has debunked the false claim that those newly vaccinated against COVID-19 can "shed" the virus.
According to the agency's COVID myths page, vaccine shedding "can only occur when a vaccine contains a weakened version of the virus," but "none of the authorized COVID-19 vaccines in the United States contain the live virus that causes COVID-19. This means that a COVID-19 vaccine cannot make you sick with COVID-19."
In fact, early research has suggested that vaccinated people are less likely to spread the virus than unvaccinated people.
Beyond that, unvaccinated people are more likely to spread COVID in general because they are much more likely to get the virus than vaccinated people. According to recently published CDC data, as of August, unvaccinated people were six times more likely to get COVID than vaccinated people and 11 times more likely to die from the virus.
Centner Academy Continues Spread of Misinformation
In a statement to The Washington Post Monday, Centner Academy co-founder David Centner doubled down on the school's new policy, which he described as a "precautionary measure" based on "numerous anecdotal cases that have been in circulation."
"The school is not opining as to whether unexplained phenomena have a basis in fact, however we prefer to err on the side of caution when making decisions that impact the health of the school community," he added.
The new rule echoes similar efforts Centner Academy has made that run counter to public health guidance and scientific knowledge.
In April, the school made headlines when its leadership told vaccinated school employees that they were not allowed to be in contact with any students "until more information is known" and encouraged employees to wait until summer to get the jab.
According to The New York Times, the following week, a math and science teacher allegedly told students not to hug their vaccinated parents for more than five seconds.
The outlet also reported that the school's other co-founder, Leila Centner, discouraged masking, but when state health officials came for routine inspections, teachers said they were directed in a WhatsApp group to put masks on.
Katie Couric Says She Edited Ruth Bader Ginsburg Quote About Athletes Kneeling During National Anthem
Couric said she omitted part of a 2016 interview in order to "protect" the justice.
---
Kate Couric Edited Quote From Justice Ginsburg
In her upcoming book, journalist Katie Couric admitted to editing a quote from Supreme Court Justice Ruth Bader Ginsberg in 2016 in order to "protect" Ginsberg from potential criticism.
Couric interviewed the late justice for an article in Yahoo News. During their discussion, she asked Ginsburg about her thoughts on athletes like Colin Kaepernick kneeling for the national anthem to protest racial inequality.
"I think it's really dumb of them," Ginsburg is quoted saying in the piece. "Would I arrest them for doing it? No. I think it's dumb and disrespectful. I would have the same answer if you asked me about flag burning. I think it's a terrible thing to do, but I wouldn't lock a person up for doing it. I would point out how ridiculous it seems to me to do such an act."
According to The Daily Mail and The New York Post, which obtained advance copies of Couric's book "Going There," there was more to Ginsburg's response. Couric wrote that she omitted a portion where Ginsburg said the form of protest showed a "contempt for a government that has made it possible for their parents and grandparents to live a decent life…Which they probably could not have lived in the places they came from."
Couric Says She Lost Sleep Making Choice
"As they became older they realize that this was youthful folly," Ginsberg reportedly continued. "And that's why education is important."
According to The Daily Mail, Couric wrote that the Supreme Court's head of public affairs sent an email asking to remove comments about kneeling because Ginsburg had misspoken. Couric reportedly added that she felt a need to "protect" the justice, thinking she may not have understood the question. Couric reached out to her friend, New York Times reporter David Brooks, regarding the matter and he allegedly likewise believed she may have been confused by the subject.
Couric also wrote that she was a "big RBG fan" and felt her comments were "unworthy of a crusader for equality." Because she knew the remarks could land Ginsburg in hot water, she said she "lost a lot of sleep" and felt "conflicted" about whether or not to edit them out.
Couric was trending on Twitter Wednesday and Thursday as people questioned the ethics behind her choice to ultimately cut part of the quote. Some thought the move showed a lack of journalistic integrity while others thought revealing the story now harmed Ginsburg's legacy.