LeBron James Slams Youth Football Coach for Hitting Player in Viral Video. Child's Mother Says She Doesn't Want To Press Charges
A former youth football coach in Savannah Georgia, who was caught on video repeatedly hitting a child during a game, is facing heat from internet users and athletes like LeBron James for his behavior.
The coach was identified as Gerrel Williams, and he released a video apology saying, "I shouldn't have disciplined him in public, I should've waited till we got back for doing what he did… He forgave me and his parents have forgiven me, so nobody else should be bashing me."
The team's organizers initially defended him, though they later announced his termination. Williams was also banned from the league's games and fired from his role as a counselor at a detention center for the Chatham County Sheriff's Office.
The child's mother told local reporters she did not want to press charges and knows "that none of these coaches would harm (the) kids."
---
Viral Video
A mother whose child was repeatedly hit by his youth football coach in a now-viral video says she does not want to press charges against the man who struck him, according to the Savannah Morning News.
The video shows the coach, who has since been identified as Gerrel Williams, yelling at the young player before striking him in the face.
He continues to yell and hits the child once more, this time slamming him down onto the ground.
The player picks himself up and endures more screams from his coach. At one point, Willaims even get close to the child's face, grabs him by the helmet, and sends him off the field.
According to local news reports, the team is called the Savannah Gators, a youth football team for players ages 9 and under. This specific incident, however, happened in Florida while they were playing in the American Youth Football National Championships.
Reactions From Athletes
People online were quick to call the coach's actions disgusting, including major athletes.
Former NFL tight end turned sports analyst Shannon Sharpe said he would have stepped in, whether it was his own child or not.
NBA star LeBron James expressde a similar sentiment on his Instagram story, writing: "Ain't no way!! Couldn't be my kid. Hell if I there and it's not even my kid we gone have more than words for sure."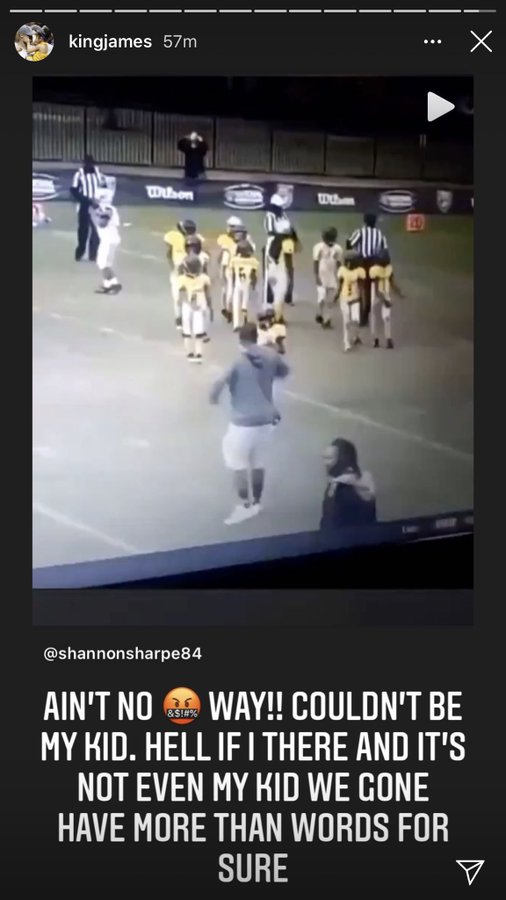 Savannah Gators Respond
As far as what the Team's organizers have said, there's a post floating around on social media that was allegedly posted and later deleted from the team's official Facebook page.
"Please keep the negative comments off this page please this organization has great coaches," it reads. "We understand what we all saw yesterday was disturbing to us all but let's not blame everyone for one mans actions"
"The guy in the video is our 9U head coach he is a good guy that just took it a little to far on a 9U player."
From the organization! pic.twitter.com/IanqctjuZu

— Geoffrey Todd (@TeamTodd_CEO) December 9, 2020
The coach also released an apology video that is stirring up even more outrage.
"I'ma apologize for my actions about what took place, but at the end of the day, I am a man and I'm not gonna make no excuses for what I did. I was wrong," he said before his statement took a turn.
"I shouldn't have disciplined him in public, I should've waited till we got back for doing what he did. At the end of the day, I apologize to him, the kids, the city down here, and my family back at home. I do apologize. There's no excuse for my actions.
"He forgave me and his parents have forgiven me, so nobody else should be bashing me," he added.
His weakass apology. That wasn't his kid and the parents forgave him? Smh couldn't be mine. pic.twitter.com/deFKpVTYNP

— TK F. (@BornARam916) December 10, 2020
The Savannah Gators also released a statement saying Williams would be removed from the coaching role, though the message was later taken down and replaced with a new post.
"We don't allow or condone any of our coaches to hit a child in no way, shape or form with the name Savannah Gators we made a mistake and we will learn from this as we Move forward," it said.
December 9, 2020
According to an incident report from the Chatham County Sherrif's office, the person in charge of the American Youth Football National Championship advised the officer handling the incident that the coach was expelled from the league and was no longer able to attend any more games.
The report also says the player's mother told authorities she was aware of what happened but did not want to press charges.
She even told the Savannah Morning News she did not want to talk about what happened, but knows "that none of these coaches would harm (the) kids."
According to the Savannah Morning News, Williams was also employed by the Chatham County Sheriff's Office as a counselor in its detention center.
As of Thursday, Williams is no longer an employee of the CCSO.
Amanda Gorman Wows the Nation With "The Hill We Climb"
Amanda Gorman, a 22-year-old poet, impressed the nation when she read "The Hill We Climb" at President Biden's inauguration, making her the youngest inaugural poet in the nation's history.
Gorman's said the Jan. 6 attack on the nation's Capitol inspired her to focus on a message of hope, community, and healing in her poem.
Big names like Oprah Winfrey, Anderson Cooper, Barack Obama, and Lin-Manuel Miranda have all praised her work.
---
Amanda Gorman Becomes Youngest Inaugural Poet
Inaugural poet Amanda Gorman wowed the nation on Wednesday as she spoke of healing, unity, hope, and what it means to be American while reading her poem, "The Hill We Climb."
At 22-years-old Gorman is the youngest inaugural poet in the nation's history. Born and raised in Los Angeles, she was the youth poet laureate of Los Angeles in 2014 at the age of 16. She then became the first national youth poet laureate in 2017.
Now, her books are topping Amazon's Best Sellers list and they are not even scheduled to be released until the fall.
First Lady Dr. Jill Biden became a fan of Gorman after watching her give a reading at the Library of Congress. She then suggested that Gorman be a part of the ceremony.
"Let the globe, if nothing else, say this is true: That even as we grieved, we grew. That even as we hurt, we hoped That even as we tired, we tried," Gorman recited during inauguration. "That we'll forever be tied together, victorious. Not because we will never again know defeat but because we will never again sow division."
Like President Biden, Gorman has struggled with a speech impediment and has been open about her experience overcoming it. She actually used poetry as a tool to correct it. First, she used it as a way of expressing herself without having to speak. Then she used it to bring her poems to life.
"Once I arrived at the point in my life in high school, where I said, 'you know what? Writing my poems on the page isn't enough for me," she told CBS News. "I have to give them breath, and life, I have to perform them as I am.' That was the moment that I was able to grow past my speech impediment."
What Inspired "The Hill We Climb"
Gorman said the inaugural committee gave her freedom and flexibility when it came to choosing what to write about. She was well on her way before the Jan. 6 attack on the U.S. Capitol. Those events then influenced her writing.
"It energized me even more to believe that much more firmly in a message of hope, community and healing. I felt like that was the type of poem that I needed to write and it was the type of poem that the country and the world needed to hear," she told CNN's Anderson Cooper.
That message came across clearly and the insurrection was depicted in part of "The Hill We Climb."
"It's because being American is more than a pride we inherit. It's the past we step into and how we repair it. We've seen a force that would shatter our nation rather than share it, would destroy our country if it meant delaying democracy and this effort very nearly succeeded," she said. "But while democracy can be periodically delayed it can never be permanently defeated. In this truth, in this faith we trust. For while we have our eyes on the future history has its eyes on us."
Nation Impressed by Gorman
"Wow…Wow, I just, wow you're awesome," Cooper said when closing his interview with her. "I am so transfixed."
Lin-Manuel Miranda also cheered Gorman on. "The Hill We Climb" notably references a line of scripture that appears in a "Hamilton" song. Gorman also said she used to sing the song "Aaron Burr, Sir" to help her say her R sounds and correct her speech impediment.
"I have never been prouder to see another young woman rise!" Oprah Winfrey wrote. "Brava Brava Amanda Gorman! Maya Angelou is cheering—and so am I."
Winfrey also gave Gorman a ring with a caged bird on it—a reference to the famous Angelou poem— which Gorman wore during the inauguration.
Actor Mark Ruffalo joined the onslaught of praise, saying that her words will lead the nation.
Former President Barack Obama echoed that idea as well, and former Secretary of State Hillary Clinton said Gorman promised to run for president one day.
SAT Drops Subject Tests and Optional Essay Section
The College Board will discontinue SAT subject tests effective immediately and will scrap the optional essay section in June.
The organization cited the coronavirus pandemic as part of the reason for accelerating these changes.
Regarding subject tests, the College Board said the other half of the decision rested on the fact that Advanced Placement tests are now more accessible to low-income students and students of color, making subject tests unnecessary.
It also said it plans to launch a digital version of the SAT in the near future, despite failing to implement such a plan last year after a previous announcement.
---
College Board Ends Subject Tests and Optional Essay
College Board announced Tuesday that it will scrap the SAT's optional essay section, as well as subject tests.
Officials at the organization cited the COVID-19 pandemic as part of the reason for these changes, saying is has "accelerated a process already underway at the College Board to simplify our work and reduce demands on students."
The decision was also made in part because Advanced Placement tests, which College Board also administers, are now available to more low-income students and students of color. Thus, College Board has said this makes SAT subject tests unnecessary. 
While subject tests will be phased out for international students, they have been discontinued effective immediately in the U.S.
Regarding the optional essay, College Board said high school students are now able to express their writing skills in a variety of ways, a factor which has made the essay section less necessary.
With several exceptions, it will be discontinued in June.
The Board Will Implement an Online SAT Test
In its announcement, College Board also said it plans to launch a revised version of the SAT that's aimed at making it "more flexible" and "streamlined" for students to take the test online.
In April 2020, College Board announced it would be launching a digital SAT test in the fall if schools didn't reopen. The College Board then backtracked on its plans for a digital test in June, before many schools even decided they would remain closed.
According to College Board, technological challenges led to the decision to postpone that plan.
For now, no other details about the current plan have been released, though more are expected to be revealed in April.
Biden To Block Trump's Order Lifting COVID-19 Travel Ban
President Trump issued an executive order Monday lifting a ban on travelers from the Schengen area of Europe, the U.K., Ireland, and Brazil. 
Trump said the policy will no longer be needed starting Jan. 26, when the CDC will start requiring all passengers from abroad to present proof of a negative coronavirus test before boarding a flight.
The move was cheered by the travel industry; however, incoming White House press secretary Jennifer Psaki warned that Biden's administration does not intend to lift the travel restrictions. 
---
Trump Order End To COVID-19 Travel Ban
President Donald Trump issued an executive order Monday ending his administration's ban on travelers from the Schengen area of Europe, the U.K., Ireland, and Brazil.
That ban was put in place last spring in an effort to curb the spread of coronavirus in the U.S. In his announcement, however, Trump said the policy will no longer be needed starting Jan. 26, when new rules from the Centers for Disease Control and Prevention go into effect.
Starting that day, the CDC will require all passengers from abroad to present proof of a negative coronavirus test before boarding a flight.
The recommendation to lift the ban reportedly came from Alex Azar, the U.S. Secretary of Health and Human Services. According to Trump's proclamation, "the Secretary reports high confidence that these jurisdictions will cooperate with the United States in the implementation of CDC's January 12, 2021, order and that tests administered there will yield accurate results."
It's worth noting that the ban will stay in place for travelers from Iran and China. Still, Trump's announcement was generally cheered by members of the travel industry who have been pushing to lift the ban and require preflight testing instead. 
Biden To Block Trump's Order
Soon after the news broke, the incoming White House press secretary for President-elect Joe Biden, Jennifer Psaki, warned that Biden would block Trump's order.
"With the pandemic worsening, and more contagious variants emerging around the world, this is not the time to be lifting restrictions on international travel," she wrote on Twitter.
"On the advice of our medical team, the Administration does not intend to lift these restrictions on 1/26.  In fact, we plan to strengthen public health measures around international travel in order to further mitigate the spread of COVID-19," she added.
With that, it seems unlikely that Trump's order will actually take effect. 
It's also worth noting that this is one of many executive orders Trump has issued just before inauguration day.
Some of these orders could soon be overturned once Biden takes office Wednesday. Biden is also expected to roll out his own wave of executive orders in his first 10 days as president.