LeBron James Slams Youth Football Coach for Hitting Player in Viral Video. Child's Mother Says She Doesn't Want To Press Charges
A former youth football coach in Savannah Georgia, who was caught on video repeatedly hitting a child during a game, is facing heat from internet users and athletes like LeBron James for his behavior.
The coach was identified as Gerrel Williams, and he released a video apology saying, "I shouldn't have disciplined him in public, I should've waited till we got back for doing what he did… He forgave me and his parents have forgiven me, so nobody else should be bashing me."
The team's organizers initially defended him, though they later announced his termination. Williams was also banned from the league's games and fired from his role as a counselor at a detention center for the Chatham County Sheriff's Office.
The child's mother told local reporters she did not want to press charges and knows "that none of these coaches would harm (the) kids."
---
Viral Video
A mother whose child was repeatedly hit by his youth football coach in a now-viral video says she does not want to press charges against the man who struck him, according to the Savannah Morning News.
The video shows the coach, who has since been identified as Gerrel Williams, yelling at the young player before striking him in the face.
He continues to yell and hits the child once more, this time slamming him down onto the ground.
The player picks himself up and endures more screams from his coach. At one point, Willaims even get close to the child's face, grabs him by the helmet, and sends him off the field.
According to local news reports, the team is called the Savannah Gators, a youth football team for players ages 9 and under. This specific incident, however, happened in Florida while they were playing in the American Youth Football National Championships.
Reactions From Athletes
People online were quick to call the coach's actions disgusting, including major athletes.
Former NFL tight end turned sports analyst Shannon Sharpe said he would have stepped in, whether it was his own child or not.
NBA star LeBron James expressde a similar sentiment on his Instagram story, writing: "Ain't no way!! Couldn't be my kid. Hell if I there and it's not even my kid we gone have more than words for sure."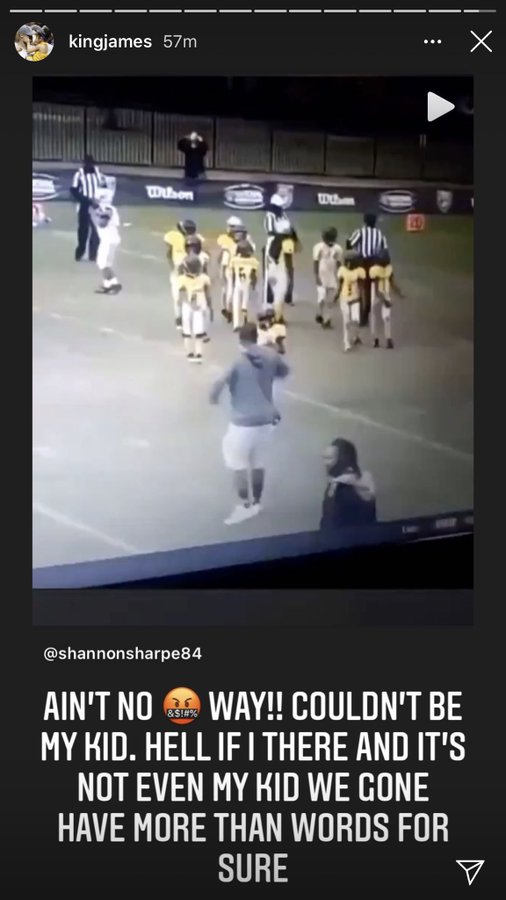 Savannah Gators Respond
As far as what the Team's organizers have said, there's a post floating around on social media that was allegedly posted and later deleted from the team's official Facebook page.
"Please keep the negative comments off this page please this organization has great coaches," it reads. "We understand what we all saw yesterday was disturbing to us all but let's not blame everyone for one mans actions"
"The guy in the video is our 9U head coach he is a good guy that just took it a little to far on a 9U player."
From the organization! pic.twitter.com/IanqctjuZu

— Geoffrey Todd (@TeamTodd_CEO) December 9, 2020
The coach also released an apology video that is stirring up even more outrage.
"I'ma apologize for my actions about what took place, but at the end of the day, I am a man and I'm not gonna make no excuses for what I did. I was wrong," he said before his statement took a turn.
"I shouldn't have disciplined him in public, I should've waited till we got back for doing what he did. At the end of the day, I apologize to him, the kids, the city down here, and my family back at home. I do apologize. There's no excuse for my actions.
"He forgave me and his parents have forgiven me, so nobody else should be bashing me," he added.
His weakass apology. That wasn't his kid and the parents forgave him? Smh couldn't be mine. pic.twitter.com/deFKpVTYNP

— TK F. (@BornARam916) December 10, 2020
The Savannah Gators also released a statement saying Williams would be removed from the coaching role, though the message was later taken down and replaced with a new post.
"We don't allow or condone any of our coaches to hit a child in no way, shape or form with the name Savannah Gators we made a mistake and we will learn from this as we Move forward," it said.
December 9, 2020
According to an incident report from the Chatham County Sherrif's office, the person in charge of the American Youth Football National Championship advised the officer handling the incident that the coach was expelled from the league and was no longer able to attend any more games.
The report also says the player's mother told authorities she was aware of what happened but did not want to press charges.
She even told the Savannah Morning News she did not want to talk about what happened, but knows "that none of these coaches would harm (the) kids."
According to the Savannah Morning News, Williams was also employed by the Chatham County Sheriff's Office as a counselor in its detention center.
As of Thursday, Williams is no longer an employee of the CCSO.
Donald Trump and Eldest Three Children Hit With Fraud Lawsuit From New York AG
AG Letitia James says that the former president "falsely inflated his net worth by billions of dollars to unjustly enrich himself."
---
Lawsuit Filed Against Trump 
New York Attorney General Letitia James announced on Wednesday that she filed a civil lawsuit against former president Donald Trump and his three eldest children over allegations that they fraudulently inflated asset valuations within the Trump Organization.
Donald Trump Jr., Eric Trump, and Ivanka Trump are all listed alongside their father in the lawsuit. Executives Jeffrey McConney and Allen Weisselberg, the latter of whom recently pled guilty to tax crimes, are also listed alongside other Trump businesses.
"Donald Trump, with the help of his children…and senior executives at the Trump Organization, falsely inflated his net worth by billions of dollars to induce banks to lend money to the Trump Organization on more favorable terms than would otherwise have been available to the company, to satisfy continuing loan covenants, to induce insurers to provide insurance coverage for higher limits and at lower premiums, and to gain tax benefits, among other things,"  a press release announcing the lawsuit claimed. 
The Attorney General's office claims that between 2011 and 2021, Trump and the Trump Organization made 200 false and misleading claims about asset values on annual financial statements.
The lawsuit was filed Wednesday in a State Supreme Court in Manhattan.
"The complaint demonstrates that Trump falsely inflated his net worth by billions of dollars to unjustly enrich himself and to cheat the system, thereby cheating all of us," James said while announcing the complaint.
Her office is seeking to permanently ban Trump and his children from serving as an officer or director in any New York corporation and to bar Trump and his organization from entering into any New York real estate acquisitions for five years. The office is also seeking to recover $250 million in penalty payments, among other forms of relief.
The Office of the Attorney General has also referred the matter to the federal attorneys in New York and to the IRS for criminal investigation.
"There aren't two sets of laws for people in this nation: former presidents must be held to the same standards as everyday Americans," James added in a statement on social media. 
"Trump's crimes are not victimless," she continued. "When the well-connected and powerful break the law to get more money than they are entitled to, it reduces resources available to working people, small businesses, and taxpayers."
Trump Allegedly Inflated Key Assets
According to James' release, Trump "made known through Mr. Weisselberg that he wanted his net worth on his statements to increase every year."
"And the statements were the vehicle by which his net worth was fraudulently inflated by billions of dollars year after year," the release continued.
Among the assets Trump and his organization allegedly inflated was the Trump Tower Triplex, an apartment Trump allegedly claimed was 30,000 square feet when it is just around 11,000 square feet. Because of its ballooned size, the property was valued at $327 million in 2015, roughly three times as much as the sole apartment in New York City to ever sell for over $100 million at the time. 
For further comparison, the highest sale for a listing in Trump Tower at the time was only $16 million. 
Trump also allegedly claimed Mar-a-Lago was valued as high as $739 million based on the "false premise" that the property could be developed and sold for residential use. The lawsuit claims that Trump actually signed deeds donating those rights, limiting the property's use to a social club. James and her office claim its value would fall closer to $75 million.
Inflated Clauations Cannot Be "Excused"
"The inflated asset valuations in the Statements cannot be brushed aside or excused as merely the result of exaggeration or good faith estimation about which reasonable real estate professionals may differ,"  the lawsuit states, adding that instead, they are the result of improper methodology intentionally meant to falsely boost Trump's net worth. 
The investigation into Trump's alleged fraud began nearly three years ago, and the former president has repeatedly called it a politically motivated witch hunt. His attorney, Alina Habba, doubled down on that rhetoric in a statement Wednesday. 
"Today's filing is neither focused on the facts nor the law – rather, it is solely focused on advancing the Attorney General's political agenda," Habba said. "We are confident that our judicial system will not stand for this unchecked abuse of authority, and we look forward to defending our client against each and every one of the Attorney General's meritless claims."
For his part, Trump has blasted the lawsuit on Truth Social, calling James a "fraud" and a "crime-fighting disaster."
Trump previously tried to impede the probe but was ultimately ordered by a judge to sit for a deposition and turn over subpoenaed documents. Reports say he pled the fifth hundreds of times during his deposition. 
Hurricane Fiona Causes "Catastrophic" Damage in Puerto Rico, Leaving Many Without Power
While power has been restored to some, more than a million remain without it as continued rainfall, flooding, and landslides are expected to cause further damage across the island.
---
Hurricane Fiona Wreaks Havoc
Hurricane Fiona made landfall in Puerto Rico Sunday, bringing heavy rains, flooding, and landslides, while also knocking out power for the entire island and killing at least one person.
Photos and videos posted on social media show floodwaters consuming major streets and engulfing cars. Some pictures show an entire bridge flooded, making it impassible. Other footage shows a different bridge entirely uprooted and a metal barrier ripped away from the road and floating down a river of floodwater.
Officials have said conditions are still too dangerous to fully evaluate the extent of the crisis. In remarks to the public, Puerto Rico's governor, Pedro Pierluisi, described the damage as "catastrophic."
He asserted that the storm has been one of the most significant since Hurricane Maria — which hit the island almost exactly 5 years ago to the day — killing more than 3,000 people, leaving many without power for months, and causing destruction that the island is still recovering from.
Pierluisi noted that Puerto Rico has received over 30 inches of rain and that some areas have even gotten more rain than during Hurricane Maria. As of Monday afternoon, the National Gaurd has led 30 rescue operations so far, saving more than 1,000 stranded residents in 25 municipalities, according to the governor.
Pierluisi also added that more than 2,000 people were in the island's 128 shelters, with officials further saying there is plenty of shelter space for those who need it. On Sunday, President Joe Biden approved an emergency declaration for Puerto Rico, which will allow federal agencies to coordinate disaster relief.
Continued Issues As Storm Rages On
Meanwhile, Puerto Rico's water authority has confirmed that just over 70% of the island is still without water. According to poweroutage.us, more than 1.3 million customers were still without power as of Monday morning.
The power company LUMA also stated that electricity had been restored to around 100,000 customers over the course of Sunday night, though it previously warned that the full restoration of power could take several days as the storm has created "incredibly challenging" conditions.
While Hurricane Fiona has passed through Puerto Rico, having now made landfall in the Dominican Republic, officials and experts say that heavy rains and further flooding are still to be expected for the next few days.
The National Weather Service has warned that "life-threatening and catastrophic flooding" as well as mudslides and landslides are expected to continue across the island. As a result, Pierluisi has urged Puerto Ricans Monday to remain home and in shelters so that officials can continue to respond to others in need.
He also noted that the areas most impacted by the hurricane include the southern part of the island, the southwest, and the mountains.
After moving through the Dominican Republic, Hurricane Fiona is expected to head towards Turks and Caicos Tuesday. The National Hurricane Center has said that the storm will continue to grow and by Wednesday, it is set to become a major hurricane — which means a Category 3 or higher.
Government Aid Cut Child Poverty in Half During Pandemic, Data Shows
The reduction occurred similarly across geography, race, family type, and citizenship status.
---
Largest Drop in Half a Century
The United States's child poverty rate sank to the lowest level on record last year, primarily thanks to pandemic relief measures and other government programs, according to an analysis of census data released Tuesday.
The Center on Budget and Policy Priorities analyzed data from the Census Bureau's supplementary poverty measure, which accounts for safety net programs and tax credits as well as regional differences in the cost of living.
From around 11% in 2019, the percentage of kids living below the poverty line fell to 9.7% in 2020 and 5.2% the year after that.
In just two years, nearly 5.5 million kids were lifted from poverty, marking an almost 60% drop in the child poverty rate.
The Center's researchers gave most credit to the federal government's numerous interventions in the economy, from stimulus payments and the expanded child tax credit to eviction moratoriums and expanded unemployment insurance.
Without government intervention, poverty in 2020 would have experienced its second-largest recorded increase, the Center claimed, but instead, it underwent the largest single-year decline in over half a century.
Especially impactful was the expanded child tax credit, which sent up to $300 per child to households with children every month between July and December 2021.
According to the analysis, this policy alone pulled nearly three million kids out of poverty.
But the tax credit's expansion expired at the end of the year despite Democrats' efforts to prolong it with Biden's signature Build Back Better bill, which was blocked by Sen. Joe Manchin (D-WV), who reportedly told colleagues he was concerned that families might use the payments to buy drugs.
Poverty Before COVID
Child poverty has fallen by 59% since 1993, when it sat at around 28%, according to another analysis published Sunday by The New York Times and the nonpartisan group Child Trends.
They found that the decline occurred across all 50 states and D.C., as well as in different levels of poverty.
It similarly affected nearly all subgroups of children, — white, Black, Asian and Hispanic, single-parent and two-parent, immigrant and non-immigrant.
The causes driving the pre-pandemic decline included general economic improvement — low unemployment, a higher labor force participation rate among single mothers, and growing state minimum wages — but the researchers pinned government welfare programs as the dominant factor.
They specifically mentioned the earned income tax credit, social security, unemployment insurance, and nutrition and housing assistance.
Despite the positive trend, more than eight million children still live below the poverty line, and that number excludes those who live just above it but still struggle to meet basic needs.
The current poverty line sits around $29,000 for a family of four in a location with typical living costs.
Moreover, disparities still persist, with Black and Latino children about three times as likely as their white peers to be poor.