"Among Us" Developers Scramble To Fight Off Pro-Trump Hacks
The video game "Among Us" has been struggling to fight off a hacker that spent the weekend blacking out lobbies, spamming chat boxes with pro-Trump messages, and causing other game disruptions.
InnerSloth, the developers behind the game, implemented anti-hacks to try and regain control, but some bugs and other issues persist.
The alleged hacker, who has since been doxed online, told Eurogamer they were trying to gain publicity for Trump and themselves since they design and sell in-game cheats. However, they also told Kotaku they were just curious to see what would happen and found the hack funny.
The disruptions began about two days after Rep. Alexandria Ocasio- Cortez played the game in front of more than 435,000 Twitch viewers in an effort to encourage youth voting.
---
Hacker Target's 'Among Us'
Developers of the game "Among Us" are actively working to combat a hacker that has flooded the app with pro-Donald Trump messages since Thursday.
The multiplayer murder mystery game has grown in popularity this year thanks to support from Twitch streamers and users who found it particularly good to play during this age of social distancing.
Just last Tuesday, the game received extra attention when Rep. Alexandria Ocasio-Cortez (D-NY) hosted her first Twitch stream, playing with huge gamers like Pokimane, Valkyrae, Jacksepticeye, and others. The stream was part of a larger effort to encourage voting and ended up bringing in over 435,000 concurrent viewers.
However, by Thursday, users began reporting that the game was facing hacks. Players complained about their lobbies turning completely black, meanwhile, some were disconnected from games altogether.
Others reported spammed chat sections that told users to subscribe to Eris Loris on YouTube otherwise the hacker would "kill your device."
The hacker also shared Twitter links, Discord links, and other pro-Trump messages, even writing "Hacked by Russians." in some spam posts.
InnerSloth Rushes To Fight Back
Eventually, "Among Us" developer InnerSloth released a statement about the problem on Twitter.
"We're are super duper aware of the current hacking issue and we're looking into it," it said. "We will be pushing out an emergency server update so people who are in game will get kicked from games. Please play private games or with people that you trust!!! Bare with us!! 😰"
One of the developers later said he was rolling out server updates, but warned that players would be impacted for an unknown amount of time.
That's likely what actually happened since complaints continued throughout the weekend. By Saturday evening, the developer said he had rolled out "wave 2" of anti-hacks but noted that there are some bugs and issues he's already aware of.
If you try to play right now, you'll be hit with a warning message about the problems as the game undergoes emergency maintenance.
In it, the developers reminded players that they were stopping plans for "Among Us 2" as they focused on "Among Us 1."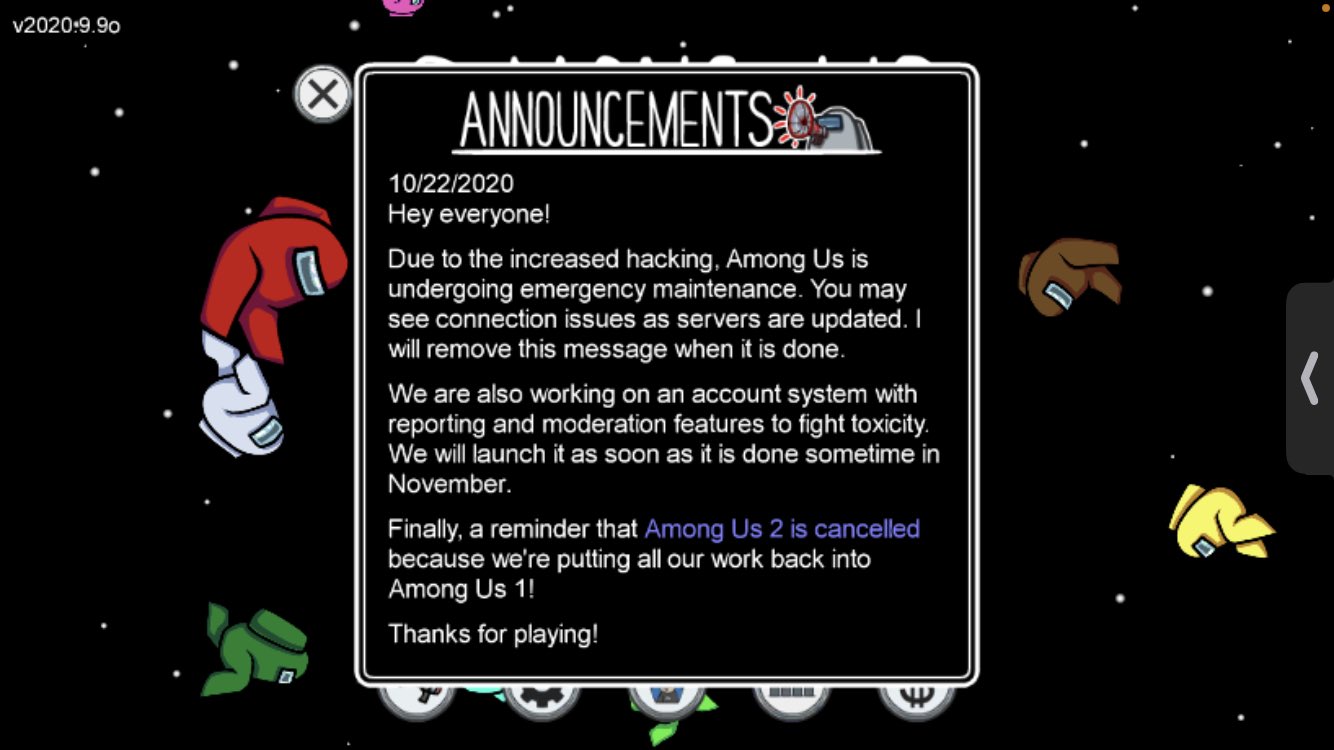 Hacker Speaks Out
Many felt the hack was done in an effort to bring support for President Trump in front of the same audience that Ocasio-Cortez reached.
Both Eurogamer and Kotaku claimed they made contact with the hacker, who has since been doxxed and threatened online.
They told Eurogamer they design and sell in-game cheats and consider this "a publicity stunt," claiming to have affected 1.5 million matches.
They also said "I'm a college student and I support Trump," adding that they hoped this generated publicity for the president as well.
But when speaking to Kotaku, the hacker made it sound more like a trolling effort, saying, "I was curious to see what would happen, and personally I found it funny."
"The anger and hatred is the part that makes it funny. If you care about a game and are willing to go and spam dislike some random dude on the internet because you cant play it for 3 minutes, it's stupid."
For now, it's unclear if all the problems are close to being completely resolved, but the situation has put a harsh spotlight on InnerSloth's small team. 
Max to Agrees to "Properly" Credit Writers and Directors After Facing Backlash For Lumping Them in As "Creators"
The company said the credits were laid out incorrectly due to "an oversight in the technical transition from HBO Max to Max."
---
After film and television writers slammed Max for crediting all writers, producers, and directors as general "creators" on its platform, the company said it will be adjusting its credits display.
"We agree that the talent behind the content on Max deserve their work to be properly recognized," the streaming service said in a statement obtained by The Hollywood Reporter.
Max — the new rebrand of HBO Max that incorporates Discovery content — launched on Tuesday to much criticism. Amid glitches and app-switching confusion, the biggest backlash it faced was over the choice to lump creative roles into one credit section called "creators." As one viral tweet noted, if a user were to select the film "Raging Bull," the service's display would not specifically credit Martin Scorsese as the director, rather, his name would be included at random with half a dozen other people, including writers and producers. 
The decision was condemned by many in the industry who argued it minimizes writers and directors by not properly giving them credit where it is due. Especially amid the ongoing writers' strike, and with directors and actors starting negotiations with studios, some took it as a slap in the face. 
"The studios don't want anyone to know our names," writer Christina Strain tweeted. "It's easier to pay us nothing if we're faceless."
"Another move from studios to diminish the role of writers, directors, actors and other craftspeople. Miss me wit this nonsense," Jorge Rivera, the Vice-Chair of the Writers Guild's Latinx Writers Committee, added. 
In a statement, Directors Guild President Lesli Linka Glatter said that Warner Bros. Discovery's choice to "collapse" these roles into one credit "while we are in negotiations with them is a grave insult to our members and our union."
"The DGA will not stand for it," Glatter continued.
WGA West President Meredith Stiehm claimed the move was "a credits violation," as well as an insult "to the artists that make the films and TV shows that make their corporation billions."
On Wednesday, Max said it would rework its crediting.
"We will correct the credits, which were altered due to an oversight in the technical transition from HBO Max to Max and we apologize for this mistake," the platform said.
A Quarter of Young British Men Support Andrew Tate's Thoughts on Women
U.K. residents at large, however, do not view him favorably.
---
Even under house arrest in Romania, misogynist influencer Andrew Tate still holds substantial sway over young men. 
According to data from YouGov that was obtained by The Independent, 26% of U.K. men between 18 and 29 years old who know of Tate agree with his views on women. That figure was largely the same for men between 30 and 39, as 28% agreed with Tate's opinions on the subject. 
Men in their 30s were slightly more likely to agree with Tate on his thoughts about masculinity. Three out of ten supported those views, compared to just a quarter of men 18 to 29.
Those statistics only include the thoughts of men who have heard of Tate, but per YouGov, most have. In the 18 to 29 group, 93% were familiar with him, and 86% of men in their 30s knew of him. 
The U.K. at large was less aware of Tate, with just 63% of British adults having heard of him. Of that group, only 6% held a positive view of him.
Tate has faced substantial backlash for his sexist rhetoric over the years. In the past, he said that men should have "authority" over their wives or girlfriends, and that women should "bear some responsibility" for being raped. He was previously banned from Twitter over his extremist views on women but has since been allowed back on the platform. 
He is currently being investigated in Romania for organized crime and human trafficking. He was arrested and held in custody in December but was released to house arrest earlier this year. No formal charges have been filed against him yet and he has maintained his innocence. 
Tate currently boasts a Twitter following of 6.7 million. It has grown significantly since he was enveloped in legal controversy, and many of his supporters have demanded his release. 
Prince Harry and Meghan Markle Involved in "Near Catastrophic" Paparazzi Chase
"While being a public figure comes with a level of interest from the public, it should never come at the cost of anyone's safety," a spokesperson for the couple said.
---
"Aggressive" Paparazzi Chase Couple in New York
Prince Harry and Meghan Markle were involved in a "near catastrophic" paparazzi car chase Tuesday night in New York City, according to a spokesperson for the couple.
In a statement, the spokesperson described the photographers as "highly aggressive."
"While being a public figure comes with a level of interest from the public, it should never come at the cost of anyone's safety," the statement added.
"This relentless pursuit, lasting over two hours, resulted in multiple near collisions involving other drivers on the road, pedestrians and two NYPD officers," it continued.
Details of the incident are still emerging, but BBC News reported that there are claims the chase involved roughly six cars driving recklessly by running red lights, driving on the sidewalk, carrying out blocking moves, going backward on a one-way road, and taking pictures while driving. 
The chase happened after Harry and Meghan were leaving the Women of Vision Awards with Meghan's mother, Doria. They did not want photographers to learn where they were staying and attempted to avoid them in what turned into a 75-minute chase on a main road in Manhattan's Upper East Side. They eventually ducked into a New York Police Department Precinct to hide out before getting into a different vehicle.
The NYPD released a statement confirming that they assisted in protecting the couple as "numerous photographers" hindered their transport. Officials said they made it to their destination and there were no collisions, injuries, or arrests. 
The couple's spokesperson is asking the public to not share or post footage of the incident.
"Dissemination of these images, given the ways in which they were obtained, encourages a highly intrusive practice that is dangerous to all in involved," the spokesperson said.
Memories of Princess Diana
The chase evokes the brutal press hounding Harry's mother, Princess Diana, was subjected to throughout her life. The paparazzi's obsession with her ultimately resulted in her death in 1997, when she was killed in a car crash after being chased by photographers in Paris.
Since marrying Meghan and later bowing out of the Royal Family, Harry has made it explicitly clear that he fears those events could happen again. Meghan has been the subject of endless tabloid scrutiny, enduring racism and harassment from the press. Part of the reason they left the Royal Family was to keep their family protected from such attacks.
Mayor Eric Adams brought up Diana's tragic passing while speaking about Tuesday night's chase. 
"I don't think there's many of us who don't recall how [Harry's] mom died," Adams said while speaking to reporters. "And it would be horrific to lose an innocent bystander during a chase like this and something to have happened to them as well…I think that was a bit reckless and irresponsible."
Adams also questioned whether or not he believes a chase could go on for two hours in a city as congested as New York, but noted that even a 10-minute chase would be dangerous. He said he will be briefed on the exact timeline and details later.