"Among Us" Developers Scramble To Fight Off Pro-Trump Hacks
The video game "Among Us" has been struggling to fight off a hacker that spent the weekend blacking out lobbies, spamming chat boxes with pro-Trump messages, and causing other game disruptions.
InnerSloth, the developers behind the game, implemented anti-hacks to try and regain control, but some bugs and other issues persist.
The alleged hacker, who has since been doxed online, told Eurogamer they were trying to gain publicity for Trump and themselves since they design and sell in-game cheats. However, they also told Kotaku they were just curious to see what would happen and found the hack funny.
The disruptions began about two days after Rep. Alexandria Ocasio- Cortez played the game in front of more than 435,000 Twitch viewers in an effort to encourage youth voting.
---
Hacker Target's 'Among Us'
Developers of the game "Among Us" are actively working to combat a hacker that has flooded the app with pro-Donald Trump messages since Thursday.
The multiplayer murder mystery game has grown in popularity this year thanks to support from Twitch streamers and users who found it particularly good to play during this age of social distancing.
Just last Tuesday, the game received extra attention when Rep. Alexandria Ocasio-Cortez (D-NY) hosted her first Twitch stream, playing with huge gamers like Pokimane, Valkyrae, Jacksepticeye, and others. The stream was part of a larger effort to encourage voting and ended up bringing in over 435,000 concurrent viewers.
However, by Thursday, users began reporting that the game was facing hacks. Players complained about their lobbies turning completely black, meanwhile, some were disconnected from games altogether.
Others reported spammed chat sections that told users to subscribe to Eris Loris on YouTube otherwise the hacker would "kill your device."
The hacker also shared Twitter links, Discord links, and other pro-Trump messages, even writing "Hacked by Russians." in some spam posts.
InnerSloth Rushes To Fight Back
Eventually, "Among Us" developer InnerSloth released a statement about the problem on Twitter.
"We're are super duper aware of the current hacking issue and we're looking into it," it said. "We will be pushing out an emergency server update so people who are in game will get kicked from games. Please play private games or with people that you trust!!! Bare with us!! 😰"
One of the developers later said he was rolling out server updates, but warned that players would be impacted for an unknown amount of time.
That's likely what actually happened since complaints continued throughout the weekend. By Saturday evening, the developer said he had rolled out "wave 2" of anti-hacks but noted that there are some bugs and issues he's already aware of.
If you try to play right now, you'll be hit with a warning message about the problems as the game undergoes emergency maintenance.
In it, the developers reminded players that they were stopping plans for "Among Us 2" as they focused on "Among Us 1."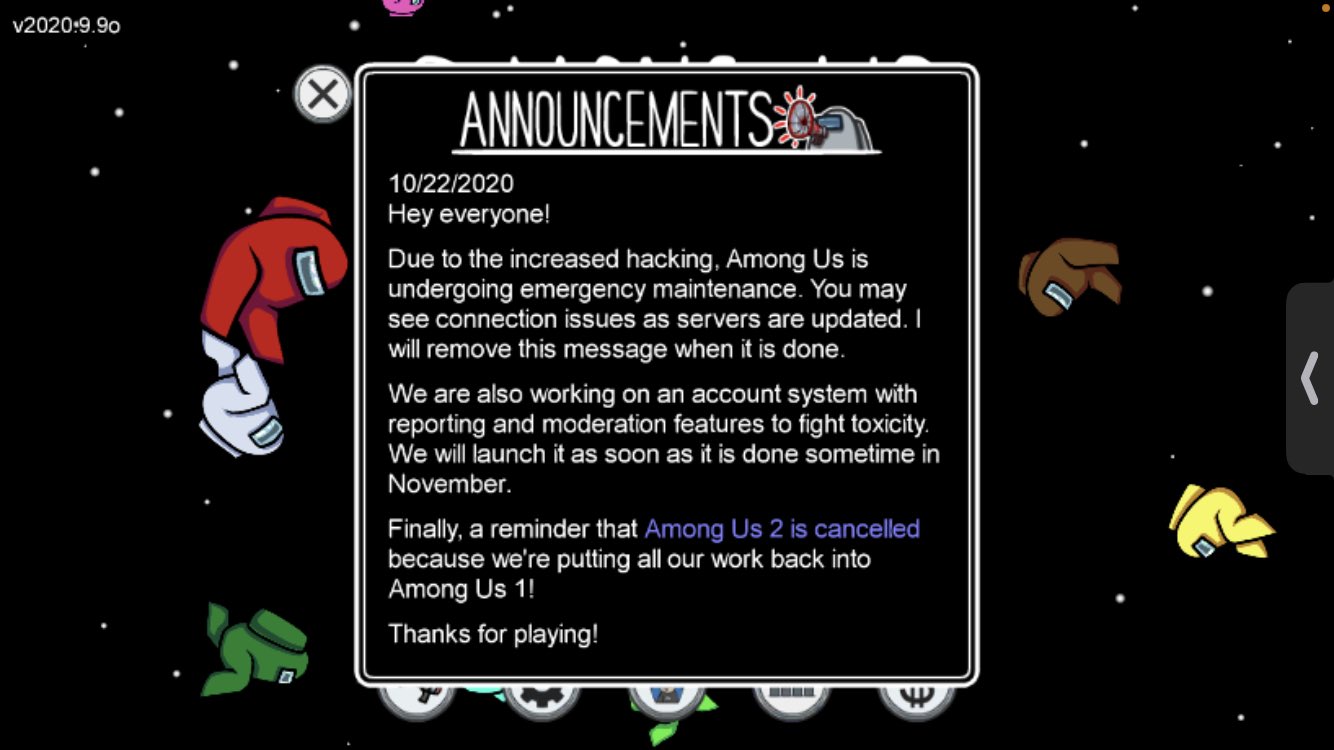 Hacker Speaks Out
Many felt the hack was done in an effort to bring support for President Trump in front of the same audience that Ocasio-Cortez reached.
Both Eurogamer and Kotaku claimed they made contact with the hacker, who has since been doxxed and threatened online.
They told Eurogamer they design and sell in-game cheats and consider this "a publicity stunt," claiming to have affected 1.5 million matches.
They also said "I'm a college student and I support Trump," adding that they hoped this generated publicity for the president as well.
But when speaking to Kotaku, the hacker made it sound more like a trolling effort, saying, "I was curious to see what would happen, and personally I found it funny."
"The anger and hatred is the part that makes it funny. If you care about a game and are willing to go and spam dislike some random dude on the internet because you cant play it for 3 minutes, it's stupid."
For now, it's unclear if all the problems are close to being completely resolved, but the situation has put a harsh spotlight on InnerSloth's small team. 
N.Y. State Senate Passes Bill Championed by Jay-Z That Would Restrict Use of Rap Lyrics in Court
A companion bill currently sits in the state's assembly.
---
"Rap Music on Trial" Passes Senate
The New York State Senate passed legislation on Tuesday that would curb prosecutors' ability to cite rap lyrics and other creative works as evidence in legal battles.
Dubbed "Rap Music on Trial," the bill aims to "enhance the free speech protections of New Yorkers by banning the use of art created by a defendant as evidence against them in a courtroom," according to a statement from State Sens. Brad Hoylman (D-Manhattan) and Jamaal Bailey (D-Queens).
"The legislation will protect all artists and content creators, including rappers from having their lyrics wielded against them by prosecutors," the statement continued.
Right now, all forms of creative expression, including rap lyrics, can be used as evidence in criminal cases. Rap lyrics, however, are more likely to be weaponized against those who wrote them in trial, experts say.
"The use of rap and hip-hop lyrics in particular is emblematic of the systemic racism that permeates our criminal justice system," Bailey said in a statement.
Hoylman agrees that there is a double standard.
"Nobody thinks Johnny Cash shot a man in Reno just to watch him die, or that David Byrne is a psycho killer, but routinely rappers have their lyrics used against them in criminal trials," he tweeted.
The bill would not fully ban the use of rap lyrics in court. If made into law, prosecutors would need "clear and convincing proof that there is a literal, factual nexus between creative expression and the facts of the case" in order to use these works as evidence.
Major artists including Jay-Z, Meek Mill, Kelly Rowland, and Robin Thicke previously signed a letter in support of the legislation.
A companion bill currently sits in the New York State Assembly.
Rap Lyrics in Court
The use of rap lyrics against their artists is not an uncommon tactic. Earlier this month, an indictment charging Young Thug, Gunna, and two dozen others over alleged gang activity and conspiracy to violate racketeering laws used lyrics of the aforementioned artists. 
While the case is in Atlanta and would not be impacted by the New York bill, the use of their lyrics has stirred controversy. In a motion requesting that Gunna be released from jail, his lawyers argued that it was unfair to cite these works.
"It is intensely problematic that the State relies on song lyrics as part of its allegations," his lawyers said in court documents. "These lyrics are an artist's creative expression and not a literal recounting of facts and circumstances. Under the State's theory, any artist with a song referencing violence could find herself the victim of a RICO indictment."
​​Fulton County District Attorney Fani T. Willis defended the indictment's use of the lyrics and argued it did not violate the artist's free speech.
In the letter signed by numerous recording artists, the authors said this kind of tactic "effectively denies rap music the status of art and, in the process, gives prosecutors a dangerous advantage in the courtroom."
"Rather than acknowledge rap music as a form of artistic expression, police and prosecutors argue that the lyrics should be interpreted literally — in the words of one prosecutor, as 'autobiographical journals' — even though the genre is rooted in a long tradition of storytelling that privileges figurative language, is steeped in hyperbole, and employs all of the same poetic devices we find in more traditional works of poetry," the letter, which was written by Jay-Z's lawyer Alex Spiro and University of Richmond Professor Erik Nielson, said.  
YouTube Touts MrBeast and Mainstream Appeal in First Upfront Presentation
According to Nielson, over 230 million people in the United States used the video service in just one month.
---
YouTube Presents at Upfronts
During its first Upfront presentation on Tuesday, YouTube CEO Susan Wojcicki said the company said it was joining staple broadcast and entertainment companies "because YouTube is the mainstream."
"Viewers have more choices than ever about what to watch or where to watch it," Wojcicki said while speaking at the Imperial Theatre in New York City. "And they continue to use YouTube."
The company had previously done its Brandcast presentation at the NewFronts. This was the first time its pitch came alongside television competitors during the busy Upfronts season.
Many of YouTube's primary talking points were highlighted in a company blog post. In its address, it marketed itself not just as the future of media consumption, but as the modern-day leader, too.
It said that over 135 million people watched YouTube on Connected TVs, representing every age demographic from toddlers to viewers 55-years-old and up. It also cited Nielson data that said YouTube has over 50% of ad-supported streaming watch time on TV screens.
Nielsen also found that YouTube reached over 230 million people in the United States in just one month.
YouTube Offers Up Its Talent
MrBeast, one of YouTube's top creators, attended the presentation. The company boasted that if MrBeast were his own streaming service, he would "would have more subscribers than the next three most popular ad-supported streaming services." In other words, with 95 million YouTube subscribers, MrBeast is ahead of HBO and HBO Max's 77 million, Paramount's 33 million, and Hulu's 54 million in the United States.
Or course, subscribing to a YouTube channel is very different from subscribing to a streaming service, as YouTube subscriptions come at no cost. Viewers can subscribe to as many or as few creators as they please for free, while each streaming service has a monthly or annual fee to gain access to its content.
YouTube didn't only show off its homegrown talent. Popstar Lizzo also took the stage to sing her praises of the company, along with a few of her biggest hits.
But the company's most important appeals came from the strengths it offered to advertisers. It claimed that 2020 Nielson analysis showed that YouTube on average had a 1.2 times greater return on investment than television.
It also announced a frequency optimization tool for advertisers that would allow companies to control how many times viewers see their spots in one week. In its blog post, YouTube said this allows for "more efficient" spending and "a better experience for viewers."
It touted this optimization as "a solution only YouTube can provide."
"Saturday Night Live" Faces Backlash for Sketch Mocking the Johnny Depp Amber Heard Trial
Many fear that jokes about the case could hurt the everyday domestic abuse survivors that see them.
---
SNL Mocks Trial
After "Saturday Night Light" parodied the ongoing defamation trial between actors Johnny Depp and Amber Heard in its cold open this weekend, many are criticizing the show — and media at large — for making a mockery of the case.
Ever since the trial began in April, there has been an onslaught of TikToks, tweets, videos, and other posts turning the happenings in the courtroom into clickbait content. Most of the posts use Heard as a punchline as the #JusticeForJohnnyDepp narrative prevails online.
Depp sued Heard for $50 million over a 2018 op-ed she wrote in The Washington Post titled "I spoke up against sexual violence — and faced our culture's wrath. That has to change." While she never mentioned Depp by name, many believed the piece referred to previous abuse allegations she had made about him. Depp, however, alleges that Heard was actually the abuser and concocted the claims to ruin his career. She countersued for $100 million. 
In its most recent episode, "Saturday Night Live" aired a sketch starring Kyle Mooney as Depp, Cecily Strong as the judge, and Aidy Bryant and Heidi Gardner as lawyers in the case. The sketch took place in the courtroom as the involved parties discussed allegations that Heard defecated in her and Depp's bed. They then watched "video evidence" of house staffers, played by Kenan Thompson, Ego Nwodim, Melissa Villaseñor, and Chris Redd, finding the fecal matter. 
At various points, Strong's judge said they should continue watching the video "because it's funny" and she and Mooney's Depp both said they find the trial "amusing."
"This trial is for fun," the judge proclaimed at one point.
Many online did not see the humor in SNL's parody, arguing that a case involving domestic abuse accusations should not be a punchline. Some said the sketch was "disgusting and desperate."
"Domestic violence is not a joke. Rape is not a joke," writer Ella Dawson tweeted. "Abusers using the legal system to continue to terrorize their victims is not a joke. Abusers using accusations of defamation to silence their victims is not a joke."
"In twenty years people are going to look back at this trial and all of the media coverage and be disgusted," Dawson continued.
"You're free to have absolutely no opinion on the Depp/Heard trial, but thinking it's 'for fun' is for someone with a diseased heart and brain," Meredith Haggerty, the senior culture editor at Vox, wrote.
Many felt that regardless of how someone feels or who they support in this case, those making fun of Heard are "making a joke of victims everywhere."
Criticism of Media's Trial Coverage
Others argued this sketch was part of an overall disturbing trend in the media's coverage of this case where serious allegations were being played up for laughs. 
The hashtag #JusticeForJohnnyDepp has trended on Twitter several times throughout the trial as fans defend the actor. Many also use it to mock Heard, share clips of her crying, and in some cases, spread misinformation about her courtroom claims. The tag is also popular on TikTok, where it has been viewed over 11 billion times as of Monday morning.
Many of the videos involve jokes about the case, memes, fan cams, and other content meant to belittle Heard. On TikTok, the tag #AmberTurd has raked in over 1.6 billion views. Some videos involve animated renderings of courtroom videos meant to make Heard look careless or dumb. Others use audio of Heard alleging that Depp hit her along with silly imagery to make those claims look like a farce. Many involve people making fun of the way Heard has cried on the stand.
Experts have told numerous media outlets that by ridiculing Heard, Depp's supporters are potentially harming abuse victims that may come across these posts.
"I can't imagine what this might be doing to someone who may eventually want to seek safety and support," Ruth M. Glenn, the chief executive officer of the National Coalition Against Domestic Violence, told NBC News. "Whether it's Amber Heard or Johnny Depp, how dare us make fun and make light of someone who is sharing something very personal — no matter how we feel about that person."
The trial is being broadcast live so interested parties can watch it unfold in real-time. The viral clips have allowed the case to become a massive entertainment spectacle.
Public discourse of the trial has sorted people into either "Team Depp" or "Team Heard," and just a quick glance online will show that Depp has so far won a good portion of public favor. Still, no matter how one views the trial, many think jokes at the expense of Heard's claims are a bridge too far.
"In the commentary, it's almost as if people are forgetting that this is real life, that this is not a show that we're all watching," Laura Palumbo, communications director at the National Sexual Violence Resource Center, told USA Today. "Many victims of domestic violence and sexual assault will go into a courtroom at some point and have an experience that is largely outside of their control, in a setting like this."
"There's such a strong desire in the public discourse for [Heard] to be the villain, for her to be the example of the fact that there are victims who have ulterior motives, that there are victims who are not telling the full truth," Palumbo continued. "It doesn't seem like there's a lot of folks thinking critically or wanting to understand the nuances of abuse or of unhealthy relationships."