"Among Us" Developers Scramble To Fight Off Pro-Trump Hacks
The video game "Among Us" has been struggling to fight off a hacker that spent the weekend blacking out lobbies, spamming chat boxes with pro-Trump messages, and causing other game disruptions.
InnerSloth, the developers behind the game, implemented anti-hacks to try and regain control, but some bugs and other issues persist.
The alleged hacker, who has since been doxed online, told Eurogamer they were trying to gain publicity for Trump and themselves since they design and sell in-game cheats. However, they also told Kotaku they were just curious to see what would happen and found the hack funny.
The disruptions began about two days after Rep. Alexandria Ocasio- Cortez played the game in front of more than 435,000 Twitch viewers in an effort to encourage youth voting.
---
Hacker Target's 'Among Us'
Developers of the game "Among Us" are actively working to combat a hacker that has flooded the app with pro-Donald Trump messages since Thursday.
The multiplayer murder mystery game has grown in popularity this year thanks to support from Twitch streamers and users who found it particularly good to play during this age of social distancing.
Just last Tuesday, the game received extra attention when Rep. Alexandria Ocasio-Cortez (D-NY) hosted her first Twitch stream, playing with huge gamers like Pokimane, Valkyrae, Jacksepticeye, and others. The stream was part of a larger effort to encourage voting and ended up bringing in over 435,000 concurrent viewers.
However, by Thursday, users began reporting that the game was facing hacks. Players complained about their lobbies turning completely black, meanwhile, some were disconnected from games altogether.
Others reported spammed chat sections that told users to subscribe to Eris Loris on YouTube otherwise the hacker would "kill your device."
The hacker also shared Twitter links, Discord links, and other pro-Trump messages, even writing "Hacked by Russians." in some spam posts.
InnerSloth Rushes To Fight Back
Eventually, "Among Us" developer InnerSloth released a statement about the problem on Twitter.
"We're are super duper aware of the current hacking issue and we're looking into it," it said. "We will be pushing out an emergency server update so people who are in game will get kicked from games. Please play private games or with people that you trust!!! Bare with us!! 😰"
One of the developers later said he was rolling out server updates, but warned that players would be impacted for an unknown amount of time.
That's likely what actually happened since complaints continued throughout the weekend. By Saturday evening, the developer said he had rolled out "wave 2" of anti-hacks but noted that there are some bugs and issues he's already aware of.
If you try to play right now, you'll be hit with a warning message about the problems as the game undergoes emergency maintenance.
In it, the developers reminded players that they were stopping plans for "Among Us 2" as they focused on "Among Us 1."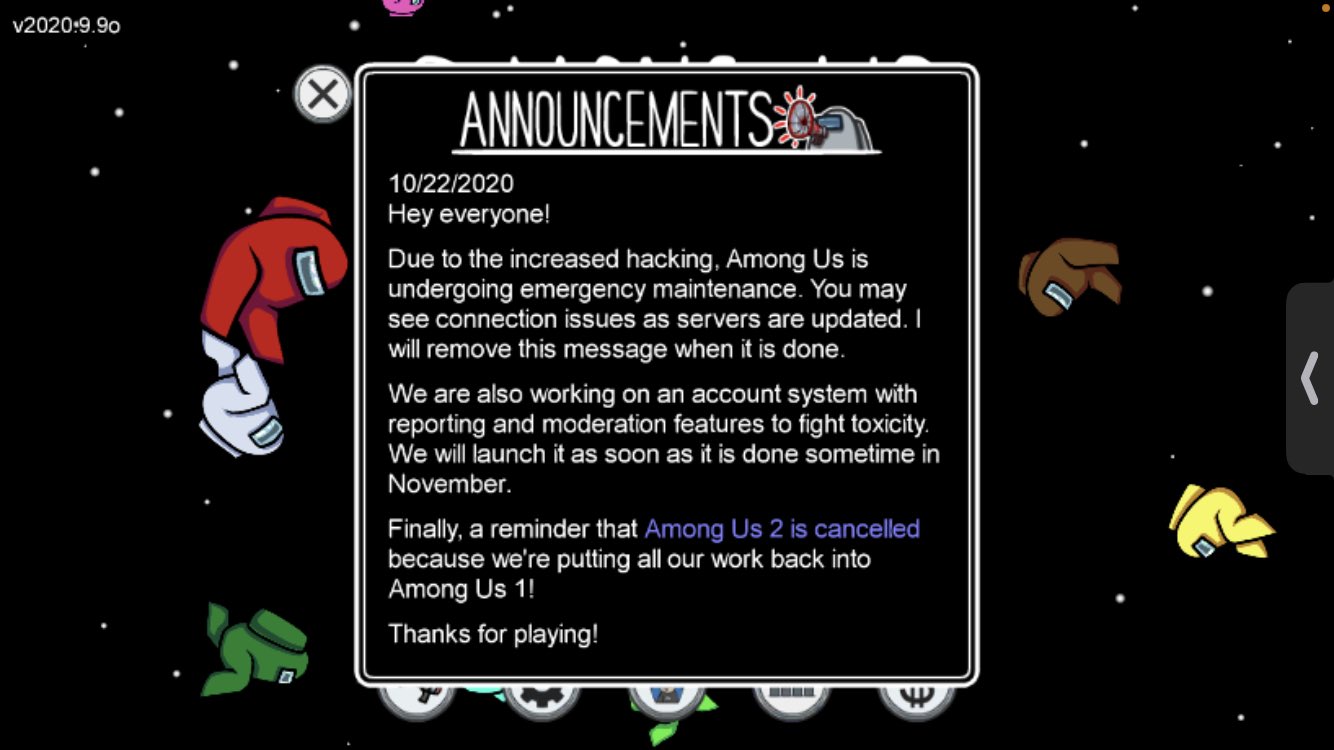 Hacker Speaks Out
Many felt the hack was done in an effort to bring support for President Trump in front of the same audience that Ocasio-Cortez reached.
Both Eurogamer and Kotaku claimed they made contact with the hacker, who has since been doxxed and threatened online.
They told Eurogamer they design and sell in-game cheats and consider this "a publicity stunt," claiming to have affected 1.5 million matches.
They also said "I'm a college student and I support Trump," adding that they hoped this generated publicity for the president as well.
But when speaking to Kotaku, the hacker made it sound more like a trolling effort, saying, "I was curious to see what would happen, and personally I found it funny."
"The anger and hatred is the part that makes it funny. If you care about a game and are willing to go and spam dislike some random dude on the internet because you cant play it for 3 minutes, it's stupid."
For now, it's unclear if all the problems are close to being completely resolved, but the situation has put a harsh spotlight on InnerSloth's small team. 
"Don't Worry Darling" Tops the Box Office Amid Bad Press
Audiences are already giving the film higher praise than critics did.
---
Young Women Flock to "Don't Worry Darling"
Weeks of controversies and rumors did not prevent "Don't Worry Darling" from finding victory at the box office, with the Olivia Wilde-directed thriller debuting at number one over the weekend and raking in $19.2 million.
Wilde also acted in the mid-century mystery, which starrs Florence Pugh, Harry Styles, Chris Pine, and Gemma Chan.
Women led ticket sales for the picture, comprising 66% of the audience, according to several reports. At least partially due to the appeal of Styles, crowds also skewed young, with over half under the age of 25.
Overseas, the film made over $10 million, bringing its total for the weekend to $30 million. That number is especially impressive since the R-rated drama had a budget of $35 million.
"Don't Worry Darling" had been plagued with weeks of rumors about behind-the-scenes drama leading up to its release. Among other bouts of gossip, many online speculated that Pugh and Wilde had riffs on set, leading to Pugh's refusal to promote the project. One report alleged the two got into a screaming match, but sources on set denied it.
Wilde and Shia LeBeouf, who was originally cast in the picture, also got into a public he-said-she-said about whether he quit the film or was fired.
The drama hit a boiling point during its premiere at the Venice Film Festival when Twitter users circulated a video they claimed showed Styles spiting on Pine, though both parties have denied that allegation.
A Film Riddled With Rumors
Furthering the bad press were the bad reviews. Critics largely panned the film, sticking it with a 38% on Rotten Tomatoes. After this first weekend, moviegoers seem to have a more favorable outlook, as it has a 79% audience score as of Monday. 
Jeff Goldstein, the distribution chief for Warner Bros., told the Associated Press that "the background noise" caused by these controversies "had a neutral impact" on its box office haul. The studio released a statement saying it was pleased with the movie's earnings.
Some analysts believe that, if anything, the online gossip and fodder may have aided the film's box office performance.
In a tweet recapping the weekend's box office, Paul Dergarabedian, a senior media analyst at Comscore, said the "drama sparked a huge wave of interest."
Senators Introduce Legislation Requiring Radios to Pay Royalties to Artists
Sen. Padilla argued the bill is necessary to give artists the "dignity and respect they deserve."
---
The American Music Fairness Act
Sens. Alex Padilla (D-CA) and Marsha Blackburn (R-TN) introduced the American Music Fairness Act to the Senate on Thursday, a bill that would require radio stations to pay royalties to performers and rights holders.
The bill was previously introduced to the House last year. According to a release, the United States is the only democratic country where artists are not compensated for their music's use on AM or FM radio. While songwriters and publishers receive payment, these stations have never been required to give a slice of the pie to performers and copyright holders.
On streaming and satellite radio, however, both groups receive royalty payments.
In a statement, Padilla said it is time the country starts treating "our musical artists with the dignity and respect they deserve for the music they produce and we enjoy every day."
"California's artists have played a pivotal role in enriching and diversifying our country's music scene," he added. "That is why passing the American Music Fairness Act is so important."
"From Beale Street to Music Row to the hills of East Tennessee, the Volunteer State's songwriters have undeniably made their mark," Blackburn echoed. "Tennessee's creators deserve to be compensated for their work. This legislation will ensure that they receive fair payment and can keep the great hits coming."
The American Music Fairness Act would require terrestrial radio broadcasters to pay royalties to music creators when their songs are played. It would also protect smaller stations that either make less than $1.5 million in annual revenue or who have a parent company that makes less than $10 million in annual revenue by letting them play unlimited music for under $500 a year.
The bill would also require other countries to pay American artists for the use of their work.
Support From Major Music Groups
The legislation is endorsed by a number of groups, including the Recording Academy, SAG-AFTRA, and the American Federation of Musicians.
If passed, the bill could move a lot of money into the pockets of performers. According to the Recording Academy, when American music gets international airplay, other countries collect royalties for American artists, amounting to around $200 million every year. However, they "never pay those royalties because the U.S. does not reciprocate with our own performance right."
Fran Drescher, President of SAG-AFTRA, argues that the money belongs to the artists. 
"Broadcast companies profit from advertising sales because of the creative content musicians and singers record. It stands to reason that the performers who create the content deserve to be compensated just as songwriters are now," Drescher said in a statement. "The reason it's called the American Music Fairness Act is because the current situation is wholly unfair and it's up to Congress to make it fair NOW!"
Last year, Representatives Steve Womack (R-AR) and Kathy Castor (D-FL) introduced the Local Radio Freedom Act, a bill with essentially the opposite agenda. It aims to reserve radio's royalty-free status. The American Music Fairness Act is being viewed as a counter-response to this bill.
See what others are saying: (Variety) (Billboard)
Kanye West Says Catalog Is Potentially Being Sold Without His Permission: "Just Like Taylor Swift"
After Swift lost the rights to her life's work, she took on the endeavor of re-recording her first six albums.
---
Kanye's Catalog Potentially Up For Grabs
Following reports that Kanye West was considering selling his catalog, the artist took to Instagram on Tuesday to claim his work is potentially being sold without his approval.
On Monday, Billboard reported that West had been "quietly and intermittently shopping his publishing catalog."
While the outlet's sources did not reveal what price West was aiming for, Billboard estimated that West might be looking at a $175 million valuation for his discography. Some of Billboard's sources seemingly suggested that West and his team were specifically behind the effort to sell his work, but others claimed the "catalog was never actively shopped" and instead, West had been receiving offers from potential buyers.
Not long after, several news outlets picked the story up and reported that West was gearing up to sell his catalog. West responded by writing on his Instagram story that this was not the case. 
"Not For Sale"
"Just like Taylor Swift," he said, referencing music mogul Scooter Braun purchasing Swift's masters with Big Machine Records without her approval. "My publishing is being put up for my sale without my knowledge. Not for sale."
Swift referred to the sale of her masters to Braun as her "worst case scenario." In order to regain ownership of her work, she is in the process of re-recording her first six albums, all of which she originally made under Big Machine. Two have already been released and proved to be wildly commercially successful.
According to Forbes, it is unclear which of his albums West owns the masters to, if he owns any at all. Because of this, it is unknown what kind of position he would be put in if his catalog, which is currently managed by Sony, was sold.
The status of any potential for his work to be sold became foggier later on Tuesday when West shared screenshots of a text exchange he had. He asked an unidentified person what was happening with the catalog sale, and that person responded by calling it "fake news."
"Of course every publisher wants to pitch [their] hardest buy, smh," the text continued.
West did not further indicate if those texts were meant to clarify that his catalog was, in fact, not up for sale, or just further distance himself from any potential acquisition.