"Among Us" Developers Scramble To Fight Off Pro-Trump Hacks
The video game "Among Us" has been struggling to fight off a hacker that spent the weekend blacking out lobbies, spamming chat boxes with pro-Trump messages, and causing other game disruptions.
InnerSloth, the developers behind the game, implemented anti-hacks to try and regain control, but some bugs and other issues persist.
The alleged hacker, who has since been doxed online, told Eurogamer they were trying to gain publicity for Trump and themselves since they design and sell in-game cheats. However, they also told Kotaku they were just curious to see what would happen and found the hack funny.
The disruptions began about two days after Rep. Alexandria Ocasio- Cortez played the game in front of more than 435,000 Twitch viewers in an effort to encourage youth voting.
---
Hacker Target's 'Among Us'
Developers of the game "Among Us" are actively working to combat a hacker that has flooded the app with pro-Donald Trump messages since Thursday.
The multiplayer murder mystery game has grown in popularity this year thanks to support from Twitch streamers and users who found it particularly good to play during this age of social distancing.
Just last Tuesday, the game received extra attention when Rep. Alexandria Ocasio-Cortez (D-NY) hosted her first Twitch stream, playing with huge gamers like Pokimane, Valkyrae, Jacksepticeye, and others. The stream was part of a larger effort to encourage voting and ended up bringing in over 435,000 concurrent viewers.
However, by Thursday, users began reporting that the game was facing hacks. Players complained about their lobbies turning completely black, meanwhile, some were disconnected from games altogether.
Others reported spammed chat sections that told users to subscribe to Eris Loris on YouTube otherwise the hacker would "kill your device."
The hacker also shared Twitter links, Discord links, and other pro-Trump messages, even writing "Hacked by Russians." in some spam posts.
InnerSloth Rushes To Fight Back
Eventually, "Among Us" developer InnerSloth released a statement about the problem on Twitter.
"We're are super duper aware of the current hacking issue and we're looking into it," it said. "We will be pushing out an emergency server update so people who are in game will get kicked from games. Please play private games or with people that you trust!!! Bare with us!! 😰"
One of the developers later said he was rolling out server updates, but warned that players would be impacted for an unknown amount of time.
That's likely what actually happened since complaints continued throughout the weekend. By Saturday evening, the developer said he had rolled out "wave 2" of anti-hacks but noted that there are some bugs and issues he's already aware of.
If you try to play right now, you'll be hit with a warning message about the problems as the game undergoes emergency maintenance.
In it, the developers reminded players that they were stopping plans for "Among Us 2" as they focused on "Among Us 1."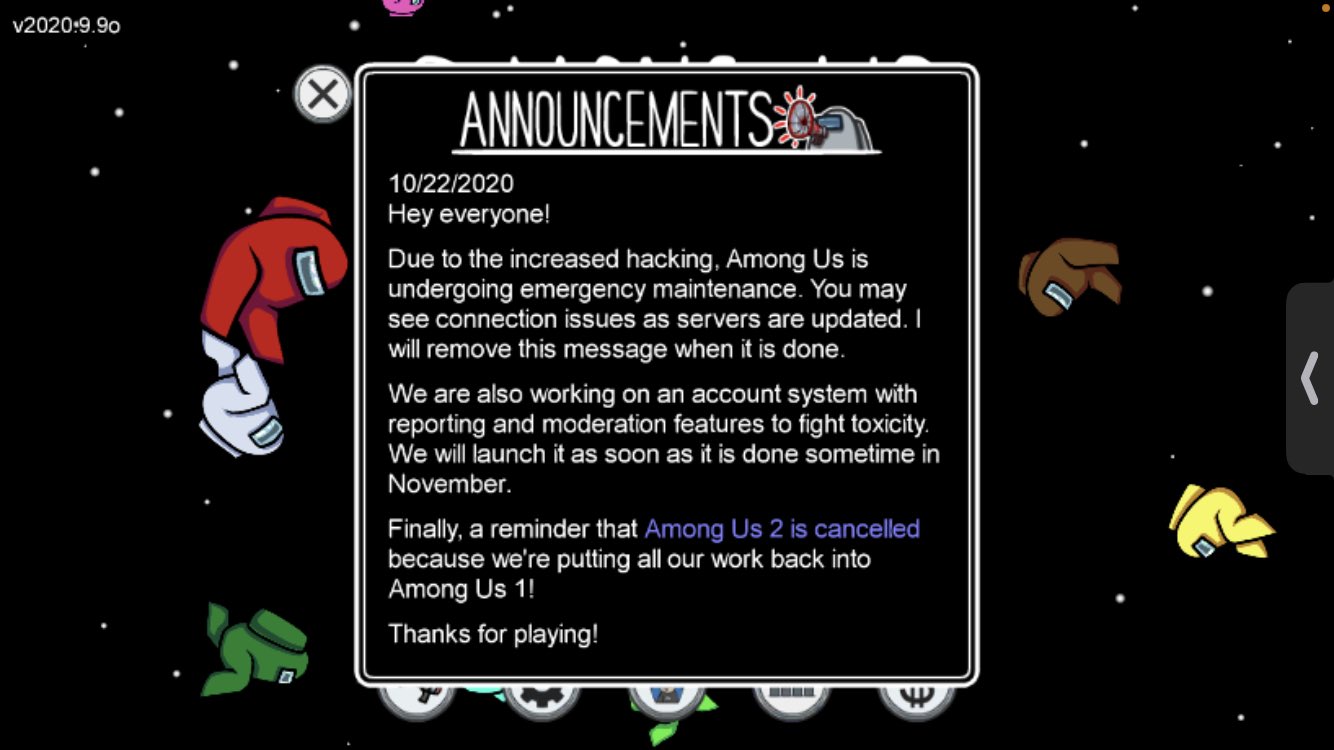 Hacker Speaks Out
Many felt the hack was done in an effort to bring support for President Trump in front of the same audience that Ocasio-Cortez reached.
Both Eurogamer and Kotaku claimed they made contact with the hacker, who has since been doxxed and threatened online.
They told Eurogamer they design and sell in-game cheats and consider this "a publicity stunt," claiming to have affected 1.5 million matches.
They also said "I'm a college student and I support Trump," adding that they hoped this generated publicity for the president as well.
But when speaking to Kotaku, the hacker made it sound more like a trolling effort, saying, "I was curious to see what would happen, and personally I found it funny."
"The anger and hatred is the part that makes it funny. If you care about a game and are willing to go and spam dislike some random dude on the internet because you cant play it for 3 minutes, it's stupid."
For now, it's unclear if all the problems are close to being completely resolved, but the situation has put a harsh spotlight on InnerSloth's small team. 
Britney Spears Asks For Privacy After Fans Called Cops to Conduct a Wellness Check on Her
Fans said they were concerned after the singer deleted her Instagram account.
EDITOR'S NOTE: This article was updated to include a statement from Britney Spears
---
Fans Call 911
Britney Spears said her fans "went a little too far" after some called the police to conduct a wellness check on her. 
The fans, many fueled by online conspiracy theories, were concerned about Spears because she deleted her Instagram account. While this is something the singer has done multiple times in the past, her fans thought she had left secret signals in her last post suggesting she needed help.
Some even posted videos of them calling emergency services on TikTok, a platform that is full of conspiracy videos about Spears. 
"I love and adore my fans but this time things went a little too far and my privacy was invaded," Spears wrote in a statement on Thursday, citing "prank phone calls" that were made to police.
According to Spears, officers did not enter her home because once they got to her gate, they "quickly realized there was no issue and left immediately."
"This felt like I was being gaslit and bullied once the incident made it to the news and being portrayed once again in a poor and unfair light by the media," Spears continued. "During this time in my life, I truly hope the public and my fans who I care so much about can respect my privacy moving forward."
On Wednesday, a spokesperson for Ventura County Sheriff's Office confirmed to Page Six that the department "did get calls into our dispatch" but added there was no reason to believe that Spears was "in any kind of harm or any kind of danger."
That spokesperson declined to say if officials contacted Spears or conducted a wellness check, citing privacy and public trust issues.
The Prominence of Britney Spears Conspiracies 
Just over a year has passed since Spears was freed from a highly restrictive conservatorship that controlled her life and finances for 13 years. Throughout the conservatorship, fans tried to use the pop icon's social media to pick up clues that she was secretly struggling. She did not publicly speak about the conservatorship until the summer of 2021. 
Now that she has her freedom, fans are still reading heavily into her posts. Some believe there are hidden messages in her captions and in the gestures she does while dancing. Others think she is dead, missing, or hiding and that a body double is being used in her posts. Some are so concerned that they are coordinating a mass effort to pressure the Los Angeles Times into investigating Spears' whereabouts and safety. 
In the last several years, many have reflected on Spears' early days in the spotlight and the cruel ways she was harassed and targeted by paparazzi, news outlets, and culture at large. Often the punchline to a joke throughout the 2000s, many now sympathize with Spears, who was forced to endure heavy public scrutiny at a young age. Documentaries like "Framing Britney Spears" prompted many to see Spears as a victim of abusive media tactics, not the "crazy" woman tabloids painted her to be.
Many are now concerned that fans are only going to subject Spears to a new onslaught of harassment by calling the police to her house. Even if the conspiracy theories are technically well-intentioned and often come from a place of concern, some believe they will jumpstart a media frenzy that could harm Spears' mental well-being.
Razzies Apologize For Nominating 12-Year-Old, Adopt Age Rules For Future Nominations
The group's founder said the Razzies regret "any hurt" the young actress may have "experienced as a result of our choices."
---
Razzies Face Backlash
The Razzie Awards revoked its "insensitive" nomination of 12-year-old Ryan Kiera Armstrong and added new guidelines banning child performers from being nominated in the future.
The Razzies, which award the year's worst movies, included Armstrong in its "Worst Actress" lineup for her role in "Firestarter." Bryce Dallas Howard, Diane Keaton, Kaya Scodelario, and Alicia Silverstone were also nominated in the category.
Armstrong starred alongside Zac Efron in "Firestarter," an adaptation of Stephen King's novel of the same name. The picture received a 10% rating from critics on Rotten Tomatoes.
While the film was broadly panned, many thought it was a bridge too far to nominate a child for a bad acting award.
"The Razzies are already mean-spirited & classless, but to nominate a kid is just repulsive & wrong," child star Julian Hilliard, best known for his work in "WandaVision," tweeted. "Why put a kid at risk of increased bullying or worse? Be better."
Actor and podcast host Brandon Hardesty said the nomination was "completely ignorant and cynical."
"They have no clue what this can do to a child actress who probably considered her starring role in FIRESTARTER as a high point in her life," he wrote.
"That girl was the best part of that mess of a movie," film critic Shannon McGrew tweeted. "And on top of that, no kid should ever be nominated for an award that punches down on them."
Nomination Revoked
Razzies founder John Wilson addressed the backlash in a statement to the press on Wednesday, calling the criticism "valid."
"Sometimes, you do things without thinking, Then you are called out for it. Then you get it," Wilson said. "It's why the Razzies were created in the first place."
"We have removed Armstrong's name from the Final Ballot that our members will cast next month," he continued. "We also believe a public apology is owed Ms. Armstrong, and wish to say we regret any hurt she experienced as a result of our choices."
In addition to removing Armstrong's nomination, The Razzies is now adopting "a Voting Guideline precluding any performer or film-maker under 18 years of age from being considered" for awards.
"Since our motto is 'Own Your Bad,' we realize that we ourselves must also live up to it," the statement closed.
While Armstrong will be the last child to nab a Razzie nomination, she was far from the first. Jake Lloyd made the list for his turn as young Anakin Skywalker in "Star Wars: Episode I – The Phantom Menace." Gary Coleman and Macaulay Culkin also got nominations as teenagers.
SeatGeek CEO Calls to Break up Ticketmaster and Live Nation in Senate Hearing Following Taylor Swift Debacle
"A lack of robust competition in our industry meaningfully stunts innovation, and consumers are who suffer," Jack Groetzinger said.
---
Monopoly Concerns
Two months after technical difficulties blocked countless Taylor Swift fans from snagging seats to her tour, a bipartisan group of Senators held a hearing to re-examine the merger between Live Nation and Ticketmaster.
The two entertainment giants merged in 2010. Jack Groetzinger, the CEO of the rival ticket-selling platform SeatGeek, said during Tuesday's hearing that the two need to be broken up to benefit consumers.
"One, a lack of robust competition in our industry meaningfully stunts innovation, and consumers are who suffer," he said. "Two, venues fear losing Live Nation concerts if they don't use Ticketmaster, and three, the only way to restore competition in this industry is to break up Ticketmaster and Live Nation." 
Sen. Amy Klobuchar (D-MN) echoed concerns about the lack of competition, arguing that Live Nation is the "definition of monopoly."
"Live Nation is so powerful that it doesn't even need to exert pressure, it doesn't need to threaten, because people just fall in line," she said.
The Eras Tour Debacle
Ticketmaster has long been accused of price-gouging and complicating the ticket-buying process. Those issues made international headlines in November during the presale for Swift's highly anticipated Era's Tour.
Millions of fans who attempted to enter Ticketmaster's virtual queue walked away empty-handed after experiencing crashes, price inflation, and a myriad of other issues.
According to Ticketmaster, the incredibly high demand, coupled with an onslaught of bot attacks, forced the platform to slow sales down. After the company delayed sales in certain cities and canceled the general sale altogether, Swift called the ordeal "excruciating."
"We asked them, multiple times, if they could handle this kind of demand and we were assured they could," she wrote on Instagram in November.
The controversy prompted many to accuse Ticketmaster and its parent company, Live Nation, of holding a monopoly over the concert and live events industry. The U.S. Justice Department has opened an antitrust investigation into the entertainment giant. 
Ticketmaster Takes Heat
Ticketmaster has repeatedly tried to blame a number of factors for the failed Swift presale, even at one point suggesting the sale was too popular because the "Anti-Hero" singer waited so long to tour. 
"May I suggest, respectfully, that Ticketmaster ought to look in the mirror and say, 'I'm the problem, it's me,'" Sen. Richard Blumenthal (D-CT) said during the hearing.
Still, the company continued to point the finger at record-breaking bot attacks.
"We knew bots would attack at onsale and planned accordingly. We were then hit with three times the amount of bot traffic that we'd ever experienced," Live Nation CFO Joe Berchtold said on Capitol Hill.
"The attack requires [us] to slow down and even pause our sales. This is what led to a terrible consumer experience we deeply regret. We apologize to the fans, we apologize to Miss Swift, we need to do better and we will do better," he continued.
Others present at the hearing were not happy with Live Nation's bot defense. Sen. Marsha Blackburn (R-TN) said that she has worked with companies in a variety of industries that deal with bots without these issues.
"You know what, they get bot attacks every single day by the thousands. By the thousands," she said. "And they have figured it out, but you guys haven't? This is unbelievable."
"You can't blame bots for what happened to Taylor Swift," JAM Productions CEO Jerry Mickelson added. "There's more to that story that you're not hearing."
According to Mickelson, Ticketmaster can actually stand to benefit from glitchy sales on its platform.
"The process, when it's slowed down, increases the money that Ticketmaster makes because they make money on fees and as the ticket prices go up due to dynamically priced tickets, Ticketmaster makes more off that," he claimed. "So it's to their advantage to slow the process down."
Outrage against Ticketmaster has become so widespread that Sen. Blumenthal said the company was responsible for "an absolutely stunning achievement."
"You have brought together Republicans and Democrats in an absolutely unified cause."