"Among Us" Developers Scramble To Fight Off Pro-Trump Hacks
The video game "Among Us" has been struggling to fight off a hacker that spent the weekend blacking out lobbies, spamming chat boxes with pro-Trump messages, and causing other game disruptions.
InnerSloth, the developers behind the game, implemented anti-hacks to try and regain control, but some bugs and other issues persist.
The alleged hacker, who has since been doxed online, told Eurogamer they were trying to gain publicity for Trump and themselves since they design and sell in-game cheats. However, they also told Kotaku they were just curious to see what would happen and found the hack funny.
The disruptions began about two days after Rep. Alexandria Ocasio- Cortez played the game in front of more than 435,000 Twitch viewers in an effort to encourage youth voting.
---
Hacker Target's 'Among Us'
Developers of the game "Among Us" are actively working to combat a hacker that has flooded the app with pro-Donald Trump messages since Thursday.
The multiplayer murder mystery game has grown in popularity this year thanks to support from Twitch streamers and users who found it particularly good to play during this age of social distancing.
Just last Tuesday, the game received extra attention when Rep. Alexandria Ocasio-Cortez (D-NY) hosted her first Twitch stream, playing with huge gamers like Pokimane, Valkyrae, Jacksepticeye, and others. The stream was part of a larger effort to encourage voting and ended up bringing in over 435,000 concurrent viewers.
However, by Thursday, users began reporting that the game was facing hacks. Players complained about their lobbies turning completely black, meanwhile, some were disconnected from games altogether.
Others reported spammed chat sections that told users to subscribe to Eris Loris on YouTube otherwise the hacker would "kill your device."
The hacker also shared Twitter links, Discord links, and other pro-Trump messages, even writing "Hacked by Russians." in some spam posts.
InnerSloth Rushes To Fight Back
Eventually, "Among Us" developer InnerSloth released a statement about the problem on Twitter.
"We're are super duper aware of the current hacking issue and we're looking into it," it said. "We will be pushing out an emergency server update so people who are in game will get kicked from games. Please play private games or with people that you trust!!! Bare with us!! 😰"
One of the developers later said he was rolling out server updates, but warned that players would be impacted for an unknown amount of time.
That's likely what actually happened since complaints continued throughout the weekend. By Saturday evening, the developer said he had rolled out "wave 2" of anti-hacks but noted that there are some bugs and issues he's already aware of.
If you try to play right now, you'll be hit with a warning message about the problems as the game undergoes emergency maintenance.
In it, the developers reminded players that they were stopping plans for "Among Us 2" as they focused on "Among Us 1."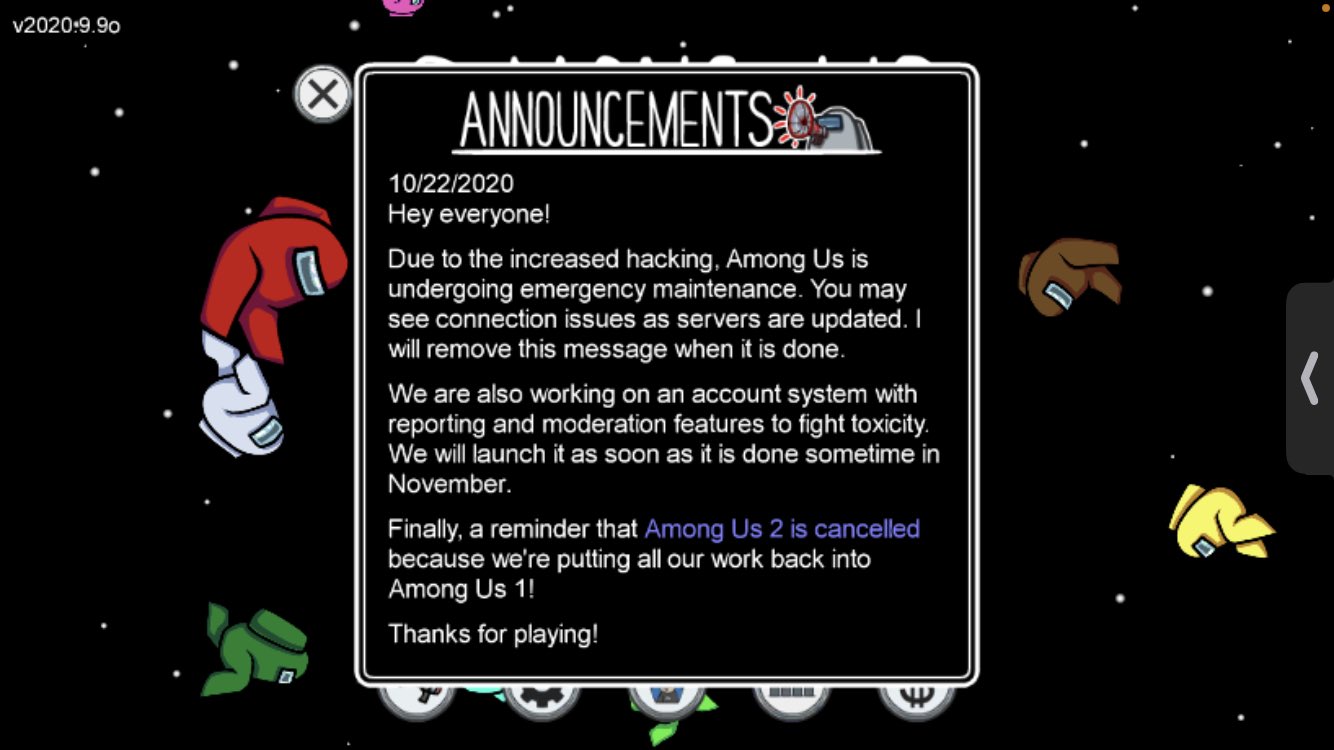 Hacker Speaks Out
Many felt the hack was done in an effort to bring support for President Trump in front of the same audience that Ocasio-Cortez reached.
Both Eurogamer and Kotaku claimed they made contact with the hacker, who has since been doxxed and threatened online.
They told Eurogamer they design and sell in-game cheats and consider this "a publicity stunt," claiming to have affected 1.5 million matches.
They also said "I'm a college student and I support Trump," adding that they hoped this generated publicity for the president as well.
But when speaking to Kotaku, the hacker made it sound more like a trolling effort, saying, "I was curious to see what would happen, and personally I found it funny."
"The anger and hatred is the part that makes it funny. If you care about a game and are willing to go and spam dislike some random dude on the internet because you cant play it for 3 minutes, it's stupid."
For now, it's unclear if all the problems are close to being completely resolved, but the situation has put a harsh spotlight on InnerSloth's small team. 
Billie Eilish Advocates for Climate Action Ahead of U.N. COP26 Summit
The singer was joined by "The Office" actor Rainn Wilson and other big-name celebrities and activists in a pitch for world leaders to make substantial progress at the conference.
---
Billie Eilish Calls for Climate Action
Singer Billie Eilish partnered Tuesday with the environmental group Arctic Basecamp at the University of Exeter to call for meaningful climate action ahead of the U.N. COP26 climate conference.
"This year our leaders are deciding the global actions required on the environment climate emergency in a critical decade for our planet," Eilish said in a video. "We must stand together and speak up to save our planet, not just for us, but for our future generations. And we need urgent, urgent action now."
Eilish is no stranger to advocating for solutions to climate change. In September, the "Happier Than Ever" singer urged Congress to pass climate legislation as part of the #CodeRedClimate campaign. For her latest pitch with Arctic Basecamp, she was joined by other big names, including "The Office" actor Rainn Wilson, explorer Levison Wood, climate activist Daze Aghaji, and wildlife advocate Robert Irwin, who is the son of the late Steve Irwin.
"Courage. That's what our world's leaders need more than anything," Wilson said in the video message. "The decisions that they make about the climate crisis in the next decade are the most important decisions in our planet's history."
What is COP26?
Arctic Basecamp works with scientists and other high-profile organizations all over the world to call attention to climate issues and encourage effective solutions. It was founded by Gail Whiteman, a professor at the University of Exeter, who released a statement thanking the slew of stars and activists for their involvement in the COP26 initiative.
"It is amazing to be working with such brave people that not only are using their voice but are using their voice for good," she said. "This is a crisis and the Arctic is sounding the alarm. It is time that world leaders come together to create real change that ensures a safe future for humanity."
COP26 will kick off in Glasgow on Oct. 31 and run through Nov. 12. Global leaders will discuss several actions regarding the environment, including pacts like the Paris Agreement and U.N. Framework Convention on Climate Change. They will also focus on a series of goals, including achieving global net-zero emissions by mid-century and protecting ecosystems, along with other infrastructure threatened by climate change.
U.K. Prime Minister Boris Johnson has pitched the event as a key moment for the world to come together and tackle climate change. This week, he described it as "our best chance to make the changes we need to protect our planet for our children and grandchildren."
Dave Chappelle Says He's Willing To Meet With Trans Community Under Certain Conditions
After being criticized for transphobic comments, the comedian said he would give an audience to the transgender community even though he is "confused" about what they would be discussing.
---
Dave Chappelle Addresses Netflix Employees
Comedian Dave Chappelle responded on Monday to the recent backlash he has faced for making transphobic remarks in his new Netflix stand-up special "The Closer."
Over the past several weeks, many employees at Netflix have protested against Chappelle's program and numerous LGBTQ+ rights groups have condemned his comments. Netflix employees staged a walkout last week to call out "The Closer" and advocate for more trans and nonbinary employees to be included at the company. 
Some reports have alleged that Chappelle denied the opportunity to speak with the trans community and allies at Netflix. In a new video addressing the controversy, Chappelle refuted that allegation.
"It's been said in the press that I was invited to speak to the transgender employees of Netflix and I refused. That is not true," he said "If they had invited me, I would have accepted it, although I am confused about what we would be speaking about."
"I said what I said, and boy, I heard what you said. My God, how could I not?" he continued. "You said you want a safe working environment at Netflix. It seems like I'm the only one who can't go to the office."
Chappelle Says He Will Meet With Trans Community
Chappelle added that he would be willing to meet with the trans community but is not "bending to anybody's demands."
"I have some conditions. First of all, you cannot come if you have not watched my special from beginning to end," Chappelle explained. "You must come to a place of my choosing at a time of my choosing, and thirdly, you must admit that Hannah Gadsby is not funny."
Gadsby is a comedian best known for her Netflix special "Nanette." While defending Chappelle, Netflix co-CEO Ted Sarandos name-dropped Gadsby and "Nanette" as examples of the service's offerings that give voice to marginalized communities. Gadsby shot back at the executive, saying she did not want him to "drag [her] name into [his] mess."
"Now I have to deal with even more of the hate and anger that Dave Chappelle's fans like to unleash on me every time Dave gets 20 million dollars to process his emotionally stunted partial world view," Gadsby wrote on Instagram. "Fuck you and your amoral algorithm cult."
During "The Closer," Chappelle called himself "team TERF" while discussing author J.K. Rowling being "canceled" after making a series of transphobic comments herself. He said he agreed with Rowling and added that "gender is a fact." He later made a slew of other comments, including a joke about Caitlyn Jenner and remarks comparing the genitalia of transgender women to Beyond and Impossible meat.
As outrage poured in, Sarandos released a series of statements in support of Chappelle and his artistic freedom. During his video, Chappelle thanked Sarandos, claiming that he has lost a series of opportunities amid the controversy. Chappelle recently completed a documentary that he says was going to screen at film festivals, but he is allegedly no longer welcome at those events.
"When this controversy came out about 'The Closer,' they began disinviting me from these film festivals, and now, today, not a film company, not a movie studio, not a film festival, nobody will touch this film," Chapelled claimed. "Thank God for Ted Sarandos and Netflix, he's the only one that didn't cancel me yet."
Chappelle later announced that he will be taking his documentary on tour to cities like San Francisco, New York, Atlanta, and Toronto.
Affidavit Outlines Alleged Events That Lead Up to Fatal Shooting on "Rust" Set
Before the tragic incident that resulted in the death of the film's cinematographer, actor Alec Baldwin was allegedly assured that the gun he was handed on set was not loaded.
---
Details of Events Leading Up to Shooting
An affidavit alleges that actor Alec Baldwin was rehearsing a scene that involved him pointing a gun at the camera when he misfired the weapon last week, killing the production's cinematographer, Halyna Hutchins, and injuring director Joel Souza.
Multiple outlets obtained the affidavit from the Santa Fe County Sheriff's Office on Sunday. The document details the alleged events that resulted in Thursday's tragedy on the set of "Rust." Souza told investigators that during a firearms safety announcement, he heard the prop weapon referred to as a "cold gun," a term that means the gun is not loaded.
According to Souza, the guns on set were usually checked by two people: armorer Hannah Guttierrez-Reed and assistant director Dave Halls. Halls was in charge of giving the guns to actors, though sources said both Guttierrez-Reed and Halls did so at various times.
The affidavit said that Halls handed the gun to Baldwin while announcing it as a "cold gun." Investigators say investigators that Halls got the revolver from a tray set up by Gutierrez-Reed.
Souza said the crew had spent part of the day preparing for a scene in a church and later left to take a lunch break at another location. He said he was unsure if the firearm had been checked again after returning from lunch.
When the accident happened. Souza said he heard what "sounded like a whip and then loud pop." He first noticed Hutchins grabbing her midsection and stumbling back before realizing he had been hit in the shoulder.
The incident came after six camera crew workers reportedly walked off the set in protest of unfair and unsafe working conditions. According to the affidavit, a replacement crew had quickly been hired, but production on the day of the accident was off to a late start because of related issues. Regarding general on-set behavior, Souza claimed that "everyone was getting along" and that there had been "no altercations" to his knowledge.
The affidavit's walkout claim backed up previous reporting from The Los Angeles Times. Sources from the set of "Rust" told the outlet on Friday that half a dozen workers left the set because they were frustrated by safety issues, long hours, long commutes, and a long wait for their paychecks.
Safety Issues on Set of "Rust"
According to the report, standard industry safety protocols "were not strictly followed," and at least one worker complained specifically about gun safety. Some sources told The Times that there had already been at least two accidental discharges of a prop gun. Around a week before the fatal accident, Baldwin's stunt double allegedly fired two rounds after being told a gun was cold.
"There should have been an investigation into what happened," one source told the outlet. "There were no safety meetings. There was no assurance that it wouldn't happen again. All they wanted to do was rush, rush, rush."
Another source told The Times that "corners were being cut" on set.
The report also claimed that Hutchins was among those advocating for her team to have safer work conditions.
Rust Movie Productions released a statement saying safety "is the top priority of Rust Productions and everyone associated with the company."
"Though we were not made aware of any official complaints concerning weapon or prop safety on set, we will be conducting an internal review of our procedures while production is shut down," the statement continued.
Baldwin, for his part, sent his condolences to Hutchins' family on Friday. At the time, he said he was cooperating with the ongoing investigation. 
Vigils have been held in New Mexico and Hollywood to honor Hutchins. The American Film Institute also made a memorial scholarship in her name.