"Among Us" Developers Scramble To Fight Off Pro-Trump Hacks
The video game "Among Us" has been struggling to fight off a hacker that spent the weekend blacking out lobbies, spamming chat boxes with pro-Trump messages, and causing other game disruptions.
InnerSloth, the developers behind the game, implemented anti-hacks to try and regain control, but some bugs and other issues persist.
The alleged hacker, who has since been doxed online, told Eurogamer they were trying to gain publicity for Trump and themselves since they design and sell in-game cheats. However, they also told Kotaku they were just curious to see what would happen and found the hack funny.
The disruptions began about two days after Rep. Alexandria Ocasio- Cortez played the game in front of more than 435,000 Twitch viewers in an effort to encourage youth voting.
---
Hacker Target's 'Among Us'
Developers of the game "Among Us" are actively working to combat a hacker that has flooded the app with pro-Donald Trump messages since Thursday.
The multiplayer murder mystery game has grown in popularity this year thanks to support from Twitch streamers and users who found it particularly good to play during this age of social distancing.
Just last Tuesday, the game received extra attention when Rep. Alexandria Ocasio-Cortez (D-NY) hosted her first Twitch stream, playing with huge gamers like Pokimane, Valkyrae, Jacksepticeye, and others. The stream was part of a larger effort to encourage voting and ended up bringing in over 435,000 concurrent viewers.
However, by Thursday, users began reporting that the game was facing hacks. Players complained about their lobbies turning completely black, meanwhile, some were disconnected from games altogether.
Others reported spammed chat sections that told users to subscribe to Eris Loris on YouTube otherwise the hacker would "kill your device."
The hacker also shared Twitter links, Discord links, and other pro-Trump messages, even writing "Hacked by Russians." in some spam posts.
InnerSloth Rushes To Fight Back
Eventually, "Among Us" developer InnerSloth released a statement about the problem on Twitter.
"We're are super duper aware of the current hacking issue and we're looking into it," it said. "We will be pushing out an emergency server update so people who are in game will get kicked from games. Please play private games or with people that you trust!!! Bare with us!! 😰"
One of the developers later said he was rolling out server updates, but warned that players would be impacted for an unknown amount of time.
That's likely what actually happened since complaints continued throughout the weekend. By Saturday evening, the developer said he had rolled out "wave 2" of anti-hacks but noted that there are some bugs and issues he's already aware of.
If you try to play right now, you'll be hit with a warning message about the problems as the game undergoes emergency maintenance.
In it, the developers reminded players that they were stopping plans for "Among Us 2" as they focused on "Among Us 1."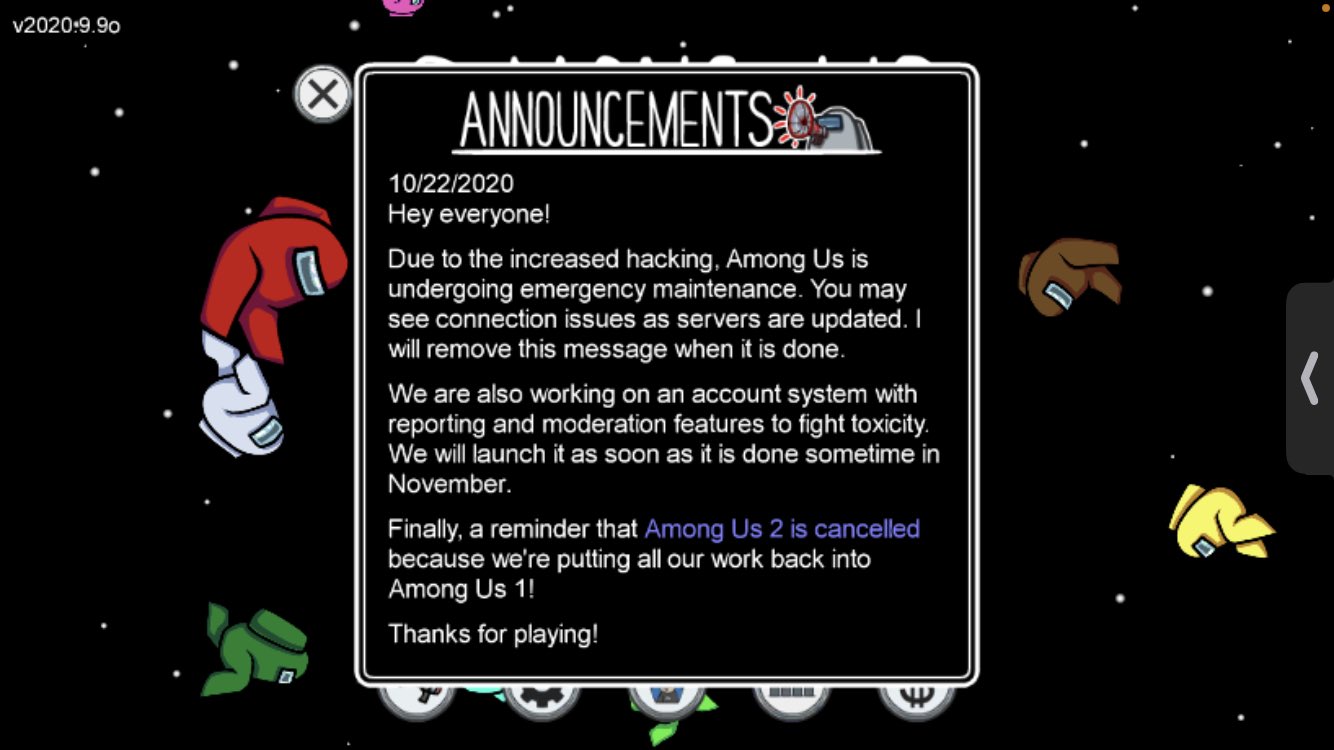 Hacker Speaks Out
Many felt the hack was done in an effort to bring support for President Trump in front of the same audience that Ocasio-Cortez reached.
Both Eurogamer and Kotaku claimed they made contact with the hacker, who has since been doxxed and threatened online.
They told Eurogamer they design and sell in-game cheats and consider this "a publicity stunt," claiming to have affected 1.5 million matches.
They also said "I'm a college student and I support Trump," adding that they hoped this generated publicity for the president as well.
But when speaking to Kotaku, the hacker made it sound more like a trolling effort, saying, "I was curious to see what would happen, and personally I found it funny."
"The anger and hatred is the part that makes it funny. If you care about a game and are willing to go and spam dislike some random dude on the internet because you cant play it for 3 minutes, it's stupid."
For now, it's unclear if all the problems are close to being completely resolved, but the situation has put a harsh spotlight on InnerSloth's small team. 
Disney Eviscerates Scarlett Johansson's "Black Widow" Lawsuit as "Callous," but Report Suggests Emma Stone and Emily Blunt May Follow Her Lead
"There is no merit whatsoever to this filing," the company said in an uncharacteristically blunt statement that was heavily criticized online.
---
Johansson/Disney Lawsuit Gets Bitter
Disney has described a recent lawsuit from "Black Widow" actress Scarlett Johansson as "sad and distressing in its callous disregard for the horrific and prolonged global effects of the COVID-19 pandemic," but Johansson may have just unleashed what is to become an even bigger legal challenge for the House of Mouse.
At the center of this dispute, Johansson alleges she lost $50 million because Disney opted for a dual streaming/theater release of "Black Widow," which debuted in theaters and for $30 on Disney+ with Premier Access earlier this month.
According to Johansson's suit, her contract with Disney — which was negotiated prior to any hint of a pandemic — stipulated that "Black Widow" would see an exclusive theater release. Notably, the actress also said her contractual bonuses were tied to the movie's box office performance, which is an extremely common practice with films featuring A-list celebrities.
Of course, when the pandemic hit — like many other industries — movies were upended. Pandemic-related changes meant that despite having an initial release date of May 2020, Marvel fans wouldn't get a chance to see "Black Widow" for over a year.
Still, Johansson said she tried to contact Disney to renegotiate her contract prior to the film's ultimate release, but she claims the company was unresponsive.
On Thursday, she then filed a complaint with the Los Angeles County Superior Court, with her attorney arguing that "Disney has enjoyed the benefits of having one of Hollywood's top actresses promote its wholly owned subscription service at no additional cost to Disney, and with the intended effect of taking money out of that actress' own pocket."
Later Thursday, Disney claimed that it has "fully complied" with Johansson's contract and that the streamed release of the film "has significantly enhanced her ability to earn additional compensation on top of the $20M she has received to date."
"There is no merit whatsoever to this filing," the company said in its uncharacteristically blunt statement.
Are Emma Stone and Emily Blunt Next?
Speaking of blunt, it was reported Friday that both Emily Blunt and Emma Stone may also file lawsuits against Disney's dual streaming release of their films.
In fact, according to an exclusive newsletter run by former Hollywood Reporter Editor Matt Belloni, Stone "is said to be weighing her options" over the dual release of "Cruella" in May. Meanwhile, he suggested Blunt could also take action or speak out following this weekend's release of "Jungle Cruise."
Belloni went on to describe Disney as "notoriously difficult to deal with" regarding such matters and claimed that many have simply been waiting for someone powerful enough to speak out.
Disney Criticized for Its Response
Much of the public perception of the situation has led to overwhelming support for Johansson's camp. Online, a slew of people lambasted Disney's response, with many calling it a deflection.
Candace Owens and Logan Paul in Talks to Debate
A spokesperson confirmed to Insider Wednesday that the two have had "productive" conversations about the prospect offline.
---
Candace Owens Challenges Logan Paul to a Debate
Right-wing commentator Candace Owens and controversial YouTuber Logan Paul are in talks to engage in a political debate. Yes, you read that sentence correctly.
Owens — best known for making false claims about the George Floyd protests, spreading COVID-19 misinformation, and seemingly saying that Adolf Hitler "just wanted to make Germany great" — first challenged Paul to a debate on Friday. It started with her sharing a year-old clip from Paul's podcast where he spoke about the importance of fighting racism in the United States.
"It is not enough to be 'not racist.' You have to be anti-racist," he said.
"If you're white, if you look like me, use your privilege," he added. "And for those who do not think white privilege exists, you are fucking blind."
Because merely acknowledging the existence of racism appears to go against Owens' core beliefs, she asked Paul to duke it out with her.
"Logan loves to challenge people in the boxing ring," she wrote. "I'd like to publicly challenge him to go a few rounds with me in a political debate. @LoganPaul—how about you stop by my show and explain to me how you're *checks notes* more privileged than me because you're white and I'm not?"
Spokesperson Confirms The Two Are in Talks
Paul — best known for launching a boxing career and filming a YouTube video that showed a dead body in Japan's "suicide forest" — said on Tuesday that he was "perplexed" by the offer, but was taking it seriously.
"I started to entertain this action, I ended up speaking with her, and there may be a future where we sit down and have a civil discourse because I think there's some meat on this bone," he said during the most recent episode of his "ImPaulsive" podcast.
The internet star acknowledged that Owens' main arena is politics, while his main arena is being a "fucking idiot" online. Still, he said he does care about these issues and has a "semi-intelligent brain," so he thinks he could "hold [his] own."
"Candace Owens, whether you can admit it or not, is a smart person," Paul continued. "And so I guess I'm just curious because I just fucking fundamentally disagree with her and again, I think there's room for a conversation."
A spokesperson for Owens confirmed to Insider on Wednesday that the two had a "productive" offline conversation and said a public political debate between the two is "very likely."
"Although both of them disagree on a variety of topics, they are both much more interested in learning from one another and think people would benefit from hearing an honest discussion between two parties rather than a 'gotcha' moment that might play well for social media," the spokesperson added.
See what others are saying: (Insider)
Finneas Slams Billie Eilish Troll Account for Attributing Fake Quotes to the Singer
Eilish's big brother said the account is spreading "relentless lies" and asked that it at least label itself as a satire account.
---
Troll Account Shares Fake Billie Eilish Quotes
Billie Eilish's brother and collaborator Finneas took to Twitter Tuesday to address an account that has been sharing fake quotes attributed to his sister.
The account uses the handle @BilliesUpdatess and goes by the name of "Billie Eilish Updates" in its profile. It was created in July of 2021 and as of Wednesday morning, it had amassed a following of 1,100 people. On a quick glance, it looks just like any other update account a fan might make to share news about their favorite celebrity.
@BilliesUpdatess, however, is far from the standard adoring fan page. Of the over 300 tweets it has posted, several include screenshots of forged articles that make it look like Eilish said something either offensive or totally outlandish. One post claims Eilish defended her boyfriend after he was accused of supporting former president Donald Trump.
"At the end of the day, I fucking love him you know?" the phony statement reads. "It doesn't matter if he made some homophobic comments in the past, people change. If he [Matthew] supports Donald Trump then I don't care if it makes him happy. I support EVERY decision Mathew has to make, even the ones some of my fans don't agree with, like maybe some of his icky comments."
In another sham passage, Eilish says she thinks queerbaiting "is a really good thing!" In several others, the person behind the account comes up with artificial quotes to make it looks like Eilish is feuding with "driver's license" singer Olivia Rodrigo. 
One post with a fake article ended up being retweeted 12,000 times. That tweet included Eilish claiming she longs to be poor.
"When I got rich, I started balling my eyes out," the fake piece says. "I wanted to be poor so I can relate to most of my fans. I still want to be broke and poor, it looks really fun and cute."
Finneas Slams Account
As the troll account started to gain traction, Finneas asked that people report and block it to minimize the spread of its "relentless lies."
On Tuesday, he responded to a fan that tagged him in the @BilliesUpdatess tweet alleging his sister wanted to be poor. 
"Fake obviously," Finneas wrote. "Honestly I just wish they'd label this account satire like the onion or something. I have no problem with a joke as long as people know it's a joke."
The account made several jokes about the fact that Finneas was calling it out, but it seems Eilish's big brother got what he asked for. @BilliesUpdatess added "parody account" to its bio and the account was deleted as of Wednesday afternoon.
See what others are saying: (NME) (Uproxx) (E! News)