AOC Will Play "Among Us" With Pokimane and Others To "Get Out the Vote"
Rep. Alexandria Ocasio-Cortez asked if anyone wanted to play "Among Us" with her on Twitch in an effort to encourage voting.
She's already publicly agreed to play with Pokimane, Hasan Pike, and Rep. Ilhan Omar, but no other players have been confirmed yet.
Internet stars who showed interest included James Charles, Gus Johnson, Jacksepticeye, Dr Lupo, and several others.
The congresswoman has created a Twitch channel in preparation for the stream, which she said could happen Tuesday night.
AOC isn't the only Democrat using video games to reach young voters. The Biden-Harris campaign has made headlines for releasing 2020 yard signs and creating its own headquarters in "Animal Crossing."
---
---
AOC Issues a Call for "Among Us" Players
Internet stars are jumping at the chance to stream a game of "Among Us" with Rep. Alexandria Ocasio-Cortez (D-NY) on Twitch this week.
"Anyone want to play Among Us with me on Twitch to get out the vote?" the Democratic congresswoman from New York tweeted out Monday.
"I've never played but it looks like a lot of fun," she added before asking, "Who would you want to watch in a game together? ⬇️"
"Among Us" is a multiplayer murder mystery game that was released in 2018, but it recently became wildly popular thanks to various streamers and people trying to have fun with friends in this age of social distancing.
While many streamers were quick to reply to AOC's question, one of the biggest names catching attention was Pokimane, who has over 6 million Twitch followers.
"It'd be an honor," she tweeted back.
"Let's do it!" Ocasio-Cortez replied, saying she'll set up her account and get equipment together.
Other Creators Show Interest
Aside from Pokimane, AOC also publicly agreed to play with streamer and political commentator Hasan Piker, as well as Rep. Ilhan Omar.
It's unclear how many people she's looking to bring together, but a game of "Among Us" can have up to 10 players.
Other huge creators throwing their names into the hat include James Charles, Gus Johnson, Jacksepticeye, Lazarbeam, and Dr Lupo.
YES

— James Charles (@jamescharles) October 19, 2020
I'd love to if you're down!

— Gus Danger Johnson (@Gusbuckets) October 19, 2020
If you need a diversity of accents hit me up

— Jacksepticeye (@Jack_Septic_Eye) October 19, 2020
I offer myself as tribute. 😁

— DrLupo (@DrLupo) October 19, 2020
However, as of now, no other players have been publicly confirmed. AOC set up her Twitch channel last night, which already has nearly 200,000 followers.
She said she spent time setting up mods and doing run-throughs but plans to go live sometime Tuesday night.
Democrats Using Video Games To Reach Young Voters
It will be interesting to see who participates and what kind of viewership this event brings in. Many agree that the steam could prove to be a smart way to reach younger Americans before the election, a base AOC is especially good at communicating with.
Although she admittedly hasn't played this particular game before, video games aren't exactly outside her realm of interests. In fact, she previously opened up about loving to play "League of Legends."
Ocasio-Cortez is also far from the only Democrat-leaning into video games as a way to reach young voters. The Biden-Harris campaign has taken a similar approach with the "Animal Crossing: New Horizons."
Last month, they released official yard signs through the game, and just this month, the campaign launched Joe Biden's virtual headquarters– an entire island where users could connect with his campaign,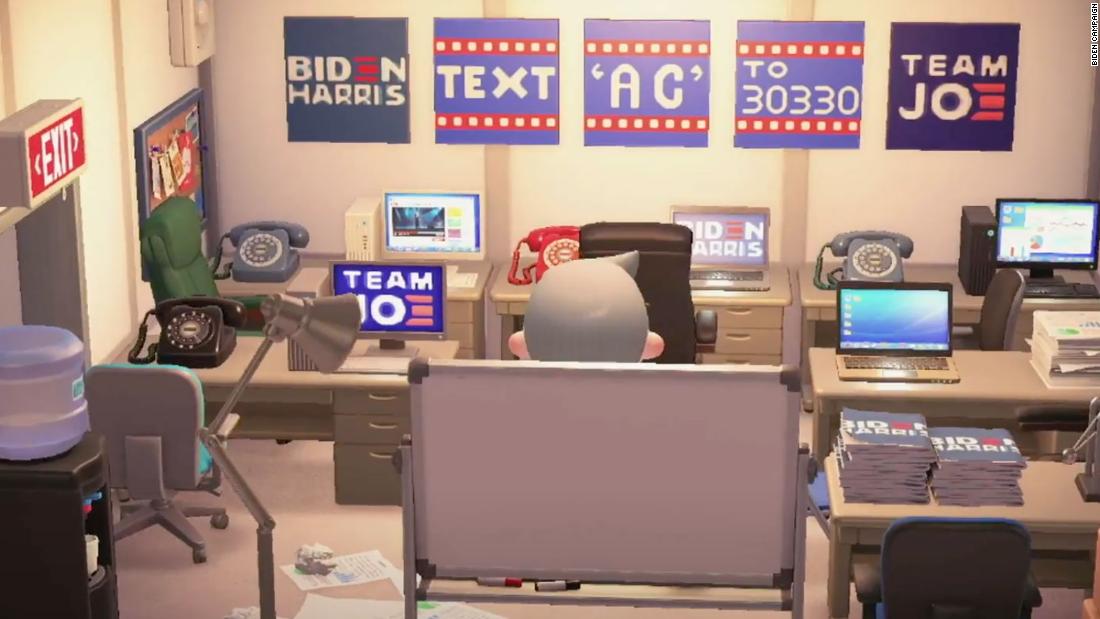 According to Christian Tom, director of digital partnerships for the Biden-Harris campaign: "The island includes plenty of ice cream, trains, aviators, chucks, swag, and more weaved throughout the entire island — but there are also features that encourage players to organize and mobilize."
For example, it included ads for the DNC's "I Will Vote" website as well as an election day checklist, among other features. Biden's character even walks across the island so players can take virtual selfies with him.
Judges Uphold North Carolina's Congressional Map in Major GOP Win
The judges agreed that the congressional map was "a result of intentional, pro-Republican partisan redistricting" but said they did not have the power to intervene in legislative matters.
---
New Maps Upheld
A three-judge panel in North Carolina upheld the state's new congressional and legislative maps on Tuesday, deciding it did not have the power to respond to arguments that Republicans had illegally gerrymandered it to benefit them.
Voting rights groups and Democrats sued over the new maps, which were drawn by the state's Republican legislature following the 2020 census.
The maps left Democrats with just three of North Carolina's 14 congressional seats in a battleground state that is more evenly split between Republicans and Democrats. Previously, Democrats held five of the 13 districts the state had before the last census, during which North Carolina was allocated an additional seat.
The challengers argued that the blatantly partisan maps had been drawn in a way that went against longstanding rules, violated the state's Constitution, and intentionally disenfranchised Black voters.
In their unanimous ruling, the panel — composed of one Democrat and two Republicans — agreed that both the legislative and congressional maps were "a result of intentional, pro-Republican partisan redistricting."
The judges added that they had "disdain for having to deal with issues that potentially lead to results incompatible with democratic principles and subject our state to ridicule."
Despite their beliefs, the panel said they did not have a legal basis for intervening in political matters and constraining the legislature. They additionally ruled that the challengers did not prove their claims that the maps were discriminatory based on race.
Notably, the judges also stated that partisan gerrymandering does not actually violate the state's Constitution.
The Path Ahead
While the decision marks a setback to the plaintiffs, the groups have already said they will appeal the decision to the North Carolina Supreme Court.
The state's highest court has a slim Democratic majority and has already signaled they may be open to tossing the map.
There are also past precedents for voting maps to be thrown out in North Carolina. The state has an extensive history of legal battles over gerrymandering, and Republican leaders have been forced to redraw maps twice in recent years.
A forthcoming decision is highly anticipated, as North Carolina's congressional map could play a major role in the control of the House in the 2022 midterm elections if they are as close as expected.
Biden Administration Says Private Insurers Will Have to Cover 8 At-Home Tests a Month
The policy will apply to all the nearly 150 million Americans who have private insurance.
---
New At-Home Testing Policy
The Biden administration announced Monday that private health insurers will now be required to pay for up to eight at-home rapid tests per plan member each month.
Under the new policy, starting Saturday, private insurance holders will be able to purchase any at-home test approved by the FDA at a pharmacy or online. They will either not be asked to pay any upfront costs or be reimbursed for their purchase through their provider.
The move is expected to significantly expand access to rapid tests that other countries have been distributing to their citizens free of charge for months.
According to reports, nearly 150 million Americans — about 45% of the population — have private insurance.
Each dependent enrolled on the primary insurance holder's account is counted as a member. That means a family of four enrolled on a single plan would be eligible for 32 free at-home rapid tests a month.
Potential Exemptions
All tests may not be fully covered depending on where they are purchased. 
In order to help offset costs, the Biden administration is incentivizing insurance providers to establish a network of "preferred" pharmacies and stores where people in the plan can get tests without paying out of pocket.
As a result, health plans that do create those networks will only be required to reimburse up to $12 per test if they are purchased out of that network, meaning people could be on the hook for the rest of the cost.
If an insurer does not set up a preferred network, they will have to cover all at-home tests in full regardless of the place of purchase.
During a briefing Monday, Press Secretary Jen Psaki said tests should be "out the door in the coming weeks."
"The contracts [for testing companies] are structured in a way to require that significant amounts are delivered on an aggressive timeline, the first of which should be arriving early next week," she added.
Biden Administration Unveils Plan To Replace All Lead Pipes
The effort builds on the $15 billion allocated under the bipartisan infrastructure bill for lead pipe replacement, but industry leaders say $60 billion will be needed for nationwide revitalization.
---
White House Outlines Actions on Lead Pipes and Paint
The Biden administration rolled out a sweeping plan on Thursday to remove all the nation's lead pipes over the next decade and take other steps to prevent lead paint contamination.
Lead, which was commonly used in piping for municipal water systems all over the country until it was banned in 1978, is a dangerous neurotoxin that can cause serious nervous system damage, especially in children.
Contamination from lead pipes seeping into water supplies has caused multiple high-profile public health and environmental catastrophes over the last decade, including the notorious crisis in Flint, Michigan.
According to a White House factsheet, an estimated 10 million households are connected to water through lead pipes. Children and teenagers in 400,000 schools and child care facilities also risk exposure to lead-contaminated water.
"Because of inequitable infrastructure development and disinvestment, low-income communities and communities of color are disproportionately exposed to these risks," the factsheet stated.
To address those disparities and revitalize water systems across the nation, the White House outlined 15 new action items the Biden administration is taking, including:
Launching "a new regulatory process to protect communities from lead in drinking water" through the Environmental Protection Agency (EPA).
Clarifying that state, local, and Tribal governments can use the $350 billion aid allocated under the American Rescue Plan to replace lead service lines.
Establishing federally-operated regional technical assistance hubs "to fast track lead service line removal projects in partnership with labor unions and local water agencies."
Awarding federal grants through the Department of Housing and Urban Development (HUD) to remove lead paint in low-income communities.
Directing the Centers for Disease Control and Prevention (CDC) to expand childhood lead testing.
Establishing "a new Cabinet Level Partnership for Lead Remediation in Schools and Child Care Centers."
The White House also said it will direct the EPA to allocate $3 billion for state, local, and Tribal governments to replace lead pipes through funding that was approved under the bipartisan infrastructure bill signed by President Joe Biden last month.
A Matter of Funding
In total, Congress provided $15 billion to revitalize the nation's lead-pipe systems under the infrastructure bill.
However, industry experts have estimated that it will cost $60 billion to entirely overhaul all the remaining lead pipes in the U.S.
As a result, the Biden administration has proposed several additional funding mechanisms in the social safety net package, known as the Build Back Better Act, that is currently being negotiated by Congress.
Specifically, the legislation would set aside $9 billion for lead remediation grants to disadvantaged communities, $1 billion for rural water utilities to remove lead pipes, and $5 billion for mitigation efforts such as removing lead-based water fixtures in low-income households.
The Build Back Better Act would additionally provide $65 billion for public housing agencies and $5 billion for other federally-assisted housing organizations to improve housing quality, including by replacing lead pipes and service lines.
The status of that legislation, as well as what provisions will remain in the final version, remain in limbo. While Democratic leadership has pushed to pass the sweeping social bill before the new year, all 50 of the party's members in the Senate will need to sign on, and moderate Sen. Joe Manchin (D-W.V.) has continued to withhold his support.