BTS Faces Backlash in China Over RM's Korean War Comments
Kim Nam-Joon, the head of the K-pop group BTS who is better known as RM, made comments during the Korea Society's 2020 Annual Gala that prompted a boycott against the band in China.
Kim emphasized the role both the U.S. and South Korea played in the Korean War, saying, "We will always remember the history of pain that our two nations shared together and the sacrifices of countless men and women."
Chinese fans said the comments were insensitive and didn't acknowledge the 200,000 Chinese who died fighting against South Korea during the war.
Companies like Samsung and Hyundai have distanced themselves from the group in China, removing them from branding.
---
What Was Said?
The K-pop sensation BTS has found themselves facing boycott calls in China after group leader Kim Nam-joon, better known as RM, made what Chinese fans are calling insensitive comments.
The remarks causing outrage were made during the Korea Society's 2020 Annual Gala earlier this month while the band was accepting the Van Fleet award.
"We are very honored to receive the Van Fleet Award, presented to those who have made outstanding contributions to the promotion of the relationships between Korea and the United States," RM said at the ceremony.
"The Korea Society's 2020 Annual Gala is especially meaningful, as this year marks the 70th anniversary of the Korean War," he continued before adding, "We will always remember the history of pain that our two nations shared together and the sacrifices of countless men and women."

Backlash and Boycott Calls Emerge
It may be unclear to Western audiences why those remarks were viewed as so inflammatory. The Korea Society is a U.S.-based non-profit that promotes the relationship between South Korea and the U.S., so it's not surprising that BTS would make a comment like that given the event.
However, on Sunday, the clip went viral and reached #3 trending on Weibo, a Chinese website similar to Twitter, where people were clearly upset. The issue, in particular, was the fact that 200,000 Chinese "volunteers" died fighting for North Korea during the war.
Users on the platform wrote things like, "Nearly 200,000 Chinese troops died in the war. Every Chinese person must remember this number."
Meanwhile, others equated being a fan of BTS to betraying one's Chinese nationality. "If you still fan them, get out and change your nationality! There is nothing wrong with liking Korean idols, but if your idols insult your country, if you continue to fan, then you are not worthy of being a Chinese!" One user wrote on Weibo.
Many users wanted BTS to consider Chinese losses during the war, despite the fact that China fought against South Korea and saved its long-time nemesis North Korea during the conflict, directly leading to the 70-year cease-fire and today's current political climate in the region.
On top of this, Chinese fans were critical of BTS seemingly playing favorites with Americans, with one writing, "Chinese fans give you so much money each year, and you turn around and give it to the United States. What are Chinese fans then?"
Most notably, there were call for boycotts. One user asked, "when will NetEase Cloud Music will remove the song of the anti-Chinese boy group BTS?"
State-run papers also waded into the drama. The hyper-nationalistic Global Times the headline: "BTS hurts feelings of Chinese netizens and fans during speech on the Korean War." That same piece played up the controversy by calling RM's comments "a one-sided attitude."
Korean Companies Step back
The backlash was so large that Korean companies began to distance themselves from the group. Companies like Samsung pulled a BTS-branded smartphone and earbuds from its stores and Chinese website, while Hyundai Motor also removed any BTS branding from its Chinese ads.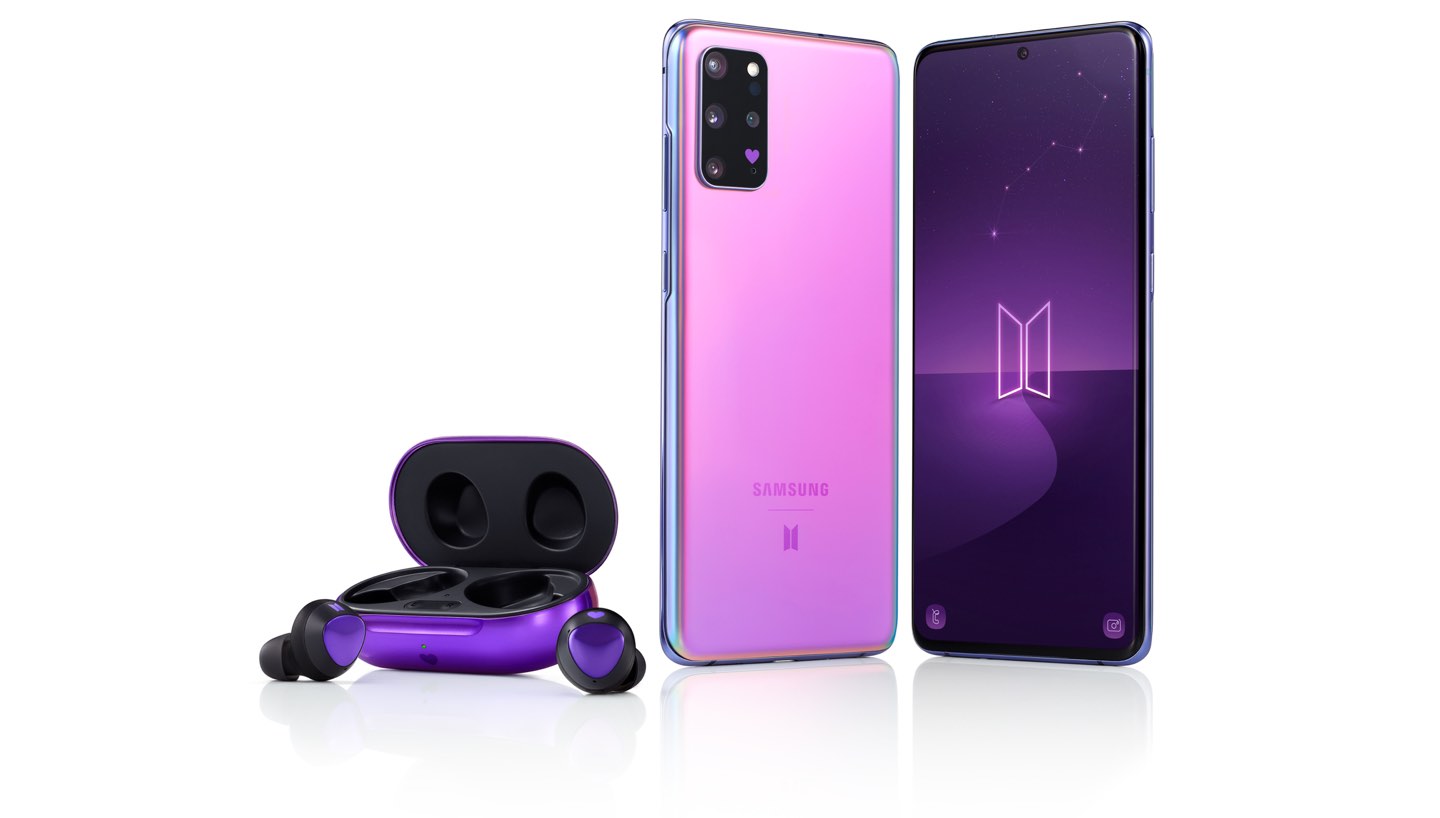 Together those companies make up around 22% of South Korea's GDP.
In the past U.S.-Korea relations have led to a major backlash with China, like in 2017 when the U.S. and Korea agreed to put THAAD missiles in Korea. The backlash led to an economic downturn in Korea after China started boycotting and banning certain activities with Korea. Tensions eventually cooled and economic trade returned to normal.
It's unclear if the Chinese government will officially respond in a similar manner to the 2017 THAAD controversy. When asked about the new controversy on Monday, Foreign Ministry spokesperson Zhao Lijian only said, "I have noted relevant reports as well as the reactions from the Chinese people online. I want to say that we all should learn lessons from history and look forward to the future, hold dear peace and strengthen friendship."
Experts like John Delury, a Chinese studies professor at Yonsei University – one of the major universities in Korea, told The Washington Post that the Global Times seems to have had a role in whipping up anger.
Even if that was the case, the controversy has already had a real-world impact since removing BTS branding in China will likely hurt the band's image in that market.
Netflix Reinstates Employee Who Crashed Director-Level Meeting After Criticizing Dave Chapelle
Terra Field had publicly accused Chappelle of making transphobic remarks in his new stand-up special "The Closer" just days before she was suspended.
---
Netflix Reinstates Terra Field
Netflix reinstated a transgender employee who was critical of Dave Chappelle's new stand-up special after suspending her for attending a director-level meeting without an invitation. 
Terra Field tweeted on Tuesday that she was reinstated once the company determined "there was no ill-intent in" her decision to attend the meeting.
"I'm going to take a few days off to decompress and try to figure out where I'm at," she added. "At the very least, I feel vindicated."
Field also shared an email Netflix sent her regarding her suspension being lifted.
"Our investigation did not find that you joined the QBR meeting with any ill intent and that you genuinely didn't think there was anything wrong with seeking access to this meeting," the email said. "Additionally, when a Director shared the link it further supported that this was a meeting you could attend."
Field's suspension came just days after she tweeted a viral thread criticizing Chappelle's latest program on Netflix, "The Closer." She was one of many activists who claimed Chappelle's set was transphobic and encouraged Netflix to take action. Field wrote that his comments attacked "the very validity of transness." Netflix insisted those tweets had nothing to do with her suspension.
Field reportedly attended the director-level meeting with two other employees who were also suspended. A spokesperson for Netflix told Deadline that those two staffers have likewise been reinstated and the company "will be distributing broader guidance about meetings and clarifying which are for which people."
Netflix's Response to Dave Chappelle Controversy
Netflix, for its part, has defended Chappelle and rejected calls to remove "The Closer" from the streaming service.
"It never feels good when people are hurting, especially our colleagues," Netflix co-CEO Ted Srandos wrote in an internal memo. "You should also be aware that some talent may join third parties in asking us to remove the show in the coming days, which we are not going to do."
"We don't allow titles on Netflix that are designed to incite hate or violence, and we don't believe The Closer crosses that line," he added. "I recognize, however, that distinguishing between commentary and harm is hard, especially with stand-up comedy which exists to push boundaries. Some people find the art of stand-up to be mean spirited but our members enjoy it, and it's an important part of our content offering."
Among other things, Chappelle took time in his special to defend author J.K. Rowling, who previously faced backlash over a series of transphobic remarks she made. Chappelle said he agreed with Rowling.
"I'm team TERF," he added. "I agree. I agree, man. Gender is a fact."
Chappelle went on to make jokes about Caitlyn Jenner before comparing the genitalia of transgender women to Beyond and Impossible meat.
Many employees at Netflix are still frustrated with the way the platform has handled the controversy surrounding "The Closer." According to The Verge, a trans employee resource group is planning a walkout on Oct. 20.
"Trans Lives Matter. Trans Rights Matter," the group said in a memo. "And as an organization, Netflix has continually failed to show deep care in our mission to Entertain the World by repeatedly releasing content that harms the Trans community and continually failing to create content that represents and uplifts Trans content. We can and must do better!"
Lil Nas X and Bella Poarch May Have Abandoned Plans To Participate In TikTok NFT Program
Lil Nas X's TikTok NFT was scheduled to debut a week ago and is still not available to the public.
---
Creators Allegedly Leave TikTok's NFT Program
Musicians Lil Nas X and Bella Poarch may have quietly exited TikTok's new NFT collection, according to a report from Rolling Stone.
TikTok first announced the line, which is called "TikTok Top Moments," at the end of September. It involves a series of creator-led NFTs, or non-fungible tokens, which are unique and tradeable digital assets. TikTok's NFTs can be purchased with the cryptocurrency Ethereum. According to a press release, the money will "largely go directly to the creators and NFT artists involved."
TikTok said that creators like Poarch, Lil Nas X, Grimes, Curtis Roach, Brittany Broski, and more would be participating in the program. The company called NFTs an "empowerment tool" that will allow these creators to "be recognized and rewarded for their content." It planned to debut the collection on Oct. 6 with Lil Nas X's NFT, but that token has still not been made available. A source told Rolling Stone that it may never be released.
NFT Rollout Described as "A Mess"
The outlet also reported that Poarch is "actively contemplating pulling out of the program due to worries about its execution." According to Rolling Stone, three sources familiar with the rollout of the program have described it as "a challenge," "a mess," and "a complete joke."
Those sources claimed that in order to secure Poarch's initial participation, TikTok offered her marketing support worth potentially $4 million for her next release. The company also allegedly promised to use one of her songs in an end-of-year campaign. A spokesperson for TikTok, however, described these claims as "not accurate."
Neither Poarch nor Lil Nas X has commented on their participation yet. Meanwhile, TikTok declined to answer Rolling Stone's questions about the status of their NFTs.
Some of TikTok's announced NFTs have gone public, though. Throughout Tuesday, Roach's "Bored in the House" video was up for auction on the platform Immutable.
NFTs took the internet by storm in early 2021, but their popularity peaked in May and declined throughout the summer. Celebrities, tech moguls, and everyday people featured in viral memes have hopped on the trend and made millions doing so.
According to Rolling Stone, TikTok has valued some of its own NFTs at $1 million. Now, it's unclear if those tokens will ever hit the market.
Ariana Grande, Bella Hadid, and Others Honor World Mental Health Day
A slew of stars acknowledged the day by sharing personal stories and making hefty donations to organizations that offer mental health resources.
---
Celebrities Donate to Mental Health Organizations
Major celebrities honored World Mental Health Day on Sunday by speaking candidly about their mental health struggles and donating to nonprofits.
Singer Ariana Grande announced that she is donating $5 million worth of free therapy through the online counseling platform Better Help. The star previously partnered with the company over the summer to give $1 million in therapy to fans and opted to throw more money at the program following its success.
"I acknowledge that there are very real barriers when it comes to accessing mental health resources, and while this is only one small gesture (and a much larger systemic problem remains) I wanted to do this again with @betterhelp in hopes of bringing access to a few more people and perhaps inspiring a few of you to try something new and prioritize your own healing," Grande wrote on Instagram.
Those interested can sign up for a free first month of Better Help and get an additional 15% off the second month.
Model Bella Hadid also pledged to donate to mental health resources. She teamed up with the beverage company Kin Euphorics, which will donate 10% of its October sales to Gurls Talk, a nonprofit that gives adolescent girls a space to talk about mental health, along with various educational tools to aid those discussions. Hadid will match those donations.
"Dealing with mental illness for most of my life, bringing awareness to the education of mental health through my platform is something that I will continue to do until our mental is just as respected as our physical," Hadid wrote. "I want everyone who struggles daily to know that you are not alone."
Stars Share Resources and Personal Stories
Meanwhile, actress and singer Selena Gomez used her new makeup brand Rare Beauty to share statistics about the prevalence of mental illness and the efforts to combat it. The company, which has previously focused on several mental health initiatives, shared that just 1.3% of philanthropic investments go towards supporting mental health.
The company additionally cited information from an American Psychological Association report, which revealed that young people are particularly vulnerable to mental health struggles. It found that seven out of 10 Gen Z adults are more likely to report experiencing depression symptoms compared to other generations.
Gomez shared Rare Beauty's post to her own story as well.
Singer Olivia Rodrigo similarly opened up about mental health and therapy during an interview with CBS that aired Sunday. In it, she said she has been in therapy since she was 16, which she believes has helped her both personally and professionally.
"That was a really big, life-changing moment," she said. "I've learned so much about myself."
"I think there's sometimes a stigma around it, too, like I was saying," the singer continued. "Sometimes people are like, 'Oh, you don't need that. You have so much. Your life is so great. What are your problems?' I think that's definitely a thing that sometimes older people can do to younger people to kind of trivialize what they're going through."