BTS Faces Backlash in China Over RM's Korean War Comments
Kim Nam-Joon, the head of the K-pop group BTS who is better known as RM, made comments during the Korea Society's 2020 Annual Gala that prompted a boycott against the band in China.
Kim emphasized the role both the U.S. and South Korea played in the Korean War, saying, "We will always remember the history of pain that our two nations shared together and the sacrifices of countless men and women."
Chinese fans said the comments were insensitive and didn't acknowledge the 200,000 Chinese who died fighting against South Korea during the war.
Companies like Samsung and Hyundai have distanced themselves from the group in China, removing them from branding.
---
What Was Said?
The K-pop sensation BTS has found themselves facing boycott calls in China after group leader Kim Nam-joon, better known as RM, made what Chinese fans are calling insensitive comments.
The remarks causing outrage were made during the Korea Society's 2020 Annual Gala earlier this month while the band was accepting the Van Fleet award.
"We are very honored to receive the Van Fleet Award, presented to those who have made outstanding contributions to the promotion of the relationships between Korea and the United States," RM said at the ceremony.
"The Korea Society's 2020 Annual Gala is especially meaningful, as this year marks the 70th anniversary of the Korean War," he continued before adding, "We will always remember the history of pain that our two nations shared together and the sacrifices of countless men and women."

Backlash and Boycott Calls Emerge
It may be unclear to Western audiences why those remarks were viewed as so inflammatory. The Korea Society is a U.S.-based non-profit that promotes the relationship between South Korea and the U.S., so it's not surprising that BTS would make a comment like that given the event.
However, on Sunday, the clip went viral and reached #3 trending on Weibo, a Chinese website similar to Twitter, where people were clearly upset. The issue, in particular, was the fact that 200,000 Chinese "volunteers" died fighting for North Korea during the war.
Users on the platform wrote things like, "Nearly 200,000 Chinese troops died in the war. Every Chinese person must remember this number."
Meanwhile, others equated being a fan of BTS to betraying one's Chinese nationality. "If you still fan them, get out and change your nationality! There is nothing wrong with liking Korean idols, but if your idols insult your country, if you continue to fan, then you are not worthy of being a Chinese!" One user wrote on Weibo.
Many users wanted BTS to consider Chinese losses during the war, despite the fact that China fought against South Korea and saved its long-time nemesis North Korea during the conflict, directly leading to the 70-year cease-fire and today's current political climate in the region.
On top of this, Chinese fans were critical of BTS seemingly playing favorites with Americans, with one writing, "Chinese fans give you so much money each year, and you turn around and give it to the United States. What are Chinese fans then?"
Most notably, there were call for boycotts. One user asked, "when will NetEase Cloud Music will remove the song of the anti-Chinese boy group BTS?"
State-run papers also waded into the drama. The hyper-nationalistic Global Times the headline: "BTS hurts feelings of Chinese netizens and fans during speech on the Korean War." That same piece played up the controversy by calling RM's comments "a one-sided attitude."
Korean Companies Step back
The backlash was so large that Korean companies began to distance themselves from the group. Companies like Samsung pulled a BTS-branded smartphone and earbuds from its stores and Chinese website, while Hyundai Motor also removed any BTS branding from its Chinese ads.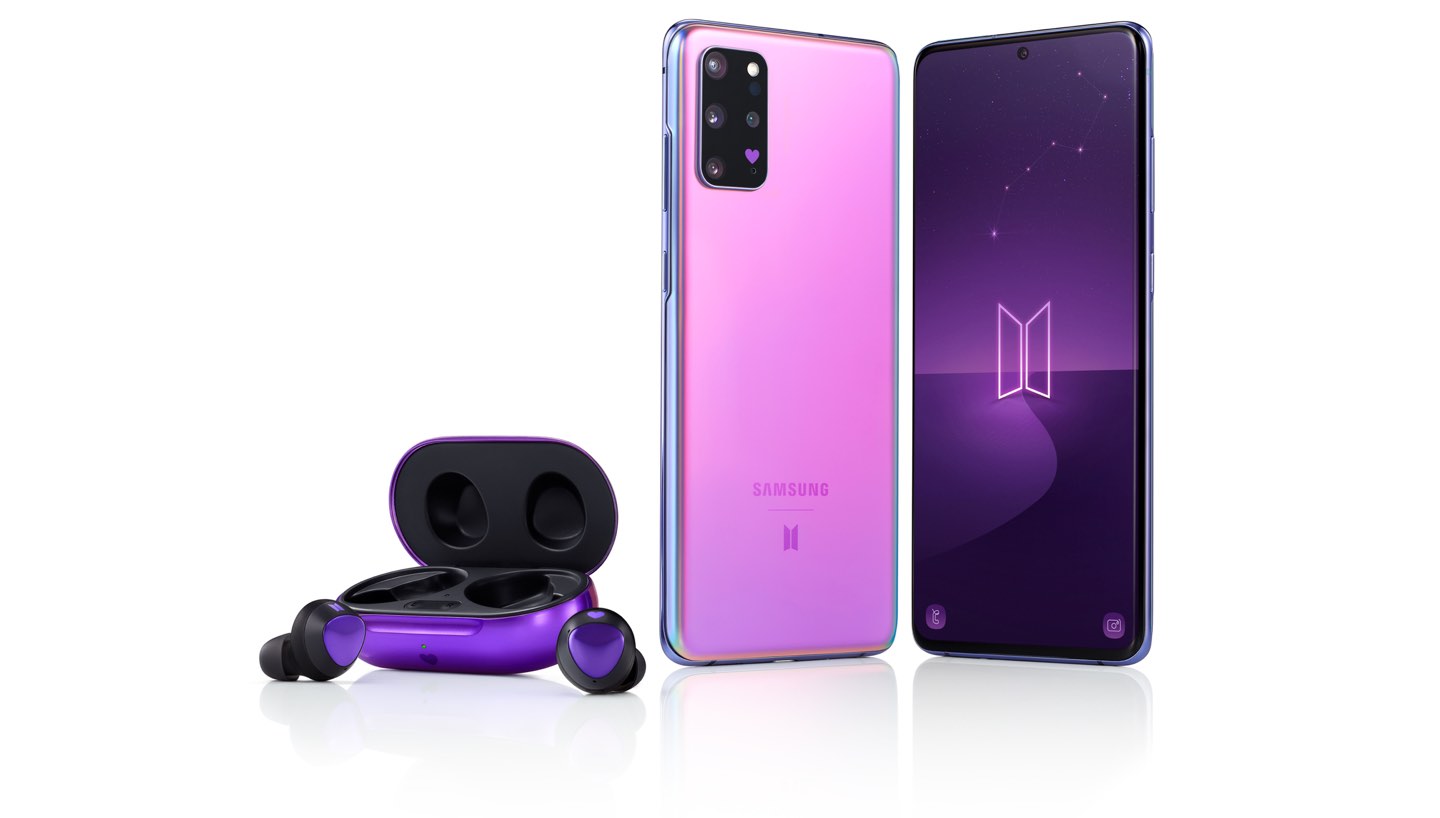 Together those companies make up around 22% of South Korea's GDP.
In the past U.S.-Korea relations have led to a major backlash with China, like in 2017 when the U.S. and Korea agreed to put THAAD missiles in Korea. The backlash led to an economic downturn in Korea after China started boycotting and banning certain activities with Korea. Tensions eventually cooled and economic trade returned to normal.
It's unclear if the Chinese government will officially respond in a similar manner to the 2017 THAAD controversy. When asked about the new controversy on Monday, Foreign Ministry spokesperson Zhao Lijian only said, "I have noted relevant reports as well as the reactions from the Chinese people online. I want to say that we all should learn lessons from history and look forward to the future, hold dear peace and strengthen friendship."
Experts like John Delury, a Chinese studies professor at Yonsei University – one of the major universities in Korea, told The Washington Post that the Global Times seems to have had a role in whipping up anger.
Even if that was the case, the controversy has already had a real-world impact since removing BTS branding in China will likely hurt the band's image in that market.
Joe Rogan Says Grimes Did Not Give Dave Chappelle COVID-19
Comedian Dave Chappelle is under quarantine after testing positive for COVID-19. He is asymptomatic and his remaining shows in Austin, Texas have been canceled.
The news comes just days after Chappelle was photographed with Joe Rogan, Elon Musk, Grimes, and several others backstage at one of his Austin performances.
"Because people are asking, I was not exposed to the person who had covid and I have tested negative every day this week," Rogan wrote on Instagram Friday. "Also, the person that gave covid to Dave was NOT Elon's partner @grimes."
---
Chappelle Tests Positive
Comedian Dave Chappelle has tested positive for coronavirus and is currently under quarantine, according to one of his representatives.
In a statement to The Hollywood Reporter, that rep also confirmed that he is currently asymptomatic and has canceled all of his remaining shows at Stubbs Waller Creek Amphitheater in Austin, Texas.
"Chappelle has safely conducted socially-distanced shows in Ohio since June 2020 and he moved those shows to Austin during the winter," the statement read.
"Chappelle implemented COVID-19 protocols which included rapid testing for the audience and daily testing for himself and his team. His diligent testing enabled him to immediately respond by quarantining, thus mitigating the spread of the virus," it continued.
Joe Rogan Speaks Out After He Was Photographed With Chappelle
Two of the remaining Austin shows were supposed to include fellow comedian Joe Rogan. Rogan took to Instagram Friday morning to announce that they will be rescheduled as soon as possible.
Still, many fans had questions about Rogan's current state of health. The news of Chappelle's positive test comes just days after he was photographed maskless with Rogan, Tesla CEO Elon Musk, musician Grimes, and several others backstage at one of his Austin performances.
Since Grimes, who is also in a relationship with Musk, recently had COVID, many were concerned that she may have exposed the group. Others wondered if Chappelle may have spread it.
Rogan eventually updates his Instagram caption to dismiss the ideas.
"Because people are asking, I was not exposed to the person who had covid and I have tested negative every day this week," he wrote."Also, the person that gave covid to Dave was NOT Elon's partner @grimes."
Netflix Passes 200M Subscribers as Other Streamers Struggle With Retention
In a letter to shareholders, Netflix said it has hit over 200 million subscribers following a successful year of growth.
The pandemic gave Netflix a significant subscriber boost in March and April. The company continued to perform well even in its final quarter, gaining 8.5 million subscribers when it was only projected to add 6 million.
The data also highlights how relatively unaffected Netflix has been by new streaming services entering the market. While companies like Disney+, HBO Max, and Peacock continue to grow, they also struggle to retain the subscribers that sign up.
---
Netflix Passes 200 Million Subscribers
Netflix has topped 200 million subscribers following a year of strong growth in 2020.
In its Tuesday letter to shareholders, Netflix announced that it added 8.5 million subscribers in its fourth quarter. This exceeds projections, which estimated the streaming giant would only add around 6 million. In total, Netflix gained 37 million new memberships throughout 2020, bringing the company to 203.6 million subscribers.
Pandemic lockdowns gave Netflix a substantial boost in March in April. In the company's first two quarters, it added a combined 25.7 million subscribers. According to data from the letter, Netflix had added over 10 million more subscribers by May of 2020 than it had by May of 2019.
When it comes to the success of their fourth quarter, Netflix pointed to shows like "Bridgerton" and "The Crown." The fourth season of "The Crown" hit the platform in November, prompting many to return to older seasons of the show. Netflix claims the series has been viewed by 100 million households since it first aired in 2016.
Success Amid Growth of Competition
The year 2020 could have been a difficult one for Netflix as new streaming services entered the market. Disney+, Apple TV+, HBO Max, Peacock and more have all made waves with their original programming or by taking some of their brand's content from Netflix to host on their own site. User-based content on YouTube and TikTok also became increasingly popular throughout the pandemic, further posing as a threat to Netflix. 
Still, it reached a massive milestone.
"Our strategy is simple: if we can continue to improve Netflix every day to better delight our members, we can be their first choice for streaming entertainment," Netflix said in the letter. "This past year is a testament to this approach."
Netflix potentially sees Disney+ as the biggest competitor among new platforms. In its letter, the company noted that the streamer added 87 million subscribers in its first year. In a Q&A, Netflix CEO Reed Hastings seemed enthusiastic about this competition.
"It's super impressive what Disney's done," he said. "It's going to be great for the world that Disney and Netflix are competing show-by-show, movie-by-movie. We're very fired up about catching them in family animation, maybe eventually passing them, we'll see. It's a long way to go just to catch them, and maintaining our lead in general entertainment that's so stimulating like 'Bridgerton,' which I don't think you're going to see on Disney anytime soon."
Streamers Struggle with Retaining Subscribers
Even as new streamers have had impressive years, there is one hurdle that many are still struggling to jump over: retaining the subscribers who sign up. The Los Angeles Times named Disney+, HBO Max, Peacock, and Apple TV+ in particular, writing that people create accounts with these services, watch the TV shows or movies they are interested in, and cancel once they are done.
An October survey from Deloitte said that 46% of respondents canceled at least one streaming service in the last 6 months, which is up 20% from January of last year. Most who had canceled said they did so because they had finished watching whatever programming it was that brought them to that service.
Places like Disney+ and HBO Max are really vulnerable to this because they have banked on drawing people in with exclusive marquis titles like "Hamilton" or "Wonder Woman 1984." However, since they are newer, they are still building their original programming catalog, meaning that people can quickly burn through highlight titles.
Paramount+ To Launch March 4
ViacomCBS is launching Paramount+ in the United States and Latin America on March 4 before rolling out to other markets internationally later this year.
The streaming service will be a relaunch and expansion of CBS All Access. It will include content from Nickelodeon, MTV, and more on top of the CBS-focused selection.
---
Paramount+ Gets Launch Date
ViacomCBS will be launching its streaming service Paramount+ in the U.S. and Latin America on March 4 before rolling out in more countries throughout the year.
It will be an expansion and rebrand of CBS All Access, the service the company currently offers that is used by nearly 8 million subscribers. Paramount+ will go beyond the CBS-centric content promoted there, including works from brands like Nickelodeon, MTV, BET, Comedy Central, and the Smithsonian Channel.
More details about their streaming strategy will be released during an investor event on February 24. Right now, ViacomCBS is boasting that the service will have over 30,000 episodes and movies in their catalog, which will also include live sports and breaking news. 
"The Paramount brand is known and loved all around the world, and is synonymous with great entertainment. It's always brought people together, which makes it a perfect fit for a streaming service that's uniquely positioned to do the same," Josh Line the chief brand officer of ViacomCBS said during a brand announcement in September. "The Paramount+ streaming service will elevate ViacomCBS' iconic family of brands."
State of the Streaming Wars
Paramount+ has already announced a slew of original projects including a revival of "iCarly" and a series about the making of "The Godfather" titled "The Offer."
The service is entering an already crowded battlefield as the streaming wars wages on. It will have plenty of uphill battles to fight since brand recognition for Paramount is not nearly as strong as it is for studios like Disney or NBCUniversal. It will also have to compete with Netflix, which leads the pack in subscribers and unveils new content regularly; HBO Max, which will be home to Warner Media's new theatrical releases; and Hulu, which hosts original content as well as shows currently airing on cable and network television.
ViacomCBS has not released information on pricing, but that will likely come during or before the February investor event.