BTS Faces Backlash in China Over RM's Korean War Comments
Kim Nam-Joon, the head of the K-pop group BTS who is better known as RM, made comments during the Korea Society's 2020 Annual Gala that prompted a boycott against the band in China.
Kim emphasized the role both the U.S. and South Korea played in the Korean War, saying, "We will always remember the history of pain that our two nations shared together and the sacrifices of countless men and women."
Chinese fans said the comments were insensitive and didn't acknowledge the 200,000 Chinese who died fighting against South Korea during the war.
Companies like Samsung and Hyundai have distanced themselves from the group in China, removing them from branding.
---
What Was Said?
The K-pop sensation BTS has found themselves facing boycott calls in China after group leader Kim Nam-joon, better known as RM, made what Chinese fans are calling insensitive comments.
The remarks causing outrage were made during the Korea Society's 2020 Annual Gala earlier this month while the band was accepting the Van Fleet award.
"We are very honored to receive the Van Fleet Award, presented to those who have made outstanding contributions to the promotion of the relationships between Korea and the United States," RM said at the ceremony.
"The Korea Society's 2020 Annual Gala is especially meaningful, as this year marks the 70th anniversary of the Korean War," he continued before adding, "We will always remember the history of pain that our two nations shared together and the sacrifices of countless men and women."

Backlash and Boycott Calls Emerge
It may be unclear to Western audiences why those remarks were viewed as so inflammatory. The Korea Society is a U.S.-based non-profit that promotes the relationship between South Korea and the U.S., so it's not surprising that BTS would make a comment like that given the event.
However, on Sunday, the clip went viral and reached #3 trending on Weibo, a Chinese website similar to Twitter, where people were clearly upset. The issue, in particular, was the fact that 200,000 Chinese "volunteers" died fighting for North Korea during the war.
Users on the platform wrote things like, "Nearly 200,000 Chinese troops died in the war. Every Chinese person must remember this number."
Meanwhile, others equated being a fan of BTS to betraying one's Chinese nationality. "If you still fan them, get out and change your nationality! There is nothing wrong with liking Korean idols, but if your idols insult your country, if you continue to fan, then you are not worthy of being a Chinese!" One user wrote on Weibo.
Many users wanted BTS to consider Chinese losses during the war, despite the fact that China fought against South Korea and saved its long-time nemesis North Korea during the conflict, directly leading to the 70-year cease-fire and today's current political climate in the region.
On top of this, Chinese fans were critical of BTS seemingly playing favorites with Americans, with one writing, "Chinese fans give you so much money each year, and you turn around and give it to the United States. What are Chinese fans then?"
Most notably, there were call for boycotts. One user asked, "when will NetEase Cloud Music will remove the song of the anti-Chinese boy group BTS?"
State-run papers also waded into the drama. The hyper-nationalistic Global Times the headline: "BTS hurts feelings of Chinese netizens and fans during speech on the Korean War." That same piece played up the controversy by calling RM's comments "a one-sided attitude."
Korean Companies Step back
The backlash was so large that Korean companies began to distance themselves from the group. Companies like Samsung pulled a BTS-branded smartphone and earbuds from its stores and Chinese website, while Hyundai Motor also removed any BTS branding from its Chinese ads.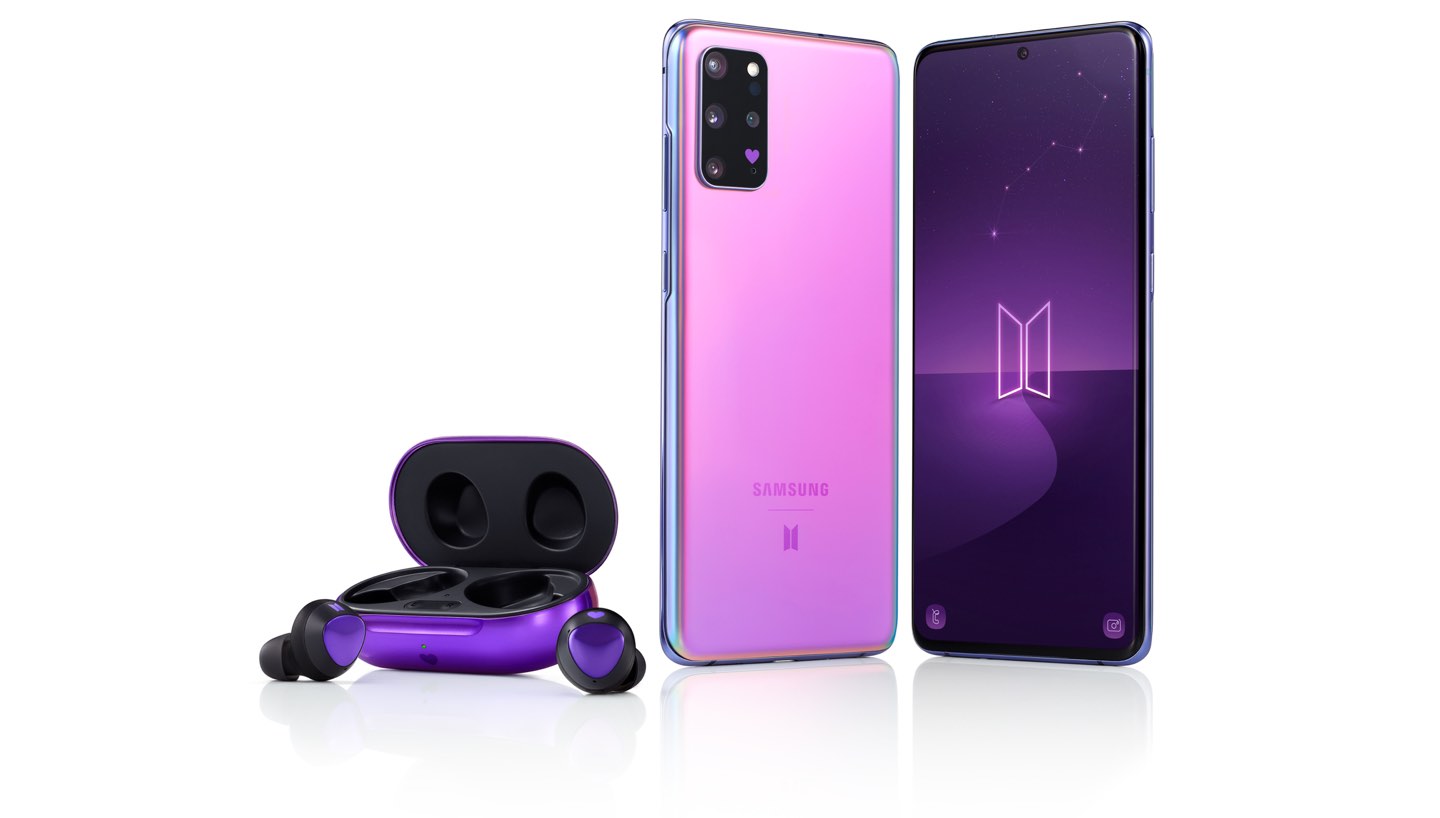 Together those companies make up around 22% of South Korea's GDP.
In the past U.S.-Korea relations have led to a major backlash with China, like in 2017 when the U.S. and Korea agreed to put THAAD missiles in Korea. The backlash led to an economic downturn in Korea after China started boycotting and banning certain activities with Korea. Tensions eventually cooled and economic trade returned to normal.
It's unclear if the Chinese government will officially respond in a similar manner to the 2017 THAAD controversy. When asked about the new controversy on Monday, Foreign Ministry spokesperson Zhao Lijian only said, "I have noted relevant reports as well as the reactions from the Chinese people online. I want to say that we all should learn lessons from history and look forward to the future, hold dear peace and strengthen friendship."
Experts like John Delury, a Chinese studies professor at Yonsei University – one of the major universities in Korea, told The Washington Post that the Global Times seems to have had a role in whipping up anger.
Even if that was the case, the controversy has already had a real-world impact since removing BTS branding in China will likely hurt the band's image in that market.
Candace Owens and Logan Paul in Talks to Debate
A spokesperson confirmed to Insider Wednesday that the two have had "productive" conversations about the prospect offline.
---
Candace Owens Challenges Logan Paul to a Debate
Right-wing commentator Candace Owens and controversial YouTuber Logan Paul are in talks to engage in a political debate. Yes, you read that sentence correctly.
Owens — best known for making false claims about the George Floyd protests, spreading COVID-19 misinformation, and seemingly saying that Adolf Hitler "just wanted to make Germany great" — first challenged Paul to a debate on Friday. It started with her sharing a year-old clip from Paul's podcast where he spoke about the importance of fighting racism in the United States.
"It is not enough to be 'not racist.' You have to be anti-racist," he said.
"If you're white, if you look like me, use your privilege," he added. "And for those who do not think white privilege exists, you are fucking blind."
Because merely acknowledging the existence of racism appears to go against Owens' core beliefs, she asked Paul to duke it out with her.
"Logan loves to challenge people in the boxing ring," she wrote. "I'd like to publicly challenge him to go a few rounds with me in a political debate. @LoganPaul—how about you stop by my show and explain to me how you're *checks notes* more privileged than me because you're white and I'm not?"
Spokesperson Confirms The Two Are in Talks
Paul — best known for launching a boxing career and filming a YouTube video that showed a dead body in Japan's "suicide forest" — said on Tuesday that he was "perplexed" by the offer, but was taking it seriously.
"I started to entertain this action, I ended up speaking with her, and there may be a future where we sit down and have a civil discourse because I think there's some meat on this bone," he said during the most recent episode of his "ImPaulsive" podcast.
The internet star acknowledged that Owens' main arena is politics, while his main arena is being a "fucking idiot" online. Still, he said he does care about these issues and has a "semi-intelligent brain," so he thinks he could "hold [his] own."
"Candace Owens, whether you can admit it or not, is a smart person," Paul continued. "And so I guess I'm just curious because I just fucking fundamentally disagree with her and again, I think there's room for a conversation."
A spokesperson for Owens confirmed to Insider on Wednesday that the two had a "productive" offline conversation and said a public political debate between the two is "very likely."
"Although both of them disagree on a variety of topics, they are both much more interested in learning from one another and think people would benefit from hearing an honest discussion between two parties rather than a 'gotcha' moment that might play well for social media," the spokesperson added.
See what others are saying: (Insider)
Finneas Slams Billie Eilish Troll Account for Attributing Fake Quotes to the Singer
Eilish's big brother said the account is spreading "relentless lies" and asked that it at least label itself as a satire account.
---
Troll Account Shares Fake Billie Eilish Quotes
Billie Eilish's brother and collaborator Finneas took to Twitter Tuesday to address an account that has been sharing fake quotes attributed to his sister.
The account uses the handle @BilliesUpdatess and goes by the name of "Billie Eilish Updates" in its profile. It was created in July of 2021 and as of Wednesday morning, it had amassed a following of 1,100 people. On a quick glance, it looks just like any other update account a fan might make to share news about their favorite celebrity.
@BilliesUpdatess, however, is far from the standard adoring fan page. Of the over 300 tweets it has posted, several include screenshots of forged articles that make it look like Eilish said something either offensive or totally outlandish. One post claims Eilish defended her boyfriend after he was accused of supporting former president Donald Trump.
"At the end of the day, I fucking love him you know?" the phony statement reads. "It doesn't matter if he made some homophobic comments in the past, people change. If he [Matthew] supports Donald Trump then I don't care if it makes him happy. I support EVERY decision Mathew has to make, even the ones some of my fans don't agree with, like maybe some of his icky comments."
In another sham passage, Eilish says she thinks queerbaiting "is a really good thing!" In several others, the person behind the account comes up with artificial quotes to make it looks like Eilish is feuding with "driver's license" singer Olivia Rodrigo. 
One post with a fake article ended up being retweeted 12,000 times. That tweet included Eilish claiming she longs to be poor.
"When I got rich, I started balling my eyes out," the fake piece says. "I wanted to be poor so I can relate to most of my fans. I still want to be broke and poor, it looks really fun and cute."
Finneas Slams Account
As the troll account started to gain traction, Finneas asked that people report and block it to minimize the spread of its "relentless lies."
On Tuesday, he responded to a fan that tagged him in the @BilliesUpdatess tweet alleging his sister wanted to be poor. 
"Fake obviously," Finneas wrote. "Honestly I just wish they'd label this account satire like the onion or something. I have no problem with a joke as long as people know it's a joke."
The account made several jokes about the fact that Finneas was calling it out, but it seems Eilish's big brother got what he asked for. @BilliesUpdatess added "parody account" to its bio and the account was deleted as of Wednesday afternoon.
See what others are saying: (NME) (Uproxx) (E! News)
Britney Spears' Attorney Files Petition To Oust Father as Conservator
Spears' new attorney, Mathew Rosengart, said there are "serious questions" regarding "potential misconduct, including conflicts of interest [and] conservatorship abuse."
---
Mathew Rosengart Petitions Court To Remove Jamie Spears
Britney Spears' attorney, Mathew Rosengart, filed a petition Monday to remove the singer's father, Jamie Spears, as her financial conservator.
Jamie Spears has served as his daughter's financial conservator for 13 years. In the filing, Rosengart said the elder Spears "profited handsomely" from the position. He asked that Jamie be replaced with a Certified Public Accountant named Jason Rubin, who Rosengart described as "objectively intelligent" and "highly qualified" for the job.
The petition is 120 pages long and contained scathing remarks about Jamie. Britney has made it clear she wants him removed from the conservatorship, which she wants to be terminated entirely. During a statement in June, she called the situation "abusive" and specifically condemned her father.
"He loved the control to hurt his own daughter 100,000%. He loved it," she said.
Rosengart has promised to be a stronger advocate for Britney than her previous lawyer, Samuel Ingham, was. He seems to be following through on his word by challenging Jamie's status as a conservator just weeks after being appointed Britney's attorney.
"Serious questions abound concerning Mr. Spears's potential misconduct, including conflicts of interest, conservatorship abuse and the evident dissipation of Ms. Spears's fortune," he wrote.
The petition claims that Jamie made at least $2.1 million from Britney's residency in Las Vegas, snagging a 1.5% cut of gross revenues and merchandise. It also claims that he paid himself $16,000 a month from Britney's estate, which is $2,000 more than he gave Britney. On top of that, Jamie reportedly took another $2,000 for business purposes.
Rosengart wrote that while it might be common for a manager or agent to make this kind of money, someone in Jamie's position should not be.
"He is a conservator, and, as a conservator, his role is to be burdened by, rather than benefit from, the conservatorship."
Britney's Mother Speaks Out
Both Britney's personal conservator, Jodi Montgomery, and her mother, Lynne Spears, gave statements in the filings echoing the need for Jamie to be removed from his role. Montgomery emphasized that his departure was necessary for the singer's welfare.
"It would be best for Ms. Spears' well-being and mental health that her father stop acting as her conservator,' she wrote.
Lynne did not hold back on criticizing Jamie, saying Britney's relationship with her father has "dwindled to nothing but fear and hatred" because of the control he exerts over her. She also claimed that he relied on Britney's house staff, medical aides, and security team to "inform on and report back to him each and every detail of every action" in his daughter's life.
"Such scrutiny is exhausting and terrifying, like living in custody," she said.
This petition does not terminate the conservatorship fully, but Rosengart said that could be something the court has to examine one day further down the line.
"There might well come a time when the court will be called upon to consider whether the conservatorship should be terminated in its entirety and whether — in addition to stripping his daughter of her dignity, autonomy and certain fundamental liberties — Mr. Spears is also guilty of misfeasance or malfeasance warranting the imposition of surcharges, damages or other legal action against him," Rosengart wrote.