BTS Faces Backlash in China Over RM's Korean War Comments
Kim Nam-Joon, the head of the K-pop group BTS who is better known as RM, made comments during the Korea Society's 2020 Annual Gala that prompted a boycott against the band in China.
Kim emphasized the role both the U.S. and South Korea played in the Korean War, saying, "We will always remember the history of pain that our two nations shared together and the sacrifices of countless men and women."
Chinese fans said the comments were insensitive and didn't acknowledge the 200,000 Chinese who died fighting against South Korea during the war.
Companies like Samsung and Hyundai have distanced themselves from the group in China, removing them from branding.
---
What Was Said?
The K-pop sensation BTS has found themselves facing boycott calls in China after group leader Kim Nam-joon, better known as RM, made what Chinese fans are calling insensitive comments.
The remarks causing outrage were made during the Korea Society's 2020 Annual Gala earlier this month while the band was accepting the Van Fleet award.
"We are very honored to receive the Van Fleet Award, presented to those who have made outstanding contributions to the promotion of the relationships between Korea and the United States," RM said at the ceremony.
"The Korea Society's 2020 Annual Gala is especially meaningful, as this year marks the 70th anniversary of the Korean War," he continued before adding, "We will always remember the history of pain that our two nations shared together and the sacrifices of countless men and women."

Backlash and Boycott Calls Emerge
It may be unclear to Western audiences why those remarks were viewed as so inflammatory. The Korea Society is a U.S.-based non-profit that promotes the relationship between South Korea and the U.S., so it's not surprising that BTS would make a comment like that given the event.
However, on Sunday, the clip went viral and reached #3 trending on Weibo, a Chinese website similar to Twitter, where people were clearly upset. The issue, in particular, was the fact that 200,000 Chinese "volunteers" died fighting for North Korea during the war.
Users on the platform wrote things like, "Nearly 200,000 Chinese troops died in the war. Every Chinese person must remember this number."
Meanwhile, others equated being a fan of BTS to betraying one's Chinese nationality. "If you still fan them, get out and change your nationality! There is nothing wrong with liking Korean idols, but if your idols insult your country, if you continue to fan, then you are not worthy of being a Chinese!" One user wrote on Weibo.
Many users wanted BTS to consider Chinese losses during the war, despite the fact that China fought against South Korea and saved its long-time nemesis North Korea during the conflict, directly leading to the 70-year cease-fire and today's current political climate in the region.
On top of this, Chinese fans were critical of BTS seemingly playing favorites with Americans, with one writing, "Chinese fans give you so much money each year, and you turn around and give it to the United States. What are Chinese fans then?"
Most notably, there were call for boycotts. One user asked, "when will NetEase Cloud Music will remove the song of the anti-Chinese boy group BTS?"
State-run papers also waded into the drama. The hyper-nationalistic Global Times the headline: "BTS hurts feelings of Chinese netizens and fans during speech on the Korean War." That same piece played up the controversy by calling RM's comments "a one-sided attitude."
Korean Companies Step back
The backlash was so large that Korean companies began to distance themselves from the group. Companies like Samsung pulled a BTS-branded smartphone and earbuds from its stores and Chinese website, while Hyundai Motor also removed any BTS branding from its Chinese ads.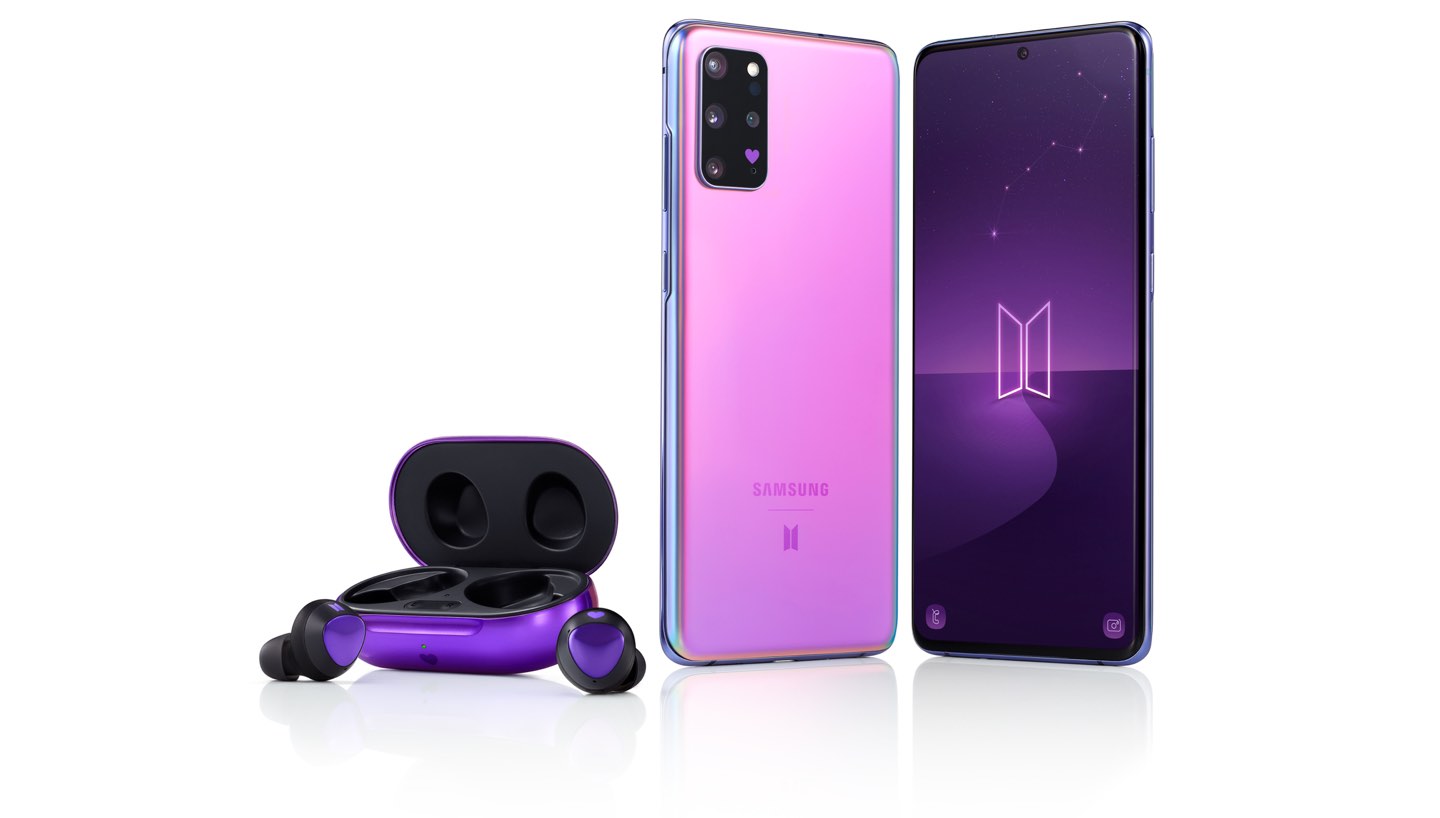 Together those companies make up around 22% of South Korea's GDP.
In the past U.S.-Korea relations have led to a major backlash with China, like in 2017 when the U.S. and Korea agreed to put THAAD missiles in Korea. The backlash led to an economic downturn in Korea after China started boycotting and banning certain activities with Korea. Tensions eventually cooled and economic trade returned to normal.
It's unclear if the Chinese government will officially respond in a similar manner to the 2017 THAAD controversy. When asked about the new controversy on Monday, Foreign Ministry spokesperson Zhao Lijian only said, "I have noted relevant reports as well as the reactions from the Chinese people online. I want to say that we all should learn lessons from history and look forward to the future, hold dear peace and strengthen friendship."
Experts like John Delury, a Chinese studies professor at Yonsei University – one of the major universities in Korea, told The Washington Post that the Global Times seems to have had a role in whipping up anger.
Even if that was the case, the controversy has already had a real-world impact since removing BTS branding in China will likely hurt the band's image in that market.
M&M Announces "Progressive" Rebrand. Internet Asks: "Why?"
The company hopes its characters will "reflect the more dynamic, progressive world that we live in."
---
M&M Revamps Candy Characters
The green M&M — the femme fatale of the candy world — is swapping her tall white gogo boots for a pair of classic sneakers as part of Mars' new effort to make the brand more "inclusive, welcoming, and unifying." The change sparked a swell of backlash online from those who think the plain Jane facelift is unnecessary.
"M&M'S has been around for more than 80 years and this year the brand continues to evolve to reflect the more dynamic, progressive world that we live in," the company said in a statement on Thursday.
"The refreshed M&M'S brand will include a more modern take on the looks of our beloved characters, as well as more nuanced personalities to underscore the importance of self-expression and power of community through storytelling," the statement continued.
The company said it hopes for fans to notice an "added emphasis on the ampersand to more prominently demonstrate how the brand aims to bring people together."
What fans noticed, however, was the fact that the green M&M is no longer, well, sexy. Formerly known as Ms. Green, her prefix was dropped and her poses are less flirty. The same happened with Brown, also a female, who had her footwear changed to lower her heel. The company wants the two to represent a "force supporting women."
In character bios on M&M's website, Green described herself as a "hypewoman" who wants to "see more women in leading roles." Brown says she is "Not bossy. Just the boss."
The other characters are getting new styles as well. Red, the macho leader, is going to become more friendly and collaborative. Orange is getting to lean into his high anxiety, admitting in his profile that he can't leave the house without "panicking."
Twitter Mocks Rebrand
But it turns out, many people were seemingly happy with the gender-normed M&M characters just as they were. Rolling Stone put out a piece asking that Mars "let the green M&M be a nasty little slut." The Guardian accused the company of "slut-shaming" the iconic candy cartoon.
On Twitter, the redesign was met with even more criticism.
"I will REFUSE to buy m&m's until they make the green one SEXY again," one person tweeted.
"They told green m&m she couldn't go to euphoria high school anymore," another person wrote.
"Finally an M&M with mental health struggles," someone joked about Orange.
Others mocked it as an overall small and meaningless gesture of equality from a large corporation.
"Who needs equitable pay, healthcare, voting rights?" One person tweeted. "That stuff is for chumps. What we need is Woke M&Ms to carry us through these tough times."
Jay-Z, Other Artists, Sign Letter Supporting N.Y. Bill to Block Use of Rap Lyrics in Court
The legislation aims to "protect all artists and content creators, including rappers from having their lyrics wielded against them by prosecutors."
---
New York Senators Introduce "Rap Music On Trial" Bill
Jay-Z and a slew of other rappers and artists signed a letter this week in support of a New York law that would prevent rap lyrics from being used as evidence in court. 
The bill, titled Rap Music on Trial, was introduced in November by state Sens. Brad Hoylman (D-Manhattan) and Jamaal Bailey (D-Queens). Rap Music on Trial aims to "enhance the free speech protections of New Yorkers by banning the use of art created by a defendant as evidence against them in a courtroom."
"The legislation will protect all artists and content creators, including rappers from having their lyrics wielded against them by prosecutors," a statement released by the senators said.
If the law were passed, in order to submit lyrics and other creative works as evidence, prosecutors would need to present "clear and convincing proof that there is a literal, factual nexus between creative expression and the facts of the case."
Hoylman, Bailey, rappers, and many other advocates believe that rap lyrics are often used unfairly in court.
"The use of rap and hip-hop lyrics in particular is emblematic of the systemic racism that permeates our criminal justice system," Bailey explained in a statement.
Major Artists Sign Letter Backing Legislation
The letter signed by Jay-Z echoed those concerns. It was written by his lawyer, Alex Spiro, and University of Richmond Professor Erik Nielson. Meek Mill, Big Sean, Fat Joe, Kelly Rowland, and Robin Thicke were among the other artists who put their names behind the cause.
"Rather than acknowledge rap music as a form of artistic expression, police and prosecutors argue that the lyrics should be interpreted literally — in the words of one prosecutor, as 'autobiographical journals' — even though the genre is rooted in a long tradition of storytelling that privileges figurative language, is steeped in hyperbole, and employs all of the same poetic devices we find in more traditional works of poetry," the letter said.
According to Spiro and Nielson, using rap lyrics allows prosecutors to "obtain convictions even when other evidence is lacking." They also argued the strategy specifically harms young Black and Latino men, who are "the overwhelming majority of artists in these cases."
Several high-profile artists have experienced this practice themselves. In their joint statement, Hoylman and Bailey pointed to a 2019 case where Tekashi69's lyrics were introduced in court to compel him to become a government witness to avoid harsher sentencing.
Per a report from Rolling Stone, the late Drakeo the Ruler was subjected to something similar while on trial for a 2016 murder case. Before he was acquitted of the crime, prosecutors attempted to use lyrics from his song "Flex Freestyle" in an effort to make jurors think he brought a group of armed people to a party to target the victim.
In the letter, Spiro and Nielson pointed to research that "identified hundreds of cases" where rap lyrics were exploited in court, noting that the genre has the "potential to be highly prejudicial."
In one study they cited, two groups were given identical violent lyrics, but one group was told those lyrics came from a country song, and the other was told it was rap. Members of the group who believed the lyrics were rap "were significantly more likely to view them as threatening and in need of regulation" than members of those who thought the words came from a country song.
"Nobody thinks Johnny Cash shot a man in Reno just to watch him die, or that David Byrne is a psycho killer, but routinely rappers have their lyrics used against them in criminal trials," Hoylman said in a November tweet.
"As these and other studies suggest, weaponizing rap music against its creators is racially and culturally discriminatory," the letter concluded. "It is also an affront to the First Amendment protections that everyone in this country should be entitled to."
Britney Spears Sends Cease and Desist to Jamie Lynn Over Book Tour
Britney's lawyer claimed that Jamie Lynn's "ill-timed book" contains "misleading or outrageous claims" about the singer.
---
Britney Spears Slaps Sister With Cease and Desist
Britney Spears sent a cease and desist letter this week demanding her sister, Jamie Lynn, stop "referencing Britney derogatorily during" her book tour.
The two sisters have been embroiled in a heated war of words over the last week, largely prompted by Jamie Lynn's new memoir, "Things I Should Have Said." In the book and during its accompanying press tour, Jamie Lynn has discussed a variety of issues, including Britney's controversial conservatorship, their father's struggles with alcoholism, and what it was like to be raised in her older sister's shadow.
"We write with some hesitation because the last thing Britney wants is to bring more attention to your ill-timed book and its misleading or outrageous claims about her," Britney's lawyer, Mathew Rosengart, wrote in the letter, which was obtained by Variety. "Although Britney has not read and does not intend to read your book, she and millions of her fans were shocked to see how you have exploited her for monetary gain. She will not tolerate it, nor should she."
The Spears family has been the subject of international headlines over the last year as the legal battle to free the "Toxic" singer from her 13-year conservatorship took off. Britney has been vocal about the fact that she felt largely abandoned by her family while she was in the conservatorship, claiming they did nothing to help her. A Los Angeles judge officially terminated the arrangement in November, giving the pop star newfound control over her life.
"Having endured a 13-year conservatorship that stripped her of civil rights and fundamental liberties, Britney will no longer be bullied by her father or anyone else," the letter continued. "Britney was the family's breadwinner and she also otherwise supported you. Publicly airing false or fantastical grievances is wrong, especially when designed to sell books. It is also potentially unlawful and defamatory."
Spears Sisters Duke it Out on Social Media
During the press tour, Jamie Lynn has conducted interviews aired on "Good Morning America," "Nightline," and the "Call Her Daddy" podcast with Alex Cooper. Britney has taken issue with several stories Jamie Lynn told, including one where she claims Britney locked them inside a room together with a knife because she was "scared."
"I've never been around you ever with a knife or would I ever even think to do such," Britney wrote in one Twitter post denying the story.
"Hope your book does well, Jamie Lynn !!!!" the singer wrote in another post. "My family ruined my dreams 100 billion percent and try to make me look like the crazy one."
Jamie Lynn has defended her choice to write the memoir, arguing that she is "speaking my truth to heal my traumas."
"I hate to burst my sister's bubble, but my book is not about her," she wrote. "I can't help that I was born a Spears too, and that some of my experiences involve my sister."
Rosengart mentioned this statement in the cease and desist letter.
"You recently reportedly stated that the book was 'not about her.' [Britney] takes you at your word and we, therefore, demand that you cease and desist from referencing Britney derogatorily during your promotional campaign," he wrote. "If you fail to do so or defame her, Britney will be forced to consider and take all appropriate legal action."