BTS Faces Backlash in China Over RM's Korean War Comments
Kim Nam-Joon, the head of the K-pop group BTS who is better known as RM, made comments during the Korea Society's 2020 Annual Gala that prompted a boycott against the band in China.
Kim emphasized the role both the U.S. and South Korea played in the Korean War, saying, "We will always remember the history of pain that our two nations shared together and the sacrifices of countless men and women."
Chinese fans said the comments were insensitive and didn't acknowledge the 200,000 Chinese who died fighting against South Korea during the war.
Companies like Samsung and Hyundai have distanced themselves from the group in China, removing them from branding.
---
What Was Said?
The K-pop sensation BTS has found themselves facing boycott calls in China after group leader Kim Nam-joon, better known as RM, made what Chinese fans are calling insensitive comments.
The remarks causing outrage were made during the Korea Society's 2020 Annual Gala earlier this month while the band was accepting the Van Fleet award.
"We are very honored to receive the Van Fleet Award, presented to those who have made outstanding contributions to the promotion of the relationships between Korea and the United States," RM said at the ceremony.
"The Korea Society's 2020 Annual Gala is especially meaningful, as this year marks the 70th anniversary of the Korean War," he continued before adding, "We will always remember the history of pain that our two nations shared together and the sacrifices of countless men and women."

Backlash and Boycott Calls Emerge
It may be unclear to Western audiences why those remarks were viewed as so inflammatory. The Korea Society is a U.S.-based non-profit that promotes the relationship between South Korea and the U.S., so it's not surprising that BTS would make a comment like that given the event.
However, on Sunday, the clip went viral and reached #3 trending on Weibo, a Chinese website similar to Twitter, where people were clearly upset. The issue, in particular, was the fact that 200,000 Chinese "volunteers" died fighting for North Korea during the war.
Users on the platform wrote things like, "Nearly 200,000 Chinese troops died in the war. Every Chinese person must remember this number."
Meanwhile, others equated being a fan of BTS to betraying one's Chinese nationality. "If you still fan them, get out and change your nationality! There is nothing wrong with liking Korean idols, but if your idols insult your country, if you continue to fan, then you are not worthy of being a Chinese!" One user wrote on Weibo.
Many users wanted BTS to consider Chinese losses during the war, despite the fact that China fought against South Korea and saved its long-time nemesis North Korea during the conflict, directly leading to the 70-year cease-fire and today's current political climate in the region.
On top of this, Chinese fans were critical of BTS seemingly playing favorites with Americans, with one writing, "Chinese fans give you so much money each year, and you turn around and give it to the United States. What are Chinese fans then?"
Most notably, there were call for boycotts. One user asked, "when will NetEase Cloud Music will remove the song of the anti-Chinese boy group BTS?"
State-run papers also waded into the drama. The hyper-nationalistic Global Times the headline: "BTS hurts feelings of Chinese netizens and fans during speech on the Korean War." That same piece played up the controversy by calling RM's comments "a one-sided attitude."
Korean Companies Step back
The backlash was so large that Korean companies began to distance themselves from the group. Companies like Samsung pulled a BTS-branded smartphone and earbuds from its stores and Chinese website, while Hyundai Motor also removed any BTS branding from its Chinese ads.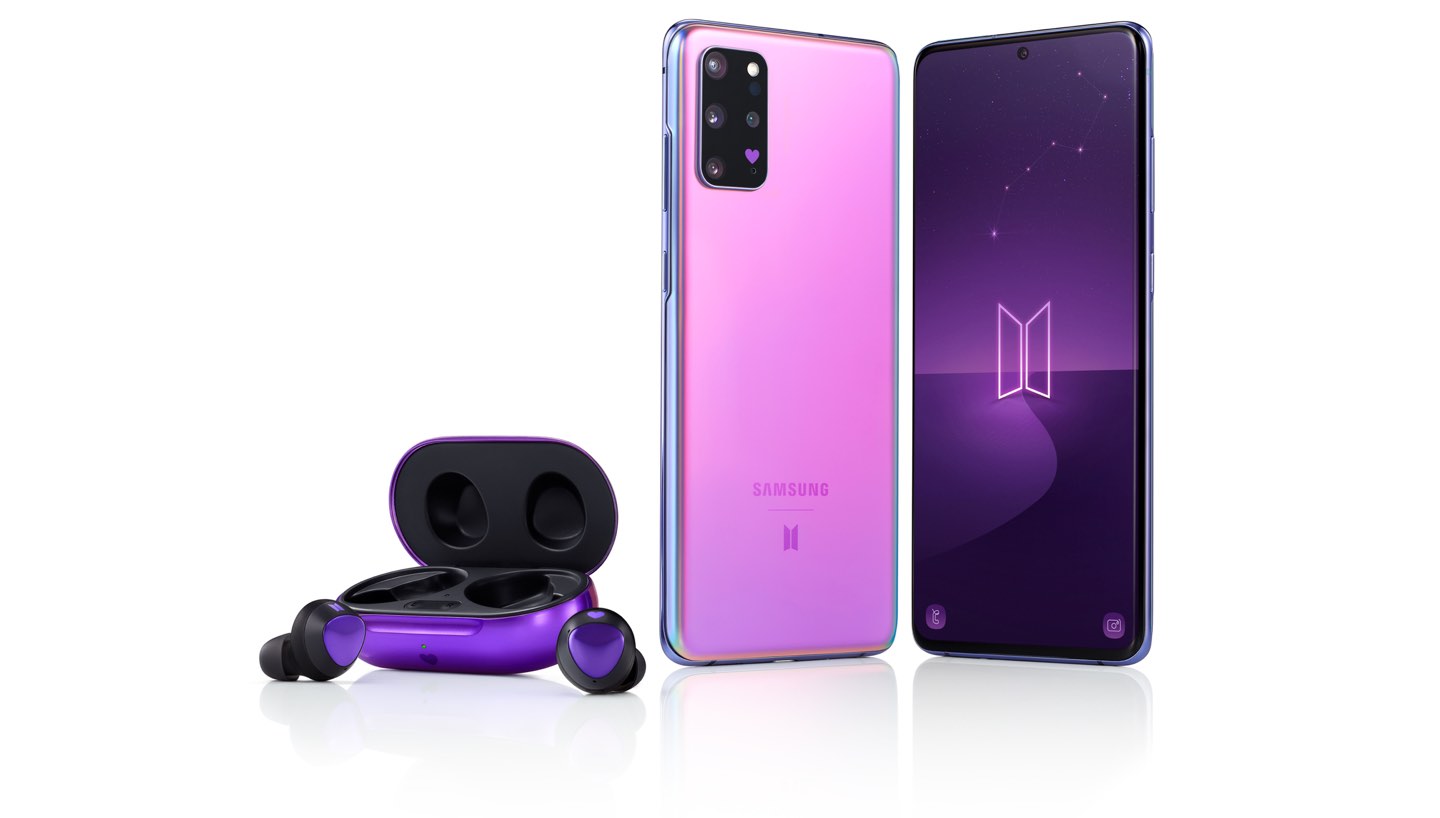 Together those companies make up around 22% of South Korea's GDP.
In the past U.S.-Korea relations have led to a major backlash with China, like in 2017 when the U.S. and Korea agreed to put THAAD missiles in Korea. The backlash led to an economic downturn in Korea after China started boycotting and banning certain activities with Korea. Tensions eventually cooled and economic trade returned to normal.
It's unclear if the Chinese government will officially respond in a similar manner to the 2017 THAAD controversy. When asked about the new controversy on Monday, Foreign Ministry spokesperson Zhao Lijian only said, "I have noted relevant reports as well as the reactions from the Chinese people online. I want to say that we all should learn lessons from history and look forward to the future, hold dear peace and strengthen friendship."
Experts like John Delury, a Chinese studies professor at Yonsei University – one of the major universities in Korea, told The Washington Post that the Global Times seems to have had a role in whipping up anger.
Even if that was the case, the controversy has already had a real-world impact since removing BTS branding in China will likely hurt the band's image in that market.
Twitch Tightens Policies on Explicit Deepfakes
"The creation, promotion, or viewing of this content is not welcome on Twitch," the company said in a blog post.
---
New Rules Regarding "Synthetic NCEI"
Twitch is cracking down on explicit deepfake content and will indefinitely suspend users who share or promote it after a first offense.
"The existence of this content, and its presence and distribution on various sites, is personally violating and beyond upsetting. Deepfake porn isn't a problem on Twitch, but it's a terrible issue that some streamers (almost exclusively women) may face on the internet at large," Twitch said in a Tuesday blog post, explaining it wants to "help streamers protect themselves" in any case this issue arises. 
Twitch referred to this content as "synthetic non-consensual exploitative images," or "synthetic NCEI," but many of the platform's users have casually referred to it as deepfake porn. Synthetic NCEI involves someone taking the face of another person and editing it into a pornographic video to make it appear as though that person filmed themselves demonstrating those sexual acts. The new rise in access to this technology has concerned many, as it is easy to use it to exploit others.
While synthetic NCEI is already banned on Twitch, the company took a more actionable step against it in its Tuesday post by creating an Adult Sexual Violence and Exploitation policy. The new rule prohibits the intentional sharing, promoting, or creation of synthetic NCEI and those acts can result in an indefinite suspension on the first offense. 
Twitch also updated its Adult Nudity policy to include synthetic NCEI. Even if it is only shown briefly, that content will still be taken down and result in an enforcement. 
In addition to the policy changes, Twitch made available a list of resources for those who might be impacted by or wish to learn more about synthetic NCEI. 
"The creation, promotion, or viewing of this content is not welcome on Twitch," the company said closing its blog post.
Growing Concerns About Explicit Deepfakes
Twitch's updates come as synthetic NCEI and deepfakes have become a primary topic of concern for social media platforms. Earlier this year, Twitch was home to a major deepfake controversy after a streamer known as Atrioc was caught with an open tab to a website that hosted these videos. That site specifically hosted deepfakes of female Twitch streamers, some of whom were Atrioc's colleagues.
Many women featured on the page spoke out against these deepfakes, explaining the trauma they endured knowing their face, image, and likeness were used in a sexual manner without their consent. It's an issue that extends far past Twitch creators. Some fear they could be used for revenge porn, and there are already several cases where the technology is used to create sexual videos of celebrities. 
On Tuesday, NBC News published a report finding that Facebook and Instagram ran suggestive ads featuring deepfakes of actresses like Emma Watson and Scarlett Johansson. The ads were for a deepfake app that told users they could "replace face with anyone."
While the ads did not show explicit pornographic content, one ad featuring Watson was clearly meant to mimic the start of an explicit video, suggesting a sexual act was about to start. The face of the "Harry Potter" actress was seen looking into the camera before bending down.
The report found that 127 ads with Watson deepfakes and 74 with Johansson deepfakes ran across Meta's platforms on Sunday and Monday, but have since been removed. The app in question was also removed from the Apple app store after NBC News contacted the tech giant for comment. 
Fans Defend Pedro Pascal After Actor Refused to Read Thirst Tweets: "It's Sexual Harassment"
Pascal has been dubbed the Internet's "daddy," but many think the joke has gone too far.
---
Pascal's Heartthrob Status
Fans are defending actor Pedro Pascal after he refused to read thirst tweets on the red carpet, arguing that it is inappropriate and disrespectful to ask him to do so.
Pascal, the star of HBO's "The Last of Us" and Disney+'s "The Mandalorian," has become a major Hollywood heartthrob. He has even been widely dubbed as the Internet's "daddy" by those posting about his handsome looks. The running joke grew last year when he did a Vanity Fair lie detector test and said he considered himself a "bigger daddy" than "Star Wars" star Oscar Isaac. 
"Daddy is a state of mind, you know what I'm saying? I'm your daddy," he quipped during the interview. 
Since then, TikTokers have started posting thirst trap edits of Pascal, journalists have called him "daddy" on the red carpet, and interviewers have shown him tweets where fans call him a "cool, slutty daddy."
Pascal has been a good sport about the public displays of lust for him, but many think the joke may have crossed a line. During last week's red carpet premiere for season three of "The Mandalorian," an Access Hollywood reporter went viral for asking Pascal to read thirst tweets to the camera. Pascal politely declined. 
"No. Dirty! Dirty!" he told the reporter after reading through the tweets.
"For your enjoyment only," she responded.
"Thank you very much," Pascal said before exiting the interview.
Fans Condemn Thirst Tweet Interviews
In response, many who watched the clip condemned this treatment of Pascal, arguing it promoted constant objectification.
"I think it's time for the internet to leave Pedro Pascal alone," one person wrote. "It's sexual harassment, but no one seems to care bc he's a man + is graceful about it. It's really gross and I would never want to be treated like that."
"These jokes have gone way too far and he's visibly uncomfortable," another fan added.
Some claimed that while the Internet's love of Pascal "started as harmless fun…the constant public objectification and sexualization must be terrible" and should stop.
"Being attractive, banking on it, selling it, and even at times enjoying some of the attention, doesn't give everyone wholesale permission to sexualize you," someone else argued.
Conservatives Pledge to #BoycottHershey After International Women's Day Campaign Featured a Trans Woman
"I hope this campaign shows trans girls they can dream big and change the world too," activist Fae Johnstone said in her Hers for She video.
---
Hershey Highlights Fae Johnstone
Step aside, Green M&M. Conservatives have a new candy that they're mad at: Hershey bars. 
On Wednesday, Hershey Canada unveiled its "Her for She" International Women's Day initiative, which aims to celebrate "women changing the future." Conservatives were quickly outraged by the company's choice to highlight Fae Johnstone, a trans woman and LGBTQ+ rights activist, as part of this effort. 
"We can create a world where everyone is able to live in public space as their honest and authentic selves," Johnstone said in a "Her for She" video.
In addition to Johnstone, the campaign features gender equality activists, a climate tech researcher, and an indigenous rights activist, all of whom have fought for progress in their respective fields. The women will appear on Hershey's websites, in marketing promotions, and in artistic renderings on Hershey bar wrappers.
Johnstone wrote on Twitter that she hopes Hershey's campaign will "give more young women and girls role models" who can demonstrate how to "change the world, together."
"It also means a lot to be included, as a young(ish?) trans woman," Johnstone continued. "I grew up with few trans role models. Many young trans folks haven't met a trans adult. I hope this campaign shows trans girls they can dream big and change the world too."
A Swift Transphobic Backlash
This decision, however, prompted right-wing Twitter users to accuse Hershey of hating "real" women. Many of the posts included blatantly transphobic rhetoric, as well as promises to boycott the company because it went "woke."
The outrage was so prominent that #BoycottHershey was one of the top Twitter trends on Thursday morning.
This backlash comes just a little over a month after conservative media figures like Tucker Carlson slammed M&M for making the green mascot character, well, less sexy.
In response to Mars changing the green candy's outfit, Carlson accused the Mars company of making its characters "as unattractive as possible because when you're intentionally repulsive, it's clear you've got the right politics."
Not long after the right-wing backlash, M&M opted to replace its "spokescandies" with actress Maya Rudolph.
The conservative outrage targeted at both Hershey and M&M is part of a larger culture war against any company that makes changes to address diversity, climate change, or other social issues. Brands like Xbox, "Sesame Street," and more have at one point provoked the ire of Fox News hosts and other Republican figures. 
In fact, their outrage against these progressive changes has become so common that once #BoycottHershey was trending, some tweeted that they did not even have to click on the hashtag "to know that they must have done something compassionate that the right hates."