CA GOP Sets Up Unofficial Absentee Ballot Drop Boxes, Secretary of State Calls It Illegal.
The California GOP has installed multiple, unofficial ballot drop-off boxes in Southern California, but Secretary of State Alex Padilla says those boxes are illegal and could result in felonies.
Padilla has also argued the existence of such boxes could lead to confusion for absentee voters.
The GOP, citing a 2016 law allowing third parties to collect and deliver ballots, argued that the boxes are legal. The GOP has repeatedly condemned this law before now.
Padilla has said the 2016 law referenced by the GOP requires voters to designate a specific person to collect their ballot, something a drop box cannot do.
---
California GOP Sets Unofficial Drop Boxes
Republicans in California have illegally set up multiple, unofficial absentee ballot drop boxes in at least three counties, according to Secretary of State Alex Padilla.
Despite those drop boxes not being official locations established by local election offices, the GOP has listed them as such, reportedly setting them up outside of churches, gyms, gun stores, and gas stations.
On Sunday, Padilla said these drop boxes — which have been found in Los Angeles, Orange, and Fresno Counties — mislead voters and violate state law.
"My office is coordinating with local officials to address the multiple reports of unauthorized ballot drop boxes," he told the Orange County Register. "Californians should only use official ballot drop boxes that have been deployed and secured by their county elections office."
According to Padilla, it's even possible that these drop boxes could result in felony charges, with his office noting that criminal charges for erecting or advertising unofficial ballot boxes could result in a two to four-year prison sentence.
GOP Defends Putting Up Ballot Boxes
The California GOP has defended setting up the drop boxes. It has argued that it is operating under a law that allows third parties to collect and deliver ballots to election officials.
For example, in California, the law allows volunteers and campaign workers to go directly to the homes of voters to collect completed ballots. State Democrats have even held "ballot parties" where attendees fill out their ballots before leaving them with volunteers who later return them to election officials.
Because that law was written by state Democrats and later signed into law by then-Governor Jerry Brown in 2016, the GOP said on Twitter that it was "not sure why people are all of a sudden surprised."
"If a congregation/business or other group provides the option to its parishioners/associates/ or colleagues to drop off their ballot in a safe location, with people they trust, rather than handing it over to a stranger who knocks on their door – what is wrong with that?" it added.
California Democrats wrote the law (Assembly Bill 1921). Democrats voted for the legislation and Governor Jerry Brown signed it into law. This procedure has been in place since 2016 – not sure why people are all of a sudden surprised. https://t.co/2EB1PLuZCt

— CAGOP (@CAGOP) October 11, 2020
https://platform.twitter.com/widgets.js
The National Republican Congressional Committee also suggested that Democrats are "only ok with ballot harvesting" when they're the ones doing it.
Since the introduction of this law, the GOP has criticized it extensively. In May, the GOP sued Governor Gavin Newsom over the practice ahead of a special election.
Democrats have justified the law by saying that it can increase voter turnout for people living with disabilities, as well as for other people who might not be able to make it to the polls.
Still, there is a key difference between how that 2016 law works and how the California GOP is using it. Specifically, Padilla said these drop boxes are illegal because that law requires a voter to designate a person to return their ballot; however, no one is present at these drop boxes.
On top of that, Padilla said the unofficial drop boxes don't meet security requirements.
Now, Padilla's office has said that it will be sending updated guidance to both Democrats and Republicans, warning them that they could face criminal charges if they use unsanctioned drop boxes.
If you're a California voter, you can go to the secretary of state's website to find official drop-off locations.
Confusion in Other States Over Absentee Voting Rules
COVID-19 has brought about unprecedented change to the American voter system. In return, that has brought with it confusion over how voters in each state are allowed to cast ballots. 
In North Carolina, at least 6,800 ballots are in limbo because of errors voters made while filling out those ballots. Notably, almost half are from people of color.
While the state's Board of Elections said last month that it would allow voters to fix those errors, a federal judge halted the plan on Oct. 3, arguing that it changed the rules too close to Election Day.
North Carolina is a key swing state where both President Donald Trump and Democratic candidate Joe Biden are running a tight race. In fact, in 2008, Barack Obama only won it by 14,000 votes.
In Pennsylvania, a federal judge has now denied the Trump campaign and the Republican Party's attempts to make drop boxes in Pennsylvania unconstitutional.
In Texas, Governor Greg Abbott issued a proclamation at the beginning of the month that blocked Texas counties from setting up more than one absentee ballot drop box location during the early election period.
That order was overturned on Friday by U.S. District Judge Robert Pitman, who called the order "perplexing" since it didn't affect counties' abilities to set up multiple drop-off locations on Election Day and since multiple drop-off locations had already been set up.
Pitman also argued that Abbott's proclamation created confusion among voters and disproportionately affected elderly voters, voters living with disabilities, and voters in populous counties.
On Saturday, Pitman's injunction on the proclamation was temporarily halted by an appeals court judge. The order will now stay in effect until the court rules on the matter.
AOC Will Play "Among Us" With Pokimane and Others To "Get Out the Vote"
Rep. Alexandria Ocasio-Cortez asked if anyone wanted to play "Among Us" with her on Twitch in an effort to encourage voting.
She's already publicly agreed to play with Pokimane, Hasan Pike, and Rep. Ilhan Omar, but no other players have been confirmed yet.
Internet stars who showed interest included James Charles, Gus Johnson, Jacksepticeye, Dr Lupo, and several others.
The congresswoman has created a Twitch channel in preparation for the stream, which she said could happen Tuesday night.
AOC isn't the only Democrat using video games to reach young voters. The Biden-Harris campaign has made headlines for releasing 2020 yard signs and creating its own headquarters in "Animal Crossing."
---
---
AOC Issues a Call for "Among Us" Players
Internet stars are jumping at the chance to stream a game of "Among Us" with Rep. Alexandria Ocasio-Cortez (D-NY) on Twitch this week.
"Anyone want to play Among Us with me on Twitch to get out the vote?" the Democratic congresswoman from New York tweeted out Monday.
"I've never played but it looks like a lot of fun," she added before asking, "Who would you want to watch in a game together? ⬇️"
"Among Us" is a multiplayer murder mystery game that was released in 2018, but it recently became wildly popular thanks to various streamers and people trying to have fun with friends in this age of social distancing.
While many streamers were quick to reply to AOC's question, one of the biggest names catching attention was Pokimane, who has over 6 million Twitch followers.
"It'd be an honor," she tweeted back.
"Let's do it!" Ocasio-Cortez replied, saying she'll set up her account and get equipment together.
Other Creators Show Interest
Aside from Pokimane, AOC also publicly agreed to play with streamer and political commentator Hasan Piker, as well as Rep. Ilhan Omar.
It's unclear how many people she's looking to bring together, but a game of "Among Us" can have up to 10 players.
Other huge creators throwing their names into the hat include James Charles, Gus Johnson, Jacksepticeye, Lazarbeam, and Dr Lupo.
YES

— James Charles (@jamescharles) October 19, 2020
I'd love to if you're down!

— Gus Danger Johnson (@Gusbuckets) October 19, 2020
If you need a diversity of accents hit me up

— Jacksepticeye (@Jack_Septic_Eye) October 19, 2020
I offer myself as tribute. 😁

— DrLupo (@DrLupo) October 19, 2020
However, as of now, no other players have been publicly confirmed. AOC set up her Twitch channel last night, which already has nearly 200,000 followers.
She said she spent time setting up mods and doing run-throughs but plans to go live sometime Tuesday night.
Democrats Are Using Video Games to Reach Young Voters
It will be interesting to see who participates and what kind of viewership this event brings in. Many agree that the steam could prove to be a smart way to reach younger Americans before the election, a base AOC is especially good at communicating with.
Although she admittedly hasn't played this particular game before, video games aren't exactly outside her realm of interests. In fact, she previously opened up about loving to play "League of Legends."
Ocasio-Cortez is also far from the only Democrat-leaning into video games as a way to reach young voters. The Biden-Harris campaign has taken a similar approach with the "Animal Crossing: New Horizons."
Last month, they released official yard signs through the game, and just this month, the campaign launched Joe Biden's virtual headquarters– an entire island where users could connect with his campaign,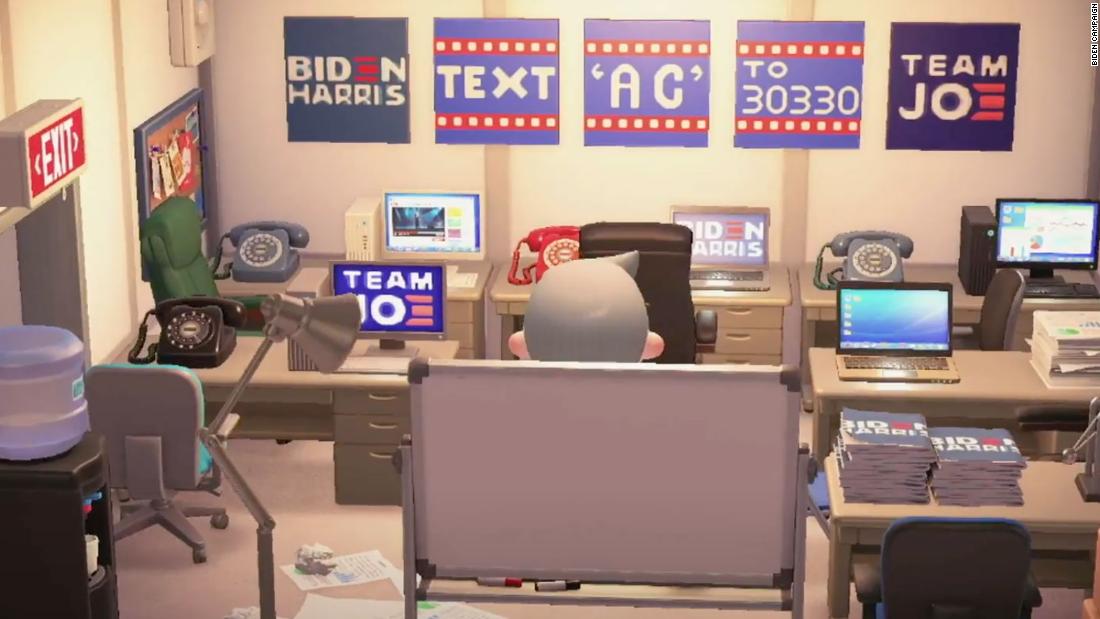 According to Christian Tom, director of digital partnerships for the Biden-Harris campaign: "The island includes plenty of ice cream, trains, aviators, chucks, swag, and more weaved throughout the entire island — but there are also features that encourage players to organize and mobilize."
For example, it included ads for the DNC's "I Will Vote" website as well as an election day checklist, among other features. Biden's character even walks across the island so players can take virtual selfies with him.
U.S. Supreme Court Denies GOP Effort to Limit Mail-In Voting in Pennsylvania
On Monday, the U.S. Supreme Court deadlocked itself in a decision that would have cut short the amount of time Pennsylvania's election officials had to receive mail-in ballots.
Because of the 4-to-4 tie, a lower court decision granting an extended deadline stayed.
Several states have also seen major rulings regarding voting recently. In Michigan on Friday, an appeals court judge ruled in favor of prohibiting ballots from being turned in past 8 p.m. on Election Day in the state.
In Texas, an appeals court judge ruled Monday that state election officials can reject mail-in ballots over mismatched signatures without giving voters a chance to appeal.
---
SCOTUS Denies Pennsylvania GOP Request Limiting Mail-in Voting
The U.S. Supreme Court denied a request from Pennsylvania's Republican Party on Monday that would have shortened the deadline for state election officials to receive absentee ballots.
The GOP request was an appeal to a decision by the Pennsylvania Supreme Court last month. In that decision, the state Supreme Court sided with Democrats, granting them an extension to the deadline for which mail-in ballots could be received. That extension moved the cut off date from 8 p.m. on Election Day (Nov. 3) to 5 p.m. on the following Friday (Nov. 6).
The Pennsylvania Supreme Court cited several reasons, including potential mail delays and the fact that state law allows mail ballots to be cast on Election Day. To be clear, this extension only applies to the date election officials in the state can still accept mail-in ballots; those ballots must still be postmarked by Election Day.
Following that decision, Pennsylvania's GOP accused the state Supreme Court of exceeding its powers and unconstitutionally changing election law. From there, they appealed the decision to the U.S. Supreme Court, who ultimately agreed to hear it.
On Monday, SCOTUS was split: Chief Justice John Roberts sided with liberal judges Sonia Sotomayor, Elena Kagan, and Stephen Breyer in denying the request. Meanwhile, conservative justices Clarence Thomas, Samuel Alito, Brett Kavanaugh, and Neil Gorsuch all dissented.
With the notable exception of Ruth Bader Ginsburg who died last month, that meant the court was deadlocked 4-4; however, when the court is deadlocked, the decision from the lower court remains in place.
Immediately, Democrats cheered the news, especially since Pennsylvania is a key swing state and this extension could decide the fate of thousands of ballots. Notably, in 2016, President Donald Trump won the state by 44,000 votes.
On the other hand, Republicans expressed disappointment over the news, and many of them emphasized the fact that this was a deadlocked decision.
Pennsylvania GOP Chair Lawrence Tabas said Monday's decision "only underscores the importance of having a full Supreme Court as soon as possible."
To that point, if Judge Amy Coney Barrett is confirmed to the Supreme Court, she could be placed on the bench as early as the week before the election, meaning that if more election-related cases come before SCOTUS, as they very likely will, she could end up being the deciding vote.
Michigan Court Restricts Mail-in Voting Return Deadline
While SCOTUS' Pennsylvania decision may be the most high-profile mail-in voting decision seen by a court in recent days, by no means is it the only one.
In fact, on Friday, an appeals court in Michigan handed down a decision opposite to what SCOTUS ruled in Pennsylvania. There, a judge ruled that ballots must be received by 8 p.m. on Election Day or they won't be counted.
Notably, that decision overturned a lower court decision which had stated that ballots postmarked by Nov. 2 could be counted if they were received within 14 days of Election Day.
Texas Can Reject Ballots Because of Signatures, Without Allowing Voters to Appeal
An appeals court judge in Texas has also ruled that state election officials can reject mail-in ballots over mismatched signatures, all without giving voters a chance to appeal if their ballot is rejected.
Essentially, if election officials decide that a signature on a ballot can't be verified, they're allowed to reject that ballot without notifying voters until after the election.
Like Michigan, the appeals court overturned a lower court ruling. In this case, that ruling would have required the Texas secretary of state to either advise election officials not to reject mail-in ballots because of signatures or require them to set up a notification system that gave voters a chance to challenge rejections.
Appeals Court Judge Jerry E. Smith, who handed down Monday's decision, said requiring either process would compromise mail-in ballot integrity.
"Texas's strong interest in safeguarding the integrity of its elections from voter fraud far outweighs any burden the state's voting procedures place on the right to vote," Smith added.
The League of Women Voters of Texas, who were plaintiffs in the lawsuit that brought about the original decision, called Smith's decision "deeply disappointing because it allows the State to shirk its responsibility to ensure that each vote is counted during an incredibly important election while a deadly global pandemic rages on."
Pelosi Says No Stimulus Before Election If Deal Isn't Struck By Tuesday
On Sunday, House Speaker Pelosi said she was giving the White House until Tuesday to agree to a new stimulus deal if they want one passed before the election.
Any agreement is highly unlikely, and even if one were struck, Senate Majority Leader McConnell has refused to bring even the White House's offer of $1.8 trillion for a vote. 
Economists warn that without another stimulus package soon, the economy will backslide even more, and waiting any longer could do serious long-term damage.
Millions of Americans are already hurting as most of the benefits from the CARES Act are long expired or set to expire soon.
Experts are also concerned that the recent COVID-19 spikes across the U.S. could also hurt the economy.
---
Pelosi Sets Deadline
House Speaker Nancy Pelosi (D-Ca.) announced Sunday that if lawmakers and the Trump administration do not reach a deal on a stimulus package by Tuesday, there will not be another round of coronavirus relief before the election.
While that deadline came after a meeting between Pelosi and Treasury Secretary Steve Mnuchin, where the two did seem to make headway on some issues, there are still a lot of key areas that need to be hashed out.
Despite this new deadline, after months of deadlock, there is really nothing that has happened over the last few days that would indicate they are closer to a deal. If anything, the waters have become more muddied in recent weeks following a series of abrupt shifts on the part of President Donald Trump.
On Oct. 6, Trump suddenly announced on Twitter that he would stop all negotiations until after he won the election. Just a few hours later, following significant backlash, he called for Congress to pass smaller bills like approving new stimulus checks.
Two days later, Trump tweeted that the negotiations for a full package were "moving along," and called on both sides to, "Go Big!
On the same day, Mnuchin announced that the White House would increase its coronavirus stimulus offer to $1.8 trillion, which was up from their previous $1.6 trillion offer, though still down from the $2.2 trillion Pelosi asked for.
But a few hours after that, Trump went on Rush Limbaugh's radio show and said that he, "would like to see a bigger stimulus package frankly than either the Democrats or Republicans are offering."
Trump reiterated that call again while speaking on Fox News Thursday, while simultaneously blaming his own Treasury secretary for not offering enough money in the talks and suggesting, without any explanation, that China would pay for it.
However, Trump's call for more appeared to go against the will of his own party. Within a matter of hours after Trump's interview, Senate Majority Leader Mitch McConnell (R-Ky.) said he would not even bring the $1.8 trillion proposal for a vote.
The leader argued that the amount was much higher than what Republicans would agree to, and instead said he would advance a much smaller $500 billion package in the coming week. In other words, even if Pelosi and Mnuchin were to strike a deal, unless they drop it by about $1 trillion, it is almost certain that it would be blocked by Senate Republicans.
Economic Fallout
While the prospects of a pre-election deal remain increasingly slim, the need for another stimulus deal is becoming even more urgent by the day.
It has now been seven months since the last stimulus package, and any more delays will only do more damage to the economy and the American people. Economists have warned for months that without another stimulus injection, the modest economic recoveries the U.S. has made — in large part because of the CARES Act — will be undone in the short term.
In the long term, there will be lasting economic scars that could take months if not years to fully recover from.
The first stimulus package was not supposed to be a cure-all — it was supposed to be a short term fix. Now, many key parts of the coronavirus stimulus package passed in March, such as expanded unemployment benefits, aid to small businesses, and funding for state and local government, have either expired or run out — or are about to.
For example, while the extra $600 in federal unemployment benefits ended three months ago, there were other programs in the CARES Act that extended the amount of time that people could receive benefits.
Normally, people can only collect unemployment for 26 weeks, but the March bill extended that until Dec. 31. Without another stimulus package to extend that measure before the deadline, millions of people who still do not have jobs will simply stop receiving unemployment help.
That would be incredibly serious because already, millions of Americans are hurting, the economy is showing signs of slowing, and the impacts of not having any widespread, cohesive stimulus injection since March are clearly on display.
A recent Columbia University study found that early stimulus efforts, like the expanded unemployment benefits and the stimulus checks, kept 18 million people out of poverty, but when those resources dwindled and ended during the summer, poverty rates spiked drastically. Since May, 8 million Americans have fallen into poverty during the pandemic.
Similarly, according to another recent report from the Mortgage Bankers Association's Research Institute for Housing America, more than 6 million households missed their rent or mortgage payments last month alone.
COVID Concerns
Separately, economists are also concerned that the recent, dramatic spikes in coronavirus cases all across the country will also have a negative effect on the already faltering economy.
Over the last few weeks, new daily COVID-19 infections have risen to their highest level since July, meaning the U.S. is now reporting numbers that are on par with the highest caseloads it has recorded through the entire pandemic.
The case numbers are also rising at alarmingly rapid rates. According to reports, just since last month, daily new cases have risen more than 60%, and two-week averages show that cases are increasing in all but seven states.
Despite the fact that health experts and officials have long warned that a fall and winter surge could undo any economic gains without proper preparation, President Trump has all but ignored these calls.
While speaking on Fox News Business Thursday morning, the president downplayed the new massive spikes and outright said he did not support the strict restrictions local officials have imposed in the past to try and limit the spread of the virus.
"We're not doing any more lockdowns," he said. "We're doing fine."
During a rally in Wisconsin on Saturday, Trump also hit on that point again, insisting that the U.S. is "rounding the corner" despite all evidence to the contrary.
"We're doing great, we're doing really well," he added. "I wish you'd have a Republican governor because frankly, you got to open your state up. You got to open it up."
Trump's encouragement for Wisconsin to reopen even more came just one day after the state reported its highest number of new daily cases ever. Wisconsin is also reporting the fourth-highest per capita cases in the country and is home to four of the top seven coronavirus hot spots.