How To Watch Tonight's Vice Presidential Debate and What To Expect From Both Pence and Harris
The vice presidential debate between Mike Pence and Kamala Harris will begin in Salt Lake City Wednesday night at 9:00 p.m. Eastern time (6:00 p.m. PST).
All major TV networks — including ABC, CBS, NBC, Fox News, and C-SPAN — will be airing the debate live. Those networks will also be streaming the debate live on YouTube.
Vice President Pence has now agreed to have a plexiglass barrier between him and Harris, the Democratic candidate. Originally, Pence's team said a barrier was unnecessary.
Concerns over whether there will be a second presidential debate next week are also mounting. President Donald Trump has indicated that he still plans to debate Democratic challenger Joe Biden on the same stage, but Biden has said he doesn't think there should be another debate while Trump still has COVID-19.
---
When and Where to Watch Wednesday's VP Debate
The first and only 2020 vice presidential debate between incumbent Mike Pence and Democratic challenger Kamala Harris will be held in Salt Lake City on Wednesday night.
The debate will begin at 9:00 p.m. EST (6:00 p.m. PST) and will be streamed by all major TV networks. That list includes C-SPAN, ABC, CBS, NBC, Fox News, CNN, and MSNBC. Most of those outlets will also be providing live streams on YouTube.
What Can We Expect?
Harris will almost certainly challenge Pence and the Trump administration on its handling of the coronavirus. This week, the number of Americans killed by the novel virus climbed to 210,000.
In addition to defending that handling, one of Pence's biggest challenges will be, of all things, remaining calm and collected. Last week's presidential debate was condemned by many as the worst presidential debate in history, thanks in no small part to President Donald Trump's incessant interrupting of Democratic candidate Joe Biden.
Pence will also likely be faced with the task of addressing Trump's most recent tweets, where he told Americans not to be afraid of COVID-19, erroneously compared the virus to the flu, and halted any coronavirus relief package negotiations until "immediately after I win" the election.
Pence is also expected to challenge Harris on her past as attorney general of California, as well as press her on some of her past healthcare positions, such as her previous support of a "Medicare for All" platform.
Pence may also press Harris over whether she and Biden would potentially support increasing the number of U.S. Supreme Court justices from nine, a question Biden failed to answer when pressed by Trump at the first presidential debate last week.
Susan Page, USA TODAY's Washington Bureau chief, will moderate.
Pence Agrees to Plexiglass Barrier
On Tuesday night, Pence's team agreed to erect a plexiglass barrier between him and Harris.
Harris originally called for a barrier to be erected following the still-growing superspreader event at the White House that has led to positive COVID-19 diagnoses for many in the Trump administration, including the president himself. Pence has repeatedly tested negative for the coronavirus.
Because of that, his team originally opposed the calls to erect a barrier, calling such a move unnecessary.
"We are not going to let a barrier prevent the Vice President from making the case for four more years of Donald Trump," his team said after agreeing to erect the barrier.
While they will be on the same stage, both candidates will stand 12 feet apart, and each will be separated by curved plexiglass barriers.
Will There Be a Second Presidential Debate?
In addition to this Wednesday's debate, concerns are also mounting around the potential for a second debate between Trump and Biden.
That debate is still technically scheduled for next week in Miami, but with Trump having contracted COVID, many have wondered if it will still happen.
To that point, Tuesday, Trump tweeted that he was looking forward to this next debate, essentially indicating that he wasn't going to miss it.
Just hours later, Biden told reporters that he doesn't think there should be a second debate if Trump still has COVID, though he added that his decision would be guided by medical experts.
"I think we were gonna have to follow very strict guidelines," he said if a debate does happen. "Too many people have been infected. It's a very serious problem."
Exxon Clarifies That Quid Pro Quo Call With Trump "Never Happened"
During a rally Monday, President Trump said he would outraise Biden in campaign donations if he asked corporations to donate money to his campaign in return for granting political favors.
He used an example of asking the CEO of Exxon to give his campaign $25 million in exchange for permits and licenses. 
The scenario the president described is a federal crime punishable by prison time, and in a statement shortly after, Exxon said that the call "never happened."
Trump clarified that he would not ask for those donations because it would make him "compromised" and implied soliciting money from large companies would compel him to grant them political favors in return because he is "loyal."
Many still condemned the president, arguing that even if it was a hypothetical, the kind of quid pro quo he detailed is almost exactly what he was impeached for, and given his track record, some believe it is possible that this is something he would do again.  
---
Exxon Refutes Call
After President Donald Trump told a crowd of rallygoers Monday that he could, in theory, call up the CEO of Exxon Mobil and ask him to donate to his campaign in exchange for political favors, the energy giant clarified that no such call had taken place.
"We are aware of the President's statement regarding a hypothetical call with our CEO," the company said in a tweet. "And just so we're all clear, it never happened."
While speaking to the crowd in Prescott, Arizona, Trump addressed the fact that he is currently being handily out-raised by former Vice President Joe Biden by claiming that he would be "the greatest fund-raiser in history" if he collected bribes from companies in exchange for political favors.
"All I have to do is call up the head of every Wall Street firm, the head of every major company, the head of every major energy company. 'Do me a favor, send $10 million for my campaign,'" Trump said, adding that he could not take the money because it would make him "totally compromised."
"Because when they call me, you know, you're a loyal person, and what happens is hey, you know, you'll do things that are a lot more money," he added, before going on to provide an example.
"So I call some guy, the head of Exxon. I call the head of Exxon, I don't know, you know. I'll use a company," the president said. "'Hi, how are you doing? How's energy coming? when are you doing the exploration? Oh, you need a couple of permits, huh? Okay.' But I call the head of Exxon, I say, 'You know, I'd love you to send me $25 million dollars for the campaign.' 'Absolutely, sir, why didn't you ask?'"
Beyond making him "compromised," the situation that the president described is also illegal. Under federal law, soliciting for donations in exchange for a favor or advantage — like a specific policy outcome or permits and licenses — is punishable by fines, removal from office, and up to 15 years in prison.
Response
Trump's remarks quickly began trending on Twitter, with many users condemning him. Despite the fact that the example the president provided appeared to be entirely hypothetical, some people still found it alarming, especially because he did not outright acknowledge it was illegal.
Some noted that the scenario he described almost exactly the kind of quid pro quo that Trump was impeached for after he withheld aid from Ukraine in order to coerce the country's president to dig up political dirt on Biden.
"It's basically what he was impeached for: trading presidential act for political favor," one user wrote. "Just substitute 'Exxon' for 'Ukraine.' 'Exxon, I need you to do me a favor, though.'"
Other users also pointed out that Trump repeatedly defended himself during the impeachment proceedings by claiming his actions did not constitute a quid pro quo. If he believed he did not commit any wrongdoing, they argued, it is possible that he would engage in this kind of behavior again.
"If he was willing to do this with Ukraine, I have no doubt he's done it with US corporations," one user wrote.
Some also cast doubt on the fact that it was a hypothetical at all.
"Trumps the kind of guy who jokes about doing something illegal but says 'I'm just kidding' but he's actually done it," one person tweeted. "He made the old Exxon CEO the Secretary of State. How much has Exxon given Trump & how has the Trump administration helped them w/ regulations."
It is true that the oil and gas industry has been a large contributor to Trump, who has spent his time in office denying scientific facts about climate change and rolling back decades of environmental regulations.
According to OpenSecrets, which tracks money in politics, Trump and outside groups associated with him have raised nearly $13 million from people at oil-and-gas companies in this election cycle.
Not only is that nearly 13 times the $976,000 the industry has donated to Biden, it is also more than people in the industry have given Republicans in all of the last three presidential races.
AOC Will Play "Among Us" With Pokimane and Others To "Get Out the Vote"
Rep. Alexandria Ocasio-Cortez asked if anyone wanted to play "Among Us" with her on Twitch in an effort to encourage voting.
She's already publicly agreed to play with Pokimane, Hasan Pike, and Rep. Ilhan Omar, but no other players have been confirmed yet.
Internet stars who showed interest included James Charles, Gus Johnson, Jacksepticeye, Dr Lupo, and several others.
The congresswoman has created a Twitch channel in preparation for the stream, which she said could happen Tuesday night.
AOC isn't the only Democrat using video games to reach young voters. The Biden-Harris campaign has made headlines for releasing 2020 yard signs and creating its own headquarters in "Animal Crossing."
---
---
AOC Issues a Call for "Among Us" Players
Internet stars are jumping at the chance to stream a game of "Among Us" with Rep. Alexandria Ocasio-Cortez (D-NY) on Twitch this week.
"Anyone want to play Among Us with me on Twitch to get out the vote?" the Democratic congresswoman from New York tweeted out Monday.
"I've never played but it looks like a lot of fun," she added before asking, "Who would you want to watch in a game together? ⬇️"
"Among Us" is a multiplayer murder mystery game that was released in 2018, but it recently became wildly popular thanks to various streamers and people trying to have fun with friends in this age of social distancing.
While many streamers were quick to reply to AOC's question, one of the biggest names catching attention was Pokimane, who has over 6 million Twitch followers.
"It'd be an honor," she tweeted back.
"Let's do it!" Ocasio-Cortez replied, saying she'll set up her account and get equipment together.
Other Creators Show Interest
Aside from Pokimane, AOC also publicly agreed to play with streamer and political commentator Hasan Piker, as well as Rep. Ilhan Omar.
It's unclear how many people she's looking to bring together, but a game of "Among Us" can have up to 10 players.
Other huge creators throwing their names into the hat include James Charles, Gus Johnson, Jacksepticeye, Lazarbeam, and Dr Lupo.
YES

— James Charles (@jamescharles) October 19, 2020
I'd love to if you're down!

— Gus Danger Johnson (@Gusbuckets) October 19, 2020
If you need a diversity of accents hit me up

— Jacksepticeye (@Jack_Septic_Eye) October 19, 2020
I offer myself as tribute. 😁

— DrLupo (@DrLupo) October 19, 2020
However, as of now, no other players have been publicly confirmed. AOC set up her Twitch channel last night, which already has nearly 200,000 followers.
She said she spent time setting up mods and doing run-throughs but plans to go live sometime Tuesday night.
Democrats Using Video Games To Reach Young Voters
It will be interesting to see who participates and what kind of viewership this event brings in. Many agree that the steam could prove to be a smart way to reach younger Americans before the election, a base AOC is especially good at communicating with.
Although she admittedly hasn't played this particular game before, video games aren't exactly outside her realm of interests. In fact, she previously opened up about loving to play "League of Legends."
Ocasio-Cortez is also far from the only Democrat-leaning into video games as a way to reach young voters. The Biden-Harris campaign has taken a similar approach with the "Animal Crossing: New Horizons."
Last month, they released official yard signs through the game, and just this month, the campaign launched Joe Biden's virtual headquarters– an entire island where users could connect with his campaign,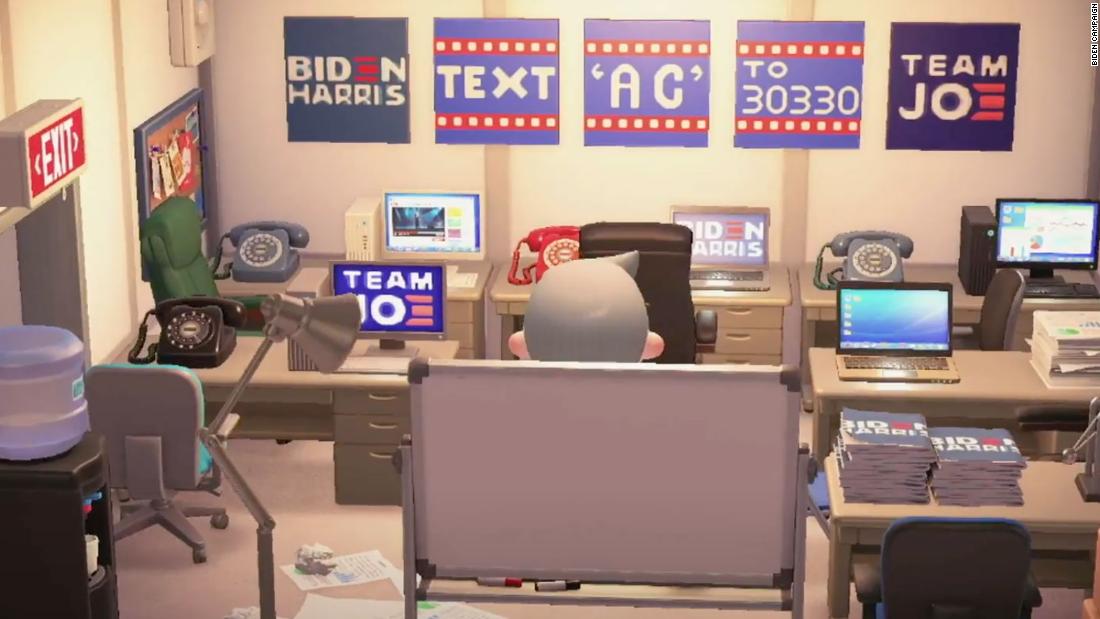 According to Christian Tom, director of digital partnerships for the Biden-Harris campaign: "The island includes plenty of ice cream, trains, aviators, chucks, swag, and more weaved throughout the entire island — but there are also features that encourage players to organize and mobilize."
For example, it included ads for the DNC's "I Will Vote" website as well as an election day checklist, among other features. Biden's character even walks across the island so players can take virtual selfies with him.
U.S. Supreme Court Denies GOP Effort to Limit Mail-In Voting in Pennsylvania
On Monday, the U.S. Supreme Court deadlocked itself in a decision that would have cut short the amount of time Pennsylvania's election officials had to receive mail-in ballots.
Because of the 4-to-4 tie, a lower court decision granting an extended deadline stayed.
Several states have also seen major rulings regarding voting recently. In Michigan on Friday, an appeals court judge ruled in favor of prohibiting ballots from being turned in past 8 p.m. on Election Day in the state.
In Texas, an appeals court judge ruled Monday that state election officials can reject mail-in ballots over mismatched signatures without giving voters a chance to appeal.
---
SCOTUS Denies Pennsylvania GOP Request Limiting Mail-in Voting
The U.S. Supreme Court denied a request from Pennsylvania's Republican Party on Monday that would have shortened the deadline for state election officials to receive absentee ballots.
The GOP request was an appeal to a decision by the Pennsylvania Supreme Court last month. In that decision, the state Supreme Court sided with Democrats, granting them an extension to the deadline for which mail-in ballots could be received. That extension moved the cut off date from 8 p.m. on Election Day (Nov. 3) to 5 p.m. on the following Friday (Nov. 6).
The Pennsylvania Supreme Court cited several reasons, including potential mail delays and the fact that state law allows mail ballots to be cast on Election Day. To be clear, this extension only applies to the date election officials in the state can still accept mail-in ballots; those ballots must still be postmarked by Election Day.
Following that decision, Pennsylvania's GOP accused the state Supreme Court of exceeding its powers and unconstitutionally changing election law. From there, they appealed the decision to the U.S. Supreme Court, who ultimately agreed to hear it.
On Monday, SCOTUS was split: Chief Justice John Roberts sided with liberal judges Sonia Sotomayor, Elena Kagan, and Stephen Breyer in denying the request. Meanwhile, conservative justices Clarence Thomas, Samuel Alito, Brett Kavanaugh, and Neil Gorsuch all dissented.
With the notable exception of Ruth Bader Ginsburg who died last month, that meant the court was deadlocked 4-4; however, when the court is deadlocked, the decision from the lower court remains in place.
Immediately, Democrats cheered the news, especially since Pennsylvania is a key swing state and this extension could decide the fate of thousands of ballots. Notably, in 2016, President Donald Trump won the state by 44,000 votes.
On the other hand, Republicans expressed disappointment over the news, and many of them emphasized the fact that this was a deadlocked decision.
Pennsylvania GOP Chair Lawrence Tabas said Monday's decision "only underscores the importance of having a full Supreme Court as soon as possible."
To that point, if Judge Amy Coney Barrett is confirmed to the Supreme Court, she could be placed on the bench as early as the week before the election, meaning that if more election-related cases come before SCOTUS, as they very likely will, she could end up being the deciding vote.
Michigan Court Restricts Mail-in Voting Return Deadline
While SCOTUS' Pennsylvania decision may be the most high-profile mail-in voting decision seen by a court in recent days, by no means is it the only one.
In fact, on Friday, an appeals court in Michigan handed down a decision opposite to what SCOTUS ruled in Pennsylvania. There, a judge ruled that ballots must be received by 8 p.m. on Election Day or they won't be counted.
Notably, that decision overturned a lower court decision which had stated that ballots postmarked by Nov. 2 could be counted if they were received within 14 days of Election Day.
Texas Can Reject Ballots Because of Signatures, Without Allowing Voters to Appeal
An appeals court judge in Texas has also ruled that state election officials can reject mail-in ballots over mismatched signatures, all without giving voters a chance to appeal if their ballot is rejected.
Essentially, if election officials decide that a signature on a ballot can't be verified, they're allowed to reject that ballot without notifying voters until after the election.
Like Michigan, the appeals court overturned a lower court ruling. In this case, that ruling would have required the Texas secretary of state to either advise election officials not to reject mail-in ballots because of signatures or require them to set up a notification system that gave voters a chance to challenge rejections.
Appeals Court Judge Jerry E. Smith, who handed down Monday's decision, said requiring either process would compromise mail-in ballot integrity.
"Texas's strong interest in safeguarding the integrity of its elections from voter fraud far outweighs any burden the state's voting procedures place on the right to vote," Smith added.
The League of Women Voters of Texas, who were plaintiffs in the lawsuit that brought about the original decision, called Smith's decision "deeply disappointing because it allows the State to shirk its responsibility to ensure that each vote is counted during an incredibly important election while a deadly global pandemic rages on."