Timeline: Everything We Know About Trump's COVID Diagnosis
President Donald Trump was diagnosed with COVID-19 late Thursday and was admitted into the hospital later the next morning; however, on Saturday, his doctors seemed to indicate that they had known Trump was positive for the virus since Wednesday.
If true, Trump held two events while knowingly positive.
His doctors walked back that statement on Saturday, saying they misspoke. White House Press Secretary Kayleigh McEnany has also said that Trump first tested positive following a fundraiser on Thursday.
Despite this, it has been confirmed that Trump knowingly attended that event after finding out that his senior counselor, Hope Hicks — who he had been exposed to — had tested positive.
---
Thursday: Trump Diagnosed
President Donald Trump was diagnosed with COVID-19 late Thursday night. By Monday, he announced that he was set to be discharged from the hospital he had checked into on Friday.
Just after midnight Eastern time on Friday, the president announced that he and First Lady Melania Trump had tested positive. That announcement came just several hours after confirmation that Trump's senior counselor, Hope Hicks, had tested positive.
Later into the morning, White House Chief of Staff Mark Meadows told reporters that Trump had "mild symptoms." Meanwhile, White House Press Secretary Kayleigh McEnany said Trump had announced his coronavirus test result within an hour of receiving it.
That afternoon, the White House announced that Trump had since received a dose of Regeneron, an experimental drug cocktail that's shown promising results in improving COVID-19 symptoms.
"I want to thank everybody for the tremendous support," Trump said Friday evening. "I'm going to Walter Reed Hospital. I think I'm doing very well, but we're going to make sure that things work out. The first lady is doing very well, so thank you very much. I appreciate it. I will never forget it. Thank you."
Saturday: When Did Trump First Learn He Had COVID?
Trump's doctors held a press conference Saturday morning where they said Trump had experienced a fever Thursday into Friday morning; however, by this point, they said Trump had been fever-free for 24 hours.
"Just 72 hours into the diagnosis now, the first week of Covid, and in particular days 7 to 10, are the most critical in determining the course of this illness," White House physician Sean P. Conley said outside Walter Reed National Military Medical Center. "At this time, the team and I are extremely happy with the progress the president has made. Thursday, he had a mild cough with some nasal congestion, fatigue, all of which are now resolving and improving."
Additionally, Dr. Brian Garibaldi said Trump received "a special antibody therapy" (AKA, Regeneron) 48 hours before the press conference.
Both of those statements are critically important because, if true, that would shift the timeline from when Trump said he was diagnosed.
Conley said, on Saturday, Trump was "72 hours into the diagnosis," which would mean that Trump actually tested positive on Wednesday morning. The same is true with Garibaldi's statement. If Trump received Regeneron 48 hours before this press conference, that would put it somewhere around midday Thursday.
In fact, this timeline would be rather damning for Trump. That's because on Wednesday night, he held an outdoor rally in Minnesota. On Thursday, he then flew to New Jersey for a fundraiser — which included both indoor and outdoor events.
Notably, on Friday, Meadows himself said that Trump and his team knew Hicks had tested positive and that he had been exposed to her before the event. Despite this, Trump still decided to go to the fundraiser, even though others she had contact with were pulled from the trip.
Thus, many reporters were quick to ask Conley about this discrepancy, and at Saturday's press conference, they asked him to clarify when Trump first got a positive diagnosis.
Conley largely refused to answer the question directly and would not reveal when Trump's last negative test was. Instead, he affirmed that he had done "repeated testing" on Trump Thursday afternoon and that late that night, the results confirmed Trump was positive.
Reporters also asked about whether Trump had been put on supplemental oxygen at any point, as had been reported while he was on his way to the hospital. At first, Conley dodged this question, saying Trump wasn't currently on oxygen. After repeated questions, Conley finally said that Trump had not yet received any oxygen at all.
A few hours after the press conference, the White House walked back the timeline given by Trump's doctors, saying that Trump was diagnosed on Thursday night. Conley also backed that up in a revised statement, saying he misspoke and meant "Day 3" instead of "72 hours."
But the conflicting reports don't stop there. That same day, reporters quoted Meadows as saying, "The president's vitals over the last 24 hours were very concerning and the next 48 hours will be critical in terms of his care. We're still not on a clear path to a full recovery."
Notably, that's a lot different than the much more rosy picture Trump's doctors presented.
As far as Trump himself goes, on Saturday, he tweeted that he felt well. In that same tweet, he referred to COVID-19 as a "PLAGUE."
"I came here, wasn't feeling so well," Trump later said in a video tweet recorded at Walter Reed. "I feel much better now."
"But this is something that's happened and it's happened to millions of people all over the world, and I'm fighting for them. Not just in the U.S. I'm fighting for them all over the world. We're going to beat this coronavirus or whatever you want to call it, and we're going to beat it soundly."
However, with this video, many have also pointed out that just after the one minute mark — after saying the word "therapeutics" — a moment where Trump appears to cough seems to have been edited out.
Sunday: Conley Admits Trump Was Put on Oxygen
At a subsequent press conference on Sunday, Conley said that Trump's conditions have continued to improve.
Despite this, he announced that Trump had been placed on dexamethasone, a drug that's being used to reduce lung inflammation in COVID-19 patients who require supplemental oxygen. That statement again raised red flags, leading reporters to once again ask whether the president has been administered supplemental oxygen.
This time, Conley flat out admitted Trump had received oxygen on Friday for about an hour while still at the White House — even though on Saturday, he had explicitly denied that Trump had been put on oxygen.
"I didn't want to give any information that might steer the course of illness in another direction," Conley said to that point. "In doing so it came off that we were trying to hide something, which wasn't necessarily true. The fact of the matter is he is doing really well."
Conley also noted that Trump's oxygen levels had dipped below normal on Saturday but said he didn't know if Trump had been put on oxygen for that. On Monday, Conley confirmed that Trump had been given a second round of oxygen.
Sunday: Trump's Motorcade
Trump again provided another video update on Sunday, where this time, he said: "I also think we're going to pay a little surprise to some of the great patriots we have out on the street, and they've been out there for a long time, and they've got Trump flags, and they love our country, so I'm not telling anybody but you, but I'm about to make a little surprise visit."
Shortly after that, Trump waved to supporters on the street while in a motorcade.
"God bless our president," one supporter can be heard shouting as Trump's vehicle drives away. "I will die for him. I will die for that man happily. I will die for him. Anybody wanna mess with him, you mess with me first. He is a hero, that man.
While this motorcade was mostly likely about optics — especially since the elections are now less than a month away — it also involved a fair amount of risk since Trump needed a driver.
White House spokesperson Judd Deere has said that Trump's trip "was cleared by the medical team as safe to do." He also added that precautions like personal protective equipment were taken to protect Trump, White House officials, and secret service agents.
Still, that hasn't quelled criticism. In fact, James Phillips, an attending physician at Walter Reed, condemned the move.
"Every single person in the vehicle during that completely unnecessary Presidential 'drive-by' just now has to be quarantined for 14 days," he said on Twitter. "They might get sick. They may die. For political theater. Commanded by Trump to put their lives at risk for theater. This is insanity."
Other medical experts have now also offered similar criticisms.
According to the CDC's own guidelines, transport of COVID-19 patients is supposed to be limited only "to medically essential purposes."
Sunday: Trump Did Not Disclose First Positive
The Wall Street Journal reported Sunday that Trump had first received a positive result early Thursday evening; however, after receiving this first test result, he said on Fox News that he was still awaiting his results.
He only later disclosed his diagnosis after a second, more accurate test result came back positive, which was announced in his original tweet early Friday morning.
Reportedly, Trump at one point even told an advisor not to disclose their own positive test result.
Following this news, reporters pressed McEnany to confirm on Sunday whether Trump had been tested before last Tuesday's debate or before the New Jersey fundraiser on Thursday. To those questions, McEany would not say, though she did say that Trump's first positive test came after that fundraiser.
Others Test Positive
On Monday, McEnany herself announced that she had tested positive for the virus. Shortly after that, it was confirmed that two of her aides have also tested positive.
That news follows a slew of other high-profile Republicans (and others) who had been around the president in the last week testing positive. This includes:
RNC Chairwoman Ronna McDaniel
Former New Jersey Governor Chris Christie (R)
Former White House adviser Kellyanne Conway
Sen. Mike Lee (R-Ut.)
Sen. Thom Tillis (R-NC.)
Trump campaign manager Bill Stepien
Assistant to the President Nicholas Luna
Three unnamed journalists
Voters in 4 States Received Emails Threatening Them To "Vote for Trump or Else!"
Democratic voters in Alaska, Florida, Arizona, and Pennsylvania received threatening emails telling them to vote for Trump or else the Proud Boys would "come after" them.
The email came from a domain associated with the Proud Boys, but the group denied that it had any involvement and said that the website in question was no longer in use because it had been dropped by Google Cloud services.
According to The Washington Post, when the hosting service dropped the domain, it left it unsecured, meaning anyone online could take control of it.
Multiple outlets that reviewed the emails also reported that the messages did not come from the email address listed, but rather from foreign internet servers.
---
Threatening Emails
Registered Democrats in four different states — including three hotly contested swing states — were sent threatening emails Tuesday from an address that appeared to be affiliated with the far-right group the Proud Boys. The message warned recipients that if they did not vote for President Donald Trump, the group would "come after" them.
According to a screenshot of the email obtained by CBS News, the subject line of the message reads "Vote for Trump or else!"
"We are in possession of all your information (email, address, telephone… everything)," the body of the email said. The sender went on to claim they know the recipient of the email is a Democrat because they "gained access into the entire voting infrastructure."
"You will vote for Trump on Election Day or we will come after you," the email continued. "Change your party affiliation to Republican to let us know you received our message and will comply. We will know which candidate you voted for. I would take this seriously if I were you."
Outlets that obtained copies of the email also reported that it concluded with the home address of the recipients they were sent to. Currently, voters in Alaska, Florida, Arizona, and Pennsylvania have reported receiving the threatening messages.
It remains unclear how many went out in total, but it does appear that most of them were sent to people in Florida and Alaska. In Alaska, local news outlets reported that the emails went out to over a dozen people. In Florida, a University of Florida spokesperson said that they knew of at least 183 Floridians who got the messages.
Officials in both states also announced that they have launched investigations, and the FBI was also looking into the matter.
Proud Boys Deny Involvement
While the sender's address is listed info@officialproudboys.com, a domain associated with the Proud Boys, the group's chairman, Enrique Tarrio, immediately denied that they had any involvement.
"We don't send emails. This is someone spoofing our emails and website," he told reporters. "We have spoken to the FBI and are working with them. I hope whoever did this is arrested for voter intimidation and for maliciously impersonating our group."
Tarrio also told The Washington Post that the group has been in the process of migrating from officialproudboys.com to another site. In fact, they said officialproudboys.com has not been used for weeks because that domain was recently dropped by a hosting company that uses Google Cloud services after concerns were raised about the group.
According to The Post, when the hosting service dropped the domain, it appeared to just be left unsecured, and thus "allowing anyone on the Internet to take control of it and use it to send out the menacing messages."
Numerous outlets that reviewed the emails also said that they did not come from the email address that was displayed, but rather from foreign internet servers. According to CBS, the metadata from the emails they analyzed showed that the messages originated from IP addresses connected to servers in Estonian, Saudi Arabia, and the United Arab Emirates.
While experts noted that the IP addresses do not necessarily mean that the senders were based in those countries because they could have routed the emails from almost anywhere, some cybersecurity experts have pointed to the possibility of foreign interference to sow chaos in the election.
"We're 2 weeks from the last day to vote! This is also the perfect time for adversaries to create chaos by spreading bogus claims or overstating activity," Chris Krebs, the director of Homeland Security's Cybersecurity and Infrastructure Security Agency tweeting, noting that his office was aware of the emails.
"Ballot secrecy is guaranteed by law in all states," he continued. "These emails are meant to intimidate and undermine American voters' confidence in our elections."
Exxon Clarifies That Quid Pro Quo Call With Trump "Never Happened"
During a rally Monday, President Trump said he would outraise Biden in campaign donations if he asked corporations to donate money to his campaign in return for granting political favors.
He used an example of asking the CEO of Exxon to give his campaign $25 million in exchange for permits and licenses. 
The scenario the president described is a federal crime punishable by prison time, and in a statement shortly after, Exxon said that the call "never happened."
Trump clarified that he would not ask for those donations because it would make him "compromised" and implied soliciting money from large companies would compel him to grant them political favors in return because he is "loyal."
Many still condemned the president, arguing that even if it was a hypothetical, the kind of quid pro quo he detailed is almost exactly what he was impeached for, and given his track record, some believe it is possible that this is something he would do again.  
---
Exxon Refutes Call
After President Donald Trump told a crowd of rallygoers Monday that he could, in theory, call up the CEO of Exxon Mobil and ask him to donate to his campaign in exchange for political favors, the energy giant clarified that no such call had taken place.
"We are aware of the President's statement regarding a hypothetical call with our CEO," the company said in a tweet. "And just so we're all clear, it never happened."
While speaking to the crowd in Prescott, Arizona, Trump addressed the fact that he is currently being handily out-raised by former Vice President Joe Biden by claiming that he would be "the greatest fund-raiser in history" if he collected bribes from companies in exchange for political favors.
"All I have to do is call up the head of every Wall Street firm, the head of every major company, the head of every major energy company. 'Do me a favor, send $10 million for my campaign,'" Trump said, adding that he could not take the money because it would make him "totally compromised."
"Because when they call me, you know, you're a loyal person, and what happens is hey, you know, you'll do things that are a lot more money," he added, before going on to provide an example.
"So I call some guy, the head of Exxon. I call the head of Exxon, I don't know, you know. I'll use a company," the president said. "'Hi, how are you doing? How's energy coming? when are you doing the exploration? Oh, you need a couple of permits, huh? Okay.' But I call the head of Exxon, I say, 'You know, I'd love you to send me $25 million dollars for the campaign.' 'Absolutely, sir, why didn't you ask?'"
Beyond making him "compromised," the situation that the president described is also illegal. Under federal law, soliciting for donations in exchange for a favor or advantage — like a specific policy outcome or permits and licenses — is punishable by fines, removal from office, and up to 15 years in prison.
Response
Trump's remarks quickly began trending on Twitter, with many users condemning him. Despite the fact that the example the president provided appeared to be entirely hypothetical, some people still found it alarming, especially because he did not outright acknowledge it was illegal.
Some noted that the scenario he described almost exactly the kind of quid pro quo that Trump was impeached for after he withheld aid from Ukraine in order to coerce the country's president to dig up political dirt on Biden.
"It's basically what he was impeached for: trading presidential act for political favor," one user wrote. "Just substitute 'Exxon' for 'Ukraine.' 'Exxon, I need you to do me a favor, though.'"
Other users also pointed out that Trump repeatedly defended himself during the impeachment proceedings by claiming his actions did not constitute a quid pro quo. If he believed he did not commit any wrongdoing, they argued, it is possible that he would engage in this kind of behavior again.
"If he was willing to do this with Ukraine, I have no doubt he's done it with US corporations," one user wrote.
Some also cast doubt on the fact that it was a hypothetical at all.
"Trumps the kind of guy who jokes about doing something illegal but says 'I'm just kidding' but he's actually done it," one person tweeted. "He made the old Exxon CEO the Secretary of State. How much has Exxon given Trump & how has the Trump administration helped them w/ regulations."
It is true that the oil and gas industry has been a large contributor to Trump, who has spent his time in office denying scientific facts about climate change and rolling back decades of environmental regulations.
According to OpenSecrets, which tracks money in politics, Trump and outside groups associated with him have raised nearly $13 million from people at oil-and-gas companies in this election cycle.
Not only is that nearly 13 times the $976,000 the industry has donated to Biden, it is also more than people in the industry have given Republicans in all of the last three presidential races.
AOC Will Play "Among Us" With Pokimane and Others To "Get Out the Vote"
Rep. Alexandria Ocasio-Cortez asked if anyone wanted to play "Among Us" with her on Twitch in an effort to encourage voting.
She's already publicly agreed to play with Pokimane, Hasan Pike, and Rep. Ilhan Omar, but no other players have been confirmed yet.
Internet stars who showed interest included James Charles, Gus Johnson, Jacksepticeye, Dr Lupo, and several others.
The congresswoman has created a Twitch channel in preparation for the stream, which she said could happen Tuesday night.
AOC isn't the only Democrat using video games to reach young voters. The Biden-Harris campaign has made headlines for releasing 2020 yard signs and creating its own headquarters in "Animal Crossing."
---
---
AOC Issues a Call for "Among Us" Players
Internet stars are jumping at the chance to stream a game of "Among Us" with Rep. Alexandria Ocasio-Cortez (D-NY) on Twitch this week.
"Anyone want to play Among Us with me on Twitch to get out the vote?" the Democratic congresswoman from New York tweeted out Monday.
"I've never played but it looks like a lot of fun," she added before asking, "Who would you want to watch in a game together? ⬇️"
"Among Us" is a multiplayer murder mystery game that was released in 2018, but it recently became wildly popular thanks to various streamers and people trying to have fun with friends in this age of social distancing.
While many streamers were quick to reply to AOC's question, one of the biggest names catching attention was Pokimane, who has over 6 million Twitch followers.
"It'd be an honor," she tweeted back.
"Let's do it!" Ocasio-Cortez replied, saying she'll set up her account and get equipment together.
Other Creators Show Interest
Aside from Pokimane, AOC also publicly agreed to play with streamer and political commentator Hasan Piker, as well as Rep. Ilhan Omar.
It's unclear how many people she's looking to bring together, but a game of "Among Us" can have up to 10 players.
Other huge creators throwing their names into the hat include James Charles, Gus Johnson, Jacksepticeye, Lazarbeam, and Dr Lupo.
YES

— James Charles (@jamescharles) October 19, 2020
I'd love to if you're down!

— Gus Danger Johnson (@Gusbuckets) October 19, 2020
If you need a diversity of accents hit me up

— Jacksepticeye (@Jack_Septic_Eye) October 19, 2020
I offer myself as tribute. 😁

— DrLupo (@DrLupo) October 19, 2020
However, as of now, no other players have been publicly confirmed. AOC set up her Twitch channel last night, which already has nearly 200,000 followers.
She said she spent time setting up mods and doing run-throughs but plans to go live sometime Tuesday night.
Democrats Using Video Games To Reach Young Voters
It will be interesting to see who participates and what kind of viewership this event brings in. Many agree that the steam could prove to be a smart way to reach younger Americans before the election, a base AOC is especially good at communicating with.
Although she admittedly hasn't played this particular game before, video games aren't exactly outside her realm of interests. In fact, she previously opened up about loving to play "League of Legends."
Ocasio-Cortez is also far from the only Democrat-leaning into video games as a way to reach young voters. The Biden-Harris campaign has taken a similar approach with the "Animal Crossing: New Horizons."
Last month, they released official yard signs through the game, and just this month, the campaign launched Joe Biden's virtual headquarters– an entire island where users could connect with his campaign,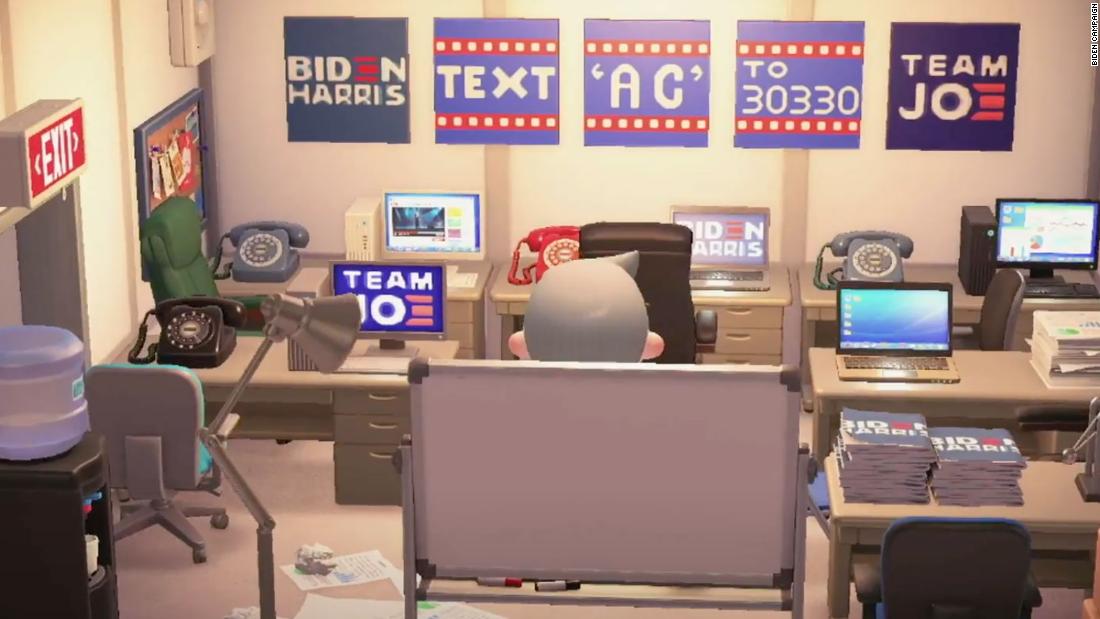 According to Christian Tom, director of digital partnerships for the Biden-Harris campaign: "The island includes plenty of ice cream, trains, aviators, chucks, swag, and more weaved throughout the entire island — but there are also features that encourage players to organize and mobilize."
For example, it included ads for the DNC's "I Will Vote" website as well as an election day checklist, among other features. Biden's character even walks across the island so players can take virtual selfies with him.