Brutal Fighting Continues Between Azerbaijan and Armenia Over Breakaway Region
On Sunday fighting broke out between Azerbaijan and Armenia, who is supporting the breakaway Republic of Artsakh in the Nagorno-Karabakh region.
The territory, known as Artsakh to Armenians, is internationally recognized as part of Azerbaijan but has a majority ethnic-Armenian government.
The region is recognized by all United Nations members as being part of Azerbaijan, although Armenia's long-standing support of the breakaway Republic of Artsakh has consistently escalated tensions.
Turkey promised to support Azerbaijan, while other nations around the world have asked for de-escalation.
---
Nagorno-Karabakh or Artsakh?
Long-standing tensions between Armenia, the de-facto independent Republic of Artsakh, and Azerbaijan erupted into fighting Sunday in the highly contested region of Nagorno-Karabakh.
The region is known as Artsakh to ethnic Armenians.
Sunday's fighting broke out across the entire Line of Contact, which is a network of military fortifications that separate forces in the region. The region's capital, Stepanakert, has also been subject to military actions such as shelling and drone strikes.
In addition to fighting on the ground, the conflict has played out online as well. Shortly after fighting began, Hikmet Hajiyev, the head of the Foreign Policy Affairs Department in Azerbaijan, accused Armenia of starting the fighting, saying that on Sunday, the armed forces of Armenia"blatantly violated the ceasefire regime and, using large-caliber weapons, mortar launchers and artillery have launched an intensive attack on the position of the armed forces of Azerbaijan along the frontline."
"The armed forces of the Republic of Azerbaijan are undertaking necessary counter-offensive measures to prevent Armenia's another military aggression and ensure the security of the civilian population," he added. "The responsibility for the present situation and future developments lie squarely with Armenia's political-military leadership."
However, subsequent statements from President Ilham Aliyev suggest that the entire conflict is part of an effort to "retake" the region.
On the Armenian side, Prime Minister, Nikol Pashinyan, tweeted out, "Azerbaijan has launched a missile & aerial attack against #Artsakh. Peaceful settlements including Stepanakert have been attacked."
"Armenian side has shot down 2 helicopters & 3 UAVs, destroyed 3 tanks. We stay strong next to our army to protect our motherland from Azeri invasion."
Initially, there was some skepticism that the fighting escalated to such a point that large munitions were being used on targets, but as the weeks progressed, more footage and images from the fighting show that tanks, aircraft, drones, and artillery have all been deployed.
Fighting, From Bad to Worse
Both sides have announced military and civilian deaths. Armenia claims over 100 military personnel and 23 civilians have died. The Armenian Ministry of Defense added that 230 Azeri soldiers have been killed.
Azerbaijan defense officials claimed on Wednesday to have killed thousands of Armenian and Artsakh troops and to have "destroyed 130 tanks, 200 artillery units, 25 anti-aircraft units, five ammunition depots, 50 anti-tank units, 55 military vehicles."
The conflict seems to have escalated beyond the disputed region itself, with evidence that Azerbaijan has used drones to strike targets within Armenia.
Beyond direct military actions, each government has drawn up more troops. On Sunday, Armenia declared martial law and called for a general mobilization. That same day, the Republic of Artsakh announced all able-bodied men would be drawn into service, while Azerbaijan declared a partial-mobilization.
2020 has seen tensions in the region drastically escalate. Earlier in the year during fighting that broke out in July, 14 people died, including two senior Armenian officers who were killed in a drone strike.
Longstanding, Divisive History
There has been long-standing conflicts over Nagorno-Karabakh. For thousands of years, Armenians have been the ethnic-majority in the mountainous region. During it's various stints as part of other empires, the area was normally ruled by Armenian princes, or outside rulers from occupying powers.
In the 1800's, both Armenia and Azerbaijan became part of the Russian Empire, where Nagorno-Karabakh was administered in the same zone as Azerbaijan and other Caucus territories, while Armenia was administered as its own polity. When the empire dissolved during World War I, both nations gained their independence and promptly went to war over who controls Nagorno-Karabakh.
During that war, the Soviets took over both nations and made forcefully brokered a peace that eventually saw Stalin putting the region under the administrative control of the Azerbaijan Soviet Republic, despite its Armenian majority.
For many Armenians, especially those living in the Nagorno-Karabakh, this was unacceptable and the catalysts for the modern conflict. Census data from the time shows it was roughly 90% Armenian.
Open conflict didn't occur again until the decline and fall of the Soviet Union. In the late '80s both Armenia and Azerbaijan, while still nominally part of the same country, went to war over the territory.
When they both declared independence in 1991, so did the Armenians within Nagorno-Karabakh, calling themselves the Republic of Artsakh. The war devolved into Armenia and the Republic of Artsakh fighting Azerbaijan. All sides accused the others of ethnic cleansing in the region. Leading to Armenians leaving Azerbaijan to Nagorno-Karabakh, while Azeris fled to other parts of Azerbaijan.
Now the region is nearly 100% Armenian.
A ceasefire was signed that left all sides unhappy. Azerbaijan refused to give up any claims to the land, while Armenia has stationed troops in the region to reinforce the Republic of Artsakh. However, the entire region is still internationally recognized as part of Azerbaijan.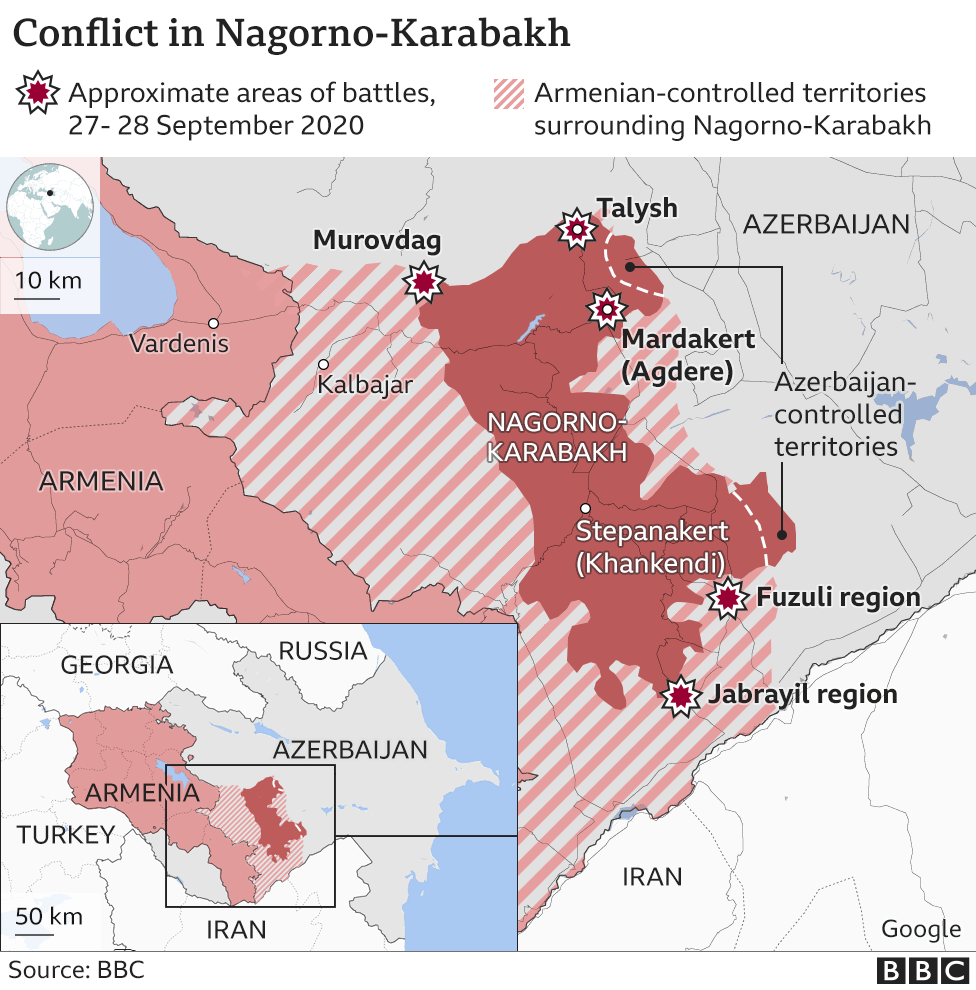 No UN-member state, not even Armenia, officially recognize the Republic of Artsakh as independent.
Calls for Peace
Around the world, countries have come out in various ways to show support or call for peace. On Sunday, Turkish President Recep Erdogan sent out a series of tweets not only blaming Armenia for the attacks but also saying "it is the biggest threat to peace and tranquility in the region."
He went on to call on Armenian to resist their government "who use them like a puppet."
Most countries took a more neutral stance, asking that the two sides deescalate the situation. An Iranian foreign ministry spokesperson told state TV on Sunday, "Iran is closely monitoring the conflict with concern and calls for an immediate end to the conflict and the start of talks between the two countries."
French, Russian, and U.S. officials also called on both sides to stop fighting, along with the Organization for Security and Co-operation in Europe (OSCE). the OSCE, who France, Russia, and the U.S. are all a part of, was responsible for mediating the ceasefire between Armenia and Azerbaijan back in the '90s.
Call for peace haven't made much headway, as both Armenia and Azerbaijan have rejected any calls for another ceasefire.
Petition Calls for Ban on Sexualized Fanfiction in South Korea
A petition circulating across South Korea calls for sexualized fanfiction depicting K-pop stars and other real people to be outlawed and classified as sex crimes.
The petition particularly focuses on the way male stars are depicted in same-sex relationships and argues that they often feature people who are minors.
A similar petition was submitted last week to President Moon Jae-in; however, it focused on deep fakes. Because both petitions have over 200,000 signatures, they will need to be addressed by President Moon.
---
K-Pop Fanfiction Causes Chaos
A petition began circulating across South Korea this week demanding that "real person slash" fanfiction works be outlawed and charged as sex crimes.
"Real person slash" refers to a specific form of fanfiction that most often features sexualized versions of K-pop stars and other real people.
In particular, the petition focuses on the way male stars are depicted in same-sex relationships and the age of some of the people being portrayed. The petition notes, "due to the nature of the profession of idols, whose average age is young, many of the victims are still minors or children."
The petition was submitted to the Blue House, South Korea's version of the White House, and currently has over 200,000 signatures. It received a big boost in attention after K-pop star Nancy, from the group Momoland, was secretly filmed by a member of her agency while she was changing backstage. This person then doctored some of the images and uploaded them online.
While Nancy's case isn't hand-drawn fanfic, it did fuel outrage at what's seen as an ineffective approach towards sex crimes in the country. Signers of this petition believe that these fanfics fall into the same category of likely illegality as deep fakes.
Deep Fakes Also Being Targeted
Additionally, just last week deep fakes – which often feature k-pop stars – had its own petition submitted to the president last week with over 300,000 signatures.
Because both petitions have over 200,000 signatures, they will need to be addressed by President Moon Jae-in
For years South Korea has struggled with secret cameras, deep fakes, revenge porn, and more violent sex crimes, such as the infamous Nth Room case that saw certain stars filming themselves having sex with women against their consent.
Italy Begins Largest Mob Trial in Decades
Italian prosecutors have started their trial against more than 320 defendants linked to the  'Ndrangheta crime syndicate.
The charges range from murder and drug trafficking to extortion and money laundering.
The case is so large, high-profile, and potentially dangerous that the government built a bunker for the event in Calabria, the home territory of the 'Ndrangheta.
Details uncovered could deliver a massive blow to organized crime in Italy and potentially across the world as the 'Ndrangheta has major dealings in Europe, Australia, and the Americas.
---
Hundreds of 'Ndranghetisti Facing Charges
A major mob trial kicked off in Italy Wednesday involving more than 320 defendants who are part of or associated with the 'Ndrangheta crime syndicate.
In addition to these defendants going on trial, 90 others have elected for a fast-tracked trial elsewhere in Calabria.
While this is a massive affair, it's still not the country's largest mob-related trial in history. That happened in the '80s against the Cosa Nostra from Sicily.
The trial is so high-profile and potentially dangerous that the government built a bunker for the event in Calabria, close to the home territory of the 'Ndrangheta.
The court is looking at many charges against the defendants, including extortion, drug and arms trafficking, money laundering, and Mafia association – a term used in Italy's penal code for members of organized crime.
Breaking Into the Family
Investigators hope that the trial will show just how entrenched organized crime is in the territory, as it's believed that the 'Ndrangheta has dealings with local politicians and businessmen. These dealings are believed to not only stem from their illicit activities but also from their legitimate businesses that were initially funded via crime-related funds. Either way, the trial is seen as a major blow for the group.
The organization is made up of multiple groups of tight-knight families that are all interconnected. For years investigators have tried to get more information on the group but following the arrest and prosecution of Luigi Mancuso, a boss in the 'Ndrangheta, investigators finally had a way to look more closely at 12 families who make up part of the 'Ndrangheta.
During their investigation police and prosecutors managed to turn some members of those families and use them as informants. They are expected to take the stand as witnesses during the trial. In total, prosecutors hope to put bring out over 900 witnesses.
If successful, this could be a massive blow to organized crime in Italy and potentially across the world as the 'Ndrangheta has major dealing in Europe, Australia, and the Americas.
Hundreds Sickened By Mysterious Illness in India
A mystery illness has hospitalized over 500 people in India and is linked to one death. While most people have recovered and been discharged from the hospital, under 100 people are still being treated.
Health officials believe that it is not a viral infection and that it is not tied to the coronavirus pandemic. One official told The Washington Post that it is a "point source epidemic," but no one knows what is causing it.
Blood tests showed patients had high levels of lead and nickel and officials are trying to find what is behind that. Some are also pointing to pesticides used in mosquito treatment as a potential cause behind the outbreak.
Still, health officials are puzzled, and the situation comes while India currently trails the United States as the country with the most coronavirus cases. This mystery outbreak is also occurring in one of the hardest-hit states.
---
Mystery Illness in India
Health officials are still looking for what might be causing a mysterious illness that has sickened hundreds of people this month in India.
The unidentified illness has put over 500 people in the hospital and taken one life. Most patients have been discharged and recovered but under 100 are still being treated. The disease was first reported on Sunday, and new instances have gone down since the start of the week.
The outbreak started in the state of  Andhra Pradesh. Symptoms range from nausea to anxiety to loss of consciousness, and in some cases, seizures. Some reports say the patient who died suffered from a seizure. Others note they may have fallen as well.
Many patients describe the sickness as hitting them quickly and suddenly as they were going about their day. Some got foggy vision, sore eyes, or incredibly tired before passing out. Many woke up in the hospital and were left with a gap in their memory.
While the cause of this disease is unknown, health officials do not believe it is tied to the coronavirus in any way as no patients have tested positive. The illness is also not believed to be a viral infection of any kind.
"What has been established by experts is that this is a case of acute intoxication of toxins. It is not chronic in nature. This is all we know for now," one high-ranking official told The Washington Post.
Because cases are already slowing significantly, some believe it might have stemmed from an isolated source or event.
"This is a point source epidemic," another official told the Post. "Whatever happened, occurred for one particular day and some people got affected. The number of new patients has dropped."
Potential Causes
What that source or event may have been remains a mystery that officials are eager to solve. So far, no commonalities have been found between the patients as they all live in different places, are of different ages, and do not test positive for other kinds of illnesses that could be causing or contributing to this outbreak. Clues are beginning to emerge, though.
One medical official told Al Jazeera that high lead and nickel levels were found in the blood tests of patients. So far, ten have been tested and another 30 will be tested shortly. At first officials thought these levels may have been a result of water contamination, but after water tests were conducted, neither lead nor nickel were found.
Water contamination as a whole has not been ruled out though.
"Health experts suspect that excessive use of bleaching powder and chlorine in sanitation programmes as part of Covid-19 prevention measures may be the cause of water contamination," the Health Minister of Andhra Pradesh told the Indian Express. "This is just one of the causes we are exploring."
Another theory at play stems from the fact that organochlorines, which are used as pesticides in mosquito control, were found in some water samples. One of the federal legislators in the state believes that the sickness could be tied to that. A public health director confirmed to Al Jazeera that "it is one of the possibilities."
Timing With COVID-19
Still, all these ideas simply remain possibilities and officials have far more questions than they have answers about this situation. Health officials from the country and the World Health Organization have established a presence in Andhra Pradesh to get to the bottom of the situation.
The timing of this outbreak is unfortunate as the coronavirus pandemic continues to spread through India. While daily cases are much lower than they were when it peaked in September in the country, it still remains an issue.
India is behind the United States in seeing the second-highest number of COVID-19 cases, totaling 9.7 million infections. Around 141,000 people have died in the country. In August, their outbreak was the fastest growing in the world. Andhra Pradesh is among the hardest-hit states in the country.
Hope is on the horizon as India, like many other countries, could be on track to approve a vaccine within weeks. According to Reuters, health officials will prioritize 300 million people, including healthcare workers, policemen, and those above the age of 50.