Brutal Fighting Continues Between Azerbaijan and Armenia Over Breakaway Region
On Sunday fighting broke out between Azerbaijan and Armenia, who is supporting the breakaway Republic of Artsakh in the Nagorno-Karabakh region.
The territory, known as Artsakh to Armenians, is internationally recognized as part of Azerbaijan but has a majority ethnic-Armenian government.
The region is recognized by all United Nations members as being part of Azerbaijan, although Armenia's long-standing support of the breakaway Republic of Artsakh has consistently escalated tensions.
Turkey promised to support Azerbaijan, while other nations around the world have asked for de-escalation.
---
Nagorno-Karabakh or Artsakh?
Long-standing tensions between Armenia, the de-facto independent Republic of Artsakh, and Azerbaijan erupted into fighting Sunday in the highly contested region of Nagorno-Karabakh.
The region is known as Artsakh to ethnic Armenians.
Sunday's fighting broke out across the entire Line of Contact, which is a network of military fortifications that separate forces in the region. The region's capital, Stepanakert, has also been subject to military actions such as shelling and drone strikes.
In addition to fighting on the ground, the conflict has played out online as well. Shortly after fighting began, Hikmet Hajiyev, the head of the Foreign Policy Affairs Department in Azerbaijan, accused Armenia of starting the fighting, saying that on Sunday, the armed forces of Armenia"blatantly violated the ceasefire regime and, using large-caliber weapons, mortar launchers and artillery have launched an intensive attack on the position of the armed forces of Azerbaijan along the frontline."
"The armed forces of the Republic of Azerbaijan are undertaking necessary counter-offensive measures to prevent Armenia's another military aggression and ensure the security of the civilian population," he added. "The responsibility for the present situation and future developments lie squarely with Armenia's political-military leadership."
However, subsequent statements from President Ilham Aliyev suggest that the entire conflict is part of an effort to "retake" the region.
On the Armenian side, Prime Minister, Nikol Pashinyan, tweeted out, "Azerbaijan has launched a missile & aerial attack against #Artsakh. Peaceful settlements including Stepanakert have been attacked."
"Armenian side has shot down 2 helicopters & 3 UAVs, destroyed 3 tanks. We stay strong next to our army to protect our motherland from Azeri invasion."
Initially, there was some skepticism that the fighting escalated to such a point that large munitions were being used on targets, but as the weeks progressed, more footage and images from the fighting show that tanks, aircraft, drones, and artillery have all been deployed.
Fighting, From Bad to Worse
Both sides have announced military and civilian deaths. Armenia claims over 100 military personnel and 23 civilians have died. The Armenian Ministry of Defense added that 230 Azeri soldiers have been killed.
Azerbaijan defense officials claimed on Wednesday to have killed thousands of Armenian and Artsakh troops and to have "destroyed 130 tanks, 200 artillery units, 25 anti-aircraft units, five ammunition depots, 50 anti-tank units, 55 military vehicles."
The conflict seems to have escalated beyond the disputed region itself, with evidence that Azerbaijan has used drones to strike targets within Armenia.
Beyond direct military actions, each government has drawn up more troops. On Sunday, Armenia declared martial law and called for a general mobilization. That same day, the Republic of Artsakh announced all able-bodied men would be drawn into service, while Azerbaijan declared a partial-mobilization.
2020 has seen tensions in the region drastically escalate. Earlier in the year during fighting that broke out in July, 14 people died, including two senior Armenian officers who were killed in a drone strike.
Longstanding, Divisive History
There has been long-standing conflicts over Nagorno-Karabakh. For thousands of years, Armenians have been the ethnic-majority in the mountainous region. During it's various stints as part of other empires, the area was normally ruled by Armenian princes, or outside rulers from occupying powers.
In the 1800's, both Armenia and Azerbaijan became part of the Russian Empire, where Nagorno-Karabakh was administered in the same zone as Azerbaijan and other Caucus territories, while Armenia was administered as its own polity. When the empire dissolved during World War I, both nations gained their independence and promptly went to war over who controls Nagorno-Karabakh.
During that war, the Soviets took over both nations and made forcefully brokered a peace that eventually saw Stalin putting the region under the administrative control of the Azerbaijan Soviet Republic, despite its Armenian majority.
For many Armenians, especially those living in the Nagorno-Karabakh, this was unacceptable and the catalysts for the modern conflict. Census data from the time shows it was roughly 90% Armenian.
Open conflict didn't occur again until the decline and fall of the Soviet Union. In the late '80s both Armenia and Azerbaijan, while still nominally part of the same country, went to war over the territory.
When they both declared independence in 1991, so did the Armenians within Nagorno-Karabakh, calling themselves the Republic of Artsakh. The war devolved into Armenia and the Republic of Artsakh fighting Azerbaijan. All sides accused the others of ethnic cleansing in the region. Leading to Armenians leaving Azerbaijan to Nagorno-Karabakh, while Azeris fled to other parts of Azerbaijan.
Now the region is nearly 100% Armenian.
A ceasefire was signed that left all sides unhappy. Azerbaijan refused to give up any claims to the land, while Armenia has stationed troops in the region to reinforce the Republic of Artsakh. However, the entire region is still internationally recognized as part of Azerbaijan.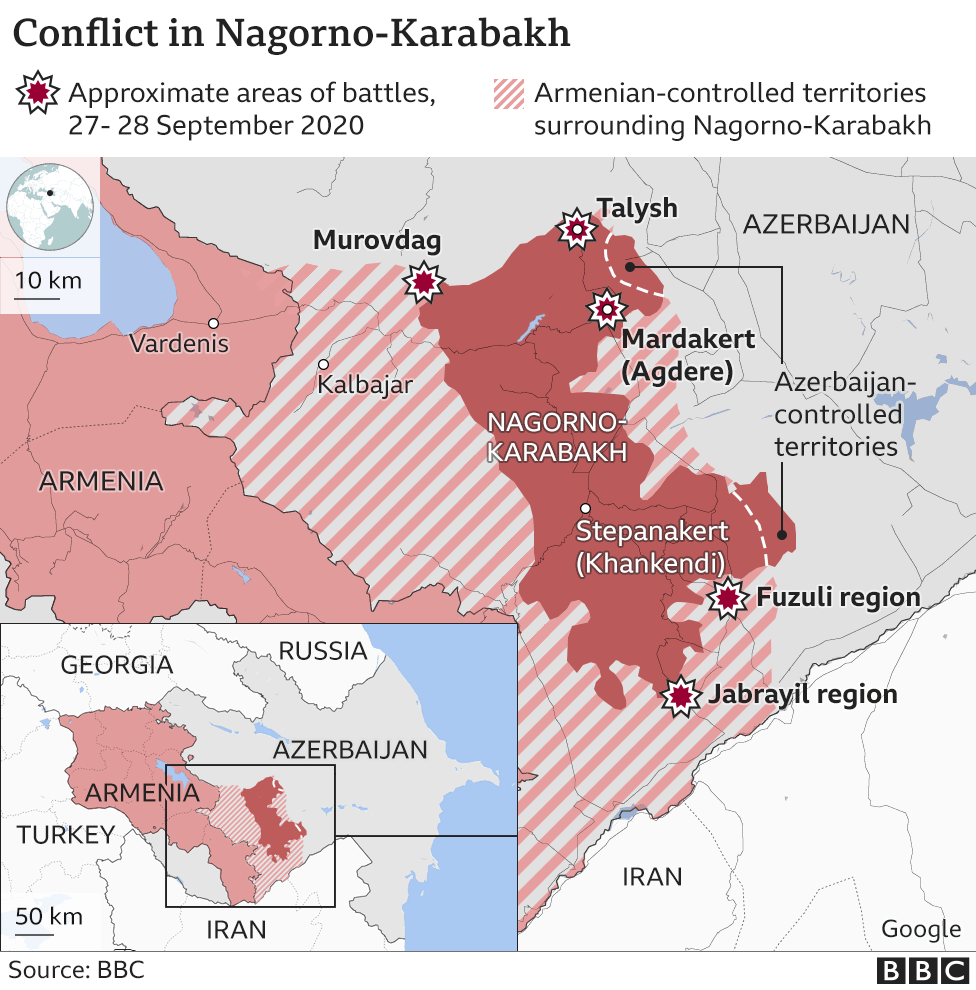 No UN-member state, not even Armenia, officially recognize the Republic of Artsakh as independent.
Calls for Peace
Around the world, countries have come out in various ways to show support or call for peace. On Sunday, Turkish President Recep Erdogan sent out a series of tweets not only blaming Armenia for the attacks but also saying "it is the biggest threat to peace and tranquility in the region."
He went on to call on Armenian to resist their government "who use them like a puppet."
Most countries took a more neutral stance, asking that the two sides deescalate the situation. An Iranian foreign ministry spokesperson told state TV on Sunday, "Iran is closely monitoring the conflict with concern and calls for an immediate end to the conflict and the start of talks between the two countries."
French, Russian, and U.S. officials also called on both sides to stop fighting, along with the Organization for Security and Co-operation in Europe (OSCE). the OSCE, who France, Russia, and the U.S. are all a part of, was responsible for mediating the ceasefire between Armenia and Azerbaijan back in the '90s.
Call for peace haven't made much headway, as both Armenia and Azerbaijan have rejected any calls for another ceasefire.
Russia Takes Over 900 Azovstal Fighters Prisoner as Mariupol Surrenders
Ukraine said the soldiers successfully completed their mission, but the fall of Mariupol represents a strategic win for Putin.
---
Azovstal Waves the White Flag
Russia's foreign ministry announced on Wednesday that it had captured 959 Ukrainians from the Azovstal steelworks, where besieged soldiers have maintained the last pocket of resistance in Mariupol for weeks.
A ministry spokesperson said in a statement that 51 were being treated for injuries, and the rest were sent to a former prison colony in the town of Olenivka in a Russian-controlled area of Donetsk.
The defense ministry released videos of what it claimed were Ukrainian fighters receiving care at a hospital in the Russian-controlled town of Novoazovsk. In one, a soldier tells the camera he is being treated "normally" and that he is not being psychologically pressured, though it is unclear whether he is speaking freely.
It was unclear if any Ukrainians remained in Azovstal, but Denis Pushilin, the head of the self-proclaimed republic of Donetsk, said in a statement Wednesday that the "commanders of the highest level" were still hiding in the plant.
Previously, estimates put the number of soldiers inside Azovstal around 1,000.
Ukraine officially gave up Mariupol on Monday, when the first Azovstal fighters began surrendering.
Reuters filmed dozens of wounded Ukrainians being driven away in buses marked with the Russian pro-war "Z" symbol.
Ukraine's deputy defense minister said in a Tuesday statement that the Ukrainian prisoners would be swapped in an exchange for captured Russians. But numerous Russian officials have signaled that the Ukrainian soldiers should be tried.
Mariupol Falls into Russian Hands
After nearly three months of bombardment that left Mariupol in ruins, Russia's combat mission in the city has ended.
The sprawling complex of underground tunnels, caverns, and bunkers beneath Azovstal provided a defensible position for the Ukrainians there, and they came to represent the country's resolve in the face of Russian aggression for many spectators.
Earlier this month, women, children, and the elderly were evacuated from the plant.
The definitive capture of Mariupol, a strategic port city, is a loss for Ukraine and a boon for Russia, which can now establish a land bridge between Crimea and parts of Eastern Ukraine controlled by Russian separatists. The development could also free up Russian troops around Mariupol to advance on the East, while additional reinforcements near Kharkiv descend from the north, potentially cutting off Ukrainian forces from the rest of the country.
The Ukrainian military has framed events in Mariupol as at least a partial success, arguing that the defenders of Azovstal completed their mission by tying down Russian troops and resources in the city and giving Ukrainians elsewhere more breathing room.
It claimed that doing so prevented Russia from rapidly capturing the city of Zaporizhzhia further to the west.
Convoy of Up to 1,000 Vehicles Evacuates Refugees From Mariupol as Russian War Effort Stalls
Russia may have lost a third of its ground invasion force since the war began, according to British military intelligence.
---
Hundreds Make It Out Alive
A convoy of between 500 and 1,000 vehicles evacuating refugees from the southern port city of Mariupol arrived safely in the Ukrainian-controlled city of Zaporizhzhia on Saturday.
People have been trickling out of Mariupol for over two months, but the recent evacuation was the single biggest out of the city thus far. Russian troops, who control most of the city, did not allow the convoy to leave for days, but eventually, they relented.
The convoy first traveled to Berbyansky some 80 kilometers to the west, then stopped at other settlements before driving 200 kilometers northwest to Zaporizhzhia. Many refugees told reporters they took "secret detours" to avoid Russian checkpoints and feared every moment of the journey.
Nikolai Pavlov, a 74-year-old retiree, told Reuters he had lived in a basement for a month after his apartment was destroyed.
"We barely made it," he said. "There were lots of elderly people among us… the trip was devastating. But it was worth it."
63-year-old Iryna Petrenko also said she had stayed in Mariupol initially to take care of her 92-year-old mother, who subsequently died.
"We buried her next to her house, because there was nowhere to bury anyone," she said.
Putin's Plans Go Poorly
In Mariupol, Ukrainian fighters continue to hold the Azovstal steelworks, the only part of the city still under Ukrainian control.
On Sunday, a video emerged appearing to show a hail of projectiles bursting into white, brightly burning munitions over the factory.
The pro-Russian separatist who posted it on Telegram wrote, "If you didn't know what it is and for what purpose – you could say that it's even beautiful."
Turkey is trying to negotiate an evacuation of wounded Ukrainians from the factory, but neither Russia nor Ukraine have agreed to any plan.
After nearly three months of war, Mariupol has been left in ruins, with thousands of civilians reportedly dead.
"In less than 3 month, Mariupol, one of Ukraine's fastest developing & comfortable cities, was reduced into a heap of charred ruins smelling death, with thousands of people standing in long breadlines and selling their properties out to buy some food. Less than three months," Illia Ponomarenko, a reporter for The Kyiv Independent, tweeted.
On Sunday, the United Kingdom's defense ministry estimated that Russia has likely lost a third of its ground invasion forces since the war began.
Moscow is believed to have deployed as many as 150,000 troops in Ukraine.
The ministry added that Russian forces in Eastern Ukraine have "lost momentum" and are "significantly behind schedule." Moreover, it said Russia failed to achieve substantial territorial gains over the last month while sustaining "consistently high levels of attrition."
"Under the current conditions, Russia is unlikely to dramatically accelerate its rate of advance over the next 30 days," the ministry concluded.
Sweden also signaled on Sunday that it will join Finland in applying for NATO membership.
Israel Moves to Build Over 4,000 West Bank Settlements as Palestinian Homes Demolished
The Israeli military is proceeding with a plan to evict at least 1,000 Palestinians from the West Bank.
---
Settlers Get Ready to Move in
On Thursday, a military planning body in the Israeli-occupied West Bank approved the construction of 4,427 housing units, according to the watchdog group Peace Now.
"The State of Israel took another stumble toward the abyss and further deepened the occupation," Hagit Ofran, an expert at Peace Now, said via the Associated Press.
The plan is the largest advancement of settlement projects since President Joe Biden took office in the United States.
The U.S. opposes settlement expansion and said as much when the plan was first announced last week, but critics say Washington has done little to pressure Israel to stop.
In a statement, U.N. Mideast envoy Tor Wennesland called the settlements a "major obstacle to peace."
"Continued settlement expansion further entrenches the occupation, encroaches upon Palestinian land and natural resources, and hampers the free movement of the Palestinian population," he said.
In October, Israel approved some 3,000 settlement homes despite a U.S. rebuke. There are currently over 130 Israeli settlements in the West Bank harboring almost 500,000 settlers, in addition to the nearly three million Palestinians living in the territory.
Palestinians Pushed Off Their Land
On Wednesday, the same day Israeli soldiers allegedly shot and killed Al-Jazeera journalist Shireen Abu Akleh, the military demolished at least 18 buildings in the West Bank, including 12 residential ones.
Israel's supreme court has also ruled that eight Palestinian hamlets can be expelled, potentially leaving at least 1,000 Palestinians homeless.
The area targeted is known as the Masafer Yatta, and its residents say they have been herding animals and practicing traditional desert agriculture there for decades, long before Israel took over the West Bank in 1967. Israel, however, claims there were no permanent structures there before the military designated it a firing zone in the 1980s
"What's happening now is ethnic cleansing," Sami Huraini, an activist and a resident of the area, told the Associated Press. "The people are staying on their land and have already started to rebuild."