Brutal Fighting Continues Between Azerbaijan and Armenia Over Breakaway Region
On Sunday fighting broke out between Azerbaijan and Armenia, who is supporting the breakaway Republic of Artsakh in the Nagorno-Karabakh region.
The territory, known as Artsakh to Armenians, is internationally recognized as part of Azerbaijan but has a majority ethnic-Armenian government.
The region is recognized by all United Nations members as being part of Azerbaijan, although Armenia's long-standing support of the breakaway Republic of Artsakh has consistently escalated tensions.
Turkey promised to support Azerbaijan, while other nations around the world have asked for de-escalation.
---
Nagorno-Karabakh or Artsakh?
Long-standing tensions between Armenia, the de-facto independent Republic of Artsakh, and Azerbaijan erupted into fighting Sunday in the highly contested region of Nagorno-Karabakh.
The region is known as Artsakh to ethnic Armenians.
Sunday's fighting broke out across the entire Line of Contact, which is a network of military fortifications that separate forces in the region. The region's capital, Stepanakert, has also been subject to military actions such as shelling and drone strikes.
In addition to fighting on the ground, the conflict has played out online as well. Shortly after fighting began, Hikmet Hajiyev, the head of the Foreign Policy Affairs Department in Azerbaijan, accused Armenia of starting the fighting, saying that on Sunday, the armed forces of Armenia"blatantly violated the ceasefire regime and, using large-caliber weapons, mortar launchers and artillery have launched an intensive attack on the position of the armed forces of Azerbaijan along the frontline."
"The armed forces of the Republic of Azerbaijan are undertaking necessary counter-offensive measures to prevent Armenia's another military aggression and ensure the security of the civilian population," he added. "The responsibility for the present situation and future developments lie squarely with Armenia's political-military leadership."
However, subsequent statements from President Ilham Aliyev suggest that the entire conflict is part of an effort to "retake" the region.
On the Armenian side, Prime Minister, Nikol Pashinyan, tweeted out, "Azerbaijan has launched a missile & aerial attack against #Artsakh. Peaceful settlements including Stepanakert have been attacked."
"Armenian side has shot down 2 helicopters & 3 UAVs, destroyed 3 tanks. We stay strong next to our army to protect our motherland from Azeri invasion."
Initially, there was some skepticism that the fighting escalated to such a point that large munitions were being used on targets, but as the weeks progressed, more footage and images from the fighting show that tanks, aircraft, drones, and artillery have all been deployed.
Fighting, From Bad to Worse
Both sides have announced military and civilian deaths. Armenia claims over 100 military personnel and 23 civilians have died. The Armenian Ministry of Defense added that 230 Azeri soldiers have been killed.
Azerbaijan defense officials claimed on Wednesday to have killed thousands of Armenian and Artsakh troops and to have "destroyed 130 tanks, 200 artillery units, 25 anti-aircraft units, five ammunition depots, 50 anti-tank units, 55 military vehicles."
The conflict seems to have escalated beyond the disputed region itself, with evidence that Azerbaijan has used drones to strike targets within Armenia.
Beyond direct military actions, each government has drawn up more troops. On Sunday, Armenia declared martial law and called for a general mobilization. That same day, the Republic of Artsakh announced all able-bodied men would be drawn into service, while Azerbaijan declared a partial-mobilization.
2020 has seen tensions in the region drastically escalate. Earlier in the year during fighting that broke out in July, 14 people died, including two senior Armenian officers who were killed in a drone strike.
Longstanding, Divisive History
There has been long-standing conflicts over Nagorno-Karabakh. For thousands of years, Armenians have been the ethnic-majority in the mountainous region. During it's various stints as part of other empires, the area was normally ruled by Armenian princes, or outside rulers from occupying powers.
In the 1800's, both Armenia and Azerbaijan became part of the Russian Empire, where Nagorno-Karabakh was administered in the same zone as Azerbaijan and other Caucus territories, while Armenia was administered as its own polity. When the empire dissolved during World War I, both nations gained their independence and promptly went to war over who controls Nagorno-Karabakh.
During that war, the Soviets took over both nations and made forcefully brokered a peace that eventually saw Stalin putting the region under the administrative control of the Azerbaijan Soviet Republic, despite its Armenian majority.
For many Armenians, especially those living in the Nagorno-Karabakh, this was unacceptable and the catalysts for the modern conflict. Census data from the time shows it was roughly 90% Armenian.
Open conflict didn't occur again until the decline and fall of the Soviet Union. In the late '80s both Armenia and Azerbaijan, while still nominally part of the same country, went to war over the territory.
When they both declared independence in 1991, so did the Armenians within Nagorno-Karabakh, calling themselves the Republic of Artsakh. The war devolved into Armenia and the Republic of Artsakh fighting Azerbaijan. All sides accused the others of ethnic cleansing in the region. Leading to Armenians leaving Azerbaijan to Nagorno-Karabakh, while Azeris fled to other parts of Azerbaijan.
Now the region is nearly 100% Armenian.
A ceasefire was signed that left all sides unhappy. Azerbaijan refused to give up any claims to the land, while Armenia has stationed troops in the region to reinforce the Republic of Artsakh. However, the entire region is still internationally recognized as part of Azerbaijan.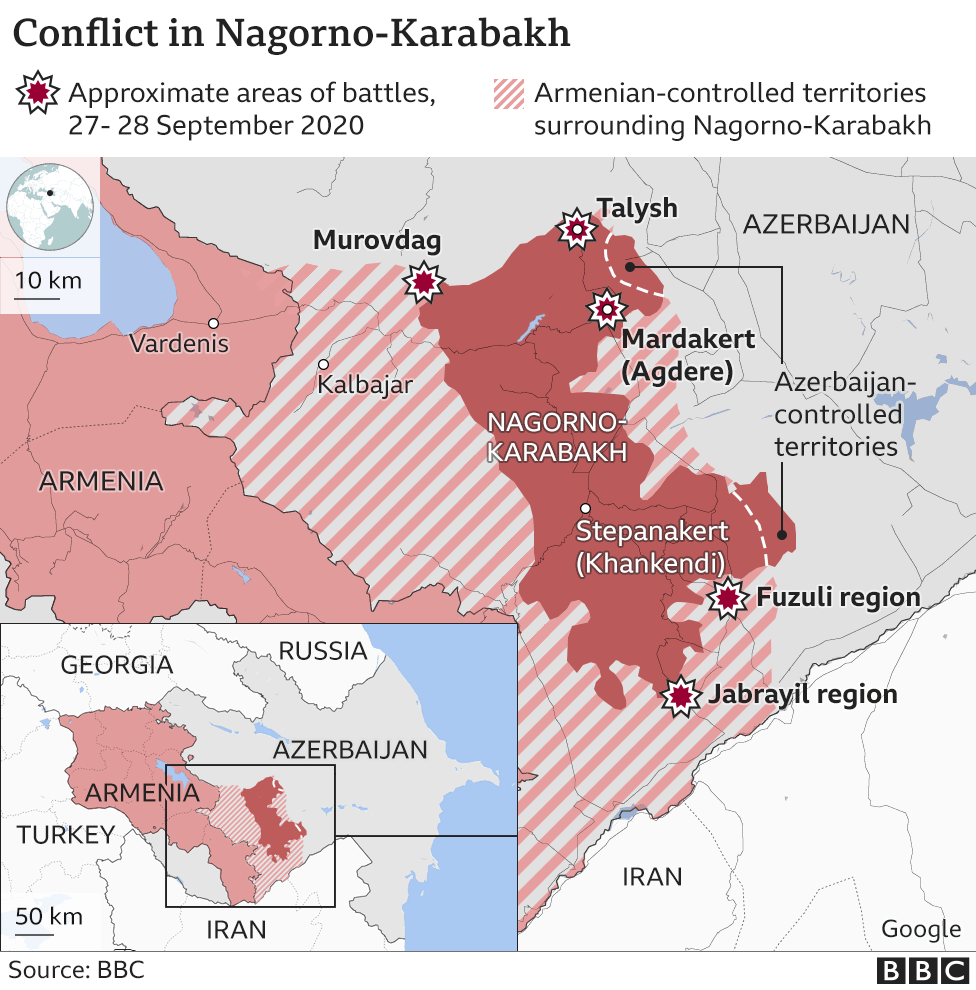 No UN-member state, not even Armenia, officially recognize the Republic of Artsakh as independent.
Calls for Peace
Around the world, countries have come out in various ways to show support or call for peace. On Sunday, Turkish President Recep Erdogan sent out a series of tweets not only blaming Armenia for the attacks but also saying "it is the biggest threat to peace and tranquility in the region."
He went on to call on Armenian to resist their government "who use them like a puppet."
Most countries took a more neutral stance, asking that the two sides deescalate the situation. An Iranian foreign ministry spokesperson told state TV on Sunday, "Iran is closely monitoring the conflict with concern and calls for an immediate end to the conflict and the start of talks between the two countries."
French, Russian, and U.S. officials also called on both sides to stop fighting, along with the Organization for Security and Co-operation in Europe (OSCE). the OSCE, who France, Russia, and the U.S. are all a part of, was responsible for mediating the ceasefire between Armenia and Azerbaijan back in the '90s.
Call for peace haven't made much headway, as both Armenia and Azerbaijan have rejected any calls for another ceasefire.
95-Year-Old Woman Dies After Police Tases Her in Nursing Home
The officer involved was suspended with pay and charged with assault.
---
A 95-year-old Australian woman whom police tasered in a nursing home last week has reportedly died from her injuries.
Clare Nowland, who had dementia and required a walking frame to stand up and move, was living at the Yallambee Lodge in Cooma in southeastern Australia.
At about 4:15 a.m. on May 17, police and paramedics responded to a report of a woman standing outside her room with a steak knife.
They encountered Nowland, then reportedly tried to negotiate with her for several minutes, but she didn't drop the knife.
The five-foot-two, 95-pound woman walked toward the two officers "at a slow pace," police said at a news conference, so one of them tasered her.
She fell to the floor and reportedly suffered a fractured skull and a severe brain bleed, causing her to be hospitalized in critical condition.
Nowland passed away in a hospital surrounded by her family, the New South Wales police confirmed in a statement today.
After a week-long investigation, the police force also said that the senior constable involved would appear in court next week to face charges of recklessly causing grievous bodily harm, assault occasioning actual bodily harm, and common assault.
NSW police procedure states that tasers should not be used against elderly or disabled people absent exceptional circumstances.
Following the incident, community members, activists, and disability rights advocates expressed bewilderment and anger at what they called an unnecessary use of force, and some are now questioning why law enforcement took so long to prosecute the officer involved.
U.K. Police Face Backlash After Arresting Anti-Monarchy Protesters
London Mayor Sadiq Khan said that some of the arrests "raise questions" and "investigations are ongoing."
---
The Public Order Act
A controversial protest crackdown law in the U.K. is facing criticism after dozens of anti-monarchy protesters were arrested during the coronation ceremony in London over the weekend.
The law, dubbed the "Public Order Act" was passed roughly a week ahead of the coronation for King Charles III. It gives police more power to restrict protesters and limits the tactics protesters can use in public spaces. It was condemned by human rights groups upon its passing, and is facing a new round of heat after 52 people were arrested over coronation protests on Saturday.
In a statement, the Metropolitan Police said protesters were arrested for public order offenses, breach of the peace and conspiracy to cause a public nuisance. The group said it gave advance warning that its "tolerance for any disruption, whether through protest or otherwise, will be low and that we would deal robustly with anyone intent on undermining the celebration."
It is currently unclear how many of those arrested were detained specifically for violating the Public Order Act, however, some of those arrested believe the new law was used against them.
"Make no mistake. There is no longer a right to peaceful protest in the UK," Graham Smith, the CEO of anti-monarchy group Republic tweeted after getting arrested. "I have been told many times the monarch is there to defend our freedoms. Now our freedoms are under attack in his name."
An Attempt to "Diminish" Protests
During a BBC Radio interview, Smith also said he believes the dozens of arrests were premeditated.
"There was nothing that we did do that could possibly justify even being detained and arrested and held," Smith claimed.
"The whole thing was a deliberate attempt to disrupt and diminish our protest."
Yasmine Ahmed, the U.K. Director of Human Rights Watch, also tweeted that the arrests were "disgraceful."
"These are scenes you'd expect to see in Russia not the UK," she wrote.
When asked about the controversy, Prime Minister Rishi Sunak told reporters officers should do "what they think is best" in an apparent show of support for the Metropolitan Police.
For his part, London Mayor Sadiq Khan said he is looking into the matter.
"Some of the arrests made by police as part of the Coronation event raise questions and whilst investigations are ongoing, I've sought urgent clarity from Met leaders on the action taken," Khan tweeted.
Foreign Nationals Make Mad Dash out of Sudan as Conflict Rages
The conflict's death toll has surpassed 420, with nearly 4,000 people wounded.
---
As the 10-day-long power struggle between rival generals tore Sudan apart, foreign governments with citizens in the country scrambled to evacuate them over the weekend.
On Sunday, U.S. special forces landed in the capital Khartoum and carried out nearly 100 American diplomats along with their families and some foreign nationals on helicopters.
An estimated 16,000 Americans, however, remain in the country and U.S. officials said in a statement that a broader evacuation mission would be too dangerous.
Christopher Maier, the assistant secretary of defense for special operations and low-intensity warfare, said in a statement that the Pentagon may assist U.S. citizens find safe routes out of Sudan.
"[The Defense Department] is at present considering actions that may include use of intelligence, surveillance and reconnaissance capabilities to be able to observe routes and detect threats," he said.
Germany and France also reportedly pulled around 700 people out of the country.
More countries followed with similar efforts, including the United Kingdom, Italy, Spain, the Netherlands, Canada, China, Saudi Arabia, Lebanon, and Indonesia.
Yesterday, a convoy carrying some 700 United Nations, NGO, and embassy staff drove to Port Sudan, a popular extraction point now that the airport in Khartoum has closed due to fighting.
Reports of gunmen prowling the capital streets and robbing people trying to escape, as well as looters breaking into abandoned homes and shops, have persuaded most residents to stay indoors.
Heavy gunfire, airstrikes, and artillery shelling have terrorized the city despite several proposed ceasefires.
Over the weekend, the reported death toll topped 420, with nearly 4,000 people injured, though both numbers are likely to be undercounted.