Brutal Fighting Continues Between Azerbaijan and Armenia Over Breakaway Region
On Sunday fighting broke out between Azerbaijan and Armenia, who is supporting the breakaway Republic of Artsakh in the Nagorno-Karabakh region.
The territory, known as Artsakh to Armenians, is internationally recognized as part of Azerbaijan but has a majority ethnic-Armenian government.
The region is recognized by all United Nations members as being part of Azerbaijan, although Armenia's long-standing support of the breakaway Republic of Artsakh has consistently escalated tensions.
Turkey promised to support Azerbaijan, while other nations around the world have asked for de-escalation.
---
Nagorno-Karabakh or Artsakh?
Long-standing tensions between Armenia, the de-facto independent Republic of Artsakh, and Azerbaijan erupted into fighting Sunday in the highly contested region of Nagorno-Karabakh.
The region is known as Artsakh to ethnic Armenians.
Sunday's fighting broke out across the entire Line of Contact, which is a network of military fortifications that separate forces in the region. The region's capital, Stepanakert, has also been subject to military actions such as shelling and drone strikes.
In addition to fighting on the ground, the conflict has played out online as well. Shortly after fighting began, Hikmet Hajiyev, the head of the Foreign Policy Affairs Department in Azerbaijan, accused Armenia of starting the fighting, saying that on Sunday, the armed forces of Armenia"blatantly violated the ceasefire regime and, using large-caliber weapons, mortar launchers and artillery have launched an intensive attack on the position of the armed forces of Azerbaijan along the frontline."
"The armed forces of the Republic of Azerbaijan are undertaking necessary counter-offensive measures to prevent Armenia's another military aggression and ensure the security of the civilian population," he added. "The responsibility for the present situation and future developments lie squarely with Armenia's political-military leadership."
However, subsequent statements from President Ilham Aliyev suggest that the entire conflict is part of an effort to "retake" the region.
On the Armenian side, Prime Minister, Nikol Pashinyan, tweeted out, "Azerbaijan has launched a missile & aerial attack against #Artsakh. Peaceful settlements including Stepanakert have been attacked."
"Armenian side has shot down 2 helicopters & 3 UAVs, destroyed 3 tanks. We stay strong next to our army to protect our motherland from Azeri invasion."
Initially, there was some skepticism that the fighting escalated to such a point that large munitions were being used on targets, but as the weeks progressed, more footage and images from the fighting show that tanks, aircraft, drones, and artillery have all been deployed.
Fighting, From Bad to Worse
Both sides have announced military and civilian deaths. Armenia claims over 100 military personnel and 23 civilians have died. The Armenian Ministry of Defense added that 230 Azeri soldiers have been killed.
Azerbaijan defense officials claimed on Wednesday to have killed thousands of Armenian and Artsakh troops and to have "destroyed 130 tanks, 200 artillery units, 25 anti-aircraft units, five ammunition depots, 50 anti-tank units, 55 military vehicles."
The conflict seems to have escalated beyond the disputed region itself, with evidence that Azerbaijan has used drones to strike targets within Armenia.
Beyond direct military actions, each government has drawn up more troops. On Sunday, Armenia declared martial law and called for a general mobilization. That same day, the Republic of Artsakh announced all able-bodied men would be drawn into service, while Azerbaijan declared a partial-mobilization.
2020 has seen tensions in the region drastically escalate. Earlier in the year during fighting that broke out in July, 14 people died, including two senior Armenian officers who were killed in a drone strike.
Longstanding, Divisive History
There has been long-standing conflicts over Nagorno-Karabakh. For thousands of years, Armenians have been the ethnic-majority in the mountainous region. During it's various stints as part of other empires, the area was normally ruled by Armenian princes, or outside rulers from occupying powers.
In the 1800's, both Armenia and Azerbaijan became part of the Russian Empire, where Nagorno-Karabakh was administered in the same zone as Azerbaijan and other Caucus territories, while Armenia was administered as its own polity. When the empire dissolved during World War I, both nations gained their independence and promptly went to war over who controls Nagorno-Karabakh.
During that war, the Soviets took over both nations and made forcefully brokered a peace that eventually saw Stalin putting the region under the administrative control of the Azerbaijan Soviet Republic, despite its Armenian majority.
For many Armenians, especially those living in the Nagorno-Karabakh, this was unacceptable and the catalysts for the modern conflict. Census data from the time shows it was roughly 90% Armenian.
Open conflict didn't occur again until the decline and fall of the Soviet Union. In the late '80s both Armenia and Azerbaijan, while still nominally part of the same country, went to war over the territory.
When they both declared independence in 1991, so did the Armenians within Nagorno-Karabakh, calling themselves the Republic of Artsakh. The war devolved into Armenia and the Republic of Artsakh fighting Azerbaijan. All sides accused the others of ethnic cleansing in the region. Leading to Armenians leaving Azerbaijan to Nagorno-Karabakh, while Azeris fled to other parts of Azerbaijan.
Now the region is nearly 100% Armenian.
A ceasefire was signed that left all sides unhappy. Azerbaijan refused to give up any claims to the land, while Armenia has stationed troops in the region to reinforce the Republic of Artsakh. However, the entire region is still internationally recognized as part of Azerbaijan.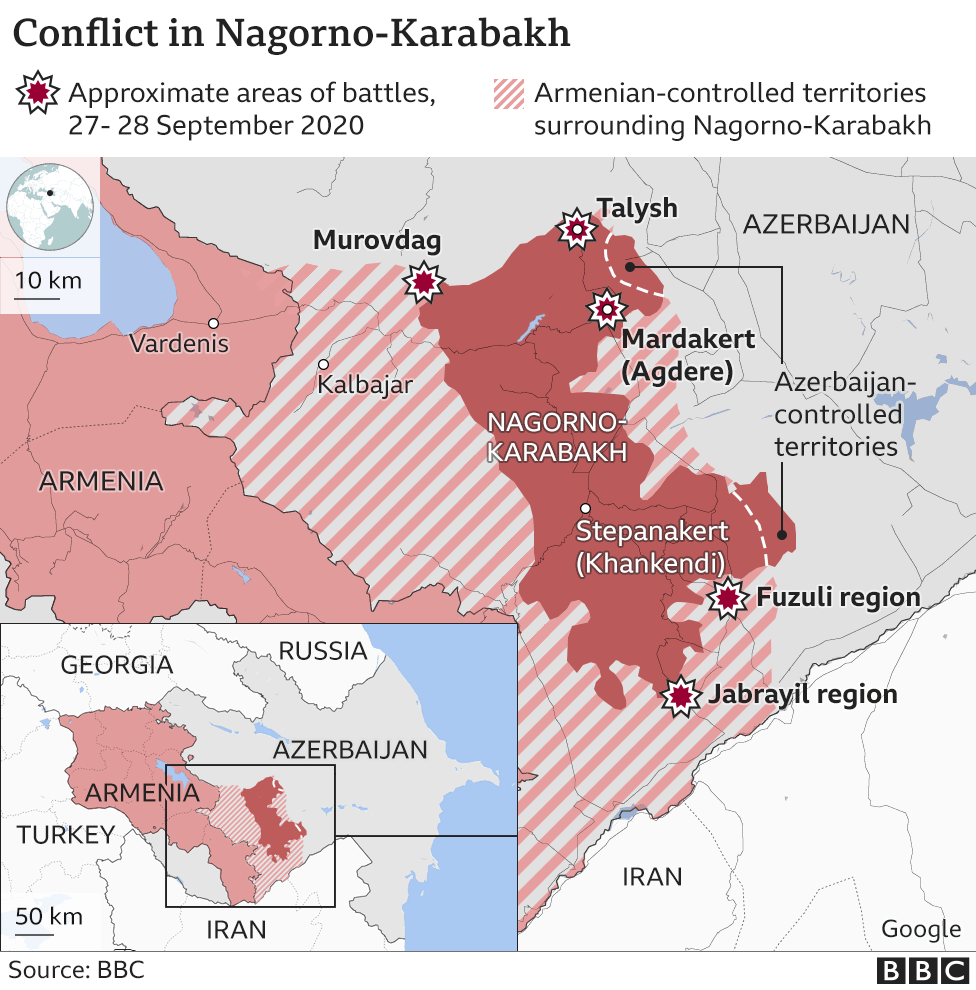 No UN-member state, not even Armenia, officially recognize the Republic of Artsakh as independent.
Calls for Peace
Around the world, countries have come out in various ways to show support or call for peace. On Sunday, Turkish President Recep Erdogan sent out a series of tweets not only blaming Armenia for the attacks but also saying "it is the biggest threat to peace and tranquility in the region."
He went on to call on Armenian to resist their government "who use them like a puppet."
Most countries took a more neutral stance, asking that the two sides deescalate the situation. An Iranian foreign ministry spokesperson told state TV on Sunday, "Iran is closely monitoring the conflict with concern and calls for an immediate end to the conflict and the start of talks between the two countries."
French, Russian, and U.S. officials also called on both sides to stop fighting, along with the Organization for Security and Co-operation in Europe (OSCE). the OSCE, who France, Russia, and the U.S. are all a part of, was responsible for mediating the ceasefire between Armenia and Azerbaijan back in the '90s.
Call for peace haven't made much headway, as both Armenia and Azerbaijan have rejected any calls for another ceasefire.
First Person Charged Under Hong Kong National Security Law Found Guilty of Terrorism and Inciting Secession
Dozens more are awaiting trial for breaking the controversial National Security Law, which is aimed at protecting Chinese sovereignty at the cost of basic freedoms within Hong Kong.
---
First Conviction Under National Security Law
The first person to be charged under Hong Kong's extremely controversial National Security Law was found guilty of his crimes Tuesday morning.
A judge ruled that Tong Ying-kit was guilty of both terrorism and inciting secession after the 24-year-old failed to stop at a police checkpoint while on his motorcycle last July, which resulted in him eventually riding into police. At the same time, he was carrying a flag that said "Liberate Hong Kong, Revolution of Our Times."
According to Justice Esther Toh, that phrase alone was capable of inciting others to commit succession, she also that added that Tong understood that the flag had secessionist meaning in an effort to set aside doubts that Tong understood the flag's inherent meaning.
Yamini Mishra, Amnesty International's Asia-Pacific Regional Director said,"The conviction of Tong Ying-kit is a significant and ominous moment for human rights in Hong Kong."
"Today's verdict underlines the sobering fact that expressing certain political opinions in the city is now officially a crime, potentially punishable by life in jail," she added.
More Convictions Expected Sparking Fear Over Erosion of Rights
A long string of convictions will likely follow Tong's, as over 100 people have been arrested under the ambiguous law that criminalizes many forms of freedom of expression under the guise of protecting Chinese sovereignty. Of those arrested, 60 are currently awaiting trial, including dozens of pro-democracy politicians who have been accused of subversiveness for their calls to block the government's agenda in the legislature.
That has drawn particular concern among international critics who fear the precedent that will be set once it's clear to politicians that failing to rubber-stamp the Communist Party's agenda will result in prison terms.
It's widely expected that as more people are found guilty, the few remaining protections of the city's Basic Law, a British common law-inspired mini-constitution, will be completely eroded.
Tunisian President Fires Prime Minister, Suspends Parliament Over Deadlock and COVID-19 Response
President Kais Saied claims his actions are constitutional and have the support of the military, which has already blocked off government buildings. His opponents, however, call the move little more than a coup.
---
President Makes Massive Changes to Government
Tunisia's government received a major shakeup after President Kais Saied fired the Prime Minister and froze parliament late Sunday.
The move, according to Saied, was meant to break years of parliamentary deadlock between Prime Minister Hichem Mechichi and various political parties that have sturggled to find common ground. However, the timing comes just after a massive protest over how the government has handled the COVID-19 pandemic turned violent earlier on Sunday.
Either way, the move risks sparking a confrontation between Saied —who is backed by the army — and various political parties that view his actions as a coup.
The President's actions have proven cotnroversial. Despite that, he has widepsread support after being elected in 2019 on a platform to fight corrupt politicians.
After the announcement, tens of thousands have taken to the streets in support of his decision to dismiss the Prime Minister and parliament, with many cheering as he appeared among the crowd Sunday night.
In recent months, anger at the ruling government has only increased as many feel the ruling coalition, largely made up of the Islamist Ennahda ("Renaissance") party, have been ineffective.
It's a common belief in Tunisia that Ennahda's rule, alongside its tenuous coalition, helped exacerbate problems caused by the COVID-19 pandemic, which led to the economy shrinking by 8% as tourism plummeted.
One of the President's supporters told Reuters and other outlets during Sunday's demonstration, "We are here to protect Tunisia. We have seen all the tragedies under the rule of the Muslim Brotherhood."
He mentioned the Muslim Brotherhood, which had a strong presence in Egpyt after the Arab Spring, becuase Ennahda has longstanding relationship with the group, although it has sought to distance itself as a more moderate political group over the last few years.
Now, for their part, the ruling coalition has argued that Saied's move is clearly unconstitutional. Rached Ghannouchi, leade of Ennahda and Parliamentary Speaker, said that he is "against gathering all powers in the hands of one person." His position isn't without supporters eithers. Both sides have already gathered throughout the capital and have thrown rocks at each other.
Legalities of Article 80
The question across many minds is whether or not Saied's actions are actually constitutional.
He claims that under Article 80 of the constitution, he can fire the Prime Minister, suspend parliament for 30 days, and appoint a premier to rule — all of which is true.
However, in order to do that, the Prime Minister and the Parliamentary Speaker need to be consulted; something Parliamentary Speaker Ghannouchi said was never done. It's unclear what Mechichi's position is as he's stayed inside his home all day, though the army says he is not under any kind of arrest.
In addition to those requirements, a Constitutional Court needs to approve the move, and one hasn't been set up. As the German Foregin Office put it on Monday morning, it seems like Saied is relying on "a rather broad interpretation of the constitution."
International observers hope a solution will soon be made to keep what seems to be the last functional democracy to come from the Arab Spring from devolving into civil war or dictatorship.
South Korean President Makes BTS Official Presidential Envoys
The position is largely ceremonial but will be used by the government to help give a friendly and popular face to national and international initiatives spearheaded by Seoul.
---
Government Recognition
The K-pop band BTS will be adding to its list of global impacts this year after South Korean President Moon Jae-in appointed its members as Presidential Envoys on Wednesday.
The role will include attending international conferences such as the United Nations General Assembly in September.
At these events, BTS will perform "various activities to promote international cooperation in solving global challenges, such as improving the environment, eliminating poverty and inequality, and respecting diversity," according to Park Kyung-mee, a Blue House spokesperson.
The band has already appeared at U.N. conferences multiple times over the last few years.
Just last year, the group gave a message of hope and reassurance through the U.N. during the COVID-19 pandemic. Prior appearances at the U.N. have been either as part of U.N. organizations or as private citizens.
Wednesday's appointment will make them official representatives of South Korea, although they won't actually engage in any direct diplomacy and instead will be used to promote the country's ongoing efforts in youth-related projects.
Longstanding Policy
BTS' success, alongside prior and current K-pop groups, has remained a masterclass of soft diplomacy by the Korean government. For decades, the Korean government has cultivated promoting cultural aspects abroad in the hopes of generating more interest in the country. There are hopes that such efforts will encourage more tourism as well as an elevated image when consumers consider Korean-made products.
Such efforts, beyond cultivating K-pop and raising its stars as semi-official government symbols, also include helping fund Korean restaurants abroad as well as free Korean-language classes taught by Professors of some of Korea's most prestigious schools.
The news comes as BTS' newest single, "Permission to Dance," quickly took the #1 spot on the Billboard top 100. BTS is also partnering with YouTube to promote a Permission to Dance challenge on YouTube Shorts that will begin tomorrow and end on August 4.
Fans will be encouraged to replicate dance moves from the music video, and the group's favorite clips will be put into a compilation made by them.