Trump Nominates Amy Coney Barrett for SCOTUS. Here's What You Need to Know
President Donald Trump announced Saturday that he is nominating Judge Amy Coney Barrett to fill Ruth Bader Ginsburg's seat on the Supreme Court.
If confirmed, Barrett would likely signal a decades-long conservative shift.
Many have now scrutinized her previous writings and opinions on cases involving abortion, Obamacare, LGBTQ+ rights, and more.
Some have also questioned if her Catholic faith will play a role in her interpretation of the Constitution, which she has denied.
Other's still have commended Trump for the selection and condemned criticisms of Barrett as attacks on freedom of religion.
---
Who is Amy Coney Barrett?
After weeks of swirling rumors, President Donald Trump officially announced on Saturday that he had selected Amy Coney Barrett to fill the Supreme Court seat left vacant by the death of Justice Ruth Bader Ginsburg.
Barrett is a federal judge for the U.S. Court of Appeals for the 7th Circuit, a role she has held since she was appointed by Trump in 2017 after working as a law professor at Notre Dame for several years.
She was on the shortlist to be a Supreme Court Justice nominee back in 2018 for the seat that was eventually filled by Brett Kavanaugh. If appointed this time around, she will become the youngest member of the court at 48-years-old.
That is notable because Supreme Court seats are lifetime appointments, and Trump's two other appointees — Kavanaugh and Neil Gorsuch — are both in their 50s, meaning that all three Trump-appointed justices could potentially serve for decades. Her appointment would firmly lead to a more conservative court, which would have a six-person majority.
Barrett's confirmation to the court would also mean that six of the nine justices are Catholic, a fact that is significant because Barrett has received a good deal of scrutiny over public comments she has made about Catholicism and the law in the past.
Religious Concerns
During her confirmation hearing to be a federal judge in 2017, many Democrats worried her religious beliefs would cloud her judgments. However, when pressed on the topic, Barrett swore that would not be the case.
"If you're asking whether I take my faith seriously and I'm a faithful Catholic, I am," she told Senators at the time. "Although I would stress that my personal church affiliation or my religious belief would not bear in the discharge of my duties as a judge."
That response did not dissuade all senators, including Sen. Dianne Feinstein (D-Ca.).
"I think in your case, professor, when you read your speeches, the conclusion one draws is that the dogma lives loudly within you," Feinstein told Barrett. "And that's of concern."
Those remarks, which now compose a viral clip, resulted in Feinstein and other Democrats receiving criticism for attacking Barretts faith and being biased, thus propelling her to be a major rallying flag for the religious right.
Now, with her nomination to the Supreme Court, both the concerns regarding her religion are resurfacing, as are the refrands that those concerns are simply anti-religious attacks. During the formal announcement of her nomination, both President Trump and Barrett herself addressed those concerns.
"She is a woman of unparalleled achievement, towering intellect, sterling credentials, and unyielding loyalty to the Constitution," Trump said. "Amy Coney Barrett will decide cases based on the text of the Constitution as written."
"No matter the issue, no matter the case before her, I am supremely confident that Judge Barrett will issue rulings based solely upon a fair reading of the law."
Barrett, for her part, also echoed those remarks, addressing her "fellow Americans," to tell them that Trump "nominated me to serve on the United States Supreme Court, and that institution belongs to all of us."
"If confirmed, I would not assume that role for the sake of those in my own circle, and certainly not for my own sake," she continued. "I would assume this role to serve you."
Barrett also further emphasized that point while describing her personal judicial philosophy, which she said was the same as former Supreme Court Justice Antonin Scalia, who she clerked for and described as her mentor.
"His judicial philosophy is mine too: A judge must apply the law as written," she said. "Judges are not policymakers, and they must be resolute in setting aside any policy views they might hold."
Whether or not Barrett would follow closely in Scalia's footsteps is important to an ongoing debate that has popped up with the news of her nomination. On one side, many people and media outlets say that while Barrett will certainly shift the court, she is ideologically in-line with the other conservative judges.
But on the other side, plenty of others — specifically on social media — have said that her past decisions, public statements, and publications show she is an extremist and a religious fundamentalist.
Here's a deeper look at Barrett's record, where she stands on key issues, and how that could affect future Supreme Court decisions.
Abortion
Let's start with what Barrett's nomination means for abortion rights because that has easily been the most talked-about and is likely to be a major focus at her confirmation hearings and throughout the nomination process.
Barrett has been quite public about her personal opposition to abortion in both academic and judicial writings. She has explicitly said that abortion is "always immoral," and her nomination has been widely supported by anti-abortion groups.
Aside from personal views, in her role as a federal judge, she has overseen three cases regarding laws restricting abortions in her home state of Indiana. In all three cases, she expressed concerns over earlier rulings that had ended those restrictions, and twice she joined dissenting opinions that would have struck down lower court rulings and upheld abortion restrictions.
However, both her personal beliefs and past rulings don't necessarily mean she would strike down Roe v. Wade. While Trump has vowed to appoint justices ready to overrule the 1973 decision that established the Constitution recognizes a right to abortion, Barrett has not yet said publicly how she would rule on abortion if confirmed to the Supreme Court.
This is where things get a little messy. Barrett has in the past called Roe an "erroneous decision" and claimed it "ignited a national controversy" by deciding the issue via the Supreme Court rather than leaving it up to the states.
At the same time, she has also repeatedly said she does not think SCOTUS would overturn the ruling.
"I don't think the core case, Roe's core holding that women have a right to an abortion, I don't think that would change," she stated speaking at an appearance in 2016. "But I think the question of whether people can get very late-term abortions, you know, how many restrictions can be put on clinics, I think that will change."
That last point is important because while many experts believe it is unlikely that SCOTUS will wholesale overturn Roe anytime soon, what is likely is that the court will make decisions on cases that will slowly chip away at the ruling instead.
However, others have said with the appointment of another conservative to replace Ginsburg, the conservative justices could have enough votes to go after abortion directly. If that were to be the case, it is unclear how Barrett would proceed here as well.
A fact that is significant because Barrett has also published controversial views regarding the judicial principle that justices should respect the past court precedents, and made it clear that she would be open to reversing a Supreme Court precedent if she believed it went against the Constitution.
Affordable Care Act
The second highly talked-about effect Barrett could have on the court is in regards to the Affordable Care Act (ACA) — or Obamacare. Her views here are exceptionally important because a week after Election Day, the Supreme Court is set to hear arguments on the latest challenge to the ACA.
Barrett, for her part, has publicly criticized the Supreme Court decision that upheld Obamacare as constitutional repeatedly. In a 2017 article she wrote, she quoted her mentor Scalia's dissension with the law by saying it should be called "SCOUTScare."
In the article, Barrett argued for an originalist reading of the Constitution — interpreting the Constitution how it was originally written and with the same understanding the authors had when they wrote it. Under that view, she argued, the Supreme Court would not allow for Obamacare.
She also criticized Chief Justice Roberts' stance on Obamacare, and said that he considered too many factors outside of the Constitution when considering Obamacare's constitutionality. Her originalist interpretation of the Constitution lends fuel to Democrats claims that she could upend the Affordable Care Act.
Adding to concerns is her stance about Obamacare forcing employers to offer birth control, regardless of their religious preferences. In 2012, she allegedly signed a petition against this provision and is quoted by Newsweek as saying at the time: "This is a grave violation of religious freedom and cannot stand."
Other Important Rulings and Remarks
Abortion and the ACA are the two biggest talking points when it comes to Barrett, but those who believe she is an extremist have also noted her record on other hot button issues in the country.
For example, many have pointed to her stance on LGBTQ+ rights. According to reports, in 2015, Barrett signed a letter addressed to Catholic bishops that detailed her personal beliefs. It also included a statement about "marriage and family founded on the indissoluble commitment of a man and a woman."
Regarding marriage, some also cited a lecture she gave in 2016 where she defended Supreme Court justices who argued against making gay marriage legal. In a separate speech, she argued that Title IX does not apply to transgender individuals.
A lot of people also pointed to other controversial decisions she has made in her three years as a federal judge, like how she refused to rehear a racial segregation case in 2017, as well as a ruling she made in 2019 that made it easier for men accused of sexual assaults on college campuses to challenge the proceedings against them.
Some also condemned her stance on immigration. In one case, she oversaw, Barrett argued that the U.S. has a right to block people it deems likely to become dependent on public assistance — even if they've never used it in the past.
She has also repeatedly refused to review cases brought by immigrants who claim they've been wrongfully denied humanitarian protections or other immigration benefits.
What Next?
Of course, on the other side, Republicans have widely applauded Barrett's nomination, including from key leaders, like Senate Majority Leader Mitch McConnell (R-Ky.) said Trump "could not have made a better decision."
Sen. Lindsey Graham — who chairs the Senate Judiciary Committee and is in charge of the nomination process — also called her an "outstanding" pick.
As for what happens next, Barrett will meet with Senators for the next two weeks — a timeline that Graham cut significantly short. Normally lawmakers are given around six weeks to meet with and vet a SCOTUS nominee, but Republicans have argued that the quick turnaround is okay because Barrett was already vetted by the Senate in 2017 for a Supreme Court seat.
After meeting with Senators, Graham has scheduled four consecutive days of confirmation hearings starting Oct. 12, with a full committee vote set for Oct. 22. Graham's intentions here are clear: he hopes to have a full floor vote before the election.
Notably, McConnell has not yet committed to a pre-election vote, but regardless, right now, it seems almost certain he will have enough votes. Only two Republicans — Senators Susan Collins (R-Me.) and Lisa Murkowski (R-Ak.) — have said they oppose filling the seat before the election.
However, even without them, the Republicans still have a clear path to a 51-47 majority vote. Still, even with the vote all but locked, everyone expects her confirmation process to be a deeply divisive, partisan battle.
This is by far the closest a confirmation fight has played out to an election in American history, and many Democrats have repeatedly condemned Republicans for trying to push through a nominee so fast — especially when Trump has said he expects the election results to end up in the Supreme Court.
Unfortunately for the Democrats, as well as anyone who opposes Barrett's nomination, there is really not much they can do. Regardless of what happens, this firmly places the nomination as a central issue in the election — and not just for Trump, but for the Senators too.
Trump and Republicans are hoping that the prospect of conservatives holding a 6-3 majority will energize conservative voters ahead of the election, but that could also go the other way: Republican's trying to jam through a nomination could mobilize more liberal voters too.
Several recent polls have shown that a majority of voters want whoever wins in November to choose the SCOTUS nominee, so it is possible that moving too fast could backfire.
"For many Republican senators up for re-election this year, the ideal situation might be to begin the confirmation process quickly, injecting it into the political bloodstream and energizing conservative voters, but waiting until after Election Day — when vulnerable incumbents no longer have to worry about being cast out by angry independent and liberal voters — to hold a confirmation vote," The New York Times explained.
There are several key, incredibly close, Senate races happening in November, and political analysts say that control of the chamber is up for grabs. At the same time, even if Republicans lose the Senate, they could still approve Barrett in the time after the election and before the new session in January.
Voters in 4 States Received Emails Threatening Them To "Vote for Trump or Else!"
Democratic voters in Alaska, Florida, Arizona, and Pennsylvania received threatening emails telling them to vote for Trump or else the Proud Boys would "come after" them.
The email came from a domain associated with the Proud Boys, but the group denied that it had any involvement and said that the website in question was no longer in use because it had been dropped by Google Cloud services.
According to The Washington Post, when the hosting service dropped the domain, it left it unsecured, meaning anyone online could take control of it.
Multiple outlets that reviewed the emails also reported that the messages did not come from the email address listed, but rather from foreign internet servers.
---
Threatening Emails
Registered Democrats in four different states — including three hotly contested swing states — were sent threatening emails Tuesday from an address that appeared to be affiliated with the far-right group the Proud Boys. The message warned recipients that if they did not vote for President Donald Trump, the group would "come after" them.
According to a screenshot of the email obtained by CBS News, the subject line of the message reads "Vote for Trump or else!"
"We are in possession of all your information (email, address, telephone… everything)," the body of the email said. The sender went on to claim they know the recipient of the email is a Democrat because they "gained access into the entire voting infrastructure."
"You will vote for Trump on Election Day or we will come after you," the email continued. "Change your party affiliation to Republican to let us know you received our message and will comply. We will know which candidate you voted for. I would take this seriously if I were you."
Outlets that obtained copies of the email also reported that it concluded with the home address of the recipients they were sent to. Currently, voters in Alaska, Florida, Arizona, and Pennsylvania have reported receiving the threatening messages.
It remains unclear how many went out in total, but it does appear that most of them were sent to people in Florida and Alaska. In Alaska, local news outlets reported that the emails went out to over a dozen people. In Florida, a University of Florida spokesperson said that they knew of at least 183 Floridians who got the messages.
Officials in both states also announced that they have launched investigations, and the FBI was also looking into the matter.
Proud Boys Deny Involvement
While the sender's address is listed info@officialproudboys.com, a domain associated with the Proud Boys, the group's chairman, Enrique Tarrio, immediately denied that they had any involvement.
"We don't send emails. This is someone spoofing our emails and website," he told reporters. "We have spoken to the FBI and are working with them. I hope whoever did this is arrested for voter intimidation and for maliciously impersonating our group."
Tarrio also told The Washington Post that the group has been in the process of migrating from officialproudboys.com to another site. In fact, they said officialproudboys.com has not been used for weeks because that domain was recently dropped by a hosting company that uses Google Cloud services after concerns were raised about the group.
According to The Post, when the hosting service dropped the domain, it appeared to just be left unsecured, and thus "allowing anyone on the Internet to take control of it and use it to send out the menacing messages."
Numerous outlets that reviewed the emails also said that they did not come from the email address that was displayed, but rather from foreign internet servers. According to CBS, the metadata from the emails they analyzed showed that the messages originated from IP addresses connected to servers in Estonian, Saudi Arabia, and the United Arab Emirates.
While experts noted that the IP addresses do not necessarily mean that the senders were based in those countries because they could have routed the emails from almost anywhere, some cybersecurity experts have pointed to the possibility of foreign interference to sow chaos in the election.
"We're 2 weeks from the last day to vote! This is also the perfect time for adversaries to create chaos by spreading bogus claims or overstating activity," Chris Krebs, the director of Homeland Security's Cybersecurity and Infrastructure Security Agency tweeting, noting that his office was aware of the emails.
"Ballot secrecy is guaranteed by law in all states," he continued. "These emails are meant to intimidate and undermine American voters' confidence in our elections."
Exxon Clarifies That Quid Pro Quo Call With Trump "Never Happened"
During a rally Monday, President Trump said he would outraise Biden in campaign donations if he asked corporations to donate money to his campaign in return for granting political favors.
He used an example of asking the CEO of Exxon to give his campaign $25 million in exchange for permits and licenses. 
The scenario the president described is a federal crime punishable by prison time, and in a statement shortly after, Exxon said that the call "never happened."
Trump clarified that he would not ask for those donations because it would make him "compromised" and implied soliciting money from large companies would compel him to grant them political favors in return because he is "loyal."
Many still condemned the president, arguing that even if it was a hypothetical, the kind of quid pro quo he detailed is almost exactly what he was impeached for, and given his track record, some believe it is possible that this is something he would do again.  
---
Exxon Refutes Call
After President Donald Trump told a crowd of rallygoers Monday that he could, in theory, call up the CEO of Exxon Mobil and ask him to donate to his campaign in exchange for political favors, the energy giant clarified that no such call had taken place.
"We are aware of the President's statement regarding a hypothetical call with our CEO," the company said in a tweet. "And just so we're all clear, it never happened."
While speaking to the crowd in Prescott, Arizona, Trump addressed the fact that he is currently being handily out-raised by former Vice President Joe Biden by claiming that he would be "the greatest fund-raiser in history" if he collected bribes from companies in exchange for political favors.
"All I have to do is call up the head of every Wall Street firm, the head of every major company, the head of every major energy company. 'Do me a favor, send $10 million for my campaign,'" Trump said, adding that he could not take the money because it would make him "totally compromised."
"Because when they call me, you know, you're a loyal person, and what happens is hey, you know, you'll do things that are a lot more money," he added, before going on to provide an example.
"So I call some guy, the head of Exxon. I call the head of Exxon, I don't know, you know. I'll use a company," the president said. "'Hi, how are you doing? How's energy coming? when are you doing the exploration? Oh, you need a couple of permits, huh? Okay.' But I call the head of Exxon, I say, 'You know, I'd love you to send me $25 million dollars for the campaign.' 'Absolutely, sir, why didn't you ask?'"
Beyond making him "compromised," the situation that the president described is also illegal. Under federal law, soliciting for donations in exchange for a favor or advantage — like a specific policy outcome or permits and licenses — is punishable by fines, removal from office, and up to 15 years in prison.
Response
Trump's remarks quickly began trending on Twitter, with many users condemning him. Despite the fact that the example the president provided appeared to be entirely hypothetical, some people still found it alarming, especially because he did not outright acknowledge it was illegal.
Some noted that the scenario he described almost exactly the kind of quid pro quo that Trump was impeached for after he withheld aid from Ukraine in order to coerce the country's president to dig up political dirt on Biden.
"It's basically what he was impeached for: trading presidential act for political favor," one user wrote. "Just substitute 'Exxon' for 'Ukraine.' 'Exxon, I need you to do me a favor, though.'"
Other users also pointed out that Trump repeatedly defended himself during the impeachment proceedings by claiming his actions did not constitute a quid pro quo. If he believed he did not commit any wrongdoing, they argued, it is possible that he would engage in this kind of behavior again.
"If he was willing to do this with Ukraine, I have no doubt he's done it with US corporations," one user wrote.
Some also cast doubt on the fact that it was a hypothetical at all.
"Trumps the kind of guy who jokes about doing something illegal but says 'I'm just kidding' but he's actually done it," one person tweeted. "He made the old Exxon CEO the Secretary of State. How much has Exxon given Trump & how has the Trump administration helped them w/ regulations."
It is true that the oil and gas industry has been a large contributor to Trump, who has spent his time in office denying scientific facts about climate change and rolling back decades of environmental regulations.
According to OpenSecrets, which tracks money in politics, Trump and outside groups associated with him have raised nearly $13 million from people at oil-and-gas companies in this election cycle.
Not only is that nearly 13 times the $976,000 the industry has donated to Biden, it is also more than people in the industry have given Republicans in all of the last three presidential races.
AOC Will Play "Among Us" With Pokimane and Others To "Get Out the Vote"
Rep. Alexandria Ocasio-Cortez asked if anyone wanted to play "Among Us" with her on Twitch in an effort to encourage voting.
She's already publicly agreed to play with Pokimane, Hasan Pike, and Rep. Ilhan Omar, but no other players have been confirmed yet.
Internet stars who showed interest included James Charles, Gus Johnson, Jacksepticeye, Dr Lupo, and several others.
The congresswoman has created a Twitch channel in preparation for the stream, which she said could happen Tuesday night.
AOC isn't the only Democrat using video games to reach young voters. The Biden-Harris campaign has made headlines for releasing 2020 yard signs and creating its own headquarters in "Animal Crossing."
---
---
AOC Issues a Call for "Among Us" Players
Internet stars are jumping at the chance to stream a game of "Among Us" with Rep. Alexandria Ocasio-Cortez (D-NY) on Twitch this week.
"Anyone want to play Among Us with me on Twitch to get out the vote?" the Democratic congresswoman from New York tweeted out Monday.
"I've never played but it looks like a lot of fun," she added before asking, "Who would you want to watch in a game together? ⬇️"
"Among Us" is a multiplayer murder mystery game that was released in 2018, but it recently became wildly popular thanks to various streamers and people trying to have fun with friends in this age of social distancing.
While many streamers were quick to reply to AOC's question, one of the biggest names catching attention was Pokimane, who has over 6 million Twitch followers.
"It'd be an honor," she tweeted back.
"Let's do it!" Ocasio-Cortez replied, saying she'll set up her account and get equipment together.
Other Creators Show Interest
Aside from Pokimane, AOC also publicly agreed to play with streamer and political commentator Hasan Piker, as well as Rep. Ilhan Omar.
It's unclear how many people she's looking to bring together, but a game of "Among Us" can have up to 10 players.
Other huge creators throwing their names into the hat include James Charles, Gus Johnson, Jacksepticeye, Lazarbeam, and Dr Lupo.
YES

— James Charles (@jamescharles) October 19, 2020
I'd love to if you're down!

— Gus Danger Johnson (@Gusbuckets) October 19, 2020
If you need a diversity of accents hit me up

— Jacksepticeye (@Jack_Septic_Eye) October 19, 2020
I offer myself as tribute. 😁

— DrLupo (@DrLupo) October 19, 2020
However, as of now, no other players have been publicly confirmed. AOC set up her Twitch channel last night, which already has nearly 200,000 followers.
She said she spent time setting up mods and doing run-throughs but plans to go live sometime Tuesday night.
Democrats Using Video Games To Reach Young Voters
It will be interesting to see who participates and what kind of viewership this event brings in. Many agree that the steam could prove to be a smart way to reach younger Americans before the election, a base AOC is especially good at communicating with.
Although she admittedly hasn't played this particular game before, video games aren't exactly outside her realm of interests. In fact, she previously opened up about loving to play "League of Legends."
Ocasio-Cortez is also far from the only Democrat-leaning into video games as a way to reach young voters. The Biden-Harris campaign has taken a similar approach with the "Animal Crossing: New Horizons."
Last month, they released official yard signs through the game, and just this month, the campaign launched Joe Biden's virtual headquarters– an entire island where users could connect with his campaign,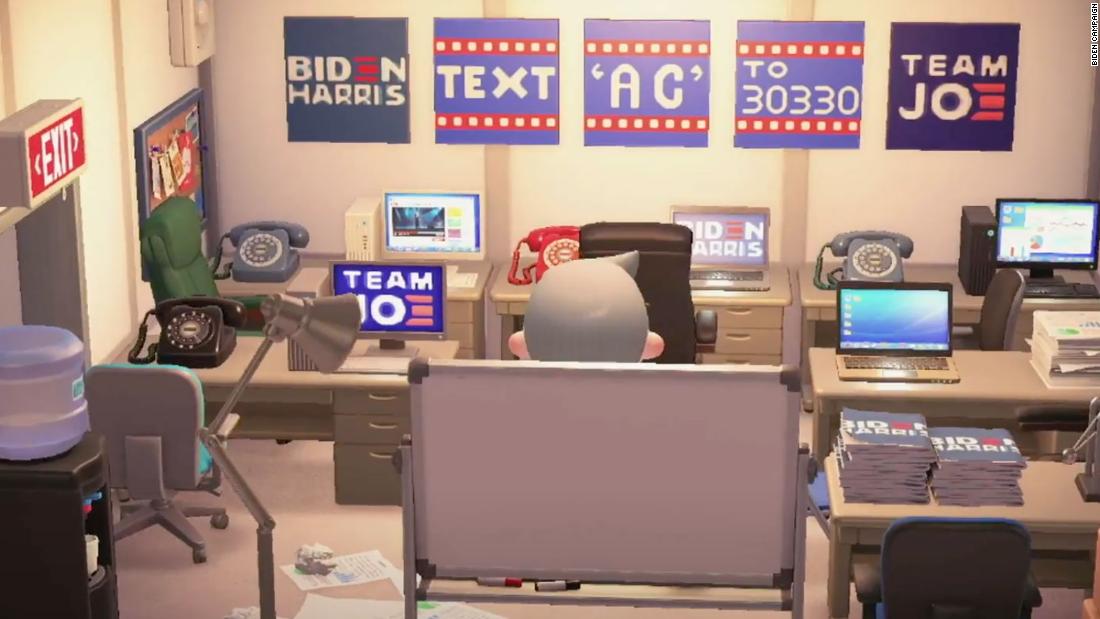 According to Christian Tom, director of digital partnerships for the Biden-Harris campaign: "The island includes plenty of ice cream, trains, aviators, chucks, swag, and more weaved throughout the entire island — but there are also features that encourage players to organize and mobilize."
For example, it included ads for the DNC's "I Will Vote" website as well as an election day checklist, among other features. Biden's character even walks across the island so players can take virtual selfies with him.