Florida Gov. Ron DeSantis Proposes Strict Crackdown on Violent Protests
On Monday, Florida Gov. Ron DeSantis (R) called for legislation aimed at cracking down on "violent and disorderly protests," as well as at withholding state grants and aid from cities with "Defund the Police" measures. 
Under his proposed law, a person could be charged with a felony if they block roadways during a protest held without a permit or if they are part of a gathering of more than seven people that causes injury or damage. 
It also gives protection to drivers who kill or injure others while "fleeing for safety from a mob" and would bar anyone who is convicted under this bill from becoming a state or local government employee.
Critics of the proposed law say that DeSantis is trying to scare people from using their first amendment rights and argue that the driver clause could actually lead to violence against protesters. 
---
DeSantis' Proposed Protest Law
Florida Governor Ron DeSantis (R) unveiled a bill on Monday that, if passed, would severely crackdown on protests described as "violent or disorderly."
Notably, that bill would make it a felony to be part of a gathering of more than seven people that causes property damage or injury to other people and to block traffic during a protest held without a permit. The bill also stipulates that drivers would "NOT be held liable for injury or death caused if fleeing for safety from a mob."
Among those measures, the bill would create a new six-month mandatory minimum jail sentence for anyone who strikes a law enforcement officer "during a violent or disorderly assembly."
That also includes offense enhancements for people who throw objects that hit civilians or law enforcement, for people who assault law enforcement "during a violent or disorderly assembly," and for people from different states who participate in such assemblies.
On top of that, the bill has a "No 'Defund the Police' Permitted" measure, which would prohibit state grants or aid from going to any local government that slashes police department budgets.
It also "waives sovereign immunity to allow a victim of a crime related to a violent or disorderly assembly to sue local government for damage" if that "government is grossly negligent in protecting persons and property." Essentially, sovereign immunity refers to the fact that the government cannot be sued without its consent.
Anyone who is convicted of participating in "a violent or disorderly assembly" would additionally be barred from becoming a state or local government employee. Convicted individuals would find their state benefits terminated as well.
Support for the Bill
The bill is a response to nationwide protests where demonstrators have called for racial justice following the deaths of George Floyd, Breonna Taylor, and Ahmaud Arbery. Since those protests began, many have called for police departments to be defunded or abolished.
While there have been documented cases of looting and arson, a September report from the U.S. Crisis Project found that 93% of Black Lives Matter protests have been peaceful.
As he announced the bill, DeSantis called it the "boldest and most comprehensive" piece of legislation of its kind.
"If you can do this and get away with it, then you're going to have more people do it," he said. "If you do it and you know that there's going to be a ton of bricks raining down on you, then I think people will think twice about engaging in this type of conduct."
DeSantis then went on to criticize cities like New York City, Portland, Seattle, Minneapolis, and Kenosha, Wicsonsin. On Monday, the U.S. Justice Department labeled New York City, Portland, and Seattle as "anarchist jurisdictions." That came after President Donald Trump ordered the agency to review federal funding for local governments in cities that have faced violence, vandalism, and looting during protests.
"This proposed legislation gives us tools to separate the peaceful from the violent," Leon County State Attorney Jack Campbell told Politico. "It also establishes the Legislature's direction that we severely punish those who promote violence through the corruption of these demonstrations."
Like Campbell, DeSantis has stressed that the bill is aimed only at those who incite violence at protests, not peaceful protesters.
Criticism of the Bill
Still, many have argued that DeSantis is using marginal reports of violence to punish all forms of protest and critics of police misconduct.
Among those, Florida's incoming House Minority Leader, Evan Jenne (D), said, "Most of this stuff is already illegal. He is just Hell bent on silencing any voice of opposition."
"None of this is about policy," Jenne added. "It's about buoying President Trump, who has slipped precipitously in the polls. It's dog-whistle base stuff."
Stephanie Porta, executive director of the progressive group Organize Florida, said, "This is out there to absolutely scare people into not using their constitutional rights for freedom of speech."
The ACLU of Florida also condemned the bill, and Executive Director Micah Kubic called the proposal "undemocratic and hostile to Americans' shared values."
"This effort has one goal: silence, criminalize, and penalize Floridians who want to see justice for Black lives lost to racialized violence and brutality at the hands of law enforcement," he added in a statement.
Some are also worried that the bill could actually incite violence since it shields drivers that kill or injure people with their vehicles. In fact, several critics have noted that during a 2017 white nationalist rally in Charlottesville, a counterprotester was hit and killed. That same incident also injured 19 others. The driver of that car later claimed he "felt he was in danger and people were coming at him."
Where Is the Bill at?
For now, this measure remains simply a proposal.
It will first have the opportunity to be formally introduced in March 2021 when Florida's next legislative session actually begins. Until then, committees will start the process of crafting the bill's language and finding sponsors as they meet later this year. 
The bill's language will be critically important. That's because terms like "mob" and "Defund the police" will have to be strictly defined. For example, "Defund the police" can carry several definitions.
In some cases, it means redirecting money for police departments to other governmental agencies for housing, mental health services, and other social programs. In others, people could use it as a proxy for abolishing whole police departments.
Voters in 4 States Received Emails Threatening Them To "Vote for Trump or Else!"
Democratic voters in Alaska, Florida, Arizona, and Pennsylvania received threatening emails telling them to vote for Trump or else the Proud Boys would "come after" them.
The email came from a domain associated with the Proud Boys, but the group denied that it had any involvement and said that the website in question was no longer in use because it had been dropped by Google Cloud services.
According to The Washington Post, when the hosting service dropped the domain, it left it unsecured, meaning anyone online could take control of it.
Multiple outlets that reviewed the emails also reported that the messages did not come from the email address listed, but rather from foreign internet servers.
---
Threatening Emails
Registered Democrats in four different states — including three hotly contested swing states — were sent threatening emails Tuesday from an address that appeared to be affiliated with the far-right group the Proud Boys. The message warned recipients that if they did not vote for President Donald Trump, the group would "come after" them.
According to a screenshot of the email obtained by CBS News, the subject line of the message reads "Vote for Trump or else!"
"We are in possession of all your information (email, address, telephone… everything)," the body of the email said. The sender went on to claim they know the recipient of the email is a Democrat because they "gained access into the entire voting infrastructure."
"You will vote for Trump on Election Day or we will come after you," the email continued. "Change your party affiliation to Republican to let us know you received our message and will comply. We will know which candidate you voted for. I would take this seriously if I were you."
Outlets that obtained copies of the email also reported that it concluded with the home address of the recipients they were sent to. Currently, voters in Alaska, Florida, Arizona, and Pennsylvania have reported receiving the threatening messages.
It remains unclear how many went out in total, but it does appear that most of them were sent to people in Florida and Alaska. In Alaska, local news outlets reported that the emails went out to over a dozen people. In Florida, a University of Florida spokesperson said that they knew of at least 183 Floridians who got the messages.
Officials in both states also announced that they have launched investigations, and the FBI was also looking into the matter.
Proud Boys Deny Involvement
While the sender's address is listed info@officialproudboys.com, a domain associated with the Proud Boys, the group's chairman, Enrique Tarrio, immediately denied that they had any involvement.
"We don't send emails. This is someone spoofing our emails and website," he told reporters. "We have spoken to the FBI and are working with them. I hope whoever did this is arrested for voter intimidation and for maliciously impersonating our group."
Tarrio also told The Washington Post that the group has been in the process of migrating from officialproudboys.com to another site. In fact, they said officialproudboys.com has not been used for weeks because that domain was recently dropped by a hosting company that uses Google Cloud services after concerns were raised about the group.
According to The Post, when the hosting service dropped the domain, it appeared to just be left unsecured, and thus "allowing anyone on the Internet to take control of it and use it to send out the menacing messages."
Numerous outlets that reviewed the emails also said that they did not come from the email address that was displayed, but rather from foreign internet servers. According to CBS, the metadata from the emails they analyzed showed that the messages originated from IP addresses connected to servers in Estonian, Saudi Arabia, and the United Arab Emirates.
While experts noted that the IP addresses do not necessarily mean that the senders were based in those countries because they could have routed the emails from almost anywhere, some cybersecurity experts have pointed to the possibility of foreign interference to sow chaos in the election.
"We're 2 weeks from the last day to vote! This is also the perfect time for adversaries to create chaos by spreading bogus claims or overstating activity," Chris Krebs, the director of Homeland Security's Cybersecurity and Infrastructure Security Agency tweeting, noting that his office was aware of the emails.
"Ballot secrecy is guaranteed by law in all states," he continued. "These emails are meant to intimidate and undermine American voters' confidence in our elections."
Exxon Clarifies That Quid Pro Quo Call With Trump "Never Happened"
During a rally Monday, President Trump said he would outraise Biden in campaign donations if he asked corporations to donate money to his campaign in return for granting political favors.
He used an example of asking the CEO of Exxon to give his campaign $25 million in exchange for permits and licenses. 
The scenario the president described is a federal crime punishable by prison time, and in a statement shortly after, Exxon said that the call "never happened."
Trump clarified that he would not ask for those donations because it would make him "compromised" and implied soliciting money from large companies would compel him to grant them political favors in return because he is "loyal."
Many still condemned the president, arguing that even if it was a hypothetical, the kind of quid pro quo he detailed is almost exactly what he was impeached for, and given his track record, some believe it is possible that this is something he would do again.  
---
Exxon Refutes Call
After President Donald Trump told a crowd of rallygoers Monday that he could, in theory, call up the CEO of Exxon Mobil and ask him to donate to his campaign in exchange for political favors, the energy giant clarified that no such call had taken place.
"We are aware of the President's statement regarding a hypothetical call with our CEO," the company said in a tweet. "And just so we're all clear, it never happened."
While speaking to the crowd in Prescott, Arizona, Trump addressed the fact that he is currently being handily out-raised by former Vice President Joe Biden by claiming that he would be "the greatest fund-raiser in history" if he collected bribes from companies in exchange for political favors.
"All I have to do is call up the head of every Wall Street firm, the head of every major company, the head of every major energy company. 'Do me a favor, send $10 million for my campaign,'" Trump said, adding that he could not take the money because it would make him "totally compromised."
"Because when they call me, you know, you're a loyal person, and what happens is hey, you know, you'll do things that are a lot more money," he added, before going on to provide an example.
"So I call some guy, the head of Exxon. I call the head of Exxon, I don't know, you know. I'll use a company," the president said. "'Hi, how are you doing? How's energy coming? when are you doing the exploration? Oh, you need a couple of permits, huh? Okay.' But I call the head of Exxon, I say, 'You know, I'd love you to send me $25 million dollars for the campaign.' 'Absolutely, sir, why didn't you ask?'"
Beyond making him "compromised," the situation that the president described is also illegal. Under federal law, soliciting for donations in exchange for a favor or advantage — like a specific policy outcome or permits and licenses — is punishable by fines, removal from office, and up to 15 years in prison.
Response
Trump's remarks quickly began trending on Twitter, with many users condemning him. Despite the fact that the example the president provided appeared to be entirely hypothetical, some people still found it alarming, especially because he did not outright acknowledge it was illegal.
Some noted that the scenario he described almost exactly the kind of quid pro quo that Trump was impeached for after he withheld aid from Ukraine in order to coerce the country's president to dig up political dirt on Biden.
"It's basically what he was impeached for: trading presidential act for political favor," one user wrote. "Just substitute 'Exxon' for 'Ukraine.' 'Exxon, I need you to do me a favor, though.'"
Other users also pointed out that Trump repeatedly defended himself during the impeachment proceedings by claiming his actions did not constitute a quid pro quo. If he believed he did not commit any wrongdoing, they argued, it is possible that he would engage in this kind of behavior again.
"If he was willing to do this with Ukraine, I have no doubt he's done it with US corporations," one user wrote.
Some also cast doubt on the fact that it was a hypothetical at all.
"Trumps the kind of guy who jokes about doing something illegal but says 'I'm just kidding' but he's actually done it," one person tweeted. "He made the old Exxon CEO the Secretary of State. How much has Exxon given Trump & how has the Trump administration helped them w/ regulations."
It is true that the oil and gas industry has been a large contributor to Trump, who has spent his time in office denying scientific facts about climate change and rolling back decades of environmental regulations.
According to OpenSecrets, which tracks money in politics, Trump and outside groups associated with him have raised nearly $13 million from people at oil-and-gas companies in this election cycle.
Not only is that nearly 13 times the $976,000 the industry has donated to Biden, it is also more than people in the industry have given Republicans in all of the last three presidential races.
AOC Will Play "Among Us" With Pokimane and Others To "Get Out the Vote"
Rep. Alexandria Ocasio-Cortez asked if anyone wanted to play "Among Us" with her on Twitch in an effort to encourage voting.
She's already publicly agreed to play with Pokimane, Hasan Pike, and Rep. Ilhan Omar, but no other players have been confirmed yet.
Internet stars who showed interest included James Charles, Gus Johnson, Jacksepticeye, Dr Lupo, and several others.
The congresswoman has created a Twitch channel in preparation for the stream, which she said could happen Tuesday night.
AOC isn't the only Democrat using video games to reach young voters. The Biden-Harris campaign has made headlines for releasing 2020 yard signs and creating its own headquarters in "Animal Crossing."
---
---
AOC Issues a Call for "Among Us" Players
Internet stars are jumping at the chance to stream a game of "Among Us" with Rep. Alexandria Ocasio-Cortez (D-NY) on Twitch this week.
"Anyone want to play Among Us with me on Twitch to get out the vote?" the Democratic congresswoman from New York tweeted out Monday.
"I've never played but it looks like a lot of fun," she added before asking, "Who would you want to watch in a game together? ⬇️"
"Among Us" is a multiplayer murder mystery game that was released in 2018, but it recently became wildly popular thanks to various streamers and people trying to have fun with friends in this age of social distancing.
While many streamers were quick to reply to AOC's question, one of the biggest names catching attention was Pokimane, who has over 6 million Twitch followers.
"It'd be an honor," she tweeted back.
"Let's do it!" Ocasio-Cortez replied, saying she'll set up her account and get equipment together.
Other Creators Show Interest
Aside from Pokimane, AOC also publicly agreed to play with streamer and political commentator Hasan Piker, as well as Rep. Ilhan Omar.
It's unclear how many people she's looking to bring together, but a game of "Among Us" can have up to 10 players.
Other huge creators throwing their names into the hat include James Charles, Gus Johnson, Jacksepticeye, Lazarbeam, and Dr Lupo.
YES

— James Charles (@jamescharles) October 19, 2020
I'd love to if you're down!

— Gus Danger Johnson (@Gusbuckets) October 19, 2020
If you need a diversity of accents hit me up

— Jacksepticeye (@Jack_Septic_Eye) October 19, 2020
I offer myself as tribute. 😁

— DrLupo (@DrLupo) October 19, 2020
However, as of now, no other players have been publicly confirmed. AOC set up her Twitch channel last night, which already has nearly 200,000 followers.
She said she spent time setting up mods and doing run-throughs but plans to go live sometime Tuesday night.
Democrats Using Video Games To Reach Young Voters
It will be interesting to see who participates and what kind of viewership this event brings in. Many agree that the steam could prove to be a smart way to reach younger Americans before the election, a base AOC is especially good at communicating with.
Although she admittedly hasn't played this particular game before, video games aren't exactly outside her realm of interests. In fact, she previously opened up about loving to play "League of Legends."
Ocasio-Cortez is also far from the only Democrat-leaning into video games as a way to reach young voters. The Biden-Harris campaign has taken a similar approach with the "Animal Crossing: New Horizons."
Last month, they released official yard signs through the game, and just this month, the campaign launched Joe Biden's virtual headquarters– an entire island where users could connect with his campaign,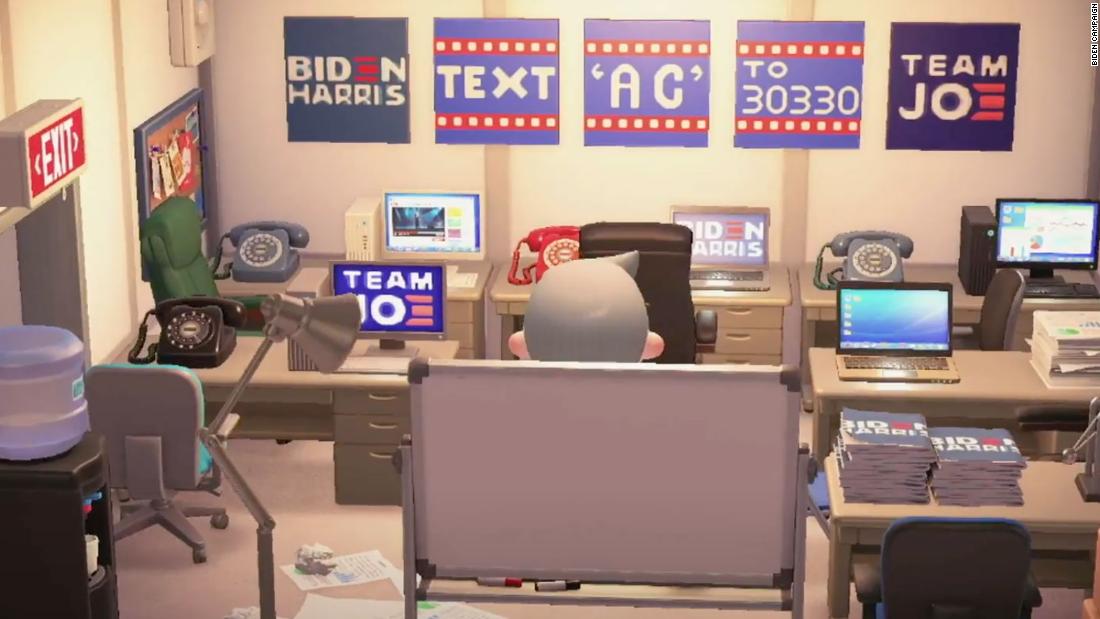 According to Christian Tom, director of digital partnerships for the Biden-Harris campaign: "The island includes plenty of ice cream, trains, aviators, chucks, swag, and more weaved throughout the entire island — but there are also features that encourage players to organize and mobilize."
For example, it included ads for the DNC's "I Will Vote" website as well as an election day checklist, among other features. Biden's character even walks across the island so players can take virtual selfies with him.