Reporter's Account of Her Arrest Clashes With Los Angeles Sheriff's Department Statement
Los Angeles sheriff's deputies arrested a reporter named Josie Huang Saturday while she covered protests outside a hospital where two deputies were being treated for gunshot injuries.
The sheriff's department claimed Huang approached deputies without identifying herself as a reporter, but footage she took shows that they went up to her and that she identified herself as a reporter multiple times.
The footage also shows deputies knocking her to the ground as she screamed in pain. She was charged for obstruction and was in custody for five hours.
Many have condemned LASD for arresting a reporter doing her job and for lying about the circumstances that led to the arrest.
However, Sheriff Villanueva defended the arrest, saying in "the heat of the moment, that's what happened." He also claimed she had a work I.D., not formal press credentials, and that the news agency she worked for is not a "household name."
---
Reporter Arrested
Deputies from the Los Angeles Sheriff's Department detained reporter Josie Huang on Saturday, claiming she did not identify herself to them while covering a protest. Footage that Huang released, however, paints a much different picture of how her arrest unfolded.
Huang was outside St. Francis Medical Center in the Lynwood neighborhood of L.A. covering a press conference, held by LASD, about two deputies who were shot earlier that night. She heard a commotion and noticed a small gathering of protesters, then began to record their interactions with officers. What happened next varies, depending on whose account you read.
Early on Sunday morning, LASD tweeted a thread saying deputies dispersed a group blocking the emergency entrance and exits of the hospital. One protester refused to comply and was arrested.
"During his arrest, a struggle ensued at which time a female adult ran towards the deputies, ignored repeated commands to stay back as they struggled with the male and interfered with the arrest," the department's thread continued. The woman being referenced here is Huang. She and the protester were both arrested for violating obstruction laws.
(3/3) The female adult, who was later identified as a member of the press, did not identify herself as press and later admitted she did not have proper press credentials on her person. Both individuals have been arrested for 148 P.C.

— LA County Sheriffs (@LASDHQ) September 13, 2020
https://platform.twitter.com/widgets.js
LASD claims that Huang did not identify herself as a reporter and did not have credentials on her person. However, she posted a thread of her own later in the day which included footage she took where she can be heard identifying herself as a reporter for KPCC, L.A.'s local NPR station.
In one tweet, she says she had her press I.D. on a lanyard around her neck, which footage from ABC7 confirms. She also posted videos that she took of the protesters and said that in the beginning, no one took issue with her being there.
After the group dispersed, officers continued to follow one man. Huang says she followed from a distance and zoomed in on her phone to capture the encounter. As she approached a squad car, authorities told her to back up. She said she had nowhere to go and was quickly shoved around by officers.
The footage then showed her point of view as she was toppled to the ground, screaming in pain.
"I'm a reporter! I'm with KPCC!" she yelled. The screen eventually goes black, but she can be heard calling for help and repeating that she is a member of the press. Eventually, an officer stepped on her phone while she tells them she is hurt.
Huang wrote that she was put in a patrol car and was in custody for five hours. She says that a deputy refused to uncuff her so that she could put her mask on. She also said that they dismissed bleeding from her foot and withheld a shoe she had lost.
Huang shared another angle of what happened that was taken from across the street. It shows officers tackling her to the ground while she identifies herself and screams.
Outrage and Backlash
This incident has led to outrage from journalists and press organizations across the country. NPR, in particular, asked that the charges against Huang be dropped.
"NPR is appalled by the arrest of Josie Huang, a KPCC public radio reporter, who was performing her job last night—gathering facts to inform the American public," it said in a statement. "The rights of journalists are protected by the First Amendment, and essential to an informed public and our Democracy."
The Asian American Journalists Association also released a statement saying that Huang's arrest serves as a reminder of "the risks that journalists face every day while reporting on the front lines during these uncertain times."
"We hold LA County Sheriff's Department accountable to provide answers for the excessive use of force in the detainment of our colleague," AAJA added. "The Los Angeles Chapter of AAJA demands an investigation and apology for her arrest."
The L.A. County Inspector General's office will be investigating LASD's conduct following the press conference and Huang's arrest.
"What surprises me the most is that once she was identified as a reporter that they transported her, that they cited her," Inspector General Max Huntsman told the Los Angeles Times. "Those two incidents are of concern to us because 1st Amendment rights are absolutely critical to the public's respect of law enforcement. And so we feel that requires immediate investigation."
LASD Responds
On Sunday night, Kerry Carter, Captain of Century Sheriff's Station tweeted that an investigation into the matter was underway. However, he said he could not comment further. On Monday, Los Angeles County Sheriff Alex Villanueva defended the deputies who arrested Huang.
"Ultimately, we realize OK, she could have done things different," he told KTLA. "[We] could've probably done things different. But at the heat of the moment, that's what happened."
He also claimed that she had on a work I.D., not press credentials, and that KPCC was "not a household name."
Deputies Shot in Compton
Huang was at St. Francis to report on two deputies who were undergoing surgery at the hospital after being shot multiple times in Compton. Both were in critical condition at the time. While officials do not currently know what the long term impacts of their wounds will be, they are both expected to recover.
The suspect is still at large and a $100,000 reward is being offered for information that could lead to finding and arresting them. Officers have described the shooting as an ambush. A brief video shared by LASD shows the suspect running up to the officers, firing, and running away.
The shooting garnered national attention. President Donald Trump tweeted that he was sending "love and support" to the deputies' families and praying for their recovery.
Former Vice President Joe Biden said the shooting was "unconscionable and the perpetrator must be brought to justice."
Nearly 9 Million Are Without Water in Texas, Some Face Electric Bills up To $17,000
More than 8.8 million people in Texas remained under boil water notices Monday, and over 120,000 had no water service at all.
Gov. Greg Abbott (R) said Sunday that the state has distributed around 3.5 million bottles of water, though many of the lines to receive that water were plagued with hours-long waits.
Meanwhile, power outages in the state have fallen below 20,000, but many Texans are also beginning to receive astronomical electric bills of as much as $17,000.
Both Abbott and Houston Mayor Sylvester Turner (D) said those prices are not the fault of customers. While some form of forgiveness is likely, no immediate plan has been outlined yet.
---
Millions Without Water
As of Monday morning, nearly 8.8 million people in Texas are still under boil water notices following last week's snowstorm. That's about one out of every three Texans.
Despite being a giant chunk of the state's population, that figure is actually an improvement from 10 million people on Sunday.
Another 120,000 Texans are still without water service at all.
Gov. Greg Abbott (R) said Sunday almost 3.5 million bottles of water have been distributed across Texas by helicopter, airplane, and truck.
The need for water has been extremely visible. An Austin City Council member shared a video on Twitter Sunday showing a massive line of vehicles waiting for clean water. Some waited for more than an hour before the distribution event began. At another site, she said cars began lining up more than five hours before the event.
Abbott said the state is bringing in more plumbers to increase repair efforts for damaged water systems. Additionally, Abbott said homeowners without insurance could qualify for emergency reimbursement from FEMA.
Meanwhile, one large-scale effort from Rep. Alexandria Ocasio-Cortez (D-NY.) has now raised more than $5 million since first being launched on Thursday. That money will go to several organizations, including the Houston Food Bank, Family Eldercare, Feeding Texas, and the Bridge Homeless Recovery Center.
Texas Electric Bills Soar as High as $17K
All but just under 20,000 Texas homes and businesses have now had their power restored as of Monday morning.
That's a stark contrast from the more than 4 million that were out of power at one point last week.
While that's largely good news, many Texans are now beginning to receive sky-high electric bills. That's especially evident for those whose power stayed on during the storm. In fact, some people have now told multiple media outlets they're facing bills as high as $17,000.
One 63-year-old Army vet, who was charged $16,752, told The New York Times that his bill was about 70 times higher than normal.
"My savings is gone," he said. "There's nothing I can do about it, but it's broken me."
As far as why his and others' eclectic bills are so high, many people in Texas have plans that are directly tied to the wholesale price of electricity. Usually, that helps keep their costs low, but as demand for power surged during last week's snowstorm, those prices hit astronomical highs.
In a statement on Saturday, Abbott said Texas lawmakers "have a responsibility to protect Texans from spikes in their energy bills that are a result of the severe winter weather and power outages,"
He added that the state Legislature is working "on solutions to help Texas families and ensure they do not get stuck with skyrocketing energy bills."
In a similar tone, Houston Mayor Sylvester Turner (D) said in an interview with CBS on Sunday, "It's not the consumers who should assume [these] costs. They are not at fault for what happened this week."
That said, Turner also laid blame at the feet of the Legislature, calling the current crisis "foreseeable" on the part of lawmakers because a similar snowstorm and outages struck Texas in 2011.
Turner added that, at the time, he was part of the Texas legislature and had filed a bill that would have required the agency overseeing Texas' grid to "ensure that there was an adequate reserve to prevent blackouts."
"The leadership in Austin did not give it a hearing," he said.
While no aid has been fully guaranteed yet, Texas has prevented electric companies from being able to shut off power for people who don't pay their bills on time.
Texans Still Face Broken Pipes, Flooding, and Carbon Monoxide Poisoning as Million Regain Power
The number of Texans without power fell from 3.3 million on Wednesday to below 500,000 by Thursday.
Still, millions are currently under a boil advisory, pipes have burst as they begin to thaw, and some individuals have died or been hospitalized because of carbon monoxide poisoning. 
The Federal Emergency Management Agency said Wednesday that it has sent generators, water, and blankets to Texas, adding that it's working to send additional diesel for generators.
Gov. Greg Abbott and President Joe Biden have also reportedly discussed the possibility of extra funding for people's electricity bills, as well as for burst pipes.
---
Power May Be Back but Problems Persist
Power outages in Texas Thursday morning fell to under 500,000 — down from 3.3 million Wednesday morning.
According to the state's main grid operator, the Electric Reliability Council of Texas (ERCOT), the remaining outages are largely weather-related and not connected to problems related to forced outages. 
While that return of power to millions is significant, Texans are still facing a host of other problems.
For example, there have been numerous reports of carbon monoxide poisoning as people still without power try to keep warm in their cars or through other means. An adult and a child were found dead Tuesday after running their car inside of a garage, prompting Houston police to issue a statement warning that "cars, grills and generators should not be used in or near a building."
Six children and four adults were rushed to the hospital Wednesday night for carbon monoxide poisoning after setting up grills inside their homes.
Even for those now with power, water has become a major issue. On Wednesday, 7 million Texans were placed on a boil advisory and about 263,000 were without functioning water providers.
One reporter tweeted out a video of people lining up at a park to fill up buckets of water.
"This is not a third world country," she said. "This is Houston, Texas."
The Food and Drug Administration and the National Weather Service have even cited melting and boiling snow as an emergency option if people can't find water elsewhere, an option many have already turned to.
For some, all these problems only seemed to compound in the form of burst pipes. One viral video shows water gushing out of a third-story apartment. Others posted images of their broken pipes and the damage they have caused. 
As a result, a number of local media outlets have begun to outline steps people can take once their pipes start to thaw or if they break.
Amid Problems, Aid is Being Distributed
Alongside the overwhelming amount of problems, there has also been a large aid response.
A FEMA spokesperson said Wednesday that the agency has sent 60 "very large" generators to help keep hospitals and other critical infrastructure open.
White House Press Secretary Jen Psaki added that FEMA is preparing to move diesel into Texas to keep that backup power going.
So far, FEMA said it has sent "millions of liters of water" and "tens of thousands" of blankets.
Governor Greg Abbott and President Joe Biden have also reportedly discussed the possibility of extra funding for people's electricity bills, as well as for burst pipes. That's because as the storm first hit, electrical demand surged. Since many Texans have plans connected to the wholesale price of electricity, they're potentially set to be hit with sky-high bills.
Among other issues plaguing Texans is food spoilage; however, that can potentially be reimbursed through renters' and homeowners' insurance.
According to an official from the Insurance Council of Texas, "Food coverage is often related to personal property."
Notably, there are some stipulations depending on individual circumstances and policy. To learn more about how insurance providers accept food spoilage claims, click here.
Texas Mayor Tells "Lazy" Residents "No One Owes You" Anything Amid Power Outages
When residents in Colorado City, Texas turned to a local Facebook group to ask if the city or county had emergency shelter plans in place to keep people warm amid power outages, Mayor Tim Boyd shared a Facebook message that sparked outrage.
"Sink or swim it's your choice! The City and County, along with power providers or any other service owes you NOTHING! I'm sick and tired of people looking for a damn handout!" he wrote before suggesting that those struggling are "lazy."
"Only the strong will survive and the weak will parish," he added. "Get off your ass and take care of your own family!"
Hours later, Boyd said he was speaking as a citizen since he had already turned in his resignation and had not signed up to run for mayor again ahead of the deadline a few days ago. It's unclear when he actually resigned and he is still listed as mayor on the city's website.
---
Mayor Under Fire
The mayor of Colorado City, Texas is facing intense backlash for comments he made on Facebook Tuesday claiming the local government has no responsibility to assist residents struggling amid historic winter temperatures.
The remarks came after community members turned to a local Facebook page asking if the city or county had emergency shelters in place to keep people warm amid widespread power outages.
In response, Mayor Tim Boyd wrote, "No one owes you [or] your family anything; nor is it the local government's government's responsibility to support you during trying times like this!"
"Sink or swim it's your choice!" He continued. "The City and County, along with power providers or any other service owes you NOTHING! I'm sick and tired of people looking for a damn handout!"
Boyd argued that residents should come up with their own plans to keep their families safe. Those that are sitting at home in the cold waiting for assistance, he said, are "lazy" as a direct result of their raising.
"Only the strong will survive and the weak will parish," he continued, likely meaning perish in his statement.
He blamed the calls for basic services like heat and electricity a product of a "socialist government where they feed people to believe that the FEW will work and others will become dependent for handouts."
He closed by telling locals to "quit crying," adding, "Get off your ass and take care of your own family!"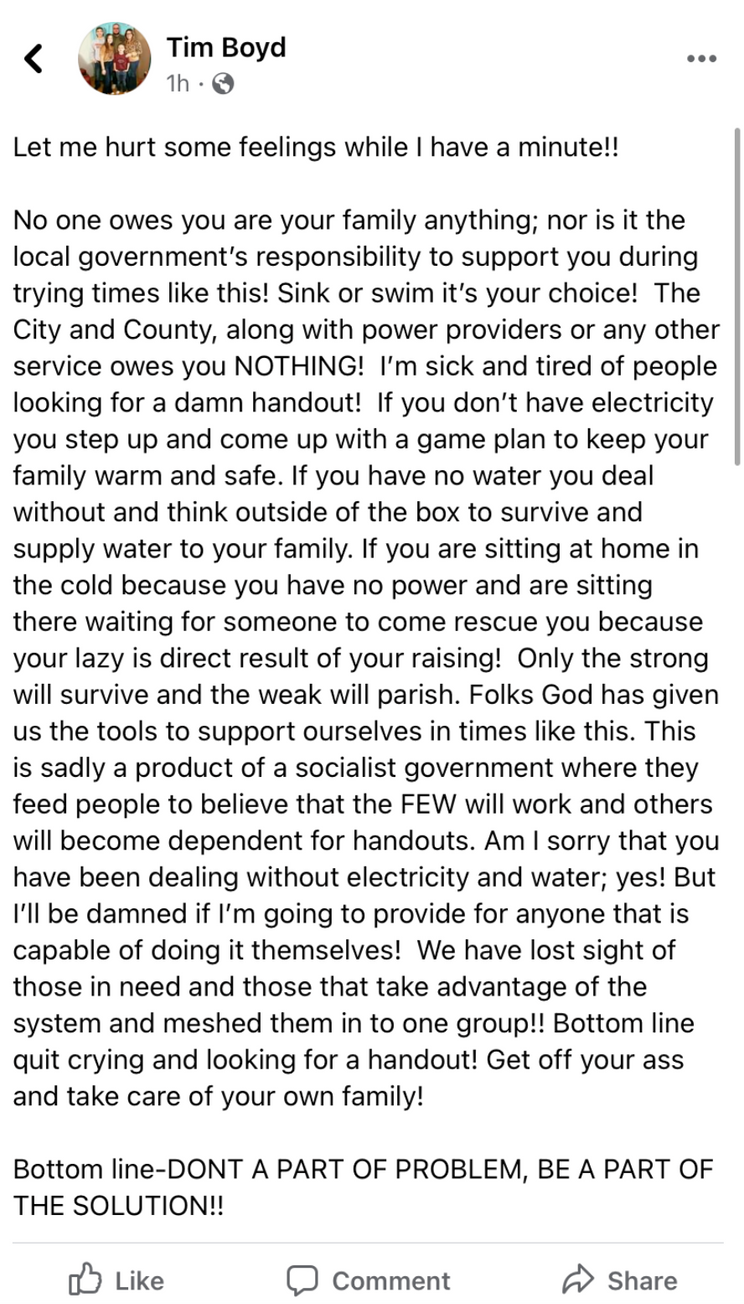 Mayor Doubles Down, Says He Already Resigned
That now-deleted post drew immediate backlash as Texans continue to slam the government for not delivering adequate support amid the storm.
The outrage eventually prompted Boyd to write a follow-up post, which he also later deleted.
In it, he claimed that his comments "were taken out of context" and did not apply to the elderly; however, he continued to double down.
"I was only making the statement that those folks that are too lazy to get up and fend for themselves but are capable should not be dealt a handout. I apologize for the wording and some of the phrases that were used!"
Boyd said he already turned in his resignation and had not signed up to run for mayor again ahead of the deadline a few days ago. He also said he wished he would've kept his words to himself or been more descriptive, and he added that all the anger and harassment since his post has caused his wife to lose her job.
Ultimately, he said he was speaking as a citizen since he is no longer mayor and called for the harassment of his family to stop.
According to The Washington Post, it isn't immediately clear if he resigned before or after writing his controversial Facebook post. As of early Wednesday morning, the paper noted that he was still listed as mayor on Colorado City's website, and city council agendas showed that he had served in that role as recently as last week.