Reality Star Masika Kalysha Slammed for Faking Kidnapping to Promote OnlyFans
Former "Love & Hip Hop: Hollywood" star Masika Kalysha posted a video of herself Tuesday crying in her underwear, covered in bruises and other marks.
She claimed she had been kidnapped and asked fans to donate to her OnlyFans page otherwise her captors would refuse to release her.
After backlash, she clarified that she was actually on the set of a TV show which discusses child sex trafficking and was hoping to shock her followers to get their attention and raise awareness for the issue.
She said she has partnered with a non-profit that supports trafficking survivors, and while some applauded her approach, others have called it disgusting and insensitive to real victims.
---
The Videos
Former "Love & Hip Hop: Hollywood" star Masika Kalysha is under fire for posting a fake kidnapping video Tuesday in which she asked her followers to donate to her OnlyFans account.
The video in question showed her in her crying in her underwear, covered in bruises on her face and body.
"I don't know how much time I have, I got beat really bad, and they're coming. They said you guys have to leave me tips and follow me so they can take the money or they're not gonna let me go. And they beat me really bad," she said as she turned around to show her injuries.
"Guys. Please help. Tip me $100 each or they're not letting me go," she pleaded once more.
She posted the clip to her Twitter and Instagram, as well as her Instagram Story where she even included a swipe up link to her OnlyFans. In case there's was any confusion about what was apparently going on here, in her post caption she flat out claimed she had been kidnapped.
"I've been kidnapped. I'm in a warehouse somewhere. Idk where! I'm so scared! They took all my money and they want more! Please! Help me! Click the link in my bio & Subscribe to my only fans and tip me so they'll let me go!!! They're coming!!!" she wrote.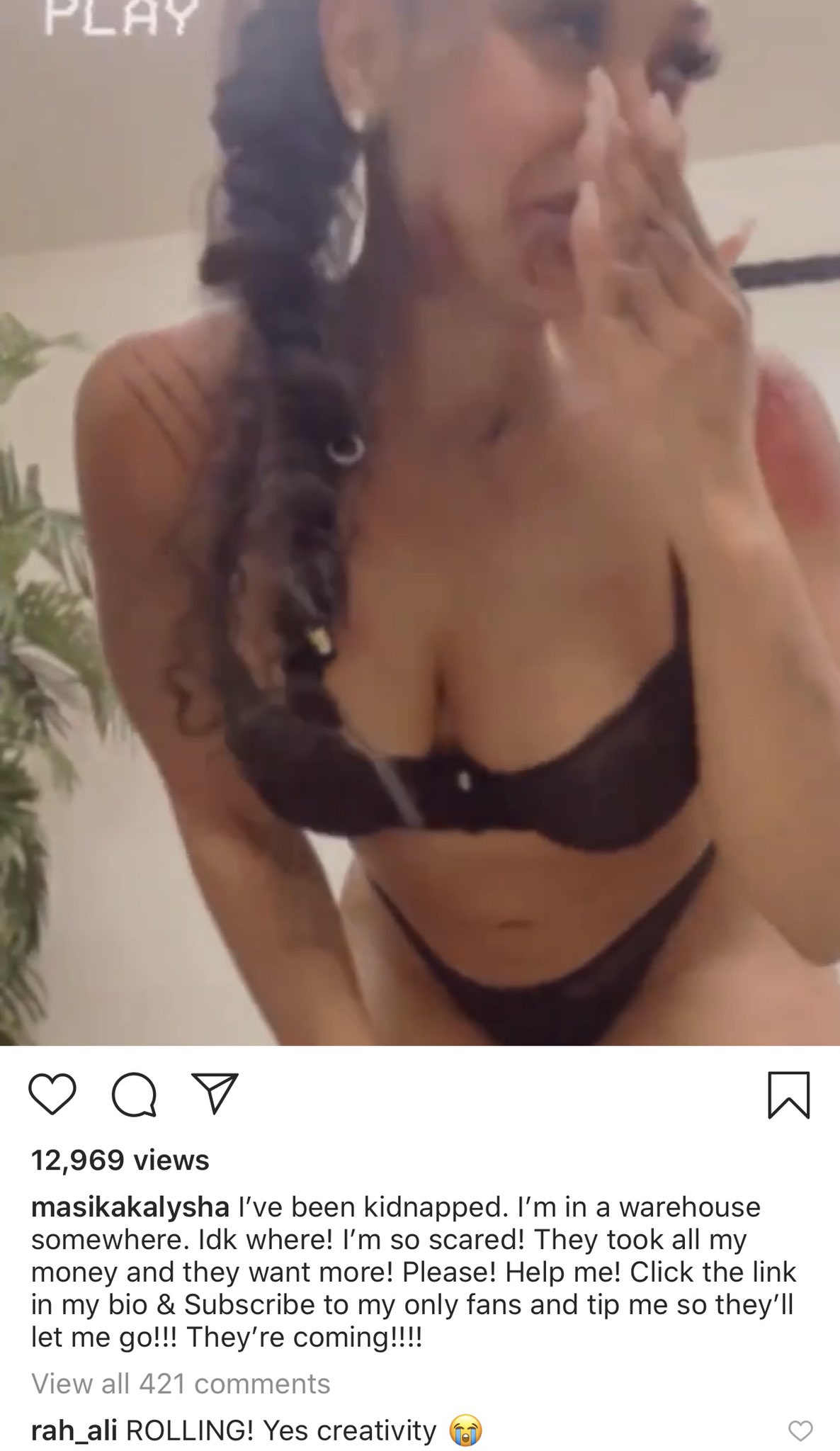 Masika Apologizes
It's unclear if anyone actually thought she had been kidnapped. Some people seemed to find the posts funny, but there were a ton of others calling it a disgusting way to promote her OnlyFans page.
A short time later, the reality star uploaded another post explaining the whole situation.
"Hey guys, now that I've got you're attention. I wanted to talk about something very important," she said. "I'm sorry if I scared you, but sometimes you need that shock factor. I'm on set right now filming for my new show and this is all camera makeup. I'm totally fine guys, but the show that I'm on right now is about child sex trafficking."
She went on to say that this is an issue she's passionate about and said this is such a challenging role for her. She said she's done so much research and really had to "dig deep." Then, she announced that she was partnering with the R.O.S.E. organization, which is a non-profit that supports victims of sex trafficking, focusing heavily on women and children of color.
first part pic.twitter.com/dZFG4Nt3SE

— tiffany (@jonestiff314) August 26, 2020
She said that, as a mother, this is something that's difficult for her to even speak about.
"I apologize if I scared you guys, but please please please follow the Rose Organization for how we can put an end to child sex trafficking, women being sex trafficked, guys like…I meant well, so I hope no ones too shooken up. But y'all should know me by now. There's always a method to my madness."
Masika has a few words pic.twitter.com/L3yBzjHQqx

— tiffany (@jonestiff314) August 25, 2020
As far as what she could be filming, she posted an Instagram story that suggested she was on the set of the UMC show "Double Cross." That show is about a set of twins who "decided to take matters into their own hands after a sudden rise of sex trafficking in their neighborhood."
Still, many were left confused about how promoting her OnlyFans helps the R.O.S.E. organization. In a tweet later Tuesday night, she said she wanted to keep bringing attention to the topic and added: "To get involved log on to https://rose-organization.com or you can donate on my onlyfans page." So it seems like she might be turning over those donations to the organization.
There's also a screenshot circulating that is allegedly from her OnlyFans page which says she is donating all the proceeds to the organization. However, no such post is visible as of Wednesday morning.
Masika Stands by Her Choice
While many still felt like she needed to do more to address how hurtful her video was for actual abuse and trafficking victims, others praised her "shock value" approach for raising awareness.
She's been retweeting posts of people applauding her and calling it a "great marketing tool."
To one of her critics, she also said, "WAIT I was SMART enough to utilize a massive platform that gets TRAFFIC for SEXUAL content to bring awareness to SEX TRAFFICKING instead of twerking."
"So whatchu sayin is imma genius u also mad that I used only fans to start a stock club? but if I was fkn cool? Oh ok."
While she does seem to have started using OnlyFans to share stock market tips, there are other posts on her main account that seem to be unrelated to that topic. It's currently unclear what she linked to when she initially uploaded her videos. Either way, as of right now, she's standing firm by her original posts and explanation.
Conflicting Messages From R.O.S.E. President and Masika
However, this morning, the president of the R.O.S.E. organization, Toni D. Rivera, posted a video responding to this whole controversy. She said she was only recently made aware of Masika's video because she was busy working and added, "It kinda pissed me off a little bit because this is my life work."
She said the video was not the right way for Masika to raise awareness and admitted that it was triggering for her and others.
"In no way shape or form, is Masika the spokesperson for R.O.S.E. In no way shape or form are we expecting money from Onlyfans, FansOnly, whatever the hell it is. No. R.O.S.E. is my organization. I did not approve or ask Masika to do a video at all."
Following those remarks, Masika shared a letter she allegedly received from the organization on August 1, which welcomed her as its new advisory board member.
That letter reads, "As an advisory board member, we will highlight you on our social media and our website. We ask only that you help guide us to funding and information resources. You are welcome to help us with fundraising yourself around your label's products and or/services. We will support you in all you do personally as well, for we too are team players."
Then in her lengthy Instagram post, Masika criticized the R.O.S.E organization's president for turning on her when the pressure became heavy, saying,"My platform is what you wanted until you got it & saw how difficult it is to stand firm and maintain your purpose while others try to tear you down."
"Toni you allowed the negative comments to supersede the end goal: saving lives and rescuing women and children."
Still, she said she's glad this whole ordeal is shining a light on this organization, and while she will continue to support the cause, she is stepping down from the group's advisory board.
However, Rivera quickly denied ever sending that letter and the two are going back and forth about this situation online.
Halyna Hutchins Family Settles With "Rust" Production, Filming to Resume in 2023
Alec Baldwin said everyone involved was motivated by the "desire to do what is best for Halyna's son."
---
Settlement Reached
The family of cinematographer Halyna Hutchins, who was fatally shot on the set of "Rust" last year, reached a settlement with the production over a wrongful death lawsuit on Wednesday. 
The lawsuit was filed in February, several months after Hutchins' death in New Mexico last October. The cast and crew were rehearsing a scene that involved producer and actor Alec Baldwin pointing a gun toward the camera. Baldwin claims he did not know it was loaded when it fired, killing Hutchins and injuring director Joel Souza. 
The actor also claims he did not actually pull the trigger, but investigators determined it must have been pulled. 
Hutchins' husband Matthew filed the wrongful death suit on behalf of himself and his young son. It claimed that the production did not follow proper safety procedures and endangered the crew via reckless cost-cutting measures. Baldwin was listed as a defendant, as well as the set's armorer, Hannah Gutierrez-Reed, first assistant director, Dave Halls, and others involved with the film. 
The amount of the settlement was not disclosed, but as part of the agreement, the production of "Rust" will resume in January 2023. The late cinematographer's husband will join the project as an executive producer. 
"I have no interest in engaging in recriminations or attribution of blame (to the producers or Mr. Baldwin)," he said in a statement. "All of us believe Halyna's death was a terrible accident. I am grateful that the producers and the entertainment community have come together to pay tribute to Halyna's final work."
A Tribute to Hutchins
Souza will return as the director. In a statement, he said his "every effort on this film will be devoted to honoring" Hutchins.
For his part, Baldwin shared the news of the settlement on his Instagram Wednesday morning.
"Throughout this difficult process, everyone has maintained the specific desire to do what is best for Halyna's son," he wrote. "We are grateful to everyone who contributed to the resolution of this tragic and painful situation."
According to The Los Angeles Times, while Gutierrez-Reed and Halls were not part of the settlement, if a judge approves it, the allegations against them will be resolved.
There is still an ongoing criminal probe happening separately from this lawsuit. It is unclear what impact the settlement will have on that, if any.
Last month, Santa Fe District Attorney Mary Carmack-Altwies sent a letter to the New Mexico Board of Finance seeking additional funding to prosecute up to four people over the incident, including Baldwin. So far, no charges have been filed. 
In April, the New Mexico Occupational Health and Safety Bureau fined the production after it found multiple safety violations on set. 
The Try Guys Address Removal of Ned Fulmer: "We Had No Idea This Was Going On"
The group said that by severing ties with Fulmer, it felt like they were losing a friend.
---
"That Is Not What We Stand For"
Digital comedy and sketch group The Try Guys posted a video on Monday night explaining the recent removal of member Ned Fulmer.
Last week, the Internet was filled with speculation that Fulmer, who is married with children, was having an affair with a staffer for The Try Guys. Fulmer confirmed the reports, claiming he had a "consensual workplace relationship." The Try Guys quickly announced that Fulmer would no longer be working with the group as the result of an internal review.
In Monday's video, the remaining three members, Eugene Lee Yang, Zach Kornfeld, and Keith Habersberger, explained what led to their decision to remove Fulmer. While the trio noted there were legal issues that prevented them from sharing certain details, they wanted to be as transparent as possible.
"On Labor Day weekend, multiple fans alerted us that they had seen Ned and an employee engaging in public romantic behavior," Habersberger explained. "We reached out to check on that employee and Ned confirmed the reports, and since confirmed that this had been going on for some time, which was obviously very shocking to us."
He emphasized that the rest of the group "had no idea this was going on."
After this, The Try Guys reached out to a variety of lawyers and HR professionals to make sure they handled the situation correctly.
"This is something we took very seriously," Yang said. "We refused to sweep things under the rug. That is not who we are, and that is not what we stand for."
Removing Fulmer From Content
They decided to immediately remove Fulmer from work activities and hired an HR rep to conduct a review. Fulmer was also withdrawn from releases pending the results of that review. 
As part of this, his video section was erased, he was digitally taken out of some content, and he was not included in merch drops. The Try Guys said this was a long and tedious process.
"Honestly, I want to give major props to our editing staff for how deftly they handled that," Kornfeld said. "There are several videos that we have deemed as fully unreleasable, you will never see them, and that is due to his involvement. And that is a decision that has cost us lots of money."
"We will not be able to recoup that money," he continued. "But it's a decision we stand by proudly."
The group declined to share details of the review but claimed it found that Fulmer engaged in "conduct unbecoming" of the team. Because of this, Yang, Kornfeld, and Habersberger gave written consent on Sept. 16 to ax Fulmer as a manager and employee of The Try Guys company. 
The three said they were always planning to make a public statement about their decision, but were initially waiting out of respect to the families and employees involved. As online speculation arose, they chose to deal with it sooner.
"We're losing a friend, we're losing someone we built a company with, we have countless memories with, we just made a TV show together," Kornfeld said. "I'm sure many of you feel the same way."
According to the group, some upcoming videos featuring Fulmer will be edited to remove him. They said they are currently taking time to reimagine their channel.
Bruce Willis Denies Rumors He Sold His Likeness For Deepfake Use
Deepfakes face criticism from Hollywood to social media.
---
Willis Debunks Rumors
Actor Bruce Willis denied rumors over the weekend that he sold his likeness to the deepfake company DeepCake.
Willis agreed last year for his face to be used in a commercial for a Russian telecoms company. For this commercial, DeepCake digitally edited Willis' face onto a Russian actor. This sparked rumors that Willis had sold the rights to his likeness for the company to use in future projects.
However, both management for Willis and DeepCake itself denied any partnership or agreement for these rights.
"Bruce couldn't sell anyone any rights, they are his by default," DeepCake said.
Agreements for the AI generation of actors have been heard of before, however. Recently, actor James Earl Jones agreed for his voice to be technologically generated for the voice of Darth Vader in the Star Wars franchise.
Deepfakes Online
This comes as deepfakes are facing mounting criticism online, including from prominent YouTube personality and author, Hank Green. He recently tweeted about a channel that uses similar deepfake technology and AI-voice generation to parody popular YouTube creators. He stressed his concern that while the channel in question may not be nefarious, this technology could end up being harmful.
"There are ways to do this that would be much worse, more mean spirited, and more exploitative than this," Green said. "And I'm very worried about what that will look like, because if this is working (and allowed), people will do it."
Among other issues, Green mentioned these videos could abuse monetization and sponsorship opportunities while exploiting someone else's face and brand. Green even implored YouTube to evaluate its terms of service as the popularity of deepfakes rise.