Reality Star Masika Kalysha Slammed for Faking Kidnapping to Promote OnlyFans
Former "Love & Hip Hop: Hollywood" star Masika Kalysha posted a video of herself Tuesday crying in her underwear, covered in bruises and other marks.
She claimed she had been kidnapped and asked fans to donate to her OnlyFans page otherwise her captors would refuse to release her.
After backlash, she clarified that she was actually on the set of a TV show which discusses child sex trafficking and was hoping to shock her followers to get their attention and raise awareness for the issue.
She said she has partnered with a non-profit that supports trafficking survivors, and while some applauded her approach, others have called it disgusting and insensitive to real victims.
---
The Videos
Former "Love & Hip Hop: Hollywood" star Masika Kalysha is under fire for posting a fake kidnapping video Tuesday in which she asked her followers to donate to her OnlyFans account.
The video in question showed her in her crying in her underwear, covered in bruises on her face and body.
"I don't know how much time I have, I got beat really bad, and they're coming. They said you guys have to leave me tips and follow me so they can take the money or they're not gonna let me go. And they beat me really bad," she said as she turned around to show her injuries.
"Guys. Please help. Tip me $100 each or they're not letting me go," she pleaded once more.
She posted the clip to her Twitter and Instagram, as well as her Instagram Story where she even included a swipe up link to her OnlyFans. In case there's was any confusion about what was apparently going on here, in her post caption she flat out claimed she had been kidnapped.
"I've been kidnapped. I'm in a warehouse somewhere. Idk where! I'm so scared! They took all my money and they want more! Please! Help me! Click the link in my bio & Subscribe to my only fans and tip me so they'll let me go!!! They're coming!!!" she wrote.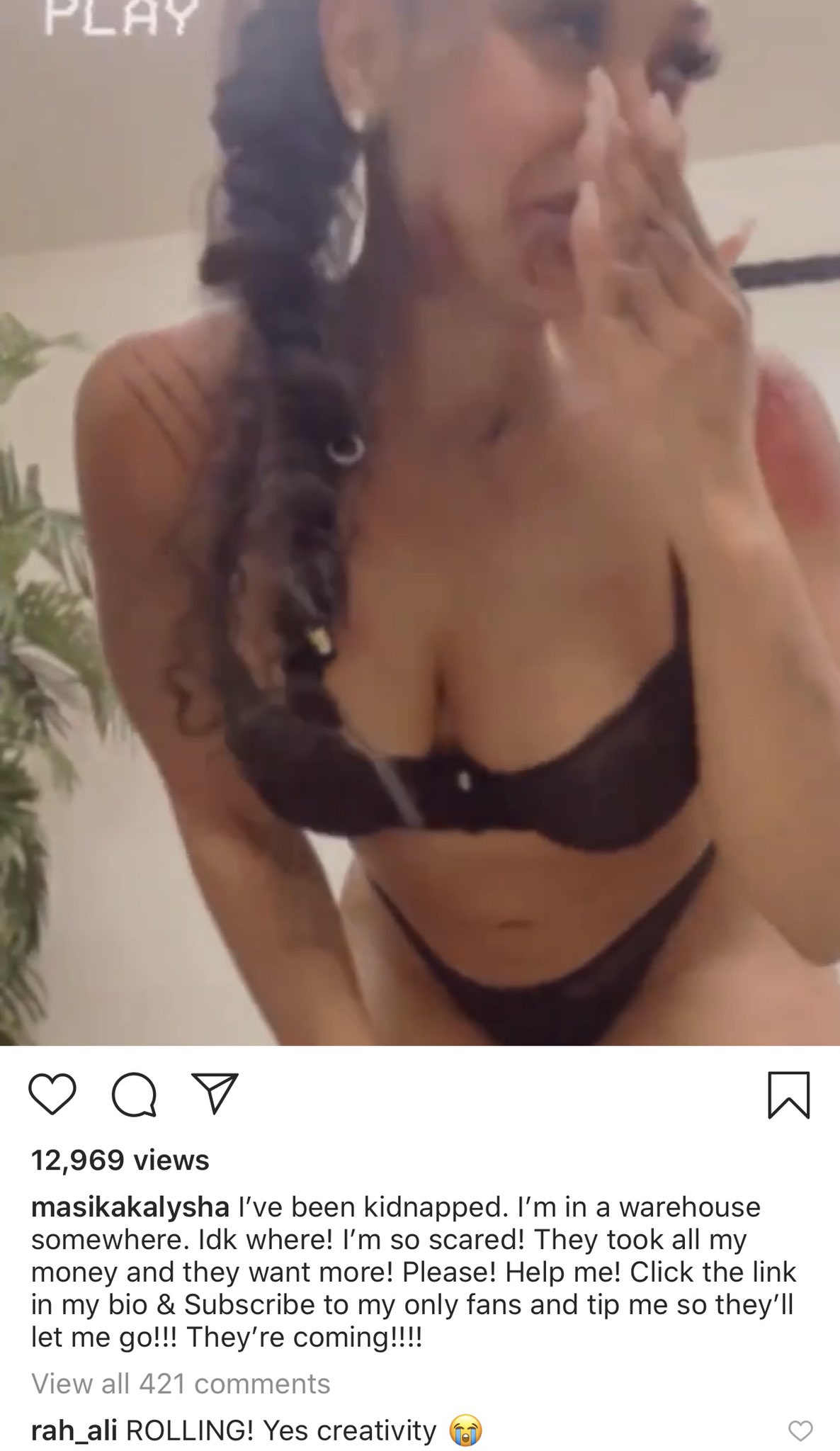 Masika Apologizes
It's unclear if anyone actually thought she had been kidnapped. Some people seemed to find the posts funny, but there were a ton of others calling it a disgusting way to promote her OnlyFans page.
A short time later, the reality star uploaded another post explaining the whole situation.
"Hey guys, now that I've got you're attention. I wanted to talk about something very important," she said. "I'm sorry if I scared you, but sometimes you need that shock factor. I'm on set right now filming for my new show and this is all camera makeup. I'm totally fine guys, but the show that I'm on right now is about child sex trafficking."
She went on to say that this is an issue she's passionate about and said this is such a challenging role for her. She said she's done so much research and really had to "dig deep." Then, she announced that she was partnering with the R.O.S.E. organization, which is a non-profit that supports victims of sex trafficking, focusing heavily on women and children of color.
first part pic.twitter.com/dZFG4Nt3SE

— tiffany (@jonestiff314) August 26, 2020
She said that, as a mother, this is something that's difficult for her to even speak about.
"I apologize if I scared you guys, but please please please follow the Rose Organization for how we can put an end to child sex trafficking, women being sex trafficked, guys like…I meant well, so I hope no ones too shooken up. But y'all should know me by now. There's always a method to my madness."
Masika has a few words pic.twitter.com/L3yBzjHQqx

— tiffany (@jonestiff314) August 25, 2020
As far as what she could be filming, she posted an Instagram story that suggested she was on the set of the UMC show "Double Cross." That show is about a set of twins who "decided to take matters into their own hands after a sudden rise of sex trafficking in their neighborhood."
Still, many were left confused about how promoting her OnlyFans helps the R.O.S.E. organization. In a tweet later Tuesday night, she said she wanted to keep bringing attention to the topic and added: "To get involved log on to https://rose-organization.com or you can donate on my onlyfans page." So it seems like she might be turning over those donations to the organization.
There's also a screenshot circulating that is allegedly from her OnlyFans page which says she is donating all the proceeds to the organization. However, no such post is visible as of Wednesday morning.
Masika Stands by Her Choice
While many still felt like she needed to do more to address how hurtful her video was for actual abuse and trafficking victims, others praised her "shock value" approach for raising awareness.
She's been retweeting posts of people applauding her and calling it a "great marketing tool."
To one of her critics, she also said, "WAIT I was SMART enough to utilize a massive platform that gets TRAFFIC for SEXUAL content to bring awareness to SEX TRAFFICKING instead of twerking."
"So whatchu sayin is imma genius u also mad that I used only fans to start a stock club? but if I was fkn cool? Oh ok."
While she does seem to have started using OnlyFans to share stock market tips, there are other posts on her main account that seem to be unrelated to that topic. It's currently unclear what she linked to when she initially uploaded her videos. Either way, as of right now, she's standing firm by her original posts and explanation.
Conflicting Messages From R.O.S.E. President and Masika
However, this morning, the president of the R.O.S.E. organization, Toni D. Rivera, posted a video responding to this whole controversy. She said she was only recently made aware of Masika's video because she was busy working and added, "It kinda pissed me off a little bit because this is my life work."
She said the video was not the right way for Masika to raise awareness and admitted that it was triggering for her and others.
"In no way shape or form, is Masika the spokesperson for R.O.S.E. In no way shape or form are we expecting money from Onlyfans, FansOnly, whatever the hell it is. No. R.O.S.E. is my organization. I did not approve or ask Masika to do a video at all."
Following those remarks, Masika shared a letter she allegedly received from the organization on August 1, which welcomed her as its new advisory board member.
That letter reads, "As an advisory board member, we will highlight you on our social media and our website. We ask only that you help guide us to funding and information resources. You are welcome to help us with fundraising yourself around your label's products and or/services. We will support you in all you do personally as well, for we too are team players."
Then in her lengthy Instagram post, Masika criticized the R.O.S.E organization's president for turning on her when the pressure became heavy, saying,"My platform is what you wanted until you got it & saw how difficult it is to stand firm and maintain your purpose while others try to tear you down."
"Toni you allowed the negative comments to supersede the end goal: saving lives and rescuing women and children."
Still, she said she's glad this whole ordeal is shining a light on this organization, and while she will continue to support the cause, she is stepping down from the group's advisory board.
However, Rivera quickly denied ever sending that letter and the two are going back and forth about this situation online.
Quinta Brunson Says This Country is "Not Okay" Following Requests For School Shooting Episode of "Abbott Elementary"
"I don't want to sound mean, but I want people to understand the flaw in asking for something like this," the writer and actress tweeted.
---
Quinta Brunson Calls Out "Wild" Requests
"Abbott Elementary" star and creator Quinta Brunson shut down requests for her to make an episode of the hit comedy series involving a school shooting.
"Wild how many people have asked for a school shooting episode of the show I write," Brunson tweeted "People are that deeply removed from demanding more from the politicians they've elected and are instead demanding 'entertainment.' I can't ask 'are yall ok' anymore because the answer is 'no.'"
Her message came one day after 19 children and two teachers were killed during a school shooting in Uvalde, Texas. It marked the 27th school shooting of 2022, just 22 weeks into the year. The news of the massacre has rocked the nation, dominating the cultural conversation with calls for change. 
Brunson believes those calls should fall on the ears of politicians, not television writers.
"Please use that energy to ask your elected official to get on Beto time and nothing less. I'm begging you," Brunson said to fans, referring to Texas gubernatorial candidate Beto O'Rourke (D), who publicly confronted Gov. Greg Abbott (R ) about gun control legislation during a press conference the same day.
"I don't want to sound mean, but I want people to understand the flaw in asking for something like this. We're not okay," she continued. "This country is rotting our brains. I'm sad about it."
"Abbott Elementary" is a heartwarming sitcom following teachers at a public Philadelphia elementary school. Brunson plays Janine Teagues, a passionate and optimistic second-grade teacher. Despite a lack of resources and funding, Teagues and the rest of the staff are deeply committed to helping their students learn and succeed.
Brunson Shares Example of Suggestion
Brunson shared an example of "one of many" messages she received suggesting a school shooting episode for "Abbott Elementary." The anonymous fan said a shooting should happen in the "eventual series finale" to "highlight the numerous ones in this nation."
"Formulate an angle that would get our government to understand why laws need to pass," the message continued. "I Think Abbott Elementary can affect change. I love the show."
In response to Brunson's thread, many were shocked that viewers would want to watch something so devastating happen on a largely uplifting show. Some followed Brunson in questioning why those fans were not directing their focus on politicians instead. Others were frustrated that these requests were being pointed at a joyful show depicting a predominantly Black school.
"I look to Abbott Elementary for a laugh, not a reminder about how black kids will never be safe," one person wrote.
Having just finished its first season, "Abbott Elementary" is currently being credited as one of the few series saving the network sitcom. It raked in ABC's highest ratings for a comedy since the series finale of "Modern Family" in 2020. It also became the first ABC sitcom premiere to quadruple its ratings since its initial airing.
"Abbott Elementary" is highly acclaimed by both critics and viewers and is considered a favorite for Emmy nominations this year. It is expected to return in the fall. 
Ricky Gervais Criticized For Jokes About Trans People in New Netflix Special
The backlash comes less than a year after Dave Chappelle received similar criticism for his most recent stand-up special on Netflix.
---
Ricky Gervais Aims Jokes at Trans Community
Comedian Ricky Gervais is facing backlash over transphobic remarks he made in his latest Netflix stand-up special "SuperNature."
Less than five minutes into the program, which was released on Tuesday, Gervais began aiming his jokes specifically at trans women.
"Oh, women. Not all women, I mean the old-fashioned ones," Gervais said. "The old-fashioned women, the ones with wombs. Those fucking dinosaurs. I love the new women. They're great, aren't they? The new ones we've been seeing lately. The ones with beards and cocks!"
"They're as good as gold, I love them," he continued. "And now the old-fashioned ones say, 'Oh, they want to use our toilets.' 'Why shouldn't they use your toilets?' 'For ladies!' 'They are ladies, look at their pronouns. What about this person isn't a lady?' 'Well, his penis.' 'Her penis, you fucking bigot!' 'What if he rapes me?' 'What if she rapes you, you fucking TERF whore?'"
He then bemoaned cancel culture and "woke comedy," claiming the surest way for someone to get canceled is to tweet that "women don't have penises."
Gervais is no stranger to prompting controversy and outrage with his comedy. He likely anticipated that his remarks would cause a stir, especially given that he carved out time in his special to defend his jokes about trans people.
"Trans people just want to be treated equally," he said. "I agree. That's why I include them."
Gervais noted he made jokes about a variety of groups and people, arguing that these remarks are not a window into his soul or beliefs. He said he would "take on any view" to make a joke as funny as possible, even if it does not reflect his own opinions.
"In real life, of course, I support trans rights," he said. "I support all human rights, and trans rights are human rights. Live your best life. Use your preferred pronouns."
Moments later, he joked that ladies should still "lose the cock." The audience erupted in laughter.
Gervais Faces Backlash Online
Gervais was met with swift criticism within hours of "SuperNature" debuting on Netflix. Many said they would cancel their Netflix subscriptions because of the transphobia on the platform.
"Ricky Gervais has a new stand up show out on Netflix today," one person tweeted. "[Five] minutes in and he's making jokes about trans women attacking & raping people in public bathrooms. To him we exist only as a punchline, a threat, something less than human."
"Ricky Gervais is a disgrace, he is going to cause hate crime and ultimately the death of Trans folk," another person added.
Some further claimed that on top of it being offensive, it is lazy to take shots at marginalized communities in the name of comedy.
"This isn't comedy. This is making cheap, nasty stereotypes out of a minority group," one person wrote. "Please, if you're Transgender or Support Trans lives, don't watch this."
Others accused Gervais of riding a wave of transphobia that has recently popped up among major comedians. Last year, Dave Chappelle's Netflix special "The Closer" sparked a wave of backlash over the comedian's jokes about trans people. Netflix staffers staged a walkout in protest, demanding that the company do more to help LGBTQ+ creators and stand against anti-trans content. 
Terra Feld, a former Netflix employee who helped organize the protests, encouraged subscribers to ditch Netflix over Gervais' recent remarks.
Halsey Says Her Label Won't Release Her New Song Unless They Can "Fake" A Viral TikTok Moment. Artists Say This Points to a Larger Issue in the Industry
Artist Sizzy Rocket said that record companies are forcing musicians "to fit into this box of virality" in hopes of landing a quick hit.
---
Halsey Calls Out Record Label
Over the last several years, TikTok has changed nearly every aspect of the music industry by sending viral songs to the top of the Billboard charts. Even major artists like Halsey say they cannot escape the pressure to go viral, sparking concern over how the app is influencing music.
On Sunday, Halsey, who uses she/they pronouns, posted a TikTok saying they had a new song they were eager to release, but their label said they "can't release it unless they can fake a viral moment on TikTok."
"Everything is marketing," Halsey wrote, adding that this issue is impacting "basically every artist" right now.
Countless songs, including chart-toppers like "Old Town Road" and "drivers license" first soared to success on TikTok. Labels are eager to recreate that path in whatever ways they can.
Halsey's label, Astralwerks-Capitol, gave a statement to Variety claiming its "belief in Halsey as a singular and important artist is total and unwavering."
"We can't wait for the world to hear their brilliant new music," the statement said.
In response, Halsey noted that Astralwerks was the company that signed her before upstreaming her to Capitol. She said this statement in particular "came from the company who believed in me from the jump" and not the company she is "wrestling with now."
Artists Speak Out
Nearly eight million views later, Halsey's TikTok prompted fans and people working in the music industry to criticize the practice of forcing songs to go viral.
"Halsey has sold over 100 million records and she is having to put up with this nonsense?" musician Rebecca Ferguson tweeted. "Artists and creatives should be 'free.'"
"halsey's tik tok only scratches the surface of what's happening in music right now," singer and songwriter Sizzy Rocket added.
While speaking to Rogue Rocket, Sizzy Rocket said that labels and producers don't understand that making a song and going viral on TikTok are two different art forms. The pressure of going viral often puts artists in positions where they feel their creative integrity could be compromised.
"Artists like myself and Halsey, who require a little bit more time and space to craft our messages, are sort of being forced to fit into this box of virality and so, it's a big problem," Sizzy Rocket said.
"As an artist, I can't just do something to go viral."
Sizzy Rocket said that labels have approached her to write songs for their more viral artists, oftentimes offering no pay for the session.
"It's taken me four albums, I just released my fourth album, and ten years to develop this melodic and lyrical style," she explained. "You know I have a thing, I have a je ne sais quoi, and so to ask me to just give that to a brand new artist who just went viral overnight is truly offensive."
Smaller Artists Face Bigger Issues
As Halsey's call-out TikTok has spread online, the "Closer" singer denied that the video was a promotional stunt of its own, arguing she is "way too established to stir something like this up for no reason or resort to this as a marketing tactic."
But whether it be intentionally or inadvertently, Halsey has drummed up attention for their new music. Smaller artists don't have the luxury of being able to instantly reach the masses. Sizzy Rocket said that up and comers like herself have to struggle more to get the spotlight, while mainstream artists have a larger fanbase to fall back on.
"I feel like smaller artists are more affected because we're getting buried, right?" she said. "There's so much content, there are so many people trying to go viral."
"I feel like larger artists, because they have a more established and bigger audience, they sort of have access to that attention already," Sizzy Rocket continued. "But for smaller artists, we sort of have to like, dig, dig through the pile of everyone else sort of grabbing for that trend."
While Sizzy Rocket does not consider herself a viral artist, she said she did at one point try to go viral on TikTok. After filming the video, she felt it would be of no benefit.
"I just couldn't post it because I didn't understand how that sort of cheap grab for attention would help me deliver the message of my music," she said.
With that said, Sizzy Rocket said she does not blame any TikTok artists who went viral on their own. Instead, she pointed the finger at labels who are trying to drive inorganic viral success while lacking an understanding of how art and social media interact with one another.
"I don't want to place any blame on the actual TikTok artists who did go viral. I feel like they deserve to make their art as well," she said. "It's more about the label prioritizing the platform over the art itself."
Other artists like Zara Larsson and Florence Welch have bemoaned the pressures they face from their record companies to be active on TikTok. Many agree that the expectations labels have in this arena are unfair to artists.
"labels all want a dove cameron 'boyfriend' moment (which i'd argue was rather organic) but how sustainable is that kind of traction as it's v fleeting + how can artists even replicate that kind of virality," culture writer Zoya Raza-Sheikh asked on Twitter.
For Halsey, it remains unclear when their new song will see the light of day. In a tweet, they claimed their label was impressed by their TikTok's traction, but only said "we'll see" when asked if the song could be released.