Reality Star Masika Kalysha Slammed for Faking Kidnapping to Promote OnlyFans
Former "Love & Hip Hop: Hollywood" star Masika Kalysha posted a video of herself Tuesday crying in her underwear, covered in bruises and other marks.
She claimed she had been kidnapped and asked fans to donate to her OnlyFans page otherwise her captors would refuse to release her.
After backlash, she clarified that she was actually on the set of a TV show which discusses child sex trafficking and was hoping to shock her followers to get their attention and raise awareness for the issue.
She said she has partnered with a non-profit that supports trafficking survivors, and while some applauded her approach, others have called it disgusting and insensitive to real victims.
---
The Videos
Former "Love & Hip Hop: Hollywood" star Masika Kalysha is under fire for posting a fake kidnapping video Tuesday in which she asked her followers to donate to her OnlyFans account.
The video in question showed her in her crying in her underwear, covered in bruises on her face and body.
"I don't know how much time I have, I got beat really bad, and they're coming. They said you guys have to leave me tips and follow me so they can take the money or they're not gonna let me go. And they beat me really bad," she said as she turned around to show her injuries.
"Guys. Please help. Tip me $100 each or they're not letting me go," she pleaded once more.
She posted the clip to her Twitter and Instagram, as well as her Instagram Story where she even included a swipe up link to her OnlyFans. In case there's was any confusion about what was apparently going on here, in her post caption she flat out claimed she had been kidnapped.
"I've been kidnapped. I'm in a warehouse somewhere. Idk where! I'm so scared! They took all my money and they want more! Please! Help me! Click the link in my bio & Subscribe to my only fans and tip me so they'll let me go!!! They're coming!!!" she wrote.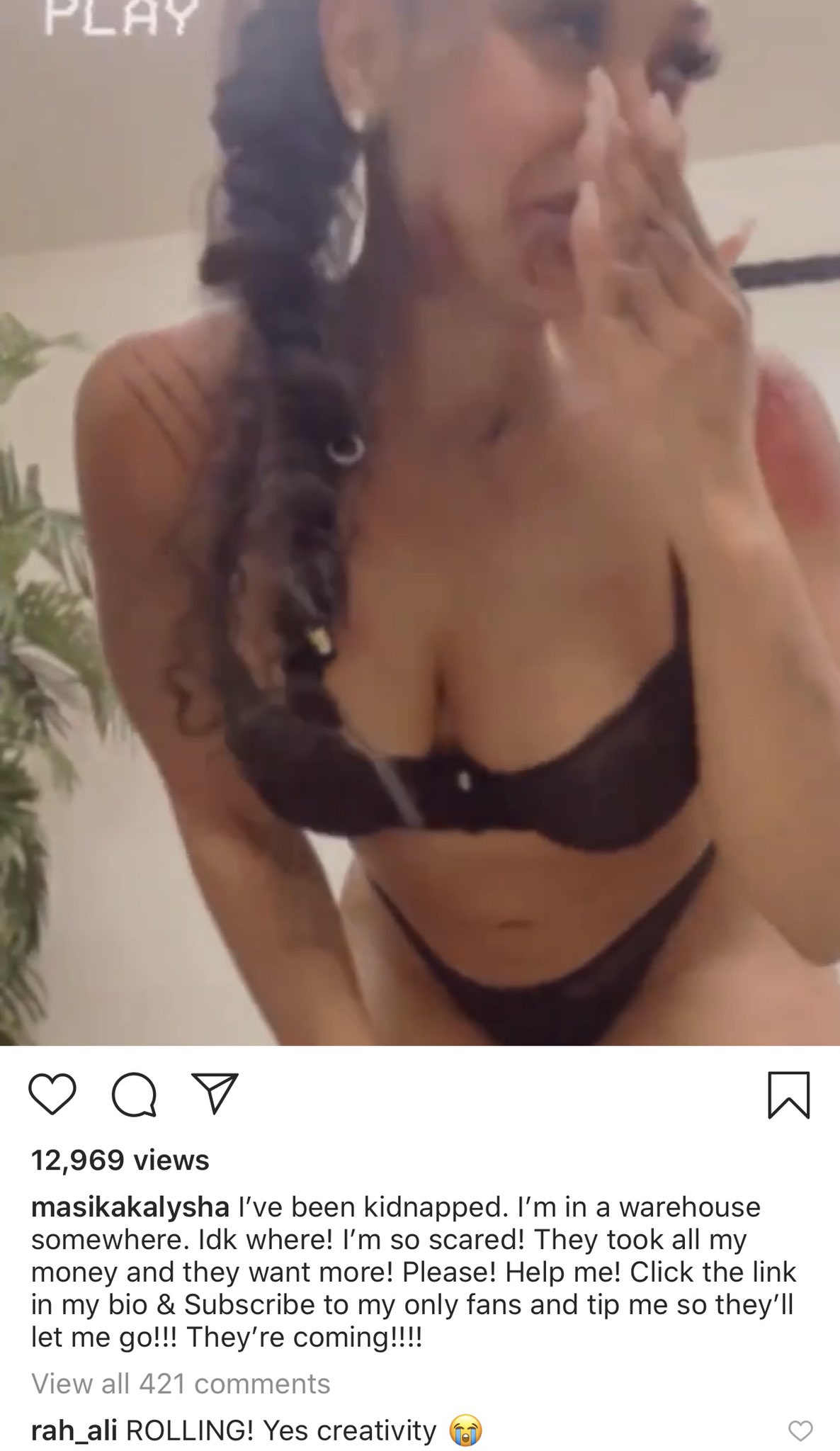 Masika Apologizes
It's unclear if anyone actually thought she had been kidnapped. Some people seemed to find the posts funny, but there were a ton of others calling it a disgusting way to promote her OnlyFans page.
A short time later, the reality star uploaded another post explaining the whole situation.
"Hey guys, now that I've got you're attention. I wanted to talk about something very important," she said. "I'm sorry if I scared you, but sometimes you need that shock factor. I'm on set right now filming for my new show and this is all camera makeup. I'm totally fine guys, but the show that I'm on right now is about child sex trafficking."
She went on to say that this is an issue she's passionate about and said this is such a challenging role for her. She said she's done so much research and really had to "dig deep." Then, she announced that she was partnering with the R.O.S.E. organization, which is a non-profit that supports victims of sex trafficking, focusing heavily on women and children of color.
first part pic.twitter.com/dZFG4Nt3SE

— tiffany (@jonestiff314) August 26, 2020
She said that, as a mother, this is something that's difficult for her to even speak about.
"I apologize if I scared you guys, but please please please follow the Rose Organization for how we can put an end to child sex trafficking, women being sex trafficked, guys like…I meant well, so I hope no ones too shooken up. But y'all should know me by now. There's always a method to my madness."
Masika has a few words pic.twitter.com/L3yBzjHQqx

— tiffany (@jonestiff314) August 25, 2020
As far as what she could be filming, she posted an Instagram story that suggested she was on the set of the UMC show "Double Cross." That show is about a set of twins who "decided to take matters into their own hands after a sudden rise of sex trafficking in their neighborhood."
Still, many were left confused about how promoting her OnlyFans helps the R.O.S.E. organization. In a tweet later Tuesday night, she said she wanted to keep bringing attention to the topic and added: "To get involved log on to https://rose-organization.com or you can donate on my onlyfans page." So it seems like she might be turning over those donations to the organization.
There's also a screenshot circulating that is allegedly from her OnlyFans page which says she is donating all the proceeds to the organization. However, no such post is visible as of Wednesday morning.
Masika Stands by Her Choice
While many still felt like she needed to do more to address how hurtful her video was for actual abuse and trafficking victims, others praised her "shock value" approach for raising awareness.
She's been retweeting posts of people applauding her and calling it a "great marketing tool."
To one of her critics, she also said, "WAIT I was SMART enough to utilize a massive platform that gets TRAFFIC for SEXUAL content to bring awareness to SEX TRAFFICKING instead of twerking."
"So whatchu sayin is imma genius u also mad that I used only fans to start a stock club? but if I was fkn cool? Oh ok."
While she does seem to have started using OnlyFans to share stock market tips, there are other posts on her main account that seem to be unrelated to that topic. It's currently unclear what she linked to when she initially uploaded her videos. Either way, as of right now, she's standing firm by her original posts and explanation.
Conflicting Messages From R.O.S.E. President and Masika
However, this morning, the president of the R.O.S.E. organization, Toni D. Rivera, posted a video responding to this whole controversy. She said she was only recently made aware of Masika's video because she was busy working and added, "It kinda pissed me off a little bit because this is my life work."
She said the video was not the right way for Masika to raise awareness and admitted that it was triggering for her and others.
"In no way shape or form, is Masika the spokesperson for R.O.S.E. In no way shape or form are we expecting money from Onlyfans, FansOnly, whatever the hell it is. No. R.O.S.E. is my organization. I did not approve or ask Masika to do a video at all."
Following those remarks, Masika shared a letter she allegedly received from the organization on August 1, which welcomed her as its new advisory board member.
That letter reads, "As an advisory board member, we will highlight you on our social media and our website. We ask only that you help guide us to funding and information resources. You are welcome to help us with fundraising yourself around your label's products and or/services. We will support you in all you do personally as well, for we too are team players."
Then in her lengthy Instagram post, Masika criticized the R.O.S.E organization's president for turning on her when the pressure became heavy, saying,"My platform is what you wanted until you got it & saw how difficult it is to stand firm and maintain your purpose while others try to tear you down."
"Toni you allowed the negative comments to supersede the end goal: saving lives and rescuing women and children."
Still, she said she's glad this whole ordeal is shining a light on this organization, and while she will continue to support the cause, she is stepping down from the group's advisory board.
However, Rivera quickly denied ever sending that letter and the two are going back and forth about this situation online.
Disney Eviscerates Scarlett Johansson's "Black Widow" Lawsuit as "Callous," but Report Suggests Emma Stone and Emily Blunt May Follow Her Lead
"There is no merit whatsoever to this filing," the company said in an uncharacteristically blunt statement that was heavily criticized online.
---
Johansson/Disney Lawsuit Gets Bitter
Disney has described a recent lawsuit from "Black Widow" actress Scarlett Johansson as "sad and distressing in its callous disregard for the horrific and prolonged global effects of the COVID-19 pandemic," but Johansson may have just unleashed what is to become an even bigger legal challenge for the House of Mouse.
At the center of this dispute, Johansson alleges she lost $50 million because Disney opted for a dual streaming/theater release of "Black Widow," which debuted in theaters and for $30 on Disney+ with Premier Access earlier this month.
According to Johansson's suit, her contract with Disney — which was negotiated prior to any hint of a pandemic — stipulated that "Black Widow" would see an exclusive theater release. Notably, the actress also said her contractual bonuses were tied to the movie's box office performance, which is an extremely common practice with films featuring A-list celebrities.
Of course, when the pandemic hit — like many other industries — movies were upended. Pandemic-related changes meant that despite having an initial release date of May 2020, Marvel fans wouldn't get a chance to see "Black Widow" for over a year.
Still, Johansson said she tried to contact Disney to renegotiate her contract prior to the film's ultimate release, but she claims the company was unresponsive.
On Thursday, she then filed a complaint with the Los Angeles County Superior Court, with her attorney arguing that "Disney has enjoyed the benefits of having one of Hollywood's top actresses promote its wholly owned subscription service at no additional cost to Disney, and with the intended effect of taking money out of that actress' own pocket."
Later Thursday, Disney claimed that it has "fully complied" with Johansson's contract and that the streamed release of the film "has significantly enhanced her ability to earn additional compensation on top of the $20M she has received to date."
"There is no merit whatsoever to this filing," the company said in its uncharacteristically blunt statement.
Are Emma Stone and Emily Blunt Next?
Speaking of blunt, it was reported Friday that both Emily Blunt and Emma Stone may also file lawsuits against Disney's dual streaming release of their films.
In fact, according to an exclusive newsletter run by former Hollywood Reporter Editor Matt Belloni, Stone "is said to be weighing her options" over the dual release of "Cruella" in May. Meanwhile, he suggested Blunt could also take action or speak out following this weekend's release of "Jungle Cruise."
Belloni went on to describe Disney as "notoriously difficult to deal with" regarding such matters and claimed that many have simply been waiting for someone powerful enough to speak out.
Disney Criticized for Its Response
Much of the public perception of the situation has led to overwhelming support for Johansson's camp. Online, a slew of people lambasted Disney's response, with many calling it a deflection.
Candace Owens and Logan Paul in Talks to Debate
A spokesperson confirmed to Insider Wednesday that the two have had "productive" conversations about the prospect offline.
---
Candace Owens Challenges Logan Paul to a Debate
Right-wing commentator Candace Owens and controversial YouTuber Logan Paul are in talks to engage in a political debate. Yes, you read that sentence correctly.
Owens — best known for making false claims about the George Floyd protests, spreading COVID-19 misinformation, and seemingly saying that Adolf Hitler "just wanted to make Germany great" — first challenged Paul to a debate on Friday. It started with her sharing a year-old clip from Paul's podcast where he spoke about the importance of fighting racism in the United States.
"It is not enough to be 'not racist.' You have to be anti-racist," he said.
"If you're white, if you look like me, use your privilege," he added. "And for those who do not think white privilege exists, you are fucking blind."
Because merely acknowledging the existence of racism appears to go against Owens' core beliefs, she asked Paul to duke it out with her.
"Logan loves to challenge people in the boxing ring," she wrote. "I'd like to publicly challenge him to go a few rounds with me in a political debate. @LoganPaul—how about you stop by my show and explain to me how you're *checks notes* more privileged than me because you're white and I'm not?"
Spokesperson Confirms The Two Are in Talks
Paul — best known for launching a boxing career and filming a YouTube video that showed a dead body in Japan's "suicide forest" — said on Tuesday that he was "perplexed" by the offer, but was taking it seriously.
"I started to entertain this action, I ended up speaking with her, and there may be a future where we sit down and have a civil discourse because I think there's some meat on this bone," he said during the most recent episode of his "ImPaulsive" podcast.
The internet star acknowledged that Owens' main arena is politics, while his main arena is being a "fucking idiot" online. Still, he said he does care about these issues and has a "semi-intelligent brain," so he thinks he could "hold [his] own."
"Candace Owens, whether you can admit it or not, is a smart person," Paul continued. "And so I guess I'm just curious because I just fucking fundamentally disagree with her and again, I think there's room for a conversation."
A spokesperson for Owens confirmed to Insider on Wednesday that the two had a "productive" offline conversation and said a public political debate between the two is "very likely."
"Although both of them disagree on a variety of topics, they are both much more interested in learning from one another and think people would benefit from hearing an honest discussion between two parties rather than a 'gotcha' moment that might play well for social media," the spokesperson added.
See what others are saying: (Insider)
Finneas Slams Billie Eilish Troll Account for Attributing Fake Quotes to the Singer
Eilish's big brother said the account is spreading "relentless lies" and asked that it at least label itself as a satire account.
---
Troll Account Shares Fake Billie Eilish Quotes
Billie Eilish's brother and collaborator Finneas took to Twitter Tuesday to address an account that has been sharing fake quotes attributed to his sister.
The account uses the handle @BilliesUpdatess and goes by the name of "Billie Eilish Updates" in its profile. It was created in July of 2021 and as of Wednesday morning, it had amassed a following of 1,100 people. On a quick glance, it looks just like any other update account a fan might make to share news about their favorite celebrity.
@BilliesUpdatess, however, is far from the standard adoring fan page. Of the over 300 tweets it has posted, several include screenshots of forged articles that make it look like Eilish said something either offensive or totally outlandish. One post claims Eilish defended her boyfriend after he was accused of supporting former president Donald Trump.
"At the end of the day, I fucking love him you know?" the phony statement reads. "It doesn't matter if he made some homophobic comments in the past, people change. If he [Matthew] supports Donald Trump then I don't care if it makes him happy. I support EVERY decision Mathew has to make, even the ones some of my fans don't agree with, like maybe some of his icky comments."
In another sham passage, Eilish says she thinks queerbaiting "is a really good thing!" In several others, the person behind the account comes up with artificial quotes to make it looks like Eilish is feuding with "driver's license" singer Olivia Rodrigo. 
One post with a fake article ended up being retweeted 12,000 times. That tweet included Eilish claiming she longs to be poor.
"When I got rich, I started balling my eyes out," the fake piece says. "I wanted to be poor so I can relate to most of my fans. I still want to be broke and poor, it looks really fun and cute."
Finneas Slams Account
As the troll account started to gain traction, Finneas asked that people report and block it to minimize the spread of its "relentless lies."
On Tuesday, he responded to a fan that tagged him in the @BilliesUpdatess tweet alleging his sister wanted to be poor. 
"Fake obviously," Finneas wrote. "Honestly I just wish they'd label this account satire like the onion or something. I have no problem with a joke as long as people know it's a joke."
The account made several jokes about the fact that Finneas was calling it out, but it seems Eilish's big brother got what he asked for. @BilliesUpdatess added "parody account" to its bio and the account was deleted as of Wednesday afternoon.
See what others are saying: (NME) (Uproxx) (E! News)