Reality Star Masika Kalysha Slammed for Faking Kidnapping to Promote OnlyFans
Former "Love & Hip Hop: Hollywood" star Masika Kalysha posted a video of herself Tuesday crying in her underwear, covered in bruises and other marks.
She claimed she had been kidnapped and asked fans to donate to her OnlyFans page otherwise her captors would refuse to release her.
After backlash, she clarified that she was actually on the set of a TV show which discusses child sex trafficking and was hoping to shock her followers to get their attention and raise awareness for the issue.
She said she has partnered with a non-profit that supports trafficking survivors, and while some applauded her approach, others have called it disgusting and insensitive to real victims.
---
The Videos
Former "Love & Hip Hop: Hollywood" star Masika Kalysha is under fire for posting a fake kidnapping video Tuesday in which she asked her followers to donate to her OnlyFans account.
The video in question showed her in her crying in her underwear, covered in bruises on her face and body.
"I don't know how much time I have, I got beat really bad, and they're coming. They said you guys have to leave me tips and follow me so they can take the money or they're not gonna let me go. And they beat me really bad," she said as she turned around to show her injuries.
"Guys. Please help. Tip me $100 each or they're not letting me go," she pleaded once more.
She posted the clip to her Twitter and Instagram, as well as her Instagram Story where she even included a swipe up link to her OnlyFans. In case there's was any confusion about what was apparently going on here, in her post caption she flat out claimed she had been kidnapped.
"I've been kidnapped. I'm in a warehouse somewhere. Idk where! I'm so scared! They took all my money and they want more! Please! Help me! Click the link in my bio & Subscribe to my only fans and tip me so they'll let me go!!! They're coming!!!" she wrote.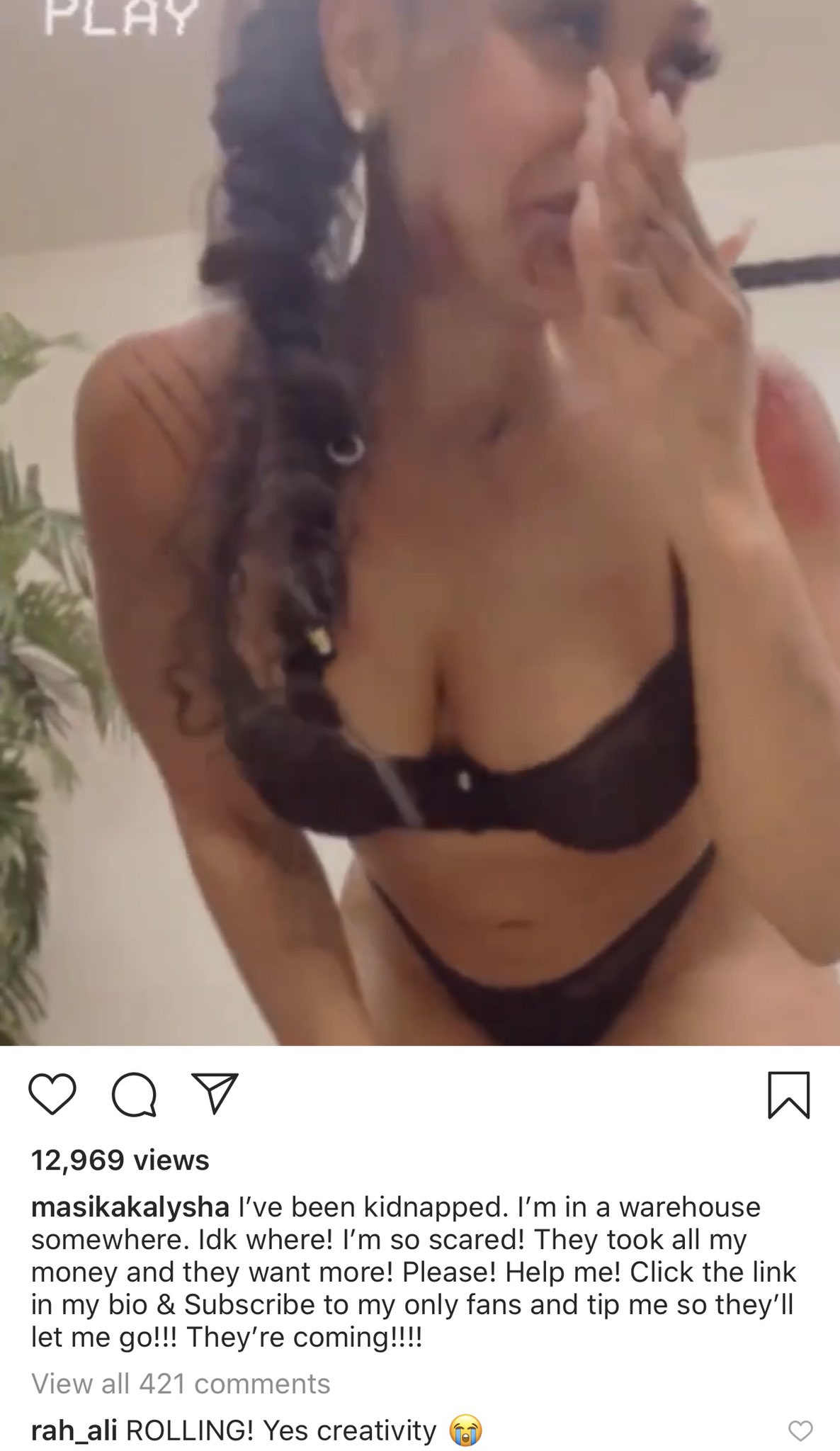 Masika Apologizes
It's unclear if anyone actually thought she had been kidnapped. Some people seemed to find the posts funny, but there were a ton of others calling it a disgusting way to promote her OnlyFans page.
A short time later, the reality star uploaded another post explaining the whole situation.
"Hey guys, now that I've got you're attention. I wanted to talk about something very important," she said. "I'm sorry if I scared you, but sometimes you need that shock factor. I'm on set right now filming for my new show and this is all camera makeup. I'm totally fine guys, but the show that I'm on right now is about child sex trafficking."
She went on to say that this is an issue she's passionate about and said this is such a challenging role for her. She said she's done so much research and really had to "dig deep." Then, she announced that she was partnering with the R.O.S.E. organization, which is a non-profit that supports victims of sex trafficking, focusing heavily on women and children of color.
first part pic.twitter.com/dZFG4Nt3SE

— tiffany (@jonestiff314) August 26, 2020
She said that, as a mother, this is something that's difficult for her to even speak about.
"I apologize if I scared you guys, but please please please follow the Rose Organization for how we can put an end to child sex trafficking, women being sex trafficked, guys like…I meant well, so I hope no ones too shooken up. But y'all should know me by now. There's always a method to my madness."
Masika has a few words pic.twitter.com/L3yBzjHQqx

— tiffany (@jonestiff314) August 25, 2020
As far as what she could be filming, she posted an Instagram story that suggested she was on the set of the UMC show "Double Cross." That show is about a set of twins who "decided to take matters into their own hands after a sudden rise of sex trafficking in their neighborhood."
Still, many were left confused about how promoting her OnlyFans helps the R.O.S.E. organization. In a tweet later Tuesday night, she said she wanted to keep bringing attention to the topic and added: "To get involved log on to https://rose-organization.com or you can donate on my onlyfans page." So it seems like she might be turning over those donations to the organization.
There's also a screenshot circulating that is allegedly from her OnlyFans page which says she is donating all the proceeds to the organization. However, no such post is visible as of Wednesday morning.
Masika Stands by Her Choice
While many still felt like she needed to do more to address how hurtful her video was for actual abuse and trafficking victims, others praised her "shock value" approach for raising awareness.
She's been retweeting posts of people applauding her and calling it a "great marketing tool."
To one of her critics, she also said, "WAIT I was SMART enough to utilize a massive platform that gets TRAFFIC for SEXUAL content to bring awareness to SEX TRAFFICKING instead of twerking."
"So whatchu sayin is imma genius u also mad that I used only fans to start a stock club? but if I was fkn cool? Oh ok."
While she does seem to have started using OnlyFans to share stock market tips, there are other posts on her main account that seem to be unrelated to that topic. It's currently unclear what she linked to when she initially uploaded her videos. Either way, as of right now, she's standing firm by her original posts and explanation.
Conflicting Messages From R.O.S.E. President and Masika
However, this morning, the president of the R.O.S.E. organization, Toni D. Rivera, posted a video responding to this whole controversy. She said she was only recently made aware of Masika's video because she was busy working and added, "It kinda pissed me off a little bit because this is my life work."
She said the video was not the right way for Masika to raise awareness and admitted that it was triggering for her and others.
"In no way shape or form, is Masika the spokesperson for R.O.S.E. In no way shape or form are we expecting money from Onlyfans, FansOnly, whatever the hell it is. No. R.O.S.E. is my organization. I did not approve or ask Masika to do a video at all."
Following those remarks, Masika shared a letter she allegedly received from the organization on August 1, which welcomed her as its new advisory board member.
That letter reads, "As an advisory board member, we will highlight you on our social media and our website. We ask only that you help guide us to funding and information resources. You are welcome to help us with fundraising yourself around your label's products and or/services. We will support you in all you do personally as well, for we too are team players."
Then in her lengthy Instagram post, Masika criticized the R.O.S.E organization's president for turning on her when the pressure became heavy, saying,"My platform is what you wanted until you got it & saw how difficult it is to stand firm and maintain your purpose while others try to tear you down."
"Toni you allowed the negative comments to supersede the end goal: saving lives and rescuing women and children."
Still, she said she's glad this whole ordeal is shining a light on this organization, and while she will continue to support the cause, she is stepping down from the group's advisory board.
However, Rivera quickly denied ever sending that letter and the two are going back and forth about this situation online.
Kellyanne Conway Accused of Posting Topless Photo of Her Underage Daughter
A topless photo of Kellyanne Conway's 16-year-old daughter Claudia was shared as a Fleet on the former Trump counselor's Twitter page Monday.
Claudia later confirmed that the photo was of her but claimed she never sent it to anyone. She said she believes her mother made a copy of the photo after confiscating her phone in the past.
The incident sparked a new wave of concern for the teen, who has repeatedly accused her parents of abuse and unsuccessfully filed for emancipation last year.
Claudia changed her tone in a new statement Tuesday, suggesting that her mother would never post such a photo of her online, though some fear her comments may have been recorded by force.
---
Conway's Account Posts Nude Photo
Kellyanne Conway, an ex-counselor to former President Donald Trump, is facing intense backlash after a topless photo of her underage daughter Claudia was shared on the elder Conway's Twitter account Monday.
The photo was posted as Twitter Fleet, which is analogous to Instagram and Snapchat's 24-hour stories features. It has since been deleted; however, before its removal, it was easily accessible to all of Twitter. Even now, it still exists in the form of screen captures.
After the photo was initially shared, Claudia took to TikTok to confirm that the picture was, in fact, of her.
"The picture's from months ago, and I'm assuming when my mom took my phone… she took a picture of that, so that was on her phone, and I guess she accidentally posted or somebody hacked her but nobody would ever have any photo like that, ever," Claudia said, noting that she had never sent the photo to anyone.
Claudia went a step further and accused Kellyanne of keeping the photo to one day use against her.
Notably, on Tuesday, Claudia adopted a much different tone in another series of TikToks.
This isn't force," she said. "This is coming completely from me: Claudia. I have faith and I know that my mother would never put something like that on the internet, as well as me. We would never do that. My mom and I, we fight like mothers and daughters, but we also love like mothers and daughters, and I do love her. I will be taking a break from social media because we are really tired of being [featured in] headlines.'
Shortly after that video was posted, a number of people online pointed out that recently, Claudia said she wouldn't leave social media on her own accord. Because of that, many think she was forced to record the message.
Conway Accused of Posting Child Porn
Online, many have accused Kellyanne of posting child pornography.
Many have also reignited conversations of emancipation for Claudia, something the teen unsuccessfully pushed for last year.
The posting of this photo comes one week after Claudia posted now-deleted TikToks that appear to show Kellyanne physically and verbally abusing her.
In one of those videos, a woman who seems to be Kellyanne can be heard screaming at Claudia while hurling a barrage of explicit insults at the girl. Other moments appear to depict Kellyanne throwing things at Claudia and even hitting her. In one, Claudia is crying and seems to be trying to ask Kellyanne to stop but is unable to get a word in.
The New York Post reportedly reached Kellyanne by phone Tuesday morning for a statement about the incident. "We have no comment," she told the outlet while also noting that she was "sitting here with Claudia."
According to Variety, Twitter is investigating the matter. It is still unknown whether Kellyanne posted the photo herself or if her phone was hacked.
JoJo Siwa Swatted After Coming Out as Member of LGBTQ+ Community
In an Instagram live on Saturday, YouTube star JoJo Siwa confirmed that police were called to her house on a false report, a dangerous trend commonly referred to as swatting. 
The incident happened hours after Siwa publicly confirmed that she is a member of the LGBTQ+ community.
Siwa believes members of the media may have called the police in an effort to force her out of her home so they could photograph her amid the excitement surrounding her announcement. 
---
JoJo Siwa's House Gets Swatted
JoJo Siwa, the 17-year old YouTube star who is massively popular among kids, was swatted at her home on Saturday, hours after coming out as a member of the LGBTQ+ community.
During an Instagram Live with her videographer Nate Javier, Siwa confirmed that officers from the Los Angeles Police Department were called to her house on a false report.
Everyone inside had to step out with their hands up. As this happened, Siwa says paparazzi came out from around the corner.
She believes the media called the police to force her outside so they could photograph her while there was so much excitement surrounding her coming out.
She called the incident "really scary" but said that she is safe and fine.
"For me it was no big deal to walk outside my house. I'm okay," she said. "But I feel bad because there was about 50 police at our house and those police could have had much better time spent somewhere else actually helping somebody instead of dealing with a fake claim from paparazzi."
Siwa Comes Out
Siwa made headlines over the weekend as fans began to speculate that she might be coming out. They were first tipped off by a handful of TikToks she appeared in, including one where she lip-synched to "Born This Way" by Lady Gaga. Then on Friday, Siwa shared a photo of herself wearing a shirt from her cousin that said "Best. Gay. Cousin. Ever."
Many took this photo as her coming out and began to celebrate her for sharing this. On Saturday the star went live on Instagram confirming that she is part of the LGTBQ community. She thanked her fans for their support.
"I have never ever ever been this happy before and it feels awesome," she said.
Siwa said she is not yet ready to specifically label herself and that right now she is just happy to be open and sharing this part of her life with the public.
"The reason I'm not ready to say this answer is because I don't really know this answer," she explained.
"I wanna share everything with the world. I really do. But I also want to keep things in my life private until they are ready to be public," Siwa continued. "Right now what matters is that you guys know that no matter who you love, that it's okay."
Praise for Siwa Rolls In
Many stars have applauded Siwa online, including actress Kerry Washington, singer Lil Nas X, and YouTubers Liza Koshy and Colleen Ballinger.
"You've got our love," Koshy wrote. "Shine on as always!"
"This is the happiest I've ever seen you," Ballinger said. "You're absolutely glowing and I'm so proud of the woman you are becoming.
Many were also quick to point out the potential impact her coming out could have considering her large following of young people.
"JoJo Siwa's decision to share her truth with the world is a powerful moment," wrote Sarah Kate Ellis, the president of GLAAD.
"As one of the most influential young role models today, Jojo's story is a reminder for LGBTQ youth to love who they are and to find safe and welcoming environments to speak out."
Joe Rogan Says Grimes Did Not Give Dave Chappelle COVID-19
Comedian Dave Chappelle is under quarantine after testing positive for COVID-19. He is asymptomatic and his remaining shows in Austin, Texas have been canceled.
The news comes just days after Chappelle was photographed with Joe Rogan, Elon Musk, Grimes, and several others backstage at one of his Austin performances.
"Because people are asking, I was not exposed to the person who had covid and I have tested negative every day this week," Rogan wrote on Instagram Friday. "Also, the person that gave covid to Dave was NOT Elon's partner @grimes."
---
Chappelle Tests Positive
Comedian Dave Chappelle has tested positive for coronavirus and is currently under quarantine, according to one of his representatives.
In a statement to The Hollywood Reporter, that rep also confirmed that he is currently asymptomatic and has canceled all of his remaining shows at Stubbs Waller Creek Amphitheater in Austin, Texas.
"Chappelle has safely conducted socially-distanced shows in Ohio since June 2020 and he moved those shows to Austin during the winter," the statement read.
"Chappelle implemented COVID-19 protocols which included rapid testing for the audience and daily testing for himself and his team. His diligent testing enabled him to immediately respond by quarantining, thus mitigating the spread of the virus," it continued.
Joe Rogan Speaks Out After He Was Photographed With Chappelle
Two of the remaining Austin shows were supposed to include fellow comedian Joe Rogan. Rogan took to Instagram Friday morning to announce that they will be rescheduled as soon as possible.
Still, many fans had questions about Rogan's current state of health. The news of Chappelle's positive test comes just days after he was photographed maskless with Rogan, Tesla CEO Elon Musk, musician Grimes, and several others backstage at one of his Austin performances.
Since Grimes, who is also in a relationship with Musk, recently had COVID, many were concerned that she may have exposed the group. Others wondered if Chappelle may have spread it.
Rogan eventually updates his Instagram caption to dismiss the ideas.
"Because people are asking, I was not exposed to the person who had covid and I have tested negative every day this week," he wrote."Also, the person that gave covid to Dave was NOT Elon's partner @grimes."