Reality Star Masika Kalysha Slammed for Faking Kidnapping to Promote OnlyFans
Former "Love & Hip Hop: Hollywood" star Masika Kalysha posted a video of herself Tuesday crying in her underwear, covered in bruises and other marks.
She claimed she had been kidnapped and asked fans to donate to her OnlyFans page otherwise her captors would refuse to release her.
After backlash, she clarified that she was actually on the set of a TV show which discusses child sex trafficking and was hoping to shock her followers to get their attention and raise awareness for the issue.
She said she has partnered with a non-profit that supports trafficking survivors, and while some applauded her approach, others have called it disgusting and insensitive to real victims.
---
The Videos
Former "Love & Hip Hop: Hollywood" star Masika Kalysha is under fire for posting a fake kidnapping video Tuesday in which she asked her followers to donate to her OnlyFans account.
The video in question showed her in her crying in her underwear, covered in bruises on her face and body.
"I don't know how much time I have, I got beat really bad, and they're coming. They said you guys have to leave me tips and follow me so they can take the money or they're not gonna let me go. And they beat me really bad," she said as she turned around to show her injuries.
"Guys. Please help. Tip me $100 each or they're not letting me go," she pleaded once more.
She posted the clip to her Twitter and Instagram, as well as her Instagram Story where she even included a swipe up link to her OnlyFans. In case there's was any confusion about what was apparently going on here, in her post caption she flat out claimed she had been kidnapped.
"I've been kidnapped. I'm in a warehouse somewhere. Idk where! I'm so scared! They took all my money and they want more! Please! Help me! Click the link in my bio & Subscribe to my only fans and tip me so they'll let me go!!! They're coming!!!" she wrote.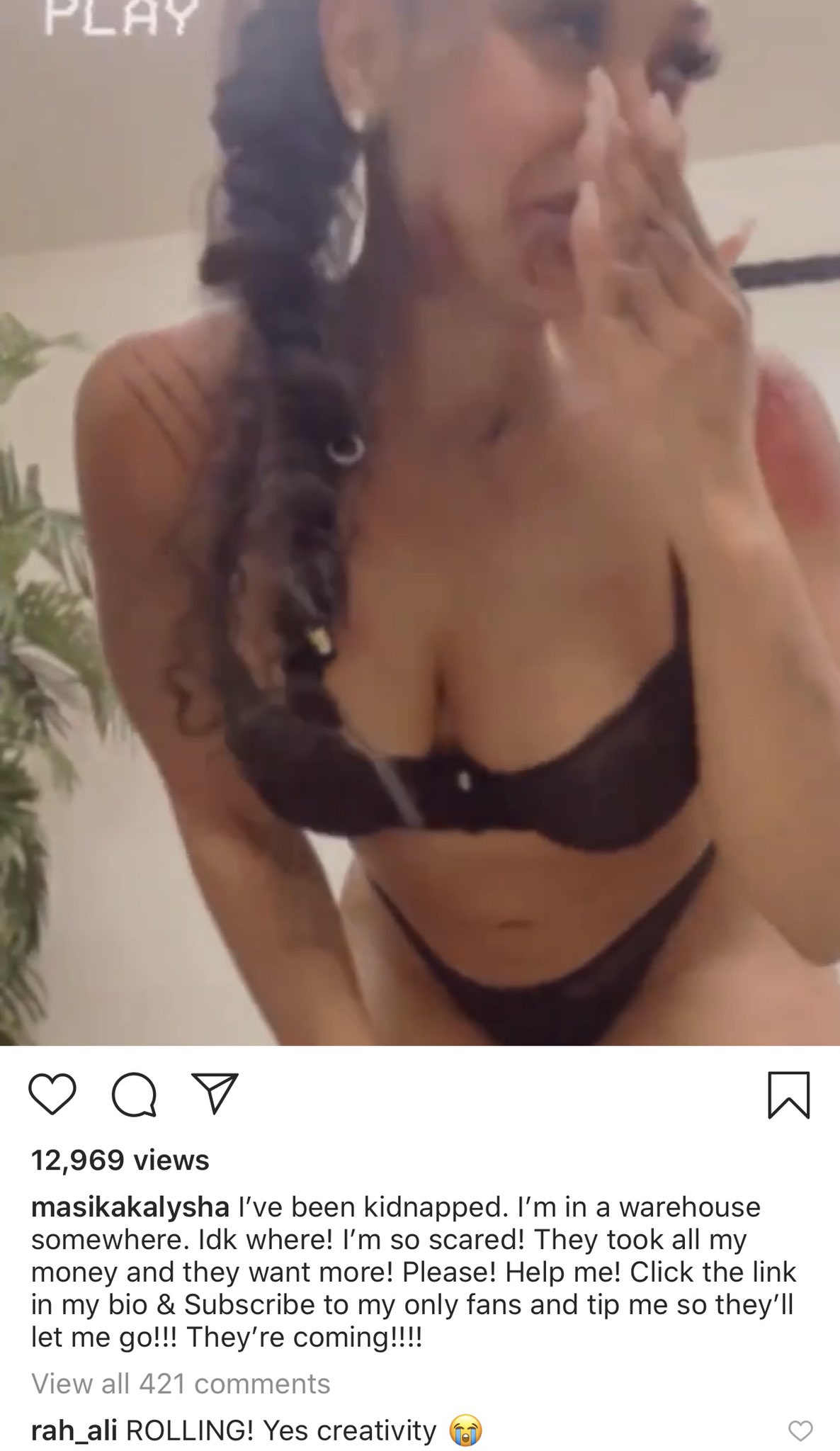 Masika Apologizes
It's unclear if anyone actually thought she had been kidnapped. Some people seemed to find the posts funny, but there were a ton of others calling it a disgusting way to promote her OnlyFans page.
A short time later, the reality star uploaded another post explaining the whole situation.
"Hey guys, now that I've got you're attention. I wanted to talk about something very important," she said. "I'm sorry if I scared you, but sometimes you need that shock factor. I'm on set right now filming for my new show and this is all camera makeup. I'm totally fine guys, but the show that I'm on right now is about child sex trafficking."
She went on to say that this is an issue she's passionate about and said this is such a challenging role for her. She said she's done so much research and really had to "dig deep." Then, she announced that she was partnering with the R.O.S.E. organization, which is a non-profit that supports victims of sex trafficking, focusing heavily on women and children of color.
first part pic.twitter.com/dZFG4Nt3SE

— tiffany (@jonestiff314) August 26, 2020
She said that, as a mother, this is something that's difficult for her to even speak about.
"I apologize if I scared you guys, but please please please follow the Rose Organization for how we can put an end to child sex trafficking, women being sex trafficked, guys like…I meant well, so I hope no ones too shooken up. But y'all should know me by now. There's always a method to my madness."
Masika has a few words pic.twitter.com/L3yBzjHQqx

— tiffany (@jonestiff314) August 25, 2020
As far as what she could be filming, she posted an Instagram story that suggested she was on the set of the UMC show "Double Cross." That show is about a set of twins who "decided to take matters into their own hands after a sudden rise of sex trafficking in their neighborhood."
Still, many were left confused about how promoting her OnlyFans helps the R.O.S.E. organization. In a tweet later Tuesday night, she said she wanted to keep bringing attention to the topic and added: "To get involved log on to https://rose-organization.com or you can donate on my onlyfans page." So it seems like she might be turning over those donations to the organization.
There's also a screenshot circulating that is allegedly from her OnlyFans page which says she is donating all the proceeds to the organization. However, no such post is visible as of Wednesday morning.
Masika Stands by Her Choice
While many still felt like she needed to do more to address how hurtful her video was for actual abuse and trafficking victims, others praised her "shock value" approach for raising awareness.
She's been retweeting posts of people applauding her and calling it a "great marketing tool."
To one of her critics, she also said, "WAIT I was SMART enough to utilize a massive platform that gets TRAFFIC for SEXUAL content to bring awareness to SEX TRAFFICKING instead of twerking."
"So whatchu sayin is imma genius u also mad that I used only fans to start a stock club? but if I was fkn cool? Oh ok."
While she does seem to have started using OnlyFans to share stock market tips, there are other posts on her main account that seem to be unrelated to that topic. It's currently unclear what she linked to when she initially uploaded her videos. Either way, as of right now, she's standing firm by her original posts and explanation.
Conflicting Messages From R.O.S.E. President and Masika
However, this morning, the president of the R.O.S.E. organization, Toni D. Rivera, posted a video responding to this whole controversy. She said she was only recently made aware of Masika's video because she was busy working and added, "It kinda pissed me off a little bit because this is my life work."
She said the video was not the right way for Masika to raise awareness and admitted that it was triggering for her and others.
"In no way shape or form, is Masika the spokesperson for R.O.S.E. In no way shape or form are we expecting money from Onlyfans, FansOnly, whatever the hell it is. No. R.O.S.E. is my organization. I did not approve or ask Masika to do a video at all."
Following those remarks, Masika shared a letter she allegedly received from the organization on August 1, which welcomed her as its new advisory board member.
That letter reads, "As an advisory board member, we will highlight you on our social media and our website. We ask only that you help guide us to funding and information resources. You are welcome to help us with fundraising yourself around your label's products and or/services. We will support you in all you do personally as well, for we too are team players."
Then in her lengthy Instagram post, Masika criticized the R.O.S.E organization's president for turning on her when the pressure became heavy, saying,"My platform is what you wanted until you got it & saw how difficult it is to stand firm and maintain your purpose while others try to tear you down."
"Toni you allowed the negative comments to supersede the end goal: saving lives and rescuing women and children."
Still, she said she's glad this whole ordeal is shining a light on this organization, and while she will continue to support the cause, she is stepping down from the group's advisory board.
However, Rivera quickly denied ever sending that letter and the two are going back and forth about this situation online.
Ruby Rose Details Abusive and Unsafe Work Conditions on Set of "Batwoman" Series
Rose said she and other crew members were seriously injured while filming, but executives insisted that production continue.
---
Ruby Rose Details Injuries During "Batwoman" Production
Actor Ruby Rose alleged in Instagram Story posts Wednesday that she and other crew members on the set of CW's "Batwoman" series were seriously injured and subjected to abusive treatment during production.
Rose, who uses she/they pronouns, exited the series in 2020 but did not give explicit details as to why at the time. Now, they are accusing showrunner Caroline Dries, producers Sarah Schechter and Greg Berlanti, and former WBTV executive Peter Roth of fostering a toxic and dangerous work environment.
The original star of "Batwoman" tagged Dries, Schechter, and Berlanti in her Story posts, writing "enough is enough."
"I'm going to tell the whole world what really happened on that set," Rose continued. "I will come for you so what happened to me never happens to another person again. And so I can finally take back my life and the truth. Shame on you."
Rose shared a video of a doctor detailing rib injuries she received on set. She claimed she had enough footage to make an hour-long documentary about these injuries, which allegedly also included a "broken neck," a "rib split in two" and a "tumor." In a later post, Rose wrote that in another instance she "got cut in the face so close to my eye in a stunt I could have been blind."
Rose also shared footage of a surgery they underwent, claiming they had to return to set just 10 days after the operation otherwise "the whole crew and cast would be fired."
Rose Claims Executives Fostered Dangerous Workplace
"Please to my dear, dear fans stop asking if I will return to that awful show," Rose continued. "I wouldn't return for any amount of money nor if a gun were to my head…NOR DID I QUIT. They ruined Kate Kane and they destroyed batwoman, not me."
Rose added that they were not the only one who sustained traumatic injuries during filming. Rose claimed that the series "lost two stunt doubles" and that one crew member received severe third-degree burns all over his body while the cast and crew watched.

"We were given no therapy after witnessing his skin fall off his face," Rose wrote. 
Rose even wrote that a woman "was left quadriplegic" during an accident but executives tried "to blame it on her being on her phone."
"She's a PA, they work via phones," Rose continued. "Her accident occurred because our show refused to shut down when everyone else did because of Covid."
Rose's allegations regarding mishandling the COVID-19 pandemic continued from there. She wrote that Dries only visited the show's set four times a year, but still insisted that production continue as COVID posed a threat. Rose said "Batwoman" continued running while other sets, including those of CW productions, were shutting down.
"[Dries] has no heart and wanted us to finish the season throughout the pandemic and I told her it was a bad idea," Rose wrote. "I told her everyone was too distracted, constantly checking Covid updates checking on friends."
Rose claims that when production did finally halt, it was not because a production assistant had been severely injured but because "the government pulled it."
Separately, Rose accused Roth of having young women steam the crotch area of his pants while he was wearing them. She also alleged that Roth sent a private investigator after her and that Dries encouraged her to comply with him.
Rose admitted that they "fought people" on set, but claimed they only did so to advocate for safety. Rose said they never raised their voice, unlike fellow actor Dougray Scott, who they accused of going on abusive tirades.
"Dougray hurt a female stunt double," Rose claimed. "He yelled like a little bitch at women and was a nightmare. He left when he wanted and arrived when he wanted he abused women and in turn as a lead of a show I sent an email out asking for a no yelling policy, they declined."
WBTV responded to the allegations Wednesday. The network gave a statement to Deadline accusing Rose of sharing a "revisionist history" that implicates "producers, the cast and crew, the network, and the Studio."

"The truth is that Warner Bros. Television had decided not to exercise its option to engage Ruby for season two of Batwoman based on multiple complaints about workplace behavior that were extensively reviewed and handled privately out of respect for all concerned," the statement continued.
Netflix Reinstates Employee Who Crashed Director-Level Meeting After Criticizing Dave Chapelle
Terra Field had publicly accused Chappelle of making transphobic remarks in his new stand-up special "The Closer" just days before she was suspended.
---
Netflix Reinstates Terra Field
Netflix reinstated a transgender employee who was critical of Dave Chappelle's new stand-up special after suspending her for attending a director-level meeting without an invitation. 
Terra Field tweeted on Tuesday that she was reinstated once the company determined "there was no ill-intent in" her decision to attend the meeting.
"I'm going to take a few days off to decompress and try to figure out where I'm at," she added. "At the very least, I feel vindicated."
Field also shared an email Netflix sent her regarding her suspension being lifted.
"Our investigation did not find that you joined the QBR meeting with any ill intent and that you genuinely didn't think there was anything wrong with seeking access to this meeting," the email said. "Additionally, when a Director shared the link it further supported that this was a meeting you could attend."
Field's suspension came just days after she tweeted a viral thread criticizing Chappelle's latest program on Netflix, "The Closer." She was one of many activists who claimed Chappelle's set was transphobic and encouraged Netflix to take action. Field wrote that his comments attacked "the very validity of transness." Netflix insisted those tweets had nothing to do with her suspension.
Field reportedly attended the director-level meeting with two other employees who were also suspended. A spokesperson for Netflix told Deadline that those two staffers have likewise been reinstated and the company "will be distributing broader guidance about meetings and clarifying which are for which people."
Netflix's Response to Dave Chappelle Controversy
Netflix, for its part, has defended Chappelle and rejected calls to remove "The Closer" from the streaming service.
"It never feels good when people are hurting, especially our colleagues," Netflix co-CEO Ted Srandos wrote in an internal memo. "You should also be aware that some talent may join third parties in asking us to remove the show in the coming days, which we are not going to do."
"We don't allow titles on Netflix that are designed to incite hate or violence, and we don't believe The Closer crosses that line," he added. "I recognize, however, that distinguishing between commentary and harm is hard, especially with stand-up comedy which exists to push boundaries. Some people find the art of stand-up to be mean spirited but our members enjoy it, and it's an important part of our content offering."
Among other things, Chappelle took time in his special to defend author J.K. Rowling, who previously faced backlash over a series of transphobic remarks she made. Chappelle said he agreed with Rowling.
"I'm team TERF," he added. "I agree. I agree, man. Gender is a fact."
Chappelle went on to make jokes about Caitlyn Jenner before comparing the genitalia of transgender women to Beyond and Impossible meat.
Many employees at Netflix are still frustrated with the way the platform has handled the controversy surrounding "The Closer." According to The Verge, a trans employee resource group is planning a walkout on Oct. 20.
"Trans Lives Matter. Trans Rights Matter," the group said in a memo. "And as an organization, Netflix has continually failed to show deep care in our mission to Entertain the World by repeatedly releasing content that harms the Trans community and continually failing to create content that represents and uplifts Trans content. We can and must do better!"
Lil Nas X and Bella Poarch May Have Abandoned Plans To Participate In TikTok NFT Program
Lil Nas X's TikTok NFT was scheduled to debut a week ago and is still not available to the public.
---
Creators Allegedly Leave TikTok's NFT Program
Musicians Lil Nas X and Bella Poarch may have quietly exited TikTok's new NFT collection, according to a report from Rolling Stone.
TikTok first announced the line, which is called "TikTok Top Moments," at the end of September. It involves a series of creator-led NFTs, or non-fungible tokens, which are unique and tradeable digital assets. TikTok's NFTs can be purchased with the cryptocurrency Ethereum. According to a press release, the money will "largely go directly to the creators and NFT artists involved."
TikTok said that creators like Poarch, Lil Nas X, Grimes, Curtis Roach, Brittany Broski, and more would be participating in the program. The company called NFTs an "empowerment tool" that will allow these creators to "be recognized and rewarded for their content." It planned to debut the collection on Oct. 6 with Lil Nas X's NFT, but that token has still not been made available. A source told Rolling Stone that it may never be released.
NFT Rollout Described as "A Mess"
The outlet also reported that Poarch is "actively contemplating pulling out of the program due to worries about its execution." According to Rolling Stone, three sources familiar with the rollout of the program have described it as "a challenge," "a mess," and "a complete joke."
Those sources claimed that in order to secure Poarch's initial participation, TikTok offered her marketing support worth potentially $4 million for her next release. The company also allegedly promised to use one of her songs in an end-of-year campaign. A spokesperson for TikTok, however, described these claims as "not accurate."
Neither Poarch nor Lil Nas X has commented on their participation yet. Meanwhile, TikTok declined to answer Rolling Stone's questions about the status of their NFTs.
Some of TikTok's announced NFTs have gone public, though. Throughout Tuesday, Roach's "Bored in the House" video was up for auction on the platform Immutable.
NFTs took the internet by storm in early 2021, but their popularity peaked in May and declined throughout the summer. Celebrities, tech moguls, and everyday people featured in viral memes have hopped on the trend and made millions doing so.
According to Rolling Stone, TikTok has valued some of its own NFTs at $1 million. Now, it's unclear if those tokens will ever hit the market.