Reality Star Masika Kalysha Slammed for Faking Kidnapping to Promote OnlyFans
Former "Love & Hip Hop: Hollywood" star Masika Kalysha posted a video of herself Tuesday crying in her underwear, covered in bruises and other marks.
She claimed she had been kidnapped and asked fans to donate to her OnlyFans page otherwise her captors would refuse to release her.
After backlash, she clarified that she was actually on the set of a TV show which discusses child sex trafficking and was hoping to shock her followers to get their attention and raise awareness for the issue.
She said she has partnered with a non-profit that supports trafficking survivors, and while some applauded her approach, others have called it disgusting and insensitive to real victims.
---
The Videos
Former "Love & Hip Hop: Hollywood" star Masika Kalysha is under fire for posting a fake kidnapping video Tuesday in which she asked her followers to donate to her OnlyFans account.
The video in question showed her in her crying in her underwear, covered in bruises on her face and body.
"I don't know how much time I have, I got beat really bad, and they're coming. They said you guys have to leave me tips and follow me so they can take the money or they're not gonna let me go. And they beat me really bad," she said as she turned around to show her injuries.
"Guys. Please help. Tip me $100 each or they're not letting me go," she pleaded once more.
She posted the clip to her Twitter and Instagram, as well as her Instagram Story where she even included a swipe up link to her OnlyFans. In case there's was any confusion about what was apparently going on here, in her post caption she flat out claimed she had been kidnapped.
"I've been kidnapped. I'm in a warehouse somewhere. Idk where! I'm so scared! They took all my money and they want more! Please! Help me! Click the link in my bio & Subscribe to my only fans and tip me so they'll let me go!!! They're coming!!!" she wrote.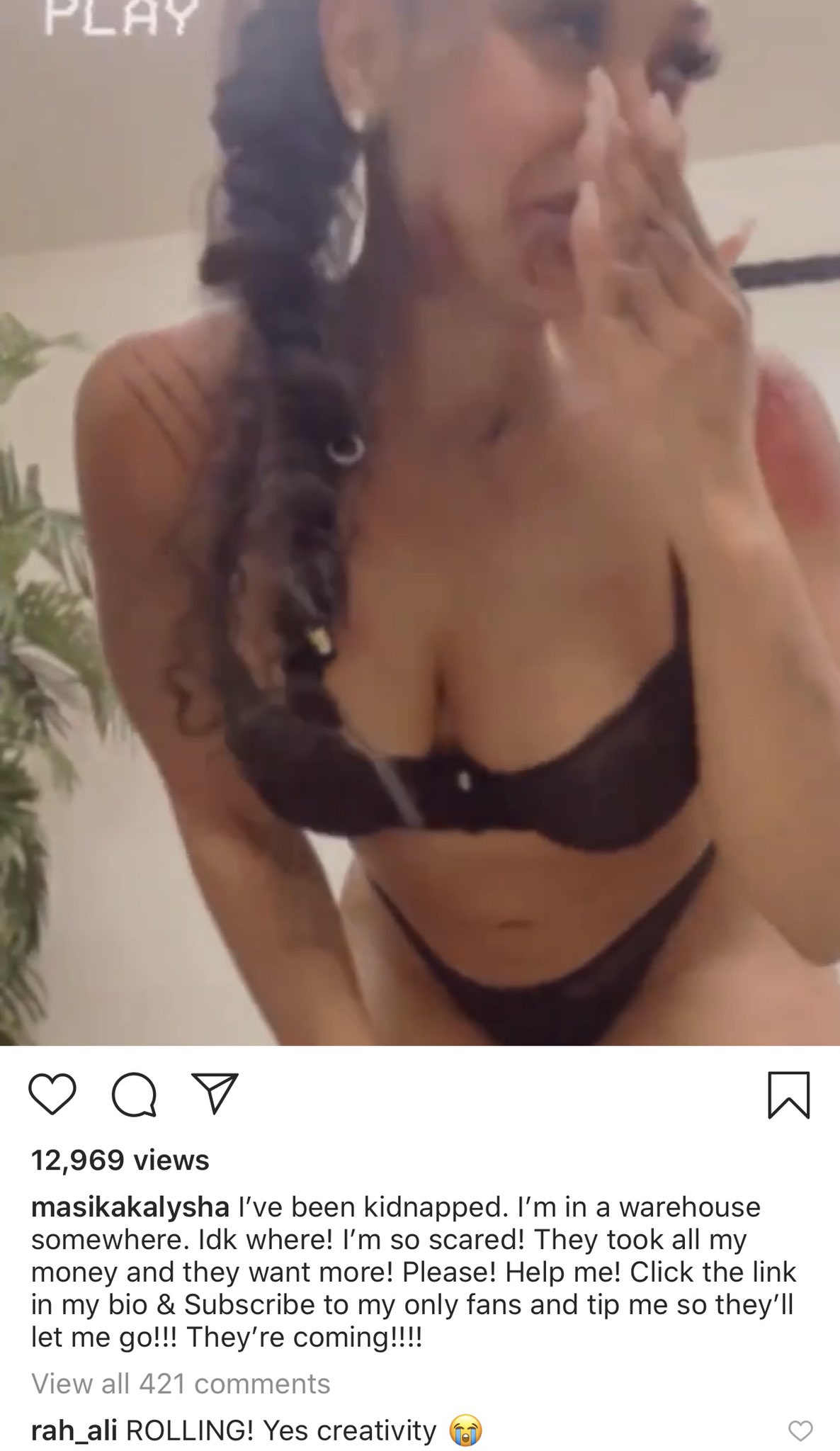 Masika Apologizes
It's unclear if anyone actually thought she had been kidnapped. Some people seemed to find the posts funny, but there were a ton of others calling it a disgusting way to promote her OnlyFans page.
A short time later, the reality star uploaded another post explaining the whole situation.
"Hey guys, now that I've got you're attention. I wanted to talk about something very important," she said. "I'm sorry if I scared you, but sometimes you need that shock factor. I'm on set right now filming for my new show and this is all camera makeup. I'm totally fine guys, but the show that I'm on right now is about child sex trafficking."
She went on to say that this is an issue she's passionate about and said this is such a challenging role for her. She said she's done so much research and really had to "dig deep." Then, she announced that she was partnering with the R.O.S.E. organization, which is a non-profit that supports victims of sex trafficking, focusing heavily on women and children of color.
first part pic.twitter.com/dZFG4Nt3SE

— tiffany (@jonestiff314) August 26, 2020
She said that, as a mother, this is something that's difficult for her to even speak about.
"I apologize if I scared you guys, but please please please follow the Rose Organization for how we can put an end to child sex trafficking, women being sex trafficked, guys like…I meant well, so I hope no ones too shooken up. But y'all should know me by now. There's always a method to my madness."
Masika has a few words pic.twitter.com/L3yBzjHQqx

— tiffany (@jonestiff314) August 25, 2020
As far as what she could be filming, she posted an Instagram story that suggested she was on the set of the UMC show "Double Cross." That show is about a set of twins who "decided to take matters into their own hands after a sudden rise of sex trafficking in their neighborhood."
Still, many were left confused about how promoting her OnlyFans helps the R.O.S.E. organization. In a tweet later Tuesday night, she said she wanted to keep bringing attention to the topic and added: "To get involved log on to https://rose-organization.com or you can donate on my onlyfans page." So it seems like she might be turning over those donations to the organization.
There's also a screenshot circulating that is allegedly from her OnlyFans page which says she is donating all the proceeds to the organization. However, no such post is visible as of Wednesday morning.
Masika Stands by Her Choice
While many still felt like she needed to do more to address how hurtful her video was for actual abuse and trafficking victims, others praised her "shock value" approach for raising awareness.
She's been retweeting posts of people applauding her and calling it a "great marketing tool."
To one of her critics, she also said, "WAIT I was SMART enough to utilize a massive platform that gets TRAFFIC for SEXUAL content to bring awareness to SEX TRAFFICKING instead of twerking."
"So whatchu sayin is imma genius u also mad that I used only fans to start a stock club? but if I was fkn cool? Oh ok."
While she does seem to have started using OnlyFans to share stock market tips, there are other posts on her main account that seem to be unrelated to that topic. It's currently unclear what she linked to when she initially uploaded her videos. Either way, as of right now, she's standing firm by her original posts and explanation.
Conflicting Messages From R.O.S.E. President and Masika
However, this morning, the president of the R.O.S.E. organization, Toni D. Rivera, posted a video responding to this whole controversy. She said she was only recently made aware of Masika's video because she was busy working and added, "It kinda pissed me off a little bit because this is my life work."
She said the video was not the right way for Masika to raise awareness and admitted that it was triggering for her and others.
"In no way shape or form, is Masika the spokesperson for R.O.S.E. In no way shape or form are we expecting money from Onlyfans, FansOnly, whatever the hell it is. No. R.O.S.E. is my organization. I did not approve or ask Masika to do a video at all."
Following those remarks, Masika shared a letter she allegedly received from the organization on August 1, which welcomed her as its new advisory board member.
That letter reads, "As an advisory board member, we will highlight you on our social media and our website. We ask only that you help guide us to funding and information resources. You are welcome to help us with fundraising yourself around your label's products and or/services. We will support you in all you do personally as well, for we too are team players."
Then in her lengthy Instagram post, Masika criticized the R.O.S.E organization's president for turning on her when the pressure became heavy, saying,"My platform is what you wanted until you got it & saw how difficult it is to stand firm and maintain your purpose while others try to tear you down."
"Toni you allowed the negative comments to supersede the end goal: saving lives and rescuing women and children."
Still, she said she's glad this whole ordeal is shining a light on this organization, and while she will continue to support the cause, she is stepping down from the group's advisory board.
However, Rivera quickly denied ever sending that letter and the two are going back and forth about this situation online.
BBC Diversity Chief Sparks Backlash After Claiming "Luther" Was Not an "Authentic" Black Lead
BBC Diversity Chief Miranda Wayland sparked backlash after saying Monday that the Idris Elba-led series "Luther" was not authentic because the Black protagonist "doesn't have any Black friends" and "doesn't eat any Caribbean food."
Many criticized Wayland's remarks, arguing that she essentially implied the character was not "Black enough" because he did not fall into certain stereotypes.
BBC defended the show and said they were "tremendously proud" of "Luther." Meanwhile series creator Neil Cross said one of the reasons Elba was attracted to the role was because it did not center on race.
---
BBC Diversity Chief Sparks Controversy
The Diversity Chief at BBC sparked backlash after implying that the title character in the hit series "Luther" was not an authentic Black lead.
The crime drama ran for five seasons between 2010 and 2019, starring Idris Elba as detective John Luther. It won Elba a Golden Globe in 2012 and earned him four Emmy nominations. 
"When [Luther] first came out everybody loved the fact that Idris Elba was in there — a really strong, Black character lead," BBC's Diversity Chief Miranda Wayland said while speaking on diversity and inclusion strategies during the Digital MIPTV conference on Monday. "We all fell in love with him. Who didn't, right?"
"But after you got into about the second series you got kind of like, OK, he doesn't have any Black friends, he doesn't eat any Caribbean food, this doesn't feel authentic," she continued.
Fans Defend "Luther"
Her remarks upset numerous people who felt Wayland was implying that Luther was not "Black enough" because he didn't fall into certain racial stereotypes.
"This farcical criticism was clearly thought up out of boredom or just sheer ignorance," one Twitter user wrote. "Luther is a brilliant series and actually shows a Black actor in a light not defined by anything but his ability to do his job. Stop using stereotypes to justify your own insecurities."
Many pointed to the fact that even successful actors like Elba still have to deal with being labeled either "not Black enough" in some roles, but "too Black" for others. Elba has long been rumored as a potential pick to be the next James Bond. If he were cast, he would be the first Black actor to take the famous role. Despite his popularity, nothing has come of those rumors.
Others found the criticism of him not having Black friends to be especially weak because Luther did not have a lot of friends in general, as one of his character traits was his stark commitment to his job.
BBC and "Luther" Creator Respond
The creator of "Luther," Neil Cross, told The Daily Mail that one of the reasons Elba was interested in the role was because it had nothing to do with race. Many doubled down on the fact that the show was great because his character was complex and human on his own without having to deal with racial issues, something that is often not seen in shows with Black leads.
Great thing about Luther is that his skin colour isn't the core of his identity.

He's fighting many battles. An example that we're all human, we all struggle, but our ethnicity doesn't always play a part in that.

That's diversity, @MirandawTV. Equality!https://t.co/sIDc7c0pnL

— Calvin Robinson (@calvinrobinson) April 14, 2021
https://platform.twitter.com/widgets.js
"I have no knowledge or expertise or right to try to tackle in some way the experience of being a Black man in modern Britain," Cross said in his statement to The Daily Mail. " It would have been an act of tremendous arrogance for me to try to write a Black character."
"We would have ended up with a slightly embarrassed, ignorant, middle-class, white writer's idea of a Black character," he continued.
A BBC spokesperson also defended the show in a statement to The Independent saying the network is "tremendously proud" of "Luther."
"The BBC is committed to its continued investment in diversity and recent BBC One dramas 'I May Destroy You' and 'Small Axe' are testament to that," the spokesperson continued. "Of course people can have open discussions about our shows but that doesn't mean it's a statement of policy."
Elba himself has not directly responded to the situation, though some think an Instagram story he posted Wednesday may have been related to it.
"We must not pull ourselves backwards, only push ourselves forward," the actor wrote.
Durte Dom Returns To TikTok Following Sexual Assault Accusation Levied Against Him
YouTuber Dom Zeglaitis, a former member of David Dobrik's Vlog Squad known online as Durte Dom, returned to the Internet less than one month after he was accused of sexually assaulting a woman in 2018 who was too drunk to consent.
Zeglaitis has not issued a response to the allegation, but in the past three days, he has posted a dozen TikToks that mostly consist of short sketches and jokes he filmed with friends.
One post shows Zeglaitis participating in the "Bulletproof" challenge, with text in the clip reading, "You think you can hurt my feelings?!? I got kicked out of the Vlog Squad for…"
Several people, including major creators like Tana Mongeau and Ethan Klein, are now calling him out for seeming to make light out of a serious situation.
---
Durte Dom Returns To Internet
Former Vlog Squad member Dom Zeglaitis, also known as "Durte Dom," has resumed posting on social media after nearly a month of silence since he was accused of sexual assault.
A woman told Insider in March that Zeglaitis raped her while she was too drunk to consent to sexual activity in 2018. She said that she and her friends were hanging out with YouTuber David Dobrik's Vlog Squad at the time. The accuser, who was under 21 the night of the alleged assault, claimed the group supplied her and her friends with alcohol.
The fallout of this allegation has been significant. While Zeglaitis has yet to respond to it, Dobrik has issued multiple apologies and faced most of the financial repercussions as frontman of the group. Both Zeglaitis and Dobrik were later demonetized by YouTube. Dobrik also lost multiple sponsorship deals and bowed out of Dispo, a photo-sharing app he co-founded. He is now taking a break from YouTube and social media.
Though Zeglaitis has returned to the Internet, he is still largely ignoring the sexual assault accusation levied against him. He specifically began posting on TikTok over the weekend, and since then has posted roughly a dozen videos on the platform.
Durte Dom Jokes About The Vlog Squad on TikTok
Most of the videos are short sketches or comedy bits with his friends. In one, he and a friend are going through Omegle while Zeglaitis is off-screen. The friend asks the people on the other end of the chat "What are your thoughts on Durte Dom?" before Zeglaitis enters the shot.
Several of the videos continue to reference Zeglaitis' sleazy, womanizing, reputation. One shows him claiming to have "smashed" adult film star Riley Reid. In another, he is sitting on a lounge chair throwing money at girls dancing next to him.
The video generating the most attention, however, is his take on the viral "Bulletproof" challenge. That TikTok features him standing below a text block that reads "You think you can hurt my feelings?!? I got kicked out of the Vlog Squad for…" while the song "Bulletproof" plays in the background.
In the caption of that video, he tagged Dobrik and asked "bruh why they kick me out?!?"
Creators Call Out Zeglaitis for Ignoring Allegation
This specific TikTok caught the attention of major creators, including Tana Mongeau and Ethan Klein, who dueted that video to call Zeglaitis out.
"Someone please make this make sense to me," Mongeau wrote.
"This mf serious?" Klein said.
They are not the only ones frustrated with Zeglaitis. Many responded to the video in the comment section shocked he was posting at all, bringing up the sexual assault allegation, and urging him to not treat it as a joke.
The comment sections on the rest of his videos are similarly flooded with people who are outraged that he is posting regular content as though nothing had happened.
See what others are saying: (Insider)
TikToker Neumane Called Out for Copying Content From Smaller Creators
Kane Trujillo, a comedy TikToker known as @neumane, is facing backlash after fellow TikToker Joey Bailey posted a video noting that Trujillo has risen to popularity off content copied from several, often smaller, creators.
Bailey also shared an alleged audio message he received from Trujillo where he threatened Bailey to take his call-out video down before sending a second message promising to pursue legal action.
In a clip from a TikTok live stream, Trujillo addressed the controversy by saying that "nothing's original" and seemingly admitting to copying.
"It's not who made it first, it's who does it better," he said in the clip. "Who gives a f*ck about some little copied content? … I'm an actor. I'm not a writer, I'm not a f*cking storyteller…You give me a script, I will f*cking nail that sh*t. And I'm not gonna think of it, no, but I'm gonna make yours better."
---
Stealing Accusations
Popular comedy TikToker Kane Trujillo, who has over 2.7 million followers and is known on the platform as @neumane, has been called out by fellow creators for a pattern of stealing content.
The latest creator sounding the alarm is Joey Bailey (@joey.bailey), who posted a video to the app on March 15 that showed Trujillo's posts next to the original versions he appears to have replicated, often word for word and with nearly identical expressions.
Similar allegations regarding Trujillo were made on March 13 in a YouTube video from thatsjustchris.
In a follow-up TikTok and a longer YouTube video, Bailey went on to explain that he received an audio message from Trujillo through Instagram trying to get Bailey to take the call-out video down.
"You can kindly take it down and we can just, you know, be cool and move on from all this sh*t, or you could just leave it up and have a lot of enemies from here on out," the voice that allegedly belongs to Trujillo can be heard saying in the audio.
Bailey said he privated the video after that because he "didn't want to become the drama TikToker," but he eventually changed his mind, arguing that he wasn't starting drama, he was just standing up for himself.
After he unprivated the video, he said Trujillo sent him another message promising to pursue legal action.
"As of today me & my management team will be proceeding with a False Accusation lawsuit against you. I wish we didn't have to go this far but you leave me no choice," that message read.
Copied Creators Express Mixed Feelings
In total, at least several creators appear to have had content copied by Trujillo: @nuhchez, @ty_t.v, @brodiefalgoust, @dawson.taylor1, @licout, @lemmuelmamotsau, and @joey.bailey.
In statements to The Daily Dot, some of those creators essentially said they've accepted that this is something that happens on TikTok.
"This is something I've come to accept because sadly TikTok is an app that will push stolen content and Suppress originality!" Natchez Ballinger (@nuhchez) told the outlet in an email. "Creators have stolen from me since I've joined the app, I take it as flattery in a way."
"I mean yeah he did steal my video and it became more popular but it's TikTok," Dawson Anderson (@dawson.taylor1) told the outlet via Instagram. "I don't really care all that much it's a video trend not worth crying over."
Still, others were much more frustrated.
"The thing with him is that he doesn't steal ideas, he steals the video word for word, uses the same sound, the same gestures, and even the same wording without giving any credit to the creator whatsoever," Brodie Falgoust (@brodiefalgoust) told The Daily Dot via Instagram. "That is how he gained all of his following, and continues to do it still (even after being called out). I get ripped off all the time but It's frustrating as a smaller creator who is constantly coming out with original content when a person with a big following comes and takes credit for your originality."
"People take my ideas but any creator that has been bigger than me has given me credit!" Falgoust continued.
"There is [a] large difference between following a trend and ripping off someone's work shot for shot and word for word," said another creator who spoke to the outlet anonymously out of feat of legal retaliation.
"A lot of users do not understand how much work some of these creators are putting into original content. And for Neumane to hunt down those smaller creators and reproduce their successful content as his own without acknowledging credit is exasperating. The real issue becomes the money and opportunity he is being given by eating off of the backs of others."
Neumane's Response
In a clip of a TikTok live stream reviewed by The Daily Dot, Neumane addressed the controversy by saying, "nothing's original." He also seemed to admit to copying.
"Imagine showing hate to somebody on the internet," Trujillo reportedly said during the live stream. "Like bro, just show love. Who gives a f*ck about some little copied content? Like, just make it good, and yours will get a lot of views. Do good expression, act well. I'm an actor. I'm not a writer, I'm not a f*cking storyteller. I'm an actor. You give me a script, I will f*cking nail that sh*t. And I'm not gonna think of it, no, but I'm gonna make yours better."
A viral TikTok by @ttdramanews covering the allegations against Trujillo shared portions of that clip, which also shows Trujillo saying, "It's not who made it first, it's who does it better."
According to The Daily Dot, Trujillo talked about people needing to show love, though commenters quickly pointed out that he's the one threatening others with legal action.