E3 Apologizes for Sharing Sexist Article Listing "Games That Women Enjoy"
A recent Parade article listed "25 Online Games That Women Enjoy," including Solitaire, Candy Crush, and Kim Kardashian: Hollywood Adventure, to name a few.
Many felt it failed to capture the scope of female gamers and their interests, and instead fed into stereotypes of what women "should" like. For instance, when listing Bejeweled Classic, the author wrote: "Diamonds are a girl's best friend. Am I right, ladies?"
That article was shared on Twitter by E3, a move that prompted a ton of backlash from people in the gaming world who said it should know better than to perpetuate harmful stereotypes about women in gaming.
E3 apologized soon after and deleted its tweet. Parade has also removed the article, though web archives of it exist.
---
What the Article Says
E3 apologized Tuesday after sharing an article about games women enjoy that many felt perpetuated harmful stereotypes.
The official Twitter account for E3, which is a major trade event in the gaming industry, posted a tweet earlier in the day that read: "Great list of games women gamers are playing — any of your favorites make the cut?"
That post linked to a Parade article titled: "The Games We Play! 25 Online Games That Women Enjoy." In it, the author, Nicole Pajer, said she surveyed game developers, pro gamers, and everyday players to create this list of 25 "free online games for women." Then she proceeds to list off her results – many of which aren't even free.
Number one on the list was Sodoku, followed by Sayonara Wild Hearts and Candy Crush. Other notable mentions were Animal Crossing, Sims 4, Star Chef, Kim Kardashian: Hollywood Adventure, Just Dance, Solitaire, Tetris, and, of course, Bejeweled Classic, which she listed with the line, "Diamonds are a girl's best friend. Am I right, ladies?"
She also included Overwatch on her list, writing that "Women like it since it has a lot of female 'heroes' to portray, giving them the chance to hold their own amidst the boys, and for its fantasy element."
While she did say that online games have no gender attached to them, she added that these are some of the games "female players tend to gravitate towards."
Backlash
After E3 tweeted out that list, a lot of people in the gaming world were pretty shocked and offended. But to be clear, the issues weren't about the quality of these specific games, and there's nothing wrong with people who do play and enjoy them.
The problem for many was that this list doesn't capture the full scope of women in gaming and their huge range of interest. Instead, it feeds into stereotypes about what women "should" like. As a writer for Kotaku put it, reinforces the idea that women, "would rather shuffle jewels or go dancing than blow off demons' heads with a shotgun."
Under E3's post, some in the gaming space like Naomi Kyle and Trisha Hershberger responded with gifs representing their reactions to the list.
ew ew ew ew ew ew ew pic.twitter.com/zyH0alVANs

— Trisha Hershberger (@thatgrltrish) August 18, 2020
Meanwhile, iJustine took a more sarcastic approach.
When Meg Turney saw the tweet, she wrote: "Whomst the fuck wrote this shit." Then followed that with: "Okay I don't want to @ her bc I'm sure she did try her best, but the author of this story has a tweet from a couple days before asking if any #videogamesexperts want to help with a story w/ no replies so I guess that's how we ended up at having Solitaire be our favorite game."
The tweet she's referencing has since been deleted, but not before users could snag a screenshot of course.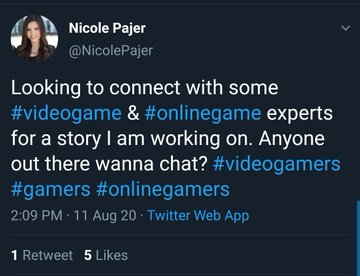 Ultimately, Turney and plenty of others focused a lot of their frustration at E3, arguing that it should know better than to share something like this.
E3 Apologizes
After seeing the backlash, E3 deleted its tweet and issued an apology, writing: "We messed up. We are taking down the post and apologize for perpetuating a harmful stereotype. We will do better."
A spokesperson for E3 also told Kotaku, "We posted a story that does not reflect what we believe and know to be true—that women and girls make, play and excel in games of all genres. Video games are for everyone, as the unequivocal voice of the gaming community reminds us all."
Still, many were confused by how this even happened in the first place. Ms5000Watts, for example, said, " don't even understand how an official E3 twitter could think that posting it was ever ok. Anyone who has spent even 10 minutes in the gaming world knows that in 2020 that would be a bad article. It's real weird."
I'll be honest with ya man. I don't even understand how an official E3 twitter could think that posting it was ever ok. Anyone who has spent even 10 minutes in the gaming world knows that in 2020 that would be a bad article. It's real weird

— Ms5000Watts (@Ms5000Watts) August 18, 2020
Parade, for its part, has taken the article down, though web archives of it exist. According to reports, for a while, the link instead directed to a list of "26 Best Games To Play With Friends For Fun While Social Distancing." However, now it seems to direct just to the site's homepage.
Schools Across the U.S. Cancel Classes Friday Over Unverified TikTok Threat
Officials in multiple states said they haven't found any credible threats but are taking additional precautions out of an abundance of safety.
---
School Cancelled
Schools in no fewer than 10 states either canceled classes or increased their police presence on Friday after a series of TikToks warned of imminent shooting and bombs threats.
Despite that, officials said they found little evidence to suggest the threats are credible. It's possible no real threat was actually ever made as it's unclear if the supposed threats originated on TikTok, another social media platform, or elsewhere.
"We handle even rumored threats with utmost seriousness, which is why we're working with law enforcement to look into warnings about potential violence at schools even though we have not found evidence of such threats originating or spreading via TikTok," TikTok's Communications team tweeted Thursday afternoon.
Still, given the uptick of school shootings in the U.S. in recent years, many school districts across the country decided to respond to the rumors. According to The Verge, some districts in California, Minnesota, Missouri, and Texas shut down Friday.
"Based on law enforcement interviews, Little Falls Community Schools was specifically identified in a TikTok post related to this threat," one school district in Minnesota said in a letter Thursday. "In conversations with local law enforcement, the origins of this threat remain unknown. Therefore, school throughout the district is canceled tomorrow, Friday, December 17."
In Gilroy, California, one high school that closed its doors Friday said it would reschedule final exams that were expected to take place the same day to January.
According to the Associated Press, several other districts in Arizona, Connecticut, Illinois, Montana, New York, and Pennsylvania stationed more police officers at their schools Friday.
Viral Misinformation or Legitimate Warnings?
As The Verge notes, "The reports of threats on TikTok may be self-perpetuating."
For example, many of the videos online may have been created in response to initial warnings as more people hopped onto the trend. Amid school cancellations, videos have continued to sprout up — many awash with both rumors and factual information.
"I'm scared off my ass, what do I do???" one TikTok user said in a now-deleted video, according to People.
"The post is vague and not directed at a specific school, and is circulating around school districts across the country," Chicago Public Schools said in a letter, though it did not identify any specific post. "Please do not re-share any suspicious or concerning posts on social media."
According to Dr. Amy Klinger, the director of programs for the nonprofit Educator's School Safety Network, "This is not 2021 phenomenon."
Instead, she told The Today Show that her network has been tracking school shooting threats since 2013, and she noted that in recent years, they've become more prominent on social media.
"It's not just somebody in a classroom of 15 people hearing someone make a threat," she said. "It's 15,000 people on social media, because it gets passed around and it becomes larger and larger and larger."
See what others are saying: (The Verge) (Associated Press) (People)
Jake Paul Says He "Can't Get Cancelled" as a Boxer
The controversial YouTuber opened up about what it has been like to go from online fame to professional boxing.
---
The New Yorker Profiles Jake Paul
YouTuber and boxer Jake Paul talked about his career switch, reputation, and cancel culture in a profile published Monday in The New Yorker.
While Paul rose to fame as the Internet's troublemaker, he now spends most of his time in the ring. He told the outlet that one difference between YouTube and boxing is that his often controversial reputation lends better to his new career.
"One thing that is great about being a fighter is, like, you can't get cancelled," Paul said. The profile noted that the sport often rewards and even encourages some degree of bad behavior.
"I'm not a saint," Paul later continued. "I'm also not a bad guy, but I can very easily play the role."
Paul also said the other difference between his time online and his time in boxing is the level of work. While he says he trains hard, he confessed that there was something more challenging about making regular YouTube content.
"Being an influencer was almost harder than being a boxer," he told The New Yorker. "You wake up in the morning and you're, like, Damn, I have to create fifteen minutes of amazing content, and I have twelve hours of sunlight."
Jake Paul Vs. Tommy Fury
The New Yorker profile came just after it was announced over the weekend Paul will be fighting boxer Tommy Fury in an 8-round cruiserweight fight on Showtime in December.
"It's time to kiss ur last name and ur family's boxing legacy goodbye," Paul tweeted. "DEC 18th I'm changing this wankers name to Tommy Fumbles and celebrating with Tom Brady."
Both Paul and Fury are undefeated, according to ESPN. Like Paul, Fury has found fame outside of the sport. He has become a reality TV star in the U.K. after appearing on the hit show "Love Island."
Hackers Hit Twitch Again, This Time Replacing Backgrounds With Image of Jeff Bezos
The hack appears to be a form of trolling, though it's possible that the infiltrators were able to uncover a security flaw while reviewing Twitch's newly-leaked source code.
---
Bezos Prank
Hackers targeted Twitch for a second time this week, but rather than leaking sensitive information, the infiltrators chose to deface the platform on Friday by swapping multiple background images with a photo of former Amazon CEO Jeff Bezos.
According to those who saw the replaced images firsthand, the hack appears to have mostly — and possibly only — affected game directory headers. Though the incident appears to be nothing more than a surface-level prank, as Amazon owns Twitch, it could potentially signal greater security flaws.
For example, it's possible the hackers could have used leaked internal security data from earlier this week to discover a network vulnerability and sneak into the platform.
The latest jab at the platforms came after Twitch assured its users it has seen "no indication" that their login credentials were stolen during the first hack. Still, concerns have remained regarding the potential for others to now spot cracks in Twitch's security systems.
It's also possible the Bezos hack resulted from what's known as "cache poisoning," which, in this case, would refer to a more limited form of hacking that allowed the infiltrators to manipulate similar images all at once. If true, the hackers likely would not have been able to access Twitch's back end.
The photo changes only lasted several hours before being returned to their previous conditions.
First Twitch Hack
Despite suspicions and concerns, it's unclear whether the Bezos hack is related to the major leak of Twitch's internal data that was posted to 4chan on Wednesday.
That leak exposed Twitch's full source code — including its security tools — as well as data on how much Twitch has individually paid every single streamer on the platform since August 2019.
It also revealed Amazon's at least partially developed plans for a cloud-based gaming library, codenamed Vapor, which would directly compete with the massively popular library known as Steam.
Even though Twitch has said its login credentials appear to be secure, it announced Thursday that it has reset all stream keys "out of an abundance of caution." Users are still being urged to change their passwords and update or implement two-factor authentication if they haven't already.