E3 Apologizes for Sharing Sexist Article Listing "Games That Women Enjoy"
A recent Parade article listed "25 Online Games That Women Enjoy," including Solitaire, Candy Crush, and Kim Kardashian: Hollywood Adventure, to name a few.
Many felt it failed to capture the scope of female gamers and their interests, and instead fed into stereotypes of what women "should" like. For instance, when listing Bejeweled Classic, the author wrote: "Diamonds are a girl's best friend. Am I right, ladies?"
That article was shared on Twitter by E3, a move that prompted a ton of backlash from people in the gaming world who said it should know better than to perpetuate harmful stereotypes about women in gaming.
E3 apologized soon after and deleted its tweet. Parade has also removed the article, though web archives of it exist.
---
What the Article Says
E3 apologized Tuesday after sharing an article about games women enjoy that many felt perpetuated harmful stereotypes.
The official Twitter account for E3, which is a major trade event in the gaming industry, posted a tweet earlier in the day that read: "Great list of games women gamers are playing — any of your favorites make the cut?"
That post linked to a Parade article titled: "The Games We Play! 25 Online Games That Women Enjoy." In it, the author, Nicole Pajer, said she surveyed game developers, pro gamers, and everyday players to create this list of 25 "free online games for women." Then she proceeds to list off her results – many of which aren't even free.
Number one on the list was Sodoku, followed by Sayonara Wild Hearts and Candy Crush. Other notable mentions were Animal Crossing, Sims 4, Star Chef, Kim Kardashian: Hollywood Adventure, Just Dance, Solitaire, Tetris, and, of course, Bejeweled Classic, which she listed with the line, "Diamonds are a girl's best friend. Am I right, ladies?"
She also included Overwatch on her list, writing that "Women like it since it has a lot of female 'heroes' to portray, giving them the chance to hold their own amidst the boys, and for its fantasy element."
While she did say that online games have no gender attached to them, she added that these are some of the games "female players tend to gravitate towards."
Backlash
After E3 tweeted out that list, a lot of people in the gaming world were pretty shocked and offended. But to be clear, the issues weren't about the quality of these specific games, and there's nothing wrong with people who do play and enjoy them.
The problem for many was that this list doesn't capture the full scope of women in gaming and their huge range of interest. Instead, it feeds into stereotypes about what women "should" like. As a writer for Kotaku put it, reinforces the idea that women, "would rather shuffle jewels or go dancing than blow off demons' heads with a shotgun."
Under E3's post, some in the gaming space like Naomi Kyle and Trisha Hershberger responded with gifs representing their reactions to the list.
ew ew ew ew ew ew ew pic.twitter.com/zyH0alVANs

— Trisha Hershberger (@thatgrltrish) August 18, 2020
Meanwhile, iJustine took a more sarcastic approach.
When Meg Turney saw the tweet, she wrote: "Whomst the fuck wrote this shit." Then followed that with: "Okay I don't want to @ her bc I'm sure she did try her best, but the author of this story has a tweet from a couple days before asking if any #videogamesexperts want to help with a story w/ no replies so I guess that's how we ended up at having Solitaire be our favorite game."
The tweet she's referencing has since been deleted, but not before users could snag a screenshot of course.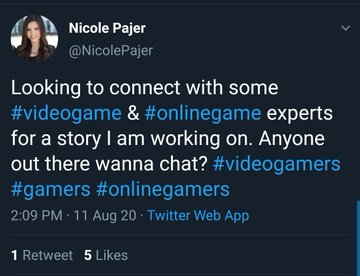 Ultimately, Turney and plenty of others focused a lot of their frustration at E3, arguing that it should know better than to share something like this.
E3 Apologizes
After seeing the backlash, E3 deleted its tweet and issued an apology, writing: "We messed up. We are taking down the post and apologize for perpetuating a harmful stereotype. We will do better."
A spokesperson for E3 also told Kotaku, "We posted a story that does not reflect what we believe and know to be true—that women and girls make, play and excel in games of all genres. Video games are for everyone, as the unequivocal voice of the gaming community reminds us all."
Still, many were confused by how this even happened in the first place. Ms5000Watts, for example, said, " don't even understand how an official E3 twitter could think that posting it was ever ok. Anyone who has spent even 10 minutes in the gaming world knows that in 2020 that would be a bad article. It's real weird."
I'll be honest with ya man. I don't even understand how an official E3 twitter could think that posting it was ever ok. Anyone who has spent even 10 minutes in the gaming world knows that in 2020 that would be a bad article. It's real weird

— Ms5000Watts (@Ms5000Watts) August 18, 2020
Parade, for its part, has taken the article down, though web archives of it exist. According to reports, for a while, the link instead directed to a list of "26 Best Games To Play With Friends For Fun While Social Distancing." However, now it seems to direct just to the site's homepage.
TikTok and Twitter Are Now Deleting Videos That Expose Closeted Olympians on Grindr
On top of outing people who may not be ready to have their sexuality revealed to the world, these videos could have endangered LGBTQ+ athletes from countries where homosexuality is illegal.
---
Closeted Olympians Being Doxxed
Openly LGBTQ+ Olympians are currently more visible than they have ever been before, but unfortunately, so are closeted ones.
That's because some people have been using the LGBTQ+ dating app Grindr to try and find Olympians. They've been doing so by using the app's "Explore" feature, which allows people to search and see users in specific locations (ie. Olympic Village).
But some aren't content with just discovering which athletes belong to the LGBTQ+ community. They're also sharing that information on platforms like TikTok and Twitter. 
"I used Grindr's explore feature to find myself [an] Olympian boyfriend," one TikTok user said in a post that had been viewed 140,000 times, according to Insider.
That video reportedly went on to show the poster scrolling through Grindr to expose over 30 users' full faces.
As many have argued, not only does this potentially out already-stressed Olympians who may not yet be comfortable sharing their sexuality, it also could put some users at serious risk if they live in countries where being LGBTQ+ is illegal.
In fact, the video cited by Insider seemingly did just that, as it reportedly shows the face of a user who appears to be from a country "known for its anti-LGBTQ policies."
Grindr Responds, TikTok and Twitter Take Action
In response, Grindr said the posts violate its rules against "publicly displaying, publishing, or otherwise distributing any content or information" from the app. It then asked the posters to remove the content.
Ultimately, it was TikTok and Twitter themselves that largely took action, with the two deleting at least 14 posts scattered across their platforms.
Twitter says it's taking steps to remove the posts flagged by Insider showing Grindr's explore page at the Olympic Village. TikTok has yet to give an on the record response. pic.twitter.com/r11pNL6Lwu

— Benjamin Goggin (@BenjaminGoggin) July 28, 2021
A Highly-Visible LGBTQ+ Presence at the Games
According to Outsports, at least 172 of around 11,000 Olympians are openly LGBTQ+. While that number is still well below the statistical average, it's triple the number of LGBTQ+ athletes that attended Rio's 2016 Games.
In fact, if they were their own country, openly LGBTQ+ athletes would reportedly rank 11th in medals, according to an Outsports report published Tuesday.
Among those winners is British diver Tom Daley, who secured his first gold medal on Monday and used his platform to send a hopeful message to LGBTQ+ youth by telling them, "You are not alone."
After winning a silver medal on Wednesday, U.S. swimmer Erica Sullivan talked about her experience as both a member of the LGBTQ+ community and a person of color. 
Still, the Olympics has faced criticism for its exclusion of intersex individuals, particularly those like South African middle-distance runner Caster Semenya, who won gold medals in both 2012 and 2016. Rules implemented in 2019 now prevent Semenya from competing as a woman without the use of medication to suppress her testosterone levels.
Jake Paul Launches Anti-Bullying Charity
The charity, called Boxing Bullies, aims to use the sport to give kids confidence and courage.
---
Jake Paul Launches Boxing Bullies Foundation
YouTuber Jake Paul — best known as the platform's boxer, wreckless partier, and general troublemaker — has seemingly launched a non-profit to combat bullying.
The charity is called Boxing Bullies. According to a mission statement posted on Instagram, it aims to "instill self confidence, leadership, and courage within the youth through the sport of boxing while using our platform, voice, and social media to fight back against bullying."
If the notion of a Paul-founded anti-bullying charity called "Boxing Bullies" was not already begging to be compared to former First Lady Melania Trump's "Best Best" initiative, maybe the group's "Boxing Bullies Commandments" will help connect the dots. Those commandments use an acronym for the word "BOX" to spell out the charity's golden rules.
"Be kind to everyone; Only defend, never initiate; X-out bullying."
Paul Hopes To "Inspire" Kids To Stand Up For Themselves
Paul first said he was launching Boxing Bullies during a July 13 interview following a press conference for his upcoming fight against Tyron Woodley.
"I know who I am at the end of the day, which is a good person," he told reporters. "I'm trying to change this sport, bring more eyeballs. I'm trying to support other fighters, increase fighter pay. I'm starting my charity, I'm launching that in 12 days here called Boxing Bullies and we're helping to fight against cyberbullying."
It has not been quite 12 days since the interview, so it's likely that more information about the organization will be coming soon. Currently, the group has been the most active on Instagram, where it boasts a following of just around 1,200 followers. It has posted once to Twitter, where it has 32 followers; and has a TikTok account that has yet to publish any content. It also has a website, though there is not too much on it as of yet.
On its Instagram, one post introducing Paul as the founder claims the rowdy YouTuber started this charity because he has been on the receiving end of bullying.
"Having been a victim of bullying himself, Jake experienced firsthand the impact it has on a person's life," the post says. "Jake believes that this is a prevailing issue in society that isn't talked about enough. Boxing gave Jake the confidence to not care about what others think and he wants to share the sport and the welfare it's had on him with as many kids as possible."
It adds that he hopes his group can"inspire the next generation of kids to be leaders, be athletes, and to fight back against bullying."
Paul Previously Accused of Being a Bully
While fighting against bullying is a noble cause, it is an ironic project for Paul to start, as he has faced no shortage of bullying accusations. While Paul previously sang about "stopping kids from getting bullied" in the lunchroom, some have alleged he himself was actually a classic high school bully who threw kids' backpacks into garbage cans.
This behavior allegedly continued into his adulthood, as a New York Times report from earlier this year claimed he ran his Team 10 house with a culture of toxicity and bullying. Among other things, sources said he involved others in violent pranks, pressured people into doing dangerous stunts, and destroyed peoples' personal property to make content.
Earlier this year, Paul was also accused of sexual assault, though he denied those allegations.
See what others are saying: (Dexerto)
Director Defends Recreating Anthony Bourdain's Voice With AI in New Documentary
The film's director claims he received permission from Bourdain's estate and literary agent, but on Thursday, Bourdain's widow publicly denied ever giving that permission.
---
Bourdain's Voice Recreated
"You are successful, and I am successful, and I'm wondering: Are you happy?" Anthony Bourdain says in a voiceover featured in "Roadrunnner," a newly released documentary about the late chef — except Bourdain never actually said those words aloud.
Instead, it's one of three lines in the film, which features frequent voiceovers from Bourdain, that were created through the use of artificial intelligence technology.
That said, the words are Bourdain's own. In fact, they come from an email Bourdain reportedly wrote to a friend prior to his 2018 suicide. Nonetheless, many have now questioned whether recreating Bourdain's voice was ethical, especially since documentaries are meant to reflect reality.
Director Defends Use of AI Voice
The film's director, Academy Award winner Morgan Neville, has defended his use of the synthetic voice, telling Variety that he received permission from Bourdain's estate and literary agent before inserting the lines into the film.
"There were a few sentences that Tony wrote that he never spoke aloud," Neville said. "It was a modern storytelling technique that I used in a few places where I thought it was important to make Tony's words come alive."
Bourdain's widow — Ottavia Bourdain, who is the executor of his estate — later denied Neville's claim on Twitter, saying, "I certainly was NOT the one who said Tony would have been cool with that."
In another interview with GQ, Neville described the process, saying the film's creators "fed more than ten hours of Tony's voice into an AI model."
"The bigger the quantity, the better the result," he added. "We worked with four companies before settling on the best."
"If you watch the film," Neville told The New Yorker, "you probably don't know what the other lines are that were spoken by the AI, and you're not going to know. We can have a documentary-ethics panel about it later."
The Ethics Debate Isn't Being Tabled
But many want to have that discussion now.
Boston-based film critic Sean Burns, who gave the film a rare negative review, later criticized it again for its unannounced use of AI, saying he wasn't aware that Bourdain's voice had been recreated until after he watched the documentary.
Meanwhile, The New Yorker's Helen Rosner wrote that the "seamlessness of the effect is eerie."
"If it had been a human voice double I think the reaction would be "huh, ok," but there's something truly unsettling about the idea of it coming from a computer," Rosner later tweeted.
Online, many others have criticized the film's use of AI, with some labeling it as a "deepfake."
Others have offered more mixed criticism, saying that while the documentary highlights the need for posthumous AI use to be disclosed, it should not be ruled out altogether.
"In a world where the living could consent to using AI to reproduce their voices posthumously, and where people were made aware that such a technology was being used, up front and in advance, one could envision that this kind of application might serve useful documentary purposes," David Leslie, ethics lead at the Alan Turing Institute, told the BBC.
Celebrities Recreated After Death
The posthumous use of celebrity likeness in media is not a new debate. In 2012, a hologram of Tupac took the stage 15 years after his death. In 2014, the Billboard Music Awards brought a hologram of Michael Jackson onstage five years after his death. Meanwhile, the Star Wars franchise digitally recreated actor Peter Cushing in 2016's "Rogue One," and unused footage of actress Carrie Fisher was later translated into "The Rise of Skywalker," though a digital version of Fisher was never used.
In recent years, it has become almost standard for filmmakers to say that they will not create digital versions of characters whose actors die unexpectedly. For example, several months after Chadwick Boseman's death last year, "Black Panther: Wakanda Forever" executive producer Victoria Alonso confirmed Boseman would not be digitally recreated for his iconic role as King T'Challa.