E3 Apologizes for Sharing Sexist Article Listing "Games That Women Enjoy"
A recent Parade article listed "25 Online Games That Women Enjoy," including Solitaire, Candy Crush, and Kim Kardashian: Hollywood Adventure, to name a few.
Many felt it failed to capture the scope of female gamers and their interests, and instead fed into stereotypes of what women "should" like. For instance, when listing Bejeweled Classic, the author wrote: "Diamonds are a girl's best friend. Am I right, ladies?"
That article was shared on Twitter by E3, a move that prompted a ton of backlash from people in the gaming world who said it should know better than to perpetuate harmful stereotypes about women in gaming.
E3 apologized soon after and deleted its tweet. Parade has also removed the article, though web archives of it exist.
---
What the Article Says
E3 apologized Tuesday after sharing an article about games women enjoy that many felt perpetuated harmful stereotypes.
The official Twitter account for E3, which is a major trade event in the gaming industry, posted a tweet earlier in the day that read: "Great list of games women gamers are playing — any of your favorites make the cut?"
That post linked to a Parade article titled: "The Games We Play! 25 Online Games That Women Enjoy." In it, the author, Nicole Pajer, said she surveyed game developers, pro gamers, and everyday players to create this list of 25 "free online games for women." Then she proceeds to list off her results – many of which aren't even free.
Number one on the list was Sodoku, followed by Sayonara Wild Hearts and Candy Crush. Other notable mentions were Animal Crossing, Sims 4, Star Chef, Kim Kardashian: Hollywood Adventure, Just Dance, Solitaire, Tetris, and, of course, Bejeweled Classic, which she listed with the line, "Diamonds are a girl's best friend. Am I right, ladies?"
She also included Overwatch on her list, writing that "Women like it since it has a lot of female 'heroes' to portray, giving them the chance to hold their own amidst the boys, and for its fantasy element."
While she did say that online games have no gender attached to them, she added that these are some of the games "female players tend to gravitate towards."
Backlash
After E3 tweeted out that list, a lot of people in the gaming world were pretty shocked and offended. But to be clear, the issues weren't about the quality of these specific games, and there's nothing wrong with people who do play and enjoy them.
The problem for many was that this list doesn't capture the full scope of women in gaming and their huge range of interest. Instead, it feeds into stereotypes about what women "should" like. As a writer for Kotaku put it, reinforces the idea that women, "would rather shuffle jewels or go dancing than blow off demons' heads with a shotgun."
Under E3's post, some in the gaming space like Naomi Kyle and Trisha Hershberger responded with gifs representing their reactions to the list.
ew ew ew ew ew ew ew pic.twitter.com/zyH0alVANs

— Trisha Hershberger (@thatgrltrish) August 18, 2020
Meanwhile, iJustine took a more sarcastic approach.
When Meg Turney saw the tweet, she wrote: "Whomst the fuck wrote this shit." Then followed that with: "Okay I don't want to @ her bc I'm sure she did try her best, but the author of this story has a tweet from a couple days before asking if any #videogamesexperts want to help with a story w/ no replies so I guess that's how we ended up at having Solitaire be our favorite game."
The tweet she's referencing has since been deleted, but not before users could snag a screenshot of course.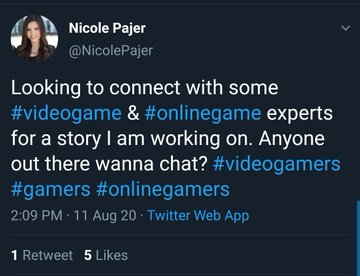 Ultimately, Turney and plenty of others focused a lot of their frustration at E3, arguing that it should know better than to share something like this.
E3 Apologizes
After seeing the backlash, E3 deleted its tweet and issued an apology, writing: "We messed up. We are taking down the post and apologize for perpetuating a harmful stereotype. We will do better."
A spokesperson for E3 also told Kotaku, "We posted a story that does not reflect what we believe and know to be true—that women and girls make, play and excel in games of all genres. Video games are for everyone, as the unequivocal voice of the gaming community reminds us all."
Still, many were confused by how this even happened in the first place. Ms5000Watts, for example, said, " don't even understand how an official E3 twitter could think that posting it was ever ok. Anyone who has spent even 10 minutes in the gaming world knows that in 2020 that would be a bad article. It's real weird."
I'll be honest with ya man. I don't even understand how an official E3 twitter could think that posting it was ever ok. Anyone who has spent even 10 minutes in the gaming world knows that in 2020 that would be a bad article. It's real weird

— Ms5000Watts (@Ms5000Watts) August 18, 2020
Parade, for its part, has taken the article down, though web archives of it exist. According to reports, for a while, the link instead directed to a list of "26 Best Games To Play With Friends For Fun While Social Distancing." However, now it seems to direct just to the site's homepage.
Hackers Hit Twitch Again, This Time Replacing Backgrounds With Image of Jeff Bezos
The hack appears to be a form of trolling, though it's possible that the infiltrators were able to uncover a security flaw while reviewing Twitch's newly-leaked source code.
---
Bezos Prank
Hackers targeted Twitch for a second time this week, but rather than leaking sensitive information, the infiltrators chose to deface the platform on Friday by swapping multiple background images with a photo of former Amazon CEO Jeff Bezos.
According to those who saw the replaced images firsthand, the hack appears to have mostly — and possibly only — affected game directory headers. Though the incident appears to be nothing more than a surface-level prank, as Amazon owns Twitch, it could potentially signal greater security flaws.
For example, it's possible the hackers could have used leaked internal security data from earlier this week to discover a network vulnerability and sneak into the platform.
The latest jab at the platforms came after Twitch assured its users it has seen "no indication" that their login credentials were stolen during the first hack. Still, concerns have remained regarding the potential for others to now spot cracks in Twitch's security systems.
It's also possible the Bezos hack resulted from what's known as "cache poisoning," which, in this case, would refer to a more limited form of hacking that allowed the infiltrators to manipulate similar images all at once. If true, the hackers likely would not have been able to access Twitch's back end.
The photo changes only lasted several hours before being returned to their previous conditions.
First Twitch Hack
Despite suspicions and concerns, it's unclear whether the Bezos hack is related to the major leak of Twitch's internal data that was posted to 4chan on Wednesday.
That leak exposed Twitch's full source code — including its security tools — as well as data on how much Twitch has individually paid every single streamer on the platform since August 2019.
It also revealed Amazon's at least partially developed plans for a cloud-based gaming library, codenamed Vapor, which would directly compete with the massively popular library known as Steam.
Even though Twitch has said its login credentials appear to be secure, it announced Thursday that it has reset all stream keys "out of an abundance of caution." Users are still being urged to change their passwords and update or implement two-factor authentication if they haven't already.
Twitch Blames Server Configuration Error for Hack, Says There's No Indication That Login Info Leaked
The platform also said full credit card numbers were not reaped by hackers, as that data is stored externally.
---
Login and Credit Card Info Secure
Twitch released a security update late Wednesday claiming it had seen "no indication" that users' login credentials were stolen by hackers who leaked the entire platform's source code earlier in the day.
"Full credit card numbers are not stored by Twitch, so full credit card numbers were not exposed," the company added in its announcement.
The leaked data, uploaded to 4chan, includes code related to the platform's security tools, as well as exact totals of how much it has individually paid every single streamer on the platform since August 2019.
Early Thursday, Twitch also announced that it has now reset all stream keys "out of an abundance of caution." Streamers looking for their new keys can visit a dashboard set up by the platform, though users may need to manually update their software with the new key before being able to stream again depending on what kind of software they use.
As far as what led to the hackers being able to steal the data, Twitch blamed an error in a "server configuration change that was subsequently accessed by a malicious third party," confirming that the leak was not the work of a current employee who used internal tools.
Will Users Go to Other Streaming Platforms?
While no major creators have said they are leaving Twitch for a different streaming platform because of the hack, many small users have either announced their intention to leave Twitch or have said they are considering such a move.
It's unclear if the leak, coupled with other ongoing Twitch controversies, will ultimately lead to a significant user exodus, but there's little doubt that other platforms are ready and willing to leverage this hack in the hopes of attracting new users.
At least one big-name streamer has already done as much, even if largely only presenting the idea as a playful jab rather than with serious intention.
"Pretty crazy day today," YouTube's Valkyrae said on a stream Wednesday while referencing a tweet she wrote earlier the day.
"YouTube is looking to sign more streamers," that tweet reads.
"I mean, they are! … No shade to Twitch… Ah! Well…" Valkyrae said on stream before interrupting herself to note that she was not being paid by YouTube to make her comments.
The Entirety of Twitch Has Been Leaked Online, Including How Much Top Creators Earn
The data dump, which could be useful for some of Twitch's biggest competitors, could signify one of the most encompassing platform leaks ever.
---
Massive Collection of Data Leaked
Twitch's full source code was uploaded to 4chan Wednesday morning after it was obtained by hackers.
Among the 125 GB of stolen data is information revealing that Amazon, which owns Twitch, has at least partially developed plans for a cloud-based gaming library. That library, codenamed Vapor, would directly compete with the massively popular library known as Steam.
With Amazon being the all-encompassing giant that it is, it's not too surprising that it would try to develop a Steam rival, but it's eyecatching news nonetheless considering how much the release of Vapor could shake up the market.
The leaked data also showcased exactly how much Twitch has paid its creators, including the platform's top accounts, such as the group CriticalRole, as well as steamers xQcOW, Tfue, Ludwig, Moistcr1tikal, Shroud, HasanAbi, Sykkuno, Pokimane, Ninja, and Amouranth.
These figures only represent payouts directly from Twitch. Each creator mentioned has made additional money through donations, sponsorships, and other off-platform ventures. Sill, the information could be massively useful for competitors like YouTube Gaming, which is shelling out big bucks to ink deals with creators.
Data related to Twitch's internal security tools, as well as code related to software development kits and its use of Amazon Web Services, was also released with the hack. In fact, so much data was made public that it could constitute one of the most encompassing platform dumps ever.
Creators Respond
Streamer CDawgVA, who has just under 500,000 subscribers on Twitch, tweeted about the severity of the data breach on Wednesday.
"I feel like calling what Twitch just experienced as "leak" is similar to me shitting myself in public and trying to call it a minor inconvenience," he wrote. "It really doesn't do the situation justice."
Despite that, many of the platform's top streamers have been quite casual about the situation.
"Hey, @twitch EXPLAIN?"xQc tweeted. Amouranth replied with a laughing emoji and the text, "This is our version of the Pandora papers."
Meanwhile, Pokimane tweeted, "at least people can't over-exaggerate me 'making millions a month off my viewers' anymore."
Others, such as Moistcr1tikal and HasanAbi argued that their Twitch earning are already public information given that they can be easily determined with simple calculations.
Could More Data Come Out?
This may not be the end of the leak, which was labeled as "part one." If true, there's no reason to think that the leakers wouldn't publish a part two.
For example, they don't seem to be too fond of Twitch and said they hope this data dump "foster[s] more disruption and competition in the online video streaming space."
They added that the platform is a "disgusting toxic cesspool" and included the hashtag #DoBetterTwitch, which has been used in recent weeks to drive boycotts against the platform as smaller creators protest the ease at which trolls can use bots to spam their chats with racist, sexist, and homophobic messages.
Still, this leak does appear to lack one notable set of data: password and address information of Twitch users.
That doesn't necessarily mean the leakers don't have it. It could just mean they are only currently interested in sharing Twitch's big secrets.
Regardless, Twitch users and creators are being strongly urged to change their passwords as soon as possible and enable two-factor authentication.