Today in Awesome: Smoking and Lung Cancer Decreasing, Lele Pons Spotify Deal
Despite being a Monday, there's still some awesome going on in the world.
---
Lung Cancer Mortality Rates Dropping
The National Institutes of Health announced last week that mortality rates linked to lung cancer, and ultimately smoking, have been steadily dropping.
That in itself isn't exactly new information, but what's notable about the study referenced is that the link between a declining mortality rate and lung cancer isn't caused by a decrease in how often people smoke. Instead, it's been linked to new treatments.
Because smoking rates have been declining for decades, it's been hard for researchers to parse out why lung cancer death rates have been declining. Many presumed the decline in smoking rates was the majority reason.
Researchers looked at data from between 2006 and 2013, finding that between '06 and '13, deaths fell 3.2%. That improvement nearly doubled to 6.3% between '13 and '16. This set of dates was chosen because it was far away enough from the US largest smoking decline in the early 90's and had less of a risk of being mixed with that data.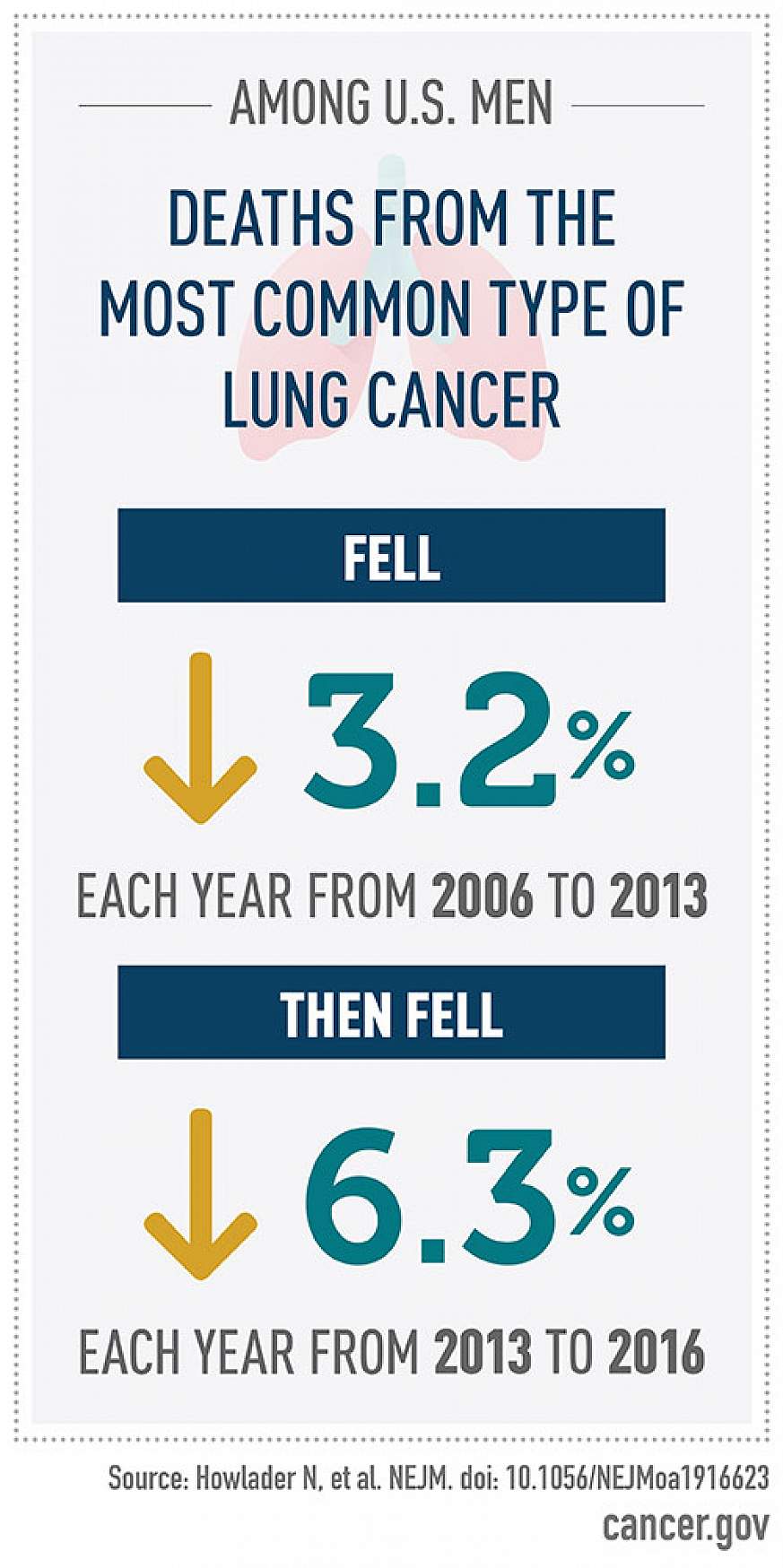 The study accounted for the most common types of lung cancers, which the study claims accounts for 76% of all lung cancers.
Long term survival was also increased in some of those lung cancers, from 26% for patients diagnosed in 2001 to 35% for those diagnosed in 2014.
---
Nearly 1 Million in the UK Quit Smoking Since Start of Pandemic
While we're on the topic of smoking, let's look across the pond. Outside of the U.S., smoking is extremely prevalent, particularly in Europe and the United Kingdom. However, according to the nonprofit Action on Smoking Health, about a million people in the U.K. have quit smoking since the pandemic began.
According to their numbers, 41% say that the increased focus on lung health in relation to the coronavirus was the leading cause for them to reexamine their smoking habits. That finding is probably good because a study in the Oxford Academic found that 30% of coronavirus patients who smoked saw their symptoms progress to more severe and critical stakes.
Those finding are partially backed up by another study by the University of California, San Francisco, which tangentially looked at how a history of smoking affects COVID-19 patients.
---
Lele Pons Scores Exclusive Podcast Deal with Spotify
For the last bit of awesome let's look at some industry news involving Lele Pons. She has over 41 million followers on Instagram and managed to turn her fame into a Spotify-exclusive podcast that will launch on August 19.
It'll be called "Best Kept Secrets" and it'll feature Pons talking with anonymous callers about their secrets, where "nothing is off limits." This seems like another step Spotify is taking to try and bolster their podcast talent. Recently the Swedish company snatched Joe Rogan, Addison Rae, and Kim Kardashian for exclusive podcast deals.
For many creators, it's looking like some of the most lucrative prospects are securing exclusive content deals on proven platforms.
Schools Across the U.S. Cancel Classes Friday Over Unverified TikTok Threat
Officials in multiple states said they haven't found any credible threats but are taking additional precautions out of an abundance of safety.
---
School Cancelled
Schools in no fewer than 10 states either canceled classes or increased their police presence on Friday after a series of TikToks warned of imminent shooting and bombs threats.
Despite that, officials said they found little evidence to suggest the threats are credible. It's possible no real threat was actually ever made as it's unclear if the supposed threats originated on TikTok, another social media platform, or elsewhere.
"We handle even rumored threats with utmost seriousness, which is why we're working with law enforcement to look into warnings about potential violence at schools even though we have not found evidence of such threats originating or spreading via TikTok," TikTok's Communications team tweeted Thursday afternoon.
Still, given the uptick of school shootings in the U.S. in recent years, many school districts across the country decided to respond to the rumors. According to The Verge, some districts in California, Minnesota, Missouri, and Texas shut down Friday.
"Based on law enforcement interviews, Little Falls Community Schools was specifically identified in a TikTok post related to this threat," one school district in Minnesota said in a letter Thursday. "In conversations with local law enforcement, the origins of this threat remain unknown. Therefore, school throughout the district is canceled tomorrow, Friday, December 17."
In Gilroy, California, one high school that closed its doors Friday said it would reschedule final exams that were expected to take place the same day to January.
According to the Associated Press, several other districts in Arizona, Connecticut, Illinois, Montana, New York, and Pennsylvania stationed more police officers at their schools Friday.
Viral Misinformation or Legitimate Warnings?
As The Verge notes, "The reports of threats on TikTok may be self-perpetuating."
For example, many of the videos online may have been created in response to initial warnings as more people hopped onto the trend. Amid school cancellations, videos have continued to sprout up — many awash with both rumors and factual information.
"I'm scared off my ass, what do I do???" one TikTok user said in a now-deleted video, according to People.
"The post is vague and not directed at a specific school, and is circulating around school districts across the country," Chicago Public Schools said in a letter, though it did not identify any specific post. "Please do not re-share any suspicious or concerning posts on social media."
According to Dr. Amy Klinger, the director of programs for the nonprofit Educator's School Safety Network, "This is not 2021 phenomenon."
Instead, she told The Today Show that her network has been tracking school shooting threats since 2013, and she noted that in recent years, they've become more prominent on social media.
"It's not just somebody in a classroom of 15 people hearing someone make a threat," she said. "It's 15,000 people on social media, because it gets passed around and it becomes larger and larger and larger."
See what others are saying: (The Verge) (Associated Press) (People)
Jake Paul Says He "Can't Get Cancelled" as a Boxer
The controversial YouTuber opened up about what it has been like to go from online fame to professional boxing.
---
The New Yorker Profiles Jake Paul
YouTuber and boxer Jake Paul talked about his career switch, reputation, and cancel culture in a profile published Monday in The New Yorker.
While Paul rose to fame as the Internet's troublemaker, he now spends most of his time in the ring. He told the outlet that one difference between YouTube and boxing is that his often controversial reputation lends better to his new career.
"One thing that is great about being a fighter is, like, you can't get cancelled," Paul said. The profile noted that the sport often rewards and even encourages some degree of bad behavior.
"I'm not a saint," Paul later continued. "I'm also not a bad guy, but I can very easily play the role."
Paul also said the other difference between his time online and his time in boxing is the level of work. While he says he trains hard, he confessed that there was something more challenging about making regular YouTube content.
"Being an influencer was almost harder than being a boxer," he told The New Yorker. "You wake up in the morning and you're, like, Damn, I have to create fifteen minutes of amazing content, and I have twelve hours of sunlight."
Jake Paul Vs. Tommy Fury
The New Yorker profile came just after it was announced over the weekend Paul will be fighting boxer Tommy Fury in an 8-round cruiserweight fight on Showtime in December.
"It's time to kiss ur last name and ur family's boxing legacy goodbye," Paul tweeted. "DEC 18th I'm changing this wankers name to Tommy Fumbles and celebrating with Tom Brady."
Both Paul and Fury are undefeated, according to ESPN. Like Paul, Fury has found fame outside of the sport. He has become a reality TV star in the U.K. after appearing on the hit show "Love Island."
Hackers Hit Twitch Again, This Time Replacing Backgrounds With Image of Jeff Bezos
The hack appears to be a form of trolling, though it's possible that the infiltrators were able to uncover a security flaw while reviewing Twitch's newly-leaked source code.
---
Bezos Prank
Hackers targeted Twitch for a second time this week, but rather than leaking sensitive information, the infiltrators chose to deface the platform on Friday by swapping multiple background images with a photo of former Amazon CEO Jeff Bezos.
According to those who saw the replaced images firsthand, the hack appears to have mostly — and possibly only — affected game directory headers. Though the incident appears to be nothing more than a surface-level prank, as Amazon owns Twitch, it could potentially signal greater security flaws.
For example, it's possible the hackers could have used leaked internal security data from earlier this week to discover a network vulnerability and sneak into the platform.
The latest jab at the platforms came after Twitch assured its users it has seen "no indication" that their login credentials were stolen during the first hack. Still, concerns have remained regarding the potential for others to now spot cracks in Twitch's security systems.
It's also possible the Bezos hack resulted from what's known as "cache poisoning," which, in this case, would refer to a more limited form of hacking that allowed the infiltrators to manipulate similar images all at once. If true, the hackers likely would not have been able to access Twitch's back end.
The photo changes only lasted several hours before being returned to their previous conditions.
First Twitch Hack
Despite suspicions and concerns, it's unclear whether the Bezos hack is related to the major leak of Twitch's internal data that was posted to 4chan on Wednesday.
That leak exposed Twitch's full source code — including its security tools — as well as data on how much Twitch has individually paid every single streamer on the platform since August 2019.
It also revealed Amazon's at least partially developed plans for a cloud-based gaming library, codenamed Vapor, which would directly compete with the massively popular library known as Steam.
Even though Twitch has said its login credentials appear to be secure, it announced Thursday that it has reset all stream keys "out of an abundance of caution." Users are still being urged to change their passwords and update or implement two-factor authentication if they haven't already.