Today in Awesome: Smoking and Lung Cancer Decreasing, Lele Pons Spotify Deal
Despite being a Monday, there's still some awesome going on in the world.
---
Lung Cancer Mortality Rates Dropping
The National Institutes of Health announced last week that mortality rates linked to lung cancer, and ultimately smoking, have been steadily dropping.
That in itself isn't exactly new information, but what's notable about the study referenced is that the link between a declining mortality rate and lung cancer isn't caused by a decrease in how often people smoke. Instead, it's been linked to new treatments.
Because smoking rates have been declining for decades, it's been hard for researchers to parse out why lung cancer death rates have been declining. Many presumed the decline in smoking rates was the majority reason.
Researchers looked at data from between 2006 and 2013, finding that between '06 and '13, deaths fell 3.2%. That improvement nearly doubled to 6.3% between '13 and '16. This set of dates was chosen because it was far away enough from the US largest smoking decline in the early 90's and had less of a risk of being mixed with that data.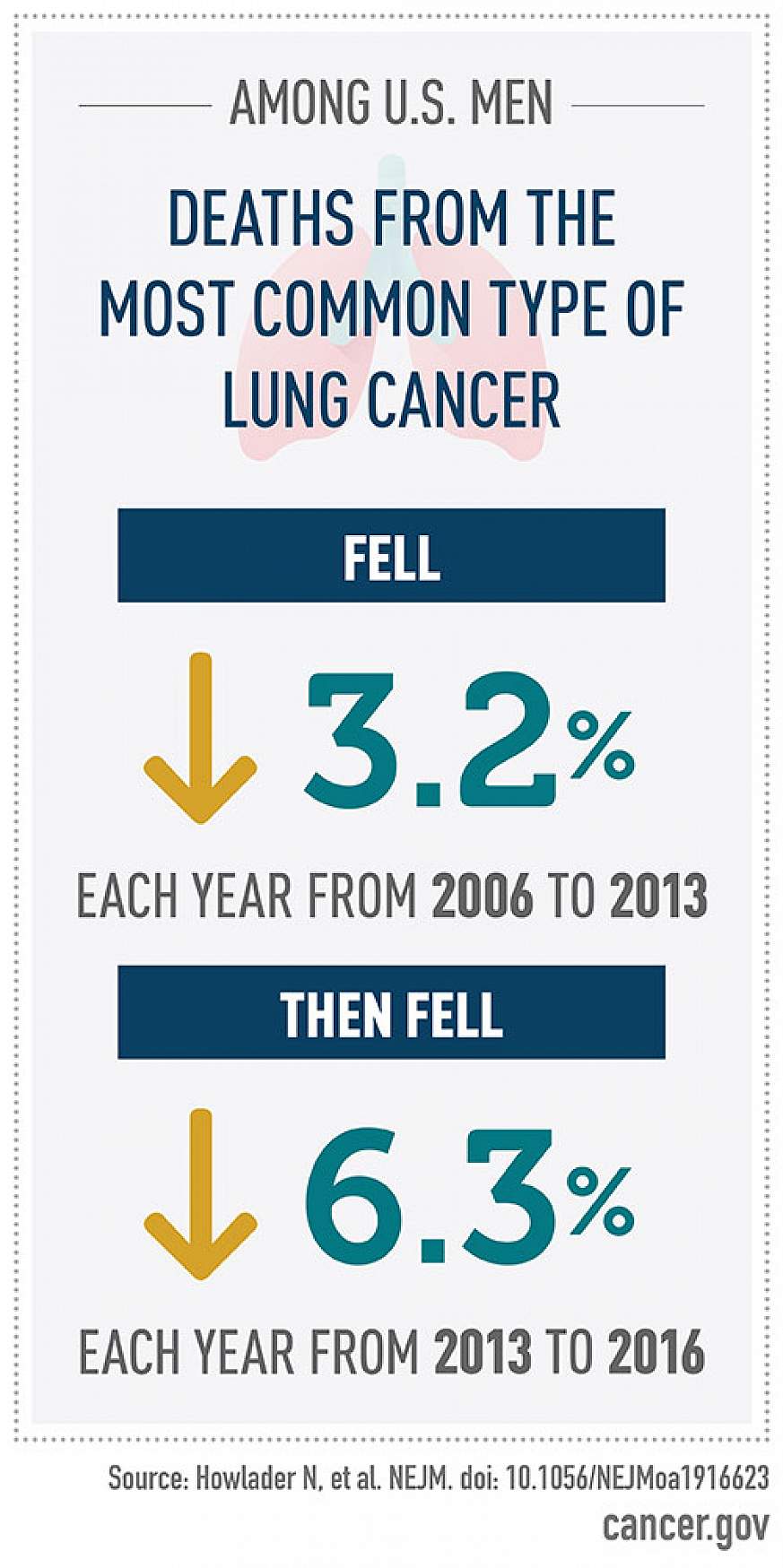 The study accounted for the most common types of lung cancers, which the study claims accounts for 76% of all lung cancers.
Long term survival was also increased in some of those lung cancers, from 26% for patients diagnosed in 2001 to 35% for those diagnosed in 2014.
---
Nearly 1 Million in the UK Quit Smoking Since Start of Pandemic
While we're on the topic of smoking, let's look across the pond. Outside of the U.S., smoking is extremely prevalent, particularly in Europe and the United Kingdom. However, according to the nonprofit Action on Smoking Health, about a million people in the U.K. have quit smoking since the pandemic began.
According to their numbers, 41% say that the increased focus on lung health in relation to the coronavirus was the leading cause for them to reexamine their smoking habits. That finding is probably good because a study in the Oxford Academic found that 30% of coronavirus patients who smoked saw their symptoms progress to more severe and critical stakes.
Those finding are partially backed up by another study by the University of California, San Francisco, which tangentially looked at how a history of smoking affects COVID-19 patients.
---
Lele Pons Scores Exclusive Podcast Deal with Spotify
For the last bit of awesome let's look at some industry news involving Lele Pons. She has over 41 million followers on Instagram and managed to turn her fame into a Spotify-exclusive podcast that will launch on August 19.
It'll be called "Best Kept Secrets" and it'll feature Pons talking with anonymous callers about their secrets, where "nothing is off limits." This seems like another step Spotify is taking to try and bolster their podcast talent. Recently the Swedish company snatched Joe Rogan, Addison Rae, and Kim Kardashian for exclusive podcast deals.
For many creators, it's looking like some of the most lucrative prospects are securing exclusive content deals on proven platforms.
TikTok's Bryce Hall Launches Finance Podcast
TikToker Bryce Hall has just launched a finance podcast titled "Capital University" with entrepreneur and investor Anthony "Pomp" Pompliano.
Pompliano will serve as a mentor figure, teaching Hall and listeners about building generational wealth, the basics of investing, and money management.
Hall was inspired to start the project after learning from the mistakes he made with money early on in his career. In the first episode of the podcast, he was also critical of other influencers who rely on YouTube ad revenue and TikTok brand deals while overspending on lavish items.
Some wonder if this venture will help change the public's perception of Hall, who has developed a negative reputation for throwing massive parties during the ongoing coronavirus pandemic.
---
Capital University
TikTok star and Sway House member Bryce Hall officially launched a finance podcast Tuesday where he and his fans will learn about money management.
The 21-year-old's podcast is called "Capital University," and he's joined by co-host Anthony "Pomp" Pompliano, an entrepreneur and investor who has worked for companies like Facebook and Snapchat before getting into venture capital.
Pompliano is supposed to serve as a sort of mentor figure, teaching Hall and listeners about building generational wealth, the basics of investing, and other tips for ensuring financial security.
Inspiration Behind the Podcast
However, Hall will also use the podcast to talk about his personal experience with fame and wealth at a young age. He told PEOPLE magazine that the idea for the podcast stemmed from mistakes he made earlier in his career.
″I always thought money was an object,″ Hall said. ″I was spending money before I even had it.″
He also talked about going ″completely broke″ and getting hit with taxes. All of this made him realize the importance of money management, which he though his fans might also want to know about.
Though he's admitted to making mistakes with his money, he's definitely worked to turn things around. For instance, he recently created an energy drink company called Ani with fellow Sway House creator Josh Richards.
On top of that, in the first episode of the podcast, Hall talked about his four-month-old merch brand, Party Animal, saying it clocked in more than $1 million in its first quarter.
Criticism of Other Influencers
With this new interest in learning about finance and business, the public could be seeing a lot more from Hall soon.
At the same time though, he also caught some attention for calling out the spending habits of another TikTok star, Thoman Petrou. He's the co-founder of the Hype House, and Hall claims that Petrou, like other influencers, is taking a shorter-term approach in his career by relying on YouTube ad revenue and TikTok brand deals.
In fact, Hall estimated that Petrou makes about $150,000 a month but says he overspends on lavish items.
"He, along with many other influencers, like to really prove that they're making a shit ton of money," he said in the first episode of the podcast.
"But when you spend it like an idiot, and you're buying like McLarens, Porsches, i8s, like just cash, I look at these kids and I'm like 'Oh my god. They're so stupid.'"
"They don't understand that social media, this poppin' time that they're in, isn't going to last forever, and right now, when you're at the top, this is when you're going to be making the most money. You just got to find a way to sustain it."
For now, it will be interesting to see the reactions to this venture, and Hall's new interest in finance has some wondering if it could change people's perception of him. Hall earned himself a bad reputation for repeatedly throwing massive parties during the ongoing coronavirus pandemic.
Still, some compare his success to that of YouTube Jake Paul, who is also recognized as a businessman and entrepreneur but has continued to embroil himself in controversies.
See what others are saying: (PEOPLE) (Tubefilter)
Influencers Exposed for Posting Fake Private Jet Photos
A viral tweet showed a studio set in Los Angeles, California that is staged to look like the inside of a private jet.
Some influencers were called out for using that very same studio to take social media photos and videos.
While some slammed them for faking their lifestyles online, others poked fun at the behavior and noted that this is something stars like Bow Wow have been caught doing before.
Others have even gone so far as to buy and pose with empty designer shopping bags to pretend they went on a massive spending spree.
---
A tweet went viral over the weekend exposing the secret behind some influencer travel photos.
"Nahhhhh I just found out LA ig girlies are using studio sets that look like private jets for their Instagram pics," Twitter user @maisonmelissa wrote Thursday.
"It's crazy that anything you're looking at could be fake. The setting, the clothes, the body… idk it just kinda of shakes my reality a bit lol," she continued in a tweet that quickly garnered over 100,000 likes.
The post included photos of a private jet setup that's actually a studio in California, which you can rent for $64 an hour on the site Peerspace.
As the tweet picked up attention, many began calling out influencers who they noticed have posted photos or videos in that very same studio.
Did she just caption the photo " catching flights…"😭🤦🏽‍♀️ pic.twitter.com/VIjT8MJ6Qn

— Tumi💦 (@mothapotumelo17) September 25, 2020
Perhaps the most notable influencers to be called out were the Mian Twins, who eventually edited their Instagram captions to admit they were on a set.
Yooo she just edited it 2 mins ago 🤣🤣🤣 pic.twitter.com/rxdy8PP8xt

— Lady M (@babymamadrama65) September 25, 2020
The fact that the sister edited the caption after they got exposed lmao pic.twitter.com/H9MA3UMdBe

— Jasmine. (@realjazzyyy) September 25, 2020
While a ton of people were upset about this, others pointed out that it's not exactly that new of an idea. Even Bow Wow was once famously called out in 2017 for posting a private plane photo on social media before being spotted on a commercial flight. 
Twitter users even noted other ridiculous things some people do for the gram, like buying out empty shopping bags to pretend they've gone on a shopping spree.
People also buy empty shopping bags online for like $20-$50 to pretend they've done a shopping spree.

— jamila (@SrirachaMami) September 25, 2020
All for show they work hard for aesthetics pic.twitter.com/Lz8GJid5yg

— 𝓜𝓲𝓵𝓴🕊🏹 (@angelmillk) September 25, 2020
Meanwhile, others poked fun at the topic, like Lil Nas X, who is never one to miss out on a viral internet moment. He photoshopped himself into the fake private jet, sarcastically writing, "thankful for it all," in his caption.
So ultimately, it seems like the moral of this story is: don't believe everything you see on social media.
South Korea's Supreme Court Upholds Rape Case Sentences for Korean Stars Jung Joon-young and Choi Jong-hoon
On Thursday morning, the Supreme Court in Seoul upheld the sentences of Jung Joon Young and Choi Jong Hoon for aggravated rape and related charges.
Jung will serve five years in prison, while Choi will go to prison for two-and-a-half.
Videos of Jung, Choi, and others raping women were found in group chats that stemmed from investigations into Seungri, of the k-pop group BigBang, as part of the Burning Sun Scandal.
The two stars tried to claim that some of the sex was consensual, but the courts ultimately found testimony from survivors trustworthy. Courts did, however, have trouble finding victims who were willing to come forward over fears of social stigma.
---
Burning Sun Scandal Fall Out
South Korea's Supreme Court upheld the rape verdicts against stars Jung Joon-young and Choi Jong-hoon on Thursday after multiple appeals by the stars and their co-defendants.
Both Jung and Choi were involved in an ever-growing scandal involving the rapes and sexual assaults of multiple women. Those crimes were filmed and distributed to chatrooms without their consent.
The entire scandal came to light in March of 2019 when Seungri from the k-pop group BigBang was embroiled in what's now known as the Burning Sun Scandal. As part of an investigation into the scandal, police found a chatroom that featured some stars engaging in what seemed to be non-consensual sex with various women. Police found that many of the message in the Kakaotalk chatroom (the major messaging app in South Korea) from between 2015 and 2016 were sent by Jung and Choi.
A Year of Court Proceedings
Jung, Choi, and five other defendants found themselves in court in November 2019 facing charges related to filming and distributing their acts without the consent of the victims, as well as aggravated rape charges. In South Korea, this means a rape involving two or more perpetrators.
The court found them all guilty of the rape charge. Jung was sentenced to six years behind bars, while Choi and the others were sentenced to five years. Jung was given a harsher sentence because he was also found guilty of filming and distributing the videos of their acts without the victim's consent.
During proceedings, the court had trouble getting victims to tell their stories. Many feared being shamed or judged because of the incidents and didn't want the possibility of that information going public. Compounding the court's problems was the fact that other victims were hard to find.
To that end, the defendants argued that the sexual acts with some of the victims were consensual, albeit this didn't leave out the possibility that there were still victims of their crimes. However, the court found that the testimony of survivors was trustworthy and contradicted the defendant's claims.
Jung and Choi appealed the decision, which led to more court proceedings. In May 2020, the Seoul High Court upheld their convictions but reduced their sentences to five years for Jung and two and a half years for Choi.
Choi's sentence was reduced because the court found that he had reached a settlement with a victim.
The decision was appealed a final time to the Supreme Court. This time they argued that most of the evidence against them, notably the Kakaotalk chatroom messages and videos, were illegally obtained by police.
On Thursday morning, the Supreme Court ultimately disagreed with Jung and Choi and said their revised sentences would stand.
Jung, Choi, and the other defendants will also still have to do 80 hours of sexual violence treatment courses and are banned from working with children for five years.