Today in Awesome: Smoking and Lung Cancer Decreasing, Lele Pons Spotify Deal
Despite being a Monday, there's still some awesome going on in the world.
---
Lung Cancer Mortality Rates Dropping
The National Institutes of Health announced last week that mortality rates linked to lung cancer, and ultimately smoking, have been steadily dropping.
That in itself isn't exactly new information, but what's notable about the study referenced is that the link between a declining mortality rate and lung cancer isn't caused by a decrease in how often people smoke. Instead, it's been linked to new treatments.
Because smoking rates have been declining for decades, it's been hard for researchers to parse out why lung cancer death rates have been declining. Many presumed the decline in smoking rates was the majority reason.
Researchers looked at data from between 2006 and 2013, finding that between '06 and '13, deaths fell 3.2%. That improvement nearly doubled to 6.3% between '13 and '16. This set of dates was chosen because it was far away enough from the US largest smoking decline in the early 90's and had less of a risk of being mixed with that data.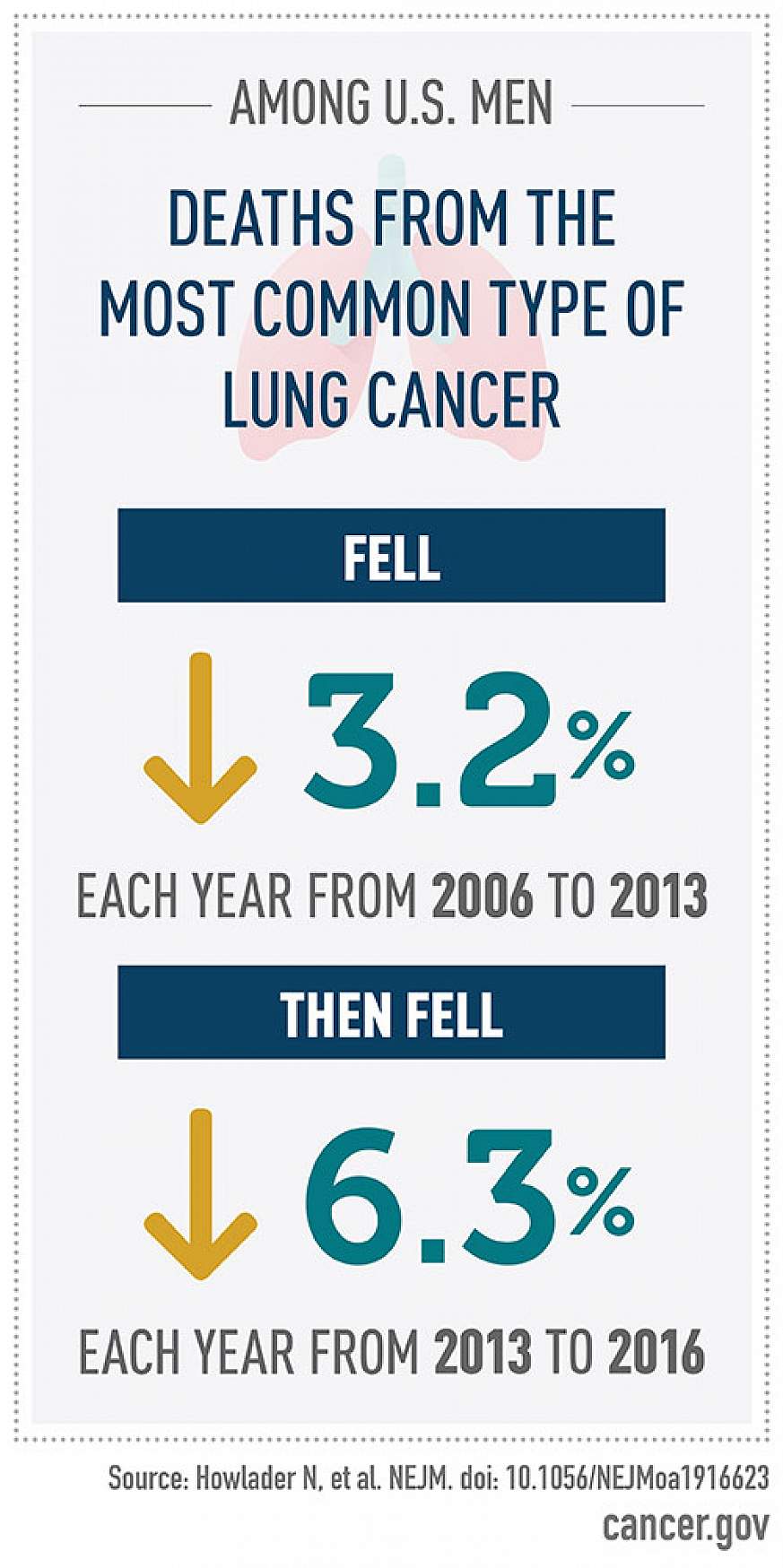 The study accounted for the most common types of lung cancers, which the study claims accounts for 76% of all lung cancers.
Long term survival was also increased in some of those lung cancers, from 26% for patients diagnosed in 2001 to 35% for those diagnosed in 2014.
---
Nearly 1 Million in the UK Quit Smoking Since Start of Pandemic
While we're on the topic of smoking, let's look across the pond. Outside of the U.S., smoking is extremely prevalent, particularly in Europe and the United Kingdom. However, according to the nonprofit Action on Smoking Health, about a million people in the U.K. have quit smoking since the pandemic began.
According to their numbers, 41% say that the increased focus on lung health in relation to the coronavirus was the leading cause for them to reexamine their smoking habits. That finding is probably good because a study in the Oxford Academic found that 30% of coronavirus patients who smoked saw their symptoms progress to more severe and critical stakes.
Those finding are partially backed up by another study by the University of California, San Francisco, which tangentially looked at how a history of smoking affects COVID-19 patients.
---
Lele Pons Scores Exclusive Podcast Deal with Spotify
For the last bit of awesome let's look at some industry news involving Lele Pons. She has over 41 million followers on Instagram and managed to turn her fame into a Spotify-exclusive podcast that will launch on August 19.
It'll be called "Best Kept Secrets" and it'll feature Pons talking with anonymous callers about their secrets, where "nothing is off limits." This seems like another step Spotify is taking to try and bolster their podcast talent. Recently the Swedish company snatched Joe Rogan, Addison Rae, and Kim Kardashian for exclusive podcast deals.
For many creators, it's looking like some of the most lucrative prospects are securing exclusive content deals on proven platforms.
Black Mirror or Reality? Microsoft Granted Patent for Tech That Lets It Create Chatbots of Dead People
Microsoft has been granted a patent that would allow it to create artificial intelligence chatbots of dead people using "voice data, social media posts, electronic messages, written letters, etc."
As Microsoft noted in its patent proposal, chatbots could also be created to imitate living people — opening the door for users to train a digital version of themselves to be used after they die. 
In the patent filing, Microsoft also suggested creating 2D or 3D models of chatbot subjects by studying images and videos of them.
Online, many noted the similarities between Microsoft's patent and a 2013 episode of Black Mirror in which a woman creates an AI version of her deceased boyfriend. 
---
Microsoft Granted Controversial Patent
The United States Patent and Trademark Office has granted Microsoft a patent for technology that would allow it digitally revive dead people.
If implemented, Microsoft would use information like "voice data, social media posts, electronic messages, written letters, etc.," to create artificial intelligence chatbots meant to replicate the person.
In its filing, Microsoft noted that the person could be "a friend, a relative, an acquaintance, a celebrity, a fictional character, a historical figure, a random entity, etc."
Microsoft also noted, "the specific person may also correspond to oneself (e.g., the user creating/training the chat bot), or a version of oneself (e.g., oneself at a particular age or stage of life)."
As The Independent pointed out, that opens up the door for living users to be able to "train a digital replacement in the event of their death."
But it doesn't stop there. Microsoft has also suggested creating 2D or even 3D models of the person by studying images and videos of them.
Has Life Finally Become an Episode of Black Mirror?
Online, many noted the similarities between Microsoft's patent and a 2013 episode of Black Mirror in which a character, played by Hayley Atwell, revives her recently-deceased boyfriend through an AI chatbot. As the episode progresses, that AI — played by Domhnall Gleeson — eventually becomes an exact replica android of her boyfriend.
"More people that need to remember Black Mirror is a warning sign, not a product manual," said Tama Leaver, an internet studies professor at Curtin University in Australia.
Indeed, many critics have interpreted the episode, which focuses on the grief felt by Atwell's character because of her loss, as an examination of "our own mortality and our desire to play God."
"It shines a spotlight on our desperate need to reverse a natural and necessary part of life without considering the consequences on our emotional well-being," Roxanne Sancto said in a review for Paste Magazine.
In fact, series creator Charlie Brooker said part of his direct inspiration for writing the episode was based on Twitter and the question: "What if these people were dead and it was software emulating their thoughts?"
JoJo Siwa Fans Caution Against Labeling the Star's Sexuality
JoJo Siwa was featured in two TikTok videos Wednesday that many felt signaled her as a member of the LGBTQ+ community.
One showed her dancing and lip-syncing to Paramore's "Aint It Fun," along with members of the TikTok group Pride House LA. Siwa specifically mouthed the lyric "Now you're one of us," which is also the caption of the post.
The second video showed her lip-syncing to Lady Gaga's "Born This Way," a song that has long been heralded as an LGBTQ+ anthem.
The 17-year-old entertainer has not directly addressed speculations about her sexuality, prompting many to caution against labeling her.
---
JoJo Siwa TikToks Trigger Sexuality Speculations
JoJo Siwa fans are urging the public not to label the 17-year-old entertainer's sexuality, especially when she has not explicitly done so herself.
The request came after Siwa became a trending topic Wednesday when many speculated that she had come out as a member of the LGBTQ+ community.
The speculations stem from two TikTok videos she was featured in. The first was posted on choreographer Kent Boyd's account. It features him and other members of the TikTok group Pride House LA, which includes several stars from Disney Channel's "Teen Beach Movie."
It showed them all lip-syncing and dancing along to Paramore's hit song "Ain't It Fun." Siaw specifically mouthed the lyric "Now you're one of us." That lyric was also the caption of the post.
Later in the day, Siwa posted a video on her personal TikTok account that featured her lip-syncing to Lady Gaga's "Born This Way," a song that has long been heralded as an LGBTQ+ anthem.
Part of the lyrics she sang along to were: "No matter gay, straight or bi, lesbian transgender life / I'm on the right track baby, I was born to survive."
Reactions
These posts really started all the rumors online, and things picked up when influencers like James Charles, Bretman Rock, and others expressed their support.
Many fans also left comments on the videos saying they were proud of her, and journalist Yashar Ali tweeted, "This feels like a big deal if it is what I think it is…JoJo Siwa is hugely popular with kids."
"And as someone just pointed out, if it is what I think it is, she's doing it at the height of her fame when she's selling out arenas," he continued.
Despite the wave of praise, other fans feel that it's inappropriate and harmful to make speculations about anyone's sexuality.
Many have even shared their own experiences coming out, reminding people not to label Siwa as anything until she explicitly chooses to share that information herself.
While Siwa hasn't directly addressed any of the responses as of yet, she has retweeted a post that features her video, the pride flag emoji, and the caption, "@itsjojosiwa is on the right track, she was born this way."
Still, others also noted that she has publicly asked Lady Gaga to collaborate with her in the past, so perhaps this is a signal about that happening soon.
Others believe it could also be Siwa's way of signaling that she is an ally of the LGBTQ+ community.
Google Investigates Top AI Researcher Who Was Looking Into a Previous Firing
Google is investigating the co-leader of its Ethical AI team, Margaret Mitchell.
While Mitchell has not been fired, her account has been locked because Google said she "exfiltrated thousands of files" and shared them with people outside of the company.
In a tweet, Mitchell indicated that she had been "documenting current critical issues" related to the firing of another Google AI Ethicist in December.
Sources reportedly told Axios that Mitchell had been specifically looking for messages that showed discriminatory treatment of that fired researcher.
---
Google Investigates Margaret Mitchell
On Tuesday, Google stated that it is now investigating the co-leader of its Ethical Al team, Margaret Mitchell.
Mitchell has reportedly not been fired, but her company email account has been locked.
According to Google, its security systems automatically lock employee accounts "when they detect that the account is at risk of compromise due to credential problems or when an automated rule involving the handling of sensitive data has been triggered."
In this case, Google said Mitchell "exfiltrated thousands of files" and then shared them with people outside of the company.
Why Did Mitchell Begin Looking Through Files?
Mitchell's investigation is related to the ousting of another top AI ethicist at Google, Timnit Gebru, who was fired at the beginning of December.
Before Gebru was fired, managers reportedly instructed her to withdraw an unpublished research paper upon her return from vacation. In an email to the internal listserv Google Brain Women and Allies, Gebru then voiced frustration at managers for allegedly making the decision without her input.
"You are not worth having any conversations about this, since you are not someone whose humanity (let alone expertise recognized by journalists, governments, scientists, civic organizations such as the electronic frontiers foundation etc) is acknowledged or valued in this company," Gebru said in a critique of the decision.
Gebru's firing led to such a massive outcry from Google employees that Google CEO Sundar Pichai pledged to investigate the situation.
On Friday, Mitchell indicated in a tweet that she was also looking into Gebru's firing, saying that she was "documenting current critical issues from [Gebru's] firing, point by point, inside and outside work."
According to Axios, sources have said that Mitchell used automated scripts to siphon through messages that potentially document discriminatory treatment against Gebru.