US Customs Seize Chinese Hair Products Suspected to Have Come From Forced Labor Camps
A shipment of hair products from China believed to be made through forced human labor was sized at the Port of New York on Wednesday.
The products originate from Xinjiang, which is widely criticized for its so-called "reeducation" camps of Uyghurs.
Though estimates regarding the number of people held at these internment camps range, reports claim it could be upwards of 3 million people who are being held without trial.
U.S. Officials also believe that much of the hair used for these products came from camp detainees.
---
U.S. Seizes 13 Tons of Human Hair
United States Customs and Border Protection agents seized a 13-ton shipment of hair products at the Port of New York on Wednesday over suspicions that they were made with forced human labor. The bust is worth about $800,000.
Officials believe that beyond being made by forced human labor, the hair products, which include wigs, are made out of the hair of detainees in Xinjiang.
The region is infamous because much of its native Muslim Uyghur (sometimes spelled Uighur) population is being forced into "reeducation camps" by the Chinese government. China has denied these camps are what the world thinks they are and continues to downplay how many people are held in them.
On June 17, U.S. Customs and Border Protection (CBP) issued a Detention Order, a command that agents are to stop and inspect all shipments, on products made by Lop County Meixin Hair Product Company. The CBP wants Meixin shipments inspected because the agency had information that "reasonably indicated the use of prison labor with additional situations of forced labor including, but not limited to, excessive overtime, withholding of wages and restriction of movement."
This is in line with a long-standing law that bans any products made by "convict labor" overseas.
A Detention Order such as this is actually quite rare because tracking supply chains out of the U.S. is extremely difficult for U.S. companies and agencies. Adding to the complexity is where the products originated from; Xinjiang. The region has been difficult to enter for non-natives and Chinese officials for a few years.
Brenda Smith, the executive assistant commissioner of CBP's Office of Trade said of the bust, "The production of these goods constitutes a very serious human rights violation, and the detention order is intended to send a clear and direct message to all entities seeking to do business with the United States that illicit and inhumane practices will not be tolerated in U.S. supply chains."
National Security Council spokesperson John Ullyot also raised concerns that the hairs are made from victims of the camps in Xinjiang, saying, "If this highly suspicious, 13-ton shipment of human hair indeed turns out to be linked to the Uighur concentration camps, then this is a new low — even for the Chinese Communist Party — and they will have to answer to the world community for their actions."
The products in question are to be held until Meixin can prove forced human labor wasn't involved. Another company, Hetian Haolin Hair Accessories, must do the same after some of their products were seized in the same shipment, although agents found the weaves were made with synthetic fibers rather than detainees' hair. Hetian was added to the Detetion Order back in May.
The products are sold under the I&I and Spetra brand names in the U.S.
The Situation in Xinjiang
Within Xinjiang itself, conditions haven't improved for the local Uyghurs, and arguably have gotten worse.
For decades, China has wanted to sinicize a lot of minority ethnic groups in the country. Around 2017 it increased its sinicization efforts over the Uyghurs. Tactics include forcing Mandarin as a language that must be used for school and official business, as well as attempts to heavily downplay the importance of Islam in the daily lives on Muslim citizens.
There are also reports of more dire actions, such as accusations that Chinese authorities take children from their families to try and remove cultural and linguistic connections.
The country also alters cultural sites to look more "Chinese." Efforts include changing mosques to have less Arab-influenced features. However, often cultural sites are just destroyed; such as in the case of hundreds of cemeteries being removed to make way for buildings or empty lots.
China also has an issue with Islam. The country consistently portrays imams in the region as having ties to terrorism, and will often arrest Chinese-Muslims upon returning from the Middle East over fears they've been "radicalized."
Despite these efforts though, the Uyghurs have managed to hold onto their cultural heritage and language. So, 2017 also saw China step up the pressure by introducing the "reeducation camps" in order to "combat extremism."
China markets the camps as vocational school that are voluntary. Yet most countries simply call them internment or concentration camps. Evidence and interviews with alleged survivors of the camps point out that people at the facilities aren't there out of their own free will. They are usually held without ever receiving a trial.
Current estimates vary, but there's believed to be between 1 to 3 million people within these camps, with about 500,000 being minors. Those estimates are partially based on leaked documents the BBC obtained last year that showed 15,000 people from southern Xinjiang were sent to the camps in one week alone.
There's also evidence that beatings and torture happen at the camps, as well as accusations that they're used to force Muslims to renounce their faith. Earlier this week, reports surface alleging China is forcing abortions, sterilizations, and other birth control measures against the Uyghur population to cut their birth rates.

Other birth-control methods include monetary penalties against people who have additional children.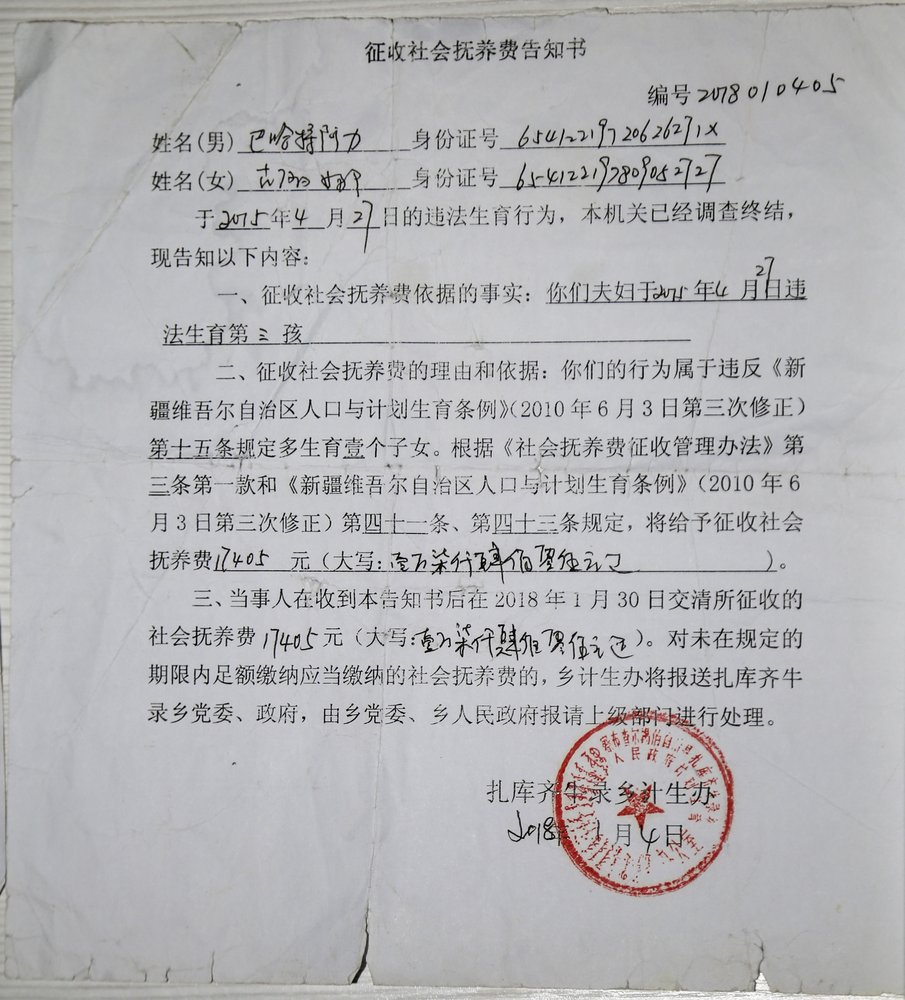 In 2019, 22 UN ambassadors signed a letter condemning the camps, and 50 other states condemned China's counter-terrorism program in the region. More recently, in October of last year, the U.S. imposed visa restrictions on Chinese officials "believed to be responsible for, or complicit in, the detention or abuse of Muslim minority groups in Xinjiang."
In 2020, the U.S. has been adding more and more companies to what's known as an Entity List. They urge Americans and businesses not to work with these 37 companies because they're believed to use forced labor out of Xinjiang. Last month, on June 17, President Trump signed the Uyghur Human Rights Policy Act, which opens the door to increased sanctions against China and increases US agencies' reporting on Xinjiang.
Although the President is still hesitant on actually imposing stricter sanctions, telling Axios, "we were in the middle of a trade deal [with China]. When you're in the middle of a negotiation and then all of a sudden you start throwing additional sanctions on… we've done a lot."
Egypt Seizes Ship That Blocked Suez Canal Until Owners Pay Nearly $1 Billion
Egyptian authorities seized the Ever Given, a mega-ship that blocked the Suez Canal for nearly a week last month, after a judge ruled Wednesday that the owners must pay $900 million in damages.
The ship was seized just as it was deemed fit to return to sea after undergoing repairs in the Great Bitter Lake, which sits in the middle of the Suez Canal.
The vessel's owners said little about the verdict, but insurance companies covering the ship pushed back against the $900 million price tag, saying it's far too much for any damage the ship actually caused.
---
Ever Given Still in Egypt
An Egyptian court blocked the mega-ship known as the Ever Given from leaving the country Wednesday morning unless its owner pays nearly $1 billion in compensation for damages it caused after blocking the Suez Canal for nearly a week last month.
The Ever Given's ordeal started when it slammed into the side of the canal and became lodged, which caused billions of dollars worth of goods to be held up on both sides of the canal while crews worked round the clock to free the vessel. An Egyptian judge found that the Ever Given becoming stuck caused not only physical damage to the canal that needed to be paid for but also "reputational" damage to Egypt and the Suez Canal Authority.
The ship's Japanese owner, Shoei Kisen Kaisha, will need to pay $900 million to free the ship and the cargo it held, both of which were seized by authorities after the ship was transported to the Great Bitter Lake in the middle of the canal to undergo now-finished repairs. Shoei Kisen Kaisha doesn't seem to want to fight the judgment in court just yet. It released a short statement after the ruling, saying that lawyers and insurance companies were working on the claims but refused to comment further.
Pushing Back Against The Claim
While Shoei Kisen Kaisha put in a claim with insurers, those insurance companies aren't keen on just paying the bill. One of the ship's insurers, UKP&I, challenged the basis of the $900 million claim, writing in a press release, "The [Suez Canal Authority] has not provided a detailed justification for this extraordinarily large claim, which includes a $300 million claim for a 'salvage bonus' and a $300 million claim for 'loss of reputation.'"
"The grounding resulted in no pollution and no reported injuries. The vessel was re-floated after six days and the Suez Canal promptly resumed their commercial operations."
It went on to add that the $900 million verdict doesn't even include payments to the crews that worked to free the ship, meaning that the total price tag of the event could likely be far more for Shoei Kisen Kaisha and the multiple insurance companies it works with.
Treated Radioactive Water From Japanese Nuclear Power Plant Will Be Released Into Ocean
The Japanese government confirmed Tuesday that it will officially move forward with plans to dump millions of gallons of radioactive water from the Fukushima nuclear power plant into the ocean.
The government spent a decade decontaminating the water, only leaving a naturally occurring isotope in it that scientists recognize as safe for people and the environment.
Despite the safety claims, protesters took to the streets in Tokyo to show disapproval of the decision. Local business owners, in particular, have expressed fears that more municipalities worldwide could ban Fukushima products, including fish, because of distrust in the water.
Meanwhile, officials have insisted that the dump is necessary as the water takes up a massive amount of space, which is needed to store highly radioactive fuel rods from the remaining cores at the now-defunct nuclear facility.
---
Editor's Note: The Japanese government has asked Western outlets to adhere to Japanese naming conventions. To that end, Japanese names will be written as Family Name followed by Given Name.
Radioactive or Bad Publicity?
After years of discussions and debate, the Japanese government announced Tuesday that it will dump radioactive water from the Fukushima nuclear power plant into the ocean.
Government officials consider the move necessary, but it's facing backlash from local businesses, particularly fisheries, over potential consequences it could have. Many are especially concerned that the decision will create bad press for the region as headlines about it emerge. For instance, a headline from the Guardian on the issue reads, "Japan announces it will dump contaminated water into sea."
While the water is contaminated and radioactive, it's not nearly what the headlines make it out to be. The government has spent the last decade decontaminating it, and now it only contains a trace amount of the isotope tritium. That isotope is common in nature and is already found in trace amounts in groundwater throughout the world. Its radiation is so weak that it can't pierce human skin, meaning one could only possibly get sick by ingesting more than that has ever been recorded.
According to the government, the decontaminated water at Fukushima will be diluted to 1/7 of the WHO's acceptable radiation levels for drinking water before being released into the ocean over two years.
Something Had To Eventually Be Done
Over the last decade, Japan has proposed this plan and other similar ones, such as evaporating the water, which the International Atomic Energy Agency said last year met global standards.
The water has been sitting in containers for years, so why is there a push to remove it now? Space and leakage seem to be the primary reasons.
The water containers are slowly being filled by groundwater, and the government expects to run out of space relatively soon. Space is sorely needed, as Prime Minister Suga Yoshihide has pointed out in the past that the government wants to use the space to store damaged radioactive fuel rods that still need to be extracted from the plant. Unlike the water, those rods are dangerously radioactive and need proper storage.
Regardless, Suga reportedly recognizes that removing the water is going to end up as a lose-lose situation.
"It is inevitable that there would be reputational damage regardless of how the water will be disposed of, whether into the sea or into the air," he said at a press conference last week. As expected, the government's decision did trigger backlash, prompting many demonstrators to take to the streets of Tokyo Tuesday in protest.
To this day, eleven countries and regions still ban many products from the Fukushima prefecture despite massive clean-up efforts that have seen people returning to the area to live.
Greta Thunberg To Skip U.N. Climate Change Conference, Citing Vaccine Inequality
Young environmental activist Greta Thunberg will not attend the U.N.'s climate change conference set to take place in Glasgow, Scotland this November.
"Inequality and climate injustice is already the heart of the climate crisis. If people can't be vaccinated and travel to be represented equally that's undemocratic and would worsen the problem," the 18-year-old tweeted Friday, adding, "Vaccine nationalism won't solve the pandemic. Global problems need global solutions."
Since rollouts began late last year, 40% of vaccines have been administered in wealthy and Western countries, according to The Washington Post.
Scientists have warned that the longer the virus continues to circulate widely, the more chances it will have to change and potentially develop vaccine resistance.
---
Thunberg Points To Vaccine Inequality
Swedish climate activist Greta Thunberg has said she is skipping the UN's climate change conference.
The COP26 summit is set to take place in Glasgow, Scotland in November, but 18-year-old Thunberg told BBC she won't attend because she's concerned about the impact COVID-19 will have on attendance.
In a Twitter thread Friday, she responded to a headline about her plans to miss the summit.
"Of course I would love to attend…But not unless everyone can take part on the same terms. Right now many countries are vaccinating healthy young people, often at the expense of risk groups and front line workers (mainly from global south, as usual…)," she wrote.
"Inequality and climate injustice is already the heart of the climate crisis. If people can't be vaccinated and travel to be represented equally that's undemocratic and would worsen the problem."
"Vaccine nationalism won't solve the pandemic. Global problems need global solutions," the teen continued.
Thunberg went on to say that if the summit is delayed, it doesn't mean urgent action should too.
"We don't have to wait for conferences nor anyone or anything else to dramatically start reducing our emissions. Solidarity and action can start today," she added before noting that digital alternatives for the conference would also be insufficient.
"High speed internet connection and access to computers is extremely unequal in the world. In that case we would lack representation from those whose voices need to be heard the most when it comes to the climate crisis," she wrote.
Data on Global Vaccine Distribution Efforts
According to The Washington Post, nearly 20% of people in the United States are now vaccinated, but many other countries are unlikely to hit that same metric by the end of the year, even with international assistance through the Covax program.
Current projections predict it could be years before developing countries distribute enough doses to come close to herd immunity, which scientists say requires inoculating around 70-80% of a population.
Since rollouts began late last year, enough shots have been distributed to fully vaccinate about 5% of the world's population, but The Post reported that the vast majority have been administered in wealthy and Western countries.
Around 40% of vaccines have been given in 27 wealthy nations that include only 11% of the world's population, according to the Bloomberg Vaccine Tracker.
That's pretty concerning because scientists also warn that the longer the virus continues to circulate widely, the more chances it will have to change and potentially develop vaccine resistance.
Thunberg's comments are a blow for U.K. organizers, who have already postponed the conference once from last November because of the pandemic. Even now, there has been speculation that it could be delayed again this year.
Thunberg would not play a formal role at the conference but her decision not to attend is a significant symbolic moment.
At COP25, the young climate change activist gave a headline speech and she typically attends major climate events of this nature. On top of that, reports say this summit was slated to be one of the most consequential climate conferences since the 2015 Paris accord.
On the agenda for this year's conference discussions were country-level plans for cutting carbon emissions, along with progress on the Paris agreement and the U.N. Framework Convention on Climate Change.