US Customs Seize Chinese Hair Products Suspected to Have Come From Forced Labor Camps
A shipment of hair products from China believed to be made through forced human labor was sized at the Port of New York on Wednesday.
The products originate from Xinjiang, which is widely criticized for its so-called "reeducation" camps of Uyghurs.
Though estimates regarding the number of people held at these internment camps range, reports claim it could be upwards of 3 million people who are being held without trial.
U.S. Officials also believe that much of the hair used for these products came from camp detainees.
---
U.S. Seizes 13 Tons of Human Hair
United States Customs and Border Protection agents seized a 13-ton shipment of hair products at the Port of New York on Wednesday over suspicions that they were made with forced human labor. The bust is worth about $800,000.
Officials believe that beyond being made by forced human labor, the hair products, which include wigs, are made out of the hair of detainees in Xinjiang.
The region is infamous because much of its native Muslim Uyghur (sometimes spelled Uighur) population is being forced into "reeducation camps" by the Chinese government. China has denied these camps are what the world thinks they are and continues to downplay how many people are held in them.
On June 17, U.S. Customs and Border Protection (CBP) issued a Detention Order, a command that agents are to stop and inspect all shipments, on products made by Lop County Meixin Hair Product Company. The CBP wants Meixin shipments inspected because the agency had information that "reasonably indicated the use of prison labor with additional situations of forced labor including, but not limited to, excessive overtime, withholding of wages and restriction of movement."
This is in line with a long-standing law that bans any products made by "convict labor" overseas.
A Detention Order such as this is actually quite rare because tracking supply chains out of the U.S. is extremely difficult for U.S. companies and agencies. Adding to the complexity is where the products originated from; Xinjiang. The region has been difficult to enter for non-natives and Chinese officials for a few years.
Brenda Smith, the executive assistant commissioner of CBP's Office of Trade said of the bust, "The production of these goods constitutes a very serious human rights violation, and the detention order is intended to send a clear and direct message to all entities seeking to do business with the United States that illicit and inhumane practices will not be tolerated in U.S. supply chains."
National Security Council spokesperson John Ullyot also raised concerns that the hairs are made from victims of the camps in Xinjiang, saying, "If this highly suspicious, 13-ton shipment of human hair indeed turns out to be linked to the Uighur concentration camps, then this is a new low — even for the Chinese Communist Party — and they will have to answer to the world community for their actions."
The products in question are to be held until Meixin can prove forced human labor wasn't involved. Another company, Hetian Haolin Hair Accessories, must do the same after some of their products were seized in the same shipment, although agents found the weaves were made with synthetic fibers rather than detainees' hair. Hetian was added to the Detetion Order back in May.
The products are sold under the I&I and Spetra brand names in the U.S.
The Situation in Xinjiang
Within Xinjiang itself, conditions haven't improved for the local Uyghurs, and arguably have gotten worse.
For decades, China has wanted to sinicize a lot of minority ethnic groups in the country. Around 2017 it increased its sinicization efforts over the Uyghurs. Tactics include forcing Mandarin as a language that must be used for school and official business, as well as attempts to heavily downplay the importance of Islam in the daily lives on Muslim citizens.
There are also reports of more dire actions, such as accusations that Chinese authorities take children from their families to try and remove cultural and linguistic connections.
The country also alters cultural sites to look more "Chinese." Efforts include changing mosques to have less Arab-influenced features. However, often cultural sites are just destroyed; such as in the case of hundreds of cemeteries being removed to make way for buildings or empty lots.
China also has an issue with Islam. The country consistently portrays imams in the region as having ties to terrorism, and will often arrest Chinese-Muslims upon returning from the Middle East over fears they've been "radicalized."
Despite these efforts though, the Uyghurs have managed to hold onto their cultural heritage and language. So, 2017 also saw China step up the pressure by introducing the "reeducation camps" in order to "combat extremism."
China markets the camps as vocational school that are voluntary. Yet most countries simply call them internment or concentration camps. Evidence and interviews with alleged survivors of the camps point out that people at the facilities aren't there out of their own free will. They are usually held without ever receiving a trial.
Current estimates vary, but there's believed to be between 1 to 3 million people within these camps, with about 500,000 being minors. Those estimates are partially based on leaked documents the BBC obtained last year that showed 15,000 people from southern Xinjiang were sent to the camps in one week alone.
There's also evidence that beatings and torture happen at the camps, as well as accusations that they're used to force Muslims to renounce their faith. Earlier this week, reports surface alleging China is forcing abortions, sterilizations, and other birth control measures against the Uyghur population to cut their birth rates.

Other birth-control methods include monetary penalties against people who have additional children.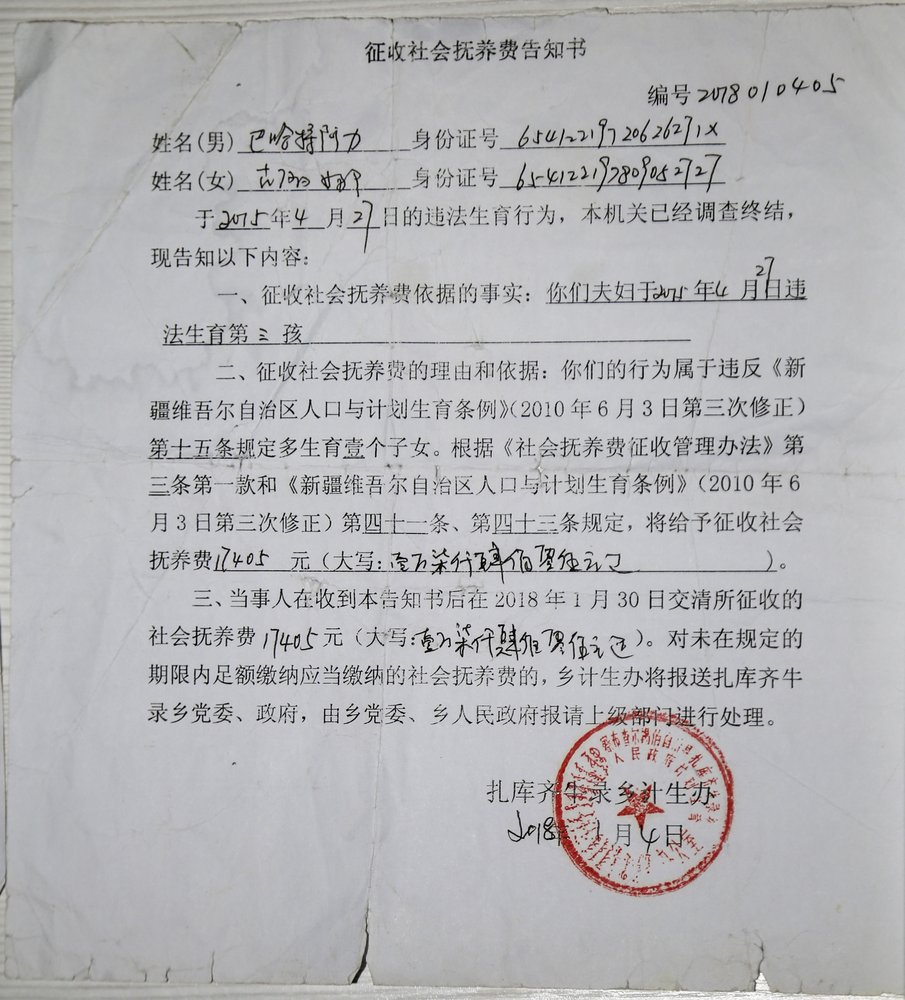 In 2019, 22 UN ambassadors signed a letter condemning the camps, and 50 other states condemned China's counter-terrorism program in the region. More recently, in October of last year, the U.S. imposed visa restrictions on Chinese officials "believed to be responsible for, or complicit in, the detention or abuse of Muslim minority groups in Xinjiang."
In 2020, the U.S. has been adding more and more companies to what's known as an Entity List. They urge Americans and businesses not to work with these 37 companies because they're believed to use forced labor out of Xinjiang. Last month, on June 17, President Trump signed the Uyghur Human Rights Policy Act, which opens the door to increased sanctions against China and increases US agencies' reporting on Xinjiang.
Although the President is still hesitant on actually imposing stricter sanctions, telling Axios, "we were in the middle of a trade deal [with China]. When you're in the middle of a negotiation and then all of a sudden you start throwing additional sanctions on… we've done a lot."
YouTuber Accused of Murder After Using Livestream as Alibi
Stephen McCullagh may have eluded the authority's suspicion if not for CCTV footage that allegedly puts him near the scene of the crime.
---
Police Peer Behind the Veil
A Northern Ireland YouTuber was charged with murdering a pregnant woman last week, and police told the court he used his livestream as an alibi.
On Dec. 18, 32-year-old Natalie McNally was stabbed to death in her Silverwood Green home in Lurgan. She was 15 weeks pregnant.
Police initially arrested Stephen McCullagh, also 32 years old, but soon released him after he persuaded them he was livestreaming the night the murder happened.
McCullagh, from Woodland Gardens in Lisburn, is a part-time assistant audience editor for the Belfast Telegraph and has a YouTube channel with over 30,000 subscribers.
His livestream was indeed active on the night McNally was murdered, but the footage of him playing the video game Grand Theft Auto was pre-recorded days earlier, according to a technical examination of his devices by cyber experts.
Senior detective Neil McGuinness told district judge Rosie Watters that McCullagh denied any involvement in the crime but admitted that the livestream was faked in a written statement.
The YouTuber later revised his story from that night to claim he drank alone at home then fell asleep.
Prosecutors alleged the suspect had devised a "sophisticated, calculated and cool-headed plot" and was "capable of deception beyond imagination."
Damning Evidence Comes to Light
Police told the court they can trace McCullagh's movements from the crime scene back to his home on Dec. 18 using CCTV footage from a bus and an account from a taxi driver.
A man police believe to be McCullagh is seen boarding the bus with his hood pulled down and scarf pulled up.
According to the statement, the man removes a black glove to accept his change from the driver, revealing a second yellow glove underneath.
McGuinness said it was consistent with the print of a Marigold glove found in a blood stain at the crime scene.
Police also believe the same man boarded a taxi. Based on an analysis of GPS data, authorities say the cab allegedly stopped at McCullagh's address.
At the beginning of McCullagh's pre-recorded stream, he told his audience that he couldn't respond to their live chat messages because of technical difficulties.
"I could use my phone to dip in every now and again and check it, but I've decided that I kind of hate livestreams where people just sit and read comments and go, 'oh my God, yes, ask me questions,'" he added.
Police allege he deliberately referred to the time and said "I'm not leaving the house tonight" to reinforce his alibi.
At one point, he expresses fear about rising crime and underfunded police.
"That's why I love sticking to just doing crimes in a video game," he said. "Keeps things simple, mate."
200 Children Seeking Asylum in the U.K. Are Missing 
The missing include at least 13 children under the age of 16.
---
Children Missing From Hotels
There are 200 asylum-seeking children missing from government care in the United Kingdom according to the parliamentary undersecretary of state at the Home Office.
When children are seeking asylum in the U.K. alone or separated from their parents, the government puts them up in hotel rooms for temporary accommodation. They have done so since 2021 and have temporarily accommodated 4,600 children in that time. However, Simon Murray, the parliamentary undersecretary of state at the Home Office, said that 200 of the children placed in those hotels are missing, including at least 13 who are under the age of 16.
In response to this information, a collection of more than 100 charities sent a letter to the Prime Minister demanding the end of the procedure of placing kids in hotels over safety concerns. The letter says that these children are at risk of trafficking and exploitation by staying in these hotels alone.
Other officials have echoed these concerns, claiming these hotels are targets for organized crime where people use these vulnerable children for labor or trafficking.
Parliament Calls Incident "Horrific"
Murray told the House of Lords on Monday that despite the media reports, his department does not know of any kidnapping cases, though they are investigating. He went on to say there are many reasons why children go missing. 
However, lawmakers were not appeased by Murray's assurances. In a later debate, one member of Parliament called the missing cases "horrific" and another said that it was "putting children at risk."  The children's commissioner for England also reportedly chimed in asking for, quote "assurances on the steps being taken to safeguard the children." 
Murray went on to say that the use of hotels for asylum-seeking children will hopefully be phased out as soon as possible but did not give a timeline.
The nonprofit Refugee Council called on the government in a tweet to spare no expense in the location of these missing kids.
100,000 U.K. Nurses Launch Biggest Strike in NHS History
Opposition leader Keir Starmer called the strike "a badge of shame on this government."
---
The NHS Grinds to a Halt
Some 100,000 members of the Royal College of Nursing (RCN), the United Kingdom's largest nursing union, launched a historic 12-hour strike Thursday after the government refused to negotiate on higher pay.
The work stoppage, which spans England, Wales, and Northern Ireland, is only the second in the RCN's 106-year history and the largest the NHS has ever seen. It marks the breaking point for many underpaid nurses and the culmination of a years-long decline in the NHS's quality of care, put under increasing stress by severe staffing shortages.
Although most NHS staff in England and Wales received a pay rise of around £1,400 this year, worth about 4% on average for nurses, they say it has not kept up with inflation as Britain plunges deeper into a cost-of-living crisis.
When inflation is accounted for, nurses' pay dropped 1.2% every year from 2010 to 2017, according to the Health Foundation.
Meanwhile, the number of patients waiting for care has reached a record 7.2 million in England, or over one in eight residents, more than double what it was seven years ago.
In July, the cross-party Commons Health and Social Care Select Committee estimated the staffing shortfall could be as high as 50,000 nurses and 12,000 doctors, what one MP called the "greatest workforce crisis in history."
Many nurses argue that boosting pay will help hospitals recruit more staff.
The RCN demanded a pay raise 5% above the retail rate of inflation, which amounts to a 19% increase, but both Prime Minister Rishi Sunak and the government's health secretary have claimed that's not affordable.
During Thursday's strike, partial staffing continued to remain open for urgent care such as chemotherapy, kidney dialysis, and children's accident and neonatal units.
Sunak and Starmer Brawl in Parliament
Labor leader Keir Starmer grilled Sunak during Wednesday's Prime Minister's Questions (PMQs) on the upcoming strike.
"Tomorrow will be the first-ever nationwide nurse's strike," he said. "All the Prime Minister has to do to stop that is to open the door and discuss pay with them. If he did, the whole country would breathe a sigh of relief. Why won't he?"
"We have consistently spoken to all the unions involved in all the pay disputes that there are," Sunak replied. "Last year, when everyone else in the public sector had a public sector pay freeze, the nurses received a three-percent pay rise."
Starmer fired back: "Nurses going on strike is a badge of shame for this government. Instead of showing leadership, he's playing games with people's health."
Sunak called Starmer's demand that he reopen negotiations with the RCN "just simply a political formula for avoiding taking a position on this issue."
"If he thinks the strikes are wrong, he should say so," Sunak said. "If he thinks it's right that pay demands of nineteen percent are met, then he should say so. What's weak, Mr. Speaker, is he's not strong enough to stand up to the union."
While Starmer has called on Sunak to negotiate with the RCN, he has not explicitly backed the 19% pay raise himself.
Unless the government returns to the bargaining table, the RCN plans to launch a second round of strikes on Dec. 20 to be followed by ambulance strikes that Wednesday and the next.
If the government still refuses to budge, the union said in a statement that nurses will strike for longer periods in more places starting in January, disrupting more health services.
Other industries are also set to see work stoppages this month, including workers on railways, buses, highways, and borders, as well as teachers, postal workers, baggage handlers, and paramedics.