US Customs Seize Chinese Hair Products Suspected to Have Come From Forced Labor Camps
A shipment of hair products from China believed to be made through forced human labor was sized at the Port of New York on Wednesday.
The products originate from Xinjiang, which is widely criticized for its so-called "reeducation" camps of Uyghurs.
Though estimates regarding the number of people held at these internment camps range, reports claim it could be upwards of 3 million people who are being held without trial.
U.S. Officials also believe that much of the hair used for these products came from camp detainees.
---
U.S. Seizes 13 Tons of Human Hair
United States Customs and Border Protection agents seized a 13-ton shipment of hair products at the Port of New York on Wednesday over suspicions that they were made with forced human labor. The bust is worth about $800,000.
Officials believe that beyond being made by forced human labor, the hair products, which include wigs, are made out of the hair of detainees in Xinjiang.
The region is infamous because much of its native Muslim Uyghur (sometimes spelled Uighur) population is being forced into "reeducation camps" by the Chinese government. China has denied these camps are what the world thinks they are and continues to downplay how many people are held in them.
On June 17, U.S. Customs and Border Protection (CBP) issued a Detention Order, a command that agents are to stop and inspect all shipments, on products made by Lop County Meixin Hair Product Company. The CBP wants Meixin shipments inspected because the agency had information that "reasonably indicated the use of prison labor with additional situations of forced labor including, but not limited to, excessive overtime, withholding of wages and restriction of movement."
This is in line with a long-standing law that bans any products made by "convict labor" overseas.
A Detention Order such as this is actually quite rare because tracking supply chains out of the U.S. is extremely difficult for U.S. companies and agencies. Adding to the complexity is where the products originated from; Xinjiang. The region has been difficult to enter for non-natives and Chinese officials for a few years.
Brenda Smith, the executive assistant commissioner of CBP's Office of Trade said of the bust, "The production of these goods constitutes a very serious human rights violation, and the detention order is intended to send a clear and direct message to all entities seeking to do business with the United States that illicit and inhumane practices will not be tolerated in U.S. supply chains."
National Security Council spokesperson John Ullyot also raised concerns that the hairs are made from victims of the camps in Xinjiang, saying, "If this highly suspicious, 13-ton shipment of human hair indeed turns out to be linked to the Uighur concentration camps, then this is a new low — even for the Chinese Communist Party — and they will have to answer to the world community for their actions."
The products in question are to be held until Meixin can prove forced human labor wasn't involved. Another company, Hetian Haolin Hair Accessories, must do the same after some of their products were seized in the same shipment, although agents found the weaves were made with synthetic fibers rather than detainees' hair. Hetian was added to the Detetion Order back in May.
The products are sold under the I&I and Spetra brand names in the U.S.
The Situation in Xinjiang
Within Xinjiang itself, conditions haven't improved for the local Uyghurs, and arguably have gotten worse.
For decades, China has wanted to sinicize a lot of minority ethnic groups in the country. Around 2017 it increased its sinicization efforts over the Uyghurs. Tactics include forcing Mandarin as a language that must be used for school and official business, as well as attempts to heavily downplay the importance of Islam in the daily lives on Muslim citizens.
There are also reports of more dire actions, such as accusations that Chinese authorities take children from their families to try and remove cultural and linguistic connections.
The country also alters cultural sites to look more "Chinese." Efforts include changing mosques to have less Arab-influenced features. However, often cultural sites are just destroyed; such as in the case of hundreds of cemeteries being removed to make way for buildings or empty lots.
China also has an issue with Islam. The country consistently portrays imams in the region as having ties to terrorism, and will often arrest Chinese-Muslims upon returning from the Middle East over fears they've been "radicalized."
Despite these efforts though, the Uyghurs have managed to hold onto their cultural heritage and language. So, 2017 also saw China step up the pressure by introducing the "reeducation camps" in order to "combat extremism."
China markets the camps as vocational school that are voluntary. Yet most countries simply call them internment or concentration camps. Evidence and interviews with alleged survivors of the camps point out that people at the facilities aren't there out of their own free will. They are usually held without ever receiving a trial.
Current estimates vary, but there's believed to be between 1 to 3 million people within these camps, with about 500,000 being minors. Those estimates are partially based on leaked documents the BBC obtained last year that showed 15,000 people from southern Xinjiang were sent to the camps in one week alone.
There's also evidence that beatings and torture happen at the camps, as well as accusations that they're used to force Muslims to renounce their faith. Earlier this week, reports surface alleging China is forcing abortions, sterilizations, and other birth control measures against the Uyghur population to cut their birth rates.

Other birth-control methods include monetary penalties against people who have additional children.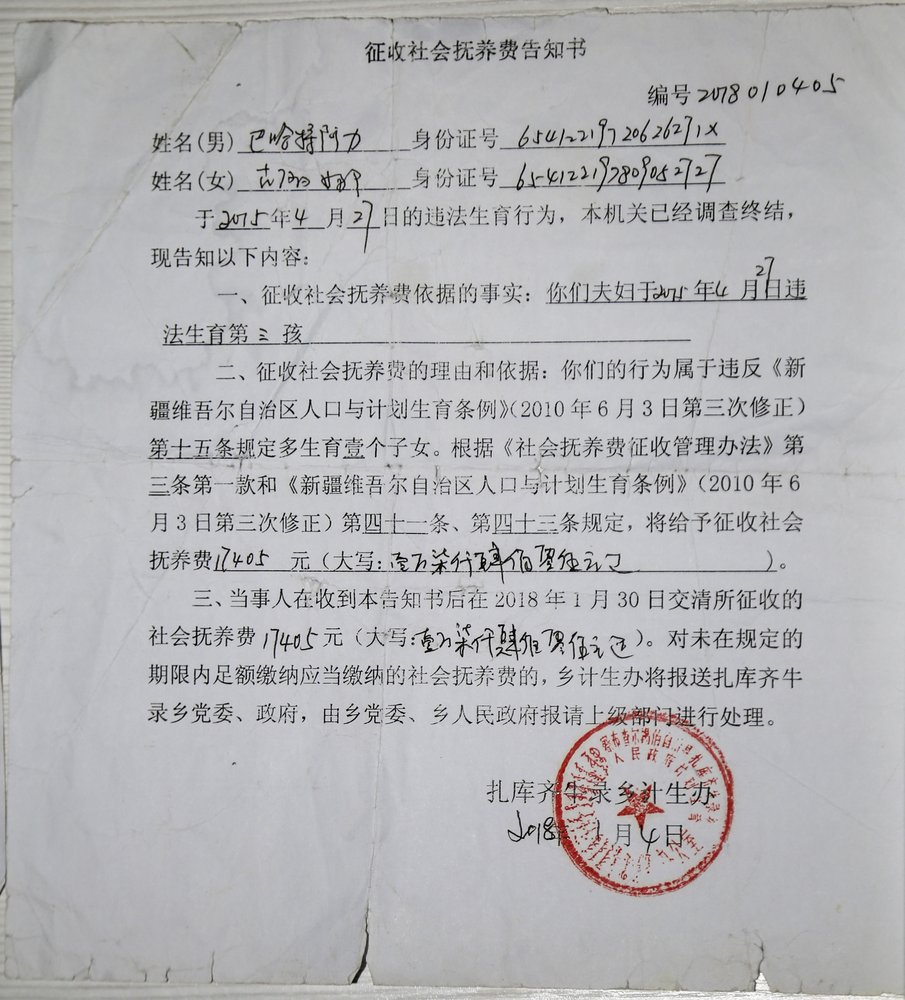 In 2019, 22 UN ambassadors signed a letter condemning the camps, and 50 other states condemned China's counter-terrorism program in the region. More recently, in October of last year, the U.S. imposed visa restrictions on Chinese officials "believed to be responsible for, or complicit in, the detention or abuse of Muslim minority groups in Xinjiang."
In 2020, the U.S. has been adding more and more companies to what's known as an Entity List. They urge Americans and businesses not to work with these 37 companies because they're believed to use forced labor out of Xinjiang. Last month, on June 17, President Trump signed the Uyghur Human Rights Policy Act, which opens the door to increased sanctions against China and increases US agencies' reporting on Xinjiang.
Although the President is still hesitant on actually imposing stricter sanctions, telling Axios, "we were in the middle of a trade deal [with China]. When you're in the middle of a negotiation and then all of a sudden you start throwing additional sanctions on… we've done a lot."
Russia Takes Over 900 Azovstal Fighters Prisoner as Mariupol Surrenders
Ukraine said the soldiers successfully completed their mission, but the fall of Mariupol represents a strategic win for Putin.
---
Azovstal Waves the White Flag
Russia's foreign ministry announced on Wednesday that it had captured 959 Ukrainians from the Azovstal steelworks, where besieged soldiers have maintained the last pocket of resistance in Mariupol for weeks.
A ministry spokesperson said in a statement that 51 were being treated for injuries, and the rest were sent to a former prison colony in the town of Olenivka in a Russian-controlled area of Donetsk.
The defense ministry released videos of what it claimed were Ukrainian fighters receiving care at a hospital in the Russian-controlled town of Novoazovsk. In one, a soldier tells the camera he is being treated "normally" and that he is not being psychologically pressured, though it is unclear whether he is speaking freely.
It was unclear if any Ukrainians remained in Azovstal, but Denis Pushilin, the head of the self-proclaimed republic of Donetsk, said in a statement Wednesday that the "commanders of the highest level" were still hiding in the plant.
Previously, estimates put the number of soldiers inside Azovstal around 1,000.
Ukraine officially gave up Mariupol on Monday, when the first Azovstal fighters began surrendering.
Reuters filmed dozens of wounded Ukrainians being driven away in buses marked with the Russian pro-war "Z" symbol.
Ukraine's deputy defense minister said in a Tuesday statement that the Ukrainian prisoners would be swapped in an exchange for captured Russians. But numerous Russian officials have signaled that the Ukrainian soldiers should be tried.
Mariupol Falls into Russian Hands
After nearly three months of bombardment that left Mariupol in ruins, Russia's combat mission in the city has ended.
The sprawling complex of underground tunnels, caverns, and bunkers beneath Azovstal provided a defensible position for the Ukrainians there, and they came to represent the country's resolve in the face of Russian aggression for many spectators.
Earlier this month, women, children, and the elderly were evacuated from the plant.
The definitive capture of Mariupol, a strategic port city, is a loss for Ukraine and a boon for Russia, which can now establish a land bridge between Crimea and parts of Eastern Ukraine controlled by Russian separatists. The development could also free up Russian troops around Mariupol to advance on the East, while additional reinforcements near Kharkiv descend from the north, potentially cutting off Ukrainian forces from the rest of the country.
The Ukrainian military has framed events in Mariupol as at least a partial success, arguing that the defenders of Azovstal completed their mission by tying down Russian troops and resources in the city and giving Ukrainians elsewhere more breathing room.
It claimed that doing so prevented Russia from rapidly capturing the city of Zaporizhzhia further to the west.
Convoy of Up to 1,000 Vehicles Evacuates Refugees From Mariupol as Russian War Effort Stalls
Russia may have lost a third of its ground invasion force since the war began, according to British military intelligence.
---
Hundreds Make It Out Alive
A convoy of between 500 and 1,000 vehicles evacuating refugees from the southern port city of Mariupol arrived safely in the Ukrainian-controlled city of Zaporizhzhia on Saturday.
People have been trickling out of Mariupol for over two months, but the recent evacuation was the single biggest out of the city thus far. Russian troops, who control most of the city, did not allow the convoy to leave for days, but eventually, they relented.
The convoy first traveled to Berbyansky some 80 kilometers to the west, then stopped at other settlements before driving 200 kilometers northwest to Zaporizhzhia. Many refugees told reporters they took "secret detours" to avoid Russian checkpoints and feared every moment of the journey.
Nikolai Pavlov, a 74-year-old retiree, told Reuters he had lived in a basement for a month after his apartment was destroyed.
"We barely made it," he said. "There were lots of elderly people among us… the trip was devastating. But it was worth it."
63-year-old Iryna Petrenko also said she had stayed in Mariupol initially to take care of her 92-year-old mother, who subsequently died.
"We buried her next to her house, because there was nowhere to bury anyone," she said.
Putin's Plans Go Poorly
In Mariupol, Ukrainian fighters continue to hold the Azovstal steelworks, the only part of the city still under Ukrainian control.
On Sunday, a video emerged appearing to show a hail of projectiles bursting into white, brightly burning munitions over the factory.
The pro-Russian separatist who posted it on Telegram wrote, "If you didn't know what it is and for what purpose – you could say that it's even beautiful."
Turkey is trying to negotiate an evacuation of wounded Ukrainians from the factory, but neither Russia nor Ukraine have agreed to any plan.
After nearly three months of war, Mariupol has been left in ruins, with thousands of civilians reportedly dead.
"In less than 3 month, Mariupol, one of Ukraine's fastest developing & comfortable cities, was reduced into a heap of charred ruins smelling death, with thousands of people standing in long breadlines and selling their properties out to buy some food. Less than three months," Illia Ponomarenko, a reporter for The Kyiv Independent, tweeted.
On Sunday, the United Kingdom's defense ministry estimated that Russia has likely lost a third of its ground invasion forces since the war began.
Moscow is believed to have deployed as many as 150,000 troops in Ukraine.
The ministry added that Russian forces in Eastern Ukraine have "lost momentum" and are "significantly behind schedule." Moreover, it said Russia failed to achieve substantial territorial gains over the last month while sustaining "consistently high levels of attrition."
"Under the current conditions, Russia is unlikely to dramatically accelerate its rate of advance over the next 30 days," the ministry concluded.
Sweden also signaled on Sunday that it will join Finland in applying for NATO membership.
Israel Moves to Build Over 4,000 West Bank Settlements as Palestinian Homes Demolished
The Israeli military is proceeding with a plan to evict at least 1,000 Palestinians from the West Bank.
---
Settlers Get Ready to Move in
On Thursday, a military planning body in the Israeli-occupied West Bank approved the construction of 4,427 housing units, according to the watchdog group Peace Now.
"The State of Israel took another stumble toward the abyss and further deepened the occupation," Hagit Ofran, an expert at Peace Now, said via the Associated Press.
The plan is the largest advancement of settlement projects since President Joe Biden took office in the United States.
The U.S. opposes settlement expansion and said as much when the plan was first announced last week, but critics say Washington has done little to pressure Israel to stop.
In a statement, U.N. Mideast envoy Tor Wennesland called the settlements a "major obstacle to peace."
"Continued settlement expansion further entrenches the occupation, encroaches upon Palestinian land and natural resources, and hampers the free movement of the Palestinian population," he said.
In October, Israel approved some 3,000 settlement homes despite a U.S. rebuke. There are currently over 130 Israeli settlements in the West Bank harboring almost 500,000 settlers, in addition to the nearly three million Palestinians living in the territory.
Palestinians Pushed Off Their Land
On Wednesday, the same day Israeli soldiers allegedly shot and killed Al-Jazeera journalist Shireen Abu Akleh, the military demolished at least 18 buildings in the West Bank, including 12 residential ones.
Israel's supreme court has also ruled that eight Palestinian hamlets can be expelled, potentially leaving at least 1,000 Palestinians homeless.
The area targeted is known as the Masafer Yatta, and its residents say they have been herding animals and practicing traditional desert agriculture there for decades, long before Israel took over the West Bank in 1967. Israel, however, claims there were no permanent structures there before the military designated it a firing zone in the 1980s
"What's happening now is ethnic cleansing," Sami Huraini, an activist and a resident of the area, told the Associated Press. "The people are staying on their land and have already started to rebuild."