US Customs Seize Chinese Hair Products Suspected to Have Come From Forced Labor Camps
A shipment of hair products from China believed to be made through forced human labor was sized at the Port of New York on Wednesday.
The products originate from Xinjiang, which is widely criticized for its so-called "reeducation" camps of Uyghurs.
Though estimates regarding the number of people held at these internment camps range, reports claim it could be upwards of 3 million people who are being held without trial.
U.S. Officials also believe that much of the hair used for these products came from camp detainees.
---
U.S. Seizes 13 Tons of Human Hair
United States Customs and Border Protection agents seized a 13-ton shipment of hair products at the Port of New York on Wednesday over suspicions that they were made with forced human labor. The bust is worth about $800,000.
Officials believe that beyond being made by forced human labor, the hair products, which include wigs, are made out of the hair of detainees in Xinjiang.
The region is infamous because much of its native Muslim Uyghur (sometimes spelled Uighur) population is being forced into "reeducation camps" by the Chinese government. China has denied these camps are what the world thinks they are and continues to downplay how many people are held in them.
On June 17, U.S. Customs and Border Protection (CBP) issued a Detention Order, a command that agents are to stop and inspect all shipments, on products made by Lop County Meixin Hair Product Company. The CBP wants Meixin shipments inspected because the agency had information that "reasonably indicated the use of prison labor with additional situations of forced labor including, but not limited to, excessive overtime, withholding of wages and restriction of movement."
This is in line with a long-standing law that bans any products made by "convict labor" overseas.
A Detention Order such as this is actually quite rare because tracking supply chains out of the U.S. is extremely difficult for U.S. companies and agencies. Adding to the complexity is where the products originated from; Xinjiang. The region has been difficult to enter for non-natives and Chinese officials for a few years.
Brenda Smith, the executive assistant commissioner of CBP's Office of Trade said of the bust, "The production of these goods constitutes a very serious human rights violation, and the detention order is intended to send a clear and direct message to all entities seeking to do business with the United States that illicit and inhumane practices will not be tolerated in U.S. supply chains."
National Security Council spokesperson John Ullyot also raised concerns that the hairs are made from victims of the camps in Xinjiang, saying, "If this highly suspicious, 13-ton shipment of human hair indeed turns out to be linked to the Uighur concentration camps, then this is a new low — even for the Chinese Communist Party — and they will have to answer to the world community for their actions."
The products in question are to be held until Meixin can prove forced human labor wasn't involved. Another company, Hetian Haolin Hair Accessories, must do the same after some of their products were seized in the same shipment, although agents found the weaves were made with synthetic fibers rather than detainees' hair. Hetian was added to the Detetion Order back in May.
The products are sold under the I&I and Spetra brand names in the U.S.
The Situation in Xinjiang
Within Xinjiang itself, conditions haven't improved for the local Uyghurs, and arguably have gotten worse.
For decades, China has wanted to sinicize a lot of minority ethnic groups in the country. Around 2017 it increased its sinicization efforts over the Uyghurs. Tactics include forcing Mandarin as a language that must be used for school and official business, as well as attempts to heavily downplay the importance of Islam in the daily lives on Muslim citizens.
There are also reports of more dire actions, such as accusations that Chinese authorities take children from their families to try and remove cultural and linguistic connections.
The country also alters cultural sites to look more "Chinese." Efforts include changing mosques to have less Arab-influenced features. However, often cultural sites are just destroyed; such as in the case of hundreds of cemeteries being removed to make way for buildings or empty lots.
China also has an issue with Islam. The country consistently portrays imams in the region as having ties to terrorism, and will often arrest Chinese-Muslims upon returning from the Middle East over fears they've been "radicalized."
Despite these efforts though, the Uyghurs have managed to hold onto their cultural heritage and language. So, 2017 also saw China step up the pressure by introducing the "reeducation camps" in order to "combat extremism."
China markets the camps as vocational school that are voluntary. Yet most countries simply call them internment or concentration camps. Evidence and interviews with alleged survivors of the camps point out that people at the facilities aren't there out of their own free will. They are usually held without ever receiving a trial.
Current estimates vary, but there's believed to be between 1 to 3 million people within these camps, with about 500,000 being minors. Those estimates are partially based on leaked documents the BBC obtained last year that showed 15,000 people from southern Xinjiang were sent to the camps in one week alone.
There's also evidence that beatings and torture happen at the camps, as well as accusations that they're used to force Muslims to renounce their faith. Earlier this week, reports surface alleging China is forcing abortions, sterilizations, and other birth control measures against the Uyghur population to cut their birth rates.

Other birth-control methods include monetary penalties against people who have additional children.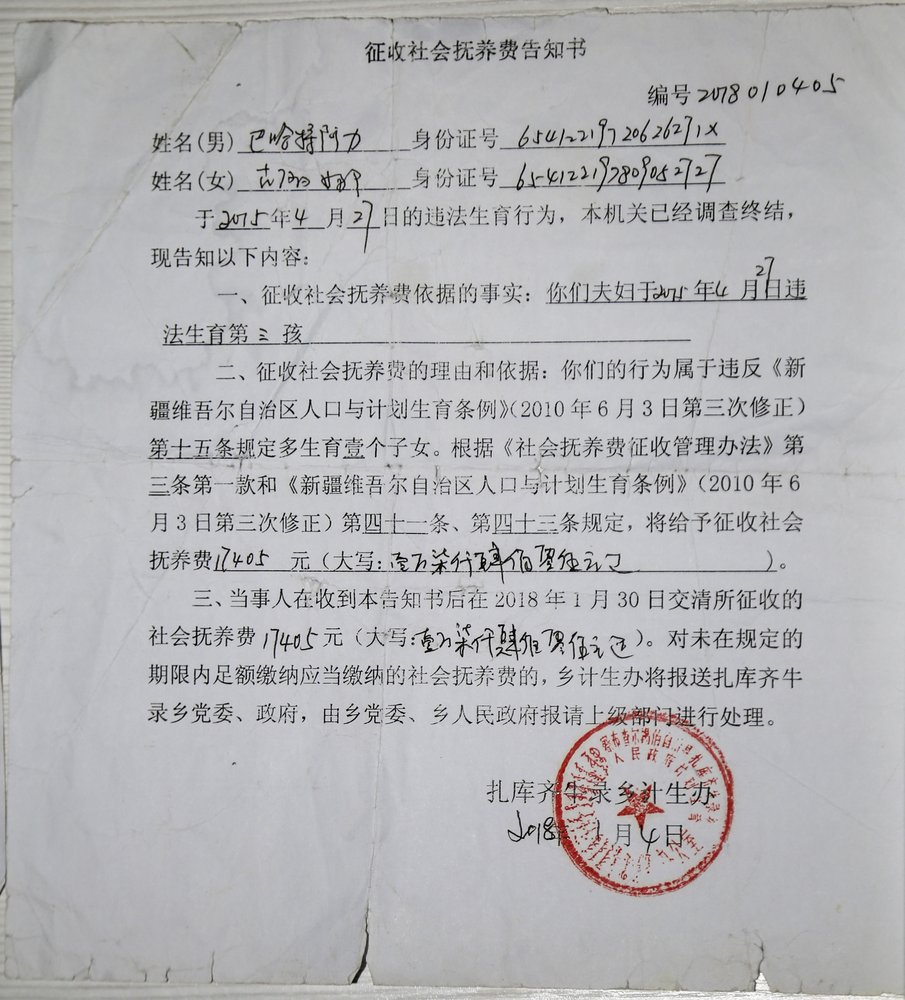 In 2019, 22 UN ambassadors signed a letter condemning the camps, and 50 other states condemned China's counter-terrorism program in the region. More recently, in October of last year, the U.S. imposed visa restrictions on Chinese officials "believed to be responsible for, or complicit in, the detention or abuse of Muslim minority groups in Xinjiang."
In 2020, the U.S. has been adding more and more companies to what's known as an Entity List. They urge Americans and businesses not to work with these 37 companies because they're believed to use forced labor out of Xinjiang. Last month, on June 17, President Trump signed the Uyghur Human Rights Policy Act, which opens the door to increased sanctions against China and increases US agencies' reporting on Xinjiang.
Although the President is still hesitant on actually imposing stricter sanctions, telling Axios, "we were in the middle of a trade deal [with China]. When you're in the middle of a negotiation and then all of a sudden you start throwing additional sanctions on… we've done a lot."
Petition Calls for Ban on Sexualized Fanfiction in South Korea
A petition circulating across South Korea calls for sexualized fanfiction depicting K-pop stars and other real people to be outlawed and classified as sex crimes.
The petition particularly focuses on the way male stars are depicted in same-sex relationships and argues that they often feature people who are minors.
A similar petition was submitted last week to President Moon Jae-in; however, it focused on deep fakes. Because both petitions have over 200,000 signatures, they will need to be addressed by President Moon.
---
K-Pop Fanfiction Causes Chaos
A petition began circulating across South Korea this week demanding that "real person slash" fanfiction works be outlawed and charged as sex crimes.
"Real person slash" refers to a specific form of fanfiction that most often features sexualized versions of K-pop stars and other real people.
In particular, the petition focuses on the way male stars are depicted in same-sex relationships and the age of some of the people being portrayed. The petition notes, "due to the nature of the profession of idols, whose average age is young, many of the victims are still minors or children."
The petition was submitted to the Blue House, South Korea's version of the White House, and currently has over 200,000 signatures. It received a big boost in attention after K-pop star Nancy, from the group Momoland, was secretly filmed by a member of her agency while she was changing backstage. This person then doctored some of the images and uploaded them online.
While Nancy's case isn't hand-drawn fanfic, it did fuel outrage at what's seen as an ineffective approach towards sex crimes in the country. Signers of this petition believe that these fanfics fall into the same category of likely illegality as deep fakes.
Deep Fakes Also Being Targeted
Additionally, just last week deep fakes – which often feature k-pop stars – had its own petition submitted to the president last week with over 300,000 signatures.
Because both petitions have over 200,000 signatures, they will need to be addressed by President Moon Jae-in
For years South Korea has struggled with secret cameras, deep fakes, revenge porn, and more violent sex crimes, such as the infamous Nth Room case that saw certain stars filming themselves having sex with women against their consent.
Italy Begins Largest Mob Trial in Decades
Italian prosecutors have started their trial against more than 320 defendants linked to the  'Ndrangheta crime syndicate.
The charges range from murder and drug trafficking to extortion and money laundering.
The case is so large, high-profile, and potentially dangerous that the government built a bunker for the event in Calabria, the home territory of the 'Ndrangheta.
Details uncovered could deliver a massive blow to organized crime in Italy and potentially across the world as the 'Ndrangheta has major dealings in Europe, Australia, and the Americas.
---
Hundreds of 'Ndranghetisti Facing Charges
A major mob trial kicked off in Italy Wednesday involving more than 320 defendants who are part of or associated with the 'Ndrangheta crime syndicate.
In addition to these defendants going on trial, 90 others have elected for a fast-tracked trial elsewhere in Calabria.
While this is a massive affair, it's still not the country's largest mob-related trial in history. That happened in the '80s against the Cosa Nostra from Sicily.
The trial is so high-profile and potentially dangerous that the government built a bunker for the event in Calabria, close to the home territory of the 'Ndrangheta.
The court is looking at many charges against the defendants, including extortion, drug and arms trafficking, money laundering, and Mafia association – a term used in Italy's penal code for members of organized crime.
Breaking Into the Family
Investigators hope that the trial will show just how entrenched organized crime is in the territory, as it's believed that the 'Ndrangheta has dealings with local politicians and businessmen. These dealings are believed to not only stem from their illicit activities but also from their legitimate businesses that were initially funded via crime-related funds. Either way, the trial is seen as a major blow for the group.
The organization is made up of multiple groups of tight-knight families that are all interconnected. For years investigators have tried to get more information on the group but following the arrest and prosecution of Luigi Mancuso, a boss in the 'Ndrangheta, investigators finally had a way to look more closely at 12 families who make up part of the 'Ndrangheta.
During their investigation police and prosecutors managed to turn some members of those families and use them as informants. They are expected to take the stand as witnesses during the trial. In total, prosecutors hope to put bring out over 900 witnesses.
If successful, this could be a massive blow to organized crime in Italy and potentially across the world as the 'Ndrangheta has major dealing in Europe, Australia, and the Americas.
Hundreds Sickened By Mysterious Illness in India
A mystery illness has hospitalized over 500 people in India and is linked to one death. While most people have recovered and been discharged from the hospital, under 100 people are still being treated.
Health officials believe that it is not a viral infection and that it is not tied to the coronavirus pandemic. One official told The Washington Post that it is a "point source epidemic," but no one knows what is causing it.
Blood tests showed patients had high levels of lead and nickel and officials are trying to find what is behind that. Some are also pointing to pesticides used in mosquito treatment as a potential cause behind the outbreak.
Still, health officials are puzzled, and the situation comes while India currently trails the United States as the country with the most coronavirus cases. This mystery outbreak is also occurring in one of the hardest-hit states.
---
Mystery Illness in India
Health officials are still looking for what might be causing a mysterious illness that has sickened hundreds of people this month in India.
The unidentified illness has put over 500 people in the hospital and taken one life. Most patients have been discharged and recovered but under 100 are still being treated. The disease was first reported on Sunday, and new instances have gone down since the start of the week.
The outbreak started in the state of  Andhra Pradesh. Symptoms range from nausea to anxiety to loss of consciousness, and in some cases, seizures. Some reports say the patient who died suffered from a seizure. Others note they may have fallen as well.
Many patients describe the sickness as hitting them quickly and suddenly as they were going about their day. Some got foggy vision, sore eyes, or incredibly tired before passing out. Many woke up in the hospital and were left with a gap in their memory.
While the cause of this disease is unknown, health officials do not believe it is tied to the coronavirus in any way as no patients have tested positive. The illness is also not believed to be a viral infection of any kind.
"What has been established by experts is that this is a case of acute intoxication of toxins. It is not chronic in nature. This is all we know for now," one high-ranking official told The Washington Post.
Because cases are already slowing significantly, some believe it might have stemmed from an isolated source or event.
"This is a point source epidemic," another official told the Post. "Whatever happened, occurred for one particular day and some people got affected. The number of new patients has dropped."
Potential Causes
What that source or event may have been remains a mystery that officials are eager to solve. So far, no commonalities have been found between the patients as they all live in different places, are of different ages, and do not test positive for other kinds of illnesses that could be causing or contributing to this outbreak. Clues are beginning to emerge, though.
One medical official told Al Jazeera that high lead and nickel levels were found in the blood tests of patients. So far, ten have been tested and another 30 will be tested shortly. At first officials thought these levels may have been a result of water contamination, but after water tests were conducted, neither lead nor nickel were found.
Water contamination as a whole has not been ruled out though.
"Health experts suspect that excessive use of bleaching powder and chlorine in sanitation programmes as part of Covid-19 prevention measures may be the cause of water contamination," the Health Minister of Andhra Pradesh told the Indian Express. "This is just one of the causes we are exploring."
Another theory at play stems from the fact that organochlorines, which are used as pesticides in mosquito control, were found in some water samples. One of the federal legislators in the state believes that the sickness could be tied to that. A public health director confirmed to Al Jazeera that "it is one of the possibilities."
Timing With COVID-19
Still, all these ideas simply remain possibilities and officials have far more questions than they have answers about this situation. Health officials from the country and the World Health Organization have established a presence in Andhra Pradesh to get to the bottom of the situation.
The timing of this outbreak is unfortunate as the coronavirus pandemic continues to spread through India. While daily cases are much lower than they were when it peaked in September in the country, it still remains an issue.
India is behind the United States in seeing the second-highest number of COVID-19 cases, totaling 9.7 million infections. Around 141,000 people have died in the country. In August, their outbreak was the fastest growing in the world. Andhra Pradesh is among the hardest-hit states in the country.
Hope is on the horizon as India, like many other countries, could be on track to approve a vaccine within weeks. According to Reuters, health officials will prioritize 300 million people, including healthcare workers, policemen, and those above the age of 50.