US Customs Seize Chinese Hair Products Suspected to Have Come From Forced Labor Camps
A shipment of hair products from China believed to be made through forced human labor was sized at the Port of New York on Wednesday.
The products originate from Xinjiang, which is widely criticized for its so-called "reeducation" camps of Uyghurs.
Though estimates regarding the number of people held at these internment camps range, reports claim it could be upwards of 3 million people who are being held without trial.
U.S. Officials also believe that much of the hair used for these products came from camp detainees.
---
U.S. Seizes 13 Tons of Human Hair
United States Customs and Border Protection agents seized a 13-ton shipment of hair products at the Port of New York on Wednesday over suspicions that they were made with forced human labor. The bust is worth about $800,000.
Officials believe that beyond being made by forced human labor, the hair products, which include wigs, are made out of the hair of detainees in Xinjiang.
The region is infamous because much of its native Muslim Uyghur (sometimes spelled Uighur) population is being forced into "reeducation camps" by the Chinese government. China has denied these camps are what the world thinks they are and continues to downplay how many people are held in them.
On June 17, U.S. Customs and Border Protection (CBP) issued a Detention Order, a command that agents are to stop and inspect all shipments, on products made by Lop County Meixin Hair Product Company. The CBP wants Meixin shipments inspected because the agency had information that "reasonably indicated the use of prison labor with additional situations of forced labor including, but not limited to, excessive overtime, withholding of wages and restriction of movement."
This is in line with a long-standing law that bans any products made by "convict labor" overseas.
A Detention Order such as this is actually quite rare because tracking supply chains out of the U.S. is extremely difficult for U.S. companies and agencies. Adding to the complexity is where the products originated from; Xinjiang. The region has been difficult to enter for non-natives and Chinese officials for a few years.
Brenda Smith, the executive assistant commissioner of CBP's Office of Trade said of the bust, "The production of these goods constitutes a very serious human rights violation, and the detention order is intended to send a clear and direct message to all entities seeking to do business with the United States that illicit and inhumane practices will not be tolerated in U.S. supply chains."
National Security Council spokesperson John Ullyot also raised concerns that the hairs are made from victims of the camps in Xinjiang, saying, "If this highly suspicious, 13-ton shipment of human hair indeed turns out to be linked to the Uighur concentration camps, then this is a new low — even for the Chinese Communist Party — and they will have to answer to the world community for their actions."
The products in question are to be held until Meixin can prove forced human labor wasn't involved. Another company, Hetian Haolin Hair Accessories, must do the same after some of their products were seized in the same shipment, although agents found the weaves were made with synthetic fibers rather than detainees' hair. Hetian was added to the Detetion Order back in May.
The products are sold under the I&I and Spetra brand names in the U.S.
The Situation in Xinjiang
Within Xinjiang itself, conditions haven't improved for the local Uyghurs, and arguably have gotten worse.
For decades, China has wanted to sinicize a lot of minority ethnic groups in the country. Around 2017 it increased its sinicization efforts over the Uyghurs. Tactics include forcing Mandarin as a language that must be used for school and official business, as well as attempts to heavily downplay the importance of Islam in the daily lives on Muslim citizens.
There are also reports of more dire actions, such as accusations that Chinese authorities take children from their families to try and remove cultural and linguistic connections.
The country also alters cultural sites to look more "Chinese." Efforts include changing mosques to have less Arab-influenced features. However, often cultural sites are just destroyed; such as in the case of hundreds of cemeteries being removed to make way for buildings or empty lots.
China also has an issue with Islam. The country consistently portrays imams in the region as having ties to terrorism, and will often arrest Chinese-Muslims upon returning from the Middle East over fears they've been "radicalized."
Despite these efforts though, the Uyghurs have managed to hold onto their cultural heritage and language. So, 2017 also saw China step up the pressure by introducing the "reeducation camps" in order to "combat extremism."
China markets the camps as vocational school that are voluntary. Yet most countries simply call them internment or concentration camps. Evidence and interviews with alleged survivors of the camps point out that people at the facilities aren't there out of their own free will. They are usually held without ever receiving a trial.
Current estimates vary, but there's believed to be between 1 to 3 million people within these camps, with about 500,000 being minors. Those estimates are partially based on leaked documents the BBC obtained last year that showed 15,000 people from southern Xinjiang were sent to the camps in one week alone.
There's also evidence that beatings and torture happen at the camps, as well as accusations that they're used to force Muslims to renounce their faith. Earlier this week, reports surface alleging China is forcing abortions, sterilizations, and other birth control measures against the Uyghur population to cut their birth rates.

Other birth-control methods include monetary penalties against people who have additional children.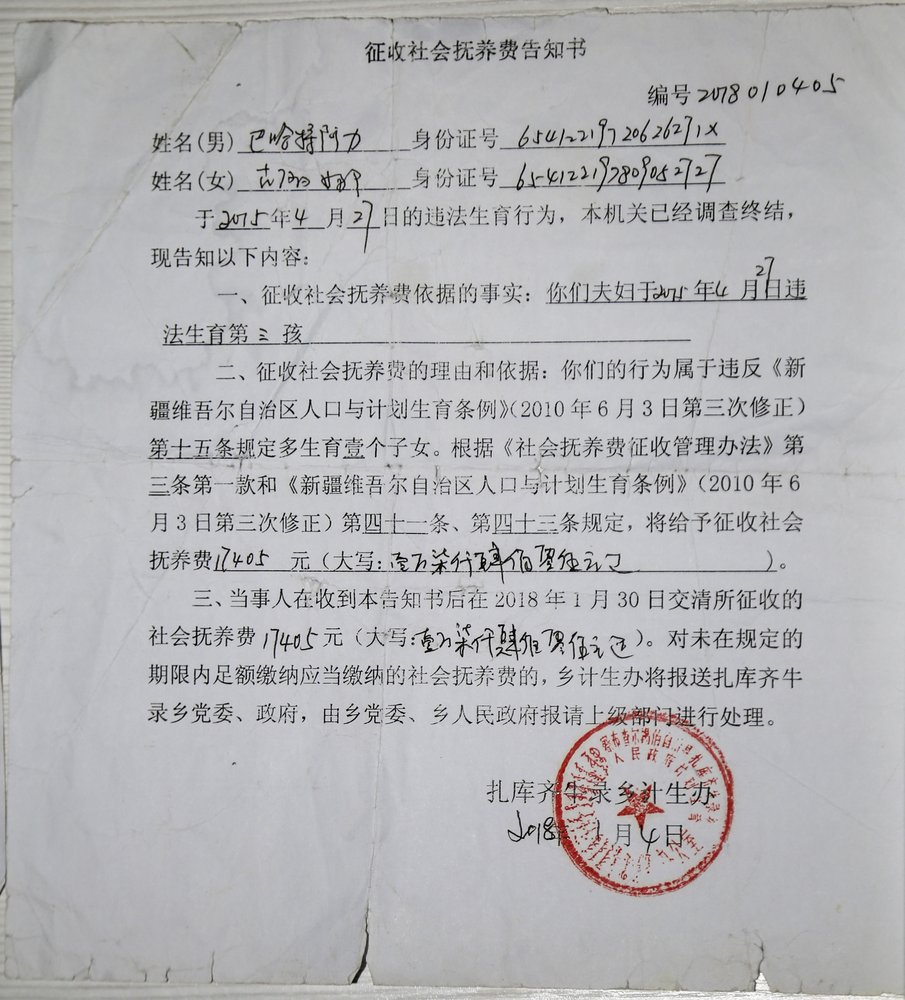 In 2019, 22 UN ambassadors signed a letter condemning the camps, and 50 other states condemned China's counter-terrorism program in the region. More recently, in October of last year, the U.S. imposed visa restrictions on Chinese officials "believed to be responsible for, or complicit in, the detention or abuse of Muslim minority groups in Xinjiang."
In 2020, the U.S. has been adding more and more companies to what's known as an Entity List. They urge Americans and businesses not to work with these 37 companies because they're believed to use forced labor out of Xinjiang. Last month, on June 17, President Trump signed the Uyghur Human Rights Policy Act, which opens the door to increased sanctions against China and increases US agencies' reporting on Xinjiang.
Although the President is still hesitant on actually imposing stricter sanctions, telling Axios, "we were in the middle of a trade deal [with China]. When you're in the middle of a negotiation and then all of a sudden you start throwing additional sanctions on… we've done a lot."
Canadian Catholic Priest Says Residential Schools Survivors Lied About Abuse
The Roman Catholic Church is facing considerable backlash across Canada for its treatment of indigenous peoples in the residential school system, along with its subsequent efforts to downplay the problem.
---
Priest Sparks Outrage
Father Rheal Forest was put on forced leave Wednesday following remarks he made over a weeks-long period starting July 10 in which he doubted victims of the country's infamous residential school system.
Residential schools were a system of schools largely for indigenous children that were mostly run by the Catholic Church with federal government funding. The schools were notoriously cruel and long faced allegations that children had been abused or went missing under their care.
To date, over 1,300 unmarked graves have been found at four former residential schools across Canada, a fraction of the over 130 that used to exist.
Forest, of the St. Boniface archdiocese in Winnipeg, was standing in for a couple of weeks while the main priest at his church was away. During that time, Forest told parishioners that victims of the residential schools, particularly those sexually abused, had lied.
"If [the victims] wanted extra money, from the money that was given to them, they had to lie sometimes — lie that they were abused sexually and, oop, another $50,000," he said.
"It's kind of hard if you're poor not to lie."
In that same sermon, he also added that during his time with Inuit groups in the north of the country, most had allegedly said they appreciated the residential school system. Instead, he said they blamed any abuses on lay people working at the facilities rather than priests or nuns.
Forest's comments drew a ton of backlash, prompting the archdiocese to place Forest on leave. A spokesperson for the archdiocese said that the institution "completely disavow" Forest's comments, adding, "We very much regret the pain they may have caused to many people, not least of course Indigenous people and, more specifically, survivors of the Residential School system."
Overall, the archdiocese has attempted to apologize to indigenous communities for its part in the residential school system, with Archbishop Albert Legatt saying in a video that the way forward was by "acknowledging, apologizing, and acting" on terms set by indigenous groups.
Church Allegedly Kept Money From Victims
Forest's views and subsequent dismissal aren't the only public relations scandal the Roman Catholic Church faces in Canada.
According to documents obtained by CBC News, the Church spent over a decade avoiding paying out money to survivors per a 2005 agreement. At the time, it, alongside the protestant churches that also ran some residential schools, agreed to pay an amount to victims of the schools in the tens of millions.
Instead, according to an internal summary of 2015 court documents, the Catholic Church spent much of that money on lawyers, administration, a private fundraising company, and unapproved loans. It seems that some of this was technically legal, such as a promise to give tens of millions back via "in-kind" services; however, there was no audit completed to confirm that these services actually happened or to prove the alleged value of the services. This led to doubts about whether or not they were done effectively.
The Catholic Church was unique among the signatory churches in the 2005 agreement with its efforts to avoid paying victims. All of the other denominations paid out their sums many years before without issues.
While priests such as Father Forest have supported the Church, there has been internal backlash. Father André Poilièvre, a Saskatoon priest and Order of Canada recipient, said the Church's actions are "scandalous" and "really shameful," adding, "It was a loophole. It might be legal, but it's not ethical."
With these latest revelations, widespread anger at the Church has triggered allegations that indigenous groups are behind a spree of church burnings across the country.
The entire situation is likely going to continue to smolder as a government commission set up to investigate the schools estimates there will be thousands of more unmarked graves found across Canada.
Tokyo Sets Back-to-Back Records for Number of Daily COVID-19 Cases
Some positive cases were detected among people attending the Olympic Games, including a handful of athletes.
---
Cases Going Up
The Tokyo Olympic Games found itself in more controversy on Wednesday after Tokyo experienced a record number of daily COVID-19 cases for the second day in a row.
On Tuesday, the city recorded 2,848 new cases of the virus, passing the 2,500 daily new case threshold for the first time since the pandemic began. Then on Wednesday, it shattered the record again with 3,177 new COVID-19 cases.
At least 155 of those new cases were detected among people attending the Games, including a handful of athletes, which contrasts Prime Minister Suga Yoshihide's promise that the Olympics wouldn't be hit with the virus. The spike in new cases has largely been attributed to the delta-variant, something that many countries are dealing with around the world.
Nishimura Yasutoshi, a Japanese economic minister, told a parliamentary panel this week that COVID-19 cases are expected to continue rising for at least a few days. He also explained that many people may have delayed getting tested last week due to holidays, therefore inflating total daily new case numbers.
Governors in prefectures around Tokyo have moved to ask the government for states-of-emergency, which Tokyo is already under.
Doubts About Government Response
The prime minister said in a press conference on Tuesday that "the government has secured a new drug that reduces the risk of serious illness by 70 percent," adding, "we have confirmed that this drug will be used thoroughly from now on."
However, he never actually mentioned what drug he was referencing.
"In any case, under these circumstances, I would like to ask the people to avoid going out unnecessarily and to watch the Olympics and Paralympics on TV," Suga continued.
He also stressed that canceling the Olympics amid the outbreak was completely out of the question, although there have been continued calls from the public and opposition lawmakers for just that.
Beyond refusing to cancel the Games, Suga is facing backlash for refusing to enact strict state-of-emergency protocols. Currently, the measures in Tokyo are almost all voluntary and consist of asking people to stay home, along with requesting restaurants that serve alcohol to completely close and telling all others to shut down by 8 p.m.
First Person Charged Under Hong Kong National Security Law Found Guilty of Terrorism and Inciting Secession
Dozens more are awaiting trial for breaking the controversial National Security Law, which is aimed at protecting Chinese sovereignty at the cost of basic freedoms within Hong Kong.
---
First Conviction Under National Security Law
The first person to be charged under Hong Kong's extremely controversial National Security Law was found guilty of his crimes Tuesday morning.
A judge ruled that Tong Ying-kit was guilty of both terrorism and inciting secession after the 24-year-old failed to stop at a police checkpoint while on his motorcycle last July, which resulted in him eventually riding into police. At the same time, he was carrying a flag that said "Liberate Hong Kong, Revolution of Our Times."
According to Justice Esther Toh, that phrase alone was capable of inciting others to commit succession, she also that added that Tong understood that the flag had secessionist meaning in an effort to set aside doubts that Tong understood the flag's inherent meaning.
Yamini Mishra, Amnesty International's Asia-Pacific Regional Director said,"The conviction of Tong Ying-kit is a significant and ominous moment for human rights in Hong Kong."
"Today's verdict underlines the sobering fact that expressing certain political opinions in the city is now officially a crime, potentially punishable by life in jail," she added.
More Convictions Expected Sparking Fear Over Erosion of Rights
A long string of convictions will likely follow Tong's, as over 100 people have been arrested under the ambiguous law that criminalizes many forms of freedom of expression under the guise of protecting Chinese sovereignty. Of those arrested, 60 are currently awaiting trial, including dozens of pro-democracy politicians who have been accused of subversiveness for their calls to block the government's agenda in the legislature.
That has drawn particular concern among international critics who fear the precedent that will be set once it's clear to politicians that failing to rubber-stamp the Communist Party's agenda will result in prison terms.
It's widely expected that as more people are found guilty, the few remaining protections of the city's Basic Law, a British common law-inspired mini-constitution, will be completely eroded.