US Customs Seize Chinese Hair Products Suspected to Have Come From Forced Labor Camps
A shipment of hair products from China believed to be made through forced human labor was sized at the Port of New York on Wednesday.
The products originate from Xinjiang, which is widely criticized for its so-called "reeducation" camps of Uyghurs.
Though estimates regarding the number of people held at these internment camps range, reports claim it could be upwards of 3 million people who are being held without trial.
U.S. Officials also believe that much of the hair used for these products came from camp detainees.
---
U.S. Seizes 13 Tons of Human Hair
United States Customs and Border Protection agents seized a 13-ton shipment of hair products at the Port of New York on Wednesday over suspicions that they were made with forced human labor. The bust is worth about $800,000.
Officials believe that beyond being made by forced human labor, the hair products, which include wigs, are made out of the hair of detainees in Xinjiang.
The region is infamous because much of its native Muslim Uyghur (sometimes spelled Uighur) population is being forced into "reeducation camps" by the Chinese government. China has denied these camps are what the world thinks they are and continues to downplay how many people are held in them.
On June 17, U.S. Customs and Border Protection (CBP) issued a Detention Order, a command that agents are to stop and inspect all shipments, on products made by Lop County Meixin Hair Product Company. The CBP wants Meixin shipments inspected because the agency had information that "reasonably indicated the use of prison labor with additional situations of forced labor including, but not limited to, excessive overtime, withholding of wages and restriction of movement."
This is in line with a long-standing law that bans any products made by "convict labor" overseas.
A Detention Order such as this is actually quite rare because tracking supply chains out of the U.S. is extremely difficult for U.S. companies and agencies. Adding to the complexity is where the products originated from; Xinjiang. The region has been difficult to enter for non-natives and Chinese officials for a few years.
Brenda Smith, the executive assistant commissioner of CBP's Office of Trade said of the bust, "The production of these goods constitutes a very serious human rights violation, and the detention order is intended to send a clear and direct message to all entities seeking to do business with the United States that illicit and inhumane practices will not be tolerated in U.S. supply chains."
National Security Council spokesperson John Ullyot also raised concerns that the hairs are made from victims of the camps in Xinjiang, saying, "If this highly suspicious, 13-ton shipment of human hair indeed turns out to be linked to the Uighur concentration camps, then this is a new low — even for the Chinese Communist Party — and they will have to answer to the world community for their actions."
The products in question are to be held until Meixin can prove forced human labor wasn't involved. Another company, Hetian Haolin Hair Accessories, must do the same after some of their products were seized in the same shipment, although agents found the weaves were made with synthetic fibers rather than detainees' hair. Hetian was added to the Detetion Order back in May.
The products are sold under the I&I and Spetra brand names in the U.S.
The Situation in Xinjiang
Within Xinjiang itself, conditions haven't improved for the local Uyghurs, and arguably have gotten worse.
For decades, China has wanted to sinicize a lot of minority ethnic groups in the country. Around 2017 it increased its sinicization efforts over the Uyghurs. Tactics include forcing Mandarin as a language that must be used for school and official business, as well as attempts to heavily downplay the importance of Islam in the daily lives on Muslim citizens.
There are also reports of more dire actions, such as accusations that Chinese authorities take children from their families to try and remove cultural and linguistic connections.
The country also alters cultural sites to look more "Chinese." Efforts include changing mosques to have less Arab-influenced features. However, often cultural sites are just destroyed; such as in the case of hundreds of cemeteries being removed to make way for buildings or empty lots.
China also has an issue with Islam. The country consistently portrays imams in the region as having ties to terrorism, and will often arrest Chinese-Muslims upon returning from the Middle East over fears they've been "radicalized."
Despite these efforts though, the Uyghurs have managed to hold onto their cultural heritage and language. So, 2017 also saw China step up the pressure by introducing the "reeducation camps" in order to "combat extremism."
China markets the camps as vocational school that are voluntary. Yet most countries simply call them internment or concentration camps. Evidence and interviews with alleged survivors of the camps point out that people at the facilities aren't there out of their own free will. They are usually held without ever receiving a trial.
Current estimates vary, but there's believed to be between 1 to 3 million people within these camps, with about 500,000 being minors. Those estimates are partially based on leaked documents the BBC obtained last year that showed 15,000 people from southern Xinjiang were sent to the camps in one week alone.
There's also evidence that beatings and torture happen at the camps, as well as accusations that they're used to force Muslims to renounce their faith. Earlier this week, reports surface alleging China is forcing abortions, sterilizations, and other birth control measures against the Uyghur population to cut their birth rates.

Other birth-control methods include monetary penalties against people who have additional children.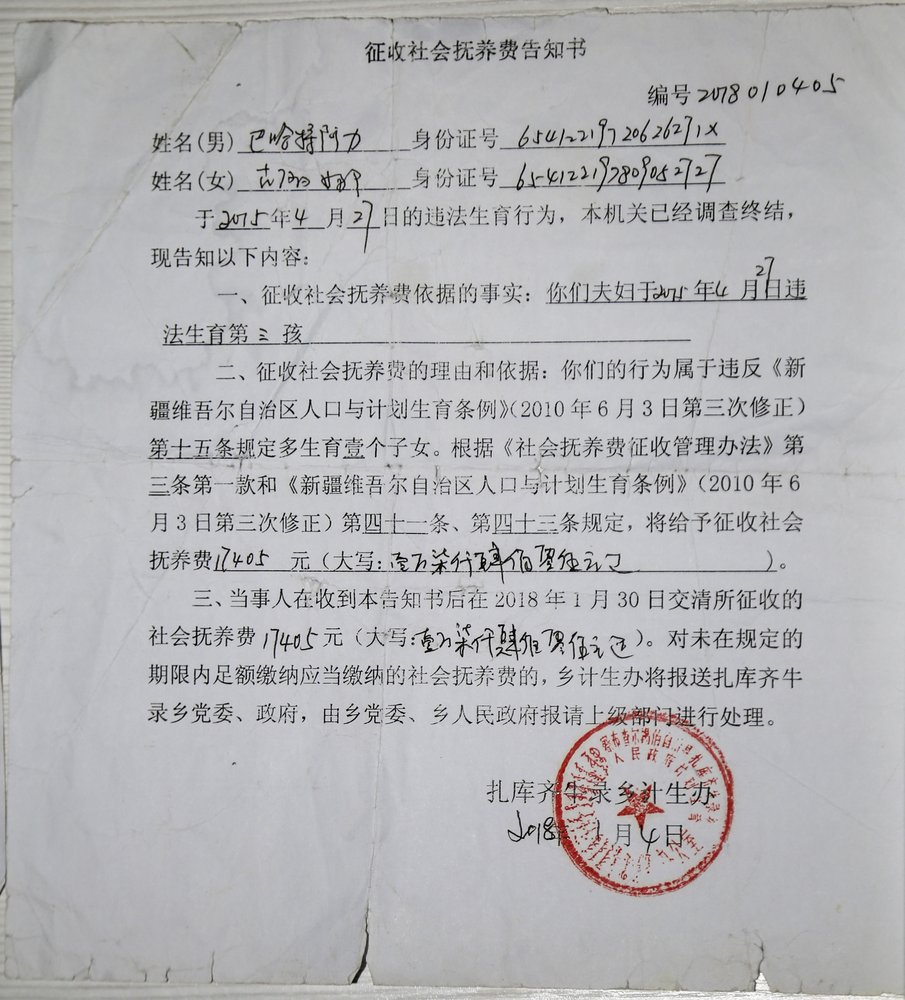 In 2019, 22 UN ambassadors signed a letter condemning the camps, and 50 other states condemned China's counter-terrorism program in the region. More recently, in October of last year, the U.S. imposed visa restrictions on Chinese officials "believed to be responsible for, or complicit in, the detention or abuse of Muslim minority groups in Xinjiang."
In 2020, the U.S. has been adding more and more companies to what's known as an Entity List. They urge Americans and businesses not to work with these 37 companies because they're believed to use forced labor out of Xinjiang. Last month, on June 17, President Trump signed the Uyghur Human Rights Policy Act, which opens the door to increased sanctions against China and increases US agencies' reporting on Xinjiang.
Although the President is still hesitant on actually imposing stricter sanctions, telling Axios, "we were in the middle of a trade deal [with China]. When you're in the middle of a negotiation and then all of a sudden you start throwing additional sanctions on… we've done a lot."
Four Students Arrested, 12 Protest Leaders Barred from Elections in Hong Kong National Security Law Crackdown
Four Hong Kong student activists were arrested Wednesday for "secession" over a social media post.
Notably, this is the first police crackdown outside of street protests since implementation of China's national security law on June 30.
Hours later, the Hong Kong government barred 12 pro-democracy leaders from running in upcoming elections—including four incumbents.
Despite the national security law supposedly not being retroactive, several of those candidates were barred over concerns stemming from their past actions.
Four Students Arrested for "Secession"
China began enacting harsh crackdowns under its new national security law on Wednesday, beginning with the arrests of four student activists who are being accused of inciting "secession" after making a post on social media.
That news was shortly followed by the announcement that 12 pro-democracy candidates seeking seats within the city's legislature, the Legislative Council, have been barred from upcoming elections in September.
Reportedly, the students who were arrested range from ages 16 to 21. Notably, outside of street protests, these are the first arrests that have been enacted using the national security law since it went into effect on June 30.
As far as specifically why they were arrested, in a press conference last night, Senior Superintendent Steve Li Kwai-wah said that all four students are believed to be part of an online group that pledged to fight for Hong Kong independence.
Li went on to say they "posted about the establishment of a new party" that would promote pro-independence ideals "using any means possible" in an attempt to build a "Republic of Hong Kong."
"We have to enforce the laws even if the crimes are committed on the internet," he added. "Don't think you can escape from the responsibility in cyberspace and commit crimes."
According to Li, police also seized their computers, phones, and other documents.
While police declined to say what group the students were a part of or even give their names, pro-independence group StudentLocalism said on Facebook that one of the people who was arrested is Tony Chung, the group's former leader.
Chung disbanded the group's operations in Hong Kong pretty much immediately after Beijing passed this national security law for the city; however, it's still been active on social media, and activists are reportedly working overseas.
All four of the students who were arrested appear to also have ties to another organization, the Initiative Independence Party. Their activity with that group might actually be why they were arrested.
Police have already executed ten arrests during street protests under the new national security law. Of those, they've charged one person.
As far as whether these students will be charged, according to a police source who spoke with the South China Morning Post, police will likely seek legal advice from the Hong Kong Department of Justice. From there, they will decide whether those suspects will ultimately be charged or released on bail.
Activists Speak Out On Student Arrests
Despite it long being expected that China would eventually target online dissent, criticism of this move was still potent.
"That four young people could potentially face life imprisonment on the basis of some social media posts lays bare the draconian nature of the national security law," Amnesty International's Asia Pacific Regional Director Nicholas Bequelin said in a statement.
The idea that anybody can now be jailed for expressing their political opinion on Facebook or Instagram will send a chill throughout Hong Kong society," he added. "No one should be arrested solely for expressing an opinion that is contrary to that of the government."
On Twitter, prominent activist Nathan Law, who fled the city earlier this month, said, "So students are arrested because of a SOCIAL MEDIA POST. Bloody hell. How vulnerable a country is to be afraid of a post by a group of teenagers."
The arrests have also resulted in condemnation from the Human Rights Watch. The group's China Director described them as a "gross misuse of this draconian law (which make) clear that the aim is to silence dissent, not protect national security."
That director, Sophie Richardson, also said the arrests "raise chilling concerns of a broader crackdown on political parties" as September's legislative elections approach.
12 Candidates Barred From Elections
Ironically enough, Richardson's concern came true just hours later when the Hong Kong government announced that 12 pro-democracy candidates running for seats in LegCo have now been disqualified from doing so.
For its part, the government argued that those candidates can't stand for candidacy because
their political positions would be at odds with the basic law of Hong Kong. For example, they have advocated for democratic reforms and have objected to the national security legislation.
Those candidates include Joshua Wong and Gwyneth Ho, who were both front-runners in an unofficial democratic primary held earlier this month. Notably, that list also includes four incumbents.
LegCo contains 42 pro-Beijing lawmakers scattered across 70 total seats. Citizens themselves are only allowed to directly elect representatives in 35 seats while the other half is indirectly elected through interest groups. Hong Kong is also led by Chief Executive Carrie Lam, who is backed by Beijing and has been frequently criticized as being a "puppet" for the mainland.
Unsurprisingly, Beijing has said it supports these disqualifications. The Hong Kong government has also since said that more disqualifications could follow.
Three pro-democracy lawmakers—Alvin Yeung, Dennis Kwock, and Kenneth Leung—were told they were barred from re-election because of previous calls for the United States to impose sanctions on those responsible for rights abuses in Hong Kong.
As Yeung and Kwok pointed out, those pushes mainly happened in August and September—months before the national security law went into effect. The national security law, on paper, indicates that it cannot be applied retroactively.
Still, election officials have argued that candidates' past actions and remarks reflect their true intentions, meaning they can still be barred from running.
International Outrage to Barring Candidates
Wong was also barred in a similar fashion. That decision was made even though he disbanded his pro-democracy party, Demosisto, hours before the national security law went into effect. On Monday, he also pledged to no longer lobby for foreign sanctions against Hong Kong.
Nonetheless, the Hong Kong government has cited previous statements made directly by him and his party as a reason for barring him.
"Beijing has staged the largest-ever assault on the city's remaining free election," Wong said on Twitter.
"In the letter of government, they have nearly screened all my posts, co-eds, interviews and statements for cooking up excuses for disqualification. Under the surveillance of secret police, I have been trailed by unknown agents, let alone the growing risk of being assault[ed]."
"However, after a whole year of resistance, Hongkongers will not surrender."
Internationally, the qualifications have also received condemnation from a number of lawmakers in different countries.
In the U.S., Sen. Marco Rubio (R-Fl.) called the disqualifications "outrageous," saying this move shows "the Chinese Communist Party's determination to remake the city in its image."
He then called on the Trump administration to "push back and hold officials accountable."
Secretary of State Mike Pompeo has also urged Hong Kong to move forward with its Sept. 6 election as planned. That comes after concerns that the government may delay the election for one year because of the coronavirus pandemic.
Pro-democracy supporters, however, have accused the pro-Beijing lawmakers of trying to stifle an election that could yield a first-ever majority for pro-democracy lawmakers.
On Thursday, the Hong Kong government responded to criticism, saying, "There is no question of any political censorship, restriction of the freedom of speech, or deprivation of the right to stand for elections as alleged by some members of the community."
Global Coronavirus Cases Hit 16 Million as Recovered Countries See New Spikes
Global coronavirus cases hit 16 million on Sunday, with new cases continuing to pop up all around the world. 
The U.S. leads with the highest amount of coronavirus cases by far with over 4.2 million— nearly a quarter of all cases worldwide.
While the cases continue to increase in hard-hit countries like the U.S., Brazil, and India, other countries in Asia and Europe that had previously curbed the virus are now seeing new spikes.
On Monday, China reported its highest new cases since April, and Australia recorded its highest new cases ever. In Spain, cases have more than tripled since the country ended its lockdown, prompting concerns about a second wave in Europe.
---
Global Spikes
The global number of reported coronavirus cases officially hit 16 million on Sunday, adding another one million in the course of just four days.
The number of coronavirus cases in the world is now nearly twice the population of New York City. Even then, the actual number is expected to be much higher because of a lack of testing, unreported cases, and concerns that some countries are downplaying or underreporting numbers.
Countries all over the world are seeing alarming spikes, but the U.S. still leads in the highest cases and deaths. Right now, the U.S. accounts for nearly one-quarter of all reported cases with than 4.2 million, meaning that roughly one out of every four coronavirus cases are in the U.S.
The U.S. has also reported nearly 147,000 deaths, making up roughly one out of every five coronavirus-related deaths in the world.
Last week, the U.S. reported over 1,000 coronavirus-related deaths a day for four days straight, marking the highest death counts since late May. According to the New York Times, deaths are increasing in 25 states and Puerto Rico. Cases are increasing in 32 states, Puerto Rico, and D.C.
Last week, California officially overtook New York and became the state with the highest number of confirmed cases, reporting over 452,000 total cases as of Monday. Over the weekend, Florida also surpassed New York as the state with the second-highest case count.
On Monday, John Hopkins reported 423,855 cases in Florida, which is notable because even though Florida's count is still less than California's, California has nearly double the population of Florida.
Spikes in Other Countries
The U.S. is not the only country that has been seeing increases in coronavirus cases.
Brazil, which has the second-highest number of cases with over 2.4 million, has also been experiencing spikes. According to reports, Saturday marked the fourth day in a row that Brazil reported more than 50,000 new cases, breaking its previous weekly record with 321,623 new cases.
On Sunday, India, which has the third-biggest case count, reportedly recorded its highest single day of confirmed cases so far with more than 50,000, pushing up the country's total to over 1.4 million.
However, in addition to the countries that have already been experiencing swells over the last few weeks, countries that had previously curbed the virus are also beginning to see new spikes.
On Monday, China recorded its highest number of new cases since April with 61. According to reports, almost all of the cases are centralized in the northwestern region, though there have been regional clusters.
In response, some regional authorities have declared "wartime mode" lockdown measures to combat the virus.
Hong Kong, which had largely controlled transmission, has also recently imposed its toughest coronavirus restrictions yet as spikes continue. The city has reportedly recorded over 1,000 infections since the beginning of the month, which accounts for nearly half of the total recorded cases total since the virus first arrived there in late January.
Other Asian countries that had previously curbed the virus are also seeing spikes as well, like South Korea, which reported a four-month high on Saturday with 113 new cases— many of which were imported.
Over the weekend, North Korea also locked down a city near its border with South Korea after officials reportedly found someone who may have been infected with the virus. If true, the individual would mark North Korea's first confirmed reported case.
However, it is not just Asian countries that had previously cut transmission and are now seeing increases. Australia, which still has strict lockdown measures and other restrictions in parts of the country, had its deadliest day on Sunday with ten fatalities. On Monday, the country broke its previous record for the highest number of daily cases of at least 549. 
In Europe, Spain's caseload has reportedly tripled in the weeks since the country rolled back restrictions, prompting the United Kingdom to respond Saturday by placing restrictions on travelers from Spain, requiring them to self-isolate for 14 days.
However, Spain's leaders have insisted it is not experiencing a second wave and that it is still safe to visit. Still, the undeniable spikes have brought concerns over a European second wave.
Those concerns will also likely raise new questions about travel within Europe, where many countries have reopened their economies and are encouraging tourists despite the fact that many tourist-heavy countries like Spain, as well as France and Germany, are now seeing new spikes.
U.K. to Ban Junk Food TV Ads Before 9 PM to Tackle Obesity Amid Pandemic
Prime Minister Boris Johnson is set to roll out sweeping new rules for the sale and advertisement of unhealthy food, including a ban on TV ads for junk food before 9 p.m.
The move comes as a growing body of evidence has shown that obesity is an increased risk factor for the coronavirus.
Johnson had previously opposed efforts to crack down on unhealthy foods, but according to reports, he changed his mind after he was hospitalized for COVID-19 in April, now believing his weight was a contributing factor to the severity of his illness.
While some praised the plan, food manufacturers, advertising agencies, and broadcasters condemned it, arguing that the measure would hurt the economy and have little effect on reducing obesity.
---
New Food Rules
U.K. Prime Minister Boris Johnson is expected to ban junk food advertisements from airing on television before 9 p.m. as a part of a series of new regulations on how junk food is sold and advertised. Those rules are set to be rolled out early next week.
While the plans have yet to be finalized, sources have told reporters that, in addition to the crackdown on televised ads, the new rules are likely to include a ban on online ads for unhealthy foods, restrictions on in-store promotions, and requirements for some restaurants to put calorie labels on menus.
The move marks a significant shift for Johnson, who has previously criticized the U.K.'s sugar tax as a "sin stealth tax."
However, the prime minister changed his tune after he was hospitalized with the coronavirus in April. According to reports, Johnson believes that his weight was a contributing factor to his illness and hospitalization.
Numerous studies have shown that people who are overweight or obese are at a greater risk of severe illness from COVID-19, a fact noted by the Centers for Disease Control and Prevention (CDC).
While speaking at a medical center in east London, Johnson said that while he did not like "nannying" the country, he believed that overweight U.K. citizens need to get in shape to protect themselves from COVID-19.
"Obesity is one of the real co-morbidity factors," he said. "Losing weight, frankly, is one of the ways you can reduce your own risk from coronavirus."
Statistics provided by the government estimate that in 2019, 28.7% of adults in England were obese, while another 35.6% are overweight. Currently, the U.K. has the highest coronavirus death rate in Europe.
Speaking to BBC Friday, Health and Social Care Minister Helen Whately said that obesity was "possibly the greatest health challenge" the U.K. has faced "particularly with Covid."
In an interview with BBC Radio 4, Chairman of the National Obesity Forum Tam Fry praised the prime minister's plan.
"There hasn't been a ban like this but it has got to be given a try – and if after a period of time it is shown not to be so effective, then maybe it will stop," he said. "It is indeed a risk but the problem is that the consequence of obesity is so great that risks and daring measures have to be put in place."
Criticism
However, the idea has also been rejected by food manufacturers, advertising agencies, and broadcasters, who were quick to voice their strong opposition.
Tim Rycroft, the chief operating officer of the Food and Drink Federation, called move a "slap in the face" to the food industry which has worked "heroically" to keep food output going during the pandemic.
"It is going to put enormous costs on the advertising industry and on broadcasters at a time when the economy is in quite a tenuous situation," he continued.
In a letter to Johnson sent by the Institute of Practitioners in Advertising (IPA), the organization pointed out that a government impact assessment from last year showed that a ban on ads for unhealthy foods and drinks would be negligible in changing childrens' diets.
"The introduction of such a draconian measure at this time could have deep repercussions for agencies and the advertising sector, generally, in terms of jobs and creative output, for very little end result," IPA director general Paul Bainsfair wrote in the letter.
Those remarks were also echoed by Stephen Woodford, the chief executive of the Advertising Association, who argued that the ban would hurt small companies.
"Speculation that the government intends to introduce bans on high fat, salt and sugar advertising would be in direct conflict with its own evidence that such restrictions would have a minimal impact on obesity levels," he said.
"These measures, if introduced, would have significant economic impact at a time when the economy is already under strain. The government must reconsider any proposals which could damage the recovery."
Johnson's new initiative is not the only plan aimed at tackling obesity that has been proposed in recent years. In 2016, Prime Minister David Cameron was set to announce significant regulations on food marketing and advertising. However, he abruptly left office after Brexit, and Theresa May, his successor, abandoned most of his ideas.
In 2018, May and Health Secretary Jeremy Hunt came out with plans to ban fast food advertising on TV before 9 p.m. and stop supermarkets from promoting unhealthy foods, but those plans dissolved after Johnson took office.
With Johnson's new revival of the measures, many hope that the U.K. will once and for all have a comprehensive plan to tackle manageable obesity.