US Customs Seize Chinese Hair Products Suspected to Have Come From Forced Labor Camps
A shipment of hair products from China believed to be made through forced human labor was sized at the Port of New York on Wednesday.
The products originate from Xinjiang, which is widely criticized for its so-called "reeducation" camps of Uyghurs.
Though estimates regarding the number of people held at these internment camps range, reports claim it could be upwards of 3 million people who are being held without trial.
U.S. Officials also believe that much of the hair used for these products came from camp detainees.
---
U.S. Seizes 13 Tons of Human Hair
United States Customs and Border Protection agents seized a 13-ton shipment of hair products at the Port of New York on Wednesday over suspicions that they were made with forced human labor. The bust is worth about $800,000.
Officials believe that beyond being made by forced human labor, the hair products, which include wigs, are made out of the hair of detainees in Xinjiang.
The region is infamous because much of its native Muslim Uyghur (sometimes spelled Uighur) population is being forced into "reeducation camps" by the Chinese government. China has denied these camps are what the world thinks they are and continues to downplay how many people are held in them.
On June 17, U.S. Customs and Border Protection (CBP) issued a Detention Order, a command that agents are to stop and inspect all shipments, on products made by Lop County Meixin Hair Product Company. The CBP wants Meixin shipments inspected because the agency had information that "reasonably indicated the use of prison labor with additional situations of forced labor including, but not limited to, excessive overtime, withholding of wages and restriction of movement."
This is in line with a long-standing law that bans any products made by "convict labor" overseas.
A Detention Order such as this is actually quite rare because tracking supply chains out of the U.S. is extremely difficult for U.S. companies and agencies. Adding to the complexity is where the products originated from; Xinjiang. The region has been difficult to enter for non-natives and Chinese officials for a few years.
Brenda Smith, the executive assistant commissioner of CBP's Office of Trade said of the bust, "The production of these goods constitutes a very serious human rights violation, and the detention order is intended to send a clear and direct message to all entities seeking to do business with the United States that illicit and inhumane practices will not be tolerated in U.S. supply chains."
National Security Council spokesperson John Ullyot also raised concerns that the hairs are made from victims of the camps in Xinjiang, saying, "If this highly suspicious, 13-ton shipment of human hair indeed turns out to be linked to the Uighur concentration camps, then this is a new low — even for the Chinese Communist Party — and they will have to answer to the world community for their actions."
The products in question are to be held until Meixin can prove forced human labor wasn't involved. Another company, Hetian Haolin Hair Accessories, must do the same after some of their products were seized in the same shipment, although agents found the weaves were made with synthetic fibers rather than detainees' hair. Hetian was added to the Detetion Order back in May.
The products are sold under the I&I and Spetra brand names in the U.S.
The Situation in Xinjiang
Within Xinjiang itself, conditions haven't improved for the local Uyghurs, and arguably have gotten worse.
For decades, China has wanted to sinicize a lot of minority ethnic groups in the country. Around 2017 it increased its sinicization efforts over the Uyghurs. Tactics include forcing Mandarin as a language that must be used for school and official business, as well as attempts to heavily downplay the importance of Islam in the daily lives on Muslim citizens.
There are also reports of more dire actions, such as accusations that Chinese authorities take children from their families to try and remove cultural and linguistic connections.
The country also alters cultural sites to look more "Chinese." Efforts include changing mosques to have less Arab-influenced features. However, often cultural sites are just destroyed; such as in the case of hundreds of cemeteries being removed to make way for buildings or empty lots.
China also has an issue with Islam. The country consistently portrays imams in the region as having ties to terrorism, and will often arrest Chinese-Muslims upon returning from the Middle East over fears they've been "radicalized."
Despite these efforts though, the Uyghurs have managed to hold onto their cultural heritage and language. So, 2017 also saw China step up the pressure by introducing the "reeducation camps" in order to "combat extremism."
China markets the camps as vocational school that are voluntary. Yet most countries simply call them internment or concentration camps. Evidence and interviews with alleged survivors of the camps point out that people at the facilities aren't there out of their own free will. They are usually held without ever receiving a trial.
Current estimates vary, but there's believed to be between 1 to 3 million people within these camps, with about 500,000 being minors. Those estimates are partially based on leaked documents the BBC obtained last year that showed 15,000 people from southern Xinjiang were sent to the camps in one week alone.
There's also evidence that beatings and torture happen at the camps, as well as accusations that they're used to force Muslims to renounce their faith. Earlier this week, reports surface alleging China is forcing abortions, sterilizations, and other birth control measures against the Uyghur population to cut their birth rates.

Other birth-control methods include monetary penalties against people who have additional children.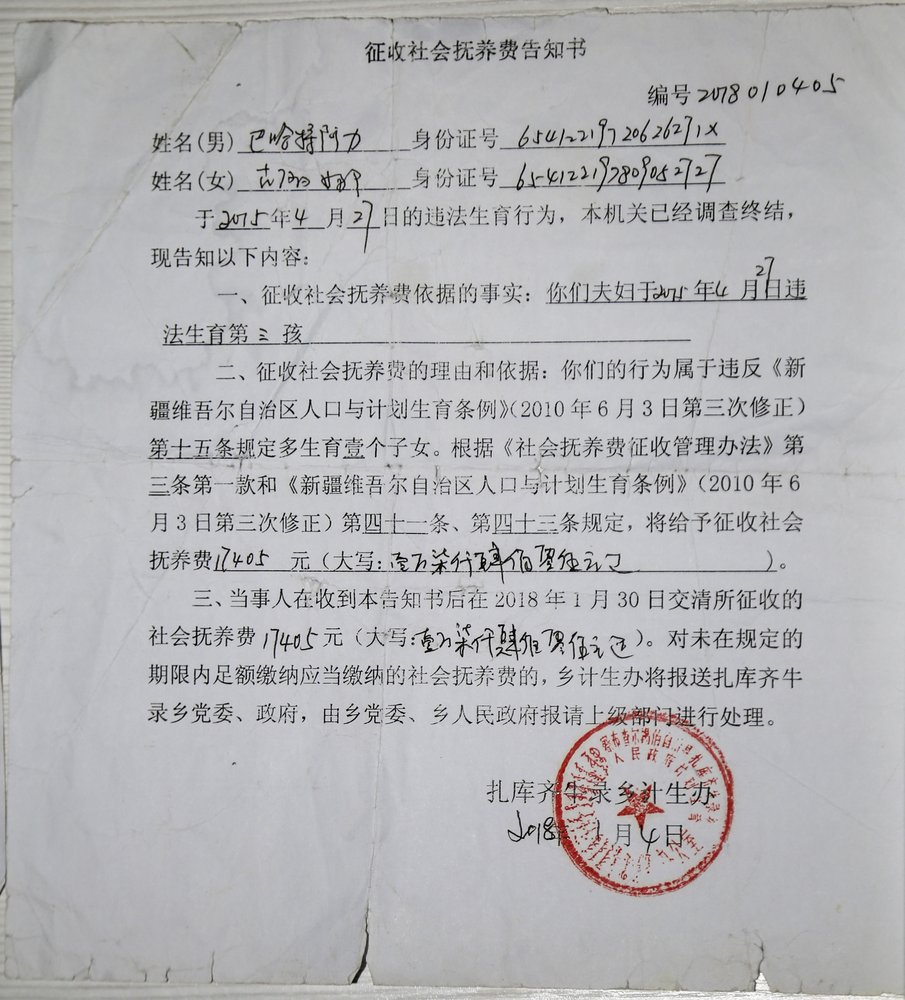 In 2019, 22 UN ambassadors signed a letter condemning the camps, and 50 other states condemned China's counter-terrorism program in the region. More recently, in October of last year, the U.S. imposed visa restrictions on Chinese officials "believed to be responsible for, or complicit in, the detention or abuse of Muslim minority groups in Xinjiang."
In 2020, the U.S. has been adding more and more companies to what's known as an Entity List. They urge Americans and businesses not to work with these 37 companies because they're believed to use forced labor out of Xinjiang. Last month, on June 17, President Trump signed the Uyghur Human Rights Policy Act, which opens the door to increased sanctions against China and increases US agencies' reporting on Xinjiang.
Although the President is still hesitant on actually imposing stricter sanctions, telling Axios, "we were in the middle of a trade deal [with China]. When you're in the middle of a negotiation and then all of a sudden you start throwing additional sanctions on… we've done a lot."
Gang That Kidnapped American and Canadian Missionaries in Haiti Seeks $17 Million Ransom
The incident has fueled calls for the government to take action against gangs, which control many territories in the country and have repeatedly carried out large-scale abductions for ransom
---
Missionary Abduction
The gang that abducted 17 American and Canadian missionaries in Haiti on Saturday is demanding $17 million for their safe release, Haitian officials said Monday.
The group, which consists of one Canadian and 16 Americans, are all part of Christian Aid Ministries, an Amish and Mennonite charity based out of Ohio with a long history of working in Haiti.
While on their way to visit an orphanage in Croix des Bouquets, a suburb of the capital Port-au-Prince, the group's bus was stopped at gunpoint by the 400 Mawozo gang. The gang is known for being one the most dangerous in the area, reportedly having about 150 members.
Multiple outlets, including CNN and Reuters, report that during the gang's confrontation with the missionaries some victims managed to get messages out to associates to let them know what was going on. One even managed to drop a pin location on his mobile phone, helping authorities get a better idea of where exactly this happened.
By 4:53 p.m on Saturday, the kidnappers contacted Christian Aid Ministries to make their steep demands. According to authorities, the request is a noticeable jump from the thousands to tens of thousands the gang typically asks for.
Lack of Government Control
While Haitian authorities are involved in the investigation to free the missionaries, they actually have little power in the area. Croix des Bouquets is largely out of the government's control and is instead run by 400 Mawozo. Government authority being replaced by gang activity isn't uncommon in Haiti, and in some places, government control is almost completely lacking. This was highlighted on Sunday when Prime Minister Ariel Henry was forced to turn back from a wreath-laying ceremony at the grave of revolutionary war hero Jean-Jacques Dessalines due to its placement in gang territory.
The issue makes recovering the missionaries far more complex, but Haitian authorities aren't alone. The FBI has been involved in the investigation and is continuing to help Haitian authorities.
"The FBI is part of a coordinated US government effort to get the Americans involved to safety. Due to operational considerations, no further information is available at this time," The agency said in a statement to Reuters.
Reports indicate that the hostages are being held in some kind of safe house for the gang. Currently, no one is believed to be physically hurt. The gang has warned against harming the hostages, although according to a Haitian security forces member who spoke with CNN, the group didn't seem too worried about those threats.
Haitians Call for Changes
Abductions in Haiti have always been an issue, but the problem has become particularly bad lately. In 2020, the Haitian National Police reported 234 kidnappings. In the first eight months of this year, there have been at least 328.
Some organizations claim that number is actually low. In fact, the Center for Analysis and Research for Human Rights reported that at least 600 people have been abducted this year. The center said that much of the increase was caused by 400 Mawozo, who have figured out that kidnapping busloads of people is more profitable than just taking individuals.
The issue is so prolific that just before the kidnapping on Saturday, a Haitian transportation union called for an indefinite strike starting Monday, with its president further justifying the move in a written statement a day later.
"We call on the government to put an end to the kidnappings and provide us safety or for them to resign immediately. We are the most victims; the transportation sector is an easy target for kidnappers all over the country," Union President Méhu Changeux wrote. "We lost many members to the insecurity and dozens of members have been kidnapped. The latest tragedy of the kidnapping of the American missionaries shows no one is safe in this country."
Since Monday, many parts of the country have come to a standstill amid the strike, putting increased pressure on a government with little resources to handle the underlying cause of discontent: gang activity and government instability.
5 Dead, 2 Injured After Bow and Arrow Attack in Norway
Police have called the incident a terror attack, though exact details regarding the suspect's motives remain unclear.
---
Super Market Attack
The Norwegian town of Kongsberg is reeling from a deadly incident at Coop Extra supermarket on Wednesday that police are treating as "an act of terrorism."
Shortly before 6 p.m., a 37-year old Danish man entered the market, armed with a bow and arrow, along with other weapons. He then began firing at those inside the building.
Authorities quickly responded and were on the scene within five minutes. Despite a police confrontation with the suspect, the attack continued. Four women and one man were ultimately killed while two others were left injured.
The suspect initially avoided arrest after managing to flee the scene. Police Chief Ole Bredrup Sæverud told reporters Thursday that it took 35 minutes to catch the attacker.
Unclear Motives
While police described the incident as a terror attack, they refused to specify a motive. Officials did hint that the rampage might have been religiously motivated by revealing that police had previously been in contact with the suspect due to his conversion to Islam and possible connections to radical content and teachings. Still, Sæverud clarified that the perpetrator hadn't been actively investigated at all in 2021.
Prime Minister Erna Solberg, who was just hours away from leaving office after she was ousted in recent elections, described reports of the scene as "horrifying" on Wednesday. Incoming Prime Minister Jonas Gahr Støre said in a Facebook post from Thursday morning that the attack was a "cruel and brutal act."
Norway's King Harald expressed his sympathies to the mayor of Kongs-berg, telling the country, "We sympathize with the relatives and injured in the grief and despair."
"And we think of all those affected in Kongs-berg who have experienced that their safe local environment suddenly became a dangerous place. It shakes us all when horrible things happen near us, when you least expect it, in the middle of everyday life on the open street."
Attacks of this nature are rare in Norway. In 2019, a right-wing gunman tried to enter a mosque before being overpowered and hitting no one. Wednesday's attack is the most deadly since July 2011, when a far-right extremist killed 77 people at a Labour party summer camp.
Editor's Note: At Rogue Rocket, we make it a point to not include the names and pictures of mass murderers or suspected mass murderers who may have been seeking attention or infamy. Therefore, we will not be linking to other sources, as they may contain these details.
Protests Erupt in Italy Over World's Toughest Vaccine Mandate
The violence is believed to have been instigated by far-right groups that oppose COVID-19 vaccines and other pandemic-related safety measures.
---
Green Pass Pushback
Demonstrators gathered in Rome over the weekend to protest against Italy's plans to require a coronavirus "Green Pass" for all workers starting Oct. 15.
The Green Pass is a European Union initiative that shows whether someone is vaccinated, has recovered from COVID-19 in the past six months, or has received a negative COVID test in the past 48 hours.
Since August, Italy has required the pass for entry at restaurants and use of long-distance trains, along with nearly every other activity that involves interaction with others or use of a public space. Now, the pass will be required to enter a workplace, which critics argue is particularly harsh.
Individuals who can't produce a valid Green Pass will be suspended without pay, making it the most extreme of any COVID-19 mandate in the world.
The weekend protests started out peaceful, with people chanting "Liberta," which means freedom. However, the scene turned violent by Saturday when a group of protesters affiliated with the far-right Forza Nuova party decided to storm the headquarters of the CGIL, Italy's biggest and oldest labor union.
Protesters then marched towards the Prime Minister's office, prompting police to respond with anti-riot measures like tear gas, water cannons, and shield charges.
It's unclear how many protesters were hurt in the ongoing fighting, but dozen of police officers were reportedly hurt in the scuffle. By Sunday evening. at least 12 protesters were arrested, many of who are members of Forza Nuova, including its leader Roberto Fiore. Authorities also indicated in a press conference on Monday that it had identified at least 600 other people who took part in illegal activities during the demonstrations.
Fiore was unapologetic about the rioting, and Forza Nuova said in a statement, "The popular revolution will not stop, with or without us, until the Green Pass is definitively withdrawn. Saturday was a watershed between the old and the new. The people decided to raise the level of the clash."
Fascist Banning
Saturday's events have led many of the country's largest political parties, including the 5Star Movement and the Democratic Paty, to support a motion calling for Nuova Forza and similar groups to be dismantled in line with a constitutional provision from 1952 that bans fascists parties.
While that motion is still going through the legislative process, prosecutors have already seized the group's website in line with a 1988 law that bans inciting violence through public communications.
"The events [on Saturday] take us back to the darkest and most dramatic moments of our history and they are an extremely serious and unacceptable attack on democracy," Valeria Fedeli, a senator with the center-left Democratic Party, said on Monday.
The violence from the weekend may make it seem like a sizeable chunk of Italians are against the vaccine; however, over 70% of all Italians are already vaccinated, making it one of the highest rates in the world.
According to polling from the summer, most Italians think the new rules will help in the long run and prevent another catastrophe like last year when the country ran out of room to bury the dead due to the number of deaths caused by COVID-19.