Facebook Faces Advertiser Boycott and Bans "Boogaloo Boys"
Multiple social media platforms have moved towards more actively banning content that incites violence or features hate speech, including Twitch, Reddit, and Youtube.
After a growing advertiser boycott, Facebook announced new rules that would put it closer in line with other platforms.
The site also banned content related to the anti-goverment "boogaloo" movement.
The boogaloo movement is a loose coalition of groups from across the political spectrum united by their anti-government and pro-firearm sentiments.
---
Social Media Crack Down
Facebook began enforcing stricter rules against hate speech and content that incites violence Tuesday, following recent moves from other social media giants. It will allow posts that are important to the public to remain online with a label attached.
The platform has faced criticism and allegations that it profits off hate speech, which has led to some of its biggest advertisers to join a boycott of the site and pull their ads.
Over the weekend, other major social media sites, like Reddit, YouTube, and Twitch all moved to remove content and groups from their platforms that broke site rules. Some of this content included white supremacist rhetoric, while others were banned for consistent rule breaking.
Reddit made headlines when it banned nearly 2,000 subreddits on Monday, which included r/The_Donald and r/ChapoTrapHouse, popular right-wing and left-wing subreddits, respectively.
At around the same time, Twitch suspended President Donald Trump's account for "hateful conduct" over two videos from rallies where he made racist remarks about Latinos.
On Monday, YouTube also made moves to tackle accounts, particularly those of white supremacists. The company banned David Duke, famous for being the former Grand Wizard of the Ku Klux Klan, from the platform. The site also went after Richard Spencer and Stefan Molyneaux, creators known for propagating white supremacist rhetoric.
Boycotts and Shifts
Twitter has long led the way when it comes to regulating speech. The site had been proactive in removing speech that breaks its rules, and in some instances when the tweet is newsworthy, the company will keep it up with a label attached. Trump has seen a few of his tweets get labels like "glorifying violence" attached to them.
But there's been a major standout in this shift; Facebook. For a long time the platform, through its CEO Mark Zuckerberg, stated that they wouldn't infringe on speech unless absolutely necessary.
In a speech to Georgetown University late last year, Zuckerberg explained his thoughts, telling the attendees, "We are at another crossroads. We can either continue to stand for free expression, understanding its messiness but believing that the long journey to greater progress requires confronting ideas that challenge us."
He added, "Or, we can decide that the cost is simply too great – and I am here today because I believe that we must continue to stand for free expression."
However, that stance has put the company in an awkward position as other platforms take action against extreme speech and misinformation This has led to the Stop Hate for Profit Initiative to be launched last week, which among other things, called for advertisers to stop working with the tech giant.
Over the last week, a steadily growing number of advertisers like Starbucks, Honda, Verizon, Coca-Cola have joined the boycott by pulling their ads from the site. The boycott led Zuckerberg to reportedly lose about $7 billion of his net worth, although that could bounce back quickly if Facebook's stock price continues to rise.
It also doesn't seem like this will hurt Facebook, at least in the short term. According to Pathmatics, the top 100 advertisers on the platform only account for a little over 6% of its revenue.
In response to the boycott, Facebook announced on June 26 that it will expand its hate speech policies and label posts from politicians who violate rules. However, like Twitter often does, it'll keep the posts up if they're "newsworthy." Critics point out that it may just label the post "newsworthy" without saying why it violates the rules, unlike how Twitter specifically states what a tweet did to be labeled.
Facebook's announcement didn't stop Senators Mark Warner (D-VA), Mazie Hirono (D-HI), and Bob Menedez (D-NJ) from sending the platform a letter on Tuesday criticizing the company for its inaction against white supremacists-linked pages.
D2112315558AEEA2F01DC8F621139BB2.2020.06.30-facebook-white-supremacists-oversight-warner-hirono-menendez

Although, Facebook has consistently countered claims that it doesn't do enough to combat racism by saying that it takes down 89% of hate speech on the platform before it ever gets reported. A report from last year corroborates this claim, the European Commission found that in 2018, Facebook was among the fastest when it comes to addressing hate speech.
Facebook actually vastly improved its rate of combating hate speech compared to 2016 as part of a "code of conduct" it agreed to with the European Union.
Banning Boogaloo
In their letter to Facebook, Senators Warner, Hirono and Menedez also touched on another issue social media platforms are facing; the Boogaloo movement.
They wrote: "On April 22… the Tech Transparency Project issued a report detailing the ways right-wing extremist groups were using Facebook to plan a militant uprising in the United States in response to stay-at-home orders issued to cope with the coronavirus pandemic. The organization's research uncovered "125 Facebook groups devoted to the 'boogaloo,'" a term with ties to white supremacist movements used to describe a coming civil war… The groups experienced unchecked growth in the months leading up to the report and remained on Facebook at least as of early June…"
So what is the movement exactly? In a general sense, they're an anti-government movement that's been linked to at least 15 arrests and 5 deaths, including the murder of a federal security guard and a sheriff's deputy in California last month by an Air Force sergeant.
But an exact definition of what the movement believes is hard to come by because the various groups that make up the movement are loosely connected. Still, there are (usually) two main themes across all the groups:
1. The government needs to be overthrown.
2. Everyone should own a gun.
Beyond that, individual groups vary wildly in ideology. Although most often associated as right-wingers, the movement also encompasses everything from white-supremacists, to libertarians, to anarchists, to communists, to groups not-politically affiliated beyond a government overthrow.
Their members can be seen at nearly any anti-government protest, whether that's against stay-at-home orders in Michigan or attending Black Lives Matter protests.
Outside of a core ideology, the main feature across the movement is memes. It's a part of their history after originating from 4chans /k/ board around 2012, which discusses firearms. The name itself is also a hint to their meme past. It's named after a meme spawned from the 1984 cult film Breakin'2: Electric Boogaloo.
A "boogaloo" often means a bad sequel to something, and in this case the group is using it as a reference to a possible second Civil War.
Other common memes include wearing Aloha shirts when out protesting or rhetoric that could be seen as inciting violence against the government,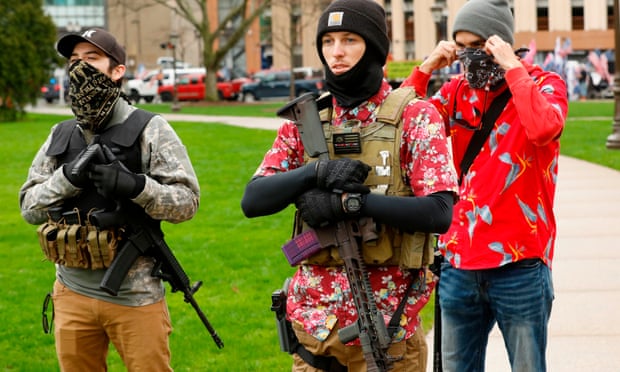 Such as their well documented hate of "Alphabet Soup," a meme meant to represent the various government agencies like the FBI, CIA, and the most hated of all, the ATF (Bureau of Alcohol, Tobacco, Firearms, and Explosives). Their dislike of these agencies adorns iconography related to the group, and includes shot up cans of soup.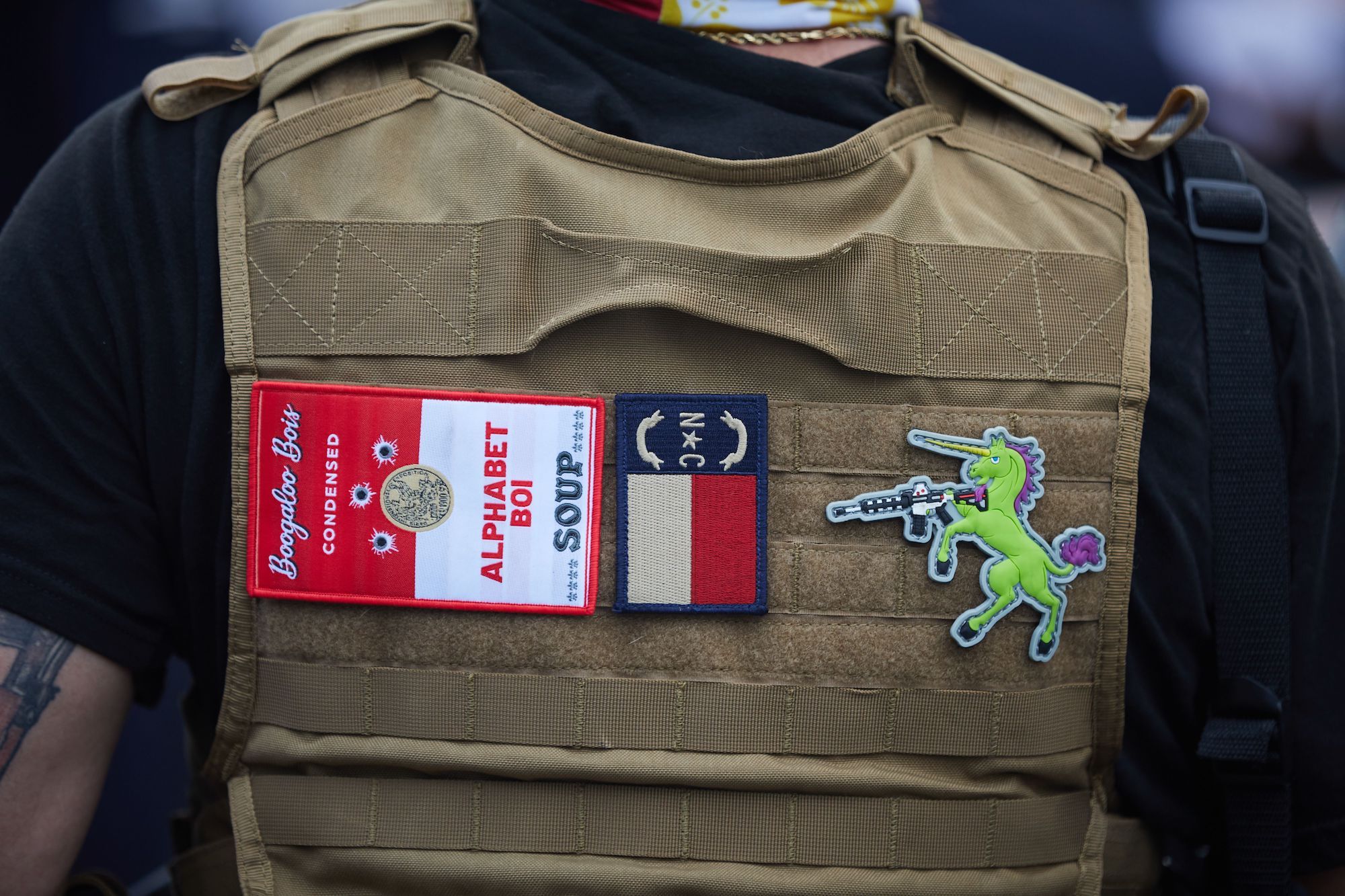 Shortly after Senators Warner, Hirono, and Menedez sent their letter, Facebook announced it would be taking action against the boogaloo movement.
On June 30, the company announced that it banned over 220 Facebook accounts, 95 Instagram accounts, 28 pages, and 106 groups linked to the movement for violating the Dangerous Individuals and Organizations policy. The company also removed another 400 groups and 100 pages that were posting similar content to the boogaloo pages. Some of the pages removed had tens of thousands of members.
The Dangerous Individuals and Organizations policy is the same one that was used to ban ISIS from the site.
Facebook spared a few groups that had known boogaloo members but weren't actively involved with the movement, which helps illustrate the growing distinction between those who call themselves Boogaloo Bois and those who don't. Boogaloo Bois are those who actually partake in more serious efforts that their rhetoric calls for.
But people should be careful about the name because it could make it seem like there's one monolithic group, like the hacker known as 4chan or the group Anonymous. Like those two misnomers, it's more of a catch-all term that describes a movement, not an actual group.
In their announcement Tuesday, Facebook also mentioned that this isn't the first time it had acted against the movement, stating, "We have always removed boogaloo content when we identify a clear call for violence. As a result, we removed over 800 posts for violating our Violence and Incitement policy over the last two months and limited the distribution of Pages and groups referencing the movement by removing them from the recommendations we show people on Facebook."
However, there are still claims that Facebook's move to remove boogaloo content doesn't address the core accusations that the platform doesn't do enough to combat misinformation and racism. As of today, many advertisers are still boycotting the site.
#TrumpIsDead: Comedian Tests Twitter Moderation Under Elon Musk With Fake Hashtag
A Twitter exec said the platform is "focused on addressing the surge in hate content."
---
The Tweets
The fake hashtag #TrumpIsDead began to trend on Twitter Tuesday afternoon as many used the phrase to protest the lack of moderation that has occurred on the platform since billionaire Elon Musk took over last week. 
Comedian Tim Heidecker started the hashtag with a series of tweets last night. 
"Here's what we know: 1. Trump is dead (died badly) 2. @elonmusk has suppressed this news (or has he?) 3. Donald Trump Junior is now just plain Donald Trump. Please like and share," he said
The former president is not dead but others joined the hashtag with open criticisms of Elon Musk and the way content has been moderated on Twitter recently, including the conspiracy theory Musk shared himself on Sunday about the attack on Paul Pelosi.
"If only Twitter had some kind of policy about spreading disinformation, but I guess since Elon himself did it the other day, it's all fair game," one person wrote.
Hateful Content
Twitter has seen a sharp rise in the use of slurs and hateful content since Musk took charge. According to the Network Contagion Research Institute, the platform saw a 500% spike in the use of the n-word in the first 12 hours following the Tesla and SpaceX exec's deal with Twitter officially closing.
However, Twitter's Head of Safety & Integrity Yoel Roth tweeted on Monday that the company is taking action against the spike. 
"Since Saturday, we've been focused on addressing the surge in hateful conduct on Twitter," Roth said. "We've made measurable progress, removing more than 1500 accounts and reducing impressions on this content to nearly zero." 
But Roth did go on to say that some who report hateful content are receiving notifications saying the post they reported is not a violation. This is happening, Roth says, because Twitter treats "first person" and "bystander" reports differently, weighing bystander reports less heavily. 
Musk has reported that he will be forming a content moderation council and will not be making any major content decisions until then. 
TikTok Denies Report of Harvesting User Data to Monitor Americans' Locations
Forbes, which broke the story, continues to stand by its sources and article.
---
TikTok's Rebuttal
TikTok is denying a Thursday report from Forbes that claimed its parent company, ByteDance, planned to use location information to monitor specific American citizens.
The report focused on BytDance's Internal Audit and Risk Control department, which is led by a Bejing executive. The department's main purpose is to investigate current and former ByteDance employees in cases of misconduct, but according to Forbes, they have planned to collect the location data of U.S. citizens with no employment history with the company. In its report, Forbes noted that it is unclear whether or not the data was actually collected from devices by a Beijing-based team. 
TikTok spokesperson Maureen Shanahan told Forbes that they collect approximate location information to "among other things, help show relevant content and ads to users, comply with applicable laws, and detect and prevent fraud and inauthentic behavior." 
But according to Forbes' materials, ByteDance's Internal Audit team was planning to use this location information to surveil individual American citizens, not to target ads. When asked, ByteDance did not answer questions about whether their Internal Audit team has specifically targeted U.S. government officials, activists, or journalists. 
In a series of tweets on Thursday, TikTok and ByteDance denied Forbes' claims.
"Forbes chose not to include the portion of our statement that disproved the feasibility of its core allegation: TikTok does not collect precise GPS location information from US users, meaning TikTok could not monitor US users in the way the article suggested," one tweet stated.
"TikTok has never been used to 'target' any members of the U.S. government, activists, public figures or journalists, nor do we serve them a different content experience than other users," the thread continued.
"Stand by Our Reporting"
When asked to comment, Forbes spokesperson Bill Hankes said to Variety, "We are confident in our sourcing, and we stand by our reporting." 
The author of the article, Emily Baker-White, also responded to TikTok's accusations on Friday.
"We never mentioned GPS in the story. In fact, we quoted their spokesperson saying they collect approx location via IP address," she tweeted. "Not using GPS does not mean they could not use that approx location to monitor certain individuals. Neither TikTok nor ByteDance denied anything we reported, either in the pre-publication process, when we told them what we planned to report and asked for comment, or since then. They have also not requested a story update." 
Job Listings Suggest TikTok is Planning U.S. Fulfillment Centers
TikTok is looking to take on online shopping giants in its latest e-commerce move.
---
Insight from Job Postings
Social media platform TikTok has proven to be a major competitor for Meta's Instagram and Facebook. Now it might just be taking aim at Amazon.
As first reported by Axios, job postings suggest that TikTok has started planning the building of global fulfillment centers in the U.S. for its e-commerce pursuits. TikTok has recently added more than a dozen LinkedIn postings for positions in Seattle and Los Angeles, including positions like Operation Research Engineer and Logistics Solution Manager.
TikTok has been executing a steady shift into e-commerce recently. The video app partnered with Shopify last summer, allowing merchants to have their storefronts on TikTok. TikTok is also negotiating a partnership with TalkShopLive for live shopping access in the United States.
A Shift to E-Commerce
While live shopping has been popular in Asia, it has not drawn the same attention in western countries. But, if the aforementioned partnership comes to fruition, live shopping in North America and the U.K. could see a substantial increase.
If their shopping features become popular, TikTok could be a serious competitor to online shopping giants like Amazon. In fact, TikTok is said to be working on a free return system similar to that of Amazon, though it does not appear to be working on its own ground transportation
See what others are saying: (Axios) (Verge)