Facebook Faces Advertiser Boycott and Bans "Boogaloo Boys"
Multiple social media platforms have moved towards more actively banning content that incites violence or features hate speech, including Twitch, Reddit, and Youtube.
After a growing advertiser boycott, Facebook announced new rules that would put it closer in line with other platforms.
The site also banned content related to the anti-goverment "boogaloo" movement.
The boogaloo movement is a loose coalition of groups from across the political spectrum united by their anti-government and pro-firearm sentiments.
---
Social Media Crack Down
Facebook began enforcing stricter rules against hate speech and content that incites violence Tuesday, following recent moves from other social media giants. It will allow posts that are important to the public to remain online with a label attached.
The platform has faced criticism and allegations that it profits off hate speech, which has led to some of its biggest advertisers to join a boycott of the site and pull their ads.
Over the weekend, other major social media sites, like Reddit, YouTube, and Twitch all moved to remove content and groups from their platforms that broke site rules. Some of this content included white supremacist rhetoric, while others were banned for consistent rule breaking.
Reddit made headlines when it banned nearly 2,000 subreddits on Monday, which included r/The_Donald and r/ChapoTrapHouse, popular right-wing and left-wing subreddits, respectively.
At around the same time, Twitch suspended President Donald Trump's account for "hateful conduct" over two videos from rallies where he made racist remarks about Latinos.
On Monday, YouTube also made moves to tackle accounts, particularly those of white supremacists. The company banned David Duke, famous for being the former Grand Wizard of the Ku Klux Klan, from the platform. The site also went after Richard Spencer and Stefan Molyneaux, creators known for propagating white supremacist rhetoric.
Boycotts and Shifts
Twitter has long led the way when it comes to regulating speech. The site had been proactive in removing speech that breaks its rules, and in some instances when the tweet is newsworthy, the company will keep it up with a label attached. Trump has seen a few of his tweets get labels like "glorifying violence" attached to them.
But there's been a major standout in this shift; Facebook. For a long time the platform, through its CEO Mark Zuckerberg, stated that they wouldn't infringe on speech unless absolutely necessary.
In a speech to Georgetown University late last year, Zuckerberg explained his thoughts, telling the attendees, "We are at another crossroads. We can either continue to stand for free expression, understanding its messiness but believing that the long journey to greater progress requires confronting ideas that challenge us."
He added, "Or, we can decide that the cost is simply too great – and I am here today because I believe that we must continue to stand for free expression."
However, that stance has put the company in an awkward position as other platforms take action against extreme speech and misinformation This has led to the Stop Hate for Profit Initiative to be launched last week, which among other things, called for advertisers to stop working with the tech giant.
Over the last week, a steadily growing number of advertisers like Starbucks, Honda, Verizon, Coca-Cola have joined the boycott by pulling their ads from the site. The boycott led Zuckerberg to reportedly lose about $7 billion of his net worth, although that could bounce back quickly if Facebook's stock price continues to rise.
It also doesn't seem like this will hurt Facebook, at least in the short term. According to Pathmatics, the top 100 advertisers on the platform only account for a little over 6% of its revenue.
In response to the boycott, Facebook announced on June 26 that it will expand its hate speech policies and label posts from politicians who violate rules. However, like Twitter often does, it'll keep the posts up if they're "newsworthy." Critics point out that it may just label the post "newsworthy" without saying why it violates the rules, unlike how Twitter specifically states what a tweet did to be labeled.
Facebook's announcement didn't stop Senators Mark Warner (D-VA), Mazie Hirono (D-HI), and Bob Menedez (D-NJ) from sending the platform a letter on Tuesday criticizing the company for its inaction against white supremacists-linked pages.
D2112315558AEEA2F01DC8F621139BB2.2020.06.30-facebook-white-supremacists-oversight-warner-hirono-menendez

Although, Facebook has consistently countered claims that it doesn't do enough to combat racism by saying that it takes down 89% of hate speech on the platform before it ever gets reported. A report from last year corroborates this claim, the European Commission found that in 2018, Facebook was among the fastest when it comes to addressing hate speech.
Facebook actually vastly improved its rate of combating hate speech compared to 2016 as part of a "code of conduct" it agreed to with the European Union.
Banning Boogaloo
In their letter to Facebook, Senators Warner, Hirono and Menedez also touched on another issue social media platforms are facing; the Boogaloo movement.
They wrote: "On April 22… the Tech Transparency Project issued a report detailing the ways right-wing extremist groups were using Facebook to plan a militant uprising in the United States in response to stay-at-home orders issued to cope with the coronavirus pandemic. The organization's research uncovered "125 Facebook groups devoted to the 'boogaloo,'" a term with ties to white supremacist movements used to describe a coming civil war… The groups experienced unchecked growth in the months leading up to the report and remained on Facebook at least as of early June…"
So what is the movement exactly? In a general sense, they're an anti-government movement that's been linked to at least 15 arrests and 5 deaths, including the murder of a federal security guard and a sheriff's deputy in California last month by an Air Force sergeant.
But an exact definition of what the movement believes is hard to come by because the various groups that make up the movement are loosely connected. Still, there are (usually) two main themes across all the groups:
1. The government needs to be overthrown.
2. Everyone should own a gun.
Beyond that, individual groups vary wildly in ideology. Although most often associated as right-wingers, the movement also encompasses everything from white-supremacists, to libertarians, to anarchists, to communists, to groups not-politically affiliated beyond a government overthrow.
Their members can be seen at nearly any anti-government protest, whether that's against stay-at-home orders in Michigan or attending Black Lives Matter protests.
Outside of a core ideology, the main feature across the movement is memes. It's a part of their history after originating from 4chans /k/ board around 2012, which discusses firearms. The name itself is also a hint to their meme past. It's named after a meme spawned from the 1984 cult film Breakin'2: Electric Boogaloo.
A "boogaloo" often means a bad sequel to something, and in this case the group is using it as a reference to a possible second Civil War.
Other common memes include wearing Aloha shirts when out protesting or rhetoric that could be seen as inciting violence against the government,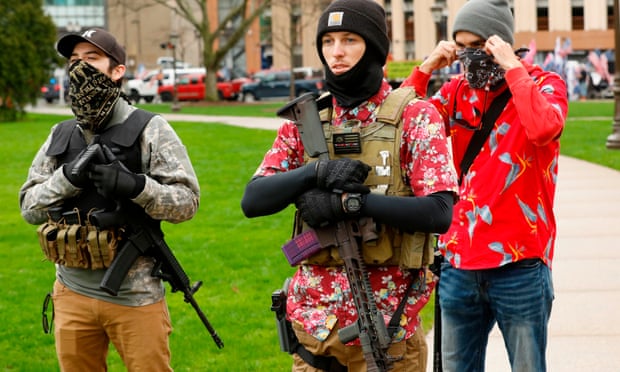 Such as their well documented hate of "Alphabet Soup," a meme meant to represent the various government agencies like the FBI, CIA, and the most hated of all, the ATF (Bureau of Alcohol, Tobacco, Firearms, and Explosives). Their dislike of these agencies adorns iconography related to the group, and includes shot up cans of soup.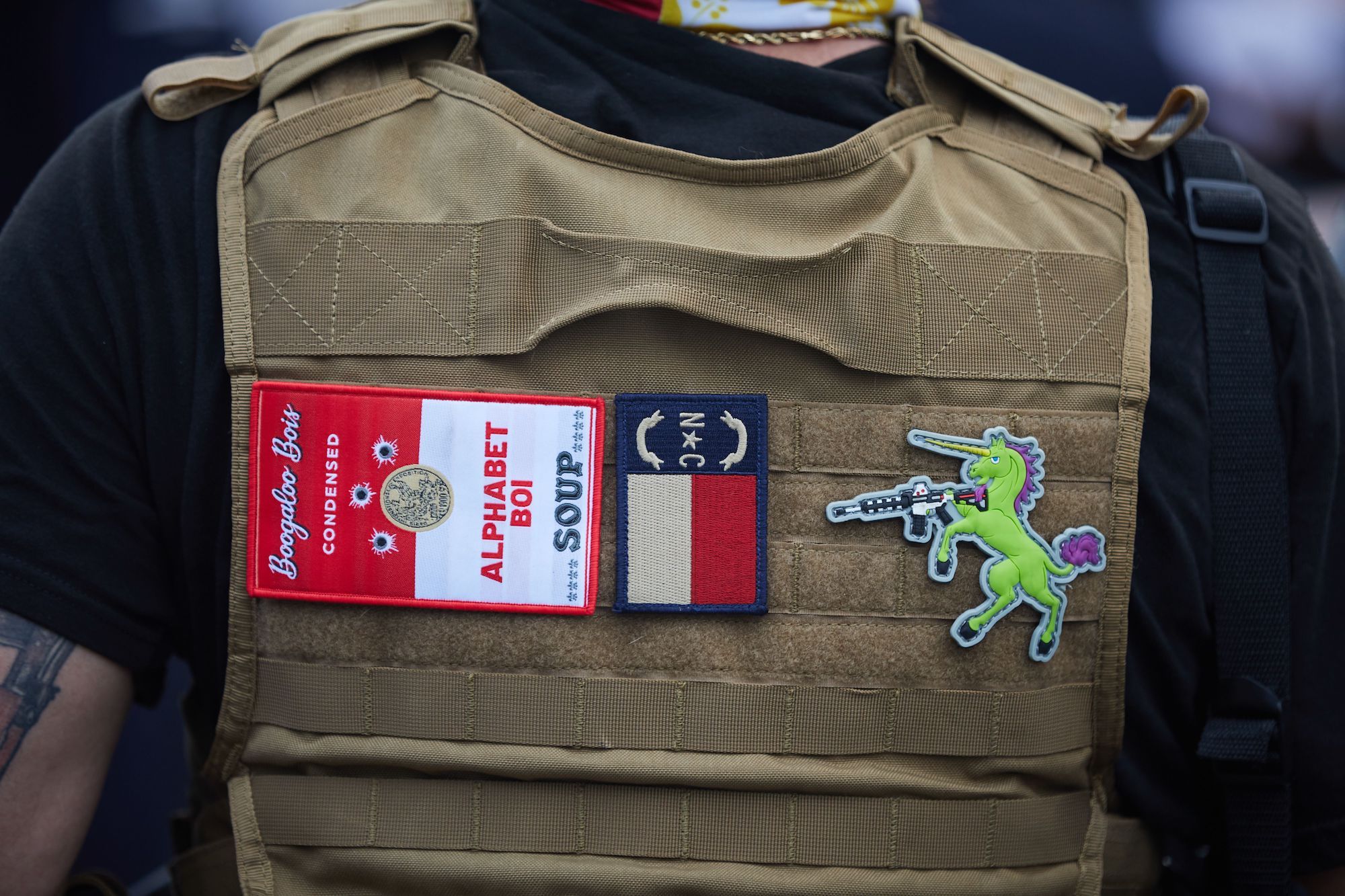 Shortly after Senators Warner, Hirono, and Menedez sent their letter, Facebook announced it would be taking action against the boogaloo movement.
On June 30, the company announced that it banned over 220 Facebook accounts, 95 Instagram accounts, 28 pages, and 106 groups linked to the movement for violating the Dangerous Individuals and Organizations policy. The company also removed another 400 groups and 100 pages that were posting similar content to the boogaloo pages. Some of the pages removed had tens of thousands of members.
The Dangerous Individuals and Organizations policy is the same one that was used to ban ISIS from the site.
Facebook spared a few groups that had known boogaloo members but weren't actively involved with the movement, which helps illustrate the growing distinction between those who call themselves Boogaloo Bois and those who don't. Boogaloo Bois are those who actually partake in more serious efforts that their rhetoric calls for.
But people should be careful about the name because it could make it seem like there's one monolithic group, like the hacker known as 4chan or the group Anonymous. Like those two misnomers, it's more of a catch-all term that describes a movement, not an actual group.
In their announcement Tuesday, Facebook also mentioned that this isn't the first time it had acted against the movement, stating, "We have always removed boogaloo content when we identify a clear call for violence. As a result, we removed over 800 posts for violating our Violence and Incitement policy over the last two months and limited the distribution of Pages and groups referencing the movement by removing them from the recommendations we show people on Facebook."
However, there are still claims that Facebook's move to remove boogaloo content doesn't address the core accusations that the platform doesn't do enough to combat misinformation and racism. As of today, many advertisers are still boycotting the site.
Woman Sues Meta, Claiming Instagram Gave Her an Eating Disorder
The lawsuit features previously unreported documents in which the company identified tweens as "herd animals" who "want to find communities where they can fit in."
---
From Webkinz to Anorexia
Instagram's parent company Meta has been hit with a lawsuit alleging the social media platform deliberately targets children and directs them toward content that's harmful for mental health and body image issues.
The Social Media Victims Law Center, which filed the suit, is representing Alexis Spence, a now 19-year-old woman who says Instagram played a large role in causing her anxiety, depression, eating disorder, self-harm, and suicidal thoughts. The group is also representing Spence's parents, who filed the suit with their daughter.
It is the first such lawsuit to heavily cite the Facebook Files, a cache of leaked documents published by The Wall Street Journal last fall showing the company knew for years that Instagram harmed a large proportion of users, especially teen girls.
Spence created her first Instagram account when she was 11 years old. A year and a half later, she drew a picture of herself in a diary with a phone, laptop and speech bubbles saying words like "stupid," "ugly" and "worthless."
"It did start very innocently," she told NBC's Joshua Johnson. "I actually started, I don't know if you know what they are, but Webkinz. It's a stuffed animal. It started out as that and I remember one day seeing a hashtag. It was hashtag #Ana. And I was like, 'oh, what's that?' And curiosity got the best of me. I looked into it and it was an abbreviation for anorexia."
"And then that content started flooding my explore page and promoting anorexia and eating disorders, and then that led into other self-harm and suicidal thoughts," she continued.
Spence said in a statement she became addicted to Instagram, eventually being hospitalized for her mental health issues.
She added that she "fights to stay in recovery every day."
"If you look at the extensive research that it [Meta] performed, they knew exactly what they were doing to kids, and they kept doing it," Matthew P. Bergman, founder of the Social Media Victims Law Center, was quoted by NBC as saying. "I wish I could say that Alexis' case is aberrational. It's not. The only aberration is that she survived."
The Center wrote in a statement: "As a result of Alexis' addiction to Instagram, she had to undergo professional counseling, in-patient programs, out-patient programs, participate in eating disorder programs and will likely require help in the form of a service dog for the rest of her life, as well as ongoing medical attention to ensure she does not digress."
The Facebook Files Expose Complicity
The lawsuit against Meta features previously unreported documents from the Facebook Files in which the company identified tweens as "herd animals" who "want to find communities where they can fit in."
"The social media giant spent millions of dollars researching and developing product features to attract and retain a steady stream of pre-teen users despite warnings from Meta employees that its products were addictive and harmful to its users," Bergman said in a statement.
Bergman is also representing Tammy Rodriguez, a woman who sued Meta and Snap in January over the companies' alleged roles in her 11-year-old daughter's suicide last summer.
Meta executives, including Mark Zuckerberg, have downplayed the platform's harmful effects on young users, citing data purporting to show that Instagram actually helps some users.
"Thirty-two percent of teen girls said that when they felt bad about their bodies, Instagram made them feel worse," researchers said in a March 2020 slide presentation posted to Facebook's internal message board.
"We make body image issues worse for one in three teen girls," another slide from 2019 said.
One presentation showed that among teens who reported suicidal thoughts, 13% of British users and 6% of American users traced the desire to kill themselves to Instagram.
Twitter Will Force Biden To Start From Zero on Official POTUS Account
Twitter is forcing President-elect Joe Biden to start off with zero followers on the official @POTUS account when he takes over the handle.
The decision reportedly frustrated Biden's transition team since the same policy was not in place for president Trump, who inherited Barack Obama's 14 million followers when he took office in 2017.
The 30 million users who are currently following the @POTUS account will instead be sent a notification asking if they want to follow once Biden is President. The same notification will also go to users who follow Biden or Vice President-elect Kamala Harris' personal accounts.
---
Twitter To Purge Followers From Official @POTUS Account
Twitter announced Thursday that when President-elect Joe Biden is inaugurated and takes control of the official @POTUS account, he will start off with zero followers.
Biden and his transition team are reportedly unhappy with the decision. The team claims that Twitter isn't showing Biden the same respect it showed President Donald Trump when he took office.
At the time of Trump's inauguration, the @POTUS account had 14 million followers from President Barack Obama's tenure that were transferred over.
Twitter didn't give a reason for this change in its official blog post laying out its transition plans. Instead, the platform only said, "As we did in 2017, Twitter is actively working with the US government to support the archival and transition of Twitter accounts across administrations."
"As President-elect Biden is sworn in on January 20, 2021, Twitter will facilitate the transfer of institutional White House Twitter accounts," it continued.
Every tweet on the accounts are both archived with the national archives, as well as @POTUS45, similar to how Obama's are kept under the handle @POTUS44 for everyone to see.
When Biden takes office, anyone currently following @POTUS will receive a notification asking if they would like to follow. The same notice will go to anyone following Biden or Vice President-elect Kamala Harris' personal accounts.
Counteracting the Purge
Members of Biden's transition team have pointed out that Twitter's decision is not only a new stance from the company, but also a novel stance in the industry.
Rob Flaherty, Digital Director for Biden, tweeted out his frustration over the situation, writing, "On inaug day: -FB is transferring @JoeBiden's followers over to POTUS. Snap is handing us @WhiteHouse. YT is giving us all of the @WhiteHouse Subs. Twitter is starting us at zero…but recommended the President of the United States tag other accounts to encourage growth."
President Trump's account currently boasts over 30 million followers. In an effort to ensure that Biden will have a similar reach on the platform, his transition team has created @PresElectBiden as well as @FLOTUSBiden and @SecondGentleman. Those accounts will be merged with their corresponding government accounts on the 20th.
Harris currently has an official government account, @SenKamalaHarris. That account, with all its followers, will be merged with the official account of the Vice-President.
Are You Being Tracked?! Huge E-Scooter Controversy Surrounding Location Privacy and Data Sharing…
---
eScooters have practically invaded big cities around the United States – and that has sparked plenty of strong opinions over how to regulate them. But what you might not know is that Los Angeles and dozens of other cities are tracking individual rides, which has big implications for user privacy. Autonomous vehicles, drones, and other futuristic transportation options might just depend on how these pesky scooters are regulated…