Smith Family Weighs in After Shane Dawson Apologizes for Racist Skits and Pedophilia Jokes
YouTuber Shane Dawson apologized in a video Friday for a long history of racist jokes and caricatures, as well as for jokes he made about pedophilia.
"I don't have hate in my heart for anyone, but it doesn't make up for the fact that I made jokes about everyone," he said.
Following the release of that video, Jada Pinkett Smith and her son Jaden offered strong rebukes of the YouTuber, who once pretended to masturbate to a poster of an 11-year-old Willow Smith.
---
Smiths Rebuke Shane Dawson's Apology
YouTuber Shane Dawson apologized Friday for a myriad of controversial remarks and actions over his 15-year career on the platform, but it seems like many weren't ready to accept it.
In fact, some people are now resurfacing even more offensive moments from his past. Not lost among the critics are mother and son duo Jada Pinkett Smith and Jaden Smith. Their rebuke of his apology is especially notable because in one clip, Dawson simulates a sexual act to a poster of an 11-year-old Willow Smith.
"To Shane Dawson … I'm done with the excuses," Jada Pinkett Smith said on Twitter.
"SHANE DAWSON I AM DISGUSTED BY YOU," her son wrote in all caps. "YOU SEXUALIZING AN 11 YEAR OLD GIRL WHO HAPPENS TO BE MY SISTER!!!!!! IS THE FURTHEST THING FROM FUNNY AND NOT OKAY IN THE SLIGHTEST BIT."
Prior to his apology, Dawson was already facing a number of different scandals, including allegations of him sexualizing other children such as his cousin, a fan, and even a baby. Aside from accusations of pedophilia or pedophilic behavior, Dawson is also facing intense backlash for racist moments, including his repeated use of blackface and his use of the n-word.
Over the weekend, Dawson's apology video—titled "Taking Accountability"—trended number one on YouTube. Since Friday, it's garnered over 10.6 million views. 
In it, Dawson begins by saying that he hates much of his past and that he's tried to remove himself from those situations by deleting old videos.
Dawson also noted that this isn't his first apology video. In fact, he issued an apology in 2014 for his use of blackface, and in 2018, he denied he was a pedophile after those rumors circulated following an edited clip where he joked that he found naked babies "sexy."
"Those apologies suck," he said of them. "I don't know who that person is anymore. Every apology video I've ever made has been from fear. It's me sitting at home thinking the whole world hates me, crying and hyperventilating and just turning on a webcam and just saying 'I'm sorry' and hoping people know I'm a good person and it'll go away, and that is stupid. That is something that a child does."
Dawson "Taking Accountability"
In his apology, Dawson first addressed his history of racism on YouTube, including a number of times where he played very stereotypical versions of Black, Asian, and Mexican people.
While he said he thought those skits were funny at the time of recording them, he said he now hates the person he was in the past.
"That person was filled with sadness, filled with anger about their own issues, in the closet, constantly projecting on others," he said. "Just like, I don't know, just that person is someone I don't like seeing. And I think that's why I've been avoiding this because I'm like, 'No, I've already apologized. I don't want to go back. I don't want to see it again."
Dawson then directly mentions his repeated use of blackface.
"I am so sorry," he said. "I am so sorry to anybody that saw that and that also saw that people were lifting me up and were saying, 'You're so funny, Shane. Oh my, God, you're so funny.' I can't even imagine what it would be like to be Black and to see this white fucking guy do blackface and the whole internet at that time being like, 'LOL.'" 
"I should lose everything for that," he continued. "I can tell you this. I don't have hate for any race or any people with weight issues or any of that, special needs. I don't have hate in my heart for anyone, but it doesn't make up for the fact that I made jokes about everyone."
Dawson also addressed his use of the n-word, saying that at the time he justified using it because he was playing a character and it was in the name of comedy. In multiple videos, Dawson can be heard saying the word, including instances where he uses a "hard r." In one video, he even coerces his young cousin to say the word.
Dawson admitted in the nearly 21-minute video that he should have never used the n-word, adding that he thinks he should have lost his career for saying the word.
He also addressed why he made yet another apology video, saying that his past apologies fell flat because he would take criticism as attacks on his character and would automatically jump on the "I'm not racist" card.
"And it's like, you know, 'Okay, but look what you're making, Shane,'" he said. "Like I don't know how I didn't see that. That is scary, and I'm sorry."
Dawson promised his viewers that he's changed since he made clips and videos like that, saying that he's educated himself and that he stopped using racial slurs years ago.
Dawson Addresses Pedophilia Accusations
Dawson continues the video by then addressing a 2013 podcast clip where he compares pedophilia to being a normal fetish and talks about finding naked babies "sexy." As Dawson has noted in the past, some of the clips circulating online omit lines where he says he is joking about those subjects.
"I shouldn't have been joking about it anyways, which is my problem. My fault," he said in rebuke of those jokes.
Shane also apologized for that video he made with his then 12- or 13-year-old cousin, where he talks about sexual acts around her in an inappropriate way. In that apology, he said he also apologized to her mother years ago.
"I can't believe I can't believe I talked to, you know, my cousin like that," he said. "And [my aunt] was like, 'Oh my, God, we know. We know. It's okay. It was funny, like we all thought it was funny, like that's just how our family is' So I kind of took it as, 'Well, I don't need to apologize for it,' but I do."
Dawson then went on to again talk about his personal life and a lot of the pain he saw in his childhood and with his family, saying that he was projecting that pain into wildly inappropriate jokes.
"I swear on my life, I am not somebody who would ever talk about a child, like in seriousness, I would never talk about a child in any way that was inappropriate," he said. "That is disgusting. That is gross. It is not something that I would ever do. It was something I did for shock value or because I thought it was funny or 'Oh my, God, I'm a child molester character.' Whatever. It's all gross, and I promise that is not real. That is not me."
Dawson Debunks Rumors About Orchestrating the James and Tati Fued
Toward the end of the video, Dawson denies speculation that he was some sort of mastermind behind last year's massive feud between Tati Westbrook and James Charles.
Dawson previously denied that accusation in a now-deleted Twitter post earlier this month. In that note, he seemed to justify the barrage of criticism against James Charles, saying the then 19-year-old influencer deserved a slice of "humble pie."
In fact, Dawson said he wrote that Twitter note after he started seeing narratives like that pop up and people pressuring him to respond. While he said he had tried to be funny in that note, he admitted that it came across very angry, notably because he said he was angry.
"So the part of the Twitter note that I regret more than anything in my life was the part where I said that James deserved a slice of humble pie the size of the Empire State building," Dawson said.
He also said he wanted to come at this situation with love and started by apologizing.
"I'm sorry, James," he said. "I'm really sorry. First of all, nobody deserves what happened. Nobody. The whole internet ganging-up on someone. Nobody deserved that. And who am I to say that somebody needs to be humble? Me? Like who am I to say that? I literally have put so much hate into the internet over my last 15 years of YouTube world."
He also addressed criticism that came after he said he was leaving the beauty community in that tweet. In his apology, he agrees that he was never really in it, as many have argued.
"So to know I hurt those people, who are problematic, and just love makeup, and who have been working their ass off for years, for me to shit on that, I am so sorry."
"I'm ready to own up to this stuff and to hopefully show you guys that it's okay to admit when you're wrong. It's okay to be upset at your past self for making mistakes. But also it's okay if people don't want to accept your apology or if people don't want to support you anymore, that's okay too."
Reaction to Dawson's Apology
Reaction to Dawson's apology has been mixed. Currently, about a third of the reactions on that video are dislikes.
In the comments, many criticized his apology, saying he was victimizing himself and using his past trauma to try to justify his actions.
"Depression and anxiety isn't a reason to sexualise children, Shane," a number of people repeated in separate comments.
On Twitter, hundreds of others shared this comment: "In Shane's apology, he keeps saying things like "I would never do that" "that's something I wouldn't do in my whole lifetime" that is not me" "I wasn't myself" when referencing things he ACTUALLY DID. He is not taking responsibility, he is removing himself from his past by creating two different Shane's."
Others, however, did strike more of a sympathetic tone.
"I'm honestly glad that he came out and apologized," one person said in the comments section of his video. "Some of the stuff he talked about ppl won't forgive him for, and that's ok. I'm just glad he apologized."
"Accepting his apology IS NOT excusing his actions," another person said. "Some people need to realise this."
Still, many others said Dawson would need to take even further action before he could find forgiveness.
"I think you're trying to 'do the right thing' and honestly I'll never say it's too late but dude you can't continue to call yourself Jeffree Star's friend and be on the right side of all this drama, please understand that," one person said.
Marvel Stars Slammed for Defending Chris Pratt But Not Women or Actors of Color
Twitter users have dubbed actor Chris Pratt their least favorite Chris in Hollywood, with many doing so because they believe he supports President Donald Trump or is at least a conservative.
Some critics said that he attends an anti-LGBTQ church, follows right-wing figures on social media, and did not join his Marvel castmates in a fundraiser for Joe Biden's presidential campaign, among other controversies.
However, Pratt has never explicitly shown support for Trump and has previously said he doesn't feel represented by either of the major political parties.
Marvel figures like Mark Ruffalo, Robert Downey Jr, Zoe Saldana, and James Gunn each expressed support for Pratt online. That then prompted backlash from fans who asked why similar support was not shown to women and people of color like Brie Larson, Zendaya, Anthony Mackie, and others who faced sexist or racist harassment online after joining the MCU.
---
Internet Picks Their Least Favorite Chris in Hollywood
Members of the Marvel Cinematic Universe are facing backlash for how quickly they jumped to defend actor Chris Pratt after internet users dubbed him Hollywood's worst Chris.
Pratt's name has trended on Twitter several times since Saturday when one user asked people to pick a famous Chris to get rid of and many selected him.
While some admittedly just don't like his acting, many actually chose him because they believe he's a supporter of President Donald Trump.
Is He Actually a Trump Supporter?
However, his political views are not exactly clear, though many believe that he is at the very least a conservative.
Several people pointed out that he was notably not on the list of Avengers stars who hosted a virtual fundraiser to support Joe Biden. That event featured the likes of Don Cheadle, Chris Evans, Scarlett Johansson, Paul Rudd, Mark Ruffalo, Robert Downey Jr, and Zoe Saldana.
Other people said Pratt supports an anti-LGBTQ church.
That claim actually picked up last year when actress Ellen Page famously accused Hillsong Church in Los Angeles of being anti-LGBTQ.
The backlash later prompted Pratt to call the claim "absolutely untrue" and say that his church "opens their doors to absolutely everyone."
"My faith is important to me but no church defines me or my life, and I am not a spokesman for any church or group of people," he added.
Some also looked at who he follows on social media, suggesting it proves he has right-wing views.
Then there was that whole controversy surrounding a shirt he wore last year featuring the Gadsen flag, which has a coiled snake and the text "Don't Tread On Me."
That flag was created by American general Christopher Gadsden during the Revolutionary war but it has developed more political connotations in recent years.
According to Dictionary.com: "In the 2000s, the phrase became associated with a variety of libertarian, conservative, gun-rights, or far-right political groups as way to express their beliefs."
Others pointed to a recent controversy he had when instead of urging people to vote in the upcoming election, he posted a joke about voting for "Onward" to win at the People's Choice Awards. Many interpreted this as him mocking celebrities who are using their platforms to promoting voting. Others said he was downplaying the seriousness of the election.
However, on the other side of this, CNN reported that he donated money to Democrat and former President Barack Obama's campaign back in 2012.
On top of that, others looked to his wife Katherine Schwarzenegger-Pratt, daughter of the former Republican Governor of California Arnold Schwarzenegger.
She has notably shown support for Biden, but it's unclear if her husband shares the same views.
Still, he is also on record saying he doesn't support either political party.
In 2017, he told Men's Fitness, "I don't feel represented by either side."
"I really feel there's common ground out there that's missed because we focus on the things that separate us."
Basically, there's really not enough evidence to say that Pratt is a Trump supporter, but he hasn't come out to confirm or deny it either way.
Avengers Assemble to Defend Pratt
Even so, the internet eventually turned their dislike for Pratt into somewhat of a meme.
Many are making jokes at his expense and generally referring to him as the worst Chris.
All of this backlash eventually prompted a number of his Marvel costars to come out and defend him.
Mark Ruffalo, for instance, said Prat is "as solid a man there is."
"I know him personally, and instead of casting aspersions, look at how he lives his life. He is just not overtly political as a rule. This is a distraction. Let's keep our eyes on the prize, friends. We are so close now."
Guardians of the Galaxy director James Gunn said Pratt, "is the best dude in the world. I've spent hours & hours sharing my deepest truths with this man, as he has with me. Please stop assuming what he believes, politically or in any other way, because he's a Christian."
Zoe Saldana followed up with a Tupac quote, "No matter how hard it gets, stick your chest out, keep your head up and handle it.
"You got this @prattprattpratt," she added. "Your family, friends, colleagues & everyone who's ever crossed paths with you knows your heart and your worth!"
Even Robert Downey Jr. shared a photo with Pratt on Instagram.
"What a world," he wrote in the post caption. "The "sinless" are casting stones at my #brother, Chris Pratt… A real #Christian who lives by #principle, has never demonstrated anything but #positivity and #gratitude… AND he just married iznto a family that makes space for civil discourse and (just plain fact) INSISTS on service as the highest value."
"If you take issue with Chris, I've got a novel idea. Delete your social media accounts, sit with your OWN defects of #character, work on THEM, then celebrate your humanness… @prattprattpratt I #gotyerbackbackback"
Internet Users Accuse MCU Stars of Hypocrisy
Of course, many on the internet took issue with that swift display of support, especially since some women and actors of color in the MCU were met with silence from many of their costars when they faced bullying or harassment online.
For instance, some noted that Brie Larson faced a ton of harassment last year when she advocated for diversity in Hollywood.
She was regularly hit with a ton of sexist remarks at the time and "Captain Marvel" was flooded with negative reviews on Rotten Tomatoes before the film was even released.
Others said stars like Anthony Mackie, Tessa Thompson, Zendaya, and more actors of color have endured bullying, racist remarks, and even death threats without the same quick support Pratt received.
where was this energy for zendaya? brie larson? don cheadle? chadwick boseman? & anthony mackie? tessa thompson? when they were actually being harassed

— wasteland, baby! (@ughhmedusa) October 21, 2020
Pratt has not comments on any of the backlash as of Wednesday afternoon.
Fans Defend Billie Eilish From Body Shamers After Paparazzi Photo Goes Viral
Billie Eilish was recently photographed wearing a tight tank top and jogger shorts, a departure from the usual baggy clothes she wears in an active effort to prevent people from commenting on her body.
However, tabloids quickly spread this photo around and people ended up body shaming her on Twitter.
Fans came to her defense, saying people should not critique anyone's body or hold them to unrealistic standards. Some also pointed out that the world in general needs to normalize the fact that most people do not look like models.
Billie posted a TikTok on her Instagram expressing a similar point of view. The TikTok was made by Chizi Duru, who said: "Y'all gotta start normalizing real bodies…Guts are normal…Instagram isn't real."
---
Billie Eilish Gets Body Shamed
Billie Eilish fans are calling out body shamers who made comments about the singer after she was photographed wearing non-baggy clothing.
Eilish was essentially wearing the unofficial outfit of quarantine, a fitted tan tank top and comfy jogger shorts, while out and about in Los Angeles on Sunday.
While most people get away with wearing something like that every day, the young Grammy winner was met with a tabloid frenzy. Eilish has become known for wearing baggy clothes and has even said she wears looser outfits intentionally to prevent people from making unprovoked comments about her body.
Photos of her in the relaxed attire went viral and made headlines, with gossip magazines quick to gawk at the pictures. Body shamers soon followed with their remarks. One Twitter user said she had a "mid-30s wine mom body."
Fans Slam Body Shamers
Elish's fans quickly ran to her defense, slamming those who body shamed the 18-year-old.
"There is nothing greater in this world than billie eilish being confident in her body," one Twitter user wrote.
"To anyone who is body shaming Billie Eilish please stop putting unrealistic beauty standards on women," another fan said. "She doesn't deserve that and no one else deserves that either."
Many also pointed out the fact that offensive and uncalled for comments like that are what stop the young singer from usually wearing fitted clothing.
Others called out tabloids for making a big story out of her wearing a normal casual outfit to begin with.
Billie Eilish Responds Responds
Eilish eventually issued an indirect response on her Instagram Story Tuesday night by sharing a TikTok from influencer Chizi Duru.
"Y'all gotta start normalizing real bodies, okay. Not everyone has a wagon behind them, okay," Duru says in the video. "Guts are normal. They're normal. Boobs sag, especially after breastfeeding. Instagram isn't real."
Eilish also posted a video of her walking past her Grammy awards, which many thought was a subtle clapback to body shamers.
This is not the first time she has addressed body shaming and other remarks made around her appearance and wardrobe. During some of her concerts, Eilish has played a short video where she recites a spoken word poem about her experiences with her body image and the media.
"Some people hate what I wear. Some people praise it," she says in the video. "Some people use it to shame others. Some people use it to shame me."
"The body I was born with is it not what you wanted? If I wear what is comfortable I am not a woman," she continues. "If I shed the layers I'm a slut. Though you've never seen my body, you still judge it and judge me for it. Why?"
Some also shared this video as a reminder that body-shaming Eilish or anyone else is not okay. Her fans specifically pointed out that Eilish has been dealing with these kinds of issues for a long time and should not be subject to these repeated attacks.
BTS Faces Backlash in China Over RM's Korean War Comments
Kim Nam-Joon, the head of the K-pop group BTS who is better known as RM, made comments during the Korea Society's 2020 Annual Gala that prompted a boycott against the band in China.
Kim emphasized the role both the U.S. and South Korea played in the Korean War, saying, "We will always remember the history of pain that our two nations shared together and the sacrifices of countless men and women."
Chinese fans said the comments were insensitive and didn't acknowledge the 200,000 Chinese who died fighting against South Korea during the war.
Companies like Samsung and Hyundai have distanced themselves from the group in China, removing them from branding.
---
What Was Said?
The K-pop sensation BTS has found themselves facing boycott calls in China after group leader Kim Nam-joon, better known as RM, made what Chinese fans are calling insensitive comments.
The remarks causing outrage were made during the Korea Society's 2020 Annual Gala earlier this month while the band was accepting the Van Fleet award.
"We are very honored to receive the Van Fleet Award, presented to those who have made outstanding contributions to the promotion of the relationships between Korea and the United States," RM said at the ceremony.
"The Korea Society's 2020 Annual Gala is especially meaningful, as this year marks the 70th anniversary of the Korean War," he continued before adding, "We will always remember the history of pain that our two nations shared together and the sacrifices of countless men and women."

Backlash and Boycott Calls Emerge
It may be unclear to Western audiences why those remarks were viewed as so inflammatory. The Korea Society is a U.S.-based non-profit that promotes the relationship between South Korea and the U.S., so it's not surprising that BTS would make a comment like that given the event.
However, on Sunday, the clip went viral and reached #3 trending on Weibo, a Chinese website similar to Twitter, where people were clearly upset. The issue, in particular, was the fact that 200,000 Chinese "volunteers" died fighting for North Korea during the war.
Users on the platform wrote things like, "Nearly 200,000 Chinese troops died in the war. Every Chinese person must remember this number."
Meanwhile, others equated being a fan of BTS to betraying one's Chinese nationality. "If you still fan them, get out and change your nationality! There is nothing wrong with liking Korean idols, but if your idols insult your country, if you continue to fan, then you are not worthy of being a Chinese!" One user wrote on Weibo.
Many users wanted BTS to consider Chinese losses during the war, despite the fact that China fought against South Korea and saved its long-time nemesis North Korea during the conflict, directly leading to the 70-year cease-fire and today's current political climate in the region.
On top of this, Chinese fans were critical of BTS seemingly playing favorites with Americans, with one writing, "Chinese fans give you so much money each year, and you turn around and give it to the United States. What are Chinese fans then?"
Most notably, there were call for boycotts. One user asked, "when will NetEase Cloud Music will remove the song of the anti-Chinese boy group BTS?"
State-run papers also waded into the drama. The hyper-nationalistic Global Times the headline: "BTS hurts feelings of Chinese netizens and fans during speech on the Korean War." That same piece played up the controversy by calling RM's comments "a one-sided attitude."
Korean Companies Step back
The backlash was so large that Korean companies began to distance themselves from the group. Companies like Samsung pulled a BTS-branded smartphone and earbuds from its stores and Chinese website, while Hyundai Motor also removed any BTS branding from its Chinese ads.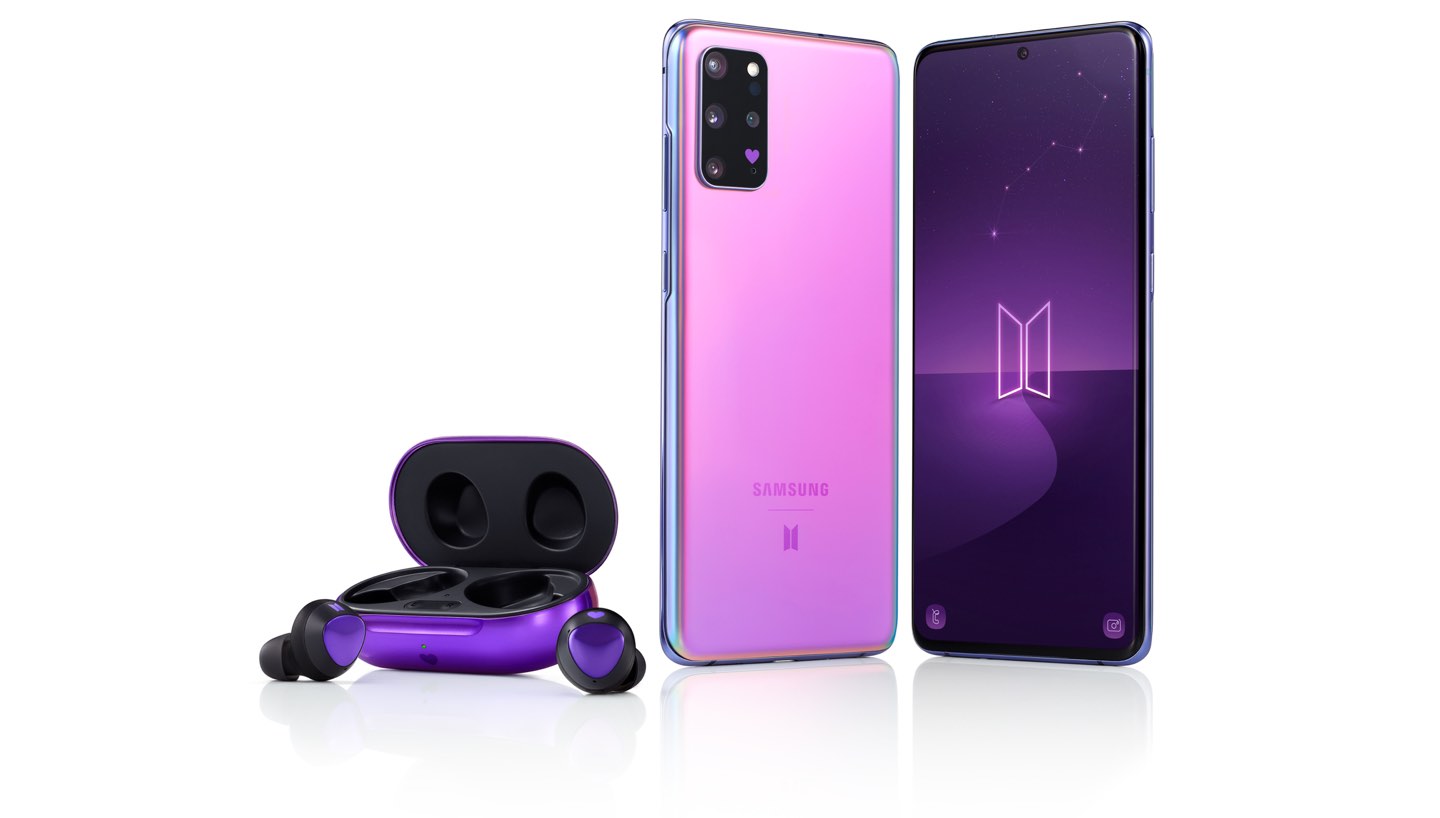 Together those companies make up around 22% of South Korea's GDP.
In the past U.S.-Korea relations have led to a major backlash with China, like in 2017 when the U.S. and Korea agreed to put THAAD missiles in Korea. The backlash led to an economic downturn in Korea after China started boycotting and banning certain activities with Korea. Tensions eventually cooled and economic trade returned to normal.
It's unclear if the Chinese government will officially respond in a similar manner to the 2017 THAAD controversy. When asked about the new controversy on Monday, Foreign Ministry spokesperson Zhao Lijian only said, "I have noted relevant reports as well as the reactions from the Chinese people online. I want to say that we all should learn lessons from history and look forward to the future, hold dear peace and strengthen friendship."
Experts like John Delury, a Chinese studies professor at Yonsei University – one of the major universities in Korea, told The Washington Post that the Global Times seems to have had a role in whipping up anger.
Even if that was the case, the controversy has already had a real-world impact since removing BTS branding in China will likely hurt the band's image in that market.