Russian Bounties on U.S. Troops Resulted in Deaths, Officials Say. Here's What You Need to Know
The New York Times reported Friday that U.S. intelligence officials concluded a Russian intelligence unit had offered Taliban-linked militants money to kill coalition forces in Afghanistan— including U.S. troops.
Numerous outlets confirmed the report, and on Sunday, the Washington Post reported that officials said the bounties had resulted in the deaths of American troops.
Despite officials claiming Trump was briefed on the matter in March, the Trump administration has denied that the president knew of the report, though they have not disputed its validity.
Trump himself denied being briefed on Sunday, and later tweeted, "Intel just reported to me that they did not find this info credible, and therefore did not report it to me." He also claimed it was "possibly another fabricated Russia Hoax."
---
Russia Bounties on U.S. Troops
U.S. intelligence officials believe that Russian bounties offered to Taliban-linked groups to kill Western forces in Afghanistan resulted in the deaths of U.S. troops, the Washington Post reported Sunday. The information adds to the alarming allegations first published by the New York Times on Friday.
According to the Times report, which has now been confirmed by multiple outlets, U.S. intelligence officials concluded a Russian military intelligence unit had secretly offered Taliban-linked groups money to kill Western forces in Afghanistan, including U.S. troops.
Officials also told the Times that President Donald Trump had been briefed on the intelligence finding and that the White House's National Security Council had discussed it at an interagency meeting in late March.
In response, U.S. officials came up with a number of potential options, including making a diplomatic complaint to Russia demanding that it stop as well as "an escalating series of sanctions and other possible responses."
Officials who spoke to the Times said that the White House has yet to authorize any step. They also said that the intelligence "had been treated as a closely held secret" but that the Trump administration expanded the briefings about it this week and had shared the information with the British government, whose forces they said had also been targeted.
British security officials who spoke to Sky News and a European intelligence official that spoke to CNN also confirmed that the plot outlined in the reports was true.
It is unclear how many American service members were killed by militants being paid bounties by Russians, officials told the Post Sunday, noting that the information had been passed up from the U.S. Special Operations forces in Afghanistan.
Later on Sunday, the Times reported that those forces, along with U.S. intelligence officers, had told their superiors about the Russian bounties as early as January. Two officials also confirmed that they believed at least one U.S. troop had been killed as a result of the bounties.
The Times also reported that the information that led military and intelligence officials to focus on the bounties included a raid on a Taliban outpost that found a large amount of American cash.
Broader Implications
Officials told both the Times and the Post interrogations of captured militants played an important role in giving the intelligence community confidence in its assessment. Officials, however, are still uncertain as to why Russia would act in such a way.
According to the Times, some officials have said that the Russians might be trying to get revenge for a battle in Syria in 2018, where U.S. military forces killed several hundred pro-Syrian forces— including Russian mercenaries— after they began advancing on an American outpost.
Others have said that the Russians might be trying to derail the peace talks between the U.S. and the Taliban to keep the U.S. weighed down in Afghanistan. But at the same time, many officials have speculated how far up in the Russian government this alleged operation goes.
Those briefed on the matter have said that the U.S. government had pinned the operation to a specific unit of Russia's military intelligence agency, commonly known as the G.R.U.
Per the Times, Western intelligence officials have said the unit "has been charged by the Kremlin with carrying out a campaign to destabilize the West through subversion, sabotage and assassination."
More specifically, that unit was also linked to a very high-profile international incident in England in 2018, where a former G.R.U officer who had worked with British intelligence and his daughter were poisoned by a nerve agent.
The G.R.U itself as an organization also has a more recent history of trouble with the U.S. American intelligence officials have said that the G.R.U. was at the heart of Moscow's efforts to interfere in the 2016 presidential election and that two G.R.U. cyberunits were behind the Democratic Party hacks which lead to the 2016 DNC email leaks by WikiLeaks.
Regardless of why the G.R.U. would put bounties on American troops, if this intelligence is true, it would be incredibly significant for a number of reasons.
First of all, according to the Times, it would mark the first time G.R.U is known to have led attacks on Western troops, but it would also represent a serious escalation between the U.S. and both the Taliban and Russia.
In February, the U.S. struck a peace agreement with the Taliban, and since then, they have not attacked U.S. positions. While both U.S. and Afghan officials have accused Russia of supplying small arms to the Taliban, recently, U.S. officials have said that Russia has been cooperative and helpful since that deal was signed.
Responses from Trump Administration
Russia and the Taliban have both denied the existence of the bounties program, and the Russian Embassy in Washington called the Times report "fake news" in a tweet on Saturday.
The U.S. response thus far has been a mix of refutations and refusals to respond.
The CIA and both the Defense and State departments have declined to give comments to the media, and when asked to give a comment, a spokesperson for the National Security Council said that "the veracity of the underlying allegations continue to be evaluated."
On Saturday, both Press Secretary Kayleigh McEnany and Director of National Intelligence John Ratcliffe denied that Trump had ever been briefed on the matter, though neither disputed the substance of the intelligence assessment itself.
President Trump himself echoed those remarks in a tweet on Sunday.
"Nobody briefed or told me, @VP Pence, or Chief of Staff @MarkMeadows about the so-called attacks on our troops in Afghanistan by Russians, as reported through an 'anonymous source' by the Fake News @nytimes. Everybody is denying it & there have not been many attacks on us," he wrote.
Like the other members of his administration, Trump also did not say anything about whether or not the report was true.
Additionally, multiple current and formal intelligence officials have said that it is unlikely Trump would not be informed of such a significant accusation. As a result, there has been a lot of speculation over the argument that Trump was not briefed, and whether or not the White House is basing that claim on a technicality.
"Intelligence experts suggested that the White House defense appeared to be largely a semantic one, perhaps resting on the material being included in the written daily intelligence brief that the president is known to avoid reading, rather than presented to him orally," the Los Angeles Times reported Sunday.
There is some evidence to support this. For example, at least one official told the New York Times that the report was included in that daily intelligence brief, called the Presidential Daily Briefing (PDB).
When pressed by reporters on Monday as to whether the information was included in the PDB, McEnany only said Trump "was not personally briefed,"— a response that some have said seems to back up the idea that nobody told Trump about it orally, but does not rule out the fact that it could have been given to him in the form of a report he did not read.
Pressure from Congress
Over the weekend and into Monday, both Democrats and Republicans called on Trump to address the situation.
Many Democrats condemned the president for not doing anything and being indifferent, like Sen. Elizabeth Warren (D-MA), who said in a tweet that Trump was "doing absolutely nothing while a Russian spy unit pays the Taliban to kill US soldiers is a profound betrayal of our troops."
Meanwhile, House Speaker Nancy Pelosi (D-CA) and presumptive Democratic nominee Joe Biden took their accusations a step further.
"Not only has he failed to sanction or impose any kind of consequences on Russia for this egregious violation of international law, Donald Trump has continued his embarrassing campaign of deference and debasing himself before Vladimir Putin," Biden said during a virtual town hall event Saturday.
"His entire presidency has been a gift to Putin, but this is beyond the pale," he continued. "It's a betrayal of the most sacred duty we bear as a nation, to protect and equip our troops when we send them into harm's way."
Pelosi, for her part, made similar remarks in an interview on "This Week" Sunday, where she accused Trump of wanting "to ignore" any charges against Russia.
"This is totally outrageous," she said. "You would think that the minute the president heard of it, he would want to know more instead of denying that he knew anything."
"This is as bad as it gets, and yet the president will not confront the Russians on this score, denies being briefed," she added. "Whether he is or not, his administration knows, and some of our allies who work with us in Afghanistan have been briefed and accept this report."
Pelosi also argued that if Trump had not been briefed, the country should be concerned that his administration was scared to share information regarding Russia with him.
A number of Republicans also pressured Trump to give a better explanation.
"If reporting about Russian bounties on US forces is true, the White House must explain: 1. Why weren't the president or vice president briefed? Was the info in the [Presidential Daily Briefing]? 2. Who did know and when? 3. What has been done in response to protect our forces & hold Putin accountable?" Rep. Liz Cheney (R-WY) tweeted Sunday .
Sen. Lindsey Graham (R-KY), a close ally of President Trump, also pressed the question in a series of tweets.
Trump, for his part, responded to Graham's tweet late Sunday night.
"Intel just reported to me that they did not find this info credible, and therefore did not report it to me or @VP," he wrote. "Possibly another fabricated Russia Hoax, maybe by the Fake News @nytimesbooks, wanting to make Republicans look bad!!!"
On Monday morning, Press Secretary McEnany also seemed to echo that while speaking to Fox News, and claiming that the media reports have been based on "alleged intelligence that was never briefed to the president of the United States,"
She said that as a matter of practice, Trump is only briefed on intelligence that's found to be "verifiable and credible," though she also said that there was "no consensus" about the validity of the report within the intelligence community, which includes "dissenting opinions."
See what others are saying: (CNN) (NPR) (Politico)
Thousands of Nigerians Continue to Protest for Widespread Police Reforms Following SARS Disbandment
Nigerians are protesting against human rights abuses carried out by the Special Anti-Robbery Squad, a police unit commonly known as SARS.
The police unit has been caught on video multiple times shooting, torturing, extorting, beating, robbing, and kidnapping Nigerians.
A video of a SARS officer shooting a young man while confiscating the man's Lexus on October 3 sparked outrage across the West African nation, leading to protests since October 8.
Since then, the government has agreed to some demands and disbanded the unit for the fourth time, only to replace it with a SWAT unit.
Still, Nigerians continue to protest, demanding wide-scale police reforms.
---
SARS Accused of Major Human Rights Abuses
Nigeria has been rocked by ongoing protests over police brutality stemming from the long time corruption and abuse by the Special Anti-Robbery Squad.
The squad, better known as SARS, has long been embroiled in controversy for engaging in torture, mock executions, robbery, extortion, kidnapping, harassment, and murder. For many Nigerians, the unit is just the worst example of many of the abuses that Nigerian police engage in and is part of a systemic problem.
The most recent anger was sparked by a video that went viral on October 3, which shows a SARS officer was seen shooting a young man in front of a hotel while taking away his Lexus SUV. Adding to the collective anger was news that the phone used to record the incident was quickly confiscated by SARS officers after the video went live.
Following days of simmering, the tensions boiled over on October 8, after activists and social media called for wide-scale protests to demand SARS be disbanded. Like many recent protests worldwide, the message was quickly spread and amplified with the help of social media, prompting tens of thousands of people across Nigeria to take to the streets and make #endSARS trend online.
Wide-Scale Protests Across Nigeria
Since October 8, the ongoing protests have been mainly peaceful, although there have been incidents of police interfering with heavy-handed tactics. Online, hundreds of videos can be found of police using water cannons and tear gas to disperse crowds. Others show them wildly shooting into crowds of protesters.
However, these actions often have the opposite of their intended effect and draw out more protesters daily. Additionally, the videos of violent police tactics amplify the message worldwide, especially as members of the Nigerian diaspora push the topic online.
Nigerian actor John Boyega has actively supported the movement on Twitter, calling out Nigerian police corruption. Similarly, Nigerian rapper Burna Boy made serious efforts to spread information about the protests to his global audience.
On October 10, he made a statement, promising to help fund any protester who is harmed and/or arrested by police during demonstrations. He also asked for donations to that fund and promised to make sure people are educated about the situation. To that end, he has been funding billboards with #ENDSARS and relevant information across the United Kingdom.

In North America, multiple artists have come out in support of the cause. Rapper Kanye West tweeted out, "I stand with my Nigerian brothers and sisters to end police brutality, the government must answer to the peoples cries #EndPoliceBrutalityinNigeria"
Meanwhile, fellow artist Drake highlighted a post about the situation on his Instagram story.
SARS Out, SWAT In
As the protests continued, the message and movement evolved. On Sunday, a list of demands began to be circulated on social media.
Beyond wanting SARS disbanded, the demands called for anyone arrested during the protests to be released. It also called for compensation for those killed by police brutality in Nigeria.
It's unknown exactly how many have died as a result of the protests, but Human Rights Watch estimates that upwards of 10 people have been killed by police while protesting.
Demonstrators are also calling for an independent body be set up within 10 days to investigate and prosecute all reports of police misconduct, as well as psychological evaluations and retraining of SARS operatives before they were moved to other units.
Additionally, protesters want to ensure that Nigerian police are adequately paid, so they're less willing to engage in corruption.
Protesters got a major victory on Sunday when the government announced that SARS would be disbanding and there would be investigations into the conduct of the officers. Until those investigations were complete, SARS officers would be placed into other units after a psychological evaluation, in line with protester demands.

However, for many protesters, this wasn't enough. They want widespread police reforms, especially because disbanding SARS isn't a new thing.
This will be the fourth time the unit has been disbanded, and each time it's brought back, it faces the same accusations. It's widely believed that the unit isn't the problem and instead blame the mindset within Nigerian police that allows a unit like SARS to be so brutal and corrupt.
It wasn't until Tuesday that police finally agreed to stop using force against protesters. At the same time, President Muhammadu Buhari gave a speech where he promised that widespread police reforms would come.
"I want to use this opportunity to address the recent genuine concerns and agitations by Nigerians about the excessive use of force, and in some cases extrajudicial killings and wrongful conduct, by men of the Nigerian police force," he said.
"The disbanding of SARS is only the first step in our commitment to extensive police reform in order to ensure the primary of the police and other law enforcement agencies remain the protection of lives." and added, "We will also ensure that all those responsible for misconduct or wrongful acts are brought to justice."
Many Nigerians were bitterly disappointed when it was announced that SARS would be replaced with a group known as Special Weapons Assault Team, or SWAT.

With that, protests continued into Wednesday, and demands have been expanded to call for more fundamental changes to the police system. The calls are similar to ones made against police in countries like the U.S. and U.K. following the death of George Floyd, Breonna Taylor, and others.
Cardi B and Los Angeles Times Face Backlash for Perceived Stances on Armenia and Azerbaijan Conflict
Estimates say that the ongoing conflict between Armenia and Azerbaijani in Nagorno-Karabakh has resulted in more than 1,000 military deaths, on top of dozens of civilian deaths on both sides.
It has also hyper-polarized online communities, causing both celebrities and new outlets to become bombarded with backlash for their perceived stances on the situation.
Rapper Cardi B, for instance, shared a fundraiser for Armenia on her Instagram Story at the request of a business associate and quickly removed it after facing outrage from Azeri internet users.
The artist later admitted she didn't do enough research on the topic before appearing to take a side and only wants peace.
The Los Angeles Times faced similar backlash, but from Armenian activists, after posting an article that featured a quote from an Azeri diplomat.
---
Nagorno-Karabakh Conflict Goes Online
Rapper Cardi B and The Los Angeles Times have each found themselves in hot water after receiving backlash from Azeri and Armenian groups over tweets and articles published over the last two days.
On Monday, The Times ran an article about the ongoing conflict between Azerbaijan and Armenia and its efforts to help the breakaway region of the Republic of Artsakh.
Armenians felt the article was so poorly done that hundreds showed up at the paper's El Segundo headquarters on Tuesday to protest. The group blocked access to the nearby Imperial Highway and adjacent streets, shouting "Shame on the LA Times."
However, many took issue with the fact that it also included a quote from the Consul General of Los Angeles, who provided an unsubstantiated claim.
"The racist and white supremacist propaganda promoted by Armenia and their allies, with which they intend to cash in on the already divisive environment and Islamophobic prejudices, must be condemned by everyone who believe that such dangerous bigotry and intolerance have no place in Europe, U.S. or anywhere else." The Consul general told the Los Angeles Times
Armenian activists claim that including the quote without any pushback was irresponsible and was spreading disinformation.
The ongoing conflict has proven to be hyper-polarizing for all sides involved, and given that Los Angeles has one of the largest Armenian populations in the world, many felt such a strong local reaction was not unsurprising. To give context, there is only one city in the world with a larger Armenian population that the LA-metro area: Yerevan, the capital of Armenia.
Worldwide there have been mass protests from the Armenian diaspora. On Wednesday, Brussels had hundreds of protesters outside of E.U. government buildings chanting "Hayastan!"- the Armenian word for Armenia.
"Just Want Peace"
It's not just Armenians pushing back online. On Monday, Cardi B shared an Armenian fundraiser on her Instagram Story and it turned into a nightmare for the artist. The fundraiser is run by the Armenian government and uses the funds for various projects in Artsakh.
Turkish and Azeri users online pushed back at the artist for appearing to support the Armenian side of the conflict. In fact, some argued that by promoting that fundraiser, Cardi B was supporting terrorism.
By Tuesday morning, she took down the post and issued an apology on Twitter. She explained that she shared the fundraiser as a favor to her Armenian real-estate consultant after a quick conversation.
"He's saying there's a lot of terrible genocides going on in his country," she wrote. "And he says, 'Can you please post something for a cause, a good cause for Armenia?'"
"And we said, 'sure, why not?' you know? We love to support everybody. And I wake up and I see a lot of people from Azerbaijan is writing me things, writing me stuff, and I did not know that this is a war between two countries."
The rapper went on to talk about her positive experience in Armenia but tried to distance herself from the situation by adding that both countries seem to be filled with history and are interesting.
"I did a little bit of research today since you guys left me so much [comments]. My wish is that both the countries would just be at peace. Know what I'm saying?" She added. "There's no little land. You guys already have big pieces of land. There is no little tiny land that is worth chaos death fighting, especially in this year."
She also responded to a user who was trying to push the hashtag #CardiBSupportsTerrorism, writing, "Stfu I don't support terrorism.I literally posted it for my friend with out doing no research on what's going on .Im sorry about that .I don't like war .I don't like conflicts between two countries period cause I hate innocent people being affected by it."
Fighting On the Ground Continues
In Nagorno-Karabakh, fighting has continued since September 27. Over the past week, Azerbaijan claims to have captured some towns in the south of the region. If true, this marks a pretty significant advancement into the territory for Azeri troops.
While the fighting has escalated, so have the casualties, though exact numbers are hard to determine on both sides. Neither Armenia nor Azerbaijan are reporting how many military deaths have occurred since fighting began. Only the breakaway Republic of Artsakh has given any numbers, claiming it has lost 280 soldiers since the fighting began.
Total military deaths are thought to be over a thousand currently.
Even though the combatants are slow to reveal military casualties, they are more open about civilian deaths. Azerbaijan has hit multiple cities in Artsakh with missiles and drone strikes, leading to reportedly over two dozen civilian deaths.
On the other side, Armenian forces are accused of targeting Azeri cities like Ganja with their own attacks, leading to about a dozen deaths.
Brutal Fighting Continues Between Azerbaijan and Armenia Over Breakaway Region
On Sunday fighting broke out between Azerbaijan and Armenia, who is supporting the breakaway Republic of Artsakh in the Nagorno-Karabakh region.
The territory, known as Artsakh to Armenians, is internationally recognized as part of Azerbaijan but has a majority ethnic-Armenian government.
The region is recognized by all United Nations members as being part of Azerbaijan, although Armenia's long-standing support of the breakaway Republic of Artsakh has consistently escalated tensions.
Turkey promised to support Azerbaijan, while other nations around the world have asked for de-escalation.
---
Nagorno-Karabakh or Artsakh?
Long-standing tensions between Armenia, the de-facto independent Republic of Artsakh, and Azerbaijan erupted into fighting Sunday in the highly contested region of Nagorno-Karabakh.
The region is known as Artsakh to ethnic Armenians.
Sunday's fighting broke out across the entire Line of Contact, which is a network of military fortifications that separate forces in the region. The region's capital, Stepanakert, has also been subject to military actions such as shelling and drone strikes.
In addition to fighting on the ground, the conflict has played out online as well. Shortly after fighting began, Hikmet Hajiyev, the head of the Foreign Policy Affairs Department in Azerbaijan, accused Armenia of starting the fighting, saying that on Sunday, the armed forces of Armenia"blatantly violated the ceasefire regime and, using large-caliber weapons, mortar launchers and artillery have launched an intensive attack on the position of the armed forces of Azerbaijan along the frontline."
"The armed forces of the Republic of Azerbaijan are undertaking necessary counter-offensive measures to prevent Armenia's another military aggression and ensure the security of the civilian population," he added. "The responsibility for the present situation and future developments lie squarely with Armenia's political-military leadership."
However, subsequent statements from President Ilham Aliyev suggest that the entire conflict is part of an effort to "retake" the region.
On the Armenian side, Prime Minister, Nikol Pashinyan, tweeted out, "Azerbaijan has launched a missile & aerial attack against #Artsakh. Peaceful settlements including Stepanakert have been attacked."
"Armenian side has shot down 2 helicopters & 3 UAVs, destroyed 3 tanks. We stay strong next to our army to protect our motherland from Azeri invasion."
Initially, there was some skepticism that the fighting escalated to such a point that large munitions were being used on targets, but as the weeks progressed, more footage and images from the fighting show that tanks, aircraft, drones, and artillery have all been deployed.
Fighting, From Bad to Worse
Both sides have announced military and civilian deaths. Armenia claims over 100 military personnel and 23 civilians have died. The Armenian Ministry of Defense added that 230 Azeri soldiers have been killed.
Azerbaijan defense officials claimed on Wednesday to have killed thousands of Armenian and Artsakh troops and to have "destroyed 130 tanks, 200 artillery units, 25 anti-aircraft units, five ammunition depots, 50 anti-tank units, 55 military vehicles."
The conflict seems to have escalated beyond the disputed region itself, with evidence that Azerbaijan has used drones to strike targets within Armenia.
Beyond direct military actions, each government has drawn up more troops. On Sunday, Armenia declared martial law and called for a general mobilization. That same day, the Republic of Artsakh announced all able-bodied men would be drawn into service, while Azerbaijan declared a partial-mobilization.
2020 has seen tensions in the region drastically escalate. Earlier in the year during fighting that broke out in July, 14 people died, including two senior Armenian officers who were killed in a drone strike.
Longstanding, Divisive History
There has been long-standing conflicts over Nagorno-Karabakh. For thousands of years, Armenians have been the ethnic-majority in the mountainous region. During it's various stints as part of other empires, the area was normally ruled by Armenian princes, or outside rulers from occupying powers.
In the 1800's, both Armenia and Azerbaijan became part of the Russian Empire, where Nagorno-Karabakh was administered in the same zone as Azerbaijan and other Caucus territories, while Armenia was administered as its own polity. When the empire dissolved during World War I, both nations gained their independence and promptly went to war over who controls Nagorno-Karabakh.
During that war, the Soviets took over both nations and made forcefully brokered a peace that eventually saw Stalin putting the region under the administrative control of the Azerbaijan Soviet Republic, despite its Armenian majority.
For many Armenians, especially those living in the Nagorno-Karabakh, this was unacceptable and the catalysts for the modern conflict. Census data from the time shows it was roughly 90% Armenian.
Open conflict didn't occur again until the decline and fall of the Soviet Union. In the late '80s both Armenia and Azerbaijan, while still nominally part of the same country, went to war over the territory.
When they both declared independence in 1991, so did the Armenians within Nagorno-Karabakh, calling themselves the Republic of Artsakh. The war devolved into Armenia and the Republic of Artsakh fighting Azerbaijan. All sides accused the others of ethnic cleansing in the region. Leading to Armenians leaving Azerbaijan to Nagorno-Karabakh, while Azeris fled to other parts of Azerbaijan.
Now the region is nearly 100% Armenian.
A ceasefire was signed that left all sides unhappy. Azerbaijan refused to give up any claims to the land, while Armenia has stationed troops in the region to reinforce the Republic of Artsakh. However, the entire region is still internationally recognized as part of Azerbaijan.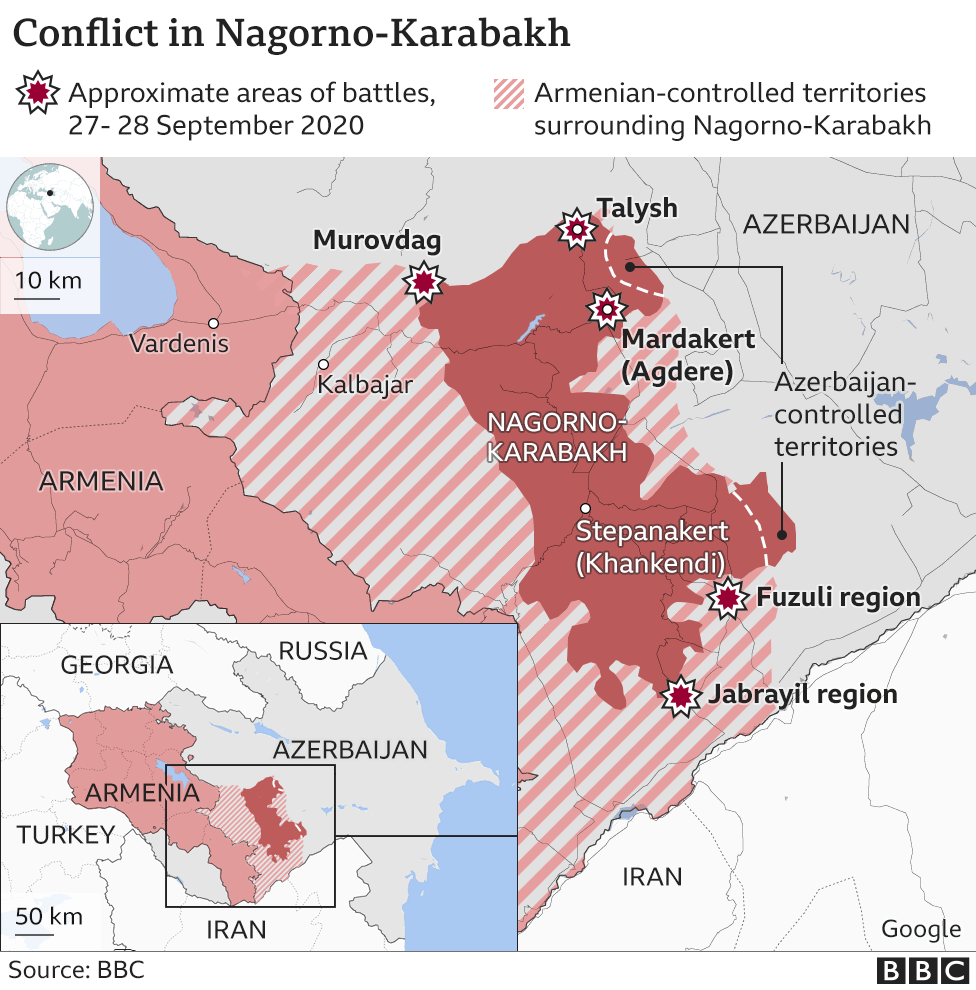 No UN-member state, not even Armenia, officially recognize the Republic of Artsakh as independent.
Calls for Peace
Around the world, countries have come out in various ways to show support or call for peace. On Sunday, Turkish President Recep Erdogan sent out a series of tweets not only blaming Armenia for the attacks but also saying "it is the biggest threat to peace and tranquility in the region."
He went on to call on Armenian to resist their government "who use them like a puppet."
Most countries took a more neutral stance, asking that the two sides deescalate the situation. An Iranian foreign ministry spokesperson told state TV on Sunday, "Iran is closely monitoring the conflict with concern and calls for an immediate end to the conflict and the start of talks between the two countries."
French, Russian, and U.S. officials also called on both sides to stop fighting, along with the Organization for Security and Co-operation in Europe (OSCE). the OSCE, who France, Russia, and the U.S. are all a part of, was responsible for mediating the ceasefire between Armenia and Azerbaijan back in the '90s.
Call for peace haven't made much headway, as both Armenia and Azerbaijan have rejected any calls for another ceasefire.