Disneyland Will Redesign Splash Mountain to Overhaul "Song of the South" Ties
On Thursday, Disney Parks announced it would be re-theming its Splash Mountain rides at Disneyland and Disney World to center around the 2009 film "The Princess and the Frog."
The ride is currently based upon the 1946 film "Song of the South," which has been criticized for its oversimplified and idyllic depiction of the Antebellum South, as well as for its racial stereotypes of Black people.
Disney Parks did not directly reference Splash Mountain's ties to "Song of the South" in its announcement but did call the plan to refocus on "Princess and the Frog" a concept rooted in inclusivity. 
Disney Imagineer President Bob Weis said the concept to retrofit the ride has been in the works for more than a year.
---
Disney To Re-invent Splash Mountain
After years of complaints to scrap racist connections to a long condemned movie, Disneyland and Disney World have finally announced that they will re-theme Splash Mountain.
In a statement on Thursday, Disney Parks said the longstanding ride will "soon" be retrofitted into a ride based on "The Princess and the Frog." That film, released in 2009, tells the story of Disney's first Black princess, Tiana.
"Tiana is a modern, courageous, and empowered woman, who pursues her dreams and never loses sight of what's really important," Disney Parks said on its official blog. "It's a great story with a strong lead character, set against the backdrop of New Orleans and the Louisiana bayou.
"In 1966, Walt himself opened New Orleans Square when it became the first new "land" added to Disneyland park, so it feels natural to link the story and the incredible music of "The Princess and the Frog" to our parks."
Disney stopped short of directly referencing Splash Mountain's current inspiration—"Song of the South." Despite that, Disney Parks did vaguely allude to the ongoing and increased calls for racial justice that have rocked the country since the death of George Floyd in late May.
"With this longstanding history of updating attractions and adding new magic, the retheming of Splash Mountain is of particular importance today," Disney Parks said. "The new concept is inclusive—one that all of our guests can connect with and be inspired by, and it speaks to the diversity of the millions of people who visit our parks each year."
In recent weeks, many have made calls for the removal of objects and forms of entertainment that have—up to this point in history—evaded widespread condemnation.
Now, Confederate statues are being removed and in some cases, toppled. Streaming services have removed full episodes and even some whole TV shows for depictions of blackface. Even Rhode Island is moving forward to change its official (if surprising) name of the State of Rhode Island and Providence Plantations.
Splash Mountain will remain a log flume ride, though Disney did not indicate how long it would take to implement the change. Disney has also not announced any plans to re-imagine a third version of the ride at Disneyland Japan.
Disney's Controversial History with "Song of the South"
If "Song of the South's" intention when it was released in 1946 was to capture the "song" of the Antebellum South immediately following the Civil War, it was pretty tone-deaf in its delivery.
Set on a plantation home in Georgia, the film follows a young white boy who befriends a Black plantation worker, Uncle Remus. The film makes no mention of slavery, and within the context of the film, it's unclear in what time period the events are taking place. It was only after the film's release that Disney revealed the story takes place after the Civil War.
Throughout the film, Uncle Remus tells the boy a number of stories that are depicted in animated format—including one story featuring the infamous character Tar Baby. While in the movie, Tar Baby is nothing more than a doll literally constructed from a lump of tar, its imagery evokes stereotypical depictions of Black people. The phrase "tar baby" has also been considered a slur for African Americans.
Upon the film's release, the NAACP strongly denounced the film, saying that "in an effort neither to offend audiences in the North or South, the production helps to perpetuate a dangerously glorified picture of slavery….[the film] unfortunately gives the impression of an idyllic master-slave relationship which is a distortion of the facts."
Disney's approach has proven to be the catalyst for intense criticism that has persisted for nearly 70 years, with many saying the film overly simplifies struggles Black people faced in the Reconstruction Era. In addition to that, many have condemned the depiction of the film's Black characters as stereotypical and racist.
Because of that controversy, Disney has never fully released "Song of the South" to home video in the United States; however, it has been released in European and Asian countries, and some clips from animated portions of the film have found themselves released as part of the Disney Sing-Along Series.
In March, Disney CEO Bob Iger confirmed that the film would not appear within the Disney+ catalog, saying that such a film "is not appropriate in today's world." Prior to that, some had wondered whether the film would make its way onto Disney+ and if the streaming platform would include an "outdated cultural warning" before the film.
Still, in 1989, Splash Mountain was first opened to the public at Disneyland. Three years later, another version of the ride was opened at Disney World. While both rides replace Uncle Remus as the narrator, quotes from Uncle Remus are carved along the wall of the ride.
This is not the first controversy for a Disney ride. In 2017, Disney Parks removed a misogynist skit of a bridal auction from its Pirates of the Caribbean ride.
Disneyland Delays Reopening
According to Disney Imagineer President Bob Weis, designers have been working on the Splash Mountain redesign for more than a year. 
Weis said conceptual design work is still in progress and will be followed by preliminary reviews that will help develop a timeline for the transformation.
That process will likely be affected by the coronavirus pandemic—especially after Disneyland delayed its reopening this week. The park had been set to reopen on July 17. Notably, that date marks its 65th anniversary.
Now, the park said it will wait for state guidelines before determining a new target date to reopen. Part of the decision to extend its closure was due, in part, to California not planning to issue theme park reopening guidelines until after July 4.
The company has said that timeline would not give it enough time to bring back its crew and prepare for a mind-July reopening.
California Governor Gavin Newsom (D) later expressed his support for the delay.
"The governor appreciates Disney's responsiveness to his concerns about reopening amid the recent increases in COVID-19 infections across many Southern California counties," spokesperson Nathan Click said in a statement. "The state and our public health experts continue to be in contact with the company and their workers—as well as other theme parks in the state—as we track and combat the spread of the virus."
Kim Kardashian's Private Island Party Generates Backlash and Memes
Kim Kardashian-West posted about her 40th birthday bash on Tuesday, saying, "After 2 weeks of multiple health screens and asking everyone to quarantine, I surprised my closest inner circle with a trip to a private island where we could pretend things were normal just for a brief moment in time."
She noted that they "danced, rode bikes, swam near whales, kayaked," and more, adding that she is "humbled" by how privileged her life is.
However, many found the party and her remarks tasteless, noting that they came at a time when over 1.1 million people have died from Covid-19. Millions more are without work and struggling to make ends meet, unable to run off to a private island to escape reality.
Eventually, part of her post became a copypasta, with people tacking on photos of the island from "Lost", the Fyre Festival, and other nightmarish places.
---
The Now-Infamous Birthday Post
Kim Kardashian-West generated a wave of backlash Tuesday but also inspired a new internet meme after posting about her private island birthday bash online.
The reality star shared photos from her 40th birthday party, claiming that she feels "humbled and blessed" after celebrating with the people who helped shape her into who she is today. However, what followed was a series of statements that many found tasteless to make during the coronavirus pandemic.
"Before COVID, I don't think any of us truly appreciated what a simple luxury it was to be able to travel and be together with family and friends in a safe environment," she said.
"After 2 weeks of multiple health screens and asking everyone to quarantine, I surprised my closest inner circle with a trip to a private island where we could pretend things were normal just for a brief moment in time."
Photos she shared showed her family and friends gathered closely together, hugging, posing for the camera.
"We danced, rode bikes, swam near whales, kayaked, watched a movie on the beach and so much more," she continued. " I realize that for most people, this is something that is so far out of reach right now, so in moments like these, I am humbly reminded of how privileged my life is. #thisis40"
Internet Reactions
As you can imagine, that rubbed a lot of people the wrong way because most of the world can't run off to a private island to escape reality.
Keep in mind, this post came at a time when over 1.1 million people around the world have died from coronavirus. Millions more are unemployed or struggling to make ends meet. Many people haven't even seen their own loved ones in months.
In fact, to many, her post sounded like: "Hi Poors! I know you're hurting right now and can't figure out how you're going to feed your family, but please enjoy these photos of my family's expensive vacation! I know I'm lucky to be so fabulously wealthy so I'll make mention of it to sound sympathetic (I'm really not tho)."
Some were angry, viewing this as insensitive bragging. Others instead laughed about how out of touch she seems to be.
Are you that insensitive you don't realise this is not what the majority of people during the worst covid spike yet want to hear? People are going to food banks not private islands.

— Peter Frampton (@peterframpton) October 27, 2020
kim came on twitter to tell us.. pic.twitter.com/krcF5uHCWY

— #ENDSARS #CONGOISBLEEDING (@chuuzus) October 27, 2020
A lot of people also hit back at her with that infamous Kardashian meme: "Kim, there's people that are dying."
Eventually, part of her post became a copypasta, with people tacking on photos of the island from "Lost", the Fyre Festival, and other nightmarish places.
Kardashian-West has not addressed the responses to her remarks as of now, but the memes have continued to pour in.
"Among Us" Developers Scramble to Fight Off Pro-Trump Hacks
The video game "Among Us" has been struggling to fight off a hacker that spent the weekend blacking out lobbies, spamming chat boxes with pro-Trump messages, and causing other game disruptions.
InnerSloth, the developers behind the game, implemented anti-hacks to try and regain control, but some bugs and other issues persist.
The alleged hacker, who has since been doxed online, told Eurogamer they were trying to gain publicity for Trump and themselves since they design and sell in-game cheats. However, they also told Kotaku they were just curious to see what would happen and found the hack funny.
The disruptions began about two days after Rep. Alexandria Ocasio- Cortez playing the game in front of more than 435,000 Twitch viewers in an effort to encourage youth voting.
---
Hacker Target's 'Among Us'
Developers of the game "Among Us" are actively working to combat a hacker that has flooded the app with pro-Donald Trump messages since Thursday.
The multiplayer murder mystery game has grown in popularity this year thanks to support from Twitch streamers and users who found it particularly good to play during this age of social distancing.
Just last Tuesday, the game received extra attention when Rep. Alexandria Ocasio-Cortez (D-NY) hosted her first Twitch stream playing it with huge gamers like Pokimane, Valkyrae, Jacksepticeye, and others. The stream was part of a larger effort to encourage voting and ended up bringing in over 435,000 concurrent viewers.
However, by Thursday, users began reporting that the game was facing hacks. Players complained about their lobbies turning completely black, meanwhile, some were disconnected from games altogether.
Others reported spammed chat sections that told users to subscribe to Eris Loris on YouTube otherwise the hacker would "kill your device."
The hacker also shared Twitter links, Discord links, and other pro-Trump messages, even writing "Hacked by Russians." in some spam messages.
InnerSloth Rushes to Fight Back
Eventually, "Among Us" developer InnerSloth released a statement about the problem on Twitter.
"We're are super duper aware of the current hacking issue and we're looking into it," it said. "We will be pushing out an emergency server update so people who are in game will get kicked from games. Please play private games or with people that you trust!!! Bare with us!! 😰"
One of the developers later said he was rolling out server updates, but warned that players would be impacted for an unknown amount of time.
That's likely what actually happened since complaints continued throughout the weekend. By Saturday evening, the developer said he had rolled out "wave 2" of anti-hacks, but noted that there are some bugs and issues he's already aware of.
If you try to play the game right now, you'll be hit with a warning message about the problems as the game undergoes emergency maintenance.
In it, the developers reminded players that they were stopping plans for Among Us 2 as they focused on Among Us 1, which we know has exploded in popularity recently.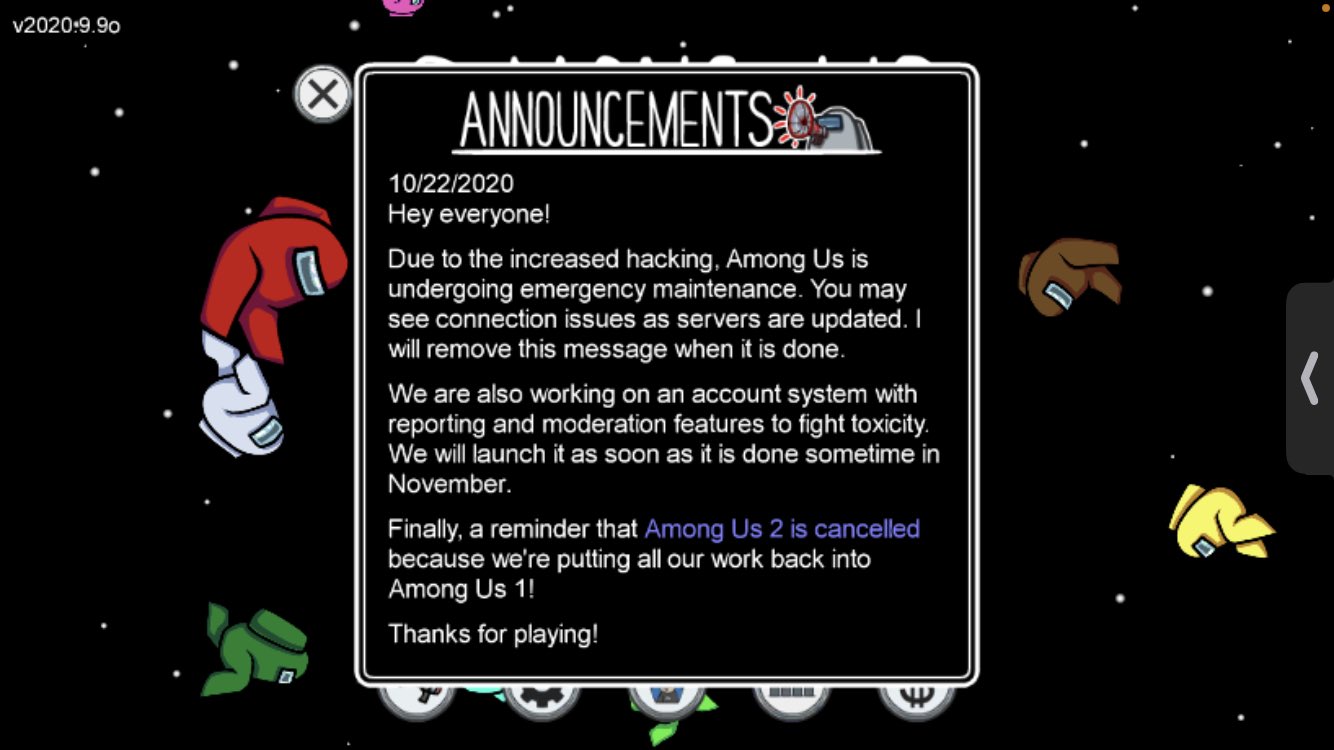 Hacker Speaks Out
Many felt the hack was done in an effort to bring support for President Trump in front of the same audience that Ocasio-Cortez reached.
However, as far as the motive, all we know is that both Eurogamer and Kotaku claimed they made contact with the hacker, who has since been doxxed and threatened online.
They told Eurogamer they design and sell in-game cheats and consider this "a publicity stunt," claiming to have affected 1.5 million matches.
They also said "I'm a college student and I support Trump," adding that they hoped this generated publicity for the president as well.
But when speaking to Kotaku, they made it sound more like a trolling effort, saying, "I was curious to see what would happen, and personally I found it funny."
"The anger and hatred is the part that makes it funny. If you care about a game and are willing to go and spam dislike some random dude on the internet because you cant play it for 3 minutes, it's stupid."
For now, it's unclear if all the problems are close to being completely resolved, but this has put a harsh spotlight on InnerSloth's small team.
"Borat" Sequel Reportedly Catches Rudy Giuliani in Compromising Situation, But Giuliani Says It's "Doctored"
President Donald Trump's personal lawyer, Rudy Giuliani, was caught in a compromising situation after stills from a mock-interview in Sacha Baron Cohen's upcoming "Borat" sequel showed Giuliani laying down with his hands in his pants in front of a fake reporter.
That fake reporter, Maria Bakalova, was in character as Borat's 15-year-old daughter. In real life, Bakalova is 24.
It has been reported that Giuliani did not know this context until just before he left the scene. Giuliani has also denied that he engaged in any appropriate sexual activity, saying he was tucking his shirt after having his mic removed.
---
Alleged Details About the Rudy Giuliani Interview in "Borat"
Drinking, agreeing to eat a bat, and sticking his hand in his pants — that's all part of a strange fake interview between Rudy Giuliani and "Borat" actress Maria Bakalova.
The interview was filmed against Giuliani's knowledge for "Borat Subsequent Moviefilm," which will be released on Amazon Prime Friday. In it, Giuliani can be seen entering a hotel suite with Bakalova, who is in character as Borat's 15-year-old daughter.
The film, starring Sacha Baron Cohen as Borat, includes other notable pranks, such as one that involves crashing the Conservative Political Action Conference to catch Vice President Mike Pence off guard; however, that might not come as much of a surprise to many considering how Cohen is known to have pulled similar antics in the past.
During the interview with Giuliani, Bakalova — who is 24-years-old in real-life — poses as a reporter for a conservative news show.
Near the beginning of the interview, hidden cameras reportedly capture Giuliani taking off a mask he was wearing. Throughout the interview, reports also indicate that he coughs and repeatedly touches Bakalova.
At one point, Bakalova, in character, says she's nervous. Giuliani grabs her hands and reportedly tells her, "You're going to do great."
Bakalova's character then brings up the coronavirus pandemic, asking what needs to be done so a similar pandemic doesn't happen in the future. Giuliani reportedly responds by shifting blame to China, alleging (without evidence) that the country "manufactured" the virus and deliberately spread it around the world.
"I don't think anyone was eating bats," he reportedly said.
Bakalova's character then responded, "If you eat a bat with me, I would."
"OK, I'll eat a bat with you," Giuliani said.
Because the footage of the interview has yet to be released publicly, it is unclear whether Giuliani is possibly joking.
From there, the interview continues. According to INSIDER, in one shot, the two sip what appears to be scotch.
After a subsequent interruption from a disguised Borat, Bakalova asks if they can move the interview into the bedroom. Giuliani agrees, reportedly telling her at one point, "You can give me your phone number and your address," before appearing to tap her on the small of her back a few times.
Giuliani proceeds to sit on a bed, and Bakalova's character appears to remove his mic.
The film then cuts to Giuliani laying on the bed, where he can be seen putting his hand in his pants.
At that point, Cohen — still playing Borat — jumps into the room in pink lingerie and tells Giuliani that "Bakalova" is 15-years-old before pleading for Giuliani to take him instead of her.
Giuliani then reportedly tells him, "I don't want you," and leaves the suite.
Giuliani Denies Allegations of Inappropriate Behavior
With the release of the stills, Giuliani's moment on the bed has drawn widespread condemnation and scrutiny. Many online have asked why Giuliani seemed to be putting his hands down his pants when he was in the same room as a person he could have believed was 15.
However, according to NBC News, in the context of the film, Giuliani had no reason to believe that Bakalova was 15 — at least not until Cohen jumped in and shouted it at the end.
By Wednesday afternoon, Giuliani attempted to dispel the rumors that he possibly engaged in some sort of inappropriate sexual situation with a minor.
"The Borat video is a complete fabrication," he said in a Twitter thread. "I was tucking in my shirt after taking off the recording equipment. At no time before, during, or after the interview was I ever inappropriate. If Sacha Baron Cohen implies otherwise, he is a stone-cold liar."
Giuliani then referred back to a Hollywood Reporter article from July 8 that confirmed he'd called the police after being pranked on camera by Cohen.
In fact, it does seem to be the case that this interview was recorded in July because around the same time, Giuliani told PageSix, "This guy comes running in, wearing a crazy, what I would say was a pink transgender outfit.
"It was a pink bikini, with lace, underneath a translucent mesh top, it looked absurd. He had the beard, bare legs, and wasn't what I would call distractingly attractive."
In his Twitter thread, Giuliani went on to call the release of the images a deflection against the recent leak involving Hunter Biden's supposed emails.
"This is an effort to blunt my relentless exposure of the criminality and depravity of Joe Biden and his entire family," Giuliani said. "We are preparing much bigger dumps off of the hard drive from hell, of which Joe Biden will be unable to defend or hide from. I have the receipts."
Along with Giuliani, a number of other conservatives have jumped to his defense, with many also accusing Amazon, Twitter, and the news media of deflecting against the Hunter Biden story.
Celebs Question Giuliani's Motives During Interview
Nonetheless, many — including a number of celebrities — have continued to question Giuliani's motives with Bakalova during the fake interview.
"So you normally drink with reporters, follow them to the bedroom and then lie on the bed and let her take off your mic for you?" singer Demi Lovato said. "I guess I've been doin my interviews all wrong…"
On "The Late Show," host Stephen Colbert said, "I watched the footage. Why did you go into a bedroom at the suggestion of a young woman to have cocktails to take off a mic? I take off a mic every night. Never once have I reclined on a kingsize bed and then launched a fact-finding mission to my own groin."