Botched Historical Art Restoration Leads to Calls for Better Regulation
An art collector in Spain said his copy of a famous painting, La Inmaculada Concepción Del Escorial, was ruined after a recent restoration attempt.
Parallels have been made to other botched restorations in the country, including a statue of St. George and a fresco of Jesus Christ.
Professionals are now calling for regulation over who can restore historical and cultural works.
---
Historical Painting Ruined
Conservation experts in Spain are calling for better regulation over restoration projects after an art collector had a copy of a famous painting ruined by an amateur restorer.
The destroyed artwork was a historical copy of La Inmaculada Concepción del Escorial , which depicted the Virgin Mary and her lack of Original Sin, according to Catholic dogma.
The unnamed collector paid €1,200 to a local furniture restorer to fix the painting. He told El Pais that the man had fixed plenty of historical furniture for his family, so he trusted his work. Fortunately, the collector's painting wasn't the original, but an early 20th-century copy of baroque artist Bartolome's Esteban Murillo's 17th Century piece. The original is currently housed at El Prado, one of the world's most prestigious art museums.
The collector also told El Pais that the piece was actually ruined twice by the furniture restorer. According to an interview with the outlet, the first attempt at a restoration featured a "completely disfigured face," although both attempts are far cries of Murillo's work.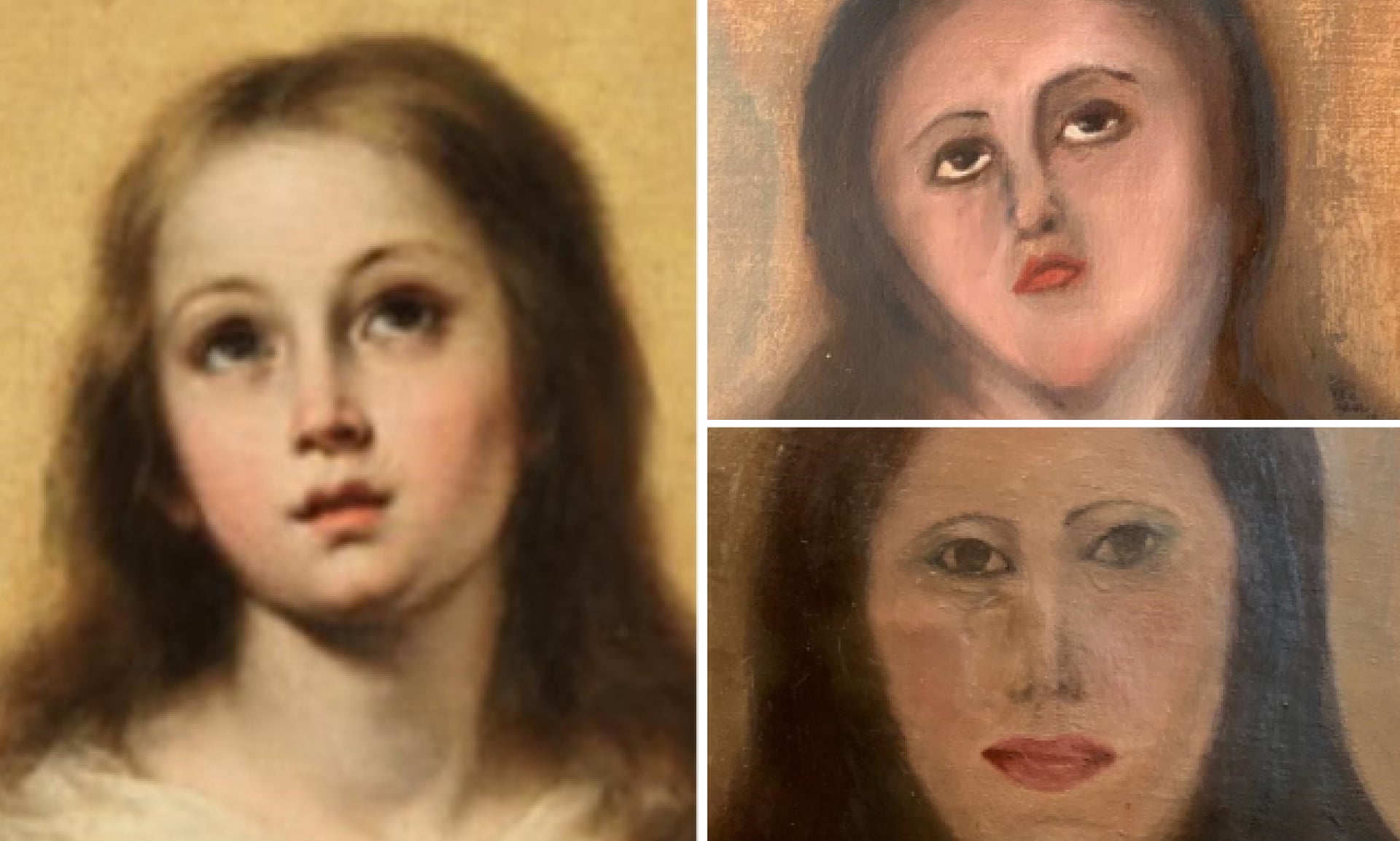 Ecce Artem
However, this isn't the first time a story about a botched-attempt at restoring historical artwork has come out of Spain.
In 2012 Ecce Homo, a fresco of Jesus Christ in a small Borja church was destroyed when an elderly parishioner attempted to fix the deteriorating piece. She claims the priest gave her permission to fix the fresco.
For many, it ended up looking like a monkey, and received the nick-name Ecce Mono – a mix of Spanish and Latin that means "Behold the Monkey," a play on the piece's original name which means "Behold the Man." However, in a twist, the ruined fresco helped drive tourism to Borja, which was facing economic hardships and proved to be a huge boon.
In 2018, a statue in northern Spain of St. George slaying the Dragon was heavily altered after a local artist tried to restore the piece. The colors were so bold, solid, and vibrant that it drew comparisons to playmobil figures. After hundreds of hours of work across a year, professional restorers managed to make it appear much closer to its pre-2018 likeness.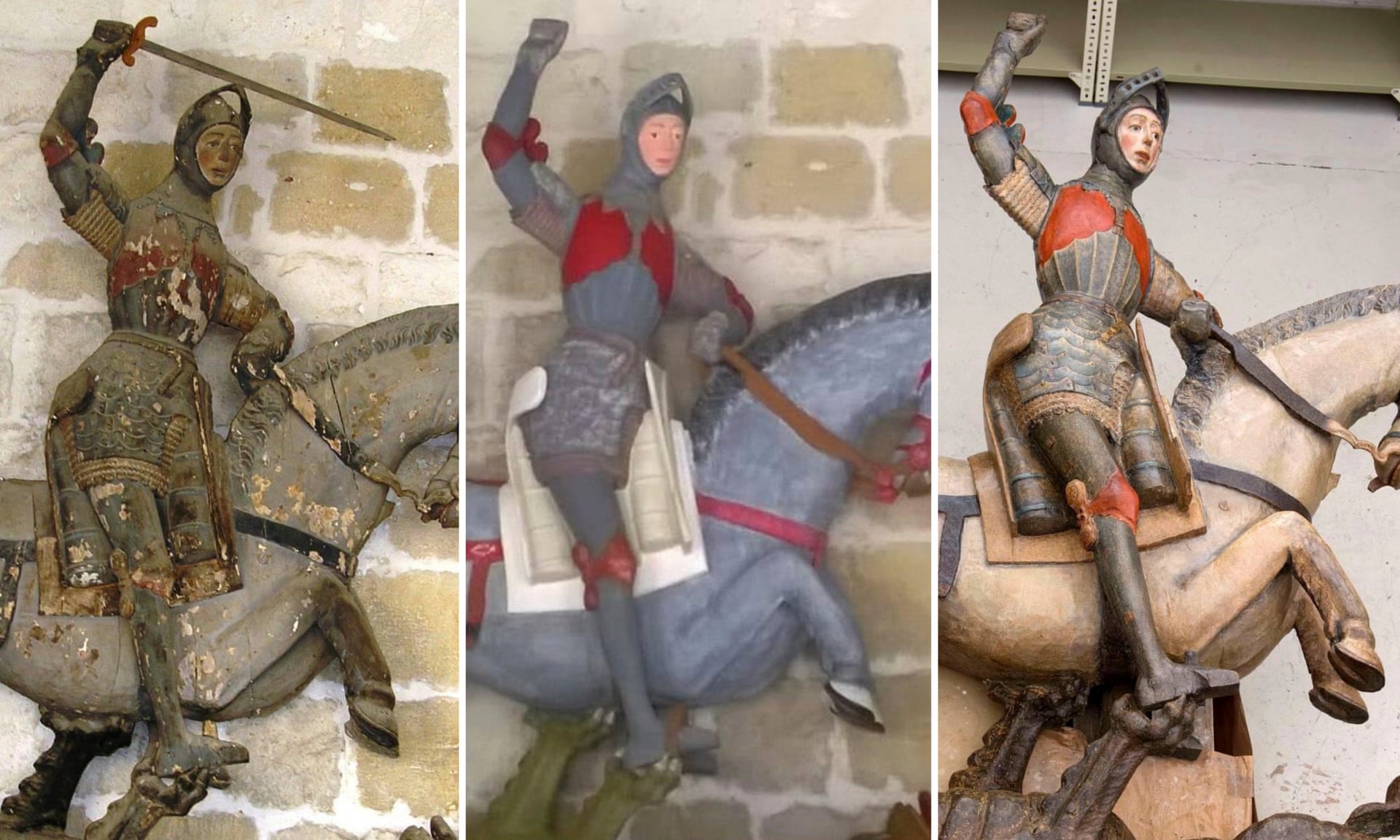 Calls for Regulation
The latest fiasco involving La Inmaculada Concepción del Escorial has caused professionals in the industry to call for regulation over historical art restoration. In a memo released on June 23rd, the Spanish Association of Conservators and Restorers (ACRE) said:
"If the facts are confirmed, we will have to lament the loss, again, of a cultural icon… and we ask that in this situation isn't used as a joke by the media or social media, as has happened in the past… It's sad that in the 21st century there aren't any laws or legal orders [that prohibit] people without certifications from carrying out restorations. Especially when in Spain, and specifically within Valencia, there are a large number of qualified specialists… And this lack of regulation translates into an absence of protection of our heritage, and that allows people without training to intervene on it, facing, at best, simple administrative sanctions."
The Vice-President of ACRE's Valencia chapter, Maria Borja Ortiz, added that botched-restorations are "unfortunately much more common than you'd think."
It's yet to be seen if any lawmakers, either at the federal level or within the autonomous communities of Spain, will move to regulate the industry.
Myanmar Soldiers Claim in Confession Video They Were Ordered to Kill and Rape Rohingya
Two Myanmar soldiers have appeared in a confessional video claiming to have been ordered to kill and rape Rohingya in 2017.
These are the first two first-hand accounts from Myanmar soldiers confirming widespread accusations that the Myanmar military partook in potential genocide against ethnic Rohingya.
However, the veracity of the claims hasn't been confirmed, nor has whether or not the soldiers gave their confessions under duress by the rebel Arakan Army, who released the video.
Both men are currently at The Hague being interrogated by investigators at the International Criminal Court.
---
Genocide in the 21st Century
Two members of the Myanmar military appeared in a recently released video where they seemed to admit that they were ordered to pillage, kill, and rape Rohingya Muslims in 2017. The confessions appear to match accounts of the situation in Rakhine given by Rohingya survivors.
The Rohingya are a prominent ethnic group that live in the Rakhine state in western Myanmar, which borders the sea and Bangladesh. They have been described by the Myanmar government as "illegal aliens" despite having been in the region as far back as the 15th century.
Over the decades, the Rohingya have been persecuted by the Myanmar military, which has demanded that they "return" to neighboring Bangladesh. In 2017, those tensions escalated when the military heavily cracked down on the Rakhine state and engaged in what human rights have described as having the "hallmarks of genocide." Not only were Rohignya targeted, but many other people across the region.
At the time, video and satellite images of the areas showed large scale destruction, with many villages completely burned down. Tens of thousands fled their homes to refugee camps in Bangladesh.
According to Private Myo Win Tun and Private Zaw Naing Tun, the two men seen in the confessional video, "We destroyed the Muslim villages near Taung Bazar village. We implemented the clearance operations in the night-time as per the command to 'shoot all that you see and that you hear.' We buried a total number of 30 dead bodies in one grave."

Justice Being Sought
The two soldiers are said to have fled Myanmar last month and arrived in Bangladesh, from where on Monday they were transported to The Hague, home of the International Criminal Court in the Netherlands.
As for the veracity of the video, that is harder to determine. It is unclear if the soldiers are giving this confession under duress, or if they surrendered as deserters. The video was filmed by the Arakan Army, the largest and most organized militant group in Rakhine state, who represent a coalition of various ethnic groups in the region against the central Myanmar government.
This lends to the possibility that the men were coerced to confess under duress. Yet, the Arakan Army has a long standing feud with the Arakan Rohingya Salvation Army, the main militant group representing the Rohingya,who would benefit the most from admissions of genocide.
However, many Human Rights Groups think the confessions are legitimate.
"This is a monumental moment for Rohingya and the people of Myanmar in their ongoing struggle for justice," said Matthew Smith, chief executive officer at Fortify Rights. "These men could be the first perpetrators from Myanmar tried at the I.C.C., and the first insider witnesses in the custody of the court."
The Myanmar government continues to deny any wrongdoing in Rakhine, stating that the operations there were to clear out terrorist elements. Any footage of burned down villages has been waived away as Rohingya burning down their own villages for sympathy. Since 2017, only a handful of soldiers have been punished with short prison terms for "isolated" incidents.
The two soldiers held at The Hague are not under arrest, but are effectively in custody awaiting a potential trial. Lawyers and investigators have already spent weeks investigating their claims, and their testimony will likely be used by prosecutors at the International Court of Justice.
There, Myanmar is being accused in a filing by Gambia of trying to "destroy the Rohingya as a group, in whole or in part, by the use of mass murder, rape and other forms of sexual violence, as well as the systematic destruction by fire of their villages."
Large Fire Erupts in Beirut's Port, Weeks After Massive Explosion
A large fire erupted in Beirut's port Thursday, triggering panic among residents who are still traumatized by last month's massive explosion. The Aug. 4 blast of nearly 3,000 tons of ammonium nitrate left 190 dead, more than 6,000 injured, and 300,000 displaced from their homes.
It's not yet clear what caused the fire and crews are working to put it out. Residents have been warned to stay clear of the area in the meantime and no casualties were immediately reported.
This is the second fire to break out at the port this week and it comes about a week after Lebanon's army discovered four tons ammonium nitrate stored near the port.
Some believe the fire was set intentionally to hide evidence related to the explosion. For now, residents continue to live on edge as their distrust in the country's management grows.
---
Fire Breaks Out
A huge fire broke out in Beirut's port on Thursday, terrifying local residents who are still recovering from the last month's devastating explosion.
Video posted online shows people running from massive flames and thick black smoke, which can be viewed from miles away.
The fire was said to have started in a warehouse of a private company that imported cooking oil. It then spread to a separate stock of rubber tires, but as of now, there's no information about what caused the blaze.
No casualties were immediately reported, though we some reports of people with shortness of breath. According to the state-run news agency NNA, Beirut's governor told residents to stay clear of the port area "for their safety" and to allow firefighters to perform their duties unhindered. All roads leading into the port are blocked off, and the Lebanese Army is currently working to help firefighters by dropping water on the flames from helicopters.
Trauma From Last Month's Blast Lingers
The fire broke out near a major highway known as a free zone, where companies store goods that have yet to clear customs. That area, like much of the port, was heavily damaged in the Aug. 4 explosion. That explosion was caused by a 2,750-ton stock of ammonium nitrate that was improperly stored for years. Records later showed that government officials knew of the dangerous chemical stockpile but failed to act.
The blast ultimately left 190 dead, more than 6,000 injured, and 300,000 displaced from their homes. For many, that explosion was the last straw, prompting major protests against longrunning corruption in the country, which was already suffering through its worst economic crisis in decades.
The protests eventually pushed the Prime Minister of Lebanon and his cabinet to resign, though many have still called for widespread reforms that will bring more meaningful change.
Still, even with the government resigning, fear within the community has persisted. Just last week, the Lebanese Army said it had found more than four tons of ammonium nitrate stored near the port. They disposed of it, but it was a chilling discovery that made many uneasy.
Then a smaller fire broke out earlier this week, which also caused a scare but was eventually put out by firefighters. This latest fire just builds onto the existing panic. People at the port and nearby neighborhoods have been scrambling flee or hide out of fear that this fire could cause a new explosion.
One local whose car and apartment were destroyed in the last month's explosion told The New York Times, "I'm telling myself that nothing's going to happen and it's probably not a big deal, but you can't fight the anxiety of opening all the windows, sitting inside a corridor or being jumpy all the time and having people call you, telling you to leave the area."
Another person who was leaving the area with his wife and kids told Reuters, "I am forced to get them out of Beirut from the smoke and the fire that is happening at the port again."
With a large fire so close to the original location of the explosion, some have speculated that it was deliberately set to destroy evidence. Others believe it's just another example of what the country's mismanagement brings.
Some, like Lebanese MP Rola Tabsh, are calling for an international investigation into the Beirut port fires.
"Beirut has suffocated from the smoke of your oppression. Beirut has burned from the fires of your corruption and arrogance," she tweeted.
"An international investigation now and not tomorrow."
Thousands of Refugees Displaced After Fire Blazes Through Europe's Largest Migrant Camp
A fire raged through Europe's largest migrant camp on Wednesday, displacing around 12,000 refugees in a camp meant for 3,000.
The fire reportedly began overnight on the Greek island of Lesbos, but its cause remains unknown.
The fire follows reported clashes within the camp after 35 refugees, who recently tested positive for COVID-19, refused to isolate themselves and their families. It is still unconfirmed if those families actually refused to isolate or if this is what led to the fire.
Following evacuations, police blocked off roads leading to nearby towns, and locals attacked and prevented migrants from passing through a nearby village.
---
Fire Breaks Out
A massive fire almost completely destroyed Europe's largest migrant camp, leaving 12,000 migrants without shelter. 
The fire began overnight Tuesday. It originally started off as a series of small fires that broke out at the Moria Refugee Camp, located on the Greek island of Lesbos. Those fires became so large and destructive that within a matter of hours, they had reportedly left the entire camp unusable. 
Outside the scope of the fire, the situation has exposed a host of other serious issues faced by the Moria camp migrants. While an estimated 12,000 migrants had been sent to the camp to await updates on their asylum applications, it was only built to accommodate between 2,000 to 3,000 people. 
Human rights groups have criticized poor conditions at the site for years. In April, the Human Rights Watch even said that Greek authorities hadn't done enough to tackle overcrowding, warning that the camp was not prepared to handle a potential coronavirus outbreak. 
The situation has also seemed to only widen the divide between migrants and locals in the area. For example, as migrants fled the scene, police blocked off roads leading from the camp in order to prevent them from entering nearby towns as authorities scramble to find them housing.
According to reports, some locals have even attacked migrants and prevented them from passing through one nearby village.
Because of that, the United Nations Human Rights Council has attempted to address the tension by urging people to "exercise restraint," asking anyone who had been at the camp "to restrict their movements and stay near [the site], as a temporary solution is being found to shelter [migrants]."
What Led to the Fire?
It is unclear what directly led to the fires, but they came after a series of confirmed COVID-19 cases.
Last week, authorities placed the camp under quarantine after a Somali migrant tested positive. By Tuesday, the number of cases had jumped up to 35.
The Greek news agency ANA reported that the fires broke out after some of the 35 refused to isolate themselves and their families. According to CNN, some migrants on the ground said the fires were started by refugee protesters when a demonstration erupted over lockdown measures; however, both accounts have yet to be officially confirmed, and there are actually other fires also burning on the island because of strong winds.
Michalis Fratzeskos, deputy mayor for civil protection, told Greek state television that the fire was "premeditated," and that migrant tents had been empty, with arsonists "[taking] advantage of strong winds."
A local fire chief said that when firefighters rushed onto the scene, their efforts were hampered by protesting migrants,
However, many migrants have lodged much different claims. Some told a reporter for the BBC Persian that the fire had broken out after scuffles between migrants and Greek forces at the camp. Several even blamed "far-right Greeks" for setting the fire after those coronavirus cases were announced. Those migrants also provided photos of what they claimed to be canisters that were used to set the fire.
"It's a time bomb that finally exploded," Marco Sandrone, the Lesbos project coordinator for Doctors Without Borders told the BBC, adding that the migrants had been kept in "inhumane conditions" for years.
Axel Steier, co-founder of aid group Mission Lifeline, also told CNN that "the people in Moria are exposed to extreme psychological stress."
"The lockdown of the camp has now been the final straw," he added. "The refugees in Moria are not treated as humans."
A government spokesperson has confirmed that reports of arson are under investigation. The government itself has also declared a four-month state of emergency.
International Response
Internationally, the European Union has offered help, with EU home affairs commissioner Ylva Johansson saying on Twitter that she has "agreed to finance the immediate transfer and accommodation" of "400 unaccompanied children and teenagers."
German Foreign Minister Heiko Maas has also expressed interest in transporting refugees onto mainland Europe.
"In cooperation with the EU Commission and other EU member states willing to help, we need to sort out as quickly as possible how we can support Greece," he said. "This includes the distribution of refugees among those in the EU that are willing to take them."
According to The New York Times, Armin Laschet, a governor in western Germany, has also said he's willing to admit up to a thousand refugees from the camp.
See what others are saying: (BBC) (CNN) (ANA)