Botched Historical Art Restoration Leads to Calls for Better Regulation
An art collector in Spain said his copy of a famous painting, La Inmaculada Concepción Del Escorial, was ruined after a recent restoration attempt.
Parallels have been made to other botched restorations in the country, including a statue of St. George and a fresco of Jesus Christ.
Professionals are now calling for regulation over who can restore historical and cultural works.
---
Historical Painting Ruined
Conservation experts in Spain are calling for better regulation over restoration projects after an art collector had a copy of a famous painting ruined by an amateur restorer.
The destroyed artwork was a historical copy of La Inmaculada Concepción del Escorial , which depicted the Virgin Mary and her lack of Original Sin, according to Catholic dogma.
The unnamed collector paid €1,200 to a local furniture restorer to fix the painting. He told El Pais that the man had fixed plenty of historical furniture for his family, so he trusted his work. Fortunately, the collector's painting wasn't the original, but an early 20th-century copy of baroque artist Bartolome's Esteban Murillo's 17th Century piece. The original is currently housed at El Prado, one of the world's most prestigious art museums.
The collector also told El Pais that the piece was actually ruined twice by the furniture restorer. According to an interview with the outlet, the first attempt at a restoration featured a "completely disfigured face," although both attempts are far cries of Murillo's work.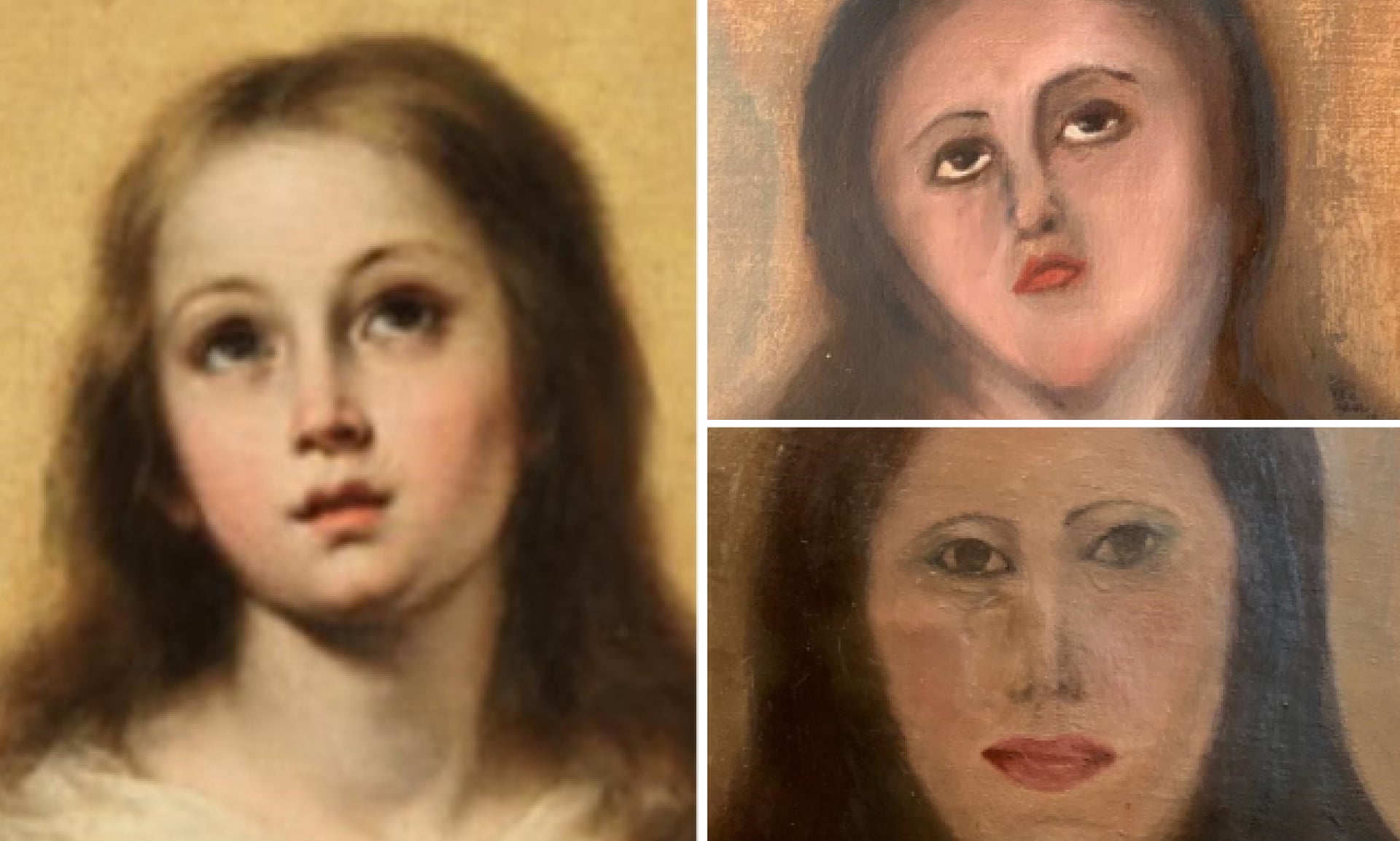 Ecce Artem
However, this isn't the first time a story about a botched-attempt at restoring historical artwork has come out of Spain.
In 2012 Ecce Homo, a fresco of Jesus Christ in a small Borja church was destroyed when an elderly parishioner attempted to fix the deteriorating piece. She claims the priest gave her permission to fix the fresco.
For many, it ended up looking like a monkey, and received the nick-name Ecce Mono – a mix of Spanish and Latin that means "Behold the Monkey," a play on the piece's original name which means "Behold the Man." However, in a twist, the ruined fresco helped drive tourism to Borja, which was facing economic hardships and proved to be a huge boon.
In 2018, a statue in northern Spain of St. George slaying the Dragon was heavily altered after a local artist tried to restore the piece. The colors were so bold, solid, and vibrant that it drew comparisons to playmobil figures. After hundreds of hours of work across a year, professional restorers managed to make it appear much closer to its pre-2018 likeness.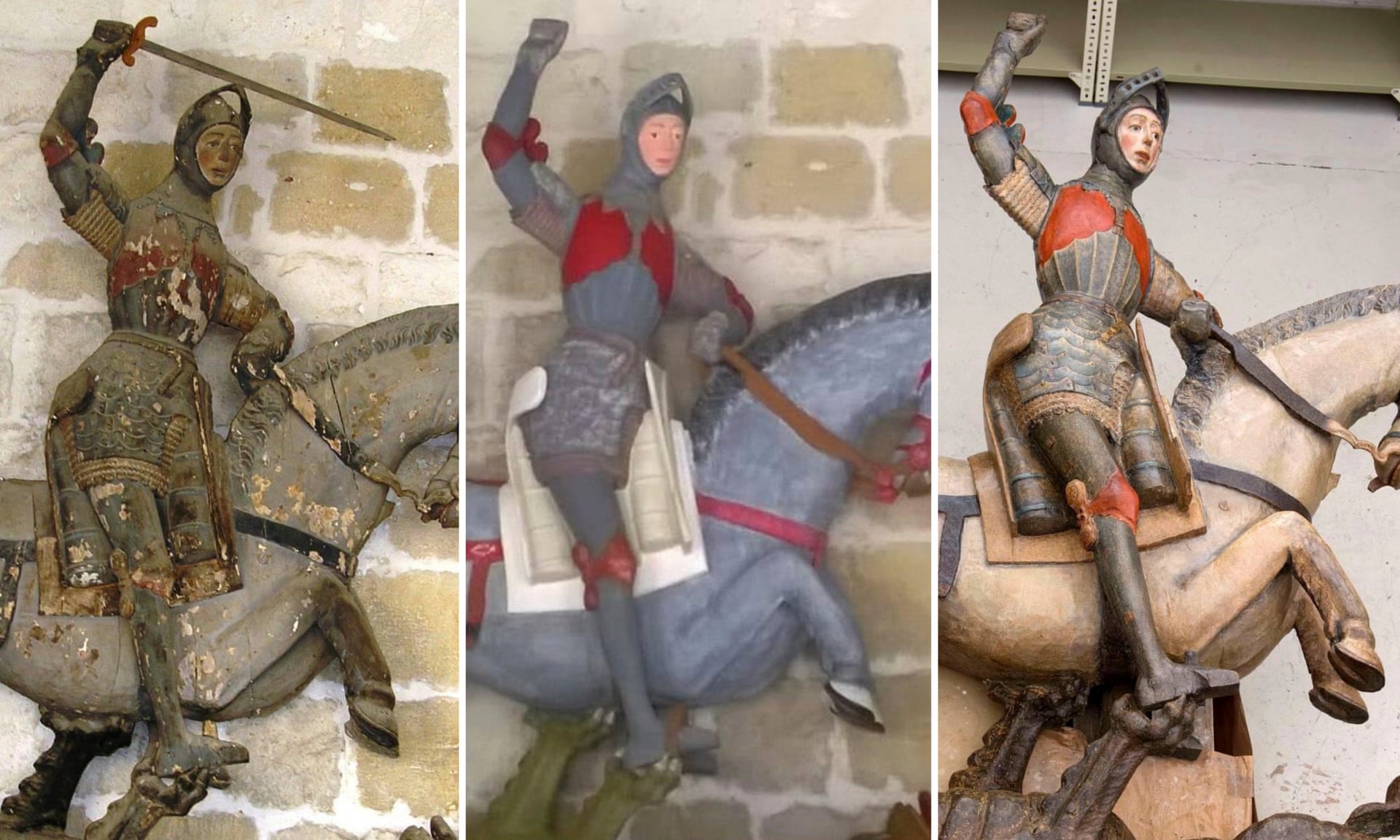 Calls for Regulation
The latest fiasco involving La Inmaculada Concepción del Escorial has caused professionals in the industry to call for regulation over historical art restoration. In a memo released on June 23rd, the Spanish Association of Conservators and Restorers (ACRE) said:
"If the facts are confirmed, we will have to lament the loss, again, of a cultural icon… and we ask that in this situation isn't used as a joke by the media or social media, as has happened in the past… It's sad that in the 21st century there aren't any laws or legal orders [that prohibit] people without certifications from carrying out restorations. Especially when in Spain, and specifically within Valencia, there are a large number of qualified specialists… And this lack of regulation translates into an absence of protection of our heritage, and that allows people without training to intervene on it, facing, at best, simple administrative sanctions."
The Vice-President of ACRE's Valencia chapter, Maria Borja Ortiz, added that botched-restorations are "unfortunately much more common than you'd think."
It's yet to be seen if any lawmakers, either at the federal level or within the autonomous communities of Spain, will move to regulate the industry.
U.K. Court Rules Julian Assange Can Be Extradited to U.S.
The judgment overrules a lower court decision that blocked the WikiLeaks founder's extradition on the grounds that his mental health was not stable enough to weather harsh conditions in the American prison system if convicted.
---
New Developments in Assange Extradition Battle
A British court ruled Friday that WikiLeaks founder Julian Assange can be extradited to the United States to face charges of violating the Espionage Act that could land him in prison for decades.
Prosecutors in the U.S. have accused Assange of conspiring with former army intelligence analyst Chelsea Manning in 2010 to hack into a Department of Defense computer network and access thousands of military and diplomatic records on the wars in Afghanistan and Iraq.
The information obtained in the hack was later published by WikiLeaks in 2010 and 2011, a move U.S. authorities allege put lives in danger.
In addition to a charge of computer misuse, Assange has also been indicted on 17 espionage charges. Collectively, the charges carry a maximum prison sentence of 175 years.
The Friday decision from the High Court overturns a lower court ruling in January, which found that Assange's mental health was too fragile for the harsh environment he could face in the U.S. prison system if convicted.
Notably, the January ruling did not determine whether or not Assange was guilty. In fact, District Judge Vanessa Baraitser explicitly rejected the defense's arguments that the charges against him were politically motivated and that he should be protected under freedom of press.
However, she agreed that the defense had provided compelling evidence that Assange suffers from severe depression and that the conditions he could face in the U.S. prison system were "such that it would be oppressive to extradite him to the United States of America."
The U.S. appealed the ruling, arguing that Assange's mental health should not be a barrier to extradition and that the psychiatrist who examined him had been biased.
In October, the Biden administration vowed that if Assange were to be convicted, he would not be placed in the highest-security U.S. prison or immediately sent to solitary confinement. Officials also said that the native Australian would be eligible to serve his sentence in his home country.
High Court Ruling
The High Court agreed with the administration's arguments in its ruling, arguing that the American's assurances regarding the conditions of Assange's potential incarceration were "sufficient."
"There is no reason why this court should not accept the assurances as meaning what they say," the ruling stated. "There is no basis for assuming that the USA has not given the assurances in good faith."
Assange's fiancé, Stella Moris, said in a statement that his legal team would appeal the decision to the British Supreme Court at the "earliest possible moment," referring to the judgment as a "grave miscarriage of justice."
The Supreme Court will now decide whether or not to hear the case based on if it believes the matter involves a point of law "of general public importance." That decision may take weeks or even months.
If the U.K. Supreme Court court objects to hearing Assange's appeal, he could ask the European Court of Human Rights to stay the extradition — a move that could set in motion another lengthy legal battle in the already drawn-out process.
Assange and his supporters claim he was acting as an investigative journalist when he published the classified military cables. They argue that the possibility of his extradition and prosecution represent serious threats to press freedoms in the U.S.
U.S. prosecutors dispute that Assange acted as a journalist, claiming that he encouraged illegal hacking for personal reasons.
Early Data Indicates Omicron is More Transmissible But Less Severe
The studies come as Pfizer and BioNTech claim that preliminary research shows a third shot of their COVID vaccine appears to provide sufficient protection against the new variant, but two doses alone may not.
---
More Information About Omicron
Several preliminary studies published in recent days appear to show that the new omicron COVID-19 variant may be more transmissible but less severe than previous strains.
One recent, un-peer-reviewed study by a Japanese scientist who advises the country's health ministry found that omicron is four times more transmissible in its initial stage than delta was.
Preliminary information in countries hit hard by omicron also indicates high transmissibility. In South Africa —  where the variant was first detected and is already the dominant strain — new COVID cases have more than doubled over the last week.
Health officials in the U.K. said omicron cases are doubling every two or three days, and they expect the strain to become dominant in the country in a matter of weeks.
In a statement Wednesday, World Health Organization Director Tedros Adhanom Ghebreyesus said that while early data does seem to show high transmissibility, it also indicates that omicron causes more mild cases than delta.
Centers for Disease Control and Prevent Director Rochelle Walensky echoed that sentiment, telling reporters that of the 40 known omicron cases in the U.S. as of Wednesday, nearly all of them were mild. One person has been hospitalized so far and none have died.
Studies on Vaccine Efficacy
Other recent studies have shown that current COVID vaccines are effective at preventing severe illness and death in omicron patients, and boosters provide at least some added protection.
On Wednesday, Pfizer and BioNTech announced that laboratory tests have shown a third dose of their COVID-19 vaccine appears to provide sufficient protection against the omicron variant, though two doses may not.
According to the companies, researchers saw a 25-fold reduction in neutralizing antibodies for omicron compared to other strains of the virus for people who had just two Pfizer doses.
By contrast, samples from people one month after they had received a Pfizer booster presented neutralizing antibodies against omicron that were comparable to those seen against previous variants after two doses.
Still, Pfizer's chief executive also told reporters later in the day that omicron could increase the likelihood that people might need a fourth dose earlier than previously expected, which he had initially said was 12 months after the third shot.
Notably, the Pfizer research has not yet been peer-reviewed, and it remains unclear how omicron will operate outside a lab, but other studies have had similar findings.
40 Camels Disqualified From Beauty Contest After Breeders Inject Their Faces With Botox
The animals were barred from competing for $66 million in prizes at this year's King Abdulaziz Camel Festival in Saudi Arabia.
---
Camels Booted From Beauty Contest
More than 40 camels were disqualified from a beauty contest in Saudi Arabia this week after judges found artificial enhancements in their faces, marking the biggest crackdown on contestants in the competition to date.
The animals were competing for $66 million in prizes at the King Abdulaziz Camel Festival, a month-long event that is estimated to include around 33,000 camels.
However, according to The Guardian, they were forced out of the contest when authorities found that breeders had "stretched out the lips and noses of the camels, used hormones to boost the animals' muscles, injected heads and lips with Botox to make them bigger, inflated body parts with rubber bands, and used fillers to relax their faces."
Those types of alterations are banned since judges look at the contestant's heads, necks, humps, posture, and other features when evaluating them.
An announcement from the state-linked Saudi Press Agency said officials used "specialized and advanced" technology to detect tampering.
"The club is keen to halt all acts of tampering and deception in the beautification of camels," the SPA report added before warning that organizers would "impose strict penalties on manipulators."
While it's unclear what that actually entails, this isn't the first time people have tried to cheat in this way.
In 2018, 12 camels were similarly disqualified from the competition for injections in their noses, lips, and jaw.