Botched Historical Art Restoration Leads to Calls for Better Regulation
An art collector in Spain said his copy of a famous painting, La Inmaculada Concepción Del Escorial, was ruined after a recent restoration attempt.
Parallels have been made to other botched restorations in the country, including a statue of St. George and a fresco of Jesus Christ.
Professionals are now calling for regulation over who can restore historical and cultural works.
---
Historical Painting Ruined
Conservation experts in Spain are calling for better regulation over restoration projects after an art collector had a copy of a famous painting ruined by an amateur restorer.
The destroyed artwork was a historical copy of La Inmaculada Concepción del Escorial , which depicted the Virgin Mary and her lack of Original Sin, according to Catholic dogma.
The unnamed collector paid €1,200 to a local furniture restorer to fix the painting. He told El Pais that the man had fixed plenty of historical furniture for his family, so he trusted his work. Fortunately, the collector's painting wasn't the original, but an early 20th-century copy of baroque artist Bartolome's Esteban Murillo's 17th Century piece. The original is currently housed at El Prado, one of the world's most prestigious art museums.
The collector also told El Pais that the piece was actually ruined twice by the furniture restorer. According to an interview with the outlet, the first attempt at a restoration featured a "completely disfigured face," although both attempts are far cries of Murillo's work.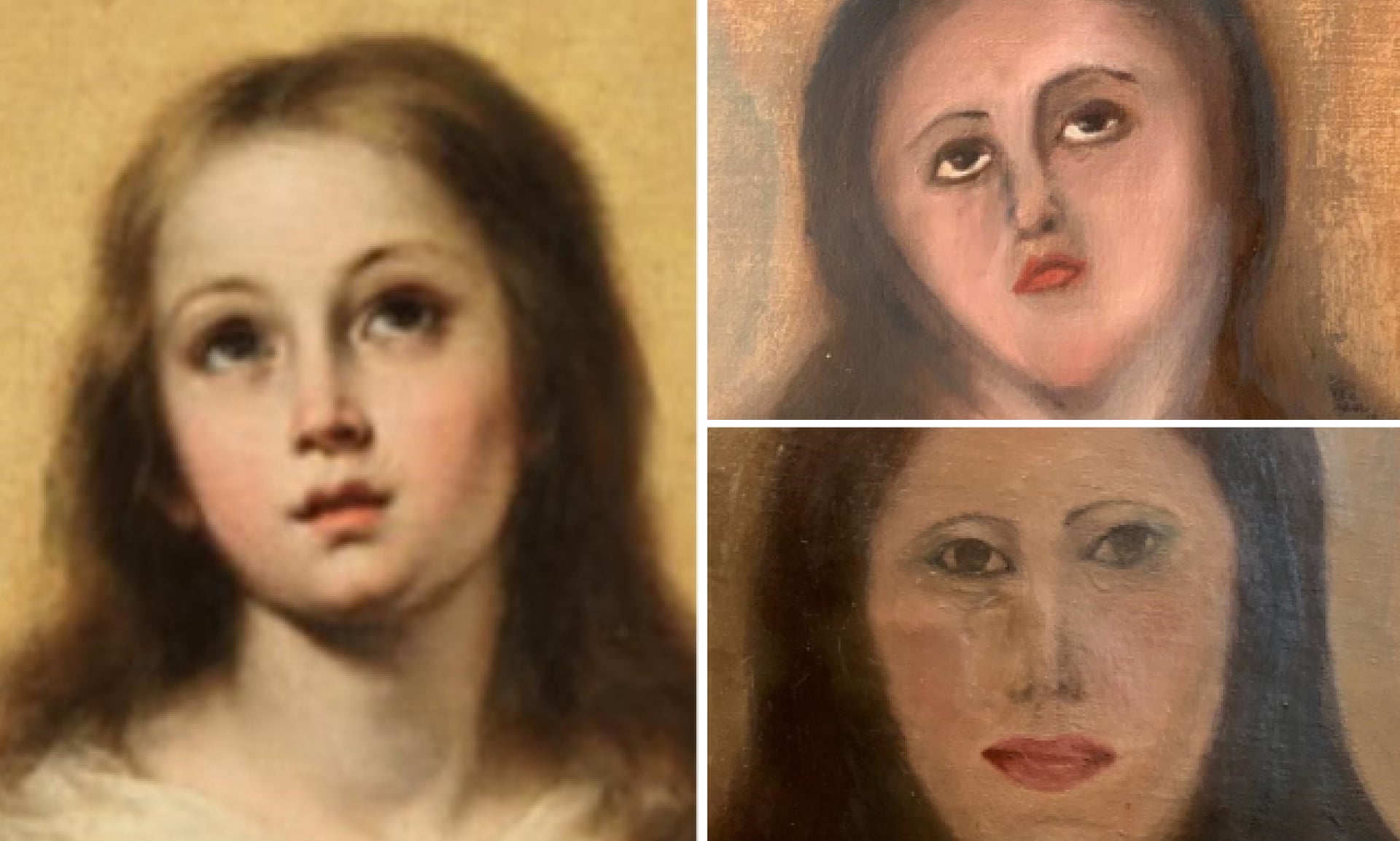 Ecce Artem
However, this isn't the first time a story about a botched-attempt at restoring historical artwork has come out of Spain.
In 2012 Ecce Homo, a fresco of Jesus Christ in a small Borja church was destroyed when an elderly parishioner attempted to fix the deteriorating piece. She claims the priest gave her permission to fix the fresco.
For many, it ended up looking like a monkey, and received the nick-name Ecce Mono – a mix of Spanish and Latin that means "Behold the Monkey," a play on the piece's original name which means "Behold the Man." However, in a twist, the ruined fresco helped drive tourism to Borja, which was facing economic hardships and proved to be a huge boon.
In 2018, a statue in northern Spain of St. George slaying the Dragon was heavily altered after a local artist tried to restore the piece. The colors were so bold, solid, and vibrant that it drew comparisons to playmobil figures. After hundreds of hours of work across a year, professional restorers managed to make it appear much closer to its pre-2018 likeness.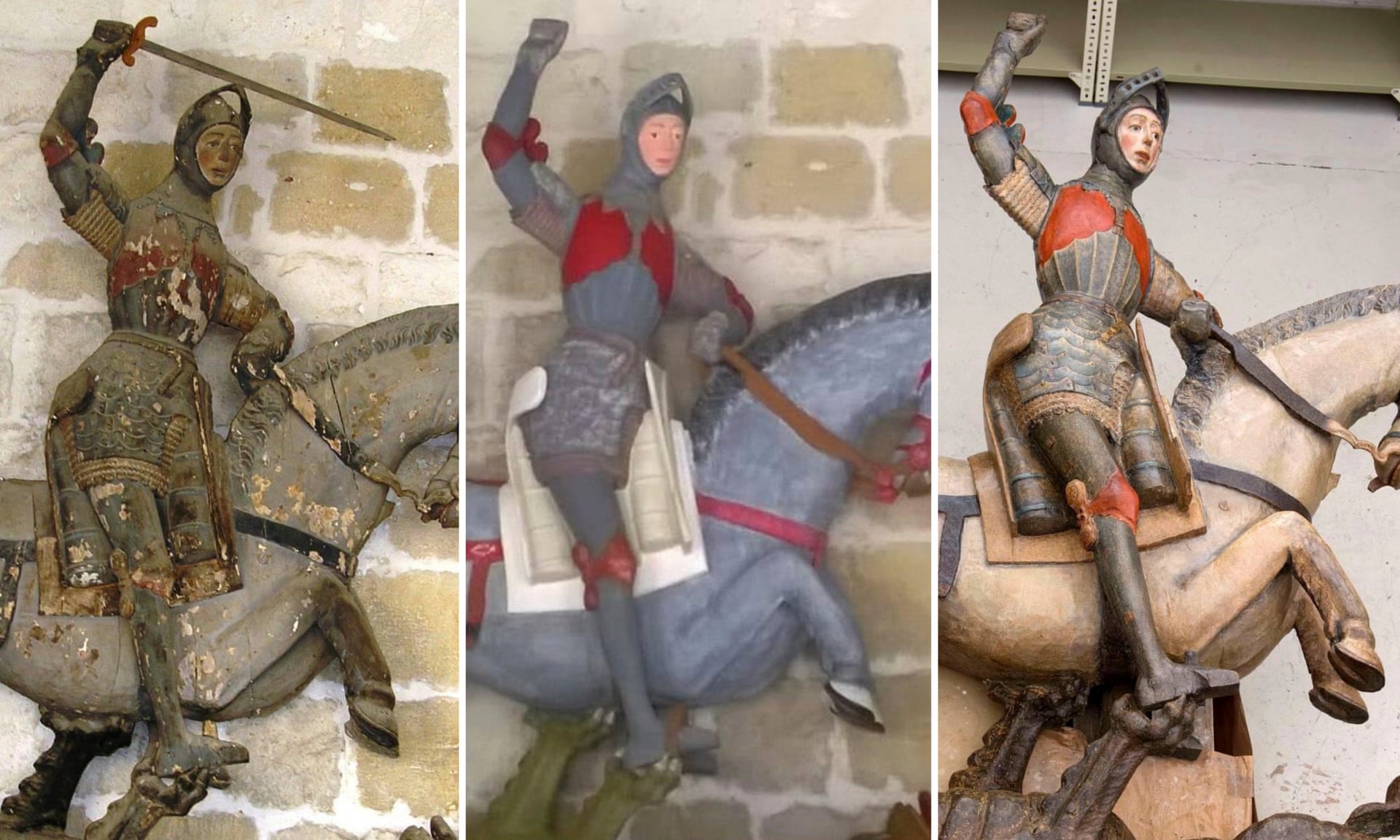 Calls for Regulation
The latest fiasco involving La Inmaculada Concepción del Escorial has caused professionals in the industry to call for regulation over historical art restoration. In a memo released on June 23rd, the Spanish Association of Conservators and Restorers (ACRE) said:
"If the facts are confirmed, we will have to lament the loss, again, of a cultural icon… and we ask that in this situation isn't used as a joke by the media or social media, as has happened in the past… It's sad that in the 21st century there aren't any laws or legal orders [that prohibit] people without certifications from carrying out restorations. Especially when in Spain, and specifically within Valencia, there are a large number of qualified specialists… And this lack of regulation translates into an absence of protection of our heritage, and that allows people without training to intervene on it, facing, at best, simple administrative sanctions."
The Vice-President of ACRE's Valencia chapter, Maria Borja Ortiz, added that botched-restorations are "unfortunately much more common than you'd think."
It's yet to be seen if any lawmakers, either at the federal level or within the autonomous communities of Spain, will move to regulate the industry.
Hong Kong Pro-Democracy Paper Apple Daily Forced To Shut Down Under Government Pressure
Over the last week, Apple Daily has been dealing with the fallout of authorities raiding its offices, arresting its leadership, freezing most of its assets, and leaving it unable to pay employees.
---
End of Hong Kong Staple
Apple Daily, one of Hong Kong's most popular papers, announced Wednesday that it would be shutting down starting Thursday.
The news is a major blow to journalism in the city, as Apple Daily was a prominent, independent news outlet that was willing to feature both pro-unification and pro-democracy editorials. It was also known for making its own headlines in its clashes with Beijing and Hong Kong authorities.
The series of events that led to its closure first began last week when over 500 police descended on Apple Daily's offices to confiscate documents and arrest executives, as well as editors. Authorities also froze over $1,000,000 in assets.
Officials accused the paper of violating Article 28 of the controversial National Security law by advocating for foreign countries to interfere in Chinese affairs and impose sanctions on the mainland and Hong Kong governments. Authorities also arrested one of the paper's journalists for writing pro-democracy editorials Wednesday morning.
After last week's raid, Apple Daily said it would continue to publish papers, but following a week of struggling to pay staff and overcome the frozen assets, it was effectively forced to close its doors.
Lamenting the Loss
Around the world, governments and activists have lamented that the Chinese government managed to so quickly and effectively kill a paper and lessen the city's journalistic landscape. Dominic Raab, the U.K.'s foreign minister, said, "The forced closure of Apple Daily by the Hong Kong authorities is a chilling blow to freedom of expression in Hong Kong."
"It is crystal clear that the powers under the National Security Law are being used as a tool to curtail freedoms and punish dissent – rather than keep public order."
The now-exiled in London, pro-democracy activist Nathan Law wrote on Twitter, "More than 1000 workers lost their jobs. A charity operated by Apple Daily that subsidizes underprivileged patients to pay for expensive patent drugs is also closed immediately. They lost all fundings. People lost more than a news channel that dares to speak differently."
"The govt singlehanded created this tragedy. CCP does not tolerate truth and independent journalism. They crush our civil society, our proud tradition."
After the paper ran its last video broadcast, Marco Cheung, one of the paper's senior video reporters said during an interview in Hong Kong on Tuesday, "Is society changing too quickly or is it us that cannot keep up? Maybe we are used to a society with free speech and we have not adjusted yet."
"We have not yet learned how we ought to survive if we want to stay in Hong Kong as journalists," Cheung added.
A crowd of people went outside of Apple Daily's offices on Wednesday to send off the paper, which has continued to remain popular despite the raid and saw its readership rise over the last week.
Filipino President Threatens To Jail Those Who Refuse To Get Vaccinated Against COVID-19
The leader's remarks come after vaccine hesitancy studies indicated that nearly a third of Filipinos wouldn't get vaccinated for COVID-19.
---
"Get Vaccinated or I Will Have You Jailed," Duterte Warns
President of the Philippines Rodrigo Duterte threatened to enact some of the strictest COVID-19 measures in the world in a televised address Monday night.
"You choose, get vaccinated or I will have you jailed…. I'm telling you, those police jail cells are filthy and foul-smelling, police are lazy in cleaning," Duterte warned citizens.
"You get vaccinated, otherwise I will order all the village heads to have a tally of all the people who refuse to get vaccinated," the president added.
Duterte is known for making hyperbolic comments and Monday's remarks have possibly proven to be no different.
Justice Minister Menardo Guevarra told reporters Tuesday morning that there are no laws compelling people to get vaccinated. Meanwhile, presidential spokesperson Herminio Roque said vaccines still remain voluntary. Still, Roque noted that compulsory vaccinations were within the powers of the state if it chose to do so through legislation.
Frustration at Growing Crisis
Not all of Duterte's stances were walked back by officials. His plans to halt in-person classes and enforce mandatory face coverings are still supported by Filipino officials and health experts. While Duterte's comments come off as draconian, the president argues, "The first wave has really depleted the resources of [the] government. Another one would be disastrous for this country. That is why the stricter you are, the better."
The Philippines is facing a massive health crisis and widespread vaccine hesitancy. One study from Social Weather Stations, a statistics company, indicated that while 51% of the country trusts the government's evaluation of COVID-19 vaccines, a majority of people still wouldn't get them. In May 2021, that same study asked Filipinos whether or not they would take a vaccine if it was approved by the FDA and given for free. A third of respondents said they were unsure, while another third flat out said they would refuse.
This hesitancy has led to low vaccination rates amid a large outbreak over the last two months that has left COVID-19 infection numbers high.
June has consistently seen roughly 7,000 new cases a day, a slight improvement from April and May, but still nearly six times as many daily infections as June 2020.
Japan's Government To Encourage 4-Day Workweek, Experts Doubt Implementation
Most Japanese companies that offer a four-day workweek don't pay for the extra day off, which is a major point of concern for employees who don't want to lose out on income.

---
Four Days of Pay for Four Days of Work
The government of Japanese Prime Minister Suga Yoshihide finalized its annual economic policy guidelines on Friday, which included a push for a four-day workweek option.
The initiative is already facing some pushback by employers, employees, and experts in the country. Some major concerns include how a four-day workweek would be implemented. At the 8.3% of Japanese companies that currently offer an extra day off, that day off is usually unpaid, according to the Ministry of Labor. For those that use it, it's effectively a pay cut — a major concern for many employees who don't want to lose out on income.
That pay cut could indicate why it's rarely used. Yahoo Japan, for instance, offers it and only 100 out of 7000 employees take the extra day off, though a company spokesperson told Kyodo News, "It has been favorably received in general, with some employees saying that it became easier to match their days off with their children's activities."
There are also concerns that the extra day off, and the pay cut associated with it, will lead employees to seek part-time jobs to make up for the lost income. Those second jobs could mean that employees effectively have less time off than before and could result in a decrease in productivity, countering any alleged benefits of a four-day workweek.
Despite these concerns, the government thinks offering a four-day workweek would be a net benefit for Japan. It hopes that people will use the extra day to procure other skill sets that will help them gain work in emerging technologies and markets. In general, the government wants to promote "diversified working styles."
Experts like Yamada Hisashi, vice chairman of the Japan Research Institute, think that any move towards a four-day workweek needs to be clearly spelled out to avoid issues such as pay cuts that motivate employees to stick to five days a week. He told Kyodo News that there were also complications for managers, saying, "Let's say, if employees take second jobs, it would be difficult for managers to know how long they work in total and to evaluate equally those who take two days off a week and those who take three."
"From the employees' standpoint, they would not want to see their income from their main jobs decrease."
Mixed Implementation With Tangible Benefits
Another criticism of the plan is that the extra day off doesn't address other societal pressures that cause work-life imbalances. Japanese employees work fewer hours than their Australian, Canadian, Italian, and American counterparts, according to the Organization for the Economic Co-Operation and Development.
However, those numbers usually fail to reflect events such as dinner and drinks with superiors late into the night as often as multiple times a week in some of the most extreme cases. While these events are technically voluntary, societal pressures and traditions dictate that subordinates need to attend or face ostracization.
A four-day workweek has some evidence providing tangible benefits for employers, but whether that means employees get paid the same or receive a pay cut differs from company to company and is one of the things experts want the government to make clear.
In Japan, Microsoft's local subsidiary experimented with a four-day workweek in 2019 and found a 40% boost in worker productivity. On top of increased productivity, the company also saved 58% on paper, and electricity consumption went down 23%.