Botched Historical Art Restoration Leads to Calls for Better Regulation
An art collector in Spain said his copy of a famous painting, La Inmaculada Concepción Del Escorial, was ruined after a recent restoration attempt.
Parallels have been made to other botched restorations in the country, including a statue of St. George and a fresco of Jesus Christ.
Professionals are now calling for regulation over who can restore historical and cultural works.
---
Historical Painting Ruined
Conservation experts in Spain are calling for better regulation over restoration projects after an art collector had a copy of a famous painting ruined by an amateur restorer.
The destroyed artwork was a historical copy of La Inmaculada Concepción del Escorial , which depicted the Virgin Mary and her lack of Original Sin, according to Catholic dogma.
The unnamed collector paid €1,200 to a local furniture restorer to fix the painting. He told El Pais that the man had fixed plenty of historical furniture for his family, so he trusted his work. Fortunately, the collector's painting wasn't the original, but an early 20th-century copy of baroque artist Bartolome's Esteban Murillo's 17th Century piece. The original is currently housed at El Prado, one of the world's most prestigious art museums.
The collector also told El Pais that the piece was actually ruined twice by the furniture restorer. According to an interview with the outlet, the first attempt at a restoration featured a "completely disfigured face," although both attempts are far cries of Murillo's work.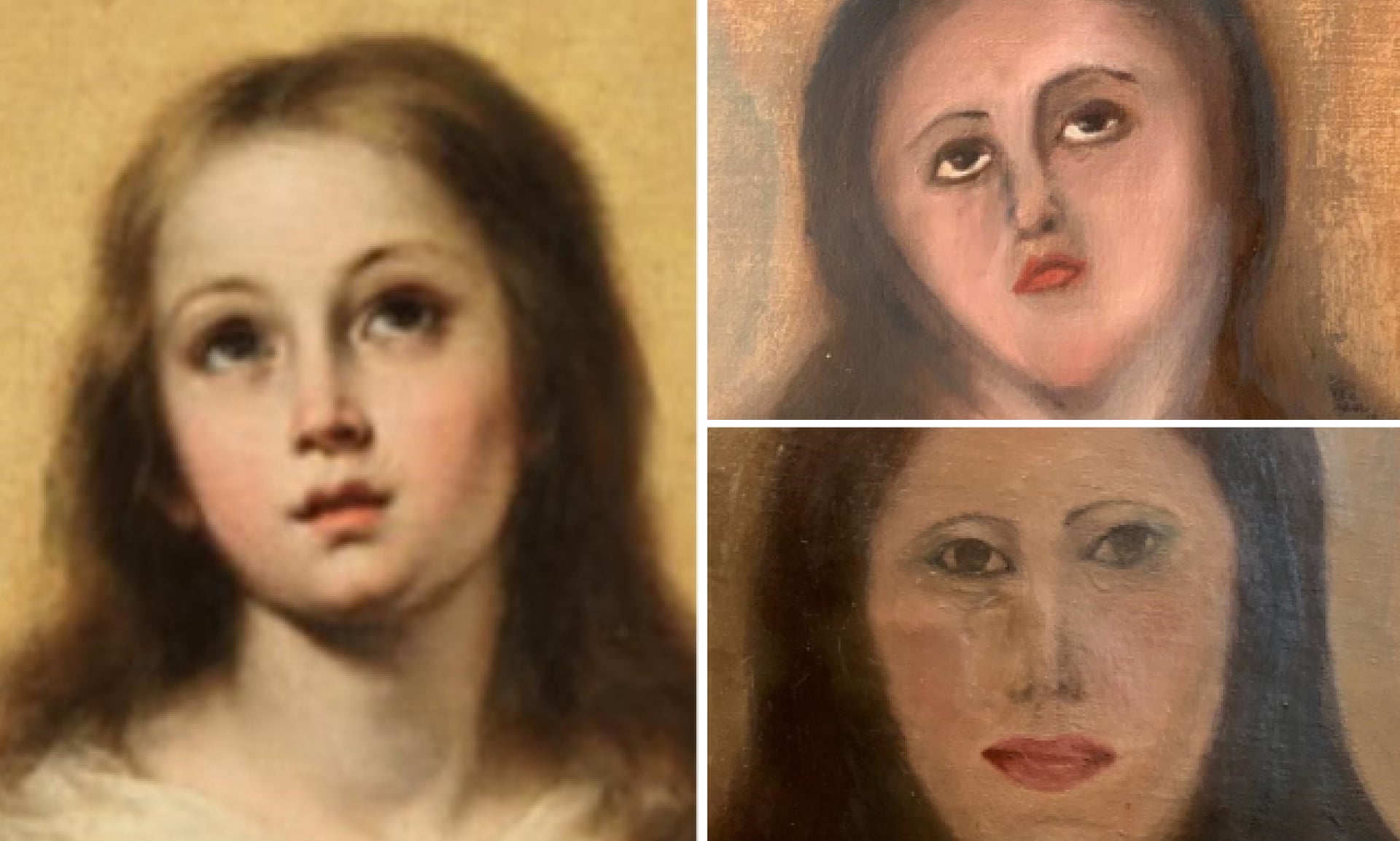 Ecce Artem
However, this isn't the first time a story about a botched-attempt at restoring historical artwork has come out of Spain.
In 2012 Ecce Homo, a fresco of Jesus Christ in a small Borja church was destroyed when an elderly parishioner attempted to fix the deteriorating piece. She claims the priest gave her permission to fix the fresco.
For many, it ended up looking like a monkey, and received the nick-name Ecce Mono – a mix of Spanish and Latin that means "Behold the Monkey," a play on the piece's original name which means "Behold the Man." However, in a twist, the ruined fresco helped drive tourism to Borja, which was facing economic hardships and proved to be a huge boon.
In 2018, a statue in northern Spain of St. George slaying the Dragon was heavily altered after a local artist tried to restore the piece. The colors were so bold, solid, and vibrant that it drew comparisons to playmobil figures. After hundreds of hours of work across a year, professional restorers managed to make it appear much closer to its pre-2018 likeness.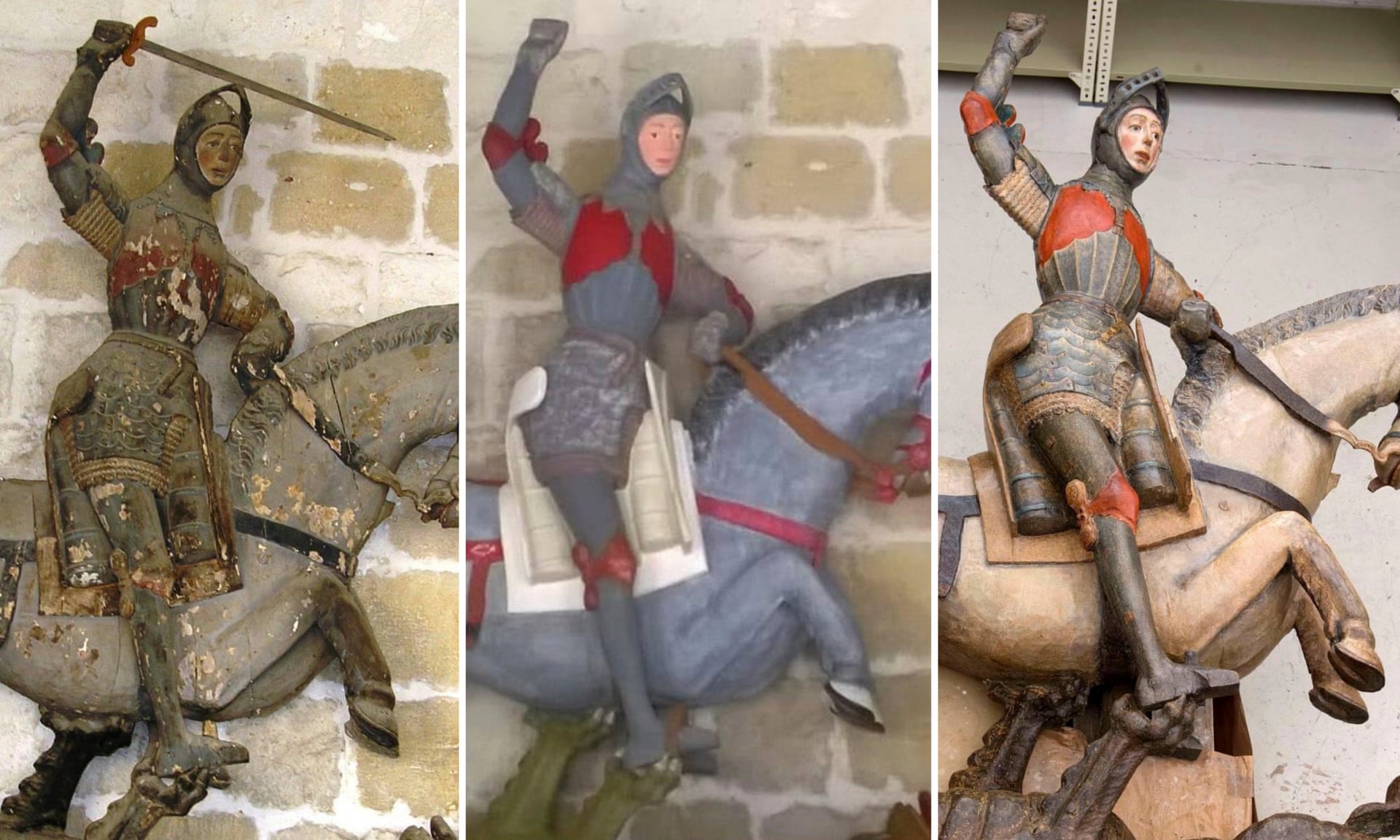 Calls for Regulation
The latest fiasco involving La Inmaculada Concepción del Escorial has caused professionals in the industry to call for regulation over historical art restoration. In a memo released on June 23rd, the Spanish Association of Conservators and Restorers (ACRE) said:
"If the facts are confirmed, we will have to lament the loss, again, of a cultural icon… and we ask that in this situation isn't used as a joke by the media or social media, as has happened in the past… It's sad that in the 21st century there aren't any laws or legal orders [that prohibit] people without certifications from carrying out restorations. Especially when in Spain, and specifically within Valencia, there are a large number of qualified specialists… And this lack of regulation translates into an absence of protection of our heritage, and that allows people without training to intervene on it, facing, at best, simple administrative sanctions."
The Vice-President of ACRE's Valencia chapter, Maria Borja Ortiz, added that botched-restorations are "unfortunately much more common than you'd think."
It's yet to be seen if any lawmakers, either at the federal level or within the autonomous communities of Spain, will move to regulate the industry.
India Pedestrian Bridge Collapsed 4 Days After Renovations, Killing Over 100 People
The company responsible for the upkeep of the Morbi bridge did not obtain a safety certificate before re-opening.
---
Bridge Collapses
After seven months of renovations, the Morbi walking bridge in India opened to the public. Four days later, the bridge collapsed, killing more than 130 people.
According to the local government, there were about 200 people on the bridge when it collapsed on Sunday, despite its capacity of 125.
During a campaign event on Monday, India's Prime Minister Narendra Modi said the state government had set up a committee to investigate the tragedy.
"I assure the people of the country that there will be nothing lacking in the relief and rescue efforts," he stated.
Along with the investigation, the state has launched a criminal complaint against Oreva Group, the company responsible for maintaining the bridge. Oreva Group reopened the bridge after renovations without getting a safety certificate from the government.
Shifting Blame
In response, Oreva Group spoke to a local news outlet and blamed those on the bridge for its collapse.
"While we are waiting for more information, prima facie, the bridge collapsed as too many people in the mid-section of the bridge were trying to sway it from one way to the other," the group claimed.
The state government has offered compensation for the families of the deceased, but that is not enough for some. One father whose wife and two children died in the collapse told VICE he wants answers and accountability.
"Why were so many people given tickets? Who allowed them? Who is answerable?" he asked.
Indian police have arrested nine people including ticketing clerks and security guards for failing to regulate the crowd, according to Reuters.
See what others are saying: (Reuters) (VICE) (CNN)
Xi Jinping Tightens Grip on China by Eliminating Rivals
Despite the staggering power grab, Xi faces geopolitical competition from abroad as well as social and economic instability at home.
---
Xi Surrounds Himself With Allies
Chinese President Xi Jinping shook up politics over the weekend when he revealed the government's new leadership, almost exclusively composed of his own hardline loyalists.
Six men — Li Qiang, Zhao Leji, Wang Huning, Cai Qi, Ding Xuexiang, and Li Xi — will form the Politburo Standing Committee, China's top ruling body.
The four new members are all Xi loyalists, pushing out Premier Li Keqiang and the head of China's top advisory body Wang Yang, two key party figures outside Xi's inner circle who retired despite being eligible to serve another term.
For the first time in a quarter-century, China's 24-member Politburo will be made up entirely of men, underlining the exclusion of women from Chinese politics.
An official account of the selection process said that a top criterion for leadership was loyalty to Xi, and rising officials must stay in lockstep with him "in thinking, politics and action."
Topping off the developments, Xi officially secured an unprecedented third term as leader, something that was only made possible in 2018 when the government abolished term limits on the presidency. The weekend marked China's greatest consolidation of political power in a single figure in decades.
As the 20th Communist Party Congress came to a close Saturday, China's former leader Hu Jintao appeared reluctant as he was suddenly and inexplicably escorted from his seat next to Xi out of the Great Hall of the People.
Some commentators have argued that a tightly knit band of yes men may help Xi fend off internal party dissent, but it could ultimately result in poor governance as his subordinates fear giving him bad news.
The Arc of History Bends Toward China
Despite the extreme concentration of political power, China's Communist Party stares down a gauntlet of challenges both foreign and domestic.
Beijing remains locked in a strategic competition with Washington, which has sought to contain the East Asian rival's rise as a global superpower, but the past week's congress may portend a stubbornly defiant China for years to come.
Xi is expected to use his firmly secure position within the party to pursue his agenda in full force — by strengthening Beijing's claim over Taiwan, expanding China's economic foothold in developing countries, and achieving self-sufficiency in strategic technologies such as semiconductors.
At home, China's economy has faltered during the pandemic, with high unemployment, low consumption, and slow economic growth putting pressure on a government that stakes much of its legitimacy on promises to deliver prosperity to the population. Between July and September, the country's GDP grew by 3.9%, according to official data released Monday, which is above many analysts' expectations but still far below the state's target of around 5.5%.
China's National Bureau of Statistics postponed the data's publication last week ahead of the 20th party congress, reinforcing concerns that Xi's leadership will put politics before economics.
Monday's announcement roiled stock markets, with Hong Kong's Hang Seng Index plunging 6%, as well as the Shanghai Composite and the Shenzhen Composite Index both falling by about 2%.
Beijing has also seen increased political resistance from the population, from anti-lockdown protests in Shanghai to widespread mortgage boycotts over delays from real estate developers.
Last week, a man unfurled two large banners from an overpass in Beijing and called President Xi a "dictator" through a megaphone.
Such small-scale demonstrations are not new, but they took place in the capital just before the congress drew enough attention for photos of the stunt to go viral on social media, where an equally swift censorship campaign stamped out any mention of it.
Elon Musk Walks Back Threat to Cut Ukraine's Starlink Internet Service
Although the satellites have been invaluable for Ukrainian military operations, outages have left soldiers without communication devices in recent weeks.
---
Let Them Eat Satellites
SpaceX founder Elon Musk said on Saturday that his company would continue funding internet service for Ukraine after declaring that he would have no choice but to cut it off the day prior.
"The hell with it," he tweeted. "Even though Starlink is still losing money & other companies are getting billions of taxpayer $, we'll just keep funding Ukraine govt for free."
It wasn't immediately clear whether the often jocular billionaire was being sarcastic, but in response to another Twitter user he said, "We should still do good deeds."
SpaceX's Starlink satellites help the Ukrainian military operate drones, receive intelligence updates and communicate out in the field, which is vital since many regular internet and cellular phone networks have been destroyed by Russia.
At least 20,000 satellite terminals have been donated to Ukraine since the spring, but SpaceX has footed the bill for a small minority of them. According to a letter the company sent to the Pentagon last month, around 85% of the terminals were paid for in part or in full by the United States, Poland, and other entities, who also covered some 30% of the internet connectivity.
SpaceX claimed in the letter that Starlink services for Ukraine would cost over $120 million for the rest of the year and nearly $400 million for the next 12 months.
"We are not in a position to further donate terminals to Ukraine, or fund the existing terminals for an indefinite period of time," it said.
The company, therefore, requested that the Pentagon take over funding for the satellite terminals.
Earlier this month, Musk claimed on Twitter that Ukraine's Starlink services had cost SpaceX $80 million so far.
On Friday, following CNN's publication of the SpaceX letter, Musk reaffirmed that his company "cannot fund the existing system indefinitely, *and* send several thousand more terminals that have data usage up to 100X greater than typical households."
He added, however, that it was not seeking to recoup past expenses.
On Monday, Politico reported that the Pentagon is considering paying for the Starlink satellite network from a fund that has been used to supply weapons and equipment over the long term, according to two U.S. officials who are involved in the deliberations.
Starlink Leaves Ukraine's Soldiers Stranded
Ukrainian troops experienced "catastrophic" outages in their Starlink communication devices in recent weeks, according to a Financial Times report earlier this month.
The services reportedly stopped functioning at critical moments, such as when soldiers breached the front lines into Russian-controlled territory or engaged in pitched battles.
"They were acute in the south around the Kherson and Zaporizhzhia regions, but also occurred along the frontline in eastern Kharkiv, Donetsk and Luhansk," an official told the outlet.
Last month, Russian President Vladimir Putin claimed to annex all four regions and held referendums widely considered to be a sham justification for his conquest of the Donbas.
The regions are also the focus of a massive Ukrainian counteroffensive that has sent Russian troops scrambling in recent weeks.
One Starlink donor reportedly believed the outages were a result of SpaceX's efforts to block Russian forces from misusing Starlink terminals.
As Ukrainian soldiers liberated Russian-occupied territory, the sources said, public announcements of their gains lagged behind, and so did Starlink's coverage.
Another official told the outlet that connection failures were widespread and led to panicked calls from soldiers to helplines.
Musk responded to the report by tweeting, "As for what's happening on the battlefield, that's classified."