Botched Historical Art Restoration Leads to Calls for Better Regulation
An art collector in Spain said his copy of a famous painting, La Inmaculada Concepción Del Escorial, was ruined after a recent restoration attempt.
Parallels have been made to other botched restorations in the country, including a statue of St. George and a fresco of Jesus Christ.
Professionals are now calling for regulation over who can restore historical and cultural works.
---
Historical Painting Ruined
Conservation experts in Spain are calling for better regulation over restoration projects after an art collector had a copy of a famous painting ruined by an amateur restorer.
The destroyed artwork was a historical copy of La Inmaculada Concepción del Escorial , which depicted the Virgin Mary and her lack of Original Sin, according to Catholic dogma.
The unnamed collector paid €1,200 to a local furniture restorer to fix the painting. He told El Pais that the man had fixed plenty of historical furniture for his family, so he trusted his work. Fortunately, the collector's painting wasn't the original, but an early 20th-century copy of baroque artist Bartolome's Esteban Murillo's 17th Century piece. The original is currently housed at El Prado, one of the world's most prestigious art museums.
The collector also told El Pais that the piece was actually ruined twice by the furniture restorer. According to an interview with the outlet, the first attempt at a restoration featured a "completely disfigured face," although both attempts are far cries of Murillo's work.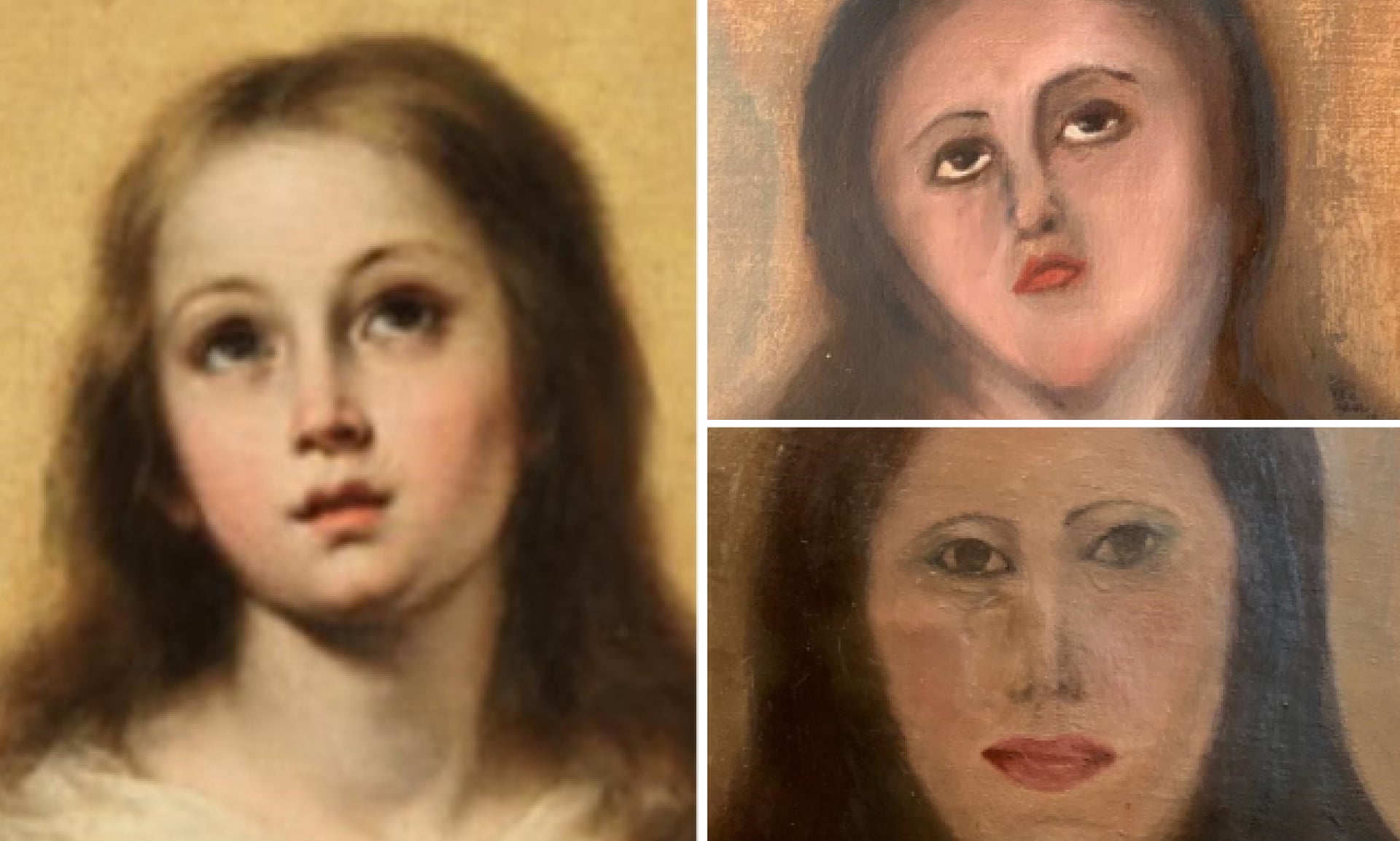 Ecce Artem
However, this isn't the first time a story about a botched-attempt at restoring historical artwork has come out of Spain.
In 2012 Ecce Homo, a fresco of Jesus Christ in a small Borja church was destroyed when an elderly parishioner attempted to fix the deteriorating piece. She claims the priest gave her permission to fix the fresco.
For many, it ended up looking like a monkey, and received the nick-name Ecce Mono – a mix of Spanish and Latin that means "Behold the Monkey," a play on the piece's original name which means "Behold the Man." However, in a twist, the ruined fresco helped drive tourism to Borja, which was facing economic hardships and proved to be a huge boon.
In 2018, a statue in northern Spain of St. George slaying the Dragon was heavily altered after a local artist tried to restore the piece. The colors were so bold, solid, and vibrant that it drew comparisons to playmobil figures. After hundreds of hours of work across a year, professional restorers managed to make it appear much closer to its pre-2018 likeness.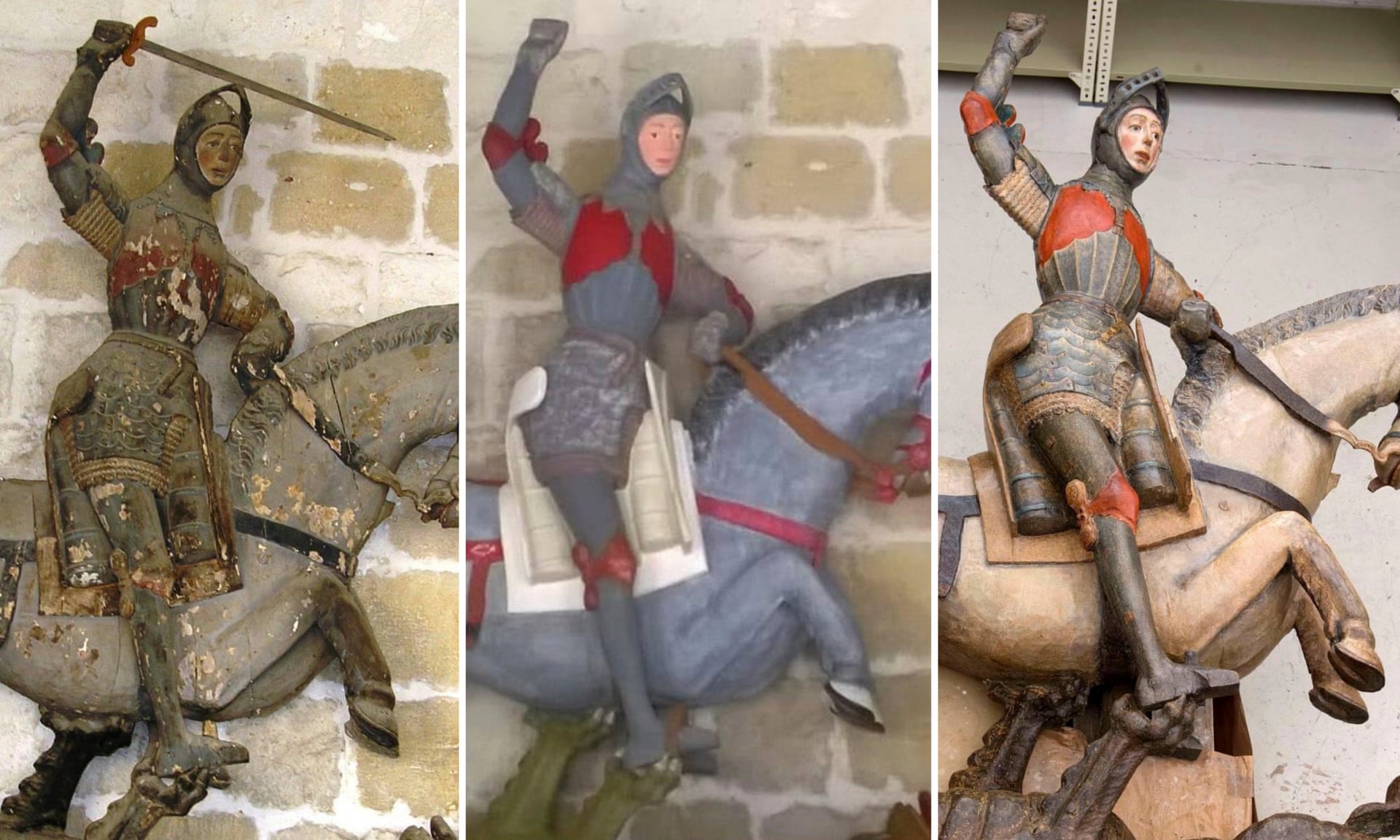 Calls for Regulation
The latest fiasco involving La Inmaculada Concepción del Escorial has caused professionals in the industry to call for regulation over historical art restoration. In a memo released on June 23rd, the Spanish Association of Conservators and Restorers (ACRE) said:
"If the facts are confirmed, we will have to lament the loss, again, of a cultural icon… and we ask that in this situation isn't used as a joke by the media or social media, as has happened in the past… It's sad that in the 21st century there aren't any laws or legal orders [that prohibit] people without certifications from carrying out restorations. Especially when in Spain, and specifically within Valencia, there are a large number of qualified specialists… And this lack of regulation translates into an absence of protection of our heritage, and that allows people without training to intervene on it, facing, at best, simple administrative sanctions."
The Vice-President of ACRE's Valencia chapter, Maria Borja Ortiz, added that botched-restorations are "unfortunately much more common than you'd think."
It's yet to be seen if any lawmakers, either at the federal level or within the autonomous communities of Spain, will move to regulate the industry.
Apple and Google Remove Navalny Voting App as Russian Elections Kick-Off
The decisions from Apple and Google, which followed weeks of pressure from the Kremlin, mark a continuation in the war between Western tech companies and authoritarian governments.
---
Voting App Removed From App Stores
Apple and Google removed a tactical voting app designed by allies of jailed Russian opposition leader Alexei Navalny from their app stores Friday, bowing to pressure from the Kremlin the same day voting began for the country's parliamentary elections.
The Smart Voting app aimed to direct opposition voters in each of the country's 225 districts to select whichever candidate was most likely to defeat competitors from President Vladimir Putin's United Russia party.
Removal of the app comes as part of the Kremlin's broader crackdown on the work and allies of Navalny, who was given a prison sentence of two and a half years in February for violating parole for a previous conviction widely believed to be politically motivated.
Russian authorities banned the app in June when the government outlawed Navalny's movement as an extremist organization.
For weeks, the Russian censorship agency, Roskomnadzor, threatened to fine Apple and Google if they did not remove the app, arguing it was illegal and accusing the two of election interference.
People familiar with the matter told reporters that the tech companies complied with the request after Russian officials threatened to prosecute their employees based in the country.
Response and Backlash
Kremlin authorities welcomed the companies' decision, which they painted as necessary legal compliance.
"They have met the lawful demands," Kremlin spokesman Dmitry Peskov told reporters Friday. "This application is prohibited in the territory of our country. Both platforms received relevant notices and it seems they have made the decision consistent with the letter and the spirit of the law."
Navalny's allies and digital rights activists condemned Google and Apple for kowtowing to the demands of an authoritarian regime.
"Removing the Navalny app from stores is a shameful act of political censorship," Ivan Zhdanov, a Navalny aide wrote on Twitter. "Russia's authoritarian government and propaganda will be thrilled."
Natalia Krapiva, a digital rights attorney with the Internet freedom group Access Now, told reporters that while it was clear Apple and Google "took this decision under pressure," the tech companies still "owe the Russian people an explanation."
Friday's removals, she argued, have little precedent.
"This is really a new phenomenon to go after the app stores," Krapiva noted.
Broader Crackdowns on Tech Companies
The move marks a continued escalation in the battle between authoritarian governments and American tech companies fighting to keep their services accessible.
In Russia, Twitter, Facebook, and TikTok have faced throttling and fines in recent weeks for failing to remove calls for protests and other posts expressing dissent that the Kremlin claims are illegal.
In countries like India, Myanmar, and Turkey, authorities have increasingly pressured companies to censor political speech. Last year, Turkey passed a law that gives authorities more power to regulate social media companies. 
The Indian government is also currently in a standoff with Twitter over accusations the company has failed to comply with new internet regulations that experts say limit online speech and privacy.
Now, experts worry Google and Apple's decision to remove Navalny's app could encourage Russia and other authoritarian regimes to pressure tech companies by threatening to prosecute their employees.
Denmark Moves To Bar Life Prisoners From Starting New Romantic Relationships After Peter Madsen Controversy
While behind bars, the convicted murderer pursued relationships with female admirers, including a 17-year-old girl and a 39-year-old Russian artist who he married in 2020.
---
Legislation Proposed
Denmark's government proposed a draft law this week aimed at preventing prison inmates serving life sentences from forming new romantic relationships behind bars.
If passed, the proposed bill would specifically limit correspondence and visitation rights during the first 10 years of detention to people the prisoner knew before incarceration. It would also ban prisoners from sharing details about their criminal activities on social media or on podcasts.
Demands for such legislation stemmed from public frustration over Danish inventor Peter Madsen, a 49-year-old who was convicted in 2018 for the 2017 murder of Swedish journalist Kim Wall. According to prosecutors, Madsen sexually assaulted Wall while she was on board his submarine for an interview. He then dismembered her body before the submarine sank in what police said might have been an attempt to destroy evidence.
While incarcerated, Madsen reportedly pursued relationships with female admirers, including a 17-year-old girl named Cammilla Kürstein. Kürstein has admitted that she fell in love with Madsen after exchanging letters and talking on the phone with him over the course of two years.
However, she became jealous in 2020 when he ultimately married 39-year-old Jenny Curpen, a Russian artist living in self-imposed exile in Finland. Curpen has said her communication and visits with Madsen also began in 2018.
What Comes Next?
While Madsen has earned particular heat for pursuing new romance behind bars, he is far from the only incarcerated person to do so.
"We have seen distasteful examples in recent years of prisoners who have committed vile crimes contacting young people in order to gain their sympathy and attention," Justice Minister Nick Hækkerup said when speaking of the bill.
"This must obviously be stopped," he continued, arguing that jail should not serve as "dating centres or media platforms to brag about crimes."
Denmark's right-wing opposition in parliament has already signaled support for the bill, which was sent to the committee stage on Wednesday. If approved, it is expected to go into effect in January of next year.
Still, human rights experts said they expect challenges to the law. For example, Elo Rytter, of the University of Copenhagen, told the BT newspaper that it would "interfere with prisoners' right to a private life." She also said outlawing public statements might "raise questions about censorship."
World Anti-Doping Agency Will Review Cannabis Ban Following Sha'Carri Richardson's Suspension
Any changes that stem from the review will not take effect until 2023.
---
Cannabis Ban for Athletes Under Review
The World Anti-Doping Agency announced Tuesday that it will review whether cannabis should stay on its list of prohibited substances.
The move comes three months after the agency's policies notably prevented U.S. sprinter Sha'Carri Richardson from competing at the Tokyo Olympics.
In July, Richardson was given a 30 days suspension and stripped of her 100-meter win at the U.S. Olympics Trials when THC, the active ingredient in marijuana, was detected in her system. At the time, Richardson admitted that she used marijuana in Oregon, where it is legal, after learning that her biological mother had died.
The runner was ultimately met with an outpouring of support from people who argued that the drug is not a performance enhancer and is legal or decriminalized in multiple U.S. states, as well as in countries around the world.
The anti-doping agency did not specifically mention Richardson in its announcement, but it did say the plan is a response to "requests from a number of stakeholders" in international athletics.
It also said that cannabis will remain banned in 2022, and any changes that stem from the review will not take effect until the following year.
See what others are saying: (NPR)(CBS)(The Hill)