Botched Historical Art Restoration Leads to Calls for Better Regulation
An art collector in Spain said his copy of a famous painting, La Inmaculada Concepción Del Escorial, was ruined after a recent restoration attempt.
Parallels have been made to other botched restorations in the country, including a statue of St. George and a fresco of Jesus Christ.
Professionals are now calling for regulation over who can restore historical and cultural works.
---
Historical Painting Ruined
Conservation experts in Spain are calling for better regulation over restoration projects after an art collector had a copy of a famous painting ruined by an amateur restorer.
The destroyed artwork was a historical copy of La Inmaculada Concepción del Escorial , which depicted the Virgin Mary and her lack of Original Sin, according to Catholic dogma.
The unnamed collector paid €1,200 to a local furniture restorer to fix the painting. He told El Pais that the man had fixed plenty of historical furniture for his family, so he trusted his work. Fortunately, the collector's painting wasn't the original, but an early 20th-century copy of baroque artist Bartolome's Esteban Murillo's 17th Century piece. The original is currently housed at El Prado, one of the world's most prestigious art museums.
The collector also told El Pais that the piece was actually ruined twice by the furniture restorer. According to an interview with the outlet, the first attempt at a restoration featured a "completely disfigured face," although both attempts are far cries of Murillo's work.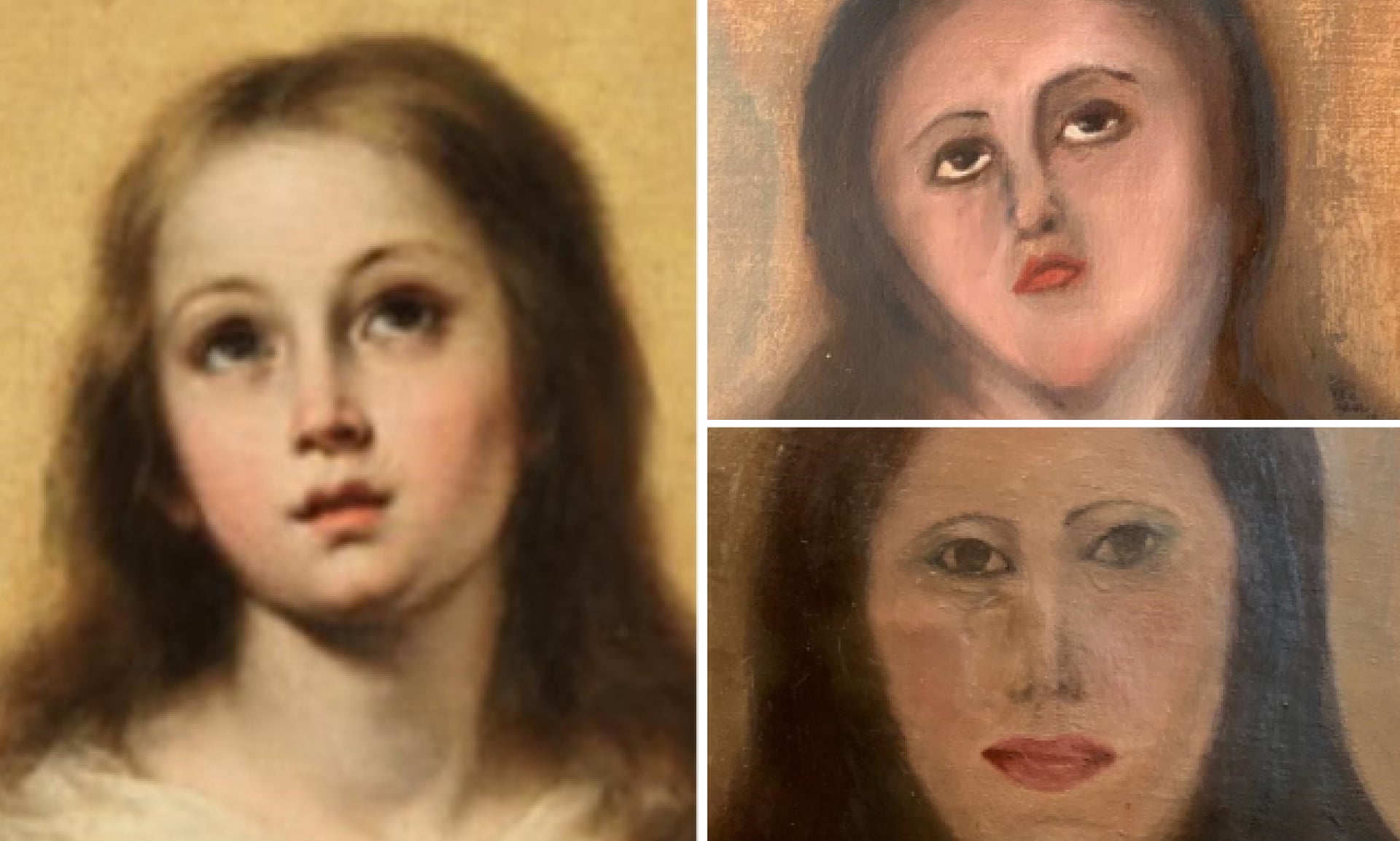 Ecce Artem
However, this isn't the first time a story about a botched-attempt at restoring historical artwork has come out of Spain.
In 2012 Ecce Homo, a fresco of Jesus Christ in a small Borja church was destroyed when an elderly parishioner attempted to fix the deteriorating piece. She claims the priest gave her permission to fix the fresco.
For many, it ended up looking like a monkey, and received the nick-name Ecce Mono – a mix of Spanish and Latin that means "Behold the Monkey," a play on the piece's original name which means "Behold the Man." However, in a twist, the ruined fresco helped drive tourism to Borja, which was facing economic hardships and proved to be a huge boon.
In 2018, a statue in northern Spain of St. George slaying the Dragon was heavily altered after a local artist tried to restore the piece. The colors were so bold, solid, and vibrant that it drew comparisons to playmobil figures. After hundreds of hours of work across a year, professional restorers managed to make it appear much closer to its pre-2018 likeness.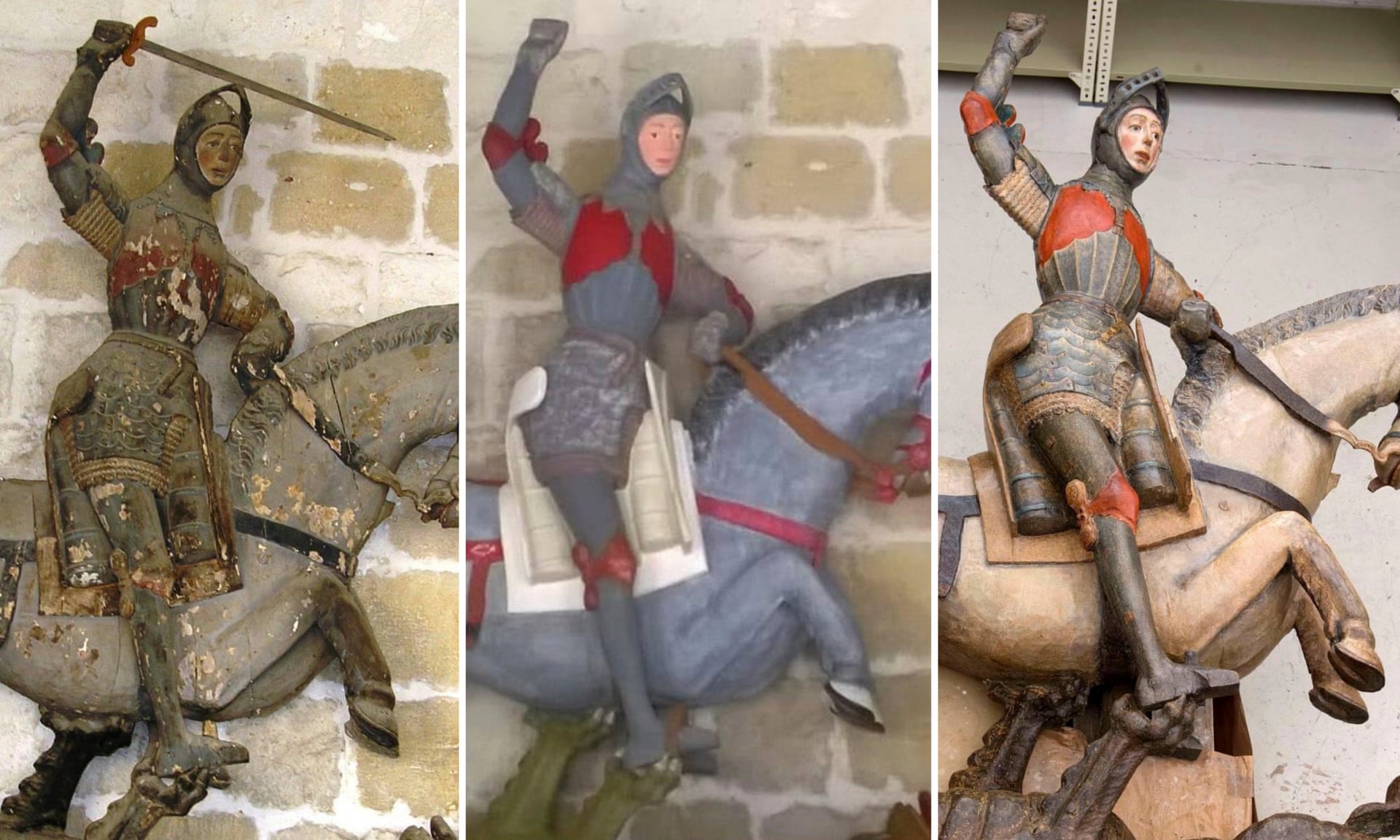 Calls for Regulation
The latest fiasco involving La Inmaculada Concepción del Escorial has caused professionals in the industry to call for regulation over historical art restoration. In a memo released on June 23rd, the Spanish Association of Conservators and Restorers (ACRE) said:
"If the facts are confirmed, we will have to lament the loss, again, of a cultural icon… and we ask that in this situation isn't used as a joke by the media or social media, as has happened in the past… It's sad that in the 21st century there aren't any laws or legal orders [that prohibit] people without certifications from carrying out restorations. Especially when in Spain, and specifically within Valencia, there are a large number of qualified specialists… And this lack of regulation translates into an absence of protection of our heritage, and that allows people without training to intervene on it, facing, at best, simple administrative sanctions."
The Vice-President of ACRE's Valencia chapter, Maria Borja Ortiz, added that botched-restorations are "unfortunately much more common than you'd think."
It's yet to be seen if any lawmakers, either at the federal level or within the autonomous communities of Spain, will move to regulate the industry.
Israel Relaxes Abortion Restrictions in Response to U.S. Supreme Court Ruling
The reforms follow similar moves by France and Germany as leaders across the political spectrum denounce the court's decision.
---
Health Minister Makes Announcement
Israel is easing access to abortion in response to the U.S. Supreme Court's repeal of Roe v. Wade, Nitzan Horowitz, the country's health minister and head of the small left-wing Meretz party, announced Monday.
"The U.S. Supreme Court's move to deny a woman the right to abortion is a dark move," he said in the announcement, "oppressing women and returning the leader of the free and liberal world a hundred years backward."
The new rules, approved by a majority in the parliamentary committee, grant women access to abortion pills through the universal health system. Women will be able to obtain the pills at local health centers rather than only hospitals and surgical clinics.
The new policy also removes the decades-old requirement for women to physically appear before a special committee that must grant approval to terminate a pregnancy.
While women will still need to get approval, the process will become digitized, the application form will be simplified, and the requirement to meet a social worker will become optional.
The committee will only conduct hearings in the rare case it initially denies the abortion procedure.
Israel's 1977 abortion law stipulates four criteria for termination of pregnancy: If the woman is under 18 or over 40, if the fetus is in danger, if the pregnancy is the result of rape, incest, or an "illicit union," including extramarital affairs, and if the woman's mental or physical health is at risk.
All of the changes will take effect over the next three months.
The World Reacts
Politicians across the political spectrum from Canadian Prime Minister Justin Trudeau to British Prime Minister Boris Johnson have denounced the U.S. Supreme Court's decision since it was announced Friday.
On Saturday, French Prime Minister Elisabeth Borne expressed support for a bill proposed by parliament that would enshrine the right to an abortion in the country's constitution.
"For all women, for human rights, we must set this gain in stone," she wrote on Twitter. "Parliament must be able to unite overwhelmingly over this text."
Germany scrapped a Nazi-era law prohibiting the promotion of abortion Friday, just hours before the U.S. Supreme Court ruling.
In Israel, abortion is a far less controversial issue than it is for Americans. Around 98% of people who apply for an abortion get one, according to the country's Central Bureau of Statistics.
Part of the reason for Israel's relatively easy access to abortion is that many residents interpret Jewish law to condone, or at least not prohibit, the procedure.
In the United States, several Jewish organizations including the American Jewish Committee, Hillel International, and the Women's Rabbinic Network have expressed opposition to the court ruling, and some Jews have protested it as a violation of their religious freedom.
Flight Deporting Refugees From U.K. to Rwanda Canceled at Last Hour
The United Nations High Commissioner for Human Rights said the U.K.'s asylum policy sets a "catastrophic" precedent.
---
Saved By The Bell
The inaugural flight in the U.K. government's plan to deport some asylum seekers to Rwanda was canceled about an hour and a half before it was supposed to take off Tuesday evening.
A last-minute legal intervention by the European Court of Human Rights (ECHR) halted the flight. Tuesday's flight originally included 37 people, but after a string of legal challenges that number dwindled to just seven.
In its ruling for one of the seven passengers, a 54-year-old Iraqi man, the court said he cannot be deported until three weeks after the delivery of the final domestic decision in his ongoing judicial review proceedings.
Another asylum seeker, a 26-year-old Albanian man, told The Guardian he was in a "very bad mental state" and did not want to go to Rwanda, a country he knows nothing about.
"I was exploited by traffickers in Albania for six months," he said. "They trafficked me to France. I did not know which country I was being taken to."
A final domestic effort to block the flight in the Court of Appeals failed on Monday. The High Court will make a ruling on the asylum policy next month.
Britains Divided by Controversial Policy
U.K. Home Secretary Priti Patel spoke to lawmakers after the flight was canceled, defending the asylum policy and saying preparations for the next flight will begin immediately.
"We cannot keep on spending nearly £5 million a day on accommodation including that of hotels," she said. "We cannot accept this intolerable pressure on public services and local communities."
"It makes us less safe as a nation because those who come here illegally do not have the regularized checks or even the regularized status, and because evil people-smuggling gangs use the proceeds of their ill-gotten gains to fund other appalling crimes that undermine the security of our country," she continued.
The United Nations High Commissioner for Human Rights, Filippo Grandi, told CBC the policy sets a "catastrophic" precedent.
"We believe that this is all wrong," he said. "This is all wrong. I mean, saving people from dangerous journeys is great, is absolutely great. But is that the right way to do it? Is that the right, is that the real motivation for this deal to happen? I don't think so. I think it's… I don't know what it is."
An Iranian asylum seeker in a British detention center who was told to prepare for deportation before being granted a late reprieve was asked by ABC whether he ever thought the U.K. would send him to Africa.
"I thought in the U.K. there were human rights," he said. "But so far I haven't seen any evidence."
The Conservative government's plan was announced in April, when it said it would resettle some asylum seekers 4,000 miles away in Rwanda, where they can seek permanent refugee status, apply to settle there on other grounds, or seek asylum in a safe third country.
The scheme was meant to deter migrants from illegally smuggling themselves into the country by boat or truck.
Migrants have long made the dangerous journey from Northern France across the English Channel, with over 28,000 entering the U.K. in boats last year, up from around 8,500 the year prior. Dozens of people have died making the trek, including 27 who drowned last November when a single boat capsized.
Ryanair Draws Outrage, Accusations of Racism After Making South Africans Take Test in Afrikaans
Afrikaans, which is only spoken as a first language by around 13% of South Africa, has not been the country's national language since apartheid came to an end in 1994.
---
Airline Won't Explain Discrimination
Ryanair, Europe's largest airline, has received widespread criticism and accusations of racism after it began requiring South African nationals to complete a test in Afrikaans to prove their passport isn't fraudulent.
The airline told BBC the new policy was implemented because of "substantially increased cases of fraudulent South African passports being used to enter the U.K."
Among other questions, the test asks passengers to name South Africa's president, its capital city, and one national public holiday.
Ryanair has not said why it chose Afrikaans, the Dutch colonial language that many associate with white minority rule, for the test.
There are 11 official languages in South Africa, and Afrikaans ranks third for usage below Zulu and IsiXhosa. Only around 13% of South Africans speak Afrikaans as their first language.
"They're using this in a manner that is utterly absurd," Conrad Steenkamp, CEO of the Afrikaans Language Council, told reporters. "Afrikaans, you have roughly 20% of the population of South Africa understand Afrikaans. But the rest don't, so you're sitting with roughly 50 million people who do not understand Afrikaans."
"Ryanair should be careful," he continued. "Language is a sensitive issue. They may well end up in front of the Human Rights Commission with this."
Ryanair's policy only applies to South African passengers flying to the United Kingdom from within Europe, since it does not fly out of South Africa.
The British government has said in a statement that it does not require the test.
Anyone who cannot complete the test will be blocked from traveling and given a refund.
Memories of Apartheid Resurface
"The question requiring a person to name a public holiday is particularly on the nose given that SA has a whole public holiday NEXT WEEK commemorating an historic protest that started in response to language-based discrimination," one person tweeted.
South African citizen Dinesh Joseph told the BBC that he was "seething" with anger when asked to take the test.
"It was the language of apartheid," he said, adding that it was a trigger for him.
Officials in the country were also surprised by Ryanair's decision.
"We are taken aback by the decision of this airline because the Department regularly communicates with all airlines to update them on how to validate South African passports, including the look and feel," South Africa's Department of Home Affairs said in a statement.
Any airline found to have flown a passenger with a fake passport to the U.K. faces a fine of £2,000 from authorities there. Ryanair has also not said whether it requires similar tests for any other nationalities.
Many people expressed outrage at Ryanair's policy and some told stories of being declined service because they did not pass the test.