Louisiana Pastor Tony Spell Arrested After Backing Church Bus Towards Protester
Police arrested Louisiana Pastor Tony Spell for aggravated assault after a video showed him backing a church bus just a few feet before a protester.
A parishioner who swerved his truck towards the same individual later that day is also facing an assault charge.
Spell denies any wrongdoing and claims the protester has hurled obscenities and lude gestures at church women and children for weeks, however, the man says he has been peacefully protesting since Easter Sunday.
Spell is the same pastor who was charged with six misdemeanors counts in March for consistently hosting large services at Life Tabernacle Church.
---
Who is Tony Spell?
Louisiana megachurch Pastor Tony Spell has found himself in trouble with the law once again, this time after police reviewed video of him backing a church bus towards a protester.
Spell has made headlines in recent weeks for consistently defying coronavirus stay-at-home orders to hold large worship services at Life Tabernacle Church. You may also recognize him as the pastor who directed his followers to give their stimulus checks to evangelists, missionaries, and ministers.
In March, Spell was hit with six misdemeanor counts for violating Governor John Bel Edwards' order against mass gatherings. He even posted a video of that exchange on YouTube, which shows him blessing the two officers who served him.
On Tuesday, local police arrested Spell again after issuing a warrant for him over the Sunday bus incident. This time, Spell is facing an aggravated assault charge which carries a maximum sentence of six months in prison.
Video and Protester's Account
According to police, Spell was driving the church bus and backed it up on the shoulder of the road, stopping just a few feet before a protester who local reporters identified as Trey Bennett.
Bennett told WAFB-TV, "At first I thought he [Spell] was just turning around his bus and was going to pull away, but he just kept coming in reverse."
"I could see him [Spell] driving the bus. He was honking his horn loudly at me and making gestures suggesting he was yelling while he was driving. It didn't seem real until it was physically in my face with a bus," Bennett added.
Central Police Chief Roger Corcoran said Spell "was trying to intimidate the protester."
A parishioner at the church who police identified as Nathan Thomas is also facing an aggravated assault charge. Surveillance footage shows Thomas swerving his vehicle towards the same protester hours later.
Bennett described that incident as well, saying "And he [man in white truck] was going very fast. He just pulled over at me and turned into the church. That was much faster than what Tony Spell was doing when he drove the bus at me."
Spell Denies Wrongdoing
Spell for his part has argued that he and Thomas did nothing wrong. He says the video will exonerate him and he has retained former Alabama chief justice Roy Moore as one of his lawyers.
Another one of his attorney's Joseph Long, said Tuesday that Spell would be vindicated because, "A fair viewing of the video will prove that Spell did not attempt to run over the protester, and the protester did not feel threatened, as he never moved when the bus came near."
Spell told WAFB-TV on Monday that he was actually just going to go talk to the protester, "That man has been in front of my church driveway for three weeks now."
"He shoots people obscene finger gestures and shouts vulgarities."
"I was pulling in from my bus route, picking up black children who haven't eaten because of this sinister policy that has closed schools," the pastor continued. "I was going to approach this gentleman and ask him to leave."
Spell told a similar story to The New York Times, adding that the man had been outside his church for the past 36 days and that law enforcement had not responded to the church's complaints about him.
Spell claimed that Bennett's verbal harassment was directed at his wife, children, and "hundreds of other women" who attend the church. He even accused Bennett of "immoral crotch-grabbing" directed at those same people.
"After I parked my bus, I said to myself this is a waste of time, rehearsing the scripture 'cast not thy pearl before swine,' I then pulled away from the protester and parked on my parking lot," he continued.
When speaking via text to a Washington Post reporter, Spell added, "This is the proudest day of my life to be persecuted for the faith." When asked whether he considered the specific incident to be an act of faith, he suggested he would block the reporter on his phone.
Bennett Denies Obscene Protesting
Despite Spell's claims, Bennett denies ever using profanity or obscene gestures. Instead, he says he has been peacefully protesting outside since Easter Sunday.
"I haven't done anything of the sort. I just stand there with a sign. I don't say anything to anybody," Bennett explained.
One of his signs, for example, reads: "CAUTION: Coronavirus incubator. Do not enter. You may die."
Bennett says he just wants Spell to stop holding services and risking the health of the community. "Just trying to raise awareness so that people will demand that this place [Life Tabernacle] gets closed down," he said.
According to The Advocate Newspaper, one of Spell's lawyers was hospitalized after testing positive for COVID-19 on April 14. However, it's unclear how exactly he contracted the virus and both he and Spell have pointed out that along with church events, the lawyer also regularly went to the grocery store and other public places.
On top of that, a recent coroner's report showed that an elderly member of Spell's congregation died of "acute respiratory distress syndrome, pneumonia, and COVID-19."
Acute respiratory distress syndrome and pneumonia are frequently found in patients who die of coronavirus. Still, Spell called the coroner's report a lie and said the man died of other medical issues.
Nearly 9 Million Are Without Water in Texas, Some Face Electric Bills up To $17,000
More than 8.8 million people in Texas remained under boil water notices Monday, and over 120,000 had no water service at all.
Gov. Greg Abbott (R) said Sunday that the state has distributed around 3.5 million bottles of water, though many of the lines to receive that water were plagued with hours-long waits.
Meanwhile, power outages in the state have fallen below 20,000, but many Texans are also beginning to receive astronomical electric bills of as much as $17,000.
Both Abbott and Houston Mayor Sylvester Turner (D) said those prices are not the fault of customers. While some form of forgiveness is likely, no immediate plan has been outlined yet.
---
Millions Without Water
As of Monday morning, nearly 8.8 million people in Texas are still under boil water notices following last week's snowstorm. That's about one out of every three Texans.
Despite being a giant chunk of the state's population, that figure is actually an improvement from 10 million people on Sunday.
Another 120,000 Texans are still without water service at all.
Gov. Greg Abbott (R) said Sunday almost 3.5 million bottles of water have been distributed across Texas by helicopter, airplane, and truck.
The need for water has been extremely visible. An Austin City Council member shared a video on Twitter Sunday showing a massive line of vehicles waiting for clean water. Some waited for more than an hour before the distribution event began. At another site, she said cars began lining up more than five hours before the event.
Abbott said the state is bringing in more plumbers to increase repair efforts for damaged water systems. Additionally, Abbott said homeowners without insurance could qualify for emergency reimbursement from FEMA.
Meanwhile, one large-scale effort from Rep. Alexandria Ocasio-Cortez (D-NY.) has now raised more than $5 million since first being launched on Thursday. That money will go to several organizations, including the Houston Food Bank, Family Eldercare, Feeding Texas, and the Bridge Homeless Recovery Center.
Texas Electric Bills Soar as High as $17K
All but just under 20,000 Texas homes and businesses have now had their power restored as of Monday morning.
That's a stark contrast from the more than 4 million that were out of power at one point last week.
While that's largely good news, many Texans are now beginning to receive sky-high electric bills. That's especially evident for those whose power stayed on during the storm. In fact, some people have now told multiple media outlets they're facing bills as high as $17,000.
One 63-year-old Army vet, who was charged $16,752, told The New York Times that his bill was about 70 times higher than normal.
"My savings is gone," he said. "There's nothing I can do about it, but it's broken me."
As far as why his and others' eclectic bills are so high, many people in Texas have plans that are directly tied to the wholesale price of electricity. Usually, that helps keep their costs low, but as demand for power surged during last week's snowstorm, those prices hit astronomical highs.
In a statement on Saturday, Abbott said Texas lawmakers "have a responsibility to protect Texans from spikes in their energy bills that are a result of the severe winter weather and power outages,"
He added that the state Legislature is working "on solutions to help Texas families and ensure they do not get stuck with skyrocketing energy bills."
In a similar tone, Houston Mayor Sylvester Turner (D) said in an interview with CBS on Sunday, "It's not the consumers who should assume [these] costs. They are not at fault for what happened this week."
That said, Turner also laid blame at the feet of the Legislature, calling the current crisis "foreseeable" on the part of lawmakers because a similar snowstorm and outages struck Texas in 2011.
Turner added that, at the time, he was part of the Texas legislature and had filed a bill that would have required the agency overseeing Texas' grid to "ensure that there was an adequate reserve to prevent blackouts."
"The leadership in Austin did not give it a hearing," he said.
While no aid has been fully guaranteed yet, Texas has prevented electric companies from being able to shut off power for people who don't pay their bills on time.
Texans Still Face Broken Pipes, Flooding, and Carbon Monoxide Poisoning as Million Regain Power
The number of Texans without power fell from 3.3 million on Wednesday to below 500,000 by Thursday.
Still, millions are currently under a boil advisory, pipes have burst as they begin to thaw, and some individuals have died or been hospitalized because of carbon monoxide poisoning. 
The Federal Emergency Management Agency said Wednesday that it has sent generators, water, and blankets to Texas, adding that it's working to send additional diesel for generators.
Gov. Greg Abbott and President Joe Biden have also reportedly discussed the possibility of extra funding for people's electricity bills, as well as for burst pipes.
---
Power May Be Back but Problems Persist
Power outages in Texas Thursday morning fell to under 500,000 — down from 3.3 million Wednesday morning.
According to the state's main grid operator, the Electric Reliability Council of Texas (ERCOT), the remaining outages are largely weather-related and not connected to problems related to forced outages. 
While that return of power to millions is significant, Texans are still facing a host of other problems.
For example, there have been numerous reports of carbon monoxide poisoning as people still without power try to keep warm in their cars or through other means. An adult and a child were found dead Tuesday after running their car inside of a garage, prompting Houston police to issue a statement warning that "cars, grills and generators should not be used in or near a building."
Six children and four adults were rushed to the hospital Wednesday night for carbon monoxide poisoning after setting up grills inside their homes.
Even for those now with power, water has become a major issue. On Wednesday, 7 million Texans were placed on a boil advisory and about 263,000 were without functioning water providers.
One reporter tweeted out a video of people lining up at a park to fill up buckets of water.
"This is not a third world country," she said. "This is Houston, Texas."
The Food and Drug Administration and the National Weather Service have even cited melting and boiling snow as an emergency option if people can't find water elsewhere, an option many have already turned to.
For some, all these problems only seemed to compound in the form of burst pipes. One viral video shows water gushing out of a third-story apartment. Others posted images of their broken pipes and the damage they have caused. 
As a result, a number of local media outlets have begun to outline steps people can take once their pipes start to thaw or if they break.
Amid Problems, Aid is Being Distributed
Alongside the overwhelming amount of problems, there has also been a large aid response.
A FEMA spokesperson said Wednesday that the agency has sent 60 "very large" generators to help keep hospitals and other critical infrastructure open.
White House Press Secretary Jen Psaki added that FEMA is preparing to move diesel into Texas to keep that backup power going.
So far, FEMA said it has sent "millions of liters of water" and "tens of thousands" of blankets.
Governor Greg Abbott and President Joe Biden have also reportedly discussed the possibility of extra funding for people's electricity bills, as well as for burst pipes. That's because as the storm first hit, electrical demand surged. Since many Texans have plans connected to the wholesale price of electricity, they're potentially set to be hit with sky-high bills.
Among other issues plaguing Texans is food spoilage; however, that can potentially be reimbursed through renters' and homeowners' insurance.
According to an official from the Insurance Council of Texas, "Food coverage is often related to personal property."
Notably, there are some stipulations depending on individual circumstances and policy. To learn more about how insurance providers accept food spoilage claims, click here.
Texas Mayor Tells "Lazy" Residents "No One Owes You" Anything Amid Power Outages
When residents in Colorado City, Texas turned to a local Facebook group to ask if the city or county had emergency shelter plans in place to keep people warm amid power outages, Mayor Tim Boyd shared a Facebook message that sparked outrage.
"Sink or swim it's your choice! The City and County, along with power providers or any other service owes you NOTHING! I'm sick and tired of people looking for a damn handout!" he wrote before suggesting that those struggling are "lazy."
"Only the strong will survive and the weak will parish," he added. "Get off your ass and take care of your own family!"
Hours later, Boyd said he was speaking as a citizen since he had already turned in his resignation and had not signed up to run for mayor again ahead of the deadline a few days ago. It's unclear when he actually resigned and he is still listed as mayor on the city's website.
---
Mayor Under Fire
The mayor of Colorado City, Texas is facing intense backlash for comments he made on Facebook Tuesday claiming the local government has no responsibility to assist residents struggling amid historic winter temperatures.
The remarks came after community members turned to a local Facebook page asking if the city or county had emergency shelters in place to keep people warm amid widespread power outages.
In response, Mayor Tim Boyd wrote, "No one owes you [or] your family anything; nor is it the local government's government's responsibility to support you during trying times like this!"
"Sink or swim it's your choice!" He continued. "The City and County, along with power providers or any other service owes you NOTHING! I'm sick and tired of people looking for a damn handout!"
Boyd argued that residents should come up with their own plans to keep their families safe. Those that are sitting at home in the cold waiting for assistance, he said, are "lazy" as a direct result of their raising.
"Only the strong will survive and the weak will parish," he continued, likely meaning perish in his statement.
He blamed the calls for basic services like heat and electricity a product of a "socialist government where they feed people to believe that the FEW will work and others will become dependent for handouts."
He closed by telling locals to "quit crying," adding, "Get off your ass and take care of your own family!"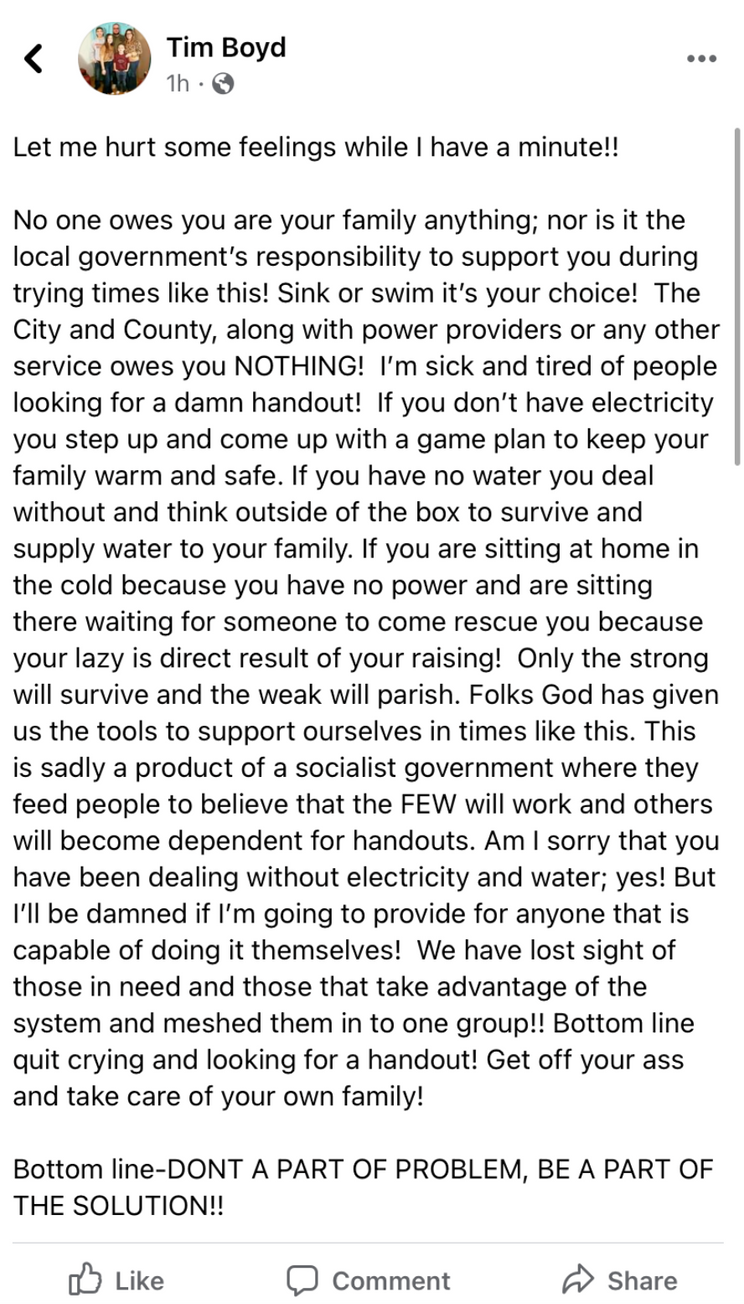 Mayor Doubles Down, Says He Already Resigned
That now-deleted post drew immediate backlash as Texans continue to slam the government for not delivering adequate support amid the storm.
The outrage eventually prompted Boyd to write a follow-up post, which he also later deleted.
In it, he claimed that his comments "were taken out of context" and did not apply to the elderly; however, he continued to double down.
"I was only making the statement that those folks that are too lazy to get up and fend for themselves but are capable should not be dealt a handout. I apologize for the wording and some of the phrases that were used!"
Boyd said he already turned in his resignation and had not signed up to run for mayor again ahead of the deadline a few days ago. He also said he wished he would've kept his words to himself or been more descriptive, and he added that all the anger and harassment since his post has caused his wife to lose her job.
Ultimately, he said he was speaking as a citizen since he is no longer mayor and called for the harassment of his family to stop.
According to The Washington Post, it isn't immediately clear if he resigned before or after writing his controversial Facebook post. As of early Wednesday morning, the paper noted that he was still listed as mayor on Colorado City's website, and city council agendas showed that he had served in that role as recently as last week.