James Charles, Corinna Kopf, and Other Influencers Slammed for Participating in TikTok "Mugshot" Trend
Internet users are participating in a TikTok trend that involves creating their own mugshot photos, including influencers like James Charles, Corinna Kopf, and Avani Gregg.
There are different variations of the trend, which has been criticized as insensitive to the levels of police brutality and incarceration rates people of color disproportionately face.
Bloody and bruised up mugshot photos, in particular, were also accused of glamorizing abuse and triggering domestic violence survivors.
Some influencers removed their posts like James Charles, who still defended his look by comparing it to music artwork used by The Weeknd and Billie Eilish.
---
The "Mugshot" Trend
Several influencers have come under fire for participating in a version of a viral "mugshot" TikTok trend that many say is insensitive and triggering to abuse victims.
Mugshots, for some reason, are a pretty popular topic on the app, with users making compilation videos of real mugshots featuring people they find interesting or attractive.
That eventually morphed into posts of users staging their own mugshot photos. Typical posts show the creator with messy hair, smudged mascara or other costume makeup used to roughen up their look. Sometimes the users hold up some sort of sign with a fake or funny reason for their "arrest."
Others have even pretended to get in fights or staged scenarios that might have lead up to their fake arrest. Some people have taken it a step further, adding fake bruises, black eyes, and bloody noses.
So essentially there are a wide range of ways you can go with this trend and there are a lot of different reasons people take issues with it. Many say those participating in the challenge are largely privileged and don't understand levels of police brutality and incarceration rates people of color disproportionately face.
I don't like this trend of "taking mugshots" because it's glamorizing the idea of being detained and arrested. It's a reality that many brown and black folk have to face, and to diminish this into some trend is really weird and gross.

— j (@yojogn) April 6, 2020
But the versions that have come under the most scrutiny this week are ones that feature bruised and bloody faces.
Influencers Face Backlash
Some influencers who jumped in on the trend include YouTuber and Vlog Squad member Corinna Kopf, TikTok creator and Hype House member Avani Gregg, and beauty YouTuber James Charles, who seems to have been hit with the most backlash.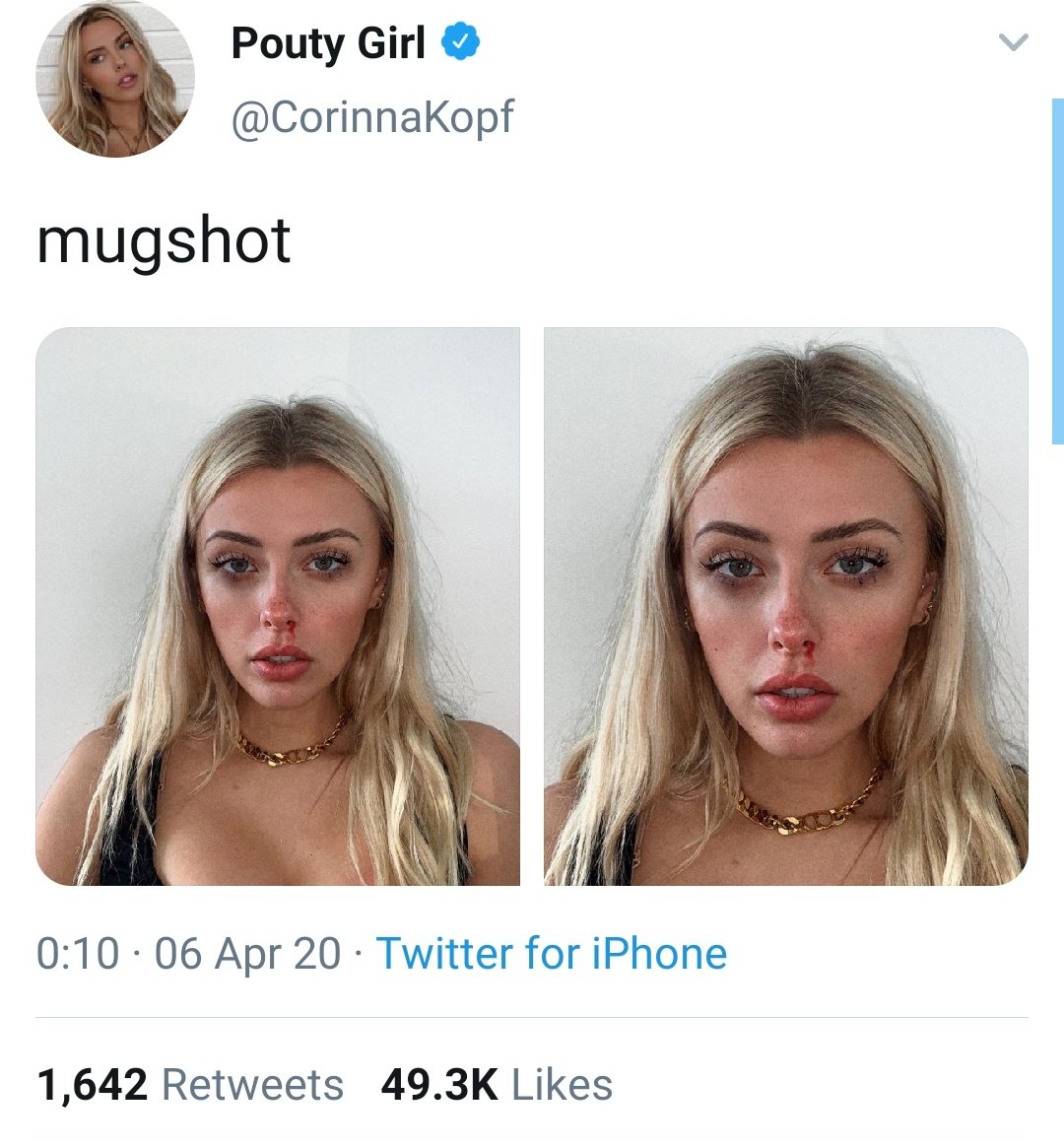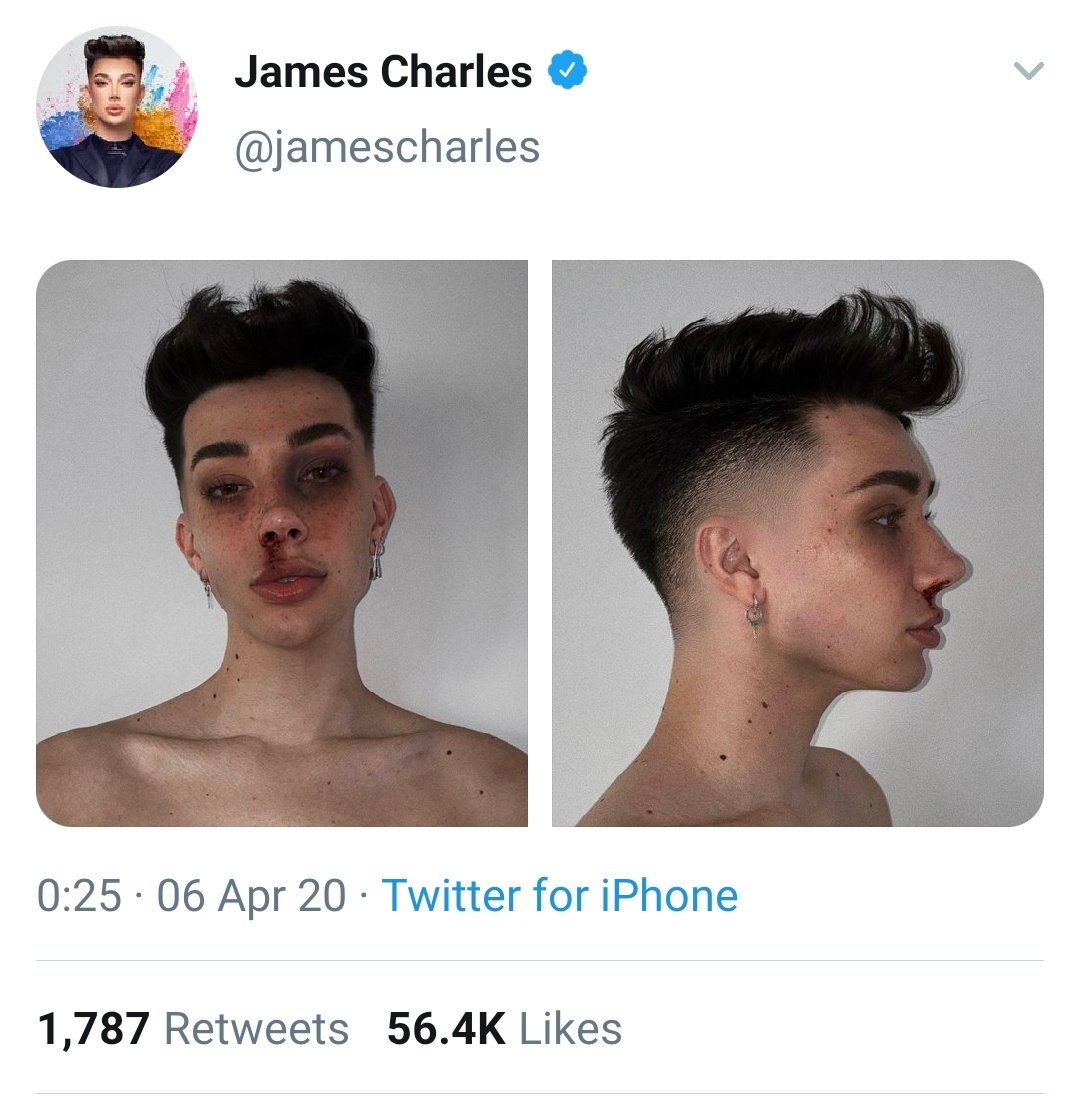 The creators posted their looks on Instagram and Twitter, where some who were unaware of the TikTok trend were confused and surprised. James Charles, for instance, posted his look without a caption and he was flooded with comments accusing him of triggering domestic violence survivors and glamorizing abuse.
According to Insider, in a since-deleted Tweet, James said that he had changed his Instagram caption to joke about getting punched, but he changed it back soon after because "making that joke wasn't funny."
Still, his replies were full of stories from domestic violence survivors who found the look offensive.
He eventually responded to one fan who said the fake bruises made her feel "dehumanized" because she couldn't take hers off.
In now-deleted tweets, he also pointed to bloody looks by The Weeknd and Billie Eilish.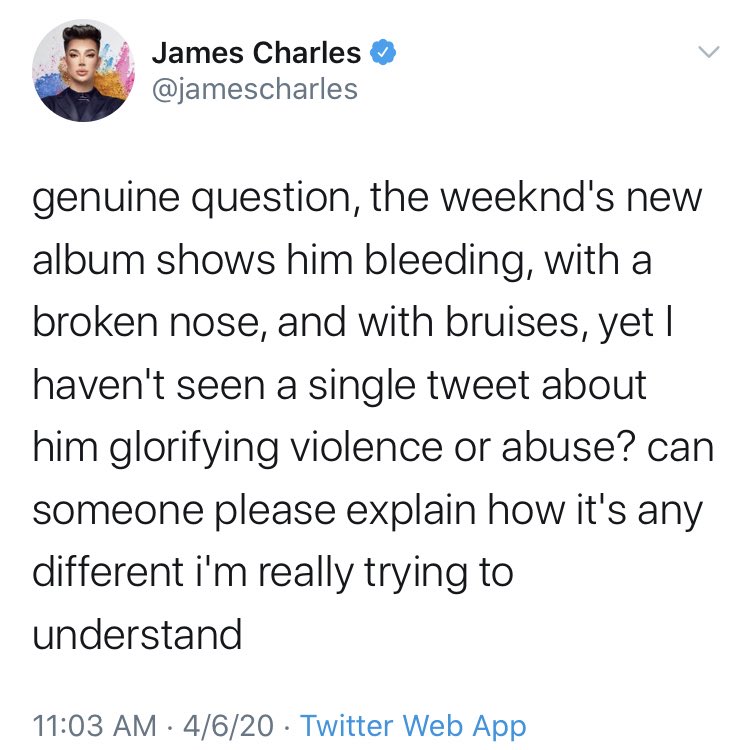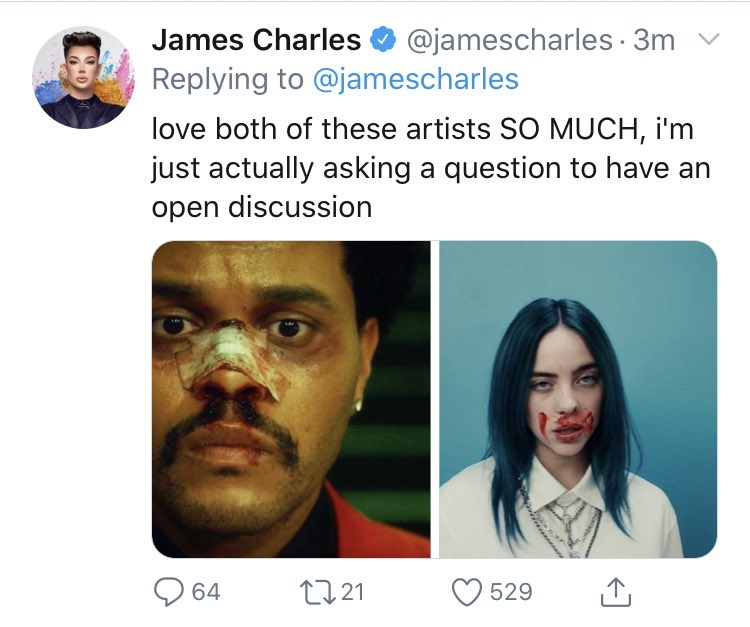 Eventually, he decided to delete the post, writing, "it's a waste of time trying to have an open discussion with people who hate me regardless."
When someone told James he doesn't have to apologize for everything, he clarified that he was no apologizing.
Gregg responded to some backlash in an Instagram story as well. She apologized for potentially triggering some people but wrote, "My mugshot pics and videos had nothing to do with domestic violence."
She went on to explain the storyline for the character she took on in a series of TikTok posts, adding, "I just wanted to clarify that bc i'm being looped in with people actually making their mugshots portray domestic violence vibes and i'm sorry they are doing that but mine are clearly not and if you watch all my mugshot tiktoks u can see that."
Around the same time James deleted his posts, Kopf also deleted her photos as well. However, she has no comment on the backlash as of now.
Still, these influencers are not the only ones who have participated in some version of this trend, but the attention around their posts have sparked discussion over whether or not these mugshot creations are appropriate.
Uber and Lyft Must Classify Their CA Drivers as Employees. Here's How That Could Change Ride-Sharing Apps.
A California judge ruled Monday that Uber and Lyft must classify their drivers as employees, not gig workers.
That decision, which will go into effect next week if it is not halted by an appeal, means that employees for ride-sharing companies will be eligible to receive benefits, including health insurance, paid time off, sick leave, and overtime.
Both Uber and Lyft have argued that the decision will cause ride costs to increase significantly and could result in mass layoffs.
Uber CEO Dara Khosrowshahi has proposed a third model that would establish a benefits fund, but under it, drivers would still likely not be able to see full benefits guaranteed under an employee status.
---
Judge Rules in Favor of California
A California judge has ruled that drivers for Uber and Lyft in the state must be reclassified as employees rather than gig workers.
Notably, that ruling means drivers will be afforded the same protections and benefits as the companies' other full-time employees. For example, as full-time employees, drivers could be eligible for benefits like health insurance, overtime, paid sick leave, vacation time, and more. It's also possible that Uber and Lyft would have to pay them personal vehicle mileage.
Gig workers, also known as contract or independent workers, don't see those benefits.
The decision, which came from San Francisco Superior Court Judge Ethan Schulman on Monday, isn't scheduled to take effect until next week. Uber and Lyft have also promised to appeal the ruling and block it from even going into effect.
For their part, both companies have argued that their businesses are in technology (meaning the apps themselves), not ride-sharing. They also claim that the majority of their drivers prefer being independent and deciding when they work, an aspect that likely would be harder to retain if drivers were treated as employees.
In his ruling, Schulman said both companies used "circular reasoning" by treating only their tech workers as employees, saying that reasoning "flies in the face of economic reality and common sense,"
"It bears emphasis that these harms are not mere abstractions; they represent real harms to real working people," Schulman said regarding the current lack of benefits for drivers. "To state the obvious, drivers are central, not tangential, to Uber and Lyft's entire ride-hailing business."
Still, Schulman noted that for these companies, such a change in reclassification might "have an adverse effect on some of their drivers, many of whom desire the flexibility to continue working as they have in the past."
California Sues Uber and Lyft
Last year, California passed Assembly Bill 5, a bill that requires companies to treat their workers as employees if those companies control how workers perform tasks or if their work is a routine part of the company's business.
Specifically, AB5 was designed to target companies like Uber and Lyft. In fact, the state has argued that because these companies deal in ride-sharing, their drivers are essential to business. Therefore, they should be treated as employees.
Still, after this law went into effect at the beginning of the year, Uber and Lyft refused to adhere to it.
In May, California Attorney General Xavier Becerra filed a lawsuit against the companies for their refusal. Chiefly, that lawsuit seeks "restitution for workers, a permanent halt to the unlawful misclassification of drivers, and civil penalties that could reach hundreds of millions of dollars."
Both companies—along with DoorDash—have pumped $110 million into a campaign to exempt them from the law. Because of those efforts, in November, California voters will decide on a ballot measure that could keep ride-sharing companies from having to convert their drivers into employees.
Why Uber and Lyft Are Fighting This Ruling
Uber and Lyft had argued for Schulman's ruling to be stayed until the November ballot, but Schulman denied that request.
"The vast majority of drivers want to work independently, and we've already made significant changes to our app to ensure that remains the case under California law," Uber spokesperson Matt Kallman said following the decision. "When over 3 million Californians are without a job, our elected leaders should be focused on creating work, not trying to shut down an entire industry during an economic depression."
Also Monday, Lyft released a similar statement saying that drivers don't want to be employees, "full stop."
The debate around how to address these companies' drivers is not a black and white argument. Many people drive for Uber or Lyft on the weekends for a little extra money. Some retired individuals also drive on for these companies on the side.
But for many drivers, this may be their only job. For example, they may be currently unable to find another job. Such a situation is especially true as the United States continues to struggle with the COVID-19 pandemic, where a driver may have lost their main job and could now rely on Uber or Lyft as a main source of income.
"Today's ruling affirms what California drivers have long known to be true: workers like me have rights and Uber and Lyft must respect those rights," Lyft driver Mike Robinson said in a statement following Monday's decision.
It's also important to keep in mind that companies like Uber and Lyft were already struggling to turn a profit, and now, that's even worse because of the coronavirus. Just between April and June, Uber's bookings were reportedly nosedived 75%.
The prospect of having to change their business models could result in layoffs of drivers. It would likely also mean substantially higher costs for passengers.
A Potential Third Option
In the end, the decision from Schulman likely won't stop with California. In fact, it could be the beginning of massive changes to ride-sharing companies across the U.S.
In a March letter to President Donald Trump, Uber CEO Dara Khosrowshahi advocated for a third model on how to classify drivers. Particularly, Khosrowshahi argued that workers should be offered another way to gain protections without sacrificing the flexibility of being a gig worker.
Just hours before Schulman's decision on Monday, Khosrowshahi outlined more details of that plan in an op-ed published by The New York Times.
"Our current employment system is outdated and unfair," he said. "It forces every worker to choose between being an employee with more benefits but less flexibility or an independent contractor with more flexibility but almost no safety net."
"It's time to move beyond this false choice. As a start, all gig economy companies need to pay for benefits, should be more honest about the reality of the work, and must strengthen the rights and voice of workers."
Khosrowshahi then proposed a model that would require gig companies "to establish benefits funds which give workers cash that they can use for the benefits they want, like health insurance or paid time off."
"Independent workers in any state that passes this law could take money out for every hour of work they put in," he added. "All gig companies would be required to participate, so that workers can build up benefits even if they switch between apps."
Khosrowshahi claimed that if this had been the law nationwide, Uber would have contributed $655 million in benefits last year. To further his point, he used an example of a Colorado driver working an average of 35 hours a week last year. Under Khosrowshahi's system, that driver would have racked up $1,350 in benefits for 2019. As Khosrowshahi noted, that's enough to cover two-weeks time off or a median annual premium for health insurance.
But the key here is "or." Unlike a full-time employee, this driver would need to make a decision on how to spend that accrued benefit money as they would likely not be able to choose both options.
TikTok Announces First Wave of Influencers to Get Paid Under its New Creator Fund
Avani Gregg, Michael Le, David Dobrik, and 16 others will be the first to receive money from TikTok's new Creator Fund, which was established to support creators hoping to earn money for their content.
The $200 million fund is expected to grow to over $1 billion in the U.S. over the next three years and TikTok is encouraging eligible creators to apply for the next round of funding when applications open in mid-August.
Many believe this move will help incentivize users to remain loyal to the platform as new competitors emerge.
Others say it could also help TikTok bolster itself as a viable economic platform for Americans as it works to strike a deal with an American company to avoid a U.S. ban.
---
What is the Creator Fund?
TikTok announced the first wave influencers who will get paid for their content under its new Creator Fund.
The company first announced it's $200 million dollar Creator Fund in July, as a way to support "ambitious creators who are seeking opportunities to foster a livelihood through their innovative content." TikTokers, of course, were pretty excited about that because it meant there was an opportunity for them to get paid directly from the platform they post on.
Responses to the news were so positive that TikTok later updated its announcement to say that it expected the fund to grow to "over $1 billion in the US in the next 3 years, and more than double that globally."
In a statement released Monday, the company finally announced that 19 creators will be its first recipients.
Who's Getting Paid?
The list includes popular personalities like Avani Gregg, Brittany Tomlinson – who you might know as Kombucha girl, Michael Le, Spencer X, and David Dobrik, to name a few. 
Some of the creators already came from full-time entertainment backgrounds like Dobrik, but others are TikTokers who completely built their massive followings on the app. The full list includes creators from a range of different genres, from comedy to beauty, music, cooking, dancing, and even healthcare.
Vanessa Pappas, general manager of TikTok U.S., said in the statement, "Each of these creators has shown what it means to be your authentic self, bring joy and inspiration to people, and creatively connect with an audience…From redefining a category to venturing into uncharted waters, these creators are a huge part of TikTok and we're grateful for their ingenuity and creative spirit."
As of now, there are no confirmed details about how much each creator will receive or whether the amount varies from creator to creator. However, The Los Angeles Times reported that at least one creator will receive a six-figure amount, according to a person with knowledge of that agreement.
Still, this is only the beginning of these payments. In its latest announcement, TikTok encouraged others to apply when its in-app application opens in mid-August. To be eligible, users have to meet the minimum eligibility criteria, which includes: being at least 18 years old, having at least 10,000 followers, having accrued at least 10,000 views in the last 30 days, and posting original content in line with Community Guidelines.
"This Fund was created to reward your creativity, your passion, and your tenacious spirit to connect with others. We invite you to turn your creativity into an opportunity to earn a livelihood, pursue another career, or simply, to be rewarded for doing what you love," TikTok added.
Potential Competition and Struggles with the U.S. Government
Obviously, the concept of a platform paying its creators is not new. YouTube's Creator Program is perhaps the most well-known program that exists, and other platforms like Instagram also have some monetization features.
However, TikTok's lack of in house monetization has been viewed as a drawback by some, and opportunities for growth and financial gain are a huge reason why TikTokers have been extending themselves off-platform.
Some see these payments as an important move for TikTok that incentivizes big creators to remain focused on the app, while also encouraging smaller creators to remain dedicated to it.
Stephanie Smith, who works for the digital strategy division of United Talent Agency, said, "It shows that TikTok values their creators and understands that their content is what makes the platform successful."
"That acknowledgment is critical and will help build long-term loyalty with creators."
The concept of platform loyalty is interesting to keep in mind when you consider all the emerging competition popping up amid rising tensions between the U.S. government and the app.
Just last week, Instagram announced Reels, which essentially copies TikTok's features and is considered one of the app's biggest threats. According to the LA Times, Instagram has even offered some creators money to post content for Reels. On top of that, some TikTokers have decided to invest in a new music video app called Thriller, citing concerns over how TikTok manages user data.
Trouble for TikTok escalated last week when President Donald Trump issued an executive order that would outlaw business dealings with TikTok in the U.S. by Sept. 21. That is, at least if its parent company, ByteDance, can't close a deal with an American buyer for TikTok's U.S.-based business by then.
For now, many believe its especially important for TikTok to bolster its image and present itself as a viable economic platform for Americans as it works to avoid a U.S. ban.
Authorities Accuse 17-Year-Old of Orchestrating July's Massive Bitcoin Twitter Hack, Teen Has More Than $3M in Bitcoin
Three people were charged on Friday in connection to a massive Twitter bitcoin hack in July that compromised dozens of high profile accounts, including those of Kim Kardashian-West, Kanye West, and former President Barack Obama.
Among those charged was 17-year-old Graham Ivan Clark who reportedly stole nearly $180,000 and is being described as the mastermind behind the attack.
On Sunday, the Tampa Bay Times reported that Clark has over $3 million in bitcoin, and prosecutors believe that money was also obtained illegally.
This is not Clark's first run in with authorities. Last year, they seized cash and $700,000 bitcoin in a criminal investigation, though he was never charged.
17-Year-Old "Mastermind" Arrested
In news that would otherwise appear to come straight from a best-selling young adult heist novel, a 17-year-old Florida teen has been charged as the "mastermind" behind Twitter's largest hack ever. Reportedly, he's also worth $3 million in bitcoin.
That hack, which happened on July 15, successfully infiltrated dozens of high-profile accounts including: Kim Kardashian-West, Kanye, Elon Musk, Jeff Bezos, former President Barack Obama, and presumptive Democratic presidential nominee Joe Biden. It also attacked Twitter accounts for companies like Apple and Uber.
All of those accounts then tweeted out some variation of the same message: "I am giving back to my community due to Covid-19! All Bitcoin sent to my address below will be sent back doubled. If you send $1,000, I will send back $2,000! Only doing this for the next 30 minutes! Enjoy."
On Friday, state authorities arrested 17-year-old Graham Ivan Clark in Tampa, Fl. Though he reportedly lives alone and is a recent high school graduate, Clark is still a minor, which is why he was not arrested by federal officials. He will be tried as an adult.
Clark faces 30 different felonies, including 17 counts of communications fraud and one count of fraudulent use of personal information (over $100,000 or 30 or more victims).
On July 16, the Federal Bureau of Investigation announced it was opening an investigation into the hack. The same day that Clark was arrested and charged, two others were charged by federal agents.
One of those men, 22-year-old Nima Fazeli of Orlando, Fl., has been arrested by federal agents. The other, 19-year-old Mason John Sheppard of the United Kingdom, still hasn't been arrested but the FBI is expecting him to be taken into custody soon.
How Clark Hacked Twitter
Despite many details around Clark being restricted because he is a minor, a criminal affidavit from Florida has still revealed some of the specifics behind how that attack happened.
According to that affidavit, Clark gained access to a portion of Twitter's network on May 3. Reportedly, this happened after Clark convinced a Twitter employee that he was also an employee in the technology department. He then told the real employee that he needed their credentials to access the customer service portal.
From there, the affidavit jumps to July 15 and it's not clear what happened between then, but according to Zdnet, "it appears Clark wasn't immediately able to pivot from his initial entry point to the Twitter admin tool that he later used to take over accounts."
In fact, according to The New York Times, he only got access to those credentials after he found a way into Twitter's internal Slack workspaces and saw them posted there.
Still, that alone was not enough for him to make his way past Twitter's two-factor authentication. Likely, he maneuvered around that through what Twitter called a "phone spear phishing attack."
"The attack on July 15, 2020, targeted a small number of employees through a phone spear phishing attack," Twitter Support said on Thursday. "This attack relied on a significant and concerted attempt to mislead certain employees and exploit human vulnerabilities to gain access to our internal systems."
The affidavit accuses Discord user Kirk#5270, believed to be Clark, of initiating the attacks.
"I work for Twitter," Kirk said in a chatroom on July 15. "I can claim any @. Let me know. Don't tell anyone."
Soon after, Sheppard and Fazeli joined under separate usernames of their own, and the three reportedly began selling access to Twitter accounts.
However, this attack is different from the one that targeted personalities like Kim K. Instead, this attack focused on stealing short handles like @drug, @xx, @vampire.
By the end of it, Kirk was accused of netting around $33,000 in bitcoin. Sheppard is accused of acquiring around $7,000 in bitcoin. Fazeli is accused of having worked in cooperation with the two in exchange for a Twitter handle he wanted.
From here, the criminal complaints against Sheppard and Fazeli end. Of course, that wasn't the end of the attack. Later that same day, the main hack against numerous high profiles figures began.
By the end of that, Clark had reportedly stolen around $177,000 from both attacks.
How the 17-Year-Old "Mastermind" Got Caught
If the first part of their plan went off without a hitch, the latter half did not. The alleged criminals reportedly failed to hide their real identities and scrambled to hide their stolen money once the hack went public. Such mistakes led to a quick discovery of their identities by law enforcement.
Clark himself has faced legal trouble before, as well.
According to the Tampa Bay Times on Sunday, he has 300 Bitcoin — making him worth more than $3 million. Prosecutors have argued that most — if not all of that money — was likely illegally obtained, though Clark's attorney has denied that claim.
Last year, Clark was the subject of a criminal investigation where authorities seized $15,000 in cash and 400 bitcoin. Ultimately, Clark was never charged, prosecutors returned 300 bitcoin to him.
While July's Twitter hack stirred up significant (and justified) fear over just how easy it was for hackers to target users, as of now, it is unknown if this hack had any more sinister intentions outside of stealing money.