James Charles, Corinna Kopf, and Other Influencers Slammed for Participating in TikTok "Mugshot" Trend
Internet users are participating in a TikTok trend that involves creating their own mugshot photos, including influencers like James Charles, Corinna Kopf, and Avani Gregg.
There are different variations of the trend, which has been criticized as insensitive to the levels of police brutality and incarceration rates people of color disproportionately face.
Bloody and bruised up mugshot photos, in particular, were also accused of glamorizing abuse and triggering domestic violence survivors.
Some influencers removed their posts like James Charles, who still defended his look by comparing it to music artwork used by The Weeknd and Billie Eilish.
---
The "Mugshot" Trend
Several influencers have come under fire for participating in a version of a viral "mugshot" TikTok trend that many say is insensitive and triggering to abuse victims.
Mugshots, for some reason, are a pretty popular topic on the app, with users making compilation videos of real mugshots featuring people they find interesting or attractive.
That eventually morphed into posts of users staging their own mugshot photos. Typical posts show the creator with messy hair, smudged mascara, or other costume makeup used to roughen up their look. Sometimes the users hold up some sort of sign with a fake or funny reason for their "arrest." 
Others have even pretended to get in fights or staged scenarios that might have led up to their fake arrest, while some have taken it a step further, adding fake bruises, black eyes, and bloody noses. 
Many critics say those participating in the challenge are largely privileged and don't understand levels of police brutality and incarceration rates people of color disproportionately face.
I don't like this trend of "taking mugshots" because it's glamorizing the idea of being detained and arrested. It's a reality that many brown and black folk have to face, and to diminish this into some trend is really weird and gross.

— j (@yojogn) April 6, 2020
However, versions that have come under the most scrutiny this week are ones that feature bruised and bloody faces.
Influencers Face Backlash
Some influencers who jumped in on the trend include YouTuber and Vlog Squad member Corinna Kopf, TikTok creator and Hype House member Avani Gregg, and beauty YouTuber James Charles, who seems to have been hit with the most backlash.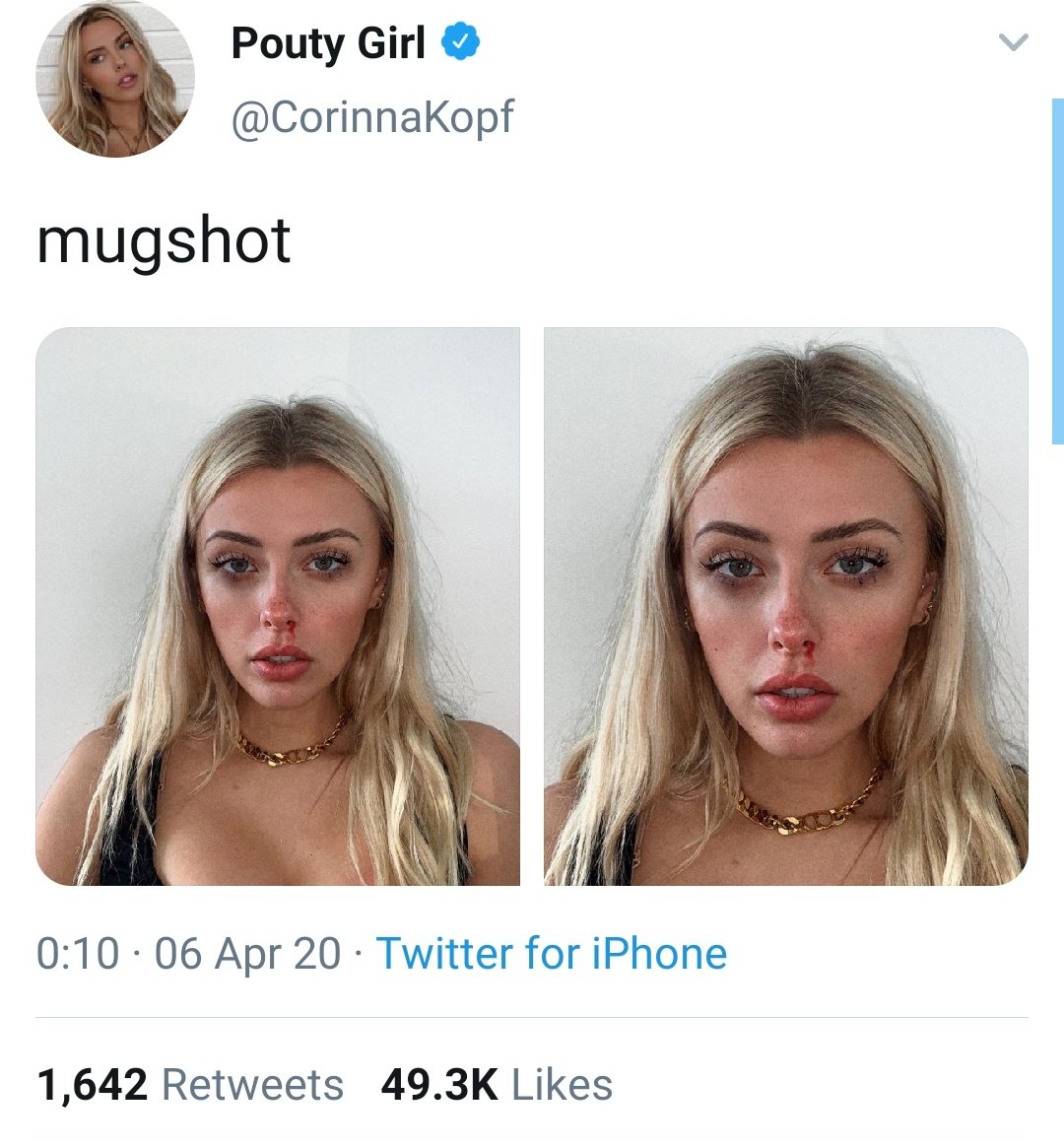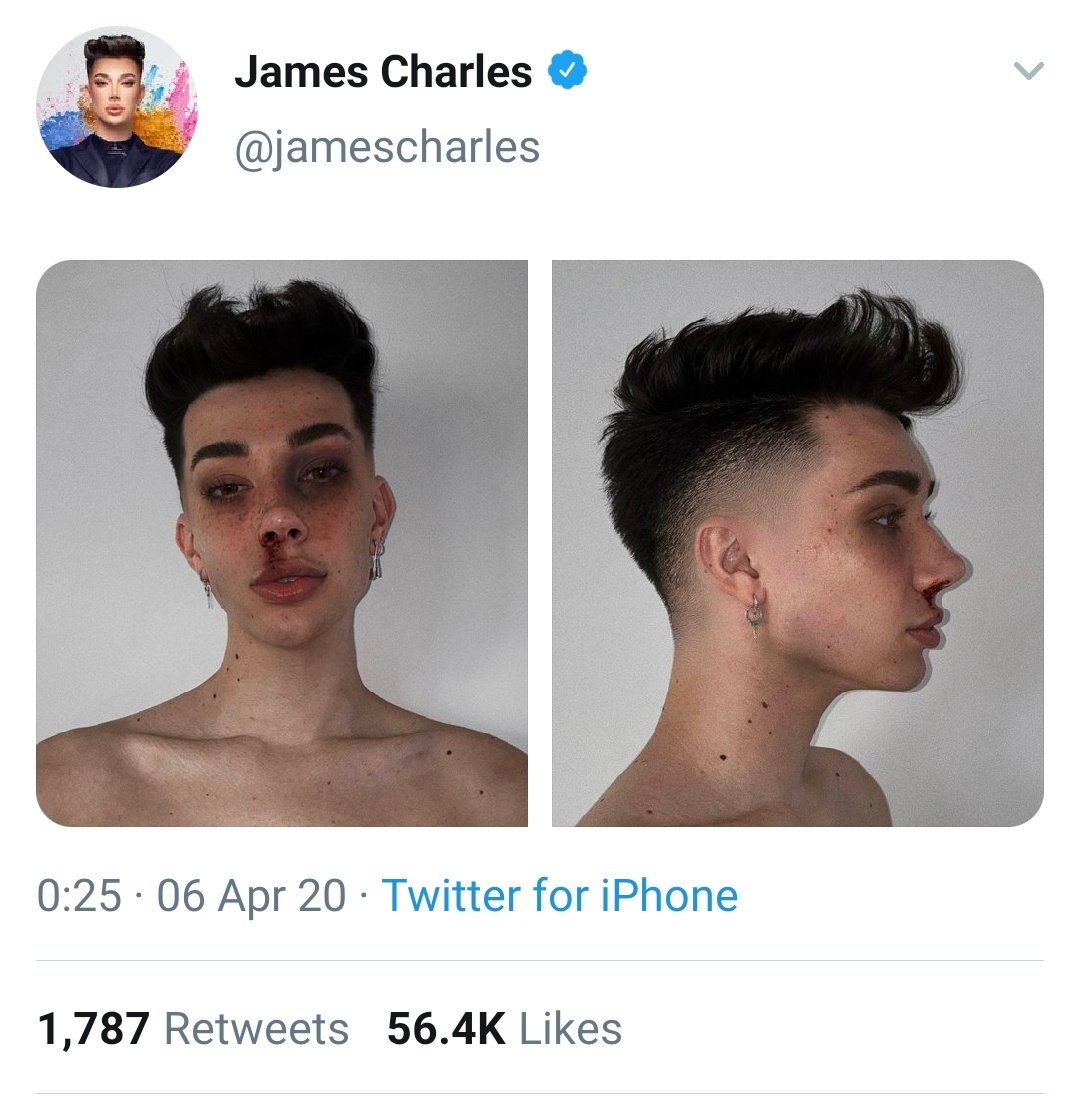 The creators posted their looks on Instagram and Twitter, where some who were unaware of the TikTok trend were confused and surprised. James Charles, for instance, posted his look without a caption and he was flooded with comments accusing him of triggering domestic violence survivors and glamorizing abuse.
According to Insider, in a since-deleted tweet, C said that he had changed his Instagram caption to joke about getting punched, but he changed it back soon after because "making that joke wasn't funny."
Still, his replies were full of stories from domestic violence survivors who found the look offensive.
He eventually responded to one fan who said the fake bruises made her feel "dehumanized" because she couldn't take hers off.
In now-deleted tweets, he also pointed to bloody looks by The Weeknd and Billie Eilish.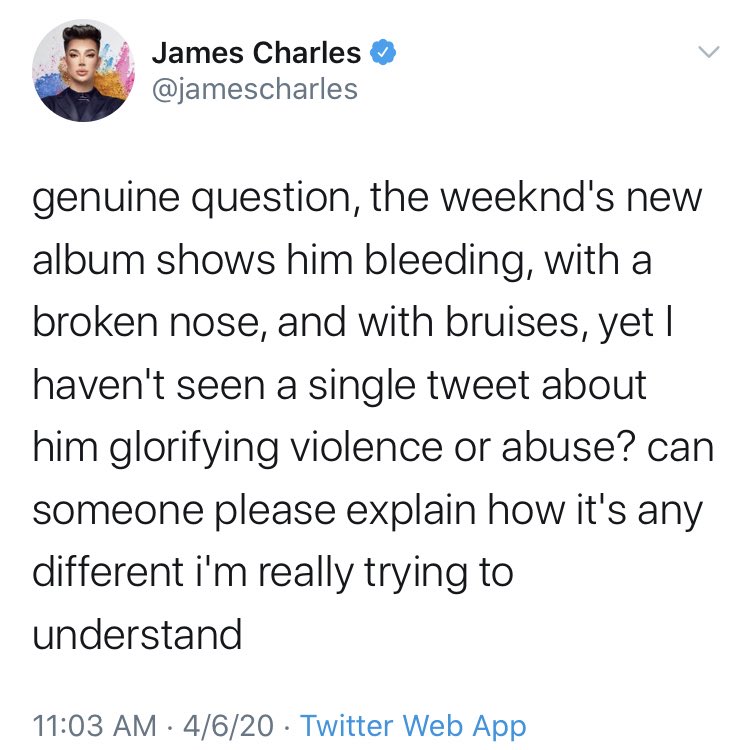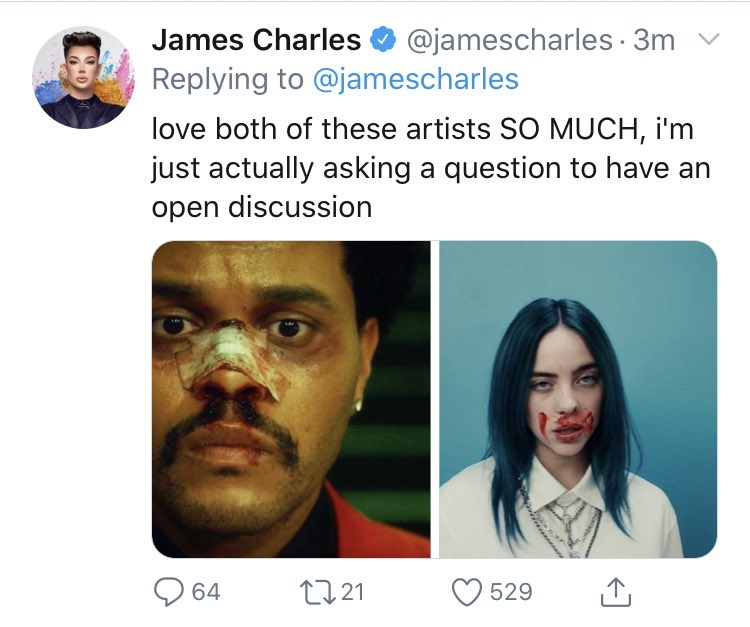 Eventually, he decided to delete the post, writing, "it's a waste of time trying to have an open discussion with people who hate me regardless."
When someone told James he doesn't have to apologize for everything, he clarified that he was no apologizing.
Gregg responded to some backlash in an Instagram story as well. She apologized for potentially triggering some people but wrote, "My mugshot pics and videos had nothing to do with domestic violence."
She went on to explain the storyline for the character she took on in a series of TikTok posts, adding, "I just wanted to clarify that bc i'm being looped in with people actually making their mugshots portray domestic violence vibes and i'm sorry they are doing that but mine are clearly not and if you watch all my mugshot tiktoks u can see that."
Around the same time James deleted his posts, Kopf also deleted her photos as well. However, she has no comment on the backlash as of now.
Still, these influencers are not the only ones who have participated in some version of this trend, but the attention around their posts have sparked discussion over whether or not these mugshot creations are appropriate.
Google Investigates Top AI Researcher Who Was Looking Into a Previous Firing
Google is investigating the co-leader of its Ethical AI team, Margaret Mitchell.
While Mitchell has not been fired, her account has been locked because Google said she "exfiltrated thousands of files" and shared them with people outside of the company.
In a tweet, Mitchell indicated that she had been "documenting current critical issues" related to the firing of another Google AI Ethicist in December.
Sources reportedly told Axios that Mitchell had been specifically looking for messages that showed discriminatory treatment of that fired researcher.
---
Google Investigates Margaret Mitchell
On Tuesday, Google stated that it is now investigating the co-leader of its Ethical Al team, Margaret Mitchell.
Mitchell has reportedly not been fired, but her company email account has been locked.
According to Google, its security systems automatically lock employee accounts "when they detect that the account is at risk of compromise due to credential problems or when an automated rule involving the handling of sensitive data has been triggered."
In this case, Google said Mitchell "exfiltrated thousands of files" and then shared them with people outside of the company.
Why Did Mitchell Begin Looking Through Files?
Mitchell's investigation is related to the ousting of another top AI ethicist at Google, Timnit Gebru, who was fired at the beginning of December.
Before Gebru was fired, managers reportedly instructed her to withdraw an unpublished research paper upon her return from vacation. In an email to the internal listserv Google Brain Women and Allies, Gebru then voiced frustration at managers for allegedly making the decision without her input.
"You are not worth having any conversations about this, since you are not someone whose humanity (let alone expertise recognized by journalists, governments, scientists, civic organizations such as the electronic frontiers foundation etc) is acknowledged or valued in this company," Gebru said in a critique of the decision.
Gebru's firing led to such a massive outcry from Google employees that Google CEO Sundar Pichai pledged to investigate the situation.
On Friday, Mitchell indicated in a tweet that she was also looking into Gebru's firing, saying that she was "documenting current critical issues from [Gebru's] firing, point by point, inside and outside work."
According to Axios, sources have said that Mitchell used automated scripts to siphon through messages that potentially document discriminatory treatment against Gebru.
Twitter CEO Jack Dorsey Says Trump Ban Was the "Right Decision" But Sets "Dangerous" Precedent
While defending Twitter's decision to permanently ban President Donald Trump, CEO Jack Dorsey noted the "dangerous" precedent such a move set.
"Having to take these actions fragment the public conversation," Dorsey said in a lengthy Twitter thread on Wednesday. "They divide us. They limit the potential for clarification, redemption, and learning."
Dorsey's message came the same day Twitter fully reinstated Rep. Lauren Boebert's (R-Co.) account, hours after locking it for violating Twitter rules. A Twitter spokesperson later described the lock as an "incorrect enforcement action."
---
Dorsey Describes Trump Ban as a Double-Edged Sword
In a lengthy Twitter thread published Wednesday, CEO Jack Dorsey defended his platform's decision to permanently ban President Donald Trump, while also noting the "dangerous" precedent such a unilateral move sets.
Twitter made the decision to ban Trump on Jan. 8, two days after pro-Trump insurrectionists stormed the U.S. Capitol complex in an assault that left multiple dead.
"I do not celebrate or feel pride in our having to ban [Trump] from Twitter, or how we got here," Dorsey said in the first of 13 tweets.
Nonetheless, Dorsey described Trump's ban as "the right decision for Twitter."
"Offline harm as a result of online speech is demonstrably real, and what drives our policy and enforcement above all," he added.
"That said, having to ban an account has real and significant ramifications," Dorsey continued.
"[It] sets a precedent I feel is dangerous: the power an individual or corporation has over a part of the global public conversation."
Dorsey described most bans as a failure of Twitter to "promote healthy conversation," though he noted that exceptions to such a mindset also exist. Among other failures, Dorsey said extreme actions like a ban can "fragment public conversation," divide people, and limit "clarification, redemption, and learning."
Dorsey: Trump Bans Were Not Coordinated
Dorsey continued his thread by addressing claims and criticism that Trump's ban on Twitter violated free speech.
"A company making a business decision to moderate itself is different from a government removing access, yet can feel much the same," he said.
Indeed, multiple legal experts have stated that Trump's ban on social media does not amount to First Amendment violations, as the First Amendment only addresses government censorship.
"If folks do not agree with our rules and enforcement, they can simply go to another internet service," Dorsey added. However, Dorsey noted that such a concept has been challenged over the past week.
This moment in time might call for this dynamic, but over the long term it will be destructive to the noble purpose and ideals of the open internet. A company making a business decision to moderate itself is different from a government removing access, yet can feel much the same.

— jack (@jack) January 14, 2021
Trump has now been banned or suspended from a number of platforms, including Facebook, Instagram, and YouTube. On Wednesday, Snapchat announced plans to terminate Trump's account in the "interest of public safety." Previously, Snapchat had only suspended his account, but as of Jan. 20, it will be permanently banned.
Addressing criticism of the swift bans handed down by these platforms in the wake of the Capitol attack, Dorsey said he doesn't believe Trump's bans on social media were coordinated.
"More likely: companies came to their own conclusions or were emboldened by the actions of others," he said.
Twitter Reverses Course of Locking Rep. Lauren Boebert's Account
Dorsey's thread regarding the fragile nature of regulating users' privileges on the platform seemed to play out earlier the same day.
On Wednesday, newly-elected Rep. Lauren Boebert (R-Co.) posted a screenshot to Instagram showing that her Twitter account had been locked for six days. The screenshot stated that she had violated Twitter's rules and would be unable to tweet, retweet, or like until her account was unlocked.
Hours later, Twitter reversed course and fully reinstated her account.
"In this instance, our teams took the incorrect enforcement action. The Tweet in question is now labeled in accordance with our Civic Integrity Policy. The Tweet will not be required to be removed and the account will not be temporarily locked," a spokesperson for the platform told Insider.
It is unknown what tweet caused that initial ban, as Twitter refused to say.
The latest tweet from Boebert's account to be tagged with a fact check warning is from Sunday. In that tweet, she baselessly and falsely accuses the DNC of rigging the 2020 Election, a claim that largely inspired the Capitol attacks.
Uber and Lyft Drivers Sue To Overturn California's Prop 22
A group of Uber and Lyft drivers filed a lawsuit Tuesday against California's controversial Prop 22, a ballot measure that was approved by nearly 59% of state voters in the 2020 election. 
While Prop 22 does promise drivers wage guarantees and health insurance stipends, it also eliminated some protections as well as benefits like sick pay and workers' compensation.
In their lawsuit, the drivers argue that Prop 22 "illegally" prevents them from being able to access the state's workers' compensation program. 
---
What's in the Lawsuit?
In a lawsuit filed Tuesday, a group of Uber and Lyft drivers asked California's Supreme Court to overturn the state's controversial Prop 22 ballot measure.
The drivers behind the lawsuit, along with Service Employees International Union, allege that Prop 22 "illegally" bars them from being able to participate in the state's workers' compensation program.
Additionally, they argue that the measure violates California's constitution by"stripping" the state legislature of its ability to protect who unionize.
"Every day, rideshare drivers like me struggle to make ends meet because companies like Uber and Lyft prioritize corporate profits over our wellbeing," Plaintiff Saori Okawa said in a statement.
Conversely, Uber driver and Prop 22 activist Jim Pyatt denounced the lawsuit, saying,"Voters across the political spectrum spoke loud and clear, passing Prop 22 in a landslide. Meritless lawsuits that seek to undermine the clear democratic will of the people do not stand up to scrutiny in the courts."
California ballot measures have been occasionally repealed in the past; however, most of the time, they've only been repealed following subsequent ballot measures. If this lawsuit fails, such an initiative would likely be the last option for overturning Prop 22.
What is Prop 22?
Prop 22, which was approved by 59% of state voters in the 2020 Election, exempts app-based transportation and delivery companies from having to classify their drivers as employees. Rather, those drivers are listed as "independent contractors," also known as gig workers.
Notably, Prop 22 was supported by major industry players like DoorDash, Uber, Lyft, and Instacart, which launched a massive $200 million lobbying and advertising campaign.
While those companies did promise wage guarantees and health insurance stipends for drivers, Prop 22 also eliminated a number of protections and benefits drivers would have seen under an "employee" status, including sick pay and workers' compensation.
Because of that, many opponents have argued that the measure incentivizes companies to lay off their employees in favor of cheaper labor options.
Last week, it was reported that grocery stores like Albertsons, Vons, and Pavilions began laying off their delivery workers in favor of switching to "third-party logistics providers." According to Albertson's, unionized delivery workers were not included in the layoffs.
In recent coverage from KPBS, one San Diego Vons delivery worker detailed a situation in which he and delivery workers were called into a meeting with management.
"I thought they were going to give us a bonus or a raise or something like that," he said.
Ultimately, that employee was told he would be losing his job in late February, even though he had been with the company for two-and-a-half years.
"I didn't want to tell them," the employee said of his parents, one of whom is disabled. "I'm the breadwinner for the family."