Cosmo Pulls Bachelor Contestant's Cover After "White Lives Matter" Photos Surface
Cosmopolitan pulled a cover of Bachelor contestant Victoria Fuller after the magazine discovered that she had previously modeled "White Lives Matter" apparel.
The photoshoot was reportedly done for an organization wanting to prevent overfishing of white and blue marlin, and it used "white lives matter" and "blue lives matter" messaging on its promotional products.
In a statement, editor-in-chief Jessica Pels wrote that the phrases are racist and do not reflect the Cosmo brand, so it decided to scrap Fuller's cover.
---
Cosmo Cover Pulled
Cosmopolitan was all set to release a March cover featuring a contestant on the currently-airing season of The Bachelor— at least that was until the magazine discovered the woman had worn "White Lives Matter" apparel for a previous modeling gig.
Victoria Fuller, a 26-year-old medical sales representative, had secured the digital cover spot after winning a swimsuit photoshoot challenge on the show. The episode was filmed months ago in Costa Rica but wasn't aired until Monday night, and the biggest bomb was dropped off-screen.
Editor-in-Chief Jessica Pels published a statement on the Cosmopolitan site during the airing of last night's episode announcing the decision to pull Fuller's cover despite her win.
"It wasn't until a few weeks ago that I found out that the woman I'd chosen had, in her past, modeled in an ad campaign wearing White Lives Matter attire," Pels wrote.
"Ultimately what felt right was choosing not to publish the digital cover on our website or social feeds, and simply being honest with you, the audience we respect, about what happened and where we stand," she said.
Fuller's Controversial Photoshoot
Images of Fuller sporting the controversial slogan began circulating in January, with many Twitter users expressing their disgust in the contestant's choice. She can be seen wearing a blue hat emblazoned with "WLM," and other screenshots of the brand's account show "White Lives Matter" spelled out on shirts and designs made to look like the confederate flag.
In her statement, Pels noted that the photos were reportedly shot for an organization devoted to preventing overfishing of white and blue marlin.
"It's been reported that what she modeled for was actually a Marlin Lives Matter organization focused on preventing white and blue marlin from being overfished, which used 'white lives matter' and 'blue lives matter' messaging on its promotional shirts and hats," Pels said.
The organization's Instagram page, @wlmapparel_clothing, no longer exists.
Regardless of the explanation behind the use of the slogans, Pels was not having it.
"Both phrases and the belief systems they represent are rooted in racism and therefore problematic," Pels wrote. "Unequivocally, the White Lives Matter movement does not reflect the values of the Cosmo brand. We stand in solidarity with Black Lives Matter, and any cause that fights to end injustices for people of color."
The editor noted that the original cover from The Bachelor shoot had already been printed as an inset in the March issue of Cosmopolitan, so Fuller won't be totally cut out. She also appears in photos that accompany the publication's interview with Peter Weber, this season's star.
Fuller addressed the controversial marlin pictures in early January via Instagram comments after a Bachelor fan page revealed them in a post.
"It would be nice for you to gather all facts before jumping to bash someone," Fuller wrote. "The company 'We Love Marlins' is in support of catching white, blue, and black marlins and releasing them back into the wild. In regards to a sensitive topic, I come from a very diverse background and am in support of all races!"
When somebody responded that the phrase "white lives matter" is still rooted in racism, the bachelor contestant apologized.
"I'm sorry if you or anyone else's feelings were hurt. That was never my intention," she said.
"I definitely see how this could be offensive," she added in another comment. "I apologize immensely it was never my intention to lessen this matter."
Fuller has not yet directly addressed Pels' letter or the decision to scrap her cover.
See what others are saying: (Washington Post) (E!News) (Fox News)
Fans Defend Billie Eilish From Body Shamers After Paparazzi Photo Goes Viral
Billie Eilish was recently photographed wearing a tight tank top and jogger shorts, a departure from the usual baggy clothes she wears in an active effort to prevent people from commenting on her body.
However, tabloids quickly spread this photo around and people ended up body shaming her on Twitter.
Fans came to her defense, saying people should not critique anyone's body or hold them to unrealistic standards. Some also pointed out that the world in general needs to normalize the fact that most people do not look like models.
Billie posted a TikTok on her Instagram expressing a similar point of view. The TikTok was made by Chizi Duru, who said: "Y'all gotta start normalizing real bodies…Guts are normal…Instagram isn't real."
---
Billie Eilish Gets Body Shamed
Billie Eilish fans are calling out body shamers who made comments about the singer after she was photographed wearing non-baggy clothing.
Eilish was essentially wearing the unofficial outfit of quarantine, a fitted tan tank top and comfy jogger shorts, while out and about in Los Angeles on Sunday.
While most people get away with wearing something like that every day, the young Grammy winner was met with a tabloid frenzy. Eilish has become known for wearing baggy clothes and has even said she wears looser outfits intentionally to prevent people from making unprovoked comments about her body.
Photos of her in the relaxed attire went viral and made headlines, with gossip magazines quick to gawk at the pictures. Body shamers soon followed with their remarks. One Twitter user said she had a "mid-30s wine mom body."
Fans Slam Body Shamers
Elish's fans quickly ran to her defense, slamming those who body shamed the 18-year-old.
"There is nothing greater in this world than billie eilish being confident in her body," one Twitter user wrote.
"To anyone who is body shaming Billie Eilish please stop putting unrealistic beauty standards on women," another fan said. "She doesn't deserve that and no one else deserves that either."
Many also pointed out the fact that offensive and uncalled for comments like that are what stop the young singer from usually wearing fitted clothing.
Others called out tabloids for making a big story out of her wearing a normal casual outfit to begin with.
Billie Eilish Responds Responds
Eilish eventually issued an indirect response on her Instagram Story Tuesday night by sharing a TikTok from influencer Chizi Duru.
"Y'all gotta start normalizing real bodies, okay. Not everyone has a wagon behind them, okay," Duru says in the video. "Guts are normal. They're normal. Boobs sag, especially after breastfeeding. Instagram isn't real."
Eilish also posted a video of her walking past her Grammy awards, which many thought was a subtle clapback to body shamers.
This is not the first time she has addressed body shaming and other remarks made around her appearance and wardrobe. During some of her concerts, Eilish has played a short video where she recites a spoken word poem about her experiences with her body image and the media.
"Some people hate what I wear. Some people praise it," she says in the video. "Some people use it to shame others. Some people use it to shame me."
"The body I was born with is it not what you wanted? If I wear what is comfortable I am not a woman," she continues. "If I shed the layers I'm a slut. Though you've never seen my body, you still judge it and judge me for it. Why?"
Some also shared this video as a reminder that body-shaming Eilish or anyone else is not okay. Her fans specifically pointed out that Eilish has been dealing with these kinds of issues for a long time and should not be subject to these repeated attacks.
BTS Faces Backlash in China Over RM's Korean War Comments
Kim Nam-Joon, the head of the K-pop group BTS who is better known as RM, made comments during the Korea Society's 2020 Annual Gala that prompted a boycott against the band in China.
Kim emphasized the role both the U.S. and South Korea played in the Korean War, saying, "We will always remember the history of pain that our two nations shared together and the sacrifices of countless men and women."
Chinese fans said the comments were insensitive and didn't acknowledge the 200,000 Chinese who died fighting against South Korea during the war.
Companies like Samsung and Hyundai have distanced themselves from the group in China, removing them from branding.
---
What Was Said?
The K-pop sensation BTS has found themselves facing boycott calls in China after group leader Kim Nam-joon, better known as RM, made what Chinese fans are calling insensitive comments.
The remarks causing outrage were made during the Korea Society's 2020 Annual Gala earlier this month while the band was accepting the Van Fleet award.
"We are very honored to receive the Van Fleet Award, presented to those who have made outstanding contributions to the promotion of the relationships between Korea and the United States," RM said at the ceremony.
"The Korea Society's 2020 Annual Gala is especially meaningful, as this year marks the 70th anniversary of the Korean War," he continued before adding, "We will always remember the history of pain that our two nations shared together and the sacrifices of countless men and women."

Backlash and Boycott Calls Emerge
It may be unclear to Western audiences why those remarks were viewed as so inflammatory. The Korea Society is a U.S.-based non-profit that promotes the relationship between South Korea and the U.S., so it's not surprising that BTS would make a comment like that given the event.
However, on Sunday, the clip went viral and reached #3 trending on Weibo, a Chinese website similar to Twitter, where people were clearly upset. The issue, in particular, was the fact that 200,000 Chinese "volunteers" died fighting for North Korea during the war.
Users on the platform wrote things like, "Nearly 200,000 Chinese troops died in the war. Every Chinese person must remember this number."
Meanwhile, others equated being a fan of BTS to betraying one's Chinese nationality. "If you still fan them, get out and change your nationality! There is nothing wrong with liking Korean idols, but if your idols insult your country, if you continue to fan, then you are not worthy of being a Chinese!" One user wrote on Weibo.
Many users wanted BTS to consider Chinese losses during the war, despite the fact that China fought against South Korea and saved its long-time nemesis North Korea during the conflict, directly leading to the 70-year cease-fire and today's current political climate in the region.
On top of this, Chinese fans were critical of BTS seemingly playing favorites with Americans, with one writing, "Chinese fans give you so much money each year, and you turn around and give it to the United States. What are Chinese fans then?"
Most notably, there were call for boycotts. One user asked, "when will NetEase Cloud Music will remove the song of the anti-Chinese boy group BTS?"
State-run papers also waded into the drama. The hyper-nationalistic Global Times the headline: "BTS hurts feelings of Chinese netizens and fans during speech on the Korean War." That same piece played up the controversy by calling RM's comments "a one-sided attitude."
Korean Companies Step back
The backlash was so large that Korean companies began to distance themselves from the group. Companies like Samsung pulled a BTS-branded smartphone and earbuds from its stores and Chinese website, while Hyundai Motor also removed any BTS branding from its Chinese ads.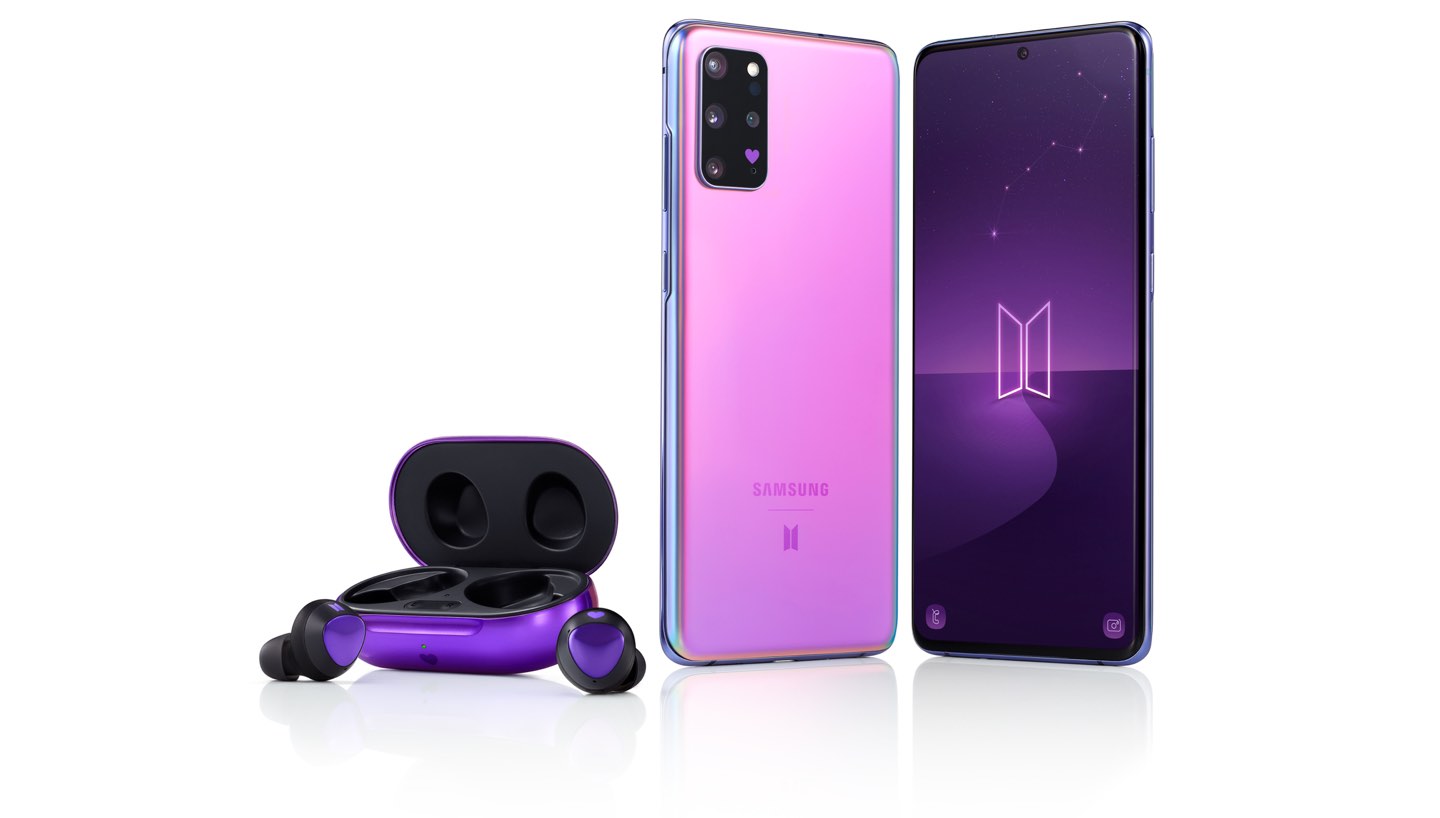 Together those companies make up around 22% of South Korea's GDP.
In the past U.S.-Korea relations have led to a major backlash with China, like in 2017 when the U.S. and Korea agreed to put THAAD missiles in Korea. The backlash led to an economic downturn in Korea after China started boycotting and banning certain activities with Korea. Tensions eventually cooled and economic trade returned to normal.
It's unclear if the Chinese government will officially respond in a similar manner to the 2017 THAAD controversy. When asked about the new controversy on Monday, Foreign Ministry spokesperson Zhao Lijian only said, "I have noted relevant reports as well as the reactions from the Chinese people online. I want to say that we all should learn lessons from history and look forward to the future, hold dear peace and strengthen friendship."
Experts like John Delury, a Chinese studies professor at Yonsei University – one of the major universities in Korea, told The Washington Post that the Global Times seems to have had a role in whipping up anger.
Even if that was the case, the controversy has already had a real-world impact since removing BTS branding in China will likely hurt the band's image in that market.
Disney Prioritizes Streaming as Theater Industry Falls Further Behind
Disney announced major restructuring plans Monday aimed at prioritizing streaming, a major move to come from one of the most powerful studios in the entertainment industry.
Under its new structure, Disney will form a whole new arm called Media and Entertainment Distribution Organization, which will be responsible for distribution and ad sales as well as overseeing the company's streaming services.
CEO Bob Chapek says this is in line with how consumers want to take in content. While many see it as a knee-jerk reaction to the coronavirus pandemic, he said the decision was actually more of an effort to move towards the future of content viewing.
Regardless of the reasons behind it, Disney's move towards streaming is a blow to theaters, which are already suffering during the pandemic. Early Tuesday, AMC predicted it could be out of money by the year's end as studios continually choose to push back their movie release dates, or release them through VOD or streaming platforms.
---
Disney Prioritizes Streaming
Disney announced major restructuring plans Monday aimed at prioritizing distribution and content creation for its streaming platforms.
The company is forming a new Media and Entertainment Distribution Organization, which will be responsible for distribution and ad sales as well as overseeing the company's streaming services. On the content creation side, responsibilities for funneling programming to distribution will fall on three divisions at Disney.
Studios will focus on branded theatrical and episodic content based on franchises for theatrical exhibition and streaming services like Disney+; general entertainment will work on episodic and original long-form content for streaming, cable, and broadcast; and sports will focus on live sports and other related content.
The Media and Entertainment Distribution Organization will be headed up by Kareem Daniel, who has been working at the mouse house. Disney CEO Bob Chapek said this new strategy will support its plans to accelerate its direct-to-consumer business. 
"Managing content creation distinct from distribution will allow us to be more effective and nimble in making the content consumers want most, delivered in the way they prefer to consume it," he said in a press release.
This is a huge announcement to come from one of the leading box office giants. Putting streaming ahead of movie theaters is a grave sign for theaters, which are already severely struggling during the coronavirus pandemic. However, while speaking to CNBC, Chapek claimed that COVID-19 complications were not the driving force in this decision, consumer preferences were.
"Right now, [consumers] are voting with their pocketbooks and they're voting very heavily towards Disney+. What we want to do is make sure we're going to go the way that consumers want us to go," Chapek explained.
"As you mentioned, COVID-19 impacted all of our traditional distribution businesses, but this is even more than reactionary, this is really progressive, this is looking out with a vision towards where we see the world going and to where we see consumers interacting with Disney+, ESPN+ and Hulu and where it's going to go in the future."
Chapek believes this strategy allows Disney to make more objective decisions when it comes to distribution, as opposed to seeing content as predetermined to either land in theaters, on a network, or elsewhere.
Streaming Becomes Dominant
Disney is also not the first major studio to recently shift to prioritizing streaming. Back in August, WarnerMedia announced a huge management shakeup as well as the departure of top executives all in an effort to put their streaming service, HBOMax, first.
Movie theaters are not exactly pleased with moves like this since they are banking on studios for new content so they can stay alive through the pandemic. But studios have constantly been either delaying films far down their release calendars, or opting to release them through VOD or streaming, something that those in the theater industry have been vocally against.
Disney recently faced backlash from The International Union of Cinemas after announcing that one of its biggest ticket pictures, the new Pixar film "Soul" would be going directly to Disney+.
"The decision on Soul is doubly frustrating for operators who were counting on the release after the film was previewed at a number of key European film festivals," the union wrote in a statement.
"Decisions to postpone titles, to bypass cinemas and the value they create are extremely disappointing – and concerning – and will only delay the day that the whole industry is able to put this crisis behind it," the union continued.
"It is not only cinemas and audiences who are missing out – this situation must surely also be deeply frustrating for the creators and talents who want to see their films on the Big Screen."
Issues for Movie Theaters
The fight theaters are being forced to confront cannot be understated. The pandemic is making it nearly impossible for the industry to rebound from its financial losses. On Tuesday morning, AMC said in a public filings report that it could run out of money by the year's end.
"Given the reduced movie slate for the fourth quarter, in the absence of significant increases in attendance from current levels or incremental sources of liquidity, at the existing cash burn rate, the Company anticipates that existing cash resources would be largely depleted by the end of 2020 or early 2021," the top movie chain wrote.
AMC said that theatergoing at its sites is down 85% compared to this time last year. On top of social distancing requirements meaning that theaters can only be partially filled, the desire to go to theaters is also lacking. A poll from Variety showed that as of October, just over 20% of adults in the U.S. feel very or somewhat comfortable going to the movies. While this is an increase from how many felt comfortable earlier in the pandemic, it is still not enough to fill seats.