'American Dirt' Publisher Cancels Author's Tour After Threats
American Dirt, a novel about a mother and son migrating from Mexico to the United States, has received backlash because the author, Jeanine Cummins, is not Mexican or an immigrant and is mostly white.
Critics believe this was not Cummins' story to write and called her depiction of immigration inaccurate, stereotypical, and irresponsible.
Oprah Winfrey was slammed after selecting the novel for her book club, with many urging her to rescind that choice.
Meanwhile, Cummins' publishers canceled her book tour over threats to her safety.
---
Book Tour Canceled
The publishers of the controversial new novel American Dirt have canceled the book tour over concerns for the author's safety.
Since the book hit shelves on January 21, it has started a large debate. The story depicts a fictional mother fleeing Mexico with her son after her husband is killed by drug cartel violence, hoping for a new life in the United States. The author, Jeanine Cummins, is not Mexican, not an immigrant, and is mostly white. Because of that, many critics believed that this was not Cummins' story to tell.
Flatiron Books, which published American Dirt, released a statement on Wednesday addressing the backlash.
"The discussion around this book has exposed deep inadequacies in how we at Flatiron Books address issues of representation, both in the books we publish and in the teams that work on them," it wrote.
In addition to backlash from critics, authors, and readers, Flatiron Books said there were also threats of violence made.
"While there are valid criticisms around our promotion of this book that is no excuse for the fact that in some cases there have been threats of physical violence," the statement added.
"Unfortunately, our concerns about safety have led us to the difficult decision to cancel the book tour. Based on specific threats to booksellers and the author, we believe there exists real peril to their safety," it continued. Now, instead of a full tour, the book publisher says it will host town hall meetings where Cummins can talk about criticism of her novel.
Controversies Surrounding American Dirt Author
The conversations around Cummin's whiteness have contained nuance. In a story she wrote for The New York Times back in 2015, Cummins says that she is white. After noting that her grandmother is Puerto Rican, she continues to say that "in every practical way, my family is mostly white."
In an interview promoting American Dirt, however, she said that she is Latinx. She also added that she felt unqualified to write the story because it is not her lived experience. In her author's note, she also said that she "wished someone slightly browner than me would write it."
That note also included a segment about her husband being an undocumented immigrant. While this is true, Cummins' husband came to the U.S. from Ireland, which is a different migration experience than that of someone crossing the border between Mexico and the U.S.
In their statement, Flatiron Books admitted that it regretted the methods it used rolling the book out, including hailing it as a definitive migration story and calling Cummins' husband undocumented without specifying where he came from.
Oprah Receives Backlash for Book Club Selection
American Dirt entered 2020 as one of the most anticipated books of the year. Before it was even published, it was being optioned for film adaptations. On the day it was released, Oprah Winfrey announced it was the newest selection in her book club. Her recommendation of the book is what brought the controversial subject matter to light.
"This story changed the way I see what it means to be a migrant in a whole new way," Winfrey wrote in an Instagram post announcing American Dirt's selection.
//www.instagram.com/embed.js
Celebrities like Salma Hayek and Gina Rodriguez posted that they were excited that American Dirt was chosen for Winfrey's book club. Internet users then quickly criticized Winfrey for choosing it, as well as Hayek and Rodriguez for promoting it. The two actresses later removed their social media posts touting the novel, and Hayek later apologized for promoting a book she had not read.
After Winfrey put it on her book club's list, several Latinx authors and writers shared their thoughts on American Dirt. Esmeralda Bermudez, an immigrant whose family came on foot to the U.S. from El Salvador, wrote about her take on the book in the Los Angeles Times.
"What made me cringe was immediately realizing that this book was not written for people like me, for immigrants," she wrote. "It was written for everyone else — to enchant them, take them on a wild border-crossing ride, make them feel all fuzzy inside about the immigrant plight. All, unfortunately, with the worst stereotypes, fixations and inaccuracies about Latinos."
Many also started sharing a review written by Myriam Gurba back in December, after she read an advance copy of American Dirt. She said that in the novel, Cummins appropriated works by people of color, slapped a coat of mayonnaise on the story to make it more palatable to American tastebuds, and repackaged the story for colorblind consumption.
Others also believed some of the promotion of the novel was insensitive. Cummins shared a photo of her getting nail art of barbed wire modeled after the book's cover, which many thought was in poor taste.
Others felt similarly about a centerpiece used at a dinner party celebrating the book, where flowers were wrapped in barbed wire.
Some, however, defended American Dirt. Sandra Cisneros the Mexican-American author of the acclaimed book The House on Mango Street spoke to NPR about the book and said it could reach an audience: "who maybe is undecided about issues at the border."
"It's going to be someone who wants to be entertained, and the story is going to enter like a Trojan horse and change minds," she continued. "And it's going to change the minds that, perhaps, I can't change."
Oprah Aims to Start an Open Dialogue
Still, since this book started such a strong debate, Winfrey took to Instagram to address the concerns on Monday.
"I've spent the last few days listening to members of the Latinx community to get a greater understanding of their concerns," Winfrey said in a video posted to her book club's account. "And I hear them, I do. So, what I want to do is bring people together from all sides to talk about this book and who gets to publish what stories."
//www.instagram.com/embed.js
Redirecting the conversation of the book was not enough for everyone, though. 122 authors signed a letter posted to LitHub on Wednesday asking her to reconsider recommending it.
"This letter is not written to attack Cummins, a fellow writer whose intentions we can't know. But good intentions do not make good literature, particularly not when the execution is so faulty, and the outcome so harmful," the letter said.
"In a time of widespread misinformation, fearmongering, and white-supremacist propaganda related to immigration and to our border, in a time when adults and children are dying in US immigration cages, we believe that a novel blundering so badly in its depiction of marginalized, oppressed people should not be lifted up," it continued.
The book is still linked in the bio of Oprah's Book Club's Instagram, with the reading schedule for it also posted.
"Among Us" Developers Scramble to Fight Off Pro-Trump Hacks
The video game "Among Us" has been struggling to fight off a hacker that spent the weekend blacking out lobbies, spamming chat boxes with pro-Trump messages, and causing other game disruptions.
InnerSloth, the developers behind the game, implemented anti-hacks to try and regain control, but some bugs and other issues persist.
The alleged hacker, who has since been doxed online, told Eurogamer they were trying to gain publicity for Trump and themselves since they design and sell in-game cheats. However, they also told Kotaku they were just curious to see what would happen and found the hack funny.
The disruptions began about two days after Rep. Alexandria Ocasio- Cortez playing the game in front of more than 435,000 Twitch viewers in an effort to encourage youth voting.
---
Hacker Target's 'Among Us'
Developers of the game "Among Us" are actively working to combat a hacker that has flooded the app with pro-Donald Trump messages since Thursday.
The multiplayer murder mystery game has grown in popularity this year thanks to support from Twitch streamers and users who found it particularly good to play during this age of social distancing.
Just last Tuesday, the game received extra attention when Rep. Alexandria Ocasio-Cortez (D-NY) hosted her first Twitch stream playing it with huge gamers like Pokimane, Valkyrae, Jacksepticeye, and others. The stream was part of a larger effort to encourage voting and ended up bringing in over 435,000 concurrent viewers.
However, by Thursday, users began reporting that the game was facing hacks. Players complained about their lobbies turning completely black, meanwhile, some were disconnected from games altogether.
Others reported spammed chat sections that told users to subscribe to Eris Loris on YouTube otherwise the hacker would "kill your device."
The hacker also shared Twitter links, Discord links, and other pro-Trump messages, even writing "Hacked by Russians." in some spam messages.
InnerSloth Rushes to Fight Back
Eventually, "Among Us" developer InnerSloth released a statement about the problem on Twitter.
"We're are super duper aware of the current hacking issue and we're looking into it," it said. "We will be pushing out an emergency server update so people who are in game will get kicked from games. Please play private games or with people that you trust!!! Bare with us!! 😰"
One of the developers later said he was rolling out server updates, but warned that players would be impacted for an unknown amount of time.
That's likely what actually happened since complaints continued throughout the weekend. By Saturday evening, the developer said he had rolled out "wave 2" of anti-hacks, but noted that there are some bugs and issues he's already aware of.
If you try to play the game right now, you'll be hit with a warning message about the problems as the game undergoes emergency maintenance.
In it, the developers reminded players that they were stopping plans for Among Us 2 as they focused on Among Us 1, which we know has exploded in popularity recently.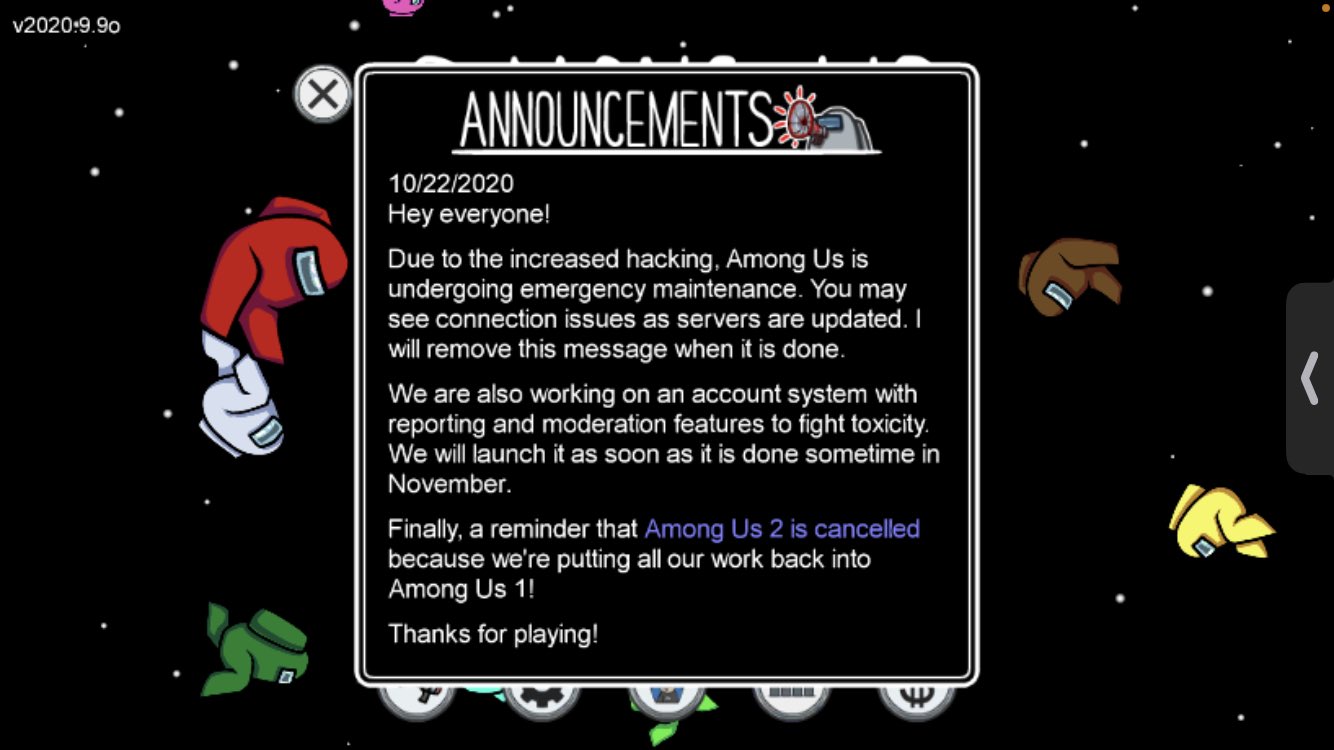 Hacker Speaks Out
Many felt the hack was done in an effort to bring support for President Trump in front of the same audience that Ocasio-Cortez reached.
However, as far as the motive, all we know is that both Eurogamer and Kotaku claimed they made contact with the hacker, who has since been doxxed and threatened online.
They told Eurogamer they design and sell in-game cheats and consider this "a publicity stunt," claiming to have affected 1.5 million matches.
They also said "I'm a college student and I support Trump," adding that they hoped this generated publicity for the president as well.
But when speaking to Kotaku, they made it sound more like a trolling effort, saying, "I was curious to see what would happen, and personally I found it funny."
"The anger and hatred is the part that makes it funny. If you care about a game and are willing to go and spam dislike some random dude on the internet because you cant play it for 3 minutes, it's stupid."
For now, it's unclear if all the problems are close to being completely resolved, but this has put a harsh spotlight on InnerSloth's small team.
"Borat" Sequel Reportedly Catches Rudy Giuliani in Compromising Situation, But Giuliani Says It's "Doctored"
President Donald Trump's personal lawyer, Rudy Giuliani, was caught in a compromising situation after stills from a mock-interview in Sacha Baron Cohen's upcoming "Borat" sequel showed Giuliani laying down with his hands in his pants in front of a fake reporter.
That fake reporter, Maria Bakalova, was in character as Borat's 15-year-old daughter. In real life, Bakalova is 24.
It has been reported that Giuliani did not know this context until just before he left the scene. Giuliani has also denied that he engaged in any appropriate sexual activity, saying he was tucking his shirt after having his mic removed.
---
Alleged Details About the Rudy Giuliani Interview in "Borat"
Drinking, agreeing to eat a bat, and sticking his hand in his pants — that's all part of a strange fake interview between Rudy Giuliani and "Borat" actress Maria Bakalova.
The interview was filmed against Giuliani's knowledge for "Borat Subsequent Moviefilm," which will be released on Amazon Prime Friday. In it, Giuliani can be seen entering a hotel suite with Bakalova, who is in character as Borat's 15-year-old daughter.
The film, starring Sacha Baron Cohen as Borat, includes other notable pranks, such as one that involves crashing the Conservative Political Action Conference to catch Vice President Mike Pence off guard; however, that might not come as much of a surprise to many considering how Cohen is known to have pulled similar antics in the past.
During the interview with Giuliani, Bakalova — who is 24-years-old in real-life — poses as a reporter for a conservative news show.
Near the beginning of the interview, hidden cameras reportedly capture Giuliani taking off a mask he was wearing. Throughout the interview, reports also indicate that he coughs and repeatedly touches Bakalova.
At one point, Bakalova, in character, says she's nervous. Giuliani grabs her hands and reportedly tells her, "You're going to do great."
Bakalova's character then brings up the coronavirus pandemic, asking what needs to be done so a similar pandemic doesn't happen in the future. Giuliani reportedly responds by shifting blame to China, alleging (without evidence) that the country "manufactured" the virus and deliberately spread it around the world.
"I don't think anyone was eating bats," he reportedly said.
Bakalova's character then responded, "If you eat a bat with me, I would."
"OK, I'll eat a bat with you," Giuliani said.
Because the footage of the interview has yet to be released publicly, it is unclear whether Giuliani is possibly joking.
From there, the interview continues. According to INSIDER, in one shot, the two sip what appears to be scotch.
After a subsequent interruption from a disguised Borat, Bakalova asks if they can move the interview into the bedroom. Giuliani agrees, reportedly telling her at one point, "You can give me your phone number and your address," before appearing to tap her on the small of her back a few times.
Giuliani proceeds to sit on a bed, and Bakalova's character appears to remove his mic.
The film then cuts to Giuliani laying on the bed, where he can be seen putting his hand in his pants.
At that point, Cohen — still playing Borat — jumps into the room in pink lingerie and tells Giuliani that "Bakalova" is 15-years-old before pleading for Giuliani to take him instead of her.
Giuliani then reportedly tells him, "I don't want you," and leaves the suite.
Giuliani Denies Allegations of Inappropriate Behavior
With the release of the stills, Giuliani's moment on the bed has drawn widespread condemnation and scrutiny. Many online have asked why Giuliani seemed to be putting his hands down his pants when he was in the same room as a person he could have believed was 15.
However, according to NBC News, in the context of the film, Giuliani had no reason to believe that Bakalova was 15 — at least not until Cohen jumped in and shouted it at the end.
By Wednesday afternoon, Giuliani attempted to dispel the rumors that he possibly engaged in some sort of inappropriate sexual situation with a minor.
"The Borat video is a complete fabrication," he said in a Twitter thread. "I was tucking in my shirt after taking off the recording equipment. At no time before, during, or after the interview was I ever inappropriate. If Sacha Baron Cohen implies otherwise, he is a stone-cold liar."
Giuliani then referred back to a Hollywood Reporter article from July 8 that confirmed he'd called the police after being pranked on camera by Cohen.
In fact, it does seem to be the case that this interview was recorded in July because around the same time, Giuliani told PageSix, "This guy comes running in, wearing a crazy, what I would say was a pink transgender outfit.
"It was a pink bikini, with lace, underneath a translucent mesh top, it looked absurd. He had the beard, bare legs, and wasn't what I would call distractingly attractive."
In his Twitter thread, Giuliani went on to call the release of the images a deflection against the recent leak involving Hunter Biden's supposed emails.
"This is an effort to blunt my relentless exposure of the criminality and depravity of Joe Biden and his entire family," Giuliani said. "We are preparing much bigger dumps off of the hard drive from hell, of which Joe Biden will be unable to defend or hide from. I have the receipts."
Along with Giuliani, a number of other conservatives have jumped to his defense, with many also accusing Amazon, Twitter, and the news media of deflecting against the Hunter Biden story.
Celebs Question Giuliani's Motives During Interview
Nonetheless, many — including a number of celebrities — have continued to question Giuliani's motives with Bakalova during the fake interview.
"So you normally drink with reporters, follow them to the bedroom and then lie on the bed and let her take off your mic for you?" singer Demi Lovato said. "I guess I've been doin my interviews all wrong…"
On "The Late Show," host Stephen Colbert said, "I watched the footage. Why did you go into a bedroom at the suggestion of a young woman to have cocktails to take off a mic? I take off a mic every night. Never once have I reclined on a kingsize bed and then launched a fact-finding mission to my own groin."
Marvel Stars Slammed for Defending Chris Pratt But Not Women or Actors of Color
Twitter users have dubbed actor Chris Pratt their least favorite Chris in Hollywood, with many doing so because they believe he supports President Donald Trump or is at least a conservative.
Some critics said that he attends an anti-LGBTQ church, follows right-wing figures on social media, and did not join his Marvel castmates in a fundraiser for Joe Biden's presidential campaign, among other controversies.
However, Pratt has never explicitly shown support for Trump and has previously said he doesn't feel represented by either of the major political parties.
Marvel figures like Mark Ruffalo, Robert Downey Jr, Zoe Saldana, and James Gunn each expressed support for Pratt online. That then prompted backlash from fans who asked why similar support was not shown to women and people of color like Brie Larson, Zendaya, Anthony Mackie, and others who faced sexist or racist harassment online after joining the MCU.
---
Internet Picks Their Least Favorite Chris in Hollywood
Members of the Marvel Cinematic Universe are facing backlash for how quickly they jumped to defend actor Chris Pratt after internet users dubbed him Hollywood's worst Chris.
Pratt's name has trended on Twitter several times since Saturday when one user asked people to pick a famous Chris to get rid of and many selected him.
While some admittedly just don't like his acting, many actually chose him because they believe he's a supporter of President Donald Trump.
Is He Actually a Trump Supporter?
However, his political views are not exactly clear, though many believe that he is at the very least a conservative.
Several people pointed out that he was notably not on the list of Avengers stars who hosted a virtual fundraiser to support Joe Biden. That event featured the likes of Don Cheadle, Chris Evans, Scarlett Johansson, Paul Rudd, Mark Ruffalo, Robert Downey Jr, and Zoe Saldana.
Other people said Pratt supports an anti-LGBTQ church.
That claim actually picked up last year when actress Ellen Page famously accused Hillsong Church in Los Angeles of being anti-LGBTQ.
The backlash later prompted Pratt to call the claim "absolutely untrue" and say that his church "opens their doors to absolutely everyone."
"My faith is important to me but no church defines me or my life, and I am not a spokesman for any church or group of people," he added.
Some also looked at who he follows on social media, suggesting it proves he has right-wing views.
Then there was that whole controversy surrounding a shirt he wore last year featuring the Gadsen flag, which has a coiled snake and the text "Don't Tread On Me."
That flag was created by American general Christopher Gadsden during the Revolutionary war but it has developed more political connotations in recent years.
According to Dictionary.com: "In the 2000s, the phrase became associated with a variety of libertarian, conservative, gun-rights, or far-right political groups as way to express their beliefs."
Others pointed to a recent controversy he had when instead of urging people to vote in the upcoming election, he posted a joke about voting for "Onward" to win at the People's Choice Awards. Many interpreted this as him mocking celebrities who are using their platforms to promoting voting. Others said he was downplaying the seriousness of the election.
However, on the other side of this, CNN reported that he donated money to Democrat and former President Barack Obama's campaign back in 2012.
On top of that, others looked to his wife Katherine Schwarzenegger-Pratt, daughter of the former Republican Governor of California Arnold Schwarzenegger.
She has notably shown support for Biden, but it's unclear if her husband shares the same views.
Still, he is also on record saying he doesn't support either political party.
In 2017, he told Men's Fitness, "I don't feel represented by either side."
"I really feel there's common ground out there that's missed because we focus on the things that separate us."
Basically, there's really not enough evidence to say that Pratt is a Trump supporter, but he hasn't come out to confirm or deny it either way.
Avengers Assemble to Defend Pratt
Even so, the internet eventually turned their dislike for Pratt into somewhat of a meme.
Many are making jokes at his expense and generally referring to him as the worst Chris.
All of this backlash eventually prompted a number of his Marvel costars to come out and defend him.
Mark Ruffalo, for instance, said Prat is "as solid a man there is."
"I know him personally, and instead of casting aspersions, look at how he lives his life. He is just not overtly political as a rule. This is a distraction. Let's keep our eyes on the prize, friends. We are so close now."
Guardians of the Galaxy director James Gunn said Pratt, "is the best dude in the world. I've spent hours & hours sharing my deepest truths with this man, as he has with me. Please stop assuming what he believes, politically or in any other way, because he's a Christian."
Zoe Saldana followed up with a Tupac quote, "No matter how hard it gets, stick your chest out, keep your head up and handle it.
"You got this @prattprattpratt," she added. "Your family, friends, colleagues & everyone who's ever crossed paths with you knows your heart and your worth!"
Even Robert Downey Jr. shared a photo with Pratt on Instagram.
"What a world," he wrote in the post caption. "The "sinless" are casting stones at my #brother, Chris Pratt… A real #Christian who lives by #principle, has never demonstrated anything but #positivity and #gratitude… AND he just married iznto a family that makes space for civil discourse and (just plain fact) INSISTS on service as the highest value."
"If you take issue with Chris, I've got a novel idea. Delete your social media accounts, sit with your OWN defects of #character, work on THEM, then celebrate your humanness… @prattprattpratt I #gotyerbackbackback"
Internet Users Accuse MCU Stars of Hypocrisy
Of course, many on the internet took issue with that swift display of support, especially since some women and actors of color in the MCU were met with silence from many of their costars when they faced bullying or harassment online.
For instance, some noted that Brie Larson faced a ton of harassment last year when she advocated for diversity in Hollywood.
She was regularly hit with a ton of sexist remarks at the time and "Captain Marvel" was flooded with negative reviews on Rotten Tomatoes before the film was even released.
Others said stars like Anthony Mackie, Tessa Thompson, Zendaya, and more actors of color have endured bullying, racist remarks, and even death threats without the same quick support Pratt received.
where was this energy for zendaya? brie larson? don cheadle? chadwick boseman? & anthony mackie? tessa thompson? when they were actually being harassed

— wasteland, baby! (@ughhmedusa) October 21, 2020
Pratt has not comments on any of the backlash as of Wednesday afternoon.