Fire Officials Warn of Viral TikTok "Outlet Challenge"
Massachusetts firefighters are warning of an electrical "outlet challenge" seen on Tiktok that can cause fires or electrocution.
The challenge involves partially inserting a cell phone charger into an outlet and trying to produce a spark by touching the exposed prongs with a penny.
In two local schools, teens started a fire or torched outlets and are now facing charges of arson, attempted arson, and malicious damage to property.
---
"Outlet Challenge" Warning
Massachusetts fire officials are warning of a dangerous electrical "outlet challenge" spreading across TikTok after at least three reported incidents raised concerns.
The challenge involves partially inserting a cell phone charger into an outlet, then trying to produce a spark by touching the exposed prongs with a penny.
Massachusetts Fire Marshal Peter Ostroskey issued a letter to all of the state's fire chiefs on Monday warning of the viral social media challenge that has lead to copycat behavior. In the memo, Ostroskey said that his office had already received reports of two instances where teens tried to recreate the stunt.
"The result is sparks, electrical system damage, and in some cases fire," Ostroskey wrote.
He advised fire officials to reach out to local news outlets, school officials, and parent organizations to make them aware of this trend, writing, "Alert them to this challenge, advise them to, not only look for signs of fire play like scorched outlets, but to have conversations about fire and electrical safety with tweens and teenagers."
Charges Against Teens Involved
One of the incidents Ostroskey cited resulted in damage to an outlet inside a home. The other sparked a fire inside Westford Academy. The spark at Westford Academy created smoke that set off the school's fire alarm, local authorities reported.
The student responsible for that incident is now facing charges, including arson and malicious damage to property, Westford Police Captain Victor Neal told CNN.
Meanwhile, NBC Boston reported that two students at Plymouth North High School were caught attempting the challenge twice in a matter of minutes inside a classroom on Tuesday.
Firefighters found two scorched outlets and a phone charger with a penny fused to the prongs, according to Plymouth Fire Chief Edward Bradley. There were no injuries, but the school's superintendent Gary Maestas said the students involved could face serious consequences.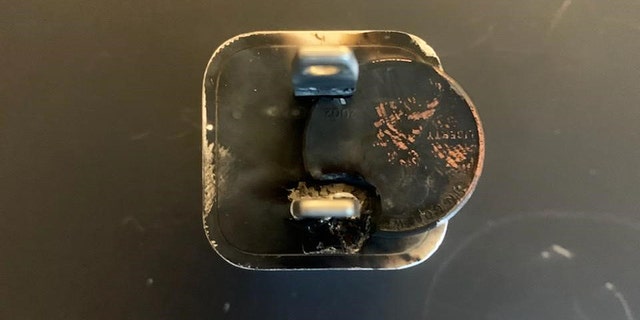 "We are working with the Plymouth Police and Fire Departments to fully understand the scope of this issue and pursue charges to the fullest extent of the law," Maestas wrote in a statement.
Plymouth police said the two 15-year-old male students face charges of attempted arson and malicious damage to property under $1,200.
Dangers of the Stunt
"I don't think students comprehend the reality that they can be electrocuted and killed, or start a fire," said Chief Bradley.
Aside from starting fires or facing potential electrocution, Bradley said the challenge could also cause damage to electrical wiring behind walls, which could allow fires to burn within the walls undetected and endanger everyone in the building.
"Social media elevates it," Bradley added. "They see it online, they see someone do it, they start laughing, they run away and no one gets hurt and they assume the same will happen when they do it, so they think it's funny to do it in a classroom."
"Parents need to talk to their children and tell them if you see this stuff, don't try to imitate it."
See what others are saying: (CNN) (Fox News) (Time)
Kathy Griffin, Ethan Klein, More Suspended From Twitter Over Elon Musk Impersonations
Many have pretended to be Musk in an attempt to highlight the potential issues paid-for verifications could cause on the platform.
---
Musk Takes on Impersonations
Comedian Kathy Griffin and internet personality Ethan Klein are among the many Twitter users that have been permanently suspended for impersonating the platform's new CEO, Elon Musk.
Impersonation has long been against Twitter's rules, but on Sunday, the billionaire took the policy a step further by announcing that "any Twitter handles engaging in impersonation without clearly specifying 'parody' will be permanently suspended."
"Previously, we issued a warning before suspension, but now that we are rolling out widespread verification, there will be no warning," Musk explained. "This will be clearly identified as a condition for signing up to Twitter Blue."
Musk also said that any user who changes their name will temporarily lose their verification check mark.
The announcement came as many verified users began mocking Musk by changing their name and photo to match his, then tweeting jokes that were either absurd or out of character for the business mogul. Many did this to protest Musk's plan to charge an $8 monthly subscription fee that would allow any Twitter user to become verified.
Klein was one of many who changed his name to "Elon Musk" and made a photo of the CEO his profile image. The podcast host sent out several jokes, including one referencing the increased use of the N-word on the platform since Musk's takeover, and another referencing Jeffrey Epstein.
"Even though Jeffrey Epstein committed horrible crimes, I do still miss him on nights like this for his warmth and camaraderie. Rest In Peace old Friend," he wrote. 
His account was quickly banned, but Klein defended himself on TikTok, arguing that both his cover photo and bio labeled his account as "parody" and therefore should be acceptable under Musk's guidelines. 
"What more do you want from me?" he asked. "Comedy is dead. And Elon Musk dug the grave." 
Protests of Musk's Twitter Control
For her part, Griffin likewise tweeted while masquerading as Musk, writing that after "spirited discussion with the females in my life, I've decided that voting blue for their choice is only right."
Musk joked that she was actually "suspended for impersonating a comedian" and added that she can have her account back if she pays for the $8 subscription. Griffin, however, found another way around the ban.
The comedian logged into her late mother's Twitter account and began using the hashtag #FreeKathy while calling out Musk.
"Mad Men" actor Rich Sommer and podcaster Griffin Newman have also had their accounts suspended for tweeting as Musk. Other celebrities, including TV producer Shonda Rhimes, musician Sara Bareilles, and model Gigi Hadid have protested Musk's Twitter reign by leaving the platform altogether.
"For a long time, but especially with its new leadership, it's becoming more and more of a cesspool of hate & bigotry, and it's not a place I want to be a part of," Hadid wrote on Instagram over the weekend. 
AOC Says Twitter Notifications "Conveniently" Disabled After Criticizing Musk
"What's good? Doesn't seem very free speechy to me," she tweeted at the new CEO.
---
AOC Vs. Elon Musk
Rep. Alexandria Ocasio-Cortez (D-NY) said several of her Twitter features are "conveniently not working" after feuding with the platform's new owner, billionaire Elon Musk.
Ocasio-Cortez has never been shy about her views on Musk. After he officially took charge of Twitter last week, the congresswoman began criticizing his new proposals for the social networking site, specifically his plan to charge an $8 subscription fee for verification. 
"Lmao at a billionaire earnestly trying to sell people on the idea that 'free speech' is actually a $8/mo subscription plan," she wrote on Tuesday.
"Your feedback is appreciated, now pay $8," Musk replied the following day.
Around an hour later, the business mogul sent another tweet appearing to call Ocasio-Cortez out for selling $58 sweatshirts. 
"Proud of this and always will be," she shot back. "My workers are union, make a living wage, have full healthcare, and aren't subject to racist treatment in their workplaces. Items are made in USA. Team AOC honors and respects working people. You should try it sometime instead of union-busting."
In a follow-up tweet, she noted that proceeds go to community organizing programs, including one that tutors students who are falling behind because of COVID-19.
AOC's Mentions Not Working
On Wednesday evening, just hours after her back-and-forth with Musk, Ocasio-Cortez told her followers that her "Twitter mentions/notifications conveniently aren't working tonight."
"I was informed via text that I seem to have gotten under a certain billionaire's skin," she added. "Just a reminder that money will never [buy] your way out of insecurity, folks."
The issue seemingly continued into Thursday morning when the Democrat tweeted a screenshot of her notifications page, which loaded no results.
"Why should people pay $8 just for their app to get bricked when they say something you don't like?" she tweeted at Musk. "This is what my app has looked like ever since my tweet upset you yesterday. What's good? Doesn't seem very free speechy to me."
Musk has repeatedly claimed that one of his primary motives to buy Twitter was to protect free speech. Once taking the reigns as CEO, though, he did say he would start a content moderation council and make decisions jointly with them.
See what others are saying: (The Hill) (Insider)
South Carolina County Votes Against Moving LGBTQ+ Friendly Books Away from Children's Section
Efforts to limit LGBTQ+ content in libraries first began over the summer.
---
Attempts to Restrict LGBTQ+ Displays
The county council in Greenville County, South Carolina this week voted against discussing a resolution that would move all books "promoting sexuality" to the adult section.
This resolution is the culmination of months of turmoil in Greenville County. In June, libraries in the county removed Pride displays at the direction of library officials. Then in September, the county's Republican Party executive board passed a resolution to call on the County Council to restrict access to books with LGBTQ+ themes and characters. 
The resolution was proposed by Joe Dill, an outgoing council member, as well as a member of the county's Republican Party executive board. It proposed the council "officially order that no books or content, including digital copies or online accessible materials, promoting sexuality be allowed in the Children's Sections of our public libraries." 
Resolution Rejected
However, the resolution required the council to suspend its regular rules in order to discuss it as it was not submitted to the council via committee. The final vote was 9 to 3 against the suspension of the rules and effectively killed the resolution. 
Those that voted against it viewed the resolution as an overreach.
"We just do not believe that's our job to get involved in the library's business," Council member Ennis Fett said to a local news outlet. "We appoint a board. We can not set a precedent of micromanaging the library board, because if we do that, then, we will be micromanaging all boards and commissions that we appoint." 
Although the council decided not to get involved, the library still has the final decision to make regarding these books. Their meeting to discuss the matter is scheduled for December 5.