Fire Officials Warn of Viral TikTok "Outlet Challenge"
Massachusetts firefighters are warning of an electrical "outlet challenge" seen on Tiktok that can cause fires or electrocution.
The challenge involves partially inserting a cell phone charger into an outlet and trying to produce a spark by touching the exposed prongs with a penny.
In two local schools, teens started a fire or torched outlets and are now facing charges of arson, attempted arson, and malicious damage to property.
---
"Outlet Challenge" Warning
Massachusetts fire officials are warning of a dangerous electrical "outlet challenge" spreading across TikTok after at least three reported incidents raised concerns.
The challenge involves partially inserting a cell phone charger into an outlet, then trying to produce a spark by touching the exposed prongs with a penny.
Massachusetts Fire Marshal Peter Ostroskey issued a letter to all of the state's fire chiefs on Monday warning of the viral social media challenge that has lead to copycat behavior. In the memo, Ostroskey said that his office had already received reports of two instances where teens tried to recreate the stunt.
"The result is sparks, electrical system damage, and in some cases fire," Ostroskey wrote.
He advised fire officials to reach out to local news outlets, school officials, and parent organizations to make them aware of this trend, writing, "Alert them to this challenge, advise them to, not only look for signs of fire play like scorched outlets, but to have conversations about fire and electrical safety with tweens and teenagers."
Charges Against Teens Involved
One of the incidents Ostroskey cited resulted in damage to an outlet inside a home. The other sparked a fire inside Westford Academy. The spark at Westford Academy created smoke that set off the school's fire alarm, local authorities reported.
The student responsible for that incident is now facing charges, including arson and malicious damage to property, Westford Police Captain Victor Neal told CNN.
Meanwhile, NBC Boston reported that two students at Plymouth North High School were caught attempting the challenge twice in a matter of minutes inside a classroom on Tuesday.
Firefighters found two scorched outlets and a phone charger with a penny fused to the prongs, according to Plymouth Fire Chief Edward Bradley. There were no injuries, but the school's superintendent Gary Maestas said the students involved could face serious consequences.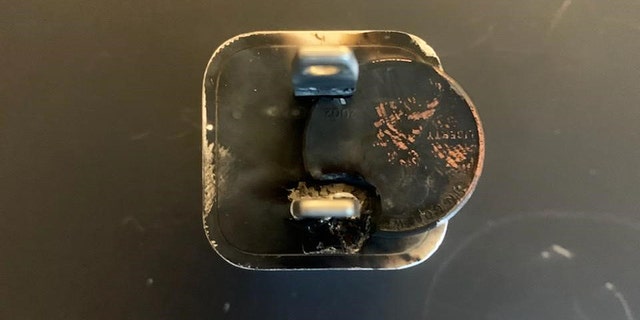 "We are working with the Plymouth Police and Fire Departments to fully understand the scope of this issue and pursue charges to the fullest extent of the law," Maestas wrote in a statement.
Plymouth police said the two 15-year-old male students face charges of attempted arson and malicious damage to property under $1,200.
Dangers of the Stunt
"I don't think students comprehend the reality that they can be electrocuted and killed, or start a fire," said Chief Bradley.
Aside from starting fires or facing potential electrocution, Bradley said the challenge could also cause damage to electrical wiring behind walls, which could allow fires to burn within the walls undetected and endanger everyone in the building.
"Social media elevates it," Bradley added. "They see it online, they see someone do it, they start laughing, they run away and no one gets hurt and they assume the same will happen when they do it, so they think it's funny to do it in a classroom."
"Parents need to talk to their children and tell them if you see this stuff, don't try to imitate it."
See what others are saying: (CNN) (Fox News) (Time)
Inmates Sue Jail for Giving Them Ivermectin to Treat COVID-19 Without Consent
Four detainees who filed the suit allege that the jail's doctor gave them "incredibly high doses" of the anti-parasite in a "cocktail of drugs" that he said were "'vitamins', 'antibiotics,' and/or 'steroids.'"
---
Washington County Detention Center Lawsuit
Four inmates at an Arkansas jail have filed a federal lawsuit claiming that they were unknowingly given the anti-parasite drug ivermectin without their consent by the detention center's doctor after contracting COVID-19.
The Food and Drug Administration, the Centers for Disease Control and Prevention, and countless other medical experts have said that ivermectin — commonly used for livestock — can be dangerous and should not be used to treat the coronavirus.
According to the lawsuit, after testing positive for COVID in August, the four men at the Washington County Detention Center (WCDC) were given a "cocktail of drugs" twice a day by the facility's doctor, Robert Karas.
The inmates claim that Dr. Karas did not tell them that he was giving them ivermectin, but instead said the drugs consisted of "'vitamins', 'antibiotics,' and/or 'steroids.'"
The complaint also alleges that the detainees were given "incredibly high doses" of the drug, causing some to experience "vision issues, diarrhea, bloody stools, and/or stomach cramps."
Use on Other Inmates
The four plaintiffs were far from the only people to whom Karas gave ivermectin.
According to the lawsuit, the doctor began using the drug to treat COVID starting in November of 2020. In August, the Washington County sheriff confirmed at a local finance and budget committee meeting that the doctor had been prescribing the drug to inmates, prompting the Arkansas Medical Board to launch an investigation.
In response, Karas informed a Medical Board investigator in a letter from his attorney that 254 inmates at the facility had been treated with ivermectin.
In the letter, he confirmed that whether or not detainees were given information about ivermectin was dependent on who administered it, but paramedics were not required to discuss the drug with them.
He also admitted that after the practice got media coverage, he "adopted a more robust informed consent form to assuage any concern that any detainees were being misled or coerced into taking the medications, even though they weren't."
The American Civil Liberties Union of Arkansas, which filed the suit on behalf of the inmates, also claimed in a statement that after questions were raised about the practice, the jail attempted to make detainees sign forms saying that they retroactively agreed to the treatments.
The WCDC has not issued a public response to the lawsuits, but Dr. Karas appeared to address the situation in a Facebook post where he defended his actions.
"Guess we made the news again this week; still with best record in the world at the jail with the same protocols," he wrote. "Inmates aren't dumb and I suspect in the future other inmates around the country will be suiing their facilities requesting same treatment we're using at WCDC-including the Ivermectin."
Medical Workers Sign Letter Urging Spotify to Combat Misinformation, Citing Joe Rogan
The letter accused Spotify of "enabling its hosted media to damage public trust in scientific research."
---
Doctors and Medical Professionals Sign Letter to Spotify
A group of 270 doctors, scientists, and other medical workers signed an open letter to Spotify this week urging the audio platform to implement a misinformation policy, specifically citing false claims made on the "Joe Rogan Experience" podcast. 
Rogan has faced no shortage of backlash over the last year for promoting vaccine misinformation on his show, which airs exclusively on Spotify. Most recently, he invited Dr. Robert Malone on a Dec. 31 episode that has since been widely criticized by health experts.
Dr. Malone was banned from Twitter for promoting COVID-19 misinformation. According to the medical experts who signed the letter, he "used the JRE platform to further promote numerous baseless claims, including several falsehoods about COVID-19 vaccines and an unfounded theory that societal leaders have 'hypnotized' the public."
"Notably, Dr. Malone is one of two recent JRE guests who has compared pandemic policies to the Holocaust," the letter continued. "These actions are not only objectionable and offensive, but also medically and culturally dangerous."
Joe Rogan's History of COVID-19 Misinformation
Rogan sparked swift criticism himself in the spring of 2021 when he discouraged young people from taking the COVID-19 vaccine. He also falsely equated mRNA vaccines to "gene therapy" and incorrectly stated that vaccines cause super mutations of the virus. He took ivermectin after testing positive for the virus in September, despite the fact that the drug is not approved as a treatment for COVID.
"By allowing the propagation of false and societally harmful assertions, Spotify is enabling its hosted media to damage public trust in scientific research and sow doubt in the credibility of data-driven guidance offered by medical professionals," the doctors and medical workers wrote.
"We are calling on Spotify to take action against the mass-misinformation events which continue to occur on its platform," they continued. "With an estimated 11 million listeners per episode, JRE is the world's largest podcast and has tremendous influence. Though Spotify has a responsibility to mitigate the spread of misinformation on its platform, the company presently has no misinformation policy."
Rolling Stone was the first outlet to report on the letter from the medical professionals. Dr. Katrine Wallace, an epidemiologist at the University of Illinois Chicago, was among the signees. She told the magazine that Rogan is "a menace to public health."
"These are fringe ideas not backed in science, and having it on a huge platform makes it seem there are two sides to this issue," she said. "And there are really not."
Spotify had not responded to the letter as of Thursday.
Data Shows Omicron May be Peaking in the U.S.
In some cities that were first hit by the surge, new cases are starting to flatten and decline.
---
New Cases Flattening
After weeks of recording-breaking cases driven by the highly infectious omicron variant, public health officials say that new COVID infections seem to be slowing in the parts of the country that were hit the hardest earlier on.
Following a more than twentyfold rise in December, cases in New York City have flattened out in recent days.
New infections have even begun to fall slightly in some states, like Maryland and New Jersey. In Boston, the levels of COVID in wastewater — which has been a top indicator of case trends in the past — have dropped by nearly 40% since the first of the year.
Overall, federal data has shown a steep decline in COVID-related emergency room visits in the Northeast, and the rest of the country appears to be following a similar track.
Data from other countries signals the potential for a steep decline in cases following the swift and unprecedented surge.
According to figures from South Africa, where the variant was first detected, cases rose at an incredibly shocking rate for about a month but peaked quickly in mid-December. Since then, new infections have plummeted by around 70%.
In the U.K., which has typically been a map for how U.S. cases will trend, infections are also beginning to fall after peaking around New Year's and then flattening for about a week.
Concerns Remain
Despite these recent trends, experts say it is still too early to say if cases in the U.S. will decline as rapidly as they did in South Africa and the parts of the U.K. that were first hit.
While new infections may seem to be peaking in the cities that saw the first surges, caseloads continue to climb in most parts of the country. 
Meanwhile, hospitals are overwhelmed and health resources are still strained because of the high volume of cases hitting all at once.