Fire Officials Warn of Viral TikTok "Outlet Challenge"
Massachusetts firefighters are warning of an electrical "outlet challenge" seen on Tiktok that can cause fires or electrocution.
The challenge involves partially inserting a cell phone charger into an outlet and trying to produce a spark by touching the exposed prongs with a penny.
In two local schools, teens started a fire or torched outlets and are now facing charges of arson, attempted arson, and malicious damage to property.
---
"Outlet Challenge" Warning
Massachusetts fire officials are warning of a dangerous electrical "outlet challenge" spreading across TikTok after at least three reported incidents raised concerns.
The challenge involves partially inserting a cell phone charger into an outlet, then trying to produce a spark by touching the exposed prongs with a penny.
Massachusetts Fire Marshal Peter Ostroskey issued a letter to all of the state's fire chiefs on Monday warning of the viral social media challenge that has lead to copycat behavior. In the memo, Ostroskey said that his office had already received reports of two instances where teens tried to recreate the stunt.
"The result is sparks, electrical system damage, and in some cases fire," Ostroskey wrote.
He advised fire officials to reach out to local news outlets, school officials, and parent organizations to make them aware of this trend, writing, "Alert them to this challenge, advise them to, not only look for signs of fire play like scorched outlets, but to have conversations about fire and electrical safety with tweens and teenagers."
Charges Against Teens Involved
One of the incidents Ostroskey cited resulted in damage to an outlet inside a home. The other sparked a fire inside Westford Academy. The spark at Westford Academy created smoke that set off the school's fire alarm, local authorities reported.
The student responsible for that incident is now facing charges, including arson and malicious damage to property, Westford Police Captain Victor Neal told CNN.
Meanwhile, NBC Boston reported that two students at Plymouth North High School were caught attempting the challenge twice in a matter of minutes inside a classroom on Tuesday.
Firefighters found two scorched outlets and a phone charger with a penny fused to the prongs, according to Plymouth Fire Chief Edward Bradley. There were no injuries, but the school's superintendent Gary Maestas said the students involved could face serious consequences.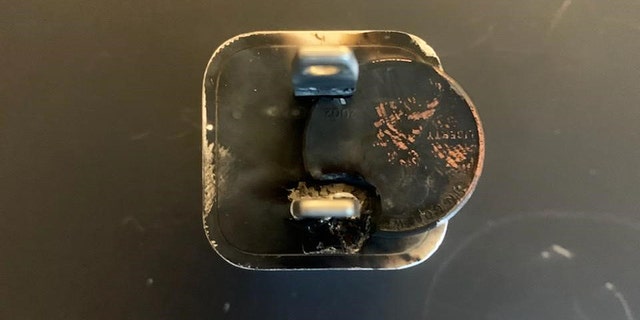 "We are working with the Plymouth Police and Fire Departments to fully understand the scope of this issue and pursue charges to the fullest extent of the law," Maestas wrote in a statement.
Plymouth police said the two 15-year-old male students face charges of attempted arson and malicious damage to property under $1,200.
Dangers of the Stunt
"I don't think students comprehend the reality that they can be electrocuted and killed, or start a fire," said Chief Bradley.
Aside from starting fires or facing potential electrocution, Bradley said the challenge could also cause damage to electrical wiring behind walls, which could allow fires to burn within the walls undetected and endanger everyone in the building.
"Social media elevates it," Bradley added. "They see it online, they see someone do it, they start laughing, they run away and no one gets hurt and they assume the same will happen when they do it, so they think it's funny to do it in a classroom."
"Parents need to talk to their children and tell them if you see this stuff, don't try to imitate it."
See what others are saying: (CNN) (Fox News) (Time)
Disney Renders DeSantis-Appointed Oversight Board Powerless
The board is looking into avenues for potential legal retaliation, but Disney maintains its actions were "appropriate and were discussed and approved in open, noticed public forums."
---
The Fight For Disney's Special District 
Disney has stripped powers from the board Florida Gov. Ron DeSantis (R) installed to oversee its theme parks, board members claimed. 
According to the Orlando Sentinel, board member Brian Aungst Jr. said Disney's action "completely circumvents the authority of this board to govern."
DeSantis has been waging a war against the House of Mouse ever since the company condemned his controversial "Don't Say Gay" law, which heavily restricts the discussion of sexuality in classrooms. To retaliate against the company, he took control of Disney's special status that allowed it to operate as a self-governing district with autonomy over the land encompassing and surrounding Walt Disney World. 
Disney operated under that special status for decades under the Reedy Creek Improvement District, but after DeSantis took over, it was changed to the Central Florida Tourism Oversight District. DeSantis appointed all members of the board, prompting concerns that it could be used to silence and sway Disney on social and cultural issues, including its content.
The oversight board gets control over infrastructure, property taxes, issue bonds, road and fire services, and other regulations. When DeSantis seized it, it was considered a big loss for the entertainment giant, but now, board members say the company may have lost little to no power at all. 
As first reported by the Sentinel, Disney and the previous board signed an agreement allowing Disney to retain control over much of its land on Feb. 8, the day before Florida's House signed the bill that gave DeSantis power to stack the board. Disney now holds veto powers over changes to the park, and any changes must be subject to the company's "prior review and comment" to ensure thematic consistency. 
The agreement also bars the board from using Disney's name or trademarked characters like Mickey Mouse.
The Board's Plan to Fight Back
Board members reportedly did not become aware of this until recently and discussed the issue at a Wednesday meeting.
"This essentially makes Disney the government," board member Ron Peri said, via Click Orlando. "This board loses, for practical purposes, the majority of its ability to do anything beyond maintain the roads and maintain basic infrastructure."
The subject of the agreement that has perhaps caught the most public attention is its staying power. The declaration says it will remain "in effect until 21 years after the death of the last survivor of the descendants of King Charles III, King of England living as of the date of this Declaration." That means that so long as direct members of the royal family are alive, so is this deal.
According to BBC News, this is known as a "royal lives" clause and its use dates back to the 17th century, though it is rarely used in the U.S.
The board, however, already has plans to push back against Disney and has voted to hire outside legal counsel to evaluate their options.
"We're going to have to deal with it and correct it," Aungst said. "It's a subversion of the will of the voters and the Legislature and the governor. It completely circumvents the authority of this board to govern."
A spokesperson for DeSantis released a statement claiming that "these agreements may have significant legal infirmities that would render the contracts void as a matter of law."
Disney maintains everything was above board.
"All agreements signed between Disney and the district were appropriate and were discussed and approved in open, noticed public forums in compliance with Florida's Government in the Sunshine law," the company said. 
White Supremacist Propaganda Reached Record High in 2022, ADL Finds
 "We cannot sit idly by as these extremists pollute our communities with their hateful trash," ADL CEO Jonathan Greenblatt said.
---
White supremacist propaganda in the U.S. reached record levels in 2022, according to a report published Wednesday by the Anti-Defamation League's Center of Extremism.
The ADL found over 6,700 cases of white supremacist propaganda in 2022, which marks a 38% jump from the nearly 4,900 cases the group found in 2021. It also represents the highest number of incidents ever recorded by the ADL. 
The propaganda tallied by the anti-hate organization includes the distribution of racist, antisemitic, and homophobic flyers, banners, graffiti, and more. This propaganda has spread substantially since 2018, when the ADL found just over 1,200 incidents. 
"There's no question that white supremacists and antisemites are trying to terrorize and harass Americans with their propaganda," ADL CEO Jonathan Greenblatt said in a statement. "We cannot sit idly by as these extremists pollute our communities with their hateful trash." 
The report found that there were at least 50 white supremacist groups behind the spread of propaganda in 2022, but 93% of it came from just three groups. One of those groups was also responsible for 43% of the white supremacist events that took place last year.
White supremacist events saw a startling uptick of their own, with the ADL documenting at least 167, a 55% jump from 2021.
Propaganda was found in every U.S. state except for Hawaii, and events were documented in 33 states, most heavily in Massachusetts, California, Ohio, and Florida.
"The sheer volume of white supremacist propaganda distributions we are documenting around the country is alarming and dangerous," Oren Segal, Vice President of the ADL's Center on Extremism said in a statement. "Hardly a day goes by without communities being targeted by these coordinated, hateful actions, which are designed to sow anxiety and create fear."
"We need a whole-of-society approach to combat this activity, including elected officials, community leaders, and people of good faith coming together and condemning this activity forcefully," Segal continued. 
Adidas Financial Woes Continue, Company on Track for First Annual Loss in Decades
Adidas has labeled 2023 a "transition year" for the company. 
---
Yeezy Surplus
Adidas' split with musician Kanye West has left the company with financial problems due to surplus Yeezy products, putting the sportswear giant in the position to potentially suffer its first annual loss in over 30 years. 
Adidas dropped West last year after he made a series of antisemitic remarks on social media and other broadcasts. His Yeezy line was a staple for Adidas, and the surplus product is due, in part, to the brand's own decision to continue production during the split.
According to CEO Bjorn Gulden, Adidas continued production of only the items already in the pipeline to prevent thousands of people from losing their jobs. However, that has led to the unfortunate overabundance of Yeezy sneakers and clothes. 
On Wednesday, Gulden said that selling the shoes and donating the proceeds makes more sense than giving them away due to the Yeezy resale market — which has reportedly shot up 30% since October.
"If we sell it, I promise that the people who have been hurt by this will also get something good out of this," Gulden said in a statement to the press. 
However, Gulden also said that West is entitled to a portion of the proceeds of the sale of Yeezys per his royalty agreement.
The Numbers
Adidas announced in February that, following its divergence from West, it is facing potential sales losses totaling around $1.2 billion and profit losses of around $500 million. 
If it decides to not sell any more Yeezy products, Adidas is facing a projected annual loss of over $700 million.
Outside of West, Adidas has taken several heavy profit blows recently. Its operating profit reportedly fell by 66% last year, a total of more than $700 million. It also pulled out of Russia after the country's invasion of Ukraine last year, which cost Adidas nearly $60 million dollars. Additionally, China's "Zero Covid" lockdowns last year caused in part a 36% drop in revenue for Adidas compared to years prior.
As a step towards a solution, Gulden announced that the company is slashing its dividends from 3.30 euros to 0.70 euro cents per share pending shareholder approval. 
Adidas has labeled 2023 a "transition year" for the company. 
"Adidas has all the ingredients to be successful. But we need to put our focus back on our core: product, consumers, retail partners, and athletes," Gulden said. "I am convinced that over time we will make Adidas shine again. But we need some time."