Fire Officials Warn of Viral TikTok "Outlet Challenge"
Massachusetts firefighters are warning of an electrical "outlet challenge" seen on Tiktok that can cause fires or electrocution.
The challenge involves partially inserting a cell phone charger into an outlet and trying to produce a spark by touching the exposed prongs with a penny.
In two local schools, teens started a fire or torched outlets and are now facing charges of arson, attempted arson, and malicious damage to property.
---
"Outlet Challenge" Warning
Massachusetts fire officials are warning of a dangerous electrical "outlet challenge" spreading across TikTok after at least three reported incidents raised concerns.
The challenge involves partially inserting a cell phone charger into an outlet, then trying to produce a spark by touching the exposed prongs with a penny.
Massachusetts Fire Marshal Peter Ostroskey issued a letter to all of the state's fire chiefs on Monday warning of the viral social media challenge that has lead to copycat behavior. In the memo, Ostroskey said that his office had already received reports of two instances where teens tried to recreate the stunt.
"The result is sparks, electrical system damage, and in some cases fire," Ostroskey wrote.
He advised fire officials to reach out to local news outlets, school officials, and parent organizations to make them aware of this trend, writing, "Alert them to this challenge, advise them to, not only look for signs of fire play like scorched outlets, but to have conversations about fire and electrical safety with tweens and teenagers."
Charges Against Teens Involved
One of the incidents Ostroskey cited resulted in damage to an outlet inside a home. The other sparked a fire inside Westford Academy. The spark at Westford Academy created smoke that set off the school's fire alarm, local authorities reported.
The student responsible for that incident is now facing charges, including arson and malicious damage to property, Westford Police Captain Victor Neal told CNN.
Meanwhile, NBC Boston reported that two students at Plymouth North High School were caught attempting the challenge twice in a matter of minutes inside a classroom on Tuesday.
Firefighters found two scorched outlets and a phone charger with a penny fused to the prongs, according to Plymouth Fire Chief Edward Bradley. There were no injuries, but the school's superintendent Gary Maestas said the students involved could face serious consequences.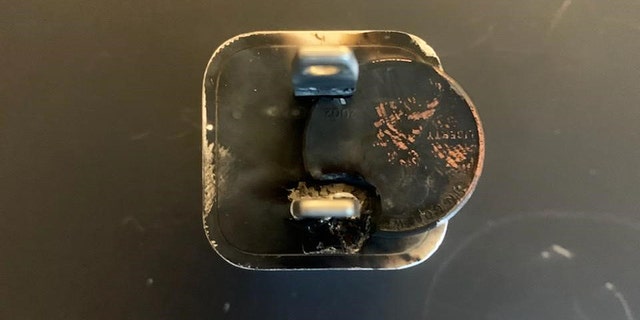 "We are working with the Plymouth Police and Fire Departments to fully understand the scope of this issue and pursue charges to the fullest extent of the law," Maestas wrote in a statement.
Plymouth police said the two 15-year-old male students face charges of attempted arson and malicious damage to property under $1,200.
Dangers of the Stunt
"I don't think students comprehend the reality that they can be electrocuted and killed, or start a fire," said Chief Bradley.
Aside from starting fires or facing potential electrocution, Bradley said the challenge could also cause damage to electrical wiring behind walls, which could allow fires to burn within the walls undetected and endanger everyone in the building.
"Social media elevates it," Bradley added. "They see it online, they see someone do it, they start laughing, they run away and no one gets hurt and they assume the same will happen when they do it, so they think it's funny to do it in a classroom."
"Parents need to talk to their children and tell them if you see this stuff, don't try to imitate it."
See what others are saying: (CNN) (Fox News) (Time)
Trump Slams Oscars for Awarding South Korean Film Best Picture
At a Colorado rally on Feb. 20, President Donald Trump bashed the Oscars for giving this year's Best Picture award to "Parasite," a South Korean film. 
He instead called for movies like "Gone With the Wind" to return, a production that has been criticized for romanticizing slavery. 
Additionally, Trump called Brad Pitt a "little wise guy" for making a joke about the president's impeachment trial during his Oscars acceptance speech.
In response to his remarks, the U.S. distributor of "Parasite," dissed the president for not being able to read the film's subtitles. 
Others also gave Trump backlash for not liking the film because it revolves around a struggling Asian working-class family.
---
Oscars Jab
At a rally in Colorado on Thursday, President Donald Trump took a dig at the 2020 Oscars for awarding Best Picture to the South Korean film "Parasite."
"By the way, how bad were the Academy Awards this year?" Trump asked the crowd in Colorado Springs, who responded with boos.
"And the winner is a movie from South Korea, what the hell was that all about?" Trump asked. "We got enough problems with South Korea with trade. On top of it, they give them the best movie of the year."
Despite his criticisms, Trump went on to imply that he didn't even watch the film.
"Was it good? I don't know," he said.
"Parasite" made history earlier this month when it became the first film in a non-English language to win the Academy Award for Best Picture. On top of that, the movie took home awards for Best Original Screenplay, Best International Language Film, and Best Director—Bong Joon Ho.
These accomplishments didn't seem to impress the president. Instead, he called for movies like "Gone With the Wind" and "Sunset Boulevard" to return. Both films feature white stars and were directed by white men. 
Released in 1939, "Gone With the Wind" centers around a plantation-owning family in 1861. Accounting for inflation, it still holds the record for the highest-grossing film in U.S. history. But in recent years, the film has largely gone from a revered American classic to a piece of work examined and criticized for its romanticism of slavery.
Also at Thursday's rally, Trump slammed Brad Pitt, who made a joke about the president's impeachment trial during his Oscars acceptance speech for Best Supporting Actor.
"They told me I only have 45 seconds up here, which is 45 seconds more than the Senate gave John Bolton this week," Pitt said at the awards show on Feb. 9.
The "Once Upon A Time in…Hollywood" star was referring to the former national security advisor who had not been allowed to testify in the impeachment trial.
"And then you have Brad Pitt. I was never a big fan of his. He got up, said a little wise guy statement. Little wise guy. He's a little wise guy," Trump said on Thursday.
Clap Backs Against POTUS
The president's critiques of the Academy Awards did not go unnoticed. Though "Parasite" is in Korean, it's accompanied by English subtitles. Neon, the film's U.S. distributor, responded to Trump's remarks in a biting tweet.
"Understandable, he can't read," the company said in their reactions to Trump's dislike of the movie.
Neon added the hashtag #Bong2020 in reference to the film's director.
The Democratic National Committee also weighed in, adding their own diss to the president.
"Parasite is a foreign movie about how oblivious the ultra-rich are about the struggles of the working class, and it requires two hours of reading subtitles. Of course Trump hates it."
Other Twitter users chimed in with similar messages condemning the president.
"Anyway parasite is still the best movie of the year Trump's racist ass can cry about it," one person said.
UCLA Drops Controversial Facial Recognition Plan
After backlash from students and activist groups, UCLA is dropping its plans to use facial recognition on campus.
Critics said the software often fails when recognizing women and people of color, and could lead to racial profiling.
UCLA released a statement, just over a week before a National Day of Action to Ban Facial Recognition from College Campuses is set to be held, saying that the school longer thinks the technology would be effective at the school.
The use of facial recognition software on college campuses and on a national level has long been a subject of debate. Several cities have already banned it, and last week, two Senators proposed legislation banning it on a federal level unless Congressional guidelines are enacted.
---
UCLA Stops Plans to Use Facial Recognition
After backlash from students and activists, the University of California, Los Angeles has dropped its plans to use facial recognition technology on its campus.
UCLA announced plans to potentially use it in its security systems. Students were concerned that this technology could interfere with students' privacy and lead to racial profiling on campus.
"We have determined that the potential benefits are limited and are vastly outweighed by the concerns of the campus community," Michael Beck, the Administrative Vice-Chancellor of the school said in a statement to Fight for the Future, a group advocating for freedom in the digital age.
Fight for the Future is holding a National Day of Action to Ban Facial Recognition from College Campuses on March 2. The group had been very vocal when encouraging UCLA not to adopt facial recognition. They did a test on how effective it would be at the school and found racial biases in its algorithm.
Inaccuracies in Facial Recognition
Fight for the Future used Rekognition, a software made available by Amazon, and scanned publicly available photos of UCLA athletes and faculty and compared them to a mugshot database. They scanned 400 faces in total and said that 58 were falsely matched.
"The vast majority of incorrect matches were of people of color," Fight for the Future said of their findings. "In many cases, the software matched two individuals who had almost nothing in common beyond their race, and claimed they were the same person with '100% confidence.'"
They are not the only group to find this. According to a study from the National Institute of Standards and Technology, in terms of one-to-one matching, there are higher rates of false positives for Asian and African American faces in comparison to white faces. They specifically noticed increased false positives when it came to African American females.
Student Concerns
Students at UCLA expressed their concerns about this. An editorial in the school's paper, the Daily Bruin, warned against using facial recognition because of the potential inaccuracies and profiling of people of color.
"For students belonging to these groups, facial recognition technology would simply reinforce the biases that are already stacked against them," the piece said. The editorial listed privacy as a concern as well.
"Facial recognition technology would present a major breach of students' privacy and make students feel unsafe on a campus they are supposed to call home," the Daily Bruin editorial staff wrote. "It is one thing to monitor campus activity with security cameras, but it's another entirely to automatically identify individuals and track their every move on campus."
Students and advocacy groups like Fight for the Future were pleased with UCLA's ultimate decision to not use facial recognition.
"Let this be a lesson to other school administrators: if you try to experiment on your campus with racist, invasive surveillance technology, we will come for you. And we don't lose," Deputy Director of Fight for the Future, Evan Greer, said in a statement.
Facial Recognition on a National Scale
UCLA is not the only college in the United States having a conversation about facial recognition. Fight for the Future has been keeping a scorecard of schools that have stated their intentions on using facial recognition. While big schools like Harvard, MIT, Michigan State, and NYU have said they do not intend on using it, other major colleges like Ohio State, Princeton, and the University of Georgia have stated that they might.
Outside of colleges, other localities have already been working on fighting against facial recognition technology. In 2019, San Francisco became the first U.S. city to ban facial recognition technology. Somerville, MA, Oakland, CA and Berkeley, CA did the same months later.
Still, this kind of technology is still used on a wide scale. According to Vox, in states like Texas, Florida, and Illinois, the FBI uses it to scan through DMV databases. In many U.S. airports, Customs and Border Protection uses it for screening passengers on international flights.
Recently Proposed Legislation
The national use of this could be subject to change, though. In February, Senators Jeff Merkley (D-)R) and Cory Booker (D-NJ) proposed legislation that would ban federal use of facial recognition until proper regulations and rules had been established by Congress for it.
"Facial recognition is a technology that is increasingly being used and marketed to law enforcement agencies across the United States without appropriate debate or consideration of its impacts," the bill said before describing that this technology has been used at protests, rallies, and other events where one's' freedom of speech is on display.
"It is critical that facial recognition not be used to suppress First Amendment related activities, violate privacy, or otherwise adversely impact individuals' civil rights and civil liberties," the legislation continued.
This legislation would still allow law enforcement to use it if given a court order.
Fashion Institute Apologizes for 'Racist' Runway Look
In a Feb. 7 Fashion Institute of Technology runway show, models were asked to wear oversized prosthetic lips and ears, along with bushy eyebrows.
Amy Lefévre, a black model, refused to wear the accessories and called them racist for recalling offensive caricatures of black people.
Many agreed with Lefévre and criticized the designer and the showrunners for the display.
Multiple leaders at FIT have issued apologies in the wake of the backlash.
---
Controversial Accessories
Several head figures at New York's Fashion Institute of Technology have issued apologies after a runway show featured designs that many have labeled "racist."
The show was held on Feb. 7 to debut designs of graduating students. For one look, designed by Junkai Huang, models were asked to wear oversized prosthetic lips and ears, as well as bushy, large eyebrows. Amy Lefévre, a black model, was horrified at the request.
"As soon as I saw the pieces, I started shaking. I felt it was very racist," Lefévre told TODAY.
Lefévre said she verbally expressed her discomfort with the accessories, which to her were reminiscent of offensive caricatures of black people that emphasize those features. But Richard Thornn, the producer of the show, allegedly brushed off her resistance.
According to TODAY, Lefévre claims that he told her, "it's only 45 seconds. It's fine to feel uncomfortable for 45 seconds."
The 25-year-old refused to don the accessories and walked in the show without them. However, other models in the show wore the additions, and these looks were seen by an audience of about 100 people as well as captured by photographers.
Reactions and Responses
Upon seeing the pictures from the show and catching wind of Lefévre's protest, many Internet users supported the model and condemned both the designer and the institution for allowing it.
"Junkai Huang should go back to school for something other than fashion because his designs are racist and this is unacceptable," one person tweeted. "FIT how could you allow this?"
shout out to Amy Lefevre for refusing to model this racist shit for "fashion" and "art" — sadly this has become routine in the fashion industry… but from a learning institute?!?

please, @FIT, enlighten us…

— ᴛ ᴀ ʏ ʟ ᴏ ʀ (@tayloragreen) February 17, 2020
In the wake of the backlash, FIT President Joyce Brown issued a public letter on Tuesday.
"As many of you now know, there was an unfortunate and disturbing reaction to the show that I want to address," Joyce wrote.
She claimed that no offense was meant.
"Currently, it does not appear that the original intent of the design, the use of accessories or the creative direction of the show was to make a statement about race; however, it is now glaringly obvious that has been the outcome," Brown added. "For that, we apologize—to those who participated in the show, to students, and to anybody who has been offended by what they saw."
Brown said the school is taking steps to "ensure that a situation like this will not happen again" by working with groups including their Diversity Council and Student Government.
Jonathan Kyle Farmer, the chair of the MFA program at FIT who ran the show, posted an apology on Wednesday acknowledging Lefévre directly.
"It was never our intent for the show's styling to be interpreted as racist or to make people feel uncomfortable but I now fully understand why this has happened," Farmer said. "I take full responsibility and am committed to learning from this situation and taking steps to do better."
//www.instagram.com/embed.js
This is by no means the first racially-insensitive blunder that the fashion industry has made. Last year, Gucci came under fire for releasing a black turtleneck with lips that could be pulled around the face, resembling blackface. Burberry faced backlash for a sweatshirt featuring a noose-like drawstring around the neck. In 2018, H&M was slammed for an ad featuring a black boy wearing a pullover that read "coolest monkey in the jungle."
Many seem to be fed up with these errors.
"How do people not understand that this isn't ok and keep doing it again and again and again?" one Instagram user commented on a picture of the show posted by a fashion industry watchdog account.