Fire Officials Warn of Viral TikTok "Outlet Challenge"
Massachusetts firefighters are warning of an electrical "outlet challenge" seen on Tiktok that can cause fires or electrocution.
The challenge involves partially inserting a cell phone charger into an outlet and trying to produce a spark by touching the exposed prongs with a penny.
In two local schools, teens started a fire or torched outlets and are now facing charges of arson, attempted arson, and malicious damage to property.
---
"Outlet Challenge" Warning
Massachusetts fire officials are warning of a dangerous electrical "outlet challenge" spreading across TikTok after at least three reported incidents raised concerns.
The challenge involves partially inserting a cell phone charger into an outlet, then trying to produce a spark by touching the exposed prongs with a penny.
Massachusetts Fire Marshal Peter Ostroskey issued a letter to all of the state's fire chiefs on Monday warning of the viral social media challenge that has lead to copycat behavior. In the memo, Ostroskey said that his office had already received reports of two instances where teens tried to recreate the stunt.
"The result is sparks, electrical system damage, and in some cases fire," Ostroskey wrote.
He advised fire officials to reach out to local news outlets, school officials, and parent organizations to make them aware of this trend, writing, "Alert them to this challenge, advise them to, not only look for signs of fire play like scorched outlets, but to have conversations about fire and electrical safety with tweens and teenagers."
Charges Against Teens Involved
One of the incidents Ostroskey cited resulted in damage to an outlet inside a home. The other sparked a fire inside Westford Academy. The spark at Westford Academy created smoke that set off the school's fire alarm, local authorities reported.
The student responsible for that incident is now facing charges, including arson and malicious damage to property, Westford Police Captain Victor Neal told CNN.
Meanwhile, NBC Boston reported that two students at Plymouth North High School were caught attempting the challenge twice in a matter of minutes inside a classroom on Tuesday.
Firefighters found two scorched outlets and a phone charger with a penny fused to the prongs, according to Plymouth Fire Chief Edward Bradley. There were no injuries, but the school's superintendent Gary Maestas said the students involved could face serious consequences.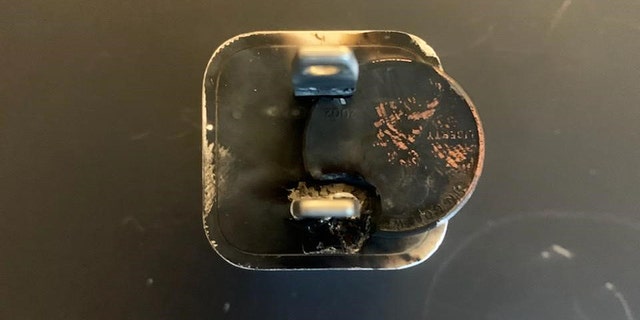 "We are working with the Plymouth Police and Fire Departments to fully understand the scope of this issue and pursue charges to the fullest extent of the law," Maestas wrote in a statement.
Plymouth police said the two 15-year-old male students face charges of attempted arson and malicious damage to property under $1,200.
Dangers of the Stunt
"I don't think students comprehend the reality that they can be electrocuted and killed, or start a fire," said Chief Bradley.
Aside from starting fires or facing potential electrocution, Bradley said the challenge could also cause damage to electrical wiring behind walls, which could allow fires to burn within the walls undetected and endanger everyone in the building.
"Social media elevates it," Bradley added. "They see it online, they see someone do it, they start laughing, they run away and no one gets hurt and they assume the same will happen when they do it, so they think it's funny to do it in a classroom."
"Parents need to talk to their children and tell them if you see this stuff, don't try to imitate it."
See what others are saying: (CNN) (Fox News) (Time)
San Francisco Lawmaker Proposes CAREN Act to Make False, Racist 911 Calls Illegal
San Francisco City Supervisor Shamann Walton introduced an ordinance this week called the CAREN Act, which would make false, racially discriminatory 911 calls illegal.
The acronym stands for Caution Against Racially Exploitative Non-Emergencies. It is named after "Karens," a nickname for white women who throw unwarranted fits in public.
These fits often appear racially motivated and have led to "Karens" calling the police on people of color.
California Assemblyman Rob Bonta has also introduced a similar piece of legislation that would outlaw these calls throughout the state.
---
Why the "CAREN" Act?
A lawmaker in San Francisco has introduced an ordinance that would outlaw making false, racially discriminatory 911 calls, dubbed the CAREN Act.
City Supervisor Shamann Walton introduced the ordinance. In a tweet announcing the act on Tuesday, he called racist 911 calls "unacceptable."
The CAREN Act stands for Caution Against Racially Exploitative Non-Emergencies, but its name bears much more weight. A "Karen" is an Internet nickname for white women whose privilege and entitlement leads to loud complaints, threats of legal action, calling supervisors, and often, calling the police. The unjustified outrage of Karens has been documented in countless viral incidents, and in many cases, they show a clear prejudice against people of color. 
One video that went viral in May has been pointed to as a prime example of this. In that clip, Amy Cooper, a white woman in New York, called the police on a Black man named Christian Cooper. Both were in Central park at the time when the man asked her to put her dog on a leash, as she was required to do in that area.
However, that confrontation escalated when she desperately told a 911 operator that she was being threatened when she was not. Many felt her instinct to weaponize her white privilege and make a false claim could have had serious consequences considering the fact that Black Americans are more likely to face police brutality and die in police custody. She has since been charged with filing a false report after much public outrage.
While videos of this nature have often gone viral, this incident came at a cultural tipping point. Not long after it made its way across the Internet, another story received national attention: a video of George Floyd being killed by police officers in Minneapolis. This sparked a movement of people confronting systemic racism and police brutality, and since then, more "Karen" videos have spread online in an effort to hold people accountable for their racist behavior.
What the Ordinance Does
While filing a false police report is already illegal, Walton is pushing for more to be done to stop people from calling the authorities on people of color for no real reason. The CAREN Act would make it illegal to fabricate a report based on racial and other kinds of discrimination.
"Within the last month and a half in the Bay Area, an individual called the police on a Black man who was dancing and exercising on the street in his Alameda neighborhood and a couple called the police on a Filipino man stenciling 'Black Lives Matter' in chalk in front of his own residence in San Francisco's Pacific Heights," he said in a statement.
This is not the only proposal of its kind. California Assemblyman Rob Bonta has introduced a similar ordinance. His proposed legislation, AB 1150, would make state that "discriminatory 911 calls qualify as a hate crime, and further establish civil liability for the person who discriminatorily called 911."
"AB 1550, when amended, will impose serious consequences on those who make 911 calls that are motivated by hate and bigotry; actions that inherently cause harm and pain to others," Bonta said in a statement. "This bill is incredibly important to upholding our values and ensuring the safety of all Californians."
See what others are saying: (SFist) (The Hill) (CNN)
Catholic Church Granted at Least $1.4 Billion in PPP Loans
An analysis from the Associated Press found that the Catholic Church received at least between $1.4 and $3.5 billion in federal coronavirus relief aid.
The report identified 3,500 loans the Church received from the Paycheck Protection Program, but leaders have previously stated that as many as 9,000 bodies of the Church received funding.
However, government data only shared who received loans over $150,000. Smaller churches that received under that amount were not on the list, meaning the Catholic Church could have collected even more than records show.
Usually, religious groups would not be eligible for funding from the Small Business Administration, but the Church allegedly spent a good chunk of money lobbying so that there would be an exception for the PPP.
---
Catholic Church Receives Billions in PPP Funds
The Catholic Church received between $1.4 and $3.5 billion in federal coronavirus relief aid, according to a Friday analysis from the Associated Press.
While houses of worship and religious organizations are usually ineligible for federal aid from the Small Business Administration, an exception was made for the Paycheck Protection Program, which was designed to keep American businesses afloat as the pandemic shut the country down.
The AP found records of 3,500 forgivable loans for Catholic dioceses, parishes, schools, and other ministries. That number, however, is likely higher.
The Diocesan Fiscal Management Conference has claimed that 9,000 Catholic bodies received loans. Government data only shared loans over $150,000, so smaller churches who got less were not on the list, meaning the Church may have pocketed even more than $3.5 billion.
"The government grants special dispensation, and that creates a kind of structural favoritism," Micah Schwartzman, a University of Virginia law professor told the AP. "And that favoritism was worth billions of dollars."
According to the AP, the Archdiocese of New York received $28 million just for executive offices. St. Patrick's Cathedral in New York City received $1 million. Diocesan officials in Orange County, California received four loans worth $3 million. The AP's analysis suggests that the Catholic Church and its entities were able to retain 407,900 jobs with this loan money.
"These loans are an essential lifeline to help faith-based organizations to stay afloat and continue serving those in need during this crisis," spokesperson Chieko Noguchi told the AP.
How Did the Church Get Aid?
Like many businesses throughout the country, churches had to shut their doors as large gatherings became unsafe as the coronavirus' spread continued. Masses were canceled or moved online and celebrations for the Easter holidays were dropped, causing the Church to to fall behind financially.
While its global net worth is not known, the Catholic Church is considered the wealthiest religious organization in the world. It is also one of the most powerful groups of any kind, with an estimated 1.2 billion followers all over the planet. According to the AP, its deep pockets and far-reaching influence helped it receive federal aid.
The Catholic Church lobbied heavily to make sure religious groups were allowed to receive money from the PPP, the AP says. Their report found that the Los Angeles archdiocese spent $20,000 lobbying Congress to include "eligibility for non-profits" in the CARES Act, the legislation that formed the PPP. Records also show that Catholic Charities USA spent another $30,000 in CARES Act lobbying.
With its wealth and power, the Catholic Church is also plagued with controversy and scandal. For years, there have been reports that the Church has covered up for priests and other leaders who have been accused of sexual abuse. Many entities of the church have had to shell out large sums of money in legal fees and settlements.
The AP found that around 40 of the dioceses that have paid out "hundreds of millions of dollars" to related compensation funds or bankruptcy proceedings received loans. These loans totaled at least $200 million.
Employers Can Opt-Out of Birth Control Coverage, SCOTUS Rules
In a Wednesday ruling, the Supreme Court decided 7-2 that employers can opt-out of birth control coverage on religious grounds.
Under the Affordable Care Act, employers have been required to cover cost-free contraception to their employees. Exceptions had initially been made to houses of worship, but a 2018 Trump Administration rule expanded that to include most employers, ranging from large public businesses to universities.
The court sided with Trump, ruling that his administration had the authority to provide religious exemptions.
Justices Ruth Bader Ginsburg and Sonia Sotomayor cast the two dissenting votes, claiming it could harm healthcare access for women in the workforce.
---
SCOTUS Ruling
The Supreme Court sided with the Trump administration on Wednesday morning, ruling that employers can opt-out of providing birth control coverage on religious and moral grounds
Under the Affordable Care Act, employers have been required to cover cost-free contraception to their employees, though exemptions were made for houses of worship who could refuse for religious reasons. Exemptions grew in 2014 when Hobby Lobby won a Supreme Court case ruling that certain closely held corporations, like family businesses, could also refuse birth control coverage if it contradicted their religious beliefs.
Wednesday's ruling pertained to a 2018 Trump administration policy that would allow most employers – ranging from small private businesses, to universities, to large public companies – to opt-out of contraception coverage for religious reasons. That rule was challenged by the states of New Jersey and Pennsylvania, which claimed they would have to cover contraception costs to those who lost coverage under the Trump administration.
The court's decision responded to two cases: Little Sisters of the Poor v. Pennsylvania and Trump v. Pennsylvania. In a 7-2 ruling, they sided with Trump. The two dissenting votes came from Justices Ruth Bader Ginsburg and Sonia Sotomayor.
Justice Clarence Thomas, who wrote the opinion, said that the Trump administration "had the authority to provide exemptions from the regulatory contraceptive requirements for employers with religious and conscientious objections."
"It is clear from the face of the statute that the contraceptive mandate is capable of violating the [Religious Freedom Restoration Act]," he added.
Justice Samuel Alito, who wrote a concurring opinion, claimed that the administration was "required by RFRA to create the religious exemption (or something very close to it)."
Ginsberg's Dissent
This could leave as many as 126,000 women without access to contraception within a year. According to Planned Parenthood, nine out of ten women will seek access to contraception at some point in their lives. While birth control is often used as a contraceptive, it is also used for a variety of other health reasons, including regulating menstrual cycles, lowering risks for various forms of cancer, and managing migraines, endometriosis and other ailments.
"This Court leaves women workers to fend for themselves, to seek contraceptive coverage from sources other than their employer's insurer, and, absent another available source of funding, to pay for contraceptive services out of their own pockets," Ginsberg wrote in the dissent.
Ginsberg claimed that the court's usually balanced approach of not allowing "the religious beliefs of some to overwhelm the rights and interests of others who do not share those beliefs" was thrown away.
"Today, for the first time, the Court casts totally aside countervailing rights and interests," she added.
Responses to Ruling
She was not alone in critiquing the rulings. The National Women's Law Center called it "invasive, archaic, and dangerous." The Center fears the ruling could have a larger impact on low wage workers, people of color, and LGBTQ people.
Dr. Daniel Grossman, the head of a research group at the University of California, San Francisco called Advancing New Standards in Reproductive Health also condemned the decision.
"No employer is welcome into the exam room when I talk to patients about their contraception options, why should they be able to dictate the method from their corner office?" he asked.
On the other side, Tony Perkins, the President of the Family Research Council applauded the Supreme Court.
"It should be common sense to allow a religious group to conduct themselves according to their religious convictions, and yet government agents have tried to punish them with obtuse fines for doing just that," Perkins said in a statement. "We are pleased to see the Supreme Court still recognizes religious freedom."