Fire Officials Warn of Viral TikTok "Outlet Challenge"
Massachusetts firefighters are warning of an electrical "outlet challenge" seen on Tiktok that can cause fires or electrocution.
The challenge involves partially inserting a cell phone charger into an outlet and trying to produce a spark by touching the exposed prongs with a penny.
In two local schools, teens started a fire or torched outlets and are now facing charges of arson, attempted arson, and malicious damage to property.
---
"Outlet Challenge" Warning
Massachusetts fire officials are warning of a dangerous electrical "outlet challenge" spreading across TikTok after at least three reported incidents raised concerns.
The challenge involves partially inserting a cell phone charger into an outlet, then trying to produce a spark by touching the exposed prongs with a penny.
Massachusetts Fire Marshal Peter Ostroskey issued a letter to all of the state's fire chiefs on Monday warning of the viral social media challenge that has lead to copycat behavior. In the memo, Ostroskey said that his office had already received reports of two instances where teens tried to recreate the stunt.
"The result is sparks, electrical system damage, and in some cases fire," Ostroskey wrote.
He advised fire officials to reach out to local news outlets, school officials, and parent organizations to make them aware of this trend, writing, "Alert them to this challenge, advise them to, not only look for signs of fire play like scorched outlets, but to have conversations about fire and electrical safety with tweens and teenagers."
Charges Against Teens Involved
One of the incidents Ostroskey cited resulted in damage to an outlet inside a home. The other sparked a fire inside Westford Academy. The spark at Westford Academy created smoke that set off the school's fire alarm, local authorities reported.
The student responsible for that incident is now facing charges, including arson and malicious damage to property, Westford Police Captain Victor Neal told CNN.
Meanwhile, NBC Boston reported that two students at Plymouth North High School were caught attempting the challenge twice in a matter of minutes inside a classroom on Tuesday.
Firefighters found two scorched outlets and a phone charger with a penny fused to the prongs, according to Plymouth Fire Chief Edward Bradley. There were no injuries, but the school's superintendent Gary Maestas said the students involved could face serious consequences.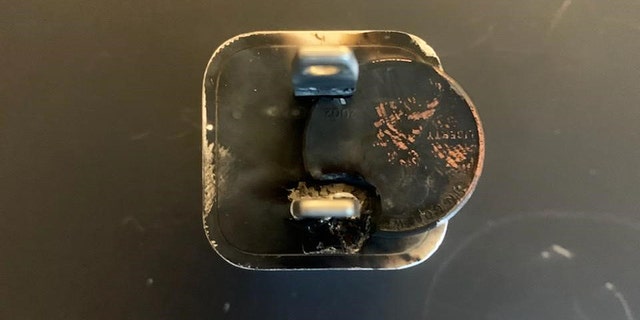 "We are working with the Plymouth Police and Fire Departments to fully understand the scope of this issue and pursue charges to the fullest extent of the law," Maestas wrote in a statement.
Plymouth police said the two 15-year-old male students face charges of attempted arson and malicious damage to property under $1,200.
Dangers of the Stunt
"I don't think students comprehend the reality that they can be electrocuted and killed, or start a fire," said Chief Bradley.
Aside from starting fires or facing potential electrocution, Bradley said the challenge could also cause damage to electrical wiring behind walls, which could allow fires to burn within the walls undetected and endanger everyone in the building.
"Social media elevates it," Bradley added. "They see it online, they see someone do it, they start laughing, they run away and no one gets hurt and they assume the same will happen when they do it, so they think it's funny to do it in a classroom."
"Parents need to talk to their children and tell them if you see this stuff, don't try to imitate it."
See what others are saying: (CNN) (Fox News) (Time)
Supreme Court Rejects Third Challenge to Affordable Care Act
In the 7-2 decision, the justices argued the Republican-led states that brought the challenge forth failed to show how the law caused injury and thus had no legal standing.
---
SCOTUS Issues Opinion on Individual Mandate
The Supreme Court on Thursday struck down the third Republican-led challenge to the Affordable Care Act to ever reach the high court.
The issue at hand was the provision of the law, commonly known as Obamacare, that requires people to either purchase health insurance or pay a tax penalty: the so-called individual mandate.
The individual mandate has been one of the most controversial parts of Obamacare and it has already been before SCOTUS, which upheld the provision in 2012 on the grounds that it amounted to a tax and thus fell under Congress' taxing power.
However, as part of the sweeping 2017 tax bill, the Republican-held Congress set the penalty for not having health care to $0. As a result, a group of Republican-led states headed by Texas sued, arguing that because their GOP colleagues made the mandate zero dollars, it no longer raised revenues and could not be considered a tax, thus making it unconstitutional.
The states also argued that the individual mandate is such a key part of Obamacare that it could not be separated without getting rid of the entire law.
The Supreme Court, however, rejected that argument in a 7-2 decision, with Justices Samuel Alito and Neil Gorsuch dissenting.
Majority Opinion Finds No Injury
In the majority decision, Justice Stephen Breyer wrote that the Republican states had no grounds to sue because they could not show how they were harmed by their own colleagues zeroing out the penalty.
"There is no possible government action that is causally connected to the plaintiffs' injury — the costs of purchasing health insurance," he wrote, adding that the states "have not demonstrated that an unenforceable mandate will cause their residents to enroll in valuable benefits programs that they would otherwise forgo."
Breyer also argued that because of this, the court did not need to decide on the broader issue of whether the 2017 tax bill rendered the individual mandate unconstitutional and if that provision could be separated from the ACA.
The highly anticipated decision will officially keep Obamacare as the law of the land, ensuring that the roughly 20 million people enrolled still have health insurance. While there may be other challenges to the law hard-fought by conservatives, this latest ruling sends a key signal about the limits of the Republican efforts to achieve their agenda through the high court, even with the strong conservative majority.
While the court has now struck down challenges to Obamacare three times, Thursday's decision marked the largest margin of victory of all three challenges to the ACA.
For now, the ACA appears to be fairly insulated from legal challenges, though it will still likely face more. In a tweet following the SCOTUS decision, Texas Attorney General Ken Paxton (R) vowed to keep fighting Obamacare, adding that the individual mandate "was unconstitutional when it was enacted and it is still unconstitutional."
Utah Student With Down Syndrome Left Out of Cheer Squad's Yearbook Photo
The move marks the second time in three years that Morgyn Arnold has been left out of the school's yearbook. Two years ago, it failed to include her in the class list.
---
Two Photos Take, One Without Morgyn Arnold
A Utah school has apologized after a student with Down syndrome at Shoreline Junior High was excluded from her cheerleading squad's yearbook photo.
The squad took two official team portraits this year. The first included 14-year-old Morgyn Arnold, who had been working as the team manager but attended practices and cheered alongside her other teammates at every home game. The second imsgr did not include her and ended up being the photo the school used across social media and in its yearbook.
Arnold was heartbroken by the decision and her family believed it was made because of her disability.
In social media posts about the move, Arnold's sister, Jordyn Poll, noted that Arnold "spent hours learning dances, showing up to games, and cheering on her school and friends but was left out."
"I hope that no one ever has to experience the heartbreak that comes when the person they love comes home from school devastated and shows them that they're not in the picture with their team," she continued.
According to The Salt Lake Tribune, Poll also said this marked the second time in three years that her sister has been left out of the yearbook. Two years ago, the school failed to include her in the class list.
School Apologizes After Backlash
After Poll's public call out picked up attention, the school said it was "deeply saddened by the mistake."
"Apologies have been made to the family, and we sincerely apologize to all others impacted by this error," it added. "We are continuing to look at what has occurred, and to improve our practice."
The district issued a similar statement, claiming it was looking into why this occurred to make sure it doesn't happen again. 
But Poll said this isn't the same response her family received when they initially contacted school administrators. Instead, Poll told the Tribune that an employee at the school "blatantly said they didn't know what we were expecting of them and there was nothing they could do."
The school has since contacted them again "to make the situation right."
Meanwhile, Poll stressed that her sister's teammates had nothing to do with the decision, defending the girls as amazing friends who have done everything to make Arnold feel included.
In fact, they too were disappointed to see that she was not featured in the image or even named as a member of the team in the yearbook.
Arnold's family decided to speak up about the issue so that this school and others can improve the ways they interact with and include students with disabilities. Different forms of exclusion happen at schools across the country, and this story has prompted other parents of kids with disabilities to share similar experiences.
This kind of thing happens all the time. I can't count the number of times our son has been excluded, or nearly excluded, from events and pictures and related social activities in his 8 years of school. I know this fury.

— David M. Perry (@Lollardfish) June 16, 2021
A staff attorney at the Disability Law Center of Utah told the Tribune that it receives about 4,000 complaints each year. Some complaints stemmed from students with disabilities being separated into other classrooms without their peers. Others include name-calling or not allowing students on a team or in a club.
Thankfully, Arnold has not let this situation bring her down. According to her family, she has already forgiven everyone involved and plans to continue cheering alongside her friends.
Ex-Shake Shack Manager Sues NYPD Over False Milkshake Poisoning Allegations
The former manager is accusing the police department and its unions of false arrest and defamation relating to the viral incident last summer.
---
Former Shack Shack Employee Sues One Year Later
The former manager of a New York City Shake Shack restaurant who was falsely accused of poisoning several law enforcement officers' milkshakes last summer is now suing the city's police department, its unions, and individual officers.
On June 15, 2020, three officers monitoring the anti-racism protests in Lower Manhattan entered a Shake Shack location for milkshakes, which they later claimed had been poisoned, likely by bleach.
By the end of the night, investigators determined that no one had tampered with the drinks, and the New York Police Department declared there was "no criminality." Police later said the officers were possibly sickened by a cleaning solution that had not been properly cleaned out of the machines, though Shake Shack claimed it did not find leaks of any foreign substances.
Before that lack of criminality was determined and while the inquiry was ongoing, the police unions and their leaders accused the Shake Shack workers of launching a targeted attack in a series of tweets, which were then shared and discussed widely on social media by prominent conservatives.
The resulting outcome was widespread condemnation and deleting of tweets. Now, almost exactly a year later, the former manager of that Shake Shack, Marcus Gilliam, has accused the parties involved of false arrest and defamation.
According to his lawsuit, the three officers — who are referred to as Officers Strawberry Shake, Vanilla Shake, and Cherry Shake — ordered the drinks via mobile app, meaning the employees could not have known cops placed the order.
Additionally, the documents state the order was "already packaged and waiting for pickup" when the officers arrived, making it impossible for Gilliam or any other employee to have added anything to the shakes when they saw the officers come in to claim them.
After the officers complained about the taste of the milkshakes and threw them out, Gilliam said he apologized and offered them vouchers for free replacements, which they accepted. However, they still told their Sergeant that Gilliam had put a "toxic substance" in their drinks, even though they had disposed of any evidence.
Claims of Wrongful Detainment
The court documents go on to say that another officer arrived and detained the employees, who cooperated with the officer's investigation. That process included interviews, searches, and tests, which showed no evidence of bleach or other toxins.
The NYPD also conducted a review of security footage, which independently determined that none of the employees put any kind of toxic substances in the officer's drinks.
Despite all that, and even after the three officers were released from a hospital "without ever showing symptoms," the NYPD still arrested Gilliam and brought him into the precinct, the suit stated.
Once in the precinct, the former manager was allegedly "interrogated for approximately one to two hours" and detained for around three hours, putting the total time he was detained by police in both the store and the precinct at approximately five to six hours.
Gilliam's attorney is arguing that the officers had no probable cause or warrants for his arrest. An arrest that the lawsuit says caused him to suffer "emotional and psychological damages and damage to his reputation," as well as economic damages from legal fees and missed wages, for which he is seeking both punitive and monetary damages.
None of the defendants have responded to requests for comment from the media.