Fire Officials Warn of Viral TikTok "Outlet Challenge"
Massachusetts firefighters are warning of an electrical "outlet challenge" seen on Tiktok that can cause fires or electrocution.
The challenge involves partially inserting a cell phone charger into an outlet and trying to produce a spark by touching the exposed prongs with a penny.
In two local schools, teens started a fire or torched outlets and are now facing charges of arson, attempted arson, and malicious damage to property.
---
"Outlet Challenge" Warning
Massachusetts fire officials are warning of a dangerous electrical "outlet challenge" spreading across TikTok after at least three reported incidents raised concerns.
The challenge involves partially inserting a cell phone charger into an outlet, then trying to produce a spark by touching the exposed prongs with a penny.
Massachusetts Fire Marshal Peter Ostroskey issued a letter to all of the state's fire chiefs on Monday warning of the viral social media challenge that has lead to copycat behavior. In the memo, Ostroskey said that his office had already received reports of two instances where teens tried to recreate the stunt.
"The result is sparks, electrical system damage, and in some cases fire," Ostroskey wrote.
He advised fire officials to reach out to local news outlets, school officials, and parent organizations to make them aware of this trend, writing, "Alert them to this challenge, advise them to, not only look for signs of fire play like scorched outlets, but to have conversations about fire and electrical safety with tweens and teenagers."
Charges Against Teens Involved
One of the incidents Ostroskey cited resulted in damage to an outlet inside a home. The other sparked a fire inside Westford Academy. The spark at Westford Academy created smoke that set off the school's fire alarm, local authorities reported.
The student responsible for that incident is now facing charges, including arson and malicious damage to property, Westford Police Captain Victor Neal told CNN.
Meanwhile, NBC Boston reported that two students at Plymouth North High School were caught attempting the challenge twice in a matter of minutes inside a classroom on Tuesday.
Firefighters found two scorched outlets and a phone charger with a penny fused to the prongs, according to Plymouth Fire Chief Edward Bradley. There were no injuries, but the school's superintendent Gary Maestas said the students involved could face serious consequences.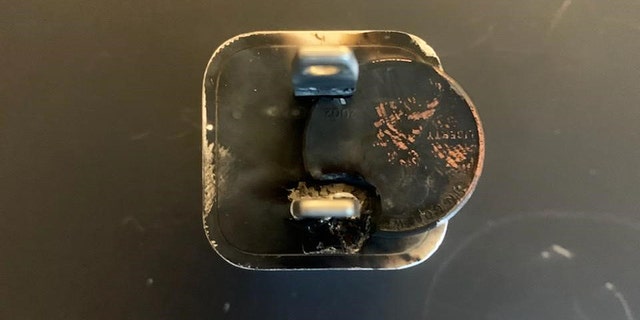 "We are working with the Plymouth Police and Fire Departments to fully understand the scope of this issue and pursue charges to the fullest extent of the law," Maestas wrote in a statement.
Plymouth police said the two 15-year-old male students face charges of attempted arson and malicious damage to property under $1,200.
Dangers of the Stunt
"I don't think students comprehend the reality that they can be electrocuted and killed, or start a fire," said Chief Bradley.
Aside from starting fires or facing potential electrocution, Bradley said the challenge could also cause damage to electrical wiring behind walls, which could allow fires to burn within the walls undetected and endanger everyone in the building.
"Social media elevates it," Bradley added. "They see it online, they see someone do it, they start laughing, they run away and no one gets hurt and they assume the same will happen when they do it, so they think it's funny to do it in a classroom."
"Parents need to talk to their children and tell them if you see this stuff, don't try to imitate it."
See what others are saying: (CNN) (Fox News) (Time)
Texas Doctor Says He Violated Abortion Law, Opening Matter Up for Litigation
Under the state's new law, any citizen could sue the doctor, which would make the matter the first known test case of the restrictive policy.
---
Dr. Braid's Op-Ed
A Texas doctor revealed in an op-ed published in The Washington Post Saturday that he performed an abortion in violation of the state's law that bans the procedure after six weeks, before most people know they are pregnant.
The law, which is the most restrictive in the country and does not have exceptions for rape and incest, also allows civilians to sue anyone who helps someone receive an abortion after six weeks.
In the op-ed, Dr. Alan Braid, who has been practicing as an OB/GYN in Texas for 45 years, said that just days after the law took effect, he gave an abortion to a woman who was still in her first trimester but already beyond the state's new limit.
"I acted because I had a duty of care to this patient, as I do for all patients, and because she has a fundamental right to receive this care," he wrote. "I fully understood that there could be legal consequences — but I wanted to make sure that Texas didn't get away with its bid to prevent this blatantly unconstitutional law from being tested."
Braid went on to say that he understands he is taking a personal risk but that he believes it is worth it.
"I have daughters, granddaughters and nieces," he concluded. "I believe abortion is an essential part of health care. I have spent the past 50 years treating and helping patients. I can't just sit back and watch us return to 1972."
Potential Litigation
If someone does opt to sue Braid over this matter, he could potentially be the state's first test case in playing out the legal process. However, it is unclear if anti-abortion groups will follow through, despite their threats to enforce the law.
A spokesperson for Texas Right to Life, which set up a website to report people suspected of violating the ban, told reporters this weekend that it is looking into Braid's claims but added, "It definitely seems like a legal stunt and we are looking into whether it is more than that."
Even if abortion opponents hold off on Braid's case, there are other legal challenges to the Texas law.
Shortly after the policy took effect, the Department of Justice filed a lawsuit attempting to stop it. Last week, the department filed an emergency motion asking a federal judge in the state to temporarily block the ban while that legal battle plays out, with a hearing for that motion set for Oct. 1.
Regardless of what side the federal judge rules for, the other is all but ensured to sue, and that fight could take the question to the Supreme Court in a matter of months.
Pfizer Says Low Dose of COVID-19 Vaccine Is Safe and Effective in Kids 5 to 11
Pfizer Says Kids' Vaccine Works
Pfizer announced Monday morning that its joint COVID-19 vaccine with BioNTech is safe and effective in kids ages 5 to 11.
While Pfizer's vaccine candidate for younger children is the same version the FDA has already approved for people 12 and older, the children's dose is only one-third of the amount given to adults and teens. Still, Pfizer said the antibody response they've seen in kids has been comparable to the response seen in older participants.
Similarly, the company said side effects in children have been similar to those witnessed in adults.
Pfizer said it expects to finish submitting data, which still needs to be peer-reviewed and then published, to the FDA by the end of the month. From there, the agency will ensure that Pfizer's findings are accurate and that the vaccine will be able to elicit a strong immune response in kids at its current one-third dosage.
That process could take weeks or even all of October, but it does open the possibility that the vaccine candidate could be approved around Halloween.
Overeager Parents
While experts like Dr. Anthony Fauci, director of the National Institute of Allergy and Infectious Diseases, have called Pfizer's announcement largely predictable, they've also urged people to let the research run its course.
With cases among children skyrocketing in recent months, some parents have begun urging pediatricians to give their children the jab early. Those kinds of requests are likely to increase with Pfizer's announcement; however, officials have warned parents about acting too quickly.
"No one should really be freelancing — they should wait for the appropriate approval and recommendations to decide how best to manage their own children's circumstances," Bill Gruber, Pfizer's senior vice president of vaccine clinical research and development, said according to The Washington Post. 
Contradicting Studies Leave Biden's COVID-19 Booster Plan Up in the Air
While some studies show that the effectiveness of Pfizer and Moderna's COVID vaccines decrease over time, other publications argue the decline is not substantial and a full-flung booster campaign is premature.
---
Booster Rollout in Flux
President Joe Biden's plan to offer COVID-19 booster shots is facing serious hurdles just a week before it is set to roll out. Issues with the plan stem from growing divisions among the scientific community over the necessity of a third jab.
The timing of booster shots administration has been a point of contention for months, but the debate intensified in August when Biden announced that, pending regulatory approval, the government would start offering boosters on Sept. 20 to adults eight months after they received their second dose of Pfizer or Moderna.
The announcement was backed by the director of the Centers for Disease Control and Prevention (CDC), the acting commissioner of the Food and Drug Administration (FDA), and White House chief medical advisor Dr. Anthony Fauci, among others.
However, many scientists and other health experts both inside and outside of the government have continually criticized the plan. They have claimed the data supporting boosters was not compelling and argued that, while the FDA approved third doses for immunocompromised Americans, the push to give them to the general public was premature.
The plan also drew international backlash from those who argued the U.S. should not launch a booster campaign when billions of people around the world have not gotten their first dose yet. Earlier this month, the World Health Organization (WHO) extended its request that wealthy countries hold off on giving boosters until at least the end of the year.
Those arguments appeared to be bolstered when federal health regulators said earlier this month that they needed more time to review Moderna's application for booster shots, forcing the Biden Administration to delay offering third shots to those who received that vaccine.
Now, Pfizer recipients will be the only people who may be eligible for boosters by the initial deadline, though that depends on a forthcoming decision from an FDA expert advisory committee that is set to vote Friday on whether or not to recommend approval.
Debate Continues in Crucial Week
More contradictory information has been coming out in the days leading up to the highly anticipated decision.
On Monday, an international group of 18 scientists, including some at the FDA and the WHO, published a review in The Lancet arguing that there is no credible data to show the vaccines' ability to prevent severe disease declined substantially over time, so boosters are not yet needed for the general, non-immunocompromised public.
The experts claimed that any advantage boosters may provide does not outweigh the benefit of giving the extra doses to all those who are unvaccinated worldwide.
On the other side, a study released Wednesday in The New England Journal of Medicine found that people who received a third shot of Pfizer in Israel were much less likely to develop severe COVID than those who just had the first two jabs.
The same day, both Pfizer and Moderna published data backing that up as well. Pfizer released an analysis that said data on boosters and the Delta variant from both Israel and the U.S. suggested "that vaccine protection against COVID-19 infection wanes approximately 6 to 8 months following the second dose."
Moderna also published data, that has not yet been peer-reviewed, which also found its jab provided less immunity and protection against severe disease as time went on.
Further complicating matters was the fact that the FDA additionally released its report on Pfizer's analysis of the need for a booster shortly after Pfizer's publication. Normally, those findings would shine a light on the agency's stance on the issue, but the regulator did not take a clear stand.
"Some observational studies have suggested declining efficacy of [Pfizer] over time […] while others have not," the agency wrote. "Overall, data indicate that currently US-licensed or authorized COVID-19 vaccines still afford protection against severe COVID-19 disease and death."
Uncertain Future
It remains unclear what the FDA panel will determine when they meet Friday, or what a similar CDC expert panel that is expected to meet next week will decide regarding vaccination policies.
Notably, officials at the two agencies are not required to follow the recommendations of their expert panels, though they usually do.
Even if the FDA approves Pfizer's application as it stands to give boosters to those 16 and older, people familiar with the matter said the CDC might recommend the third jabs only for people 65 and older or those who are especially at risk.
Regardless of what is decided, experts have said that it is absolutely essential for the agency to stand firm in its decision and clearly explain its reasoning to the public in order to combat further confusion and misinformation.
"F.D.A. does the best in situations when there are strongly held but conflicting views, when they're forthcoming with the data and really explain decisions," Dr. Joshua Sharfstein, a vice dean at the Johns Hopkins Bloomberg School of Public Health told The New York Times. "It's important for the F.D.A. not to say, 'Here's our decision, mic drop. It's much better for them to say, 'Here's how we looked at the data, here are the conclusions we made from the data, and here's why we're making the conclusions.'"