Fire Officials Warn of Viral TikTok "Outlet Challenge"
Massachusetts firefighters are warning of an electrical "outlet challenge" seen on Tiktok that can cause fires or electrocution.
The challenge involves partially inserting a cell phone charger into an outlet and trying to produce a spark by touching the exposed prongs with a penny.
In two local schools, teens started a fire or torched outlets and are now facing charges of arson, attempted arson, and malicious damage to property.
---
"Outlet Challenge" Warning
Massachusetts fire officials are warning of a dangerous electrical "outlet challenge" spreading across TikTok after at least three reported incidents raised concerns.
The challenge involves partially inserting a cell phone charger into an outlet, then trying to produce a spark by touching the exposed prongs with a penny.
Massachusetts Fire Marshal Peter Ostroskey issued a letter to all of the state's fire chiefs on Monday warning of the viral social media challenge that has lead to copycat behavior. In the memo, Ostroskey said that his office had already received reports of two instances where teens tried to recreate the stunt.
"The result is sparks, electrical system damage, and in some cases fire," Ostroskey wrote.
He advised fire officials to reach out to local news outlets, school officials, and parent organizations to make them aware of this trend, writing, "Alert them to this challenge, advise them to, not only look for signs of fire play like scorched outlets, but to have conversations about fire and electrical safety with tweens and teenagers."
Charges Against Teens Involved
One of the incidents Ostroskey cited resulted in damage to an outlet inside a home. The other sparked a fire inside Westford Academy. The spark at Westford Academy created smoke that set off the school's fire alarm, local authorities reported.
The student responsible for that incident is now facing charges, including arson and malicious damage to property, Westford Police Captain Victor Neal told CNN.
Meanwhile, NBC Boston reported that two students at Plymouth North High School were caught attempting the challenge twice in a matter of minutes inside a classroom on Tuesday.
Firefighters found two scorched outlets and a phone charger with a penny fused to the prongs, according to Plymouth Fire Chief Edward Bradley. There were no injuries, but the school's superintendent Gary Maestas said the students involved could face serious consequences.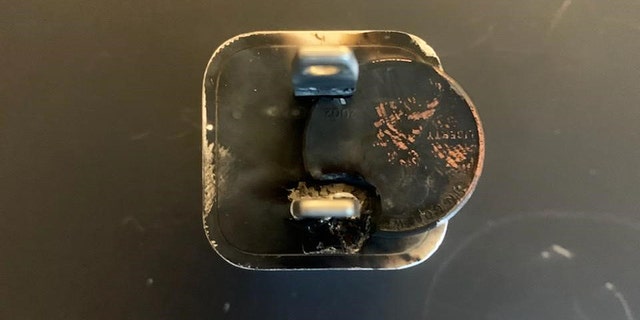 "We are working with the Plymouth Police and Fire Departments to fully understand the scope of this issue and pursue charges to the fullest extent of the law," Maestas wrote in a statement.
Plymouth police said the two 15-year-old male students face charges of attempted arson and malicious damage to property under $1,200.
Dangers of the Stunt
"I don't think students comprehend the reality that they can be electrocuted and killed, or start a fire," said Chief Bradley.
Aside from starting fires or facing potential electrocution, Bradley said the challenge could also cause damage to electrical wiring behind walls, which could allow fires to burn within the walls undetected and endanger everyone in the building.
"Social media elevates it," Bradley added. "They see it online, they see someone do it, they start laughing, they run away and no one gets hurt and they assume the same will happen when they do it, so they think it's funny to do it in a classroom."
"Parents need to talk to their children and tell them if you see this stuff, don't try to imitate it."
See what others are saying: (CNN) (Fox News) (Time)
Catholic School Expels Students After Discovering Mother's OnlyFans Account
Crystal Jackson, a California mother of three, said her boys were expelled from their Catholic school after other parents notified administrators of her OnlyFans account.
Jackson, who started the account to boost her confidence and rekindle her relationship with her husband, said she only posts pinup-style photos in lingerie, not pornography. 
Now, she's speaking out against the intense harassment she's faced from parents in her community and has criticized the school's decision to punish her children. 
She also said the school is working to update its handbook to include a rule that "any parent who is involved in a site or blog that goes against teachings of the church and school philosophy must be removed."
---
Mother's OnlyFans Account Draws Criticism
A mother in Sacramento, California says her three boys were expelled from their Catholic school after administrators discovered her OnlyFans account.
That mother is Crystal Jackson, who joined the site in 2019 to spice up her struggling relationship with her husband of 14 years, Chris.
Jackson says she does not post pornography on her account. Instead, she posts pinup-style photos in lingerie and includes "sexy stories" that play up the image of what she and Chris call "the mom next door."
The account started as a secret between the two of them, but it has since become a huge success, bringing in over $150,000 a month along with hundreds of thousands of social media followers.
While the new venture has also brought her a boost of joy and self-confidence, her growing popularity on the platform eventually caught the attention of parents at Sacred Heart Parish School.
According to several interviews Crystal has given to media outlets, parents were relentlessly urging that her sons be kicked out of school.
They began harassing her with texts and voicemails bullying her and insulting her family. At one point, she says a group of mothers even printed out her OnlyFans photos and sent them anonymously in a packet to the school principal.
Some also reported her to their local priest and bishop and created a Facebook group to gossip about her family.
School Expels Mother's Three Sons
She was eventually removed as 2nd-grade 'room mother' due to the complaints. After growing tired of the treatment, she eventually gave an interview to The Sun about all the harassment.
But the issue escalated Sunday when the school sent her a letter notifying her of its decision.
"Your apparent quest for high-profile controversy in support of your adult website is in direct conflict with what we hope to impart to our students and is directly opposed to the policies laid out in our Parent/Student Handbook," it read.
"We therefore require that you find another school for your children and have no further association with ours."
Now, she says the school is working to update their handbook to include a rule that says: "Any parent who is involved in a site or blog that goes against teachings of the church and school philosophy must be removed."
Crystal has continued to speak out against the school's decision, telling People Magazine that her 8, 10, and 12 years old are good kids who are only being hurt by the school's actions.
"Take me down, that's fine, but leave my kids out of this," she said.
"I didn't want to be put out there, but at some point, I have to stand up and say I can't take it anymore because this behavior is horrible," she added.
Crystal noted that she was hoping to put her kids back in Catholic school but says she and her husband will likely have to put them in public school.
"They won't allow them in this diocese, and is this really the place for them to be?" she said. "It's clear that they said we don't want you."
"In the year 2021, here we are, trying to bring a woman down for her choices and what she does with her husband," Crystal added. "It's body shaming and bullying all encompassed into one and it's such a double standard and disturbing."
For now, she's just hoping the judgment and harassment in her community will stop. "I'm still the same Crystal I was, like, two years ago, a year ago, when we had coffee, before you knew this."
Nearly 9 Million Are Without Water in Texas, Some Face Electric Bills up To $17,000
More than 8.8 million people in Texas remained under boil water notices Monday, and over 120,000 had no water service at all.
Gov. Greg Abbott (R) said Sunday that the state has distributed around 3.5 million bottles of water, though many of the lines to receive that water were plagued with hours-long waits.
Meanwhile, power outages in the state have fallen below 20,000, but many Texans are also beginning to receive astronomical electric bills of as much as $17,000.
Both Abbott and Houston Mayor Sylvester Turner (D) said those prices are not the fault of customers. While some form of forgiveness is likely, no immediate plan has been outlined yet.
---
Millions Without Water
As of Monday morning, nearly 8.8 million people in Texas are still under boil water notices following last week's snowstorm. That's about one out of every three Texans.
Despite being a giant chunk of the state's population, that figure is actually an improvement from 10 million people on Sunday.
Another 120,000 Texans are still without water service at all.
Gov. Greg Abbott (R) said Sunday almost 3.5 million bottles of water have been distributed across Texas by helicopter, airplane, and truck.
The need for water has been extremely visible. An Austin City Council member shared a video on Twitter Sunday showing a massive line of vehicles waiting for clean water. Some waited for more than an hour before the distribution event began. At another site, she said cars began lining up more than five hours before the event.
Abbott said the state is bringing in more plumbers to increase repair efforts for damaged water systems. Additionally, Abbott said homeowners without insurance could qualify for emergency reimbursement from FEMA.
Meanwhile, one large-scale effort from Rep. Alexandria Ocasio-Cortez (D-NY.) has now raised more than $5 million since first being launched on Thursday. That money will go to several organizations, including the Houston Food Bank, Family Eldercare, Feeding Texas, and the Bridge Homeless Recovery Center.
Texas Electric Bills Soar as High as $17K
All but just under 20,000 Texas homes and businesses have now had their power restored as of Monday morning.
That's a stark contrast from the more than 4 million that were out of power at one point last week.
While that's largely good news, many Texans are now beginning to receive sky-high electric bills. That's especially evident for those whose power stayed on during the storm. In fact, some people have now told multiple media outlets they're facing bills as high as $17,000.
One 63-year-old Army vet, who was charged $16,752, told The New York Times that his bill was about 70 times higher than normal.
"My savings is gone," he said. "There's nothing I can do about it, but it's broken me."
As far as why his and others' eclectic bills are so high, many people in Texas have plans that are directly tied to the wholesale price of electricity. Usually, that helps keep their costs low, but as demand for power surged during last week's snowstorm, those prices hit astronomical highs.
In a statement on Saturday, Abbott said Texas lawmakers "have a responsibility to protect Texans from spikes in their energy bills that are a result of the severe winter weather and power outages,"
He added that the state Legislature is working "on solutions to help Texas families and ensure they do not get stuck with skyrocketing energy bills."
In a similar tone, Houston Mayor Sylvester Turner (D) said in an interview with CBS on Sunday, "It's not the consumers who should assume [these] costs. They are not at fault for what happened this week."
That said, Turner also laid blame at the feet of the Legislature, calling the current crisis "foreseeable" on the part of lawmakers because a similar snowstorm and outages struck Texas in 2011.
Turner added that, at the time, he was part of the Texas legislature and had filed a bill that would have required the agency overseeing Texas' grid to "ensure that there was an adequate reserve to prevent blackouts."
"The leadership in Austin did not give it a hearing," he said.
While no aid has been fully guaranteed yet, Texas has prevented electric companies from being able to shut off power for people who don't pay their bills on time.
Texans Still Face Broken Pipes, Flooding, and Carbon Monoxide Poisoning as Million Regain Power
The number of Texans without power fell from 3.3 million on Wednesday to below 500,000 by Thursday.
Still, millions are currently under a boil advisory, pipes have burst as they begin to thaw, and some individuals have died or been hospitalized because of carbon monoxide poisoning. 
The Federal Emergency Management Agency said Wednesday that it has sent generators, water, and blankets to Texas, adding that it's working to send additional diesel for generators.
Gov. Greg Abbott and President Joe Biden have also reportedly discussed the possibility of extra funding for people's electricity bills, as well as for burst pipes.
---
Power May Be Back but Problems Persist
Power outages in Texas Thursday morning fell to under 500,000 — down from 3.3 million Wednesday morning.
According to the state's main grid operator, the Electric Reliability Council of Texas (ERCOT), the remaining outages are largely weather-related and not connected to problems related to forced outages. 
While that return of power to millions is significant, Texans are still facing a host of other problems.
For example, there have been numerous reports of carbon monoxide poisoning as people still without power try to keep warm in their cars or through other means. An adult and a child were found dead Tuesday after running their car inside of a garage, prompting Houston police to issue a statement warning that "cars, grills and generators should not be used in or near a building."
Six children and four adults were rushed to the hospital Wednesday night for carbon monoxide poisoning after setting up grills inside their homes.
Even for those now with power, water has become a major issue. On Wednesday, 7 million Texans were placed on a boil advisory and about 263,000 were without functioning water providers.
One reporter tweeted out a video of people lining up at a park to fill up buckets of water.
"This is not a third world country," she said. "This is Houston, Texas."
The Food and Drug Administration and the National Weather Service have even cited melting and boiling snow as an emergency option if people can't find water elsewhere, an option many have already turned to.
For some, all these problems only seemed to compound in the form of burst pipes. One viral video shows water gushing out of a third-story apartment. Others posted images of their broken pipes and the damage they have caused. 
As a result, a number of local media outlets have begun to outline steps people can take once their pipes start to thaw or if they break.
Amid Problems, Aid is Being Distributed
Alongside the overwhelming amount of problems, there has also been a large aid response.
A FEMA spokesperson said Wednesday that the agency has sent 60 "very large" generators to help keep hospitals and other critical infrastructure open.
White House Press Secretary Jen Psaki added that FEMA is preparing to move diesel into Texas to keep that backup power going.
So far, FEMA said it has sent "millions of liters of water" and "tens of thousands" of blankets.
Governor Greg Abbott and President Joe Biden have also reportedly discussed the possibility of extra funding for people's electricity bills, as well as for burst pipes. That's because as the storm first hit, electrical demand surged. Since many Texans have plans connected to the wholesale price of electricity, they're potentially set to be hit with sky-high bills.
Among other issues plaguing Texans is food spoilage; however, that can potentially be reimbursed through renters' and homeowners' insurance.
According to an official from the Insurance Council of Texas, "Food coverage is often related to personal property."
Notably, there are some stipulations depending on individual circumstances and policy. To learn more about how insurance providers accept food spoilage claims, click here.