Australian Cabinet Approves 2 Billion Dollars for Fire Relief
Australian Prime Minister Scott Morrison announced on Monday that at least 2 billion dollars have been approved for bushfire recovery services.
The fires have been blazing across the country for months, and have burned over 14 million acres and killed at least 24 people. It has also been estimated that 480 million animals have perished in the state of New South Wales alone.
Australia has faced fires before, but none quite like this, as these flames are intensified by worsening climate change.
Many are frustrated with Prime Minister Scott Morrison, criticizing him of being complacent in the wake of disaster and not taking enough political action to combat climate change.
---
Funding for Months-Long Destruction
Australian Prime Minister Scott Morrison announced funding of at least 2 billion Australian dollars for bushfire recovery on Monday after months of devastation.
At least 24 people have been killed and over 14 million acres burned by the fires that have raged across the country.
The fire season kicked up in September after the nation went through its warmest recorded spring. The heat continued into December, when the record was broken for Australia's hottest day, with average highs of 107.4 degrees Fahrenheit blazing across the continent.
These extreme temperatures, as well as long periods of drought and fierce winds, have led to the intensification and rapid spread of the fires.
Even with the rain and cooler temperatures that also came on Monday, providing temporary relief, the circumstances remain dire.
Tens of thousands of firefighters have been battling the flames over the past few months, a majority of them volunteers. Despite these forces, the situation in Australia is so bad that the country has requested additional international aid.
According to the National Interagency Fire Center, around 100 U.S. firefighters have been deployed to assist in suppressing the Australian bushfires. Canada is also sending firefighters to Australia for the first time. As of Sunday, 87 Canadian firefighters were deployed to Australia, according to the Canadian Interagency Forest Fire Center.
Widespread Destruction
The flames have affected the nation's east coast the most, particularly the state of New South Wales, where over 1,300 homes have been destroyed. As of Monday morning, more than 130 fires were still burning across the state, according to the New South Wales Rural Fire Service.
On Nov. 11, the state issued a "catastrophic" fire danger warning. This was the first time a rating that high had been issued since the warning system went into effect in 2009, according to The New York Times. Last month, the air quality in Sydney was measured at 11 times the "hazardous" level.
Victoria, the state below New South Wales, has faced its own frightening conditions.
Last week, about 4,000 residents and tourists in the town of Mallacoota fled to nearby beaches to escape the flames. About 1,000 people participated in voluntary evacuations headed by the Australian Defense Force's navy vessels.
Devastation to Wildlife
In addition to the fires having tragic effects on Australian locals, wildlife have also gravely suffered. An estimated 480 million animals have died in New South Wales alone, according to a report by Chris Dickman, a professor at the University of Sydney.
This figure includes mammals, birds, and reptiles and does not take into account insects, bats or frogs. It is reported that while many of these animals were likely killed directly by the fires, some succumbed later due to a loss of food and shelter resources.
Climate Change Implications
Australia has faced tough fires before, but this season is far more intense. The nation typically sees dry, hot summers, and climate change brings extended stretches of extreme heat, which makes vegetation even more susceptible to burn.
According to scientific reports by the United Nations Association of Australia, few if any other developed countries are as vulnerable to climate change as this one.
Backlash Against Prime Minister
Throughout this year's fire season, Prime Minister Morrison has received backlash for his response to the disasters—and for what critics call his lack of political action in response to climate change.
In the wake of the bushfires, Morrison took a vacation to Hawaii before for the holidays. But after facing much criticism, he cut his trip short and returned home.
Scrutiny for Morrison then continued after his visit to Cobargo on Jan. 2, a town in New South Wales that has been heavily affected by the fires.
Morrison's attempt to talk with locals and volunteers did not go well. After reaching out to thank a firefighter, the man said to him: "I don't really want to shake your hand."
Another Cobargo local made headlines when she criticized Morrison for not giving enough funds to Rural Fire Services.
"I'm only shaking your hand if you give more funding to RFS," she told the Prime Minister. "So many people here have lost their homes. We need more help."
International Attention
The Australian fires have gained attention from people all around the world, including celebrities who are donating funds toward relief and using their platforms to promote awareness.
Nicole Kidman, who holds Australian citizenship, announced on Instagram that her family is donating $500,000 to RFS.
Musician Pink, whose full name is Alecia Beth Moore, pledged the same amount to local disaster services.
Actor and environmentalist Leonardo DiCaprio has been posting and reposting updates on the fires for months, urging people to take action in the climate crisis.
Brutal Fighting Continues Between Azerbaijan and Armenia Over Breakaway Region
On Sunday fighting broke out between Azerbaijan and Armenia, who is supporting the breakaway Republic of Artsakh in the Nagorno-Karabakh region.
The territory, known as Artsakh to Armenians, is internationally recognized as part of Azerbaijan but has a majority ethnic-Armenian government.
The region is recognized by all United Nations members as being part of Azerbaijan, although Armenia's long-standing support of the breakaway Republic of Artsakh has consistently escalated tensions.
Turkey promised to support Azerbaijan, while other nations around the world have asked for de-escalation.
---
Nagorno-Karabakh or Artsakh?
Long-standing tensions between Armenia, the de-facto independent Republic of Artsakh, and Azerbaijan erupted into fighting Sunday in the highly contested region of Nagorno-Karabakh.
The region is known as Artsakh to ethnic Armenians.
Sunday's fighting broke out across the entire Line of Contact, which is a network of military fortifications that separate forces in the region. The region's capital, Stepanakert, has also been subject to military actions such as shelling and drone strikes.
In addition to fighting on the ground, the conflict has played out online as well. Shortly after fighting began, Hikmet Hajiyev, the head of the Foreign Policy Affairs Department in Azerbaijan, accused Armenia of starting the fighting, saying that on Sunday, the armed forces of Armenia"blatantly violated the ceasefire regime and, using large-caliber weapons, mortar launchers and artillery have launched an intensive attack on the position of the armed forces of Azerbaijan along the frontline."
"The armed forces of the Republic of Azerbaijan are undertaking necessary counter-offensive measures to prevent Armenia's another military aggression and ensure the security of the civilian population," he added. "The responsibility for the present situation and future developments lie squarely with Armenia's political-military leadership."
However, subsequent statements from President Ilham Aliyev suggest that the entire conflict is part of an effort to "retake" the region.
On the Armenian side, Prime Minister, Nikol Pashinyan, tweeted out, "Azerbaijan has launched a missile & aerial attack against #Artsakh. Peaceful settlements including Stepanakert have been attacked."
"Armenian side has shot down 2 helicopters & 3 UAVs, destroyed 3 tanks. We stay strong next to our army to protect our motherland from Azeri invasion."
Initially, there was some skepticism that the fighting escalated to such a point that large munitions were being used on targets, but as the weeks progressed, more footage and images from the fighting show that tanks, aircraft, drones, and artillery have all been deployed.
Fighting, From Bad to Worse
Both sides have announced military and civilian deaths. Armenia claims over 100 military personnel and 23 civilians have died. The Armenian Ministry of Defense added that 230 Azeri soldiers have been killed.
Azerbaijan defense officials claimed on Wednesday to have killed thousands of Armenian and Artsakh troops and to have "destroyed 130 tanks, 200 artillery units, 25 anti-aircraft units, five ammunition depots, 50 anti-tank units, 55 military vehicles."
The conflict seems to have escalated beyond the disputed region itself, with evidence that Azerbaijan has used drones to strike targets within Armenia.
Beyond direct military actions, each government has drawn up more troops. On Sunday, Armenia declared martial law and called for a general mobilization. That same day, the Republic of Artsakh announced all able-bodied men would be drawn into service, while Azerbaijan declared a partial-mobilization.
2020 has seen tensions in the region drastically escalate. Earlier in the year during fighting that broke out in July, 14 people died, including two senior Armenian officers who were killed in a drone strike.
Longstanding, Divisive History
There has been long-standing conflicts over Nagorno-Karabakh. For thousands of years, Armenians have been the ethnic-majority in the mountainous region. During it's various stints as part of other empires, the area was normally ruled by Armenian princes, or outside rulers from occupying powers.
In the 1800's, both Armenia and Azerbaijan became part of the Russian Empire, where Nagorno-Karabakh was administered in the same zone as Azerbaijan and other Caucus territories, while Armenia was administered as its own polity. When the empire dissolved during World War I, both nations gained their independence and promptly went to war over who controls Nagorno-Karabakh.
During that war, the Soviets took over both nations and made forcefully brokered a peace that eventually saw Stalin putting the region under the administrative control of the Azerbaijan Soviet Republic, despite its Armenian majority.
For many Armenians, especially those living in the Nagorno-Karabakh, this was unacceptable and the catalysts for the modern conflict. Census data from the time shows it was roughly 90% Armenian.
Open conflict didn't occur again until the decline and fall of the Soviet Union. In the late '80s both Armenia and Azerbaijan, while still nominally part of the same country, went to war over the territory.
When they both declared independence in 1991, so did the Armenians within Nagorno-Karabakh, calling themselves the Republic of Artsakh. The war devolved into Armenia and the Republic of Artsakh fighting Azerbaijan. All sides accused the others of ethnic cleansing in the region. Leading to Armenians leaving Azerbaijan to Nagorno-Karabakh, while Azeris fled to other parts of Azerbaijan.
Now the region is nearly 100% Armenian.
A ceasefire was signed that left all sides unhappy. Azerbaijan refused to give up any claims to the land, while Armenia has stationed troops in the region to reinforce the Republic of Artsakh. However, the entire region is still internationally recognized as part of Azerbaijan.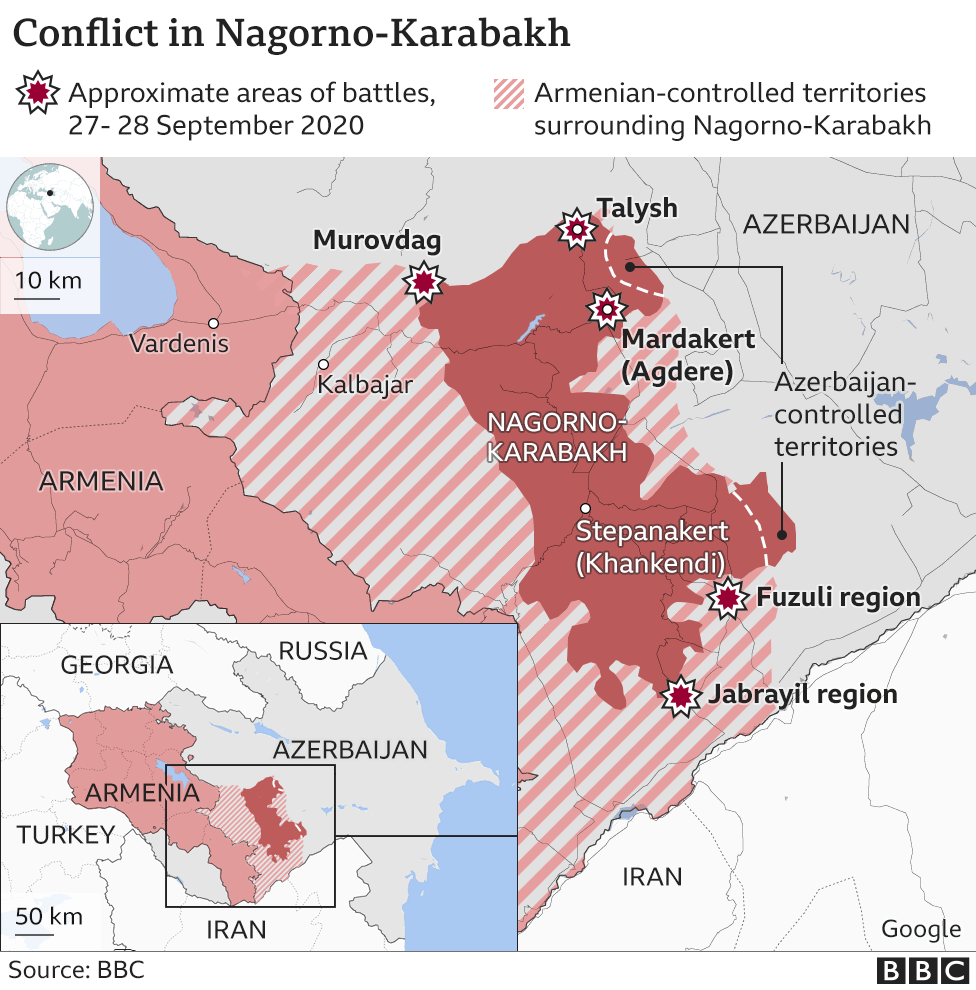 No UN-member state, not even Armenia, officially recognize the Republic of Artsakh as independent.
Calls for Peace
Around the world, countries have come out in various ways to show support or call for peace. On Sunday, Turkish President Recep Erdogan sent out a series of tweets not only blaming Armenia for the attacks but also saying "it is the biggest threat to peace and tranquility in the region."
He went on to call on Armenian to resist their government "who use them like a puppet."
Most countries took a more neutral stance, asking that the two sides deescalate the situation. An Iranian foreign ministry spokesperson told state TV on Sunday, "Iran is closely monitoring the conflict with concern and calls for an immediate end to the conflict and the start of talks between the two countries."
French, Russian, and U.S. officials also called on both sides to stop fighting, along with the Organization for Security and Co-operation in Europe (OSCE). the OSCE, who France, Russia, and the U.S. are all a part of, was responsible for mediating the ceasefire between Armenia and Azerbaijan back in the '90s.
Call for peace haven't made much headway, as both Armenia and Azerbaijan have rejected any calls for another ceasefire.
Hospital Staff in Canada Caught Berating Indigenous Patient Shortly Before Her Death
An indigenous woman in Canada died Monday shortly after live-streaming a video that showed her hospital nurses calling her "stupid" and slut-shaming her.
The death of that woman, Joyce Echaquan, has increased calls to address systemic racism against indigenous people in the country.
One nurse in the video has been fired and two investigations are underway, but so far, no criminal investigation has been opened.
---
Woman Berated by Nurses in Livestream
A Canadian woman has gone viral for live-streaming an incident where she's seen being berated by two nurses who are supposed to be treating her.
Shortly after filming that seven-minute Facebook Live on Monday, 37-year-old Joyce Echaquan died.
Echaquan, an indigenous mother of seven, originally checked into a Quebec hospital on Monday after experiencing stomach pains.
In the video she captured just before her death, Echaquan's nurses can be heard making derogatory comments to her in French. Both nurses remain off-camera during the live-stream.
"You're stupid as hell," one says. Another nurse tells Echaquan that she'd made bad life choices and asked what her children would think of her behavior. One of the nurses also says that Echquan was "only good for sex" and that they'd have to pay for her medical expenses as taxpayers.
All the while, Echaquen can be seen tied to a hospital bed, where she screams, begging for the nurses to stop.
Nurse Fired, Investigation Launched
On Tuesday, Quebec Premier François Legault, the head of government in the province, announced that one of the nurses heard in the video has since been fired. Legault additionally denounced the nurses' remarks as "unacceptable" and "racist."
When asked if he believes if this was a situation that arose from systemic racism, Legault rejected that notion.
"I really don't think we have this kind of way of dealing with First Nations people in our hospitals in Quebec," he said.
While speaking to reporters, Legault said Echaquan's death is now being investigated by regional health authorities, as well as by a forensic pathologist.
However, so far, no criminal investigation has been opened into her death. In fact, the Quebec police have said that much will hinge on the results of the autopsy.
Despite this, Echaquan's family has accused the nurses of negligence. They believe those nurses gave Echaquan too much morphine, as Echaquan had a history of heart trouble.
If it's found that the two nurses in the video caused Echaquan's death, the hospital would almost certainly face significant liability damages.
Indigenous People Receive Poorer Healthcare in Canada
Contrary to Legault, Prime Minister Justin Trudeau described the incident as "another example of systemic racism that is simply unacceptable in Canada."
In recent years, Canada has grappled with racism directed toward its indigenous population.
In 2015, one report found that racism in Canada's healthcare system contributed to overall poorer health outcomes for indigenous people.
Last year, a government inquiry found that Canada was complicit in "race-based genocide" against indigenous women. That inquiry determined that indigenous women are 12 times more likely to be killed or to disappear than non-indigenous women in Canada.
In June, the province of British Columbia opened an investigation after it was found that healthcare staff in at least one hospital were betting on the blood alcohol levels of indigenous patients.
"There needs to be a thorough police investigation and that investigation has to be full and professional and must include a full investigation of any criminal misconduct, whether partly or fully motivated by a hate crime," Alisa Lombard, a partner with a law firm that's currently representing two indigenous women in a forced sterilization lawsuit, said of Echaquan.
"Not undertaking this kind of investigation would be further demonstrative of the contempt held by the health-care providers for Indigenous people" Lombard added in an interview with CBC. "Joyce, when she was dying, was met with contempt. Their remarks show… hate and really clear racism."
More People Speak Out About the Hospital
In the days since Echaquan's death, more people have come forward with allegations against the hospital where she died.
On Wednesday, Echaquan's cousin, Karine Echaquan, told the Montreal Gazette that this wasn't the first time Echaquan had experienced similar discrimination. According to Karine, Echaquan checked into the same hospital in August because of her heart condition.
Karine added that Echaquan frequently live-streamed on Facebook while receiving care at the hospital because she worried about how she would be treated by staff.
"I think it was a sort of protection for her," Karine said. "She was always suspicious of public health."
That claim of similar discrimination was later corroborated by another woman, Jennifer Mac Donald.
Also speaking to the Gazette, Mac Donald said that in late August, she had rushed to the hospital to be with her father, who had been admitted following a heart attack.
While in the hallway, Mac Donald said she could hear a woman screaming and expressing concerns over her care. Mac Donald went on to describe the attendants on duty as indifferent and even verbally aggressive, quoting one as saying of the woman, "Will she ever shut up?"
Mac Donald, an off-duty patient attendant, said she then tried to approach the woman to see if she needed help, but the staff told her to mind her own business.
One month later, Mac Donald said she recognized Echaquan in her live stream as the same woman from that incident in August.
The full scope of systemic racism against indigenous people in Canadian hospitals extends well beyond just Echaquan's experiences, though her experiences do seem to capture a microcosm of the inequities at play.
"Every time we have to bring someone to a hospital, we escort them, because we know that there will be racist comments toward them," Nakuset, executive director of the Native Women's Shelter of Montreal, told the Times Colonist. "We have a form because we anticipate what's going to happen."
Hong Kong Undercuts Press Freedoms, Effectively Bans Freelance and Student Journalists
Hong Kong just changed who it recognizes as journalists, using a system that would be easier to track them and restrict who can register as one.
The move was highly criticized as a way to restrict freelance and student journalism. The issue has sparked conversations and concerns about freedom of the press, speech, and more.
The change comes the same day that mainland China sentenced billionaire Ren Zhiqiang to 18-years for varying corruption charges. The charges, however, are seen as retaliation for criticizing President Xi Jinping's handling of the coronavirus pandemic in March.
On top of civil rights issues, concerns for human rights increased following a Tuesday report that highlighted the extent of a labor camp system in Tibet.
---
Hong Kong Press Under Attack
Police in Hong Kong issued new rules Tuesday that effectively ban freelance and student journalism, and allow police to more easily track and restrict journalists who are part of a recognized media organiztion.
In Hong Kong, the formerly autonomous city was known for its democracy, free speech, and independent journalism. Yet, recent events have effectively forced changes in the city, and the latest escalation targets journalists.
In a letter to four local journalist groups, Chief Superintendent Kenneth Kwok said that changes would be made to Police General Orders, which are police rulings. These recent changes would redefine who law enforcement recognizes as journalists. Currently, the police recognize "media representatives" as reporters, photographers, and television crews who carry proof of ID from newspapers, agencies, and television or radio stations.
Kwok's letter explained the changes, saying, "After the amendment, the definition of 'media representatives' under the Police General Orders will be more concise and clearer, allowing frontline personnel to identify media representatives more efficiently and swiftly,"
These changes require domestic journalists to register with a state database that keeps track of their identity and credentials. Foreign journalists working for a "prominent" foreign news outlet are exempt from registering.
These latest changes will likely gut freelance and student journalism as neither group is employed by a news organization. Both those groups are bothersome to Hong Kong police, who accuse them of actively taking part in protests and demonstrations rather than impartially reporting them.
Local press groups don't see the issue that way. A statement by eight organizations and associations characterized the changes as a major attack on independent journalism in the city.
"Today, the police have broken this relationship by planning to make a significant amendment without first discussing and consulting our sector. We demand the police to scrap the relevant amendment, or we will respond by taking any possible and necessary measures."
The head of the Hong Kong Journalist Association, Chris Yeung, added his thoughts in an interview with the Hong Kong Free Press, saying, "It is quite regrettable. [The existing arrangement] was worked out among police, the government, and us years ago. It was an important part of our relationship."
This attack against the press isn't a new thing. On multiple occasions over the last few weeks, journalists were fined for breaking coronavirus public gathering restrictions while covering demonstrations after providing Hong Kong Journalist Association credentials.
Billionaire Sentenced to 18-Years Behind Bars
Many of the restrictions Hong Kong is beginning to face aren't new to Mainland China. For decades, the mainland hasn't had freedom of the press, association, or speech. The case of Ren Zhiqiang, for instance, highlights the lack of freedom of speech in China.
Ren is a Chinese billionaire who was sentenced to 18 years in prison Tuesday for embezzling $16.3 million in public funds, accepting bribes, and abusing power that caused the loss of $17.2 million for a state-owned company that he once was in charge of.
Despite none of those charges being directly related to freedom of speech, his case is seen as retaliation for something he wrote. Ren, a life-long Communist Party member, has a long-standing reputation of speaking out against the leadership of the Communist Party.
His most recent critique allegedly came in March, when a letter appeared on Chinese social media that attacked how the government was handling the COVID-19 outbreak. The letter is technically anonymous, but media outlets in China and across the globe have stated that Ren was the author.
Adding to that possibility was the fact that shortly after the letter came out, Ren disappeared in March. It wasn't until April that charges were brought against him.
Ren's alleged letter didn't waste time criticizing the Communist Party. "This outbreak of the Wuhan pneumonia epidemic has verified the reality: when all media took on the 'surname of the Party,' the people 'were abandoned' indeed. Without a media representing the interests of the people by publishing the actual facts, the people's lives are being ravaged by both the virus and the major illness of the system."
"Surname of the Party," is a euphemism used by party officials in 2016 to say that the press needed to be loyal to the Party. At the time, Ren critiqued that decision and was suspended as a party member for a year.
The letter in March also referenced a conference President Xi Jinping gave talking about the virus, saying: "I too am curiously and conscientiously studying [Xi's teleconferenced February 23] speech, but what I saw in it was the complete opposite of the "importance" reported by all types of media and online. I saw not an emperor standing there exhibiting his "new clothes," but a clown who stripped naked and insisted on continuing being emperor."
"Despite holding a series of loincloths up in an attempt to cover the reality of your nakedness, you don't in the slightest hide your resolute ambition to be an emperor, or the determination to let anyone who won't let you be destroyed" he continued.
To be clear, it's possible that Ren actually did everything he's been accused of. Embezzling and accepting bribes are often how relationships between businesses and Communist party officials work in China. The sentencing court also recognized that he "voluntarily" admitted to all the charges.
However, the timing reflects a pattern in China that suggests officials are fine with minor forms of corruption if its mutually beneficial and only crackdown when someone gets on their bad side.
Constant confessions mean that courts have a 99% conviction rate, although most cases on the mainland are against business people and party officials.
Tibetan Vocational Training
On top of curbing the freedom of the press in Hong Kong, or allegedly silencing a critic on the mainland, a Tuesday report by German Anthropologist Adrian Zenz details a widespread labor camp system similar to what is happening in Xinjiang.
All across China, there are "vocational training centers," many of which are used to combat poverty. However, in places like in Xinjiang, they are believed to be used to sinicize the local ethnic and cultural groups. The extent of these camps varies/ Xinjiang officials are accused of extrajudicial detentions and cultural genocide, while the camps in Tibet are seen as coercive efforts to change the populations.
Like Xinjiang, Tibet is filled with ethnic and religious minorities, many of whom live a traditional nomadic, herding lifestyle. According to Zenz's report, which was corroborated by outlets like Reuters, Tibet's program has "trained" half a million Tibetans. That's 1/6 of all Tibetans.
The reason Tibet's program has drawn particular concern is because revelations indicate that not only is the program being used to combat poverty, but it's also being used to specifically target those with traditional lifestyles in order to "modernize" them.
Zenz notes that while extrajudicial detentions don't seem to happen in Tibet, there is a heavy emphasis on coercing the population to join the military-style labor camps by party and government officials.