Venice Mayor Blames Worst Flood in 50 Years on Climate Change
The Italian government declared a state of emergency in Venice after the city experienced its second-worst flooding in almost 150 years of flood records.
Venice Mayor Luigi Brugnaro blames the floods that have grown increasingly common over the last few decades on climate change.
While the flood peaked at over six feet, it has receded some; however, parts of the city are still four feet underwater.
The flood has reportedly caused structural damage to major landmarks like St. Mark's Basilica.
---
Second Worst Flood on Record
The Italian government declared a state of emergency on Thursday as 85% of Venice sits underwater.
On Tuesday night, a combination of high tide, strong winds, and a full moon led to seawater overwhelming seawalls and flooding the city. The flood, which is the second-worst on record in almost 150 years, peaked at more than six feet; however, it came only a couple of inches shy of beating the record-breaking 1966 floods.
Wind and water reportedly slammed boats onto streets in the city, which is only about three feet above sea level. In some cases, boats hit streets so violently that they dislodged bricks and stones. By Wednesday morning, many of those boats sat on the streets.
As water gushed into the city, it flooded homes, stores, and hotels. In some instances, water spewed out of toilets as pipes backed up.
There have also been reports of power outages across the city. Reportedly, one 78-year-old man died after being electrocuted by a short circuit in his home.
Schools were canceled on Wednesday and again on Thursday.
"The disaster that hit Venice is a blow to the heart of our country," Italy's Prime Minister, Giuseppe Conte said in a Facebook post. "It hurts to see the city so damaged, its artistic heritage compromised, its business activities on its knees."
All of that presents another massive problem as floodwater damages major landmarks in the city. People described St. Mark's Square as a lake, with the floodwater also reaching St. Mark's Basilica, which along with Venice is part of a World Heritage Site.
The archbishop of Venice, Francesco Morgalia, said St. Mark's is now suffering structural damage and that the water is causing "irreparable harm." The flood has also further damaged marble that was already showing signs of water and salt damage.
Although the basilica has only flooded six times since it was built in 1063, the last four of those times have all been within the past 20 years, with the most recent being in November 2018.
"Venice is an emblem for the whole country," Venice's mayor, Luigi Brugnaro, said in a press conference on Wednesday. "We are no longer talking about a local problem, but a worldwide one."
"There were people who were crying today because they've lost everything, and we're not talking about the poor," he added. "The point is that there is no longer certainty. You no longer know how to live, and if we want to repopulate, we want to give certainty. It's the life of the city itself, the future of the city."
The Floods' Connection to Climate Change
On Twitter, Brugnaro also said that the floods are a result of climate change, and climate scientists have agreed.
Similar to the current fires in Australia, scientists say the world is seeing more extreme weather events.
As polar ice caps continue to melt, ocean and sea levels have begun to rise. In Venice alone, city officials said the sea level is four inches higher than it was 50 years ago. In addition to that, Venice sunk five inches between 1950 and 1970 and continues to sink at a rate of half an inch per year.
Climate scientists predict the city will be underwater by the end of the century.
Venice's expected flooding season, known as "acqua alta," also carries strong winter winds that can be made even stronger by the effects of climate change.
All of those factors can then produce higher and more devastating tides.
Since the record-breaking 1966 flood, Venice has seen almost 20 floods peaking at over four-and-a-half feet.
"The [increased flooding] is a trend that jibes with the extremization of climate," the former head of Venice's Tide Monitoring and Forecast Centre said. "If we look at the course of history, we have documents dating back to 1872, and we can see that these phenomena didn't used to exist."
Venice's Floodgate Project
While Venice does have seawalls to help reduce flooding, there's actually been a lot of controversy around the city's new floodgates.
Since 2003, the city has been trying to complete a more than $6 billion dollar effort to build 78 underwater floodgates. That project, MOSE, would temporarily isolate the lagoon from the sea during flood season, but it has also been plagued by cost burdens and corruption scandals.
Because of that, it has been delayed multiple times and even missed its 2018 deadline. Currently, MOSE is projected to be completed by 2022.
Following the flood, Brugnaro said MOSE must be completed soon. On Thursday, Regarding the MOSE project, Conte also said that the "commitment to Venice is total".
He said he hopes the floodgates are at least partially functional by the 2022 deadline.
"The situation in this unique city is dramatic," he added. "Lots of money has been spent."
US Customs Seize Chinese Hair Products Suspected to Have Come From Forced Labor Camps
A shipment of hair products from China believed to be made through forced human labor was sized at the Port of New York on Wednesday.
The products originate from Xinjiang, which is widely criticized for its so-called "reeducation" camps of Uyghurs.
Though estimates regarding the number of people held at these internment camps range, reports claim it could be upwards of 3 million people who are being held without trial.
U.S. Officials also believe that much of the hair used for these products came from camp detainees.
---
U.S. Seizes 13 Tons of Human Hair
United States Customs and Border Protection agents seized a 13-ton shipment of hair products at the Port of New York on Wednesday over suspicions that they were made with forced human labor. The bust is worth about $800,000.
Officials believe that beyond being made by forced human labor, the hair products, which include wigs, are made out of the hair of detainees in Xinjiang.
The region is infamous because much of its native Muslim Uyghur (sometimes spelled Uighur) population is being forced into "reeducation camps" by the Chinese government. China has denied these camps are what the world thinks they are and continues to downplay how many people are held in them.
On June 17, U.S. Customs and Border Protection (CBP) issued a Detention Order, a command that agents are to stop and inspect all shipments, on products made by Lop County Meixin Hair Product Company. The CBP wants Meixin shipments inspected because the agency had information that "reasonably indicated the use of prison labor with additional situations of forced labor including, but not limited to, excessive overtime, withholding of wages and restriction of movement."
This is in line with a long-standing law that bans any products made by "convict labor" overseas.
A Detention Order such as this is actually quite rare because tracking supply chains out of the U.S. is extremely difficult for U.S. companies and agencies. Adding to the complexity is where the products originated from; Xinjiang. The region has been difficult to enter for non-natives and Chinese officials for a few years.
Brenda Smith, the executive assistant commissioner of CBP's Office of Trade said of the bust, "The production of these goods constitutes a very serious human rights violation, and the detention order is intended to send a clear and direct message to all entities seeking to do business with the United States that illicit and inhumane practices will not be tolerated in U.S. supply chains."
National Security Council spokesperson John Ullyot also raised concerns that the hairs are made from victims of the camps in Xinjiang, saying, "If this highly suspicious, 13-ton shipment of human hair indeed turns out to be linked to the Uighur concentration camps, then this is a new low — even for the Chinese Communist Party — and they will have to answer to the world community for their actions."
The products in question are to be held until Meixin can prove forced human labor wasn't involved. Another company, Hetian Haolin Hair Accessories, must do the same after some of their products were seized in the same shipment, although agents found the weaves were made with synthetic fibers rather than detainees' hair. Hetian was added to the Detetion Order back in May.
The products are sold under the I&I and Spetra brand names in the U.S.
The Situation in Xinjiang
Within Xinjiang itself, conditions haven't improved for the local Uyghurs, and arguably have gotten worse.
For decades, China has wanted to sinicize a lot of minority ethnic groups in the country. Around 2017 it increased its sinicization efforts over the Uyghurs. Tactics include forcing Mandarin as a language that must be used for school and official business, as well as attempts to heavily downplay the importance of Islam in the daily lives on Muslim citizens.
There are also reports of more dire actions, such as accusations that Chinese authorities take children from their families to try and remove cultural and linguistic connections.
The country also alters cultural sites to look more "Chinese." Efforts include changing mosques to have less Arab-influenced features. However, often cultural sites are just destroyed; such as in the case of hundreds of cemeteries being removed to make way for buildings or empty lots.
China also has an issue with Islam. The country consistently portrays imams in the region as having ties to terrorism, and will often arrest Chinese-Muslims upon returning from the Middle East over fears they've been "radicalized."
Despite these efforts though, the Uyghurs have managed to hold onto their cultural heritage and language. So, 2017 also saw China step up the pressure by introducing the "reeducation camps" in order to "combat extremism."
China markets the camps as vocational school that are voluntary. Yet most countries simply call them internment or concentration camps. Evidence and interviews with alleged survivors of the camps point out that people at the facilities aren't there out of their own free will. They are usually held without ever receiving a trial.
Current estimates vary, but there's believed to be between 1 to 3 million people within these camps, with about 500,000 being minors. Those estimates are partially based on leaked documents the BBC obtained last year that showed 15,000 people from southern Xinjiang were sent to the camps in one week alone.
There's also evidence that beatings and torture happen at the camps, as well as accusations that they're used to force Muslims to renounce their faith. Earlier this week, reports surface alleging China is forcing abortions, sterilizations, and other birth control measures against the Uyghur population to cut their birth rates.

Other birth-control methods include monetary penalties against people who have additional children.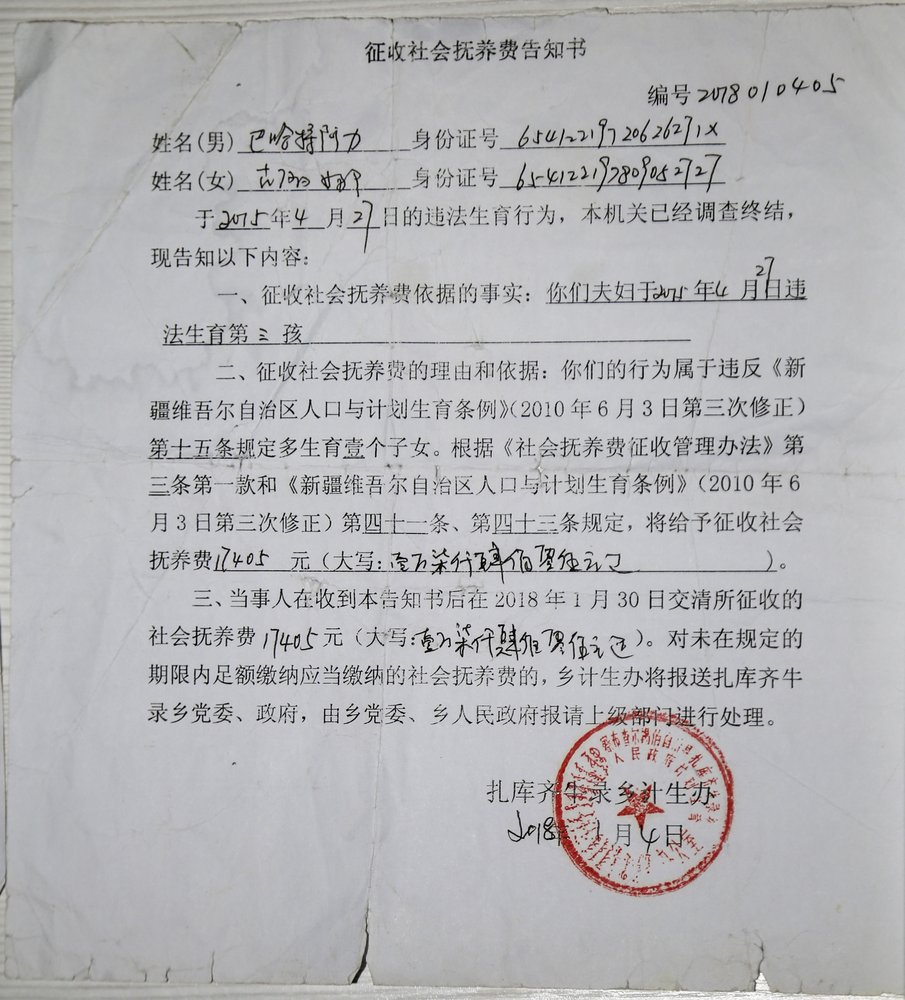 In 2019, 22 UN ambassadors signed a letter condemning the camps, and 50 other states condemned China's counter-terrorism program in the region. More recently, in October of last year, the U.S. imposed visa restrictions on Chinese officials "believed to be responsible for, or complicit in, the detention or abuse of Muslim minority groups in Xinjiang."
In 2020, the U.S. has been adding more and more companies to what's known as an Entity List. They urge Americans and businesses not to work with these 37 companies because they're believed to use forced labor out of Xinjiang. Last month, on June 17, President Trump signed the Uyghur Human Rights Policy Act, which opens the door to increased sanctions against China and increases US agencies' reporting on Xinjiang.
Although the President is still hesitant on actually imposing stricter sanctions, telling Axios, "we were in the middle of a trade deal [with China]. When you're in the middle of a negotiation and then all of a sudden you start throwing additional sanctions on… we've done a lot."
First Arrests Made Under China's New Hong Kong National Security Law. Here's What You Need to Know
The text for China's new national security law has finally been released, laying out new details about what this means for Hong Kong residents.
Among other things, the law overrides Hong Kong's Constitution when there are inconsistencies, cannot be interpreted by Hong Kong courts, and allows for closed trials and easily denied bail.
One provision also states that non-Hong Kong residents can be prosecuted for acts outside Hong Kong, meaning it could jeopardize travel and independent journalism in the city. It could also force Hong Kongers living outside the city to choose between activism and being able to go home to see their families again.
On Wednesday, Hong Kong police said they had made their first arrests using the new law.
---
Text of the Law Released
The full text of China's new national security law against Hong Kong was finally released Tuesday, more than a month after it was proposed and a day after it was formally passed.
The 66-article law includes several broad measures that ban acts like secession, subversion, terrorism, and any activities by foreign forces that interfere in Hong Kong. Though many had hoped the specifics to these four main offenses would be clearly laid out in the full text of the law, they remain vague and contain ambiguous wording that gives Chinese authorities a large scope for targeting pro-democracy activists.
For example, collusion with foreign forces is partially defined as aiding foreign governments in enacting laws or policies that could cause serious obstruction or consequences to Hong Kong or China. Even though what constitutes serious obstruction and consequences is not clearly spelled out, such a definition could target lobbyists asking foreign governments to impose sanctions.
Say one is charged with a crime. The death penalty is off the table but life imprisonment is not. According to the Hong Kong Free Press, "serious" cases can attract penalties of at least 10 years and up to life in prison.
Article 62 of the security law explicitly states that it overrides local Hong Kong law if there are inconsistencies (Surprise, there are!).
For example, one major inconsistency with Article 62 is Article 42, which states that bail will not be granted to suspects "unless the judge has convincing reasons to believe he/she will not continue acts that endanger national security." Such a rule is at odds with Hong Kong's Criminal Procedure Ordinance, which presumes innocence and leans in favor of granting bail.
While this national security law also "presumes innocence," it doesn't really explain what a person's protections are, and many have feared that leaves an open door for China to impose some of the same harsh tactics it practices on the mainland.
"As a national security suspect, you can be locked up for as long as six months incommunicado, subject to torture, coerced confession, no access to counsel or family or friends, before the police decide whether to process you for a crime," New York University law professor Jerome Cohen explained to The New York Times.
According to Article 41 of the law, trials can be closed to the public for reasons such as maintaining state secrets. Whether or not a trial involves state secrets will be decided by Hong Kong Chief Executive Carrie Lam, who has long been accused of being a puppet for Beijing.
Lam is also able to appoint specific judges to hear national security cases.
The text of the law provides no provisions allowing Hong Kong courts to interpret any of its articles, unlike how courts can with the city's de facto constitution, the Basic Law.
The law also covers political candidates and officials already in office. If they're found in violation of the law, they either can't run or have to step down, respectively. That provision could prove to be a major detriment to a city where a candidate's beliefs on pro-democracy rights has been a key issue.
Police Powers and the Law's Impact on Foreign Travel
The full text of the law also reveals more about the new national security office being established in Hong Kong.
That office, which was already known to have the power to oversee education about national security in Hong Kong schools, will not be bound by Hong Kong's laws. In fact, the Hong Kong government is actually required to cooperate and prevent any obstruction of its work.
In addition to that office, a new National Security Department will be created within the Hong Kong Police Force and is required to keep its operations secret.
Police within that department are also getting a host of broad powers, including: search powers, powers to restrict international travel, powers to freeze and confiscate of property, powers to require services providers to delete information and provide assistance, power to require foreign political organizations to provide information, and the power to conduct secret surveillance and interception of telecommunications, 
"All in all, this is a takeover of Hong Kong," Cohen told The Times.
One of the most audacious articles in the law is Article 38, which states that non-Hong Kong residents can be prosecuted in the city for violating the national security law outside of Hong Kong.
"Oh my god am I reading this right???" Axios reporter for China, Bethany Allen-Ebrahimian, said on Twitter Tuesday. "Did Beijing just grant itself sweeping extraterritoriality to…everyone on the planet?"
Such a move could have massive implications for tourism, as anyone who has been charged by Beijing for violating its law could be arrested when arriving in Hong Kong or even China. It could also severely threaten independent journalism on the ground in the city.
On a more personal note, those who are originally from Hong Kong but now live outside China may be forced to either: advocate for basic human freedoms but never visit their home again at the risk of being arrested, or keep quiet even outside of China so they can potentially go back home to visit family.
First Arrests and International Response
The Hong Kong Police Force used the new law to reportedly make 10 arrests Wednesday, the first happening after a man displayed a flag reading "Hong Kong Independence." It was later reported that the flag also had the words "no to" in small letters before the much larger phrase. It's unclear if the police were aware of those words or if they even mattered considering the larger message.
Police also arrested roughly 370 people after a few thousand began demonstrating in a major commercial district before being forced off the streets. Of those arrests, nine included offenses related to the new security law. One of the people arrested was reportedly a 15-year-old girl who waved a Hong Kong independence flag.
Internationally, countries have continued to speak out against China's crackdown.
British Prime Minister Boris Johnson pledged to introduce a new five-year visa in his promise to provide refuge for up to 3 million Hong Kong citizens.
Canada has now updated its travel advisory warning to Hong Kong. That advisory now reads: "You may be at an increased risk of arbitrary detention on national security grounds and possible extradition to mainland China."
Tuesday evening, Secretary of State Mike Pompeo threatened further action from the United States, saying first on Twitter:
"The CCP's draconian national security law ends free Hong Kong and exposes the Party's greatest fear: the free will and free thinking of its own people."
"The United States will not stand idly by while China swallows Hong Kong into its authoritarian maw," Pompeo added in a statement.
Hong Kong Protesters Delete Social Media and Businesses Withdraw Protest Support After China Passes National Security Law
On Tuesday, mainland China officially passed a sweeping national security law that is set to erode many of the special freedoms granted to the semi-autonomous region, Hong Kong.
While protests against the mainland have raged for over a year in Hong Kong, the law's passage prompted a wave of fear, with many pro-democracy protesters deleting their social media accounts and businesses rolling back their support for those protests.
The law has been condemned internationally, and hours before it passed, United States Secretary of Commerce Wilbur Ross suspended some special trade exemptions for Hong Kong.
---
China Officially Passes National Security Law
Pro-democracy Hong Kongers scrambled on Tuesday to erase public displays of dissent against the Chinese government after Beijing officially passed a sweeping national security law.
That law, which was first announced on May 21, will bypass special protections granted to Hong Kong. Those protections were established under the "one country, two systems" framework when the United Kingdom handed Hong Kong back to Chinese rule on July 1, 1997, after more than 150 years of colonial rule.
Following the passage of the national security law, many in Hong Kong began deleting social media accounts, such as those for Twitter. Businesses began distancing themselves for protesters, many taking down posters and signs showing their support for the movement.
At least one pro-democracy political party has disbanded altogether following the departure of its leaders. A number of other groups supporting Hong Kong independence have now said they'll cease operation in the city and move abroad.
The moves are a dramatic departure from the last 15 months of protests that have rocked the city and consistently made headlines around the world. Even one of the first major protests following the city's coronavirus shutdown was in response to this law's proposal.
"A comment was made today [by the speakers] that the law basically already has had its deterrent effect," pro-Beijing lawmaker Michael Tien said. "In the past, Hong Kong has been too free."
Wu Chi Wai, chair of the pro-democracy Democratic Party, said he held out hope until the last minute that the mainland government might honor its promise to uphold Hong Kong's autonomy.
But now, "we are not only denied the hope of a democratic political system, we also will no longer have our freedoms of press, speech, expression, protests — all of that will be over," he said.
Some pro-democracy protesters are expected to hold demonstrations on Wednesday, though they're expected to be much smaller in number.
"We all understand the price we have to pay is heavier than before, but we have to do it," one protest leader said.
What Does the Law Actually Do?
The law, which went into effect on Wednesday in Hong Kong (Tuesday for Western countries), is now part of Hong Kong's de-facto constitution, the Basic Law. Upon its passage and implementation, the full law had still yet to be publicly released.
Even Hong Kong's top leaders have admitted that they don't know any more details about the law besides what Chinese state media has aired. Nonetheless, Hong Kong Chief Executive Carrie Lam has promised to support the law.
Despite many still-vague details, several consequences of the law are known. Among them are criminalizing secession, subversion, terrorism, and any activies by foreign forces that interfere in Hong Kong. Essentially, the goal is to stamp out dissent, as well as the pro-democracy protests.
Notably, the law will also allow China to implement its own law enforcement offices in Hong Kong to "fulfill relevant duties to safeguard national security." Those offices will reportedly also have the power to oversee education about national security in Hong Kong schools.
The state-run newspaper Xinhua also reported that Lam will be able to appoint specific judges to hear national security cases.
One of the other major sticking points of this bill is that in some cases, Beijing will be able to extradite people from Hong Kong to mainland China, which is extremely notable because extradition was the starting point for Hong Kong's protests in the first place.
Further details of the law were released on Wednesday in Hong Kong. Ironically, that came on the 23rd anniversary of the United Kingdom returning Hong Kong to China.
In the text of that law, crimes such as terrorism and sedition are very broadly defined; however, the punishments for those crimes bring with them harsh sentences, including life imprisonment in many cases.
U.S. Cracks Down on China Over Law
In a promise to the United Nations Human Rights Council on Tuesday, Lam said the law won't affect Hong Kong's judicial independence or the "legitimate rights and freedoms of individuals." She also promised that it wouldn't be retroactive.
Lam said mainland China will only extradite people in Hong Kong in "rare, specified situations." Additionally, the death penalty will be off the table for anyone extradited by China from Hong Kong, with life in prison being the maximum punishment.
But if that's what Lam is saying, that is not what's being heard internationally. Prior to this law's passage, Taiwan's president pledged support for Hong Kong, and some Hong Kongers have already fled to Taiwan in refuge. Earlier this month, British Prime Minister Boris Johnson also promised refuge when he announced that the United Kingdom will accept millions of Hong Kong refugees.
In the United States, Secretary of State Mike Pompeo had previously announced that the U.S. now longer views Hong Kong as autonomous, meaning Hong Kong could be subject to the same tariffs that China currently faces.
On Friday, the U.S. restricted visas for Chinese officials deemed responsible for "eviscerating" Hong Kong freedoms. Notably, Beijing then retaliated by announcing visa restrictions for U.S. officials who had "behaved extremely badly" over Hong Kong.
On Monday, just ahead of the news that Hong Kong had passed this law, Secretary of Commerce Wilbur Ross suspended some trade benefits over the new law.
"Commerce Department regulations affording preferential treatment to Hong Kong over China, including the availability of export license exceptions, are suspended," Ross said in a statement. "Further actions to eliminate differential treatment are also being evaluated. We urge Beijing to immediately reverse course and fulfill the promises it has made to the people of Hong Kong and the world."
That same day, Pompeo announced that the U.S. was ending defense equipment exports to Hong Kong. That includes dual-use technologies, or items that has both commercial and military uses.
"We cannot risk these items falling into the hands of the People's Liberation Army, whose primary purpose is to uphold the dictatorship of the [Communist Party of China] by any means necessary," Pompeo said.