Judge Rules Supervised Injection Site in Philadelphia Does Not Break Federal Law
A federal judge has ruled that a proposed safe injection site for opioid users, the first of its kind in the United States, does not violate federal law.
Several other cities like New York, San Francisco, and Denver have proposed similar injection sites, where medical staff would be on-hand to prevent or monitor drug overdoses.
The federal government originally filed a civil lawsuit against Safehouse, the nonprofit opening the supervised injection site, and argued that such a site would encourage drug abuse.
The federal government has promised to appeal the judge's decision.
---
Judge Rules Opioid injection Site Not Illegal
A federal judge on Wednesday ruled that a proposed supervised injection site in Philadelphia would not violate a federal statute and would be able to function. 
The decision comes after the federal government lodged a civil lawsuit against the nonprofit group Safehouse, which plans to open the facility. In its suit, the government claimed Safehouse was set to violate the part of the Controlled Substances Act of 1980. That section, commonly referred to as the "crack house" statute, makes it illegal to maintain spaces to manufacture, store, distribute, or use illegal drugs.
While Safehouse would not manufacture, store, or distribute drugs, its supervised injection site would allow drug users to be monitored by medical professionals as they used their own illegal drugs. 
In his decision, Judge Gerald McHugh concluded the "crack house" statute wouldn't apply here because the context is significantly different than what's in that statue, which was originally passed to suppress owners of drug dens or people selling drugs out of their cars.
"The ultimate goal of Safehouse's proposed operation is to reduce drug use, not facilitate it," McHugh said in his decision, "and accordingly, [the statute] does not prohibit Safehouse's proposed conduct."
Because of his ruling, the federal government is expected to appeal the decision.
"The Department of Justice remains committed to preventing illegal drug injection sites from opening," William McSwain, the attorney representing the Eastern District of Pennsylvania said. "Today's opinion is merely the first step in a much longer legal process that will play out. This case is obviously far from over." 
Other cities such as New York, San Francisco, Denver, and Seattle have all proposed similar injection sites, with many officials waiting to see if the Philadelphia case can set a precedent for such facilities. 
United States Deputy Attorney General Jeffrey Rosen, however, has warned cities to wait and see how the appeal plays out. 
"Any attempt to open illicit drug injection sites in other jurisdictions while this case is pending will continue to be met with immediate action," he said in a statement.
Opposition from Federal Government
Before filing the suit, the federal government urged Safehouse to comply with federal law in November 2018. When Safehouse continued to move forward with its plan for the site, the federal government filed a civil lawsuit in February.
It also distinguished that it was not pursuing a criminal lawsuit, meaning it would not engage in arresting people or having them forfeit their property. They stressed that they mainly want to ensure the site does not open.
"This is in-your-face illegal activity using some of the most deadly, dangerous drugs that are on the streets," McSwain said. "We have a responsibility to step in. It's saying, 'Safehouse, we think this is illegal. Stop what you're doing.'"
"That doesn't mean that you're not going to overdose when you're not at the site," he continued. "And it doesn't mean that there couldn't be other negative effects of having a site, where more people are, for example, getting hooked on drugs or trying drugs, because they think it's safe, or they think it's legitimate or they think it's legal. We don't attract people to go down this path of drug dependency that destroys their lives."
What Is an Opioid Safehouse?
Philadelphia officials announced their plans to open a supervised drug use facility in January 2018, with Safehouse spearheading the project soon after. City officials estimated such a site could save up to 75 lives each year. 
If the site is opened, it will be the first of its kind in the U.S., though similar facilities do exist in Canada and across swaths of Europe. 
Those sites, which had been the subject of various research studies, have been found to lessen fatal overdoses and connect drug users to treatment services. In cases of infectious diseases that travel by needle, such as HIV, studies have shown transmission rates to decrease. 
For its part, Safehouse has defended its proposed safe injection site with those stats, saying that the idea for the facility is based on harm-reduction tactics.
That evokes a similar situation seen in the U.S. regarding the distribution of sterile needles. In 2014, then-Governor of Indiana Mike Pence refused to lift a ban on sterile needle programs while one county in the state suffered a massive HIV outbreak because opioid drug users were sharing needles. 
Pence argued he would not lift the ban because he believed such programs would encourage drug abuse, but in 2015, he ultimately issued an executive order allowing some counties in Indiana to distribute sterile needles. 

Oxford COVID-19 Vaccine Shows Promise but Is Still in Early Stages
A potential COVID-19 vaccine from Oxford University has produced an immune response in subjects, according to a study researchers published in The Lancet.
It's a promising start, and the United Kingdom announced it would be buying 100 million doses of the vaccine.
However, it's still in early trials, and the method used for developing the medicine has never produced a viable vaccine before.
There are currently 163 clinical trials for a vaccine in the process around the World, with only three being at the final phase, meaning a widespread vaccine isn't likely until 2021.
---
Oxford Producing COVID-19 Vaccine
A new COVID-19 vaccine being developed by Oxford University produced an immune response in subjects, according to a paper published on July 20 in The Lancet.
According to the paper, which is being co-funded by AstraZeneca, the ChAdOx1 nCoV-19 vaccine produced antibodies in 91% of subjects after one dose. Ten others were given a second dose, and they all produced antibodies. The study consisted of 1077 subjects.
According to Prof. Andrew Pollard, who is part of the Oxford Vaccine Group, "We're really pleased with the results published today as we're seeing both neutralizing antibodies and T-cells."
He added that these types of immune responses "may be associated with protection."
Oxford's prototype vaccine uses a relatively new developmental technique that, if it proves successful with a viable vaccine, would be the first time the technique has ever worked. Normally, vaccines are developed by either using RNA from a virus to get an immune system response, or by injecting an inactive version of the virus into patients.
At Oxford, researchers took a virus that causes the common cold in chimps and heavily modified it. Among other modifications, they made it so it can't cause infections in people, and injected COVID-19 genetic code to make the virus "look" more like the coronavirus. The new test virus has COVID-19's signature "spikes" that it uses to aggressively attach itself to cells.
By facing a virus that is similar, in these respects, to COVID-19, researchers hoped the body would be able to learn how to fight COVID-19. Early results have been promising. After patients were given the prototype vaccine, Oxford found that their T cell count peaked after 14 days and antibodies peaked after 28. In layman's terms, T cells are white blood cells that identify the coronavirus and coordinate the body's response. Part of that response is sending antibodies to actually neutralize the virus.
With any new vaccine or medication, one of the first answers researchers look for is whether or not it's safe. According to the paper in The Lancet, this virus is perfectly safe, only producing mild side-effects in 70% of the subjects. The side-effects include things like "pain, feeling feverish, chills, muscle ache, headache, and malaise," all of which can be treated with paracetamol, according to the authors.

Next Steps for Trials
Even thorough progress on many COVID-19 vaccines is movingly quickly, expectations should be tempered. In the instance of Oxford, their study doesn't say whether or not the vaccine actually prevents COVID-19, or lessens the symptoms. It only goes as far as to show that it can produce an immune response in patients for an engineered virus that is structurally similar to COVID-19. However, that was a major hurdle for researchers to clear before advancing to the next phase.
In the next phase of the trial, over 10,000 people in the U.K. will take part. COVID-19 cases are actually relatively low in the U.K., meaning researchers will also take the prototype-vaccine abroad to places like South Africa and Brazil, where a combined 7,000 people will take part.
There are also calls that researchers perform "challenge trials," which is when a subject who has taken a prototype vaccine is deliberately infected with the disease. Oxford is hesitant to engage in challenge trials because there is currently no known effective treatment for COVID-19, raising serious ethical concerns.
Another shadow over this project is the fact the method Oxford is using to produce a vaccine has never worked before. Out of 163 ongoing trials for COVID-19 vaccines, only one other out of China uses the same method, according to the World Health Organization.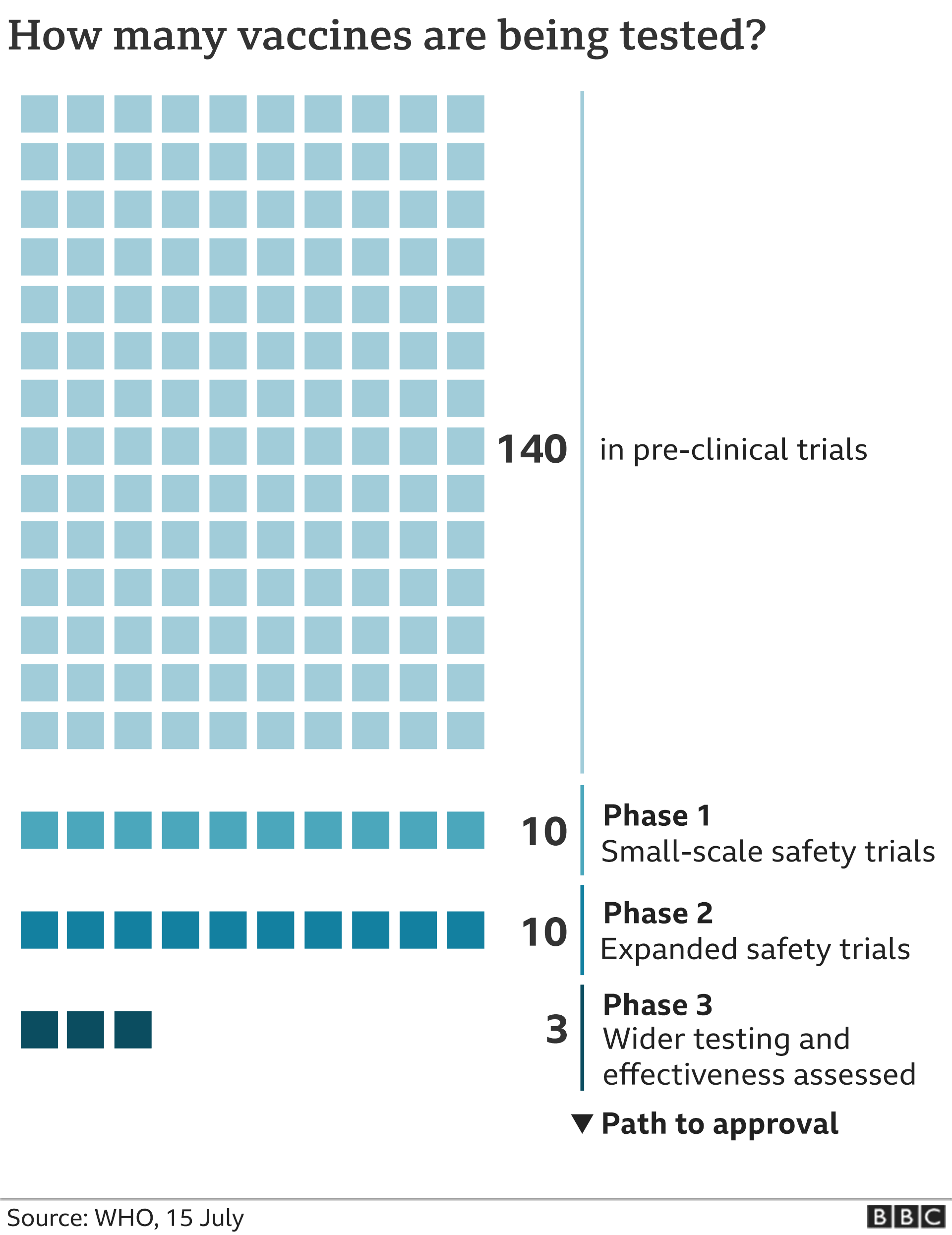 Almost all others are using the tried-and-true RNA injection or inactive virus methods for vaccine development.
When Will It Be Available?
Despite the fast progress of all the vaccines, experts warn that it will still be awhile before one is available. Vaccines normally take years to produce, and relatively speaking the work towards a COVID-19 vaccine is advancing at light-speed. Some experts think that a working vaccine may be available by the end of 2020, but it'll be extremely low in supply and limited to health-care workers and important government officials.
Most estimates state a vaccine could be available for the public as early as 2021, which would make it the fastest a vaccine has ever been produced. British Prime Minister Boris Johnson also tempered expectations, saying, "Obviously I'm hopeful, I've got my fingers crossed, but to say I'm 100% confident we'll get a vaccine this year, or indeed next year, is, alas, just an exaggeration."
"We're not there yet," he added.
Despite the Prime Minister's trepidation, the U.K. government has ordered over 100 million units of Oxford's vaccine. Meaning that in total, the British government has ordered 190 million doses of possible coronavirus vaccines.
Why so many, if none have proven effective? Kate Bingham, chairwoman of the UK Vaccine Taskforce told BBC, "What we are doing is identifying the most promising vaccines across the different categories, or different types of vaccine, so that we can be sure that we do have a vaccine in case one of those actually proves to be both safe and effective."
"We may well need different vaccines for different groups of people," she continued.
Rest of the World
Around the world, there are 163 ongoing clinical trials for a COVID-19 vaccine. Ten have entered Phase 1, ten more have entered Phase 2 (Oxford's trial is currently shifting to Phase 2), and only three are in Phase 3.
Phase 3 trials are wide-scale testing whether the the vaccine is actually effective or not.
Moderna, the first company to start a vaccine trial, is currently one of those in Phase 3. The company helping fund the Oxford vaccine, AstraZeneca, is hopeful that they'll actually have something usable by the end of the year from another vaccine they're developing in India.
However, even if AstraZeneca's vaccine was ready by the end of the year, it likely would only be available to a small subset of the population in high-risk occupation.
Vitamin E Oils Suspected in Vaping Respiratory Illness Investigation
New York State health officials are investigating whether vitamin E oil in cannabis-containing vaping products may be to blame for a recent surge of respiratory illnesses.
So far, over 200 cases of illness have been suspected to be a result of a component found in vaping-related products.
While investigators say it is too early to determine if vitamin E acetate is a singular or contributing factor in the illnesses, when inhaled, they believe the lungs are poorly equipped to handle the substance.
---
New York State Investigation
State Health Officials in New York are investigating whether vitamin E oil in vaping products had lead to an uptick in respiratory illnesses.
As of Thursday, state health departments across the country have logged more than 200 illnesses suspected to be linked to a substance known as vitamin E acetate. Notably, two fatality cases have been reported in Illinois and Oregon.
In a news release, the New York Department of Health said it is investigating 34 reported cases of "severe" pulmonary illnesses in the state. In every case, individuals used at least one vape product containing cannabis, but each of the individuals also reported using other types of vape products, too.
The New York Department of Health then tested both cannabis and nicotine vaping products, while also continuing to test the purity of state-approved marijuana products. 
The report states that while vitamin E acetate was not found nicotine-based products that were tested, it was found in cannabis-based products, despite vitamin E acetate not being an approved additive by the New York State Medical Marijuana Program.
The health department now suspects some of the products tested are counterfeits of medically-approved marijuana.
Still, health officials have yet to conclude whether or not vitamin E acetate is causing the illnesses.
The investigation has prompted the Food and Drug Administration's involvement. It is now testing over 100 samples from across the country, hypothesizing there may be other contributing substances such as THC, synthetic cannabinoids, opioids, pesticides, and nicotine. 
"No one substance, including vitamin E acetate, has been identified in all of the samples," the FDA said in a statement.
The situation has been made all the more difficult because while states must report certain infectious diseases to federal authorities, they are not required to report illnesses suspected to be caused by vaping. 
"We urge the public to be vigilant about any vaping products that they or any family members may be using and to immediately contact their health care provider if they develop any unusual symptoms," Health Commissioner Dr. Howard Zucker said in the statement. "In general, vaping of unknown substances is dangerous, and we continue to explore all options to combat this public health issue."
What is Vitamin E acetate?
As its name suggests, the compound is derived from vitamin E, which can be found in foods like almonds and canola oil. It is typically used as a vitamin supplement and has been associated with improved wound healing and reduced scarring, though studies have not found any evidence to support such claims.
While Vitamin E acetate is safe to ingest or use on the skin in products such as creams, its safety is much less clear when used as an oil meant to be inhaled.
In 13 cannabis-contaminated samples submitted from the New York cases, researchers found "very high levels" of vitamin E acetate, with some samples containing up to 50% of the oil.
Recently, health officials have noticed a rise in the number of lipoid pneumonia cases. Lipoid pneumonia is a disease in which immune cells collect excess fat not normally stored in the lungs. Those cells may then initiate an inflammatory response that could hinder oxygen's ability to get into the bloodstream. 
That can then lead to a host of respiratory problems, including coughing, shortness of breath, or weight loss. It could also lead to a series of gastrointestinal issues such as nausea, vomiting, or diarrhea. 
Past studies have confirmed that oil inhalation can cause lipoid pneumonia, as oils are high in fat. Though inhaled as a vapor, it will eventually return to its oil state in the lungs, which function poorly to remove any substances other than gas. 
The only other major way in which to acquire lipoid pneumonia involves physical injury causing fat to seep into the lung, so health officials do not suspect this form to be at play with the cases involved in the investigation.
Past cases have also suggested vitamin E oil's contribution to lipoid pneumonia. In 2000, a woman was diagnosed with the lung illness after having inhaled marijuana oil with the vitamin.