Elon Musk Defends Calling Rescue Diver "Pedo Guy" in Lawsuit
In court documents, Elon Musk defended a tweet where he called a diver who helped rescue the Thai soccer team from a cave a "pedo guy" because it "was a common insult used in South Africa." 
The diver sued Musk for defamation last year after Musk sent an email to BuzzFeed where he referred to the diver as "child rapist" who had taken a "child bride who was about 12 years old." 
The court documents from the suit, which were made public Monday, also revealed that Musk paid a private investigator more than $50,000 to look into the diver.
Musk also said he gave the statement to BuzzFeed based on information provided by the investigator, and because he was concerned the diver could be the next Jeffrey Epstein. 
---
Court Filings Made Public
Telsa CEO Elon Musk defended calling a rescue diver "pedo guy," court documents revealed Monday.
Musk originally made the comment in July 2018, after Vernon Unsworth, a British diver who helped rescue the Thai soccer team trapped in a cave last year, gave an interview to CNN where he had some choice things to say about Musk.
Notably, Unsworth said the submarine Musk had designed to rescue the soccer team would not work and that it was just a PR stunt.
Musk responded by calling Unsworth a "pedo guy" in a now-deleted tweet.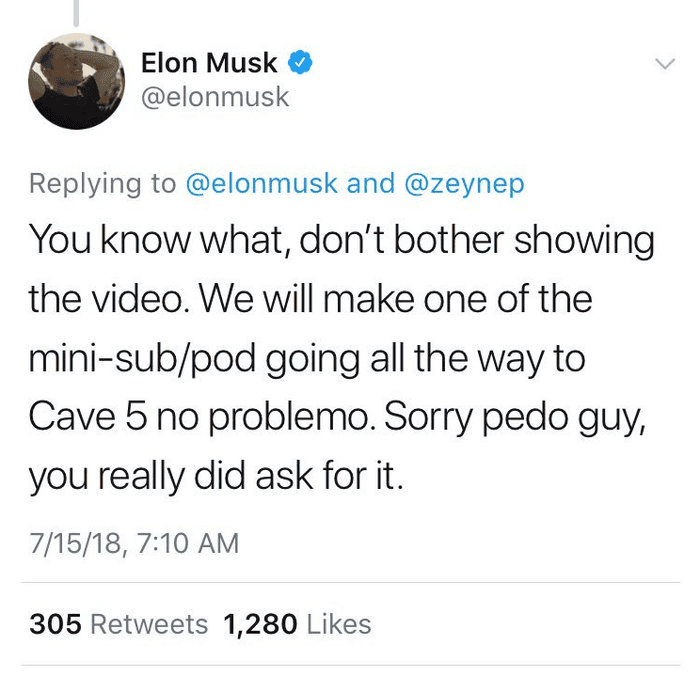 He also sent an email to BuzzFeed reporter Ryan Mac, in which he accused Unsworth of being a "child rapist" who had taken a "child bride who was about 12 years old at the time."
Musk said he thought the email was off the record, but BuzzFeed said they never agreed to that. In September 2018, Unsworth filed a defamation lawsuit against Musk in the Central District of California.
Court filings from the defamation suit against Musk were made public on Monday.
Musk Defends "Pedo Guy" Tweet
In those documents, Musk claimed that referring to Unsworth as "pedo guy" was not a direct accusation of pedophilia.
"'Pedo guy' was a common insult used in South Africa when I was growing up," Musk wrote. "It is synonymous with 'creepy old man' and is used to insult a person's appearance and demeanor, not accuse a person of acts of pedophilia."
"I did not intend to accuse Mr. Unsworth of engaging in acts of pedophilia," he continued. "In response to his insults in the CNN interview, I meant to insult him back by expressing my opinion that he seemed like a creepy old man."
The fact that Musk is arguing he was expressing his opinion is important in this context because under the First Amendment, opinions are usually protected speech and not considered defamatory.
The documents also included Musk's deposition, where he talks more in-depth about the "pedo guy" tweet.
In the deposition, Musk said he sent BuzzFeed the email because he was worried it could turn into a Jeffrey Epstein situation, referring to the wealthy financier who was accused of sexually assaulting dozens of young women, including many underage girls.
"What if we have another Jeffrey Epstein on our hands?" he said. "And what if he uses whatever celebrity he gains from this cave rescue to shield his bad deeds? This would be terrible."
Musk's Epstein argument might become problematic. First of all, he made the statements to BuzzFeed before the new allegations surfaced, which some have argued proves he just is using current news to frame Unsworth in a certain way, and that he did not actually consider Epstein at all.
That argument is also furthered by the fact that it has been reported that Musk had attended several events with Epstein, all of which were after Epstein pleaded guilty to soliciting prostitution from an underage girl in 2008.
Musk even said he visited Epstein's house "several years ago." Epstein also told The New York Times he had advised Musk while Tesla was trying to go public in 2018, though Musk denies those claims.
Private Investigator
Notably, Musk also said in the filings that he paid a private investigator more than $50,000 to investigate Unsworth after receiving an unsolicited email from the PI in August 2018.
In the documents, Musk says that the investigator: "reported that Mr. Unsworth met and began a relationship with his alleged Thai wife when she around twelve years old."
He also added that the investigator "reported that Mr. Unsworth associated with Europeans who engage in improper sexual conduct in Thailand," and that he "learned that Mr. Unsworth frequented Pattaya Beach which is well known for prostitution and sex tourism, and that Mr. Unsworth was unpopular at the rescue site because other rescue workers thought that he was 'creepy.'"
Musk goes on to say this was the basis for the comments he made in his email to BuzzFeed.
"I did not authorize Mr. Mac or BuzzFeed to publish the contents of the email nor did I intend or expect that they would," he said. "Especially without first independently verifying and confirming its information."
He later added that he gave the information to Mac "so that BuzzFeed could conduct its own investigation into Mr. Unsworth and corroborate the information."
Musk's lawyers even admitted in the court filings that the private investigator's findings "lacked solid evidence of Mr. Unsworth's behavior."
Following the release of the court documents, Unsworth's lawyer gave a statement to BuzzFeed condemning the Musk's defense.
"The motion filed by Elon Musk today is a disgusting and transparent effort to continue falsely smearing Vernon Unsworth without any credible or verified supporting evidence," the lawyer said.
"Mr. Unsworth's opposition to Musk's motion will reveal the whole truth of Musk's actions and the falsity of his public statements and his motion with respect to Mr. Unsworth will be exposed."
Doctors Arrested After Attempting to Give Migrants Free Flu Shots
At least two doctors were arrested after laying down and protesting in front of the U.S Customs and Border Protection's San Diego headquarters.
Those doctors, along with others demonstrating on the sidelines, wanted to be allowed to give free flu vaccinations to migrants detained in a nearby short-term detention facility.
CBP officials denied the request, saying it was against policy and arguing that migrants are only held in that facility for 72 hours, but the agency later promised to pass on the request to CBP's chief medical officer.
---
Doctors Push Vaccine Program Request
After three days of protests, doctors wishing to give flu shots to detained migrants have found some success, even after at least two were arrested during demonstrations.
On Wednesday, U.S. Customs and Border Protection officials eased tensions after meeting briefly with protest leaders. In that meeting, officials told protesters that they would pass on a request to start a pilot program that would allow doctors to vaccinate detained migrants at a San Diego facility.
That request has now been forwarded to CBP's chief medical officer, with officials telling the doctors to expect a follow-up call later this week.
The concession comes after an event Monday, where around 20 medical doctors walked up to a short-term migrant detention center in San Diego. Reportedly, those doctors carried coolers full of vaccines and were hoping to inoculate at least 100 individuals in the facility; however, they said they would vaccinate all willing migrants.
At the center, they were told to come back the following day to meet with border officials. When they reportedly again asked to be allowed to vaccinate migrants on Tuesday, CBP told them no.
"This is intentional cruelty," Marie DeLuca, an emergency medicine research fellow, said. "People are needlessly suffering and dying. You can't lock people up in inhumane conditions, watch them get sick, and then refuse them access to medical care."
After being denied, they began to demonstrate outside of the Border Patrol headquarters. Six people then laid in front of the headquarters' driveway, with others on the sidelines chanting: "Shame on you!"
Federal Protective Service officers gave those people a six-minute warning to get up, but they were eventually arrested when they refused. That group reportedly included at least two doctors.
Those people were soon released after being given a notice to appear in federal court and a citation "for failure to comply with the lawful directions of a federal police officer."
California Border Patrol Says Vaccinations Don't Align With Standing Policy
Later that day, the Department of Health and Human Services Press Secretary tweeted, "Of course Border Patrol isn't going to let a random group of radical political activists show up and start injecting people with drugs."
The CBP also told multiple news outlets that it has never vaccinated migrants in its custody because most migrants will either be released or transferred to a different federal agency within 72 hours of being detained. Because of that, a spokesperson said that "operating a vaccine program is not feasible."
However, short-term detention centers are becoming increasingly congested, and many are struggling to push migrants through that three-day window. Border Patrol has even admitted to holding hundreds of children way past that date. Currently, the average wait time is about six days, twice the legal wait time.
Additionally, that spokesperson noted that long-term detention centers run by ICE and the Department of Homeland Security do vaccinate migrants.
"We would encourage those who wish to volunteer medical services to go to shelters and NGO facilities, both in the U.S. and in Mexico, to donate their time and services," the spokesperson said in a statement.
Although it has refused to offer flu shots, the CBP did say it followed a CDC recommendation to hire more nurses and physicians assistants, including increasing its staff from about 20 a year ago to 250 as of now.
Wednesday morning, Senator Kamala Harris tweeted about the incident, saying, "It makes no sense to deny flu vaccines to immigrant children in U.S. custody."
The American Civil Liberties Union also responded to the tweet from the DHS Press Secretary later than evening.
"When our government refers to doctors as "radical political activists" and flu vaccines as "drugs," it becomes clear how far we've slipped from the realm of reality.," it said.
Migrant Children Are Dying of Flu at Higher Rates
Doctors for Closed Camps said it decided it wanted to distribute vaccines following a recent wave of migrant children dying from the flu either while in government custody or soon after their release. In August, it was reported that six migrant children had died, with three of those children dying from the flu.
In a letter penned by doctors with Harvard and Johns Hopkins, those doctors said, "Influenza deaths are fairly rare events for children living in the United States."
"While comparisons are difficult for many reasons, this rate of death from influenza appears to be substantially less than the rate in detention facilities," they added.
Last week, ProPublica obtained and published footage of the final moments of one of those children, 16-year-old Carlos Hernandez Vasquez.
In the video, Vasquez can be seen collapsing in his cell. According to Propublica, no guards ever came to check on them. Later, Vaquez gets up and goes to the bathroom, but again, he collapses.
According to the report, this is the last time he was ever seen moving. The video then goes blank for a few hours, with guards reportedly conducting three wellness checks in that time.
When the video starts again, Vasquez is in the same position. A cellmate later woke up to find Vasquez laying in the bathroom. He then called for a Border Patrol agent, who found that Vasquez did not have a pulse.
Trump Slammed Over Latest Tweet About Greta Thunberg
After 16-year-old Greta Thunberg was named Time's Person of the Year, President Donald Trump posted a tweet saying the teen must "work on her anger management problem."
Many criticized Trump for mocking Thunberg just a week after his wife slammed a law professor for using their teenage son's name as a punchline.
Others have instead pointed to his own temperament as a point of hypocrisy.
---
"Chill Greta, Chill"
President Donald Trump posted another controversial tweet about climate crisis activist Greta Thunberg on Thursday, prompting a new wave of backlash and accusations of hypocrisy.
On Wednesday, Thunberg was named Time magazine's Person of the Year after earning international attention for calling on leaders to combat the climate crisis.
"So ridiculous. Greta must work on her Anger Management problem, then go to a good old fashioned movie with a friend! Chill Greta, Chill!" Trump wrote early Thursday in response to a tweet congratulating the teen for the recent honor.
Following the President's tweet, Thunberg updated her Twitter bio to describe herself as: "A teenager working on her anger management problem. Currently chilling and watching a good old fashioned movie with a friend."
This is now the second time the president has shared this type of message about Thunberg online. Following her infamous remarks at the United Nations Climate Action Summit in September, Trump tweeted a seemingly sarcastic message that read, "She seems like a very happy young girl looking forward to a bright and wonderful future. So nice to see!"
At the time, Thunberg also changed her Twitter bio to include the president's comments.
Trump Faces Accusations of Hypocrisy
However, this time around, Trump's tweet has received even more criticism considering his wife's recent stand against the treatment of her minor son.
Just last week, First Lady Melania Trump slammed Stanford law professor Pamela Karlan for dropping a joke during her impeachment hearing testimony that included the name of 13-year-old Barron Trump.
"The constitution says there can be no titles of nobility," Karlan said. "So while the president can name his son Barron, he can't make him a baron."
The FLOTUS quickly took to Twitter to condemn Karlan for the remark, writing, "A minor child deserves privacy and should be kept out of politics. Pamela Karlan, you should be ashamed of your very angry and obviously biased public pandering, and using a child to do it."
Karlan apologized for her joke later that day, but many people came to her defense arguing that Melania Trump has remained largely silent about her husband's treatment of minors, including Thunberg and migrant children at the border.
Many of those same critics also pointed out that Trump's aggressive rhetoric goes against the first lady's Be Best initiative which focuses on the well-being of youth and advocates against cyberbullying.
So after Trump's latest tweet about the young activist, many took to Twitter to point at what they considered another example of hypocrisy. Some also hit back at Trump's "anger management" comment by criticizing his own temperament.
Speaking of Anger Management problem…

Always. Be. Projecting. pic.twitter.com/uQbhB3eiNa

— Pry My Happy Holidays from My Cold web rant🍑🌿❄️❄ (@web_rant) December 12, 2019
Fortunately Trump is a very, very stable genius, without any, any, any… anger management problem… 🤣😂🥳 pic.twitter.com/gPbl5EM6WC

— Mathias Flammang (@matflamm) December 12, 2019
The tweet sparks so much discussion that #BeBest became the No. 1 trending Twitter topic worldwide.
Youth Pastor Who Smacked Reporter's Butt on Live TV Speaks Out
The runner who was caught on camera smacking a reporter's behind during live coverage of a race has been identified as Tommy Callaway, a youth pastor and Boy Scout leader.
In an interview with Inside Edition, Callaway said he made a "misjudge in character" and says he was not aware of where exactly he had "touched" the reporter, Alex Bozarjian.
Bozarjian has condemned his behavior and filed a police report, meanwhile, local race officials banned him from future races.
---
Smack Video Goes Viral
A runner who smacked a Georgia reporter's behind during a live news segment spoke out on Tuesday in his first television appearance since the viral incident.
The smack happened Saturday when WSAV-TV reporter Alex Bozarjian was covering the annual Savannah Bridge Run. Several participants waved at the camera as they ran by during her segment, but one man decided to smack Bozarjian on her backside before sprinting away.
Bozarjian was visibly shocked by what happened as she tried to get back to her live report.
A Twitter user shared a clip of the incident that quickly went viral. Bozarjian eventually shared that post with her own statement, writing, "To the man who smacked my butt on live TV this morning: You violated, objectified, and embarrassed me. No woman should EVER have to put up with this at work or anywhere!! Do better."
Reactions
The incident sparked outrage from Twitter users who were disgusted by the behavior and received notable attention from fellow reporters.
Race officials were also quick to condemn the runner's behaviors. The director of the Savannah Sports Council, Robert Wells, told Bozarjian the incident was "100% unacceptable" and said the organization would identify the man.
Alex, what happened today is 100% unacceptable. You have my assurance we will identify him.

— Robert Wells (@RobWells1) December 7, 2019
The following day, the organization announced that it had banned the runner from registering for all of its future races.
Runner Identified
News outlets and social media users later identified the runner as Tommy Callaway, a 43-year-old married father of two who is both a youth minister and boy scout leader, according to his Facebook and Linkedin profiles.
Callaway's lawyer, Joseph Turner, released a statement on his behalf to WTOC Monday, saying his client is a "loving husband and father who is very active in his community." He added that Callaway was "working with those involved to correct the situation."
"While we regret the situation, Mr. Callaway did not act with any criminal intentions," Turner said.
Callaway's TV Appearance
That same day, Callaway appeared on Inside Edition to further explain what happened. "I was getting ready to bring my hands up and wave to the camera, to the audience, and there was a misjudge in character and decision-making. I touched her back. I did not know exactly where I touched her," he said.
Callaway added that he took the reporter's words to heart. "I totally agree 100 percent with her statement and the two most important words were her last two words, 'Do better,' and that's my intention."
"I did not see her facial reaction as I just kept on running. If I did see her facial reaction, I would have felt embarrassed and ashamed and stopped and turned around to apologize to her."