Elon Musk Defends Calling Rescue Diver "Pedo Guy" in Lawsuit
In court documents, Elon Musk defended a tweet where he called a diver who helped rescue the Thai soccer team from a cave a "pedo guy" because it "was a common insult used in South Africa." 
The diver sued Musk for defamation last year after Musk sent an email to BuzzFeed where he referred to the diver as "child rapist" who had taken a "child bride who was about 12 years old." 
The court documents from the suit, which were made public Monday, also revealed that Musk paid a private investigator more than $50,000 to look into the diver.
Musk also said he gave the statement to BuzzFeed based on information provided by the investigator, and because he was concerned the diver could be the next Jeffrey Epstein. 
---
Court Filings Made Public
Telsa CEO Elon Musk defended calling a rescue diver "pedo guy," court documents revealed Monday.
Musk originally made the comment in July 2018, after Vernon Unsworth, a British diver who helped rescue the Thai soccer team trapped in a cave last year, gave an interview to CNN where he had some choice things to say about Musk.
Notably, Unsworth said the submarine Musk had designed to rescue the soccer team would not work and that it was just a PR stunt.
Musk responded by calling Unsworth a "pedo guy" in a now-deleted tweet.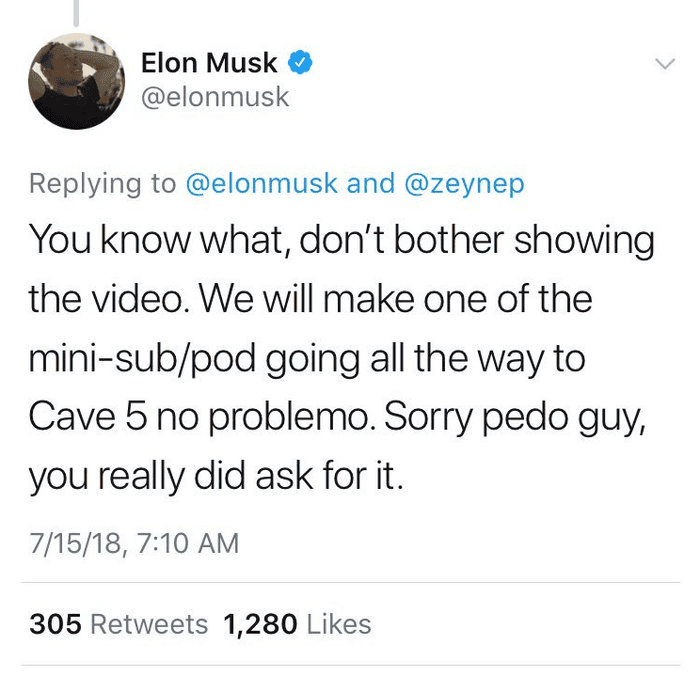 He also sent an email to BuzzFeed reporter Ryan Mac, in which he accused Unsworth of being a "child rapist" who had taken a "child bride who was about 12 years old at the time."
Musk said he thought the email was off the record, but BuzzFeed said they never agreed to that. In September 2018, Unsworth filed a defamation lawsuit against Musk in the Central District of California.
Court filings from the defamation suit against Musk were made public on Monday.
Musk Defends "Pedo Guy" Tweet
In those documents, Musk claimed that referring to Unsworth as "pedo guy" was not a direct accusation of pedophilia.
"'Pedo guy' was a common insult used in South Africa when I was growing up," Musk wrote. "It is synonymous with 'creepy old man' and is used to insult a person's appearance and demeanor, not accuse a person of acts of pedophilia."
"I did not intend to accuse Mr. Unsworth of engaging in acts of pedophilia," he continued. "In response to his insults in the CNN interview, I meant to insult him back by expressing my opinion that he seemed like a creepy old man."
The fact that Musk is arguing he was expressing his opinion is important in this context because under the First Amendment, opinions are usually protected speech and not considered defamatory.
The documents also included Musk's deposition, where he talks more in-depth about the "pedo guy" tweet.
In the deposition, Musk said he sent BuzzFeed the email because he was worried it could turn into a Jeffrey Epstein situation, referring to the wealthy financier who was accused of sexually assaulting dozens of young women, including many underage girls.
"What if we have another Jeffrey Epstein on our hands?" he said. "And what if he uses whatever celebrity he gains from this cave rescue to shield his bad deeds? This would be terrible."
Musk's Epstein argument might become problematic. First of all, he made the statements to BuzzFeed before the new allegations surfaced, which some have argued proves he just is using current news to frame Unsworth in a certain way, and that he did not actually consider Epstein at all.
That argument is also furthered by the fact that it has been reported that Musk had attended several events with Epstein, all of which were after Epstein pleaded guilty to soliciting prostitution from an underage girl in 2008.
Musk even said he visited Epstein's house "several years ago." Epstein also told The New York Times he had advised Musk while Tesla was trying to go public in 2018, though Musk denies those claims.
Private Investigator
Notably, Musk also said in the filings that he paid a private investigator more than $50,000 to investigate Unsworth after receiving an unsolicited email from the PI in August 2018.
In the documents, Musk says that the investigator: "reported that Mr. Unsworth met and began a relationship with his alleged Thai wife when she around twelve years old."
He also added that the investigator "reported that Mr. Unsworth associated with Europeans who engage in improper sexual conduct in Thailand," and that he "learned that Mr. Unsworth frequented Pattaya Beach which is well known for prostitution and sex tourism, and that Mr. Unsworth was unpopular at the rescue site because other rescue workers thought that he was 'creepy.'"
Musk goes on to say this was the basis for the comments he made in his email to BuzzFeed.
"I did not authorize Mr. Mac or BuzzFeed to publish the contents of the email nor did I intend or expect that they would," he said. "Especially without first independently verifying and confirming its information."
He later added that he gave the information to Mac "so that BuzzFeed could conduct its own investigation into Mr. Unsworth and corroborate the information."
Musk's lawyers even admitted in the court filings that the private investigator's findings "lacked solid evidence of Mr. Unsworth's behavior."
Following the release of the court documents, Unsworth's lawyer gave a statement to BuzzFeed condemning the Musk's defense.
"The motion filed by Elon Musk today is a disgusting and transparent effort to continue falsely smearing Vernon Unsworth without any credible or verified supporting evidence," the lawyer said.
"Mr. Unsworth's opposition to Musk's motion will reveal the whole truth of Musk's actions and the falsity of his public statements and his motion with respect to Mr. Unsworth will be exposed."
Bodycam Footage Shows Adam Toledo Wasn't Holding Gun When an Officer Shot Him
Chicago officials released body camera footage Thursday which showed that 13-year-old Adam Toledo, who was shot and killed by police last month, had put his hands up in the air right before the officer opened fire.
The graphic video showed the officer, who has now been identified as Eric Stillman, yelling at Adam to stop as he chases him through an alley.
The teenager obeyed and stopped by a fence, where he can be seen holding what appears to be a gun behind his back. Stillman ordered him to drop it, and then shot him a split second after Adam raised his empty hands in the air.
The footage prompted renewed outrage, protests, and calls for an investigation. A lawyer for the Toledo family called the killing "an assassination," while Stillman's lawyer defended the officer, and claimed he acted appropriately.
---
Officer Bodycam Footage Made Public
Body camera footage released by Chicago officials Thursday showed that Adam Toledo, a 13-year-old boy killed by police last month, had his hands up when he was fatally shot.
The footage, which was released as part of a report by the city's Civilian Office of Police Accountability (COPA), showed officers chasing Adam, who was Latino, through an alley in the predominantly Latino neighborhood of Little Village during the early hours of March 29.
The officer ordered Adam to stop. The teenager complied and halted by the side of a fence, holding what looks like a gun in one of his hands behind his back. The policeman yelled at him to drop it and show his hands.
Adam turned and lifted his empty hands, and the officer fired his weapon, striking the teenager once in the chest. The policeman is then seen administering CPR and asking him, "You alright? Where you shot?" while blood poured out of his mouth.
The COPA report published Thursday also identified the officer who shot Adam as 34-year-old Eric Stillman, who is white, and whose lawyer said he had been put on administrative duties for 30 days.
Stillman's lawyer also argued that the shooting was justified, as did John Catanzara, president of the Fraternal Order of Police.
"He was 100% right," Catanzara said. "The offender still turned with a gun in his hand. This occurred in eight-tenths of a second."
Renewed Backlash and Protests
Adeena Weiss Ortiz, an attorney obtained by Adam's family, said they are looking into taking legal action against Stillman.
"If you're shooting an unarmed child with his arms in the air, it's an assassination," she said at a news conference Thursday.
Ortiz acknowledged the bodycam footage did appear to show Adam holding something that "could be a gun," but argued the video must be independently analyzed to confirm.
"It's not relevant because he tossed the gun," she said. "If he had a gun, he tossed it."
The American Civil Liberties Union of Illinois also echoed Ortiz's demands on Thursday, calling for a "complete and transparent" investigation.
"The video released today shows that police shot Adam Toledo even though his hands were raised in the air," said Colleen Connell, executive director of the ACLU of Illinois.
"The people of Chicago deserve answers about the events surrounding this tragic interaction. The anger and frustration expressed by many in viewing the video is understandable and cannot be ignored."
Hours before the video was released, Chicago Mayor Lori Lightfoot pleaded for calm in the city, where anti-police protests have taken place in the weeks following the shooting.
"We must proceed with deep empathy and calm and importantly, peace," she said. "No family should ever have a video broadcast widely of their child's last moments, much less be placed in the terrible situation of losing their child in the first place."
Some businesses in downtown Chicago boarded prepared for violence ahead of the video's publication by boarding up their windows. City vehicles stood by to block traffic.
However, the demonstrations that took place Thursday were small, peaceful, and spread out over several parts of the city. Organizers said they plan to hold more protests Friday.
Eight Dead in Indianapolis Shooting
Eight people were killed and several more were injured after a gunman opened fire at a FedEx Ground Facility in Indianapolis late Thursday.
The gunman took his life after opening fire. Authorities have not identified his motive yet. 
According to the Gun Violence Archive, in 2021, there have been 147 U.S. mass shootings, defined as verified incidents with four or more gunshot victims.
President Joe Biden released a statement calling gun violence "an epidemic in America," adding, "We should not accept it. We must act."
---
Eight Killed in Shooting
Eight people were killed and several others have been wounded after a gunman opened fire at a FedEx Ground Facility in Indianapolis late Thursday.
The gunman killed four people in the parking lot then four people inside before taking his own life, according to local officials. Authorities have identified the gunman and are searching his home, but have not disclosed any potential motives.
"There was no confrontation with anyone that was there," Deputy Chief Craig McCartt of the Indianapolis Metropolitan Police Department said during a press conference. "There was no disturbance, there was no argument. He just appeared to randomly start shooting."
Several witnesses told local outlets they initially thought the gunshots were engines backfiring or another type of mechanical noise until they saw the gunman. Some said they heard him shouting indistinctly before opening fire. The investigation is still in very early stages and victims have not yet been identified.
The facility employs 4,500 team members. It is unclear how many were working at the time of the shooting. FedEx released a statement expressing its condolences to the victims and their families.
"We are deeply shocked and saddened by the loss of our team members following the tragic shooting at our FedEx Ground facility in Indianapolis," the statement read. "Our most heartfelt sympathies are with all those affected by this senseless act of violence. The safety of our team members is our top priority, and we are fully cooperating with investigating authorities."
Gun Violence in the U.S.
This tragedy follows a recent string of mass shootings in the U.S., including in Atlanta, Colorado, Southern California, and Texas. According to the Associated Press, this is at least the third in Indianapolis this year.
The Gun Violence Archive has logged a total of 147 mass shootings in the U.S. so far in 2021. The organization defines mass shootings as reported and verified incidents with at least four gunshot victims.
Several politicians have released statements about the shooting, including Vice President Kamala Harris, who said this pattern "must end."
"Yet again we have families in our country that are grieving the loss of their family members because of gun violence," she said. "There is no question that this violence must end, and we are thinking of the families that lost their loved ones."
President Joe Biden also released a statement saying that, "Too many Americans are dying every single day from gun violence. It stains our character and pierces the very soul of our nation."
"Gun violence is an epidemic in America," Biden added. "But we should not accept it. We must act."
Indianapolis Mayor Joe Hogsett echoed those remarks in a news conference.
"The scourge of gun violence that has killed far too many in our community and in our country," he said.
"Our prayers are with the families of those whose lives were cut short," he added on Twitter.
Hogsett is among 150 U.S. mayors who recently signed a letter asking the Senate to take up gun legislation, including expanding background checks.
Editor's Note: At Rogue Rocket, we make it a point to not include the names and pictures of mass murders or suspected mass murderers who may have been seeking attention or infamy. Therefore, we will not be linking to other sources, as they may contain these details.
Soldier Charged With Assault After Shoving Black Man in Viral Video
Authorities charged Army soldier Jonathan Pentland with third-degree assault and battery on Wednesday after a viral video showed him shoving a Black man while yelling at him to leave a South Carolina neighborhood.
Many people, including dozens who protested outside Pentland's home this week, condemned the confrontation as another instance of someone being attacked for "walking while Black."
Pentland and others claimed the unidentified man was picking a fight with neighbors, which the man denied, but police said nothing that may have happened earlier justified Pentland's actions.
If convicted, Pentland faces a $500 fine and 30 days in jail.
---
Viral Video
A U.S. soldier was charged with assault on Wednesday after a video that circulated online showed him yelling at and shoving a Black man in a South Carolina neighborhood.
Footage of the April 8 incident was posted to social media Monday. It shows the Army soldier, Jonathan Pentland, confronting the unidentified man and telling him to leave the neighborhood.
The other man explains that he's just walking through the area and doing nothing wrong, but Pentland becomes increasingly aggressive. "You better walk away," he shouts at the man after shoving him.
"You either walk away, or I'm gonna carry your ass out of here," he continues before adding, "You're in the wrong neighborhood motherf*ker. Get out!"
The man then tries to tell Pentland that he lives in the neighborhood, and Pentland then asks for his address, which he does not give.
The confrontation continues with Pentland cursing and getting in the man's face. As he does so, the man says that Pentland smells drunk.
It's unclear what exactly led up to the confrontation, but in the video, a woman off-camera says the man "picked a fight with some random young lady that's one of our neighbors."
"I don't even know who she is. Nobody picked a fight when someone ran up on me," the man replies. Another woman off-screen then encourages the man to leave with her, saying, "What's your name? Come on. You don't want no trouble."
Video Triggers Protests Outside Pentland's Home
After this video spread online, many social media users condemned it as another instance of someone being attacked for "walking while Black."
In fact, protesters even began demonstrating outside of Penland's home. Those protests started off peaceful, but deputies were then called after 8 p.m. because unknown individuals vandalized the house. That forced police to shut down access to the area and remove Pentland's family to another location.
#JonathanPentland pic.twitter.com/IFULVwZq4y

— ThatFuzzyPotat (@SSaJC) April 14, 2021
#JonathanPentland pic.twitter.com/FeKi698NSA

— ThatFuzzyPotat (@SSaJC) April 15, 2021
As far as the viral video, deputies were told that the man approached "several neighbors in a threatening manner" and that someone had asked Pentland to "intervene."
Police did confirm that there are two reports of alleged assault against the unnamed man Pentland shoved that are being investigated. However, they also added that the man has "an underlying medical condition that may explain the behavior exhibited in the alleged incidents."
Pentland Charged
Either way, police said whatever happened earlier did not justify Pentland's actions. He was ultimately arrested Wednesday morning and was charged with third-degree assault and battery. He faces a $500 fine and 30 days in jail if convicted.
"We're not going to let people be bullies in our community," Richland County Sheriff Leon Lott said at a news conference Wednesday. "And if you are, you're going to answer for it, and that's what we've done in this case."
On top of that, the Justice Department reportedly was investigating. Pentland's Commanding General even issued a statement condemning his behavior, adding that Pentland "brought disrespect to @fortjackson our Army and the trust with the public we serve."