Elon Musk Defends Calling Rescue Diver "Pedo Guy" in Lawsuit
In court documents, Elon Musk defended a tweet where he called a diver who helped rescue the Thai soccer team from a cave a "pedo guy" because it "was a common insult used in South Africa." 
The diver sued Musk for defamation last year after Musk sent an email to BuzzFeed where he referred to the diver as "child rapist" who had taken a "child bride who was about 12 years old." 
The court documents from the suit, which were made public Monday, also revealed that Musk paid a private investigator more than $50,000 to look into the diver.
Musk also said he gave the statement to BuzzFeed based on information provided by the investigator, and because he was concerned the diver could be the next Jeffrey Epstein. 
---
Court Filings Made Public
Telsa CEO Elon Musk defended calling a rescue diver "pedo guy," court documents revealed Monday.
Musk originally made the comment in July 2018, after Vernon Unsworth, a British diver who helped rescue the Thai soccer team trapped in a cave last year, gave an interview to CNN where he had some choice things to say about Musk.
Notably, Unsworth said the submarine Musk had designed to rescue the soccer team would not work and that it was just a PR stunt.
Musk responded by calling Unsworth a "pedo guy" in a now-deleted tweet.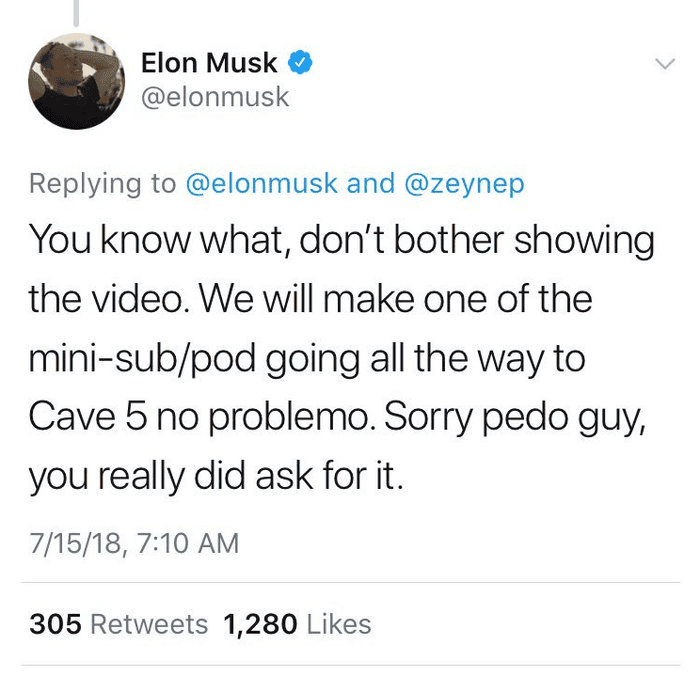 He also sent an email to BuzzFeed reporter Ryan Mac, in which he accused Unsworth of being a "child rapist" who had taken a "child bride who was about 12 years old at the time."
Musk said he thought the email was off the record, but BuzzFeed said they never agreed to that. In September 2018, Unsworth filed a defamation lawsuit against Musk in the Central District of California.
Court filings from the defamation suit against Musk were made public on Monday.
Musk Defends "Pedo Guy" Tweet
In those documents, Musk claimed that referring to Unsworth as "pedo guy" was not a direct accusation of pedophilia.
"'Pedo guy' was a common insult used in South Africa when I was growing up," Musk wrote. "It is synonymous with 'creepy old man' and is used to insult a person's appearance and demeanor, not accuse a person of acts of pedophilia."
"I did not intend to accuse Mr. Unsworth of engaging in acts of pedophilia," he continued. "In response to his insults in the CNN interview, I meant to insult him back by expressing my opinion that he seemed like a creepy old man."
The fact that Musk is arguing he was expressing his opinion is important in this context because under the First Amendment, opinions are usually protected speech and not considered defamatory.
The documents also included Musk's deposition, where he talks more in-depth about the "pedo guy" tweet.
In the deposition, Musk said he sent BuzzFeed the email because he was worried it could turn into a Jeffrey Epstein situation, referring to the wealthy financier who was accused of sexually assaulting dozens of young women, including many underage girls.
"What if we have another Jeffrey Epstein on our hands?" he said. "And what if he uses whatever celebrity he gains from this cave rescue to shield his bad deeds? This would be terrible."
Musk's Epstein argument might become problematic. First of all, he made the statements to BuzzFeed before the new allegations surfaced, which some have argued proves he just is using current news to frame Unsworth in a certain way, and that he did not actually consider Epstein at all.
That argument is also furthered by the fact that it has been reported that Musk had attended several events with Epstein, all of which were after Epstein pleaded guilty to soliciting prostitution from an underage girl in 2008.
Musk even said he visited Epstein's house "several years ago." Epstein also told The New York Times he had advised Musk while Tesla was trying to go public in 2018, though Musk denies those claims.
Private Investigator
Notably, Musk also said in the filings that he paid a private investigator more than $50,000 to investigate Unsworth after receiving an unsolicited email from the PI in August 2018.
In the documents, Musk says that the investigator: "reported that Mr. Unsworth met and began a relationship with his alleged Thai wife when she around twelve years old."
He also added that the investigator "reported that Mr. Unsworth associated with Europeans who engage in improper sexual conduct in Thailand," and that he "learned that Mr. Unsworth frequented Pattaya Beach which is well known for prostitution and sex tourism, and that Mr. Unsworth was unpopular at the rescue site because other rescue workers thought that he was 'creepy.'"
Musk goes on to say this was the basis for the comments he made in his email to BuzzFeed.
"I did not authorize Mr. Mac or BuzzFeed to publish the contents of the email nor did I intend or expect that they would," he said. "Especially without first independently verifying and confirming its information."
He later added that he gave the information to Mac "so that BuzzFeed could conduct its own investigation into Mr. Unsworth and corroborate the information."
Musk's lawyers even admitted in the court filings that the private investigator's findings "lacked solid evidence of Mr. Unsworth's behavior."
Following the release of the court documents, Unsworth's lawyer gave a statement to BuzzFeed condemning the Musk's defense.
"The motion filed by Elon Musk today is a disgusting and transparent effort to continue falsely smearing Vernon Unsworth without any credible or verified supporting evidence," the lawyer said.
"Mr. Unsworth's opposition to Musk's motion will reveal the whole truth of Musk's actions and the falsity of his public statements and his motion with respect to Mr. Unsworth will be exposed."
CDC Data Shows Booster Shots Provide Effective Protection Against Omicron
Public health experts have encouraged Americans to get boosted to protect themselves against the omicron variant, but less than 40% of fully vaccinated people who are eligible for their third shot have received it.
---
A First Glimpse of Official Data on Boosters and Omicron
COVID-19 booster shots are effective at preventing Americans from contracting omicron and protecting those who do become infected from severe illness, according to three reports from the Centers for Disease Control and Prevention (CDC) published Friday.
The reports mark the first real-world data regarding the highly infectious variant and how it has impacted the U.S.
One of the CDC reports, which studied data from 25 state and local health departments, found that there were 149 cases per 100,000 people among those had been boosted on average each week.
In comparison, the figure was 255 cases per 100,000 people in Americans who had only received two shots.
Another study that looked at nearly 88,000 hospitalizations in 10 states found that the third doses were 90% effective at preventing hospitalization.
By contrast, those who received just two shots were only 57% protected against hospitalization by the time they were eligible for a booster six months after their second dose.
Additionally, the same report also found that the boosters were 82% effective at preventing visits to emergency rooms and urgent care centers, a marked increase from the 38% efficacy for those who were six months out from their two-shot regime and had not yet received a third.
Low Booster Shot Vaccination Rates
Public health officials hope that the new data will urge more Americans to get their booster shots.
Since the emergence of omicron, experts and leading political figures have renewed their efforts to encourage people to get their third shots, arguing they are the best form of protection.
The CDC currently recommends that everyone 12 and older get a booster shot five months after their second shot of Pfizer and Moderna or two months after receiving the single-dose Johnson & Johnson vaccine. Still, in the U.S., less than 40% of fully vaccinated individuals eligible for a third shot have gotten one.
While COVID cases in the country have begun to drop over the past several days from their peak of over 800,000 average daily infections, the figures are still nearly triple those seen in the largest previous surges.
Hospitalizations have also slowly begun to level out over the last week in places that were hit first, such as New York City and Boston, but medical resources still remain strained in many parts of the country that experienced later surges and have not yet seen cases slow.
Some experts predict that the U.S. will see a sharp decline in omicron cases, as experienced in South Africa and Britain. Still, they urge American's to get boosted to ensure their continued protection from the variant, as well as other strains that will emerge.
California Bill Would Allow Kids 12 and Up to Get Vaccinated Without Parental Consent
Nearly one million California teens and preteens between the ages of 12 and 17 are not vaccinated against COVID-19.
---
State Senator Proposes Legislation
Legislation proposed in California on Thursday would allow children age 12 and up to get vaccinated without parental consent. 
State Sen. Scott Wiener (D-San Francisco) introduced Bill 866 in the hope it could boost vaccination rates among teenagers. According to Wiener, nearly one million kids aged 12- to 17-years old remain unvaccinated against COVID-19 in the state of California.
"Unvaccinated teens are at risk, put others at risk & make schools less safe," Wiener tweeted. "They often can't work, participate in sports, or go to friends' homes."
"Many want to get vaccinated but parents won't let them or aren't making the time to take them. Teens shouldn't have to rely on parents' views & availability to protect themselves from a deadly virus."
Currently, teens in California can receive vaccines for human papillomavirus and hepatitis B without parental consent. They can also make other reproductive or mental healthcare choices without a guardian signing off. Wiener argues that their medical autonomy should expand to all vaccines, especially during a pandemic that has already killed roughly 78,000 Californians.
Vaccine Consent Across the U.S.
"Teens shouldn't have to plot, scheme or fight with their parents to get a vaccine," he said. "They should simply be able to walk in & get vaccinated like anyone else."
Bill 866 would allow any kids ages 12 and up to receive any vaccine approved or granted emergency use authorization by the Food and Drug Administration and recommended by the Centers for Disease Control and Prevention. Currently, Pfizer's COVID vaccine has been fully approved by the FDA for those 16 and older. It has received emergency authorization for ages five through 15.
Across the United States, vaccine consent ages vary. While the vast majority of states require parental approval for minors to be vaccinated against COVID-19, kids as young as 11 can get the jab on their own in Washington, D.C. In Alabama, kids can receive it without parental consent at 14, in Oregon at 15, and in Rhode Island and South Carolina at 16. According to the Kaiser Family Foundation, providers can waive consent in certain cases in Arkansas, Idaho, Washington, and Tennesee.
In October, California became the first state to announce plans to require that students receive the COVID-19 vaccine to attend class. The mandate has yet to take effect, but under the guidelines, students will be "required to be vaccinated for in person learning starting the term following FDA full approval of the vaccine for their grade span."
In other words, once the FDA gives a vaccine full approval for those aged 12 and up, it will be required the following session for kids in grades 7-12. Once it does so for kids as young as five, the same process will happen for children in kindergarten through sixth grade. There will also be room for exemptions from the mandate.
The Fight to Vaccinate California
This week, a group of California state legislators formed a Vaccine Work Group in order to boost public health policies in the state. Wiener is among the several members who are "examining data, hearing from experts, and engaging stakeholders to determine the best approaches to promote vaccines that have been proven to reduce serious illness, hospitalization and death from COVID-19."
"Vaccines protect not only individuals but also whole communities when almost everyone is vaccinated at schools, workplaces and businesses, and safe and effective COVID-19 vaccines have already prevented the deaths of hundreds of thousands of Americans," Sen. Dr. Richard Pan (D-Sacramento) said in a press release. "Public safety is a paramount duty of government, and I am proud to join a talented group of legislators in the pro-science Vaccine Work Group who want to end this disastrous pandemic and protect Californians from death and disability by preventable diseases."
While vaccine policies have been a divisive subject nationwide, including in California, state politicians and leaders are hopeful public health initiatives will prevail.
"If we allow disinformation to drive our state policy making we will not only see more Americans needlessly suffer and die, but we will sacrifice the long term stability of our society having effectively abandoned the idea that we all must work together to protect each other in times of crisis." Catherine Flores Martin, the Executive Director of the California Immunization Coalition, added.
Inmates Sue Jail for Giving Them Ivermectin to Treat COVID-19 Without Consent
Four detainees who filed the suit allege that the jail's doctor gave them "incredibly high doses" of the anti-parasite in a "cocktail of drugs" that he said were "'vitamins', 'antibiotics,' and/or 'steroids.'"
---
Washington County Detention Center Lawsuit
Four inmates at an Arkansas jail have filed a federal lawsuit claiming that they were unknowingly given the anti-parasite drug ivermectin without their consent by the detention center's doctor after contracting COVID-19.
The Food and Drug Administration, the Centers for Disease Control and Prevention, and countless other medical experts have said that ivermectin — commonly used for livestock — can be dangerous and should not be used to treat the coronavirus.
According to the lawsuit, after testing positive for COVID in August, the four men at the Washington County Detention Center (WCDC) were given a "cocktail of drugs" twice a day by the facility's doctor, Robert Karas.
The inmates claim that Dr. Karas did not tell them that he was giving them ivermectin, but instead said the drugs consisted of "'vitamins', 'antibiotics,' and/or 'steroids.'"
The complaint also alleges that the detainees were given "incredibly high doses" of the drug, causing some to experience "vision issues, diarrhea, bloody stools, and/or stomach cramps."
Use on Other Inmates
The four plaintiffs were far from the only people to whom Karas gave ivermectin.
According to the lawsuit, the doctor began using the drug to treat COVID starting in November of 2020. In August, the Washington County sheriff confirmed at a local finance and budget committee meeting that the doctor had been prescribing the drug to inmates, prompting the Arkansas Medical Board to launch an investigation.
In response, Karas informed a Medical Board investigator in a letter from his attorney that 254 inmates at the facility had been treated with ivermectin.
In the letter, he confirmed that whether or not detainees were given information about ivermectin was dependent on who administered it, but paramedics were not required to discuss the drug with them.
He also admitted that after the practice got media coverage, he "adopted a more robust informed consent form to assuage any concern that any detainees were being misled or coerced into taking the medications, even though they weren't."
The American Civil Liberties Union of Arkansas, which filed the suit on behalf of the inmates, also claimed in a statement that after questions were raised about the practice, the jail attempted to make detainees sign forms saying that they retroactively agreed to the treatments.
The WCDC has not issued a public response to the lawsuits, but Dr. Karas appeared to address the situation in a Facebook post where he defended his actions.
"Guess we made the news again this week; still with best record in the world at the jail with the same protocols," he wrote. "Inmates aren't dumb and I suspect in the future other inmates around the country will be suiing their facilities requesting same treatment we're using at WCDC-including the Ivermectin."