Elon Musk Defends Calling Rescue Diver "Pedo Guy" in Lawsuit
In court documents, Elon Musk defended a tweet where he called a diver who helped rescue the Thai soccer team from a cave a "pedo guy" because it "was a common insult used in South Africa." 
The diver sued Musk for defamation last year after Musk sent an email to BuzzFeed where he referred to the diver as "child rapist" who had taken a "child bride who was about 12 years old." 
The court documents from the suit, which were made public Monday, also revealed that Musk paid a private investigator more than $50,000 to look into the diver.
Musk also said he gave the statement to BuzzFeed based on information provided by the investigator, and because he was concerned the diver could be the next Jeffrey Epstein. 
---
Court Filings Made Public
Telsa CEO Elon Musk defended calling a rescue diver "pedo guy," court documents revealed Monday.
Musk originally made the comment in July 2018, after Vernon Unsworth, a British diver who helped rescue the Thai soccer team trapped in a cave last year, gave an interview to CNN where he had some choice things to say about Musk.
Notably, Unsworth said the submarine Musk had designed to rescue the soccer team would not work and that it was just a PR stunt.
Musk responded by calling Unsworth a "pedo guy" in a now-deleted tweet.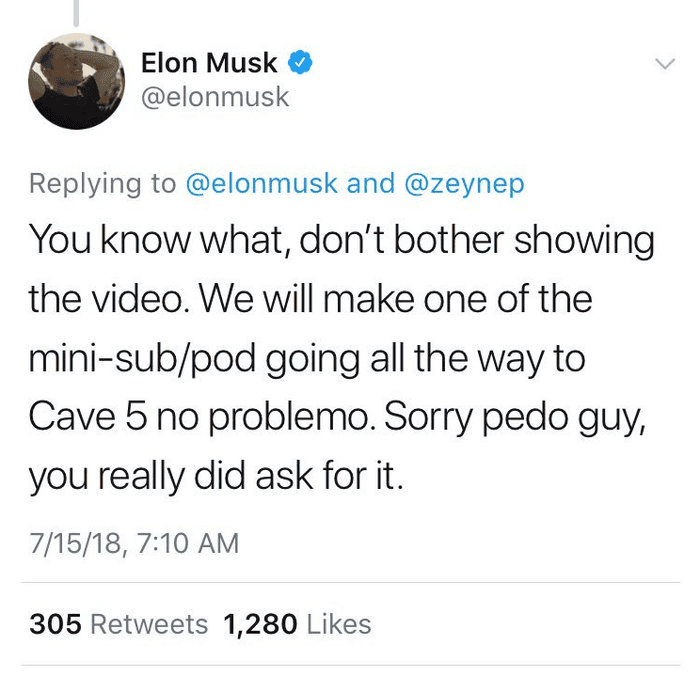 He also sent an email to BuzzFeed reporter Ryan Mac, in which he accused Unsworth of being a "child rapist" who had taken a "child bride who was about 12 years old at the time."
Musk said he thought the email was off the record, but BuzzFeed said they never agreed to that. In September 2018, Unsworth filed a defamation lawsuit against Musk in the Central District of California.
Court filings from the defamation suit against Musk were made public on Monday.
Musk Defends "Pedo Guy" Tweet
In those documents, Musk claimed that referring to Unsworth as "pedo guy" was not a direct accusation of pedophilia.
"'Pedo guy' was a common insult used in South Africa when I was growing up," Musk wrote. "It is synonymous with 'creepy old man' and is used to insult a person's appearance and demeanor, not accuse a person of acts of pedophilia."
"I did not intend to accuse Mr. Unsworth of engaging in acts of pedophilia," he continued. "In response to his insults in the CNN interview, I meant to insult him back by expressing my opinion that he seemed like a creepy old man."
The fact that Musk is arguing he was expressing his opinion is important in this context because under the First Amendment, opinions are usually protected speech and not considered defamatory.
The documents also included Musk's deposition, where he talks more in-depth about the "pedo guy" tweet.
In the deposition, Musk said he sent BuzzFeed the email because he was worried it could turn into a Jeffrey Epstein situation, referring to the wealthy financier who was accused of sexually assaulting dozens of young women, including many underage girls.
"What if we have another Jeffrey Epstein on our hands?" he said. "And what if he uses whatever celebrity he gains from this cave rescue to shield his bad deeds? This would be terrible."
Musk's Epstein argument might become problematic. First of all, he made the statements to BuzzFeed before the new allegations surfaced, which some have argued proves he just is using current news to frame Unsworth in a certain way, and that he did not actually consider Epstein at all.
That argument is also furthered by the fact that it has been reported that Musk had attended several events with Epstein, all of which were after Epstein pleaded guilty to soliciting prostitution from an underage girl in 2008.
Musk even said he visited Epstein's house "several years ago." Epstein also told The New York Times he had advised Musk while Tesla was trying to go public in 2018, though Musk denies those claims.
Private Investigator
Notably, Musk also said in the filings that he paid a private investigator more than $50,000 to investigate Unsworth after receiving an unsolicited email from the PI in August 2018.
In the documents, Musk says that the investigator: "reported that Mr. Unsworth met and began a relationship with his alleged Thai wife when she around twelve years old."
He also added that the investigator "reported that Mr. Unsworth associated with Europeans who engage in improper sexual conduct in Thailand," and that he "learned that Mr. Unsworth frequented Pattaya Beach which is well known for prostitution and sex tourism, and that Mr. Unsworth was unpopular at the rescue site because other rescue workers thought that he was 'creepy.'"
Musk goes on to say this was the basis for the comments he made in his email to BuzzFeed.
"I did not authorize Mr. Mac or BuzzFeed to publish the contents of the email nor did I intend or expect that they would," he said. "Especially without first independently verifying and confirming its information."
He later added that he gave the information to Mac "so that BuzzFeed could conduct its own investigation into Mr. Unsworth and corroborate the information."
Musk's lawyers even admitted in the court filings that the private investigator's findings "lacked solid evidence of Mr. Unsworth's behavior."
Following the release of the court documents, Unsworth's lawyer gave a statement to BuzzFeed condemning the Musk's defense.
"The motion filed by Elon Musk today is a disgusting and transparent effort to continue falsely smearing Vernon Unsworth without any credible or verified supporting evidence," the lawyer said.
"Mr. Unsworth's opposition to Musk's motion will reveal the whole truth of Musk's actions and the falsity of his public statements and his motion with respect to Mr. Unsworth will be exposed."
Florida School Says Students Vaccinated Against COVID-19 Must Stay Home for 30 Days
The school falsely claimed that people who have just been vaccinated risk "shedding" the coronavirus and could infect others.
---
Centner Academy Vaccination Policy
A private school in Florida is now requiring all students who get vaccinated against COVID-19 to quarantine for 30 days before returning to class.
According to the local Miami outlet WSVN, Centner Academy wrote a letter to parents last week describing COVID vaccines as "experimental" and citing anti-vaccine misinformation.
"If you are considering the vaccine for your Centner Academy student(s), we ask that you hold off until the Summer when there will be time for the potential transmission or shedding onto others to decrease," the letter reportedly stated.
"Because of the potential impact on other students and our school community, vaccinated students will need to stay at home for 30 days post-vaccination for each dose and booster they receive and may return to school after 30 days as long as the student is healthy and symptom-free."
The Centers for Disease Control and Prevention (CDC) has debunked the false claim that those newly vaccinated against COVID-19 can "shed" the virus.
According to the agency's COVID myths page, vaccine shedding "can only occur when a vaccine contains a weakened version of the virus," but "none of the authorized COVID-19 vaccines in the United States contain the live virus that causes COVID-19. This means that a COVID-19 vaccine cannot make you sick with COVID-19."
In fact, early research has suggested that vaccinated people are less likely to spread the virus than unvaccinated people.
Beyond that, unvaccinated people are more likely to spread COVID in general because they are much more likely to get the virus than vaccinated people. According to recently published CDC data, as of August, unvaccinated people were six times more likely to get COVID than vaccinated people and 11 times more likely to die from the virus.
Centner Academy Continues Spread of Misinformation
In a statement to The Washington Post Monday, Centner Academy co-founder David Centner doubled down on the school's new policy, which he described as a "precautionary measure" based on "numerous anecdotal cases that have been in circulation."
"The school is not opining as to whether unexplained phenomena have a basis in fact, however we prefer to err on the side of caution when making decisions that impact the health of the school community," he added.
The new rule echoes similar efforts Centner Academy has made that run counter to public health guidance and scientific knowledge.
In April, the school made headlines when its leadership told vaccinated school employees that they were not allowed to be in contact with any students "until more information is known" and encouraged employees to wait until summer to get the jab.
According to The New York Times, the following week, a math and science teacher allegedly told students not to hug their vaccinated parents for more than five seconds.
The outlet also reported that the school's other co-founder, Leila Centner, discouraged masking, but when state health officials came for routine inspections, teachers said they were directed in a WhatsApp group to put masks on.
Katie Couric Says She Edited Ruth Bader Ginsburg Quote About Athletes Kneeling During National Anthem
Couric said she omitted part of a 2016 interview in order to "protect" the justice.
---
Kate Couric Edited Quote From Justice Ginsburg
In her upcoming book, journalist Katie Couric admitted to editing a quote from Supreme Court Justice Ruth Bader Ginsberg in 2016 in order to "protect" Ginsberg from potential criticism.
Couric interviewed the late justice for an article in Yahoo News. During their discussion, she asked Ginsburg about her thoughts on athletes like Colin Kaepernick kneeling for the national anthem to protest racial inequality.
"I think it's really dumb of them," Ginsburg is quoted saying in the piece. "Would I arrest them for doing it? No. I think it's dumb and disrespectful. I would have the same answer if you asked me about flag burning. I think it's a terrible thing to do, but I wouldn't lock a person up for doing it. I would point out how ridiculous it seems to me to do such an act."
According to The Daily Mail and The New York Post, which obtained advance copies of Couric's book "Going There," there was more to Ginsburg's response. Couric wrote that she omitted a portion where Ginsburg said the form of protest showed a "contempt for a government that has made it possible for their parents and grandparents to live a decent life…Which they probably could not have lived in the places they came from."
Couric Says She Lost Sleep Making Choice
"As they became older they realize that this was youthful folly," Ginsberg reportedly continued. "And that's why education is important."
According to The Daily Mail, Couric wrote that the Supreme Court's head of public affairs sent an email asking to remove comments about kneeling because Ginsburg had misspoken. Couric reportedly added that she felt a need to "protect" the justice, thinking she may not have understood the question. Couric reached out to her friend, New York Times reporter David Brooks, regarding the matter and he allegedly likewise believed she may have been confused by the subject.
Couric also wrote that she was a "big RBG fan" and felt her comments were "unworthy of a crusader for equality." Because she knew the remarks could land Ginsburg in hot water, she said she "lost a lot of sleep" and felt "conflicted" about whether or not to edit them out.
Couric was trending on Twitter Wednesday and Thursday as people questioned the ethics behind her choice to ultimately cut part of the quote. Some thought the move showed a lack of journalistic integrity while others thought revealing the story now harmed Ginsburg's legacy.
Biden Administration Orders ICE To Halt Workplace Raids
The Department of Homeland Security will now focus on targeting employers who exploit undocumented workers, instead of carrying out raids that dissuade those workers from reporting labor violations.
---
DHS Reverses Worksite Raid Policy
The Biden administration announced Tuesday that it was ordering Immigration and Customs Enforcement (ICE) to stop workplace raids.
The move marks a reversal from Trump administration policies that have been strongly criticized by immigration activists who argue the efforts created fear in immigrant communities and dissuaded them from reporting labor violations or exploitative employment practices.
In addition to stopping the raids, Department of Homeland Security (DHS) Secretary Alejandro Mayorkas said in a memo that the administration will refocus enforcement efforts to instead target "employers who exploit unauthorized workers, conduct illegal activities or impose unsafe working conditions."
Mayorkas added that the immigration agencies housed in DHS will have the next 60 days to identify harmful existing policies and come up with new ones that provide better deportation protections for workers who report their employers.
In the Tuesday memo, the secretary argued that shift of focus will "reduce the demand for illegal employment by delivering more severe consequences to exploitative employers" and "increase the willingness of workers to report violations of law by exploitative employers and cooperate in employment and labor standards investigation."
Labor Market Implications
The new policy comes at a time when the U.S. is experiencing a critical labor shortage, including in many sectors that rely on immigrant labor.
Some companies that use undocumented workers pay them wages that are far below the market rate, which is not only exploitative but also undercuts competitors.
According to Mayorkas, the pivot to employer-based enforcement will help protect American businesses.
"By exploiting undocumented workers and paying them substandard wages, the unscrupulous employers create an unfair labor market," he said in the memo. "They also unfairly drive down their costs and disadvantage their business competitors who abide by the law."
It is currently unclear how effective the new efforts will be, but historical precedent does not paint an optimistic picture.
The Biden administration's efforts closely mirror a similar move by the Obama administration, which attempted to reverse workplace raids authorized under President George W. Bush by targetting those who employ undocumented workers rather than the workers themselves.
That effort, however, still led to thousands of undocumented workers being fired.