Elon Musk Defends Calling Rescue Diver "Pedo Guy" in Lawsuit
In court documents, Elon Musk defended a tweet where he called a diver who helped rescue the Thai soccer team from a cave a "pedo guy" because it "was a common insult used in South Africa." 
The diver sued Musk for defamation last year after Musk sent an email to BuzzFeed where he referred to the diver as "child rapist" who had taken a "child bride who was about 12 years old." 
The court documents from the suit, which were made public Monday, also revealed that Musk paid a private investigator more than $50,000 to look into the diver.
Musk also said he gave the statement to BuzzFeed based on information provided by the investigator, and because he was concerned the diver could be the next Jeffrey Epstein. 
---
Court Filings Made Public
Telsa CEO Elon Musk defended calling a rescue diver "pedo guy," court documents revealed Monday.
Musk originally made the comment in July 2018, after Vernon Unsworth, a British diver who helped rescue the Thai soccer team trapped in a cave last year, gave an interview to CNN where he had some choice things to say about Musk.
Notably, Unsworth said the submarine Musk had designed to rescue the soccer team would not work and that it was just a PR stunt.
Musk responded by calling Unsworth a "pedo guy" in a now-deleted tweet.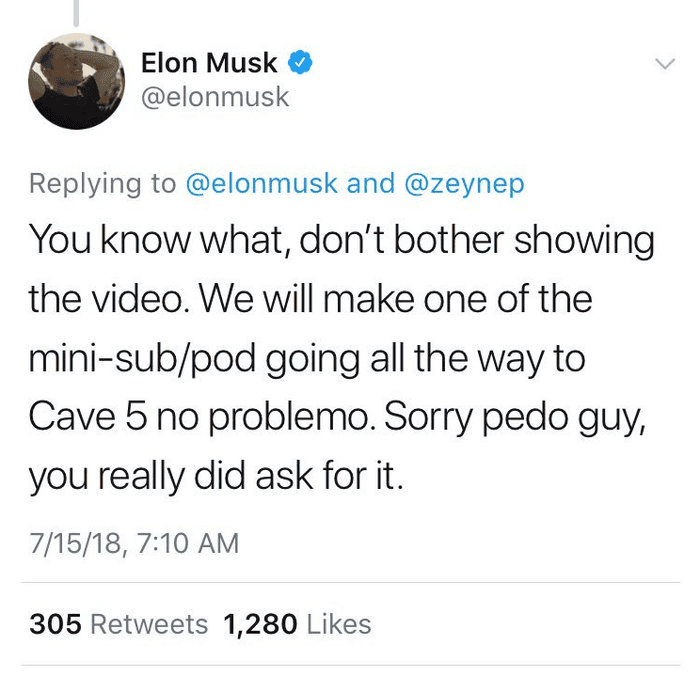 He also sent an email to BuzzFeed reporter Ryan Mac, in which he accused Unsworth of being a "child rapist" who had taken a "child bride who was about 12 years old at the time."
Musk said he thought the email was off the record, but BuzzFeed said they never agreed to that. In September 2018, Unsworth filed a defamation lawsuit against Musk in the Central District of California.
Court filings from the defamation suit against Musk were made public on Monday.
Musk Defends "Pedo Guy" Tweet
In those documents, Musk claimed that referring to Unsworth as "pedo guy" was not a direct accusation of pedophilia.
"'Pedo guy' was a common insult used in South Africa when I was growing up," Musk wrote. "It is synonymous with 'creepy old man' and is used to insult a person's appearance and demeanor, not accuse a person of acts of pedophilia."
"I did not intend to accuse Mr. Unsworth of engaging in acts of pedophilia," he continued. "In response to his insults in the CNN interview, I meant to insult him back by expressing my opinion that he seemed like a creepy old man."
The fact that Musk is arguing he was expressing his opinion is important in this context because under the First Amendment, opinions are usually protected speech and not considered defamatory.
The documents also included Musk's deposition, where he talks more in-depth about the "pedo guy" tweet.
In the deposition, Musk said he sent BuzzFeed the email because he was worried it could turn into a Jeffrey Epstein situation, referring to the wealthy financier who was accused of sexually assaulting dozens of young women, including many underage girls.
"What if we have another Jeffrey Epstein on our hands?" he said. "And what if he uses whatever celebrity he gains from this cave rescue to shield his bad deeds? This would be terrible."
Musk's Epstein argument might become problematic. First of all, he made the statements to BuzzFeed before the new allegations surfaced, which some have argued proves he just is using current news to frame Unsworth in a certain way, and that he did not actually consider Epstein at all.
That argument is also furthered by the fact that it has been reported that Musk had attended several events with Epstein, all of which were after Epstein pleaded guilty to soliciting prostitution from an underage girl in 2008.
Musk even said he visited Epstein's house "several years ago." Epstein also told The New York Times he had advised Musk while Tesla was trying to go public in 2018, though Musk denies those claims.
Private Investigator
Notably, Musk also said in the filings that he paid a private investigator more than $50,000 to investigate Unsworth after receiving an unsolicited email from the PI in August 2018.
In the documents, Musk says that the investigator: "reported that Mr. Unsworth met and began a relationship with his alleged Thai wife when she around twelve years old."
He also added that the investigator "reported that Mr. Unsworth associated with Europeans who engage in improper sexual conduct in Thailand," and that he "learned that Mr. Unsworth frequented Pattaya Beach which is well known for prostitution and sex tourism, and that Mr. Unsworth was unpopular at the rescue site because other rescue workers thought that he was 'creepy.'"
Musk goes on to say this was the basis for the comments he made in his email to BuzzFeed.
"I did not authorize Mr. Mac or BuzzFeed to publish the contents of the email nor did I intend or expect that they would," he said. "Especially without first independently verifying and confirming its information."
He later added that he gave the information to Mac "so that BuzzFeed could conduct its own investigation into Mr. Unsworth and corroborate the information."
Musk's lawyers even admitted in the court filings that the private investigator's findings "lacked solid evidence of Mr. Unsworth's behavior."
Following the release of the court documents, Unsworth's lawyer gave a statement to BuzzFeed condemning the Musk's defense.
"The motion filed by Elon Musk today is a disgusting and transparent effort to continue falsely smearing Vernon Unsworth without any credible or verified supporting evidence," the lawyer said.
"Mr. Unsworth's opposition to Musk's motion will reveal the whole truth of Musk's actions and the falsity of his public statements and his motion with respect to Mr. Unsworth will be exposed."
Wisconsin Police Deny Planting Evidence in Viral Video, Release Their Own Body Cam Footage
The footage police released shows that during a search, officers found a corner tear from a plastic bag inside a backseat passenger's pocket. An officer then discarded it into the car after determining that it was empty.
---
Viral Video Appears To Show Officer Planting Evidence
The Caledonia Police Department in Wisconsin has responded to a viral cell phone video that appears to show an officer planting a small plastic baggie inside of a car during a traffic stop.
The now-viral footage was posted to Facebook by a man who goes by GlockBoy Savoo.
The user, who also filmed the clip, wrote in his post's caption that the officer did this "just to get a reason to search the car" and said the cop didn't know he was being recorded by the passenger.
Police Shut Down Accusations With Their Own Footage
After that video spread across social media, many were outraged, calling the Caledonia police dirty for seemingly planting evidence. All the outrage eventually prompted the department to announce an investigation Saturday.
Within hours, the department provided an update, claiming that officers didn't actually plant any evidence or do anything illegal.
Police shared a lengthy summary of events, along with two body camera clips from the incident. That statement explained that the driver of the vehicle was pulled over for going 63 in a 45mph zone.
Two passengers in the backseat who were then spotted without seatbelts were asked to identify themselves and step out of the car. During a search of one passenger's pockets, an officer pulled out "an empty corner tear" from a plastic baggie.
Police claim the corner tear did not contain any illegal substances, though they said this type of packaging is a common method for holding illegal drugs.
In one body cam clip, an officer can be heard briefly questioning the backseat passenger about the baggie. Then, that piece of plastic gets handed off to different officers who also determined it as empty before the officer in the original viral video discarded it into the back of the car.
The officer can also be seen explaining where the plastic came from to the passenger recording him.
"Aye, bro you just threw that in here!" the front seat passenger says, as heard in his version of the events.
"Yeah, cause it was in his pocket and I don't want to hold onto it. It's on their body cam that they took it off of him…I'm telling you where it came from, so. It's an empty baggie at the moment too, so," the officer replies.
The department went on to explain that while it would discourage officers from discarding items into a citizen's car, this footage proves that evidence was not planted.
Authorities also noted that no arrests were made in this incident and the driver was the only one issued a citation for speeding. The statement added that since four officers were present at the scene, police have more than six hours of footage to review but they promised to release the footage in full in the near future.
Medical Groups, Local Leaders Push for Healthcare Workers and Public Employees To Get Vaccinated
The move comes as COVID cases have nearly quadrupled in the last month due to the rapid spread of the highly infectious delta variant.
---
Increased Calls for Mandatory Vaccinations in Certain Sectors
More than 50 of America's largest medical groups representing millions of healthcare workers issued a statement Monday calling for employers of all health and long-term care providers to require mandatory COVID-19 vaccinations.
The groups, which included the American Medical Association, the American Nurses Association, and 55 others, cited contagious new variants — including delta — and low vaccination rates.
"Vaccination is the primary way to put the pandemic behind us and avoid the return of stringent public health measures," they wrote.
The call to action comes as new COVID cases have almost quadrupled during the month of July, jumping from just around 13,000 infections a day at the beginning of this month to more than 50,000.
While the vast majority of new infections and hospitalizations are among those who have not received the vaccines, many healthcare workers remain unvaccinated. According to data collected by the Centers for Medicare and Medicaid Services, over 38% of nursing home staff were not fully vaccinated as of July 11.
An analysis by WebMD and Medscape Medical News found that around 25% of hospital workers who were in contact with patients had not been vaccinated by the end of May when vaccinations became widely available.
In addition to calls for medical professionals to get vaccinated, some local leaders have also begun to impose mandates for public employees as cases continue spiking.
Last month, San Francisco announced that it was requiring all city workers to get vaccinated. Also on Monday, New York City Mayor Bill de Blasio said that all municipal employees — including police officers and teachers — must either get the jab or agree to weekly testing by the time school starts in September.
Dr. Fauci Says U.S. Officials Are Considering Revising Mask Guidance for Vaccinated People
Numerous top U.S. health officials have applauded efforts by local leaders to mitigate further spread of the coronavirus, including the nation's top infectious disease expert, Dr. Anthony Fauci, who confirmed Sunday that federal officials are actively considering whether to revise federal masking guidelines to recommend that vaccinated Americans wear face coverings in public settings.
In May, the Centers for Disease Control and Prevention said people who are vaccinated do not need to mask in public. Although that was a non-binding recommendation, many states and cities that had not already lifted restrictions on masking began to do so shortly after.
But now, local leaders in areas seeing big spikes have begun reimposing mask mandates — even for those who are vaccinated — including major counties like Los Angeles and St. Louis.
In his remarks Sunday, Fauci also emphasized that, despite claims from many conservatives, those efforts are in line with the federal recommendations, which leave space for local leaders to issue their own rules.
While Fauci and other top U.S. public health officials have encouraged local governments to take action, Republican lawmakers in several states are taking steps to limit the ability of local leaders and public health officials to take certain mitigation measures.
According to the Network for Public Health Law, at least 15 state legislatures have passed or are considering bills to limit the legal authority of public health agencies — and that does not even include unilateral action taken by governors.
Some of the leaders of states suffering the biggest spikes have banned local officials from imposing their own mask mandates, like Arkansas, which has the highest per capita cases in the country right now, as well as Florida, which currently ranks third.
Notably, some of the laws proposed or passed by Republicans could go beyond just preventing local officials from trying to mitigate surges in COVID cases and may have major implications for other public health crises.
For example, according to The Washington Post, a North Dakota law that bans mask mandates applies to other breakouts — even tuberculosis — while a new Montana law also bars the use of quarantine for people who have been exposed to an infectious disease but have not yet tested positive.
Couple Slammed Over Slavery-Themed Pre-Wedding Photoshoot
Many have expressed outrage at the duo for trying to romanticize slavery while others were left completely dumbfounded by the entire ordeal.
---
Photoshoot Goes Viral
A couple has come under fire after sharing images on Instagram from their slavery-themed pre-wedding photoshoot.

The photos show a Black man in shackles looking deeply into his white fiancé's eyes before she works to releases him.

"1842. Days passed and everything changed, our love got stronger and stronger, he was no longer a slave, he was part of the family," the post's caption reads.

To indicate his transition from "slave" to family, a fourth image shows him wearing a long coat and top hat with well-shined shoes, as opposed to the white shirt, trousers, and straw hat he wore in the previous images.
Social Media Users React
It's not immediately clear who these people are since the social media handle is redacted in the images circulating online.
Still, many have expressed outrage at the duo for trying to romanticize slavery while others were left just completely dumbfounded by this entire ordeal. Some also directed criticism at the photographer who agreed to the shoot, along with the hundreds of Instagram users who liked the original posts.
To see people romanticize this shit is infuriating – these people are too much. There is no such thing as slave consent and the sexual abuse of male slaves was real.

— Nurse Elise 🌒 (@EliseRootedMind) July 21, 2021
There were three people there counting the photographer and not one thought should we? And over 1400 people hit the like button? And it's part 2 like there's more? I so want to be at the wedding when minister asks if anybody objects.

— Randi Pro Democracy (@RandiKinman) July 21, 2021