Elon Musk Defends Calling Rescue Diver "Pedo Guy" in Lawsuit
In court documents, Elon Musk defended a tweet where he called a diver who helped rescue the Thai soccer team from a cave a "pedo guy" because it "was a common insult used in South Africa." 
The diver sued Musk for defamation last year after Musk sent an email to BuzzFeed where he referred to the diver as "child rapist" who had taken a "child bride who was about 12 years old." 
The court documents from the suit, which were made public Monday, also revealed that Musk paid a private investigator more than $50,000 to look into the diver.
Musk also said he gave the statement to BuzzFeed based on information provided by the investigator, and because he was concerned the diver could be the next Jeffrey Epstein. 
---
Court Filings Made Public
Telsa CEO Elon Musk defended calling a rescue diver "pedo guy," court documents revealed Monday.
Musk originally made the comment in July 2018, after Vernon Unsworth, a British diver who helped rescue the Thai soccer team trapped in a cave last year, gave an interview to CNN where he had some choice things to say about Musk.
Notably, Unsworth said the submarine Musk had designed to rescue the soccer team would not work and that it was just a PR stunt.
Musk responded by calling Unsworth a "pedo guy" in a now-deleted tweet.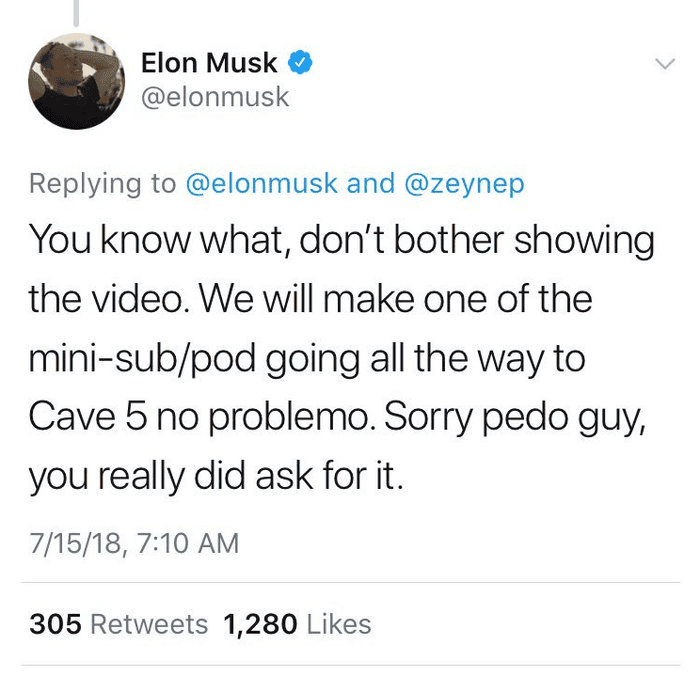 He also sent an email to BuzzFeed reporter Ryan Mac, in which he accused Unsworth of being a "child rapist" who had taken a "child bride who was about 12 years old at the time."
Musk said he thought the email was off the record, but BuzzFeed said they never agreed to that. In September 2018, Unsworth filed a defamation lawsuit against Musk in the Central District of California.
Court filings from the defamation suit against Musk were made public on Monday.
Musk Defends "Pedo Guy" Tweet
In those documents, Musk claimed that referring to Unsworth as "pedo guy" was not a direct accusation of pedophilia.
"'Pedo guy' was a common insult used in South Africa when I was growing up," Musk wrote. "It is synonymous with 'creepy old man' and is used to insult a person's appearance and demeanor, not accuse a person of acts of pedophilia."
"I did not intend to accuse Mr. Unsworth of engaging in acts of pedophilia," he continued. "In response to his insults in the CNN interview, I meant to insult him back by expressing my opinion that he seemed like a creepy old man."
The fact that Musk is arguing he was expressing his opinion is important in this context because under the First Amendment, opinions are usually protected speech and not considered defamatory.
The documents also included Musk's deposition, where he talks more in-depth about the "pedo guy" tweet.
In the deposition, Musk said he sent BuzzFeed the email because he was worried it could turn into a Jeffrey Epstein situation, referring to the wealthy financier who was accused of sexually assaulting dozens of young women, including many underage girls.
"What if we have another Jeffrey Epstein on our hands?" he said. "And what if he uses whatever celebrity he gains from this cave rescue to shield his bad deeds? This would be terrible."
Musk's Epstein argument might become problematic. First of all, he made the statements to BuzzFeed before the new allegations surfaced, which some have argued proves he just is using current news to frame Unsworth in a certain way, and that he did not actually consider Epstein at all.
That argument is also furthered by the fact that it has been reported that Musk had attended several events with Epstein, all of which were after Epstein pleaded guilty to soliciting prostitution from an underage girl in 2008.
Musk even said he visited Epstein's house "several years ago." Epstein also told The New York Times he had advised Musk while Tesla was trying to go public in 2018, though Musk denies those claims.
Private Investigator
Notably, Musk also said in the filings that he paid a private investigator more than $50,000 to investigate Unsworth after receiving an unsolicited email from the PI in August 2018.
In the documents, Musk says that the investigator: "reported that Mr. Unsworth met and began a relationship with his alleged Thai wife when she around twelve years old."
He also added that the investigator "reported that Mr. Unsworth associated with Europeans who engage in improper sexual conduct in Thailand," and that he "learned that Mr. Unsworth frequented Pattaya Beach which is well known for prostitution and sex tourism, and that Mr. Unsworth was unpopular at the rescue site because other rescue workers thought that he was 'creepy.'"
Musk goes on to say this was the basis for the comments he made in his email to BuzzFeed.
"I did not authorize Mr. Mac or BuzzFeed to publish the contents of the email nor did I intend or expect that they would," he said. "Especially without first independently verifying and confirming its information."
He later added that he gave the information to Mac "so that BuzzFeed could conduct its own investigation into Mr. Unsworth and corroborate the information."
Musk's lawyers even admitted in the court filings that the private investigator's findings "lacked solid evidence of Mr. Unsworth's behavior."
Following the release of the court documents, Unsworth's lawyer gave a statement to BuzzFeed condemning the Musk's defense.
"The motion filed by Elon Musk today is a disgusting and transparent effort to continue falsely smearing Vernon Unsworth without any credible or verified supporting evidence," the lawyer said.
"Mr. Unsworth's opposition to Musk's motion will reveal the whole truth of Musk's actions and the falsity of his public statements and his motion with respect to Mr. Unsworth will be exposed."
Conservatives Slam Elmo For Getting Vaccinated Against COVID-19
While critics accused the muppet of promoting propaganda, CDC data shows the shots are safe and effective.
---
Elmo Gets Vaccinated
Conservative politicians expressed outrage on Twitter after the beloved "Sesame Street" character Elmo revealed he got vaccinated against COVID-19 on Tuesday.
The Centers for Disease Control and Prevention recently cleared the way for children between the ages of six months and five years to get vaccinated against the virus. The famous red muppet is three years old, making him finally eligible for the jab.
In a video shared by "Sesame Street," Elmo said that he felt "a little pinch, but it was okay." 
Elmo's father, Louie, then addressed parents who might be apprehensive about vaccinating their own kids.
"I had a lot of questions about Elmo getting the COVID vaccine," he said to the camera. "Was it safe? Was it the right decision? I talked to our pediatrician so I could make the right choice."
"I learned that Elmo getting vaccinated is the best way to keep himself, our friends, neighbors, and everyone else healthy and enjoying the things they love," he continued.
Republicans Criticize "Sesame Street"
While some praised the video for raising awareness and addressing the concerns parents may have, Sen. Ted Cruz (R-Tx) quickly lambasted the effort.
"Thanks, Sesame Street for saying parents are allowed to have questions," Cruz tweeted. "You then have Elmo aggressively advocate for vaccinating children UNDER 5. But you cite ZERO scientific evidence for this."
Despite Cruz's claim, the CDC has provided ample resources with information on vaccines for children.
He was not alone in criticizing the video. Harmeet Dhillon, a committeewoman of the Republican National Committee for California, suggested that Elmo would be taking puberty blockers next.
Other anti-vaxxers claimed Elmo would get myocarditis and accused "Sesame Street" of promoting propaganda.
COVID-19 vaccines have been proven to be both safe and effective against transmission of the virus, but this is not the first time conservatives have turned their anger against a friendly-looking muppet who opted to get the jab. When Big Bird got vaccinated in November, Cruz and other right-wing figures accused the show of brainwashing kids.
Big Bird's choice to get vaccinated was not a shocker though, clips dating back to 1972 show him getting immunized against the measles.
Uvalde Puts Police Chief on Leave, Tries to Kick Him Off City Council
If Pete Arredondo fails to attend two more consecutive city council meetings, then he may be voted out of office.
---
Police Chief Faces Public Fury
Uvalde School District Police Chief Pete Arredondo was placed on administrative leave Wednesday following revelations that he and his officers did not engage the shooter at Robb Elementary for over an hour despite having adequate weaponry and protection.
Superintendent Hal Harrell, who made the announcement, did not specify whether the leave is paid or unpaid.
Harrell said in a statement that the school district would have waited for an investigation to conclude before making any personnel decisions, but chose to order the administrative leave because it is uncertain how long the investigation will take.
Lieutenant Mike Hernandez, the second in command at the police department, will assume Arredondo's duties.
In an interview with The Texas Tribune earlier this month, Arredondo said he did not consider himself in charge during the shooting, but law enforcement records reviewed by the outlet indicate that he gave orders at the scene.
Department of Public Safety Director Steve McCraw told state senators on Tuesday that some officers wanted to enter the classrooms harboring the shooter but were stopped by their superiors.
He said officer Ruben Ruiz tried to move forward into the hallway after receiving a call from his wife Eva Mireles, a teacher inside one of the classrooms, telling him she had been shot and was bleeding to death.
Ruiz was detained, had his gun taken away, and was escorted off the scene, according to McCraw. Mireles later died of her wounds.
Calls for Arredondo to resign or be fired have persisted.
Emotions Erupt at City Council
Wednesday's announcement came one day after the Uvalde City Council held a special meeting in which community members and relatives of victims voiced their anger and demanded accountability.
"Who are you protecting?" Asked Jasmine Cazares, sister of Jackie Cazares, a nine-year-old student who was shot. "Not my sister. The parents? No. You're too busy putting them in handcuffs."
Much of the anger was directed toward Arredondo, who was not present at the meeting but was elected to the city council on May 7, just over two weeks before the massacre.
"We are having to beg ya'll to do something to get this man out of our faces," said the grandmother of Amerie Jo Garza, a 10-year-old victim. "We can't see that gunman. That gunman got off easy. We can't take our frustrations out on that gunman. He's dead. He's gone. … Ya'll need to put yourselves in our shoes, and don't say that none of ya'll have, because I guarantee you if any of ya'll were in our shoes, ya'll would have been pulling every string that ya'll have to get this man off the council."
One woman demanded the council refuse to grant Arredondo the leave of absence he had requested, pointing out that if he fails to attend three consecutive meetings the council can vote him out for abandoning his office.
"What you can do right now is not give him, if he requests it, a leave of absence," she said. "Don't give him an out. We don't want him. We want him out."
After hearing from the residents, the council voted unanimously not to approve the leave of absence.
On Tuesday, Uvalde's mayor announced that Robb Elementary is set to be demolished, saying no students or teachers should have to return to it after what happened.
We make it a point to not include the names and pictures of those who may have been seeking attention or infamy and will not link out to websites that might contain such information.
Texas Public Safety Director Says Police Response to Uvalde Shooting Was An "Abject Failure"
New footage shows officers prepared to engage the shooter one hour before they entered the classroom.
---
Seventy-Seven Deadly Minutes
Nearly a month after the mass shooting in Uvalde, Texas that killed 19 children and two teachers, evidence has emerged indicating that police were prepared to engage the shooter within minutes of arriving, but chose to wait over an hour.
The shooting at Robb Elementary began at 11:33 a.m., and within three minutes 11 officers are believed to have entered the school, according to surveillance and body camera footage obtained by KVUE and the Austin American Statesman.
District Police Chief Pete Arredondo reportedly called a landline at the police department at 11:40 a.m. for help.
"It's an emergency right now," he said. "We have him in the room. He's got an AR-15. He's shot a lot… They need to be outside the building prepared because we don't have firepower right now. It's all pistols."
At 11:52 a.m., however, the footage shows multiple officers inside the school armed with at least two rifles and one ballistic shield.
Law enforcement did not enter the adjoined classrooms to engage the shooter until almost an hour later, at 12:50 p.m. During that time, one officer's daughter was inside the classrooms and another's wife, a teacher, reportedly called him to say she was bleeding to death.
Thirty minutes before law enforcement entered the classrooms, the footage shows officers had four ballistic shields in the hallway.
Frustrated Cops Want to Go Inside
Some of the officers felt agitated because they were not allowed to enter the classrooms.
One special agent at the Texas Department of Public Safety arrived about 20 minutes after the shooting started, then immediately asked, "Are there still kids in the classrooms?"
"It is unknown at this time," another officer replied.
"Ya'll don't know if there's kids in there?" The agent shot back. "If there's kids in there we need to go in there."
"Whoever is in charge will determine that," the other officer responded.
According to an earlier account by Arredondo, he and the other officers tried to open the doors to the classrooms, but found them both locked and waited for a master key to arrive. But surveillance footage suggests that they never tried to open the doors, which a top Texas official has confirmed were never actually locked.
One officer has told reporters that within minutes of the police response, there was a Halligan bar, which firefighters use to break down locked doors, on-site, but it was never used.
At a special State Senate committee hearing Monday, Texas Department of Public Safety Director Steve McCraw called the police response an "abject failure" and "antithetical to everything we've learned over the last two decades since the Columbine massacre."
"The only thing stopping a hallway of dedicated officers from (entering rooms) 111 and 112 was the on-scene commander who decided to place the lives of officers before the lives of children," he said. "The officers have weapons, the children had none."
We make it a point to not include the names and pictures of those who may have been seeking attention or infamy and will not link out to websites that might contain such information.