Elon Musk Defends Calling Rescue Diver "Pedo Guy" in Lawsuit
In court documents, Elon Musk defended a tweet where he called a diver who helped rescue the Thai soccer team from a cave a "pedo guy" because it "was a common insult used in South Africa." 
The diver sued Musk for defamation last year after Musk sent an email to BuzzFeed where he referred to the diver as "child rapist" who had taken a "child bride who was about 12 years old." 
The court documents from the suit, which were made public Monday, also revealed that Musk paid a private investigator more than $50,000 to look into the diver.
Musk also said he gave the statement to BuzzFeed based on information provided by the investigator, and because he was concerned the diver could be the next Jeffrey Epstein. 
---
Court Filings Made Public
Telsa CEO Elon Musk defended calling a rescue diver "pedo guy," court documents revealed Monday.
Musk originally made the comment in July 2018, after Vernon Unsworth, a British diver who helped rescue the Thai soccer team trapped in a cave last year, gave an interview to CNN where he had some choice things to say about Musk.
Notably, Unsworth said the submarine Musk had designed to rescue the soccer team would not work and that it was just a PR stunt.
Musk responded by calling Unsworth a "pedo guy" in a now-deleted tweet.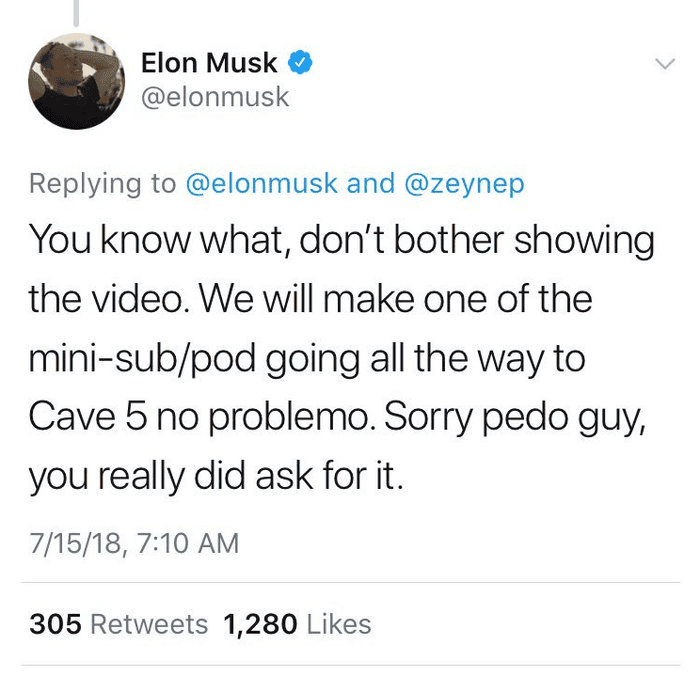 He also sent an email to BuzzFeed reporter Ryan Mac, in which he accused Unsworth of being a "child rapist" who had taken a "child bride who was about 12 years old at the time."
Musk said he thought the email was off the record, but BuzzFeed said they never agreed to that. In September 2018, Unsworth filed a defamation lawsuit against Musk in the Central District of California.
Court filings from the defamation suit against Musk were made public on Monday.
Musk Defends "Pedo Guy" Tweet
In those documents, Musk claimed that referring to Unsworth as "pedo guy" was not a direct accusation of pedophilia.
"'Pedo guy' was a common insult used in South Africa when I was growing up," Musk wrote. "It is synonymous with 'creepy old man' and is used to insult a person's appearance and demeanor, not accuse a person of acts of pedophilia."
"I did not intend to accuse Mr. Unsworth of engaging in acts of pedophilia," he continued. "In response to his insults in the CNN interview, I meant to insult him back by expressing my opinion that he seemed like a creepy old man."
The fact that Musk is arguing he was expressing his opinion is important in this context because under the First Amendment, opinions are usually protected speech and not considered defamatory.
The documents also included Musk's deposition, where he talks more in-depth about the "pedo guy" tweet.
In the deposition, Musk said he sent BuzzFeed the email because he was worried it could turn into a Jeffrey Epstein situation, referring to the wealthy financier who was accused of sexually assaulting dozens of young women, including many underage girls.
"What if we have another Jeffrey Epstein on our hands?" he said. "And what if he uses whatever celebrity he gains from this cave rescue to shield his bad deeds? This would be terrible."
Musk's Epstein argument might become problematic. First of all, he made the statements to BuzzFeed before the new allegations surfaced, which some have argued proves he just is using current news to frame Unsworth in a certain way, and that he did not actually consider Epstein at all.
That argument is also furthered by the fact that it has been reported that Musk had attended several events with Epstein, all of which were after Epstein pleaded guilty to soliciting prostitution from an underage girl in 2008.
Musk even said he visited Epstein's house "several years ago." Epstein also told The New York Times he had advised Musk while Tesla was trying to go public in 2018, though Musk denies those claims.
Private Investigator
Notably, Musk also said in the filings that he paid a private investigator more than $50,000 to investigate Unsworth after receiving an unsolicited email from the PI in August 2018.
In the documents, Musk says that the investigator: "reported that Mr. Unsworth met and began a relationship with his alleged Thai wife when she around twelve years old."
He also added that the investigator "reported that Mr. Unsworth associated with Europeans who engage in improper sexual conduct in Thailand," and that he "learned that Mr. Unsworth frequented Pattaya Beach which is well known for prostitution and sex tourism, and that Mr. Unsworth was unpopular at the rescue site because other rescue workers thought that he was 'creepy.'"
Musk goes on to say this was the basis for the comments he made in his email to BuzzFeed.
"I did not authorize Mr. Mac or BuzzFeed to publish the contents of the email nor did I intend or expect that they would," he said. "Especially without first independently verifying and confirming its information."
He later added that he gave the information to Mac "so that BuzzFeed could conduct its own investigation into Mr. Unsworth and corroborate the information."
Musk's lawyers even admitted in the court filings that the private investigator's findings "lacked solid evidence of Mr. Unsworth's behavior."
Following the release of the court documents, Unsworth's lawyer gave a statement to BuzzFeed condemning the Musk's defense.
"The motion filed by Elon Musk today is a disgusting and transparent effort to continue falsely smearing Vernon Unsworth without any credible or verified supporting evidence," the lawyer said.
"Mr. Unsworth's opposition to Musk's motion will reveal the whole truth of Musk's actions and the falsity of his public statements and his motion with respect to Mr. Unsworth will be exposed."
Purdue Pharma Agrees To Plead Guilty To 3 Opioid-Related Charges in $8B Settlement, But Don't Expect Them To Pay the Full Amount
As part of a more than $8 billion settlement with the U.S. Department of Justice, Purdue Pharma will plead guilty to one count of conspiracy to defraud the U.S. government and two counts of violating anti-kickback, or bribery, laws.
Because Purdue filed for bankruptcy last year, that full figure likely won't be collected by the government.
Under the settlement, which will need approval in bankruptcy court, Purdue would become a public benefit corporation that is controlled by the government, with revenue from opioid sales being used to fund treatment options and programs.
A number of state attorneys generals and Democratic lawmakers have said the settlement does not hold Purdue or its owners fully accountable and could derail thousands of other cases against the company.
They have also argued that the government should "avoid having special ties to an opioid company… that caused a national crisis."
---
Purdue to Plead Guilty to 3 Criminal Charges
The Justice Department announced Wednesday that Purdue Pharma has agreed to plead guilty to three criminal charges related to fueling the country's opioid epidemic.
Notably, those guilty pleas come as part of a massive settlement worth more than $8 billion, though Purdue will likely only pay a fraction of that amount to the government.
Purdue is the manufacturer of oxycontin, which is a powerful and addictive painkiller that's believed to have driven the opioid crisis. Since 2000, opioid addiction and overdoses have been linked to more than 470,000 deaths.
As part of the settlement, Purdue will plead guilty to one count of conspiracy to defraud the United States. There, it will admit that it lied to the Drug Enforcement Administration by claiming that it had maintained an effective program to avoid opioid misuse. It will also admit to reporting misleading information to the DEA in order to increase its manufacturing quotas.
While Purdue originally told the DEA that it had "robust controls" to avoid opioid misuse, according to the Justice Department, it had "disregard[ed] red flags their own systems were sending up."
Along with that guilty plea, Purdue will also plead guilty to two anti-kickback, or bribery, related charges. In one charge, it will admit to violating federal law by paying doctors to write more opioid prescriptions. In the other, it will admit to using electronic health records software to increase opioid prescriptions.
According to a copy of the plea deal obtained by the Associated Press, Purdue "knowingly and intentionally conspired and agreed with others to aid and abet" the distribution of opioids from doctors "without a legitimate medical purpose and outside the usual course of professional practice."
The $8 billion in settlements will be split several different ways.
In one deal, the Sackler family — which owns Purdue — will pay $225 million to resolve civil fines.
As part of the main deal, another $225 million will go directly to the federal government in a larger $2 billion criminal forfeiture; however, the government is actually expected to forego the rest of that figure.
In addition to that, $2.8 billion will go to resolving Purdue's civil liability. Another $3.54 billion will go to criminal fines, but because Purdue filed bankruptcy last year, these figures also likely won't be fully collected — largely because the government will now have to compete with other claims against Purdue in bankruptcy court."
Purdue Will Become a "Public Benefit Company"
Since Purdue is in the middle of bankruptcy proceedings, a bankruptcy court will also need to approve the settlement.
"The agreed resolution, if approved by the courts, will require that the company be dissolved and no longer exist in its present form," Deputy Attorney General Jeffrey Rosen said.
However, that doesn't mean that Purdue's fully gone or that it will even stop making oxycontin. In fact, as part of this settlement, the Sacklers would relinquish ownership of Purdue, and it would then transform into what's known as a public benefit company.
Essentially, that means it would be run by the government. Under that setup, money from limited oxycontin sales, as well as from sales of several overdose-reversing medications, would be pumped back into treatment initiatives and other drug programs aimed at combating the opioid crisis.
For its part, the Justice Department has endorsed this model.
Should Purdue Be Punished More?
There has been strong opposition to this deal, mainly from state attorneys general and Democratic members of Congress who say it doesn't go far enough.
Those critics argue that the settlements don't hold Purdue or the Sackler family fully accountable, especially the Sacklers since — unlike Purdue — they didn't have to admit any wrongdoing.
"[W]hile our country continues to recover from the pain and destruction left by the Sacklers' greed," New York Attorney General Letitia James said, "this family has attempted to evade responsibility and lowball the millions of victims of the opioid crisis. Today's deal doesn't account for the hundreds of thousands of deaths or millions of addictions caused by Purdue Pharma and the Sackler family."
"If the only practical consequence of your Department's investigation is that a handful of billionaires are made slightly less rich, we fear that the American people will lose faith in the ability of the Department to provide accountability and equal justice under the law," A coalition of 38 Democratic members of Congress said in a statement to Attorney General Bill Barr last week.
While this settlement doesn't include any convictions against the Sacklers specifically, as the Justice Department noted, it also doesn't release them from criminal liability and a separate criminal investigation is ongoing.
Still, last week, 25 state attorneys general asked Barr not to make a deal that includes converting Purdue into a public benefit company, urging the Justice Department to "avoid having special ties to an opioid company, conflicts of interest, or mixed motives in an industry that caused a national crisis."
Part of their concern is that the government would essentially run this new company while also holding the original one accountable. Those attorneys general instead argued that Purdue should be run privately but with government oversight.
Parents of 545 Children Separated at U.S. Border Still Can't Be Found
A Tuesday filing update from the ACLU and Department of Justice revealed that a Steering Committee in charge of reuniting families that were separated at the U.S.-Mexico border has not been able to find parents of 545 separated children.
Efforts to reach these parents via telephone have been unsuccessful and those involved are not hopeful that will change. Two-thirds of these parents are believed to be in their respective countries of origin.
So far, parents for 485 kids have been reached.
Finding these parents is an already complicated process made even more strenuous by the coronavirus pandemic. On-the-ground searches were suspended because of COVID-19 but have now picked up in limited capacity.
---
Parents of 545 Children Remain Unfound
A Tuesday court filing from the U.S. Department of Justice and American Civil Liberties Union revealed that the parents of 545 children who had been separated at the U.S.-Mexico border have not been found or contacted.
Two thirds of those parents are expected to be in their respective country of origin. While there have been efforts to reach these families via phone, they have not been successful. Other efforts to reach these parents are in the works.
Thousands of families were separated in 2018 under President Donald Trump's zero tolerance policy, but a federal judge ordered that those families should be reunited. Soon after, many were, but in reality many more families had actually been separated. It was later revealed that the Trump Administration had been separating families back in 2017 under a pilot program. A court order reuniting those families was not issued until last year. 
A Steering Committee, of which the ACLU and other organizations are members, is now searching for these parents. According to the filing, the government provided a list of 1,556 children. The current focus on reaching children whose membership in this case is not contested and who have available contact information for a sponsor or parent. The Steering Committee has attempted to reach the families of all 1,030 children who fit that bill, and have successfully reached the parents, or their attorneys, for 485 kids.
"There is so much more work to be done to find these families, Lee Gelernt, the deputy director of the ACLU Immigrants' Rights Project, told NBC News, which broke the story.
"People ask when we will find all of these families, and sadly, I can't give an answer. I just don't know," he continued. "But we will not stop looking until we have found every one of the families, no matter how long it takes. The tragic reality is that hundreds of parents were deported to Central America without their children, who remain here with foster families or distant relatives."
Efforts to Find Parents
Because so much time has passed between family separation practices and today, initiatives to find those parents are difficult. They are also further complicated by the fact that during the pilot program, U.S. officials did not collect thorough information from these parents, and many were deported before courts ordered they be reunited with their kids.
Nan Schivone, the legal director for Justice in Motion, which carries out on-the-ground searches for parents, told The Washington Post that attorneys "take the minimal, often inaccurate or out-of-date information provided by the government and do in-person investigations to find these parents."
Schivone said it is an "an arduous and time-consuming process on a good day." Sometimes, these lawyers might find themselves in remote villages where outsiders are suspect and language barriers can slow down communication.
The pandemic halted these efforts as lockdowns and curfews made it impossible for Justice in Motion to look for parents abroad. Though, Tuesday's filing revealed that "limited physical on-the-ground searches for separated parents has now resumed where possible to do so."
Scott Peterson's Murder Convictions To Be Re-examined
Scott Peterson was convicted in 2004 of murdering his wife, Laci, and their unborn child.
He was sentenced to death for the crimes, but the California Supreme Court overturned the death sentence in August of this year after finding that the trial court improperly dismissed potential jurors. The court did, however, uphold the convictions.
Now, the CA Supreme Court has ordered the San Mateo County Superior Court to review the convictions and determine whether Peterson should be given a new trial on the grounds that one juror "committed prejudicial misconduct by not disclosing her prior involvement with other legal proceedings."
That juror had not disclosed the fact that she was granted a restraining order in 2000 against her boyfriend's ex-girlfriend for harassing her when she was pregnant.
---
Peterson's Death Sentence Was Previously Overturned
The California Supreme Court on Wednesday ordered a review of Scott Peterson's 2004 convictions for murdering his wife, Laci, and their unborn son.
Peterson was sentenced to death by lethal injection for those crimes in 2005, but in August of this year, the California Supreme Court overturned his death sentence.
"We reject Peterson's claim that he received an unfair trial as to guilt and thus affirm his convictions for murder," the court said at the time. "But before the trial began, the trial court made a series of clear and significant errors in jury selection."
As far as what errors the court is talking about, it said the trial judge wrongly discharged prospective jurors who expressed opposition to capital punishment but said they would be willing to impose it.
Court to Decide on Potential New Trial
Now, weeks later, the California Supreme Court has ordered that the case return to the San Mateo County Superior Court to determine whether Peterson should be given a new trial on the ground that a juror "committed prejudicial misconduct by not disclosing her prior involvement with other legal proceedings, including but not limited to being the victim of a crime."
According to the Los Angeles Times, that juror had not shared the fact that she was granted a restraining order in 2000 against her boyfriend's ex-girlfriend for harassing her when she was pregnant.
Peterson's lawyers even say that when all potential jurors were asked whether they had ever been a victim of a crime or involved in a lawsuit, the juror said no to both questions.
They also say she was one of the two holdouts for convicting Peterson of first-degree murder for killing his unborn child, with the jury ultimately convicting Peterson of the first-degree murder of Laci and the second-degree murder of the unborn child.
For now, it's up to the San Mateo Court to decide what happens next, but the California Supreme Court did say that prosecutors could again seek the death penalty for Peterson at a new hearing.