Elon Musk Defends Calling Rescue Diver "Pedo Guy" in Lawsuit
In court documents, Elon Musk defended a tweet where he called a diver who helped rescue the Thai soccer team from a cave a "pedo guy" because it "was a common insult used in South Africa." 
The diver sued Musk for defamation last year after Musk sent an email to BuzzFeed where he referred to the diver as "child rapist" who had taken a "child bride who was about 12 years old." 
The court documents from the suit, which were made public Monday, also revealed that Musk paid a private investigator more than $50,000 to look into the diver.
Musk also said he gave the statement to BuzzFeed based on information provided by the investigator, and because he was concerned the diver could be the next Jeffrey Epstein. 
---
Court Filings Made Public
Telsa CEO Elon Musk defended calling a rescue diver "pedo guy," court documents revealed Monday.
Musk originally made the comment in July 2018, after Vernon Unsworth, a British diver who helped rescue the Thai soccer team trapped in a cave last year, gave an interview to CNN where he had some choice things to say about Musk.
Notably, Unsworth said the submarine Musk had designed to rescue the soccer team would not work and that it was just a PR stunt.
Musk responded by calling Unsworth a "pedo guy" in a now-deleted tweet.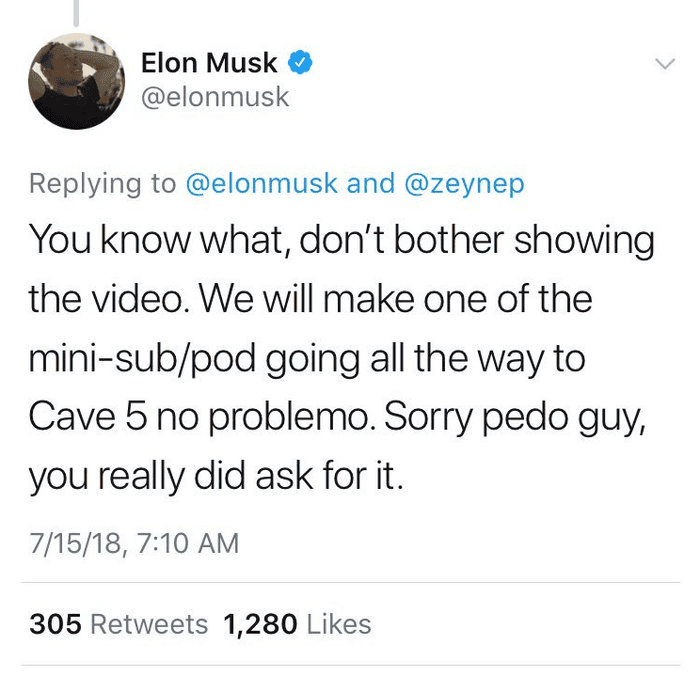 He also sent an email to BuzzFeed reporter Ryan Mac, in which he accused Unsworth of being a "child rapist" who had taken a "child bride who was about 12 years old at the time."
Musk said he thought the email was off the record, but BuzzFeed said they never agreed to that. In September 2018, Unsworth filed a defamation lawsuit against Musk in the Central District of California.
Court filings from the defamation suit against Musk were made public on Monday.
Musk Defends "Pedo Guy" Tweet
In those documents, Musk claimed that referring to Unsworth as "pedo guy" was not a direct accusation of pedophilia.
"'Pedo guy' was a common insult used in South Africa when I was growing up," Musk wrote. "It is synonymous with 'creepy old man' and is used to insult a person's appearance and demeanor, not accuse a person of acts of pedophilia."
"I did not intend to accuse Mr. Unsworth of engaging in acts of pedophilia," he continued. "In response to his insults in the CNN interview, I meant to insult him back by expressing my opinion that he seemed like a creepy old man."
The fact that Musk is arguing he was expressing his opinion is important in this context because under the First Amendment, opinions are usually protected speech and not considered defamatory.
The documents also included Musk's deposition, where he talks more in-depth about the "pedo guy" tweet.
In the deposition, Musk said he sent BuzzFeed the email because he was worried it could turn into a Jeffrey Epstein situation, referring to the wealthy financier who was accused of sexually assaulting dozens of young women, including many underage girls.
"What if we have another Jeffrey Epstein on our hands?" he said. "And what if he uses whatever celebrity he gains from this cave rescue to shield his bad deeds? This would be terrible."
Musk's Epstein argument might become problematic. First of all, he made the statements to BuzzFeed before the new allegations surfaced, which some have argued proves he just is using current news to frame Unsworth in a certain way, and that he did not actually consider Epstein at all.
That argument is also furthered by the fact that it has been reported that Musk had attended several events with Epstein, all of which were after Epstein pleaded guilty to soliciting prostitution from an underage girl in 2008.
Musk even said he visited Epstein's house "several years ago." Epstein also told The New York Times he had advised Musk while Tesla was trying to go public in 2018, though Musk denies those claims.
Private Investigator
Notably, Musk also said in the filings that he paid a private investigator more than $50,000 to investigate Unsworth after receiving an unsolicited email from the PI in August 2018.
In the documents, Musk says that the investigator: "reported that Mr. Unsworth met and began a relationship with his alleged Thai wife when she around twelve years old."
He also added that the investigator "reported that Mr. Unsworth associated with Europeans who engage in improper sexual conduct in Thailand," and that he "learned that Mr. Unsworth frequented Pattaya Beach which is well known for prostitution and sex tourism, and that Mr. Unsworth was unpopular at the rescue site because other rescue workers thought that he was 'creepy.'"
Musk goes on to say this was the basis for the comments he made in his email to BuzzFeed.
"I did not authorize Mr. Mac or BuzzFeed to publish the contents of the email nor did I intend or expect that they would," he said. "Especially without first independently verifying and confirming its information."
He later added that he gave the information to Mac "so that BuzzFeed could conduct its own investigation into Mr. Unsworth and corroborate the information."
Musk's lawyers even admitted in the court filings that the private investigator's findings "lacked solid evidence of Mr. Unsworth's behavior."
Following the release of the court documents, Unsworth's lawyer gave a statement to BuzzFeed condemning the Musk's defense.
"The motion filed by Elon Musk today is a disgusting and transparent effort to continue falsely smearing Vernon Unsworth without any credible or verified supporting evidence," the lawyer said.
"Mr. Unsworth's opposition to Musk's motion will reveal the whole truth of Musk's actions and the falsity of his public statements and his motion with respect to Mr. Unsworth will be exposed."
Tik Tok "Skull Breaker" Challenge Leading to Severe Injuries
Tik Tok has seen a new viral challenge that involves a person getting tricked into jumping into the air while two others kick their legs out from under them, causing them to fall onto the ground.
Multiple young people have suffered injuries as a result of the challenge, and it has been reported that one Brazilian teenager died.
Concerned parents are striving to raise awareness of the dangers of the trend, and one student even started a non-profit organization to combat pranking and bullying after falling victim to the challenge herself.
---
Dangerous Online Trend
A new trend is making its rounds on the popular app Tik Tok— one that has led to serious injuries and received backlash from concerned parents.
The "skull breaker" challenge involves three people standing in a line, shoulder to shoulder, under the pretense that all of them will jump into the air at the same time. But instead, only the middle person jumps while the two people flanking them kick their legs out from under them, causing them to slam into the ground. In most cases it appears that the middle person is tricked into the challenge, unaware that they will be knocked over.
The danger of the "skull breaker" challenge can be found in its name, as it quite literally has the potential to crack people's heads open. Doctors are warning that it can result in broken bones, concussions, and brain bleeding, among other injuries.
Tik Tok has expressed their disapproval of the challenge. The app told ABC News that the safety of their users is a top priority and they "do not allow content that encourages or replicates dangerous challenges that might lead to injury."
Awareness Growing
This new online fad is the latest dangerous trend among young people, akin to the Tide Pod challenge and the viral Tik Tok "outlet challenge" that prompted warnings from fire officials. A Brazilian teenager reportedly died from the "skull breaker" challenge, and more youth around the world have been seriously hurt.
The recent virtual trend raised eyebrows in Daytona Beach, Florida in January, when two students convinced an unsuspecting third female student to perform the challenge for Tik Tok content. 
According to the Daytona Beach News Journal, the video has since been deleted. The News Journal reported that the victim's parents were originally going to let the school handle it but ultimately decided to press charges. The Daytona Beach Police Department told TODAY that two students are facing misdemeanor charges of battery and cyberbullying as a result of the prank.
On Feb. 8, an Arizona woman posted images of her injured son to Facebook, reporting a head injury as well as stitches and cuts to his face that stemmed from the skull breaker challenge.
"My son was asked to do a jumping contest with his 2 'friends,' when he jumped up, the 2 boys kicked him, as hard as they could, so his legs flew out in front of him," Valerie Hodson wrote. "He landed hard flat on his back and head, as he struggled to get up he lost consciousness, he fell forward landing on his face."
"I really contemplated posting this, but I feel there needs to be awareness of this malicious cruel viral prank," Hodson said.

Hodson's son is not the only child to be hospitalized due to the skull breaker challenge. Teri Smith, a woman located in Alabama, also took to Facebook to discuss her son's broken bones after falling victim to the prank.
"Prayers needed… Parker was unknowingly tiktok pranked which caused him to fall," Smith wrote.
Similar pushes for awareness have been seen as impacts of the challenge have been felt by others around the country. In Portland, Oregon, 14-year-old Olivia Ross said she hit her head hard on the ground after she was tricked into the challenge by two seniors at her high school.
"They just told me we were going to jump for a video. Of course I was excited since they were upperclassmen and they were asking me to be in their video," Ross told KOIN 6. "But I didn't know what was going to happen."
Ross and her mother, Lindsay Zobrist, decided the best course of action was to spread awareness of these types of viral pranks because they expect that many kids don't know how dangerous they can be. They created a non-profit organization called Teaching Kindness Matters and are working to get school districts to include "pranking" in their definition of bullying.
See what others are saying: (TODAY) (Forbes) (ABC13)
Trump Slams Oscars for Awarding South Korean Film Best Picture
At a Colorado rally on Feb. 20, President Donald Trump bashed the Oscars for giving this year's Best Picture award to "Parasite," a South Korean film. 
He instead called for movies like "Gone With the Wind" to return, a production that has been criticized for romanticizing slavery. 
Additionally, Trump called Brad Pitt a "little wise guy" for making a joke about the president's impeachment trial during his Oscars acceptance speech.
In response to his remarks, the U.S. distributor of "Parasite," dissed the president for not being able to read the film's subtitles. 
Others also gave Trump backlash for not liking the film because it revolves around a struggling Asian working-class family.
---
Oscars Jab
At a rally in Colorado on Thursday, President Donald Trump took a dig at the 2020 Oscars for awarding Best Picture to the South Korean film "Parasite."
"By the way, how bad were the Academy Awards this year?" Trump asked the crowd in Colorado Springs, who responded with boos.
"And the winner is a movie from South Korea, what the hell was that all about?" Trump asked. "We got enough problems with South Korea with trade. On top of it, they give them the best movie of the year."
Despite his criticisms, Trump went on to imply that he didn't even watch the film.
"Was it good? I don't know," he said.
"Parasite" made history earlier this month when it became the first film in a non-English language to win the Academy Award for Best Picture. On top of that, the movie took home awards for Best Original Screenplay, Best International Language Film, and Best Director—Bong Joon Ho.
These accomplishments didn't seem to impress the president. Instead, he called for movies like "Gone With the Wind" and "Sunset Boulevard" to return. Both films feature white stars and were directed by white men. 
Released in 1939, "Gone With the Wind" centers around a plantation-owning family in 1861. Accounting for inflation, it still holds the record for the highest-grossing film in U.S. history. But in recent years, the film has largely gone from a revered American classic to a piece of work examined and criticized for its romanticism of slavery.
Also at Thursday's rally, Trump slammed Brad Pitt, who made a joke about the president's impeachment trial during his Oscars acceptance speech for Best Supporting Actor.
"They told me I only have 45 seconds up here, which is 45 seconds more than the Senate gave John Bolton this week," Pitt said at the awards show on Feb. 9.
The "Once Upon A Time in…Hollywood" star was referring to the former national security advisor who had not been allowed to testify in the impeachment trial.
"And then you have Brad Pitt. I was never a big fan of his. He got up, said a little wise guy statement. Little wise guy. He's a little wise guy," Trump said on Thursday.
Clap Backs Against POTUS
The president's critiques of the Academy Awards did not go unnoticed. Though "Parasite" is in Korean, it's accompanied by English subtitles. Neon, the film's U.S. distributor, responded to Trump's remarks in a biting tweet.
"Understandable, he can't read," the company said in their reactions to Trump's dislike of the movie.
Neon added the hashtag #Bong2020 in reference to the film's director.
The Democratic National Committee also weighed in, adding their own diss to the president.
"Parasite is a foreign movie about how oblivious the ultra-rich are about the struggles of the working class, and it requires two hours of reading subtitles. Of course Trump hates it."
Other Twitter users chimed in with similar messages condemning the president.
"Anyway parasite is still the best movie of the year Trump's racist ass can cry about it," one person said.
UCLA Drops Controversial Facial Recognition Plan
After backlash from students and activist groups, UCLA is dropping its plans to use facial recognition on campus.
Critics said the software often fails when recognizing women and people of color, and could lead to racial profiling.
UCLA released a statement, just over a week before a National Day of Action to Ban Facial Recognition from College Campuses is set to be held, saying that the school longer thinks the technology would be effective at the school.
The use of facial recognition software on college campuses and on a national level has long been a subject of debate. Several cities have already banned it, and last week, two Senators proposed legislation banning it on a federal level unless Congressional guidelines are enacted.
---
UCLA Stops Plans to Use Facial Recognition
After backlash from students and activists, the University of California, Los Angeles has dropped its plans to use facial recognition technology on its campus.
UCLA announced plans to potentially use it in its security systems. Students were concerned that this technology could interfere with students' privacy and lead to racial profiling on campus.
"We have determined that the potential benefits are limited and are vastly outweighed by the concerns of the campus community," Michael Beck, the Administrative Vice-Chancellor of the school said in a statement to Fight for the Future, a group advocating for freedom in the digital age.
Fight for the Future is holding a National Day of Action to Ban Facial Recognition from College Campuses on March 2. The group had been very vocal when encouraging UCLA not to adopt facial recognition. They did a test on how effective it would be at the school and found racial biases in its algorithm.
Inaccuracies in Facial Recognition
Fight for the Future used Rekognition, a software made available by Amazon, and scanned publicly available photos of UCLA athletes and faculty and compared them to a mugshot database. They scanned 400 faces in total and said that 58 were falsely matched.
"The vast majority of incorrect matches were of people of color," Fight for the Future said of their findings. "In many cases, the software matched two individuals who had almost nothing in common beyond their race, and claimed they were the same person with '100% confidence.'"
They are not the only group to find this. According to a study from the National Institute of Standards and Technology, in terms of one-to-one matching, there are higher rates of false positives for Asian and African American faces in comparison to white faces. They specifically noticed increased false positives when it came to African American females.
Student Concerns
Students at UCLA expressed their concerns about this. An editorial in the school's paper, the Daily Bruin, warned against using facial recognition because of the potential inaccuracies and profiling of people of color.
"For students belonging to these groups, facial recognition technology would simply reinforce the biases that are already stacked against them," the piece said. The editorial listed privacy as a concern as well.
"Facial recognition technology would present a major breach of students' privacy and make students feel unsafe on a campus they are supposed to call home," the Daily Bruin editorial staff wrote. "It is one thing to monitor campus activity with security cameras, but it's another entirely to automatically identify individuals and track their every move on campus."
Students and advocacy groups like Fight for the Future were pleased with UCLA's ultimate decision to not use facial recognition.
"Let this be a lesson to other school administrators: if you try to experiment on your campus with racist, invasive surveillance technology, we will come for you. And we don't lose," Deputy Director of Fight for the Future, Evan Greer, said in a statement.
Facial Recognition on a National Scale
UCLA is not the only college in the United States having a conversation about facial recognition. Fight for the Future has been keeping a scorecard of schools that have stated their intentions on using facial recognition. While big schools like Harvard, MIT, Michigan State, and NYU have said they do not intend on using it, other major colleges like Ohio State, Princeton, and the University of Georgia have stated that they might.
Outside of colleges, other localities have already been working on fighting against facial recognition technology. In 2019, San Francisco became the first U.S. city to ban facial recognition technology. Somerville, MA, Oakland, CA and Berkeley, CA did the same months later.
Still, this kind of technology is still used on a wide scale. According to Vox, in states like Texas, Florida, and Illinois, the FBI uses it to scan through DMV databases. In many U.S. airports, Customs and Border Protection uses it for screening passengers on international flights.
Recently Proposed Legislation
The national use of this could be subject to change, though. In February, Senators Jeff Merkley (D-)R) and Cory Booker (D-NJ) proposed legislation that would ban federal use of facial recognition until proper regulations and rules had been established by Congress for it.
"Facial recognition is a technology that is increasingly being used and marketed to law enforcement agencies across the United States without appropriate debate or consideration of its impacts," the bill said before describing that this technology has been used at protests, rallies, and other events where one's' freedom of speech is on display.
"It is critical that facial recognition not be used to suppress First Amendment related activities, violate privacy, or otherwise adversely impact individuals' civil rights and civil liberties," the legislation continued.
This legislation would still allow law enforcement to use it if given a court order.