Elon Musk Defends Calling Rescue Diver "Pedo Guy" in Lawsuit
In court documents, Elon Musk defended a tweet where he called a diver who helped rescue the Thai soccer team from a cave a "pedo guy" because it "was a common insult used in South Africa." 
The diver sued Musk for defamation last year after Musk sent an email to BuzzFeed where he referred to the diver as "child rapist" who had taken a "child bride who was about 12 years old." 
The court documents from the suit, which were made public Monday, also revealed that Musk paid a private investigator more than $50,000 to look into the diver.
Musk also said he gave the statement to BuzzFeed based on information provided by the investigator, and because he was concerned the diver could be the next Jeffrey Epstein. 
---
Court Filings Made Public
Telsa CEO Elon Musk defended calling a rescue diver "pedo guy," court documents revealed Monday.
Musk originally made the comment in July 2018, after Vernon Unsworth, a British diver who helped rescue the Thai soccer team trapped in a cave last year, gave an interview to CNN where he had some choice things to say about Musk.
Notably, Unsworth said the submarine Musk had designed to rescue the soccer team would not work and that it was just a PR stunt.
Musk responded by calling Unsworth a "pedo guy" in a now-deleted tweet.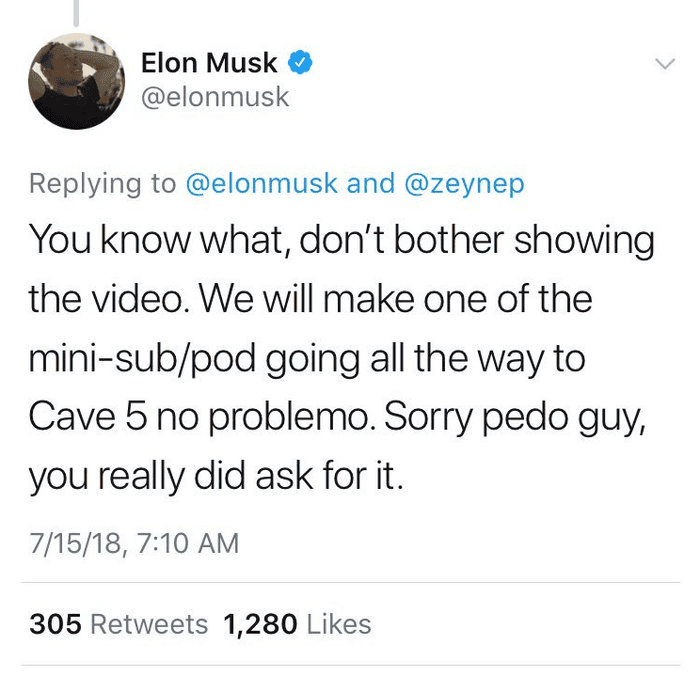 He also sent an email to BuzzFeed reporter Ryan Mac, in which he accused Unsworth of being a "child rapist" who had taken a "child bride who was about 12 years old at the time."
Musk said he thought the email was off the record, but BuzzFeed said they never agreed to that. In September 2018, Unsworth filed a defamation lawsuit against Musk in the Central District of California.
Court filings from the defamation suit against Musk were made public on Monday.
Musk Defends "Pedo Guy" Tweet
In those documents, Musk claimed that referring to Unsworth as "pedo guy" was not a direct accusation of pedophilia.
"'Pedo guy' was a common insult used in South Africa when I was growing up," Musk wrote. "It is synonymous with 'creepy old man' and is used to insult a person's appearance and demeanor, not accuse a person of acts of pedophilia."
"I did not intend to accuse Mr. Unsworth of engaging in acts of pedophilia," he continued. "In response to his insults in the CNN interview, I meant to insult him back by expressing my opinion that he seemed like a creepy old man."
The fact that Musk is arguing he was expressing his opinion is important in this context because under the First Amendment, opinions are usually protected speech and not considered defamatory.
The documents also included Musk's deposition, where he talks more in-depth about the "pedo guy" tweet.
In the deposition, Musk said he sent BuzzFeed the email because he was worried it could turn into a Jeffrey Epstein situation, referring to the wealthy financier who was accused of sexually assaulting dozens of young women, including many underage girls.
"What if we have another Jeffrey Epstein on our hands?" he said. "And what if he uses whatever celebrity he gains from this cave rescue to shield his bad deeds? This would be terrible."
Musk's Epstein argument might become problematic. First of all, he made the statements to BuzzFeed before the new allegations surfaced, which some have argued proves he just is using current news to frame Unsworth in a certain way, and that he did not actually consider Epstein at all.
That argument is also furthered by the fact that it has been reported that Musk had attended several events with Epstein, all of which were after Epstein pleaded guilty to soliciting prostitution from an underage girl in 2008.
Musk even said he visited Epstein's house "several years ago." Epstein also told The New York Times he had advised Musk while Tesla was trying to go public in 2018, though Musk denies those claims.
Private Investigator
Notably, Musk also said in the filings that he paid a private investigator more than $50,000 to investigate Unsworth after receiving an unsolicited email from the PI in August 2018.
In the documents, Musk says that the investigator: "reported that Mr. Unsworth met and began a relationship with his alleged Thai wife when she around twelve years old."
He also added that the investigator "reported that Mr. Unsworth associated with Europeans who engage in improper sexual conduct in Thailand," and that he "learned that Mr. Unsworth frequented Pattaya Beach which is well known for prostitution and sex tourism, and that Mr. Unsworth was unpopular at the rescue site because other rescue workers thought that he was 'creepy.'"
Musk goes on to say this was the basis for the comments he made in his email to BuzzFeed.
"I did not authorize Mr. Mac or BuzzFeed to publish the contents of the email nor did I intend or expect that they would," he said. "Especially without first independently verifying and confirming its information."
He later added that he gave the information to Mac "so that BuzzFeed could conduct its own investigation into Mr. Unsworth and corroborate the information."
Musk's lawyers even admitted in the court filings that the private investigator's findings "lacked solid evidence of Mr. Unsworth's behavior."
Following the release of the court documents, Unsworth's lawyer gave a statement to BuzzFeed condemning the Musk's defense.
"The motion filed by Elon Musk today is a disgusting and transparent effort to continue falsely smearing Vernon Unsworth without any credible or verified supporting evidence," the lawyer said.
"Mr. Unsworth's opposition to Musk's motion will reveal the whole truth of Musk's actions and the falsity of his public statements and his motion with respect to Mr. Unsworth will be exposed."
Florida Cracks Down on "Vaccine Tourism"
Florida is now requiring that people show proof of either full-time or part-time residency in the state in order to get vaccinated against COVID-19. 
The state has been hit with "vaccine tourism" as many people, predominantly wealthy individuals, fly to the state from other parts of the U.S. and abroad just to get the shot. 
So far, nearly 41,000 of the 1.3 million doses administered in Florida went to out-of-staters, though it is unclear if all those people were tourists or if this figure includes some part-time residents.
---
Florida Requires Proof of Residency
Florida is cracking down on "vaccine tourism" and requiring that people show proof of either full-time or part-time residency in the state in order to get a COVID-19 shot.
Previously the state was allowing anyone 65 and older, including non-residents, to get the vaccine. This resulted in people flying to the Sunshine State from across the U.S. and abroad just for the purpose of receiving it.
According to state data, nearly 41,000 of the 1.3 million doses Florida has administered have gone to out-of-staters. It is unclear if all these out-of-staters are tourists or if this figure includes some part-time residents.
Now, people must show a form of identification like a driver's license or mortgage payment to receive it. Exceptions will be made for healthcare workers.
Vaccine Supply Continues to Be Limited
Wealthy people in particular were quick to schedule travel plans to Florida for this reason. According to the Wall Street Journal, there was an influx of Canadians booking private jets to Florida. Some were looking to book flights there and back on the same day, leaving just enough time for them to get vaccinated against the coronavirus.
Meanwhile, people in Florida and across the country are waiting in long lines and struggling to book appointments on glitching websites to get their shots. Vaccine supply continues to be incredibly limited and not everyone in high-risk groups have received them.
Florida Governor Ron DeSantis said this rule is not made to impact snowbirds, people who live in Florida during the winter to escape cold weather up north.
"They go to doctors here or whatever, that's fine, DeSantis said, according to CNN. "What we don't want is tourists, foreigners. We want to put seniors first, but we obviously want to put people that live here first in line."
Amanda Gorman Wows the Nation With "The Hill We Climb"
Amanda Gorman, a 22-year-old poet, impressed the nation when she read "The Hill We Climb" at President Biden's inauguration, making her the youngest inaugural poet in the nation's history.
Gorman's said the Jan. 6 attack on the nation's Capitol inspired her to focus on a message of hope, community, and healing in her poem.
Big names like Oprah Winfrey, Anderson Cooper, Barack Obama, and Lin-Manuel Miranda have all praised her work.
---
Amanda Gorman Becomes Youngest Inaugural Poet
Inaugural poet Amanda Gorman wowed the nation on Wednesday as she spoke of healing, unity, hope, and what it means to be American while reading her poem, "The Hill We Climb."
At 22-years-old Gorman is the youngest inaugural poet in the nation's history. Born and raised in Los Angeles, she was the youth poet laureate of Los Angeles in 2014 at the age of 16. She then became the first national youth poet laureate in 2017.
Now, her books are topping Amazon's Best Sellers list and they are not even scheduled to be released until the fall.
First Lady Dr. Jill Biden became a fan of Gorman after watching her give a reading at the Library of Congress. She then suggested that Gorman be a part of the ceremony.
"Let the globe, if nothing else, say this is true: That even as we grieved, we grew. That even as we hurt, we hoped That even as we tired, we tried," Gorman recited during inauguration. "That we'll forever be tied together, victorious. Not because we will never again know defeat but because we will never again sow division."
Like President Biden, Gorman has struggled with a speech impediment and has been open about her experience overcoming it. She actually used poetry as a tool to correct it. First, she used it as a way of expressing herself without having to speak. Then she used it to bring her poems to life.
"Once I arrived at the point in my life in high school, where I said, 'you know what? Writing my poems on the page isn't enough for me," she told CBS News. "I have to give them breath, and life, I have to perform them as I am.' That was the moment that I was able to grow past my speech impediment."
What Inspired "The Hill We Climb"
Gorman said the inaugural committee gave her freedom and flexibility when it came to choosing what to write about. She was well on her way before the Jan. 6 attack on the U.S. Capitol. Those events then influenced her writing.
"It energized me even more to believe that much more firmly in a message of hope, community and healing. I felt like that was the type of poem that I needed to write and it was the type of poem that the country and the world needed to hear," she told CNN's Anderson Cooper.
That message came across clearly and the insurrection was depicted in part of "The Hill We Climb."
"It's because being American is more than a pride we inherit. It's the past we step into and how we repair it. We've seen a force that would shatter our nation rather than share it, would destroy our country if it meant delaying democracy and this effort very nearly succeeded," she said. "But while democracy can be periodically delayed it can never be permanently defeated. In this truth, in this faith we trust. For while we have our eyes on the future history has its eyes on us."
Nation Impressed by Gorman
"Wow…Wow, I just, wow you're awesome," Cooper said when closing his interview with her. "I am so transfixed."
Lin-Manuel Miranda also cheered Gorman on. "The Hill We Climb" notably references a line of scripture that appears in a "Hamilton" song. Gorman also said she used to sing the song "Aaron Burr, Sir" to help her say her R sounds and correct her speech impediment.
"I have never been prouder to see another young woman rise!" Oprah Winfrey wrote. "Brava Brava Amanda Gorman! Maya Angelou is cheering—and so am I."
Winfrey also gave Gorman a ring with a caged bird on it—a reference to the famous Angelou poem— which Gorman wore during the inauguration.
Actor Mark Ruffalo joined the onslaught of praise, saying that her words will lead the nation.
Former President Barack Obama echoed that idea as well, and former Secretary of State Hillary Clinton said Gorman promised to run for president one day.
SAT Drops Subject Tests and Optional Essay Section
The College Board will discontinue SAT subject tests effective immediately and will scrap the optional essay section in June.
The organization cited the coronavirus pandemic as part of the reason for accelerating these changes.
Regarding subject tests, the College Board said the other half of the decision rested on the fact that Advanced Placement tests are now more accessible to low-income students and students of color, making subject tests unnecessary.
It also said it plans to launch a digital version of the SAT in the near future, despite failing to implement such a plan last year after a previous announcement.
---
College Board Ends Subject Tests and Optional Essay
College Board announced Tuesday that it will scrap the SAT's optional essay section, as well as subject tests.
Officials at the organization cited the COVID-19 pandemic as part of the reason for these changes, saying is has "accelerated a process already underway at the College Board to simplify our work and reduce demands on students."
The decision was also made in part because Advanced Placement tests, which College Board also administers, are now available to more low-income students and students of color. Thus, College Board has said this makes SAT subject tests unnecessary. 
While subject tests will be phased out for international students, they have been discontinued effective immediately in the U.S.
Regarding the optional essay, College Board said high school students are now able to express their writing skills in a variety of ways, a factor which has made the essay section less necessary.
With several exceptions, it will be discontinued in June.
The Board Will Implement an Online SAT Test
In its announcement, College Board also said it plans to launch a revised version of the SAT that's aimed at making it "more flexible" and "streamlined" for students to take the test online.
In April 2020, College Board announced it would be launching a digital SAT test in the fall if schools didn't reopen. The College Board then backtracked on its plans for a digital test in June, before many schools even decided they would remain closed.
According to College Board, technological challenges led to the decision to postpone that plan.
For now, no other details about the current plan have been released, though more are expected to be revealed in April.