Elon Musk Defends Calling Rescue Diver "Pedo Guy" in Lawsuit
In court documents, Elon Musk defended a tweet where he called a diver who helped rescue the Thai soccer team from a cave a "pedo guy" because it "was a common insult used in South Africa." 
The diver sued Musk for defamation last year after Musk sent an email to BuzzFeed where he referred to the diver as "child rapist" who had taken a "child bride who was about 12 years old." 
The court documents from the suit, which were made public Monday, also revealed that Musk paid a private investigator more than $50,000 to look into the diver.
Musk also said he gave the statement to BuzzFeed based on information provided by the investigator, and because he was concerned the diver could be the next Jeffrey Epstein. 
---
Court Filings Made Public
Telsa CEO Elon Musk defended calling a rescue diver "pedo guy," court documents revealed Monday.
Musk originally made the comment in July 2018, after Vernon Unsworth, a British diver who helped rescue the Thai soccer team trapped in a cave last year, gave an interview to CNN where he had some choice things to say about Musk.
Notably, Unsworth said the submarine Musk had designed to rescue the soccer team would not work and that it was just a PR stunt.
Musk responded by calling Unsworth a "pedo guy" in a now-deleted tweet.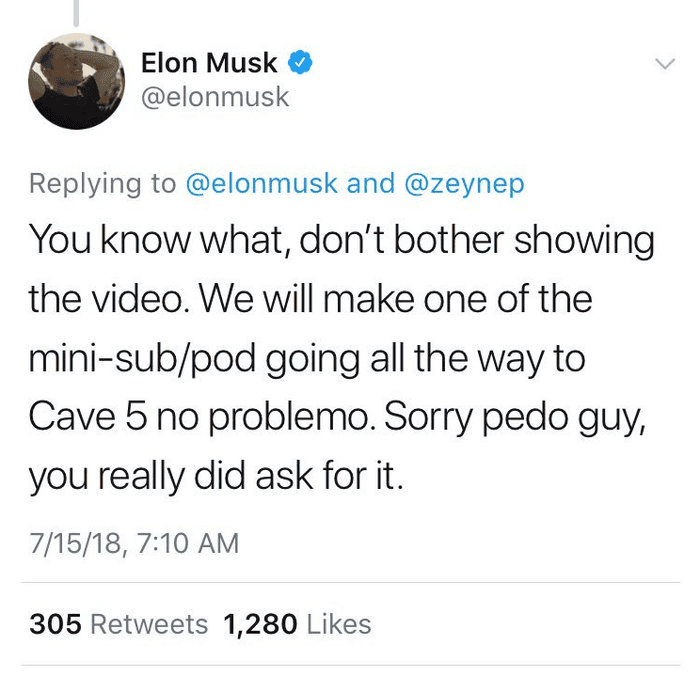 He also sent an email to BuzzFeed reporter Ryan Mac, in which he accused Unsworth of being a "child rapist" who had taken a "child bride who was about 12 years old at the time."
Musk said he thought the email was off the record, but BuzzFeed said they never agreed to that. In September 2018, Unsworth filed a defamation lawsuit against Musk in the Central District of California.
Court filings from the defamation suit against Musk were made public on Monday.
Musk Defends "Pedo Guy" Tweet
In those documents, Musk claimed that referring to Unsworth as "pedo guy" was not a direct accusation of pedophilia.
"'Pedo guy' was a common insult used in South Africa when I was growing up," Musk wrote. "It is synonymous with 'creepy old man' and is used to insult a person's appearance and demeanor, not accuse a person of acts of pedophilia."
"I did not intend to accuse Mr. Unsworth of engaging in acts of pedophilia," he continued. "In response to his insults in the CNN interview, I meant to insult him back by expressing my opinion that he seemed like a creepy old man."
The fact that Musk is arguing he was expressing his opinion is important in this context because under the First Amendment, opinions are usually protected speech and not considered defamatory.
The documents also included Musk's deposition, where he talks more in-depth about the "pedo guy" tweet.
In the deposition, Musk said he sent BuzzFeed the email because he was worried it could turn into a Jeffrey Epstein situation, referring to the wealthy financier who was accused of sexually assaulting dozens of young women, including many underage girls.
"What if we have another Jeffrey Epstein on our hands?" he said. "And what if he uses whatever celebrity he gains from this cave rescue to shield his bad deeds? This would be terrible."
Musk's Epstein argument might become problematic. First of all, he made the statements to BuzzFeed before the new allegations surfaced, which some have argued proves he just is using current news to frame Unsworth in a certain way, and that he did not actually consider Epstein at all.
That argument is also furthered by the fact that it has been reported that Musk had attended several events with Epstein, all of which were after Epstein pleaded guilty to soliciting prostitution from an underage girl in 2008.
Musk even said he visited Epstein's house "several years ago." Epstein also told The New York Times he had advised Musk while Tesla was trying to go public in 2018, though Musk denies those claims.
Private Investigator
Notably, Musk also said in the filings that he paid a private investigator more than $50,000 to investigate Unsworth after receiving an unsolicited email from the PI in August 2018.
In the documents, Musk says that the investigator: "reported that Mr. Unsworth met and began a relationship with his alleged Thai wife when she around twelve years old."
He also added that the investigator "reported that Mr. Unsworth associated with Europeans who engage in improper sexual conduct in Thailand," and that he "learned that Mr. Unsworth frequented Pattaya Beach which is well known for prostitution and sex tourism, and that Mr. Unsworth was unpopular at the rescue site because other rescue workers thought that he was 'creepy.'"
Musk goes on to say this was the basis for the comments he made in his email to BuzzFeed.
"I did not authorize Mr. Mac or BuzzFeed to publish the contents of the email nor did I intend or expect that they would," he said. "Especially without first independently verifying and confirming its information."
He later added that he gave the information to Mac "so that BuzzFeed could conduct its own investigation into Mr. Unsworth and corroborate the information."
Musk's lawyers even admitted in the court filings that the private investigator's findings "lacked solid evidence of Mr. Unsworth's behavior."
Following the release of the court documents, Unsworth's lawyer gave a statement to BuzzFeed condemning the Musk's defense.
"The motion filed by Elon Musk today is a disgusting and transparent effort to continue falsely smearing Vernon Unsworth without any credible or verified supporting evidence," the lawyer said.
"Mr. Unsworth's opposition to Musk's motion will reveal the whole truth of Musk's actions and the falsity of his public statements and his motion with respect to Mr. Unsworth will be exposed."
Survey and Census Data Shows Record Number of Americans are Struggling Financially
Americans are choosing not to pursue medical treatment more and more frequently as they encounter money troubles.
---
A recent federal survey shows that a record number of Americans were worse off financially in 2022 than a year prior.
Coupled with recent census data showing pervasive poverty across much of the country, Americans are forced to make difficult decisions, like foregoing expensive healthcare. 
According to a recent Federal Reserve Bureau survey, 35% of adults say they were worse off in 2022 than 2021, which is the highest share ever recorded since the question was raised in 2014. 
Additionally, half of adults reported their budget was majorly affected by rising prices across the country, and that number is even higher among minority communities and parents living with their children.
According to recent census data, more than 10% of the counties in the U.S. are experiencing persistent poverty, meaning the area has had a poverty rate of 20% or higher between 1989 and 2019. 
16 states report at least 10% of their population living in persistent poverty. But most of the suffering counties were found in the South — which accounts for over half the people living in persistent poverty, despite making up less than 40% of the population. 
These financial realities have placed many Americans in the unfortunate situation of choosing between medical treatment and survival. The Federal Reserve study found that the share of Americans who skipped medical treatment because of the cost has drastically increased since 2020. 
The reflection of this can be found in the overall health of households in different income brackets. 75% of households with an income of $25,000 or less report being in good health – compared to the 91% of households with $100,000 or more income. 
Montana Governor Signs TikTok Ban
The ban will likely face legal challenges before it is officially enacted next year.
---
First Statewide Ban of TikTok
Montana became the first state to ban TikTok on Wednesday after Gov. Greg Gianforte (R) signed legislation aimed at protecting "Montanans' personal and private data from the Chinese Communist Party."
The ban will go into effect on Jan. 1, 2024, though the law will likely face a handful of legal challenges before that date. 
Under the law, citizens of the state will not be held liable for using the app, but companies that offer the app on their platforms, like Apple and Google, will face a $10,000 fine per day of violations. TikTok would also be subject to the hefty daily fine.
Questions remain about how tech companies will practically enforce this law. During a hearing earlier this year, a representative from TechNet said that these platforms don't have the ability to "geofence" apps by state.
Roger Entner, an analyst at Recon Analytics, told the Associated Press that app stores could have the capability to enforce the restriction, but it would be difficult to carry out and there would be a variety of loopholes by tools like VPNs.
Montana's law comes as U.S. politicians have taken aim at TikTok over its alleged ties to the CCP. Earlier this year, the White House directed federal agencies to remove TikTok from government devices. Conservatives, in particular, have been increasingly working to restrict the app.
"The Chinese Communist Party using TikTok to spy on Americans, violate their privacy, and collect their personal, private, and sensitive information is well-documented," Gov. Gianforte said in a Wednesday statement.
Criticism of Montana Law
TikTok, however, has repeatedly denied that it gives user data to the government. The company released a statement claiming Montana's law "infringes on the First Amendment rights of the people" in the state.
"We want to reassure Montanans that they can continue using TikTok to express themselves, earn a living, and find community as we continue working to defend the rights of our users inside and outside of Montana," the company said.
The American Civil Liberties Union condemned Montana's law for similar reasons.
"This law tramples on our free speech rights under the guise of national security and lays the groundwork for excessive government control over the internet," the ACLU tweeted. "Elected officials do not have the right to selectively censor entire social media apps based on their country of origin."
Per the AP, there are 200,000 TikTok users in Montana, and another 6,000 businesses use the platform as well. Lawsuits are expected to be filed against the law in the near future.
How a Disney-Loving Former Youth Pastor Landed on The FBI's "Most Wanted" List
 "Do what is best, not for yourself, for once. Think about everyone else," Chris Burns' 19-year-old son pleaded to his father via The Daily Beast. 
---
Multi-Million Dollar Scheme
Former youth pastor turned financial advisor Chris Burns remains at large since going on the run in September of 2020 to avoid a Securities Exchange Commission investigation into his businesses.
Despite his fugitive status, the Justice Department recently indicted Burns with several more charges on top of the $12 million default judgment he received from the SEC. 
Burns allegedly sold false promissory notes to investors across Georgia, North Carolina, and Florida. The SEC claims he told the investors they were participating in a "peer to peer" lending program where businesses that needed capital would borrow money and then repay it with interest as high as 20%. Burns allegedly also reassured investors that the businesses had collateral so the investment was low-risk. 
The SEC says that Burns instead took that money for personal use. 
Burns' History
Burns began his adult life as a youth pastor back in 2007 before transitioning into financial planning a few years later. By 2017, he launched his own radio show, The Chris Burns Show, which was funded by one of his companies, Dynamic Money – where every week Burns would "unpack how this week's headlines practically impact your life, wallet, and future," according to the description. He also frequently appeared on television and online, talking about finances and politics.
The SEC alleges that he used his public appearances to elevate his status as a financial advisor and maximize his reach to investors.
His family told The Daily Beast that he became obsessed with success and he reportedly bought hand-made clothes, a million-dollar lakehouse, a boat, several cars, and took his family on several trips to Disney World. His eldest son and wife said that Burns was paying thousands of dollars a day for VIP tours and once paid for the neighbors to come along. 
Then in September 2020, he reportedly told his wife that he was being investigated by the Securities Exchange Commission but he told her not to worry. 
The day that he was supposed to turn over his business documents to the SEC, he disappeared, telling his wife he was just going to take a trip to North Carolina to tell his parents about the investigation. Then, the car was found abandoned in a parking lot with several cashier's checks totaling $78,000
FBI's Most Wanted
The default judgment in the SEC complaint orders Burns, if he's ever found, to pay $12 million to his victims, as well as over $650,000 in a civil penalty. Additionally, a federal criminal complaint charged him with mail fraud. Burns is currently on the FBI's Most Wanted list. 
Last week, the Justice Department indicted him on several other charges including 10 counts of wire fraud and two counts of mail fraud. 
"Burns is charged for allegedly stealing millions of dollars from clients in an illegal investment fraud scheme," Keri Farley, Special Agent in Charge of FBI Atlanta, said in a statement to The Daily Beast. "Financial crimes of this nature can cause significant disruptions to the lives of those who are victimized, and the FBI is dedicated to holding these criminals accountable."
His family maintains that they knew nothing of Burns' schemes. His wife reportedly returned over $300,000 that he had given to her.
She and their eldest son, who is now 19, told The Daily Beast they just want Burns to turn himself in, take responsibility for his actions, and try to help the people he hurt. 
"Do what is best, not for yourself, for once. Think about everyone else," Burns' son said in a message to his father via The Daily Beast.