Fans Slam Shawn Mendes' Apology for Old Racially Insensitive Posts
During a Q&A, a fan asked singer Shawn Mendes why he had not acknowledged racist posts he made on social media in the past.
Mendes responded, saying his friends had taken his phone to post, but also added, "I apologize for everything insensitive that I said in the past."
Several fans were satisfied with his response, but many argued that he did not take enough responsibility for his words.
---
Old Posts Resurface
Many Shawn Mendes fans are unhappy with the singer after he gave what some feel was an inadequate apology for past offensive posts he made on social media.
In one of the now-deleted tweets from 2013, Mendes responded to a friend, writing "i can see the black coming out in you lauren!" 
In other tweets posted around the same time, Mendes also wrote "Light skin girls >>" and "I'm black, burnt up ya knoe"

Mendes also allegedly used the n-word in a caption for a picture with a friend he posted to Instagram.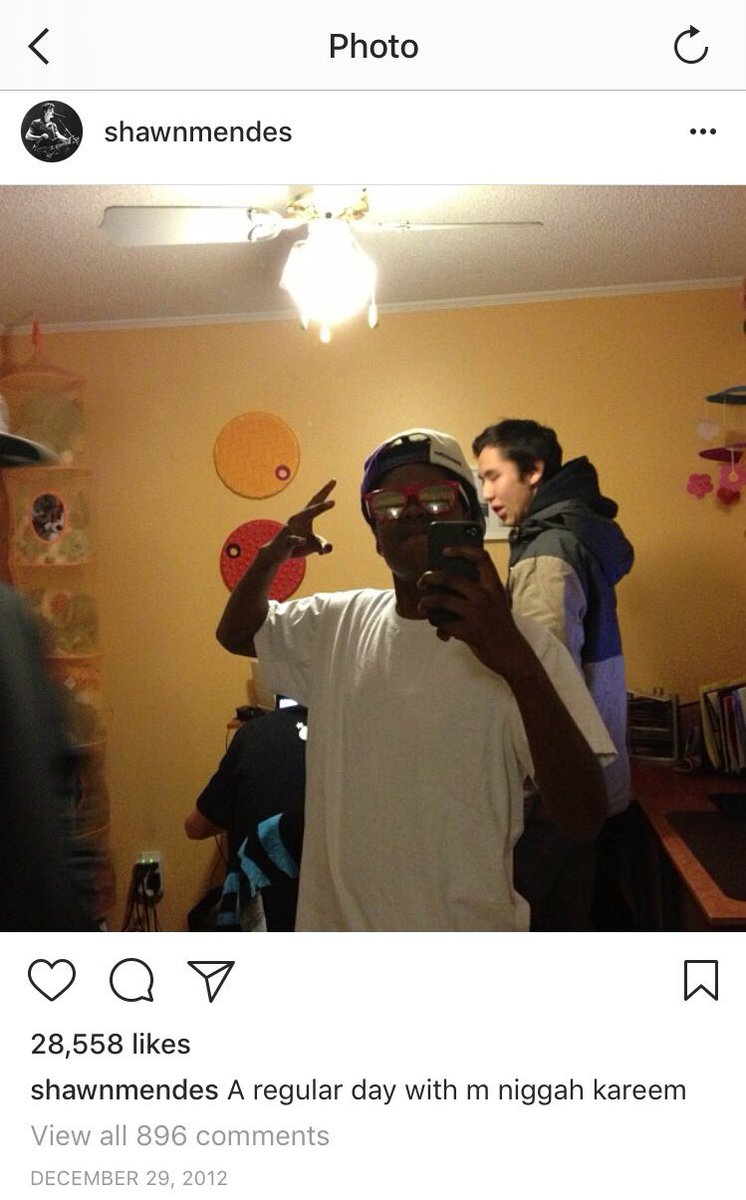 In a picture that appears to have been posted to Snapchat, Mendes uploaded a selfie with the caption "I HAVE AN AFRO! lmao."

Mendes Apologizes
Mendes was asked about the tweets by a fan during a Q&A earlier this week.
"This is kind of a hard question, I don't want you to take any offense to it at all, I just kind of wanted to do it for black Twitter, black Shawn stans everywhere out there," the fan said.
"In the past, there's a lot of kind of ignorant tweets, I guess I could say, kind of hurtful, offensive tweets that you'd tweeted before," she continued. "Why has it never been acknowledged?"
"We get a lot of hate for us supporting you, knowing that this has been, like, your past. And not to say this is you now, or anything like that, it's just really important for us to know, like, how you are," she concluded.
"I just think that a lot of things just need to be moved on from," Mendes replied. "I had friends when I was 14 who would, like, take my phone and, like, post things of them. And like, they thought it was funny that I had like 2,000 followers and it was this big thing, and they'd post photos of themselves."
"At the time I was just, like, not thinking about it," he continued. "I had no idea I was going to have 50 million followers. Which doesn't make it any better, but, yeah, totally. I mean, I apologize for everything insensitive that I said in the past, but with that being said, yeah, I think that's not my personality."
Twitter Reacts
Many fans were not happy with his response and took to Twitter to share their thoughts.
Some argued that Mendes was just blaming his friends for the post and did not take enough responsibility.
It's literally obvious it was him and all he needs to say is "I was young, ive learned and I apologize" and move on. The fact that he refuses to take responsibility and blames it on ""friends"" is incredibly immature and pathetic. Your actions are your fault, nobody else's.

— Britney Spears Updates (@updatingbritney) August 20, 2019
It's funny that he put the blame on his friends, but what's funnier is how he didn't apologize until someone called him out in front of people.

— Nella (fan acc) (@shadysmj) August 20, 2019
Others responded by defending Mendes, and saying that his apology was sufficient.
his apology was valid, just say you hate him and go pic.twitter.com/OiBQSaQ05S

— 𝖓𝖏 shooter for iichy (@particulaparker) August 20, 2019
he apologized everyone can shut up now <3 stop attacking him after he apologized

— evelin | VAL'S DAY (@japanctrl) August 20, 2019
If yall actually watch the entire video you'll see that he handled it well , he's not blaming his friends he acknowledged it and apologised like he should , he educated himself and grew maybe if yall do too …

— 𝒜𝓈𝓂𝒶𝒶 (@notstuckonu) August 20, 2019
Max to Agrees to "Properly" Credit Writers and Directors After Facing Backlash For Lumping Them in As "Creators"
The company said the credits were laid out incorrectly due to "an oversight in the technical transition from HBO Max to Max."
---
After film and television writers slammed Max for crediting all writers, producers, and directors as general "creators" on its platform, the company said it will be adjusting its credits display.
"We agree that the talent behind the content on Max deserve their work to be properly recognized," the streaming service said in a statement obtained by The Hollywood Reporter.
Max — the new rebrand of HBO Max that incorporates Discovery content — launched on Tuesday to much criticism. Amid glitches and app-switching confusion, the biggest backlash it faced was over the choice to lump creative roles into one credit section called "creators." As one viral tweet noted, if a user were to select the film "Raging Bull," the service's display would not specifically credit Martin Scorsese as the director, rather, his name would be included at random with half a dozen other people, including writers and producers. 
The decision was condemned by many in the industry who argued it minimizes writers and directors by not properly giving them credit where it is due. Especially amid the ongoing writers' strike, and with directors and actors starting negotiations with studios, some took it as a slap in the face. 
"The studios don't want anyone to know our names," writer Christina Strain tweeted. "It's easier to pay us nothing if we're faceless."
"Another move from studios to diminish the role of writers, directors, actors and other craftspeople. Miss me wit this nonsense," Jorge Rivera, the Vice-Chair of the Writers Guild's Latinx Writers Committee, added. 
In a statement, Directors Guild President Lesli Linka Glatter said that Warner Bros. Discovery's choice to "collapse" these roles into one credit "while we are in negotiations with them is a grave insult to our members and our union."
"The DGA will not stand for it," Glatter continued.
WGA West President Meredith Stiehm claimed the move was "a credits violation," as well as an insult "to the artists that make the films and TV shows that make their corporation billions."
On Wednesday, Max said it would rework its crediting.
"We will correct the credits, which were altered due to an oversight in the technical transition from HBO Max to Max and we apologize for this mistake," the platform said.
A Quarter of Young British Men Support Andrew Tate's Thoughts on Women
U.K. residents at large, however, do not view him favorably.
---
Even under house arrest in Romania, misogynist influencer Andrew Tate still holds substantial sway over young men. 
According to data from YouGov that was obtained by The Independent, 26% of U.K. men between 18 and 29 years old who know of Tate agree with his views on women. That figure was largely the same for men between 30 and 39, as 28% agreed with Tate's opinions on the subject. 
Men in their 30s were slightly more likely to agree with Tate on his thoughts about masculinity. Three out of ten supported those views, compared to just a quarter of men 18 to 29.
Those statistics only include the thoughts of men who have heard of Tate, but per YouGov, most have. In the 18 to 29 group, 93% were familiar with him, and 86% of men in their 30s knew of him. 
The U.K. at large was less aware of Tate, with just 63% of British adults having heard of him. Of that group, only 6% held a positive view of him.
Tate has faced substantial backlash for his sexist rhetoric over the years. In the past, he said that men should have "authority" over their wives or girlfriends, and that women should "bear some responsibility" for being raped. He was previously banned from Twitter over his extremist views on women but has since been allowed back on the platform. 
He is currently being investigated in Romania for organized crime and human trafficking. He was arrested and held in custody in December but was released to house arrest earlier this year. No formal charges have been filed against him yet and he has maintained his innocence. 
Tate currently boasts a Twitter following of 6.7 million. It has grown significantly since he was enveloped in legal controversy, and many of his supporters have demanded his release. 
Prince Harry and Meghan Markle Involved in "Near Catastrophic" Paparazzi Chase
"While being a public figure comes with a level of interest from the public, it should never come at the cost of anyone's safety," a spokesperson for the couple said.
---
"Aggressive" Paparazzi Chase Couple in New York
Prince Harry and Meghan Markle were involved in a "near catastrophic" paparazzi car chase Tuesday night in New York City, according to a spokesperson for the couple.
In a statement, the spokesperson described the photographers as "highly aggressive."
"While being a public figure comes with a level of interest from the public, it should never come at the cost of anyone's safety," the statement added.
"This relentless pursuit, lasting over two hours, resulted in multiple near collisions involving other drivers on the road, pedestrians and two NYPD officers," it continued.
Details of the incident are still emerging, but BBC News reported that there are claims the chase involved roughly six cars driving recklessly by running red lights, driving on the sidewalk, carrying out blocking moves, going backward on a one-way road, and taking pictures while driving. 
The chase happened after Harry and Meghan were leaving the Women of Vision Awards with Meghan's mother, Doria. They did not want photographers to learn where they were staying and attempted to avoid them in what turned into a 75-minute chase on a main road in Manhattan's Upper East Side. They eventually ducked into a New York Police Department Precinct to hide out before getting into a different vehicle.
The NYPD released a statement confirming that they assisted in protecting the couple as "numerous photographers" hindered their transport. Officials said they made it to their destination and there were no collisions, injuries, or arrests. 
The couple's spokesperson is asking the public to not share or post footage of the incident.
"Dissemination of these images, given the ways in which they were obtained, encourages a highly intrusive practice that is dangerous to all in involved," the spokesperson said.
Memories of Princess Diana
The chase evokes the brutal press hounding Harry's mother, Princess Diana, was subjected to throughout her life. The paparazzi's obsession with her ultimately resulted in her death in 1997, when she was killed in a car crash after being chased by photographers in Paris.
Since marrying Meghan and later bowing out of the Royal Family, Harry has made it explicitly clear that he fears those events could happen again. Meghan has been the subject of endless tabloid scrutiny, enduring racism and harassment from the press. Part of the reason they left the Royal Family was to keep their family protected from such attacks.
Mayor Eric Adams brought up Diana's tragic passing while speaking about Tuesday night's chase. 
"I don't think there's many of us who don't recall how [Harry's] mom died," Adams said while speaking to reporters. "And it would be horrific to lose an innocent bystander during a chase like this and something to have happened to them as well…I think that was a bit reckless and irresponsible."
Adams also questioned whether or not he believes a chase could go on for two hours in a city as congested as New York, but noted that even a 10-minute chase would be dangerous. He said he will be briefed on the exact timeline and details later.