Fans Slam Shawn Mendes' Apology for Old Racially Insensitive Posts
During a Q&A, a fan asked singer Shawn Mendes why he had not acknowledged racist posts he made on social media in the past.
Mendes responded, saying his friends had taken his phone to post, but also added, "I apologize for everything insensitive that I said in the past."
Several fans were satisfied with his response, but many argued that he did not take enough responsibility for his words.
---
Old Posts Resurface
Many Shawn Mendes fans are unhappy with the singer after he gave what some feel was an inadequate apology for past offensive posts he made on social media.
In one of the now-deleted tweets from 2013, Mendes responded to a friend, writing "i can see the black coming out in you lauren!" 
In other tweets posted around the same time, Mendes also wrote "Light skin girls >>" and "I'm black, burnt up ya knoe"

Mendes also allegedly used the n-word in a caption for a picture with a friend he posted to Instagram.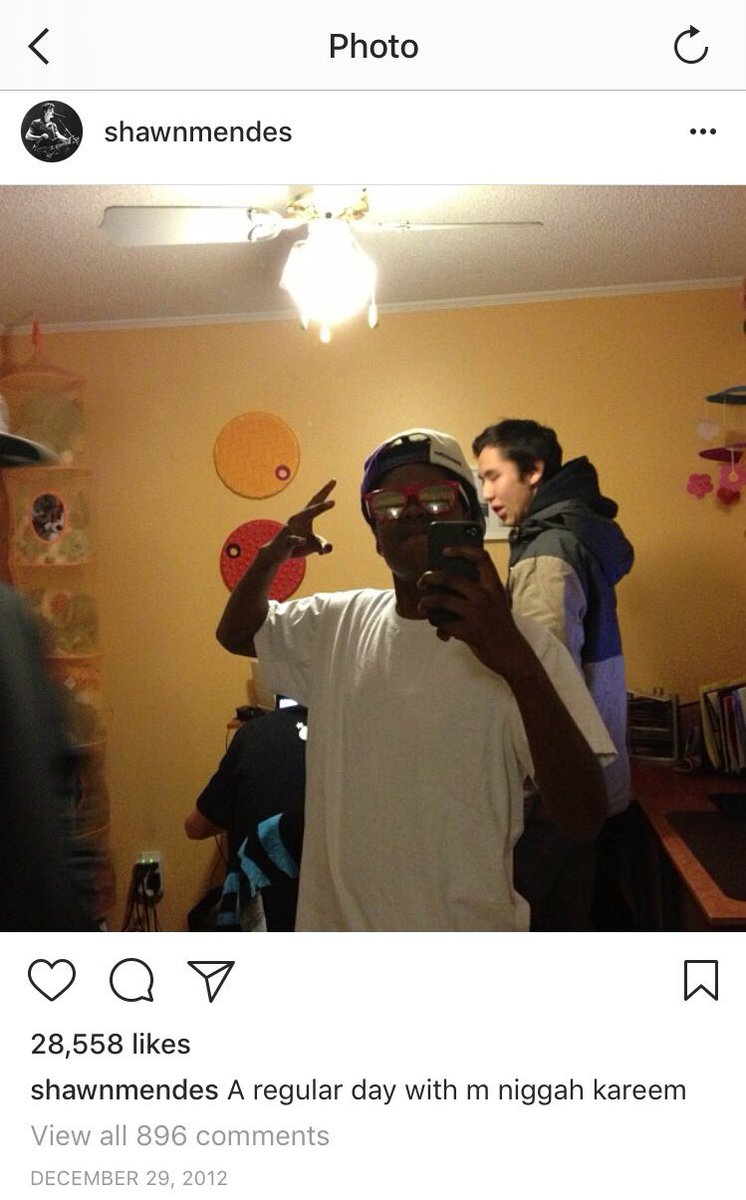 In a picture that appears to have been posted to Snapchat, Mendes uploaded a selfie with the caption "I HAVE AN AFRO! lmao."

Mendes Apologizes
Mendes was asked about the tweets by a fan during a Q&A earlier this week.
"This is kind of a hard question, I don't want you to take any offense to it at all, I just kind of wanted to do it for black Twitter, black Shawn stans everywhere out there," the fan said.
"In the past, there's a lot of kind of ignorant tweets, I guess I could say, kind of hurtful, offensive tweets that you'd tweeted before," she continued. "Why has it never been acknowledged?"
"We get a lot of hate for us supporting you, knowing that this has been, like, your past. And not to say this is you now, or anything like that, it's just really important for us to know, like, how you are," she concluded.
"I just think that a lot of things just need to be moved on from," Mendes replied. "I had friends when I was 14 who would, like, take my phone and, like, post things of them. And like, they thought it was funny that I had like 2,000 followers and it was this big thing, and they'd post photos of themselves."
"At the time I was just, like, not thinking about it," he continued. "I had no idea I was going to have 50 million followers. Which doesn't make it any better, but, yeah, totally. I mean, I apologize for everything insensitive that I said in the past, but with that being said, yeah, I think that's not my personality."
Twitter Reacts
Many fans were not happy with his response and took to Twitter to share their thoughts.
Some argued that Mendes was just blaming his friends for the post and did not take enough responsibility.
It's literally obvious it was him and all he needs to say is "I was young, ive learned and I apologize" and move on. The fact that he refuses to take responsibility and blames it on ""friends"" is incredibly immature and pathetic. Your actions are your fault, nobody else's.

— Britney Spears Updates (@updatingbritney) August 20, 2019
It's funny that he put the blame on his friends, but what's funnier is how he didn't apologize until someone called him out in front of people.

— Nella (fan acc) (@shadysmj) August 20, 2019
Others responded by defending Mendes, and saying that his apology was sufficient.
his apology was valid, just say you hate him and go pic.twitter.com/OiBQSaQ05S

— 𝖓𝖏 shooter for iichy (@particulaparker) August 20, 2019
he apologized everyone can shut up now <3 stop attacking him after he apologized

— evelin | VAL'S DAY (@japanctrl) August 20, 2019
If yall actually watch the entire video you'll see that he handled it well , he's not blaming his friends he acknowledged it and apologised like he should , he educated himself and grew maybe if yall do too …

— 𝒜𝓈𝓂𝒶𝒶 (@notstuckonu) August 20, 2019
Selena Gomez Receives Praise and Backlash for Netflix Docuseries "Living Undocumented"
Netflix released a trailer for its new docuseries executive produced by Selena Gomez titled "Living Undocumented," which follows eight families as they work to gain legal status amid fears of deportation.
Some are praising the project for shining a light on immigration issues, while others fear the show will exploit the pain and trauma immigrants in the U.S. experience.
Others also criticized Gomez for only now stepping into the immigration conversation; however, Gomez has been vocal about some immigration issues in the past. 
---
"Living Undocumented" Announced
Netflix released a trailer on Tuesday for its new docuseries Living Undocumented, which was met with both praise and criticism largely directed at its star executive producer Selena Gomez.
The docuseries, which is scheduled for an Oct. 2 release, follows eight different families who are struggling to gain legal status amid fears of deportation.
"I knew I wasn't born here," a young girl says in the trailer. "I just didn't know that not being born here was something that was dangerous. And I always have to do everything scared."
"That's the dream, isn't it?" a man says in Spanish. "To be able to say: we belong in this society."
In a statement about the project Gomez said, "I chose to produce this series, Living Undocumented, because over the past few years, the word immigrant has seemingly become a negative word."
In a separate Instagram post, she added that the show will star real people facing issues that are more complex than one administration or law.
Mixed Response Online
After watching the trailer and learning of Gomez's involvement, many people online began praising the series.
"Just watched the previews for #livingundocumented and it brought tears to my eyes," one Twitter user wrote. "My parents came to the us undocumented and I remembered what it felt like living in that fear. can't wait to watch @selenagomez"
On the opposite side of the spectrum, others worried the show might exploit undocumented immigrants. Some also criticized Gomez, claiming she hasn't done enough for the undocumented community.
"People want to claim their communities issues when those issues become monetary gain," one person said. "Selena Gomez gets to make this one documentary and pretend to do any work for the undocumented community. She gets to make these people relive trauma and walk away with a Netflix check."
Several concerns stemmed from the fact that Gomez herself was born in Texas, making her a legal citizen.
"The undocumented community has emphasized so much that we don't like when people try to be the voice of the voiceless," one person said. "She's not undocumented and doesn't fully understand that experience so when people try to speak for us it can come off inaccurately"
The undocumented community has emphasized so much that we don't like when people try to be the voice of the voiceless. She's not undocumented and doesn't fully understand that experience so when people try to speak for us it can come off inaccurately

— Leidy (@leidythelady) September 17, 2019
Other people who also said they are undocumented, however, supported Gomez and the show for shedding light on the issue by bringing the narrative to undocumented families.
"Why is it a problem when Selena helps?" one person tweeted. "It's almost like you guys wait for her to breath to tell her she's doing it wrong. I'm an undocumented [immigrant] and I am very happy she did this. Why aren't you? She's literally bringing more attention to it which we need. Be grateful sheeeeessh"
Others noted that she is using her platform to bring attention to undocumented families, who are the ones voicing their own stories in the show.
Gomez's Previous Support for Immigrants
In June, Gomez criticized housing conditions for children at migrant detention facilities, a story which attracted widespread scrutiny.
"Kids in cages!" the singer said in an Instagram post. "Sleeping on concrete floors with aluminum blankets! No access to simple dignities! How is this still happening??? It's absolutely inhumane to treat anyone like this let alone children. I can't even imagine what they are going through. We need to get this to finally stop! Don't stay silent on this human rights issue."
Gomez then urged her fans to call their state representatives in D.C.
In 2018, Gomez wrote a piece for Cristina Jiminez, who was being honored as one of Time's Most Influential People that year. Jiminez came to the United States as an undocumented immigrant and later co-founding the immigration activist organization United We Dream.
As a nation of immigrants," Gomez wrote, "the country is filled with those who believe in the American Dream: the ideal that everyone should have an equal opportunity to achieve success and prosperity through hard work and determination. Cristina Jiménez is the American Dream."
Other Executive Producers
Gomez will join five other executive producers, including her mother, Mandy Teefey, and the show's co-directors.
One of those directors, Aaron Saidman, reiterated that the show is about the immigrants featured in it.
"Living Undocumented is designed to illuminate one of the most important issues of our time," he said. "But rather than discussing this issue with only statistics and policy debates, we wanted viewers to hear directly from the immigrants themselves, in their own words, with all the power and emotion that these stories reflect."
SNL Drops Comedian Shane Gillis After Use of Slurs Resurface
Saturday Night Live revoked Shane Gillis' invitation to appear as a cast member following online blowback from Gillis' use of racial and homophobic slurs.
In a statement, Gillis said he thought it was "ridiculous" to put out a serious statement but said he respected SNL's decision then called himself a "mad tv guy."
Democratic Presidential Candidate Andrew Yang expressed disappointment over Gillis' comments but said he shouldn't lose his job and offered to meet with Gillis, even after learning the comedian seemingly used racial slurs against him in a podcast.
---
SNL Cuts Shane Gillis
Saturday Night Live rescinded an offer for Shane Gillis to join the sketch comedy show's upcoming 45th season on Monday following backlash over resurfaced clips of the comedian using racist and homophobic slurs.
"After talking with Shane Gillis, we have decided that he will not be joining SNL," a spokesperson for Lorne Michaels said in a statement. "We want SNL to have a variety of voices and points of view within the show, and we hired Shane on the strength of his talent as a comedian and his impressive audition for SNL."
"The language he used is offensive, hurtful and unacceptable," the statement continues. "We are sorry that we did not see these clips earlier, and that our vetting process was not up to our standard."
The comedian was hired on Sep. 12, along with two other new series regulars, Chloe Fineman and Bowen Yang. Gillis immediately attracted national attention when reports of slurs from his podcast, "Matt and Shane's Secret Podcast," surfaced online.
On Monday, Gillis also provided a statement via Twitter, saying he respects SNL's decision while seemingly taking a jab at the show by calling himself a "mad tv guy."
"It feels ridiculous for comedians to be making serious public statements but here we are," he said. "I'm a comedian who was funny enough to get SNL. That can't be taken away. Of course I wanted an opportunity to prove myself at SNL, but I understand it would be too much of a distraction."
In his podcasts, Gillis uses a variety of slurs aimed at Asian individuals and gay men. Gillis also criticizes comedian Sarah Silverman for talking about women's rights, criticizes comedians who discuss mental health, and uses caricatured racial accents.
"Those guys are fucking gayer than ISIS. At least ISIS is out there, 'We need to get the pussy. After we blow ourselves up, we get a bunch of pussy," Gillis said in one podcast while using a faked Middle Eastern accent. "These white, fa***t comics they're like, 'I'm just sad life is hard and I'm gay.'"
In the same podcast, Gillis also said a Latino comic should go back to the Spanish-speaking TV station Univision.
In a different podcast, Luis Gomez's Real Ass Podcast, Gillis seemingly makes a slur against Democratic Presidential Candidate Andrew Yang about 46 minutes and 30 seconds into the recording.
"Give me your next candidate, Dems. Jew ch**k, next," Gillis said in the May podcast. "Actually, they are running a Jew ch**k."
Yang is not Jewish.
Meeting With Andrew Yang
On Saturday, Yang posted a series of tweets regarding the situation and offered to meet with Gillis, saying he didn't believe Gillis should lose his job.
"Shane – I prefer comedy that makes people think and doesn't take cheap shots," Yang said. "But I'm happy to sit down and talk with you if you'd like."
I've been called chink and gook any number of times in my life. It can be extraordinarily hurtful to feel like you are somehow not part of the only country you have ever known. I have certainly felt that – the churning sense of alienation, anger and marginalization.

— Andrew Yang (@AndrewYang) September 15, 2019
https://platform.twitter.com/widgets.js
I've been called chink and gook any number of times in my life. It can be extraordinarily hurtful to feel like you are somehow not part of the only country you have ever known. I have certainly felt that – the churning sense of alienation, anger and marginalization.

— Andrew Yang (@AndrewYang) September 15, 2019
https://platform.twitter.com/widgets.js
But I took the time to watch and listen to Shane's work. He does not strike me as malignant or evil. He strikes me as a still-forming comedian from central Pennsylvania who made some terrible and insensitive jokes and comments.

— Andrew Yang (@AndrewYang) September 15, 2019
https://platform.twitter.com/widgets.js
I think we have, as a society, become excessively punitive and vindictive concerning people's statements and expressions we disagree with or find offensive. I don't think people should be losing jobs unless it's truly beyond the pale and egregious.

— Andrew Yang (@AndrewYang) September 15, 2019
The offer apparently resonated with Gillis, because Monday, Yang posted another tweet, saying he will sit down with Gillis in the near future.
Reaction From Former SNL Cast and Host
Former SNL cast members and a former host also chimed in on the situation, with the responses among them mixed.
Sandra Oh, who hosted the show in March, praised the decision from SNL.
Rob Schneider, who was on the show in the 1990s, supported Gillis and said he "had the misfortune of being a cast member during this era of cultural unforgiveness."
Schneider continued by saying he felt sad when he saw Gillis' comments but suggested suspension as a more appropriate punishment.
On Lights Out with David Spade, Spade's guests discussed SNL's past history with racist skits, including John Belushi portraying a Samurai in the 1970s and Mike Myers playing a host on a Japanese game show skit where people cut off their fingers.
"I think, when I was younger on SNL," Spade said, "when you get hired, the first move wasn't to rifle through your past to make sure you get fired right away."
See what others are saying: (NPR) (NBC) (CNN)
John Legend Says "No One" Will Benefit From Felicity Huffman's Sentence
Many people thought Felicity Huffman was handed a light sentence after she was given just 14 days in prison for her role in the college admissions scandal.
This prompted many to bring up cases where women of color were sentenced to more jail time for similar or arguably smaller crimes, like lying about their address to get their children into a better school district.
John Legend responded by saying that both Huffman and the women in the other cases should receive no jail time for what they did. He believes that prison is not the answer for every crime, but said the criminal justice system still turns to it too frequently.
---
Reactions to Huffman's Sentence
Musician John Legend responded to criticisms of Felicity Huffman's sentencing for her role in the sweeping college admissions scandal, arguing that "no one in our nation will benefit" from her serving prison time.
On Friday, Huffman was sentenced to 14 days in prison along with one year supervised release, 250 hours community service, and a fine of $30,000. Huffman paid $15,000 to have her daughter's SAT score boosted and pled guilty to guilty to one count of conspiracy to commit mail fraud and honest services mail fraud.
Many thought that just 14 days behind bars was lenient and compared Huffman's case to those of black women who were given more time for crimes they considered similar or even less severe.
One case many turned to was that of Tanya McDowell, a Connecticut woman who was sentenced to five years in prison for lying about her address to get her son into a better school district. At the time, she was homeless and living out of her van, shelters, and an apartment she only had access to at night.
Others pointed to a similar case with Kelley Williams-Bolar in Ohio. She used her father's address to get her children into a better school district and was handed two concurrent five-year sentences that she was later able to reduce to 10 days. Williams-Bolar's case was cited in Huffman's sentencing. Prosecutors argued that if someone in her situation served time, there's no reason that Huffman, who comes from a more privileged background, should not do the same.
Critics of Huffman's sentence argued that there were similarities between what Huffman did and what these two mothers did, as they all had the goal of getting their child a better education.
Another case people compared it to was that of Crystal Mason. Mason was handed a five-year sentence after unknowingly voting illegally. She tried to fill out a provisional ballot in 2016, and at the time she was on supervised release for a federal felony. Mason was unaware that she could not vote until her release was over and was convicted of illegal voting.
She is currently repealing her sentence and gave a statement to the Huffington Post regarding Huffman's time.
"I don't wish this for anyone, but a sentence to 14 days for actual serious fraud just shows how unfair my sentence is," she told them. "I'm hopeful the Justices will see that under the law, I shouldn't have been convicted in the first place."
John Legend Responds
Musician and criminal justice reform advocate John Legend responded to these varied reactions without ever mentioning Huffman's name. Instead of arguing that Huffman's sentence was too light, he said people like her and the others mentioned should serve no time at all.
He mentioned cases like McDowell and Mason and called them "insane" and "unconscionable."
"We don't need to lock people up for any of this stuff," Legend concluded in his thread.
On Sunday, he furthered his argument by suggesting that there are other ways people can be held accountable for their actions.
Legend was not alone in believing prison time was not the answer. The executive director of the Ohio Justice and Policy Center, David Singleton, who represented Williams-Bolar told the New York Times that putting the actress behind bars is not productive.
"When you are rich — and particularly if you're rich and white in this country — there's a different justice system," he said. "Sending Felicity Huffman to jail is not going to solve that problem."
Twitter users began to share what they found to be more productive ways for people like Huffman to right their wrongs. Some suggested she pay for the tuitions of McDowell's children or contribute to scholarships.