Fans Slam Shawn Mendes' Apology for Old Racially Insensitive Posts
During a Q&A, a fan asked singer Shawn Mendes why he had not acknowledged racist posts he made on social media in the past.
Mendes responded, saying his friends had taken his phone to post, but also added, "I apologize for everything insensitive that I said in the past."
Several fans were satisfied with his response, but many argued that he did not take enough responsibility for his words.
---
Old Posts Resurface
Many Shawn Mendes fans are unhappy with the singer after he gave what some feel was an inadequate apology for past offensive posts he made on social media.
In one of the now-deleted tweets from 2013, Mendes responded to a friend, writing "i can see the black coming out in you lauren!" 
In other tweets posted around the same time, Mendes also wrote "Light skin girls >>" and "I'm black, burnt up ya knoe"

Mendes also allegedly used the n-word in a caption for a picture with a friend he posted to Instagram.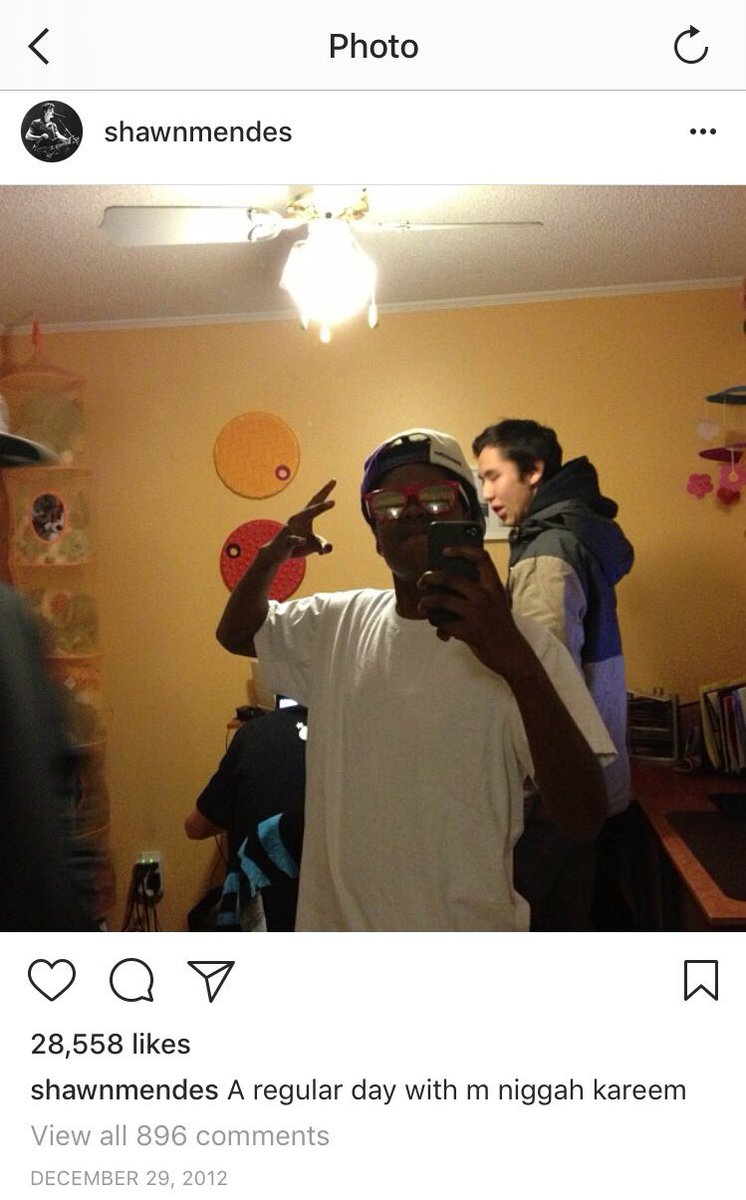 In a picture that appears to have been posted to Snapchat, Mendes uploaded a selfie with the caption "I HAVE AN AFRO! lmao."

Mendes Apologizes
Mendes was asked about the tweets by a fan during a Q&A earlier this week.
"This is kind of a hard question, I don't want you to take any offense to it at all, I just kind of wanted to do it for black Twitter, black Shawn stans everywhere out there," the fan said.
"In the past, there's a lot of kind of ignorant tweets, I guess I could say, kind of hurtful, offensive tweets that you'd tweeted before," she continued. "Why has it never been acknowledged?"
"We get a lot of hate for us supporting you, knowing that this has been, like, your past. And not to say this is you now, or anything like that, it's just really important for us to know, like, how you are," she concluded.
"I just think that a lot of things just need to be moved on from," Mendes replied. "I had friends when I was 14 who would, like, take my phone and, like, post things of them. And like, they thought it was funny that I had like 2,000 followers and it was this big thing, and they'd post photos of themselves."
"At the time I was just, like, not thinking about it," he continued. "I had no idea I was going to have 50 million followers. Which doesn't make it any better, but, yeah, totally. I mean, I apologize for everything insensitive that I said in the past, but with that being said, yeah, I think that's not my personality."
Twitter Reacts
Many fans were not happy with his response and took to Twitter to share their thoughts.
Some argued that Mendes was just blaming his friends for the post and did not take enough responsibility.
It's literally obvious it was him and all he needs to say is "I was young, ive learned and I apologize" and move on. The fact that he refuses to take responsibility and blames it on ""friends"" is incredibly immature and pathetic. Your actions are your fault, nobody else's.

— Britney Spears Updates (@updatingbritney) August 20, 2019
It's funny that he put the blame on his friends, but what's funnier is how he didn't apologize until someone called him out in front of people.

— Nella (fan acc) (@shadysmj) August 20, 2019
Others responded by defending Mendes, and saying that his apology was sufficient.
his apology was valid, just say you hate him and go pic.twitter.com/OiBQSaQ05S

— 𝖓𝖏 shooter for iichy (@particulaparker) August 20, 2019
he apologized everyone can shut up now <3 stop attacking him after he apologized

— evelin | VAL'S DAY (@japanctrl) August 20, 2019
If yall actually watch the entire video you'll see that he handled it well , he's not blaming his friends he acknowledged it and apologised like he should , he educated himself and grew maybe if yall do too …

— 𝒜𝓈𝓂𝒶𝒶 (@notstuckonu) August 20, 2019
Jodie Sweetin Releases Statement After Getting Pushed By Officers at Pro-Choice Protest: "This Will Not Deter Us"
"Love everyone out there in the streets fighting for what's right," she wrote on Instagram.
---
Actress Pushed at Protest
After viral footage showed Jodie Sweetin getting pushed to the ground by officers with the Los Angeles Police Department while attending a pro-choice protest, the "Full House" actress said demonstraters "will continue fighting" for their rights.
Sweetin was attending a protest off the 101 freeway on Saturday following the Supreme Court's decision to overturn Roe v. Wade.
Photojournalist Mike Ade, who captured the video, said the actress was "trying to lead a group of peaceful protestors away from the freeway" when officers pushed her. Sweetin was standing on a curb when she was pushed and fell down on the cement road. Ade wrote that she was "fortunately…okay."
Ade shared a handful of other videos depicting officers using similar tactics on other protesters. As these videos started circulating online, many became outraged by the LAPD's response to the protests.
Sweetin Addresses Incident
Following the incident, Sweetin released a statement where she said the fight against the court's decision is not over.
"I'm extremely proud of the hundreds of people who showed up yesterday to exercise their First Amendment rights and take immediate action to peacefully protest the giant injustices that have been delivered from our Supreme Court," Sweetin said. "Our activism will continue until our voices are heard and action is taken. This will not deter us, we will continue fighting for our rights. We are not free until ALL of us are free."
Sweetin also shared footage of the incident and other clips of officers clashing with protesters on her Instagram story. She cheered protesters in a comment on a video of the push shared by a social justice group called The Progressivists.
"Love everyone out there in the streets fighting for what's right," she wrote.
According to a statement obtained by Deadline, the LAPD is looking into the matter.
"The LAPD is aware of a video clip of a woman being pushed to the ground by officers not allowing the group to enter on foot and overtake the 101 freeway," the statement said. "The force used will be evaluated against the LAPD's policy and procedure."
Dave Chappelle Decides Against Having Former High School's Theater Named After Him
"The idea that my name will be turned into an instrument of someone else's perceived oppression is untenable to me," the comedian reportedly said.
---
Theater Named Announced
Comedian Dave Chappelle opted on Monday to not have the theater at his alma mater high school named after him, according to a report from The Washington Post.
The Duke Ellington School of the Arts in Washington D.C. previously planned to name its theater in honor of Chappelle, as he is a distinct alum and donor. While Chappelle formerly said such a gesture would be "the most significant honor of [his] life," he announced during Monday's naming ceremony that it would bear a different title.
The school's theater will instead be called the Theater for Artistic Freedom and Expression.
A naming ceremony was initially set to take place in November, but was postponed after the comedian began facing backlash for transphobic jokes in his Netflix special "The Closer."
Among other things, he said he was "Team TERF," which stands for trans-exclusionary radical feminist. He also made a joke about Caitlyn Jenner and remarks comparing the genitalia of transgender women to Beyond and Impossible meat.
The jokes embroiled Chappelle in controversy, and reports claimed that some students at Duke Ellington took issue with the comments. When Chappelle ended up visiting the school amid the scandal, Politico reported that one student told the comedian, "I'm 16 and I think you're childish, you handled it like a child."
Chappelle Defends Controversial Special
According to The Post, Chappelle said the criticism against him "sincerely" hurt, but added that "the Ellington Family is my family." He claimed he did not want the theater being named after him to distract students. 
"The idea that my name will be turned into an instrument of someone else's perceived oppression is untenable to me," he said according to Josh Rogin, a columnist for the outlet.
Rogin also tweeted that Chappelle took time out of the ceremony to slam the criticisms levied against him, accusing upset students of promoting someone else's agenda.
"These kids didn't understand that they were instruments of oppression," he reportedly said.
"You cannot report on an artist's work and remove artistic nuance," Chappelle continued while denouncing the press coverage of his Netflix special.
According to David Frum, a staff writer for The Atlantic who attended the ceremony, Chappelle suggested he was open to potentially adding his name to the theater at a later date when the community is ready. 
Chris Evans Says People Upset With Same-Gender "Lightyear" Kiss Are "Idiots"
The kiss was previously removed from the film until a surge of backlash from Pixar employees prompted Disney to reinstate it.
---
Chris Evans Supports "Lightyear" Scene
"Lightyear" star Chris Evans is standing against people who have criticized the same-gender kiss scene in the upcoming Pixar film.
"The real truth is those people are idiots," the actor told Reuters this week when discussing negative reactions to the scene's inclusion.
"The American story, the human story is one of constant social awakening and growth and that's what makes us good," he continued.
Countries like Saudi Arabia, the United Arab Emirates, Kuwait, Qatar, and more have banned the release of "Lightyear" over the kiss, which is between two women. Right-wing pundits in the U.S. have also slammed it, and user reviews for the picture on websites like IMDB have claimed that movie-going has "become an avenue for political propaganda."
Evans argued those opinions are outdated.
"There's always going to be people who are afraid and unaware and trying to hold on to what was before. But those people die off like dinosaurs," he said. "I think the goal is to pay them no mind, march forward and embrace the growth that makes us human."
"Lightyear" hits theaters on Friday starring Evans as the titular Buzz Lightyear. Evans, however, is not playing the action figure made famous in the "Toy Story" movies and is instead playing an animated human astronaut who inspired the toy.
Kiss Scene Almost Never Made it to Big Screen
According to outlets that have reviewed the film, the same-gender kiss is between Alisha Hawthorne, a character voiced by Uzo Aduba, and her wife.
Multiple reports have stated that Disney was always supportive of depicting a gay couple in the picture, but was more hesitant about showing an on-screen kiss between the two. The studio previously had the scene removed from the film until a swell of backlash prompted it to reinstate the kiss.
The decision came in March amid criticisms over Disney's slow response to Florida's controversial "Don't Say Gay" bill. At the time, a group of Pixar employees wrote an open letter claiming that they have pushed for more inclusion in their films, but "nearly every moment of overtly gay affection is cut at Disney's behest."
Now that the scene made the final cut of "Lightyear," it has been a large topic of conversation leading up to the film's release. On Monday, Evans told Variety that the inclusion of the scene makes him "happy," but he hopes one day, scenes like this will be considered standard.
"It's tough to not be a little frustrated that it even has to be a topic of discussion," he said. "That it is this kind of 'news.' The goal is that we can get to a point where it is the norm, and that this doesn't have to be some uncharted waters, that eventually this is just the way it is."