Fans Slam Shawn Mendes' Apology for Old Racially Insensitive Posts
During a Q&A, a fan asked singer Shawn Mendes why he had not acknowledged racist posts he made on social media in the past.
Mendes responded, saying his friends had taken his phone to post, but also added, "I apologize for everything insensitive that I said in the past."
Several fans were satisfied with his response, but many argued that he did not take enough responsibility for his words.
---
Old Posts Resurface
Many Shawn Mendes fans are unhappy with the singer after he gave what some feel was an inadequate apology for past offensive posts he made on social media.
In one of the now-deleted tweets from 2013, Mendes responded to a friend, writing "i can see the black coming out in you lauren!" 
In other tweets posted around the same time, Mendes also wrote "Light skin girls >>" and "I'm black, burnt up ya knoe"

Mendes also allegedly used the n-word in a caption for a picture with a friend he posted to Instagram.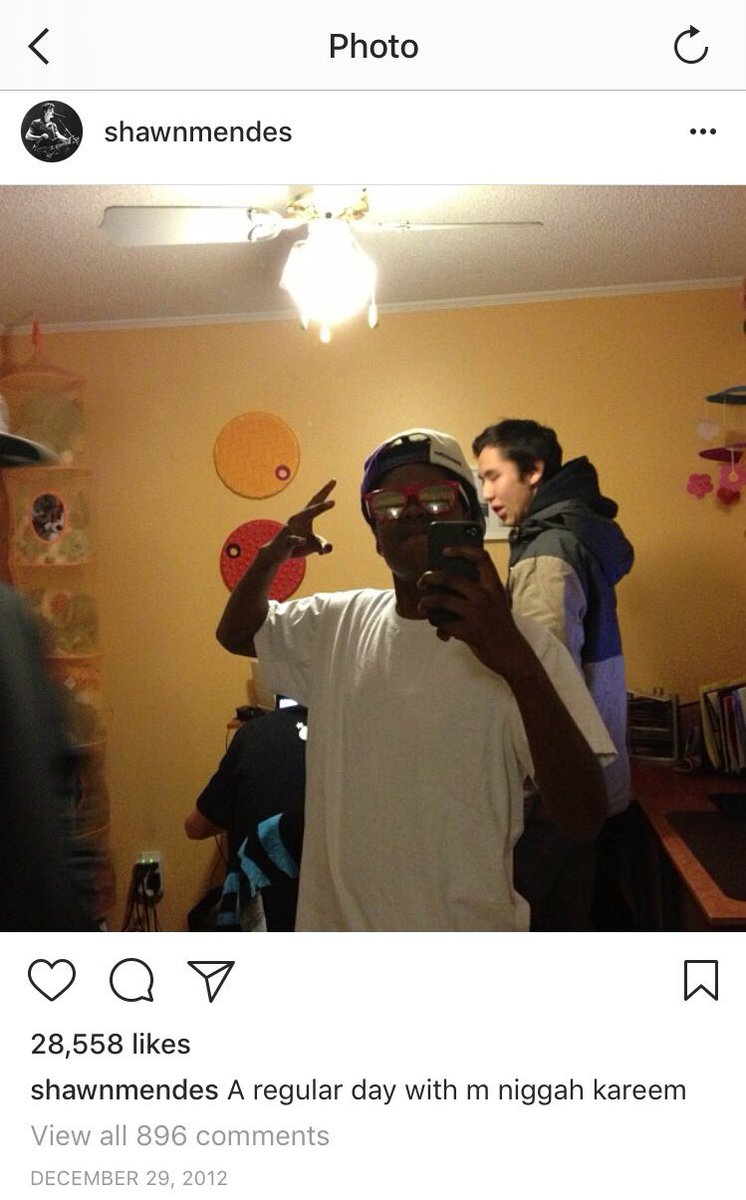 In a picture that appears to have been posted to Snapchat, Mendes uploaded a selfie with the caption "I HAVE AN AFRO! lmao."

Mendes Apologizes
Mendes was asked about the tweets by a fan during a Q&A earlier this week.
"This is kind of a hard question, I don't want you to take any offense to it at all, I just kind of wanted to do it for black Twitter, black Shawn stans everywhere out there," the fan said.
"In the past, there's a lot of kind of ignorant tweets, I guess I could say, kind of hurtful, offensive tweets that you'd tweeted before," she continued. "Why has it never been acknowledged?"
"We get a lot of hate for us supporting you, knowing that this has been, like, your past. And not to say this is you now, or anything like that, it's just really important for us to know, like, how you are," she concluded.
"I just think that a lot of things just need to be moved on from," Mendes replied. "I had friends when I was 14 who would, like, take my phone and, like, post things of them. And like, they thought it was funny that I had like 2,000 followers and it was this big thing, and they'd post photos of themselves."
"At the time I was just, like, not thinking about it," he continued. "I had no idea I was going to have 50 million followers. Which doesn't make it any better, but, yeah, totally. I mean, I apologize for everything insensitive that I said in the past, but with that being said, yeah, I think that's not my personality."
Twitter Reacts
Many fans were not happy with his response and took to Twitter to share their thoughts.
Some argued that Mendes was just blaming his friends for the post and did not take enough responsibility.
It's literally obvious it was him and all he needs to say is "I was young, ive learned and I apologize" and move on. The fact that he refuses to take responsibility and blames it on ""friends"" is incredibly immature and pathetic. Your actions are your fault, nobody else's.

— Britney Spears Updates (@updatingbritney) August 20, 2019
It's funny that he put the blame on his friends, but what's funnier is how he didn't apologize until someone called him out in front of people.

— Nella (fan acc) (@shadysmj) August 20, 2019
Others responded by defending Mendes, and saying that his apology was sufficient.
his apology was valid, just say you hate him and go pic.twitter.com/OiBQSaQ05S

— 𝖓𝖏 shooter for iichy (@particulaparker) August 20, 2019
he apologized everyone can shut up now <3 stop attacking him after he apologized

— evelin | VAL'S DAY (@japanctrl) August 20, 2019
If yall actually watch the entire video you'll see that he handled it well , he's not blaming his friends he acknowledged it and apologised like he should , he educated himself and grew maybe if yall do too …

— 𝒜𝓈𝓂𝒶𝒶 (@notstuckonu) August 20, 2019
Carole Baskin Faces Defamation Suit Brought on by Family of Missing Husband
"Tiger King" star Carole Baskin's has been sued for defamation by the family of her missing husband, Don Lewis.
They claim Baskin is complicit in jokes about his death that appeared on the latest season of "Dancing With the Stars," where she is currently a contestant.
Many believe Baskin played a part in Lewis' disappearance. and maybe even murdered him, though Baskin has repeatedly denied this.
She told TMZ that any jokes about killing or murder in the show are not about Lewis and are actually about the murder-for-hire plots taken against her.
---
Don Lewis's Family Sues Carole Baskin
Big Cat Rescue Founder and "Tiger King" star Carole Baskin is facing a defamation suit from the family of her missing husband, Don Lewis.
The cat lover is on this season of "Dancing With The Stars," but a few remarks that appeared on the show have now landed her in hot water. Lewis' three daughters and former assistant think that Baskin has been complicit in jokes about his death that were made on the show.
Lewis disappeared in 1997 and was legally declared dead in 2002, but the case into his disappearance is still open. After the Netflix docuseries "Tiger King" became one of the most talked about shows of the year, many who watched it became convinced that Baskin killed or hired someone to kill him. She has repeatedly denied this.
TMZ obtained court documents that reveal what comments Lewis' family found to be insensitive. Judges on the show joked about TikToks that reference the theory that Baskin killed Lewis. These videos use a song parodying Megan Thee Stallion's "Savage," replacing her lyrics with "Carole Baskin, killed her husband, whacked him. Can't convince me that it didn't happen. Fed him to tigers, they snackin."
Lewis' family believes that Baskin should have spoken out against these jokes, as well as another comment made by a judge who said she "didn't quite kill the paso double, it was kind of sedated." Lewis' daughters found the references to killing and sedation inappropriate.
The suit also accuses Baskin of playing along and making jokes of her own. During an appearance on Good Morning America, Baskin said she was ready to "really kill it next week." The family said this was yet another nod to Lewis' disappearance and theories that she killed him.
Responses to Suit
The Lewis Family's lawyer, Jon Phillips, spoke to Entertainment Tonight about this lawsuit. In addition to filing for defamation, they filed for various breaches. Back in 1998, Baskin paid $50,000 in a settlement for libel and slander claims related to this.
"These exact same false statements, and additional ones, are being made again in 2020. It is malicious," Phillips told Entertainment Tonight. He also told the outlet that Baskin's current husband Howard is also listed as a defendant in the lawsuit.
Baskin dismissed the allegations that she was making jokes about Lewis while on "Dancing With The Stars." She said the idea that she is referencing him when using phrases like "killing it" is a "stretch."
Baskin told TMZ that any jokes about murder or killing on the show refer to animal abusers who have tried to kill her. Joe Exotic, the main subject of "Tiger King," is currently serving a 22-year prison sentence for a slew of charges, two of which are related to a murder-for-hire plot against Baskin.
Ad Taken Out During DWTS
This is not the first "Dancing With The Stars"-related scuffle Baskin and Lewis' family have had since she joined the show's cast. During the season premiere, his three daughters, former assistant, and Phillips ran an ad about his disappearance that played in local Florida markets. It offered a $100,000 reward for information related to his case.
"Don Lewis mysteriously disappeared in 1997. His family deserves answers," Phillips said in the ad. "They deserve justice. Do you know who did this? Or if Carole Baskin was involved?"
While speaking with Entertainment Tonight, Lewis said that the family chose to run that ad so they could put their side of the story in the public eye.
"Carole Baskin goes on YouTube, Facebook and does blogs every single day getting out her narrative," Phillips explained. "It's landed her on a major TV show, Dancing with the Stars…There was Tiger King — and it focused on the exotic animal industry — but a lot of it was about the death and disappearance of Don Lewis."
"So [Lewis' family] wanted their message out there. They wanted, at least locally, to counter message Carole Baskin's, in their mind, lies and fraud," he added.
Baskin thought the ad was nothing more than a PR move.
"I believe their actions are just a publicity stunt, but if it helps us find Don, then that will be a huge relief," she said in a statement emailed to CNN.
Former Ellen Staffers Criticize Talk Show Host's Apology Monologue
When Ellen DeGeneres returned to her show on Monday, she addressed the numerous reports about the toxic work environment that allegedly existed behind the scenes. She apologized to those who were affected and said changes had been made going forward.
The accusations stated that issues at the show stemmed from top-level producers. Some former staffers said they faced intimidation tactics, racism, and sexual assault and harassment.
Her monologue addressing these allegations was praised by some, including singer Demi Lovato, who was happy to see the talk show host return to the studio.
However, former employees felt the apology was insincere and self-serving. Some thought that it was inappropriate for DeGeneres to make jokes during it considering the serious nature of the accusations.
---
Ellen Addresses Allegations
During the opening monologue of her 18th season premiere on Monday, talk show host Ellen DeGeneres addressed the bombshell accusations about the toxic work environment that allegedly existed for employees behind the scenes.
Former staffers, however, were not impressed with what she had to say.
"How was everybody's summer, good?" DeGeneres asked in the show's open. "Mine was great! Super terrific!"
This joke refers to the several reports that came out over the summer detailing allegations of intimidation tactics, racism, harassment, and more on the set of "The Ellen DeGeneres Show." Three top producers were also accused of sexual harassment and assault.
Following the reports, WarnerMedia opened an investigation into the show's workplace, and those three producers were fired in August as a result. In August, the show also announced that its staff will get extra perks, including more paid time off days, birthdays off, as well as paid time for doctors appointments and family matters.
The reports pulled back the curtain on the show, which prides itself on its "Be Kind" mantra. While what went on television may have been filled with dancing and laughter, former staffers said that the toxic culture behind the scenes started with producers at the very top. While DeGeneres herself was not directly implicated in the accusations, many said that since it's her show, it's her responsibility.
In her first appearance since everything unfolded, DeGeneres addressed the allegations and apologized for the pain the toxic work culture on her show may have caused.
"I learned that things happened here that never should have happened. I take that very seriously and I want to say I am so sorry to the people who were affected," she said. "I know that I am in a position of privilege and power and with that comes responsibility and I take responsibility for what happens at my show."
She then moved on to discuss the ideas that her preachings of kindness were fake, and that she is not who she appears to be on television.
DeGeneres explained that she first began ending her show with the saying "be kind to one another" to honor a young boy named Tyler Clementi who took his life after he was bullied for being gay. She thought the message was important then and was equally important now but said being known as the 'be kind lady' has put her in a tricky position.
"So let me give you some advice out there," she joked. "If anybody's thinking of changing their title or giving yourself a nickname, do not go with the 'be kind' lady. Don't do it."
She further added that while she is who the audience sees on TV, she is also more. She explained that she sometimes gets mad, sad, and impatient, but is working on it. She closed her monologue by saying she wants her show to be an hour of escapism for laughter and announced that her DJ Stephen "tWitch" Boss was promoted to co-executive producer.
DeGeneres posted the monologue to her Instagram page where numerous celebrities, including Demi Lovato, Ellie Kemper, and Scott Foley commented in support of the talk show host.
"You are the person people see on TV. You are kind, generous and caring," Lovato wrote. "This video was a perfect representation of that. I love you Ellen."
Criticism of Monologue
Not everyone was satisfied with her remarks. BuzzFeed News, which broke a lot of the allegations about the show, spoke to current and former employees who said her monologue was insensitive and tone deaf.
"Not only did Ellen turn my trauma, turn our traumas, into a joke, she somehow managed to make this about her," one former staffer said.
"When you're talking about people who have accused her leadership of the seriousness of sexual misconduct, I don't think it's appropriate to have jokes in the monologue," another claimed.
Others thought it would have been more appropriate for DeGeneres or other executives to personally reach out to those who had been affected by the toxic workplace. A current employee on the show said that while she is amazed that DeGeneres decided to address it on the show, she found the monologue to be "tactical." She said that DeGeneres was only bringing it up to pull viewers back in for premiere week.
TV critics also panned her monologue. Daniel D'Add wrote for Variety that her words "had a feeling of obligation, and of being over it all." In The Daily Beast, Kevin Fallon said her speech worked harder to fix her reputation than it did to address the actual issues.
"It's depressing when there's a palpable sense from people in power that the experiences of those beneath them don't matter," Fallon wrote, later noting that while there were flaws in the monologue, he still found the fact that she chose to address the allegations on air "monumental."
Judge Sides With Nicki Minaj in Tracy Chapman Copyright Dispute
Nicki Minaj recorded her song "Sorry" in 2017, which featured lyrics and melodies from Tracy Chapman's 1988 song "Baby Can I Hold You."
When Chapman repeatedly refused to give Minaj licensing permission for the track, it was dropped from Minaj's 2018 "Queen" album. However, the song later leaked on the radio and online, prompting Chapman to file a copyright infringement lawsuit against Minaj.
Chapman accused her of distributing the song to a radio DJ and claimed she shouldn't have even been allowed to record it.
Minaj's team denied distributing the song and warned that artists need to be able to experiment with existing material without worrying that they could be sued once they actually do approach that rights-holder for a license.
A judge sided with Minaj Wednesday, saying her demo song falls under fair use, adding, "A ruling uprooting these common practices would limit creativity and stifle innovation within the music industry."
---
The Two Songs
A judge has ruled in favor of Nicki Minaj on Wednesday in a copyright infringement lawsuit brought against her by fellow singer Tracy Chapman.
Music lovers and members of the industry have had a close eye on this case, believing it could have a huge impact on the music industry.
The suit stems from a 2017 song Minaj recorded featuring Nas called "Sorry." At the time, the rapper was reportedly under the impression that the song was a remake of a one created by artist Shelly Thunder. However, she later discovered that most of the lyrics and some of the melody came from Tracy Chapman's 1988 song "Baby Can I Hold You."
After learning this, Minaj's representatives reached out to Chapman for permission to use the song, but Chapman repeatedly refused. According to Chapman, she had a blanket policy against granting such permission, so in 2018, Minaj dropped her "Queen" album without the song "Sorry."
The unreleased track then somehow made its way into the hands of a New York radio DJ known as Funkmaster Flex, who played it on air. Portions of the track also later aired on "The Breakfast Club," before leaking online.
The Lawsuit
In response, Chapman filed a copyright infringement lawsuit accusing Minaj of providing the DJ with the song and arguing that Minaj shouldn't have even been allowed to make the unauthorized track in the first place.
Both Minaj and Flex have denied that the song came from her or her authorized representatives. Instead, Flex said he received it from one of his bloggers.
Minaj's attorneys then filed a motion warning that Chapman's suit "should send a shiver down the spine of those concerned with the entertainment industry."
They argued that artists need to be free to create something based on existing material without worrying that they could be sued for experimenting once they actually do approach that rights-holder for a license.
"Such free-flowing creativity is important to all recording artists, but particularly in hip hop," her legal team said.
"With that category of music, a recording artist typically goes into the studio and experiments with dozens of different 'beats' or snippets of melodies, before hitting upon a pleasing combination."
They also warned that ruling in Chapman's favor "would impose a financial and administrative burden so early in the creative process that all but the most well-funded creators would be forced to abandon their visions at the outset."
Judge's Ruling
The latest update to the case came Wednesday when U.S. district judge Virginia A. Phillips ultimately sided with Minaj.
In her ruling, the judge said the rapper's experimentation with the song constitutes "fair use" not copyright infringement.
"Artists usually experiment with works before seeking licenses from rights holders and rights holders typically ask to see a proposed work before approving a license," she explained.
"Chapman has requested samples of proposed works before approving licensing requests herself because she wanted 'to see how [her work] will be used' before approving the license, yet Chapman argues against the very practice she maintains. A ruling uprooting these common practices would limit creativity and stifle innovation within the music industry."
What's Next?
The decision is a major win for Minaj but the dispute between the two artists isn't exactly over.
That's because Chapman is still trying to argue that Minaj infringed on her song rights by sending the song to Funkmaster Flex. Chapman's lawyers asked the judge to find that the distribution constituted copyright infringement as a matter of law, but the judge ruled that that dispute would need to go to a jury.
That could end up being a pretty tricking case for Minaj because according to Chapman's legal team, she reached out to Flex on August 3, 2018, offering the song. Minaj allegedly followed up a week later on August 10 saying, "You got me tonight? The song is me and Nas. Send your number." The next day, the song was played on the radio and promoted on social media.
Minaj's team has pushed back against some of these points, as well as other claims, still maintaining that she did not send the song.
In her decision, judge Phillips noted factual disputes concerning when Flex received the work, who exactly gave it to him, whether it was a mastered version, and more. When the trial takes place, Minaj will likely be pressed on some of this conflicting information.