Fans Slam Shawn Mendes' Apology for Old Racially Insensitive Posts
During a Q&A, a fan asked singer Shawn Mendes why he had not acknowledged racist posts he made on social media in the past.
Mendes responded, saying his friends had taken his phone to post, but also added, "I apologize for everything insensitive that I said in the past."
Several fans were satisfied with his response, but many argued that he did not take enough responsibility for his words.
---
Old Posts Resurface
Many Shawn Mendes fans are unhappy with the singer after he gave what some feel was an inadequate apology for past offensive posts he made on social media.
In one of the now-deleted tweets from 2013, Mendes responded to a friend, writing "i can see the black coming out in you lauren!" 
In other tweets posted around the same time, Mendes also wrote "Light skin girls >>" and "I'm black, burnt up ya knoe"

Mendes also allegedly used the n-word in a caption for a picture with a friend he posted to Instagram.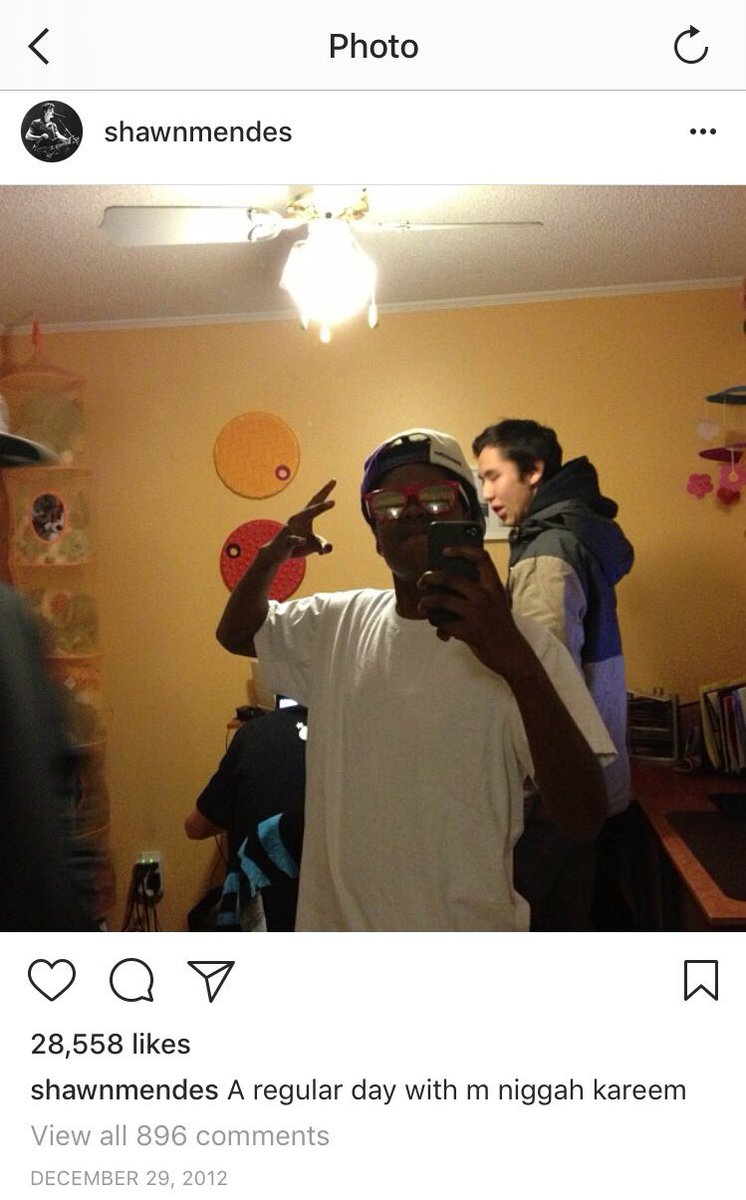 In a picture that appears to have been posted to Snapchat, Mendes uploaded a selfie with the caption "I HAVE AN AFRO! lmao."

Mendes Apologizes
Mendes was asked about the tweets by a fan during a Q&A earlier this week.
"This is kind of a hard question, I don't want you to take any offense to it at all, I just kind of wanted to do it for black Twitter, black Shawn stans everywhere out there," the fan said.
"In the past, there's a lot of kind of ignorant tweets, I guess I could say, kind of hurtful, offensive tweets that you'd tweeted before," she continued. "Why has it never been acknowledged?"
"We get a lot of hate for us supporting you, knowing that this has been, like, your past. And not to say this is you now, or anything like that, it's just really important for us to know, like, how you are," she concluded.
"I just think that a lot of things just need to be moved on from," Mendes replied. "I had friends when I was 14 who would, like, take my phone and, like, post things of them. And like, they thought it was funny that I had like 2,000 followers and it was this big thing, and they'd post photos of themselves."
"At the time I was just, like, not thinking about it," he continued. "I had no idea I was going to have 50 million followers. Which doesn't make it any better, but, yeah, totally. I mean, I apologize for everything insensitive that I said in the past, but with that being said, yeah, I think that's not my personality."
Twitter Reacts
Many fans were not happy with his response and took to Twitter to share their thoughts.
Some argued that Mendes was just blaming his friends for the post and did not take enough responsibility.
It's literally obvious it was him and all he needs to say is "I was young, ive learned and I apologize" and move on. The fact that he refuses to take responsibility and blames it on ""friends"" is incredibly immature and pathetic. Your actions are your fault, nobody else's.

— Britney Spears Updates (@updatingbritney) August 20, 2019
It's funny that he put the blame on his friends, but what's funnier is how he didn't apologize until someone called him out in front of people.

— Nella (fan acc) (@shadysmj) August 20, 2019
Others responded by defending Mendes, and saying that his apology was sufficient.
his apology was valid, just say you hate him and go pic.twitter.com/OiBQSaQ05S

— 𝖓𝖏 shooter for iichy (@particulaparker) August 20, 2019
he apologized everyone can shut up now <3 stop attacking him after he apologized

— evelin | VAL'S DAY (@japanctrl) August 20, 2019
If yall actually watch the entire video you'll see that he handled it well , he's not blaming his friends he acknowledged it and apologised like he should , he educated himself and grew maybe if yall do too …

— 𝒜𝓈𝓂𝒶𝒶 (@notstuckonu) August 20, 2019
Anti-Vaxxers Spread Conspiracy Theory Claiming Bob Saget Died From COVID-19 Booster Shot
This comes less than a month after anti-vaxxers spread a similar false rumor about comedian Betty White.

---
Anti-Vaxxers Spread Unfounded Theory About Bob Saget's Death
Anti-vax and right-wing conspiracy theorists are spreading unfounded claims that comedian Bob Saget died as a result of receiving his COVID-19 booster shot.
Saget, best known for his role as Danny Tanner on "Full House," died this week at the age of 65 in Orlando, Florida. The Orange County Sheriff's office said they were responding to "a call about an unresponsive man in a hotel room" and pronounced Saget dead on the scene at the Ritz-Carlton. They found "no signs of foul play or drug use" and some reports have since claimed that it appears Saget may have died in his sleep. No further cause of death has been released.
Not long after the news of his death, anti-vaxxers begin circulating baseless claims that a COVID-19 booster shot killed Saget. Saget said he received his booster shot on a Dec. 13 episode of his podcast. Many have shared a clip where he talks about the booster to suggest that was his cause of death.
COVID-19 vaccines and boosters have been proven to be both safe and effective. That, of course, has not stopped conspiracy theorists from endlessly touting false assertions about unproven side effects and responses.
Claims about Saget's death being vaccine-related can be found on Twitter, Reddit, TikTok, Telegram, and other social media platforms. Many of the posts, despite containing clear misinformation, have remained on these sites for several days without being taken down.
Candace Owens Promotes Booster Theory
The conspiracy found a large platform this week when conservative news personality Candace Owens discussed it on her Daily Wire talk show. Owens has repeatedly spoken against COVID-19 vaccines and uses her platform to regularly share all kinds of political and cultural misinformation.
During the Jan. 11 episode of "Candace," which was flagged by Media Matters, Owens said the public has a "right to demand answers" about the circumstances around Saget's death and the booster.
"I'm just not on Big Pharma's payroll and I refuse to peddle in their lies. And so to that end, today, I'm going to point out another truth and it will likely be deemed a conspiracy theory until it's not," she said. "There are too many healthy individuals, like Bob Saget, who we know have received their vaccinations, who are dropping dead, suddenly and unexpectedly, with no further explanation. Healthy athletes, young students in their physical prime — the majority of them males — dropping dead suddenly and unexpectedly in the middle of games from heart issues."
Owens continued to peddle anti-vax rhetoric regarding the media and vaccine mandates. She also spewed unsubstantiated suggestions that "healthy men are dying" because of vaccines.
"All of this to say I don't know why a healthy man, who was in the middle of a comedy tour, suddenly and unexpectedly drops dead in his hotel room," she continued. "But I do know that we have a right to ask the question. All of us do. In fact, when the entire world has suddenly and unexpectedly been prescribed an injection that we don't need, it is not only our right to ask questions but also our right to demand answers."
Anti-Vax Misinformation Has Found A Large Platform
Not even a month before Saget's death, anti-vaxxers likewise falsely claimed that comedian and actress Betty White died from receiving her COVID-19 booster. White passed at the age of 99, just weeks before her 100th birthday. According to her death certificate, she died from a stroke she had six days before her death on Dec. 31.
After people started falsely claiming the booster caused her death, White's agent released a statement clarifying these rumors were not true.
"Betty died peacefully in her sleep at her home," Jeff Witjas told People Magazine. "People are saying her death was related to getting a booster shot three days earlier but that is not true. She died of natural causes. Her death should not be politicized — that is not the life she lived."
Media platforms have struggled to control the swelling amount of misinformation users constantly spread, specifically regarding the pandemic and vaccinations. While many sites have promised to remove, flag, or fact-check incorrect posts, anyone who wants to find anti-vax information will have an easy time doing so.
This week, a group of doctors and medical workers urged Spotify to lay out a misinformation policy, citing the false claims Joe Rogan has repeatedly made about vaccines on his podcast. Several international fact-checking organizations also recently demanded that YouTube do more to fight disinformation on its service. Over the last year, citizens and politicians have asked that Twitter, Facebook, and Google do more to slow the spread of pandemic-related misinformation.
"While we understand that your companies have implemented policies regarding the removal of vaccine-related misinformation and dedicated resources to stop the spread of misinformation, we believe more must be done," a group of Democratic senators wrote in a letter to the three company's CEOs. "It is imperative that you be transparent about the amount of harmful misinformation that appears on your platforms and the effectiveness of your efforts to remove this content, so that public health organizations and experts can respond appropriately."
Kim Kardashian, Floyd Mayweather, and Others Sued Over Alleged EthereumMax Crypto Scam
EthereumMax executives and partners are being accused of sharing "misleading promotions and celebrity endorsements" in order to "artificially increase the interest in and price" of the coin.
---
Lawsuit Alleging Crypto Scam Filed in California
Reality star Kim Kardashian, boxer Floyd Mayweather, and former NBA star Paul Pierce are among several celebrities and executives being sued for allegedly misleading investors into a pump-and-dump crypto scam.
The class-action lawsuit was filed Friday in the U.S. District Court for the Central District of California by New York resident Ryan Huegerich. Huegerich brought the complaint on behalf of himself and others who claim to have lost money after investing in the coin EthereumMax between May 14, 2021 and June 27, 2021.
Kardashian, Mayweather, and Pierce are among a slew of people with substantial followings who promoted EthereumMax in the spring and summer of 2021. Pierce tweeted about the coin, saying he "made more money with this crypto in the past month" than he did with ESPN in a year. Kardashian touted the cryptocurrency in an Instagram story post that included a link for her followers to "swipe up to join the E-Max community."
Mayweather drew attention to EthereumMax during his highly-anticipated fight against YouTuber Logan Paul, which accepted the coin as payment for tickets to the event. During the match, he wore shorts with the coin's name and logo. Mayweather also endorsed the coin during a Bitcoin conference in Miami, Florida.
Plaintiffs Allege Stars Participated in Pump-And-Dump Scheme
The plaintiffs argued that the three stars, along with several others, promoted the coin with false information. According to the lawsuit, the defendants touted "the ability for investors to make significant returns due to the favorable 'tokenomics' of the EMAX Tokens" in order to sell their portions for a pump-and-dump profit.
"The Company's executives, collaborating with several celebrity promotors, (a) made false or misleading statements to investors about EthereumMax through social media advertisements and other promotional activities and (b) disguised their control over EthereumMax and a significant percent of the EMAX Tokens that were available for public trading during the Relevant Period," the lawsuit said.
"The misleading promotions and celebrity endorsements were able to artificially increase the interest in and price of the EMAX Tokens during the Relevant Period, causing investors to purchase these losing investments at inflated prices," the suit continued.
The plaintiffs slammed the EthereumMax coin as a "speculative digital token created by a mysterious group of cryptocurrency developers." According to the lawsuit, the coin "has no connection" to the popular cryptocurrency Ethereum, but uses the name in an effort to "mislead investors into believing that the EMAX Tokens were a part of the Ethereum network (when they are not)."
A spokesperson for EthereumMax condemned the allegations in a statement to The Wall Street Journal.
"The deceptive narrative associated with the recent allegations is riddled with misinformation," the spokesperson said.
Kardashian, Mayweather, and Pierce have not responded publicly to the lawsuit.
Cardi B's Defamation Suit Against YouTuber Goes to Trial
Cardi B claims the YouTuber "became obsessed with slandering and harassing" her.
---
Cardi B Alleges YouTuber Harmed Her Reputation
The trial for a defamation case rapper Cardi B brought against an entertainment YouTuber began Monday in Atlanta, Georgia.
In the lawsuit, Cardi claims that Latasha Kebe, who is known online as UnwineWithTashaK, repeatedly made false statements in an effort to destroy the "Up" singer's reputation. The suit alleges that Kebe told her YouTube following that Cardi had worked as a prostitute, used cocaine, cheated on her husband, and had contracted STDs like herpes and HPV.
Kebe reached one million subscribers last week. Her videos get anywhere from 50,000 to 500,000 views.
Cardi has called the purportedly unfounded statements "degrading and harassing." She says that Kebe began spreading the misinformation in 2018 and has since made dozens of videos furthering those claims.
"Kebe became obsessed with slandering and harassing [Cardi]," the lawsuit says per Rolling Stone, which obtained a copy of the document. "In the 16 months preceding the filing of this lawsuit, Kebe put out at least 38 videos regarding [the rapper]."
What Will Be Argued in Court?
Kebe has denied the accusations and previously countersued, alleging that Cardi encouraged her fans to harass her online. A judge dismissed the suit over a lack of evidence.
According to Billboard, the trial is expected to last two weeks. It is unknown if Cardi will have to take the witness stand herself. 
Michael S. Overing, a lawyer and defamation expert not involved in the case, told Rolling Stone that Cardi has good odds of winning her case.
"Cardi probably has a pretty good shot at this one," he said, noting she had provided "very specific factual statements" that could potentially be "readily proven false."
"But the problem with these lawsuits, traditionally, is that it's very hard to prove that you suffered actual damages," he continued. "This is where the question of actual malice comes in."
Overing, among other experts, believes that much of this case will come down to whether or not the jury believes that Kebe acted with ill-intent. This means that in order to win the case, the musician's team will likely have to prove that Kebe knew the claims were false when she spread them.