Fans Slam Shawn Mendes' Apology for Old Racially Insensitive Posts
During a Q&A, a fan asked singer Shawn Mendes why he had not acknowledged racist posts he made on social media in the past.
Mendes responded, saying his friends had taken his phone to post, but also added, "I apologize for everything insensitive that I said in the past."
Several fans were satisfied with his response, but many argued that he did not take enough responsibility for his words.
---
Old Posts Resurface
Many Shawn Mendes fans are unhappy with the singer after he gave what some feel was an inadequate apology for past offensive posts he made on social media.
In one of the now-deleted tweets from 2013, Mendes responded to a friend, writing "i can see the black coming out in you lauren!" 
In other tweets posted around the same time, Mendes also wrote "Light skin girls >>" and "I'm black, burnt up ya knoe"

Mendes also allegedly used the n-word in a caption for a picture with a friend he posted to Instagram.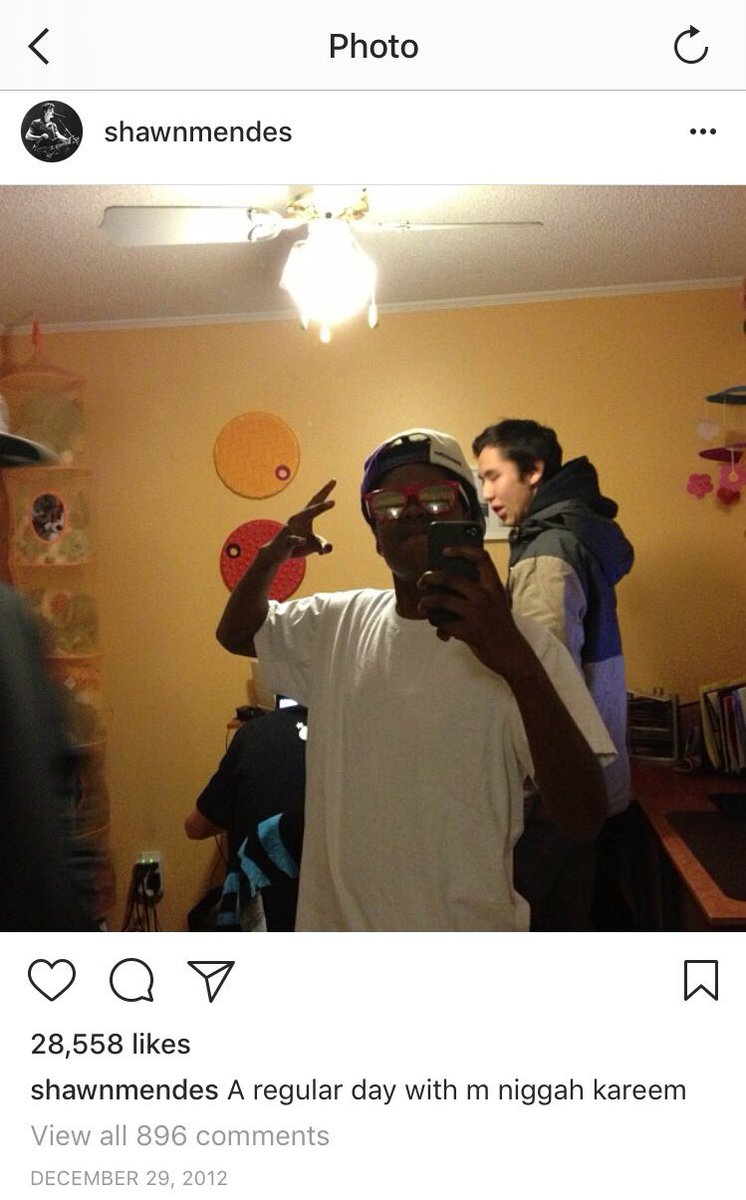 In a picture that appears to have been posted to Snapchat, Mendes uploaded a selfie with the caption "I HAVE AN AFRO! lmao."

Mendes Apologizes
Mendes was asked about the tweets by a fan during a Q&A earlier this week.
"This is kind of a hard question, I don't want you to take any offense to it at all, I just kind of wanted to do it for black Twitter, black Shawn stans everywhere out there," the fan said.
"In the past, there's a lot of kind of ignorant tweets, I guess I could say, kind of hurtful, offensive tweets that you'd tweeted before," she continued. "Why has it never been acknowledged?"
"We get a lot of hate for us supporting you, knowing that this has been, like, your past. And not to say this is you now, or anything like that, it's just really important for us to know, like, how you are," she concluded.
"I just think that a lot of things just need to be moved on from," Mendes replied. "I had friends when I was 14 who would, like, take my phone and, like, post things of them. And like, they thought it was funny that I had like 2,000 followers and it was this big thing, and they'd post photos of themselves."
"At the time I was just, like, not thinking about it," he continued. "I had no idea I was going to have 50 million followers. Which doesn't make it any better, but, yeah, totally. I mean, I apologize for everything insensitive that I said in the past, but with that being said, yeah, I think that's not my personality."
Twitter Reacts
Many fans were not happy with his response and took to Twitter to share their thoughts.
Some argued that Mendes was just blaming his friends for the post and did not take enough responsibility.
It's literally obvious it was him and all he needs to say is "I was young, ive learned and I apologize" and move on. The fact that he refuses to take responsibility and blames it on ""friends"" is incredibly immature and pathetic. Your actions are your fault, nobody else's.

— Britney Spears Updates (@updatingbritney) August 20, 2019
It's funny that he put the blame on his friends, but what's funnier is how he didn't apologize until someone called him out in front of people.

— Nella (fan acc) (@shadysmj) August 20, 2019
Others responded by defending Mendes, and saying that his apology was sufficient.
his apology was valid, just say you hate him and go pic.twitter.com/OiBQSaQ05S

— 𝖓𝖏 shooter for iichy (@particulaparker) August 20, 2019
he apologized everyone can shut up now <3 stop attacking him after he apologized

— evelin | VAL'S DAY (@japanctrl) August 20, 2019
If yall actually watch the entire video you'll see that he handled it well , he's not blaming his friends he acknowledged it and apologised like he should , he educated himself and grew maybe if yall do too …

— 𝒜𝓈𝓂𝒶𝒶 (@notstuckonu) August 20, 2019
Disney Eviscerates Scarlett Johansson's "Black Widow" Lawsuit as "Callous," but Report Suggests Emma Stone and Emily Blunt May Follow Her Lead
"There is no merit whatsoever to this filing," the company said in an uncharacteristically blunt statement that was heavily criticized online.
---
Johansson/Disney Lawsuit Gets Bitter
Disney has described a recent lawsuit from "Black Widow" actress Scarlett Johansson as "sad and distressing in its callous disregard for the horrific and prolonged global effects of the COVID-19 pandemic," but Johansson may have just unleashed what is to become an even bigger legal challenge for the House of Mouse.
At the center of this dispute, Johansson alleges she lost $50 million because Disney opted for a dual streaming/theater release of "Black Widow," which debuted in theaters and for $30 on Disney+ with Premier Access earlier this month.
According to Johansson's suit, her contract with Disney — which was negotiated prior to any hint of a pandemic — stipulated that "Black Widow" would see an exclusive theater release. Notably, the actress also said her contractual bonuses were tied to the movie's box office performance, which is an extremely common practice with films featuring A-list celebrities.
Of course, when the pandemic hit — like many other industries — movies were upended. Pandemic-related changes meant that despite having an initial release date of May 2020, Marvel fans wouldn't get a chance to see "Black Widow" for over a year.
Still, Johansson said she tried to contact Disney to renegotiate her contract prior to the film's ultimate release, but she claims the company was unresponsive.
On Thursday, she then filed a complaint with the Los Angeles County Superior Court, with her attorney arguing that "Disney has enjoyed the benefits of having one of Hollywood's top actresses promote its wholly owned subscription service at no additional cost to Disney, and with the intended effect of taking money out of that actress' own pocket."
Later Thursday, Disney claimed that it has "fully complied" with Johansson's contract and that the streamed release of the film "has significantly enhanced her ability to earn additional compensation on top of the $20M she has received to date."
"There is no merit whatsoever to this filing," the company said in its uncharacteristically blunt statement.
Are Emma Stone and Emily Blunt Next?
Speaking of blunt, it was reported Friday that both Emily Blunt and Emma Stone may also file lawsuits against Disney's dual streaming release of their films.
In fact, according to an exclusive newsletter run by former Hollywood Reporter Editor Matt Belloni, Stone "is said to be weighing her options" over the dual release of "Cruella" in May. Meanwhile, he suggested Blunt could also take action or speak out following this weekend's release of "Jungle Cruise."
Belloni went on to describe Disney as "notoriously difficult to deal with" regarding such matters and claimed that many have simply been waiting for someone powerful enough to speak out.
Disney Criticized for Its Response
Much of the public perception of the situation has led to overwhelming support for Johansson's camp. Online, a slew of people lambasted Disney's response, with many calling it a deflection.
Candace Owens and Logan Paul in Talks to Debate
A spokesperson confirmed to Insider Wednesday that the two have had "productive" conversations about the prospect offline.
---
Candace Owens Challenges Logan Paul to a Debate
Right-wing commentator Candace Owens and controversial YouTuber Logan Paul are in talks to engage in a political debate. Yes, you read that sentence correctly.
Owens — best known for making false claims about the George Floyd protests, spreading COVID-19 misinformation, and seemingly saying that Adolf Hitler "just wanted to make Germany great" — first challenged Paul to a debate on Friday. It started with her sharing a year-old clip from Paul's podcast where he spoke about the importance of fighting racism in the United States.
"It is not enough to be 'not racist.' You have to be anti-racist," he said.
"If you're white, if you look like me, use your privilege," he added. "And for those who do not think white privilege exists, you are fucking blind."
Because merely acknowledging the existence of racism appears to go against Owens' core beliefs, she asked Paul to duke it out with her.
"Logan loves to challenge people in the boxing ring," she wrote. "I'd like to publicly challenge him to go a few rounds with me in a political debate. @LoganPaul—how about you stop by my show and explain to me how you're *checks notes* more privileged than me because you're white and I'm not?"
Spokesperson Confirms The Two Are in Talks
Paul — best known for launching a boxing career and filming a YouTube video that showed a dead body in Japan's "suicide forest" — said on Tuesday that he was "perplexed" by the offer, but was taking it seriously.
"I started to entertain this action, I ended up speaking with her, and there may be a future where we sit down and have a civil discourse because I think there's some meat on this bone," he said during the most recent episode of his "ImPaulsive" podcast.
The internet star acknowledged that Owens' main arena is politics, while his main arena is being a "fucking idiot" online. Still, he said he does care about these issues and has a "semi-intelligent brain," so he thinks he could "hold [his] own."
"Candace Owens, whether you can admit it or not, is a smart person," Paul continued. "And so I guess I'm just curious because I just fucking fundamentally disagree with her and again, I think there's room for a conversation."
A spokesperson for Owens confirmed to Insider on Wednesday that the two had a "productive" offline conversation and said a public political debate between the two is "very likely."
"Although both of them disagree on a variety of topics, they are both much more interested in learning from one another and think people would benefit from hearing an honest discussion between two parties rather than a 'gotcha' moment that might play well for social media," the spokesperson added.
See what others are saying: (Insider)
Finneas Slams Billie Eilish Troll Account for Attributing Fake Quotes to the Singer
Eilish's big brother said the account is spreading "relentless lies" and asked that it at least label itself as a satire account.
---
Troll Account Shares Fake Billie Eilish Quotes
Billie Eilish's brother and collaborator Finneas took to Twitter Tuesday to address an account that has been sharing fake quotes attributed to his sister.
The account uses the handle @BilliesUpdatess and goes by the name of "Billie Eilish Updates" in its profile. It was created in July of 2021 and as of Wednesday morning, it had amassed a following of 1,100 people. On a quick glance, it looks just like any other update account a fan might make to share news about their favorite celebrity.
@BilliesUpdatess, however, is far from the standard adoring fan page. Of the over 300 tweets it has posted, several include screenshots of forged articles that make it look like Eilish said something either offensive or totally outlandish. One post claims Eilish defended her boyfriend after he was accused of supporting former president Donald Trump.
"At the end of the day, I fucking love him you know?" the phony statement reads. "It doesn't matter if he made some homophobic comments in the past, people change. If he [Matthew] supports Donald Trump then I don't care if it makes him happy. I support EVERY decision Mathew has to make, even the ones some of my fans don't agree with, like maybe some of his icky comments."
In another sham passage, Eilish says she thinks queerbaiting "is a really good thing!" In several others, the person behind the account comes up with artificial quotes to make it looks like Eilish is feuding with "driver's license" singer Olivia Rodrigo. 
One post with a fake article ended up being retweeted 12,000 times. That tweet included Eilish claiming she longs to be poor.
"When I got rich, I started balling my eyes out," the fake piece says. "I wanted to be poor so I can relate to most of my fans. I still want to be broke and poor, it looks really fun and cute."
Finneas Slams Account
As the troll account started to gain traction, Finneas asked that people report and block it to minimize the spread of its "relentless lies."
On Tuesday, he responded to a fan that tagged him in the @BilliesUpdatess tweet alleging his sister wanted to be poor. 
"Fake obviously," Finneas wrote. "Honestly I just wish they'd label this account satire like the onion or something. I have no problem with a joke as long as people know it's a joke."
The account made several jokes about the fact that Finneas was calling it out, but it seems Eilish's big brother got what he asked for. @BilliesUpdatess added "parody account" to its bio and the account was deleted as of Wednesday afternoon.
See what others are saying: (NME) (Uproxx) (E! News)