Anti-Vaxxer Cited for Assaulting CA Vaccine Lawmaker on Facebook Live
An anti-vaxxer was cited for suspicion of assault after live-streaming himself pushing California state Senator Richard Pan, an author of prominent vaccination bills in the state.
Pan and other legislators condemned the move, saying that disagreeing on legislation is not a reason to resort to violence.
Kenneth Austin Bennett, the man who pushed Pan, has 4,500 followers on Facebook, where he often posts anti-vax rhetoric. He attempted to run for Pan's seat in 2018 but failed to appear on the ballot. 
---
Bennett Pushes Senator Pan
An anti-vaccine supporter live-streamed himself shoving California state Sen. Richard Pan, who authored influential vaccine legislation.
According to the Los Angeles Times, Kenneth Austin Bennett was cited with suspicion of assault on Wednesday. Bennett live-streamed the incident on his Facebook page, where he frequently posts anti-vax rhetoric along with other conspiracy theories to his 4,500 followers.
Bennett's video opens with him walking around Sacramento near the California State Capitol. He talks to his followers about religion, conspiracy theories, and "Lucifer establishing his kingdom" in Sacramento for the first nine minutes of the video. He then runs into Pan.
"Oh my goodness you guys, what are the chances of this?" Bennett asks. "Right here, Right here…What are the chances of this, Senator Pan?"
Bennett then follows Pan down the street and asks him about remarks he made in 2015 about water being the most dangerous ingredient in vaccines. He continues to press the senator on other vaccine-related topics, to which Pan minimally responds. Eventually, Pan laughs and says, "Oh boy" after Bennett asks him a question about water being a toxin.
Bennett then pushes Pan and says, "Yeah, I pushed you. I pushed you. I pushed you."
He walks away from the scene and says, "I probably should not have done that." He returns to Pan, who appears to be calling the police with his colleagues. They eventually walk into a building, and Bennett continues to address his camera outside.
He claims he pushed the senator for "lying" about vaccine information.
"If he got what he deserved he would be hanging for treason," he later says about Pan.
Responses to Incident
Bennett acknowledged the situation on his Facebook page during a second live stream on Wednesday. In the hour-long stream, he further condemned Sen. Pan, and also spoke on other conspiracy theories about Facebook and the 2018 wildfires in Paradise, California.
"I was charged with assaulting Richard Pan, but also had the chance to further expose the corrupt politician," he captioned the video.
He also told local news outlet KCRA that he did not regret pushing Pan.
In a statement on Thursday, Pan said the incident was a result of rhetoric spread by anti-vaccine extremists.
"Bullying, threats, and violence should not be acceptable in civil discourse and policy making," he said. "Yesterday's assault was incited by violent rhetoric and imagery employed by anti-vaccine extremists. Anti-vaxxers have attempted to dehumanize me and other public health advocates on social media while making death threats."
"Mr. Bennett is not a lone actor, but a person who accepted the violent rhetoric of the anti-vax movement and acted upon it by assaulting me on a public street while live streaming the attack on Facebook," Pan added. "Social media companies also need to accept responsibility for giving a platform for this violence and hate."
Others also supported Pan, including California Senate President pro Tempore Toni G. Atkins, who said that disagreeing on legislation is "no reason to resort to aggressive and harmful behavior."
"My colleagues and I will do all we can to aid those investigating this matter and protect the elected leaders, staff, and visitors who work at and tour our Capitol each day," she added in a statement.
History Between Bennett and Pan
Sen. Pan was a pediatrician prior to becoming a state lawmaker. He authored a bill that passed in 2015 that removed religious and personal beliefs as exemptions for school children receiving vaccines. He is currently working on legislation that aims to combat illegitimate medical exemptions.
In 2018, Bennett ran to unseat him as the senator for California's sixth district. He was unable to appear on the ballot and ran as a write-in.
On his campaigns website, he claimed that the bills Pan had worked on were "reckless and destructive to our children's future."
He also said one of his campaign promises was to "protect children from forced vaccinations."
Nearly 9 Million Are Without Water in Texas, Some Face Electric Bills up To $17,000
More than 8.8 million people in Texas remained under boil water notices Monday, and over 120,000 had no water service at all.
Gov. Greg Abbott (R) said Sunday that the state has distributed around 3.5 million bottles of water, though many of the lines to receive that water were plagued with hours-long waits.
Meanwhile, power outages in the state have fallen below 20,000, but many Texans are also beginning to receive astronomical electric bills of as much as $17,000.
Both Abbott and Houston Mayor Sylvester Turner (D) said those prices are not the fault of customers. While some form of forgiveness is likely, no immediate plan has been outlined yet.
---
Millions Without Water
As of Monday morning, nearly 8.8 million people in Texas are still under boil water notices following last week's snowstorm. That's about one out of every three Texans.
Despite being a giant chunk of the state's population, that figure is actually an improvement from 10 million people on Sunday.
Another 120,000 Texans are still without water service at all.
Gov. Greg Abbott (R) said Sunday almost 3.5 million bottles of water have been distributed across Texas by helicopter, airplane, and truck.
The need for water has been extremely visible. An Austin City Council member shared a video on Twitter Sunday showing a massive line of vehicles waiting for clean water. Some waited for more than an hour before the distribution event began. At another site, she said cars began lining up more than five hours before the event.
Abbott said the state is bringing in more plumbers to increase repair efforts for damaged water systems. Additionally, Abbott said homeowners without insurance could qualify for emergency reimbursement from FEMA.
Meanwhile, one large-scale effort from Rep. Alexandria Ocasio-Cortez (D-NY.) has now raised more than $5 million since first being launched on Thursday. That money will go to several organizations, including the Houston Food Bank, Family Eldercare, Feeding Texas, and the Bridge Homeless Recovery Center.
Texas Electric Bills Soar as High as $17K
All but just under 20,000 Texas homes and businesses have now had their power restored as of Monday morning.
That's a stark contrast from the more than 4 million that were out of power at one point last week.
While that's largely good news, many Texans are now beginning to receive sky-high electric bills. That's especially evident for those whose power stayed on during the storm. In fact, some people have now told multiple media outlets they're facing bills as high as $17,000.
One 63-year-old Army vet, who was charged $16,752, told The New York Times that his bill was about 70 times higher than normal.
"My savings is gone," he said. "There's nothing I can do about it, but it's broken me."
As far as why his and others' eclectic bills are so high, many people in Texas have plans that are directly tied to the wholesale price of electricity. Usually, that helps keep their costs low, but as demand for power surged during last week's snowstorm, those prices hit astronomical highs.
In a statement on Saturday, Abbott said Texas lawmakers "have a responsibility to protect Texans from spikes in their energy bills that are a result of the severe winter weather and power outages,"
He added that the state Legislature is working "on solutions to help Texas families and ensure they do not get stuck with skyrocketing energy bills."
In a similar tone, Houston Mayor Sylvester Turner (D) said in an interview with CBS on Sunday, "It's not the consumers who should assume [these] costs. They are not at fault for what happened this week."
That said, Turner also laid blame at the feet of the Legislature, calling the current crisis "foreseeable" on the part of lawmakers because a similar snowstorm and outages struck Texas in 2011.
Turner added that, at the time, he was part of the Texas legislature and had filed a bill that would have required the agency overseeing Texas' grid to "ensure that there was an adequate reserve to prevent blackouts."
"The leadership in Austin did not give it a hearing," he said.
While no aid has been fully guaranteed yet, Texas has prevented electric companies from being able to shut off power for people who don't pay their bills on time.
Texans Still Face Broken Pipes, Flooding, and Carbon Monoxide Poisoning as Million Regain Power
The number of Texans without power fell from 3.3 million on Wednesday to below 500,000 by Thursday.
Still, millions are currently under a boil advisory, pipes have burst as they begin to thaw, and some individuals have died or been hospitalized because of carbon monoxide poisoning. 
The Federal Emergency Management Agency said Wednesday that it has sent generators, water, and blankets to Texas, adding that it's working to send additional diesel for generators.
Gov. Greg Abbott and President Joe Biden have also reportedly discussed the possibility of extra funding for people's electricity bills, as well as for burst pipes.
---
Power May Be Back but Problems Persist
Power outages in Texas Thursday morning fell to under 500,000 — down from 3.3 million Wednesday morning.
According to the state's main grid operator, the Electric Reliability Council of Texas (ERCOT), the remaining outages are largely weather-related and not connected to problems related to forced outages. 
While that return of power to millions is significant, Texans are still facing a host of other problems.
For example, there have been numerous reports of carbon monoxide poisoning as people still without power try to keep warm in their cars or through other means. An adult and a child were found dead Tuesday after running their car inside of a garage, prompting Houston police to issue a statement warning that "cars, grills and generators should not be used in or near a building."
Six children and four adults were rushed to the hospital Wednesday night for carbon monoxide poisoning after setting up grills inside their homes.
Even for those now with power, water has become a major issue. On Wednesday, 7 million Texans were placed on a boil advisory and about 263,000 were without functioning water providers.
One reporter tweeted out a video of people lining up at a park to fill up buckets of water.
"This is not a third world country," she said. "This is Houston, Texas."
The Food and Drug Administration and the National Weather Service have even cited melting and boiling snow as an emergency option if people can't find water elsewhere, an option many have already turned to.
For some, all these problems only seemed to compound in the form of burst pipes. One viral video shows water gushing out of a third-story apartment. Others posted images of their broken pipes and the damage they have caused. 
As a result, a number of local media outlets have begun to outline steps people can take once their pipes start to thaw or if they break.
Amid Problems, Aid is Being Distributed
Alongside the overwhelming amount of problems, there has also been a large aid response.
A FEMA spokesperson said Wednesday that the agency has sent 60 "very large" generators to help keep hospitals and other critical infrastructure open.
White House Press Secretary Jen Psaki added that FEMA is preparing to move diesel into Texas to keep that backup power going.
So far, FEMA said it has sent "millions of liters of water" and "tens of thousands" of blankets.
Governor Greg Abbott and President Joe Biden have also reportedly discussed the possibility of extra funding for people's electricity bills, as well as for burst pipes. That's because as the storm first hit, electrical demand surged. Since many Texans have plans connected to the wholesale price of electricity, they're potentially set to be hit with sky-high bills.
Among other issues plaguing Texans is food spoilage; however, that can potentially be reimbursed through renters' and homeowners' insurance.
According to an official from the Insurance Council of Texas, "Food coverage is often related to personal property."
Notably, there are some stipulations depending on individual circumstances and policy. To learn more about how insurance providers accept food spoilage claims, click here.
Texas Mayor Tells "Lazy" Residents "No One Owes You" Anything Amid Power Outages
When residents in Colorado City, Texas turned to a local Facebook group to ask if the city or county had emergency shelter plans in place to keep people warm amid power outages, Mayor Tim Boyd shared a Facebook message that sparked outrage.
"Sink or swim it's your choice! The City and County, along with power providers or any other service owes you NOTHING! I'm sick and tired of people looking for a damn handout!" he wrote before suggesting that those struggling are "lazy."
"Only the strong will survive and the weak will parish," he added. "Get off your ass and take care of your own family!"
Hours later, Boyd said he was speaking as a citizen since he had already turned in his resignation and had not signed up to run for mayor again ahead of the deadline a few days ago. It's unclear when he actually resigned and he is still listed as mayor on the city's website.
---
Mayor Under Fire
The mayor of Colorado City, Texas is facing intense backlash for comments he made on Facebook Tuesday claiming the local government has no responsibility to assist residents struggling amid historic winter temperatures.
The remarks came after community members turned to a local Facebook page asking if the city or county had emergency shelters in place to keep people warm amid widespread power outages.
In response, Mayor Tim Boyd wrote, "No one owes you [or] your family anything; nor is it the local government's government's responsibility to support you during trying times like this!"
"Sink or swim it's your choice!" He continued. "The City and County, along with power providers or any other service owes you NOTHING! I'm sick and tired of people looking for a damn handout!"
Boyd argued that residents should come up with their own plans to keep their families safe. Those that are sitting at home in the cold waiting for assistance, he said, are "lazy" as a direct result of their raising.
"Only the strong will survive and the weak will parish," he continued, likely meaning perish in his statement.
He blamed the calls for basic services like heat and electricity a product of a "socialist government where they feed people to believe that the FEW will work and others will become dependent for handouts."
He closed by telling locals to "quit crying," adding, "Get off your ass and take care of your own family!"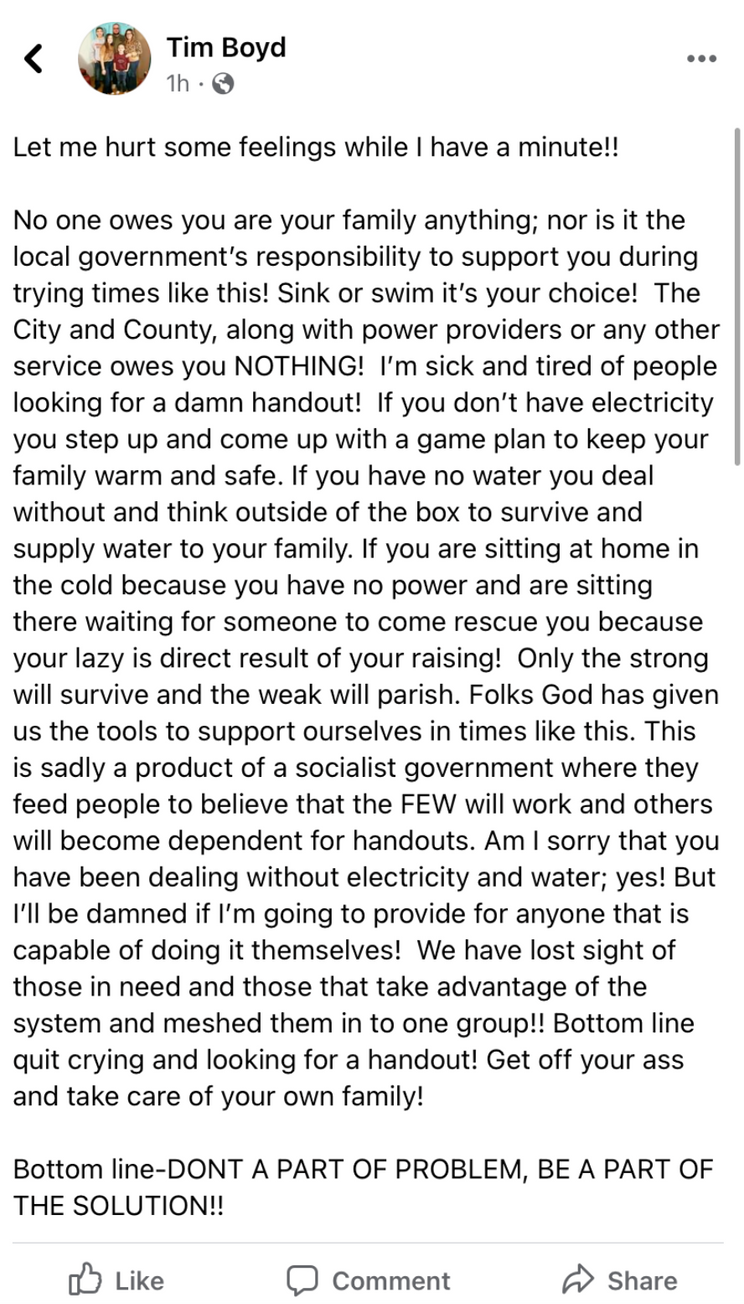 Mayor Doubles Down, Says He Already Resigned
That now-deleted post drew immediate backlash as Texans continue to slam the government for not delivering adequate support amid the storm.
The outrage eventually prompted Boyd to write a follow-up post, which he also later deleted.
In it, he claimed that his comments "were taken out of context" and did not apply to the elderly; however, he continued to double down.
"I was only making the statement that those folks that are too lazy to get up and fend for themselves but are capable should not be dealt a handout. I apologize for the wording and some of the phrases that were used!"
Boyd said he already turned in his resignation and had not signed up to run for mayor again ahead of the deadline a few days ago. He also said he wished he would've kept his words to himself or been more descriptive, and he added that all the anger and harassment since his post has caused his wife to lose her job.
Ultimately, he said he was speaking as a citizen since he is no longer mayor and called for the harassment of his family to stop.
According to The Washington Post, it isn't immediately clear if he resigned before or after writing his controversial Facebook post. As of early Wednesday morning, the paper noted that he was still listed as mayor on Colorado City's website, and city council agendas showed that he had served in that role as recently as last week.