Canadian Police Scale Back on Hunt for Two Murder Suspects
Police in Canada have been on a massive manhunt for 19-year-old Kam McLeod and 18-year-old Bryer Schmegelsky, who are suspected of killing a university professor and a traveling couple.
After nine days of searching, authorities said they can no longer justify the use of enormous resources and are scaling back – but not completely stopping- their efforts to locate the two men.
Experts say public participation will be key in finding the fugitives, and police have warned Manitoba residents to remain vigilant and report any sightings of the suspects.
---
Manhunt for McLeod and Schmegelsky
Canadian authorities announced Wednesday that they will begin to scale back their efforts to locate two teenagers suspected of killing three people, after nine days of searching for the fugitives.
Police have used helicopters, drones, boats, dogs, and even a military aircraft to hunt for 19-year-old Kam McLeod and 18-year-old Bryer Schmegelsky. Now officials believe they may be hiding in a remote area in northern Manitoba.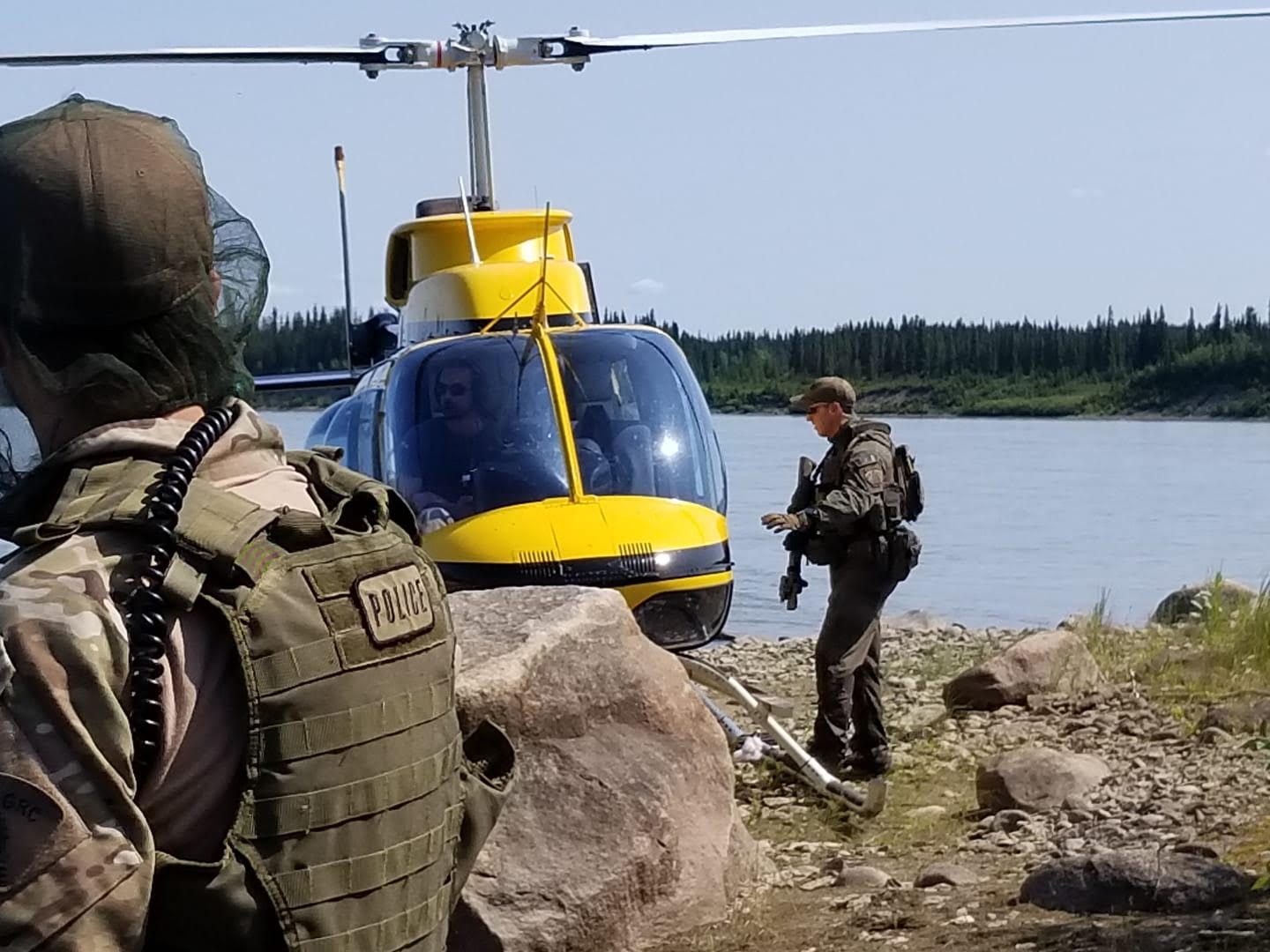 At a press conference in Winnipeg on Wednesday, Manitoba Royal Canadian Mounted Police (RCMP) Assistance Commissioner Jane MacLatchy said there have been no recent confirmed sightings of the suspects in more than a week.
"Over the last week, we've done everything we can to locate the suspects," MacLatchy said as she explained why police could not justify the enormous search effort any longer. "We used some of the most advanced technologies available and received assistance from some of the most highly skilled search and rescue personnel in the country."
She explained that police have searched more than 11,000 square miles and will now reduce, but not completely end, their search efforts over the next week. This means that some specialized personnel will be withdrawn from the manhunt.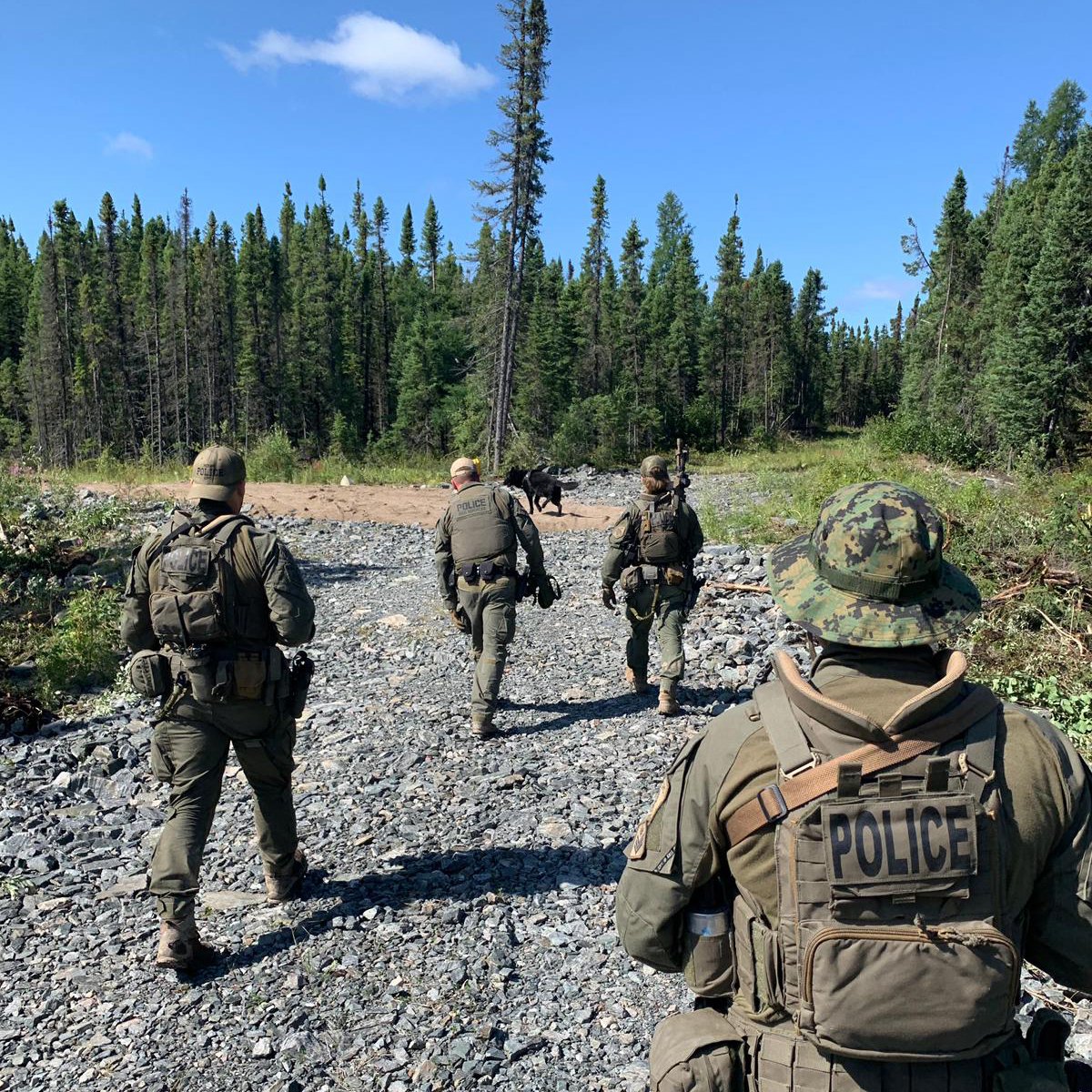 "I know that today's news is not what the families of the victims and the communities of northern Manitoba wanted to hear. But when searching for people in vast, remote and rugged locations, it is always a possibility that they are not immediately located," said MacLatchy.
MacLatchy went on to describe the terrain in northern Manitoba as "immense and unforgiving." She also added that an unspecified number of officers in the town of Gillam would remain involved in the search.
"I want to assure everyone that the RCMP is continuing to work on this investigation and will not stop until there is a resolution," she said.
MacLatchy warned the public to remain vigilant. She said that there is a possibility that the suspects had some sort of assistance in fleeing, but said there is also the possibility that they could be dead.
"Everything is possible at this stage," she said.
The Murders
McLeod and Schmegelsky are suspected of killing Chynna Deese, a 24-year old American woman and her 23-year-old Australian boyfriend Lucas Fowler. The couple had been traveling across the area to visit Canada's national parks when they were killed.
Their bodies were found close to their Chevrolet van on July 15, on a remote Canadian highway near Liard Hot Springs in northern British Columbia.
"To lose someone so young and vibrant, who was traveling the world and just enjoying life to the full, is devastating," Fowler's family said in a short statement after learning the murders.
The two men have also been charged with second-degree murder for the death of 64-year-old Leonard Dyck, a professor at the University of British Columbia. Dyck's body was discovered on July 19, about 300 miles away from the murdered couple near Dease Lake in British Columbia.
Police say his body was also about a mile away from where a vehicle and camper belonging to McLeod and Schmegelsky were found burning on the side of a highway.
The University where Dyck taught issued a statement about his death saying, "The UBC community is shocked and saddened by this news and we offer our deepest condolences to Mr. Dyck's family, friends and his colleagues at the university."
Police later found a second car used by the fugitives in Gillam, after it had also been set on fire.
Public Should Remain Vigilant
The massive manhunt for the two fugitives may be scaling back, but experts say the public will be key in ending the search.
"They will have to surface," retired officer Steve Marissink told CBC. "I'm confident that, with the community and the media keeping this in the public awareness, that they will be located and hopefully taken into custody without any further harm to anybody."
Residents in the area remain fearful knowing that the suspects are still on the loose, however, Peter German, a lawyer and former deputy commissioner with the RCMP defended the police's decision.
"Without any solid leads in the last week it would be very hard to justify keeping resources up there," he told CBC. "
The RCMP have literally checked everything that they believe they can check."
He added that the fugitives, if alive, would likely be focused on laying low at this point. "If these individuals are still in the area they will be noticed by the people who live there."
"It's time to, I guess, reload and wait for the next sighting and then hit that area with the same resources."
Ontario Provincial Police on Wednesday said they had received reports of a possible sighting of the two men, however, they have not been able to confirm anything yet.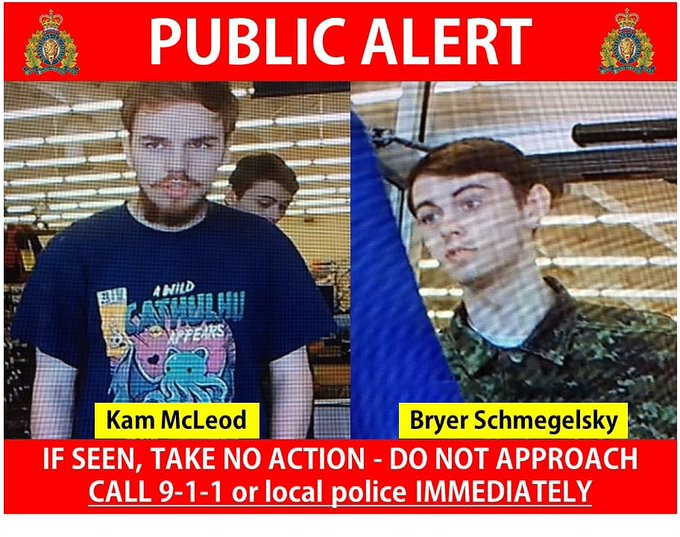 See what others are saying: (The New York Times) (CBC) (National Post)
Gang That Kidnapped American and Canadian Missionaries in Haiti Seeks $17 Million Ransom
The incident has fueled calls for the government to take action against gangs, which control many territories in the country and have repeatedly carried out large-scale abductions for ransom
---
Missionary Abduction
The gang that abducted 17 American and Canadian missionaries in Haiti on Saturday is demanding $17 million for their safe release, Haitian officials said Monday.
The group, which consists of one Canadian and 16 Americans, are all part of Christian Aid Ministries, an Amish and Mennonite charity based out of Ohio with a long history of working in Haiti.
While on their way to visit an orphanage in Croix des Bouquets, a suburb of the capital Port-au-Prince, the group's bus was stopped at gunpoint by the 400 Mawozo gang. The gang is known for being one the most dangerous in the area, reportedly having about 150 members.
Multiple outlets, including CNN and Reuters, report that during the gang's confrontation with the missionaries some victims managed to get messages out to associates to let them know what was going on. One even managed to drop a pin location on his mobile phone, helping authorities get a better idea of where exactly this happened.
By 4:53 p.m on Saturday, the kidnappers contacted Christian Aid Ministries to make their steep demands. According to authorities, the request is a noticeable jump from the thousands to tens of thousands the gang typically asks for.
Lack of Government Control
While Haitian authorities are involved in the investigation to free the missionaries, they actually have little power in the area. Croix des Bouquets is largely out of the government's control and is instead run by 400 Mawozo. Government authority being replaced by gang activity isn't uncommon in Haiti, and in some places, government control is almost completely lacking. This was highlighted on Sunday when Prime Minister Ariel Henry was forced to turn back from a wreath-laying ceremony at the grave of revolutionary war hero Jean-Jacques Dessalines due to its placement in gang territory.
The issue makes recovering the missionaries far more complex, but Haitian authorities aren't alone. The FBI has been involved in the investigation and is continuing to help Haitian authorities.
"The FBI is part of a coordinated US government effort to get the Americans involved to safety. Due to operational considerations, no further information is available at this time," The agency said in a statement to Reuters.
Reports indicate that the hostages are being held in some kind of safe house for the gang. Currently, no one is believed to be physically hurt. The gang has warned against harming the hostages, although according to a Haitian security forces member who spoke with CNN, the group didn't seem too worried about those threats.
Haitians Call for Changes
Abductions in Haiti have always been an issue, but the problem has become particularly bad lately. In 2020, the Haitian National Police reported 234 kidnappings. In the first eight months of this year, there have been at least 328.
Some organizations claim that number is actually low. In fact, the Center for Analysis and Research for Human Rights reported that at least 600 people have been abducted this year. The center said that much of the increase was caused by 400 Mawozo, who have figured out that kidnapping busloads of people is more profitable than just taking individuals.
The issue is so prolific that just before the kidnapping on Saturday, a Haitian transportation union called for an indefinite strike starting Monday, with its president further justifying the move in a written statement a day later.
"We call on the government to put an end to the kidnappings and provide us safety or for them to resign immediately. We are the most victims; the transportation sector is an easy target for kidnappers all over the country," Union President Méhu Changeux wrote. "We lost many members to the insecurity and dozens of members have been kidnapped. The latest tragedy of the kidnapping of the American missionaries shows no one is safe in this country."
Since Monday, many parts of the country have come to a standstill amid the strike, putting increased pressure on a government with little resources to handle the underlying cause of discontent: gang activity and government instability.
5 Dead, 2 Injured After Bow and Arrow Attack in Norway
Police have called the incident a terror attack, though exact details regarding the suspect's motives remain unclear.
---
Super Market Attack
The Norwegian town of Kongsberg is reeling from a deadly incident at Coop Extra supermarket on Wednesday that police are treating as "an act of terrorism."
Shortly before 6 p.m., a 37-year old Danish man entered the market, armed with a bow and arrow, along with other weapons. He then began firing at those inside the building.
Authorities quickly responded and were on the scene within five minutes. Despite a police confrontation with the suspect, the attack continued. Four women and one man were ultimately killed while two others were left injured.
The suspect initially avoided arrest after managing to flee the scene. Police Chief Ole Bredrup Sæverud told reporters Thursday that it took 35 minutes to catch the attacker.
Unclear Motives
While police described the incident as a terror attack, they refused to specify a motive. Officials did hint that the rampage might have been religiously motivated by revealing that police had previously been in contact with the suspect due to his conversion to Islam and possible connections to radical content and teachings. Still, Sæverud clarified that the perpetrator hadn't been actively investigated at all in 2021.
Prime Minister Erna Solberg, who was just hours away from leaving office after she was ousted in recent elections, described reports of the scene as "horrifying" on Wednesday. Incoming Prime Minister Jonas Gahr Støre said in a Facebook post from Thursday morning that the attack was a "cruel and brutal act."
Norway's King Harald expressed his sympathies to the mayor of Kongs-berg, telling the country, "We sympathize with the relatives and injured in the grief and despair."
"And we think of all those affected in Kongs-berg who have experienced that their safe local environment suddenly became a dangerous place. It shakes us all when horrible things happen near us, when you least expect it, in the middle of everyday life on the open street."
Attacks of this nature are rare in Norway. In 2019, a right-wing gunman tried to enter a mosque before being overpowered and hitting no one. Wednesday's attack is the most deadly since July 2011, when a far-right extremist killed 77 people at a Labour party summer camp.
Editor's Note: At Rogue Rocket, we make it a point to not include the names and pictures of mass murderers or suspected mass murderers who may have been seeking attention or infamy. Therefore, we will not be linking to other sources, as they may contain these details.
Protests Erupt in Italy Over World's Toughest Vaccine Mandate
The violence is believed to have been instigated by far-right groups that oppose COVID-19 vaccines and other pandemic-related safety measures.
---
Green Pass Pushback
Demonstrators gathered in Rome over the weekend to protest against Italy's plans to require a coronavirus "Green Pass" for all workers starting Oct. 15.
The Green Pass is a European Union initiative that shows whether someone is vaccinated, has recovered from COVID-19 in the past six months, or has received a negative COVID test in the past 48 hours.
Since August, Italy has required the pass for entry at restaurants and use of long-distance trains, along with nearly every other activity that involves interaction with others or use of a public space. Now, the pass will be required to enter a workplace, which critics argue is particularly harsh.
Individuals who can't produce a valid Green Pass will be suspended without pay, making it the most extreme of any COVID-19 mandate in the world.
The weekend protests started out peaceful, with people chanting "Liberta," which means freedom. However, the scene turned violent by Saturday when a group of protesters affiliated with the far-right Forza Nuova party decided to storm the headquarters of the CGIL, Italy's biggest and oldest labor union.
Protesters then marched towards the Prime Minister's office, prompting police to respond with anti-riot measures like tear gas, water cannons, and shield charges.
It's unclear how many protesters were hurt in the ongoing fighting, but dozen of police officers were reportedly hurt in the scuffle. By Sunday evening. at least 12 protesters were arrested, many of who are members of Forza Nuova, including its leader Roberto Fiore. Authorities also indicated in a press conference on Monday that it had identified at least 600 other people who took part in illegal activities during the demonstrations.
Fiore was unapologetic about the rioting, and Forza Nuova said in a statement, "The popular revolution will not stop, with or without us, until the Green Pass is definitively withdrawn. Saturday was a watershed between the old and the new. The people decided to raise the level of the clash."
Fascist Banning
Saturday's events have led many of the country's largest political parties, including the 5Star Movement and the Democratic Paty, to support a motion calling for Nuova Forza and similar groups to be dismantled in line with a constitutional provision from 1952 that bans fascists parties.
While that motion is still going through the legislative process, prosecutors have already seized the group's website in line with a 1988 law that bans inciting violence through public communications.
"The events [on Saturday] take us back to the darkest and most dramatic moments of our history and they are an extremely serious and unacceptable attack on democracy," Valeria Fedeli, a senator with the center-left Democratic Party, said on Monday.
The violence from the weekend may make it seem like a sizeable chunk of Italians are against the vaccine; however, over 70% of all Italians are already vaccinated, making it one of the highest rates in the world.
According to polling from the summer, most Italians think the new rules will help in the long run and prevent another catastrophe like last year when the country ran out of room to bury the dead due to the number of deaths caused by COVID-19.