Canadian Police Scale Back on Hunt for Two Murder Suspects
Police in Canada have been on a massive manhunt for 19-year-old Kam McLeod and 18-year-old Bryer Schmegelsky, who are suspected of killing a university professor and a traveling couple.
After nine days of searching, authorities said they can no longer justify the use of enormous resources and are scaling back – but not completely stopping- their efforts to locate the two men.
Experts say public participation will be key in finding the fugitives, and police have warned Manitoba residents to remain vigilant and report any sightings of the suspects.
---
Manhunt for McLeod and Schmegelsky
Canadian authorities announced Wednesday that they will begin to scale back their efforts to locate two teenagers suspected of killing three people, after nine days of searching for the fugitives.
Police have used helicopters, drones, boats, dogs, and even a military aircraft to hunt for 19-year-old Kam McLeod and 18-year-old Bryer Schmegelsky. Now officials believe they may be hiding in a remote area in northern Manitoba.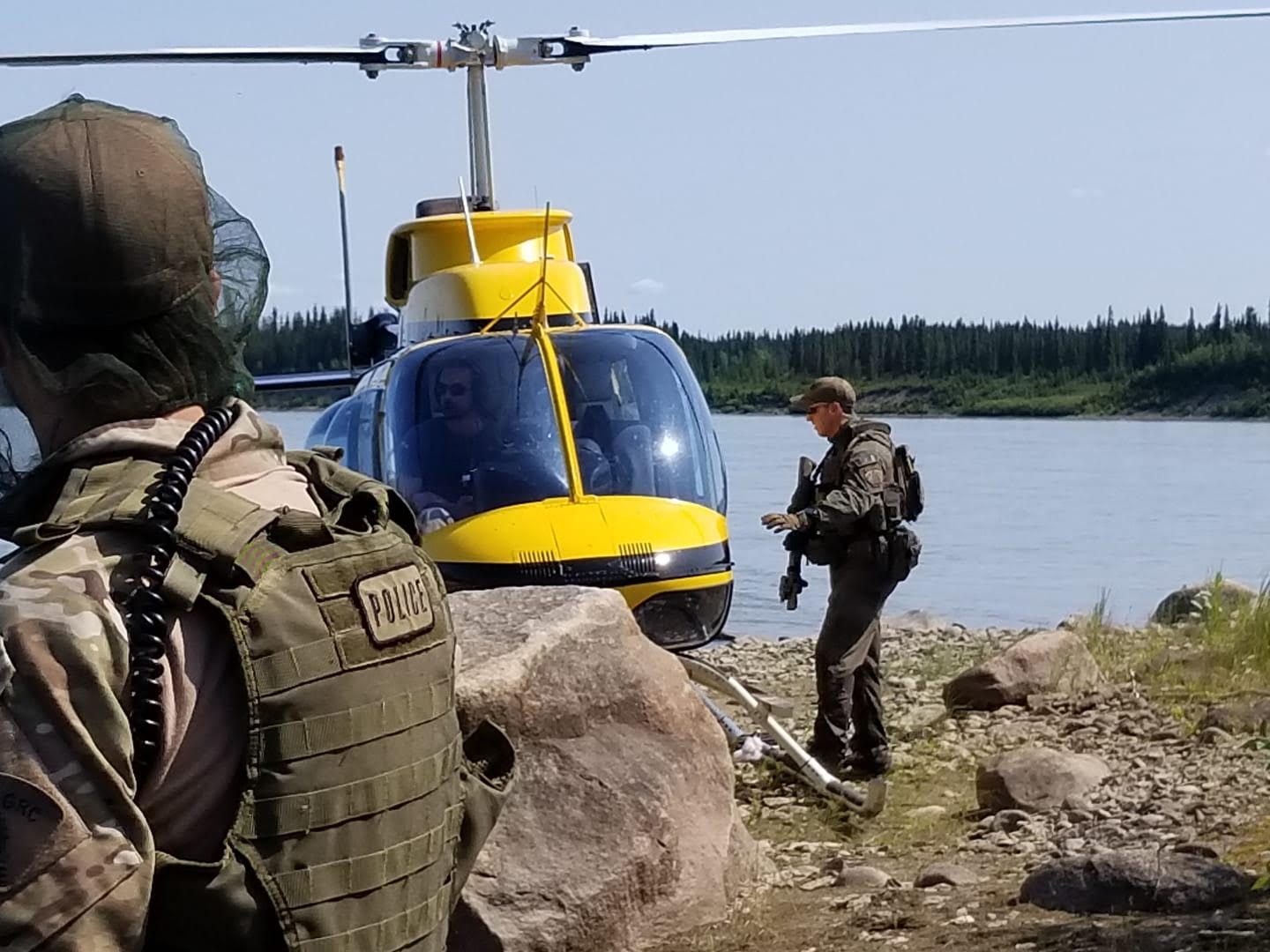 At a press conference in Winnipeg on Wednesday, Manitoba Royal Canadian Mounted Police (RCMP) Assistance Commissioner Jane MacLatchy said there have been no recent confirmed sightings of the suspects in more than a week.
"Over the last week, we've done everything we can to locate the suspects," MacLatchy said as she explained why police could not justify the enormous search effort any longer. "We used some of the most advanced technologies available and received assistance from some of the most highly skilled search and rescue personnel in the country."
She explained that police have searched more than 11,000 square miles and will now reduce, but not completely end, their search efforts over the next week. This means that some specialized personnel will be withdrawn from the manhunt.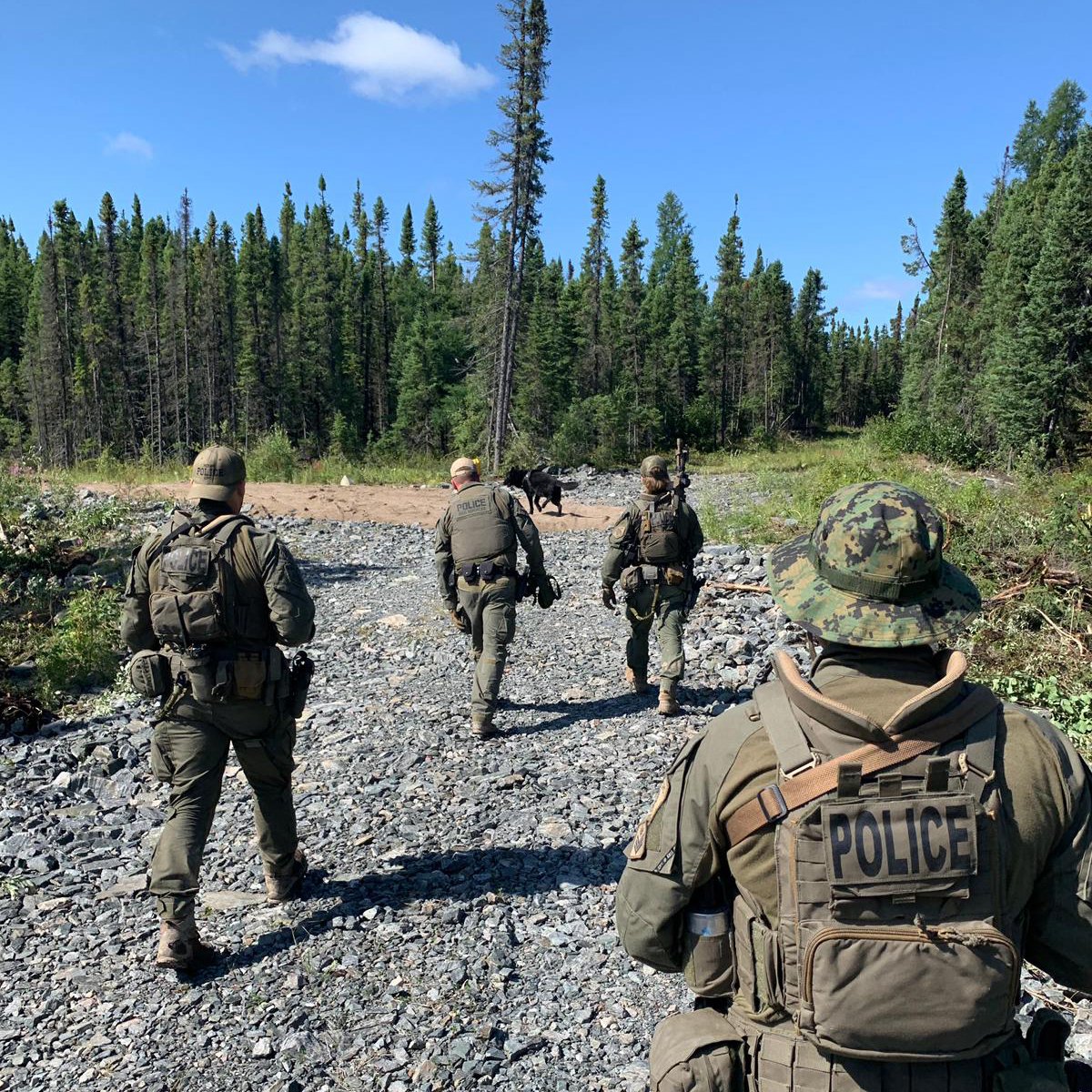 "I know that today's news is not what the families of the victims and the communities of northern Manitoba wanted to hear. But when searching for people in vast, remote and rugged locations, it is always a possibility that they are not immediately located," said MacLatchy.
MacLatchy went on to describe the terrain in northern Manitoba as "immense and unforgiving." She also added that an unspecified number of officers in the town of Gillam would remain involved in the search.
"I want to assure everyone that the RCMP is continuing to work on this investigation and will not stop until there is a resolution," she said.
MacLatchy warned the public to remain vigilant. She said that there is a possibility that the suspects had some sort of assistance in fleeing, but said there is also the possibility that they could be dead.
"Everything is possible at this stage," she said.
The Murders
McLeod and Schmegelsky are suspected of killing Chynna Deese, a 24-year old American woman and her 23-year-old Australian boyfriend Lucas Fowler. The couple had been traveling across the area to visit Canada's national parks when they were killed.
Their bodies were found close to their Chevrolet van on July 15, on a remote Canadian highway near Liard Hot Springs in northern British Columbia.
"To lose someone so young and vibrant, who was traveling the world and just enjoying life to the full, is devastating," Fowler's family said in a short statement after learning the murders.
The two men have also been charged with second-degree murder for the death of 64-year-old Leonard Dyck, a professor at the University of British Columbia. Dyck's body was discovered on July 19, about 300 miles away from the murdered couple near Dease Lake in British Columbia.
Police say his body was also about a mile away from where a vehicle and camper belonging to McLeod and Schmegelsky were found burning on the side of a highway.
The University where Dyck taught issued a statement about his death saying, "The UBC community is shocked and saddened by this news and we offer our deepest condolences to Mr. Dyck's family, friends and his colleagues at the university."
Police later found a second car used by the fugitives in Gillam, after it had also been set on fire.
Public Should Remain Vigilant
The massive manhunt for the two fugitives may be scaling back, but experts say the public will be key in ending the search.
"They will have to surface," retired officer Steve Marissink told CBC. "I'm confident that, with the community and the media keeping this in the public awareness, that they will be located and hopefully taken into custody without any further harm to anybody."
Residents in the area remain fearful knowing that the suspects are still on the loose, however, Peter German, a lawyer and former deputy commissioner with the RCMP defended the police's decision.
"Without any solid leads in the last week it would be very hard to justify keeping resources up there," he told CBC. "
The RCMP have literally checked everything that they believe they can check."
He added that the fugitives, if alive, would likely be focused on laying low at this point. "If these individuals are still in the area they will be noticed by the people who live there."
"It's time to, I guess, reload and wait for the next sighting and then hit that area with the same resources."
Ontario Provincial Police on Wednesday said they had received reports of a possible sighting of the two men, however, they have not been able to confirm anything yet.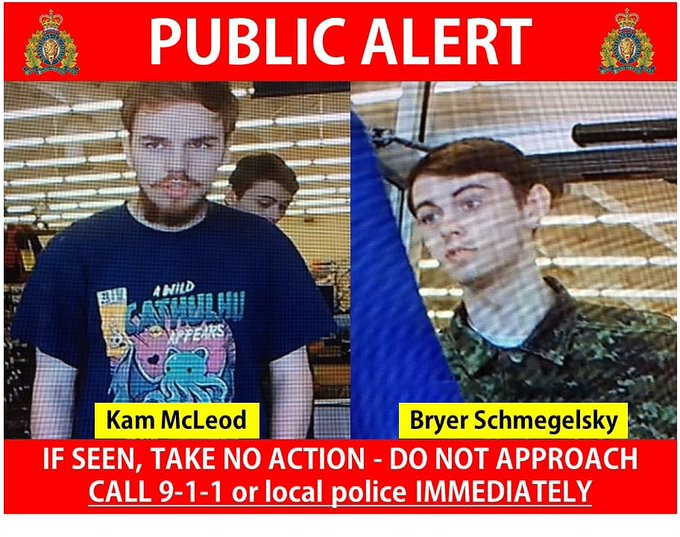 See what others are saying: (The New York Times) (CBC) (National Post)
American Influencer Kristen Gray To Be Deported From Bali
In a viral Twitter thread, influencer Kristen Gray encouraged people to move to Bali like she did while promoting her eBook and other resources on how to do so amid COVID-19 restrictions.
Many criticized her for encouraging an influx of travelers during the pandemic. She also sparked conversations about gentrification and was slammed for falsely characterizing Indonesia as queer-friendly.
The local government promised to deport her Tuesday, arguing that selling her book and offering paid consultations on traveling to Bali violated the purpose of her visitor stay permit. They also say she was "spreading information that could unsettle the public."
"I am not guilty. I have not overstayed my visa. I have not made money in Indonesian rupiah in Indonesia," Gray told reporters. "I put out a statement about LGBT and I am being deported because of LGBT."
---
Kristen Gray Goes Viral
Officials in Indonesia said Tuesday that they will deport Kristen Gray, an American influencer who has caused international outrage in the last week.
Gray moved to Bali with her girlfriend in 2019 with plans to stay for six months. In reality, the couple ended up staying much longer because of the coronavirus pandemic, and in a viral Twitter thread, Gray shared how positive their experience has been.
Gray pointed to several benefits of moving to Bali in her posts, like its safety, low cost of living, luxury lifestyle, as well as its queer-friendly and Black communities.
She also encouraged others to make the same move and promoted their $30 eBook "Our Bali Life Is Yours" for tips on how to do it. "We include direct links to our visa agents and how to go about getting to Indonesia during COVID," she even wrote in one post.
Backlash
The thread sparked outrage for encouraging an influx of travelers to a country that has closed its borders over the worsening pandemic. On top of that, it sparked conversations about the gentrification of neighborhoods there.
Bali is a major tourist destination for Americans, Europeans, and Australians in particular, and like areas all over the world, it has suffered from the loss in visitors this year.
However, many online noted that locals have been steadily priced out of certain areas of the island as foreigners open businesses to cater to tourists. Others argue that poorly regulated development is also destroying industries that Balinese people have historically relied on.
Aside from those criticisms, many people also took issue with Gray characterizing Bali as a queer-friendly when the reality for locals is far different.
"It well may be the case for you. However, please recognize that it is because a) you're a foreigner and b) you have economic leverage since the Indonesian local community is financially dependent on keeping you happy so they don't mess with you," a user named Kai Mata said in a viral TikTok.
"Please realize for the rest of us Indonesians on the island, this is not a queer-friendly place. Our gay communities are often shut down and raided by authorities and Indonesia at large has tried to mandate conversion therapy for us the LGBTQ+ Community."
Government Responds
The local government responded to the public outrage over Gray's thread Tuesday. In a statement, it said selling her book and also offering paid consultations on traveling to Bali violated the purpose of her visitor stay permit, which was valid until January 24.
Gray was also accused of "spreading information that could unsettle the public" by saying Bali is queer-friendly and suggesting foreigners travel there during the pandemic.
According to Reuters, she was being held at an immigration detention facility Tuesday and was to be deported as soon as a flight was available.
In a brief statement to the Balinese press, Gray defended herself. "I am not guilty. I have not overstayed my visa. I have not made money in Indonesian rupiah in Indonesia. I put out a statement about LGBT and I am being deported because of LGBT," she explained.
Many of her fans believe her and also argue that she is seeing this level of criticism because she is a Black woman.
Petition Calls for Ban on Sexualized Fanfiction in South Korea
A petition circulating across South Korea calls for sexualized fanfiction depicting K-pop stars and other real people to be outlawed and classified as sex crimes.
The petition particularly focuses on the way male stars are depicted in same-sex relationships and argues that they often feature people who are minors.
A similar petition was submitted last week to President Moon Jae-in; however, it focused on deep fakes. Because both petitions have over 200,000 signatures, they will need to be addressed by President Moon.
---
K-Pop Fanfiction Causes Chaos
A petition began circulating across South Korea this week demanding that "real person slash" fanfiction works be outlawed and charged as sex crimes.
"Real person slash" refers to a specific form of fanfiction that most often features sexualized versions of K-pop stars and other real people.
In particular, the petition focuses on the way male stars are depicted in same-sex relationships and the age of some of the people being portrayed. The petition notes, "due to the nature of the profession of idols, whose average age is young, many of the victims are still minors or children."
The petition was submitted to the Blue House, South Korea's version of the White House, and currently has over 200,000 signatures. It received a big boost in attention after K-pop star Nancy, from the group Momoland, was secretly filmed by a member of her agency while she was changing backstage. This person then doctored some of the images and uploaded them online.
While Nancy's case isn't hand-drawn fanfic, it did fuel outrage at what's seen as an ineffective approach towards sex crimes in the country. Signers of this petition believe that these fanfics fall into the same category of likely illegality as deep fakes.
Deep Fakes Also Being Targeted
Additionally, just last week deep fakes – which often feature k-pop stars – had its own petition submitted to the president last week with over 300,000 signatures.
Because both petitions have over 200,000 signatures, they will need to be addressed by President Moon Jae-in
For years South Korea has struggled with secret cameras, deep fakes, revenge porn, and more violent sex crimes, such as the infamous Nth Room case that saw certain stars filming themselves having sex with women against their consent.
Italy Begins Largest Mob Trial in Decades
Italian prosecutors have started their trial against more than 320 defendants linked to the  'Ndrangheta crime syndicate.
The charges range from murder and drug trafficking to extortion and money laundering.
The case is so large, high-profile, and potentially dangerous that the government built a bunker for the event in Calabria, the home territory of the 'Ndrangheta.
Details uncovered could deliver a massive blow to organized crime in Italy and potentially across the world as the 'Ndrangheta has major dealings in Europe, Australia, and the Americas.
---
Hundreds of 'Ndranghetisti Facing Charges
A major mob trial kicked off in Italy Wednesday involving more than 320 defendants who are part of or associated with the 'Ndrangheta crime syndicate.
In addition to these defendants going on trial, 90 others have elected for a fast-tracked trial elsewhere in Calabria.
While this is a massive affair, it's still not the country's largest mob-related trial in history. That happened in the '80s against the Cosa Nostra from Sicily.
The trial is so high-profile and potentially dangerous that the government built a bunker for the event in Calabria, close to the home territory of the 'Ndrangheta.
The court is looking at many charges against the defendants, including extortion, drug and arms trafficking, money laundering, and Mafia association – a term used in Italy's penal code for members of organized crime.
Breaking Into the Family
Investigators hope that the trial will show just how entrenched organized crime is in the territory, as it's believed that the 'Ndrangheta has dealings with local politicians and businessmen. These dealings are believed to not only stem from their illicit activities but also from their legitimate businesses that were initially funded via crime-related funds. Either way, the trial is seen as a major blow for the group.
The organization is made up of multiple groups of tight-knight families that are all interconnected. For years investigators have tried to get more information on the group but following the arrest and prosecution of Luigi Mancuso, a boss in the 'Ndrangheta, investigators finally had a way to look more closely at 12 families who make up part of the 'Ndrangheta.
During their investigation police and prosecutors managed to turn some members of those families and use them as informants. They are expected to take the stand as witnesses during the trial. In total, prosecutors hope to put bring out over 900 witnesses.
If successful, this could be a massive blow to organized crime in Italy and potentially across the world as the 'Ndrangheta has major dealing in Europe, Australia, and the Americas.