Canadian Police Scale Back on Hunt for Two Murder Suspects
Police in Canada have been on a massive manhunt for 19-year-old Kam McLeod and 18-year-old Bryer Schmegelsky, who are suspected of killing a university professor and a traveling couple.
After nine days of searching, authorities said they can no longer justify the use of enormous resources and are scaling back – but not completely stopping- their efforts to locate the two men.
Experts say public participation will be key in finding the fugitives, and police have warned Manitoba residents to remain vigilant and report any sightings of the suspects.
---
Manhunt for McLeod and Schmegelsky
Canadian authorities announced Wednesday that they will begin to scale back their efforts to locate two teenagers suspected of killing three people, after nine days of searching for the fugitives.
Police have used helicopters, drones, boats, dogs, and even a military aircraft to hunt for 19-year-old Kam McLeod and 18-year-old Bryer Schmegelsky. Now officials believe they may be hiding in a remote area in northern Manitoba.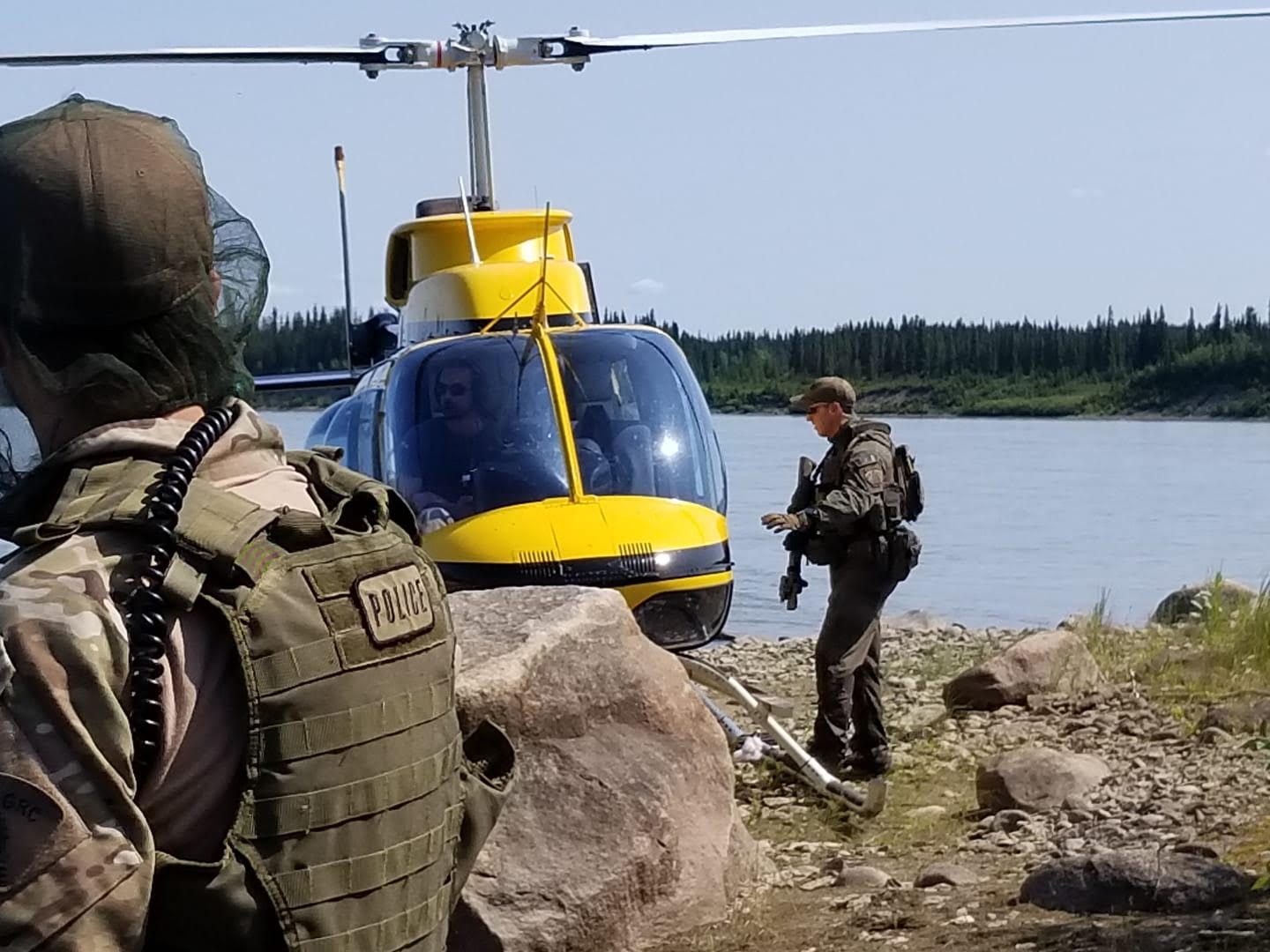 At a press conference in Winnipeg on Wednesday, Manitoba Royal Canadian Mounted Police (RCMP) Assistance Commissioner Jane MacLatchy said there have been no recent confirmed sightings of the suspects in more than a week.
"Over the last week, we've done everything we can to locate the suspects," MacLatchy said as she explained why police could not justify the enormous search effort any longer. "We used some of the most advanced technologies available and received assistance from some of the most highly skilled search and rescue personnel in the country."
She explained that police have searched more than 11,000 square miles and will now reduce, but not completely end, their search efforts over the next week. This means that some specialized personnel will be withdrawn from the manhunt.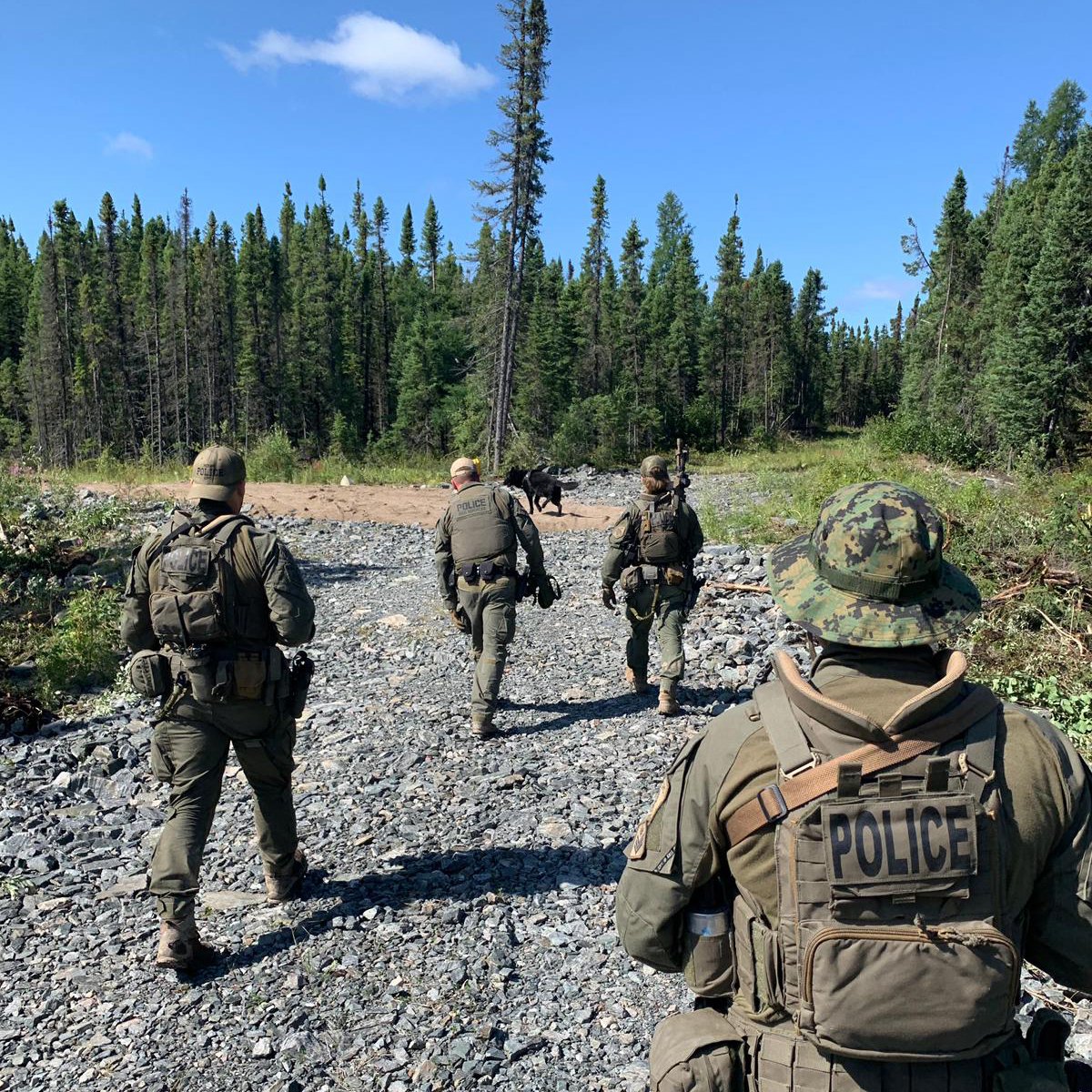 "I know that today's news is not what the families of the victims and the communities of northern Manitoba wanted to hear. But when searching for people in vast, remote and rugged locations, it is always a possibility that they are not immediately located," said MacLatchy.
MacLatchy went on to describe the terrain in northern Manitoba as "immense and unforgiving." She also added that an unspecified number of officers in the town of Gillam would remain involved in the search.
"I want to assure everyone that the RCMP is continuing to work on this investigation and will not stop until there is a resolution," she said.
MacLatchy warned the public to remain vigilant. She said that there is a possibility that the suspects had some sort of assistance in fleeing, but said there is also the possibility that they could be dead.
"Everything is possible at this stage," she said.
The Murders
McLeod and Schmegelsky are suspected of killing Chynna Deese, a 24-year old American woman and her 23-year-old Australian boyfriend Lucas Fowler. The couple had been traveling across the area to visit Canada's national parks when they were killed.
Their bodies were found close to their Chevrolet van on July 15, on a remote Canadian highway near Liard Hot Springs in northern British Columbia.
"To lose someone so young and vibrant, who was traveling the world and just enjoying life to the full, is devastating," Fowler's family said in a short statement after learning the murders.
The two men have also been charged with second-degree murder for the death of 64-year-old Leonard Dyck, a professor at the University of British Columbia. Dyck's body was discovered on July 19, about 300 miles away from the murdered couple near Dease Lake in British Columbia.
Police say his body was also about a mile away from where a vehicle and camper belonging to McLeod and Schmegelsky were found burning on the side of a highway.
The University where Dyck taught issued a statement about his death saying, "The UBC community is shocked and saddened by this news and we offer our deepest condolences to Mr. Dyck's family, friends and his colleagues at the university."
Police later found a second car used by the fugitives in Gillam, after it had also been set on fire.
Public Should Remain Vigilant
The massive manhunt for the two fugitives may be scaling back, but experts say the public will be key in ending the search.
"They will have to surface," retired officer Steve Marissink told CBC. "I'm confident that, with the community and the media keeping this in the public awareness, that they will be located and hopefully taken into custody without any further harm to anybody."
Residents in the area remain fearful knowing that the suspects are still on the loose, however, Peter German, a lawyer and former deputy commissioner with the RCMP defended the police's decision.
"Without any solid leads in the last week it would be very hard to justify keeping resources up there," he told CBC. "
The RCMP have literally checked everything that they believe they can check."
He added that the fugitives, if alive, would likely be focused on laying low at this point. "If these individuals are still in the area they will be noticed by the people who live there."
"It's time to, I guess, reload and wait for the next sighting and then hit that area with the same resources."
Ontario Provincial Police on Wednesday said they had received reports of a possible sighting of the two men, however, they have not been able to confirm anything yet.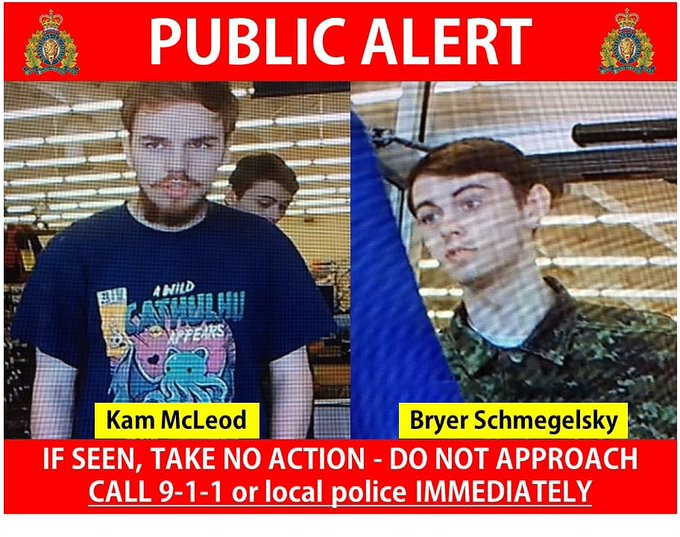 See what others are saying: (The New York Times) (CBC) (National Post)
Russia Takes Over 900 Azovstal Fighters Prisoner as Mariupol Surrenders
Ukraine said the soldiers successfully completed their mission, but the fall of Mariupol represents a strategic win for Putin.
---
Azovstal Waves the White Flag
Russia's foreign ministry announced on Wednesday that it had captured 959 Ukrainians from the Azovstal steelworks, where besieged soldiers have maintained the last pocket of resistance in Mariupol for weeks.
A ministry spokesperson said in a statement that 51 were being treated for injuries, and the rest were sent to a former prison colony in the town of Olenivka in a Russian-controlled area of Donetsk.
The defense ministry released videos of what it claimed were Ukrainian fighters receiving care at a hospital in the Russian-controlled town of Novoazovsk. In one, a soldier tells the camera he is being treated "normally" and that he is not being psychologically pressured, though it is unclear whether he is speaking freely.
It was unclear if any Ukrainians remained in Azovstal, but Denis Pushilin, the head of the self-proclaimed republic of Donetsk, said in a statement Wednesday that the "commanders of the highest level" were still hiding in the plant.
Previously, estimates put the number of soldiers inside Azovstal around 1,000.
Ukraine officially gave up Mariupol on Monday, when the first Azovstal fighters began surrendering.
Reuters filmed dozens of wounded Ukrainians being driven away in buses marked with the Russian pro-war "Z" symbol.
Ukraine's deputy defense minister said in a Tuesday statement that the Ukrainian prisoners would be swapped in an exchange for captured Russians. But numerous Russian officials have signaled that the Ukrainian soldiers should be tried.
Mariupol Falls into Russian Hands
After nearly three months of bombardment that left Mariupol in ruins, Russia's combat mission in the city has ended.
The sprawling complex of underground tunnels, caverns, and bunkers beneath Azovstal provided a defensible position for the Ukrainians there, and they came to represent the country's resolve in the face of Russian aggression for many spectators.
Earlier this month, women, children, and the elderly were evacuated from the plant.
The definitive capture of Mariupol, a strategic port city, is a loss for Ukraine and a boon for Russia, which can now establish a land bridge between Crimea and parts of Eastern Ukraine controlled by Russian separatists. The development could also free up Russian troops around Mariupol to advance on the East, while additional reinforcements near Kharkiv descend from the north, potentially cutting off Ukrainian forces from the rest of the country.
The Ukrainian military has framed events in Mariupol as at least a partial success, arguing that the defenders of Azovstal completed their mission by tying down Russian troops and resources in the city and giving Ukrainians elsewhere more breathing room.
It claimed that doing so prevented Russia from rapidly capturing the city of Zaporizhzhia further to the west.
Convoy of Up to 1,000 Vehicles Evacuates Refugees From Mariupol as Russian War Effort Stalls
Russia may have lost a third of its ground invasion force since the war began, according to British military intelligence.
---
Hundreds Make It Out Alive
A convoy of between 500 and 1,000 vehicles evacuating refugees from the southern port city of Mariupol arrived safely in the Ukrainian-controlled city of Zaporizhzhia on Saturday.
People have been trickling out of Mariupol for over two months, but the recent evacuation was the single biggest out of the city thus far. Russian troops, who control most of the city, did not allow the convoy to leave for days, but eventually, they relented.
The convoy first traveled to Berbyansky some 80 kilometers to the west, then stopped at other settlements before driving 200 kilometers northwest to Zaporizhzhia. Many refugees told reporters they took "secret detours" to avoid Russian checkpoints and feared every moment of the journey.
Nikolai Pavlov, a 74-year-old retiree, told Reuters he had lived in a basement for a month after his apartment was destroyed.
"We barely made it," he said. "There were lots of elderly people among us… the trip was devastating. But it was worth it."
63-year-old Iryna Petrenko also said she had stayed in Mariupol initially to take care of her 92-year-old mother, who subsequently died.
"We buried her next to her house, because there was nowhere to bury anyone," she said.
Putin's Plans Go Poorly
In Mariupol, Ukrainian fighters continue to hold the Azovstal steelworks, the only part of the city still under Ukrainian control.
On Sunday, a video emerged appearing to show a hail of projectiles bursting into white, brightly burning munitions over the factory.
The pro-Russian separatist who posted it on Telegram wrote, "If you didn't know what it is and for what purpose – you could say that it's even beautiful."
Turkey is trying to negotiate an evacuation of wounded Ukrainians from the factory, but neither Russia nor Ukraine have agreed to any plan.
After nearly three months of war, Mariupol has been left in ruins, with thousands of civilians reportedly dead.
"In less than 3 month, Mariupol, one of Ukraine's fastest developing & comfortable cities, was reduced into a heap of charred ruins smelling death, with thousands of people standing in long breadlines and selling their properties out to buy some food. Less than three months," Illia Ponomarenko, a reporter for The Kyiv Independent, tweeted.
On Sunday, the United Kingdom's defense ministry estimated that Russia has likely lost a third of its ground invasion forces since the war began.
Moscow is believed to have deployed as many as 150,000 troops in Ukraine.
The ministry added that Russian forces in Eastern Ukraine have "lost momentum" and are "significantly behind schedule." Moreover, it said Russia failed to achieve substantial territorial gains over the last month while sustaining "consistently high levels of attrition."
"Under the current conditions, Russia is unlikely to dramatically accelerate its rate of advance over the next 30 days," the ministry concluded.
Sweden also signaled on Sunday that it will join Finland in applying for NATO membership.
Israel Moves to Build Over 4,000 West Bank Settlements as Palestinian Homes Demolished
The Israeli military is proceeding with a plan to evict at least 1,000 Palestinians from the West Bank.
---
Settlers Get Ready to Move in
On Thursday, a military planning body in the Israeli-occupied West Bank approved the construction of 4,427 housing units, according to the watchdog group Peace Now.
"The State of Israel took another stumble toward the abyss and further deepened the occupation," Hagit Ofran, an expert at Peace Now, said via the Associated Press.
The plan is the largest advancement of settlement projects since President Joe Biden took office in the United States.
The U.S. opposes settlement expansion and said as much when the plan was first announced last week, but critics say Washington has done little to pressure Israel to stop.
In a statement, U.N. Mideast envoy Tor Wennesland called the settlements a "major obstacle to peace."
"Continued settlement expansion further entrenches the occupation, encroaches upon Palestinian land and natural resources, and hampers the free movement of the Palestinian population," he said.
In October, Israel approved some 3,000 settlement homes despite a U.S. rebuke. There are currently over 130 Israeli settlements in the West Bank harboring almost 500,000 settlers, in addition to the nearly three million Palestinians living in the territory.
Palestinians Pushed Off Their Land
On Wednesday, the same day Israeli soldiers allegedly shot and killed Al-Jazeera journalist Shireen Abu Akleh, the military demolished at least 18 buildings in the West Bank, including 12 residential ones.
Israel's supreme court has also ruled that eight Palestinian hamlets can be expelled, potentially leaving at least 1,000 Palestinians homeless.
The area targeted is known as the Masafer Yatta, and its residents say they have been herding animals and practicing traditional desert agriculture there for decades, long before Israel took over the West Bank in 1967. Israel, however, claims there were no permanent structures there before the military designated it a firing zone in the 1980s
"What's happening now is ethnic cleansing," Sami Huraini, an activist and a resident of the area, told the Associated Press. "The people are staying on their land and have already started to rebuild."