Canadian Police Scale Back on Hunt for Two Murder Suspects
Police in Canada have been on a massive manhunt for 19-year-old Kam McLeod and 18-year-old Bryer Schmegelsky, who are suspected of killing a university professor and a traveling couple.
After nine days of searching, authorities said they can no longer justify the use of enormous resources and are scaling back – but not completely stopping- their efforts to locate the two men.
Experts say public participation will be key in finding the fugitives, and police have warned Manitoba residents to remain vigilant and report any sightings of the suspects.
---
Manhunt for McLeod and Schmegelsky
Canadian authorities announced Wednesday that they will begin to scale back their efforts to locate two teenagers suspected of killing three people, after nine days of searching for the fugitives.
Police have used helicopters, drones, boats, dogs, and even a military aircraft to hunt for 19-year-old Kam McLeod and 18-year-old Bryer Schmegelsky. Now officials believe they may be hiding in a remote area in northern Manitoba.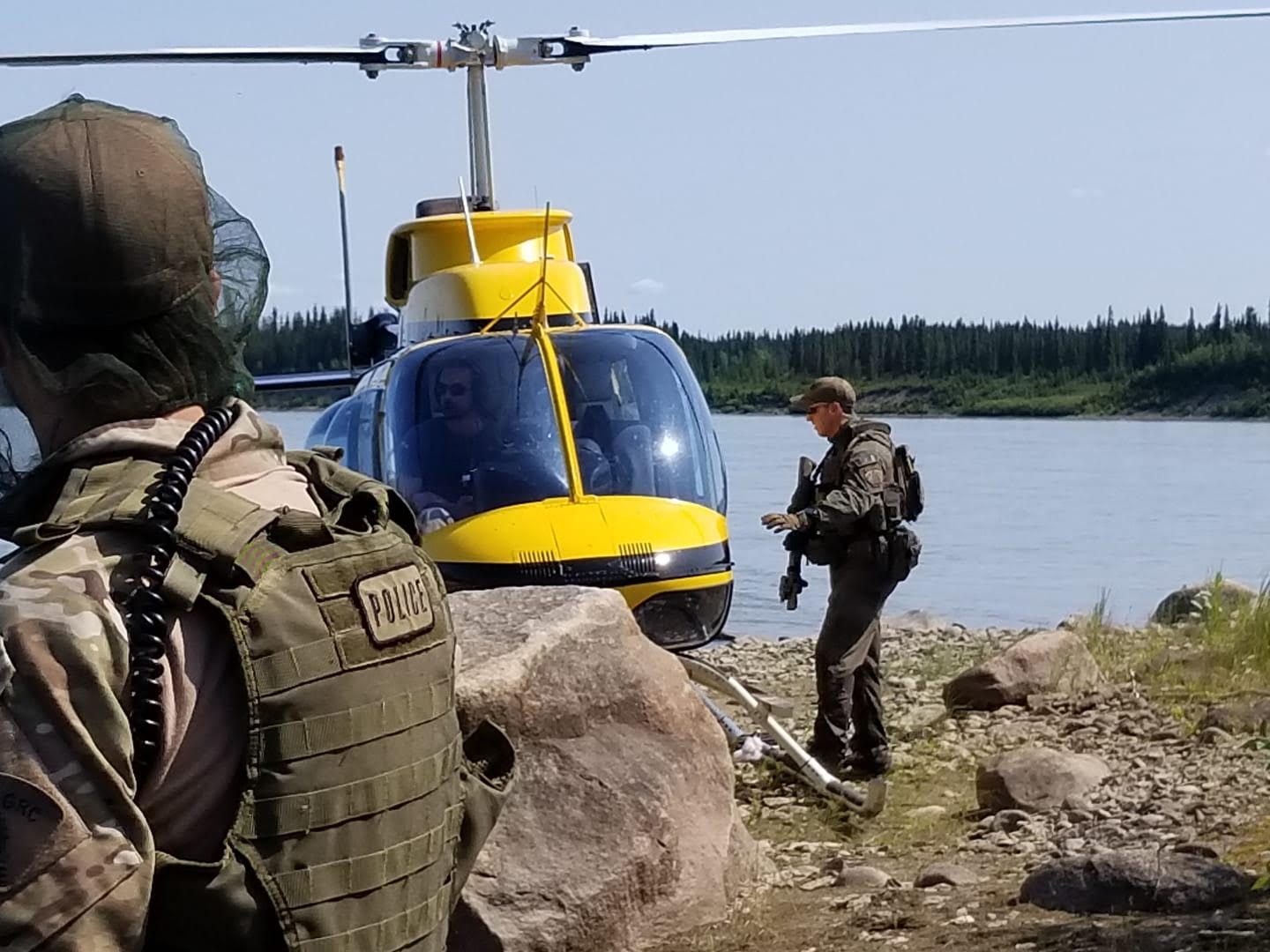 At a press conference in Winnipeg on Wednesday, Manitoba Royal Canadian Mounted Police (RCMP) Assistance Commissioner Jane MacLatchy said there have been no recent confirmed sightings of the suspects in more than a week.
"Over the last week, we've done everything we can to locate the suspects," MacLatchy said as she explained why police could not justify the enormous search effort any longer. "We used some of the most advanced technologies available and received assistance from some of the most highly skilled search and rescue personnel in the country."
She explained that police have searched more than 11,000 square miles and will now reduce, but not completely end, their search efforts over the next week. This means that some specialized personnel will be withdrawn from the manhunt.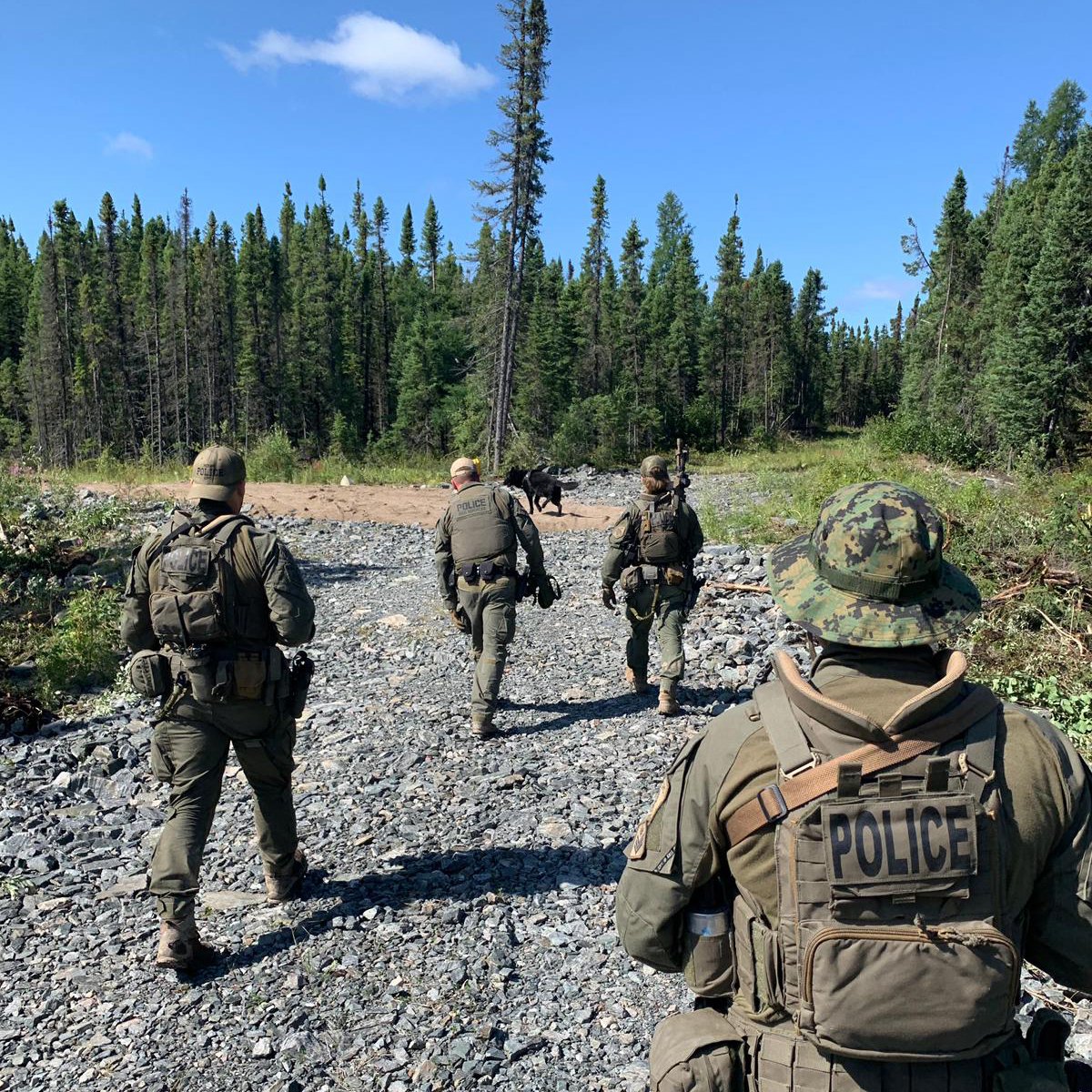 "I know that today's news is not what the families of the victims and the communities of northern Manitoba wanted to hear. But when searching for people in vast, remote and rugged locations, it is always a possibility that they are not immediately located," said MacLatchy.
MacLatchy went on to describe the terrain in northern Manitoba as "immense and unforgiving." She also added that an unspecified number of officers in the town of Gillam would remain involved in the search.
"I want to assure everyone that the RCMP is continuing to work on this investigation and will not stop until there is a resolution," she said.
MacLatchy warned the public to remain vigilant. She said that there is a possibility that the suspects had some sort of assistance in fleeing, but said there is also the possibility that they could be dead.
"Everything is possible at this stage," she said.
The Murders
McLeod and Schmegelsky are suspected of killing Chynna Deese, a 24-year old American woman and her 23-year-old Australian boyfriend Lucas Fowler. The couple had been traveling across the area to visit Canada's national parks when they were killed.
Their bodies were found close to their Chevrolet van on July 15, on a remote Canadian highway near Liard Hot Springs in northern British Columbia.
"To lose someone so young and vibrant, who was traveling the world and just enjoying life to the full, is devastating," Fowler's family said in a short statement after learning the murders.
The two men have also been charged with second-degree murder for the death of 64-year-old Leonard Dyck, a professor at the University of British Columbia. Dyck's body was discovered on July 19, about 300 miles away from the murdered couple near Dease Lake in British Columbia.
Police say his body was also about a mile away from where a vehicle and camper belonging to McLeod and Schmegelsky were found burning on the side of a highway.
The University where Dyck taught issued a statement about his death saying, "The UBC community is shocked and saddened by this news and we offer our deepest condolences to Mr. Dyck's family, friends and his colleagues at the university."
Police later found a second car used by the fugitives in Gillam, after it had also been set on fire.
Public Should Remain Vigilant
The massive manhunt for the two fugitives may be scaling back, but experts say the public will be key in ending the search.
"They will have to surface," retired officer Steve Marissink told CBC. "I'm confident that, with the community and the media keeping this in the public awareness, that they will be located and hopefully taken into custody without any further harm to anybody."
Residents in the area remain fearful knowing that the suspects are still on the loose, however, Peter German, a lawyer and former deputy commissioner with the RCMP defended the police's decision.
"Without any solid leads in the last week it would be very hard to justify keeping resources up there," he told CBC. "
The RCMP have literally checked everything that they believe they can check."
He added that the fugitives, if alive, would likely be focused on laying low at this point. "If these individuals are still in the area they will be noticed by the people who live there."
"It's time to, I guess, reload and wait for the next sighting and then hit that area with the same resources."
Ontario Provincial Police on Wednesday said they had received reports of a possible sighting of the two men, however, they have not been able to confirm anything yet.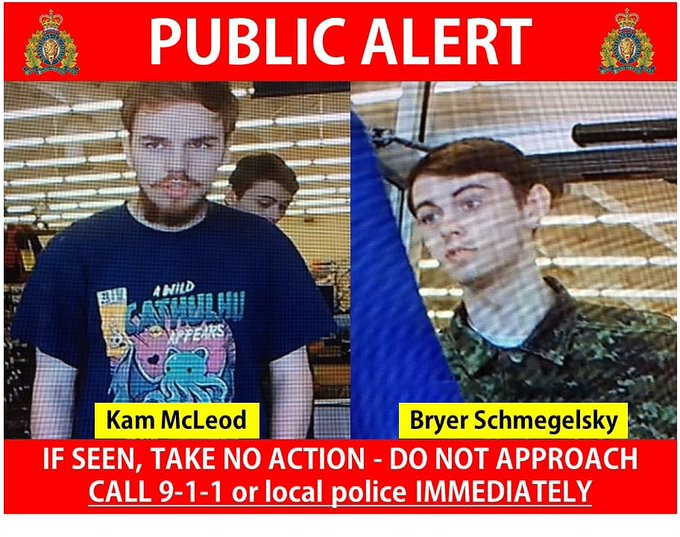 See what others are saying: (The New York Times) (CBC) (National Post)
Brazil's Secretary of Culture Fired Over Speech Reminiscent of Nazi Rhetoric
Brazil's Secretary of Culture Roberto Alvim was fired on Friday after he appeared to paraphrase Nazi propaganda in his announcement of a national arts initiative.
Several of Alvim's sentences were strikingly similar to those of Joseph Goebbels, who served as the Reich Minister of Propaganda of Nazi Germany.
Additionally, the music playing in the background of Alvim's address was from an opera that Adolf Hitler found imperative in his life.
After much backlash and call for the culture secretary's termination, President Jair Bolsonaro announced that he dismissed Alvim from his position.
---
Controversial Address
Brazil's Secretary of Culture was terminated from his role on Friday after an official video was released of him seeming to paraphrase Nazi propaganda remarks.
Roberto Alvim, who was appointed to his position by Brazilian President Jair Bolsonaro, announced a new initiative for increased funds dedicated to national art awards. In the 6-minute video, which has now been deleted from all Brazilian government official pages, Alvim was seen sitting at a desk beneath a portrait of Bolsonaro, a wooden cross to his side.
"The Brazilian art of the next decade will be heroic and national," he said to the camera in Portuguese. "It will be endowed with great capacity for emotional involvement, and it will also be imperative since it will be profoundly connected to the urgent aspirations of our people — or it will be nothing."
Parts of Alvim's phrasing was almost identical to those of Joseph Goebbels, who served as the Reich Minister of Propaganda of Nazi Germany. The similarities can be seen in a speech of Goebbels', quoted in a biography by historian Peter Longerich.
"German art of the next decade will be heroic, steely but romantic, factual without sentimentality," Goebbels said in 1933. "It will be nationalistic, with great depth of feeling; it will be binding and it will unite, or it will cease to exist."
The music playing in the background of Alvim's address was also noteworthy. It came from Richard Wagner's opera "Lohengrin," which Adolf Hitler described in his autobiography, Mein Kampf, as being decisive in his life.
Reactions to Alvim's Speech
It wasn't long before people began to notice the likeness of Alvim's rhetoric with the Nazi propaganda, and individuals across the political spectrum expressed outrage. Some — including prominent Brazillian politicians — publicly called for Alvim's immediate professional termination.
Alvim first defended his speech in a Facebook post, saying, "what the left is doing is a remote association fallacy." He called his controversial sentences a "rhetorical coincidence."
But a few hours later, Alvim softened his defensive stance with an apology to the Jewish community. In another post, he claimed that the speech was brought to him by advisors who pulled various ideas tied to national art and that he had no idea of the fascist origin of those few lines. Alvim called the criticized phrases an "involuntary mistake" and said he was sorry from the bottom of his heart.
President Jair Bolsonaro announced on his official Twitter page that he had dismissed Alvim from his position on Friday. Bolsonaro wrote that despite Alvim's apology, his remarks made his tenure "unsustainable."
The Brazilian leader emphasized his "rejection of totalitarian and genocidal ideologies" and expressed full support for the Jewish community.
Pope Francis Names First Woman to Senior Vatican Diplomatic Role
Pope Francis appointed a woman to a management role in the Vatican's most powerful department for the first time on Wednesday.
Dr. Francesca Di Giovanni, a Vatican official of 27 years, will now serve as the undersecretary for multilateral affairs in the Secretariat of State. 
Among other duties, Di Giovanni will oversee the coordination of the Vatican's relationships with multilateral organizations, including the United Nations. 
While several other women hold high-ranking positions in the city-state, Di Giovanni's leadership role in the Vatican's most powerful branch is unparalleled. 
---
Appointment of Di Giovanni
Pope Francis made an unprecedented move on Wednesday by appointing a woman for the first time to a managerial position in the Secretariat of State, the most powerful department of the Vatican.
Dr. Francesca Di Giovanni, an Italian lawyer and Vatican official of 27 years, was named the undersecretary for multilateral affairs in the Secretariat of State. Among other responsibilities, Di Giovanni will oversee a division that coordinates the Vatican's relations with multilateral organizations, including the United Nations.  
"The Holy Father has made an unprecedented decision, certainly, which, beyond myself personally, represents an indication of an attention towards women," Di Giovanni told the Vatican's in-house media.
"But the responsibility is connected to the job, rather than to the fact of being a woman," she added.
Milestone for Women in Catholic Church
Several women hold leadership positions in other Vatican offices, but the Secretariat of State is the most powerful branch, making Di Giovanni's career shift extra significant.
Pope Francis' appointment of Di Giovanni is the latest development in his ongoing open support of women having more say in the Roman Catholic Church. Currently, women cannot be ordained as priests and the Church's leadership is almost entirely male-dominated.
On New Year's Day, the pope expressed praise for womankind. 
"Women are givers and mediators of peace and should be fully included in decision-making processes," Pope Francis said. "Because when women can share their gifts, the world finds itself more united, more peaceful. Hence, every step forward for women is a step forward for humanity as a whole."
Di Giovanni referenced these words in her interview with the Vatican News calling them the pope's "tribute" to the role of women.
"A woman may have certain aptitudes for finding commonalities, healing relationships with unity at heart," Di Giovanni said. "I hope that my being a woman might reflect itself positively in this task, even if they are gifts that I certainly find in my male colleagues as well."
Protests Erupt in Iran After Military Admits to Shooting Down Plane
Protests broke out across Iran over the weekend after the military admitted that it shot down a Ukrainian airline's passenger jet, killing 176 people when mistaking it for a hostile aircraft.
Officials originally said there was no evidence of the plane being struck down by one of their missiles but ultimately admitted fault three days later.
Protesters are demanding leaders be held accountable.
There are reports of tear gas and gunfire being used against demonstrators, but Tehran's head of police has denied claims of shots being fired.
---
Backlash from the Plane Strike
Monday marked the third straight day of Iranian protests since Iran's military admitted it shot down a passenger jet last week, mistaking it for a threat and killing all 176 people on board.
Videos emerged on Sunday of protesters running from tear gas and in others, which could not be immediately verified, gunfire could be heard.
It has been a tumultuous couple of weeks for Iranians—last week, hundreds of thousands were rallying in the streets to publicly mourn Maj. Gen. Qassem Soleimani, Iran's Quds Force commander who was killed by a U.S. drone strike on Jan. 3.
During those rallies, cries of hate against the United States and Donald Trump—who ordered the strike— were heard. This week there is a sharp contrast, as protesters seem to be targeting the Iranian government and military.
According to The Washington Post, demonstrators were filmed late on Sunday in at least two locations ripping down posters of Soleimani. In Iran's capital, Tehran, a billboard mourning the victims of the plane crash replaced one of the deceased military leader.
In retaliation for Soleimani's death, Iran fired missiles at an Iraqi military base that houses American troops on Wednesday. The plane was shot down by the Islamic Revolutionary Guard Corps just hours later after taking off from Tehran. 
After maintaining for days that there was no evidence the aircraft was struck down by one of their missiles, Iran admitted that its military had shot down the jet by mistake.
The military initially claimed in a statement that the plane took an unexpected turn that brought it close to a sensitive military base, but an Iranian official later backtracked on that notion.
"The plane was flying in its normal direction without any error and everybody was doing their job correctly," Gen. Amir Ali Hajizadeh, commander of the Islamic Revolutionary Guards Corps' airspace unit, said on Saturday. "If there was a mistake, it was made by one of our members."
Iranian President Hassan Rouhani called the incident an "unforgivable mistake" and said that investigations are continuing to "identify and prosecute this great tragedy."
A mix of individuals from multiple countries was onboard the aircraft, including dozens of Canadians. Canada's Prime Minister Justin Trudeau called the incident "a national tragedy" and publicly called for further investigation.
"I want to assure all families and all Canadians: We will not rest until there are answers," he said at a memorial event on Sunday.
Escalating Protests
Protesters are demanding that leaders be held responsible for the fatal mistake. Iran's semi-official Fars News Agency reported that up to 1,000 people were protesting at various points in the capital city. Some videos posted to social media show crowds demanding the resignation of Ayatollah Khamenei, the country's supreme leader.
One of the scenes of protest was the Sharif University of Technology in Tehran, which said that 13 of its students and alumni were killed in the plane crash. Iranian security forces stepped in and escalated the demonstration.
They "started dragging people away. They took a number of people and put them in cages in police vans," said 35-year-old Soudabeh told The Washington Post, keeping her full name anonymous.
"At one point, the protesters freed one of the men who was detained. I saw his face and it was covered in blood — his family carried him away," she told the news outlet.
Iran's security forces have a history of taking extreme action to contain protesters. In November, after protests broke out in response to the spike in Iran's gas prices, about 1,500 demonstrators were killed by security forces, according to the Trump administration.
Iranian media quoted Brig. Gen. Hossein Rahimi as saying "Police treated people who had gathered with patience and tolerance," according to reports by the Associated Press.
Rahimi denied claims that police were shooting at protesters and said that tear gas was only being used in certain areas.