Canadian Police Scale Back on Hunt for Two Murder Suspects
Police in Canada have been on a massive manhunt for 19-year-old Kam McLeod and 18-year-old Bryer Schmegelsky, who are suspected of killing a university professor and a traveling couple.
After nine days of searching, authorities said they can no longer justify the use of enormous resources and are scaling back – but not completely stopping- their efforts to locate the two men.
Experts say public participation will be key in finding the fugitives, and police have warned Manitoba residents to remain vigilant and report any sightings of the suspects.
---
Manhunt for McLeod and Schmegelsky
Canadian authorities announced Wednesday that they will begin to scale back their efforts to locate two teenagers suspected of killing three people, after nine days of searching for the fugitives.
Police have used helicopters, drones, boats, dogs, and even a military aircraft to hunt for 19-year-old Kam McLeod and 18-year-old Bryer Schmegelsky. Now officials believe they may be hiding in a remote area in northern Manitoba.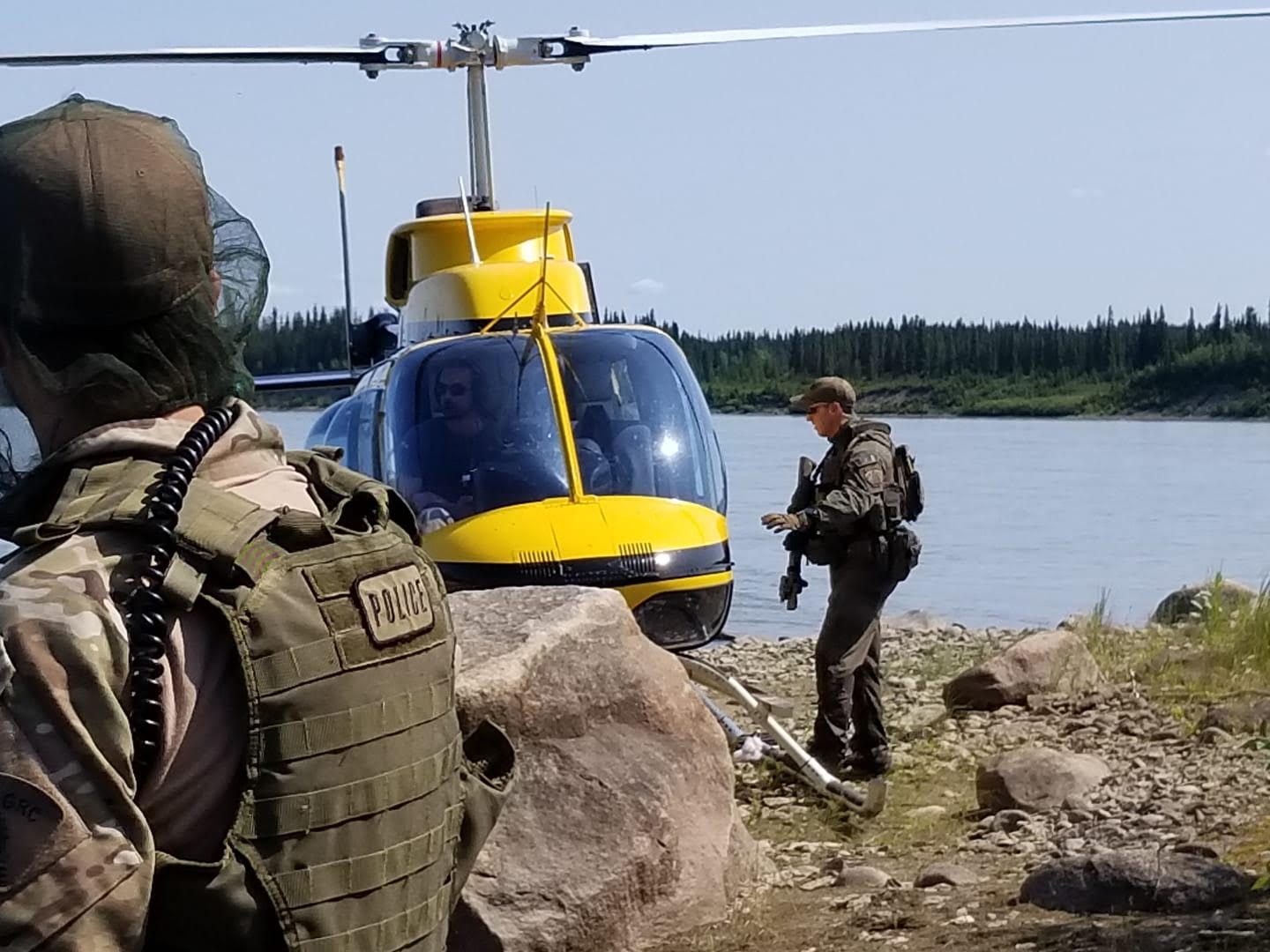 At a press conference in Winnipeg on Wednesday, Manitoba Royal Canadian Mounted Police (RCMP) Assistance Commissioner Jane MacLatchy said there have been no recent confirmed sightings of the suspects in more than a week.
"Over the last week, we've done everything we can to locate the suspects," MacLatchy said as she explained why police could not justify the enormous search effort any longer. "We used some of the most advanced technologies available and received assistance from some of the most highly skilled search and rescue personnel in the country."
She explained that police have searched more than 11,000 square miles and will now reduce, but not completely end, their search efforts over the next week. This means that some specialized personnel will be withdrawn from the manhunt.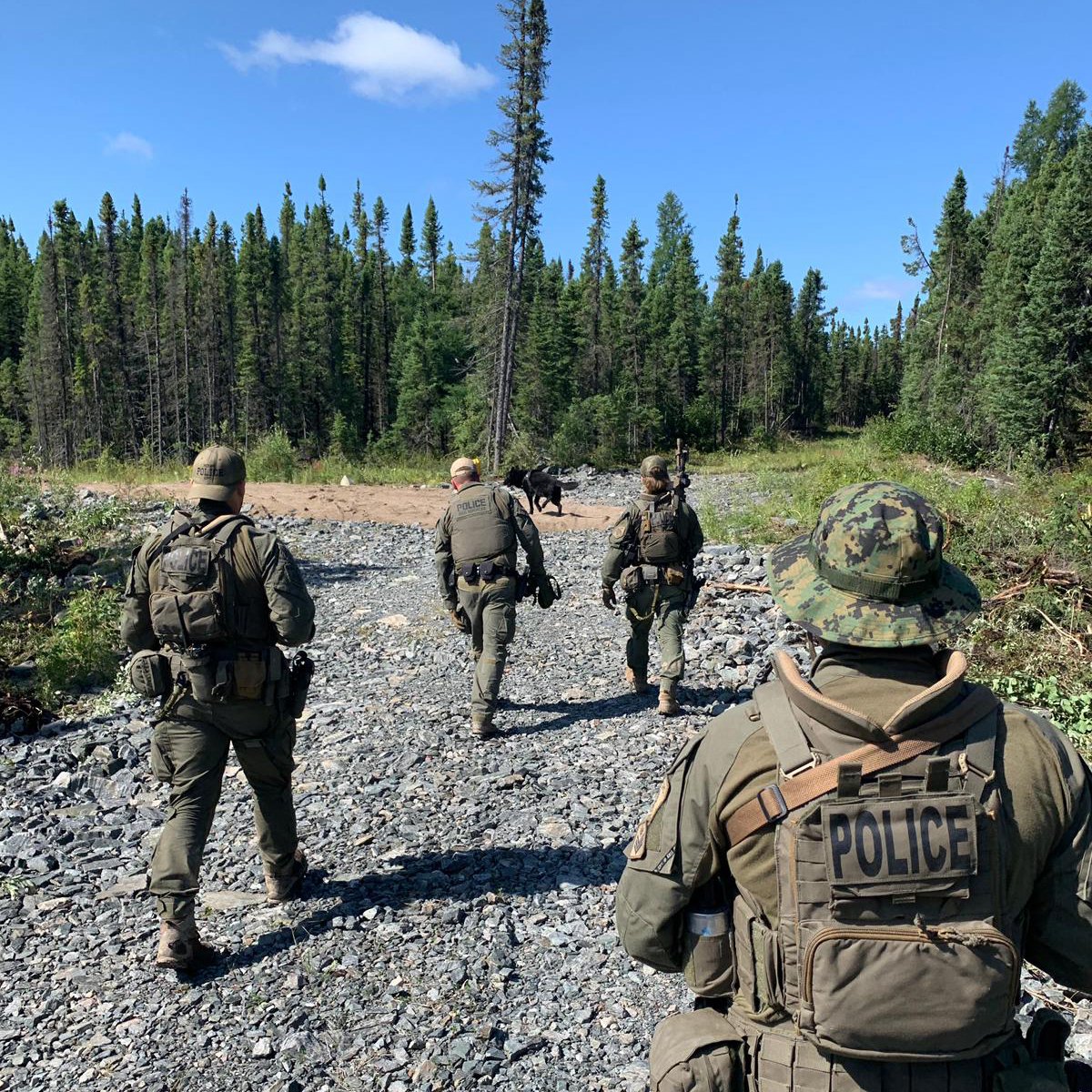 "I know that today's news is not what the families of the victims and the communities of northern Manitoba wanted to hear. But when searching for people in vast, remote and rugged locations, it is always a possibility that they are not immediately located," said MacLatchy.
MacLatchy went on to describe the terrain in northern Manitoba as "immense and unforgiving." She also added that an unspecified number of officers in the town of Gillam would remain involved in the search.
"I want to assure everyone that the RCMP is continuing to work on this investigation and will not stop until there is a resolution," she said.
MacLatchy warned the public to remain vigilant. She said that there is a possibility that the suspects had some sort of assistance in fleeing, but said there is also the possibility that they could be dead.
"Everything is possible at this stage," she said.
The Murders
McLeod and Schmegelsky are suspected of killing Chynna Deese, a 24-year old American woman and her 23-year-old Australian boyfriend Lucas Fowler. The couple had been traveling across the area to visit Canada's national parks when they were killed.
Their bodies were found close to their Chevrolet van on July 15, on a remote Canadian highway near Liard Hot Springs in northern British Columbia.
"To lose someone so young and vibrant, who was traveling the world and just enjoying life to the full, is devastating," Fowler's family said in a short statement after learning the murders.
The two men have also been charged with second-degree murder for the death of 64-year-old Leonard Dyck, a professor at the University of British Columbia. Dyck's body was discovered on July 19, about 300 miles away from the murdered couple near Dease Lake in British Columbia.
Police say his body was also about a mile away from where a vehicle and camper belonging to McLeod and Schmegelsky were found burning on the side of a highway.
The University where Dyck taught issued a statement about his death saying, "The UBC community is shocked and saddened by this news and we offer our deepest condolences to Mr. Dyck's family, friends and his colleagues at the university."
Police later found a second car used by the fugitives in Gillam, after it had also been set on fire.
Public Should Remain Vigilant
The massive manhunt for the two fugitives may be scaling back, but experts say the public will be key in ending the search.
"They will have to surface," retired officer Steve Marissink told CBC. "I'm confident that, with the community and the media keeping this in the public awareness, that they will be located and hopefully taken into custody without any further harm to anybody."
Residents in the area remain fearful knowing that the suspects are still on the loose, however, Peter German, a lawyer and former deputy commissioner with the RCMP defended the police's decision.
"Without any solid leads in the last week it would be very hard to justify keeping resources up there," he told CBC. "
The RCMP have literally checked everything that they believe they can check."
He added that the fugitives, if alive, would likely be focused on laying low at this point. "If these individuals are still in the area they will be noticed by the people who live there."
"It's time to, I guess, reload and wait for the next sighting and then hit that area with the same resources."
Ontario Provincial Police on Wednesday said they had received reports of a possible sighting of the two men, however, they have not been able to confirm anything yet.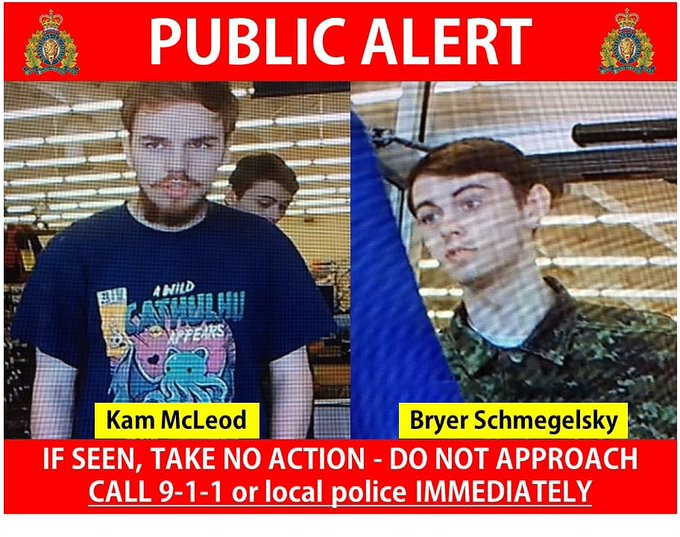 See what others are saying: (The New York Times) (CBC) (National Post)
Countries Consider Loosening Coronavirus Lockdowns as Japan Moves to Declare State of Emergency
Austria is set to be the first country in Europe to loosen lockdown restrictions, with smaller businesses allowed to open their doors on April 14.
They are not the only European country with hopeful news regarding the virus. Both Spain and Italy have seen cases grow at a slower rate.
In China some restrictions have already been lifted, leading to massive crowds in national parks and tourist spots. Some fear this will cause a second outbreak.
Meanwhile, Japan, which is just now seeing cases surge, is set to announce a state of emergency starting on Tuesday.
---
Austria to Lift Lockdown
As countries like Austria are poised to loosen lockdown measures, others are just starting to ramp up their efforts to combat coronavirus outbreaks.
Austria is set to be the first country in Europe to ease its lockdown measures. On Monday Chancellor Sebastian Kurz said that smaller businesses will be allowed to open up on April 14, and that others can resume on May 1. This, however, is contingent on the fact that citizens continue to practice social distancing efforts. Kurz told Austrians to cancel their Easter plans and stay inside, or else the country could "gamble away what we have achieved in the past few weeks."
Cases Slow in Spain and Italy
Austria is not the only country feeling an ounce of hope during this ongoing pandemic. In the past 24 hours, Spain has reported a slower increase in both deaths and fatalities. In one day, there were 674 new deaths in the country, which is the lowest increase in fatalities in nine days, according to Fox News. Over the course of the day, confirmed cases went up just five percent, the lowest increase since the outbreak began. 
Italy, which is home to one of the worst outbreaks in the world, has also seen cases slow down a bit. While the country might still be miles away from a return to normalcy, options as to how to get people back out are now being discussed. According to the New York Times, politicians are looking at the potential for people who have recovered from the virus to head back to work first.
"Having the right antibodies to the virus in one's blood — a potential marker of immunity — may soon determine who gets to work and who does not, who is locked down and who is free," the Times explained. Many researchers are hesitant about this idea, but politicians seem eager to explore it as a potential strategy for when the time comes to resume normal life.
China Sees Crowds After Lockdown Lift
Some places have already begun their lifts on lockdowns, including several areas of China. As cases have slowed in the pandemic's first home, some places have opened back up and seen massive crowds. National parks and tourist attractions have been packed with people eager to get out after being trapped inside.
According to CNN, on Saturday, one park was so populated that authorities announced that it reached its 20,000 person capacity before 8 a.m.
Major cities also saw crowded streets, despite health experts still warning to avoid crowds. In fact, many experts fear that these crowds could lead to a second wave of the virus in China. One county has already reinstated its lockdown after cases popped up again.
U.S. Cases
Not everyone is ready to return to normalcy, even if there are signs of positive change. On Sunday, New York Governor Andrew Cuomo announced its first daily dip in deaths. The state went from 630 new deaths on Saturday to 594 on Sunday. Still, Cuomo does not believe this is a guaranteed sign of progress.
"We're not really a hundred percent sure what the significance is, as we're feeling our way through this," Cuomo said before calling the dip a potential "blip."
In fact, the whole of the United States has probably not seen the worst of the outbreak yet. U.S. Surgeon General Jerome M. Adams spoke to Fox News on Sunday and said that this week is "going to be the hardest and saddest week of most Americans' lives."
"This is going to be our Pearl Harbor moment, our 9/11 moment, only it's not going to be localized, it's going to be happening all over the country," he added. Currently, the United States has over 357,000 cases and 10,000 deaths. 
Japan's State of Emergency
While many countries are well into their mass responses to the coronavirus, the Prime Minister of Japan has just announced his intention to declare a state of emergency. Compared to many countries, Japan has had a smaller outbreak, with roughly 4,000 cases and 80 deaths. Cases are on the rise though, with capital city Tokyo reporting that infections doubled in just one week.
The state of emergency is set to go into effect on Tuesday and with be in effect at least until May 6. Prime Minister Shinzo Abe asked for citizens to cooperate "to prevent an explosive surge."
Coronavirus-Stricken Cruise Ships Will Dock in Florida
The Zaandam, a cruise liner holding passengers sick with the coronavirus, has been stranded at sea for weeks waiting to dock. 
Of the 2,000 on the ship, over 200 have reported flu-like symptoms and nine have tested positive for COVID-19. At least four died onboard.
Officials say the Zaandam and the Rotterdam, its sister ship that was sent for support, will finally be able to disembark in Fort Lauderdale, Florida after initial resistance from local authorities.
Disembarkation is expected to be completed by Friday evening.
---
Cruise Turned Nightmare
Two cruise ships that have been stricken by the coronavirus and stuck at sea for weeks will finally disembark at Port Everglades in Fort Lauderdale, Florida.
The decision was reached by multiple local and federal officials including Fort Lauderdale Mayor Dean Trantalis, Homeland Security, the Broward County Commission, and the cruise line, Holland America. Healthy passengers will be allowed to go home while the sick will remain on board. 
"It was the right thing to do," Broward County Commissioner Beam Furr told the Guardian. "We've been letting people in and out of this port for 100 years in good times and bad times. I'm proud we could do this."
The deal comes after a suspenseful back-and-forth that has involved multiple parties and left over 2,000 passengers and crew members waiting onboard for weeks. More than 200 of these people have reported experiencing flu-like symptoms, and nine tested positive for the coronavirus, according to Holland America officials. Many guests are from countries other than the U.S. 
The Zaandam cruise liner embarked for a trip along the coast of South America on March 7. The journey was supposed to end in Chile on March 21, but the coronavirus quickly escalated and things went awry.
After the WHO declared the coronavirus a pandemic, Holland America suspended its operations. The Zaandam continued to travel north after Chile closed its borders, but more countries denied the ship entry.
Then passengers on the boat started getting sick, exhibiting flu-like symptoms. Last week, Holland America deployed a second ship, the Rotterdam, to meet the Zaandam off of Panama. The Rotterdam was sent with medical supplies, more staff, and coronavirus tests.
Asymptomatic guests were transferred to the Rotterdam as well.
On Friday, Holland American announced that four elderly people on board had died. Carnival Corporation, Holland America's parent company who owns the ship, said two of the dead had tested positive for COVID-19.
The nightmare has carried on for nearly four weeks now, but an end is finally in sight in Fort Lauderdale.
Back and Forth
Florida Gov. Ron DeSantis was initially resistant to the idea of allowing those on the ship to embark in his state. Cruise ships have shown to be a cesspool for the coronavirus and there are complications in the repatriation of people who are stranded at sea.
DeSantis has expressed worries about further spread of the outbreak as well as excess strain on medical facilities in the state.
"We view this as a big, big problem and we do not want to see people dumped in southern Florida right now," DeSantis told Fox News.
But those aboard the ships have grown desperate. Family members of those onboard have pleaded for them to disembark. Holland America President Orlando Ashford wrote an open letter urging countries to show support in this "humanitarian crisis."
President Trump himself offered a compassionate stance on Wednesday night as the situation dragged on.
"They're dying, so we have to do something, and the governor knows that, too," Trump said of those stuck on the sister ships. "We have to help the people. They are in big trouble."
In updates on their website, Holland America outlined a plan for the passengers on the pair of ships. They said that U.S. Customs and Border Protection will clear passengers for entry into the country.
The nearly 1,200 guests fit for travel under CDC guidelines will be unloaded onto sanitized coaches. Person-to-person contact will be limited and masks will be worn, and these people will be taken straight from the ship to flights home, the majority on charter flights. Florida residents will return home immediately via private cars.
Holland America said the guests who still have symptoms and are unfit to travel will continue to isolate onboard until they recover.  There are currently less than twenty people in need of immediate critical care, and they will be taken to local hospitals for treatment. 
It wasn't until these detailed disembarkation plans started to form that Florida officials softened their resistance against allowing the ship to dock on the state's ground.
Mayor Trantalis, who was originally against the idea of allowing the ships into Florida, expressed more openness to it after hearing Holland America's proposals. 
"Their tone has completely changed to address the concerns we had," Trantalis told the Guardian on Wednesday. "I was concerned that they were just going to let these people off to mingle with the people of my city. That would have been a nightmare."
"But based on the conversation I had with the [Holland America] president, we are much further along in resolving this situation," Trantalis said.
On Wednesday, DeSantis said the 52 Floridians onboard the ships would "clearly" be accepted and said he hoped a solution for the others was near.
DeSantis showed more of a change of heart on Thursday when he told Fox News that transferring critically ill patients to hospitals was "the humanitarian thing to do."
"There is no easy solution to this," the Governor said.
Yet it appears some kind of solution has finally arrived, and many aboard will return home very shortly. 
"I look forward to a safe operation that protects the well-being of all involved," Broward County Commissioner Michael Udine tweeted on Thursday.
Japanese PM Offers to Send Two Masks Per Family, But Won't Declare Coronavirus Emergency
Japanese Prime Minister Shinzo Abe is refusing calls from citizens and other lawmakers to declare a state of emergency in response to the coronavirus pandemic.
But on Wednesday, he did announce that the government will send two reusable masks to every household.
Abe's announcement was met with heavy criticism, with many people on social media pointing out that most families have more than two members.
Many even originally took it as an April Fool's joke.
The criticism comes as medical experts warn that Japan's healthcare system cannot handle a massive outbreak.
---
Abe Offers Masks But Refuses to Declare Emergency
In a move that has drawn an overwhelming amount of criticism, Japanese Prime Minister Shinzo Abe announced that the government would send each family in Japan two reusable masks, but he ignored repeated calls for him to declare a state of emergency in response to the spreading coronavirus.
While Japan has largely avoided the coronavirus pandemic (minus the disastrous Diamond Princess incident), that luck may soon run out. According to John Hopkins University on Thursday, Japan has only reported 2,384 cases and only 57 deaths; however, on Thursday, Tokyo alone reported 97 new cases, which is it's highest single-day jump so far.
Currently, museums and schools in Tokyo are closed, but shops are still open. Restaurants are still allowing people to dine in. It's also cherry blossom season, an event that typically attracts thousands of visitors each year. Despite concerns that people would ignore social distancing guidelines, this year is no different, and crowds have flocked to see the blooms.
Cue urges from both citizens and lawmakers for Abe to declare an emergency across the country. Though not legally binding, it would allow governors in different prefects to send out stronger messages when it comes to telling people to stay at home.
Still, Abe has refused, saying that such a move isn't imminent. Instead, he opted to send citizens gauze masks that he says "will be helpful in responding to the rapidly increasing demand" for masks as major cities start to see runs on protective gear.
#ScrewYourMasks
To put it lightly, Abe's plan was not met with much praise as people worried how to strap two masks onto grandma, grandpa, and the kids all at the same time.
That conundrum was later part of a viral meme where a family of eight is forced to share two masks, with each family member lined up behind the next (just like any self-respecting family, the pet rightly took priority).
Alongside criticisms like that, both #Abe'sMask and #ScrewYourMasks" began trending on Twitter in Japan.
"At last, PM Abe decided to provide something to Japanese people," one user sarcastically said. "What he provides us is……2 medical masks made of gauze per one family! Thank you Abe-san we can live as long as [we have] a gauze mask! You are really stupid!!!"
"I wish this had been just an April fool['s] joke," another user said.
However, reportedly, many people considered the idea of the government sending only two masks to each family so outrageous that they actually did think it was an April Fool's joke at first.
Others criticized the move for how long it will take people to even receive their masks. Reportedly, the government won't begin mailing those masks until the week after next. By then, many fear the situation in the country could be much more drastic.
This is not Abe's first instance with coronavirus-related criticism. Critics have accused Abe of consistently downplaying the threat of the coronavirus in order to not push back the now-postponed Tokyo Olympics. Abe has denied such accusations.
Medical Experts Warn that Japan's Healthcare System Could Fail
The announcement comes a week after Tokyo Governor Yuriko Koike told resident to work from home if possible and after she urged people to avoid bars, restaurants, and public gatherings until April 12.
It also comes as medical officials are warning that a surge in coronavirus cases could be disastrous for Japan's healthcare system. Reportedly, hospitals in several major cities, including Tokyo and Osaka, are already being stretched thin. According to a government panel, "drastic countermeasures need to be taken as quickly as possible."
"Fundamental responses should be made as early as today or tomorrow," Shigeru Omi, head of the Japan Community Healthcare Organization, said at a news conference Wednesday night.
U.S. Governments Weigh Telling People to Wear Masks
In the United States where the situation has skyrocketed, there is also concern around masks and who should wear them.
The Centers for Disease Control and Prevention currently only recommends masks be worn by those who are sick. Notably, if you are not sick, the CDC says there is no need to wear a mask unless you're caring for someone who is sick. That recommendation is also part of an attempt to ensure masks are saved for healthcare providers and caregivers.
This past week, however, CDC Director Robert Redfield said the agency is looking at potentially changing those guidelines, saying the data around it is, "being aggressively reviewed as we speak."
This week, Trump's Coronavirus Task Force has also indicated that it's discussing potentially updating that recommendation.
"The idea of getting a much more broad community-wide use of masks outside of the health care setting is under very active discussion at the task force," Dr. Anthony Fauci said. "The thing that has inhibited that a bit is to make sure we don't take away the supply of masks from the health care workers who need them."
"But when we get in a situation where we have enough masks," he continued. "I believe there will be some very serious consideration about more broadening this recommendation of using masks. We're not there yet, but I think we're close to coming to some determination."
Both a city and a county in California have also started to recommend the use of non-medical face coverings even among healthy people while out in public. On Tuesday, officials in Riverside County announced that recommendation and by Wednesday, Los Angeles Mayor Eric Garcetti followed suit.