Canadian Police Scale Back on Hunt for Two Murder Suspects
Police in Canada have been on a massive manhunt for 19-year-old Kam McLeod and 18-year-old Bryer Schmegelsky, who are suspected of killing a university professor and a traveling couple.
After nine days of searching, authorities said they can no longer justify the use of enormous resources and are scaling back – but not completely stopping- their efforts to locate the two men.
Experts say public participation will be key in finding the fugitives, and police have warned Manitoba residents to remain vigilant and report any sightings of the suspects.
---
Manhunt for McLeod and Schmegelsky
Canadian authorities announced Wednesday that they will begin to scale back their efforts to locate two teenagers suspected of killing three people, after nine days of searching for the fugitives.
Police have used helicopters, drones, boats, dogs, and even a military aircraft to hunt for 19-year-old Kam McLeod and 18-year-old Bryer Schmegelsky. Now officials believe they may be hiding in a remote area in northern Manitoba.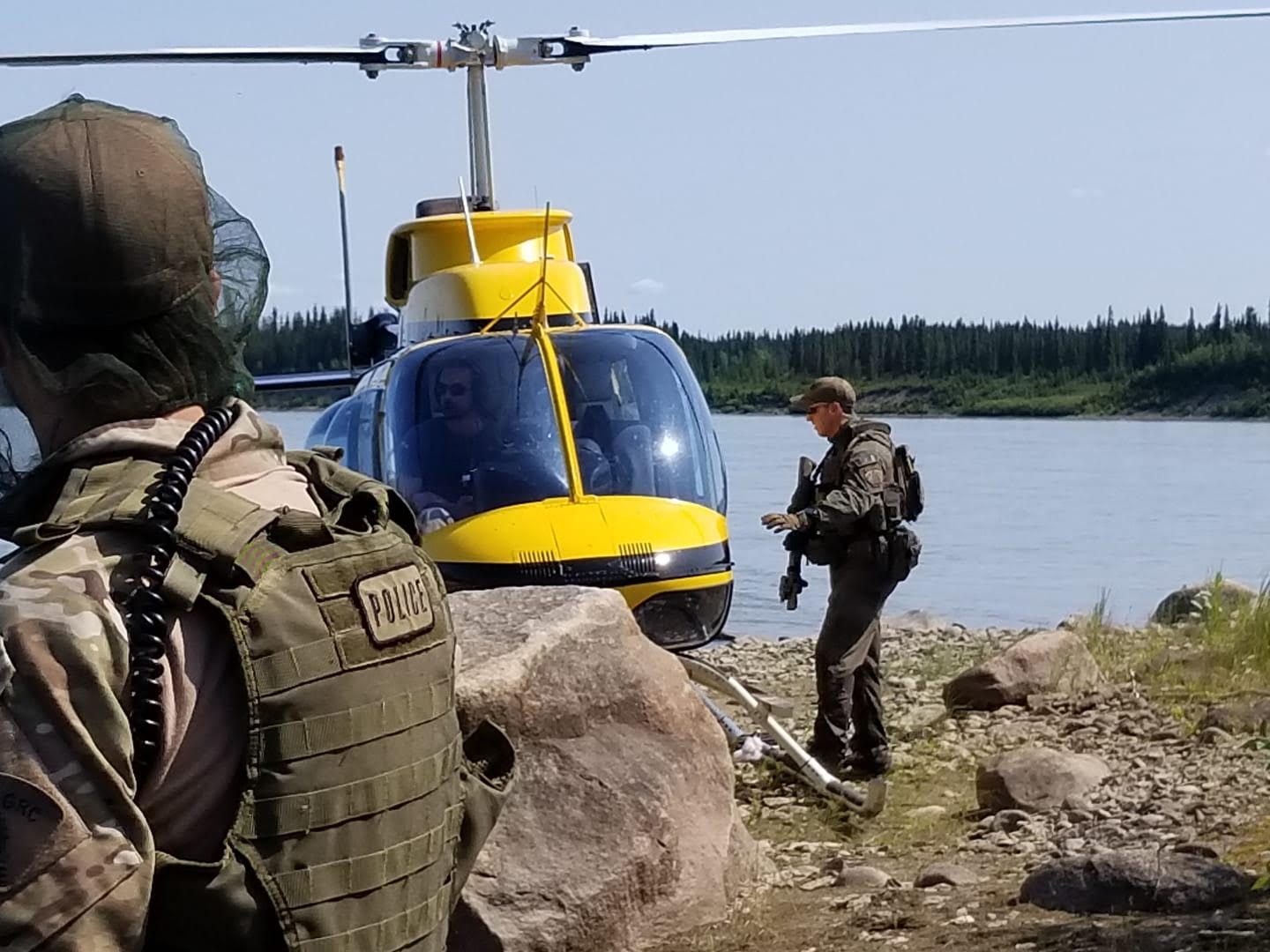 At a press conference in Winnipeg on Wednesday, Manitoba Royal Canadian Mounted Police (RCMP) Assistance Commissioner Jane MacLatchy said there have been no recent confirmed sightings of the suspects in more than a week.
"Over the last week, we've done everything we can to locate the suspects," MacLatchy said as she explained why police could not justify the enormous search effort any longer. "We used some of the most advanced technologies available and received assistance from some of the most highly skilled search and rescue personnel in the country."
She explained that police have searched more than 11,000 square miles and will now reduce, but not completely end, their search efforts over the next week. This means that some specialized personnel will be withdrawn from the manhunt.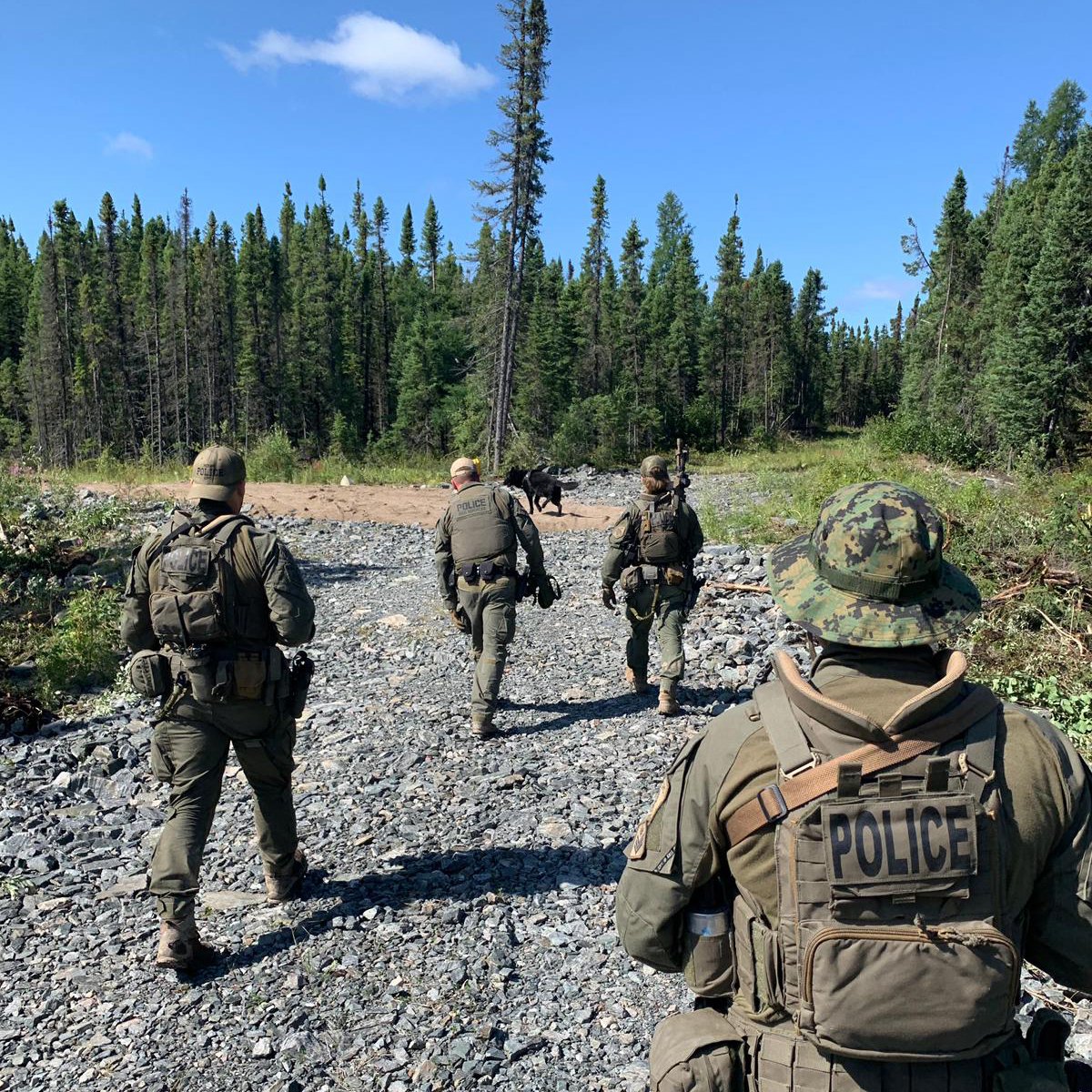 "I know that today's news is not what the families of the victims and the communities of northern Manitoba wanted to hear. But when searching for people in vast, remote and rugged locations, it is always a possibility that they are not immediately located," said MacLatchy.
MacLatchy went on to describe the terrain in northern Manitoba as "immense and unforgiving." She also added that an unspecified number of officers in the town of Gillam would remain involved in the search.
"I want to assure everyone that the RCMP is continuing to work on this investigation and will not stop until there is a resolution," she said.
MacLatchy warned the public to remain vigilant. She said that there is a possibility that the suspects had some sort of assistance in fleeing, but said there is also the possibility that they could be dead.
"Everything is possible at this stage," she said.
The Murders
McLeod and Schmegelsky are suspected of killing Chynna Deese, a 24-year old American woman and her 23-year-old Australian boyfriend Lucas Fowler. The couple had been traveling across the area to visit Canada's national parks when they were killed.
Their bodies were found close to their Chevrolet van on July 15, on a remote Canadian highway near Liard Hot Springs in northern British Columbia.
"To lose someone so young and vibrant, who was traveling the world and just enjoying life to the full, is devastating," Fowler's family said in a short statement after learning the murders.
The two men have also been charged with second-degree murder for the death of 64-year-old Leonard Dyck, a professor at the University of British Columbia. Dyck's body was discovered on July 19, about 300 miles away from the murdered couple near Dease Lake in British Columbia.
Police say his body was also about a mile away from where a vehicle and camper belonging to McLeod and Schmegelsky were found burning on the side of a highway.
The University where Dyck taught issued a statement about his death saying, "The UBC community is shocked and saddened by this news and we offer our deepest condolences to Mr. Dyck's family, friends and his colleagues at the university."
Police later found a second car used by the fugitives in Gillam, after it had also been set on fire.
Public Should Remain Vigilant
The massive manhunt for the two fugitives may be scaling back, but experts say the public will be key in ending the search.
"They will have to surface," retired officer Steve Marissink told CBC. "I'm confident that, with the community and the media keeping this in the public awareness, that they will be located and hopefully taken into custody without any further harm to anybody."
Residents in the area remain fearful knowing that the suspects are still on the loose, however, Peter German, a lawyer and former deputy commissioner with the RCMP defended the police's decision.
"Without any solid leads in the last week it would be very hard to justify keeping resources up there," he told CBC. "
The RCMP have literally checked everything that they believe they can check."
He added that the fugitives, if alive, would likely be focused on laying low at this point. "If these individuals are still in the area they will be noticed by the people who live there."
"It's time to, I guess, reload and wait for the next sighting and then hit that area with the same resources."
Ontario Provincial Police on Wednesday said they had received reports of a possible sighting of the two men, however, they have not been able to confirm anything yet.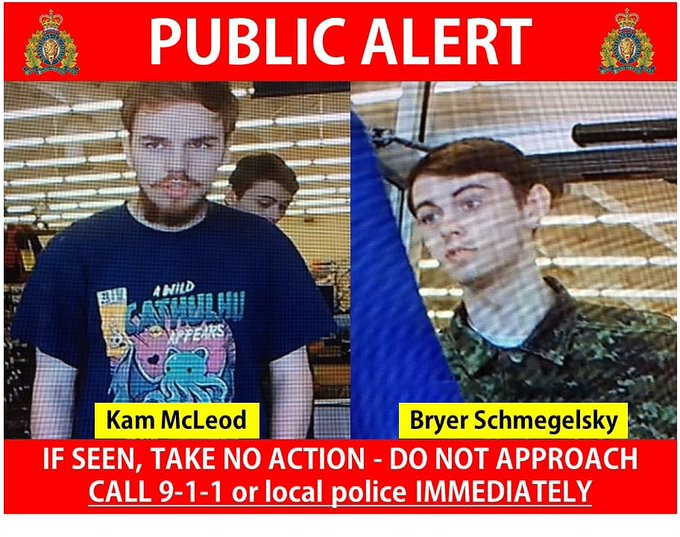 See what others are saying: (The New York Times) (CBC) (National Post)
Hurricane Ian Makes Landfall in Cuba as Florida Braces for Devastation
When it hits the sunshine state, Ian is expected to be a category 3 hurricane.
---
Ian Lands in Cuba
Hurricane Ian made landfall in Cuba Tuesday morning as a major category 3 storm, battering the western parts of the country with sustained winds of 125 miles per hour.
The National Hurricane Center (NHC) warned that life-threatening storm surges, hurricane-force winds, flash floods, and mudslides are expected. Officials said that around 50,000 people have been evacuated as of Tuesday afternoon. 
According to reports, flooding has damaged houses and tobacco crops in the region, and widespread power outages have also been reported.
As dangerous conditions continue in Cuba, Ian is expected to move into the Gulf of Mexico and pass west of the Florida Keys later on Tuesday, becoming a category 4 before the end of the day.
Officials predict it will drop back to a category 3 before making landfall as a major hurricane in Florida, which it is expected to do Wednesday evening.
In a statement Tuesday afternoon, FEMA administrator Deanne Criswell said that Ian is currently forecast to land "somewhere between Fort Meyers and Tampa." She added that the storm is expected to slow down as it hits Flordia, extending the potential devastation.
Uncertain Path
Forecasts of Ian's path, however, remain uncertain, leaving residents all over Florida scrambling to prepare for the storm.
Schools have closed down, airports have suspended operations, and Gov. Ron DeSantis (R) has activated the National Guard and taken steps to ensure power outages can be remedied, warning that many should anticipate losing power.
There are also numerous storm and surge watches and warnings in place across Florida and in parts of Georgia and South Carolina.  
Evacuation warnings have been implemented throughout many parts of Florida, and officials have said that around 2.5 million people were under some kind of evacuation order by Tuesday afternoon.
Mandatory evacuations have been put in place in several counties, largely focused on coastal and low-lying areas. Some of those evacuation orders have extended to parts of Tampa — Florida's third-largest city.
Tampa has not been hit by a major hurricane in over a century — a fact that just further emphasizes the unusual path this storm is taking.
Florida's Division of Emergency Management has a tool to track evacuation zones, as well as more resources at floridadisaster.org. For those looking for shelter, the Red Cross has a system to find one nearby. 
Continued Threats
The current evacuations are being driven by a number of very serious threats posed by Hurricane Ian. According to the NHC, hurricane-force winds, tropical storm conditions, heavy rainfall, and flooding are expected throughout much of the region.
"Considerable" flooding is also expected in central Florida and predicted to extend into southern Georgia and coastal South Carolina.
One of the biggest threats this hurricane poses is storm surge flooding at the coast — which has been a driving factor in the evacuations.
"Life-threatening storm surge looks increasingly likely along much of the Florida west coast where a storm surge warning is in effect, with the highest risk from Fort Myers to the Tampa Bay region," the NHC warned Tuesday.
As many experts have pointed out, these dangerous threats of storm surges and catastrophic flooding have been drastically exacerbated by climate change. Specifically, sea level rise driven by climate change makes surges and flooding more likely and more extreme.
According to Axios, a profound example can be found in St. Petersburg, Florida — which is expected to be impacted by Ian — and where sea levels have risen by nearly nine inches since 1947.
That, however, is not only the real-time impact of climate change that is evident from this storm. In addition to climate change being "linked to an increase in rainfall from tropical storms and hurricanes," Axios also notes that Ian "has been rapidly intensifying over extremely warm sea surface temperatures in the Caribbean that are running above average for this time of year."
"Climate change favors more instances of rapidly intensifying storms such as Hurricane Ian, due to the combination of warming seas and a warmer atmosphere that can carry additional amounts of water vapor," the outlet added.
Giorgia Meloni Claims Victory in Far-Right Shift for Italy
Her party has neofascist roots, and she has praised Mussolini in the past.
---
An Election Without Precedent
Giorgia Meloni's far-right Brothers of Italy party grabbed the largest share of votes in Italy's national election by a wide margin, giving the post of prime minister to the first woman and most right-wing politician since Benito Mussolini.
She declared victory early Monday morning after exit polls showed her party overwhelmingly in the lead with at least 26% of the vote, making it the dominant faction in the right-wing coalition, which got 44%.
The other two parties in the alliance — Mateo Salvini's far-right League and Silvio Berlusconi's center-right Forza Italia — took 9% and 8% of the vote, respectively.
The center-left alliance only garnered 26% of the vote, with 63% of votes counted, according to the interior ministry.
Voter turnout dropped to a record low at only 63.91%, nine points below the rate in 2018, with turnout especially dismal in southern regions like Sicily.
Meloni is set to become prime minister in the coming weeks as a new government is formed, and the rest of Europe is bracing for what many see as a neofascist demagogue to take power in the continent's third largest economy.
Speaking to media and supporters following the preliminary results, Meloni said it was "a night of pride for many and a night of redemption." She promised to govern for all Italians and unite the country.
But her relatively extreme politics — opposed to immigration, the European Union, and what she calls "gender ideology" — unsettles many who fear she will roll back civil rights and form a Euroskeptic alliance with other far-right leaders like Hungary's Viktor Orban.
The Next Mussolini?
During the election, Meloni stressed that she is a conservative, not a fascist, but opponents point to her rhetoric, past statements, and party's history as evidence to the contrary.
"Either you say yes or you say no," she howled to Spain's far-right Vox party earlier this year. "Yes to the natural family, no to the LGBT lobby. Yes to sex identity, no to gender ideology. Yes to the culture of life, not the abysm of death. Yes to the university of the cross, no to the Islamist violence. Yes to secure borders, no to mass migration. Yes to the work of our citizens, no to big international finance. Yes to the sovereignty of peoples, no to the bureaucrats in Brussels. And yes to our civilization."
Meloni co-founded Brothers of Italy in 2012 as an alternative to the more mainstream right-wing parties. It has roots in the Italian Social Movement (MSI), a neofascist party that sprouted in the wake of World War II to continue Mussolini's legacy after his party was banned. The Movement's symbol — a tricolor flame — remains on the Brothers of Italy's Flag today, and Meloni has refused to remove it.
She joined the MSI's youth branch in the 1990s and went on to lead it after the party was renamed the National Alliance.
"I believe that Mussolini was a good politician, which means that everything he did, he did for Italy," Meloni said at the time.
For the first decade, Brothers of Italy struggled to win more than a single-digit percentage of the vote, and it only garnered 4% in the 2018 election.
But in 2021 and 2022, it distinguished itself as the only opposition party to the unity government that fell apart last July, causing its popularity to inflate.
But the party still wrestles with its fascistic roots; last week, it suspended a member who was running for parliament because a local newspaper revealed that he had made comments supporting Adolf Hitler.
In an August video, Meloni promised to impose a naval blockade in the Mediterranean to interdict Libyan refugees from crossing to Southern Europe on boats. She has also discussed pulling Italy out of the Eurozone or even the E.U. entirely, but she moderated her rhetoric toward Europe during the election.
Italy has received some 200 billion euros in European pandemic recovery funds, and it is set to receive more unless the Union punishes Meloni's government for democratic backsliding.
Iranian Protests Sparked by Death of Mahsa Amini Spread Internationally
Anger initially directed at the police has now shifted to the Islamic regime itself, with Iranian-Americans protesting outside the U.N. Headquarters as their country's president spoke inside.
---
Hijabs Go Up in Flames
The largest protest movement in recent years has gripped Iran since the so-called morality police allegedly beat 22-year-old Mahsa Amini for violating the dress code last week, leading to her later death.
Demonstrations spread from the capital Tehran to at least 80 other cities and towns, with videos on social media showing women burning their hijabs and cutting their hair in defiance.
In response, the government has gradually extended a virtual internet blackout across the country, blocking access to What's App and Instagram.
To prevent protests from spreading, Iran's biggest telecom operator largely shut down mobile internet access again Thursday, Netblocks, a group that monitors internet access, said in a statement, describing the restrictions as the most severe since 2019.
Clashes between police and protestors have killed some, but death toll reports on Thursday were conflicted. The Associated Press tallied at least nine people dead, while Iran's state television put the number at 17, and a human rights group estimated at least 31 deaths.
The violence began on Saturday, shortly after the news that Amini had died the day prior in the hospital where she was comatose for three days.
Previously, the morality police arrested her for violating Islamic law requiring women to cover their hair with a head scarf and wear long, loose-fitting clothing.
Multiple reports and eyewitness accounts claimed that officers beat her in the head with batons and banged her head against one of their vehicles, but authorities have denied harming her, saying she suffered a "sudden heart failure." Her father told BBC that she was in good health and that he had not been allowed to view her autopsy report.
"My son was with her. Some witnesses told my son she was beaten in the van and in the police station," he said.
Surveillance footage was released showing Amini collapsing inside the hospital after grabbing her head, seemingly in pain.
From Anti-Hijab to Anti-Regime
Although the protests began in reaction to Amini's death and Iran's repressive policing, they quickly flowered into a mass opposition movement against the Islamic regime as men joined ranks of demonstrators and chants of "Death to the dictator!" broke out.
The anger was directed at the country's Supreme Leader, Ayatollah Ali Khamenei, as well as President Ebrahim Raisi, who attended the United Nations General Assembly this week. Iranian-Americans rallied outside the U.N. Headquarters Wednesday to voice their discontent as Raisi addressed the assembly.
"The hijab is used as a weapon in Iran," one woman told CBS in Los Angeles. "It is a weapon against the West, and women are used as pawns."
"Let this be the George Flloyd moment of Iran," she added.
There have also been demonstrations of solidarity in countries such as Lebanon, Germany, and Canada.