Judge Rejects Juvenile Sentencing for 4 Michigan Teens in Fatal Rock Throwing Case
A judge in Michigan rejected juvenile sentencing on Tuesday for four teens who threw rocks off an overpass, killing 32-year-old Kenneth White in October 2017.
The judge noted that the teens laughed and joked about the death in Snapchat messages, and had throw objects from different locations between six to 10 times.
The teens now have until Aug. 20 to withdraw their guilty pleas and negotiate a new agreement if they choose to do so.
The fifth teen involved, who was 18 at the time of the incident and is the one specifically accused of throwing the rock that killed White, will be sentenced at a later time for second-degree murder.
---
Juveline Sentencing Rejected
Four Michigan teens who pleaded guilty to throwing rocks off a highway overpass, causing the death of a 32-year-old passenger below, may be sentenced as adults.
Genesee County Circuit Court Judge Joseph Farah rejected a motion on Tuesday to send the teens to a juvenile detention center. Attorney's for the teens now have to decide whether to accept adult sentencing, head to trial, or reject the judge's revision to the plea agreement and negotiate a new deal with the Genesee County Prosecutor's Office.
Trevor Gray, 16, Alexzander Miller, 17, Mikadyn Payne, 17, and Mark Sekelsky, 18, of Clio, Michigan, have until Aug. 20 to decide what they want to do next.
Death of Kenneth White
Five teens in total were arrested for their role in the death of Kenneth A. White. On October 18, 2017, the four juveniles and one other teen were throwing rocks from a highway overpass when one of them hit White.
White was sitting in the passenger seat of a van on his way home from work when the 6-pound rock smashed through the windshield, hitting him in the face and then the chest. He was transported to Hurley Medical Center in Flint and later pronounced dead.
"The injuries are horrific. … I gasped out (when I saw them)" Genesee County Prosecutor David Leyton said during the teens' trial in 2017.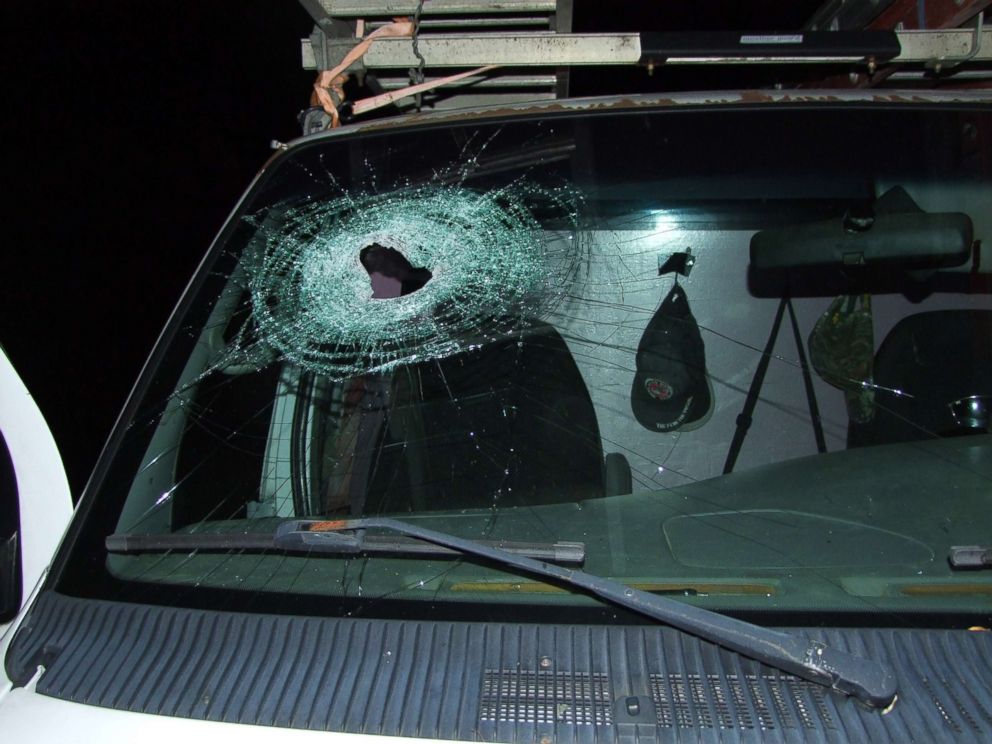 About 20 rocks in total were found on the highway, according to local police. The teens also threw tire irons, mufflers, and even a shopping cart at different times and areas.
All five participants were initially charged with crimes including second-degree murder, conspiracy to commit second-degree murder, six felony counts of malicious destruction of property and two misdemeanor counts of malicious destruction of property.
The fifth teen, 19-year-old Kyle Anger, is the one specifically accused of throwing the rock that killed White. He pleaded guilty to second-degree murder in exchange for other charges to be dropped. Anger was over 18 at the time of the incident and will be sentenced to prison at a later time.
The four other teens submitted a deal to have the second-degree murder charge changed to manslaughter, along with having the other charges dropped, according to MLive. However, that had not yet been accepted by the court.
The Judge's Decision
Judge Farah went against the advice of several professional juvenile experts who testified at a hearing in the fall. Each recommended juvenile sentencing, according to ABC News.
However, in court Farah said that while none of the four teens had actually thrown the fatal rock, none of them had been forced to be there. "The seriousness of the alleged offense is as high as it gets," he said in the court Tuesday. "This is a homicide."
Farah pointed to two days of Snapchat messages that were sent between the teens, noting that several of them read "LOL," "LMAO," "HAHA," even after learning that they had killed someone.
"We could possibly go to prison for life from this," Farah read from the messages. "You guys knew what could've happened. And, if we do get caught — which we won't — it's our own fault. LOL. We gotta take our punishment. Lay low for a while and everything will be fine."
According to the judge, after news reports said that White had died, the teens' Snapchat conversation mentioned getting teardrop tattoos to commemorate the crying of his family.
"Well, maybe, we should (get) tattoos with 'Crip Gang' next to the tattoo," the judge read.
Farah also referred back to testimony that the teens had dropped items from overpasses between six to 10 times before, damaging at least six vehicles.
"What was the purpose? Wait till the road cleared and drop to see it break? No. (It was) to make contact in this (game) called 'Overpassing.' To be able to say aloud 'Dinger!' when a car was hit," he said.
"This was not a situation where someone drove by and saw a rock on the side of the overpass and said, 'Hey, let's throw this rock over and keep on going,'" Farah added. "There wasn't one event, nor was it done at a single location. The rocks and other items were gathered from other locations, loaded in a trunk and then driven to overpasses to throw them over."
Responses
The victim's mother, Teresa Simpson, said after the hearing that she was pleased with the judge's decision.
"I'm so glad that Kenneth is getting the justice he deserves. … My prayers were answered," Simpson told WXYZ-TV in Detroit. "I'm ecstatic over the decision that was made today. … It's what we all wanted for him."
Meanwhile, lawyers for the teens said they were disappointed with the ruling.
"We're back to the drawing board. Each one of the four boys has a mechanism within that plea that they have the option to withdraw the plea should the court not have granted juvenile sentencing. So the court made its decision, not granting juvenile sentencing, and I'm sure all the lawyers are gonna go back to the drawing board," said lawyer Michael Manley.
Lincoln College to Close for Good After COVID and Ransomware Attack Ruin Finances
Last year, 1,043 schools in the U.S. were the victim of ransomware attacks, including 26 colleges or universities, according to an analysis by Emsisoft.
---
One of the Only Historically Black Colleges in the Midwest Goes Down
After 157 years of educating mostly Black students in Illinois, Lincoln College will close its doors for good on Friday.
The college made the announcement last month, citing financial troubles caused by the coronavirus pandemic and a ransomware attack in December.
Enrollment dropped during the pandemic and the administration had to make costly investments in technology and campus safety measures, according to a statement from the school.
A shrinking endowment put additional pressure on the college's budget.
The ransomware attack, which the college has said originated from Iran, thwarted admissions activities and hindered access to all institutional data. Systems for recruitment, retention, and fundraising were completely inoperable at a time when the administration needed them most.
In March, the college paid the ransom, which it has said amounted to less than $100,000. But according to Lincoln's statement, subsequent projections showed enrollment shortfalls so significant the college would need a transformational donation or partnership to make it beyond the present semester.
The college put out a request for $50 million in a last-ditch effort to save itself, but no one came forward to provide it.
A GoFundMe aiming to raise $20 million for the college only collected $2,452 as of Tuesday.
Students and Employees Give a Bittersweet Goodbye
"The loss of history, careers, and a community of students and alumni is immense," David Gerlach, the college's president, said in a statement.
Lincoln counts nearly 1,000 enrolled students, and those who did not graduate this spring will leave the institution without degrees.
Gerlach has said that 22 colleges have worked with Lincoln to accept the remaining students, including their credits, tuition prices, and residency requirements.
"I was shocked and saddened by that news because of me being a freshman, so now I have to find someplace for me to go," one student told WMBD News after the closure was announced.
When a group of students confronted Gerlach at his office about the closure, he responded with an emotional speech.
"I have been fighting hard to save this place," he said. "But resources are resources. We've done everything we possibly could."
On April 30, alumni were invited back to the campus to revisit the highlights of their college years before the institution closed.
On Saturday, the college held its final graduation ceremony, where over 200 students accepted their diplomas and Quentin Brackenridge performed the Lincoln Alma Mater.
Last year, 1,043 schools in the U.S. were the victim of ransomware attacks, including 26 colleges or universities, according to an analysis by Emsisoft.
U.S. Tops One Million Coronavirus Deaths, WHO Estimates 15 Million Worldwide
India's real COVID death toll stands at about 4.7 million, ten times higher than official data, the WHO estimated.
---
One Million Dead
The United States officially surpassed one million coronavirus deaths Wednesday, 26 months after the first death was reported in late February of 2020.
Experts believe that figure is likely an undercount, since there are around 200,000 excess deaths, though some of those may not be COVID-related.
The figure is the equivalent of the population of San Jose, the tenth-largest city in the U.S., vanishing in just over two years. To put the magnitude in visual perspective, NECN published a graphic illustrating what one million deaths looks like.
At the beginning of the pandemic, the White House predicted between 100,000 and 240,000 Americans would die from the coronavirus in a best-case scenario.
By February 2021, over half a million Americans had died of COVID.
The coronavirus has become the third leading cause of death in the U.S. behind heart disease and cancer.
The pandemic's effects go beyond its death toll. Around a quarter of a million children have lost a caregiver to the virus, including about 200,000 who lost one or both parents. Every COVID-related death leaves an estimated nine people grieving.
The virus has hit certain industries harder than others, with food and agriculture, warehouse operations and manufacturing, and transportation and construction seeing especially high death rates.
People's mental health has also been affected, with a study in January of five Western countries including the U.S. finding that 13% of people reported symptoms of PTSD attributable to actual or potential contact with the virus.
Fifteen Million Dead
On Thursday, the World Health Organization estimated that nearly 15 million people have died from the pandemic worldwide, a dramatic revision from the 5.4 million previously reported in official statistics.
Between January 2020 and the end of last year, the WHO estimated that between 13.3 million and 16.6 million people died either due to the coronavirus directly or because of factors somehow attributed to the pandemic's impact on health systems, such as cancer patients who were unable to seek treatment when hospitals were full of COVID patients.
Based on that range, scientists arrived at an approximate total of 14.9 million.
The new estimate shows a 13% increase in deaths than is usually expected for a two-year period.
"This may seem like just a bean-counting exercise, but having these WHO numbers is so critical to understanding how we should combat future pandemics and continue to respond to this one," Dr. Albert Ko, an infectious diseases specialist at the Yale School of Public Health who was not linked to the WHO research, told the Associated Press.
Most of the deaths occurred in Southeast Asia, Europe, and the Americas.
According to the WHO, India counts the most deaths by far with 4.7 million, ten times its official number.
Official Says Missing Alabama Convict and Corrections Officer Had a "Special Relationship"
Authorities have also said they now believe the officer willfully helped the inmate escape.
---
New Information on Missing Inmate & Officer
Authorities in Alabama revealed Tuesday that Assistant Director of Corrections for Lauderdale County Vicky White, who is accused of helping a murder suspect Casey Cole White escape from jail, had a "special relationship" with the inmate.
"Investigators received information from inmates at the Lauderdale County Detention Center over the weekend that there was a special relationship between Director White and inmate Casey White," Lauderdale County Sheriff Rick Singleton said in a statement. "That relationship has now been confirmed through our investigation by independent sources and means."
Officials have previously said that the two are not related, despite their shared surname.
Singleton elaborated on the nature of the relationship while speaking to CNN later on Tuesday. He said it took place "outside of her normal work hours" and added that although it did not include "physical contact," he still characterized it as "a relationship of a different nature."
"We were told Casey White got special privileges and was treated differently while in the facility than the other inmates," Singleton said.
Also on Tuesday, the Marshals Service issued a statement confirming that authorities believe Officer White had helped Mr. White escape. The authorities described her as a "wanted fugitive" and offered a $5,000 reward for any information on her whereabouts. Earlier this week, the Marshals Service also offered a $10,000 reward for any information that could lead to Mr. White's capture.
Singleton echoed the belief that Officer White's actions were intentional while speaking to Good Morning America Wednesday.
"I think all of our employees and myself included were really hoping that she did not participate in this willingly. But all indications are that she absolutely did," he said. "We're very disappointed in that because we had the utmost trust in her as an employee and as an assistant director of corrections."
Mysterious Escape
Vicky White and Casey White were last seen leaving the Lauderdale County jail just after 9:30 a.m. Friday. The officer told other employees that she was taking the inmate to a mental health evaluation at a courthouse just down the road, and that she would be going to a medical appointment after because she was not feeling well.
Officials later said her actions violated an official policy that required two sworn deputies to transport people with murder charges. In 2020, Mr. White was charged with two counts of capital murder in connection to a fatal stabbing he confessed to and was awaiting his trial in Lauderdale County.
Mr. White was also serving time for what officials said was a "crime spree" in 2015 which included home invasion, carjacking, and a police chase. He had also previously tried to escape from jail, police said.
It wasn't until 3:30 p.m. on Friday that a jail employee reported to higher-ups that he was not able to reach Officer White on her phone and that Mr. White had never been returned to his cell.
During a press conference that same night, Singleton told reporters that there had never even been a scheduled mental health evaluation. At another briefing Monday, he announced that an arrest warrant had been issued for Vicky on a charge of "permitting or facilitating an escape in the first degree."
At the time, Singleton said it was unclear "whether she did that willingly or was coerced or threatened" but added, "we know for sure she did participate."
See what others are saying: (CNN) (ABC News) (NPR)