Judge Rejects Juvenile Sentencing for 4 Michigan Teens in Fatal Rock Throwing Case
A judge in Michigan rejected juvenile sentencing on Tuesday for four teens who threw rocks off an overpass, killing 32-year-old Kenneth White in October 2017.
The judge noted that the teens laughed and joked about the death in Snapchat messages, and had throw objects from different locations between six to 10 times.
The teens now have until Aug. 20 to withdraw their guilty pleas and negotiate a new agreement if they choose to do so.
The fifth teen involved, who was 18 at the time of the incident and is the one specifically accused of throwing the rock that killed White, will be sentenced at a later time for second-degree murder.
---
Juveline Sentencing Rejected
Four Michigan teens who pleaded guilty to throwing rocks off a highway overpass, causing the death of a 32-year-old passenger below, may be sentenced as adults.
Genesee County Circuit Court Judge Joseph Farah rejected a motion on Tuesday to send the teens to a juvenile detention center. Attorney's for the teens now have to decide whether to accept adult sentencing, head to trial, or reject the judge's revision to the plea agreement and negotiate a new deal with the Genesee County Prosecutor's Office.
Trevor Gray, 16, Alexzander Miller, 17, Mikadyn Payne, 17, and Mark Sekelsky, 18, of Clio, Michigan, have until Aug. 20 to decide what they want to do next.
Death of Kenneth White
Five teens in total were arrested for their role in the death of Kenneth A. White. On October 18, 2017, the four juveniles and one other teen were throwing rocks from a highway overpass when one of them hit White.
White was sitting in the passenger seat of a van on his way home from work when the 6-pound rock smashed through the windshield, hitting him in the face and then the chest. He was transported to Hurley Medical Center in Flint and later pronounced dead.
"The injuries are horrific. … I gasped out (when I saw them)" Genesee County Prosecutor David Leyton said during the teens' trial in 2017.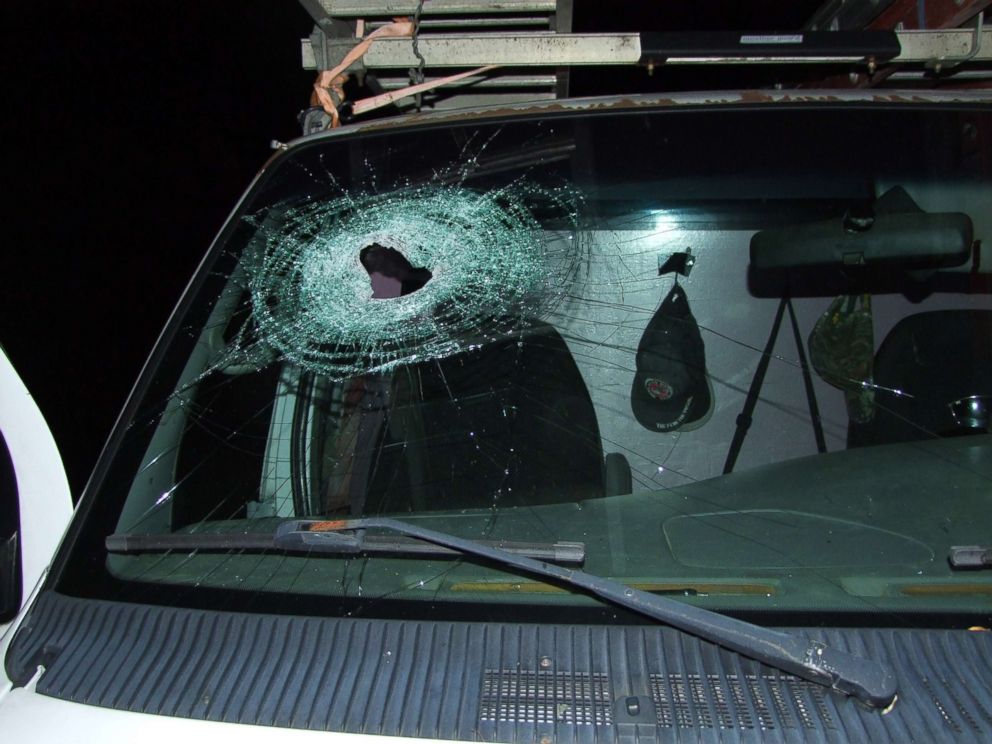 About 20 rocks in total were found on the highway, according to local police. The teens also threw tire irons, mufflers, and even a shopping cart at different times and areas.
All five participants were initially charged with crimes including second-degree murder, conspiracy to commit second-degree murder, six felony counts of malicious destruction of property and two misdemeanor counts of malicious destruction of property.
The fifth teen, 19-year-old Kyle Anger, is the one specifically accused of throwing the rock that killed White. He pleaded guilty to second-degree murder in exchange for other charges to be dropped. Anger was over 18 at the time of the incident and will be sentenced to prison at a later time.
The four other teens submitted a deal to have the second-degree murder charge changed to manslaughter, along with having the other charges dropped, according to MLive. However, that had not yet been accepted by the court.
The Judge's Decision
Judge Farah went against the advice of several professional juvenile experts who testified at a hearing in the fall. Each recommended juvenile sentencing, according to ABC News.
However, in court Farah said that while none of the four teens had actually thrown the fatal rock, none of them had been forced to be there. "The seriousness of the alleged offense is as high as it gets," he said in the court Tuesday. "This is a homicide."
Farah pointed to two days of Snapchat messages that were sent between the teens, noting that several of them read "LOL," "LMAO," "HAHA," even after learning that they had killed someone.
"We could possibly go to prison for life from this," Farah read from the messages. "You guys knew what could've happened. And, if we do get caught — which we won't — it's our own fault. LOL. We gotta take our punishment. Lay low for a while and everything will be fine."
According to the judge, after news reports said that White had died, the teens' Snapchat conversation mentioned getting teardrop tattoos to commemorate the crying of his family.
"Well, maybe, we should (get) tattoos with 'Crip Gang' next to the tattoo," the judge read.
Farah also referred back to testimony that the teens had dropped items from overpasses between six to 10 times before, damaging at least six vehicles.
"What was the purpose? Wait till the road cleared and drop to see it break? No. (It was) to make contact in this (game) called 'Overpassing.' To be able to say aloud 'Dinger!' when a car was hit," he said.
"This was not a situation where someone drove by and saw a rock on the side of the overpass and said, 'Hey, let's throw this rock over and keep on going,'" Farah added. "There wasn't one event, nor was it done at a single location. The rocks and other items were gathered from other locations, loaded in a trunk and then driven to overpasses to throw them over."
Responses
The victim's mother, Teresa Simpson, said after the hearing that she was pleased with the judge's decision.
"I'm so glad that Kenneth is getting the justice he deserves. … My prayers were answered," Simpson told WXYZ-TV in Detroit. "I'm ecstatic over the decision that was made today. … It's what we all wanted for him."
Meanwhile, lawyers for the teens said they were disappointed with the ruling.
"We're back to the drawing board. Each one of the four boys has a mechanism within that plea that they have the option to withdraw the plea should the court not have granted juvenile sentencing. So the court made its decision, not granting juvenile sentencing, and I'm sure all the lawyers are gonna go back to the drawing board," said lawyer Michael Manley.
Survey and Census Data Shows Record Number of Americans are Struggling Financially
Americans are choosing not to pursue medical treatment more and more frequently as they encounter money troubles.
---
A recent federal survey shows that a record number of Americans were worse off financially in 2022 than a year prior.
Coupled with recent census data showing pervasive poverty across much of the country, Americans are forced to make difficult decisions, like foregoing expensive healthcare. 
According to a recent Federal Reserve Bureau survey, 35% of adults say they were worse off in 2022 than 2021, which is the highest share ever recorded since the question was raised in 2014. 
Additionally, half of adults reported their budget was majorly affected by rising prices across the country, and that number is even higher among minority communities and parents living with their children.
According to recent census data, more than 10% of the counties in the U.S. are experiencing persistent poverty, meaning the area has had a poverty rate of 20% or higher between 1989 and 2019. 
16 states report at least 10% of their population living in persistent poverty. But most of the suffering counties were found in the South — which accounts for over half the people living in persistent poverty, despite making up less than 40% of the population. 
These financial realities have placed many Americans in the unfortunate situation of choosing between medical treatment and survival. The Federal Reserve study found that the share of Americans who skipped medical treatment because of the cost has drastically increased since 2020. 
The reflection of this can be found in the overall health of households in different income brackets. 75% of households with an income of $25,000 or less report being in good health – compared to the 91% of households with $100,000 or more income. 
Montana Governor Signs TikTok Ban
The ban will likely face legal challenges before it is officially enacted next year.
---
First Statewide Ban of TikTok
Montana became the first state to ban TikTok on Wednesday after Gov. Greg Gianforte (R) signed legislation aimed at protecting "Montanans' personal and private data from the Chinese Communist Party."
The ban will go into effect on Jan. 1, 2024, though the law will likely face a handful of legal challenges before that date. 
Under the law, citizens of the state will not be held liable for using the app, but companies that offer the app on their platforms, like Apple and Google, will face a $10,000 fine per day of violations. TikTok would also be subject to the hefty daily fine.
Questions remain about how tech companies will practically enforce this law. During a hearing earlier this year, a representative from TechNet said that these platforms don't have the ability to "geofence" apps by state.
Roger Entner, an analyst at Recon Analytics, told the Associated Press that app stores could have the capability to enforce the restriction, but it would be difficult to carry out and there would be a variety of loopholes by tools like VPNs.
Montana's law comes as U.S. politicians have taken aim at TikTok over its alleged ties to the CCP. Earlier this year, the White House directed federal agencies to remove TikTok from government devices. Conservatives, in particular, have been increasingly working to restrict the app.
"The Chinese Communist Party using TikTok to spy on Americans, violate their privacy, and collect their personal, private, and sensitive information is well-documented," Gov. Gianforte said in a Wednesday statement.
Criticism of Montana Law
TikTok, however, has repeatedly denied that it gives user data to the government. The company released a statement claiming Montana's law "infringes on the First Amendment rights of the people" in the state.
"We want to reassure Montanans that they can continue using TikTok to express themselves, earn a living, and find community as we continue working to defend the rights of our users inside and outside of Montana," the company said.
The American Civil Liberties Union condemned Montana's law for similar reasons.
"This law tramples on our free speech rights under the guise of national security and lays the groundwork for excessive government control over the internet," the ACLU tweeted. "Elected officials do not have the right to selectively censor entire social media apps based on their country of origin."
Per the AP, there are 200,000 TikTok users in Montana, and another 6,000 businesses use the platform as well. Lawsuits are expected to be filed against the law in the near future.
How a Disney-Loving Former Youth Pastor Landed on The FBI's "Most Wanted" List
 "Do what is best, not for yourself, for once. Think about everyone else," Chris Burns' 19-year-old son pleaded to his father via The Daily Beast. 
---
Multi-Million Dollar Scheme
Former youth pastor turned financial advisor Chris Burns remains at large since going on the run in September of 2020 to avoid a Securities Exchange Commission investigation into his businesses.
Despite his fugitive status, the Justice Department recently indicted Burns with several more charges on top of the $12 million default judgment he received from the SEC. 
Burns allegedly sold false promissory notes to investors across Georgia, North Carolina, and Florida. The SEC claims he told the investors they were participating in a "peer to peer" lending program where businesses that needed capital would borrow money and then repay it with interest as high as 20%. Burns allegedly also reassured investors that the businesses had collateral so the investment was low-risk. 
The SEC says that Burns instead took that money for personal use. 
Burns' History
Burns began his adult life as a youth pastor back in 2007 before transitioning into financial planning a few years later. By 2017, he launched his own radio show, The Chris Burns Show, which was funded by one of his companies, Dynamic Money – where every week Burns would "unpack how this week's headlines practically impact your life, wallet, and future," according to the description. He also frequently appeared on television and online, talking about finances and politics.
The SEC alleges that he used his public appearances to elevate his status as a financial advisor and maximize his reach to investors.
His family told The Daily Beast that he became obsessed with success and he reportedly bought hand-made clothes, a million-dollar lakehouse, a boat, several cars, and took his family on several trips to Disney World. His eldest son and wife said that Burns was paying thousands of dollars a day for VIP tours and once paid for the neighbors to come along. 
Then in September 2020, he reportedly told his wife that he was being investigated by the Securities Exchange Commission but he told her not to worry. 
The day that he was supposed to turn over his business documents to the SEC, he disappeared, telling his wife he was just going to take a trip to North Carolina to tell his parents about the investigation. Then, the car was found abandoned in a parking lot with several cashier's checks totaling $78,000
FBI's Most Wanted
The default judgment in the SEC complaint orders Burns, if he's ever found, to pay $12 million to his victims, as well as over $650,000 in a civil penalty. Additionally, a federal criminal complaint charged him with mail fraud. Burns is currently on the FBI's Most Wanted list. 
Last week, the Justice Department indicted him on several other charges including 10 counts of wire fraud and two counts of mail fraud. 
"Burns is charged for allegedly stealing millions of dollars from clients in an illegal investment fraud scheme," Keri Farley, Special Agent in Charge of FBI Atlanta, said in a statement to The Daily Beast. "Financial crimes of this nature can cause significant disruptions to the lives of those who are victimized, and the FBI is dedicated to holding these criminals accountable."
His family maintains that they knew nothing of Burns' schemes. His wife reportedly returned over $300,000 that he had given to her.
She and their eldest son, who is now 19, told The Daily Beast they just want Burns to turn himself in, take responsibility for his actions, and try to help the people he hurt. 
"Do what is best, not for yourself, for once. Think about everyone else," Burns' son said in a message to his father via The Daily Beast.