Judge Rejects Juvenile Sentencing for 4 Michigan Teens in Fatal Rock Throwing Case
A judge in Michigan rejected juvenile sentencing on Tuesday for four teens who threw rocks off an overpass, killing 32-year-old Kenneth White in October 2017.
The judge noted that the teens laughed and joked about the death in Snapchat messages, and had throw objects from different locations between six to 10 times.
The teens now have until Aug. 20 to withdraw their guilty pleas and negotiate a new agreement if they choose to do so.
The fifth teen involved, who was 18 at the time of the incident and is the one specifically accused of throwing the rock that killed White, will be sentenced at a later time for second-degree murder.
---
Juveline Sentencing Rejected
Four Michigan teens who pleaded guilty to throwing rocks off a highway overpass, causing the death of a 32-year-old passenger below, may be sentenced as adults.
Genesee County Circuit Court Judge Joseph Farah rejected a motion on Tuesday to send the teens to a juvenile detention center. Attorney's for the teens now have to decide whether to accept adult sentencing, head to trial, or reject the judge's revision to the plea agreement and negotiate a new deal with the Genesee County Prosecutor's Office.
Trevor Gray, 16, Alexzander Miller, 17, Mikadyn Payne, 17, and Mark Sekelsky, 18, of Clio, Michigan, have until Aug. 20 to decide what they want to do next.
Death of Kenneth White
Five teens in total were arrested for their role in the death of Kenneth A. White. On October 18, 2017, the four juveniles and one other teen were throwing rocks from a highway overpass when one of them hit White.
White was sitting in the passenger seat of a van on his way home from work when the 6-pound rock smashed through the windshield, hitting him in the face and then the chest. He was transported to Hurley Medical Center in Flint and later pronounced dead.
"The injuries are horrific. … I gasped out (when I saw them)" Genesee County Prosecutor David Leyton said during the teens' trial in 2017.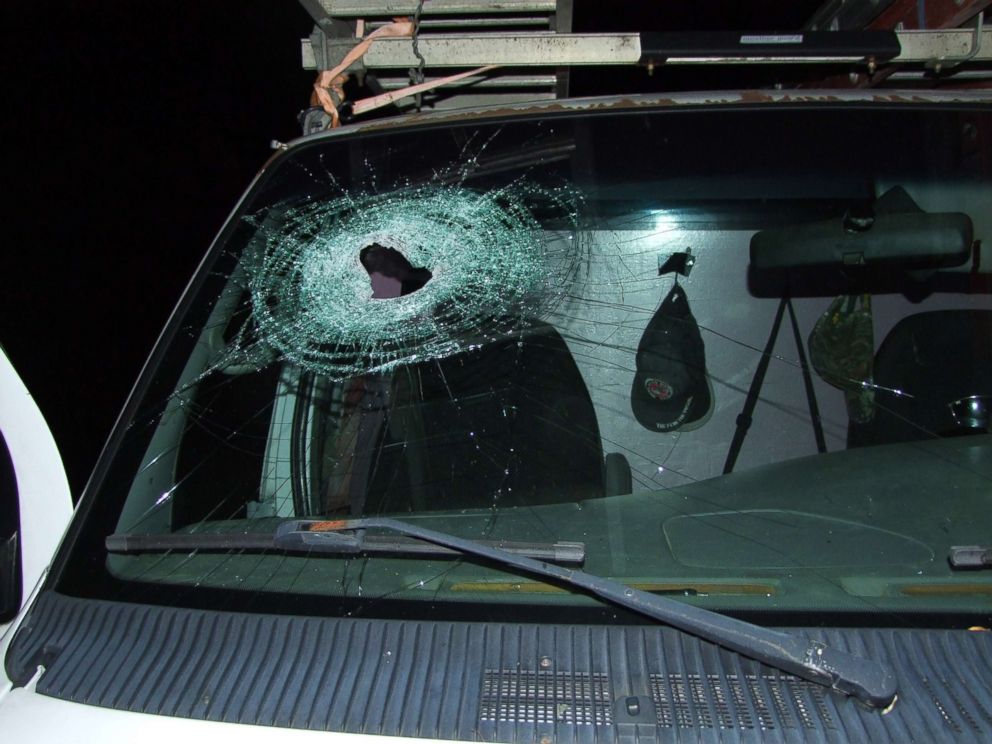 About 20 rocks in total were found on the highway, according to local police. The teens also threw tire irons, mufflers, and even a shopping cart at different times and areas.
All five participants were initially charged with crimes including second-degree murder, conspiracy to commit second-degree murder, six felony counts of malicious destruction of property and two misdemeanor counts of malicious destruction of property.
The fifth teen, 19-year-old Kyle Anger, is the one specifically accused of throwing the rock that killed White. He pleaded guilty to second-degree murder in exchange for other charges to be dropped. Anger was over 18 at the time of the incident and will be sentenced to prison at a later time.
The four other teens submitted a deal to have the second-degree murder charge changed to manslaughter, along with having the other charges dropped, according to MLive. However, that had not yet been accepted by the court.
The Judge's Decision
Judge Farah went against the advice of several professional juvenile experts who testified at a hearing in the fall. Each recommended juvenile sentencing, according to ABC News.
However, in court Farah said that while none of the four teens had actually thrown the fatal rock, none of them had been forced to be there. "The seriousness of the alleged offense is as high as it gets," he said in the court Tuesday. "This is a homicide."
Farah pointed to two days of Snapchat messages that were sent between the teens, noting that several of them read "LOL," "LMAO," "HAHA," even after learning that they had killed someone.
"We could possibly go to prison for life from this," Farah read from the messages. "You guys knew what could've happened. And, if we do get caught — which we won't — it's our own fault. LOL. We gotta take our punishment. Lay low for a while and everything will be fine."
According to the judge, after news reports said that White had died, the teens' Snapchat conversation mentioned getting teardrop tattoos to commemorate the crying of his family.
"Well, maybe, we should (get) tattoos with 'Crip Gang' next to the tattoo," the judge read.
Farah also referred back to testimony that the teens had dropped items from overpasses between six to 10 times before, damaging at least six vehicles.
"What was the purpose? Wait till the road cleared and drop to see it break? No. (It was) to make contact in this (game) called 'Overpassing.' To be able to say aloud 'Dinger!' when a car was hit," he said.
"This was not a situation where someone drove by and saw a rock on the side of the overpass and said, 'Hey, let's throw this rock over and keep on going,'" Farah added. "There wasn't one event, nor was it done at a single location. The rocks and other items were gathered from other locations, loaded in a trunk and then driven to overpasses to throw them over."
Responses
The victim's mother, Teresa Simpson, said after the hearing that she was pleased with the judge's decision.
"I'm so glad that Kenneth is getting the justice he deserves. … My prayers were answered," Simpson told WXYZ-TV in Detroit. "I'm ecstatic over the decision that was made today. … It's what we all wanted for him."
Meanwhile, lawyers for the teens said they were disappointed with the ruling.
"We're back to the drawing board. Each one of the four boys has a mechanism within that plea that they have the option to withdraw the plea should the court not have granted juvenile sentencing. So the court made its decision, not granting juvenile sentencing, and I'm sure all the lawyers are gonna go back to the drawing board," said lawyer Michael Manley.
Thanksgiving Travel Will Lead to COVID-19 Spike, Health Officials Warn
As travel soared for the Thanksgiving holiday, health officials warn of an inevitable spike that will only worsen with Christmas on the way.
Dr. Anthony Fauci urged travelers to isolate and quarantine as a "surge upon a surge" is on the way. Dr. Deborah Birx said that anyone who traveled should assume and act as if they have the virus.
The month of November saw 4.2 million cases in the U.S., nearly one-third of the cases the country has seen throughout the pandemic. Deaths are also on the rise again.
But in good news, Moderna is submitting its vaccine for FDA approval. It is the second company to do so behind Pfizer, and says its vaccine is 94% effective.
---
Cases and Travel on the Rise
After the U.S. saw record-breaking pandemic travel leading up to Thanksgiving, top health officials are urging travelers to quarantine as a surge in cases is likely coming.
On the day before Thanksgiving over 1,070,000 people traveled through airport security, which is the highest since the pandemic began, according to tallies from CNN Travel. While that is 40% less than the number of people who traveled the same day last year, it comes after the Centers for Disease Control and Prevention urged the nation not to travel for the holiday. Over 6 million people went on to travel after the CDC made that plea.
The U.S. has seen a total of 13.4 million cases and lost 266,000 lives to the coronavirus. On Friday, the country broke a grim record, reporting over 205,000 new cases in a single day. The month of November has been one of the most consequential when it comes to the spread of COVID-19. At least 4.2 million cases were reported in November alone. This is over double the 1.9 million reported in October, which is the month with the second-highest number of cases. It also accounts for over 30% of the country's total cases since the pandemic started.
Deaths are also on the rise. Nearly 36,000 lives have been lost in November, the highest that number has been since May. The month with the highest death toll is April when just under 59,000 people died.
Health Officials Warn of Surge
Because a surge in travel came at the same time cases were already on a concerning rise, the nation's top health officials are urging travelers to isolate and test themselves as another rush of cases is nearly inevitable.
"We have to be careful now because there almost certainly is going to be an uptick because of what has happened with the travel," Dr. Anthony Fauci, the director of the National Institute of Allergy and Infectious Diseases told ABC News on Sunday.
"And perhaps two or three weeks down the line, Martha, we may see a surge upon a surge," Dr. Fauci explained. "You know, we don't want to frighten people, but that's just the reality. We said that these things would happen as we got into the cold weather and we began traveling and they've happened. It's gonna happen again."
Officials believe that those who have traveled need to do everything in their power to prevent their ability to spread the virus as they return home. Dr. Deborah Birx, a top coordinator for the White House Coronavirus Task Force, said that travelers should just assume they have COVID-19.
"We know people may have made mistakes over the Thanksgiving time period. If you're young and you gathered, you need to be tested about five to 10 days later," she said on Face the Nation. "But you need to assume that you're infected and not go near your grandparents and aunts and others without a mask."
The impacts of another surge could be severe. Across the country, hospitals are already overwhelmed. If cases skyrocket in the coming weeks, many places will not be equipped to handle the caseload. As Christmas approaches, travel and indoor gatherings will ramp up again, and another surge after that is also sure to come.
Moderna to Seek FDA Approval
But hope is on the horizon. Pfizer has already announced that it has begun the process of seeking FDA approval for its vaccine. Now, Moderna is on the same track. The Massachusetts-based company plans on submitting its vaccine for FDA authorization on Monday after expanded data showed that it is 94.1% effective overall and 100% effective in preventing severe cases.
Moderna's study involved 30,000 people and resulted in 196 cases. The company said 185 of those came from the placebo group and 11 came from the vaccine group. It also said 30 of the reported cases were severe, all of which were from the placebo group.
So far, Moderna claims the efficacy of the vaccine is consistent across a number of demographics. The company also says that while a safety review is still ongoing, no serious concerns have been identified. The most common reactions included injection site pain, fatigue, muscle and joint pain, and a few other milder side effects. In addition to submtting for approval from the FDA in the U.S., it will also seek authorization in Europe.
"We believe that our vaccine will provide a new and powerful tool that may change the course of this pandemic and help prevent severe disease, hospitalizations and death." Stéphane Bancel the Chief Executive Officer of Moderna said in a statement. "I want to thank the thousands of participants in our Phase 1, Phase 2 and Phase 3 studies, as well as the staff at clinical trial sites who have been on the front lines of the fight against the virus."
Moderna's Chief Medical Officer, Dr. Tal Zaks, told the Associated Press that when he saw how promising the results were, he became emotional.
"I allowed myself to cry for the first time," he told the outlet. "We have already, just in the trial, have already saved lives. Just imagine the impact then multiplied to the people who can get this vaccine."
Moderna expects to hold their big meeting with the FDA's vaccine committee December 17, a week after Pfizer's meeting. Once approved the vaccine will likely go to frontline workers and vulnerable populations first and both companies are getting ready to dole out vaccines the second they are allowed to do so. According to the AP, Moderna expected to have enough doses for 10 million people by the end of the year. Pfizer plans to have enough for 12.5 million in the United States.
As Unemployment Claims Rise, CA Officials Report Inmates Collected Millions in Benefits
Unemployment numbers spiked for the second week in a row, marking the highest amount of new claims made since early October with 778,000 people filing. Over 20 million Americans are still collecting some kind of joblessness aid.
Experts say this will only get worse as COVID cases continue to rise and states impose more restrictions. However, unlike during the spring shutdowns, struggling Americans and small businesses will likely not have any help from the federal government.
Meanwhile, law enforcement officials in California reported that tens of thousands of inmates received upwards of $1 billion in unemployment benefits as part of a scam that officials described as "the most significant fraud on taxpayer funds in California history."
---
Unemployment Numbers Spike
Another 778,000 Americans filed for unemployment this week, the Department of Labor reported Wednesday, marking the highest spike since early October and the second week in a row that new claims have risen.
According to experts, this data signals that the massive coronavirus spikes the U.S. has seen in recent weeks are slowing the economy once again. On Wednesday, the country reported a record 2 million new cases in the same two weeks that joblessness claims also went up, bringing the official case count to more than 12.6 million Americans infected and over 260,000 dead.
As the COVID-19 spikes continue, and with more state and local governments imposing new restrictions on public gatherings, limiting hours and operations for restaurants and bars, and temporarily closing down some businesses entirely, economists say this situation will get worse before it gets better.
Unlike the first wave of shutdowns this past spring, it seems almost certain that struggling Americans will have to weather these latest closures without any help from the government.
Already, many of the programs that gave trillions of dollars to unemployed Americans and small businesses under the CARES Act have expired, and most of the few remaining programs will run out soon.
That is especially concerning when it comes to unemployment benefits. According to a recent report from the progressive think tank The Century Foundation, unless Congress and the White House sign off on a deal to extend key programs, roughly 12 million Americans will lose these benefits entirely the day after Christmas.
But after months of deadlock, any hopes for a new stimulus package petered out when the election came around. Democratic leadership is reportedly attempting to restart those talks, and Senate Majority Leader Mitch McConnell (R-Ky.) has said he wants to approve some kind of bill before the end of the year.
However, it remains unclear how all the problems that had deadlocked the lawmakers for months during the earlier negotiations will be resolved in time.
Inmate Unemployment Fraud
Meanwhile, states are still continuing to struggle with distributing unemployment benefits to jobless Americans.
On Tuesday, a task force lead by nine district attorneys across the state of California reported in a letter to Gov. Gavin Newsom (D) that tens of thousands of prison and jail inmates — including more than 100 people on death row — have collected hundreds of millions of dollars in unemployment benefits as part of a scam that the officials say "appears to be the most significant fraud on taxpayer funds in California history,"
According to the task force, between March and August, inmates housed in every single California prison and in jails throughout the state filed 35,000 claims totaling at least $140 million in benefits, though the alleged crimes could total as much as $1 billion.
In most cases, officials said that the payments were given out in the form of prepaid debit cards sent to friends or family on the outside who would then later deposit the proceeds to inmate accounts.
In some cases, the joblessness benefits were sent directly to the jails and prisons. Sometimes the inmates used their real names, but other times, they used fake names and fake Social Security numbers.
In fact, prosecutors were tipped off to some of the cases by listening to inmates recorded phone calls, where they bragged about how easy it was the game the system.
As far as how such widespread fraud could happen, law enforcement officials blamed California's Employment Development Department, which has been swamped with processing more than 16.4 million unemployment claims since March, resulting in a massive backlog of unfilled claims that, according to reports, has totaled upwards of more than 1.6 million people at times.
However, the task force also said that part of the problem was due to the fact that unlike at least 35 other states, California does not have the technology to crosscheck inmate rosters against unemployment claims.
Looking Forward
In their letter, the officials called on Newsom to crack down on the rampant fraud and provide "significant resources" to do so.
Newsom, for his part, responded in a statement by calling the fraud "absolutely unacceptable," and ordering the Office of Emergency Services to create a task force to help the prosecutors with their investigation.
However, as The New York Times pointed out, Newsom had already formed a "strike team" a few months ago to help the state's employment department speed up claims and address other issues, including fraud at correctional facilities.
The district attorneys were still forced to form their own task force with the California Department of Corrections and Rehabilitation after the reports of fraud in the employment department continued and the "strike team" failed to uncover the large amounts of fraud the other groups had seen.
Currently, it is unclear how Newsom's new task force is different from the largely unsuccessful "strike team."
California, of course, is not the only state having these issues with unemployment insurance fraud. There have also been similar reports of fraud in Massachusetts, Illinois, Kansas, and other states.
These problems also go beyond unemployment. There have been frequent reports of CARES Act funding being misused, including by people using small business loans to buy luxury cars, as well as large companies or businesses connected to President Donald Trump Trump and members of Congress improperly receiving funding.
As Congress considers another much-needed stimulus package, these issues of transparency and accountability have now become paramount.
COVID-19 Cases Expected To Surge After Thanksgiving
With coronavirus cases already on a steep rise in the U.S, experts are warning that Thanksgiving travel and gatherings will likely make things worse. Canada, for example, saw a jump in cases after its citizens celebrated the holiday last month.
Surgeon General Jerome Adams said that Americans should hold out for a vaccine, which is on the horizon, and be safe this Thanksgiving.
A family in Texas is also waring against gathering, saying they learned how dangerous it is the hard way. After celebrating a birthday together, all 15 people who attended the party tested positive for the virus.
On top of this experts are also warning against thinking a negative test clears you for socialization. In reality, you can test negative for the virus and still have and transmit it.
---
Warning From Surgeon General
As Thanksgiving looms closer, warnings against family gatherings are being echoed by experts and everyday people alike.
Health officials have been vocal about the threat the Thanksgiving holiday poses when it comes to the coronavirus. The U.S. has seen 12.4 million cases and lost 257,000 lives to the virus, and cases have been on a steep increase this month. The CDC has already warned against travel and experts have said that based on the spike Canada saw after its October Thanksgiving, America is set to go down a similar, or even worse path.
"I want the American people to know that we are at a dire point in our fight with this virus by any measure," U.S. Surgeon General Jerome Adams said Monday on Good Morning America. "Cases, positivity, hospitalizations, deaths. We're seeing more Americans negatively impacted than ever before."
Adams said that with a vaccine on the horizon, Americans should just wait out this homestretch and stay put for the holiday.
"I'm asking Americans, begging you, hold on just a little bit longer," he said. "Keep Thanksgiving and the celebration small and smart this year."
Family in Texas Urges Caution
Health officials are not the only ones preaching this advice. In Arlington, Texas, a family that has lived the consequences of gathering without regard for public health is urging people to not make the same mistake as them. The Aragonez family celebrated a birthday earlier this month indoors without masks or distancing. Now, all 15 people who attended tested positive for the virus.
"We feel guilty for gathering," members of the family said in a video encouraging caution. "All this pain that my family is feeling, this loneliness, this sickness, this longing to be healthy could have been prevented."
"Please don't be like my family and ignore the CDC guidelines," one person said. "By staying apart we can fight this virus together."
While most cases in the family were mild, one person was hospitalized for over a week.
"One moment of carelessness has cost us a month of peace, has cost us sleep, has cost us laughs, has cost us a lot of money," one family member told the Washington Post.
Testing Negative is Not Enough
Many have still forged on with their gathering plans under the false idea that if everyone tests negative before attending, they are in the clear to socialize. However, experts warn this is far from the case.
Just because a person tests negative does not necessarily mean they do not have the virus. Tests are not 100% accurate and it can take days or even a week to test positive for the virus after exposure. Not to mention, people could come into contract with the virus between their test and the family event.
"A negative result is a snapshot in time," Dr. Paige Larkin, a clinical microbiologist at NorthShore University HealthSystem in Chicago explaining to the New York Times. "It's telling you that, at that exact second you are tested, the virus was not detected. It does not mean you're not infected."
While it might slightly minimize the risk of spread, it certainly does not eliminate it. More than anything, it gives people a false sense of security that they have a free pass to go wherever and see whoever they want, despite the fact that it still poses a large health threat.