Judge Rejects Juvenile Sentencing for 4 Michigan Teens in Fatal Rock Throwing Case
A judge in Michigan rejected juvenile sentencing on Tuesday for four teens who threw rocks off an overpass, killing 32-year-old Kenneth White in October 2017.
The judge noted that the teens laughed and joked about the death in Snapchat messages, and had throw objects from different locations between six to 10 times.
The teens now have until Aug. 20 to withdraw their guilty pleas and negotiate a new agreement if they choose to do so.
The fifth teen involved, who was 18 at the time of the incident and is the one specifically accused of throwing the rock that killed White, will be sentenced at a later time for second-degree murder.
---
Juveline Sentencing Rejected
Four Michigan teens who pleaded guilty to throwing rocks off a highway overpass, causing the death of a 32-year-old passenger below, may be sentenced as adults.
Genesee County Circuit Court Judge Joseph Farah rejected a motion on Tuesday to send the teens to a juvenile detention center. Attorney's for the teens now have to decide whether to accept adult sentencing, head to trial, or reject the judge's revision to the plea agreement and negotiate a new deal with the Genesee County Prosecutor's Office.
Trevor Gray, 16, Alexzander Miller, 17, Mikadyn Payne, 17, and Mark Sekelsky, 18, of Clio, Michigan, have until Aug. 20 to decide what they want to do next.
Death of Kenneth White
Five teens in total were arrested for their role in the death of Kenneth A. White. On October 18, 2017, the four juveniles and one other teen were throwing rocks from a highway overpass when one of them hit White.
White was sitting in the passenger seat of a van on his way home from work when the 6-pound rock smashed through the windshield, hitting him in the face and then the chest. He was transported to Hurley Medical Center in Flint and later pronounced dead.
"The injuries are horrific. … I gasped out (when I saw them)" Genesee County Prosecutor David Leyton said during the teens' trial in 2017.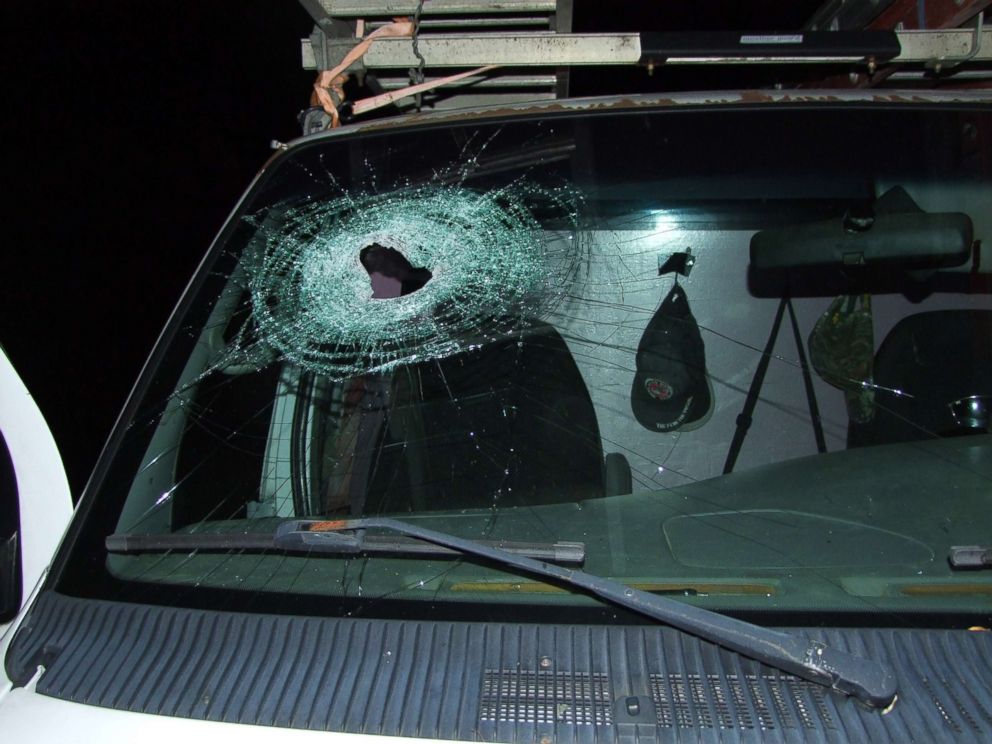 About 20 rocks in total were found on the highway, according to local police. The teens also threw tire irons, mufflers, and even a shopping cart at different times and areas.
All five participants were initially charged with crimes including second-degree murder, conspiracy to commit second-degree murder, six felony counts of malicious destruction of property and two misdemeanor counts of malicious destruction of property.
The fifth teen, 19-year-old Kyle Anger, is the one specifically accused of throwing the rock that killed White. He pleaded guilty to second-degree murder in exchange for other charges to be dropped. Anger was over 18 at the time of the incident and will be sentenced to prison at a later time.
The four other teens submitted a deal to have the second-degree murder charge changed to manslaughter, along with having the other charges dropped, according to MLive. However, that had not yet been accepted by the court.
The Judge's Decision
Judge Farah went against the advice of several professional juvenile experts who testified at a hearing in the fall. Each recommended juvenile sentencing, according to ABC News.
However, in court Farah said that while none of the four teens had actually thrown the fatal rock, none of them had been forced to be there. "The seriousness of the alleged offense is as high as it gets," he said in the court Tuesday. "This is a homicide."
Farah pointed to two days of Snapchat messages that were sent between the teens, noting that several of them read "LOL," "LMAO," "HAHA," even after learning that they had killed someone.
"We could possibly go to prison for life from this," Farah read from the messages. "You guys knew what could've happened. And, if we do get caught — which we won't — it's our own fault. LOL. We gotta take our punishment. Lay low for a while and everything will be fine."
According to the judge, after news reports said that White had died, the teens' Snapchat conversation mentioned getting teardrop tattoos to commemorate the crying of his family.
"Well, maybe, we should (get) tattoos with 'Crip Gang' next to the tattoo," the judge read.
Farah also referred back to testimony that the teens had dropped items from overpasses between six to 10 times before, damaging at least six vehicles.
"What was the purpose? Wait till the road cleared and drop to see it break? No. (It was) to make contact in this (game) called 'Overpassing.' To be able to say aloud 'Dinger!' when a car was hit," he said.
"This was not a situation where someone drove by and saw a rock on the side of the overpass and said, 'Hey, let's throw this rock over and keep on going,'" Farah added. "There wasn't one event, nor was it done at a single location. The rocks and other items were gathered from other locations, loaded in a trunk and then driven to overpasses to throw them over."
Responses
The victim's mother, Teresa Simpson, said after the hearing that she was pleased with the judge's decision.
"I'm so glad that Kenneth is getting the justice he deserves. … My prayers were answered," Simpson told WXYZ-TV in Detroit. "I'm ecstatic over the decision that was made today. … It's what we all wanted for him."
Meanwhile, lawyers for the teens said they were disappointed with the ruling.
"We're back to the drawing board. Each one of the four boys has a mechanism within that plea that they have the option to withdraw the plea should the court not have granted juvenile sentencing. So the court made its decision, not granting juvenile sentencing, and I'm sure all the lawyers are gonna go back to the drawing board," said lawyer Michael Manley.
Churchgoers Are Defying Social Distancing Guidelines
Despite orders against large social gatherings, some churches in places like Florida, Louisiana, and Ohio have continued to host mass services for hundreds of worshipers.
One Florida church leader said his members were practicing "social distancing, or whatever," despite live video of them clearly not.
He also told churchgoers that they were more likely to contract the virus elsewhere, not in church, and has peddled misinformation about the virus.
Meanwhile, a Louisiana preacher has said the coronavirus is "not a concern" and is "politically motivated."
---
17% of Churchgoers Still Attend, Poll Says
While schools and businesses all over the world have closed their doors to help slow the spread of the coronavirus, many churchgoers have continued to attend services in person.
Some houses of worship, from the Vatican to storefront mosques, have switched to virtual gatherings, but according to a Buzzfeed poll conducted last week by three political scientists, 22% of respondents said they had been "encouraged" to attend in-person worship "because of the virus." The study also found that 17% of respondents were actually still going.
The survey polled 1,038 people from all over the country, who said they attend a house of worship "more often than never." It's not exactly known if the 17% of people still attending services are meeting in smaller worship settings that follow the Center for Disease Control's recommendations, but based on some recent reports, it's clear that there are still hundreds of worshipers ignoring social distancing guidelines.
Last week, nearly three dozen people who attended a church event at First Assemblies of God Church in Greers Ferry, Arkansas, tested positive for COVID-19. Of the 34 who tested positive, 31 are either church staff or members of the church.
On Friday, a church in Chicago said 43 people reported symptoms related to the virus after a church service on March 15. At least 10 of those people thave tested positive for the virus so far.
Hundreds Gather in Louisiana
While President Donald Trump has recommended against gatherings of more than 10 people, many states have laid out their own specific social distancing rules. Still, some are choosing to deliberately defy them.
Tony Spell of Life Tabernacle Church in East Baton Rouge Parish, Louisiana is one preacher in particular who has made headlines for hosting mass gatherings. On March 17, he went against Gov. Jon Bel Edwards' order that banned groups larger than 50 from gathering at one time, including churches. 
Spell hosted a Tuesday service for around 300 people, arguing at the time that the virus was "not a concern," and adding that he believes it is "politically motivated."
"People are still going to work, still going to the mall. I encountered more people in Target today then I did during my service last night," he later told CNN. "It's persecution of the faith for me not to have my worship service and yet I am allowed to go out in public and shop. Why is there one standard for commerce and another for religion?"
He also boasted about gathering a larger crowd of nearly 1,200 the Sunday before, adding that he had 27 busses picking people up. His services have reportedly continued as normal, with Spell even hosting baptisms and laying hands to heal the sick.
Once the media began reporting on Spell's services, he said several church members were suspended from work after employers feared they would spread the virus. Yet still, this past Sunday over 550 people packed themselves inside the church.
According to the Associated Press, assistant ministers and other churchgoers stood outside the front doors and in the parking lot telling reporters to leave. They said cameras would not be allowed on the property and that they had been told not to talk to the media.
Spell later appeared and made a brief comment in the parking lot, saying they have a right to assemble. He also said the church is not forcing anyone to attend, is not breaking any laws, and will continue to hold services.
Spell has faced some backlash from people in the community, with some even signing a petition calling for him to be arrested and charged with reckless endangerment.
However, Spell isn't the only one in Louisiana hosting church-related gatherings. On Saturday, police in New Orleans broke up a funeral repast of about 100 people. Police issued a warrant for a 28-year-old man who refused to shut it down after he was asked. The leader of the band that was playing during the gathering was also issued a summons for his participation.
"People who violate the ban are being selfish and "grossly irresponsible," Gov. John Bel Edwards said Sunday afternoon in New Orleans. They "take the time and attention of first responders and make it much more likely that this disease will continue to spread," he said
Florida and Ohio
In Florida, The River at Tampa Bay Church held a Sunday service live stream, which showed worshipers gathered close together. Still, Rev. Rodney Howard-Browne said attendees were practicing "social distancing, or whatever."
"We are not a nonessential service," Howard-Browne said during the service. "You're probably going to get infected at some other place, not here."
He also condemned scientific reports about the virus and peddled the debunked idea that this pandemic was of less concern than the flu.
The church said in a statement on its web site that it felt it was important to remain open for people in need of comfort, saying it is sanitizing and cleaning all surfaces.
"In a time of national crisis, we expect certain institutions to be open and certain people to be on duty. We expect hospitals to have their doors open 24/7 to receive and treat patients. We expect our police and firefighters to be ready and available to rescue and to help and to keep the peace. The Church is another one of those essential services. It is a place where people turn for help and for comfort in a climate of fear and uncertainty," the church said in the statement.
Meanwhile, Solid Rock Church in Lebanon, Ohio also held services Sunday in defiance of a letter from the local health department urging it not to meet after community complaints, according to a local news report. The church, in a statement, cited its First Amendment right to religious assembly.
Religious gatherings were explicitly exempted by Ohio Gov. Mike DeWine's order against gatherings of more than 10 people. However, DeWine also tweeted a plea to religious leaders last week saying, "We did not order religious organizations to close, but my message to EVERYONE is that this is serious. When you are coming together, whether in a church or wherever – this is dangerous."
Global Issue
But Americans aren't the only ones continuing to attend in-person worship services. Sunday services were held at some of Russia's largest religious sites after Orthodox church leaders said they were an expression of religious freedom.
According to the Guardian, dozens of parishioners, many of them elderly, crowded into Kazan Cathedral in St Petersburg to receive communion. However, later in the day, the church's leader, Patriarch Kirill of Moscow, called on people to refrain from visiting churches.
In Romania and Georgia, two countries with strongly Orthodox Christian populations, some priests have insisted on continuing to use a shared spoon for the communion ritual.
Last Sunday, the day after Romania had been put into a strict lockdown, footage emerged from the city of Cluj of priests using a shared spoon. In Georgia, while the church has told people not to spend long periods of time in churches and not to come if sick, it has rejected calls to abandon the reusing of spoons. Instead, it claimed that as communion is a holy ceremony it is not possible to get ill during it.
Trump Signs Order Allowing Former Troops to Be Called Upon for Coronavirus Fight
President Trump signed an executive order that allows for former troops to be brought back to active duty to help fight the coronavirus pandemic.
This is not an immediate order to call former service members back, but it is typically used when the military is in need of specific skill sets, like persons with high demand medical capabilities.
Officials are still reviewing who might be activated.
The order comes just days after the Army called upon former service members to voluntarily rejoin and help in the military's response efforts. Over 14,000 have expressed interest as of Friday.
---
Trump Signs Executive Order
President Donald Trump signed an executive order Friday that allows the Pentagon to bring former U.S. troops and members of the National Gaurd and reserve back to active duty to help those already battling the county's coronavirus outbreaks.
During his press conference Friday night, Trump said the decision allows the federal government "to mobilize medical, disaster and emergency response personnel to help wage our battle against the virus by activating thousands of experienced service members including retirees."
"We have a lot of people, retirees, great military people — they're coming back in," Trump added.
What This Means
The executive order released by the White House states that anyone recalled can remain on active duty for up to 24 months straight. It provides the Department of Defense and the Department of Homeland Security the authority to order as many as 1 million individuals at one time, however, it is not an order to do so.
According to Pentagon spokesperson Jonathan Hoffman, the order applies to units and individual members in the National Guard and Reserves and certain Individual Ready Reserve members who are normally in an inactive status.
Hoffman said that decisions about who may be activated are still being reviewed, but he added, "Generally, these members will be persons in Headquarters units and persons with high demand medical capabilities whose call-up would not adversely affect their civilian communities."
As of now, the Individual Ready Reserve contains 224,841 members, according to the Department of Defense, and nearly 11,000 of those members "have medical capabilities."
"This is a dynamic situation, we do not currently have a projected number of expected activations, but the Department is now fully authorized to make activations as needed," Hoffman said.
He also stressed that the departments would consult with state officials before using any National Gaurd Reserve Component units under the executive order.
Earlier this week, the Army called upon former service members to voluntarily rejoin and help in the military's pandemic response efforts. The Army said the initial response has been positive, with at least 14,6000 people expressing interest as of Friday.
FDA Authorizes Portable Test Kit That Can Detect COVID-19 in 5 Minutes
The FDA has approved the use of a new coronavirus test kit that can give positive results in as little as 5 minutes and negative results in 13, leaps faster than the hours and sometimes days laboratory tests normally take.
The tests are run on a lightweight and small portable device that can be used in emergency rooms, urgent care clinics, and even outside hospital walls.
Abbott, the medical device company that makes the kits, plans to send out 50,000 tests a day starting next week.
---
New Test Approved
The U.S. Food and Drug Administration gave Emergency Use Authorization to the medical device company Abbott for a new coronavirus test kit that gives results within minutes.
Abbott announced the news in a Friday press release, saying it plans to start delivering 50,000 tests a day beginning next week. The tests run on the company's ID NOW platform, a portable device about the size of a small toaster than weights only 6.6 pounds.
Its portability means it can be used directly in an emergency room or urgent care clinic and even, "outside the traditional four walls of a hospital in outbreak hotspots."
The company called it "the fastest available molecular point-of-care test for the detection of novel coronavirus(COVID-19), delivering positive results in as little as five minutes and negative results in 13 minutes."
Second Rapid Test to Be Approved by FDA
The approval from federal health officials means that regulators were satisfied with the test's validation data and are confident that its benefits outweigh any risk, like false positives or negatives.
The FDA's approval marks the seconds time it has green-lit a fast working test that could accelerate testing across the country. Last week, it approved a 45-minute rapid point of care test by the molecular diagnostics company Cepheid. However, that test is primarily intended for emergency rooms and hospitals, not doctors' officers or urgent care clinics.
Still, those turnaround times are leaps faster than the hours to days it takes most laboratory tests to bring results.
Medical Shortages Still Cause Concern
The approval of the Abbott test comes as cities across the nation battle with numbers of potential patients that surpass available tests and resources. Even with insufficient testing, the United States became the country with the largest number of reported cases of coronavirus on Thursday, exceeding China and Italy. By Friday, the U.S. hit more than 100,000 cases.
Many fear that shortages of other critical medical equipment, like masks and swabs, could stifle the new rapid test's impact. That's because the kit requires a swab sample collected from patients, and many health care facilities are running desperately low on the tools needed to safely collect those samples.
The Center for Disease Control issued guidance Tuesday that allows some patients to collect their own nasal swabs in health care facilities, in an effort to reduce the amount of protective equipment needed for health care workers.
On the opposite end, however, others note that fast and efficient testing can help medical professionals determine how much protective equipment they actually need to wear when interacting with a patient, as well as what kind of care to provide. Since this test can be done in a doctor's office, it could even potentially help diagnose patients with mild or asymptomatic cases of the virus and help stop them from unknowingly spreading it.
Experts also say drastically increasing testing capacity can help get the economy back on track sooner. With increased testing, measures like keeping everyone at home could be replaced with more targeted identification and isolation of those infected.
See what others are saying: (The Hill) (CNBC) (CNN)