Judge Rejects Juvenile Sentencing for 4 Michigan Teens in Fatal Rock Throwing Case
A judge in Michigan rejected juvenile sentencing on Tuesday for four teens who threw rocks off an overpass, killing 32-year-old Kenneth White in October 2017.
The judge noted that the teens laughed and joked about the death in Snapchat messages, and had throw objects from different locations between six to 10 times.
The teens now have until Aug. 20 to withdraw their guilty pleas and negotiate a new agreement if they choose to do so.
The fifth teen involved, who was 18 at the time of the incident and is the one specifically accused of throwing the rock that killed White, will be sentenced at a later time for second-degree murder.
---
Juveline Sentencing Rejected
Four Michigan teens who pleaded guilty to throwing rocks off a highway overpass, causing the death of a 32-year-old passenger below, may be sentenced as adults.
Genesee County Circuit Court Judge Joseph Farah rejected a motion on Tuesday to send the teens to a juvenile detention center. Attorney's for the teens now have to decide whether to accept adult sentencing, head to trial, or reject the judge's revision to the plea agreement and negotiate a new deal with the Genesee County Prosecutor's Office.
Trevor Gray, 16, Alexzander Miller, 17, Mikadyn Payne, 17, and Mark Sekelsky, 18, of Clio, Michigan, have until Aug. 20 to decide what they want to do next.
Death of Kenneth White
Five teens in total were arrested for their role in the death of Kenneth A. White. On October 18, 2017, the four juveniles and one other teen were throwing rocks from a highway overpass when one of them hit White.
White was sitting in the passenger seat of a van on his way home from work when the 6-pound rock smashed through the windshield, hitting him in the face and then the chest. He was transported to Hurley Medical Center in Flint and later pronounced dead.
"The injuries are horrific. … I gasped out (when I saw them)" Genesee County Prosecutor David Leyton said during the teens' trial in 2017.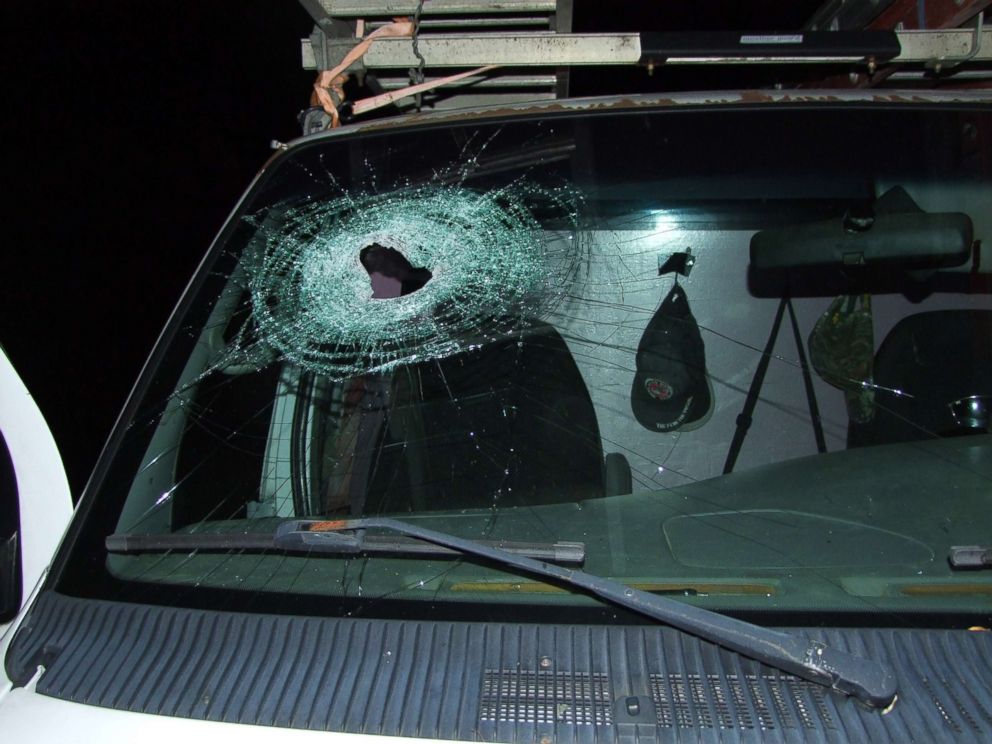 About 20 rocks in total were found on the highway, according to local police. The teens also threw tire irons, mufflers, and even a shopping cart at different times and areas.
All five participants were initially charged with crimes including second-degree murder, conspiracy to commit second-degree murder, six felony counts of malicious destruction of property and two misdemeanor counts of malicious destruction of property.
The fifth teen, 19-year-old Kyle Anger, is the one specifically accused of throwing the rock that killed White. He pleaded guilty to second-degree murder in exchange for other charges to be dropped. Anger was over 18 at the time of the incident and will be sentenced to prison at a later time.
The four other teens submitted a deal to have the second-degree murder charge changed to manslaughter, along with having the other charges dropped, according to MLive. However, that had not yet been accepted by the court.
The Judge's Decision
Judge Farah went against the advice of several professional juvenile experts who testified at a hearing in the fall. Each recommended juvenile sentencing, according to ABC News.
However, in court Farah said that while none of the four teens had actually thrown the fatal rock, none of them had been forced to be there. "The seriousness of the alleged offense is as high as it gets," he said in the court Tuesday. "This is a homicide."
Farah pointed to two days of Snapchat messages that were sent between the teens, noting that several of them read "LOL," "LMAO," "HAHA," even after learning that they had killed someone.
"We could possibly go to prison for life from this," Farah read from the messages. "You guys knew what could've happened. And, if we do get caught — which we won't — it's our own fault. LOL. We gotta take our punishment. Lay low for a while and everything will be fine."
According to the judge, after news reports said that White had died, the teens' Snapchat conversation mentioned getting teardrop tattoos to commemorate the crying of his family.
"Well, maybe, we should (get) tattoos with 'Crip Gang' next to the tattoo," the judge read.
Farah also referred back to testimony that the teens had dropped items from overpasses between six to 10 times before, damaging at least six vehicles.
"What was the purpose? Wait till the road cleared and drop to see it break? No. (It was) to make contact in this (game) called 'Overpassing.' To be able to say aloud 'Dinger!' when a car was hit," he said.
"This was not a situation where someone drove by and saw a rock on the side of the overpass and said, 'Hey, let's throw this rock over and keep on going,'" Farah added. "There wasn't one event, nor was it done at a single location. The rocks and other items were gathered from other locations, loaded in a trunk and then driven to overpasses to throw them over."
Responses
The victim's mother, Teresa Simpson, said after the hearing that she was pleased with the judge's decision.
"I'm so glad that Kenneth is getting the justice he deserves. … My prayers were answered," Simpson told WXYZ-TV in Detroit. "I'm ecstatic over the decision that was made today. … It's what we all wanted for him."
Meanwhile, lawyers for the teens said they were disappointed with the ruling.
"We're back to the drawing board. Each one of the four boys has a mechanism within that plea that they have the option to withdraw the plea should the court not have granted juvenile sentencing. So the court made its decision, not granting juvenile sentencing, and I'm sure all the lawyers are gonna go back to the drawing board," said lawyer Michael Manley.
Anti-Vaxxer Cited for Assaulting CA Vaccine Lawmaker on Facebook Live
An anti-vaxxer was cited for suspicion of assault after live-streaming himself pushing California state Senator Richard Pan, an author of prominent vaccination bills in the state.
Pan and other legislators condemned the move, saying that disagreeing on legislation is not a reason to resort to violence.
Kenneth Austin Bennett, the man who pushed Pan, has 4,500 followers on Facebook, where he often posts anti-vax rhetoric. He attempted to run for Pan's seat in 2018 but failed to appear on the ballot. 
---
Bennett Pushes Senator Pan
An anti-vaccine supporter live-streamed himself shoving California state Sen. Richard Pan, who authored influential vaccine legislation.
According to the Los Angeles Times, Kenneth Austin Bennett was cited with suspicion of assault on Wednesday. Bennett live-streamed the incident on his Facebook page, where he frequently posts anti-vax rhetoric along with other conspiracy theories to his 4,500 followers.
Bennett's video opens with him walking around Sacramento near the California State Capitol. He talks to his followers about religion, conspiracy theories, and "Lucifer establishing his kingdom" in Sacramento for the first nine minutes of the video. He then runs into Pan.
"Oh my goodness you guys, what are the chances of this?" Bennett asks. "Right here, Right here…What are the chances of this, Senator Pan?"
Bennett then follows Pan down the street and asks him about remarks he made in 2015 about water being the most dangerous ingredient in vaccines. He continues to press the senator on other vaccine-related topics, to which Pan minimally responds. Eventually, Pan laughs and says, "Oh boy" after Bennett asks him a question about water being a toxin.
Bennett then pushes Pan and says, "Yeah, I pushed you. I pushed you. I pushed you."
He walks away from the scene and says, "I probably should not have done that." He returns to Pan, who appears to be calling the police with his colleagues. They eventually walk into a building, and Bennett continues to address his camera outside.
He claims he pushed the senator for "lying" about vaccine information.
"If he got what he deserved he would be hanging for treason," he later says about Pan.
Responses to Incident
Bennett acknowledged the situation on his Facebook page during a second live stream on Wednesday. In the hour-long stream, he further condemned Sen. Pan, and also spoke on other conspiracy theories about Facebook and the 2018 wildfires in Paradise, California.
"I was charged with assaulting Richard Pan, but also had the chance to further expose the corrupt politician," he captioned the video.
He also told local news outlet KCRA that he did not regret pushing Pan.
In a statement on Thursday, Pan said the incident was a result of rhetoric spread by anti-vaccine extremists.
"Bullying, threats, and violence should not be acceptable in civil discourse and policy making," he said. "Yesterday's assault was incited by violent rhetoric and imagery employed by anti-vaccine extremists. Anti-vaxxers have attempted to dehumanize me and other public health advocates on social media while making death threats."
"Mr. Bennett is not a lone actor, but a person who accepted the violent rhetoric of the anti-vax movement and acted upon it by assaulting me on a public street while live streaming the attack on Facebook," Pan added. "Social media companies also need to accept responsibility for giving a platform for this violence and hate."
Others also supported Pan, including California Senate President pro Tempore Toni G. Atkins, who said that disagreeing on legislation is "no reason to resort to aggressive and harmful behavior."
"My colleagues and I will do all we can to aid those investigating this matter and protect the elected leaders, staff, and visitors who work at and tour our Capitol each day," she added in a statement.
History Between Bennett and Pan
Sen. Pan was a pediatrician prior to becoming a state lawmaker. He authored a bill that passed in 2015 that removed religious and personal beliefs as exemptions for school children receiving vaccines. He is currently working on legislation that aims to combat illegitimate medical exemptions.
In 2018, Bennett ran to unseat him as the senator for California's sixth district. He was unable to appear on the ballot and ran as a write-in.
On his campaigns website, he claimed that the bills Pan had worked on were "reckless and destructive to our children's future."
He also said one of his campaign promises was to "protect children from forced vaccinations."
Philadelphia Man Commits Suicide After Being Harassed for Dating Trans Woman
A Philadelphia man named Maurice Willoughby committed suicide after he was harassed by men on the street for dating a transgender woman.
A video of that confrontation was shared on social media, causing the 20-year-old to face more bullying online, according to his friends.
#RipReese began trending on Twitter after news of his death broke, with many mourning Willoughby and confronting LGBTQ issues within the black community.
---
Video Goes Viral
A 20-year-old Philadelphia man committed suicide after a video spread online showing men harassing him on the street for dating a transgender woman.
The video shows several men verbally berating Maurice "Reese" Willoughby with homophobic comments as he defends his relationship in front of them.
According to his friends, Willoughby already lived with depression and struggled with it more as the video gained traction on the internet. They said the constant harassment he had experienced online played a role in his suicide, though his girlfriend, Faith Palmer, also referenced a drug addiction in relation to his death.
"Over the weekend Reese killed himself after the relentless taunting, bullying, mocking and disrespect he received after publicly proclaiming his love for his girl," said a person who had been friendly with Willoughby in the past.
"And you know what breaks me about this? Is that when it comes to discussing the weight of transphobia and homophobia in the black community, especially amongst those who should speak up on it, all you hear is crickets? It's no secret that every community has its issues no matter how beautiful the painted picture is, but damn we oppressed people are still out here oppressing our own people?"
"That was my friend and everyone who took part in bulling him need to be in jail," another friend Amethyst Jade Lee said in a Facebook post.
Prior to his death, Willoughby reportedly made a Facebook post defending Palmer.
"Y'all can say whatever about faith," he wrote, according to Aazios.com, "I really don't care if she not passable I don't care if she wasn't born a woman she is a woman to me & I love her flaws that's what makes her faith if you heard her story it's motivating….. I'm happy you should be happy for me"
Notably, Palmer also posted to Facebook, remembering Willoughby's openness about their relationship.
"HE WASNT SCARED OF ANYONE SO HE FOUGHT BACK FOR US !" she wrote.
Online Reaction
Since his death, people online have shared their thoughts on the situation, many addressing what they believe to be a disconnect between straight and LGBTQ+ individuals in the African American community.
"There's a HUGE issue highlighted in the video of Reese being harrassed," one Twitter user wrote. "And that's that the black community needs to address the RAMPANT homophobia and transphobia so embedded in our culture. Because THAT shit is detrimental. #RipReese"

According to the Human Rights Campaign, African American trans women face the highest rates of fatal violence within the LGBTQ+ community.
That reality has become more prominent in recent months after two transgender women in Dallas, Texas were killed earlier this year.
Because of the violence trans women face, many posthumously poured praise for Willoughby, saying he was brave for being open about his relationship in spite of all the backlash. That included singer Kehlani, who identifies as queer, as well as several others.
"RIP REESE THANK U FOR LOVING HER OUT LOUD," the singer wrote in all caps.
Others sought to criticize the men who harassed Willoughby in the video.
"My heart breaks for Reese, for his girlfriend, and their loved ones," Pose producer Janet Mock said. "These men screaming at him are beyond fragile, standing on a shaky altar of masculinity, too insecure to do what Reese did: Unapologetically love a woman who everyone says is unworthy of love."
If you or someone you know may be contemplating suicide, call the National Suicide Prevention Lifeline at 1-800-273-8255 or text TALK to 741741 for free, anonymous 24/7 crisis support in the US from the Crisis Text Line. Other international suicide helplines can be found at befrienders.org.
"Storm Area 51" Event Pushes Small Nevada County to Draft Emergency Declaration
Officials in the remote Nevada area of Lincoln County have pre-signed an emergency declaration and are making preparations ahead of events next month tied to the "Storm Area 51" Facebook post.
The attention over the viral event set for Sept, 20 prompted its creator to quickly plan a music festival dubbed "Alienstock" in a small area with a population of only about 50. 
Officials fear that at least 10,000 if not more may show up for either event, which could result in issues including gas and water shortages, dropped cellphone and internet services, and car pile-ups, along with overcrowded medical centers and campsites.
---
How "Storm Area 51" Spawned "Alienstock"
A rural county in Nevada has voted to pre-sign an emergency declaration and has begun taking safety precautions in anticipation of the crowds that may appear because of the now-viral "Storm Area 51" Facebook event. 
Over 2 million people RSVP'd to the gathering on Facebook set for Sept. 20 and officials in Lincoln County fear that some might actually show up. The Facebook event invites people to "meet up in Rural Nevada" to "see them aliens" in the highly classified U.S. Air Force facility.
Area 51 is the subject of several conspiracy theories, largely due to its secretive nature and the lack of information the U.S. government releases about it. Some claim the site holds UFOs and others even believe time travel is being developed there. 
While many people signed on to raid the area, most were presumably only in it for laughs. However, the attention eventually prompted the brains behind the event page, Matthew Roberts, to plan a music festival in Rachel, Nevada named "Alienstock." 
The free festival is being funded primarily through donations and with only a few more weeks left before the gathering, many are already drawing comparisons to notoriously failed events like the Fyre Festival and TanaCon. The website for Alienstock also provides little details and tells guests to expect "Live Music, Great Food, & a Camping Experience!"
Still, locals in the county say they are expecting at least 10,000 people to show up, whether it be with intentions to attend the festival or to storm the military base. Officials are working quickly to plan for the crowds, especially since festival organizers actually obtained a permit to host the event. The county also approved a concurrent event for the Alien Research Center in Hiko, about 45 minutes away from Rachel.
"Oh, we're taking this seriously," Lincoln County Commission Chairman Varlin Higbee told the Las Vegas Review-Journal. "With the possibility of 35,000 to 40,000 people showing up, yeah, this is serious."
"We passed this with the caveat that this may or may not happen," said District D Commissioner Kevin Phillips. "We're just trying to do the best we can to prepare for something we know not of. We have no pickin' idea what we're going to face – if anything." 
Not Enough Resources in Rural Lincoln County
Lincoln county only has about 5,200 residents. In fact, Rachel, Nevada, the closest residential town to Area 51, has a population of only about 50 people.
Residents and officials fear that the county does not have the resources to deal with a huge influx of visitors who would potentially crowd gas stations, medical centers, and internet and phone services. 
"The cellphone system is going to go down," Chairman Higbee said. "You get more than a couple of hundred people there, and it's going to crash. Cell service won't be available."
"Our infrastructure is to handle 5,000 people. All of a sudden you got over 30,000 people standing on your infrastructure — yeah, something's got to give," he later told the Daily News.
Officials said roads will likely pile up with cars or face accidents, which will be even more difficult to deal with if phone services are disrupted. 
Eric Holt, county emergency manager, asked commissioners to "pre-sign" the emergency declaration. According to Higbee, the declaration will allow Lincoln County to seek financial help and emergency personnel from the state.
"We don't know where or how far our resources are going to go," he said. "A lot of it is equipment and financing. The county only has so much money to deal with."
The county is also making efforts to work with the state and neighboring counties in anticipation of the inflow.
County Sheriff Kerry Lee said Tuesday he was meeting with state emergency planning officials to discuss logistics for the events. County officials have also met with leaders from the Las Vegas Metropolitan Police Department in Clark County, the sheriffs of White Pine and Nye counties, and the Nevada Highway Patrol.
The permits approved for the events are conditional upon each group behind them coming forward with their complete plans at the Sept. 3 commission meeting.
"They have to have their security, medical, parking plans and few other things (ready)," Higbee explained to the Journal. "They have to have it in by then. It has to be cut and dry. It actually helps the county because now you got a face and a name to the event, instead of just turning people loose."
In the meantime, Higbee is warning visitors to come prepared. "There are no restaurants, there's no water, probably no gas, because the gas station's going to run out," Higbee told New York Daily News. "So come prepared, that's all I can say."
He also warned festivalgoers to not attempt to breach Area 51 and said there will be consequences for doing so. Air Force spokeswoman Laura McAndrews warned those thinking of actually storming the base in a statement to USA TODAY as well.
"The Nevada Test and Training Range is an area where the Air Force tests and trains combat aircraft," McAndrews said. "Any attempt to illegally access military installations or military training areas is dangerous."
See what others are saying: (AP News) (USA Today) (NY Daily News)