Judge Rejects Juvenile Sentencing for 4 Michigan Teens in Fatal Rock Throwing Case
A judge in Michigan rejected juvenile sentencing on Tuesday for four teens who threw rocks off an overpass, killing 32-year-old Kenneth White in October 2017.
The judge noted that the teens laughed and joked about the death in Snapchat messages, and had throw objects from different locations between six to 10 times.
The teens now have until Aug. 20 to withdraw their guilty pleas and negotiate a new agreement if they choose to do so.
The fifth teen involved, who was 18 at the time of the incident and is the one specifically accused of throwing the rock that killed White, will be sentenced at a later time for second-degree murder.
---
Juveline Sentencing Rejected
Four Michigan teens who pleaded guilty to throwing rocks off a highway overpass, causing the death of a 32-year-old passenger below, may be sentenced as adults.
Genesee County Circuit Court Judge Joseph Farah rejected a motion on Tuesday to send the teens to a juvenile detention center. Attorney's for the teens now have to decide whether to accept adult sentencing, head to trial, or reject the judge's revision to the plea agreement and negotiate a new deal with the Genesee County Prosecutor's Office.
Trevor Gray, 16, Alexzander Miller, 17, Mikadyn Payne, 17, and Mark Sekelsky, 18, of Clio, Michigan, have until Aug. 20 to decide what they want to do next.
Death of Kenneth White
Five teens in total were arrested for their role in the death of Kenneth A. White. On October 18, 2017, the four juveniles and one other teen were throwing rocks from a highway overpass when one of them hit White.
White was sitting in the passenger seat of a van on his way home from work when the 6-pound rock smashed through the windshield, hitting him in the face and then the chest. He was transported to Hurley Medical Center in Flint and later pronounced dead.
"The injuries are horrific. … I gasped out (when I saw them)" Genesee County Prosecutor David Leyton said during the teens' trial in 2017.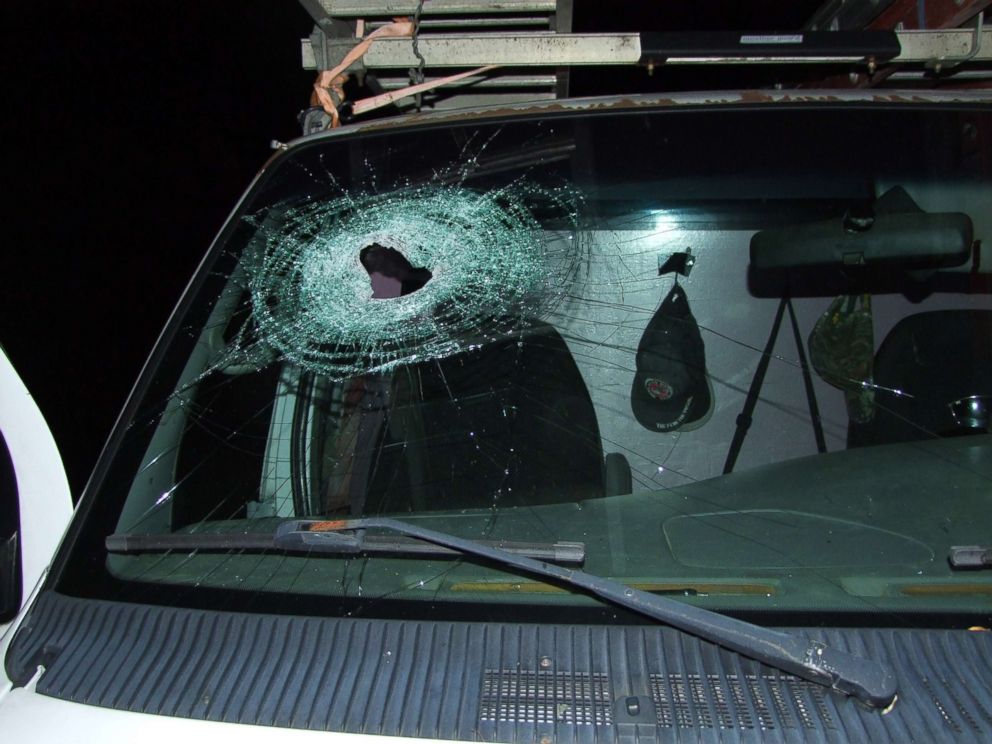 About 20 rocks in total were found on the highway, according to local police. The teens also threw tire irons, mufflers, and even a shopping cart at different times and areas.
All five participants were initially charged with crimes including second-degree murder, conspiracy to commit second-degree murder, six felony counts of malicious destruction of property and two misdemeanor counts of malicious destruction of property.
The fifth teen, 19-year-old Kyle Anger, is the one specifically accused of throwing the rock that killed White. He pleaded guilty to second-degree murder in exchange for other charges to be dropped. Anger was over 18 at the time of the incident and will be sentenced to prison at a later time.
The four other teens submitted a deal to have the second-degree murder charge changed to manslaughter, along with having the other charges dropped, according to MLive. However, that had not yet been accepted by the court.
The Judge's Decision
Judge Farah went against the advice of several professional juvenile experts who testified at a hearing in the fall. Each recommended juvenile sentencing, according to ABC News.
However, in court Farah said that while none of the four teens had actually thrown the fatal rock, none of them had been forced to be there. "The seriousness of the alleged offense is as high as it gets," he said in the court Tuesday. "This is a homicide."
Farah pointed to two days of Snapchat messages that were sent between the teens, noting that several of them read "LOL," "LMAO," "HAHA," even after learning that they had killed someone.
"We could possibly go to prison for life from this," Farah read from the messages. "You guys knew what could've happened. And, if we do get caught — which we won't — it's our own fault. LOL. We gotta take our punishment. Lay low for a while and everything will be fine."
According to the judge, after news reports said that White had died, the teens' Snapchat conversation mentioned getting teardrop tattoos to commemorate the crying of his family.
"Well, maybe, we should (get) tattoos with 'Crip Gang' next to the tattoo," the judge read.
Farah also referred back to testimony that the teens had dropped items from overpasses between six to 10 times before, damaging at least six vehicles.
"What was the purpose? Wait till the road cleared and drop to see it break? No. (It was) to make contact in this (game) called 'Overpassing.' To be able to say aloud 'Dinger!' when a car was hit," he said.
"This was not a situation where someone drove by and saw a rock on the side of the overpass and said, 'Hey, let's throw this rock over and keep on going,'" Farah added. "There wasn't one event, nor was it done at a single location. The rocks and other items were gathered from other locations, loaded in a trunk and then driven to overpasses to throw them over."
Responses
The victim's mother, Teresa Simpson, said after the hearing that she was pleased with the judge's decision.
"I'm so glad that Kenneth is getting the justice he deserves. … My prayers were answered," Simpson told WXYZ-TV in Detroit. "I'm ecstatic over the decision that was made today. … It's what we all wanted for him."
Meanwhile, lawyers for the teens said they were disappointed with the ruling.
"We're back to the drawing board. Each one of the four boys has a mechanism within that plea that they have the option to withdraw the plea should the court not have granted juvenile sentencing. So the court made its decision, not granting juvenile sentencing, and I'm sure all the lawyers are gonna go back to the drawing board," said lawyer Michael Manley.
Derek Chauvin and 3 Others Ex-Officers Indicted on Civil Rights Charges Over George Floyd's Death
The Justice Department filed federal criminal charges Friday against Derek Chauvin and three other former Minneapolis police officers after a grand jury indicted them for violating the civil rights of George Floyd.
The indictment charges Chauvin, J. Alexander Kueng, and Tou Thao for violating Floyd's right to be free from unreasonable seizure and unreasonable force. All three, as well as Thomas Lane, were also charged with failing to provide medical care to Floyd.
Chauvin was additionally hit with two counts in a separate indictment, which claims he violated the civil rights of a 14-year-old boy who he allegedly held by the neck and repeatedly beat with a flashlight during a 2017 arrest.
Chauvin was already convicted last month of murder and manslaughter over Floyd's death, which Kueng, Lane, and Thao were previously charged for allegedly aiding and abetting.
---
Former Minneapolis Officers Hit With Federal Charges
A federal grand jury indicted Derek Chauvin and three other former Minneapolis police officers for violating George Floyd's civil rights during the arrest that lead to his death last summer, the Justice Department announced Friday.
Chauvin, specifically, was charged with violating Floyd's right to be free from unreasonable seizure and unreasonable force by a police officer. Ex-officers J. Alexander Kueng and Tou Thao were indicted for willfully failing to intervene in Chauvin's unreasonable use of force.
All three men, as well as former officer Thomas Lane, face charges for failing to provide medical care to Floyd, "thereby acting with deliberate indifference to a substantial risk of harm to Floyd," according to the indictment.
In a second, separate indictment, Chauvin was hit with two counts of civil rights violations related to the arrest of a 14-year-old boy in September 2017. During that incident, Chauvin allegedly held the boy by the neck and hit him with a flashlight repeatedly.
The announcement, which follows a months-long investigation by the Justice Department's Civil Rights Division, comes just over two weeks after Chauvin was found guilty of three state charges of murder and manslaughter in Floyd's death.
He is currently awaiting his June 25 sentencing in a maximum-security prison.
State-Level Charges
Kueng, Lane, and Thao all face state charges of aiding and abetting second-degree murder and manslaughter.
Kueng and Lane were the first officers to responded to a call from a convenience store employee who claimed that Floyd used a counterfeit $20 bill. Body camera footage showed Floyd sitting in the car and Lane drawing his gun as the officers ordered him out and handcuffed him.
Floyd can be heard pleading with the officers not to shoot him.
Shortly after, Chauvin and Thao arrived, and the footage shows Chauvin joining the other officers in their attempt to put Floyd into the back of a police car. In the struggle, the officers forced Floyd to the ground, with Chauvin kneeling on his neck while Kueng and Lane held his back and legs.
Meanwhile, in cellphone footage taken at the scene, Thao can be seen ordering bystanders to stay away, and later preventing a Minneapolis firefighter from giving Floyd medical aid.
Their trial is set to begin in late August, and all three are free on bond. The new federal charges, however, will likely be more difficult to prove.
According to legal experts, prosecutors will have to show beyond reasonable doubt that the officers knew that they were depriving Floyd of his constitutional rights but continued to do so anyway.
The high legal standard is also hard to establish, as officers can easily claim they acted out of fear or even poor judgment.
Caitlyn Jenner Says Her Friends Are Fleeing California Because of the Homeless Population
California gubernatorial candidate Caitlyn Jenner sparked outrage after an interview with Sean Hannity on Wednesday that was filmed from her Malibu airplane hangar. 
"My friends are leaving California," she said. "My hangar, the guy right across, he was packing up his hangar and I said, 'Where are you going?' And he says, 'I'm moving to Sedona, Arizona. I can't take it anymore. I can't walk down the streets and see the homeless.'"
Many criticized Jenner for sounding out of touch and unsympathetic to real issues in California and suggested that she prioritize helping the homeless population rather than incredibly wealthy state residents.
---
Caitlyn Jenner's Remarks
California gubernatorial candidate Caitlyn Jenner sparked outrage on Wednesday after suggesting that wealthy people are fleeing the state because of its homeless population.
Jenner sat down for an interview in her Malibu airplane hangar with Fox News' Sean Hannity. Jenner is one of the handful of Republicans aiming to unseat current Governor Gavin Newsom in a recall election in the fall. While polls show that most Californians do not support recalling Newsom, the conservative-led movement to do so gained enough signatures to land on the ballot.
"My friends are leaving California," Jenner claimed during the interview. "My hangar, the guy right across, he was packing up his hangar and I said, 'where are you going?' And he says, 'I'm moving to Sedona, Arizona, I can't take it anymore. I can't walk down the streets and see the homeless.'"
"I don't want to leave," she continued. "Either I stay and fight, or I get out of here."
Jenner's Remarks Prompt Backlash
Her remarks were criticized online by people who thought Jenner sounded unsympathetic and out of touch to the real issues in the state. Many found it hypocritical that Jenner has slammed Newsom for being elite but was so concerned for wealthy people who don't like having to see unhoused residents on the street.
Rep. Ted Lieu (D-Ca.) called Jenner out on Twitter for seemingly fighting for a small percentage of Californians.
"Unlike you, Dems are focused on the 99% of people who don't own planes or hangars," he wrote. "And you know what's going to help reduce homelessness? The #AmericanRescuePlan, which your party opposed."
Others suggested she prioritize directly addressing the homeless situation.
"If you don't like the homeless situation, instead of hiding in your PRIVATE PLANE HANGAR, your campaign should be about helping them," actress Merrin Dungey said. "They don't like their situation either. Your lifelong privilege is showing. It's not a good color."
Jenner, an Olympic gold medalist and reality star, is one of the most prominent transgender Americans. Because homelessness is such a common issue within the trans community, some were frustrated she was not using her campaign to fix the situation, and rather used it to complain about how it impacted her wealthy friends.
Derek Chauvin Seeks New Trial In George Floyd Murder Case
A lawyer for Derek Chauvin, the former Minneapolis police officer who was convicted of murdering George Floyd, filed a motion Tuesday for a new trial.
Among other complaints about Chauvin's conviction, the attorney cited "prosecutorial and jury misconduct; errors of law at trial; and a verdict that is contrary to law."
He also claimed the court "abused its discretion" by not granting a change of venue or sequestering the jury for the duration of the trial, arguing that publicity before and during it threatened its fairness. 
John Stiles, deputy chief of staff for Minnesota Attorney General Keith Ellison, told CNN, "The court has already rejected many of these arguments and the State will vigorously oppose them."
---
Derek Chauvin's Attorney Files Motion for New Trial
Former Minneapolis police officer Derek Chauvin is officially asking for a new trial, hoping to overturn his conviction for the murder of George Floyd.
His attorney, Eric Nelson, filed court paperwork Tuesday laying out a number of errors he believes were made during Chauvin's legal proceedings that violated his constitutional rights to due process and a fair trial. Nelson cited alleged issues, including, "prosecutorial and jury misconduct; errors of law at trial; and a verdict that is contrary to law."
The filing did not cite any specific examples of jury misconduct, but Nelson also argued that the court "abused its discretion" by not granting a change of venue or sequestering the jury for the duration of the trial.
The court proceedings took place in the same city where Floyd was killed and where protesters drew national attention by calling for justice in his name. As a result, Nelson claimed that publicity before and during the trial threatened its fairness. He also argued that a defense expert witness was intimidated after he testified, but before the jury deliberated.
His filing asks for a hearing to impeach the guilty verdict, in part, on the grounds that the 12 jurors "felt threatened or intimidated, felt race-based pressure during the proceedings, and/or failed to adhere to instructions during deliberations."
It's unclear exactly what will come of this request, but John Stiles, deputy chief of staff for Minnesota Attorney General Keith Ellison, told CNN, "The court has already rejected many of these arguments and the State will vigorously oppose them."
For instance, a judge previously denied Chauvin's request to move the trial in March, saying, "I don't think there's any place in the state of Minnesota that has not been subjected to extreme amounts of publicity on this case."
See what others are saying: (CNN) (NPR) (CBS)