Judge Rejects Juvenile Sentencing for 4 Michigan Teens in Fatal Rock Throwing Case
A judge in Michigan rejected juvenile sentencing on Tuesday for four teens who threw rocks off an overpass, killing 32-year-old Kenneth White in October 2017.
The judge noted that the teens laughed and joked about the death in Snapchat messages, and had throw objects from different locations between six to 10 times.
The teens now have until Aug. 20 to withdraw their guilty pleas and negotiate a new agreement if they choose to do so.
The fifth teen involved, who was 18 at the time of the incident and is the one specifically accused of throwing the rock that killed White, will be sentenced at a later time for second-degree murder.
---
Juveline Sentencing Rejected
Four Michigan teens who pleaded guilty to throwing rocks off a highway overpass, causing the death of a 32-year-old passenger below, may be sentenced as adults.
Genesee County Circuit Court Judge Joseph Farah rejected a motion on Tuesday to send the teens to a juvenile detention center. Attorney's for the teens now have to decide whether to accept adult sentencing, head to trial, or reject the judge's revision to the plea agreement and negotiate a new deal with the Genesee County Prosecutor's Office.
Trevor Gray, 16, Alexzander Miller, 17, Mikadyn Payne, 17, and Mark Sekelsky, 18, of Clio, Michigan, have until Aug. 20 to decide what they want to do next.
Death of Kenneth White
Five teens in total were arrested for their role in the death of Kenneth A. White. On October 18, 2017, the four juveniles and one other teen were throwing rocks from a highway overpass when one of them hit White.
White was sitting in the passenger seat of a van on his way home from work when the 6-pound rock smashed through the windshield, hitting him in the face and then the chest. He was transported to Hurley Medical Center in Flint and later pronounced dead.
"The injuries are horrific. … I gasped out (when I saw them)" Genesee County Prosecutor David Leyton said during the teens' trial in 2017.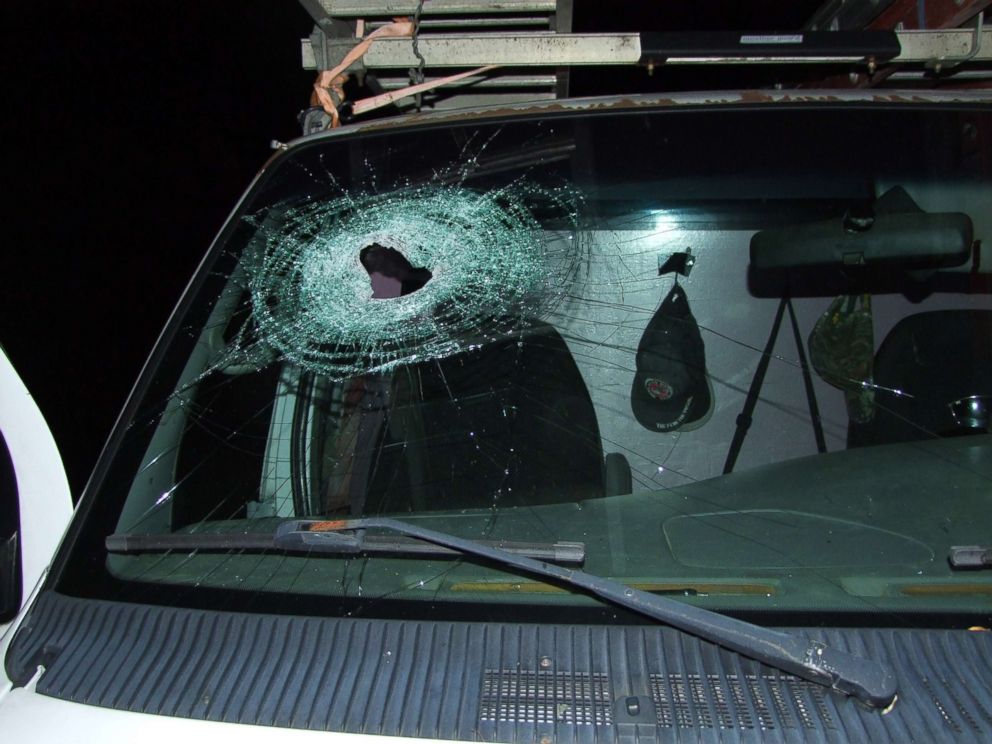 About 20 rocks in total were found on the highway, according to local police. The teens also threw tire irons, mufflers, and even a shopping cart at different times and areas.
All five participants were initially charged with crimes including second-degree murder, conspiracy to commit second-degree murder, six felony counts of malicious destruction of property and two misdemeanor counts of malicious destruction of property.
The fifth teen, 19-year-old Kyle Anger, is the one specifically accused of throwing the rock that killed White. He pleaded guilty to second-degree murder in exchange for other charges to be dropped. Anger was over 18 at the time of the incident and will be sentenced to prison at a later time.
The four other teens submitted a deal to have the second-degree murder charge changed to manslaughter, along with having the other charges dropped, according to MLive. However, that had not yet been accepted by the court.
The Judge's Decision
Judge Farah went against the advice of several professional juvenile experts who testified at a hearing in the fall. Each recommended juvenile sentencing, according to ABC News.
However, in court Farah said that while none of the four teens had actually thrown the fatal rock, none of them had been forced to be there. "The seriousness of the alleged offense is as high as it gets," he said in the court Tuesday. "This is a homicide."
Farah pointed to two days of Snapchat messages that were sent between the teens, noting that several of them read "LOL," "LMAO," "HAHA," even after learning that they had killed someone.
"We could possibly go to prison for life from this," Farah read from the messages. "You guys knew what could've happened. And, if we do get caught — which we won't — it's our own fault. LOL. We gotta take our punishment. Lay low for a while and everything will be fine."
According to the judge, after news reports said that White had died, the teens' Snapchat conversation mentioned getting teardrop tattoos to commemorate the crying of his family.
"Well, maybe, we should (get) tattoos with 'Crip Gang' next to the tattoo," the judge read.
Farah also referred back to testimony that the teens had dropped items from overpasses between six to 10 times before, damaging at least six vehicles.
"What was the purpose? Wait till the road cleared and drop to see it break? No. (It was) to make contact in this (game) called 'Overpassing.' To be able to say aloud 'Dinger!' when a car was hit," he said.
"This was not a situation where someone drove by and saw a rock on the side of the overpass and said, 'Hey, let's throw this rock over and keep on going,'" Farah added. "There wasn't one event, nor was it done at a single location. The rocks and other items were gathered from other locations, loaded in a trunk and then driven to overpasses to throw them over."
Responses
The victim's mother, Teresa Simpson, said after the hearing that she was pleased with the judge's decision.
"I'm so glad that Kenneth is getting the justice he deserves. … My prayers were answered," Simpson told WXYZ-TV in Detroit. "I'm ecstatic over the decision that was made today. … It's what we all wanted for him."
Meanwhile, lawyers for the teens said they were disappointed with the ruling.
"We're back to the drawing board. Each one of the four boys has a mechanism within that plea that they have the option to withdraw the plea should the court not have granted juvenile sentencing. So the court made its decision, not granting juvenile sentencing, and I'm sure all the lawyers are gonna go back to the drawing board," said lawyer Michael Manley.
Conservatives are Mad at "Woke" Xbox for Minor Climate-Related Updates
The fury comes after Xbox announced it was slightly altering existing consoles to better utilize and save energy.
---
Same War, New Battlefield
Mere days after M&M canceled their "spokescandies" due to backlash from the right, led largely by Fox News' Tucker Carlson, conservatives have found a new front for their ongoing culture war: Xbox.
Carlson spent months complaining that small character redesigns were "woke" because they made the animated anthropomorphized M&M's — in his own words — "less sexy." His campaign finally proved successful on Monday when the company announced it would be doing away with the spokescandies and replacing them with actress Maya Rudolph.
Conservatives, now facing a sudden dearth of non-issues to complain about, quickly found a new issue to rage against. Xbox announced in a blog post earlier this month that it is making minor updates to lower its environmental impact as part of an effort to reach Microsoft's goal of being carbon-negative by 2030.
Now, instead of having an Xbox wake up to update games, apps, and software during random times of the night, it will do that at a time of night when a user's local energy grid is generating the most power it can from renewable sources.
Xbox also said it would automatically update some older consoles to a power-saving mode that aims to reduce electricity consumption when it is turned off — a feature that is already the default on newer consoles.
According to The Verge, the only difference for users is that an Xbox in power-saving mode takes around 15 seconds to boot up instead of doing so immediately as the console does in "sleep" mode. The change is a small price to pay for what the outlet described as "significant" energy savings.
Xbox Under Fire
To many leading conservative voices, the minimal shifts were just another example of "woke" culture.
While discussing M&M's spokescandies Tuesday morning, "Fox and Friends" co-host Ainsley Earhardt brought up Xbox's new changes with Fox radio host Jimmy Failla.
"So Xbox has also announced that they're going woke too, you know, because of climate change," Earhardt said.
"I mean, it's crazy what they're doing, but we understand what this is. It's not that it's actually going to offset emissions, okay — the level of reduction is infinitesimal,"  Failla claimed, without evidence. "But they're trying to recruit your kids into climate politics at an earlier age; make them climate conscious now."
"Yeah, I didn't think of that — you're right, they're going after the children," Earhardt agreed, despite the fact that internal data from Microsoft shows just around 10% of Xbox owners are under the age of 18.
Other prominent conservatives also did their part to bait Americans into anger on social media, including America's Foundation, which posted a tweet stating that "the woke brigade is after video games."
The post linked an article from the right-wing website TheBlaze, which asserted that "Xbox will force gamers to power down to fight climate change." That, however, is false — Xbox has said users can switch back and change the settings any time they want
Still, top lawmakers continued to share the article and spread its false claims, including Sen. Ted Cruz (R-Tx.).
"First gas stoves, then your coffee, now they're gunning for your Xbox," he wrote in the post, which was flagged by Twitter and given an "added context" warning.
The same warning, however, was not placed in a very similar post by Rep. Troy Nehls (R-Tx.), who also shared the article.
"They want to take your guns. They want to take your gas stoves. And now they want to take your Xbox. What's next?" he wrote.
Washington State Launches Investigation Into Abuse at Private Special Ed. Schools
Allegations include staff kicking a fourth-grader and dragging a child with autism around by his leg.
---
Abuse Allegations
Washington State's Office of Superintendent of Public Instruction (OSPI) has launched an investigation into a system of private schools for kids with disabilities after ProPublica and the Seattle Times reported on allegations of abuse.
The series of articles focused on Northwest School of Innovative Learning (NWSOIL). NWSOIL is a set of private schools that serve 500 Washington public school students with serious disabilities. ProPublica and the Seattle Times found years of complaints from parents and school districts against NWSOIL alleging abuse, overuse of isolation rooms, and unqualified aides teaching instead of certified professionals.
One district claimed NWSOIL staff kicked a fourth-grader. Another alleged that a child with autism was dragged around by his thigh.
Many former NWSOIL employees also claim that they were pressured by their parent company to to enroll more students and skimp on basic resources, like staffing.
Investigation Launched
In a seven-page letter, OSPI reminded NWSOIL of its authority to revoke or suspend a school's approval, meaning that it could shut NWSOIL down. 
"Given the serious nature of the allegations made in the articles, OSPI is examining what, if any, actions need to be taken with respect to Northwest SOIL's approval to contract with Washington school districts," Tania May, assistant superintendent for special education at OSPI, wrote in the letter.
OSPI has demanded any records of mistreatment, maltreatment, abuse, or neglect as well as documents pertaining to restraint or isolation of students and calls to the police. They are also seeking information about the student-to-teacher ratio and staff qualifications.
In the letter, OSPI claims that all of this was previously unknown to them as well as to police, Child Protective Services, and local school districts. They are asking NWSOIL for an explanation as to why the allegations were not reported. 
NWSOIL defended itself in a public statement.
"Use of restraints and seclusion are always used as a last response when a student is at imminent risk of hurting themselves or others," it said. "We strongly deny any allegation that we understaff and/or pressure staff to increase admissions in order to maximize profits." 
Washington state representatives are considering a reform bill that will give them more oversight on the publicly funded system of private special education schools. 
In this legislation, OSPI and at least one district that sends students to this program would be required to visit before approving the contract. It would also standardize district agreements with programs like NWSOIL, including financial safeguards to make sure funds are being used appropriately.
Mass Shootings in Half Moon Bay, Oakland Rock California
Just since Saturday, at least 19 people have been killed and 17 have been injured in mass shootings in California.
---
California Sees Third Attack in Under a Week
Two California localities experienced separate mass shootings Monday, just days after an attacker killed 11 and injured nine others in a suburb of Los Angeles.
The first of the most recent shootings took place in Half Moon Bay, a small coastal town about 30 miles outside of San Francisco, where a gunman killed seven and critically injured an eighth at two different locations.
According to authorities, police were dispatched to the first location around 2:20 pm and found four people shot to death and a fifth victim also suffering gunshot wounds. Shortly after, three more people were found dead at another site nearby.
About two hours later, police discovered the suspect in his car in the parking lot of a San Mateo County Sheriff's Office substation with a semiautomatic handgun in the vehicle that officials later confirmed he had purchased legally.
Sheriff Christina Corpus said the man was taken into custody "without incident" and is "fully cooperating." He has been identified as a 66-year-old Half Moon Bay resident of Asian descent.
Currently, the gunman's motive is unknown, but the Sheriff told reporters Monday that both of the locations he targeted were nurseries, and it has since been reported that they were mushroom farms.
"All evidence we have points to this being an instance of workplace violence. The Mountain Mushroom Farm, the first location, is where the subject was employed," Corpus said in a press conference Tuesday, though she added that, so far, the "only known connection between the victims and the suspect is that they may have been coworkers."
As of writing, it remains unclear why he targeted the second location. A mushroom farm called Concord Farms has told reporters that it was the site of the second shooting — which a law enforcement official confirmed to The Washington Post.
In a statement to the media, a spokesperson said the farm had "no past knowledge" of the alleged gunman or his possible motives. Little has been released about the victims, though Corpus said Tuesday they were all adults and a "mixture of Asian and Hispanic descent," some of whom were migrants.
Authorities had previously stated that, because people both live and work on the farms, children were among those who witnessed the shooting. However, on Tuesday, one official walked that back and said while children were indeed in the vicinity, police do not have information about specific witnesses.
Just hours after the violence in Half Moon Bay, seven people were injured, and one other was killed during a shooting at a gas station in Oakland. Very little has been reported about the incident, but police have said that the shooting was "between several individuals."
Renewed Calls for Gun Control
Californians continue to reel from the rapid succession of mass shootings in a state known for its strict gun control laws.
According to Everytown for Gun Safety, a nonprofit that advocates against gun violence, the state ranks No. 1 in the country for gun law strength. An analysis led by the organization found that California has the sixth-lowest rate of gun ownership and the eighth-lowest gun death rate.
Many of California's top lawmakers have argued that the state's relatively low gun violence statistics emphasize the need for more federal regulations.
"The Second Amendment's becoming a suicide pact," Gov. Gavin Newsom (D) told CBS News in an interview.
"We'll continue to find whatever loopholes we can and continue to lead the national conversation on gun safety reform. And the data bares out. It works. It saves lives," he continued. "California's 37% lower than the death rate of the rest of the nation, and yet, with all that evidence, no one on the other side seems to give a damn. I can't get anything done in Congress."
Following the Monterey Park shooting, U.S. Sen. Diane Feinstein (D-Ca.), alongside other Democratic colleagues, introduced two gun control bills in the upper chamber. The first would ban assault weapons, while the second aims to raise the minimum age to purchase assault weapons from 18 to 21.
President Joe Biden quickly threw his support behind the measures, urging Congress to pass them.
"The majority of the American people agree with this commonsense action," he said in a statement Monday. "There can be no greater responsibility than to do all we can to ensure the safety of our children, our communities and our nation."
Editor's Note: At Rogue Rocket, we make it a point to not include the names and pictures of mass murders, suspected mass murderers, or those accused of committing violent crimes who may have been seeking attention or infamy. Therefore, we will not be linking to other sources, as they may contain these details.