Judge Rejects Juvenile Sentencing for 4 Michigan Teens in Fatal Rock Throwing Case
A judge in Michigan rejected juvenile sentencing on Tuesday for four teens who threw rocks off an overpass, killing 32-year-old Kenneth White in October 2017.
The judge noted that the teens laughed and joked about the death in Snapchat messages, and had throw objects from different locations between six to 10 times.
The teens now have until Aug. 20 to withdraw their guilty pleas and negotiate a new agreement if they choose to do so.
The fifth teen involved, who was 18 at the time of the incident and is the one specifically accused of throwing the rock that killed White, will be sentenced at a later time for second-degree murder.
---
Juveline Sentencing Rejected
Four Michigan teens who pleaded guilty to throwing rocks off a highway overpass, causing the death of a 32-year-old passenger below, may be sentenced as adults.
Genesee County Circuit Court Judge Joseph Farah rejected a motion on Tuesday to send the teens to a juvenile detention center. Attorney's for the teens now have to decide whether to accept adult sentencing, head to trial, or reject the judge's revision to the plea agreement and negotiate a new deal with the Genesee County Prosecutor's Office.
Trevor Gray, 16, Alexzander Miller, 17, Mikadyn Payne, 17, and Mark Sekelsky, 18, of Clio, Michigan, have until Aug. 20 to decide what they want to do next.
Death of Kenneth White
Five teens in total were arrested for their role in the death of Kenneth A. White. On October 18, 2017, the four juveniles and one other teen were throwing rocks from a highway overpass when one of them hit White.
White was sitting in the passenger seat of a van on his way home from work when the 6-pound rock smashed through the windshield, hitting him in the face and then the chest. He was transported to Hurley Medical Center in Flint and later pronounced dead.
"The injuries are horrific. … I gasped out (when I saw them)" Genesee County Prosecutor David Leyton said during the teens' trial in 2017.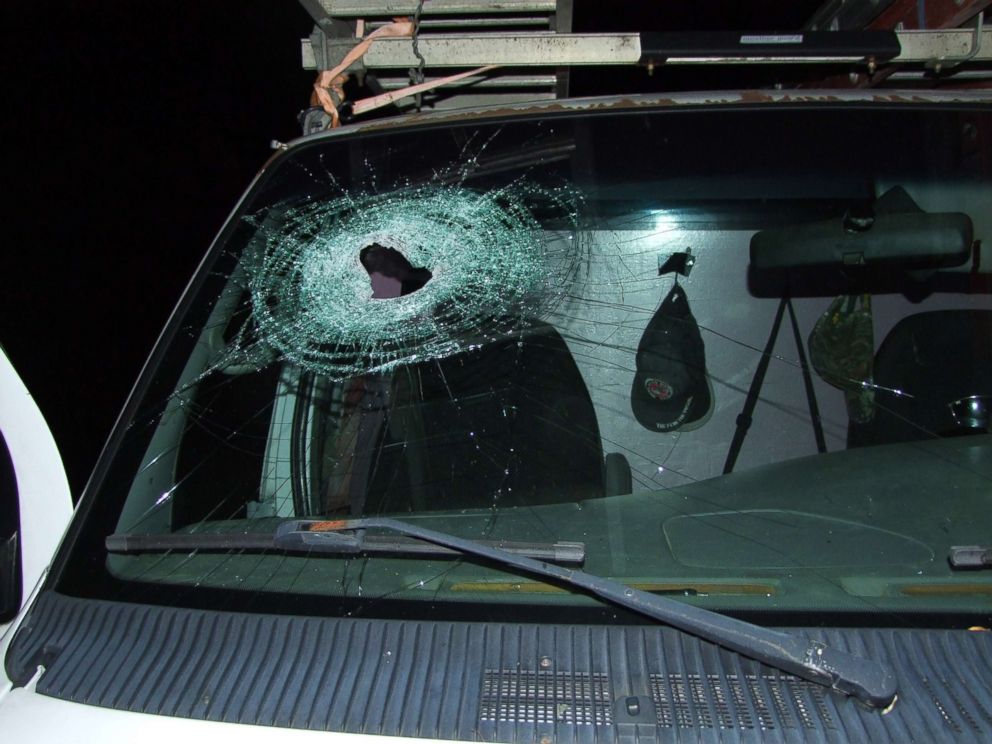 About 20 rocks in total were found on the highway, according to local police. The teens also threw tire irons, mufflers, and even a shopping cart at different times and areas.
All five participants were initially charged with crimes including second-degree murder, conspiracy to commit second-degree murder, six felony counts of malicious destruction of property and two misdemeanor counts of malicious destruction of property.
The fifth teen, 19-year-old Kyle Anger, is the one specifically accused of throwing the rock that killed White. He pleaded guilty to second-degree murder in exchange for other charges to be dropped. Anger was over 18 at the time of the incident and will be sentenced to prison at a later time.
The four other teens submitted a deal to have the second-degree murder charge changed to manslaughter, along with having the other charges dropped, according to MLive. However, that had not yet been accepted by the court.
The Judge's Decision
Judge Farah went against the advice of several professional juvenile experts who testified at a hearing in the fall. Each recommended juvenile sentencing, according to ABC News.
However, in court Farah said that while none of the four teens had actually thrown the fatal rock, none of them had been forced to be there. "The seriousness of the alleged offense is as high as it gets," he said in the court Tuesday. "This is a homicide."
Farah pointed to two days of Snapchat messages that were sent between the teens, noting that several of them read "LOL," "LMAO," "HAHA," even after learning that they had killed someone.
"We could possibly go to prison for life from this," Farah read from the messages. "You guys knew what could've happened. And, if we do get caught — which we won't — it's our own fault. LOL. We gotta take our punishment. Lay low for a while and everything will be fine."
According to the judge, after news reports said that White had died, the teens' Snapchat conversation mentioned getting teardrop tattoos to commemorate the crying of his family.
"Well, maybe, we should (get) tattoos with 'Crip Gang' next to the tattoo," the judge read.
Farah also referred back to testimony that the teens had dropped items from overpasses between six to 10 times before, damaging at least six vehicles.
"What was the purpose? Wait till the road cleared and drop to see it break? No. (It was) to make contact in this (game) called 'Overpassing.' To be able to say aloud 'Dinger!' when a car was hit," he said.
"This was not a situation where someone drove by and saw a rock on the side of the overpass and said, 'Hey, let's throw this rock over and keep on going,'" Farah added. "There wasn't one event, nor was it done at a single location. The rocks and other items were gathered from other locations, loaded in a trunk and then driven to overpasses to throw them over."
Responses
The victim's mother, Teresa Simpson, said after the hearing that she was pleased with the judge's decision.
"I'm so glad that Kenneth is getting the justice he deserves. … My prayers were answered," Simpson told WXYZ-TV in Detroit. "I'm ecstatic over the decision that was made today. … It's what we all wanted for him."
Meanwhile, lawyers for the teens said they were disappointed with the ruling.
"We're back to the drawing board. Each one of the four boys has a mechanism within that plea that they have the option to withdraw the plea should the court not have granted juvenile sentencing. So the court made its decision, not granting juvenile sentencing, and I'm sure all the lawyers are gonna go back to the drawing board," said lawyer Michael Manley.
Wisconsin Police Deny Planting Evidence in Viral Video, Release Their Own Body Cam Footage
The footage police released shows that during a search, officers found a corner tear from a plastic bag inside a backseat passenger's pocket. An officer then discarded it into the car after determining that it was empty.
---
Viral Video Appears To Show Officer Planting Evidence
The Caledonia Police Department in Wisconsin has responded to a viral cell phone video that appears to show an officer planting a small plastic baggie inside of a car during a traffic stop.
The now-viral footage was posted to Facebook by a man who goes by GlockBoy Savoo.
The user, who also filmed the clip, wrote in his post's caption that the officer did this "just to get a reason to search the car" and said the cop didn't know he was being recorded by the passenger.
Police Shut Down Accusations With Their Own Footage
After that video spread across social media, many were outraged, calling the Caledonia police dirty for seemingly planting evidence. All the outrage eventually prompted the department to announce an investigation Saturday.
Within hours, the department provided an update, claiming that officers didn't actually plant any evidence or do anything illegal.
Police shared a lengthy summary of events, along with two body camera clips from the incident. That statement explained that the driver of the vehicle was pulled over for going 63 in a 45mph zone.
Two passengers in the backseat who were then spotted without seatbelts were asked to identify themselves and step out of the car. During a search of one passenger's pockets, an officer pulled out "an empty corner tear" from a plastic baggie.
Police claim the corner tear did not contain any illegal substances, though they said this type of packaging is a common method for holding illegal drugs.
In one body cam clip, an officer can be heard briefly questioning the backseat passenger about the baggie. Then, that piece of plastic gets handed off to different officers who also determined it as empty before the officer in the original viral video discarded it into the back of the car.
The officer can also be seen explaining where the plastic came from to the passenger recording him.
"Aye, bro you just threw that in here!" the front seat passenger says, as heard in his version of the events.
"Yeah, cause it was in his pocket and I don't want to hold onto it. It's on their body cam that they took it off of him…I'm telling you where it came from, so. It's an empty baggie at the moment too, so," the officer replies.
The department went on to explain that while it would discourage officers from discarding items into a citizen's car, this footage proves that evidence was not planted.
Authorities also noted that no arrests were made in this incident and the driver was the only one issued a citation for speeding. The statement added that since four officers were present at the scene, police have more than six hours of footage to review but they promised to release the footage in full in the near future.
Medical Groups, Local Leaders Push for Healthcare Workers and Public Employees To Get Vaccinated
The move comes as COVID cases have nearly quadrupled in the last month due to the rapid spread of the highly infectious delta variant.
---
Increased Calls for Mandatory Vaccinations in Certain Sectors
More than 50 of America's largest medical groups representing millions of healthcare workers issued a statement Monday calling for employers of all health and long-term care providers to require mandatory COVID-19 vaccinations.
The groups, which included the American Medical Association, the American Nurses Association, and 55 others, cited contagious new variants — including delta — and low vaccination rates.
"Vaccination is the primary way to put the pandemic behind us and avoid the return of stringent public health measures," they wrote.
The call to action comes as new COVID cases have almost quadrupled during the month of July, jumping from just around 13,000 infections a day at the beginning of this month to more than 50,000.
While the vast majority of new infections and hospitalizations are among those who have not received the vaccines, many healthcare workers remain unvaccinated. According to data collected by the Centers for Medicare and Medicaid Services, over 38% of nursing home staff were not fully vaccinated as of July 11.
An analysis by WebMD and Medscape Medical News found that around 25% of hospital workers who were in contact with patients had not been vaccinated by the end of May when vaccinations became widely available.
In addition to calls for medical professionals to get vaccinated, some local leaders have also begun to impose mandates for public employees as cases continue spiking.
Last month, San Francisco announced that it was requiring all city workers to get vaccinated. Also on Monday, New York City Mayor Bill de Blasio said that all municipal employees — including police officers and teachers — must either get the jab or agree to weekly testing by the time school starts in September.
Dr. Fauci Says U.S. Officials Are Considering Revising Mask Guidance for Vaccinated People
Numerous top U.S. health officials have applauded efforts by local leaders to mitigate further spread of the coronavirus, including the nation's top infectious disease expert, Dr. Anthony Fauci, who confirmed Sunday that federal officials are actively considering whether to revise federal masking guidelines to recommend that vaccinated Americans wear face coverings in public settings.
In May, the Centers for Disease Control and Prevention said people who are vaccinated do not need to mask in public. Although that was a non-binding recommendation, many states and cities that had not already lifted restrictions on masking began to do so shortly after.
But now, local leaders in areas seeing big spikes have begun reimposing mask mandates — even for those who are vaccinated — including major counties like Los Angeles and St. Louis.
In his remarks Sunday, Fauci also emphasized that, despite claims from many conservatives, those efforts are in line with the federal recommendations, which leave space for local leaders to issue their own rules.
While Fauci and other top U.S. public health officials have encouraged local governments to take action, Republican lawmakers in several states are taking steps to limit the ability of local leaders and public health officials to take certain mitigation measures.
According to the Network for Public Health Law, at least 15 state legislatures have passed or are considering bills to limit the legal authority of public health agencies — and that does not even include unilateral action taken by governors.
Some of the leaders of states suffering the biggest spikes have banned local officials from imposing their own mask mandates, like Arkansas, which has the highest per capita cases in the country right now, as well as Florida, which currently ranks third.
Notably, some of the laws proposed or passed by Republicans could go beyond just preventing local officials from trying to mitigate surges in COVID cases and may have major implications for other public health crises.
For example, according to The Washington Post, a North Dakota law that bans mask mandates applies to other breakouts — even tuberculosis — while a new Montana law also bars the use of quarantine for people who have been exposed to an infectious disease but have not yet tested positive.
Couple Slammed Over Slavery-Themed Pre-Wedding Photoshoot
Many have expressed outrage at the duo for trying to romanticize slavery while others were left completely dumbfounded by the entire ordeal.
---
Photoshoot Goes Viral
A couple has come under fire after sharing images on Instagram from their slavery-themed pre-wedding photoshoot.

The photos show a Black man in shackles looking deeply into his white fiancé's eyes before she works to releases him.

"1842. Days passed and everything changed, our love got stronger and stronger, he was no longer a slave, he was part of the family," the post's caption reads.

To indicate his transition from "slave" to family, a fourth image shows him wearing a long coat and top hat with well-shined shoes, as opposed to the white shirt, trousers, and straw hat he wore in the previous images.
Social Media Users React
It's not immediately clear who these people are since the social media handle is redacted in the images circulating online.
Still, many have expressed outrage at the duo for trying to romanticize slavery while others were left just completely dumbfounded by this entire ordeal. Some also directed criticism at the photographer who agreed to the shoot, along with the hundreds of Instagram users who liked the original posts.
To see people romanticize this shit is infuriating – these people are too much. There is no such thing as slave consent and the sexual abuse of male slaves was real.

— Nurse Elise 🌒 (@EliseRootedMind) July 21, 2021
There were three people there counting the photographer and not one thought should we? And over 1400 people hit the like button? And it's part 2 like there's more? I so want to be at the wedding when minister asks if anybody objects.

— Randi Pro Democracy (@RandiKinman) July 21, 2021