Judge Rejects Juvenile Sentencing for 4 Michigan Teens in Fatal Rock Throwing Case
A judge in Michigan rejected juvenile sentencing on Tuesday for four teens who threw rocks off an overpass, killing 32-year-old Kenneth White in October 2017.
The judge noted that the teens laughed and joked about the death in Snapchat messages, and had throw objects from different locations between six to 10 times.
The teens now have until Aug. 20 to withdraw their guilty pleas and negotiate a new agreement if they choose to do so.
The fifth teen involved, who was 18 at the time of the incident and is the one specifically accused of throwing the rock that killed White, will be sentenced at a later time for second-degree murder.
---
Juveline Sentencing Rejected
Four Michigan teens who pleaded guilty to throwing rocks off a highway overpass, causing the death of a 32-year-old passenger below, may be sentenced as adults.
Genesee County Circuit Court Judge Joseph Farah rejected a motion on Tuesday to send the teens to a juvenile detention center. Attorney's for the teens now have to decide whether to accept adult sentencing, head to trial, or reject the judge's revision to the plea agreement and negotiate a new deal with the Genesee County Prosecutor's Office.
Trevor Gray, 16, Alexzander Miller, 17, Mikadyn Payne, 17, and Mark Sekelsky, 18, of Clio, Michigan, have until Aug. 20 to decide what they want to do next.
Death of Kenneth White
Five teens in total were arrested for their role in the death of Kenneth A. White. On October 18, 2017, the four juveniles and one other teen were throwing rocks from a highway overpass when one of them hit White.
White was sitting in the passenger seat of a van on his way home from work when the 6-pound rock smashed through the windshield, hitting him in the face and then the chest. He was transported to Hurley Medical Center in Flint and later pronounced dead.
"The injuries are horrific. … I gasped out (when I saw them)" Genesee County Prosecutor David Leyton said during the teens' trial in 2017.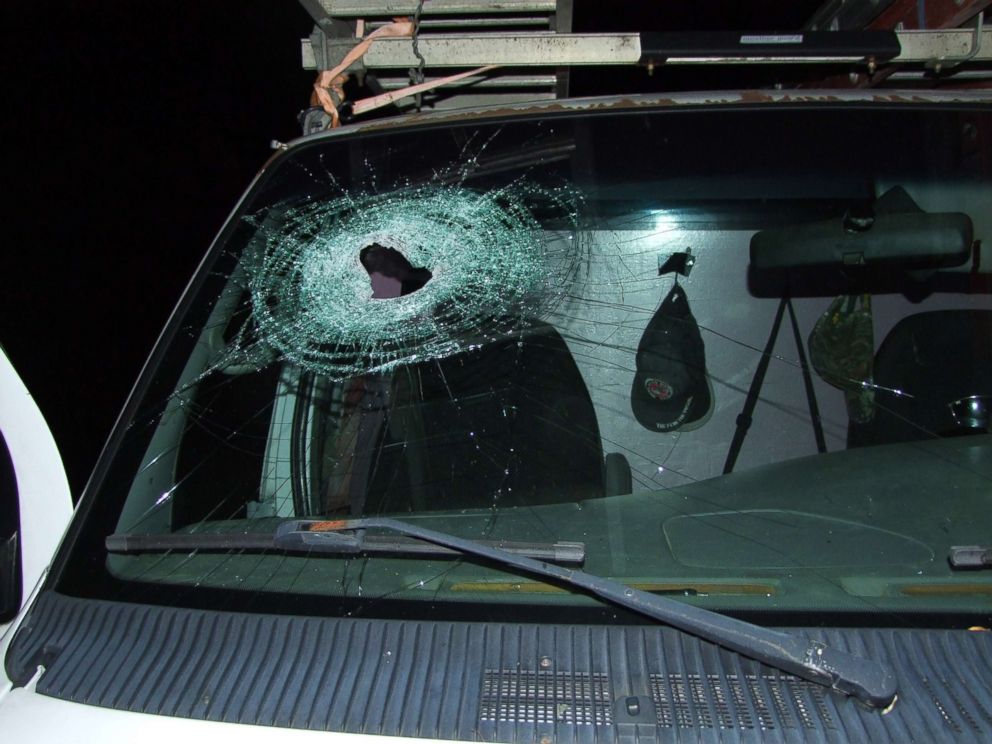 About 20 rocks in total were found on the highway, according to local police. The teens also threw tire irons, mufflers, and even a shopping cart at different times and areas.
All five participants were initially charged with crimes including second-degree murder, conspiracy to commit second-degree murder, six felony counts of malicious destruction of property and two misdemeanor counts of malicious destruction of property.
The fifth teen, 19-year-old Kyle Anger, is the one specifically accused of throwing the rock that killed White. He pleaded guilty to second-degree murder in exchange for other charges to be dropped. Anger was over 18 at the time of the incident and will be sentenced to prison at a later time.
The four other teens submitted a deal to have the second-degree murder charge changed to manslaughter, along with having the other charges dropped, according to MLive. However, that had not yet been accepted by the court.
The Judge's Decision
Judge Farah went against the advice of several professional juvenile experts who testified at a hearing in the fall. Each recommended juvenile sentencing, according to ABC News.
However, in court Farah said that while none of the four teens had actually thrown the fatal rock, none of them had been forced to be there. "The seriousness of the alleged offense is as high as it gets," he said in the court Tuesday. "This is a homicide."
Farah pointed to two days of Snapchat messages that were sent between the teens, noting that several of them read "LOL," "LMAO," "HAHA," even after learning that they had killed someone.
"We could possibly go to prison for life from this," Farah read from the messages. "You guys knew what could've happened. And, if we do get caught — which we won't — it's our own fault. LOL. We gotta take our punishment. Lay low for a while and everything will be fine."
According to the judge, after news reports said that White had died, the teens' Snapchat conversation mentioned getting teardrop tattoos to commemorate the crying of his family.
"Well, maybe, we should (get) tattoos with 'Crip Gang' next to the tattoo," the judge read.
Farah also referred back to testimony that the teens had dropped items from overpasses between six to 10 times before, damaging at least six vehicles.
"What was the purpose? Wait till the road cleared and drop to see it break? No. (It was) to make contact in this (game) called 'Overpassing.' To be able to say aloud 'Dinger!' when a car was hit," he said.
"This was not a situation where someone drove by and saw a rock on the side of the overpass and said, 'Hey, let's throw this rock over and keep on going,'" Farah added. "There wasn't one event, nor was it done at a single location. The rocks and other items were gathered from other locations, loaded in a trunk and then driven to overpasses to throw them over."
Responses
The victim's mother, Teresa Simpson, said after the hearing that she was pleased with the judge's decision.
"I'm so glad that Kenneth is getting the justice he deserves. … My prayers were answered," Simpson told WXYZ-TV in Detroit. "I'm ecstatic over the decision that was made today. … It's what we all wanted for him."
Meanwhile, lawyers for the teens said they were disappointed with the ruling.
"We're back to the drawing board. Each one of the four boys has a mechanism within that plea that they have the option to withdraw the plea should the court not have granted juvenile sentencing. So the court made its decision, not granting juvenile sentencing, and I'm sure all the lawyers are gonna go back to the drawing board," said lawyer Michael Manley.
Video Shows High School Coach Hugging Student After Disarming Him
A high school athletic coach in Oregon is being hailed a hero for disarming a teen with a shotgun and then embracing him as he cried in newly released surveillance video.
Prosecutors and defense attorneys agreed that the student was not planning to carry out a mass shooting but instead showed signs that he was planning to take his own life.
He was sentenced to 36 months of probation and will receive mental health and substance abuse treatment.
---
The Footage
Surveillance footage released Friday shows a high school athletic coach in Oregon disarming a student carrying a loaded shotgun, then embracing the teen who broke down in tears.
The video, released by the Multnomah County District Attorney's Office, shows the incident which took place on May 17 at Parkrose High School. In it, Coach Keanon Lowe is seen moving away from the 18-year-old student and holding the shotgun out of his reach in the hallway.
Lowe appears to be talking to the student and keeping him at a distance with one hand until a nearby teacher grabs the gun from Lowe and moves away with it.
Once the gun is out of the picture, Lowe wraps his arms around the student, who starts to cry. At times it looks like the student tries to break free of the hug, but Lowe continues his hold and the teen gives in.
Student's Suicide Attempt
The district attorney's office said the student had been suicidal for months leading up to the incident.
Both prosecutors and defense attorneys agree evidence suggested this was not a potential mass shooting case. Instead, the student's attorney, Adam Thayne, explained to the judge that the teen planned to take his own life at the school so that his mother would not have to discover his body. Authorities say the gun was loaded with one round, marked with the words, "The last red pill 5-17-19 just for me."
Another student who had noticed the teen's troubled state of mind reported him to the administration for "suicidal statements." Lowe was on his way to bring the teen into the school's office when the incident happened.
The district attorney said the student was "visibly upset" as he headed for the classroom where Lowe had just arrived. The student then pulled out the firearm from beneath his coat, prompting students and staff to flee.
The district attorney said he turned the gun on himself and tried to fire, but the weapon did not discharge. That's when Lowe took action.
"I saw the look in his face, look in his eyes, looked at the gun, realized it was a real gun, and then my instincts just took over," Lowe said at a press conference after the incident. "I lunged for the gun, put two hands on the gun."
"I felt compassion for him. A lot of times, especially when you're young, you don't realize what you're doing until it's over," Lowe explained.
"Obviously, he broke down and I just wanted to let him know that I was there for him. I told him I was there to save him. I was there for a reason and that this is a life worth living."
No shots were fired that day thanks to fate and Lowe's quick action.
The coach, who was a former team captain and wide receiver at the University of Oregon, has earned widespread praise for his bravery and compassion towards the student.
The day after the incident he tweeted more about what happened, saying, "When confronted with the test the universe presented me with, I didn't see any other choice but to act. Thank God, I passed. I've spent the last 24 hours being more appreciative of my family and realizing we have
Sentencing
The student pleaded guilty to one count of unlawful possession of a firearm in a public building and one count of unlawful possession of a loaded firearm in public on Oct. 10.
He was ordered to serve 36 months of probation. As part of a plea deal with prosecutors, he will also receive mental health and substance abuse treatment.
"He is deeply remorseful for the pain that he has caused his family, his friends and the community," his lawyer told the presiding judge, adding that he "has a lot of people who care about him, despite what he thought back in May."
See what others are saying: (The Washington Post) (Time) (KOIN)
Woman Who Live-Streamed Her Sister's Death Arrested Again, Weeks After Early Prison Release
Obdulia Sanchez made national headlines in 2017 when she live-streamed a drunken car crash that resulted in the graphic death of her 14-year-old sister.
She was sentenced to six years in prison but was released late last month after serving a little over two years.
But just weeks after her release, Sanchez was arrested again after a short police chase and car crash.
---
Obdulia Sanchez Arrested Again
The California woman who served time in prison for killing her sister in a drunken car crash on Instagram live was arrested again, just weeks after her early release. 
Obdulia Sanchez, now 20-years-old, was arrested in Stockton on Thursday after a short police pursuit. Local authorities said she refused to stop when officers attempted to pull her over at around 1:30 am. 
Sanchez eventually crashed her vehicle near a highway on-ramp where another male passenger in the car was able to run out. The male suspect managed to escape police, but Sanchez was arrested. She now faces traffic and weapons charges. 
Authorities said she was on parole and driving on a revoked license. Officers also say they found a loaded gun in the car.
Recent Release and Previous Crimes 
Sanchez was released on parole late last month after she served more than two years in prison for a previous crash.
In July 2017, Sanchez was drunk driving and live streaming on Instagram when she crashed her car, killing her 14-year-old sister Jacqueline Sanchez Estrada. and injuring another passenger. 
The graphic incident made national headlines. On the stream, Sanchez's hands could be seen leaving the wheel before she swerved and then overcorrected. Her sister, who was not wearing a seatbelt, was thrown from the vehicle.
"I fucking killed my sister, okay? I know I'm going to jail for life, all right?" Sanchez can be heard saying to her sister, who appeared to be already dead. "Ima hold it down. I love you, rest in peace, sweetie."
Later reports explained that Sanchez had tested positive for alcohol and cocaine. Sanchez was heavily criticized online for continuing to stream after the crash, showing her sister's dead body. 
In a public letter written from behind bars, she wrote, "I made that video because I knew I had more than 5,000 followers. It was the only way my sister would get a decent burial. I would never expose my sister like that. I anticipated the public donating money because my family isn't rich."
Sanchez was ultimately convicted of gross vehicular manslaughter, DUI and child endangerment. She was sentenced to six years and four months in prison with the possibility of parole after three years.
The state corrections office said Sanchez was approved for early release after earning credit for good behavior, for attending rehabilitation programs, and for time served in jail before she was sentenced. 
See what others are saying: (Sacramento Bee) (NBC News) (The Washington Post) (The Los Angeles Times) 
Chicago Teachers Strike Over Pay, Class Sizes, and More
Around 25,000 teachers and educational staff members in Chicago began striking Thursday, leaving 300,000 kids out of class.
The Chicago Teachers Union is demanding higher pay, smaller class sizes, as well as more nurses, social workers, counselors, and librarians.
The city's mayor and Chicago Public Schools have announced plans that include these demands, but the Union says the contract language does not hold CPS accountable enough for these terms.
While the strike continues, schools will be open even though classes are canceled. Principals and associate principals will still on campuses, and breakfast and lunch will sill be served.
---
Chicago Public School's Plan
Around 25,000 teachers and educational employees in Chicago began striking Thursday morning, demanding higher pay, smaller class sizes, and more efficient staffing.
The strike was announced Wednesday night when Chicago Public Schools and the Chicago Teachers' Union failed to reach a deal. Chicago is home to the third-largest school district in the country, which means close to 300,000 students have been left without classes to attend.
CPS's announced a plan that would, among other things, raise teachers' salaries by 16% over the course of five years. According to Fox Business, the starting salary for Chicago teachers is already the highest in the state of Illinois, coming close to $53,000 a year. By the end of this five-year time period, that salary would increase to $72,000. CPS Says that the average salary would be close to $100,000.
Their plan also included adding a nurse to every school by 2024 and doubling the number of social workers.
What the Union Wants
CTU was not satisfied with the offer. First, they thought that CPS's numbers were wrong and that the average salary would only get to $85,000. Raises were also not the only issue at stake for them.
CTU is asking for a hard cap on class sizes and for teachers to receive a stipend if that cap is ever exceeded. They want support for hiring social workers, counselors, nurses and other positions at recommended ratios, as well as a librarian and restorative justice coordinator in every school.
Another priority for them is to make sure these positions, social workers in particular, have an appropriate workload. Some schools have counselors that only come in a couple of days a week but have around 100 cases to work on. So, when they are unavailable, teachers find that they end up acting as counselors themselves.
While CPS's plan did include increases for nurses and social workers, the CTU says it is not enough. They say that CPS is not putting the exact terms in the contract language allowing them to not be held explicitly accountable for these terms. Even when CPS added more to their plan in regards to these demands earlier this month, CTU still criticized the contract language.
Mayor Lightfoot's Role
On Thursday morning, Chicago Mayor, Lori Lightfoot held a press conference regarding the strike. She maintained that the union was being offered a good package and that she hoped for a deal to be reached.
"We don't have unlimited resources, but having said that, we put very generous offers on the table both for teachers and support personnel," she said. "And I'm hopeful that we'll be able to bring them back to the table and resolve all the open issues."
Lightfoot is new to the role. She took office in May, making this one of the first hurdles she has had to face as mayor.
The CTU is accusing her of not fulfilling campaign promises As far as staffing, they claim she fully supported hiring full-time nurses, social workers, and librarians, but that she has rejected contract language that would hold CPS accountable for this.
The Union also claimed that she supported additional counselors. Now, however, she and CPS "want to issue tentative assignments for next year by June 15 instead of May 15, creating more uncertainty for educators."
What Is Being Said at the Strike
Frustrations with Lightfoot were made clear during the strike, with reports saying participants chanted things like "Lightfoot Lightfoot, get on the right foot."
A Chicago Sun-Times reporter spoke to a teacher who mentioned Lightfoot. He said he was not looking forward to striking but added, "We're teachers. Sometimes we've got to teach the mayor."
CTU's President, Jesse Sharkey, attended a strike outside of an elementary school and defended their demands.
"Our demands are significant, and we have real demands, but that's because the needs are significant," he said according to the Chicago Sun-Times. We ask for a lot because we give a lot. All of our schools here deal with real traumas, and we need support."
Options for Students
Because of the strike, Chicago has to find something to do for the hundreds of thousands of students who do not have classes to attend. Lightfoot said that while classes are off, the schools will be open during their normal hours. Principals and Associate Principals will be on hand, and breakfast and lunch will still be served.
Other camps and the YMCA are also offering programs, though unlike the schools, they will not be free.
But not all students are taking the day off. Some are supporting their teachers and attending the strike. The Chicago Sun-Times spoke to Senior Jude Greneir who went to hand out snacks and beverages.
"My teachers are striking so everyone has equal resources," she told them. "I hope the city understands. My school is very lucky, but every school needs a nurse and proper resources for their children."
Another senior, Anthony Jordan, joined his teachers in a picket line.
"I want to support my teachers because they taught me everything I know," he told the Chicago Tribune. "Our class sizes are too large. We really do need more nurses. It's worth being out here because it's for a good cause. It will help us all in the end."
Right now, it is unclear how long the strike will last. Lightfoot said a deal could be struck as early as today, but members of CTU do not anticipate that soon of an end. Schools will remain closed for class until further notice.