Judge Rejects Juvenile Sentencing for 4 Michigan Teens in Fatal Rock Throwing Case
A judge in Michigan rejected juvenile sentencing on Tuesday for four teens who threw rocks off an overpass, killing 32-year-old Kenneth White in October 2017.
The judge noted that the teens laughed and joked about the death in Snapchat messages, and had throw objects from different locations between six to 10 times.
The teens now have until Aug. 20 to withdraw their guilty pleas and negotiate a new agreement if they choose to do so.
The fifth teen involved, who was 18 at the time of the incident and is the one specifically accused of throwing the rock that killed White, will be sentenced at a later time for second-degree murder.
---
Juveline Sentencing Rejected
Four Michigan teens who pleaded guilty to throwing rocks off a highway overpass, causing the death of a 32-year-old passenger below, may be sentenced as adults.
Genesee County Circuit Court Judge Joseph Farah rejected a motion on Tuesday to send the teens to a juvenile detention center. Attorney's for the teens now have to decide whether to accept adult sentencing, head to trial, or reject the judge's revision to the plea agreement and negotiate a new deal with the Genesee County Prosecutor's Office.
Trevor Gray, 16, Alexzander Miller, 17, Mikadyn Payne, 17, and Mark Sekelsky, 18, of Clio, Michigan, have until Aug. 20 to decide what they want to do next.
Death of Kenneth White
Five teens in total were arrested for their role in the death of Kenneth A. White. On October 18, 2017, the four juveniles and one other teen were throwing rocks from a highway overpass when one of them hit White.
White was sitting in the passenger seat of a van on his way home from work when the 6-pound rock smashed through the windshield, hitting him in the face and then the chest. He was transported to Hurley Medical Center in Flint and later pronounced dead.
"The injuries are horrific. … I gasped out (when I saw them)" Genesee County Prosecutor David Leyton said during the teens' trial in 2017.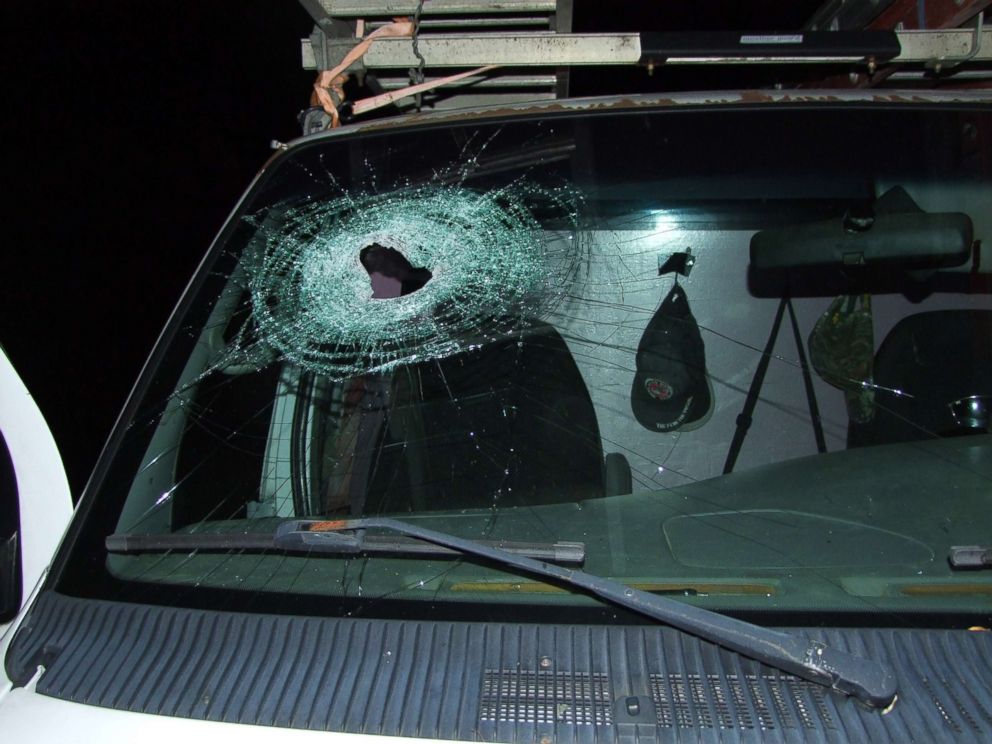 About 20 rocks in total were found on the highway, according to local police. The teens also threw tire irons, mufflers, and even a shopping cart at different times and areas.
All five participants were initially charged with crimes including second-degree murder, conspiracy to commit second-degree murder, six felony counts of malicious destruction of property and two misdemeanor counts of malicious destruction of property.
The fifth teen, 19-year-old Kyle Anger, is the one specifically accused of throwing the rock that killed White. He pleaded guilty to second-degree murder in exchange for other charges to be dropped. Anger was over 18 at the time of the incident and will be sentenced to prison at a later time.
The four other teens submitted a deal to have the second-degree murder charge changed to manslaughter, along with having the other charges dropped, according to MLive. However, that had not yet been accepted by the court.
The Judge's Decision
Judge Farah went against the advice of several professional juvenile experts who testified at a hearing in the fall. Each recommended juvenile sentencing, according to ABC News.
However, in court Farah said that while none of the four teens had actually thrown the fatal rock, none of them had been forced to be there. "The seriousness of the alleged offense is as high as it gets," he said in the court Tuesday. "This is a homicide."
Farah pointed to two days of Snapchat messages that were sent between the teens, noting that several of them read "LOL," "LMAO," "HAHA," even after learning that they had killed someone.
"We could possibly go to prison for life from this," Farah read from the messages. "You guys knew what could've happened. And, if we do get caught — which we won't — it's our own fault. LOL. We gotta take our punishment. Lay low for a while and everything will be fine."
According to the judge, after news reports said that White had died, the teens' Snapchat conversation mentioned getting teardrop tattoos to commemorate the crying of his family.
"Well, maybe, we should (get) tattoos with 'Crip Gang' next to the tattoo," the judge read.
Farah also referred back to testimony that the teens had dropped items from overpasses between six to 10 times before, damaging at least six vehicles.
"What was the purpose? Wait till the road cleared and drop to see it break? No. (It was) to make contact in this (game) called 'Overpassing.' To be able to say aloud 'Dinger!' when a car was hit," he said.
"This was not a situation where someone drove by and saw a rock on the side of the overpass and said, 'Hey, let's throw this rock over and keep on going,'" Farah added. "There wasn't one event, nor was it done at a single location. The rocks and other items were gathered from other locations, loaded in a trunk and then driven to overpasses to throw them over."
Responses
The victim's mother, Teresa Simpson, said after the hearing that she was pleased with the judge's decision.
"I'm so glad that Kenneth is getting the justice he deserves. … My prayers were answered," Simpson told WXYZ-TV in Detroit. "I'm ecstatic over the decision that was made today. … It's what we all wanted for him."
Meanwhile, lawyers for the teens said they were disappointed with the ruling.
"We're back to the drawing board. Each one of the four boys has a mechanism within that plea that they have the option to withdraw the plea should the court not have granted juvenile sentencing. So the court made its decision, not granting juvenile sentencing, and I'm sure all the lawyers are gonna go back to the drawing board," said lawyer Michael Manley.
Florida School Says Students Vaccinated Against COVID-19 Must Stay Home for 30 Days
The school falsely claimed that people who have just been vaccinated risk "shedding" the coronavirus and could infect others.
---
Centner Academy Vaccination Policy
A private school in Florida is now requiring all students who get vaccinated against COVID-19 to quarantine for 30 days before returning to class.
According to the local Miami outlet WSVN, Centner Academy wrote a letter to parents last week describing COVID vaccines as "experimental" and citing anti-vaccine misinformation.
"If you are considering the vaccine for your Centner Academy student(s), we ask that you hold off until the Summer when there will be time for the potential transmission or shedding onto others to decrease," the letter reportedly stated.
"Because of the potential impact on other students and our school community, vaccinated students will need to stay at home for 30 days post-vaccination for each dose and booster they receive and may return to school after 30 days as long as the student is healthy and symptom-free."
The Centers for Disease Control and Prevention (CDC) has debunked the false claim that those newly vaccinated against COVID-19 can "shed" the virus.
According to the agency's COVID myths page, vaccine shedding "can only occur when a vaccine contains a weakened version of the virus," but "none of the authorized COVID-19 vaccines in the United States contain the live virus that causes COVID-19. This means that a COVID-19 vaccine cannot make you sick with COVID-19."
In fact, early research has suggested that vaccinated people are less likely to spread the virus than unvaccinated people.
Beyond that, unvaccinated people are more likely to spread COVID in general because they are much more likely to get the virus than vaccinated people. According to recently published CDC data, as of August, unvaccinated people were six times more likely to get COVID than vaccinated people and 11 times more likely to die from the virus.
Centner Academy Continues Spread of Misinformation
In a statement to The Washington Post Monday, Centner Academy co-founder David Centner doubled down on the school's new policy, which he described as a "precautionary measure" based on "numerous anecdotal cases that have been in circulation."
"The school is not opining as to whether unexplained phenomena have a basis in fact, however we prefer to err on the side of caution when making decisions that impact the health of the school community," he added.
The new rule echoes similar efforts Centner Academy has made that run counter to public health guidance and scientific knowledge.
In April, the school made headlines when its leadership told vaccinated school employees that they were not allowed to be in contact with any students "until more information is known" and encouraged employees to wait until summer to get the jab.
According to The New York Times, the following week, a math and science teacher allegedly told students not to hug their vaccinated parents for more than five seconds.
The outlet also reported that the school's other co-founder, Leila Centner, discouraged masking, but when state health officials came for routine inspections, teachers said they were directed in a WhatsApp group to put masks on.
Katie Couric Says She Edited Ruth Bader Ginsburg Quote About Athletes Kneeling During National Anthem
Couric said she omitted part of a 2016 interview in order to "protect" the justice.
---
Kate Couric Edited Quote From Justice Ginsburg
In her upcoming book, journalist Katie Couric admitted to editing a quote from Supreme Court Justice Ruth Bader Ginsberg in 2016 in order to "protect" Ginsberg from potential criticism.
Couric interviewed the late justice for an article in Yahoo News. During their discussion, she asked Ginsburg about her thoughts on athletes like Colin Kaepernick kneeling for the national anthem to protest racial inequality.
"I think it's really dumb of them," Ginsburg is quoted saying in the piece. "Would I arrest them for doing it? No. I think it's dumb and disrespectful. I would have the same answer if you asked me about flag burning. I think it's a terrible thing to do, but I wouldn't lock a person up for doing it. I would point out how ridiculous it seems to me to do such an act."
According to The Daily Mail and The New York Post, which obtained advance copies of Couric's book "Going There," there was more to Ginsburg's response. Couric wrote that she omitted a portion where Ginsburg said the form of protest showed a "contempt for a government that has made it possible for their parents and grandparents to live a decent life…Which they probably could not have lived in the places they came from."
Couric Says She Lost Sleep Making Choice
"As they became older they realize that this was youthful folly," Ginsberg reportedly continued. "And that's why education is important."
According to The Daily Mail, Couric wrote that the Supreme Court's head of public affairs sent an email asking to remove comments about kneeling because Ginsburg had misspoken. Couric reportedly added that she felt a need to "protect" the justice, thinking she may not have understood the question. Couric reached out to her friend, New York Times reporter David Brooks, regarding the matter and he allegedly likewise believed she may have been confused by the subject.
Couric also wrote that she was a "big RBG fan" and felt her comments were "unworthy of a crusader for equality." Because she knew the remarks could land Ginsburg in hot water, she said she "lost a lot of sleep" and felt "conflicted" about whether or not to edit them out.
Couric was trending on Twitter Wednesday and Thursday as people questioned the ethics behind her choice to ultimately cut part of the quote. Some thought the move showed a lack of journalistic integrity while others thought revealing the story now harmed Ginsburg's legacy.
Biden Administration Orders ICE To Halt Workplace Raids
The Department of Homeland Security will now focus on targeting employers who exploit undocumented workers, instead of carrying out raids that dissuade those workers from reporting labor violations.
---
DHS Reverses Worksite Raid Policy
The Biden administration announced Tuesday that it was ordering Immigration and Customs Enforcement (ICE) to stop workplace raids.
The move marks a reversal from Trump administration policies that have been strongly criticized by immigration activists who argue the efforts created fear in immigrant communities and dissuaded them from reporting labor violations or exploitative employment practices.
In addition to stopping the raids, Department of Homeland Security (DHS) Secretary Alejandro Mayorkas said in a memo that the administration will refocus enforcement efforts to instead target "employers who exploit unauthorized workers, conduct illegal activities or impose unsafe working conditions."
Mayorkas added that the immigration agencies housed in DHS will have the next 60 days to identify harmful existing policies and come up with new ones that provide better deportation protections for workers who report their employers.
In the Tuesday memo, the secretary argued that shift of focus will "reduce the demand for illegal employment by delivering more severe consequences to exploitative employers" and "increase the willingness of workers to report violations of law by exploitative employers and cooperate in employment and labor standards investigation."
Labor Market Implications
The new policy comes at a time when the U.S. is experiencing a critical labor shortage, including in many sectors that rely on immigrant labor.
Some companies that use undocumented workers pay them wages that are far below the market rate, which is not only exploitative but also undercuts competitors.
According to Mayorkas, the pivot to employer-based enforcement will help protect American businesses.
"By exploiting undocumented workers and paying them substandard wages, the unscrupulous employers create an unfair labor market," he said in the memo. "They also unfairly drive down their costs and disadvantage their business competitors who abide by the law."
It is currently unclear how effective the new efforts will be, but historical precedent does not paint an optimistic picture.
The Biden administration's efforts closely mirror a similar move by the Obama administration, which attempted to reverse workplace raids authorized under President George W. Bush by targetting those who employ undocumented workers rather than the workers themselves.
That effort, however, still led to thousands of undocumented workers being fired.