Judge Rejects Juvenile Sentencing for 4 Michigan Teens in Fatal Rock Throwing Case
A judge in Michigan rejected juvenile sentencing on Tuesday for four teens who threw rocks off an overpass, killing 32-year-old Kenneth White in October 2017.
The judge noted that the teens laughed and joked about the death in Snapchat messages, and had throw objects from different locations between six to 10 times.
The teens now have until Aug. 20 to withdraw their guilty pleas and negotiate a new agreement if they choose to do so.
The fifth teen involved, who was 18 at the time of the incident and is the one specifically accused of throwing the rock that killed White, will be sentenced at a later time for second-degree murder.
---
Juveline Sentencing Rejected
Four Michigan teens who pleaded guilty to throwing rocks off a highway overpass, causing the death of a 32-year-old passenger below, may be sentenced as adults.
Genesee County Circuit Court Judge Joseph Farah rejected a motion on Tuesday to send the teens to a juvenile detention center. Attorney's for the teens now have to decide whether to accept adult sentencing, head to trial, or reject the judge's revision to the plea agreement and negotiate a new deal with the Genesee County Prosecutor's Office.
Trevor Gray, 16, Alexzander Miller, 17, Mikadyn Payne, 17, and Mark Sekelsky, 18, of Clio, Michigan, have until Aug. 20 to decide what they want to do next.
Death of Kenneth White
Five teens in total were arrested for their role in the death of Kenneth A. White. On October 18, 2017, the four juveniles and one other teen were throwing rocks from a highway overpass when one of them hit White.
White was sitting in the passenger seat of a van on his way home from work when the 6-pound rock smashed through the windshield, hitting him in the face and then the chest. He was transported to Hurley Medical Center in Flint and later pronounced dead.
"The injuries are horrific. … I gasped out (when I saw them)" Genesee County Prosecutor David Leyton said during the teens' trial in 2017.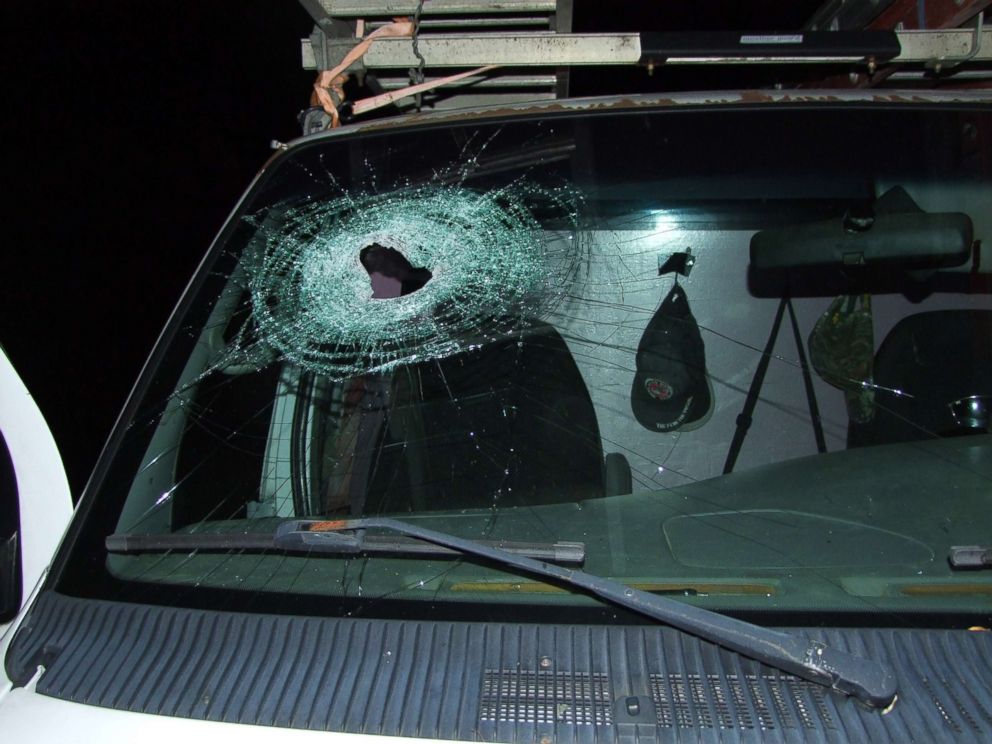 About 20 rocks in total were found on the highway, according to local police. The teens also threw tire irons, mufflers, and even a shopping cart at different times and areas.
All five participants were initially charged with crimes including second-degree murder, conspiracy to commit second-degree murder, six felony counts of malicious destruction of property and two misdemeanor counts of malicious destruction of property.
The fifth teen, 19-year-old Kyle Anger, is the one specifically accused of throwing the rock that killed White. He pleaded guilty to second-degree murder in exchange for other charges to be dropped. Anger was over 18 at the time of the incident and will be sentenced to prison at a later time.
The four other teens submitted a deal to have the second-degree murder charge changed to manslaughter, along with having the other charges dropped, according to MLive. However, that had not yet been accepted by the court.
The Judge's Decision
Judge Farah went against the advice of several professional juvenile experts who testified at a hearing in the fall. Each recommended juvenile sentencing, according to ABC News.
However, in court Farah said that while none of the four teens had actually thrown the fatal rock, none of them had been forced to be there. "The seriousness of the alleged offense is as high as it gets," he said in the court Tuesday. "This is a homicide."
Farah pointed to two days of Snapchat messages that were sent between the teens, noting that several of them read "LOL," "LMAO," "HAHA," even after learning that they had killed someone.
"We could possibly go to prison for life from this," Farah read from the messages. "You guys knew what could've happened. And, if we do get caught — which we won't — it's our own fault. LOL. We gotta take our punishment. Lay low for a while and everything will be fine."
According to the judge, after news reports said that White had died, the teens' Snapchat conversation mentioned getting teardrop tattoos to commemorate the crying of his family.
"Well, maybe, we should (get) tattoos with 'Crip Gang' next to the tattoo," the judge read.
Farah also referred back to testimony that the teens had dropped items from overpasses between six to 10 times before, damaging at least six vehicles.
"What was the purpose? Wait till the road cleared and drop to see it break? No. (It was) to make contact in this (game) called 'Overpassing.' To be able to say aloud 'Dinger!' when a car was hit," he said.
"This was not a situation where someone drove by and saw a rock on the side of the overpass and said, 'Hey, let's throw this rock over and keep on going,'" Farah added. "There wasn't one event, nor was it done at a single location. The rocks and other items were gathered from other locations, loaded in a trunk and then driven to overpasses to throw them over."
Responses
The victim's mother, Teresa Simpson, said after the hearing that she was pleased with the judge's decision.
"I'm so glad that Kenneth is getting the justice he deserves. … My prayers were answered," Simpson told WXYZ-TV in Detroit. "I'm ecstatic over the decision that was made today. … It's what we all wanted for him."
Meanwhile, lawyers for the teens said they were disappointed with the ruling.
"We're back to the drawing board. Each one of the four boys has a mechanism within that plea that they have the option to withdraw the plea should the court not have granted juvenile sentencing. So the court made its decision, not granting juvenile sentencing, and I'm sure all the lawyers are gonna go back to the drawing board," said lawyer Michael Manley.
Evelyn Yang, Andrew Yang's Wife, Says Gynecologist Sexually Assaulted Her
Evelyn Yang, the wife of presidential candidate Andrew Yang, went public with her sexual assault allegations against a New York gynecologist.
Yang said Robert Hadden, who practiced through Columbia University, sexually abused her during a medical appointment when she was pregnant in 2012.
After Yang and several other women's allegations brought charges against Hadden, he pleaded guilty to two counts in 2016 and lost his medical license, but did not go to prison.
Hadden and Columbia University are facing a lawsuit for abuse allegations and coverups, respectively, filed by at least two dozen women.
Hadden has denied all allegations except the two counts he pleaded guilty to several years ago.
---
Evelyn Yang's Story
Evelyn Yang, the spouse of 2020 presidential hopeful Andrew Yang, said she was sexually assaulted by a gynecologist who is also facing abuse allegations from more than two dozen other former patients.
In a CNN interview released Thursday, Yang publicly spoke for the first time about her alleged assault by Robert Hadden, a former medical professional with Columbia University.
Yang said she started seeing Hadden in 2012, when she was pregnant with her first child, and described the visits as routine at first. But she said eventually the gynecologist's behavior grew more and more inappropriate.
The mother claimed the worst case of assault was when she was seven months pregnant.
"I was in the exam room and I was dressed and ready to go," she told CNN. "And then, at the last minute, he kind of made up an excuse. He said something about 'I think you might need a C-section' and he proceeded to grab me over to him and undress me and examine me internally, ungloved."
Yang revealed that she didn't tell anyone about what happened for awhile — not even her husband — even though she knew what the doctor did was wrong. It wasn't until months later, after she found out that another woman had reported a sexual assault by Hadden, that she told her spouse.
Legal Battles Against Robert Hadden
After telling her husband about what happened to her in the gynecologist's office, Yang hired a lawyer and discovered that the Manhattan District Attorney had an open case against the doctor as several other women came forward with similar stories.
In early 2016, after agreeing to a plea deal that saw him admitting to two out of nine charges against him, Hadden was convicted of sex crimes. However, the charges Yang accused him of weren't among them. In that deal, Hadden had to surrender his medical license and register as the lowest level sex offender, but he did not have to spend any time behind bars.
Yang was disappointed by the verdict and thought the punishment was not large enough for the crime.
"They said that the punishment was the same, regardless of how many counts he plead guilty to, that the punishment would've been the same, so it didn't matter," Yang said. "And I thought, well, it matters to me."
"The DA's office is meant to protect us, is meant to serve justice," she added. "And there was no justice here."
Now, there are at least 30 women that now accuse Hadden of sexual assault. The majority of them, Yang included, are part of a civil suit against Columbia University, its affiliates, and Hadden.
The lawsuit claims that the university "concealed Robert Hadden's abuse for decades" and continued to allow his access to patients.
Hadden has denied all allegations against him, save for the two counts he pleaded guilty to prior to his 2016 conviction.
Justification for Going Public Now
Yang chose to bring her story into the public eye now because she felt empowered by the people she met as she accompanied her husband along his campaign trail.
"Meeting people and seeing the difference that we've been making already has moved me to share my own story about it, about sexual assault," Yang said.
After the CNN interview came out, Andrew Yang posted support for his wife on his Twitter page.
"I'm so proud of Evelyn for sharing her story on behalf of so many women who have had similar experiences, most of whom will never have the same opportunity," he wrote. "She is the source of strength for our family and she demonstrates it every day."
I'm so proud of Evelyn for sharing her story on behalf of so many women who have had similar experiences, most of whom will never have the same opportunity. She is the source of strength for our family and she demonstrates it every day.

— Andrew Yang🧢 (@AndrewYang) January 17, 2020
In her interview, Evelyn also expressed wanting to use her unique position to speak up about these issues.
"My experience with the sexual assault… is such a powerful and upsetting example of the truth that women are living with every day," she said. "And I just happen to be able to have a platform to talk about it. I need to use that voice."
Virginia Governor Declares State of Emergency Prior to Pro-Gun Rally
The governor of Virginia declared a state of emergency on Wednesday ahead of a pro-gun rights demonstration next week, banning firearms from the Capitol grounds of Richmond for several days.
Gov. Ralph Northam warned of "credible threats" from outside groups that are planning to disrupt the assembly with violence.  
The demonstration, organized by the Virginia Citizens Defense League, is scheduled to take place Monday, Jan. 20 on the state's Capitol grounds. 
Lobbyists plan to protest gun control bills that are being pushed by the state's government, which Democrats have recently taken control of for the first time in a generation.
---
State of Emergency Declared
Virginia Governor Ralph Northam announced a temporary state of emergency on Wednesday in preparation for the pro-gun rights rally set to take place in the capital early next week.
"We have received credible intelligence from our law enforcement agencies that there are groups with malicious plans for the rally that is planned for Monday," Northam said at a press conference. "This includes out-of-state militia groups and hate groups planning to travel from across the country to disrupt our democratic process with acts of violence."
"They are not coming to peacefully protest," he added. "They are coming to intimidate and to cause harm."
In preparation for this possibility, Northam released an executive order detailing the state of emergency that will be set in place from Friday evening until Tuesday evening. Throughout this stretch of time, firearms and other weapons will be prohibited from the Capitol grounds in Richmond.
Northam said that state intelligence analysts have identified rhetoric and threats similar to what was seen prior to the 2017 deadly "Unite the Right" rally in Charlottesville, Virginia that left one person dead directly from the violence and dozens more injured.
"No one wants another incident like the one we saw in Charlottesville in 2017," Northam said. "We will not allow that mayhem and violence to happen here."
Monday's Plans
The rally that Northam is preparing for is being organized by the Virginia Citizens Defense League (VCDL) and will take place on Monday, Jan. 20 — Martin Luther King Jr. Day.
Northam asked the organizers of Monday's event to "disavow" any groups who threaten violence, according to NPR.
On their frequently-asked-questions page, the VCDL writes that their annual Lobby Day is intended to be a "peaceful event" and encourages attendees to disengage if faced with any kind of harassment.
The VCDL emphasizes the sole purpose of the demonstration is for gun rights supporters to protest gun control bills that are moving forward under a new slate of lawmakers.
Earlier this month, Democrats took over as the majority group in both houses of Virginia legislature, a dynamic that hasn't been seen in over 25 years. Many of these lawmakers have pledged to support Gov. Northam's proposed measures to regulate and restrict firearms.
Philip Van Cleave, the president of the pro-gun group, told CNN on Wednesday that he "doesn't believe the governor has the right to ban weapons."
Later on Monday, the Charlottesville Coalition for Gun Violence Prevention will also be assembling at the capital for their annual Martin Luther King Jr. Day vigil to honor victims of gun violence. A coordinator for the vigil was advised to push back the start time to avoid the big crowds from the pro-gun rally, according to a local news outlet. 
See what others are saying: (NPR) (CNN) (ABC)
Student Expelled From Christian School After Rainbow-Filled Photo
A 15-year old girl was expelled from a private Christian school after her mother, Kimberly Alford, shared a photo of her wearing a rainbow-striped sweater next to a colorful cake. 
Alford said the color scheme was a coincidence with no LGBTQ meaning, but the school interpreted the post that way and said it contradicts its beliefs.
The school later clarified that the teen was not expelled for the photo alone but also for repeated student conduct violations.
While Alford admitted her daughter had made previous violations, she still argued that the repercussions for the photo were unjust.
---
Teen's Expulsion
A private Christian school in Louisville, Kentucky expelled a student last week after her mother posted a photo of the teenager wearing a rainbow shirt posing next to a colorful cake.
Fifteen-year-old Kayla Kenney celebrated her recent birthday with a small gathering out at a restaurant at the end of December. Her mom, Kimberly Alford, set up the event and posted a photo of Kenney to Facebook shortly after.
The image shows the girl grinning to the camera with a frosted rainbow birthday cake sitting before her. The cake's decor matches the striped rainbow design on Kenney's sweater.
On Jan. 6, Alford said she received an email from Bruce Jacobson, the head of Whitefield Academy where her daughter is a student. In it, Jacobson allegedly said that Kenney was being expelled over the post and attached the image in his message.
"The WA Administration has been made aware of a recent picture, posted on social media, which demonstrates a posture of morality and cultural acceptance contrary to that of Whitefield Academy's beliefs," Jacobson wrote, according to Alford.
"We made it clear that any further promotion, celebration or any other action and attitudes counter to Whitefield's philosophy will not be tolerated."
The school's reaction to the birthday image baffled the family. Although a rainbow is widely recognized and used as a symbol of LGBTQ pride and support, Alford said the color scheme was just a coincidence with no deeper meaning for her daughter.
"Rainbows don't mean you're a certain gender or certain sex or sexuality," Alford told The Washington Post. "I'm not saying she's this or that — she's just Kayla to me… I ordered the cake, she didn't."
School's Rationale
In a later statement, Whitefield Academy clarified that this was not Kenney's first breach of their protocol. The school condemned "inaccurate media reports" for making it seem like the expulsion was solely based on the cake photo and said that the teenager had "unfortunately violated our student code of conduct numerous times over the past two years."
Alford acknowledged that her daughter had misstepped in the past, and cited instances of Kenney being found with e-cigarette paraphernalia and ditching class one day after lunch. She said that in October, after an e-cigarette incident, her daughter had been put on probation.
But the cake picture being the last straw made no sense to Alford or her daughter.
"She was really hurt. She was very upset because she thought, 'All my friends are going back to school in the morning, and I don't have anywhere to go,'" Alford told The Washington Post.
She added that her daughter told her, "'Mom, I didn't do anything wrong.'"
Whitefield Academy, which serves as a ministry of the Highview Baptist Church, disagreed. According to the school's parent/student handbook, the Biblical role of the school is to work with families to "mold students to be Christ-like."
"On occasion, the atmosphere or conduct within a particular home may be counter or in opposition to the Biblical lifestyle the school teaches," the handbook states. "This includes, but is not limited to, sexual immorality, homosexual orientation, or the inability to support Biblical standards of right and wrong."
The handbook notes that the school reserves the right to refuse admission or discontinue enrollment of any students who may go against its religious beliefs. According to a local Kentucky news outlet, The Courier-Journal, exemptions for faith-based schools in Louisville's Fairness Ordinance grant Whitefield Academy the authority to do this.
Alford appealed her daughter's expulsion but reported that she was denied. She said that administrators did agree to change the expulsion to a "voluntary withdrawal" as to not reflect poorly on Kenney's record.
The mother said her daughter is now attending a public school and has received overwhelming support from friends at her former school, though she still thinks Kenney was treated "unjustly" and that is why she's chosen to make the story known.
"I just want to defend her in a graceful way," Alford told NBC. "I want to stand up for my child," she said. "Just treat people with kindness and love, and don't be judgmental."
See what others are saying: (NBC) (WAVE3) (ABC)