Judge Rejects Juvenile Sentencing for 4 Michigan Teens in Fatal Rock Throwing Case
A judge in Michigan rejected juvenile sentencing on Tuesday for four teens who threw rocks off an overpass, killing 32-year-old Kenneth White in October 2017.
The judge noted that the teens laughed and joked about the death in Snapchat messages, and had throw objects from different locations between six to 10 times.
The teens now have until Aug. 20 to withdraw their guilty pleas and negotiate a new agreement if they choose to do so.
The fifth teen involved, who was 18 at the time of the incident and is the one specifically accused of throwing the rock that killed White, will be sentenced at a later time for second-degree murder.
---
Juveline Sentencing Rejected
Four Michigan teens who pleaded guilty to throwing rocks off a highway overpass, causing the death of a 32-year-old passenger below, may be sentenced as adults.
Genesee County Circuit Court Judge Joseph Farah rejected a motion on Tuesday to send the teens to a juvenile detention center. Attorney's for the teens now have to decide whether to accept adult sentencing, head to trial, or reject the judge's revision to the plea agreement and negotiate a new deal with the Genesee County Prosecutor's Office.
Trevor Gray, 16, Alexzander Miller, 17, Mikadyn Payne, 17, and Mark Sekelsky, 18, of Clio, Michigan, have until Aug. 20 to decide what they want to do next.
Death of Kenneth White
Five teens in total were arrested for their role in the death of Kenneth A. White. On October 18, 2017, the four juveniles and one other teen were throwing rocks from a highway overpass when one of them hit White.
White was sitting in the passenger seat of a van on his way home from work when the 6-pound rock smashed through the windshield, hitting him in the face and then the chest. He was transported to Hurley Medical Center in Flint and later pronounced dead.
"The injuries are horrific. … I gasped out (when I saw them)" Genesee County Prosecutor David Leyton said during the teens' trial in 2017.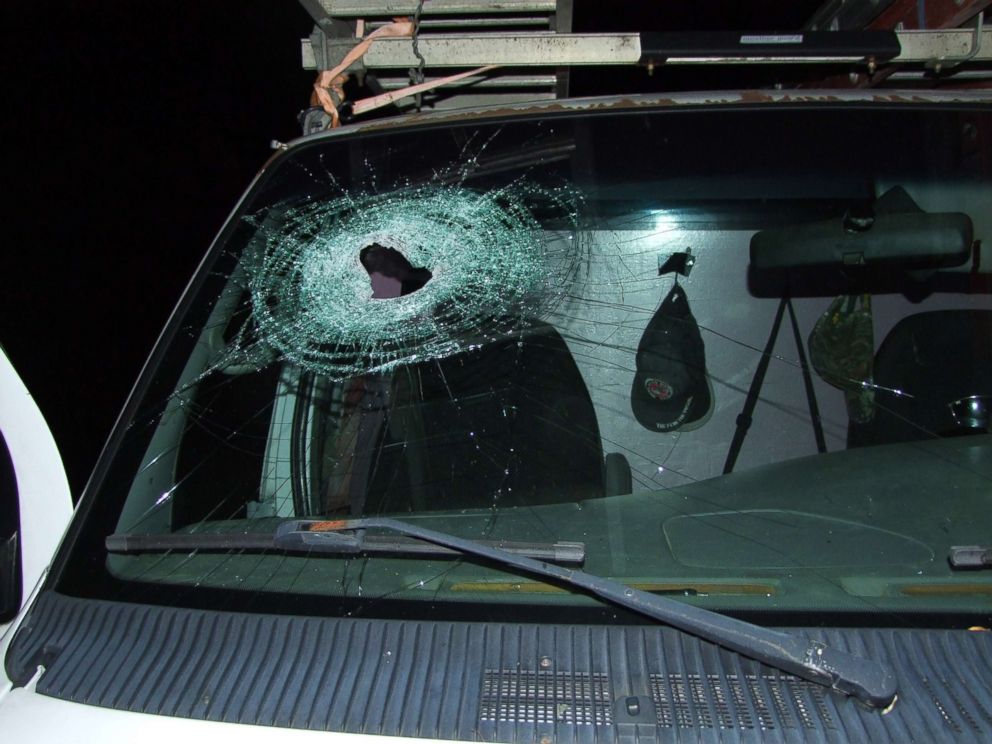 About 20 rocks in total were found on the highway, according to local police. The teens also threw tire irons, mufflers, and even a shopping cart at different times and areas.
All five participants were initially charged with crimes including second-degree murder, conspiracy to commit second-degree murder, six felony counts of malicious destruction of property and two misdemeanor counts of malicious destruction of property.
The fifth teen, 19-year-old Kyle Anger, is the one specifically accused of throwing the rock that killed White. He pleaded guilty to second-degree murder in exchange for other charges to be dropped. Anger was over 18 at the time of the incident and will be sentenced to prison at a later time.
The four other teens submitted a deal to have the second-degree murder charge changed to manslaughter, along with having the other charges dropped, according to MLive. However, that had not yet been accepted by the court.
The Judge's Decision
Judge Farah went against the advice of several professional juvenile experts who testified at a hearing in the fall. Each recommended juvenile sentencing, according to ABC News.
However, in court Farah said that while none of the four teens had actually thrown the fatal rock, none of them had been forced to be there. "The seriousness of the alleged offense is as high as it gets," he said in the court Tuesday. "This is a homicide."
Farah pointed to two days of Snapchat messages that were sent between the teens, noting that several of them read "LOL," "LMAO," "HAHA," even after learning that they had killed someone.
"We could possibly go to prison for life from this," Farah read from the messages. "You guys knew what could've happened. And, if we do get caught — which we won't — it's our own fault. LOL. We gotta take our punishment. Lay low for a while and everything will be fine."
According to the judge, after news reports said that White had died, the teens' Snapchat conversation mentioned getting teardrop tattoos to commemorate the crying of his family.
"Well, maybe, we should (get) tattoos with 'Crip Gang' next to the tattoo," the judge read.
Farah also referred back to testimony that the teens had dropped items from overpasses between six to 10 times before, damaging at least six vehicles.
"What was the purpose? Wait till the road cleared and drop to see it break? No. (It was) to make contact in this (game) called 'Overpassing.' To be able to say aloud 'Dinger!' when a car was hit," he said.
"This was not a situation where someone drove by and saw a rock on the side of the overpass and said, 'Hey, let's throw this rock over and keep on going,'" Farah added. "There wasn't one event, nor was it done at a single location. The rocks and other items were gathered from other locations, loaded in a trunk and then driven to overpasses to throw them over."
Responses
The victim's mother, Teresa Simpson, said after the hearing that she was pleased with the judge's decision.
"I'm so glad that Kenneth is getting the justice he deserves. … My prayers were answered," Simpson told WXYZ-TV in Detroit. "I'm ecstatic over the decision that was made today. … It's what we all wanted for him."
Meanwhile, lawyers for the teens said they were disappointed with the ruling.
"We're back to the drawing board. Each one of the four boys has a mechanism within that plea that they have the option to withdraw the plea should the court not have granted juvenile sentencing. So the court made its decision, not granting juvenile sentencing, and I'm sure all the lawyers are gonna go back to the drawing board," said lawyer Michael Manley.
Privacy Concerns Rise in Florida Over Menstruation Questions on Digital Student-Athlete Physicals
Ever since the overturn of Roe V. Wade, activists have been concerned about how period tracking data can be used against women.
---
Outrage and Concerns
Florida schools require student-athletes to complete an annual physical evaluation form before being allowed to participate in sports, including questions about female menstruation. Recently, school districts have shifted these forms into a digital format using a third party, causing privacy concerns for parents and activists alike. 
As headlines started to circulate the news, many online began expressing outrage. Lawyer Pam Keith, who ran for U.S. House of Representatives in 2020 referred to Florida as a "police state for women" on Tuesday morning. Other tweets have called this practice "dystopian" and "tramping on women's rights."
In Florida, these questions have been on the student-athlete physical evaluation form for approximately 20 years. Now that some school districts have shifted from paper copies to digital formatting with the third-party software company, Aktivate, criticisms have resurfaced across the state. Abortion rights activists, in particular, are worried about menstrual information being used to prosecute someone for getting an abortion. Others vocally oppose storing this information online, citing parents' rights over their children's data. 
Florida's Policy
These questions relating to menstruation are labeled as optional on the document. However, some have expressed concern that athletes will feel obligated to answer them in order to ensure their eligibility to play.
Florida schools have all of the medical data collected by these physicals sent back to the district from the physician. This is in sharp contrast to the policy of other states that simply require the physician's approval for the athlete to be cleared to play. 
"I don't see why school districts need that access to that type of information," pediatrician Dr. Michael Haller said to The Florida Times-Union. "It sure as hell will give me pause to fill it out with my kid."
Navy SEAL Recruits Sprayed With Tear Gas in "Horrific" Leaked Video
The revelation comes after the Navy launched an investigation into SEAL training practices last month in response to the death of a recruit.
---
The Worst Birthday Ever
In September 2021, Navy SEAL recruits were forced to sing "happy birthday" while standing amid a thick cloud of tear gas as part of their training, a leaked video reveals.
The footage, which was obtained by investigative reporter Mathew Cole and published by CBS News, comes from California's San Clemente Island, where SEALs are trained.
For over a minute, instructors are seen dousing the recruits in the chemical, sometimes from just inches away, as they struggle to sing. Reports say they were singing so that they could not hold their breath, which regulations incidentally warn may cause a person to pass out.
Although exposure to tear gas is a common right of passage for military recruits, who must learn how to properly don a face mask, it is meant to be sprayed from six feet away to prevent burns and last for no longer than 15 seconds.
The recruits in the video are seen coughing, heaving, and crying out in agony after the gas subsides, and one appears to pass out.
A Navy admiral has reportedly launched an investigation into the video to determine whether the instructors sprayed the gas for too long and from too close, and if they did, whether they were simply unaware of the proper procedure or intended to abuse and punish the recruits, which could be a criminal offense.
Cole wrote in a Twitter thread that he showed the footage to current and retired senior SEAL officers, who described the exercise as "horrific," "abusive," "pointless" and "near torture."
"Current and former SEAL students say they were told the purpose of the exercise, which cause extreme pain, was to simulate how they would react to bullet wounds in combat," he said. "They were told by BUD/S instructors it was a 'rite of passage' and given three attempts to complete it."
The Death of Kyle Mullen
"The source who provided the video did so because they wanted the Navy, Congress and the public to know that the February 2022 death of Kyle Mullen was not an isolated incident," Cole Continued.
Mullen was a 24-year-old Navy recruit who arrived in California for the SEALs rigorous selection course in January. In his third week, he reached what's known as Hell Week, a five-day-long slog through an infamously brutal training regiment that's killed at least 11 men since 1953.
Trainees spend at least 20 hours per day doing physical exercises, running a total of more than 200 miles, and are allowed just four hours of sleep across the entire week.
Hell Week is meant to test a recruit's mental and physical resilience, as well as their commitment to becoming a Navy SEAL. Critics, however, argue it is excessively harsh, pointing to the concussions, broken bones, dangerous infections, and near drownings suffered by some recruits.
When Mullen completed Hell Week, he called his mother Regina, who told CBS News her son seemed to be having trouble breathing.
A few hours later, he died with the official cause being pneumonia, which Regina attributed to the freezing water he was submerged in during training.
She also said he admitted to using banned performance-enhancing drugs, something many aspiring SEALs resort to so they can cross the finish line.
Even with drugs, however, around 90% of trainees fail to complete the selection course, with most dropping out during Hell Week.
The same day Kyle died, one of his fellow trainees had to be intubated, and two more were hospitalized.
The Navy launched an investigation into the SEALs selection course last month in response to Kyle's death.
Lawyer Claims That LAPD Officer Who Died In Training Was Targeted For Investigating Other Officers For Rape
The late officer's family has filed a lawsuit against the city of Los Angeles.
---
Press Conference Reveals New Allegations
A lawyer for the family of Los Angeles Police officer Houston Tipping, who died in May during a training exercise, claimed on Monday that Tipping was targeted for reporting an alleged sexual assault by four other police officers last year. 
In May, Tipping sustained serious injury — including a broken spine — during training, which resulted in his death three days later. The LAPD released a statement saying his injuries came from a fall taken during a segment of training that involved grappling another officer. 
His family, however, filed a complaint — and later a lawsuit — against the city of Los Angeles. The lawsuit states that Tipping was, "repeatedly struck in the head severely enough that he bled."
During a Monday press conference, his family's lawyer, Bradley Gage, claimed that the injuries Tipping sustained could not have been the result of grappling.
"There is no way grappling would have caused those kinds of injuries the way the LAPD portrays it," he said. "What would cause those injuries is if somebody picked a person up, slams them down onto their head and their neck onto a hard surface."
An Alleged Cover-Up
According to Gage, an officer that Tipping had reported last year for an alleged sexual assault was also present at this training exercise. 
"The allegation is that in July of 2021, four police officers were involved in the sexual assault of a woman from the Los Angeles area. A report was taken by Officer Tipping," he said. "And the female victim claimed that she was raped by four different people, all LAPD officers. She knew the names of some of those officers because they were in uniform and had their name tags on. The name of one of those officers, with the name tag, seems to correlate with the names of one of the officers that was at the bicycle training" 
The attorney went on to confirm that he is alleging this unnamed officer is responsible for Tipping's injuries. 
Later in the press conference, Gage stated that the police department is likely trying to cover-up these misdeeds.  
"I'm sure that these actions are being covered-up. The thought of a code of silence or a cover-up by a police department should not be shocking or surprising to anyone," he said.
Although the initial lawsuit by Tipping's family included the wrongful death and other civil rights violations, with this new information, the family and the attorney has decided to file a supplemental. This supplemental will cover the whistler blower retaliation, destruction of evidence, and the initial wrongdoing of the rape case.