Jaclyn Glenn Raises Concerns Over Eugenia Cooney's Recovery
Shane Dawson's most recent video is a profile of YouTuber Eugenia Cooney and her journey towards recovering from an eating disorder.
However, creators like Jaclyn Glenn, David Michael Frank, and Evangeline DeMuro posted a video on Glenn's channel saying that Dawson's project does not include the darker details about Cooney's path to recovery, which they say they witnessed firsthand.
The three say they fear that she could still be in a bad situation, especially under the care of her relatives.
Some criticized them for publicly sharing details about Cooney without her permission during this time, while others argued that sharing their side of the story was important.
---
Shane Dawson's "The Return of Eugenia Cooney" Video
After Shane Dawson made a video about Eugenia Cooney's recovery from an eating disorder, Jaclyn Glenn spoke out about the dark side of Cooney's story that she says went untold.
On Friday, Dawson uploaded an hour-long video called "The Return of Eugenia Cooney." The video tells the story of Cooney, a YouTuber who has long been the subject of public concern due to her weight and physical appearance. When Cooney started her YouTube channel in 2013, she was thin, but fans noticed her get visibly thinner as time went on, which caused many to suspect Cooney was struggling with an eating disorder.
Many comments on her videos were related to this, and some even petitioned to have her removed from social media sites because they argued she was sending an unhealthy message to her followers. For a long time, she avoided speaking about the subject or brushed comments off by saying she was fine.
In January, she uploaded a video of herself looking extremely thin, which caused people to become incredibly concerned. The following month, she announced that she was taking a break from social media to work with a doctor, but did not give any more details than that. Many assumed it was related to her weight.
In Dawson's video, she confirmed this was the case. While she did not give her condition a label, she told Dawson that she was dealing with an eating disorder. Dawson told the audience that she is out of rehab, and that he wants this video to help others who could be struggling.
"This, to me, feels like the most important thing I've ever done," he said. "I don't want to fuck this up, I want to do this right."
He also spoke with YouTuber and therapist Kati Morton about the subject so he could try his best to use the right language when discussing eating disorders.
When Dawson arrived at Cooney's house, her lawyer was present. Cooney gave him a tour while they made light conversation about the decorations and Cooney's upbeat personality. He says he asked her if anything was off-limits, and she said nothing that could help someone would be.
When Dawson asks Cooney if her friends helped her behind the scenes throughout this process, she gave a mixed answer.
"Yeah, there were some people that were, then there was kind of, some people that kind of like really weren't, really," she said. "There was almost like some people that like never said anything before, but then later one were like, kind of like bullying me into like trying to make like, decisions for me. And kind of like, they were just not wanting to listen to me at all not wanting to hear like, how I'm feeling."

"But then I also have like, you know, good people in my life that like, did genuinely, like really do care," she added.
Cooney elaborated on events that lead up to her entering rehab, including her noticing that she should be eating more, and her family telling her the same. She said that receiving comments about her weight online only made her situation worse.
"Then there was like, certain people that would like make videos about me and like talk about my body a little bit," she said. "It kind of like was really affecting me like really badly, and like making me feel really bad and like, not taking care of myself, like really, in a really bad like mind state. I guess it was just, kind of like, progressing, and I wasn't like really doing much to like stop that. I guess it like eventually, it just like, felt at a point where I like realized it would be a good idea to like, get some help for that."
The two dove deeper into what her program in rehab entailed, and what she learned while in treatment. Dawson kept the video lighthearted, and he and Cooney did their makeup together in part of it. He suggested she make a "What I Missed While I was in Rehab" video, which she has already uploaded to her channel, along with an "I'm Back" video.
Dawson calls her recovery a miracle. "The fact that she is, I think, doing better, is, I don't want to use the word like, a miracle. Is it wrong to use that word," Dawson asks Morton.
"Anybody getting better you could say is a miracle," she responds.
Reactions to Shane Dawson's Video
The video has been viewed over 20 million times, and reactions have been mixed. Some have thanked Dawson for making a video on Cooney.
Cooney also noted that she is seeing a lot of positivity flowing her way as a result of the video.
However, others were rubbed the wrong way by the video, arguing that it did not take the subject matter as seriously as it should have.
Jaclyn Glenn Responds
One of the most notable reactions came from YouTuber Jaclyn Glenn, who says she was Cooney's friend. After Shane posted his video, she uploaded two videos called "The Return Of Eugenia Cooney – The Real Truth." One was a 24-minute long story, and the other was a 3-minute long TLDR version of it.
Her video features her along with two other creators: David Michael Frank and Evangeline DeMuro. The three said that even though Dawson probably had good intentions, his video glossed over a lot of the grittier details about Cooney's path to rehab, which they were all a part of.
Her video opens with the clip of Cooney saying she was bullied by friends who were making decisions for her. They feel that comment was aimed towards them. Jaclyn said that watching Shane's video was hard to do, especially having lived through the darker side of what really happened.
They said that fans and others, including themselves, would often call the cops in order to help Cooney, but she developed a "script" to make officers think she was fine.
"This video with Shane is another example of a script," said Frank. "And the police, or Shane in this situation, walking away feeling that that person is fine and I don't know if that's the truth."
They also added that they staged an intervention for Cooney where she could speak privately with mental health professionals. It would then be up to those professionals to decide the next steps.
"They were really concerned," said Glenn. "They decided they wanted to take her into care, and they ordered something called a 5150 and it's mandatory."
Once this decision was made, Cooney fought back. Her mother allegedly got involved and yelled at Glenn, swearing at her, and asking why a friend would do this.
"She called the cops on me and tried to have me arrested for kidnapping," Glenn claimed. "So when Eugenia was trying to leave we had two sets of cops show up. One to take her into care and one to arrest me for kidnapping."
She explained that this situation was eventually sorted out, but there were still tensions between the group and Cooney's family. The group believes toxic people in Cooney's life were using Dawson's video to make the situation look fine to the public.
"Yeah, Eugenia is a great person and I love her and I care about her," Glenn said. "But the people surrounding her in her life, I feel like, are dangerous, and I think they were aware of Shane's potential to cover their tracks and make this look like some kind of beautiful recovery story."
The three went on to say that they think Cooney's mom is manipulating her daughter's life. They even went so far as to say she was killing Cooney.
"All I know is I'm doing what I think is right and not letting a lie persist," Glenn said.
The group wished Cooney well, but also said they had reason to believe she may not be.
Reactions to Jaclyn Glenn's Video
There were also mixed reactions to this video, with many arguing that Glenn should not have posted this for the public to see.
Though there has been some support for Glenn. One comment on the video says, "You guys did the right thing. You see the truth. The outsiders don't. Good job."
"No matter what anyone says these are real friends," another user added. "Actually taking a stand and really helping a friend rather than sitting back and accepting her denial."
Neither Dawson nor Cooney have responded to Glenn's video.
Twitch Updates Its Nudity and Attire Policy With More Specific Rules
Twitch updated its Nudity and Attire guidelines after much backlash over previous vague policies that said streamers should dress in attire "appropriate for public settings."
The new policies ban full and partial nudity, including exposed genitals or buttocks. It also says women must cover nipples and not expose underbust, though cleavage is unrestricted.
Situational expectations were made for breastfeeding, swimming and beaches, concerts, IRL streams, body art, and more.
While some have welcomed the new specific rules, many argue that they continue to allow people to scrutinize women by policing their bodies.
---
Problems With Twitch's Previous Nudity Policy
Twitch updated its policies around nudity and attire on Tuesday, giving its most specific guidelines to date about how much skin a streamer can show on the platform.
For years now, Twitch has faced backlash over so-called "boobie streamers," which is a term essentially used to describe female streamers who are suspected of luring in viewers with their looks and sexually suggestive content.
However, the problem is that oftentimes, women who wear what some consider provocative clothing are sometimes looped into that category as well, like fitness streamers or cosplayers.
Twitch has tried to crack down on nudity and sexually suggestive content in general, but it has struggled to lay out clear policies that satisfy its users. Previous vague attempts instead put several creators in gray areas, like those who do body art or outdoor streams.
The platform previously said that streamers should dress in attire that is "appropriate" for public settings, "such as what you would wear on a public street, or to a mall or restaurant."
This really didn't clear things up for people since what someone finds appropriate is subjective. For example, leggings and a sports bra might be considered appropriate to some, but it can be perceived as something different by someone else.
Twitch has made it clear that it doesn't want to allow pornography on its platform, but some say that its guidelines were inconsistently applied. Many argued that the rules often allowed for misogynists to rally against streamers they didn't like and sometimes, streamers who tried to play by the rules were punished.
In February for instance, body painting artist Forkgirl was suspended for violating the nudity policy, despite believing she did nothing wrong. She thought her suspension might have been prompted by trolls mass reporting her content. Twitch later said her chest was not adequately covered but reinstated her after recognizing her "good faith attempt" to comply with their policies.
Folkgirl and others have called for more transparency from Twitch, asking for more precise information about what guidelines they're breaking so they can avoid doing so.
Twitch Announces New Policies
Well, this time around Twitch laid out more specific policies, saying in a blog post, "Our previous policy relied on an assumed shared understanding of what is appropriate in specific contexts. Establishing a standard for coverage reduces the policy's reliance on an assumed single definition of contextually acceptable. "
Twitch's said it does not allow any steamers to be fully or partially nude, "including exposing genitals or buttocks."
"We do not permit the visible outline of genitals, even when covered. Broadcasting nude or partially nude minors is always prohibited, regardless of context," it added.
The updates then specifically addressed women, saying, "For those who present as women, we ask that you cover your nipples. We do not permit exposed underbust. Cleavage is unrestricted as long as these coverage requirements are met."
On top of those rules, it says all streamers must cover the area extending from their hips to the bottom of their pelvis and buttocks. As far as areas of the body where coverage is required, it said, "the coverage must be fully opaque – sheer or partially see-through clothing does not constitute coverage."
"Augmented reality avatars that translate real-life movement into digital characters are subject to this standard, as is cosplay and other costumes."
However, the new guidelines do provide some exceptions, noting that some situations call for attire that is prohibited in their standard guidelines. Their list of contextual exceptions includes:
IRL streaming
Swim and beaches, concerts and festivals
Body Art
Context transitions
Embedded media, studio and other Twitch-endorsed content
Breastfeeding
More specifics about each expectation are listed in the updated community guidelines page, but essentially the rules still say that even in these cases, streamers must still make sure to have opaque coverage over their nipples, buttocks, and genitals. However, standard chest coverage rules do not apply to those breastfeeding on stream.
"This list is not exhaustive," the update states, "and we will update it periodically as the community's needs evolve."
Twitch also said it has added a clarification to its Sexually Suggestive Content policy writing, "We continue to evaluate attire and sexual content separately and as always, sexually explicit and suggestive content are prohibited on Twitch. To further clarify our stance, we've added concrete examples of content considered sexually suggestive. Again this list is not exhaustive but seeks to minimize uncertainty about our expectations and considerations when our safety operations team is making evaluations."
The community guidelines now ban explicitly sexual behaviors, including erotic dancing, simulated sex acts, and pole dancing with "a sexual framing," among other content.
The new policies went into effect immediately and Twitch noted in its blog post that old suspensions still stand. "Although your content may not violate the new policy, it violated the guidelines in place when the enforcement was issued," it said.
As far as older content that violates the new policy, Twitch is giving users until May 1 to evaluate and remove videos themselves. "After that time, if reported, we will remove the content, but no other enforcement actions will be taken against the channel."
While some have welcomed the specific guidelines, some say they allow people to continue to scrutinize women by policing their bodies.
Finally some guidelines for body painters and cosplayers to know what is and isn't allowed. Instead of guessing or being banned for no explained reason. Thank you twitch!

— Mae (@MaeAsylum) April 7, 2020
Thank you so much Twitch for putting down these much more specific guidelines of what is and isn't permitted. This will make it much easier for everyone to know what is and isn't allowed. Body painters thank you! ❤️

— jordan🎃hanz (@JordanHanz) April 7, 2020
So @twitch is continuing there war on women's bodies.

It's sad to see there updated community guidelines require women (And only women), to "cover the nipples"

Require shirts for everyone or don't. It's not hard.

I guess #feminism and #equality is a dead to concept to twitch

— KuddlesomKraken (@KuddlesomKraken) April 7, 2020
This is fucking terrible. Are there only men who are afraid of breasts and women in general working for Twitch, that they feel like having to police their clothing and overall look?

— 아틀란티스 프린스 (@AtlantisPrince) April 7, 2020
For now, many are waiting to see how the policies are actually enforced moving forward.
James Charles, Corinna Kopf, and Other Influencers Slammed for Participating in TikTok "Mugshot" Trend
Internet users are participating in a TikTok trend that involves creating their own mugshot photos, including influencers like James Charles, Corinna Kopf, and Avani Gregg.
There are different variations of the trend, which has been criticized as insensitive to the levels of police brutality and incarceration rates people of color disproportionately face.
Bloody and bruised up mugshot photos, in particular, were also accused of glamorizing abuse and triggering domestic violence survivors.
Some influencers removed their posts like James Charles, who still defended his look by comparing it to music artwork used by The Weeknd and Billie Eilish.
---
The "Mugshot" Trend
Several influencers have come under fire for participating in a version of a viral "mugshot" TikTok trend that many say is insensitive and triggering to abuse victims.
Mugshots, for some reason, are a pretty popular topic on the app, with users making compilation videos of real mugshots featuring people they find interesting or attractive.
That eventually morphed into posts of users staging their own mugshot photos. Typical posts show the creator with messy hair, smudged mascara or other costume makeup used to roughen up their look. Sometimes the users hold up some sort of sign with a fake or funny reason for their "arrest."
Others have even pretended to get in fights or staged scenarios that might have lead up to their fake arrest. Some people have taken it a step further, adding fake bruises, black eyes, and bloody noses.
So essentially there are a wide range of ways you can go with this trend and there are a lot of different reasons people take issues with it. Many say those participating in the challenge are largely privileged and don't understand levels of police brutality and incarceration rates people of color disproportionately face.
I don't like this trend of "taking mugshots" because it's glamorizing the idea of being detained and arrested. It's a reality that many brown and black folk have to face, and to diminish this into some trend is really weird and gross.

— j (@yojogn) April 6, 2020
But the versions that have come under the most scrutiny this week are ones that feature bruised and bloody faces.
Influencers Face Backlash
Some influencers who jumped in on the trend include YouTuber and Vlog Squad member Corinna Kopf, TikTok creator and Hype House member Avani Gregg, and beauty YouTuber James Charles, who seems to have been hit with the most backlash.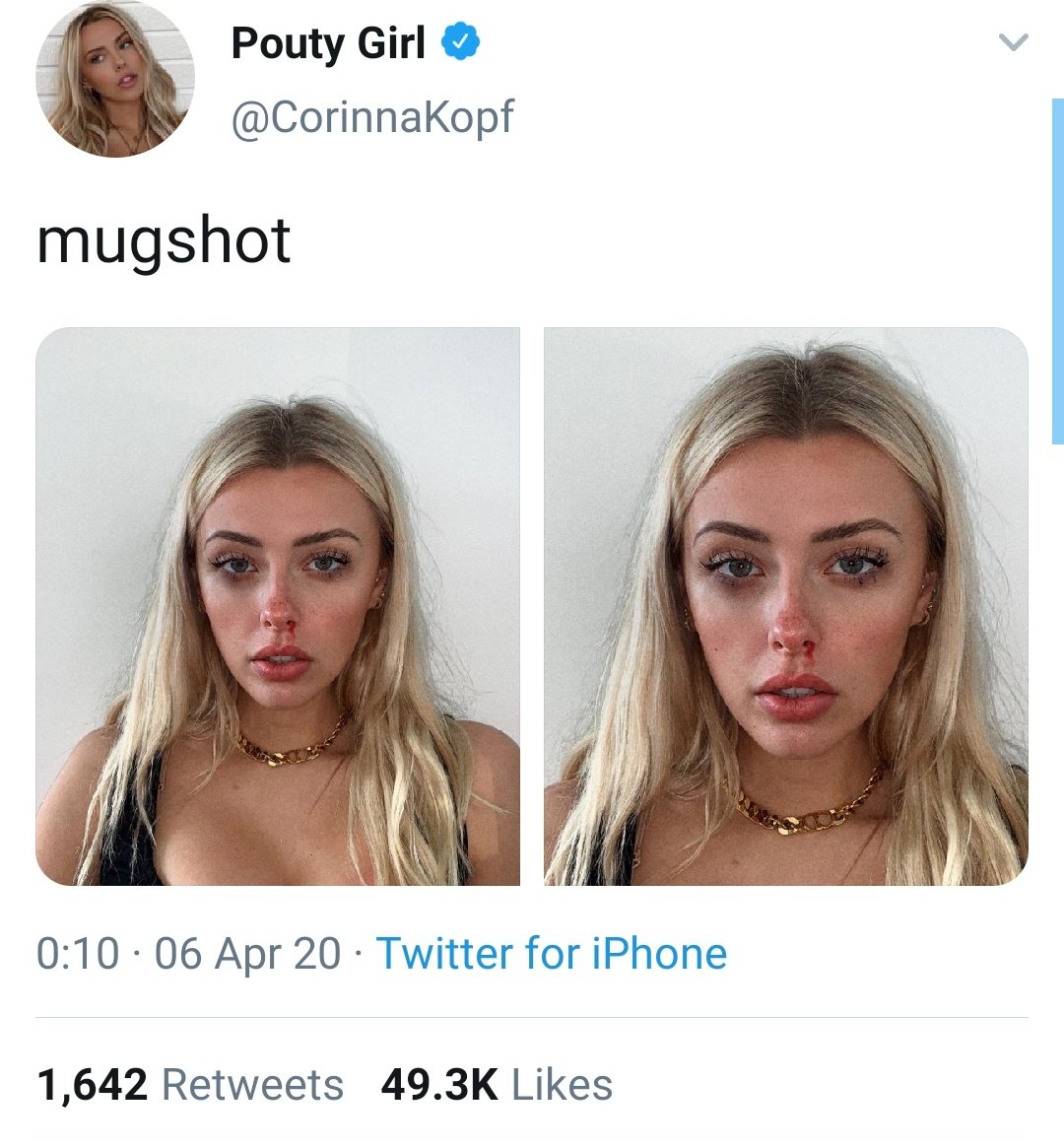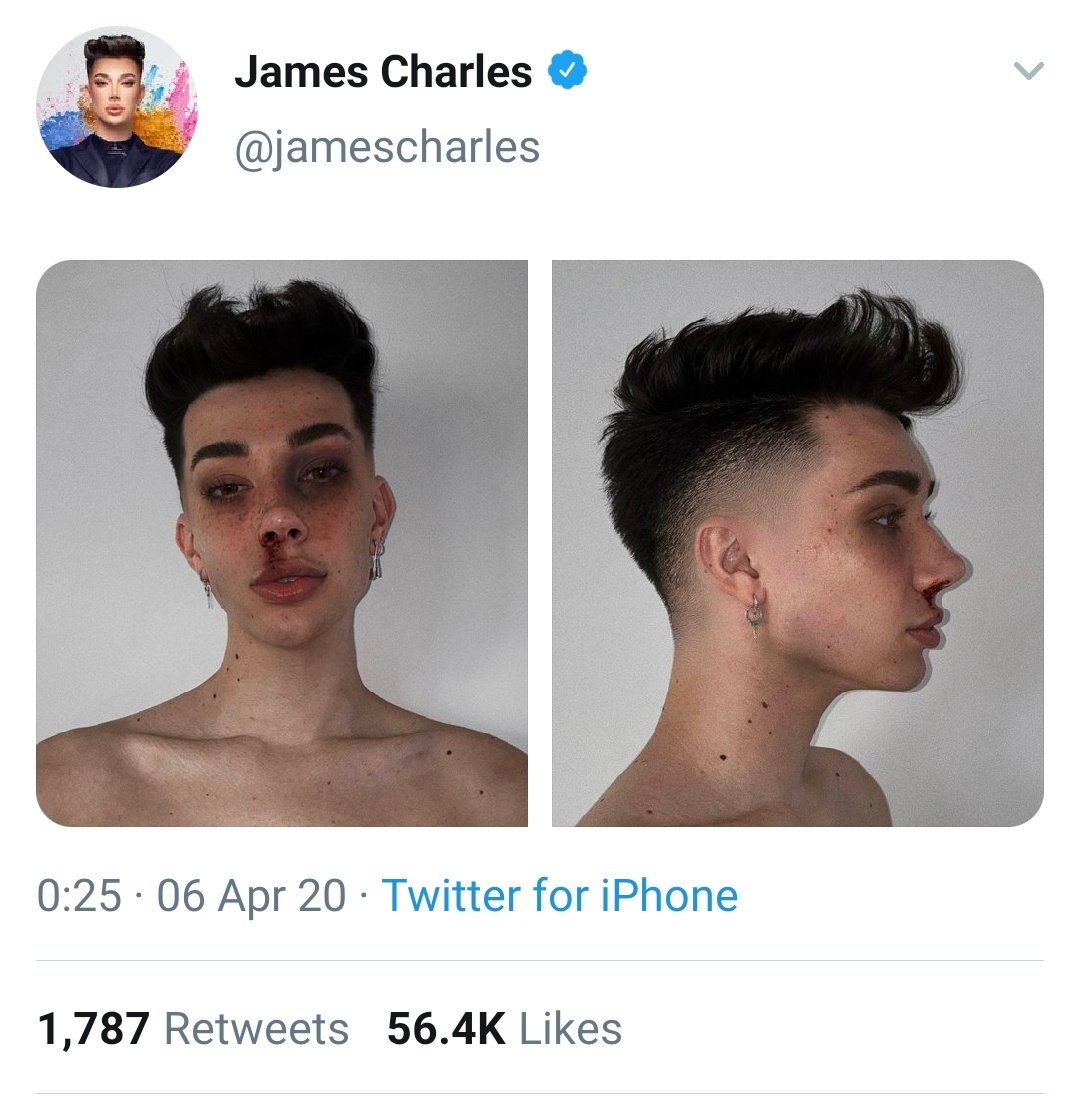 The creators posted their looks on Instagram and Twitter, where some who were unaware of the TikTok trend were confused and surprised. James Charles, for instance, posted his look without a caption and he was flooded with comments accusing him of triggering domestic violence survivors and glamorizing abuse.
According to Insider, in a since-deleted Tweet, James said that he had changed his Instagram caption to joke about getting punched, but he changed it back soon after because "making that joke wasn't funny."
Still, his replies were full of stories from domestic violence survivors who found the look offensive.
He eventually responded to one fan who said the fake bruises made her feel "dehumanized" because she couldn't take hers off.
In now-deleted tweets, he also pointed to bloody looks by The Weeknd and Billie Eilish.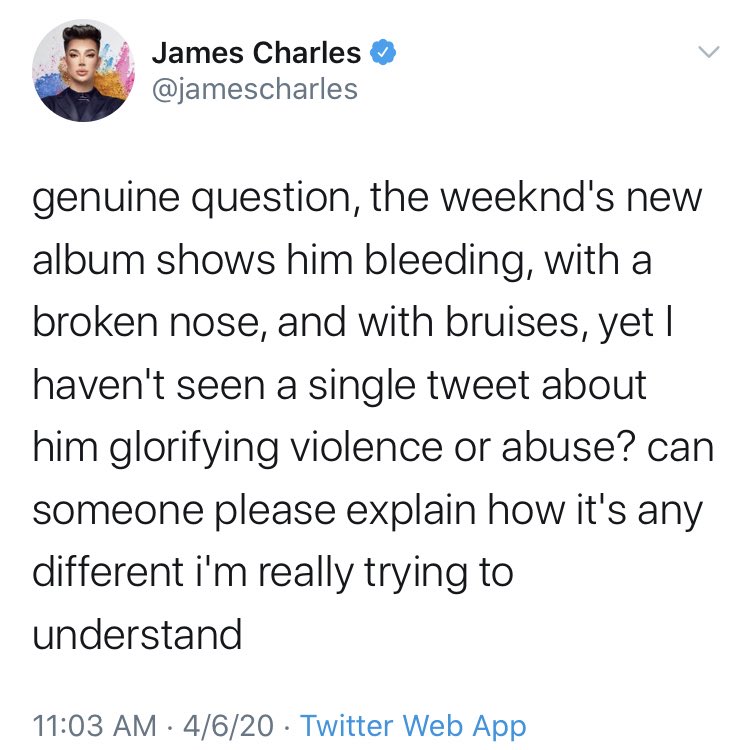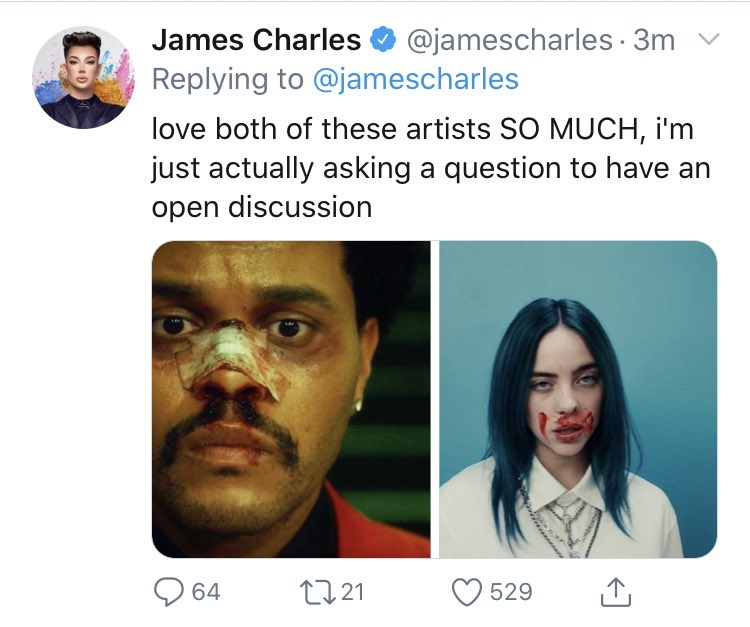 Eventually, he decided to delete the post, writing, "it's a waste of time trying to have an open discussion with people who hate me regardless."
When someone told James he doesn't have to apologize for everything, he clarified that he was no apologizing.
Gregg responded to some backlash in an Instagram story as well. She apologized for potentially triggering some people but wrote, "My mugshot pics and videos had nothing to do with domestic violence."
She went on to explain the storyline for the character she took on in a series of TikTok posts, adding, "I just wanted to clarify that bc i'm being looped in with people actually making their mugshots portray domestic violence vibes and i'm sorry they are doing that but mine are clearly not and if you watch all my mugshot tiktoks u can see that."
Around the same time James deleted his posts, Kopf also deleted her photos as well. However, she has no comment on the backlash as of now.
Still, these influencers are not the only ones who have participated in some version of this trend, but the attention around their posts have sparked discussion over whether or not these mugshot creations are appropriate.
Meghan Rienks' Channel Hack Highlights YouTube Support Issues
For two months, YouTuber Meghan Rienks has been struggling to get YouTube Support's help to recover her hacked vlog channel.
After several confusing email exchanges with the company that presented her with no real solutions, Reinks said she only began to see more helpful and rapid responses when Shane Dawson and Gigi Hadid spoke up or offered their own connections.
Rienks said she spoke on the phone with YouTube on Wednesday and learned she may not be able to get her videos back. She also said that she worries about smaller creators who are left with even fewer options when they have issues with their channels.
---
Rienks Battles with YouTube After Hack
After months of battling with YouTube to regain access to her hacked channel, YouTuber Meghan Rienks said that a call with the company revealed that she may not be able to get her videos back.
On Tuesday, she confirmed via Twitter that YouTube agreed to talk over the phone. The sudden help from the platform came just one day after she posted a 45-minute video detailing the company's disappointing response to her vlog channel being hacked in January. That call, however, did not go in the direction she was hoping.
She posted on Twitter that the call "wasn't great." On a Wednesday night Instagram story, she told her followers that she would likely lose the content she had on the channel, some of which is a decade old.
Her problems with YouTube's support stem back even further than this phone call. Rienks' Monday video starts with her explaining that in October, she realized her main channel was not appearing online for viewers, despite it looking fine from her end while logged in. Solving this with YouTube took roughly two weeks. During that time, they had back and forths where they told her nothing was wrong with her channel. 
The company eventually realized they had been looking into her vlog channel instead and had also sent her the wrong link to solve her main channel issues. During this time, she did notice a suspicious upload on her vlog channel but kept that on the back burner so she could focus on her main channel.
Her vlog channel came back to the forefront on January 2, when Rienks realized it had been fully hacked and rebranded. Her videos were gone, and even though the channel still had her URL, it was now called "Beauty Dior" and has new logos and images.
The page was now full of several newly posted videos, all of which appeared to be re-uploads of beauty tutorials which she suspects are also stolen. On top of that, the email she had associated with the channel was deleted, preventing her from recovering it and regaining control of the account.
Exchanges With YouTube Continue For Two Months
Rienks reached out to YouTube the following morning, thinking this would be an easy fix seeing as the hacking was very obvious. Instead, it led to a series of seemingly empty-worded exchanges between YouTube, Rienks, her manager, and others on her team. In some emails sent from YouTube, Rienks was not even included and had to be kept in the loop via her manager.
In one, the YouTuber support person addresses the email to "Alex." However, no one involved in these communications is named Alex, or even a name remotely similar to Alex. Rienks stated multiple times that she felt she was not in contact with a real person.
Substantial news did not come from YouTube until February 22, when YouTube told Meghan they found no signs of abnormal activity on the channel. When she followed up, emphasizing that the channel had been fully rebranded, they maintained their findings in a grammatically messy email.
"Hi there, thanks for your reply. I understand why you're wondering that the investigation resulted that no highjacking activity happened on the channel," they wrote. "However, I can assure you that our internal team carefully investigated this and didn't found any."
They advised that she increase her password and account security, a measure she had actively been taking on all of her channels and social media accounts since the original incident in October.
Rienks Takes to Twitter
The next morning, she emailed them at 9 AM to request a phone call so she could guarantee swift, immediate contact with a real person. She also hopped on Twitter to express her frustrations.
At around the same time she sent her email, she shared YouTube's response alongside proof that her account had been clearly hacked on Twitter. She also said she had seen a substantial loss in subscribers on the channel since January.
While those posts gained a decent amount of traction when she uploaded them, they blew up when YouTuber Shane Dawson shared one a little after 2 p.m. Dawson mentioned several YouTube Twitter accounts in his message, which included a plea for help.
Just 45 minutes after Shane sent his tweet out, Rienks saw action from YouTube. She received an email saying that phone support was not an option, but her case was now being marked high priority. She also began direct messaging Team YouTube, which led to more confusing back and forths.
After initially claiming that YouTube had looked into her main channel instead of her vlog, an excuse similar to one give during the first situation in October, Team YouTube they were "not sure why [internal teams] came to that conclusion" that there was no abnormal activity on her vlog. They assured Rienks that she had been in contact with real people at YouTube, and apologized for the delay in solving her problem.
"I am sorry you had to take to twitter to get more help with this," one of the messages read. "That shouldn't be the case at all."
Around the same time, another well-known face slid into Rienks' DMs –supermodel Gigi Hadid. Hadid, who is a follower of Reinks, told her that she was sorry about her situation, and had a friend at YouTube who could be able to help.
"This is the only time that I'm getting help," Rienks said frustratedly in her video. "Is when Shane Dawson and Gigi Hadid help me. Thanks guys."
On this day, Beauty Dior was still posting content on her channel. She also noted she saw that the account was being sold on a site for $500.
Rienks' Frustrations with YouTube
While Rienks was recording her video, she got an update from YouTube.
"The email YouTube just sent is that I can have my channel transferred over to me, I just have to agree to not sue them," Rienks explained. "And also, I can't have any of the videos that were privated. Which is all of them."
She spoke to her attorney about the email, who said that nothing in their message to her contained a legal document or legally binding clauses.
"This is a failed system and it's not working," she said, explaining her overall anger about YouTube's response. "And also through all of this I found, if it's not working for me, it is not working for so many creators who have much smaller channels."
In the description of the video, she further expressed that while she wants her channel back, she also wants larger-scale change at YouTube.
"I want a meeting at Youtube. With REAL HUMANS. With the 'people' who run the support team & *personally* investigate hijacked channels," she wrote. "Because it is a broken system and it needs to be changed. I know this is a long shot, but this has been happening for far too long, to far too many creators."
"There's no way that Youtube has coded & built software to pickup on less than 10 seconds of skewed pitch copyrighted song, yet they're still unable to accurately verify a compromised channel," she added. "This needs to change."
When heading to Rienks' vlog channel today, viewers can still find it as Beauty Dior.
Update: This article was updated from its original form to include new information about Rienks' phone call with YouTube.