FBI and ICE Used Facial Recognition to Scan Driver's Licenses
New documents show that ICE and the FBI have been using facial recognition technology to scan millions of Americans' photos through state driver's license databases.
This is the first known instance of ICE using facial recognition to look through these databases.
ICE officials reportedly requested to look at databases in Washington, Vermont, and Utah, all states that allow undocumented immigrants to obtain licenses.
There are no federal or state laws that allow either ICE or the FBI to use this technology on DMV databases, and in some cases, states have privacy laws preventing it.
---
New Documents
New documents reportedly show that Federal Bureau of Investigation (FBI) and Immigration and Customs Enforcement (ICE) agents used facial recognition to scan millions of Americans' photos without their knowledge or consent by accessing state driver's license databases.
Researchers at Georgetown Law's Center on Privacy and Technology used public-records requests to get thousands of internal documents, emails, and facial-recognition requests from the past five years and gave the documents to The Washington Post and The New York Times.
This new information represents the first known instance of ICE using facial recognition technology to look through states driver's license databases, which include millions of photos of legal residents and citizens.
According to the reports, the documents show that ICE officials requested to look through the databases of at least three states that allow undocumented immigrants to obtain licenses. Those states were Utah, Vermont, and Washington.
According to The Times, Utah and Vermont complied with the searches. In Washington, ICE agents authorized subpoenas of the Department of Licensing (DOL) to use facial recognition technology to scan all photos of license applicants. It is unclear if the state actually carried out the searches.
ICE
Congress and state legislatures have not authorized ICE to conduct these kinds of searches.
Harrison Rudolph, a privacy expert and an associate at Georgetown Law's Center on Privacy and Technology told The Times, "This is a scandal."
"States have never passed laws authorizing ICE to dive into driver's license databases using facial recognition to look for folks," he said. "These states have never told undocumented people that when they apply for a driver's license they are also turning over their face to ICE. That is a huge bait and switch."
ICE accessing these databases even seems to run counter to laws passed in some states.
In 2012 the Washington State Legislature passed a law that said ICE could only use facial recognition on driver's licenses when authorized by a court order, which ICE did not do.
Officials in Vermont stopped using facial recognition technology in 2017 after the ACLU found records showing that the state's Department of Motor Vehicles (DMV) had been conducting searches in violation of state law.
Still, both state's have been involved in scandals where licensing officials provided ICE with information about undocumented immigrants. Last year, The Seattle Times reported that the Washington State DOL was giving ICE the license applications of undocumented immigrants.
In January, activists filed a lawsuit in Vermont after public records showed that the state DMV gave ICE names, photos, car registrations, and other information about undocumented immigrants.
FBI
Democratic and Republican lawmakers at the federal level have also echoed similar sentiments about how the FBI has not been given congressional authority to conduct these searches.
"Law enforcement's access of state databases [is] often done in the shadows with no consent," Democratic Rep. Elijah Cummings, who is the House Oversight Committee Chairman, told The Post in a statement.
Last month, Rep. Jim Jordan, who is the House Oversight Committee's ranking Republican, also criticized using federal facial-recognition searches on driver's license photos in a hearing.
"They've just given access to that to the FBI," Jordan said."No individual signed off on that when they renewed their driver's license, got their driver's licenses. They didn't sign any waiver saying, 'Oh, it's okay to turn my information, my photo, over to the FBI.' No elected officials voted for that to happen."
Regardless, the FBI has still conducted hundreds of thousands of facial recognition scans on driver's licenses.
According to a new report from the Government Accountability Office, the FBI has run over 390,000 facial recognition searches through state, local, and federal databases. They also have access to databases in 21 states that hold over 641 million photos.
While those states have rules for the searches, like that each search has to pertain to a criminal investigation, the FBI does not provide much information about when the searches are used, who they target, or how often they return false matches.
Many experts have said that inaccuracies in facial recognition technology can lead to false identification or wrongful arrests. Multiple studies have shown that people of color are more likely to be misidentified by facial recognition software, especially women of color.
According to The Post, the records given to them show how easily federal investigators can access state licensing databases.
While states like Washington require federal subpoenas or court orders, a lot of the search requests only involved sending an email to a DMV official with a "probe photo" of a target attached.
The DMV official would search their database and give the investigators details of possible matches. Those capabilities were not only used to identify criminal suspects, but also "to detect possible witnesses, victims, bodies, and innocent bystanders and other people not charged with crimes," The Post stated.
The FBI did not provide a comment, and a spokesperson for ICE told The Times the agency would not comment because of "law-enforcement sensitivities."
"During the course of an investigation, ICE has the ability to collaborate with external local, federal and international agencies to obtain information that may assist in case completion and subsequent prosecution," the spokesperson said. "This is an established procedure that is consistent with other law enforcement agencies."
In May, San Fransico became the first city to ban the use of facial recognition technology by city departments like the police. Last month, Somerville, Massachusetts followed suit and banned their police and public agencies from using facial recognition software.
How Safe Injections Sites in the U.S. Are Fighting Back Against The Opioid Crisis & Do They Work?
---
America has been hit with a historical opioid crisis. In 2018, more than 31,000 people died from opioid overdoses, which is more than any previous year recorded in American history. Healthcare professionals and public health experts are offering alternatives to the status quo treatments, which leads us to today's topic: supervised injection facilities (SIF).
Also known as overdose prevention sites and medically supervised injection centers, SIF's have been proposed as a solution to combat America's opioid problem. In these centers, no drugs are supplied to the users—they bring their own and are given clean syringes to prevent bloodborne diseases. Advocates or these sites are saying that they would stop countless fatal overdoses because there would be medical staff on site. Countries like Switzerland, Canada, and Australia have implemented versions of these facilities and so far there has not been any reported fatal overdoses at a SIF in the world. 
While cities like Seattle, San Francisco, New York City, and Philadelphia have all proposed plans to make sites, they have been met with heavy opposition. The federal government opposed these sites because they claim it breaks federal laws and some residents in these cities are against them due to concerns over attracting more crime. In this video, we'll be focusing on Philadelphia, as it might become the first U.S. city to legally open a supervised injection facility, along with the court case between the non-profit who is trying to establish the SIF and the federal government.

Elon Musk Defends Calling Rescue Diver "Pedo Guy" in Lawsuit
In court documents, Elon Musk defended a tweet where he called a diver who helped rescue the Thai soccer team from a cave a "pedo guy" because it "was a common insult used in South Africa." 
The diver sued Musk for defamation last year after Musk sent an email to BuzzFeed where he referred to the diver as "child rapist" who had taken a "child bride who was about 12 years old." 
The court documents from the suit, which were made public Monday, also revealed that Musk paid a private investigator more than $50,000 to look into the diver.
Musk also said he gave the statement to BuzzFeed based on information provided by the investigator, and because he was concerned the diver could be the next Jeffrey Epstein. 
---
Court Filings Made Public
Telsa CEO Elon Musk defended calling a rescue diver "pedo guy," court documents revealed Monday.
Musk originally made the comment in July 2018, after Vernon Unsworth, a British diver who helped rescue the Thai soccer team trapped in a cave last year, gave an interview to CNN where he had some choice things to say about Musk.
Notably, Unsworth said the submarine Musk had designed to rescue the soccer team would not work and that it was just a PR stunt.
Musk responded by calling Unsworth a "pedo guy" in a now-deleted tweet.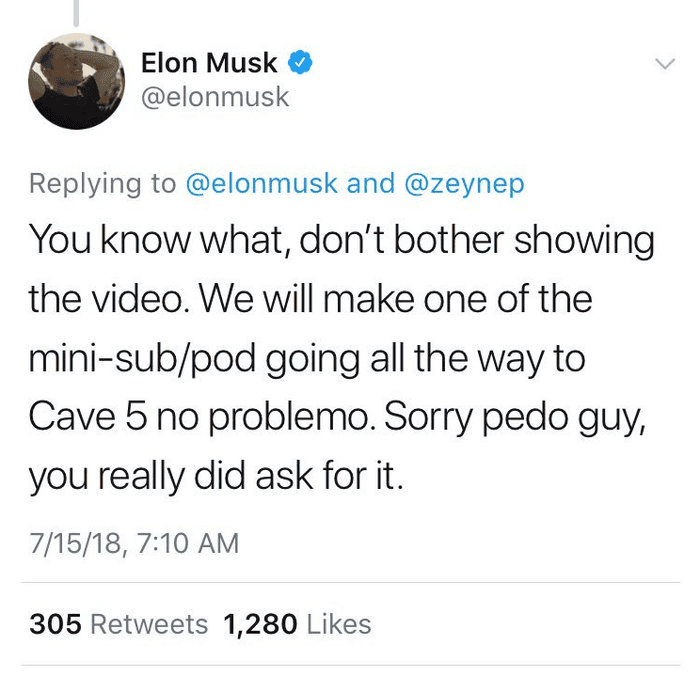 He also sent an email to BuzzFeed reporter Ryan Mac, in which he accused Unsworth of being a "child rapist" who had taken a "child bride who was about 12 years old at the time."
Musk said he thought the email was off the record, but BuzzFeed said they never agreed to that. In September 2018, Unsworth filed a defamation lawsuit against Musk in the Central District of California.
Court filings from the defamation suit against Musk were made public on Monday.
Musk Defends "Pedo Guy" Tweet
In those documents, Musk claimed that referring to Unsworth as "pedo guy" was not a direct accusation of pedophilia.
"'Pedo guy' was a common insult used in South Africa when I was growing up," Musk wrote. "It is synonymous with 'creepy old man' and is used to insult a person's appearance and demeanor, not accuse a person of acts of pedophilia."
"I did not intend to accuse Mr. Unsworth of engaging in acts of pedophilia," he continued. "In response to his insults in the CNN interview, I meant to insult him back by expressing my opinion that he seemed like a creepy old man."
The fact that Musk is arguing he was expressing his opinion is important in this context because under the First Amendment, opinions are usually protected speech and not considered defamatory.
The documents also included Musk's deposition, where he talks more in-depth about the "pedo guy" tweet.
In the deposition, Musk said he sent BuzzFeed the email because he was worried it could turn into a Jeffrey Epstein situation, referring to the wealthy financier who was accused of sexually assaulting dozens of young women, including many underage girls.
"What if we have another Jeffrey Epstein on our hands?" he said. "And what if he uses whatever celebrity he gains from this cave rescue to shield his bad deeds? This would be terrible."
Musk's Epstein argument might become problematic. First of all, he made the statements to BuzzFeed before the new allegations surfaced, which some have argued proves he just is using current news to frame Unsworth in a certain way, and that he did not actually consider Epstein at all.
That argument is also furthered by the fact that it has been reported that Musk had attended several events with Epstein, all of which were after Epstein pleaded guilty to soliciting prostitution from an underage girl in 2008.
Musk even said he visited Epstein's house "several years ago." Epstein also told The New York Times he had advised Musk while Tesla was trying to go public in 2018, though Musk denies those claims.
Private Investigator
Notably, Musk also said in the filings that he paid a private investigator more than $50,000 to investigate Unsworth after receiving an unsolicited email from the PI in August 2018.
In the documents, Musk says that the investigator: "reported that Mr. Unsworth met and began a relationship with his alleged Thai wife when she around twelve years old."
He also added that the investigator "reported that Mr. Unsworth associated with Europeans who engage in improper sexual conduct in Thailand," and that he "learned that Mr. Unsworth frequented Pattaya Beach which is well known for prostitution and sex tourism, and that Mr. Unsworth was unpopular at the rescue site because other rescue workers thought that he was 'creepy.'"
Musk goes on to say this was the basis for the comments he made in his email to BuzzFeed.
"I did not authorize Mr. Mac or BuzzFeed to publish the contents of the email nor did I intend or expect that they would," he said. "Especially without first independently verifying and confirming its information."
He later added that he gave the information to Mac "so that BuzzFeed could conduct its own investigation into Mr. Unsworth and corroborate the information."
Musk's lawyers even admitted in the court filings that the private investigator's findings "lacked solid evidence of Mr. Unsworth's behavior."
Following the release of the court documents, Unsworth's lawyer gave a statement to BuzzFeed condemning the Musk's defense.
"The motion filed by Elon Musk today is a disgusting and transparent effort to continue falsely smearing Vernon Unsworth without any credible or verified supporting evidence," the lawyer said.
"Mr. Unsworth's opposition to Musk's motion will reveal the whole truth of Musk's actions and the falsity of his public statements and his motion with respect to Mr. Unsworth will be exposed."
Controversy, Racism, and Genius Kids?! How One Sperm Bank Changed Everything…
---
The Repository for Germinal Choice is the most controversial sperm bank in U.S. history. While it was operational some people believed this bank was racist and they even compared the companies goals to Nazi eugenic practices. But even though this sperm bank was highly controversial, it also completely changed the sperm bank industry.

So check out our video for the full story on how this controversial sperm bank would go on to shape an entire industry.