Antifa Group Clashes With Journalist Andy Ngo at Portland Rally
On Saturday, three groups held separate protests in downtown Portland: the HimToo movement, the Proud Boys, and Rose City Antifa.
The gatherings turned violent when the Antifa group began marching toward the two others, resulting in eight injuries and three arrests.
Among those injured was journalist Andy Ngo, who was admitted to the hospital with a brain bleed after being attacked.
Ngo's situation was met with mixed reactions online, with some condemning the violence against him and others arguing that he purposely brought the attack upon himself.
---
The Protests
Three planned protests in Portland turned violent on Saturday in what police described as "a civil disturbance and unlawful assembly" that lead to eight injuries and three arrests.
The protests, which were sponsored by different organizations, all started at different areas in downtown Portland. One was held by the Proud Boys, a right-wing group that describes themselves as "western chauvinists." The HimToo Movement, which fights against false rape allegations, held another. The final protest was planned by Rose City Antifa, an anti-fascist group that gathered to counterprotest the others.
According to tweets from people at the protests, they all began around noon and remained calm for the first half hour. The situation grew tense when Rose City Antifa members began moving towards the other groups. It is unclear from the tweets when exactly the groups met, but when they did, violence broke out. Journalists covering the protests began sharing photos and videos of people punching and attacking each other.
One video, in particular, shows conservative writer Andy Ngo, who is currently an editor for the online magazine Quillette, being assaulted and drenched in milkshakes, eggs, and silly string. In the video, people who recognized Ngo can be heard shouting things like, "f*** you, Andy!" and "go home, Andy Ngo!"
Portland Police intervened, warning the public that protests had become violent and advising them to leave. They later declared the gatherings "a civil disturbance and unlawful assembly" and sent "riot control agents" to control the area.
PPB has observed violent activity. They are advising crowd to get out of the street and travel into Lownsdale Park Square.

— Portland Police (@PortlandPolice) June 29, 2019
The bureau released a statement Saturday evening, providing details about the protests and the aftermath that it caused.
"During today's events, there were multiple assaults reported, as well as projectiles thrown at demonstrators and officers," the statement reads. "The medics treated eight people, including three police officers during the event."
The statement also notes that from the incident, three individuals were arrested. Their charges ranged from assault to harassment.
Andy Ngo
Andy Ngo, who was in downtown Portland covering the protests, documented his day on his Twitter account. Just after 1:30 p.m., when the protests began to turn violent, Ngo shared a video of himself sitting on the ground bleeding.
"Um…I just got beat up by the crowd, no police at all," Ngo explains in his post. "Um in the middle of street and they stole my GoPro. And he punched me several times in my face and in my head, I'm bleeding."
Ngo followed the video with more tweets, the first saying he was attacked by Antifa members with no police around to help until afterward. He later told his followers that he was headed to the hospital.
Ngo posted photos of him at an emergency room Saturday night, showing injuries on his face.
His lawyer, Harmeet Dhillon, also tweeted Saturday night and informed the public that Ngo was suffering from a brain bleed and had to spend the night at the hospital.
On Sunday, Dhillion took to social media again, this time to let his followers know that Ngo was discharged from the hospital and headed home.
Responses
Some have viewed Ngo's situation as an incident he brought upon himself, saying the video of his attack was "his goal from the start."
On the other side, people have been condemning the attack. Senator Ted Cruz tweeted about Saturday's violence and the attack on Ngo, along with House Minority Leader Kevin McCarthy, who called the incident "horrible."
A GoFundMe has since been set up to help cover Ngo's medical expenses, security needs, and stolen equipment. As of Monday afternoon, it has almost tripled its goal of $50,000, with over $149,000 raised.
Rose City Antifa has also commented on Saturday's gathering, calling it an "amazing success." They wrote in their Facebook group, "The J29 demo was an amazing success which is really very upsetting for the dwindling crew of fascists who come to our city in hopes of bullying vulnerable people.
How Safe Injections Sites in the U.S. Are Fighting Back Against The Opioid Crisis & Do They Work?
---
America has been hit with a historical opioid crisis. In 2018, more than 31,000 people died from opioid overdoses, which is more than any previous year recorded in American history. Healthcare professionals and public health experts are offering alternatives to the status quo treatments, which leads us to today's topic: supervised injection facilities (SIF).
Also known as overdose prevention sites and medically supervised injection centers, SIF's have been proposed as a solution to combat America's opioid problem. In these centers, no drugs are supplied to the users—they bring their own and are given clean syringes to prevent bloodborne diseases. Advocates or these sites are saying that they would stop countless fatal overdoses because there would be medical staff on site. Countries like Switzerland, Canada, and Australia have implemented versions of these facilities and so far there has not been any reported fatal overdoses at a SIF in the world. 
While cities like Seattle, San Francisco, New York City, and Philadelphia have all proposed plans to make sites, they have been met with heavy opposition. The federal government opposed these sites because they claim it breaks federal laws and some residents in these cities are against them due to concerns over attracting more crime. In this video, we'll be focusing on Philadelphia, as it might become the first U.S. city to legally open a supervised injection facility, along with the court case between the non-profit who is trying to establish the SIF and the federal government.

Elon Musk Defends Calling Rescue Diver "Pedo Guy" in Lawsuit
In court documents, Elon Musk defended a tweet where he called a diver who helped rescue the Thai soccer team from a cave a "pedo guy" because it "was a common insult used in South Africa." 
The diver sued Musk for defamation last year after Musk sent an email to BuzzFeed where he referred to the diver as "child rapist" who had taken a "child bride who was about 12 years old." 
The court documents from the suit, which were made public Monday, also revealed that Musk paid a private investigator more than $50,000 to look into the diver.
Musk also said he gave the statement to BuzzFeed based on information provided by the investigator, and because he was concerned the diver could be the next Jeffrey Epstein. 
---
Court Filings Made Public
Telsa CEO Elon Musk defended calling a rescue diver "pedo guy," court documents revealed Monday.
Musk originally made the comment in July 2018, after Vernon Unsworth, a British diver who helped rescue the Thai soccer team trapped in a cave last year, gave an interview to CNN where he had some choice things to say about Musk.
Notably, Unsworth said the submarine Musk had designed to rescue the soccer team would not work and that it was just a PR stunt.
Musk responded by calling Unsworth a "pedo guy" in a now-deleted tweet.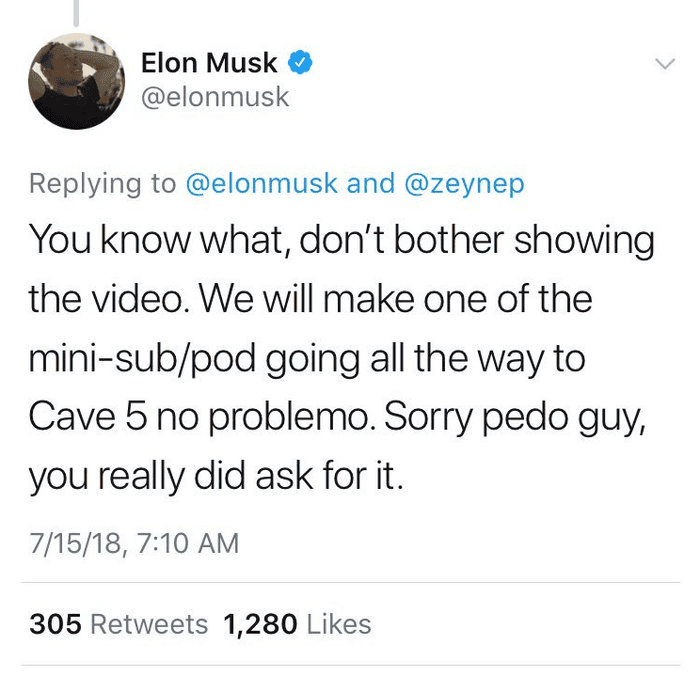 He also sent an email to BuzzFeed reporter Ryan Mac, in which he accused Unsworth of being a "child rapist" who had taken a "child bride who was about 12 years old at the time."
Musk said he thought the email was off the record, but BuzzFeed said they never agreed to that. In September 2018, Unsworth filed a defamation lawsuit against Musk in the Central District of California.
Court filings from the defamation suit against Musk were made public on Monday.
Musk Defends "Pedo Guy" Tweet
In those documents, Musk claimed that referring to Unsworth as "pedo guy" was not a direct accusation of pedophilia.
"'Pedo guy' was a common insult used in South Africa when I was growing up," Musk wrote. "It is synonymous with 'creepy old man' and is used to insult a person's appearance and demeanor, not accuse a person of acts of pedophilia."
"I did not intend to accuse Mr. Unsworth of engaging in acts of pedophilia," he continued. "In response to his insults in the CNN interview, I meant to insult him back by expressing my opinion that he seemed like a creepy old man."
The fact that Musk is arguing he was expressing his opinion is important in this context because under the First Amendment, opinions are usually protected speech and not considered defamatory.
The documents also included Musk's deposition, where he talks more in-depth about the "pedo guy" tweet.
In the deposition, Musk said he sent BuzzFeed the email because he was worried it could turn into a Jeffrey Epstein situation, referring to the wealthy financier who was accused of sexually assaulting dozens of young women, including many underage girls.
"What if we have another Jeffrey Epstein on our hands?" he said. "And what if he uses whatever celebrity he gains from this cave rescue to shield his bad deeds? This would be terrible."
Musk's Epstein argument might become problematic. First of all, he made the statements to BuzzFeed before the new allegations surfaced, which some have argued proves he just is using current news to frame Unsworth in a certain way, and that he did not actually consider Epstein at all.
That argument is also furthered by the fact that it has been reported that Musk had attended several events with Epstein, all of which were after Epstein pleaded guilty to soliciting prostitution from an underage girl in 2008.
Musk even said he visited Epstein's house "several years ago." Epstein also told The New York Times he had advised Musk while Tesla was trying to go public in 2018, though Musk denies those claims.
Private Investigator
Notably, Musk also said in the filings that he paid a private investigator more than $50,000 to investigate Unsworth after receiving an unsolicited email from the PI in August 2018.
In the documents, Musk says that the investigator: "reported that Mr. Unsworth met and began a relationship with his alleged Thai wife when she around twelve years old."
He also added that the investigator "reported that Mr. Unsworth associated with Europeans who engage in improper sexual conduct in Thailand," and that he "learned that Mr. Unsworth frequented Pattaya Beach which is well known for prostitution and sex tourism, and that Mr. Unsworth was unpopular at the rescue site because other rescue workers thought that he was 'creepy.'"
Musk goes on to say this was the basis for the comments he made in his email to BuzzFeed.
"I did not authorize Mr. Mac or BuzzFeed to publish the contents of the email nor did I intend or expect that they would," he said. "Especially without first independently verifying and confirming its information."
He later added that he gave the information to Mac "so that BuzzFeed could conduct its own investigation into Mr. Unsworth and corroborate the information."
Musk's lawyers even admitted in the court filings that the private investigator's findings "lacked solid evidence of Mr. Unsworth's behavior."
Following the release of the court documents, Unsworth's lawyer gave a statement to BuzzFeed condemning the Musk's defense.
"The motion filed by Elon Musk today is a disgusting and transparent effort to continue falsely smearing Vernon Unsworth without any credible or verified supporting evidence," the lawyer said.
"Mr. Unsworth's opposition to Musk's motion will reveal the whole truth of Musk's actions and the falsity of his public statements and his motion with respect to Mr. Unsworth will be exposed."
Controversy, Racism, and Genius Kids?! How One Sperm Bank Changed Everything…
---
The Repository for Germinal Choice is the most controversial sperm bank in U.S. history. While it was operational some people believed this bank was racist and they even compared the companies goals to Nazi eugenic practices. But even though this sperm bank was highly controversial, it also completely changed the sperm bank industry.

So check out our video for the full story on how this controversial sperm bank would go on to shape an entire industry.