Illinois to Expunge Nearly 800,000 Marijuana Convictions
Illinois Gov. J.B. Pritzker signed a bill legalizing the sale of recreational marijuana for adults 21 and older.
Experts have said the law contains one of the most comprehensive criminal justice reforms compared to other states that have legalized marijuana.
Once in effect, the law will expunge the criminal records of nearly 770,000 people previously charged with buying or possessing 30 grams of marijuana or less.
It also includes a social equity program that will provide grants and loans to people in communities impacted by the war on drugs and give them priority for obtaining business licenses to operate cannabis stores.
---
Legalization Bill
Illinois became the 11th state to legalize marijuana Tuesday when Governor J.B. Pritzker signed a bill that will make the sale of cannabis legal and implement sweeping criminal justice reform.
The bill is set to go into effect on Jan. 1, 2020, and will allow Illinois residents 21 and over to buy and possess up to 30 grams (1 ounce) of recreational marijuana. Non-residents visiting the state will be allowed to purchase up to 15 grams.
Once in effect, the law will also automatically expunge the criminal records of around 770,000 people convicted of purchasing or possessing 30 grams of marijuana or less. Those convicted of buying or possessing 30 to 500 grams can petition a court to have their charges expunged.
The expungement provision is one of several in the bill targeted towards communities of color that have been disproportionately impacted by the war on drugs.
"In the past 50 years, the war on cannabis has destroyed families, filled prisons with nonviolent offenders and disproportionately disrupted black and brown communities," Pritzker said at the bill signing.
"Studies have shown time and time again that black and white people tend to use cannabis at the same rates, but black people are far more likely to be arrested for possession," he continued. "Today we are giving hundreds of thousands of people the chance at a better life."
Social Equity Program
In addition to the expungements, the new law also includes a social equity program that will give grants and loans to individuals in communities affected by the war on drugs who want to start a cannabis business.
The program will also give preference to minorities who apply for businesses licenses. Heather Steans, the main Illinois state senator who sponsored the bill, predicted that at least 20% of licenses will go to people of color, according to Rolling Stone.
Additionally, the social equity program mandates that 25% of tax revenue from marijuana sales will go to redeveloping and reinvesting in communities that have been hurt by the war on drugs.
Opposition
Law enforcement organizations expressed concern over the bill throughout the legislative process.
Police have argued that enforcing driving under the influence laws will be difficult as the technology for testing marijuana impairment needs to be developed more.
While the legalization bill was being debated in the state's legislature, law enforcement lobbyists successfully killed a measure that would have allowed adults over 21 to grow up to five marijuana plants for personal use.
Police again argued that enforcement would be difficult, and as a result, the bill was amended so only medical marijuana users can grow plants at home.
However, law enforcement was not the only group that opposed the legalization or specific parts of it. According to Dan Linn, the executive director of Illinois NORML, the drug testing industry, as well as anti-drug groups and some religious organizations also fought against the bill.
Comprehensive Legalization
Illinois now joins Washington, D.C. and 10 other states that have already legalized marijuana.
However, the state's new law is a landmark in several ways. Illinois is the first state to legalize the sale of marijuana through its legislature rather than through a ballot initiative.
Illinois' social equity program also represents one of the most comprehensive criminal justice reforms among states that have legalized marijuana.
Other states where cannabis is legal now have similar provisions, but those provisions were implemented separately after the states had already passed legalization.
Just last month Washington Gov. Jay Inslee signed a law that will allow misdemeanor marijuana convictions given before the drug was legalized to be vacated. The move came nearly seven years after the state voted to legalize marijuana.
In February, San Francisco became the first city in the U.S. to clear all eligible marijuana convictions when officials announced that they would dismiss 9,362 charges dating back to 1975. Again, the move came more than two years after California legalized marijuana.
Illinois' new legalization law, by contrast, is the first one that mandates such extensive expungement from the start.
How Safe Injections Sites in the U.S. Are Fighting Back Against The Opioid Crisis & Do They Work?
---
America has been hit with a historical opioid crisis. In 2018, more than 31,000 people died from opioid overdoses, which is more than any previous year recorded in American history. Healthcare professionals and public health experts are offering alternatives to the status quo treatments, which leads us to today's topic: supervised injection facilities (SIF).
Also known as overdose prevention sites and medically supervised injection centers, SIF's have been proposed as a solution to combat America's opioid problem. In these centers, no drugs are supplied to the users—they bring their own and are given clean syringes to prevent bloodborne diseases. Advocates or these sites are saying that they would stop countless fatal overdoses because there would be medical staff on site. Countries like Switzerland, Canada, and Australia have implemented versions of these facilities and so far there has not been any reported fatal overdoses at a SIF in the world. 
While cities like Seattle, San Francisco, New York City, and Philadelphia have all proposed plans to make sites, they have been met with heavy opposition. The federal government opposed these sites because they claim it breaks federal laws and some residents in these cities are against them due to concerns over attracting more crime. In this video, we'll be focusing on Philadelphia, as it might become the first U.S. city to legally open a supervised injection facility, along with the court case between the non-profit who is trying to establish the SIF and the federal government.

Elon Musk Defends Calling Rescue Diver "Pedo Guy" in Lawsuit
In court documents, Elon Musk defended a tweet where he called a diver who helped rescue the Thai soccer team from a cave a "pedo guy" because it "was a common insult used in South Africa." 
The diver sued Musk for defamation last year after Musk sent an email to BuzzFeed where he referred to the diver as "child rapist" who had taken a "child bride who was about 12 years old." 
The court documents from the suit, which were made public Monday, also revealed that Musk paid a private investigator more than $50,000 to look into the diver.
Musk also said he gave the statement to BuzzFeed based on information provided by the investigator, and because he was concerned the diver could be the next Jeffrey Epstein. 
---
Court Filings Made Public
Telsa CEO Elon Musk defended calling a rescue diver "pedo guy," court documents revealed Monday.
Musk originally made the comment in July 2018, after Vernon Unsworth, a British diver who helped rescue the Thai soccer team trapped in a cave last year, gave an interview to CNN where he had some choice things to say about Musk.
Notably, Unsworth said the submarine Musk had designed to rescue the soccer team would not work and that it was just a PR stunt.
Musk responded by calling Unsworth a "pedo guy" in a now-deleted tweet.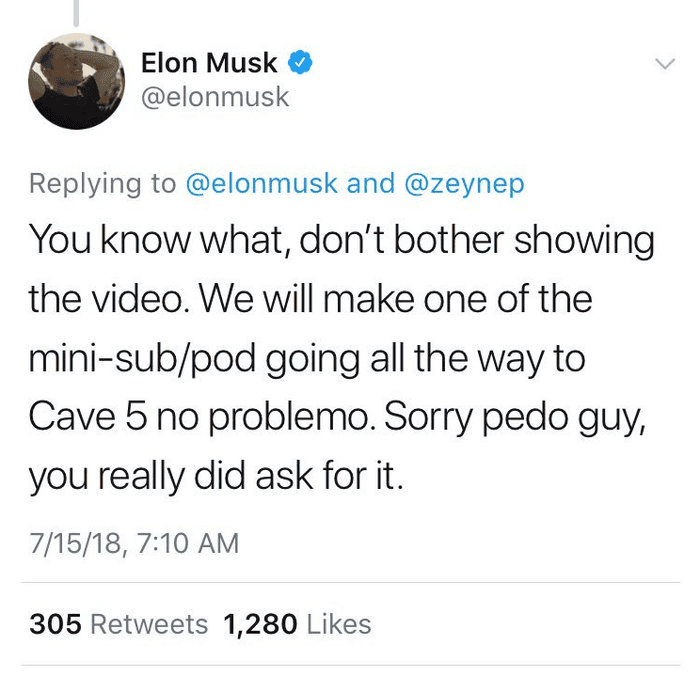 He also sent an email to BuzzFeed reporter Ryan Mac, in which he accused Unsworth of being a "child rapist" who had taken a "child bride who was about 12 years old at the time."
Musk said he thought the email was off the record, but BuzzFeed said they never agreed to that. In September 2018, Unsworth filed a defamation lawsuit against Musk in the Central District of California.
Court filings from the defamation suit against Musk were made public on Monday.
Musk Defends "Pedo Guy" Tweet
In those documents, Musk claimed that referring to Unsworth as "pedo guy" was not a direct accusation of pedophilia.
"'Pedo guy' was a common insult used in South Africa when I was growing up," Musk wrote. "It is synonymous with 'creepy old man' and is used to insult a person's appearance and demeanor, not accuse a person of acts of pedophilia."
"I did not intend to accuse Mr. Unsworth of engaging in acts of pedophilia," he continued. "In response to his insults in the CNN interview, I meant to insult him back by expressing my opinion that he seemed like a creepy old man."
The fact that Musk is arguing he was expressing his opinion is important in this context because under the First Amendment, opinions are usually protected speech and not considered defamatory.
The documents also included Musk's deposition, where he talks more in-depth about the "pedo guy" tweet.
In the deposition, Musk said he sent BuzzFeed the email because he was worried it could turn into a Jeffrey Epstein situation, referring to the wealthy financier who was accused of sexually assaulting dozens of young women, including many underage girls.
"What if we have another Jeffrey Epstein on our hands?" he said. "And what if he uses whatever celebrity he gains from this cave rescue to shield his bad deeds? This would be terrible."
Musk's Epstein argument might become problematic. First of all, he made the statements to BuzzFeed before the new allegations surfaced, which some have argued proves he just is using current news to frame Unsworth in a certain way, and that he did not actually consider Epstein at all.
That argument is also furthered by the fact that it has been reported that Musk had attended several events with Epstein, all of which were after Epstein pleaded guilty to soliciting prostitution from an underage girl in 2008.
Musk even said he visited Epstein's house "several years ago." Epstein also told The New York Times he had advised Musk while Tesla was trying to go public in 2018, though Musk denies those claims.
Private Investigator
Notably, Musk also said in the filings that he paid a private investigator more than $50,000 to investigate Unsworth after receiving an unsolicited email from the PI in August 2018.
In the documents, Musk says that the investigator: "reported that Mr. Unsworth met and began a relationship with his alleged Thai wife when she around twelve years old."
He also added that the investigator "reported that Mr. Unsworth associated with Europeans who engage in improper sexual conduct in Thailand," and that he "learned that Mr. Unsworth frequented Pattaya Beach which is well known for prostitution and sex tourism, and that Mr. Unsworth was unpopular at the rescue site because other rescue workers thought that he was 'creepy.'"
Musk goes on to say this was the basis for the comments he made in his email to BuzzFeed.
"I did not authorize Mr. Mac or BuzzFeed to publish the contents of the email nor did I intend or expect that they would," he said. "Especially without first independently verifying and confirming its information."
He later added that he gave the information to Mac "so that BuzzFeed could conduct its own investigation into Mr. Unsworth and corroborate the information."
Musk's lawyers even admitted in the court filings that the private investigator's findings "lacked solid evidence of Mr. Unsworth's behavior."
Following the release of the court documents, Unsworth's lawyer gave a statement to BuzzFeed condemning the Musk's defense.
"The motion filed by Elon Musk today is a disgusting and transparent effort to continue falsely smearing Vernon Unsworth without any credible or verified supporting evidence," the lawyer said.
"Mr. Unsworth's opposition to Musk's motion will reveal the whole truth of Musk's actions and the falsity of his public statements and his motion with respect to Mr. Unsworth will be exposed."
Controversy, Racism, and Genius Kids?! How One Sperm Bank Changed Everything…
---
The Repository for Germinal Choice is the most controversial sperm bank in U.S. history. While it was operational some people believed this bank was racist and they even compared the companies goals to Nazi eugenic practices. But even though this sperm bank was highly controversial, it also completely changed the sperm bank industry.

So check out our video for the full story on how this controversial sperm bank would go on to shape an entire industry.