Project Veritas and Politicians Accuse Google of Anti-Trump Bias
Project Veritas released a report with documents from an anonymous source within Google and secretly recorded footage of a Google employee, Jen Gennai, speaking about the company's policies.
Both Project Veritas and the source claim that Google has a liberal bias, is silencing conservative voices, and trying to prevent leaders like Donald Trump from gaining power.
Gennai wrote that her words were taken out of context and edited to make her sound like she was working to get Trump out of office.
A Google executive also spoke in a Senate hearing where she was asked about the report, and she said the company builds for everyone, regardless of political ideology.
---
Project Veritas Video Shows Google Employee
Google has been accused of harboring a liberal bias after a Project Veritas report showed leaked company documents and secretly recorded footage with a Google employee.
Project Veritas uploaded a video Monday with footage they shot "undercover" of Jen Gennai, who they identify as the Head of Responsible Innovation at Google. In the video, she can be seen speaking about a number of things, ranging from politics to Google's policy. They claim her words convey that the company has an anti-Trump attitude.
"We all got screwed over in 2016, again it wasn't just us," she says in one clip. "It was, the people got screwed over, the news media got screwed over, like, everybody got screwed over so we're rapidly been like, what happened there and how do we prevent it from happening again."
"2020, certainly on top of my old organization, Trust and Safety, top of mind, they've been working on it since 2016, to make sure we're ready for 2020," she later says. "We're also training our algorithms, like, if 2016 happened again, would we have, would the outcome be different?"
Gennai also speaks about politicians' desires to intervene with Google. She said that Google has ignored requests to speak with Congress because they don't intend on changing their practices.
"Elizabeth Warren is saying we should break up Google," Gennai says in a clip. "And like, I love her but she's very misguided, like that will not make it better it will make it worse, because all these smaller companies who don't have the same resources that we do will be charged with preventing the next Trump situation, it's like a small company cannot do that."
She can also be heard speaking about political bias when it comes to what Google considers to be a credible news source.
"We have gotten accusations of…around fairness is that we're unfair to conservatives because we're choosing what we find as credible news sources and those sources don't necessarily overlap with conservative sources," said Gennai.
The video has been removed from YouTube. YouTube told Rogue Rocket that it violated their privacy guidelines by depicting someone's face and likeness who was being filmed without their consent. Had Gennai's face been blurred and name been removed, it would not have violated this policy.
Anonymous Source Leaks Documents
In addition to this footage, an anonymous source sat down with Project Veritas. The source said that Google was highly biased and wanted to prevent Trump from being re-elected in 2020.
They also brought forward documents about Google's practices. One of those documents was internal information on Google's position when it comes to news. It states that their goal is to "Establish a 'single point of truth' for definition of 'news' across Google products."
Other documents explain a concept that they call Algorithmic Unfairness and explains how they are trying to address this. According to the documents that the source brought forward, Algorithmic Unfairness means "unjust or prejudicial treatment of people that is related to sensitive characteristics such as race, income, sexual orientation, or gender, through algorithmic systems or algorithmically aided decision making."
One example the document provides states that if you search CEOs into Google Images you will see mainly men. Even though this would be factually accurate, it would be algorithmic unfairness because it reinforces stereotypes about men and women's roles in the workplace.
However, it also says that in some cases, it may be "appropriate to take no action if the system accurately affects current reality."
While in other cases, they could consider how to "help society reach a more fair and equitable state, via either product intervention or broader corporate social responsibility efforts."
To see what happens when this example is put into practice, Rogue Rocket, typed CEOs into Google Images. The photos were mainly of men, though "woman" is a suggestion up top.
The source also says that Google is furthering an agenda in its search suggestions.
In the video, they show that when you type "women can" into the engine, you get things like "women can vote," "women can do anything," and "women can fly." When typing "men can" you get things like "men can have babies," "men can cook," and "men can get pregnant." The source says this pushes a progressive agenda.
Rogue Rocket typed those phrases into Google to see if the suggestions are universal and got overlapping results, with varying differences.
Another search example Project Veritas shows was typing "Hillary Clinton's e-mails are" versus "Donald Trump's e-mails" into the Google search engine. The engine gives no suggestions for Clinton but does for Trump. The source claims that this is intentional.
"Well, according to them, Hillary Clinton's emails are a conspiracy theory and its unfair to return results based on her emails," the source said.
The source goes on to say that they are training AI to turn up results like this. Rogue Rocket typed the phrases in as well and found that no suggestions came up for Clinton, but did for Trump. However, once the search on Clinton's e-mails is entered, there are results including archives from WikiLeaks, Politico, and NPR, as well as pages from Wikipedia and Fox News.
Project Veritas' report also brings up Section 230 of the Communications Decency Act, which allows companies like Google to not be held accountable for the content they provide. This is because they are a platform, not a publisher. However, the source says they believe Google should be considered a publisher and should be held accountable.
The source also goes on to talk about YouTube, a Google-owned company. They say that YouTube is demonetizing conservative voices and using AI to suppress their videos. The source claims that because of this, since a conference in May, many have seen their view counts go down.
Gennai Responds
Later on Monday, Gennai responded to the video, saying she had been receiving threats since it was uploaded. She wrote a Medium post about what happened and claimed her words were taken out of context.
"In late May, I accepted an invitation to meet with a few people who claimed to be from '2 Step Tech Solutions'. They said they wanted to chat to me about a mentoring program for young women of color in tech, an area I've long been passionate about," Gennai wrote.
"Unfortunately, I now know that these people lied about their true identities, filmed me without my consent, selectively edited and spliced the video to distort my words and the actions of my employer, and published it widely online," she added.
Gennai specifically explained that in terms of talking about the election, her words had been misconstrued.
"I was explaining how Google's Trust and Safety team (a team I used to work on) is working to help prevent the types of online foreign interference that happened in 2016. Google has been very public about the work that our teams have done since 2016 on this, so it's hardly a revelation," Gennai said.
Gennai also said that the video brought up debunked conspiracy theories and that Google has no "notion of political ideology."
Second Project Veritas Report
On Tuesday Project Veritas released another report with what they say are emails from a Google employee. In those emails, someone refers to PragerU, Jordan Peterson, Ben Shapiro as Nazis.
"I don't think correctly identifying far-right content is beyond our capabilities. But if it is, why not go with Meredith's suggestion of disabling the suggestion feature?" the e-mail continues.
According to their report, they say this implies that they should be removed from suggested content.
PragerU then launched a petition to stop big tech bias, saying that conservative ideas are under attack.
Shapiro also tweeted at YouTube CEO Susan Wojcicki about the matter.
Peterson also called Google out.
Regarding these reports, YouTube Insider tweeted that the site has no political bias.
A YouTube representative also told Rogue Rocket that Google has an open culture and several large e-mail groups about a number of topics from things like pets to politics. This allows employees to voice their opinions with one another.
YouTube added that the leaked e-mails did not come from a YouTube employee, and that this person does not speak on behalf of the company, and that this is not an official company position.
Politicians Respond
On Tuesday, U.S. Senate Committee on Commerce, Science and Transportation had a hearing. During the hearing, Maggie Stanphill, the Director of User Experiences at Google spoke as a witness.
Senator Ted Cruz brought up the Project Veritas report and the claim it makes about the company being anti-Trump.
"Do you think its Google's job to make sure somebody like Donald Trump never comes into power again?" Cruz asked Stanphill.
"No sir, I don't think, I don't think that is Google's job," Stanphill responded. "And we build for everyone, including every single religious belief, every single demographic every single region, and certainly every political affiliation."
President Donald Trump spoke about Google on Wednesday in a phone interview with Fox Business.
"Look, we should be suing Google and Facebook and all that, which perhaps we will, okay," Trump said.
He did not say why the companies should be sued, but he did say Google was trying to rig the 2020 election.
The Washington Post ran a statement from a Google spokesperson in response. That statement claims that the company seeks "to be a trustworthy source of information for everyone, without any regard for political viewpoint."
How Safe Injections Sites in the U.S. Are Fighting Back Against The Opioid Crisis & Do They Work?
---
America has been hit with a historical opioid crisis. In 2018, more than 31,000 people died from opioid overdoses, which is more than any previous year recorded in American history. Healthcare professionals and public health experts are offering alternatives to the status quo treatments, which leads us to today's topic: supervised injection facilities (SIF).
Also known as overdose prevention sites and medically supervised injection centers, SIF's have been proposed as a solution to combat America's opioid problem. In these centers, no drugs are supplied to the users—they bring their own and are given clean syringes to prevent bloodborne diseases. Advocates or these sites are saying that they would stop countless fatal overdoses because there would be medical staff on site. Countries like Switzerland, Canada, and Australia have implemented versions of these facilities and so far there has not been any reported fatal overdoses at a SIF in the world. 
While cities like Seattle, San Francisco, New York City, and Philadelphia have all proposed plans to make sites, they have been met with heavy opposition. The federal government opposed these sites because they claim it breaks federal laws and some residents in these cities are against them due to concerns over attracting more crime. In this video, we'll be focusing on Philadelphia, as it might become the first U.S. city to legally open a supervised injection facility, along with the court case between the non-profit who is trying to establish the SIF and the federal government.

Elon Musk Defends Calling Rescue Diver "Pedo Guy" in Lawsuit
In court documents, Elon Musk defended a tweet where he called a diver who helped rescue the Thai soccer team from a cave a "pedo guy" because it "was a common insult used in South Africa." 
The diver sued Musk for defamation last year after Musk sent an email to BuzzFeed where he referred to the diver as "child rapist" who had taken a "child bride who was about 12 years old." 
The court documents from the suit, which were made public Monday, also revealed that Musk paid a private investigator more than $50,000 to look into the diver.
Musk also said he gave the statement to BuzzFeed based on information provided by the investigator, and because he was concerned the diver could be the next Jeffrey Epstein. 
---
Court Filings Made Public
Telsa CEO Elon Musk defended calling a rescue diver "pedo guy," court documents revealed Monday.
Musk originally made the comment in July 2018, after Vernon Unsworth, a British diver who helped rescue the Thai soccer team trapped in a cave last year, gave an interview to CNN where he had some choice things to say about Musk.
Notably, Unsworth said the submarine Musk had designed to rescue the soccer team would not work and that it was just a PR stunt.
Musk responded by calling Unsworth a "pedo guy" in a now-deleted tweet.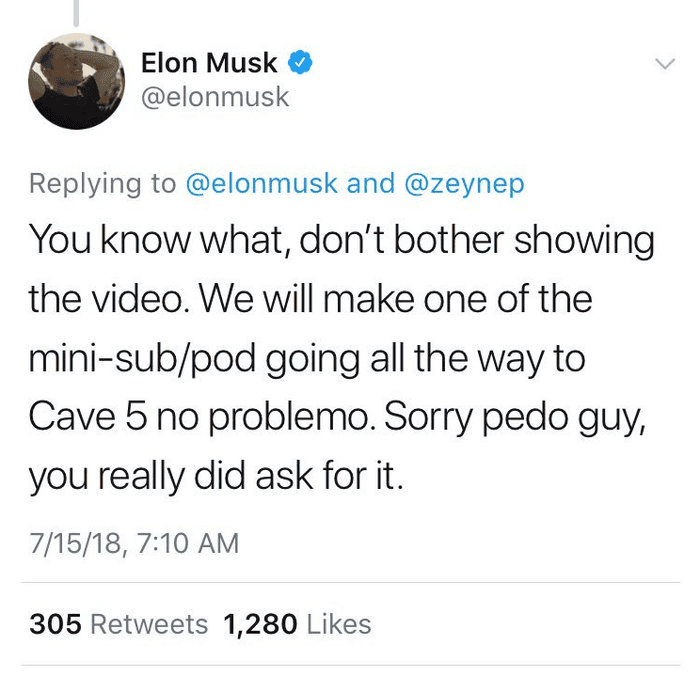 He also sent an email to BuzzFeed reporter Ryan Mac, in which he accused Unsworth of being a "child rapist" who had taken a "child bride who was about 12 years old at the time."
Musk said he thought the email was off the record, but BuzzFeed said they never agreed to that. In September 2018, Unsworth filed a defamation lawsuit against Musk in the Central District of California.
Court filings from the defamation suit against Musk were made public on Monday.
Musk Defends "Pedo Guy" Tweet
In those documents, Musk claimed that referring to Unsworth as "pedo guy" was not a direct accusation of pedophilia.
"'Pedo guy' was a common insult used in South Africa when I was growing up," Musk wrote. "It is synonymous with 'creepy old man' and is used to insult a person's appearance and demeanor, not accuse a person of acts of pedophilia."
"I did not intend to accuse Mr. Unsworth of engaging in acts of pedophilia," he continued. "In response to his insults in the CNN interview, I meant to insult him back by expressing my opinion that he seemed like a creepy old man."
The fact that Musk is arguing he was expressing his opinion is important in this context because under the First Amendment, opinions are usually protected speech and not considered defamatory.
The documents also included Musk's deposition, where he talks more in-depth about the "pedo guy" tweet.
In the deposition, Musk said he sent BuzzFeed the email because he was worried it could turn into a Jeffrey Epstein situation, referring to the wealthy financier who was accused of sexually assaulting dozens of young women, including many underage girls.
"What if we have another Jeffrey Epstein on our hands?" he said. "And what if he uses whatever celebrity he gains from this cave rescue to shield his bad deeds? This would be terrible."
Musk's Epstein argument might become problematic. First of all, he made the statements to BuzzFeed before the new allegations surfaced, which some have argued proves he just is using current news to frame Unsworth in a certain way, and that he did not actually consider Epstein at all.
That argument is also furthered by the fact that it has been reported that Musk had attended several events with Epstein, all of which were after Epstein pleaded guilty to soliciting prostitution from an underage girl in 2008.
Musk even said he visited Epstein's house "several years ago." Epstein also told The New York Times he had advised Musk while Tesla was trying to go public in 2018, though Musk denies those claims.
Private Investigator
Notably, Musk also said in the filings that he paid a private investigator more than $50,000 to investigate Unsworth after receiving an unsolicited email from the PI in August 2018.
In the documents, Musk says that the investigator: "reported that Mr. Unsworth met and began a relationship with his alleged Thai wife when she around twelve years old."
He also added that the investigator "reported that Mr. Unsworth associated with Europeans who engage in improper sexual conduct in Thailand," and that he "learned that Mr. Unsworth frequented Pattaya Beach which is well known for prostitution and sex tourism, and that Mr. Unsworth was unpopular at the rescue site because other rescue workers thought that he was 'creepy.'"
Musk goes on to say this was the basis for the comments he made in his email to BuzzFeed.
"I did not authorize Mr. Mac or BuzzFeed to publish the contents of the email nor did I intend or expect that they would," he said. "Especially without first independently verifying and confirming its information."
He later added that he gave the information to Mac "so that BuzzFeed could conduct its own investigation into Mr. Unsworth and corroborate the information."
Musk's lawyers even admitted in the court filings that the private investigator's findings "lacked solid evidence of Mr. Unsworth's behavior."
Following the release of the court documents, Unsworth's lawyer gave a statement to BuzzFeed condemning the Musk's defense.
"The motion filed by Elon Musk today is a disgusting and transparent effort to continue falsely smearing Vernon Unsworth without any credible or verified supporting evidence," the lawyer said.
"Mr. Unsworth's opposition to Musk's motion will reveal the whole truth of Musk's actions and the falsity of his public statements and his motion with respect to Mr. Unsworth will be exposed."
Controversy, Racism, and Genius Kids?! How One Sperm Bank Changed Everything…
---
The Repository for Germinal Choice is the most controversial sperm bank in U.S. history. While it was operational some people believed this bank was racist and they even compared the companies goals to Nazi eugenic practices. But even though this sperm bank was highly controversial, it also completely changed the sperm bank industry.

So check out our video for the full story on how this controversial sperm bank would go on to shape an entire industry.