Snapchat Filter Helps Bust Predator Cop
A 20-year-old male college student used the Snapchat gender-switch filter to create a fake Tinder account, hoping it would help catch predators.
Posing as an underage female, the student and a San Mateo police officers began talking and the conversation turned explicit.
The messages were turned over to Crime Stoppers and lead to the officer's arrest for "contacting a minor to commit a felony."
---
The Tinder Profile
A college student using a Snapchat filter to pose as an underaged female online led to the arrest of a San Mateo police officer on the suspicion of discussing sexual activity with a minor.
In May, Ethan, a 20-year-old student, came up with a plan to create a fake Tinder profile after learning a female friend of his had been molested as a child. According to reports, he wanted to take action and help identify predators. This lead to him to use Snapchat's gender-switch filter and posing on Tinder as Esther, a 19-year-old female.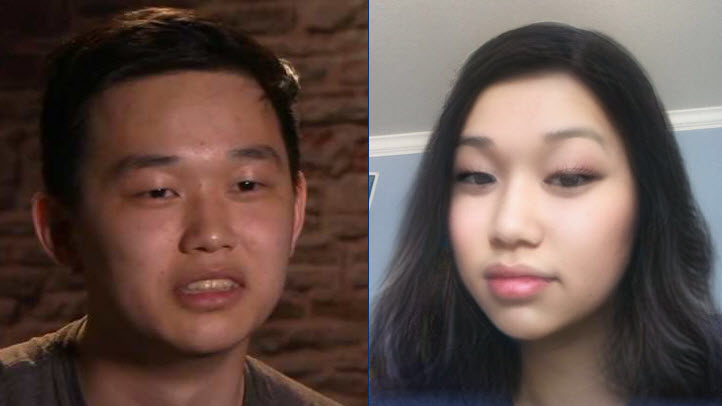 It was on the dating the app that Officer Robert Davies first messaged Esther. The two moved their conversation to Kik, a messaging app, which is where Esther "revealed" she was 16 and not 19 as stated on her profile. According to screenshots of the conversation from NBC Bay Area, Davies told Esther her age "might be an issue." However, when asked if he was "still down," Davies sent back a shrug emoji and tried to coax Esther into sending pictures of herself.
Leading to the Arrest
Ethan said the conversation became more explicit, and at one point, Davies asked that they move their chat again, this time to Snapchat. Throughout the entire encounter, Ethan was taking screenshots in order to hand them over to the police. He even used airplane mode when screenshotting Snapchat messages so that Davies would not get the usual notification when someone screenshots a message on the app.
He explained to NBC, "Through the messages, I would just, on purpose I would just, get these little bits of information about him so that I could, it would be easier to track him down for the police to track him down."
After over 12 hours of talking, Ethan sent the screenshots to Silicon Valley Crime Stoppers, which lead to an investigation from the San Jose Police. On Thursday, June 6, Davies was arrested on one count of communicating with a minor for the purpose of committing a felony.
"I was just looking to get someone," Ethan told NBC. "He just happened to be a cop."
What Next?
In a press release, the San Mateo Police Department announced they had placed Davies on paid administrative leave.
"This alleged conduct, if true, is in no way a reflection of all that we stand for as a Department, and is an affront to the tenets of our department and our profession as a whole," Police Chief Susan Manheimer said in a statement.
"As San Mateo police officers, we have sworn an oath to serve and protect our communities. I can assure you that we remain steadfast to this commitment to serving our community with 'Professionalism, Integrity, and Excellence.'"
According to Santa Clara County Jail records, Davies was released on a $50,000 bail and is due back in court on July 8.
See what others are saying: (NBC) (Huff Post) (KTVU)
Medical Workers Sign Letter Urging Spotify to Combat Misinformation, Citing Joe Rogan
The letter accused Spotify of "enabling its hosted media to damage public trust in scientific research."
---
Doctors and Medical Professionals Sign Letter to Spotify
A group of 270 doctors, scientists, and other medical workers signed an open letter to Spotify this week urging the audio platform to implement a misinformation policy, specifically citing false claims made on the "Joe Rogan Experience" podcast. 
Rogan has faced no shortage of backlash over the last year for promoting vaccine misinformation on his show, which airs exclusively on Spotify. Most recently, he invited Dr. Robert Malone on a Dec. 31 episode that has since been widely criticized by health experts.
Dr. Malone was banned from Twitter for promoting COVID-19 misinformation. According to the medical experts who signed the letter, he "used the JRE platform to further promote numerous baseless claims, including several falsehoods about COVID-19 vaccines and an unfounded theory that societal leaders have 'hypnotized' the public."
"Notably, Dr. Malone is one of two recent JRE guests who has compared pandemic policies to the Holocaust," the letter continued. "These actions are not only objectionable and offensive, but also medically and culturally dangerous."
Joe Rogan's History of COVID-19 Misinformation
Rogan sparked swift criticism himself in the spring of 2021 when he discouraged young people from taking the COVID-19 vaccine. He also falsely equated mRNA vaccines to "gene therapy" and incorrectly stated that vaccines cause super mutations of the virus. He took ivermectin after testing positive for the virus in September, despite the fact that the drug is not approved as a treatment for COVID.
"By allowing the propagation of false and societally harmful assertions, Spotify is enabling its hosted media to damage public trust in scientific research and sow doubt in the credibility of data-driven guidance offered by medical professionals," the doctors and medical workers wrote.
"We are calling on Spotify to take action against the mass-misinformation events which continue to occur on its platform," they continued. "With an estimated 11 million listeners per episode, JRE is the world's largest podcast and has tremendous influence. Though Spotify has a responsibility to mitigate the spread of misinformation on its platform, the company presently has no misinformation policy."
Rolling Stone was the first outlet to report on the letter from the medical professionals. Dr. Katrine Wallace, an epidemiologist at the University of Illinois Chicago, was among the signees. She told the magazine that Rogan is "a menace to public health."
"These are fringe ideas not backed in science, and having it on a huge platform makes it seem there are two sides to this issue," she said. "And there are really not."
Spotify had not responded to the letter as of Thursday.
Data Shows Omicron May be Peaking in the U.S.
In some cities that were first hit by the surge, new cases are starting to flatten and decline.
---
New Cases Flattening
After weeks of recording-breaking cases driven by the highly infectious omicron variant, public health officials say that new COVID infections seem to be slowing in the parts of the country that were hit the hardest earlier on.
Following a more than twentyfold rise in December, cases in New York City have flattened out in recent days.
New infections have even begun to fall slightly in some states, like Maryland and New Jersey. In Boston, the levels of COVID in wastewater — which has been a top indicator of case trends in the past — have dropped by nearly 40% since the first of the year.
Overall, federal data has shown a steep decline in COVID-related emergency room visits in the Northeast, and the rest of the country appears to be following a similar track.
Data from other countries signals the potential for a steep decline in cases following the swift and unprecedented surge.
According to figures from South Africa, where the variant was first detected, cases rose at an incredibly shocking rate for about a month but peaked quickly in mid-December. Since then, new infections have plummeted by around 70%.
In the U.K., which has typically been a map for how U.S. cases will trend, infections are also beginning to fall after peaking around New Year's and then flattening for about a week.
Concerns Remain
Despite these recent trends, experts say it is still too early to say if cases in the U.S. will decline as rapidly as they did in South Africa and the parts of the U.K. that were first hit.
While new infections may seem to be peaking in the cities that saw the first surges, caseloads continue to climb in most parts of the country. 
Meanwhile, hospitals are overwhelmed and health resources are still strained because of the high volume of cases hitting all at once.
COVID-Driven School Closures Top Record Highs, But Many Remain Open
While some districts have implemented protective measures, many teachers say they fall short.
---
Schools Respond to Omicron Surge
U.S. COVID cases, driven by the omicron variant, are continuously topping new record highs, posing difficult questions for schools resuming after winter break.
According to Burbio, a data firm that tracks school closures, at least 5,409 public schools canceled classes or moved to remote learning by the end of last week due to COVID — more than triple the number at the end of December.
That is still only a fraction of the nation's 130,000 schools, and many of the biggest school districts in the country are still insisting that students come into the classroom.
Los Angeles, which is home to the second-biggest district, is requiring that students at least test negative before they return to school this week.
In the biggest district of New York City, classes have already resumed following winter break. Although the city has said it will double random tests and send home more kits, students were not required to provide negative results.
Teachers Protest In-Person Learning
Teachers in other major districts have protested the local government's decisions to stay open.
One of the most closely watched battles is in Chicago, where students on Monday missed their fourth consecutive day of school due to a feud between the Chicago Teachers Union and Mayor Lori Lightfoot (D).
Last week, the union voted to return to remote learning in defiance of a city-wide order mandating they teach in-person, citing inadequate COVID-19 protections. Lightfoot claimed the conditions were fine and that students were safe, despite record surges, instead opting to cancel classes altogether while the fight plays out.
On Sunday, the union said it was "still far apart" from making any kind of agreement with public school officials after Lightfoot rejected their demands.
Lightfoot, for her part, has said she remains "hopeful" a deal could be reached, but she also stirred up the union by accusing teachers of staging an "illegal walkout" and claiming they "abandoned their posts and they abandoned kids and their families."
Meanwhile, teachers in other school districts have begun to emulate the tactics in Chicago.
On Friday, teachers in Oakland, California staged a "sick-out," promoting 12 schools serving thousands of students to close.