YouTube Responds to Concerns Over Its Pedophilia Problem
A new report from the New York Times says YouTube's recommendation algorithm sent researchers from videos with sexual content to videos of children.
The report has reignited concerns over predators abusing the platform, an issue that first came to light in February.
YouTube responded by pointing to measures it has already taken, including restricting live features for children, disabling comments on videos featuring children, and limiting recommendations.
The researchers suggest that YouTube's recommendations should not feature videos with children at all, but YouTube says it fears a change like that would hurt creators.
---
The Report
Researchers say YouTube's recommendation algorithm sent them from videos with sexual content to videos featuring minors, increasing the concern about pedophiles and predators abusing the platform, The New York Times reported Monday.
In the article, the Times interviewed a Brazillian mother who's 10-year-old daughter uploaded a video to YouTube. The video, which featured the 10-year-old and a friend swimming in a backyard pool, racked up 400,000 views.
"I saw the video again and I got scared by the number of views," the mother said.
The Times noted that the video was promoted by YouTube months after February, when the company was alerted about issues with pedophiles and predators on the platform.
At the time, YouTuber MattsWhatItIs published a video highlighting predators that would leave timecodes for compromising moments in the comments under videos of children. This was done in order to lead other pedophiles to these specific moments.
YouTube responded and said they would be disabling comments on videos that feature minors.
According to this latest report, the majority of videos on YouTube are viewed through the company's recommendation algorithm. The algorithm creates a playlist of suggested videos YouTube believes the user should watch next. The researchers found that once they began viewing content with sexual themes, YouTube would start to recommend videos featuring children.
"Users do not need to look for videos of children to end up watching them," the Times states. "The platform can lead them there through a progression of recommendations."
Often the videos featuring children were uploaded as innocent fun, such as parents sharing home movies or a film made by their child. The concern comes when those innocent videos are recommended to users looking for sexual content.
The Test
The Times reports that researchers from Harvard's Berkman Klein Center tested the recommendation algorithm for themselves while in Brazil. The researchers would start with sexually themed videos and follow the first recommended video shown, eventually landing on content that disturbed them.
The article explains that "videos of women discussing sex, for example, sometimes led to videos of women in underwear or breast-feeding, sometimes mentioning their age: 19, 18, even 16."
As the researchers continued, YouTube then began suggesting that they watch videos of women seeking "sugar daddies" and adults in children's clothing.
"From there," the Times wrote, "YouTube would suddenly begin recommending videos of young and partially clothed children, then a near-endless stream of them drawn primarily from Latin America and Eastern Europe."
YouTube's Response
When the Times told YouTube about their findings, the company removed some, but not all, of the videos they were shown. The article states that the recommendation system changed immediately and no longer linked some of the videos together. According to YouTube, it was likely the result of routine adjustments and not a deliberate policy change.
YouTube also published a blog post where they laid out all of the actions they have already put in place to combat pedophiles on the platform. This includes restricting live features for children, disabling comments on videos featuring children, and further limiting recommendations.
While these steps may help to combat the problem, according to researchers, the one thing that would truly make children safe is turning off the recommendation system for videos of children.
When the Times pressed the company, YouTube was wary to make the change because of how this could hurt creators, with recommendations driving 70 percent of views. However, they did say they would limit recommendations on videos that put children at risk.
James Charles, Corinna Kopf, and Other Influencers Slammed for Participating in TikTok "Mugshot" Trend
Internet users are participating in a TikTok trend that involves creating their own mugshot photos, including influencers like James Charles, Corinna Kopf, and Avani Gregg.
There are different variations of the trend, which has been criticized as insensitive to the levels of police brutality and incarceration rates people of color disproportionately face.
Bloody and bruised up mugshot photos, in particular, were also accused of glamorizing abuse and triggering domestic violence survivors.
Some influencers removed their posts like James Charles, who still defended his look by comparing it to music artwork used by The Weeknd and Billie Eilish.
---
The "Mugshot" Trend
Several influencers have come under fire for participating in a version of a viral "mugshot" TikTok trend that many say is insensitive and triggering to abuse victims.
Mugshots, for some reason, are a pretty popular topic on the app, with users making compilation videos of real mugshots featuring people they find interesting or attractive.
That eventually morphed into posts of users staging their own mugshot photos. Typical posts show the creator with messy hair, smudged mascara or other costume makeup used to roughen up their look. Sometimes the users hold up some sort of sign with a fake or funny reason for their "arrest."
Others have even pretended to get in fights or staged scenarios that might have lead up to their fake arrest. Some people have taken it a step further, adding fake bruises, black eyes, and bloody noses.
So essentially there are a wide range of ways you can go with this trend and there are a lot of different reasons people take issues with it. Many say those participating in the challenge are largely privileged and don't understand levels of police brutality and incarceration rates people of color disproportionately face.
I don't like this trend of "taking mugshots" because it's glamorizing the idea of being detained and arrested. It's a reality that many brown and black folk have to face, and to diminish this into some trend is really weird and gross.

— j (@yojogn) April 6, 2020
But the versions that have come under the most scrutiny this week are ones that feature bruised and bloody faces.
Influencers Face Backlash
Some influencers who jumped in on the trend include YouTuber and Vlog Squad member Corinna Kopf, TikTok creator and Hype House member Avani Gregg, and beauty YouTuber James Charles, who seems to have been hit with the most backlash.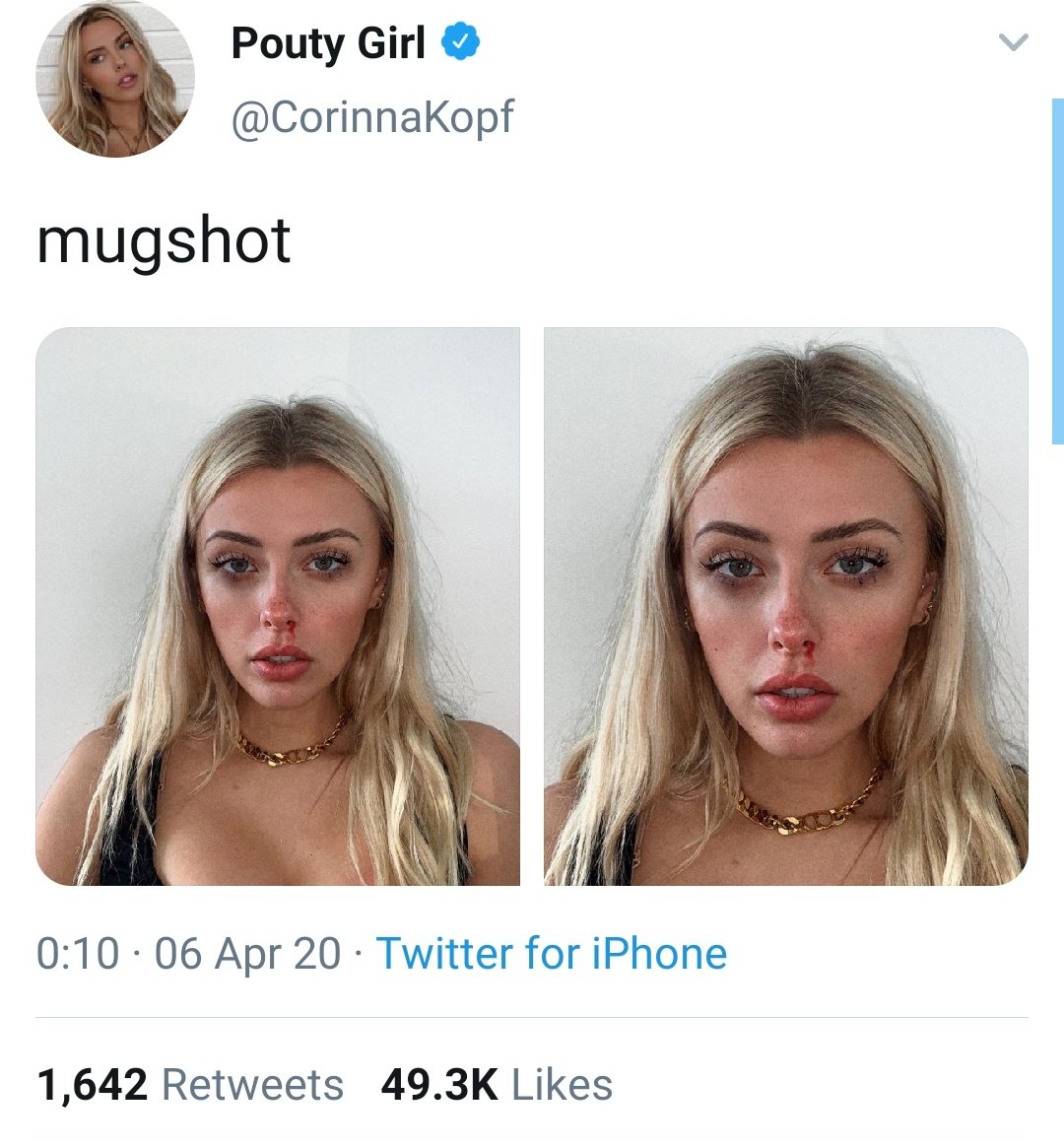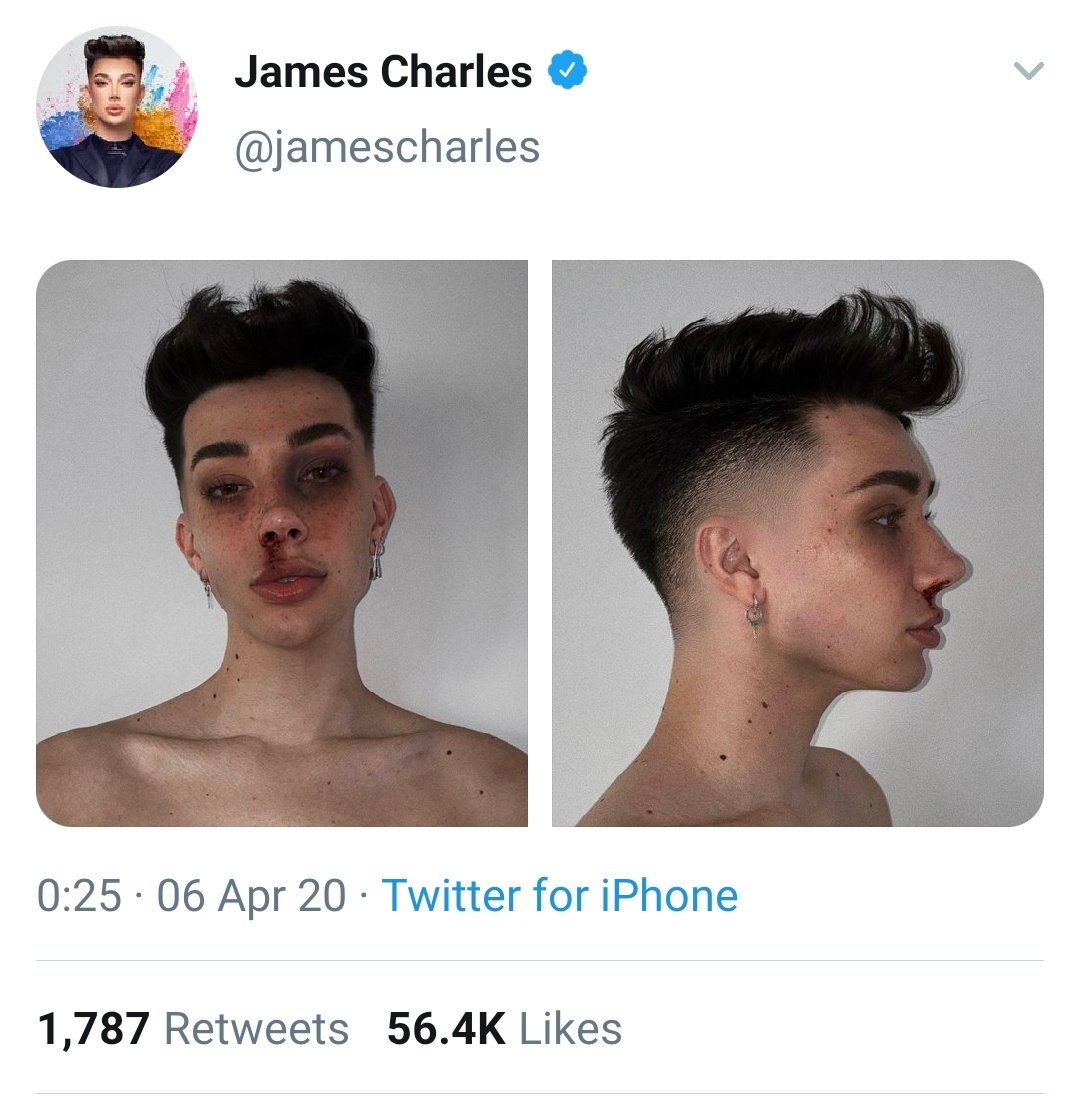 The creators posted their looks on Instagram and Twitter, where some who were unaware of the TikTok trend were confused and surprised. James Charles, for instance, posted his look without a caption and he was flooded with comments accusing him of triggering domestic violence survivors and glamorizing abuse.
According to Insider, in a since-deleted Tweet, James said that he had changed his Instagram caption to joke about getting punched, but he changed it back soon after because "making that joke wasn't funny."
Still, his replies were full of stories from domestic violence survivors who found the look offensive.
He eventually responded to one fan who said the fake bruises made her feel "dehumanized" because she couldn't take hers off.
In now-deleted tweets, he also pointed to bloody looks by The Weeknd and Billie Eilish.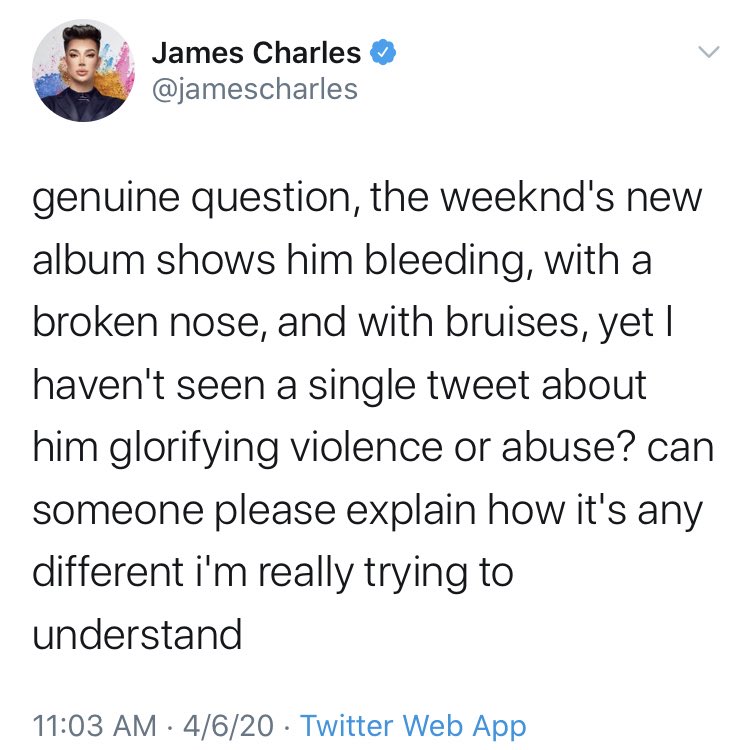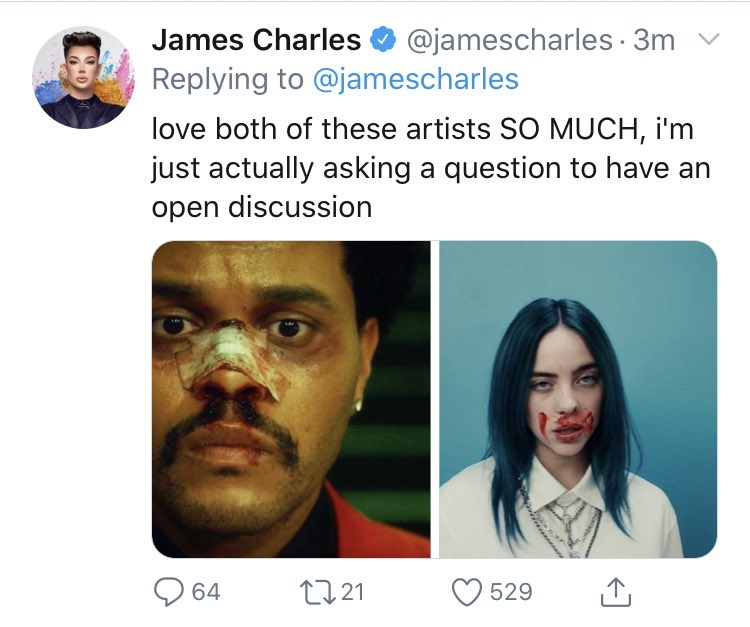 Eventually, he decided to delete the post, writing, "it's a waste of time trying to have an open discussion with people who hate me regardless."
When someone told James he doesn't have to apologize for everything, he clarified that he was no apologizing.
Gregg responded to some backlash in an Instagram story as well. She apologized for potentially triggering some people but wrote, "My mugshot pics and videos had nothing to do with domestic violence."
She went on to explain the storyline for the character she took on in a series of TikTok posts, adding, "I just wanted to clarify that bc i'm being looped in with people actually making their mugshots portray domestic violence vibes and i'm sorry they are doing that but mine are clearly not and if you watch all my mugshot tiktoks u can see that."
Around the same time James deleted his posts, Kopf also deleted her photos as well. However, she has no comment on the backlash as of now.
Still, these influencers are not the only ones who have participated in some version of this trend, but the attention around their posts have sparked discussion over whether or not these mugshot creations are appropriate.
Meghan Rienks' Channel Hack Highlights YouTube Support Issues
For two months, YouTuber Meghan Rienks has been struggling to get YouTube Support's help to recover her hacked vlog channel.
After several confusing email exchanges with the company that presented her with no real solutions, Reinks said she only began to see more helpful and rapid responses when Shane Dawson and Gigi Hadid spoke up or offered their own connections.
Rienks said she spoke on the phone with YouTube on Wednesday and learned she may not be able to get her videos back. She also said that she worries about smaller creators who are left with even fewer options when they have issues with their channels.
---
Rienks Battles with YouTube After Hack
After months of battling with YouTube to regain access to her hacked channel, YouTuber Meghan Rienks said that a call with the company revealed that she may not be able to get her videos back.
On Tuesday, she confirmed via Twitter that YouTube agreed to talk over the phone. The sudden help from the platform came just one day after she posted a 45-minute video detailing the company's disappointing response to her vlog channel being hacked in January. That call, however, did not go in the direction she was hoping.
She posted on Twitter that the call "wasn't great." On a Wednesday night Instagram story, she told her followers that she would likely lose the content she had on the channel, some of which is a decade old.
Her problems with YouTube's support stem back even further than this phone call. Rienks' Monday video starts with her explaining that in October, she realized her main channel was not appearing online for viewers, despite it looking fine from her end while logged in. Solving this with YouTube took roughly two weeks. During that time, they had back and forths where they told her nothing was wrong with her channel. 
The company eventually realized they had been looking into her vlog channel instead and had also sent her the wrong link to solve her main channel issues. During this time, she did notice a suspicious upload on her vlog channel but kept that on the back burner so she could focus on her main channel.
Her vlog channel came back to the forefront on January 2, when Rienks realized it had been fully hacked and rebranded. Her videos were gone, and even though the channel still had her URL, it was now called "Beauty Dior" and has new logos and images.
The page was now full of several newly posted videos, all of which appeared to be re-uploads of beauty tutorials which she suspects are also stolen. On top of that, the email she had associated with the channel was deleted, preventing her from recovering it and regaining control of the account.
Exchanges With YouTube Continue For Two Months
Rienks reached out to YouTube the following morning, thinking this would be an easy fix seeing as the hacking was very obvious. Instead, it led to a series of seemingly empty-worded exchanges between YouTube, Rienks, her manager, and others on her team. In some emails sent from YouTube, Rienks was not even included and had to be kept in the loop via her manager.
In one, the YouTuber support person addresses the email to "Alex." However, no one involved in these communications is named Alex, or even a name remotely similar to Alex. Rienks stated multiple times that she felt she was not in contact with a real person.
Substantial news did not come from YouTube until February 22, when YouTube told Meghan they found no signs of abnormal activity on the channel. When she followed up, emphasizing that the channel had been fully rebranded, they maintained their findings in a grammatically messy email.
"Hi there, thanks for your reply. I understand why you're wondering that the investigation resulted that no highjacking activity happened on the channel," they wrote. "However, I can assure you that our internal team carefully investigated this and didn't found any."
They advised that she increase her password and account security, a measure she had actively been taking on all of her channels and social media accounts since the original incident in October.
Rienks Takes to Twitter
The next morning, she emailed them at 9 AM to request a phone call so she could guarantee swift, immediate contact with a real person. She also hopped on Twitter to express her frustrations.
At around the same time she sent her email, she shared YouTube's response alongside proof that her account had been clearly hacked on Twitter. She also said she had seen a substantial loss in subscribers on the channel since January.
While those posts gained a decent amount of traction when she uploaded them, they blew up when YouTuber Shane Dawson shared one a little after 2 p.m. Dawson mentioned several YouTube Twitter accounts in his message, which included a plea for help.
Just 45 minutes after Shane sent his tweet out, Rienks saw action from YouTube. She received an email saying that phone support was not an option, but her case was now being marked high priority. She also began direct messaging Team YouTube, which led to more confusing back and forths.
After initially claiming that YouTube had looked into her main channel instead of her vlog, an excuse similar to one give during the first situation in October, Team YouTube they were "not sure why [internal teams] came to that conclusion" that there was no abnormal activity on her vlog. They assured Rienks that she had been in contact with real people at YouTube, and apologized for the delay in solving her problem.
"I am sorry you had to take to twitter to get more help with this," one of the messages read. "That shouldn't be the case at all."
Around the same time, another well-known face slid into Rienks' DMs –supermodel Gigi Hadid. Hadid, who is a follower of Reinks, told her that she was sorry about her situation, and had a friend at YouTube who could be able to help.
"This is the only time that I'm getting help," Rienks said frustratedly in her video. "Is when Shane Dawson and Gigi Hadid help me. Thanks guys."
On this day, Beauty Dior was still posting content on her channel. She also noted she saw that the account was being sold on a site for $500.
Rienks' Frustrations with YouTube
While Rienks was recording her video, she got an update from YouTube.
"The email YouTube just sent is that I can have my channel transferred over to me, I just have to agree to not sue them," Rienks explained. "And also, I can't have any of the videos that were privated. Which is all of them."
She spoke to her attorney about the email, who said that nothing in their message to her contained a legal document or legally binding clauses.
"This is a failed system and it's not working," she said, explaining her overall anger about YouTube's response. "And also through all of this I found, if it's not working for me, it is not working for so many creators who have much smaller channels."
In the description of the video, she further expressed that while she wants her channel back, she also wants larger-scale change at YouTube.
"I want a meeting at Youtube. With REAL HUMANS. With the 'people' who run the support team & *personally* investigate hijacked channels," she wrote. "Because it is a broken system and it needs to be changed. I know this is a long shot, but this has been happening for far too long, to far too many creators."
"There's no way that Youtube has coded & built software to pickup on less than 10 seconds of skewed pitch copyrighted song, yet they're still unable to accurately verify a compromised channel," she added. "This needs to change."
When heading to Rienks' vlog channel today, viewers can still find it as Beauty Dior.
Update: This article was updated from its original form to include new information about Rienks' phone call with YouTube.
An Activist Hedge Fund Wants Jack Dorsey Out as Twitter CEO. Could That Change the Site?
Last week, it was reported that conservative activist investor Elliott Management had purchased over $1 billion in Twitter shares, or about 4% of the company.
Now, Elliott Management wants to replace Twitter's co-founder, Jack Dorsey, as CEO.
This is largely viewed as an attempt to boost Twitter's stock, which has been underperforming since Dorsey reclaimed his CEO position in 2015.
According to Fox News, a Dorsey ousting by Elliott Management could "raise the prospect that some of the changes to Twitter could make the platform a friendlier place for pro-Trump users."
---
Hedge Fund Plans to Push Dorsey Out of Twitter
Twitter employees took to the platform Monday night in support of CEO Jack Dorsey after it was reported that an activist investment fund was trying to unseat him.
Last week, the fund known as Elliott Management announced it had bought roughly $1 billion in Twitter stock. According to Business Insider, that's nearly 5% of the company and also enough to allow it to pressure Dorsey out of his CEO role.
Elliot Management wants to oust Dorsey for a number of reasons, but perhaps the most significant reason is that Twitter is underperforming. Dorsey previously served as CEO of Twitter until being fired in 2008. He then returned in 2015. Since then, Twitter's shares have fallen by 6.2%. Facebook, by contrast, has gained more than 121% in that same timeframe.
In November, Dorsey also announced that he's preparing to move to Africa for 3-6 months this year.
That's on top of Dorsey already splitting his time between Twitter and Square, Inc., where Dorsey is also CEO.
Elliott Management's main argument here will be that a full-time CEO would be able to devote more time to the company to help raise its stock value and grow the company.
This, however, isn't the first time someone has announced a plan to oust Dorsey. In fact, such a move seemed bound to happen because unlike Facebook CEO Mark Zuckerberg and Snap Inc. CEO Evan Spiegel, Dorsey does not have voting control of Twitter.
In December, New York University marketing professor Scott Galloway penned a letter calling for Dorsey's removal.
"As of 12/6 I am the direct and beneficial owner of approximately 334,000 shares in Twitter," Galloway said. "To be clear, my primary objective is the replacement of CEO Jack Dorsey."
"Weak governance, a part-time CEO, relocation to Africa, damage to the commonwealth, and poor returns," he added. "Stakeholders deserve a board and CEO that command the opportunity Twitter occupies."
Could A Dorsey Oust Make Twitter More "Trump Friendly?"
The reasons why Elliott Management is trying to push Dorsey may not stop there.
The hedge fund is owned by Paul Singer, a conservative billionaire mega-donor. In 2016, Singer donated $24 million to Republican and right-leaning groups.
It is possible, as Fox News points out, that Elliot Management's increased presence within Twitter could, at least in part, ease conservative's concerns that Twitter has a left-leaning bias.
Elliott Management's stake "[raises] the prospect that some of the changes to Twitter could make the platform a friendlier place for pro-Trump users. "
Last year, California GOP Representative Devin Nunes filed a $250 million lawsuit against Twitter and several users. In that lawsuit, he accused the platform of "shadow-banning conservatives" and hiding their posts.
#WeBackJack Trends on Twitter
Following all of this, many Twitter employees supporting Dorsey in his role as CEO posted stories of their interactions with Dorsey using the hashtag #WeBackJack. Later Monday night, that tag began to trend.
"I've worked [for] many major corporations," one user said. "Never did the CEO take 3 minutes to talk with me 1:1. Jack did (more than 3 mins might I add) & he didn't treat me like someone below him. Ppl speak highly of him in rooms he's not in. He's not pretentious or egocentric. So yea #WeBackJack"
Telsa CEO Elon Musk also offered his support for Dorsey on Twitter Monday night, saying Dorsey "has a good [heart]."
Elliott Management Nominates Four Directors
While Elliott Management has not yet ousted Dorsey, it has nominated four people to Twitter's board of directors.
Notably, there's only going to be three seats available at this year's annual meeting, but Elliott Management reportedly wants to ensure that it nominates enough people to fill all three seats and any vacancies that may unexpectedly arise.
Elliot Management's move to remove Dorsey comes in the face of several major events including the worsening situation with the coronavirus, U.S. presidential elections, and the upcoming Olympic Games in Tokyo.
Those events will likely attract more users to the site and could, in turn, drive more advertisers, thus increasing the company's stock value.
Twitter, however, has fallen behind other social media platforms despite its widespread use. Reportedly, it has decided to focus on its core services even though other platforms have added features such as filters and stories.
It is unknown if a Dorsey ousting could change that policy as Twitter's board of directors tries to increase its stock value.