Ellen DeGeneres Says She Was Sexually Assaulted by Her Stepfather as a Teen
Ellen DeGeneres opened up about being sexually assaulted by her stepfather as a teen in an upcoming episode of "My Next Guest Needs No Introduction with David Letterman."
DeGeneres said that around the time her mother was battling breast cancer, he convinced her that he needed to feel her breasts to check for lumps.
She said he tried to do this again and again and at one point tried breaking her bedroom door down, leading her to kick out her window and run away.
The comedian says she hopes sharing her story will encourage other girls to stand up for themselves and come forward with their own stories.
---
Ellen's Story
Ellen DeGeneres opened up about being sexually assaulted as a teenager in hopes that sharing her story can help other victims.
During a season 2 episode of Netflix's "My Next Guest Needs No Introduction with David Letterman," the comedian and daytime talk show host says she was assaulted by her stepfather, who she did not name on the show.
According to Entertainment Tonight, Ellen explained that when she was a teen, her mother, Betty DeGeneres, married a "very bad man."
She said that just after getting married, Betty was diagnosed with breast cancer and had one of her breasts removed. Betty's husband then used this information to sexually assault her.
"He told me when she was out of town that he'd felt a lump in her breast and needed to feel my breasts because he didn't want to upset her, but he needed to feel mine," DeGeneres told Letterman.
The now 61-year-old said that he managed to convince her because she "didn't know about bodies" at the time. "And then he tries to do it again another time, and then another time," she said.
Then she said things escalated. 'He tries to break my door down, and I kicked the window out and ran cause I knew it was going to go more to something… and I didn't want to tell my mother cause I was protecting her and I knew that would ruin her happiness."
Not Believed
DeGeneres added that she hid the assault from her mother for a few years. When she finally did talk about it, she says she wasn't believed and her mother then stayed in that relationship for 18 more years.

She said her mother finally left her husband "because he'd changed the story so many times" and is now very apologetic about everything that happened.
"I'm angry at myself because, you know, I didn't — I was too weak to stand up to — I was 15 or 16," Ellen explained.
DeGeneres went on to say that she hopes coming forward with her story will help other victims.
"It's a really horrible, horrible story and the only reason I'm actually going to go into detail about it is because I want other girls to not ever let someone do that," she said.
"We [women] just don't feel like we're worthy, or we're scared to have a voice, and we're scared to say no."
"That's the only reason I think it's important to talk about it because there's so many young girls and it doesn't matter how old you are. When I see people speaking out, especially now, it angers me when victims aren't believed, because we just don't make stuff up. And I like men, but there are so many men that get away with so much."
"It is just time for us to have a voice. It's time for us to have power," she added.
Past Discussions
Though this might be the first time many have heard her story, the comedian has talked about her abuse in the past.
She briefly spoke about it during an interview on the Today show in October of 2018, after Christine Blasey Ford made accusations about Supreme Court Associate Justice Brett Kavanaugh.
"As a victim of sexual abuse, I am furious at people who don't believe it and who say, 'How do you not remember exactly what day it was?" she said at the time. "You don't remember those things. What you remember is what happened to you, where you were, and how you feel. That's what you remember."
She also spoke about her abusive stepfather in a 2005 interview with Allure and in a 2007 interview with Barbara Walters.
Season 2 of Letterman's Netflix show premieres on Friday, May 31 and along with DeGeneres, it features guests like Kanye West, Tiffany Haddish, and Melinda Gates.
Fans Slam Shawn Mendes' Apology for Old Racially Insensitive Posts
During a Q&A, a fan asked singer Shawn Mendes why he had not acknowledged racist posts he made on social media in the past.
Mendes responded, saying his friends had taken his phone to post, but also added, "I apologize for everything insensitive that I said in the past."
Several fans were satisfied with his response, but many argued that he did not take enough responsibility for his words.
---
Old Posts Resurface
Many Shawn Mendes fans are unhappy with the singer after he gave what some feel was an inadequate apology for past offensive posts he made on social media.
In one of the now-deleted tweets from 2013, Mendes responded to a friend, writing "i can see the black coming out in you lauren!" 
In other tweets posted around the same time, Mendes also wrote "Light skin girls >>" and "I'm black, burnt up ya knoe"

Mendes also allegedly used the n-word in a caption for a picture with a friend he posted to Instagram.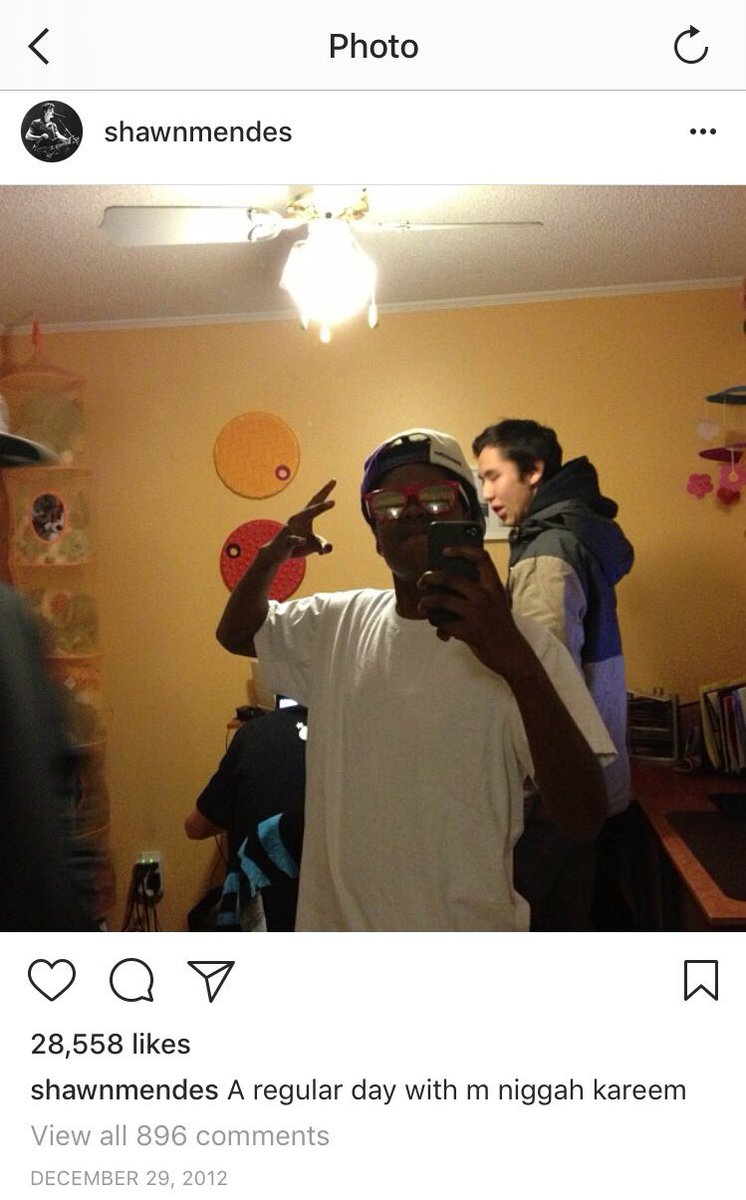 In a picture that appears to have been posted to Snapchat, Mendes uploaded a selfie with the caption "I HAVE AN AFRO! lmao."

Mendes Apologizes
Mendes was asked about the tweets by a fan during a Q&A earlier this week.
"This is kind of a hard question, I don't want you to take any offense to it at all, I just kind of wanted to do it for black Twitter, black Shawn stans everywhere out there," the fan said.
"In the past, there's a lot of kind of ignorant tweets, I guess I could say, kind of hurtful, offensive tweets that you'd tweeted before," she continued. "Why has it never been acknowledged?"
"We get a lot of hate for us supporting you, knowing that this has been, like, your past. And not to say this is you now, or anything like that, it's just really important for us to know, like, how you are," she concluded.
"I just think that a lot of things just need to be moved on from," Mendes replied. "I had friends when I was 14 who would, like, take my phone and, like, post things of them. And like, they thought it was funny that I had like 2,000 followers and it was this big thing, and they'd post photos of themselves."
"At the time I was just, like, not thinking about it," he continued. "I had no idea I was going to have 50 million followers. Which doesn't make it any better, but, yeah, totally. I mean, I apologize for everything insensitive that I said in the past, but with that being said, yeah, I think that's not my personality."
Twitter Reacts
Many fans were not happy with his response and took to Twitter to share their thoughts.
Some argued that Mendes was just blaming his friends for the post and did not take enough responsibility.
It's literally obvious it was him and all he needs to say is "I was young, ive learned and I apologize" and move on. The fact that he refuses to take responsibility and blames it on ""friends"" is incredibly immature and pathetic. Your actions are your fault, nobody else's.

— Britney Spears Updates (@updatingbritney) August 20, 2019
It's funny that he put the blame on his friends, but what's funnier is how he didn't apologize until someone called him out in front of people.

— Nella (fan acc) (@shadysmj) August 20, 2019
Others responded by defending Mendes, and saying that his apology was sufficient.
his apology was valid, just say you hate him and go pic.twitter.com/OiBQSaQ05S

— 𝖓𝖏 shooter for iichy (@particulaparker) August 20, 2019
he apologized everyone can shut up now <3 stop attacking him after he apologized

— evelin | VAL'S DAY (@japanctrl) August 20, 2019
If yall actually watch the entire video you'll see that he handled it well , he's not blaming his friends he acknowledged it and apologised like he should , he educated himself and grew maybe if yall do too …

— 𝒜𝓈𝓂𝒶𝒶 (@notstuckonu) August 20, 2019
Sean Spicer Defends His Participation in Dancing with the Stars After Backlash
Critics are using #BoycottDWTS online after Dancing with the Stars announced former Trump Administration Press Secretary Sean Spicer as a contestant on its 28th season.
Host Tom Bergeron also criticized the casting, saying he stressed not including any political figures during a meeting with the ABC show's executive producer.
However, Queer Eye's Karamo Brown, who will also appear on the season, defended Spicer, telling Access that he looked forward to respectful conversations with him.
---
Spicer on DWTS
Former Trump Administration Press Secretary Sean Spicer is responding to those critical of his participation in the upcoming 28th season of Dancing with the Stars after #BoycottDWTS began trending online.
"I am very happy with who I am and who I support," Spicer said in an interview with CNN. "I'm not changing. I am giving people another opportunity to see a side of me that is different."
Spicer also defended his appearance, calling the show entertainment and not news. "If people are looking for news, I suggest they tune into a news program," he told CNN.
"It will make this show an example of how Americans can disagree about politics and tune into good entertainment shows and keep their politics at bay," he told US Weekly in a statement.
On Wednesday, Good Morning America revealed the cast, which includes Christie Brinkley, Ally Brooke from Fifth Harmony, Kate Flannery from The Office, and Queer Eye's Karamo Brown. Spicer will reportedly make six figures while on the show.
Before passing the position to Sarah Sanders, Spicer's tenure as press secretary was embroiled in controversy. Following President Donald Trump's inauguration, Spicer claimed it was the largest crowd to ever show up at a presidential inauguration.
"This was the largest audience to ever witness an inauguration — period — both in person and around the globe," he said in a press conference.
That claim was heavily disputed, and after he left the position, he later said he regretted making the comment.
Spicer also received criticism for comments about Hitler in relation to Syrian President Bashar al-Assad's alleged use of chemical weapons.
"You look, we didn't use chemical weapons in World War II," he said in a different press conference. "Someone as despicable as Hitler, who didn't even sink to using chemical weapons."
According to the United States Holocaust Memorial Museum, Nazi soldiers — under the command of Adolf Hitler — killed millions of people using gas chambers.
While Spicer's new appearance is also generating controversy, he is not the first political figure to appear on Dancing with the Stars. Fox News host Tucker Carlson competed in season 3. Former U.S. Representative Tom DeLay and now-Secretary of Energy Rick Perry also competed in different seasons.
More political figures connected to Trump such as Anthony Scaramucci and Omarosa also competed on other shows like Big Brother.
Host and Castmate Reaction
Hours after Spicer's casting was revealed, host Tom Bergeron jumped into the mix by criticizing the choice to cast a political figure.
"A few months ago, during a lunch with DWTS' new executive producer, I offered suggestions for season 28," he said on Twitter. "Chief among them was my hope that DWTS, in its return following an unprecedented year-long hiatus, would be a joyful respite from our exhausting political climate and free of inevitably divisive bookings from ANY party affiliations. I left that lunch convinced we were in agreement."
"Subsequently (and rather obviously), a decision was made to, as we often say in Hollywood, 'go in a different direction.'"
"For me, as host," he continued. "I always gaze into the camera's lens and imagine you on the other side, looking for a two-hour escape from whatever life hassles you've been wrestling with. That's a connection, and a responsibility, which I take very seriously."
Castmate Karamo Brown, however, said he looks forward to having respectful conversations with Spicer.
Sean Spicer and I have been talking," he said in an interview with Access Online. "I was most excited to meet him because the thing is, people would look at us and think that we're polar opposites, but I'm a big believer that if you can talk to someone and meet in the middle, you can learn about each other each other both grow, and so, we have been chatting all day today. He's a good guy, really sweet guy."
Online Response and Boycott Culture
Many online directed their criticism at Dancing with the Stars and its network ABC for deciding to cast Spicer, with some calling for a boycott of the show.
"Let @ABCNetwork know that paying Sean Spicer a reported six-figure salary to appear on @DancingABC is a hard pass from loyal viewers," one person tweeted. "We will not be tuning in this season if he remains on the lineup."
But he bought his dancing shoes already! #BoycottDisney #BoycottDWTS pic.twitter.com/YXXyEBrt2p

— Elizabeth Rydan (@elizabeth_rydan) August 21, 2019
https://platform.twitter.com/widgets.js
Many of those people who are urging for a boycott of the show said they are scared to normalize a political figure who, at times, provided misinformation to journalists.
"Shame on you ABC," one person tweeted. "By having Sean Spicer on DWTS, you are helping to normalize a behavior, ie lying, that is helping to tear down our democracy."
Shame on you ABC. By having Sean Spicer on DWTS, you are helping to normalize a behavior, ie lying, that is helping to tear down our democracy. This is a slap in the face to all journalists who try to get the truth out to the public sometime at the cost of their own lives. SHAME.

— Hailey Lyons (@HaileyJLyons) August 22, 2019
https://platform.twitter.com/widgets.js
I love this show, but I can't do it. So disappointed. You are right, we use your show as an escape. Now we can't even do that. Normalizing someone who spewed constant lies, as the mouthpiece of our President, is no escape for me. #BoycottDWTS

— whatsername? (@rhuvane) August 22, 2019
https://platform.twitter.com/widgets.js
Meanwhile, others have called the situation the latest trend in a series of calls for people to boycott media, including hashtags like #BoycottMulan and #BoycottSony that trended earlier this week.
MTV's New Series "Ghosted" Draws Backlash for Promoting Stalking
MTV released a first look at its new docu-series Ghosted: Love Gone Missing, which focuses on helping people track down and confront those who have abruptly cut off contact with them.
Viewers are blasting the show as toxic and dangerous, even saying it encourages stalking. 
Others said MTV's Catfish is similar, yet did not face as much backlash, and argued that participants would have both had to agree to take part in this show ahead of filming.
---
New Series
MTV released a first look at its latest docu-series Ghosted: Love Gone Missing on Tuesday, which is already being slammed by social media users who say it promotes stalking.
The Catfish-style show, which is set to premiere on Sept. 10, is hosted by The Bachelorette's Rachel Lindsay and singer turned actor Travis Mills, who help people track down someone who has "ghosted" them. For the lucky ones who aren't familiar with the term, "ghosting" is a common strategy used to end a relationship which involves one person abruptly cutting off all communication without explanation.
"Have you ever been ghosted? Totally left in the dark by someone you care about? No text. No DMs. Nothing," Mills says in the dramatic first look, as the show's participants describe their experiences being blocked or ignored. 
"We're traveling the country looking for love gone missing," Lindsay adds. The two hosts apparently "investigate" what went on between the pair and "follow every lead to track down the ghost." They then convince them to sit down for a face-to-face meeting with the person they've been ignoring. 
Backlash
After watching the MTV clip, several viewers took to social media to express concerns over the show's premise, arguing that it crosses a line and essentially encourages stalking. Some even pointed out that people often have good reasons for ignoring someone rather than explicitly ending their relationship. 
"Trying to 'track down' the person that ghosted you, is stalking," one user wrote.
Another user wrote, "Imagine ghosting someone because they were toxic or even HARMFUL and these idiots track you down with said person!!! THE TRAUMA!!!!"
Hello, yes, @MTV, that's a hard no from literally anyone who has ever used their brain. Not only is this incredibly dangerous, toxic, and enabling to potential predators, but it will also embolden future "ghosted" people to seek out and confront their "ghosts." Again: hard NO.

— Caiti Ward (@CaitiWard_) August 22, 2019
People Will Still Watch
MTV has not addressed any of the criticism, but loads of people are still excited to watch, including people who are concerned about the concept.
y'all didn't have to snap this hard with this catfish spinn off but I'm here for it. I'm here for the hosts. I'm here for the people. I'm here for the social media runner. I'm here for the logo that shares the same theme as catfish. we out here for the whole thing

— Dream Boy (@MTVScream) August 22, 2019
Others have said there is no real issue since both participants would have had to agree to be featured on the series beforehand.
Meanwhile, others have argued that MTV's Catfish operates on a similar premise but did not receive the same backlash.
"On Catfish, they look up personal info, collect data, call people who might know said person and show up at their door with a camera to expose them. They already promote stalker behavior," one user wrote.
See what others are saying: (Elle) (Entertainment Tonight) (Independent)