Al Jazeera Suspends Journalists for Controversial Holocaust Video
Al Jazeera posted a video on their youth-focused channel AJ+ that said Jewish people had intentionally misrepresented how bad the Holocaust was for them, and claimed that "Israel is the biggest winner from the Holocaust."
The video, which was in Arabic, attracted widespread condemnation after a U.S.-based nonprofit called The Middle East Media Research Institute posted a translated version of it.
Al Jazeera removed the post and suspended two journalists involved with making the video.
---
AJ+ Video
Qatar-based multination publication Al Jazeera suspended two journalists who published a video that claimed Jewish people deliberately exaggerated the Holocaust so that Israel could benefit.
The video was posted on May 18 by AJ+ Arabic, Al Jazeera's youth-focused channel that creates short video explainers designed for social media. It was reportedly posted on the Twitter and Facebook accounts for AJ+ and received hundreds of thousands of views before it was taken down.
The video was posted in Arabic, but it started to get backlash after the Middle East Media Research Institute (MEMRI), a U.S.-based nonprofit, posted an English translation of the video.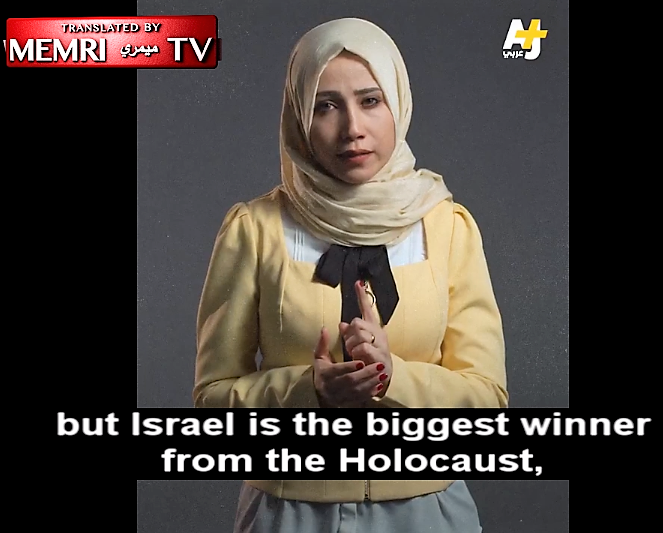 After the video started receiving criticism, Al Jazeera tweeted that they deleted the video because it "violated the editorial standards of the Network."
The following day, the publication said in a statement that it "has taken disciplinary action and suspended two of its journalists" over the video.
"Dr. Yaser Bishr, Executive Director of Digital Division, stated that Al Jazeera completely disowns the offensive content in question and reiterated that Al Jazeera would not tolerate such material on any of the Network's platforms," the statement said. "In an email to staff he also called for the mandatory bias training and awareness program."
The statement also said that Dima Khatib, the Managing Director of AJ+ Channels, claimed that "the video was produced without the due oversight," and added that workflows were being reviewed.
The Video
According to MEMRI's, the video was posted with the caption, "The Gas Chambers Killed Millions of Jews – That's How the Story Goes. What Is the Truth behind the Holocaust and How Did the Zionist Movement Benefit from It?"
Based on MEMRI's translations, the video starts out with the narrator saying, "The narrative that six million Jews were killed by the Nazi movement was adopted by the Zionist movement." The narrator then goes on to explain what happened in the Holocaust, describing the persecution of Jews and other groups.
Then the narrator says that the Jews were only part of the many groups murdered by the Nazis and asks, "So why is there a focus only on them?"
"Jewish groups had financial resources, media institutions, research centers, and academic voices that managed to put a special spotlight on the Jewish victims of the Nazis," she continued.
She then claims that the number of people who died in the Holocaust is still being debated today and asks the question: "How did Israel benefit from the Holocaust?"
The narrator goes on to discuss the 1933 Transfer Agreement, where Zionist groups negotiated with Nazis to allow thousands of German Jews to leave for Palestine, and then makes the argument that Israel greatly benefited from this.
"Israel is the biggest winner from the Holocaust, and it uses the same Nazi justifications as a launching pad for the racial cleansing and annihilation of the Palestinians," the narrator said.
She concludes the video by asserting that the idea behind the "State of Israel" comes from concepts "that suckled from the Nazi spirit and its main notions."
Response
Following the incident, numerous people took to Twitter to condemn Al Jazeera.
Emmanuel Nahshon, the spokesman for the Israeli Foreign Ministry called the video "the worst kind of pernicious evil" in a tweet, and argued that it "perpetuates hatred of Israel and the Jews."

Prime Minister Benjamin Netanyahu's Arabic media spokesperson, Ofir Gendelman, also expressed disdain in a tweet, writing that the video was "spreading lies about it & about Israel, specifically on #Ramadan in order to incite the masses."

Others outside of Israel also criticized Al Jazeera. Donald Trump Jr. joined in on Twitter, writing, "Al-Jazeera is now openly publishing Holocaust Denial videos on their facebook page. Will @facebook take action & ban them for this like they've done to conservatives for far less?"

Al Jazeera English v. Al Jazeera Arabic
Others who criticized Al Jazeera on Twitter highlighted the differences between the publication's English networks, like Al Jazeera English and AJ+ English, and their Arabic-language networks and content.
One user posted screenshots of the video posted to AJ+ Arabic next to a video about a Holocaust survivor posted on AJ+ English the same day.
"Don't be fooled by AJ's polished facade for its gullible Western audience," another user wrote on Twitter. "AJ isn't news, it's state-controlled propaganda."

This discussion was also hit on in an article published by BBC. In the article, BCC notes that Al Jazeera English is known for its "varied coverage," and shining a light on "underreported stories."
However, that reporting "comes in stark contrast to Al Jazeera Arabic," the article stated, continuing that Al Jazeera's Arabic networks often include "friendly coverage of Islamist groups – particularly favouring those aligned with the Muslim Brotherhood."
This compare and contrast is interesting because Al Jazeera is considered a very reliable source among U.S. audiences, but at the end of the day, it is a multinational media network that is funded by the Qatari government.
If Al Jazeera's Arabic coverage is catered so differently to its Middle Eastern audiences, it inevitably raises questions about its legitimacy and reporting in the U.S.
U.K. Court Rules Julian Assange Can Be Extradited to U.S.
The judgment overrules a lower court decision that blocked the WikiLeaks founder's extradition on the grounds that his mental health was not stable enough to weather harsh conditions in the American prison system if convicted.
---
New Developments in Assange Extradition Battle
A British court ruled Friday that WikiLeaks founder Julian Assange can be extradited to the United States to face charges of violating the Espionage Act that could land him in prison for decades.
Prosecutors in the U.S. have accused Assange of conspiring with former army intelligence analyst Chelsea Manning in 2010 to hack into a Department of Defense computer network and access thousands of military and diplomatic records on the wars in Afghanistan and Iraq.
The information obtained in the hack was later published by WikiLeaks in 2010 and 2011, a move U.S. authorities allege put lives in danger.
In addition to a charge of computer misuse, Assange has also been indicted on 17 espionage charges. Collectively, the charges carry a maximum prison sentence of 175 years.
The Friday decision from the High Court overturns a lower court ruling in January, which found that Assange's mental health was too fragile for the harsh environment he could face in the U.S. prison system if convicted.
Notably, the January ruling did not determine whether or not Assange was guilty. In fact, District Judge Vanessa Baraitser explicitly rejected the defense's arguments that the charges against him were politically motivated and that he should be protected under freedom of press.
However, she agreed that the defense had provided compelling evidence that Assange suffers from severe depression and that the conditions he could face in the U.S. prison system were "such that it would be oppressive to extradite him to the United States of America."
The U.S. appealed the ruling, arguing that Assange's mental health should not be a barrier to extradition and that the psychiatrist who examined him had been biased.
In October, the Biden administration vowed that if Assange were to be convicted, he would not be placed in the highest-security U.S. prison or immediately sent to solitary confinement. Officials also said that the native Australian would be eligible to serve his sentence in his home country.
High Court Ruling
The High Court agreed with the administration's arguments in its ruling, arguing that the American's assurances regarding the conditions of Assange's potential incarceration were "sufficient."
"There is no reason why this court should not accept the assurances as meaning what they say," the ruling stated. "There is no basis for assuming that the USA has not given the assurances in good faith."
Assange's fiancé, Stella Moris, said in a statement that his legal team would appeal the decision to the British Supreme Court at the "earliest possible moment," referring to the judgment as a "grave miscarriage of justice."
The Supreme Court will now decide whether or not to hear the case based on if it believes the matter involves a point of law "of general public importance." That decision may take weeks or even months.
If the U.K. Supreme Court court objects to hearing Assange's appeal, he could ask the European Court of Human Rights to stay the extradition — a move that could set in motion another lengthy legal battle in the already drawn-out process.
Assange and his supporters claim he was acting as an investigative journalist when he published the classified military cables. They argue that the possibility of his extradition and prosecution represent serious threats to press freedoms in the U.S.
U.S. prosecutors dispute that Assange acted as a journalist, claiming that he encouraged illegal hacking for personal reasons.
Early Data Indicates Omicron is More Transmissible But Less Severe
The studies come as Pfizer and BioNTech claim that preliminary research shows a third shot of their COVID vaccine appears to provide sufficient protection against the new variant, but two doses alone may not.
---
More Information About Omicron
Several preliminary studies published in recent days appear to show that the new omicron COVID-19 variant may be more transmissible but less severe than previous strains.
One recent, un-peer-reviewed study by a Japanese scientist who advises the country's health ministry found that omicron is four times more transmissible in its initial stage than delta was.
Preliminary information in countries hit hard by omicron also indicates high transmissibility. In South Africa —  where the variant was first detected and is already the dominant strain — new COVID cases have more than doubled over the last week.
Health officials in the U.K. said omicron cases are doubling every two or three days, and they expect the strain to become dominant in the country in a matter of weeks.
In a statement Wednesday, World Health Organization Director Tedros Adhanom Ghebreyesus said that while early data does seem to show high transmissibility, it also indicates that omicron causes more mild cases than delta.
Centers for Disease Control and Prevent Director Rochelle Walensky echoed that sentiment, telling reporters that of the 40 known omicron cases in the U.S. as of Wednesday, nearly all of them were mild. One person has been hospitalized so far and none have died.
Studies on Vaccine Efficacy
Other recent studies have shown that current COVID vaccines are effective at preventing severe illness and death in omicron patients, and boosters provide at least some added protection.
On Wednesday, Pfizer and BioNTech announced that laboratory tests have shown a third dose of their COVID-19 vaccine appears to provide sufficient protection against the omicron variant, though two doses may not.
According to the companies, researchers saw a 25-fold reduction in neutralizing antibodies for omicron compared to other strains of the virus for people who had just two Pfizer doses.
By contrast, samples from people one month after they had received a Pfizer booster presented neutralizing antibodies against omicron that were comparable to those seen against previous variants after two doses.
Still, Pfizer's chief executive also told reporters later in the day that omicron could increase the likelihood that people might need a fourth dose earlier than previously expected, which he had initially said was 12 months after the third shot.
Notably, the Pfizer research has not yet been peer-reviewed, and it remains unclear how omicron will operate outside a lab, but other studies have had similar findings.
40 Camels Disqualified From Beauty Contest After Breeders Inject Their Faces With Botox
The animals were barred from competing for $66 million in prizes at this year's King Abdulaziz Camel Festival in Saudi Arabia.
---
Camels Booted From Beauty Contest
More than 40 camels were disqualified from a beauty contest in Saudi Arabia this week after judges found artificial enhancements in their faces, marking the biggest crackdown on contestants in the competition to date.
The animals were competing for $66 million in prizes at the King Abdulaziz Camel Festival, a month-long event that is estimated to include around 33,000 camels.
However, according to The Guardian, they were forced out of the contest when authorities found that breeders had "stretched out the lips and noses of the camels, used hormones to boost the animals' muscles, injected heads and lips with Botox to make them bigger, inflated body parts with rubber bands, and used fillers to relax their faces."
Those types of alterations are banned since judges look at the contestant's heads, necks, humps, posture, and other features when evaluating them.
An announcement from the state-linked Saudi Press Agency said officials used "specialized and advanced" technology to detect tampering.
"The club is keen to halt all acts of tampering and deception in the beautification of camels," the SPA report added before warning that organizers would "impose strict penalties on manipulators."
While it's unclear what that actually entails, this isn't the first time people have tried to cheat in this way.
In 2018, 12 camels were similarly disqualified from the competition for injections in their noses, lips, and jaw.