Al Jazeera Suspends Journalists for Controversial Holocaust Video
Al Jazeera posted a video on their youth-focused channel AJ+ that said Jewish people had intentionally misrepresented how bad the Holocaust was for them, and claimed that "Israel is the biggest winner from the Holocaust."
The video, which was in Arabic, attracted widespread condemnation after a U.S.-based nonprofit called The Middle East Media Research Institute posted a translated version of it.
Al Jazeera removed the post and suspended two journalists involved with making the video.
---
AJ+ Video
Qatar-based multination publication Al Jazeera suspended two journalists who published a video that claimed Jewish people deliberately exaggerated the Holocaust so that Israel could benefit.
The video was posted on May 18 by AJ+ Arabic, Al Jazeera's youth-focused channel that creates short video explainers designed for social media. It was reportedly posted on the Twitter and Facebook accounts for AJ+ and received hundreds of thousands of views before it was taken down.
The video was posted in Arabic, but it started to get backlash after the Middle East Media Research Institute (MEMRI), a U.S.-based nonprofit, posted an English translation of the video.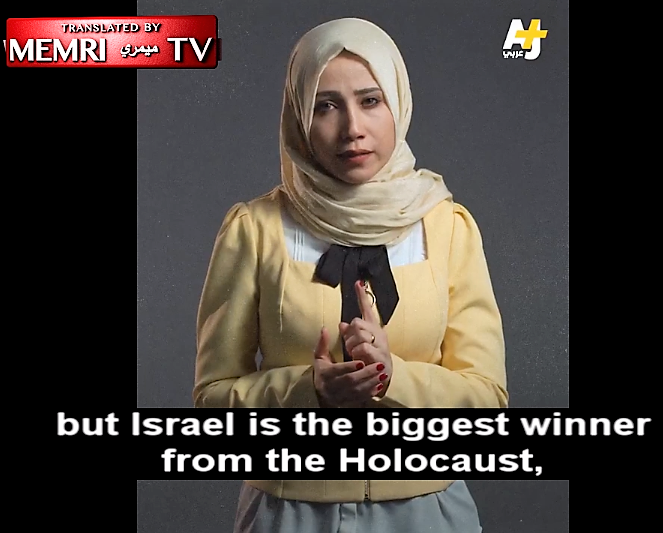 After the video started receiving criticism, Al Jazeera tweeted that they deleted the video because it "violated the editorial standards of the Network."
The following day, the publication said in a statement that it "has taken disciplinary action and suspended two of its journalists" over the video.
"Dr. Yaser Bishr, Executive Director of Digital Division, stated that Al Jazeera completely disowns the offensive content in question and reiterated that Al Jazeera would not tolerate such material on any of the Network's platforms," the statement said. "In an email to staff he also called for the mandatory bias training and awareness program."
The statement also said that Dima Khatib, the Managing Director of AJ+ Channels, claimed that "the video was produced without the due oversight," and added that workflows were being reviewed.
The Video
According to MEMRI's, the video was posted with the caption, "The Gas Chambers Killed Millions of Jews – That's How the Story Goes. What Is the Truth behind the Holocaust and How Did the Zionist Movement Benefit from It?"
Based on MEMRI's translations, the video starts out with the narrator saying, "The narrative that six million Jews were killed by the Nazi movement was adopted by the Zionist movement." The narrator then goes on to explain what happened in the Holocaust, describing the persecution of Jews and other groups.
Then the narrator says that the Jews were only part of the many groups murdered by the Nazis and asks, "So why is there a focus only on them?"
"Jewish groups had financial resources, media institutions, research centers, and academic voices that managed to put a special spotlight on the Jewish victims of the Nazis," she continued.
She then claims that the number of people who died in the Holocaust is still being debated today and asks the question: "How did Israel benefit from the Holocaust?"
The narrator goes on to discuss the 1933 Transfer Agreement, where Zionist groups negotiated with Nazis to allow thousands of German Jews to leave for Palestine, and then makes the argument that Israel greatly benefited from this.
"Israel is the biggest winner from the Holocaust, and it uses the same Nazi justifications as a launching pad for the racial cleansing and annihilation of the Palestinians," the narrator said.
She concludes the video by asserting that the idea behind the "State of Israel" comes from concepts "that suckled from the Nazi spirit and its main notions."
Response
Following the incident, numerous people took to Twitter to condemn Al Jazeera.
Emmanuel Nahshon, the spokesman for the Israeli Foreign Ministry called the video "the worst kind of pernicious evil" in a tweet, and argued that it "perpetuates hatred of Israel and the Jews."

Prime Minister Benjamin Netanyahu's Arabic media spokesperson, Ofir Gendelman, also expressed disdain in a tweet, writing that the video was "spreading lies about it & about Israel, specifically on #Ramadan in order to incite the masses."

Others outside of Israel also criticized Al Jazeera. Donald Trump Jr. joined in on Twitter, writing, "Al-Jazeera is now openly publishing Holocaust Denial videos on their facebook page. Will @facebook take action & ban them for this like they've done to conservatives for far less?"

Al Jazeera English v. Al Jazeera Arabic
Others who criticized Al Jazeera on Twitter highlighted the differences between the publication's English networks, like Al Jazeera English and AJ+ English, and their Arabic-language networks and content.
One user posted screenshots of the video posted to AJ+ Arabic next to a video about a Holocaust survivor posted on AJ+ English the same day.
"Don't be fooled by AJ's polished facade for its gullible Western audience," another user wrote on Twitter. "AJ isn't news, it's state-controlled propaganda."

This discussion was also hit on in an article published by BBC. In the article, BCC notes that Al Jazeera English is known for its "varied coverage," and shining a light on "underreported stories."
However, that reporting "comes in stark contrast to Al Jazeera Arabic," the article stated, continuing that Al Jazeera's Arabic networks often include "friendly coverage of Islamist groups – particularly favouring those aligned with the Muslim Brotherhood."
This compare and contrast is interesting because Al Jazeera is considered a very reliable source among U.S. audiences, but at the end of the day, it is a multinational media network that is funded by the Qatari government.
If Al Jazeera's Arabic coverage is catered so differently to its Middle Eastern audiences, it inevitably raises questions about its legitimacy and reporting in the U.S.
U.S. Intel Suggests Pro-Ukraine Group Sabotaged Nord Stream Pipeline
There is no evidence that the culprits behind the attack were acting under the direction of the Ukrainian government.
---
Europe Braces for Shocking Revelations
A pro-Ukraine group blew up the Nord Stream pipelines last September, intelligence reviewed by U.S. officials suggests.
The New York Times reported the news Tuesday, citing officials who said there was no evidence of involvement by Ukrainian President Volodymyr Zelensky, any of his top lieutenants, or any government officials.
The strength of the evidence, however, is not clear, and U.S. officials declined to inform The Times on the nature of the intelligence or how it was obtained. They reportedly added that the intelligence indicates neither who the group's members are nor who funded and directed the operation.
The Times' sources said they believe the saboteurs were most likely Russian or Ukrainian nationals and that they possibly received specialized government training in the past.
It's also possible that the group behind the attack was a proxy with covert ties to Kyiv, the report added.
When three of four Nord Stream pipelines were found to be severely damaged last year, the revelation shook markets and sent European gas prices soaring. Nord Stream 1, which was completed in 2011, and Nord Stream 2, which had been laid down but wasn't yet operational, supplied Germany and by extension the rest of Western Europe with cheap Russian natural gas.
Following the explosions, Poland and Ukraine blamed Russia, and Russia blamed Britain. Other observers speculated that Ukraine might be behind it too.
More Ongoing Investigations
Last month, investigative journalist Seymour Hersh claimed in a Substack article that the United States military carried out the attack and that President Biden authorized it himself. However, Hersh's report cited only one anonymous source in support of its central claim, so it was largely dismissed as not credible.
Western governments expressed caution on Wednesday in response to The Times report.
"There are ongoing national investigations and I think it's right to wait until those are finalized before we say anything more about who was behind it," NATO Secretary-General Jens Stoltenberg said in a statement.
Russia, by contrast, pounced on the opportunity to renew its demand for inclusion in a proposed international probe into the pipeline explosion.
The Ukrainian government denied any involvement in the Nord Stream explosions.
On Wednesday, multiple German media outlets reported that investigators have largely reconstructed how the attack happened, pinning the blame on six people who allegedly used a yacht hired by a Ukrainian-owned company in Poland.
German officials reportedly searched a vessel suspected of carrying the explosives in January, but the investigation is ongoing.
The country's defense minister suggested the explosions may have been a "false flag" attack to smear Ukraine.
Turkey, Syria Earthquake Death Toll Rises to 41,000 as Survivors Pulled from Rubble
A pair of brothers spent around 200 hours trapped under debris, living off of protein powder and their own urine.
---
A Humanitarian Crisis Explodes
The number of confirmed dead from the earthquakes in Turkey and Syria last week has surpassed 41,000.
Millions more people have been left stranded without adequate shelter, food, clean water, or medical supplies.
At night, the region has dropped to below-freezing temperatures.
Now health authorities are worried that the lack of sanitation infrastructure, which was damaged by the quakes, will lead to a disease outbreak.
"We haven't been able to rinse off since the earthquake," 21-year-old Mohammad Emin, whose home was destroyed, told Reuters.
He was helping out at a clinic serving displaced people in an open-air stadium, but with no showers and only six toilets, the resource shortage was poignant.
"They are offering tetanus shots to residents who request them, and distributing hygiene kits with shampoo, deodorant, pads and wipes," added Akin Hacioglu, a doctor at the clinic.
The World Health Organization monitors the population for waterborne diseases like cholera and typhoid, as well as seasonal influenza and COVID-19.
Rescuers Race Against the Clock
After more than a week of searching, hopes that more living victims will be found amid the collapsed buildings are fading, but rescuers continue to pull out the final few survivors.
Abdulbaki Yeninar, 21, and his brother Muhammed Enes Yeninar, 17, spent about 200 hours under rubble in the city of Kahramanmaras before they were extracted Tuesday. They told reporters they held on by eating protein powder, drinking their own urine, and swallowing gulps of air.
In the same city, teams dug a 16-foot tunnel through debris to rescue a woman, and to the south, a volunteer mining crew joined the efforts to save another.
With no homes to go back to, some survivors have joined the ranks of volunteers themselves.
In the past week, more than 35,000 Turkish search-and-rescue teams worked alongside thousands of international workers in the effort, according to Turkey's emergency management agency.
Turkish President Recep Tayyip Erdoğan has called the earthquakes the "disaster of the century" and said in a statement that at least 13,000 people were being treated in hospitals.
The death toll is expected to rise even further in the coming weeks.
Scottish First Minister Nicola Sturgeon Resigns
"In my head and in my heart I know that time is now," she said to reporters
---
Sturgeon Steps Down
Scotland's First Minister Nicola Sturgeon announced her resignation on Wednesday. 
Sturgeon has been Scotland's longest-serving First Minister and she is also the first woman to ever hold the position. She has been in politics since 1999, leading the charge for Scotland's independence from the United Kingdom. Sturgeon also guided the country through the COVID-19 pandemic.
Sturgeon made sure to mention that her decision was not in response to the latest round of political pressure she is facing after her recent controversies regarding gender reform. Rather, her reasons are rooted in her own personal struggle with whether she can continue to do the job well. 
 "To be clear, I am not expecting violins here. But I am a human being as well as a politician," she said during a press conference on Wednesday. "My point is this – giving absolutely everything of yourself to this job is the only way to do it. The country deserves nothing less. But, in truth, that can only be done by anyone for so long.
"For me, it is now in danger of becoming too long," Sturgeon continued. "A First Minister is never off-duty. Particularly in this day and age, there is virtually no privacy. Even ordinary stuff that most people take for granted like going for a coffee with friends or going for a walk on your own becomes  very difficult."
Sturgeon's Political Future
Sturgeon's approval ratings are reportedly the lowest they've been since she's been in office. Regardless, many political figures in Scotland, as well as the U.K., have applauded her and her historic service as First Minister. 
There are still several unknowns moving forward. There is still no confirmation on who will take over the position. However, Sturgeon did say that she will serve until someone else is elected.
The push for Scotland's independence is hanging in limbo as well, and no one knows what it'll look like without Sturgeon's leadership. She did mention, however, that she does not intend to leave politics fully and will still fight for the cause as a lawmaker in Parliament. 
Sturgeon said the support for Scottish independence needs to be solidified and grow.
"To achieve that we need to reach across the divide in Scottish politics," she said. "And my judgment now is that this needs a new leader."