Al Jazeera Suspends Journalists for Controversial Holocaust Video
Al Jazeera posted a video on their youth-focused channel AJ+ that said Jewish people had intentionally misrepresented how bad the Holocaust was for them, and claimed that "Israel is the biggest winner from the Holocaust."
The video, which was in Arabic, attracted widespread condemnation after a U.S.-based nonprofit called The Middle East Media Research Institute posted a translated version of it.
Al Jazeera removed the post and suspended two journalists involved with making the video.
---
AJ+ Video
Qatar-based multination publication Al Jazeera suspended two journalists who published a video that claimed Jewish people deliberately exaggerated the Holocaust so that Israel could benefit.
The video was posted on May 18 by AJ+ Arabic, Al Jazeera's youth-focused channel that creates short video explainers designed for social media. It was reportedly posted on the Twitter and Facebook accounts for AJ+ and received hundreds of thousands of views before it was taken down.
The video was posted in Arabic, but it started to get backlash after the Middle East Media Research Institute (MEMRI), a U.S.-based nonprofit, posted an English translation of the video.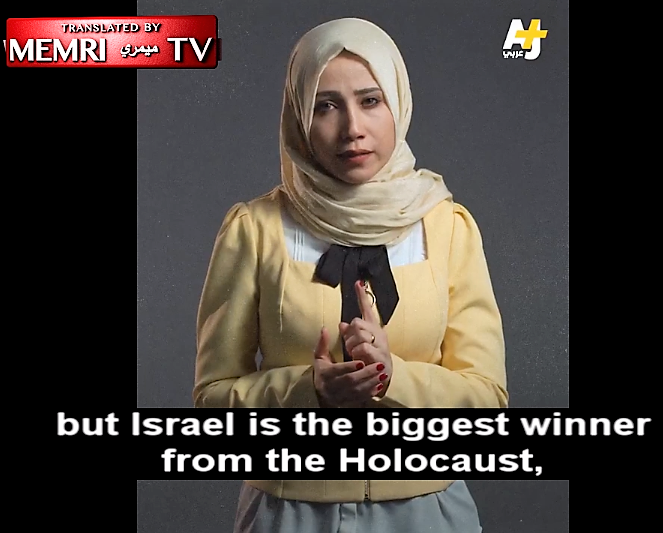 After the video started receiving criticism, Al Jazeera tweeted that they deleted the video because it "violated the editorial standards of the Network."
The following day, the publication said in a statement that it "has taken disciplinary action and suspended two of its journalists" over the video.
"Dr. Yaser Bishr, Executive Director of Digital Division, stated that Al Jazeera completely disowns the offensive content in question and reiterated that Al Jazeera would not tolerate such material on any of the Network's platforms," the statement said. "In an email to staff he also called for the mandatory bias training and awareness program."
The statement also said that Dima Khatib, the Managing Director of AJ+ Channels, claimed that "the video was produced without the due oversight," and added that workflows were being reviewed.
The Video
According to MEMRI's, the video was posted with the caption, "The Gas Chambers Killed Millions of Jews – That's How the Story Goes. What Is the Truth behind the Holocaust and How Did the Zionist Movement Benefit from It?"
Based on MEMRI's translations, the video starts out with the narrator saying, "The narrative that six million Jews were killed by the Nazi movement was adopted by the Zionist movement." The narrator then goes on to explain what happened in the Holocaust, describing the persecution of Jews and other groups.
Then the narrator says that the Jews were only part of the many groups murdered by the Nazis and asks, "So why is there a focus only on them?"
"Jewish groups had financial resources, media institutions, research centers, and academic voices that managed to put a special spotlight on the Jewish victims of the Nazis," she continued.
She then claims that the number of people who died in the Holocaust is still being debated today and asks the question: "How did Israel benefit from the Holocaust?"
The narrator goes on to discuss the 1933 Transfer Agreement, where Zionist groups negotiated with Nazis to allow thousands of German Jews to leave for Palestine, and then makes the argument that Israel greatly benefited from this.
"Israel is the biggest winner from the Holocaust, and it uses the same Nazi justifications as a launching pad for the racial cleansing and annihilation of the Palestinians," the narrator said.
She concludes the video by asserting that the idea behind the "State of Israel" comes from concepts "that suckled from the Nazi spirit and its main notions."
Response
Following the incident, numerous people took to Twitter to condemn Al Jazeera.
Emmanuel Nahshon, the spokesman for the Israeli Foreign Ministry called the video "the worst kind of pernicious evil" in a tweet, and argued that it "perpetuates hatred of Israel and the Jews."

Prime Minister Benjamin Netanyahu's Arabic media spokesperson, Ofir Gendelman, also expressed disdain in a tweet, writing that the video was "spreading lies about it & about Israel, specifically on #Ramadan in order to incite the masses."

Others outside of Israel also criticized Al Jazeera. Donald Trump Jr. joined in on Twitter, writing, "Al-Jazeera is now openly publishing Holocaust Denial videos on their facebook page. Will @facebook take action & ban them for this like they've done to conservatives for far less?"

Al Jazeera English v. Al Jazeera Arabic
Others who criticized Al Jazeera on Twitter highlighted the differences between the publication's English networks, like Al Jazeera English and AJ+ English, and their Arabic-language networks and content.
One user posted screenshots of the video posted to AJ+ Arabic next to a video about a Holocaust survivor posted on AJ+ English the same day.
"Don't be fooled by AJ's polished facade for its gullible Western audience," another user wrote on Twitter. "AJ isn't news, it's state-controlled propaganda."

This discussion was also hit on in an article published by BBC. In the article, BCC notes that Al Jazeera English is known for its "varied coverage," and shining a light on "underreported stories."
However, that reporting "comes in stark contrast to Al Jazeera Arabic," the article stated, continuing that Al Jazeera's Arabic networks often include "friendly coverage of Islamist groups – particularly favouring those aligned with the Muslim Brotherhood."
This compare and contrast is interesting because Al Jazeera is considered a very reliable source among U.S. audiences, but at the end of the day, it is a multinational media network that is funded by the Qatari government.
If Al Jazeera's Arabic coverage is catered so differently to its Middle Eastern audiences, it inevitably raises questions about its legitimacy and reporting in the U.S.
Brazil's Supreme Court Votes to Criminalize Homophobic Acts
Brazil's Supreme Court has ruled in favor of criminalizing homophobia under current legislation until Congress creates a law that specifically addresses the issue.
Eight of the 11 justices voted Thursday to treat violent acts and other crimes against gay and transgender people like racism, which was made a crime in Brazil in 1989 with prison sentences of up to five years.
President Jair Bolsonaro criticized the justices last month when it became clear that they would likely vote in favor of the move, and he suggested that it was time to appoint an evangelical Christian.
---
The Vote
Brazil's Federal Supreme Court voted Thursday to criminalize acts of hate and discrimination against the LGBT community.
Eight of the 11 justices voted in favor of the move arguing that Congress failed to fulfill its constitutional duty by passing similar legislation. According to the Wall Street Journal, the country's constitution allows the high court to make these types of moves in the event that lawmakers fail to take action.
For now, any acts of violence or other crimes against gay or transgender people will be judged under current antiracism law until Congress passes a specific law that addressed the LGBT community. Racism was made a crime in Brazil in 1989 with prison sentences of up to five years.
"Sexual orientation and gender identity are essential to human beings, to the self-determination to decide their own life and seek happiness," Justice Gilmar Mendes said, according to the court's Twitter account.
It may take some time for Congress to act further. In 2011, the Supreme Court ruled unanimously that every state should recognize civil unions between same-sex couples. However, Congress has yet to pass legislation for those unions.
Bolsonaro's Position
President Jair Bolsonaro, who took office in January, criticized the court last month when it became clear that most justices would rule in favor of criminalizing homophobia. He argued that the court was overstepping and suggested it was time to appoint an evangelical Christian to the Supreme Court.
Bolsonaro himself has been criticized for what many consider a long history of homophobic, racist, and sexist comments. The social conservative won the October election last year, promising to overturn years of liberal social policies. Many LGBT rights groups feared that he would try to roll back gay rights if elected.
The court's decision "is a step forward, but it won't make much of a difference unless we improve education and change attitudes," Claudia Regina, president of the LGBT Pride Parade Association of São Paulo told the Journal.
"There's been a subtle worsening of attitudes" since Bolsonaro was elected, she said, adding that he "is encouraging this, indirectly. He inspires his followers to behave this way."
According to the rights group the Grupo Gay da Bahia, 420 LGBT people were killed across Brazil in 2018 and at least 141 others have been killed so far this year. On top of that, Brazil leads the world in transgender homicides with 171 in 2017, according to the organization Transgender Europe.
Continued Hong Kong Protests Erupt Into Violence
Tens of thousands of people in Hong Kong blocked streets in downtown and surrounded the city's Legislative Council ahead of a debate on a highly controversial extradition bill.
The protest became violent after demonstrators stormed police barricades and police responded by firing tear gas and rubber bullets.
The debate was eventually canceled and rescheduled.
Wednesday's protest followed an even larger, mostly peaceful protest on Sunday, where upwards of 1 million people turned out.
---
Continued Protests
Protests in Hong Kong over a proposed extradition bill took a violent turn on Wednesday when riot police fired tear gas and rubber bullets at agitated protestors.
Wednesday's protest marks the second this week. An even larger demonstration on Sunday brought upwards of one million people to the streets of Hong Kong.
Both protests center around an extradition bill championed by Hong Kong's chief executive, Carrie Lam.
The bill in question would amend Hong Kong's extradition laws to permit the autonomous city-state to detain people suspected of specific crimes and extradite them to territories with which Hong Kong does not have a designated extradition agreement.
This would include mainland China, which has prompted a massive backlash from residents of Hong Kong, who view the bill as a violation of their civil liberties and independence from the mainland.
Following Sunday's protest, Lam said that she will still move forward with the legislation. The city's legislature was set to debate the bill on Wednesday, so protest organizers scheduled another round of protests for the same day.
Protestors Surround Legislative Council
Early Wednesday morning local time, tens of thousands of protestors blocked major roads in downtown Hong Kong and the surrounded the Legislative Council building where lawmakers were going to debate the bill.
The demonstrators effectively blocked the lawmakers from entering the building and eventually forced the Legislative Council to cancel the debate and reschedule for another day.
The protestors were met by police in riot gear, who responded by using water cannons and pepper spraying the protestors, many of whom could be seen holding umbrellas or wearing masks to protect themselves.
However, even after the debate was canceled, the protestors still kept going, despite calls from officials for the demonstrators to disperse.
Many people on the ground reported that the demonstrators did not trust the government, and thought they would simply go ahead with the debate right after the streets were cleared.
Around 3 p.m. local time, things started to escalate violently when protestors stormed police barricades and reportedly began throwing things at the police. The police responded by using tear gas and shooting bean bags and rubber bullets at the protestors.
Hong Kong's police chief Stephen Lo justified the violent response in a press conference, claiming that the protests had become a "riot situation."
Still, the protestors kept going for several more hours. By nighttime, the police were able to clear the area surrounding the Legislative Council. While most protestors seemed to disperse, there were still a large number of people who remained in the streets
Some protestors could be seen making their way to the Central district, which is the city's main financial hub.
It's not clear how many people attended the protest, or if they will continue tomorrow. On Wednesday, a spokesperson for the Hong Kong Information Bureau told CNN that at least 72 people have been treated at hospitals for injuries due to the protests, but that number is likely to go up.
On Wednesday, a spokesperson for the Hong Kong Information Bureau told CNN that at least 72 people have been treated at hospitals for injuries due to the protests, but that number is likely to go up.
Lam's Response
Even after the violent protests, Lam appears determined to press on with the bill.
Lam condemned the protestors during an interview with a local television station Wednesday. "It is very clear that this is no longer a peaceful assembly, but a public and organized riot," she said. "And it is impossible that this is action that loves and protects Hong Kong."
In a separate interview earlier the same day, Lam also reaffirmed her commitment to the bill and compared the protesters to spoiled children.
"I have never felt a guilty conscience over this," said Lam. "To draw a comparison, I'm a mother too, I have two sons. If my son was stubborn and I spoiled him and tolerated his stubborn behavior every time, I would just be going along with him."
Currently, reports seem to indicate that the Legislative Council will move ahead with rescheduling the debate for the bill. If and when they do have the debate, they still need to have a formal session before they vote on the legislation.
It has been reported that if they do hold a vote, it would be later this month. However, because pro-Beijing lawmakers hold 43 of 70 seats in the Legislative Council, the bill will likely pass unless Lam stops pushing the bill or a large number of lawmakers change their minds.
Extradition Bill Sparks Massive Protests in Hong Kong
Protestors in Hong Kong held a massive demonstration Sunday to oppose a bill that would allow the city to extradite people accused of certain crimes to mainland China.
Police say 240,000 people attended, while organizers claim that more than one million turned out.
Critics argue that the bill will be used to stifle dissent against the mainland, which has been exerting authority over Hong Kong and meddling in their internal affairs.
Hong Kong's chief executive, Carrie Lam, who proposed the bill has said she will still try to pass it despite the massive backlash.
---
Protests in Hong Kong
Hundreds of thousands of people took to the streets of Hong Kong on Sunday to protest a proposed bill that would allow the government to extradite people to mainland China.
According to reports, protestors from all walks of life essentially took over the streets of downtown Hong Kong. The protest stretched for more than a mile and it was so crowded that people were reportedly stuck in the subway stations waiting to join the protests.
The Protestors wore white, symbolizing "light" and "justice." Some of them carried umbrellas, which were a symbol of the city's pro-democracy protests in 2014.
Many demonstrators could be seen holding various signs and posters, some of which called for the resignation of Carrie Lam, Hong Kong's chief executive, who proposed and has pushed for the extradition bill.
The protests were largely peaceful during the day, but a little after midnight, riot police began to clash with protestors in front of Hong Kong's legislature. Police starting using pepper spray and hitting protestors with batons to get them to free up the area, and eventually, the protestors largely dispersed.
Currently, it is unclear how many people took part in the protests. Police officials have said that 240,000 people were in attendance, while the protest organizers say it was actually more than one million.
If the organizers' numbers are correct, that would mean almost 1 out of every 7 Hong Kong residents participated. It would also make it the biggest protest in Hong Kong since the British gave China control of the colony in 1997.
History and Context
Hong Kong is an autonomous city-state in southeast China that used to be a British colony, but it was given back to China in 1997 under a policy called "one country, two systems."
Under that system, Hong Kong was designated as a special administrative region (SAR) and allowed its own constitution which is known as Basic Law.
While Hong Kong technically part of China, it is given such a high degree of autonomy that it basically operates as its own country. The city has entirely separate political and economic systems, as well as a free press and open internet, which makes it very different from mainland China.
For the people of Hong Kong, independence from China is not only a point of pride but also a defining characteristic.
The proposed extradition bill has sparked a huge backlash among the residents of Hong Kong who are worried they could end up in the hands of mainland China's legal system, where people are frequently prosecuted for political reasons. Residents generally perceive the bill as a threat to their freedom and civil liberties.
What is the Extradition Bill?
The bill would amend Hong Kong's extradition laws to allow them to detain people suspected of certain crimes and turn them over to countries and territories with which Hong Kong does not have formal extradition agreements. Notably, this would include China.
Lam proposed the bill in March, in order to resolve a case where a man from Hong Kong named Chan Tong-kai was accused of killing his girlfriend while on vacation in Taiwan last year.
Chan is now back in Hong Kong, and even though he is accused of murder charges in Taiwan, he cannot be sent there to stand trial, because Hong Kong and Taiwan do not have a formal extradition agreement.
Lam argued the extradition bill is necessary to prosecute Chan. She also argues that it will help the rule of law in Hong Kong and "plug a loophole" in the city's legal system.
Reportedly, the extradition bill would apply to 37 crimes and it would only pertain to people accused of crimes that have penalties of seven years or more in prison. Government officials have also said that anyone facing the death penalty would not be extradited.
Officials have also said that extradition cases will need to be approved by independent local judges, then they will be passed on to get approval from Hong Kong's chief executive, which is currently Lam.
Here's what the protests looked like on the ground in #HongKong pic.twitter.com/Bxs615vC2D

— TicToc by Bloomberg (@tictoc) June 9, 2019
https://platform.twitter.com/widgets.js
After those two approvals, then suspects can be extradited. However, because Hong Kong is technically subordinate to mainland China, critics of the bill worry that it would be really difficult for the chief executive to reject an extradition request from her superiors.
Due to the fact that the chief executive proposed the bill herself, it seems unlikely that she would deny an extradition request at all.
Critics are also concerned the bill would basically allow anyone in to be picked up in Hong Kong and detained in mainland China, which means that the mainland could use the law to target political activists and dissidents, functionally legalizing abductions by mainland officials in Hong Kong that have been going on for a little while now.
Mainland officials are usually not allowed to operate in Hong Kong, but they have been known to illegally abduct people who work in bookstores that sell books that are critical of the mainland, as well as other critics of the Chinese government.
While the bill technically does not include extradition for political crimes, many people still worry that the legislation will just allow mainland Chinese authorities to further encroach on their independent territory.
Growing Chinese Influence
That concern is a valid one too. Over the last few years, mainland China has been steadily trying to exert more authority over Hong Kong by meddling in their internal affairs.
These efforts have risen significantly since Chinese President Xi took office in 2012. Since taking power, Xi has tightened control of his people and used all sorts of methods to stifle his critics, and because Hong Kong has a large community of pro-democracy activists and lawmakers, it is a clear target.
However, Hong Kong's constitution specifically prohibits mainland authorities from restraining dissent in the city. Experts say that because of that protection, mainland China has been forced to slowly chip away at Hong Kong's independence and institutions in other ways.
Already, mainland-aligned government officials in Hong Kong have ousted opposition lawmakers and denied civilian demands for free elections.
Lam's decision to press ahead with the extradition bill is also an example of a mainland-affiliated lawmaker pushing ahead with a policy that appears to be largely opposed by the people.
The opposition to the bill also extends beyond the residents of Hong Kong. Business people worry the bill could hurt foreign interest in investment in Hong Kong because some companies may even be forced to leave.
A group of bipartisan legislators in the U.S. sent a letter last month to Lam, calling for the legislation to be immediately withdrawn, and saying they were concerned the law would "negatively impact the relationship between the United States and Hong Kong."
Even Taiwan, which would have a trial for the man that Lam claims prompted the extradition bill in the first place, has stated it will comply with an extradition agreement because it's politically motivated.
Taiwanese officials have also said that the authorities in Hong Kong have ignored three separate requests from Taiwan for governments to figure out an arrangement to deal with the murder case, which would bypass the need for the bill at all.
Regardless, Lam announced following the protest that she will still move forward with the legislation. Lawmakers will resume debating the bill this week, and a vote is expected on June 27. Due to the fact that pro-Beijing lawmakers have 43 of 70 seats in the legislature, it appears that bill will likely pass.
Protest organizers have scheduled another round of protests for Wednesday.