Al Jazeera Suspends Journalists for Controversial Holocaust Video
Al Jazeera posted a video on their youth-focused channel AJ+ that said Jewish people had intentionally misrepresented how bad the Holocaust was for them, and claimed that "Israel is the biggest winner from the Holocaust."
The video, which was in Arabic, attracted widespread condemnation after a U.S.-based nonprofit called The Middle East Media Research Institute posted a translated version of it.
Al Jazeera removed the post and suspended two journalists involved with making the video.
---
AJ+ Video
Qatar-based multination publication Al Jazeera suspended two journalists who published a video that claimed Jewish people deliberately exaggerated the Holocaust so that Israel could benefit.
The video was posted on May 18 by AJ+ Arabic, Al Jazeera's youth-focused channel that creates short video explainers designed for social media. It was reportedly posted on the Twitter and Facebook accounts for AJ+ and received hundreds of thousands of views before it was taken down.
The video was posted in Arabic, but it started to get backlash after the Middle East Media Research Institute (MEMRI), a U.S.-based nonprofit, posted an English translation of the video.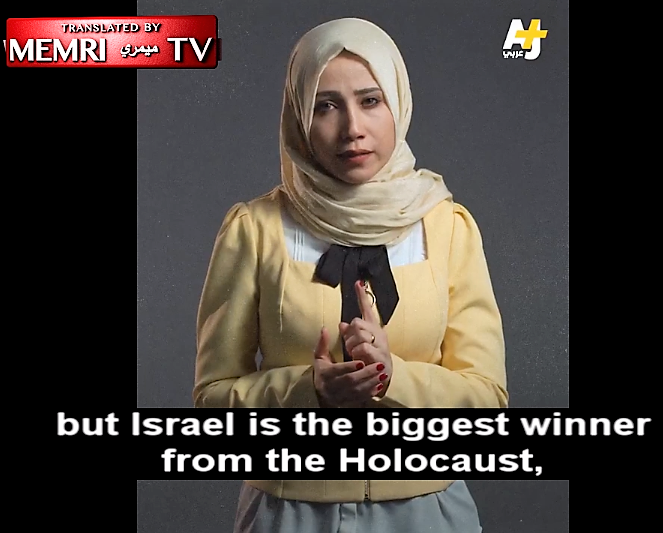 After the video started receiving criticism, Al Jazeera tweeted that they deleted the video because it "violated the editorial standards of the Network."
The following day, the publication said in a statement that it "has taken disciplinary action and suspended two of its journalists" over the video.
"Dr. Yaser Bishr, Executive Director of Digital Division, stated that Al Jazeera completely disowns the offensive content in question and reiterated that Al Jazeera would not tolerate such material on any of the Network's platforms," the statement said. "In an email to staff he also called for the mandatory bias training and awareness program."
The statement also said that Dima Khatib, the Managing Director of AJ+ Channels, claimed that "the video was produced without the due oversight," and added that workflows were being reviewed.
The Video
According to MEMRI's, the video was posted with the caption, "The Gas Chambers Killed Millions of Jews – That's How the Story Goes. What Is the Truth behind the Holocaust and How Did the Zionist Movement Benefit from It?"
Based on MEMRI's translations, the video starts out with the narrator saying, "The narrative that six million Jews were killed by the Nazi movement was adopted by the Zionist movement." The narrator then goes on to explain what happened in the Holocaust, describing the persecution of Jews and other groups.
Then the narrator says that the Jews were only part of the many groups murdered by the Nazis and asks, "So why is there a focus only on them?"
"Jewish groups had financial resources, media institutions, research centers, and academic voices that managed to put a special spotlight on the Jewish victims of the Nazis," she continued.
She then claims that the number of people who died in the Holocaust is still being debated today and asks the question: "How did Israel benefit from the Holocaust?"
The narrator goes on to discuss the 1933 Transfer Agreement, where Zionist groups negotiated with Nazis to allow thousands of German Jews to leave for Palestine, and then makes the argument that Israel greatly benefited from this.
"Israel is the biggest winner from the Holocaust, and it uses the same Nazi justifications as a launching pad for the racial cleansing and annihilation of the Palestinians," the narrator said.
She concludes the video by asserting that the idea behind the "State of Israel" comes from concepts "that suckled from the Nazi spirit and its main notions."
Response
Following the incident, numerous people took to Twitter to condemn Al Jazeera.
Emmanuel Nahshon, the spokesman for the Israeli Foreign Ministry called the video "the worst kind of pernicious evil" in a tweet, and argued that it "perpetuates hatred of Israel and the Jews."

Prime Minister Benjamin Netanyahu's Arabic media spokesperson, Ofir Gendelman, also expressed disdain in a tweet, writing that the video was "spreading lies about it & about Israel, specifically on #Ramadan in order to incite the masses."

Others outside of Israel also criticized Al Jazeera. Donald Trump Jr. joined in on Twitter, writing, "Al-Jazeera is now openly publishing Holocaust Denial videos on their facebook page. Will @facebook take action & ban them for this like they've done to conservatives for far less?"

Al Jazeera English v. Al Jazeera Arabic
Others who criticized Al Jazeera on Twitter highlighted the differences between the publication's English networks, like Al Jazeera English and AJ+ English, and their Arabic-language networks and content.
One user posted screenshots of the video posted to AJ+ Arabic next to a video about a Holocaust survivor posted on AJ+ English the same day.
"Don't be fooled by AJ's polished facade for its gullible Western audience," another user wrote on Twitter. "AJ isn't news, it's state-controlled propaganda."

This discussion was also hit on in an article published by BBC. In the article, BCC notes that Al Jazeera English is known for its "varied coverage," and shining a light on "underreported stories."
However, that reporting "comes in stark contrast to Al Jazeera Arabic," the article stated, continuing that Al Jazeera's Arabic networks often include "friendly coverage of Islamist groups – particularly favouring those aligned with the Muslim Brotherhood."
This compare and contrast is interesting because Al Jazeera is considered a very reliable source among U.S. audiences, but at the end of the day, it is a multinational media network that is funded by the Qatari government.
If Al Jazeera's Arabic coverage is catered so differently to its Middle Eastern audiences, it inevitably raises questions about its legitimacy and reporting in the U.S.
South Korean President Makes BTS Official Presidential Envoys
The position is largely ceremonial but will be used by the government to help give a friendly and popular face to national and international initiatives spearheaded by Seoul.
---
Government Recognition
The K-pop band BTS will be adding to its list of global impacts this year after South Korean President Moon Jae-in appointed its members as Presidential Envoys on Wednesday.
The role will include attending international conferences such as the United Nations General Assembly in September.
At these events, BTS will perform "various activities to promote international cooperation in solving global challenges, such as improving the environment, eliminating poverty and inequality, and respecting diversity," according to Park Kyung-mee, a Blue House spokesperson.
The band has already appeared at U.N. conferences multiple times over the last few years.
Just last year, the group gave a message of hope and reassurance through the U.N. during the COVID-19 pandemic. Prior appearances at the U.N. have been either as part of U.N. organizations or as private citizens.
Wednesday's appointment will make them official representatives of South Korea, although they won't actually engage in any direct diplomacy and instead will be used to promote the country's ongoing efforts in youth-related projects.
Longstanding Policy
BTS' success, alongside prior and current K-pop groups, has remained a masterclass of soft diplomacy by the Korean government. For decades, the Korean government has cultivated promoting cultural aspects abroad in the hopes of generating more interest in the country. There are hopes that such efforts will encourage more tourism as well as an elevated image when consumers consider Korean-made products.
Such efforts, beyond cultivating K-pop and raising its stars as semi-official government symbols, also include helping fund Korean restaurants abroad as well as free Korean-language classes taught by Professors of some of Korea's most prestigious schools.
The news comes as BTS' newest single, "Permission to Dance," quickly took the #1 spot on the Billboard top 100. BTS is also partnering with YouTube to promote a Permission to Dance challenge on YouTube Shorts that will begin tomorrow and end on August 4.
Fans will be encouraged to replicate dance moves from the music video, and the group's favorite clips will be put into a compilation made by them.
Over 1 Million Chinese Displaced After Record Rainfall
The rain has created waist-high waters throughout the capital of China's Henan province, drastically affecting the lives of its over 10 million inhabitants.
---
Trapped in a Flood
The Henan province of central China experienced severe rainfall over the last week that has left at least 25 dead and displaced more than 1.2 million people due to severe flooding, according to figures released by Chinese authorities Wednesday.
Meteorologists claim that the sudden, severe rainfall is caused by Typhoon In-Fa colliding with a high-pressure system over Henan province.
The floods have forced people to wade through waist-high water throughout Zhengzhou, the region's capital. In one tragic incident Monday, 12 people died after they were trapped in the subway amid rising waters. A similar situation occurred Tuesday, causing multiple lines to be trapped in chest-high water for up to three hours before rescue workers managed to save them. Since then, metro authorities have shut down many of Zhengzhou's rail lines.
Between Monday and Tuesday alone, Zhengzhou was hit with an estimated 25 inches of rain, equating to about 87% of its average annual rainfall. At one point, seven inches of rain occurred in less than an hour.
In an effort to alleviate rising waters, authorities breached a nearby dam to release floodwaters on Tuesday, although it's unclear how much that helped as many dams and rivers in the region have overflowed for days.
Elsewhere in Henan, villages have been cut off by landslides and flooding, killing at least four others and leaving some areas without power for more than 24 hours.
Long Recovery Ahead
The region was finally able to begin recovery efforts Wednesday as conditions have begun to die down.
Despite reduced rainfall, the situation has still proven to be dire, leading President Xi Jinping to issue a statement through state media ordering authorities to give top priority to people's safety and property.
In total, more than 17,000 firefighters have been mobilized for rescue efforts, as well as local volunteers and other rescue crews from other provinces.
Chinese companies have rushed to donate money to help the affected communities, and so far over $300 million has been donated.
It's likely that for some time, hundreds of thousands in the region will be left without homes as authorities begin the work of ensuring that buildings are safe to return to.
Toyota Largely Pulls Olympic Sponsorship Ads Amid Calls for Games To Be Canceled
Locals in Japan are particularly worried about the spread of COVID-19 among athletes at the densely packed Olympic village, something that has already happened despite assurances that it wouldn't.
---
Tainted View on Olympics
The Olympic Games continued to face controversy Monday after Toyota, one of the event's largest sponsors, announced that it would not air any commercials featuring the Olympics in Japan.
The news may come as a surprise since companies often view their ties to one of the world's largest sporting events as a major selling point and public relations win. However, Toyota's decision to distance itself instead highlights a growing trend among brands and locals who view the Games as a semi-toxic subject, especially in Japan where most of the population would like the Games canceled or postponed.
The controversy around the Olympic Games largely revolves around the ongoing COVID-19 pandemic and the decision to host the Games despite rising cases in Japan, concerns about new variants of the virus, and low vaccination rates due to a slow rollout.
Despite Toyota's recent decision, the company has provided invaluable support to organizers of the Games, including over 3,000 vehicles to transport athletes, crews, and staff. Additionally, the company continues to showcase individual Olympic athletes that it directly sponsors in competitions on its website.
Cardboard "Anti-Sex" Beds
Growing COVID concerns have many on edge, often causing jokes to be taken seriously and spread as misinformation. One such case involved the decision by organizers to use cardboard beds for athletes. Paul Chelimo, from the United States' track and field team, joked on Twitter, "Beds to be installed in Tokyo Olympic Village will be made of cardboard, this is aimed at avoiding intimacy among athletes."
"Beds will be able to withstand the weight of a single person to avoid situations beyond sports. I see no problem for distance runners, even 4 of us can do."
While many understood the statement to be a joke, outlets quickly ran with the sentiment that the beds were actually designed to prevent sex between athletes. Headlines from publications like the New York Post, for instance, read, "Athletes to sleep on 'anti-sex' cardboard beds at Olympic Games amid COVID."
The situation was largely put to rest after Irish gymnast Rhys McClenaghan posted a video jumping on the beds to prove they were perfectly suited for any activity. Officials at the Games went on to clarify that the decision to use cardboard was because it was a cheap, sustainable option that was easy to dispose of after the games without creating much waste.
The fact that the cardboard beds might prove awkward for athletes to use for sex could be a happy accident for the Olympic organizers, as they've made it clear that they don't want attendees having sex to help prevent the spread of COVID-19. They've even gone so far as to threaten athletes who have sex during the games with penalties.
In an effort to further dissuade athletes from hanging outside of their dorms or with others, the use of alcohol has largely been banned. Athletes are allowed to have it in their rooms but are supposed to enjoy it while alone.
For many, proof that the Games can't be protected against COVID-19 has already presented itself, despite assurances from organizers like IOC president Thomas Bach — who said there was "Zero" risk of transmission between athletes and Japanese staff. At least 61 people at the Olympic village have reported contracting COVID since arriving, including at least one U.S. athlete and Japanese workers at the village.
Non-political Games Rocked by Political Tit-for-Tats
The Games have also been rocked with other problems, especially involving Japan and its neighbors.
Korea was forced to take down flags that it had hung from its Olympic Village dorms that read "I still have the support of 50 million Korean people." The phrase was borrowed from Korean Admiral Yi Sun-Shin, who said, "I still have 12 battleships left," prior to a lopsided 16th-century naval victory against Japan in the Imjin War." The phrasing drew outrage from right-wing Japanese groups who asked the International Olympic Committee to have Korea remove the quasi-political statement.
Korea agreed, but only if Japan agreed to use the Rising Sun flag, a standard used by Imperial-era Japan and the Japanese Navy. It's also one that is often viewed by many East Asians as a symbol as controversial as the Nazi flag is for Westerners.