Al Jazeera Suspends Journalists for Controversial Holocaust Video
Al Jazeera posted a video on their youth-focused channel AJ+ that said Jewish people had intentionally misrepresented how bad the Holocaust was for them, and claimed that "Israel is the biggest winner from the Holocaust."
The video, which was in Arabic, attracted widespread condemnation after a U.S.-based nonprofit called The Middle East Media Research Institute posted a translated version of it.
Al Jazeera removed the post and suspended two journalists involved with making the video.
---
AJ+ Video
Qatar-based multination publication Al Jazeera suspended two journalists who published a video that claimed Jewish people deliberately exaggerated the Holocaust so that Israel could benefit.
The video was posted on May 18 by AJ+ Arabic, Al Jazeera's youth-focused channel that creates short video explainers designed for social media. It was reportedly posted on the Twitter and Facebook accounts for AJ+ and received hundreds of thousands of views before it was taken down.
The video was posted in Arabic, but it started to get backlash after the Middle East Media Research Institute (MEMRI), a U.S.-based nonprofit, posted an English translation of the video.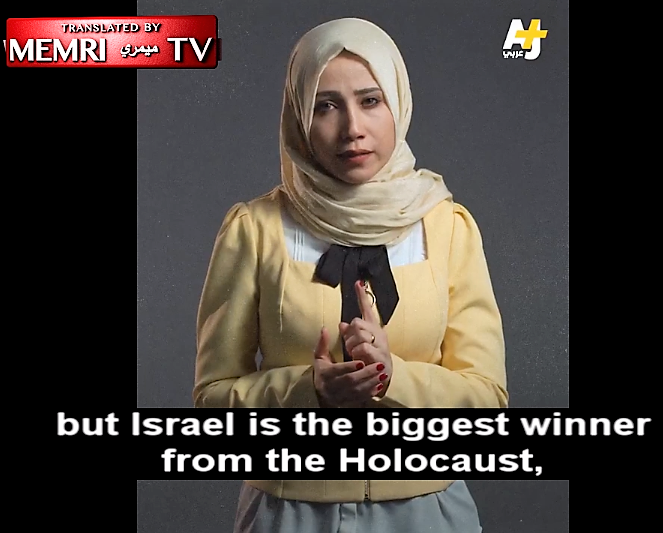 After the video started receiving criticism, Al Jazeera tweeted that they deleted the video because it "violated the editorial standards of the Network."
The following day, the publication said in a statement that it "has taken disciplinary action and suspended two of its journalists" over the video.
"Dr. Yaser Bishr, Executive Director of Digital Division, stated that Al Jazeera completely disowns the offensive content in question and reiterated that Al Jazeera would not tolerate such material on any of the Network's platforms," the statement said. "In an email to staff he also called for the mandatory bias training and awareness program."
The statement also said that Dima Khatib, the Managing Director of AJ+ Channels, claimed that "the video was produced without the due oversight," and added that workflows were being reviewed.
The Video
According to MEMRI's, the video was posted with the caption, "The Gas Chambers Killed Millions of Jews – That's How the Story Goes. What Is the Truth behind the Holocaust and How Did the Zionist Movement Benefit from It?"
Based on MEMRI's translations, the video starts out with the narrator saying, "The narrative that six million Jews were killed by the Nazi movement was adopted by the Zionist movement." The narrator then goes on to explain what happened in the Holocaust, describing the persecution of Jews and other groups.
Then the narrator says that the Jews were only part of the many groups murdered by the Nazis and asks, "So why is there a focus only on them?"
"Jewish groups had financial resources, media institutions, research centers, and academic voices that managed to put a special spotlight on the Jewish victims of the Nazis," she continued.
She then claims that the number of people who died in the Holocaust is still being debated today and asks the question: "How did Israel benefit from the Holocaust?"
The narrator goes on to discuss the 1933 Transfer Agreement, where Zionist groups negotiated with Nazis to allow thousands of German Jews to leave for Palestine, and then makes the argument that Israel greatly benefited from this.
"Israel is the biggest winner from the Holocaust, and it uses the same Nazi justifications as a launching pad for the racial cleansing and annihilation of the Palestinians," the narrator said.
She concludes the video by asserting that the idea behind the "State of Israel" comes from concepts "that suckled from the Nazi spirit and its main notions."
Response
Following the incident, numerous people took to Twitter to condemn Al Jazeera.
Emmanuel Nahshon, the spokesman for the Israeli Foreign Ministry called the video "the worst kind of pernicious evil" in a tweet, and argued that it "perpetuates hatred of Israel and the Jews."

Prime Minister Benjamin Netanyahu's Arabic media spokesperson, Ofir Gendelman, also expressed disdain in a tweet, writing that the video was "spreading lies about it & about Israel, specifically on #Ramadan in order to incite the masses."

Others outside of Israel also criticized Al Jazeera. Donald Trump Jr. joined in on Twitter, writing, "Al-Jazeera is now openly publishing Holocaust Denial videos on their facebook page. Will @facebook take action & ban them for this like they've done to conservatives for far less?"

Al Jazeera English v. Al Jazeera Arabic
Others who criticized Al Jazeera on Twitter highlighted the differences between the publication's English networks, like Al Jazeera English and AJ+ English, and their Arabic-language networks and content.
One user posted screenshots of the video posted to AJ+ Arabic next to a video about a Holocaust survivor posted on AJ+ English the same day.
"Don't be fooled by AJ's polished facade for its gullible Western audience," another user wrote on Twitter. "AJ isn't news, it's state-controlled propaganda."

This discussion was also hit on in an article published by BBC. In the article, BCC notes that Al Jazeera English is known for its "varied coverage," and shining a light on "underreported stories."
However, that reporting "comes in stark contrast to Al Jazeera Arabic," the article stated, continuing that Al Jazeera's Arabic networks often include "friendly coverage of Islamist groups – particularly favouring those aligned with the Muslim Brotherhood."
This compare and contrast is interesting because Al Jazeera is considered a very reliable source among U.S. audiences, but at the end of the day, it is a multinational media network that is funded by the Qatari government.
If Al Jazeera's Arabic coverage is catered so differently to its Middle Eastern audiences, it inevitably raises questions about its legitimacy and reporting in the U.S.
Accusations Against Chinese Actress Shine Light on the Nation's Surrogacy Laws
Chinese actress Zheng Shuang is facing major backlash after her former partner, Zhang Heng, accused her of abandoning her two children born through U.S.-based surrogates.
Beyond public outcry and losing brand deals, Zheng is likely facing legal consequences after a Chinese government agency said that using a legal loophole to obtain a surrogate from abroad was "definitely not innocent." 
Zheng denies the claims and hasn't confirmed if the children are actually hers, although she's listed as their mother on their birth certificates.
As for the children in question, Zhang has been taking care of them in the U.S.
---
American-Based Surrogacy Cause Controversy
Chinese social media users have launched into debates surrounding how the rich and elite circumvent domestic laws in order to obtain surrogate services.
The latest controversy is surrounding actress Zheng Shuang. Though she has never confirmed this publicly, Zheng allegedly went to the U.S. with her-now-ex Zhang Heng and had two children with the help of American surrogates. However, on Monday, Zhang accused Zheng of abandoning the children and leaving him to take care of them in the U.S. The couple reportedly broke up before the babies were born due to Zhang's alleged infidelity.
According to the South China Morning Post, Zhang's friend released a voice recording on the Chinese platform NetEase Entertainment. In it, Zhang and Zheng are allegedly having a discussion with their parents over what to do with the then-unborn children. Zheng's father suggested that they abandon the children at the hospital, while Zheng reportedly expressed annoyance that they could not be aborted so late in pregnancy.
Legal Grey Zone Likely Won't Help
Beyond public outcries, Zheng lost a recent brand deal with Prada that she signed just eight days before the accusations were made. Additionally, other brand partners, such as Aussie, have distanced themselves from the actress. She also faces multiple awards she has won being revoked as well as potential legal consequences.
Currently, surrogacy is illegal in China; however, the laws have a legal grey zone. Technically, providing surrogacy is what is illegal, but obtaining one from abroad is not explicitly mentioned, even if it goes against the spirit of the law.
The Central Political and Legal Affairs Commission of the Communist Party commented on the situation in a Weibo video post, saying that using this legal loophole to get a surrogacy was "definitely not innocent."
"Surrogacy is banned in China as it uses women's uteruses as a tool and sells life as a commercial product.," it continued. "As a Chinese citizen, the act of traveling to the US on a legal loophole is not abiding the law."
Following the post, companies like Blued, a gay dating app in China, took down sections of their apps that helped users set up services with surrogacy firms overseas.
Surrogacy is a controversial subject in China, with many actors and actresses obtaining them overseas, but many social media users across the country are against the practice. Officially, the government claims that it "overlooks life" and "tramples the bottom line [of human morality]."
Zheng has denied claims that she abandoned any children, and has never confirmed whether or not she actually has any, although she is listed as the mother on the children's birth certificates.
As for the children in question, even though Zheng's father suggested abandoning them in the hospital, her ex has been taking care of them in the U.S.
American Influencer Kristen Gray To Be Deported From Bali
In a viral Twitter thread, influencer Kristen Gray encouraged people to move to Bali like she did while promoting her eBook and other resources on how to do so amid COVID-19 restrictions.
Many criticized her for encouraging an influx of travelers during the pandemic. She also sparked conversations about gentrification and was slammed for falsely characterizing Indonesia as queer-friendly.
The local government promised to deport her Tuesday, arguing that selling her book and offering paid consultations on traveling to Bali violated the purpose of her visitor stay permit. They also say she was "spreading information that could unsettle the public."
"I am not guilty. I have not overstayed my visa. I have not made money in Indonesian rupiah in Indonesia," Gray told reporters. "I put out a statement about LGBT and I am being deported because of LGBT."
---
Kristen Gray Goes Viral
Officials in Indonesia said Tuesday that they will deport Kristen Gray, an American influencer who has caused international outrage in the last week.
Gray moved to Bali with her girlfriend in 2019 with plans to stay for six months. In reality, the couple ended up staying much longer because of the coronavirus pandemic, and in a viral Twitter thread, Gray shared how positive their experience has been.
Gray pointed to several benefits of moving to Bali in her posts, like its safety, low cost of living, luxury lifestyle, as well as its queer-friendly and Black communities.
She also encouraged others to make the same move and promoted their $30 eBook "Our Bali Life Is Yours" for tips on how to do it. "We include direct links to our visa agents and how to go about getting to Indonesia during COVID," she even wrote in one post.
Backlash
The thread sparked outrage for encouraging an influx of travelers to a country that has closed its borders over the worsening pandemic. On top of that, it sparked conversations about the gentrification of neighborhoods there.
Bali is a major tourist destination for Americans, Europeans, and Australians in particular, and like areas all over the world, it has suffered from the loss in visitors this year.
However, many online noted that locals have been steadily priced out of certain areas of the island as foreigners open businesses to cater to tourists. Others argue that poorly regulated development is also destroying industries that Balinese people have historically relied on.
Aside from those criticisms, many people also took issue with Gray characterizing Bali as a queer-friendly when the reality for locals is far different.
"It well may be the case for you. However, please recognize that it is because a) you're a foreigner and b) you have economic leverage since the Indonesian local community is financially dependent on keeping you happy so they don't mess with you," a user named Kai Mata said in a viral TikTok.
"Please realize for the rest of us Indonesians on the island, this is not a queer-friendly place. Our gay communities are often shut down and raided by authorities and Indonesia at large has tried to mandate conversion therapy for us the LGBTQ+ Community."
Government Responds
The local government responded to the public outrage over Gray's thread Tuesday. In a statement, it said selling her book and also offering paid consultations on traveling to Bali violated the purpose of her visitor stay permit, which was valid until January 24.
Gray was also accused of "spreading information that could unsettle the public" by saying Bali is queer-friendly and suggesting foreigners travel there during the pandemic.
According to Reuters, she was being held at an immigration detention facility Tuesday and was to be deported as soon as a flight was available.
In a brief statement to the Balinese press, Gray defended herself. "I am not guilty. I have not overstayed my visa. I have not made money in Indonesian rupiah in Indonesia. I put out a statement about LGBT and I am being deported because of LGBT," she explained.
Many of her fans believe her and also argue that she is seeing this level of criticism because she is a Black woman.
Petition Calls for Ban on Sexualized Fanfiction in South Korea
A petition circulating across South Korea calls for sexualized fanfiction depicting K-pop stars and other real people to be outlawed and classified as sex crimes.
The petition particularly focuses on the way male stars are depicted in same-sex relationships and argues that they often feature people who are minors.
A similar petition was submitted last week to President Moon Jae-in; however, it focused on deep fakes. Because both petitions have over 200,000 signatures, they will need to be addressed by President Moon.
---
K-Pop Fanfiction Causes Chaos
A petition began circulating across South Korea this week demanding that "real person slash" fanfiction works be outlawed and charged as sex crimes.
"Real person slash" refers to a specific form of fanfiction that most often features sexualized versions of K-pop stars and other real people.
In particular, the petition focuses on the way male stars are depicted in same-sex relationships and the age of some of the people being portrayed. The petition notes, "due to the nature of the profession of idols, whose average age is young, many of the victims are still minors or children."
The petition was submitted to the Blue House, South Korea's version of the White House, and currently has over 200,000 signatures. It received a big boost in attention after K-pop star Nancy, from the group Momoland, was secretly filmed by a member of her agency while she was changing backstage. This person then doctored some of the images and uploaded them online.
While Nancy's case isn't hand-drawn fanfic, it did fuel outrage at what's seen as an ineffective approach towards sex crimes in the country. Signers of this petition believe that these fanfics fall into the same category of likely illegality as deep fakes.
Deep Fakes Also Being Targeted
Additionally, just last week deep fakes – which often feature k-pop stars – had its own petition submitted to the president last week with over 300,000 signatures.
Because both petitions have over 200,000 signatures, they will need to be addressed by President Moon Jae-in
For years South Korea has struggled with secret cameras, deep fakes, revenge porn, and more violent sex crimes, such as the infamous Nth Room case that saw certain stars filming themselves having sex with women against their consent.