Al Jazeera Suspends Journalists for Controversial Holocaust Video
Al Jazeera posted a video on their youth-focused channel AJ+ that said Jewish people had intentionally misrepresented how bad the Holocaust was for them, and claimed that "Israel is the biggest winner from the Holocaust."
The video, which was in Arabic, attracted widespread condemnation after a U.S.-based nonprofit called The Middle East Media Research Institute posted a translated version of it.
Al Jazeera removed the post and suspended two journalists involved with making the video.
---
AJ+ Video
Qatar-based multination publication Al Jazeera suspended two journalists who published a video that claimed Jewish people deliberately exaggerated the Holocaust so that Israel could benefit.
The video was posted on May 18 by AJ+ Arabic, Al Jazeera's youth-focused channel that creates short video explainers designed for social media. It was reportedly posted on the Twitter and Facebook accounts for AJ+ and received hundreds of thousands of views before it was taken down.
The video was posted in Arabic, but it started to get backlash after the Middle East Media Research Institute (MEMRI), a U.S.-based nonprofit, posted an English translation of the video.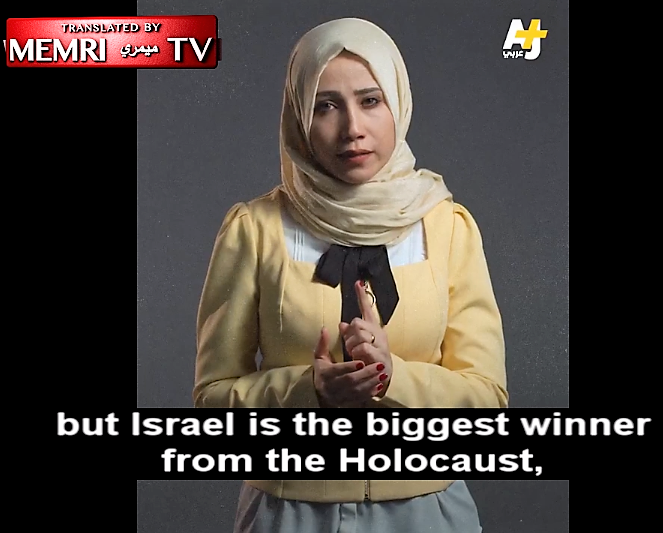 After the video started receiving criticism, Al Jazeera tweeted that they deleted the video because it "violated the editorial standards of the Network."
The following day, the publication said in a statement that it "has taken disciplinary action and suspended two of its journalists" over the video.
"Dr. Yaser Bishr, Executive Director of Digital Division, stated that Al Jazeera completely disowns the offensive content in question and reiterated that Al Jazeera would not tolerate such material on any of the Network's platforms," the statement said. "In an email to staff he also called for the mandatory bias training and awareness program."
The statement also said that Dima Khatib, the Managing Director of AJ+ Channels, claimed that "the video was produced without the due oversight," and added that workflows were being reviewed.
The Video
According to MEMRI's, the video was posted with the caption, "The Gas Chambers Killed Millions of Jews – That's How the Story Goes. What Is the Truth behind the Holocaust and How Did the Zionist Movement Benefit from It?"
Based on MEMRI's translations, the video starts out with the narrator saying, "The narrative that six million Jews were killed by the Nazi movement was adopted by the Zionist movement." The narrator then goes on to explain what happened in the Holocaust, describing the persecution of Jews and other groups.
Then the narrator says that the Jews were only part of the many groups murdered by the Nazis and asks, "So why is there a focus only on them?"
"Jewish groups had financial resources, media institutions, research centers, and academic voices that managed to put a special spotlight on the Jewish victims of the Nazis," she continued.
She then claims that the number of people who died in the Holocaust is still being debated today and asks the question: "How did Israel benefit from the Holocaust?"
The narrator goes on to discuss the 1933 Transfer Agreement, where Zionist groups negotiated with Nazis to allow thousands of German Jews to leave for Palestine, and then makes the argument that Israel greatly benefited from this.
"Israel is the biggest winner from the Holocaust, and it uses the same Nazi justifications as a launching pad for the racial cleansing and annihilation of the Palestinians," the narrator said.
She concludes the video by asserting that the idea behind the "State of Israel" comes from concepts "that suckled from the Nazi spirit and its main notions."
Response
Following the incident, numerous people took to Twitter to condemn Al Jazeera.
Emmanuel Nahshon, the spokesman for the Israeli Foreign Ministry called the video "the worst kind of pernicious evil" in a tweet, and argued that it "perpetuates hatred of Israel and the Jews."

Prime Minister Benjamin Netanyahu's Arabic media spokesperson, Ofir Gendelman, also expressed disdain in a tweet, writing that the video was "spreading lies about it & about Israel, specifically on #Ramadan in order to incite the masses."

Others outside of Israel also criticized Al Jazeera. Donald Trump Jr. joined in on Twitter, writing, "Al-Jazeera is now openly publishing Holocaust Denial videos on their facebook page. Will @facebook take action & ban them for this like they've done to conservatives for far less?"

Al Jazeera English v. Al Jazeera Arabic
Others who criticized Al Jazeera on Twitter highlighted the differences between the publication's English networks, like Al Jazeera English and AJ+ English, and their Arabic-language networks and content.
One user posted screenshots of the video posted to AJ+ Arabic next to a video about a Holocaust survivor posted on AJ+ English the same day.
"Don't be fooled by AJ's polished facade for its gullible Western audience," another user wrote on Twitter. "AJ isn't news, it's state-controlled propaganda."

This discussion was also hit on in an article published by BBC. In the article, BCC notes that Al Jazeera English is known for its "varied coverage," and shining a light on "underreported stories."
However, that reporting "comes in stark contrast to Al Jazeera Arabic," the article stated, continuing that Al Jazeera's Arabic networks often include "friendly coverage of Islamist groups – particularly favouring those aligned with the Muslim Brotherhood."
This compare and contrast is interesting because Al Jazeera is considered a very reliable source among U.S. audiences, but at the end of the day, it is a multinational media network that is funded by the Qatari government.
If Al Jazeera's Arabic coverage is catered so differently to its Middle Eastern audiences, it inevitably raises questions about its legitimacy and reporting in the U.S.
Thousands Protest in Russia Demanding Release of Putin Foe Alexei Navalny
Russia faced some of the largest protests it has seen in recent years after thousands took to the streets Saturday demanding the government release opposition figure Alexei Navalny.
Russian authorities declared the protests illegal and detained more than 3,500 people from more than 100 cities, including Navalny's wife.
The government also released a statement addressing Navalny by name for the first time, attempting to discredit claims he has made, including the idea that President Vladimir Putin has a billion-dollar villa on the Black Sea coast.
---
Largest Russian Protests in Recent History
Russia experienced some of its largest protests in years Saturday after opposition figure Alexei Navalny called for demonstrations to be held following his arrest.
Supporters demanded Navalny's release but also called for an end to perceived rampant corruption in the Russian state.
Tens of thousands took to the streets and clashed with police in more than 100 cities, with independent monitors claiming that 3,500 people were detained by police. Among those detained was Yulia Navalnaya, Navalny's wife, who was targeted by authorities during the protests. She is reported to have been released by Russian media agencies such as TASS.
Despite Russian authorities declaring the protests illegal and warning of repercussions for those who attend, the protests managed to reach a wide range of people. According to the New York Times, over ⅓ of protesters in Moscow said they had never protested before.
Despite the movements current popularity, it may be difficult to turn the popular, anti-Putin movement into something more.The protesters span a broad range of the political spectrum, from far-left communist and anarchist groups to nationalists and libertarians, meaning that while they dislike Putin and the corruption in the Russian government, they agree on little else.
Changing the Message
The protests unveiled a new shift in how Russian authorities deal with Navalny. In the past, authorities and state-backed media never mentioned him by name in order to downplay him; however, that changed this weekend.
Newscasters aired multiple programs to discredit him and paint him as a tool of the West, while Putin denied Navalny's claims that he has a secret, billion-dollar villa on the coast of the Black Sea. Based on his salary of $133,000 a year, Putin would only be able to afford a single home in Russia. However, there is speculation that due to corruption and embezzling, Putin is likely the actual richest person alive.
Regarding Navalny himself, he's still in jail pending court proceedings on Feb. 2. If those go poorly for Navalny, he could be in prison until the mid-2020s, but he is more concerned about his immediate future.
In a video to supporters prior to the protests, he made it clear that he has no intention of committing suicide. That statement was likely made due to the fact that many Russian dissidents seem to die via suicide, with much speculation about whether or not that was actually the case.
Some Flyers Are Forging Old COVID-19 Tests To Travel
As a number of countries and airlines impose rules requiring negative COVID tests up to 72 before flights, more and more people have been forging old tests to make them look new.
In a recent report from Vice's Motherboard, two anonymous men detailed how they forged documents to avoid having to pay for new ones.
"Fun fact, the document was in French whereas they were in Sweden the day it was supposedly made, but [airport officials] didn't see a problem in that," one man told Motherboard.
---
Forging Old COVID-19 Tests
Many countries are now requiring flyers to present negative COVID-19 tests no more than 72 hours before they board planes; however, some people are reportedly forging their test results to get around the restrictions.
According to Vice's Motherboard, one anonymous individual used Photoshop to change the date of several of his friends' older coronavirus tests.
"Fun fact, the document was in French whereas they were in Sweden the day it was supposedly made, but [airport officials] didn't see a problem in that," the man told the outlet.
Another person told Motherboard that he had changed the date of an old test result using Microsoft Paint in order to travel to Southern Europe for vacation.
Situations like this in Europe are not completely new.
"We needed a COVID-19 test for a family member and I spoke to one travel agent and he said, 'Get it done and even if it comes out positive we will provide a negative one for you for £50'," one person told The Sun in October.
While those people seemingly got away with potential forgery crimes, others haven't.
Last week, it was reported that 45 people were caught trying to enter Croatia with fake COVID tests. Notably, they could each face up to three years in prison for forging documents.
Earlier this month, a 17-year-old Dutch girl was also caught with a forged COVID test while trying to escape quarantine in Switzerland.
Why Are People Forging Documents?
Part of the reason people are forging old COVID-19 tests may be to keep from being barred if a new test comes back positive; however, there also appears to be at least one other major reason: money.
Right now, tests in most European countries are free, but that's not the case for people trying to go on vacation.
In fact, people traveling for leisure have been warned not to use free COVID-19 testing services to meet flight demands. Instead, they are required to pay out of pocket to have their test sent to a private company.
Russia Orders Social Media Sites To Block Calls for Navalny Protests
Shortly after his arrest on Sunday, Russian opposition leader Alexei Navalny called for protests to take place on Jan. 23 and was met with a wave of support online.
In response, the government ordered tech giants like Facebook, YouTube, Twitter, TikTok, and Russian-centric VK to "block all publications with calls to demonstrate on the 23rd."
TikTok has already deleted 38% of posts with such calls while VK and YouTube have deleted 50%, and Instagram has removed 17%.
---
Navalny Calls for Protests
Russian opposition figure Alexei Navalny's return to Russia and subsequent arrest earlier this week has set off a chain of events in the country.
Since his arrest, Navalny has called for protests to occur on Jan. 23. Now, Russian authorities are taking precautions and arresting his allies in an effort to slow down the momentum of the looming demonstrations. Among their many demands are that Navalny be released.
Throughout the week, thousands of posts shared by younger Russians have raged across social media asking that people partake in the protests. The reach of those posts, however, have been curtailed by the government.
Social media tech giants like Facebook, YouTube, Twitter, TikTok, and the Russian-centric VK were ordered by the Russian government to "block all publications with calls to demonstrate on the 23rd."
Roskomnadzor, the Russian communications watchdog, later stated, "Internet sites will be brought to administrative responsibility in connection with the dissemination of information prohibited by law and aimed at attracting minors to participate in unauthorized mass public events."
"Participation in such events is in violation of the established procedure, including in a pandemic, and carries risks of harm to life and health," it added.
Censorship Payoff Unknown
For many of the sites, which are often seen as a way to promote free speech in regimes that are far more restrictive, the order puts them in an awkward position. Still, many have already complied, at least to some extend.
According to Roskomnadzor, Tiktok has deleted 38% of videos calling for minors to attend the protests. VK and YouTube have both deleted 50% of similar posts, while Instagram has removed 17% of posts that violate the regulations.
It's unclear to what extent this censorship will have on stopping Russians from attending tomorrow's protests; however, some of the nation's largest protests in modern history have been organized by Navalny.