Chelsea Manning Ordered Back to Jail for Refusing to Testify
Chelsea Manning, the intelligence analyst who provided WikiLeaks with secret Pentagon documents, was ordered to return to prison Thursday after she refused to testify before a grand jury that is investigating WikiLeaks founder Julian Assange.
Manning was sent to a detention center in Virginia in March for refusing to testify before another jury, but was released last week after that jury's term expired.
She was quickly subpoenaed to testify in front of a second grand jury that was convened to investigate Assange after an indictment that was unsealed by the Justice Department in April.
Manning will be imprisoned for up to 18 months or until she agrees to testify.
---
Chelsea Manning Goes Back to Jail
Chelsea Manning, the former Army intelligence analyst who gave confidential government documents to WikiLeaks in 2010, was sent back to prison Thursday for refusing to testify before a grand jury investigating WikiLeaks founder Julian Assange.
Manning was first sent to the Alexandria Detention Center in Virginia in March for refusing to testify before a different grand jury investigating WikiLeaks. She was released just last week after that jury's term expired.
However, another grand jury was enlisted for the government's investigation of Assange after the Justice Department unsealed an indictment in April accusing him of conspiring to gain access to Defense Department computers.
As a result, prosecutors hit Manning with another subpoena to testify. "I will not cooperate with this or any other grand jury," Manning told reporters on Thursday. "So it doesn't matter what it is or what the case is, I'm just not going to comply or cooperate."
U.S. District Judge Anthony Trenga ordered that Manning be sent back to the detention center until she testifies before the jury or until the grand jury's term expires in 18 months. Trenga also ordered Manning to be fined $500 every day she stays in custody after 30 days, and $1,000 every day after 60 days.
Previous Prison Time
Manning is not new to serving time in prison. In 2013, she pleaded guilty to violating the Espionage Act and other offenses related to giving WikiLeaks thousands of classified Pentagon documents and communications regarding the wars in Afghanistan and Iraq.
She was sentenced 35 years in prison, but was released in 2017 after President Barack Obama commuted the rest of her sentence. Manning served a total of seven years in prison, including her time pretrial custody from 2010 to 2013.
Manning has claimed that she already answered the same questions during the court-martial in 2013, and said that she will refuse to testify before a grand jury regardless of how long she is detained.
"The government cannot build a prison bad enough, cannot create a system worse than the idea that I would ever change my principles," Manning reportedly told Trenga on Thursday. "I would rather starve to death than to change my opinions in this regard. I mean that quite literally."
Legal Arguments
Prosecutors have argued that the increased jail time is intended to persuade Manning to testify.
U.S. Attorney for the Eastern District of Virginia G. Zachary Terwilliger said after Manning's hearing on Thursday that she has been given immunity for her testimony. "All we want is for her to truthfully answer any questions," Terwilliger said.
Manning's attorneys have argued that she should not be incarcerated because she has shown that she will refuse to testify no matter how long she is put in prison. Under federal law, an uncooperative witness can only be put in jail for civil contempt if there is a reason to believe that imprisonment will coerce the witness to testify.
Mannings lawyers claim that other prisoners have been released from jail in the past when it was evident that their imprisonment was not effective in its coercive purposes.
"We are of course disappointed with the outcome of today's hearing," Moira Meltzer-Cohen, one of Manning's lawyers, said in a statement. "But I anticipate it will be exactly as coercive as the previous sanction — which is to say not at all."
Prosecutors rebuked this claim, arguing that Manning has only spent two months in jail, which is not enough time to say that she cannot be coerced into testifying.
"The entire grand jury system would collapse, because everyone could simply take a principled stand against the grand jury and not testify," Assistant U.S. Attorney Thomas Traxler said. "The longer Ms. Manning spends in jail, the more she realizes it's in her interest to testify."
How Safe Injections Sites in the U.S. Are Fighting Back Against The Opioid Crisis & Do They Work?
---
America has been hit with a historical opioid crisis. In 2018, more than 31,000 people died from opioid overdoses, which is more than any previous year recorded in American history. Healthcare professionals and public health experts are offering alternatives to the status quo treatments, which leads us to today's topic: supervised injection facilities (SIF).
Also known as overdose prevention sites and medically supervised injection centers, SIF's have been proposed as a solution to combat America's opioid problem. In these centers, no drugs are supplied to the users—they bring their own and are given clean syringes to prevent bloodborne diseases. Advocates or these sites are saying that they would stop countless fatal overdoses because there would be medical staff on site. Countries like Switzerland, Canada, and Australia have implemented versions of these facilities and so far there has not been any reported fatal overdoses at a SIF in the world. 
While cities like Seattle, San Francisco, New York City, and Philadelphia have all proposed plans to make sites, they have been met with heavy opposition. The federal government opposed these sites because they claim it breaks federal laws and some residents in these cities are against them due to concerns over attracting more crime. In this video, we'll be focusing on Philadelphia, as it might become the first U.S. city to legally open a supervised injection facility, along with the court case between the non-profit who is trying to establish the SIF and the federal government.

Elon Musk Defends Calling Rescue Diver "Pedo Guy" in Lawsuit
In court documents, Elon Musk defended a tweet where he called a diver who helped rescue the Thai soccer team from a cave a "pedo guy" because it "was a common insult used in South Africa." 
The diver sued Musk for defamation last year after Musk sent an email to BuzzFeed where he referred to the diver as "child rapist" who had taken a "child bride who was about 12 years old." 
The court documents from the suit, which were made public Monday, also revealed that Musk paid a private investigator more than $50,000 to look into the diver.
Musk also said he gave the statement to BuzzFeed based on information provided by the investigator, and because he was concerned the diver could be the next Jeffrey Epstein. 
---
Court Filings Made Public
Telsa CEO Elon Musk defended calling a rescue diver "pedo guy," court documents revealed Monday.
Musk originally made the comment in July 2018, after Vernon Unsworth, a British diver who helped rescue the Thai soccer team trapped in a cave last year, gave an interview to CNN where he had some choice things to say about Musk.
Notably, Unsworth said the submarine Musk had designed to rescue the soccer team would not work and that it was just a PR stunt.
Musk responded by calling Unsworth a "pedo guy" in a now-deleted tweet.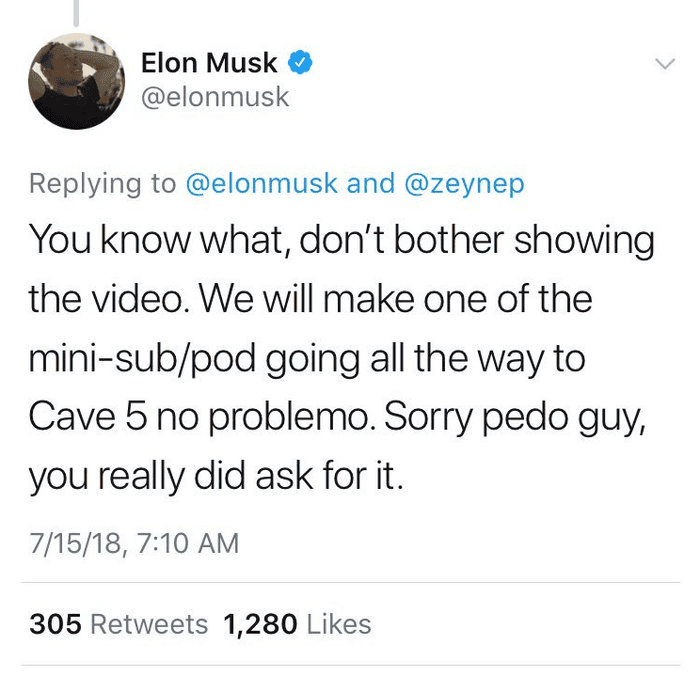 He also sent an email to BuzzFeed reporter Ryan Mac, in which he accused Unsworth of being a "child rapist" who had taken a "child bride who was about 12 years old at the time."
Musk said he thought the email was off the record, but BuzzFeed said they never agreed to that. In September 2018, Unsworth filed a defamation lawsuit against Musk in the Central District of California.
Court filings from the defamation suit against Musk were made public on Monday.
Musk Defends "Pedo Guy" Tweet
In those documents, Musk claimed that referring to Unsworth as "pedo guy" was not a direct accusation of pedophilia.
"'Pedo guy' was a common insult used in South Africa when I was growing up," Musk wrote. "It is synonymous with 'creepy old man' and is used to insult a person's appearance and demeanor, not accuse a person of acts of pedophilia."
"I did not intend to accuse Mr. Unsworth of engaging in acts of pedophilia," he continued. "In response to his insults in the CNN interview, I meant to insult him back by expressing my opinion that he seemed like a creepy old man."
The fact that Musk is arguing he was expressing his opinion is important in this context because under the First Amendment, opinions are usually protected speech and not considered defamatory.
The documents also included Musk's deposition, where he talks more in-depth about the "pedo guy" tweet.
In the deposition, Musk said he sent BuzzFeed the email because he was worried it could turn into a Jeffrey Epstein situation, referring to the wealthy financier who was accused of sexually assaulting dozens of young women, including many underage girls.
"What if we have another Jeffrey Epstein on our hands?" he said. "And what if he uses whatever celebrity he gains from this cave rescue to shield his bad deeds? This would be terrible."
Musk's Epstein argument might become problematic. First of all, he made the statements to BuzzFeed before the new allegations surfaced, which some have argued proves he just is using current news to frame Unsworth in a certain way, and that he did not actually consider Epstein at all.
That argument is also furthered by the fact that it has been reported that Musk had attended several events with Epstein, all of which were after Epstein pleaded guilty to soliciting prostitution from an underage girl in 2008.
Musk even said he visited Epstein's house "several years ago." Epstein also told The New York Times he had advised Musk while Tesla was trying to go public in 2018, though Musk denies those claims.
Private Investigator
Notably, Musk also said in the filings that he paid a private investigator more than $50,000 to investigate Unsworth after receiving an unsolicited email from the PI in August 2018.
In the documents, Musk says that the investigator: "reported that Mr. Unsworth met and began a relationship with his alleged Thai wife when she around twelve years old."
He also added that the investigator "reported that Mr. Unsworth associated with Europeans who engage in improper sexual conduct in Thailand," and that he "learned that Mr. Unsworth frequented Pattaya Beach which is well known for prostitution and sex tourism, and that Mr. Unsworth was unpopular at the rescue site because other rescue workers thought that he was 'creepy.'"
Musk goes on to say this was the basis for the comments he made in his email to BuzzFeed.
"I did not authorize Mr. Mac or BuzzFeed to publish the contents of the email nor did I intend or expect that they would," he said. "Especially without first independently verifying and confirming its information."
He later added that he gave the information to Mac "so that BuzzFeed could conduct its own investigation into Mr. Unsworth and corroborate the information."
Musk's lawyers even admitted in the court filings that the private investigator's findings "lacked solid evidence of Mr. Unsworth's behavior."
Following the release of the court documents, Unsworth's lawyer gave a statement to BuzzFeed condemning the Musk's defense.
"The motion filed by Elon Musk today is a disgusting and transparent effort to continue falsely smearing Vernon Unsworth without any credible or verified supporting evidence," the lawyer said.
"Mr. Unsworth's opposition to Musk's motion will reveal the whole truth of Musk's actions and the falsity of his public statements and his motion with respect to Mr. Unsworth will be exposed."
Controversy, Racism, and Genius Kids?! How One Sperm Bank Changed Everything…
---
The Repository for Germinal Choice is the most controversial sperm bank in U.S. history. While it was operational some people believed this bank was racist and they even compared the companies goals to Nazi eugenic practices. But even though this sperm bank was highly controversial, it also completely changed the sperm bank industry.

So check out our video for the full story on how this controversial sperm bank would go on to shape an entire industry.