Reuters Journalists Free After Over 500 Days in Prison
Two Reuters journalists who had been imprisoned in Myanmar were released on Tuesday after being detained for more than 500 days.
Wa Lone and Kyaw Soe Oo were arrested in December of 2017 for allegedly possessing state secrets, though many believe their arrest was a set-up and that the two were targeted for their reporting on the Rohingya crisis.
The journalists were originally sentenced to seven years in prison but were pardoned by President Win Myint along with 6,520 other prisoners.
---
Wa Lone and Kyaw Soe Oo Freed

The two Reuters journalists, who many believe were arrested in Myanmar for their reporting on the Rohingya crisis, were released from prison Tuesday after being detained for over 500 days.

Wa Lone and Kyaw Soe Oo were released as part of a pardon of 6,520 prisoners by President Win Myint, effectively commuting what had originally been a seven-year sentence. The two journalists were seen smiling and waving in videos and photos of them walking out of the gates of the prison before they were mobbed by journalists and photographers.

"Around the world, people wishing to release us, so I would like to say thank you very much," Lone told reporters following his release. "I'm really happy and excited to see my family and my colleagues. I can't wait to go to my newsroom."

The two were then taken to see their families where they were both reunited with their wives and daughters. Lone, whose daughter was born while he was in prison, was able to hold his baby for the first time as a free man. Soe Oo was also reunited with his three-year-old daughter, who has been separated from her father for much of her life.

WATCH: @Reuters journalists Wa Lone and Kyaw Soe Oo reunite with their families after being freed from jail in Myanmar. More here: https://t.co/blJ1FpSg75 pic.twitter.com/kMk6GPueJp

— Reuters Top News (@Reuters) May 7, 2019
Background

Wa Lone and Kyaw Soe Oo were arrested in December 2017 for allegedly possessing secret documents.
Their arrest is widely believed to have been a set-up. Many argue that the journalists were actually being targeted for their reporting on crimes against the Rohingya people, a Muslim minority in Myanmar.

For the last few years, the Rohingya have been forced to flee persecution from state security forces in what has amounted to a huge refugee crisis. Many experts have labeled the persecution of Rohingya as a genocide or ethnic cleansing, but military and civilian officials have denied this.

The police asked to meet with Lone and Soe Oo, who agreed. During their meeting, the police and handed the journalists rolled up documents as they were leaving. The officers then promptly arrested the two men for having those same documents.

Police officials and the Burmese government have maintained that they were not arrested because of their coverage of the crisis, but the conditions of their arrest and sentencing have been questionable at best.

Then in September 2018, Lone and Soe Oo were sentenced to seven years in prison. Much like the conditions of their arrest, the testimonies against them were questionable. One police officer admitting burning his notes, and another witness read parts of testimony off notes on his hand.

The journalists' imprisonment immediately sparked international outrage, with many world leaders arguing that the government was censoring them for their reporting. Lone and Soe Oo appealed the case to a regional high court, but lost the appeal in January.

They then appealed to the Myanmar Supreme Court, which denied their appeal on April 22. After the Supreme Court decision, it seemed like all hope was lost, until their release was reported Tuesday, in a move that surprised the international community.

International Response

Numerous leaders all around the world have celebrated the journalists' newfound freedom, expressing hope that their release represents a trend in more democratic press practices in Myanmar.

"We are enormously pleased that Myanmar has released our courageous reporters, Wa Lone and Soe Oo," Stephen Adler, the editor-in-chief of Reuters said in a statement. "Since their arrests 511 days ago, they have become symbols of the importance of press freedom around the world. We welcome their return."

Vice President Mike Pence commended their release in a tweet, writing, "Freedom of religion & freedom of the press are essential to a strong democracy!"

Canadian Prime Minister Justin Trudeau also praised the move, saying "Freedom of the press is a fundamental right & must be defended everywhere in the world."

"It is inspiring to see a news organisation so committed to the protection of innocent men and the profession of journalism," said Amal Clooney, who was part of the journalists' legal team said. "I hope that their release signals a renewed commitment to press freedom in Myanmar."

The move was also applauded by human rights organizations and leaders, but many also expressed concern for the future.

"Today marks an important victory for press freedom in Myanmar." Nicholas Bequelin Amnesty International's East and Southeast Asia Director wrote in a statement.

"While all those who campaigned for their release welcome the government's decision, the reality is the country retains a range of repressive laws used to detain journalists, activists and any perceived critic of the authorities," Bequelin added.
"Until these laws are repealed, journalists and activists remain under a permanent threat of detention and arrest."

What Next?

Bequelin's statement, which was also echoed by Amal Clooney, hits on an important note. This case has been widely covered in international media for nearly a year and a half, and now it seems to have a happy ending no one expected.

While that is certainly true for Lone and Soe Oo, their release also begs the question: does this show a new commitment to press freedom in Myanmar?

Following their sentencing, many looked to Myanmar's new civilian leader Aung San Suu Kyi, who won the Nobel Peace Prize for her efforts to fight for democracy in Myanmar. The international community hoped that Suu Kyi, whose role is comparable to that of a prime minister, would help usher in a new transition to more democratic practices following a long history of military rule.

Suu Kyi's government was largely expected to end the imprisonment of government critics, pardon political prisoners, and continue to work towards free media. Instead, her government has cracked down on free expression and continued to use outdated laws to imprison people like Lone and Soe Oo.

In fact, Amnesty International has reported that in recent weeks they have "recorded a surge in politically motivated arrests – most for criticism of the military."

Suu Kyi has also come under a lot of fire for her handling of the Reuters journalists. While she had the power to pardon them, she defended the court's decision.

"They were not jailed because they were journalists," Suu Kyi said following the sentencing. "The court has decided that they had broken the Official Secrets Act"

Meanwhile, the violent persecution of the Rohingya continues with no accountability from the military or Suu Kyi, who until the last few years has largely been considered a beacon of the fight for human rights and democracy globally.

Al Jazeera Suspends Journalists for Controversial Holocaust Video
Al Jazeera posted a video on their youth-focused channel AJ+ that said Jewish people had intentionally misrepresented how bad the Holocaust was for them, and claimed that "Israel is the biggest winner from the Holocaust."
The video, which was in Arabic, attracted widespread condemnation after a U.S.-based nonprofit called The Middle East Media Research Institute posted a translated version of it.
Al Jazeera removed the post and suspended two journalists involved with making the video.
---
AJ+ Video
Qatar-based multination publication Al Jazeera suspended two journalists who published a video that claimed Jewish people deliberately exaggerated the Holocaust so that Israel could benefit.
The video was posted on May 18 by AJ+ Arabic, Al Jazeera's youth-focused channel that creates short video explainers designed for social media. It was reportedly posted on the Twitter and Facebook accounts for AJ+ and received hundreds of thousands of views before it was taken down.
The video was posted in Arabic, but it started to get backlash after the Middle East Media Research Institute (MEMRI), a U.S.-based nonprofit, posted an English translation of the video.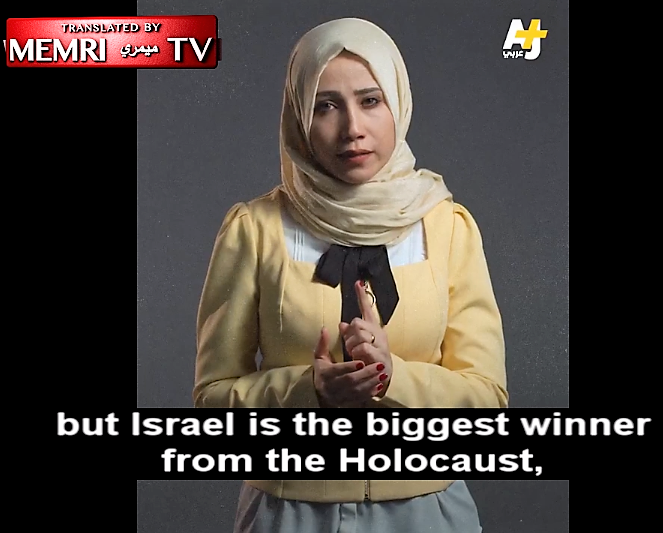 After the video started receiving criticism, Al Jazeera tweeted that they deleted the video because it "violated the editorial standards of the Network."
The following day, the publication said in a statement that it "has taken disciplinary action and suspended two of its journalists" over the video.
"Dr. Yaser Bishr, Executive Director of Digital Division, stated that Al Jazeera completely disowns the offensive content in question and reiterated that Al Jazeera would not tolerate such material on any of the Network's platforms," the statement said. "In an email to staff he also called for the mandatory bias training and awareness program."
The statement also said that Dima Khatib, the Managing Director of AJ+ Channels, claimed that "the video was produced without the due oversight," and added that workflows were being reviewed.
The Video
According to MEMRI's, the video was posted with the caption, "The Gas Chambers Killed Millions of Jews – That's How the Story Goes. What Is the Truth behind the Holocaust and How Did the Zionist Movement Benefit from It?"
Based on MEMRI's translations, the video starts out with the narrator saying, "The narrative that six million Jews were killed by the Nazi movement was adopted by the Zionist movement." The narrator then goes on to explain what happened in the Holocaust, describing the persecution of Jews and other groups.
Then the narrator says that the Jews were only part of the many groups murdered by the Nazis and asks, "So why is there a focus only on them?"
"Jewish groups had financial resources, media institutions, research centers, and academic voices that managed to put a special spotlight on the Jewish victims of the Nazis," she continued.
She then claims that the number of people who died in the Holocaust is still being debated today and asks the question: "How did Israel benefit from the Holocaust?"
The narrator goes on to discuss the 1933 Transfer Agreement, where Zionist groups negotiated with Nazis to allow thousands of German Jews to leave for Palestine, and then makes the argument that Israel greatly benefited from this.
"Israel is the biggest winner from the Holocaust, and it uses the same Nazi justifications as a launching pad for the racial cleansing and annihilation of the Palestinians," the narrator said.
She concludes the video by asserting that the idea behind the "State of Israel" comes from concepts "that suckled from the Nazi spirit and its main notions."
Response
Following the incident, numerous people took to Twitter to condemn Al Jazeera.
Emmanuel Nahshon, the spokesman for the Israeli Foreign Ministry called the video "the worst kind of pernicious evil" in a tweet, and argued that it "perpetuates hatred of Israel and the Jews."

Prime Minister Benjamin Netanyahu's Arabic media spokesperson, Ofir Gendelman, also expressed disdain in a tweet, writing that the video was "spreading lies about it & about Israel, specifically on #Ramadan in order to incite the masses."

Others outside of Israel also criticized Al Jazeera. Donald Trump Jr. joined in on Twitter, writing, "Al-Jazeera is now openly publishing Holocaust Denial videos on their facebook page. Will @facebook take action & ban them for this like they've done to conservatives for far less?"

Al Jazeera English v. Al Jazeera Arabic
Others who criticized Al Jazeera on Twitter highlighted the differences between the publication's English networks, like Al Jazeera English and AJ+ English, and their Arabic-language networks and content.
One user posted screenshots of the video posted to AJ+ Arabic next to a video about a Holocaust survivor posted on AJ+ English the same day.
"Don't be fooled by AJ's polished facade for its gullible Western audience," another user wrote on Twitter. "AJ isn't news, it's state-controlled propaganda."

This discussion was also hit on in an article published by BBC. In the article, BCC notes that Al Jazeera English is known for its "varied coverage," and shining a light on "underreported stories."
However, that reporting "comes in stark contrast to Al Jazeera Arabic," the article stated, continuing that Al Jazeera's Arabic networks often include "friendly coverage of Islamist groups – particularly favouring those aligned with the Muslim Brotherhood."
This compare and contrast is interesting because Al Jazeera is considered a very reliable source among U.S. audiences, but at the end of the day, it is a multinational media network that is funded by the Qatari government.
If Al Jazeera's Arabic coverage is catered so differently to its Middle Eastern audiences, it inevitably raises questions about its legitimacy and reporting in the U.S.
Taiwan Becomes First in Asia to Legalize Same-Sex Marriage
Taiwan's Parliament passed a bill legalizing same-sex marriage on Friday, making it the first in Asia to do so.
The decision comes after a 2017 ruling by Taiwan's Constitutional Court which found that disallowing same-sex marriage violated the country's constitution, and gave the government two years to pass a law legalizing it.
Supporters of the bill are optimistic it will set an example for other Asian nations, while opponents say it does not support the will of the people, who overwhelmingly voted against legalization in a referendum last November.
---
Parliament Passes Same-Sex Marriage Bill
Taiwan became the first in Asia to legalize same-sex marriage after the country's Parliament approved a bill Friday.
Thousands of demonstrators took to the streets of Taiwan's capital city, Taipei, in anticipation of Friday's vote. Gathered outside the Parliament building, supporters cheered when the decision was announced.
The Parliament's announcement came after lawmakers considered three separate bills and ultimately decided on the most progressive of the three, which was passed with a vote of 66-27. The legislation chosen was the only one that defined a same-sex relationship as "marriage," while the other bills used terms like "same-sex union."
The bill will take effect after Taiwan's President, Tsai Ing-wen, signs it into law. Ing-wen campaigned on marriage equality in 2016, and praised the passage of the bill on Twitter, writing, "We took a big step towards true equality, and made Taiwan a better country."
Once the law goes into effect, it will give same-sex couples many of the same tax, insurance, and child custody benefits that are allowed to heterosexual married couples. It will also allow limited adoption rights, though it is unclear if those rights will extend to the adoption of non-blood relatives.
Taiwan's Progressive History
Taiwan has been applauded as a champion and leader of gay rights in the region, well before the passage of the new bill.
Its annual gay pride parade in Taipei is known for attracting tens of thousands of people from all over the continent, making it the largest pride parade in East Asia.
In 2017, Taiwan's Constitutional Court ruled that the laws that prohibited same-sex couples from marrying violated the Taiwanese constitution. The court then gave the government two years to pass a law legalizing same-sex marriage.
However, same-sex marriage remained a divisive subject in Taiwan. Following the 2017 ruling, conservative and religious opponents stalled the passage of a new law legalizing gay marriage. Opponents also pressured the government into holding a referendum on whether or not the public wanted gay marriage to be legal.
The referendum, which was held in Novemeber, showed that Taiwanese voters overwhelmingly opposed the legalization of same-sex marriage, and favored the definition of marriage as the union of a man and woman.
Taiwan's ruling party, the Democratic Progressive Party (DPP), responded to the referendum by drafting two competing bills that would align with both the Constitutional Court's decision and the results of the referendum. Unsurprisingly, those bills were strongly opposed by the LBGTQ+ community.
Taiwan's Parliament ultimately did not choose those two bills, instead opting for the bill supported by the LGBTQ+ community, as represented by the vote on Friday. While marriage equality advocates have criticized the limits on adoption rights for same-sex couples, they still favored the bill that was passed over the other versions.
While supporters celebrated the bill's passage, opponents of legalizing gay marriage expressed their anger. "How can we ignore the result of the referendums, which demonstrated the will of the people?" said John Wu, a lawmaker who is part of the opposition Kuomintang party. "Can we find an appropriate compromise solution? We need more dialogue in society."
Potential Implications for the Region
Taiwan's decision to legalize gay marriage makes it the first to do so in a region where gay rights have fallen wayside.
With the new law, many hope that Taiwan will set an example for other countries in the region. Phil Robertson, Deputy Asia Director at Human Rights Watch, applauded Taiwan for leading the way for LGBTQ+ rights in Asia "amid growing authoritarianism and rights abuses in other countries throughout the region."
However, it remains unclear if other Asian nations will follow suit. While countries like China and Vietnam have decriminalized homosexuality, gay marriage still remains illegal.
Other Asian nations still are slow to embrace change concerning LGBTQ+ rights.
Until last year, gay sex was considered a criminal offense in India which was punishable by up to ten years in jail. Just last month, Brunei implemented new laws that made gay sex and adultery punishable by stoning to death.
Brunei later walked back on the law after massive international protest. It now claims it will not enforce the death penalty, though gay sex will still be punished by jail time in the country.
That said, others are optimistic about strides some Asian nations are taking. Thailand has proposed a law that would recognize same-sex partnerships, and last year a Hong Kong court ruled that same-sex couples that live in the city would be allowed the same rights to visas as heterosexual couples who are married.
Same-sex marriage is not legally recognized in Hong Kong, but public opinion polls show that support for marriage equality is gaining traction.
Modern Day Gold Rush?! What You Need To Know About This Illegal Mining Town
---
Imagine living in the highest elevation human settlement in the world. A place where the climate and living conditions are unlike any other. There are no roads. There is no plumbing, no running water, and no sewage disposal system.
What there is, however, is gold, tons of it. So much, in fact, that over the years, thousands of people have moved to the city with the hope of striking it rich. But even so, over 68 percent of the population still lives below the poverty line. Why? Watch the video to find out and learn more about the city that's been coined, "The White Hell."