Court Rules Discrimination "Necessary" for Female Runners With High Testosterone
The Court for Arbitration for Sport has ruled that it is "necessary" to discriminate against female track athletes with naturally high levels of testosterone.
The decision upholds a rule imposed by the International Association of Athletics Federations that requires athletes classified with differences of sexual development (DSD) to take hormone suppressants in order to compete in certain races.
The case was brought forward by Caster Semenya, a female runner with higher testosterone levels, who has been battling the IAAF for the last decade.
---
IAAF Regulation Upheld

The Court of Arbitration for Sport (CAS) ruled Wednesday that discrimination against female track athletes with naturally high levels of testosterone is necessary to protect other female competitors.

The decision from the highest court in international sports upholds a regulation put in place by the International Association of Athletics Federations (IAAF), the governing body for track and field. The IAFF regulation requires female runners who have certain levels of testosterone to use hormone suppressants to lower their levels.

Athletes that do not comply will not be allowed to compete in certain races at major competitions like the Olympics.

The case was brought to the CAS by South African track star and two-time Olympic gold medalist Caster Semenya, who asked the court to overturn the rule. Semenya is a woman who has naturally occurring high levels of testosterone. The new IAAF regulations, first introduced in 2018, would force her to suppress her hormones in order to compete in her main event, the 800 meter.

The IAAF has said that the regulations were necessary to even the playing field, arguing that athletes classified with differences of sexual development (DSD) have an unfair advantage.
The organization says this is particularly true for women who have high testosterone levels who run in women's events ranging from the 400 meter to the mile, because those races can be won by a hundredth of a second.

IAAF claims this is because women with high levels of male hormones have more muscle mass, strength, and higher oxygen-carrying capacity.

Court Decision

According to an official a summary of the case, CAS found that the IAAF regulations are "discriminatory," but still ruled in favor of them in a 2-to-1 decision.
"Such discrimination is a necessary, reasonable and proportionate means of achieving the legitimate objective of ensuring fair competition in female athletics in certain events and protecting the 'protected class' of female athletes in those events," the summary said.

However, the court did express "serious concerns" about the "practical application" of testosterone limits, such as athletes struggling to maintain the required hormone levels even with the suppressants, and the fact that it may be impossible for some athletes to comply because of the side effects caused by the suppressants.

CAS was also concerned about a lack of evidence that suggests DSD runners really have a significant advantage at longer-distance races like the 1,500 meter and the mile. Regarding this, the court asked IAAF to consider not applying the rule to those races until they have more evidence.
Semenya's Record

While the court's decision certainly comes as a blow to Semenya, this isn't the first time that she has had to deal with this kind of problem.

In 2009, Semenya won a gold medal in the 800-meter race at the world track and field championships when she was only 18. However, her win raised questions about her gender, which prompted IAAF to subject her to a gender verification process.

This resulted in IAAF deeming her ineligible to compete for 11 months. IAAF's handling of the situation was widely criticized, with South African officials and others saying that the tests were racist and sexist.
Semenya, for her part, has always said that she is a woman and that she should be able to compete in women's events without suppressants or body-altering measures.

"God made me the way I am, and I accept myself," she said in a magazine interview in 2009. "I am who I am, and I'm proud of myself."

In 2011, IAAF adopted new regulations regarding eligibility for DSD women. This move did not seem to impact Semenya, who went on to win her first Olympic gold in 2012.
However, the rule did disproportionally effect other women, promoting CAS to overrule the regulation in 2015 when female Indian sprinter Dutee Chand brought it to the court after she had been indefinitely banned from competing.

Following that decision, Semenya went on to win gold again at the 2016 Olympics. However, her win angered IAAF president, Sebastian Coe, who said he would challenge CAS's ruling. That ultimately led to IAAF introducing the new, more restrictive regulations in 2018.

In a statement released news outlets Wednesday, Semenya expressed her dismay for the court's decision, but said the ruling would not hold her back.
"I know that the IAAF's regulations have always targeted me specifically. For a decade the IAAF has tried to slow me down, but this has actually made me stronger," she wrote. "The decision of the CAS will not hold me back. I will once again rise above and continue to inspire young women and athletes in South Africa and around the world."

Support for Semenya
Other's have echoed Semenya's sentiments and expressed support for her.
The South African Sports Confederation and Olympic Committee (SASCOC) criticized the decision in a statement to the Associated Press, saying "We maintain that the rules are ill-thought and will be a source of distress for the targeted female athletes."

The official twitter account for the Government of South Africa quoted Tokozile Xasa, the former South African Minister for Tourism, in a tweet showing support for Semenya.

Additionally, the World Medical Association called on doctors all over the world to not implement the rule.

"We have strong reservations about the ethical validity of these regulations," the Association's president, Dr. Leonid Eidelman said in a statement. "They are based on weak evidence from a single study, which is currently being widely debated by the scientific community."

U.S. tennis star Billie Jean King also expressed dissappointment with the court's decision and showed her support for Semenya on twitter, writing "I stand with you."

Support for IAAF
However, not everyone is upset about the decision.
The IAAF celebrated their win, writing in a statement, "The IAAF is grateful to the Court of Arbitration for Sport for its detailed and prompt response to the challenge made to its Eligibility Regulations for the Female Classification for athletes with differences of sex development."

The decision was also supported by some female runners, like Paula Radcliffe, the world-record holder in the women's marathon, who reportedly said that she respected CAS's decision "for ruling that women's sport needs rules to protect it."

What Comes Next?
Semenya will now have the opportunity to appeal the case to Switzerland's Supreme Court, which has jurisdiction because CAS is based in Switzerland. Athletics South Africa (ASA) has already said they are going to look into this option, comparing the decision to Apartheid.

"South Africa knows discrimination better and CAS has seen it fit to open the wounds of Apartheid, a system of discrimination condemned by the whole world as a crime against humanity," ASA said in a statement. "For CAS does not only condone discrimination, but also goes to lengths to justify it."

However, the Supreme Court often does not overturn decisions from CAS. As of now, if Semenya wants to defend her title at the world championships in September, she and others with DSD will have to take hormone suppressants.

Narendra Modi Re-Elected as Prime Minister of India
India's incumbent Prime Minister Narendra Modi won re-election in a surprising landslide victory.
The election, which was the biggest in the history of the world, was viewed as a referendum on Modi, who many feel has not fulfilled his campaign promises from 2014.
Modi campaigned on Hindu nationalism and national security this election and now is faced with impending economic problems, religious divisions, and increased tensions with Pakistan.
---
Election 2019
After six weeks of voting, the largest election in the history of the world has come to a close with incumbent Prime Minister Narendra Modi winning his re-elected by a landslide.
With almost all of the votes counted, Modi's Bharatiya Janata Party (BJP) has won 303 seats in India's 543-seat Parliament, which is much more than the 272 seats required for a majority.
The vote count is expected to wrap up later today, but Modi has already declared victory, writing "India wins yet again!" in a tweet before appearing on stage to give a formal victory speech a few hours later.
Modi's opponent, Rahul Gandhi, who is the leader of the opposition Congress Party, formally conceded the election in a news conference. "I said during the campaign that the people were the masters, and today they have given their verdict," he said. "We concede in this election that Narendra Modi and the BJP have won."
Gandhi also took to Twitter to congratulate Modi.
Narendra Modi
Modi may have won by a landslide, but his huge victory came as a surprise.
Before the election, the majority of analysts had predicted that the BJP would lose seats in Parliament. Now, it looks like the BJP is actually set to win more seats than they had before.
Many viewed this election as a sort of referendum on Modi, who is a strong Hindu nationalist. Modi and the BJP were first elected back in 2014 and they were extremely popular. In fact, they were so popular that the BJP became the first political party to win an outright Parliament majority in 30 years.
Modi is considered a hard-working, charismatic leader, with humble roots as a tea-seller. In 2014, he campaigned on improving India's economy and cracking down on corruption. However, those promises have been largely unfulfilled.
Modi has not delivered nearly as many jobs as he has promised. Unemployment in India has also grown to 7.2 percent in the last year alone and the unemployment rate is currently the highest it has been in 45 years.
Modi also promised to double the income of farmers, who played a large role in electing him in 2014. However, in the last few years, India has seen the continued trend of farmers' operating costs going up while incomes have gone down.
In fact, some of Modi's economic and anti-corruption policies have also gone horribly wrong. In 2016, he instituted a sweeping demonetization policy that involved pulling 86 percent of India's cash from circulation.
He argued that it would crack down on money that had not been taxed and fake currency that was being used to fund terrorist organizations, but India's economy is largely cash-based, so the move ultimately hurt businesses and the poor.
Experts have said the policy did not actually hit the kind of money it targetted.
2019 Election
One campaign promise Modi did fulfill while in office was pushing and implementing Hindu nationalist policies.
As a result, in the 2019 election, he campaigned on Hindu nationalism and national security, telling voters that he was the only one who would protect India's security and combat terrorism. In that regard, India's recent conflict with their main rival and neighbor Pakistan seems to have helped him.
In February, a militant group attacked an Indian-controlled region of Kashmir, killing dozens of soldiers. Modi responded by promising forceful retaliation and later claimed his government had struck a major terrorist training camp in Pakistani-controlled Kashmir, killing "a very large number" of militants.
While Pakistan has denied that a camp was hit, Modi's approval rating still skyrocketed from 32 percent to 63 percent.
What Now?
Modi's strong brand of nationalism and his national security platform seemed to have propelled him to Thursday's huge win, but despite his success, Modi's troubles are far from over.
Now, Modi and the BJP will have more pressure to address India's economic problems. In addition to growing unemployment, many fear that India's economy is slowing and that the country could be heading into a recession. That will be exacerbated as Modi faces demands to provide jobs for the millions of young people who are now entering the workforce.
Modi's win is also expected to widen religious divisions in the country. His brand of staunch Hindu nationalism is appealing to large swaths of India's population.
While India is about 80 percent Hindu, it is also home to a number of other religions, and India's religious minorities have said they have felt increasingly afraid and marginalized.
Since Modi took power, there has been a dramatic rise in hate crimes. According to Human Rights Watch, at least 44 people were killed between May 2015 and December 2018, and most of those people were Muslim.
India's Muslim population is considerable, with around 200 million people that make up nearly 15 percent of the country. Now, Muslims in India are worried the BJP's rise will disempower them, especially as the number of seats Muslim parties hold in Parliament is expected to fall to an all-time low.
Of course, there is also the question of Pakistan. Once it became clear that Modi was set to win the election, Pakistan's military announced that it had successfully fired and tested a ballistic missile capable of carrying nuclear warheads.
At the same time, Pakistani Prime Minister Imran Khan congratulated Modi on Twitter, and said that he will "look forward to working with him for peace, progress and prosperity in South Asia."
Canada Hires Company to Remove Its Trash After the Philippines Announced Plans to Send It Back at Its Own Expense
Philippine President Rodrigo Duterte has ordered his government to ship tons of trash back to Canada that he says was illegally dumped in the Philippines.
However, shortly after this announcement, Canada said that it would hire a shipping company to remove the trash by the end of June.
The trash was originally sent to the Philippians between 2013 and 2014 by Chronic Plastics, Inc., a private Canadian company.
---
Trash War
The Philippines announced Wednesday plans to ship tons of trash that it says was illegally dumped in Manila, back to Canada after years of waiting for something to be done.
Philippine President Rodrigo Duterte ordered his government to hire a private shipping company to take 69 containers of trash back. "The government of the Philippines will shoulder all expenses. And we do not mind," said Presidential spokesperson Salvador Panelo.
"If Canada will not accept their trash, we will leave the same within its territorial waters or 12 nautical miles out to sea from the baseline of any of their country's shores."
"The president's stance is as principled as it is uncompromising: The Philippines as an independent sovereign nation must not be treated as trash by other foreign nations. We hope this message resonates well with the other countries of the world."
Between 2013 and 2014, the approximately 2,450 tons of trash was sent to the Philippines by Chronic Plastics Inc., a private Canadian company, under the guise of being recyclables. Once it arrived in Manila, inspectors found that the containers were filled with "non-recyclable plastics, household wastes, and adult diapers," according to the Philippine News Agency.
Canada's Response
After Duterte's announcement, Canada's Environment and Climate Change Minister Catherine McKenna said that the government had hired Bolloré Logistics Canada to remove the trash by the end of June.
McKenna also said that all the costs associated with the preparation, transfer, shipment, and disposal of the waste will be covered by the Canadian government.
As of now it is unclear which country's plan will be implemented.
Past Moves
Over the years Canada and the Philippines have been in multiple talks to find a solution for the trash. Last month, Duterte threatened to go to war over the trash.
"We'll declare war against them," Duterte said, "I will advise Canada that your garbage is on the way. Prepare a grand reception. Eat it if you want to."
Earlier this month, Canada missed a May 15th deadline to repatriate the trash and the Philippines removed top diplomats from the country. This trash issue is not the only conflict the two countries have had. Last year the Philippines canceled a multimillion-dollar agreement for 16 helicopters after Canada questioned their intended use.
Al Jazeera Suspends Journalists for Controversial Holocaust Video
Al Jazeera posted a video on their youth-focused channel AJ+ that said Jewish people had intentionally misrepresented how bad the Holocaust was for them, and claimed that "Israel is the biggest winner from the Holocaust."
The video, which was in Arabic, attracted widespread condemnation after a U.S.-based nonprofit called The Middle East Media Research Institute posted a translated version of it.
Al Jazeera removed the post and suspended two journalists involved with making the video.
---
AJ+ Video
Qatar-based multination publication Al Jazeera suspended two journalists who published a video that claimed Jewish people deliberately exaggerated the Holocaust so that Israel could benefit.
The video was posted on May 18 by AJ+ Arabic, Al Jazeera's youth-focused channel that creates short video explainers designed for social media. It was reportedly posted on the Twitter and Facebook accounts for AJ+ and received hundreds of thousands of views before it was taken down.
The video was posted in Arabic, but it started to get backlash after the Middle East Media Research Institute (MEMRI), a U.S.-based nonprofit, posted an English translation of the video.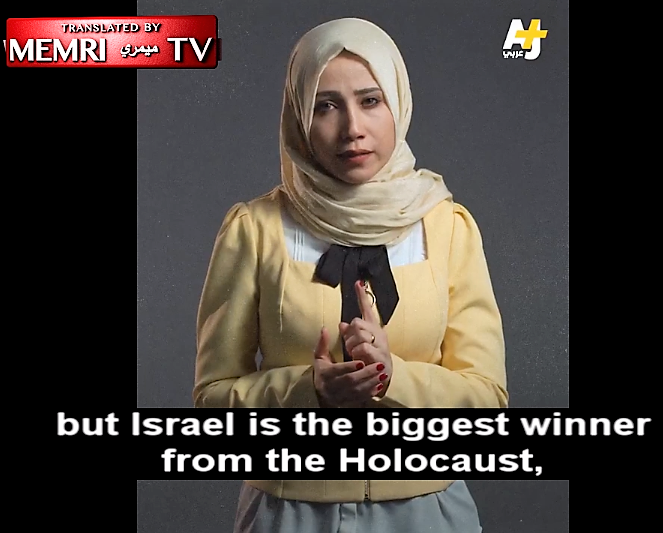 After the video started receiving criticism, Al Jazeera tweeted that they deleted the video because it "violated the editorial standards of the Network."
The following day, the publication said in a statement that it "has taken disciplinary action and suspended two of its journalists" over the video.
"Dr. Yaser Bishr, Executive Director of Digital Division, stated that Al Jazeera completely disowns the offensive content in question and reiterated that Al Jazeera would not tolerate such material on any of the Network's platforms," the statement said. "In an email to staff he also called for the mandatory bias training and awareness program."
The statement also said that Dima Khatib, the Managing Director of AJ+ Channels, claimed that "the video was produced without the due oversight," and added that workflows were being reviewed.
The Video
According to MEMRI's, the video was posted with the caption, "The Gas Chambers Killed Millions of Jews – That's How the Story Goes. What Is the Truth behind the Holocaust and How Did the Zionist Movement Benefit from It?"
Based on MEMRI's translations, the video starts out with the narrator saying, "The narrative that six million Jews were killed by the Nazi movement was adopted by the Zionist movement." The narrator then goes on to explain what happened in the Holocaust, describing the persecution of Jews and other groups.
Then the narrator says that the Jews were only part of the many groups murdered by the Nazis and asks, "So why is there a focus only on them?"
"Jewish groups had financial resources, media institutions, research centers, and academic voices that managed to put a special spotlight on the Jewish victims of the Nazis," she continued.
She then claims that the number of people who died in the Holocaust is still being debated today and asks the question: "How did Israel benefit from the Holocaust?"
The narrator goes on to discuss the 1933 Transfer Agreement, where Zionist groups negotiated with Nazis to allow thousands of German Jews to leave for Palestine, and then makes the argument that Israel greatly benefited from this.
"Israel is the biggest winner from the Holocaust, and it uses the same Nazi justifications as a launching pad for the racial cleansing and annihilation of the Palestinians," the narrator said.
She concludes the video by asserting that the idea behind the "State of Israel" comes from concepts "that suckled from the Nazi spirit and its main notions."
Response
Following the incident, numerous people took to Twitter to condemn Al Jazeera.
Emmanuel Nahshon, the spokesman for the Israeli Foreign Ministry called the video "the worst kind of pernicious evil" in a tweet, and argued that it "perpetuates hatred of Israel and the Jews."

Prime Minister Benjamin Netanyahu's Arabic media spokesperson, Ofir Gendelman, also expressed disdain in a tweet, writing that the video was "spreading lies about it & about Israel, specifically on #Ramadan in order to incite the masses."

Others outside of Israel also criticized Al Jazeera. Donald Trump Jr. joined in on Twitter, writing, "Al-Jazeera is now openly publishing Holocaust Denial videos on their facebook page. Will @facebook take action & ban them for this like they've done to conservatives for far less?"

Al Jazeera English v. Al Jazeera Arabic
Others who criticized Al Jazeera on Twitter highlighted the differences between the publication's English networks, like Al Jazeera English and AJ+ English, and their Arabic-language networks and content.
One user posted screenshots of the video posted to AJ+ Arabic next to a video about a Holocaust survivor posted on AJ+ English the same day.
"Don't be fooled by AJ's polished facade for its gullible Western audience," another user wrote on Twitter. "AJ isn't news, it's state-controlled propaganda."

This discussion was also hit on in an article published by BBC. In the article, BCC notes that Al Jazeera English is known for its "varied coverage," and shining a light on "underreported stories."
However, that reporting "comes in stark contrast to Al Jazeera Arabic," the article stated, continuing that Al Jazeera's Arabic networks often include "friendly coverage of Islamist groups – particularly favouring those aligned with the Muslim Brotherhood."
This compare and contrast is interesting because Al Jazeera is considered a very reliable source among U.S. audiences, but at the end of the day, it is a multinational media network that is funded by the Qatari government.
If Al Jazeera's Arabic coverage is catered so differently to its Middle Eastern audiences, it inevitably raises questions about its legitimacy and reporting in the U.S.