Why The Olympic Bid Process Is Corrupt And How It Majorly Changes Your City…
Several Olympics of the last two decades have faced questions over vote-buying, including the upcoming 2020 Games.
In the past two decades, both the overt and hidden costs to host the games have ballooned, with host cities picking up the tab.
Although corruption allegations appear to be consistent, with the increasing costs, in the last couple of years, many cities and countries have pulled out of bids for the games.
---
Authors Note: During the research for this piece about the Olympics, I found more information than I couldn't fit into the video. I wanted to share some of those details with you, so what follows below is a more detailed version of the video we have produced! Thanks for watching.
---
What It Takes To Host The Olympics
The Olympic host city is determined by a multi-year bid process that involves significant planning from the prospective host city. International Olympic Committee (IOC) members visit the potential cities and evaluate the plans and visions of the cities. In the case of the 2024 Olympics candidature process, the IOC required a total fee of $250,000. The planning phase alone typically accounts for tens of millions of dollars in expenditures from host cities. Chicago spent around $100 million in a failed bid for 2012, and Tokyo spent upwards of $150 million in their failed 2016 bid, according to Transparency International.

The bid process most recently changed in December 2014, governing bids for the 2020 Olympics and onwards. The IOC claims their new process is designed for cities to create a Games that "fits their sporting, economic, social and environmental long-term planning needs" while also "reducing costs for bidding…and providing a significant financial contribution from the IOC."

That process lasts about two years in total, with cities sometimes dropping out of the bid at one of the three stages of the process. Stage one encompasses mostly planning and the vision for the Games, while Stages two and three focus more on the concrete: legal considerations, venue funding, how the Games interact with government, and of course, delivering the Games. The IOC Candidature page states, "Olympic Agenda 2020 has highlighted the need for a shift in the candidature process in order to accommodate different solutions to meet Games needs within different cities' contexts. To enable this the IOC has placed even further emphasis on sustainability and legacy."
The History of Olympic Corruption
The reality is that the newest policies do little to address what appears to be continued vote-buying in the Olympic bid process – vote-buying that was perhaps most prominently exposed in 1998 over the 2002 Salt Lake City Olympics. After multiple investigations, including one chaired by a former U.S. Senator, what was exposed was an extensive vote-buying scheme where roughly $1.2 million of cash, scholarships, jobs, medical treatment, shopping sprees, and other expenses made their way into IOC delegates' hands from the Salt Lake City Olympic Committee. In total, 10 IOC members either resigned or were forced out, and several indictments were levied against bid committee members.
In the midst of the investigations into Salt Lake City, Japan's 1998 Nagano Games came under question. According to Japanese media, the bid committee for the 1998 Nagano Olympics spent an average of $22,000 on 62 visiting IOC members, but the records were conveniently destroyed. Richard Pound, head of one of the independent investigations and former vice-president of the IOC, claimed, to the credit of the IOC, that it neither fostered nor encouraged corruption in its delegates.

Even though the IOC allegedly didn't encourage corruption, they still responded to the scandal by instituting significant reforms that include a still-extant Ethics Commission and a special commission to write a new Code of Ethics. Part of the IOC's reforms included prohibiting from visiting potential host cities. Andrew Zimbalist, Professor of Economics at Smith College and author of several books on the Olympic games, told Rogue Rocket that the bid process for the 2002 Olympics had great potential for bribing IOC members, especially when visiting cities.

"The potential host cities had open game to lavish all sorts of extravagant entertainment on these people, in some cases to give them cash bribes, in other cases to give the children of the members of the IOC free college tuition, in other cases to take them to massage parlors, qua prostitution venues," Zimbalist explained.

An investigation of the 2000 Sydney Olympics found that two IOC members received paid trips to European sports events. In 2000, the New York Times reported that "About 30 of the I.O.C.'s 114 delegates have been linked to improprieties in bidding processes for those Games."

In 2004, the BBC's Panorama team aired an investigative report detailing their efforts to pose as local consultancy firm interested in helping bring the Olympics to London in 2012. The team connected with representatives who claimed they knew how to bribe certain IOC members – some members were susceptible to gifts, while others "just believe in sport." One IOC member, Ivan Slavkov, met with the Panorama team and was eventually suspended for it. Slavkov claimed that he was posing as a double-agent, actually there to catch the vote-buyers, telling the BBC, "Whatever I could say during the meeting was intended to trap the 'corruptors'."

Despite the fact that less IOC members visit host cities today, Zimbalist told Rogue Rocket that "it doesn't really do anything to stop vote buying or backstage dealing among members of the IOC."

Carlos Nuzman, President of Brazil's Olympic Committee was ensnared in a vote-buying scandal in 2017. The IOC suspended Nuzman for allegedly coordinating a two million dollar payment to an influential Senegalese athlete, Lamine Diack, to secure votes from delegates of African nations. Hundreds of thousands of dollars were found in Nuzman's home. In Japan, Takeda Tsunekazu, the head of the Japanese Olympic Committee, is facing allegations that he also coordinated with Diack to buy votes through a separate channel – and perhaps most tellingly, for the same amount of $2 million. Takeda announced that he will resign this summer.

The Costs & Benefits of The Olympics
Yet even with the consistent peppering of vote-buying allegations plaguing the IOC, there is little question that the Games are perhaps the greatest stage for athletes, countries, movements, and ideas. What price can you put on the triumph of the U.S. Ice Hockey team over the perceived "Soviet Menace" in the 1980 Olympics? Is a bought vote outweighed by the symbolic gesture of Cathy Freeman, a member of Australia's subjugated native population, lighting the Olympic torch in her own country's Olympics?

The IOC seems highly attuned to the idea that the Olympics promote something intangibly more, highlighting the nebulous term "legacy" in promoting how past games have lived through to today. In fact, the Olympic YouTube channel has an entire series of videos dedicated to legacy, frequently using rhetoric like "touching millions of people" in the case of Beijing in 2008. Sometimes developmental achievements are highlighted, like when the IOC describes Barcelona in 1992 as an example for the Games "to transform [a city's] urban landscape, strengthen its position on the world map, and create broader social and environmental benefits." The IOC's website and promotional materials for hosting the Games are littered with such lofty ideas.

The IOC website also spotlights more distinct economic stats from specific games: The Sydney games are estimated to have boosted GDP by around $5 billion, created more than 100,000 new jobs, and boosted tourism. The 2016 Rio Games, perhaps most known for their now-abandoned venues and stagnant water reportedly boosted foreign tourism by about 4.8 percent the year of the Olympics.

However, there is more than ample evidence that suggests the Olympics are exceptionally costly for the cities and countries that host them. Costs have grown enormously in the last decade, with no profit benefit for the host cities and countries' governments. The 2004 games in Greece cost around $11 billion, and has even been credited with pushing Greece into a spiral of financial instability. The 2018 Pyeongchang games cost about $13 billion dollars, and one stadium will reportedly have been used just four times before being demolished. Authoritarian governments have been even more willing to pay top dollar for the exercise in theater that the Games have become: 2008 in Beijing cost roughly $40 billion with only about $3.6 billion in revenue; 2014 in Sochi, Russia cost about $50 billion, with a recurring maintenance bill of nearly $1 billion per year for taxpayers.

When speaking with Professor Zimbalist, he explained that part of the reason for this explosion of cost is how the Games have changed. "They were supposed to be athletic events, they were never supposed to be construction events." The Games have "become very focused on this false notion of promoting economic development, of promoting infrastructure development, and paying attention to construction profits." The IOC did not respond to our request for an interview.

Besides the monetary cost of the Olympics, the production of the Games has engendered less visible costs like displacement and ecological damage. "In most urban environments where land is scarce, and millions of people are living in the areas, people have to be moved," Zimbalist said. For Beijing, Rio, and 1996 in Atlanta, thousands, and in some cases, millions were pushed out of their homes to make way for facilities. Producing the Sochi games amounted to declining biodiversity. The 2018 Pyeongchang games destroyed a forest of around 58,000 trees and displaced a village for a ski course.

But amidst the enormous costs that the Olympics have spawned, the 1984 Los Angeles games stands out as a trend-breaker. While those games took place before the more recent trend of increasing costs, they were the only to generate a budget surplus. The reasons are multiple: it was a privately funded games that benefited from the expertise of Peter Ueberroth, a business and marketing executive who would become MLB's commissioner in 1984; a plethora of infrastructure already existed to support the Games, including hospitality and athletic stadiums; and Los Angeles received financial concessions from the IOC since interest in hosting the Games had been waning leading up to the bid for the 1984 games.

However, opponents of the upcoming 2028 Los Angeles Olympics believe there are plenty of reasons to reject the Games. Steve Ducey, an Organizer for NOlympics LA told Rogue Rocket that "displacement and gentrification" in Los Angeles communities, the "militarization of our police force" and the "diversion of public resources" are front of mind. "We see time as one of the most valuable resources that our city officials have. And how much time are they spending trying to welcome the world for 2028 when they could be spending that time addressing the things that are problems in the city right now." Los Angeles suffers from a notoriously sticky homeless crisis that Cody Snell from our team examined earlier this year, highlighting that nearly 50,000 people were homeless in 2018. LA 2028 did not respond to our request for an interview.

Despite the costs that have become increasingly obvious in recent years, vote-buying scandals have not ceased to plague the Games. It is almost a wonder that a two-week celebration of sport that brings cities to a screeching halt could still be sought after.

Growing Disinterest in Hosting The Olympics
As these costs have become more evident to prospective host cities, protests and referendums have erupted in opposition to potential host cities' bids for the Games. Hamburg, Boston, Innsbruck, Rome, Norway, and Calgary have all rejected the Olympics in varying capacities over the last couple years. Thus, a move away from the Olympics was born – and not for the first time. "There was a trend away several decades ago. In 1978, countries and cities were not interested in bidding," on the back of disasters like the Munich Massacre at the 1972 games, Zimbalist explained.

The IOC is "at the precipice of having basically destroyed the interest around the world in hosting the Games because of what a heavy burden it has been in a financial way, in an environmental way, and in a social way," Zimbalist told Rogue Rocket. Perhaps the IOC is awaiting another savior in Los Angeles for the 2028 games. But the IOC will have to grind through the scandal of the Tokyo Olympics, another fight with pollution in Beijing in 2022, a potentially underprepared Paris in 2024, and an as-of-yet unknown contender for 2026, before getting to their poster child – Los Angeles.

Thousands of Nigerians Continue to Protest for Widespread Police Reforms Following SARS Disbandment
Nigerians are protesting against human rights abuses carried out by the Special Anti-Robbery Squad, a police unit commonly known as SARS.
The police unit has been caught on video multiple times shooting, torturing, extorting, beating, robbing, and kidnapping Nigerians.
A video of a SARS officer shooting a young man while confiscating the man's Lexus on October 3 sparked outrage across the West African nation, leading to protests since October 8.
Since then, the government has agreed to some demands and disbanded the unit for the fourth time, only to replace it with a SWAT unit.
Still, Nigerians continue to protest, demanding wide-scale police reforms.
---
SARS Accused of Major Human Rights Abuses
Nigeria has been rocked by ongoing protests over police brutality stemming from the long time corruption and abuse by the Special Anti-Robbery Squad.
The squad, better known as SARS, has long been embroiled in controversy for engaging in torture, mock executions, robbery, extortion, kidnapping, harassment, and murder. For many Nigerians, the unit is just the worst example of many of the abuses that Nigerian police engage in and is part of a systemic problem.
The most recent anger was sparked by a video that went viral on October 3, which shows a SARS officer was seen shooting a young man in front of a hotel while taking away his Lexus SUV. Adding to the collective anger was news that the phone used to record the incident was quickly confiscated by SARS officers after the video went live.
Following days of simmering, the tensions boiled over on October 8, after activists and social media called for wide-scale protests to demand SARS be disbanded. Like many recent protests worldwide, the message was quickly spread and amplified with the help of social media, prompting tens of thousands of people across Nigeria to take to the streets and make #endSARS trend online.
Wide-Scale Protests Across Nigeria
Since October 8, the ongoing protests have been mainly peaceful, although there have been incidents of police interfering with heavy-handed tactics. Online, hundreds of videos can be found of police using water cannons and tear gas to disperse crowds. Others show them wildly shooting into crowds of protesters.
However, these actions often have the opposite of their intended effect and draw out more protesters daily. Additionally, the videos of violent police tactics amplify the message worldwide, especially as members of the Nigerian diaspora push the topic online.
Nigerian actor John Boyega has actively supported the movement on Twitter, calling out Nigerian police corruption. Similarly, Nigerian rapper Burna Boy made serious efforts to spread information about the protests to his global audience.
On October 10, he made a statement, promising to help fund any protester who is harmed and/or arrested by police during demonstrations. He also asked for donations to that fund and promised to make sure people are educated about the situation. To that end, he has been funding billboards with #ENDSARS and relevant information across the United Kingdom.

In North America, multiple artists have come out in support of the cause. Rapper Kanye West tweeted out, "I stand with my Nigerian brothers and sisters to end police brutality, the government must answer to the peoples cries #EndPoliceBrutalityinNigeria"
Meanwhile, fellow artist Drake highlighted a post about the situation on his Instagram story.
SARS Out, SWAT In
As the protests continued, the message and movement evolved. On Sunday, a list of demands began to be circulated on social media.
Beyond wanting SARS disbanded, the demands called for anyone arrested during the protests to be released. It also called for compensation for those killed by police brutality in Nigeria.
It's unknown exactly how many have died as a result of the protests, but Human Rights Watch estimates that upwards of 10 people have been killed by police while protesting.
Demonstrators are also calling for an independent body be set up within 10 days to investigate and prosecute all reports of police misconduct, as well as psychological evaluations and retraining of SARS operatives before they were moved to other units.
Additionally, protesters want to ensure that Nigerian police are adequately paid, so they're less willing to engage in corruption.
Protesters got a major victory on Sunday when the government announced that SARS would be disbanding and there would be investigations into the conduct of the officers. Until those investigations were complete, SARS officers would be placed into other units after a psychological evaluation, in line with protester demands.

However, for many protesters, this wasn't enough. They want widespread police reforms, especially because disbanding SARS isn't a new thing.
This will be the fourth time the unit has been disbanded, and each time it's brought back, it faces the same accusations. It's widely believed that the unit isn't the problem and instead blame the mindset within Nigerian police that allows a unit like SARS to be so brutal and corrupt.
It wasn't until Tuesday that police finally agreed to stop using force against protesters. At the same time, President Muhammadu Buhari gave a speech where he promised that widespread police reforms would come.
"I want to use this opportunity to address the recent genuine concerns and agitations by Nigerians about the excessive use of force, and in some cases extrajudicial killings and wrongful conduct, by men of the Nigerian police force," he said.
"The disbanding of SARS is only the first step in our commitment to extensive police reform in order to ensure the primary of the police and other law enforcement agencies remain the protection of lives." and added, "We will also ensure that all those responsible for misconduct or wrongful acts are brought to justice."
Many Nigerians were bitterly disappointed when it was announced that SARS would be replaced with a group known as Special Weapons Assault Team, or SWAT.

With that, protests continued into Wednesday, and demands have been expanded to call for more fundamental changes to the police system. The calls are similar to ones made against police in countries like the U.S. and U.K. following the death of George Floyd, Breonna Taylor, and others.
Cardi B and Los Angeles Times Face Backlash for Perceived Stances on Armenia and Azerbaijan Conflict
Estimates say that the ongoing conflict between Armenia and Azerbaijani in Nagorno-Karabakh has resulted in more than 1,000 military deaths, on top of dozens of civilian deaths on both sides.
It has also hyper-polarized online communities, causing both celebrities and new outlets to become bombarded with backlash for their perceived stances on the situation.
Rapper Cardi B, for instance, shared a fundraiser for Armenia on her Instagram Story at the request of a business associate and quickly removed it after facing outrage from Azeri internet users.
The artist later admitted she didn't do enough research on the topic before appearing to take a side and only wants peace.
The Los Angeles Times faced similar backlash, but from Armenian activists, after posting an article that featured a quote from an Azeri diplomat.
---
Nagorno-Karabakh Conflict Goes Online
Rapper Cardi B and The Los Angeles Times have each found themselves in hot water after receiving backlash from Azeri and Armenian groups over tweets and articles published over the last two days.
On Monday, The Times ran an article about the ongoing conflict between Azerbaijan and Armenia and its efforts to help the breakaway region of the Republic of Artsakh.
Armenians felt the article was so poorly done that hundreds showed up at the paper's El Segundo headquarters on Tuesday to protest. The group blocked access to the nearby Imperial Highway and adjacent streets, shouting "Shame on the LA Times."
However, many took issue with the fact that it also included a quote from the Consul General of Los Angeles, who provided an unsubstantiated claim.
"The racist and white supremacist propaganda promoted by Armenia and their allies, with which they intend to cash in on the already divisive environment and Islamophobic prejudices, must be condemned by everyone who believe that such dangerous bigotry and intolerance have no place in Europe, U.S. or anywhere else." The Consul general told the Los Angeles Times
Armenian activists claim that including the quote without any pushback was irresponsible and was spreading disinformation.
The ongoing conflict has proven to be hyper-polarizing for all sides involved, and given that Los Angeles has one of the largest Armenian populations in the world, many felt such a strong local reaction was not unsurprising. To give context, there is only one city in the world with a larger Armenian population that the LA-metro area: Yerevan, the capital of Armenia.
Worldwide there have been mass protests from the Armenian diaspora. On Wednesday, Brussels had hundreds of protesters outside of E.U. government buildings chanting "Hayastan!"- the Armenian word for Armenia.
"Just Want Peace"
It's not just Armenians pushing back online. On Monday, Cardi B shared an Armenian fundraiser on her Instagram Story and it turned into a nightmare for the artist. The fundraiser is run by the Armenian government and uses the funds for various projects in Artsakh.
Turkish and Azeri users online pushed back at the artist for appearing to support the Armenian side of the conflict. In fact, some argued that by promoting that fundraiser, Cardi B was supporting terrorism.
By Tuesday morning, she took down the post and issued an apology on Twitter. She explained that she shared the fundraiser as a favor to her Armenian real-estate consultant after a quick conversation.
"He's saying there's a lot of terrible genocides going on in his country," she wrote. "And he says, 'Can you please post something for a cause, a good cause for Armenia?'"
"And we said, 'sure, why not?' you know? We love to support everybody. And I wake up and I see a lot of people from Azerbaijan is writing me things, writing me stuff, and I did not know that this is a war between two countries."
The rapper went on to talk about her positive experience in Armenia but tried to distance herself from the situation by adding that both countries seem to be filled with history and are interesting.
"I did a little bit of research today since you guys left me so much [comments]. My wish is that both the countries would just be at peace. Know what I'm saying?" She added. "There's no little land. You guys already have big pieces of land. There is no little tiny land that is worth chaos death fighting, especially in this year."
She also responded to a user who was trying to push the hashtag #CardiBSupportsTerrorism, writing, "Stfu I don't support terrorism.I literally posted it for my friend with out doing no research on what's going on .Im sorry about that .I don't like war .I don't like conflicts between two countries period cause I hate innocent people being affected by it."
Fighting On the Ground Continues
In Nagorno-Karabakh, fighting has continued since September 27. Over the past week, Azerbaijan claims to have captured some towns in the south of the region. If true, this marks a pretty significant advancement into the territory for Azeri troops.
While the fighting has escalated, so have the casualties, though exact numbers are hard to determine on both sides. Neither Armenia nor Azerbaijan are reporting how many military deaths have occurred since fighting began. Only the breakaway Republic of Artsakh has given any numbers, claiming it has lost 280 soldiers since the fighting began.
Total military deaths are thought to be over a thousand currently.
Even though the combatants are slow to reveal military casualties, they are more open about civilian deaths. Azerbaijan has hit multiple cities in Artsakh with missiles and drone strikes, leading to reportedly over two dozen civilian deaths.
On the other side, Armenian forces are accused of targeting Azeri cities like Ganja with their own attacks, leading to about a dozen deaths.
Brutal Fighting Continues Between Azerbaijan and Armenia Over Breakaway Region
On Sunday fighting broke out between Azerbaijan and Armenia, who is supporting the breakaway Republic of Artsakh in the Nagorno-Karabakh region.
The territory, known as Artsakh to Armenians, is internationally recognized as part of Azerbaijan but has a majority ethnic-Armenian government.
The region is recognized by all United Nations members as being part of Azerbaijan, although Armenia's long-standing support of the breakaway Republic of Artsakh has consistently escalated tensions.
Turkey promised to support Azerbaijan, while other nations around the world have asked for de-escalation.
---
Nagorno-Karabakh or Artsakh?
Long-standing tensions between Armenia, the de-facto independent Republic of Artsakh, and Azerbaijan erupted into fighting Sunday in the highly contested region of Nagorno-Karabakh.
The region is known as Artsakh to ethnic Armenians.
Sunday's fighting broke out across the entire Line of Contact, which is a network of military fortifications that separate forces in the region. The region's capital, Stepanakert, has also been subject to military actions such as shelling and drone strikes.
In addition to fighting on the ground, the conflict has played out online as well. Shortly after fighting began, Hikmet Hajiyev, the head of the Foreign Policy Affairs Department in Azerbaijan, accused Armenia of starting the fighting, saying that on Sunday, the armed forces of Armenia"blatantly violated the ceasefire regime and, using large-caliber weapons, mortar launchers and artillery have launched an intensive attack on the position of the armed forces of Azerbaijan along the frontline."
"The armed forces of the Republic of Azerbaijan are undertaking necessary counter-offensive measures to prevent Armenia's another military aggression and ensure the security of the civilian population," he added. "The responsibility for the present situation and future developments lie squarely with Armenia's political-military leadership."
However, subsequent statements from President Ilham Aliyev suggest that the entire conflict is part of an effort to "retake" the region.
On the Armenian side, Prime Minister, Nikol Pashinyan, tweeted out, "Azerbaijan has launched a missile & aerial attack against #Artsakh. Peaceful settlements including Stepanakert have been attacked."
"Armenian side has shot down 2 helicopters & 3 UAVs, destroyed 3 tanks. We stay strong next to our army to protect our motherland from Azeri invasion."
Initially, there was some skepticism that the fighting escalated to such a point that large munitions were being used on targets, but as the weeks progressed, more footage and images from the fighting show that tanks, aircraft, drones, and artillery have all been deployed.
Fighting, From Bad to Worse
Both sides have announced military and civilian deaths. Armenia claims over 100 military personnel and 23 civilians have died. The Armenian Ministry of Defense added that 230 Azeri soldiers have been killed.
Azerbaijan defense officials claimed on Wednesday to have killed thousands of Armenian and Artsakh troops and to have "destroyed 130 tanks, 200 artillery units, 25 anti-aircraft units, five ammunition depots, 50 anti-tank units, 55 military vehicles."
The conflict seems to have escalated beyond the disputed region itself, with evidence that Azerbaijan has used drones to strike targets within Armenia.
Beyond direct military actions, each government has drawn up more troops. On Sunday, Armenia declared martial law and called for a general mobilization. That same day, the Republic of Artsakh announced all able-bodied men would be drawn into service, while Azerbaijan declared a partial-mobilization.
2020 has seen tensions in the region drastically escalate. Earlier in the year during fighting that broke out in July, 14 people died, including two senior Armenian officers who were killed in a drone strike.
Longstanding, Divisive History
There has been long-standing conflicts over Nagorno-Karabakh. For thousands of years, Armenians have been the ethnic-majority in the mountainous region. During it's various stints as part of other empires, the area was normally ruled by Armenian princes, or outside rulers from occupying powers.
In the 1800's, both Armenia and Azerbaijan became part of the Russian Empire, where Nagorno-Karabakh was administered in the same zone as Azerbaijan and other Caucus territories, while Armenia was administered as its own polity. When the empire dissolved during World War I, both nations gained their independence and promptly went to war over who controls Nagorno-Karabakh.
During that war, the Soviets took over both nations and made forcefully brokered a peace that eventually saw Stalin putting the region under the administrative control of the Azerbaijan Soviet Republic, despite its Armenian majority.
For many Armenians, especially those living in the Nagorno-Karabakh, this was unacceptable and the catalysts for the modern conflict. Census data from the time shows it was roughly 90% Armenian.
Open conflict didn't occur again until the decline and fall of the Soviet Union. In the late '80s both Armenia and Azerbaijan, while still nominally part of the same country, went to war over the territory.
When they both declared independence in 1991, so did the Armenians within Nagorno-Karabakh, calling themselves the Republic of Artsakh. The war devolved into Armenia and the Republic of Artsakh fighting Azerbaijan. All sides accused the others of ethnic cleansing in the region. Leading to Armenians leaving Azerbaijan to Nagorno-Karabakh, while Azeris fled to other parts of Azerbaijan.
Now the region is nearly 100% Armenian.
A ceasefire was signed that left all sides unhappy. Azerbaijan refused to give up any claims to the land, while Armenia has stationed troops in the region to reinforce the Republic of Artsakh. However, the entire region is still internationally recognized as part of Azerbaijan.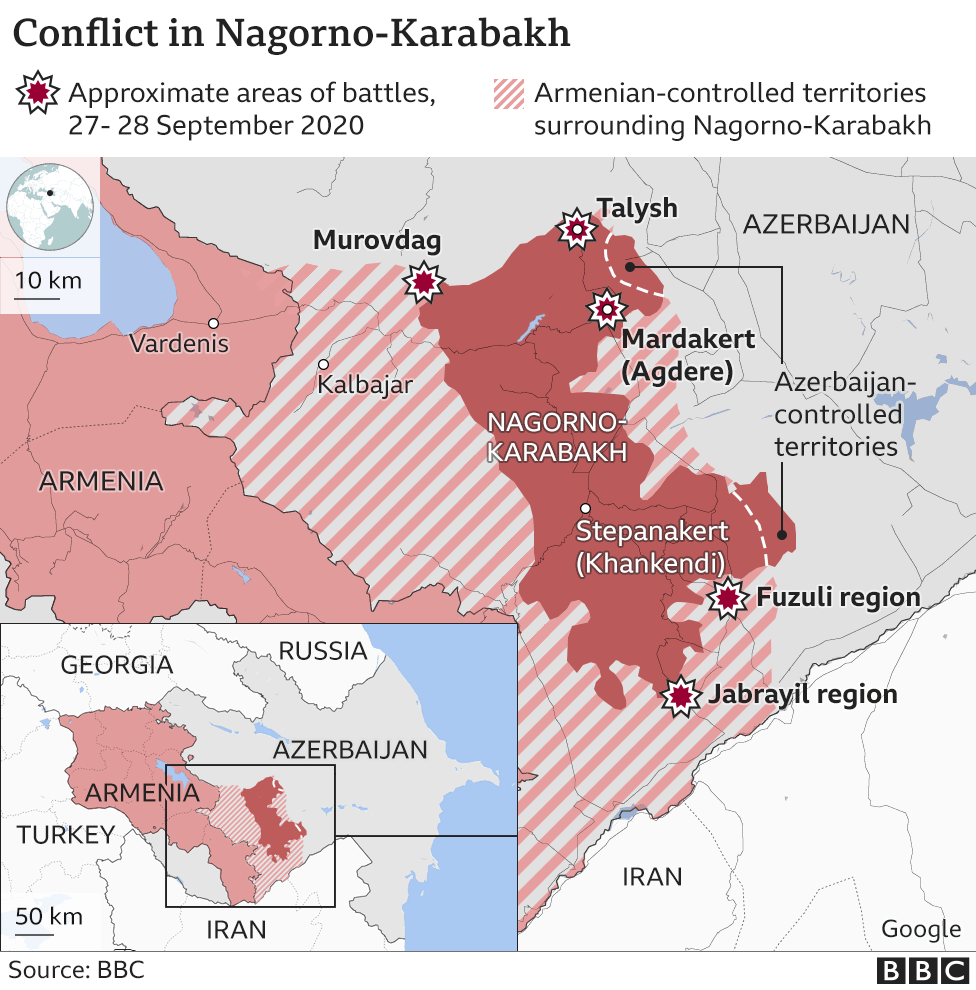 No UN-member state, not even Armenia, officially recognize the Republic of Artsakh as independent.
Calls for Peace
Around the world, countries have come out in various ways to show support or call for peace. On Sunday, Turkish President Recep Erdogan sent out a series of tweets not only blaming Armenia for the attacks but also saying "it is the biggest threat to peace and tranquility in the region."
He went on to call on Armenian to resist their government "who use them like a puppet."
Most countries took a more neutral stance, asking that the two sides deescalate the situation. An Iranian foreign ministry spokesperson told state TV on Sunday, "Iran is closely monitoring the conflict with concern and calls for an immediate end to the conflict and the start of talks between the two countries."
French, Russian, and U.S. officials also called on both sides to stop fighting, along with the Organization for Security and Co-operation in Europe (OSCE). the OSCE, who France, Russia, and the U.S. are all a part of, was responsible for mediating the ceasefire between Armenia and Azerbaijan back in the '90s.
Call for peace haven't made much headway, as both Armenia and Azerbaijan have rejected any calls for another ceasefire.