CDC Reports Largest U.S. Measles Outbreak Since 2000
The CDC reported 695 cases of the measles in 22 U.S. states.
This means measles cases in the country have now exceeded the highest number on record in a single year since the disease was eliminated in 2000.
---
CDC Report
The number of measles cases in the U.S has risen to 695 as of Wednesday afternoon, the highest annual number recorded since the year 2000, according to a statement by the Center for Disease Control and Prevention.

The CDC confirmed that the cases have been reported in 22 different states. Those states are: Arizona, California, Colorado, Connecticut, Florida, Georgia, Illinois, Indiana, Iowa, Kentucky, Maryland, Massachusetts, Michigan, Missouri, Nevada, New Hampshire, New Jersey, New York, Oregon, Texas, Tennessee, and Washington.

The high number of cases this year are mainly the result of a few large outbreaks. One of the outbreaks appeared in Washington state. Two others occurred in New York state and city, centering in Orthodox Jewish communities. The issue became so massive that it led New York officials to take extraordinary measures, including $1,000 fines and bans on unvaccinated children in public.

The New York outbreaks began in 2018, making them now among the largest and longest lasting outbreaks since the diseased was eliminated in 2000.
In 2000, only 86 cases were reported and measles was considered formally eradicated from the country. Previously, the highest number of reported cases since elimination was 667 in 2014. In that record, unvaccinated people in Amish communities in Ohio account for more than half of the total.

"The longer these outbreaks continue, the greater the chance measles will again get a sustained foothold in the United States," the agency said in a statement.

The outbreaks are linked to travelers who brought measles back from countries such as Israel, Ukraine, and the Philippines, where large measles outbreaks are also occurring. However, the CDC directly blames misinformation for the spike in measles, which is considered one of the most preventable diseases.

"A significant factor contributing to the outbreaks in New York is misinformation in the communities about the safety of the measles/mumps/rubella vaccine," the CDC's statement reads. "Some organizations are deliberately targeting these communities with inaccurate and misleading information about vaccines."

The agency said it was working around the clock to protect Americans from the disease and confirmed that Vaccination is the best way to protect against measles. The CDC is encouraging local leaders and parents to counter misinformation with accurate science-based research.

Avoidable Issue
Health and Human Services Secretary Alex Azar also issued a statement where he called the rise in cases "avoidable."

"Measles is not a harmless childhood illness, but a highly contagious, potentially life-threatening disease," Azar said."We have the ability to safely protect our children and our communities. Vaccines are a safe, highly effective public health solution that can prevent this disease. The measles vaccines are among the most extensively studied medical products we have, and their safety has been firmly established over many years in some of the largest vaccine studies ever undertaken."

To help support the spread of credible information, the Department of Health and Human Services will undertake a comprehensive campaign to reinforce the message that vaccines are safe.

The CDC also said it is ready to support public health departments in monitoring and responding to outbreaks. The agency is set to release another update of the latest recorded outbreaks on Monday.

For more information about the measles vaccine, please visit: https://www.vaccines.gov/diseases/measles

Fire Officials Warn of Viral TikTok "Outlet Challenge"
Massachusetts firefighters are warning of an electrical "outlet challenge" seen on Tiktok that can cause fires or electrocution.
The challenge involves partially inserting a cell phone charger into an outlet and trying to produce a spark by touching the exposed prongs with a penny.
In two local schools, teens started a fire or torched outlets and are now facing charges of arson, attempted arson, and malicious damage to property.
---
"Outlet Challenge" Warning
Massachusetts fire officials are warning of a dangerous electrical "outlet challenge" spreading across TikTok after at least three reported incidents raised concerns.
The challenge involves partially inserting a cell phone charger into an outlet, then trying to produce a spark by touching the exposed prongs with a penny.
Massachusetts Fire Marshal Peter Ostroskey issued a letter to all of the state's fire chiefs on Monday warning of the viral social media challenge that has lead to copycat behavior. In the memo, Ostroskey said that his office had already received reports of two instances where teens tried to recreate the stunt.
"The result is sparks, electrical system damage, and in some cases fire," Ostroskey wrote.
He advised fire officials to reach out to local news outlets, school officials, and parent organizations to make them aware of this trend, writing, "Alert them to this challenge, advise them to, not only look for signs of fire play like scorched outlets, but to have conversations about fire and electrical safety with tweens and teenagers."
Charges Against Teens Involved
One of the incidents Ostroskey cited resulted in damage to an outlet inside a home. The other sparked a fire inside Westford Academy. The spark at Westford Academy created smoke that set off the school's fire alarm, local authorities reported.
The student responsible for that incident is now facing charges, including arson and malicious damage to property, Westford Police Captain Victor Neal told CNN.
Meanwhile, NBC Boston reported that two students at Plymouth North High School were caught attempting the challenge twice in a matter of minutes inside a classroom on Tuesday.
Firefighters found two scorched outlets and a phone charger with a penny fused to the prongs, according to Plymouth Fire Chief Edward Bradley. There were no injuries, but the school's superintendent Gary Maestas said the students involved could face serious consequences.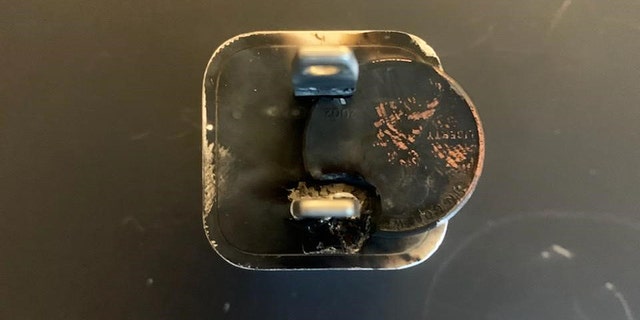 "We are working with the Plymouth Police and Fire Departments to fully understand the scope of this issue and pursue charges to the fullest extent of the law," Maestas wrote in a statement.
Plymouth police said the two 15-year-old male students face charges of attempted arson and malicious damage to property under $1,200.
Dangers of the Stunt
"I don't think students comprehend the reality that they can be electrocuted and killed, or start a fire," said Chief Bradley.
Aside from starting fires or facing potential electrocution, Bradley said the challenge could also cause damage to electrical wiring behind walls, which could allow fires to burn within the walls undetected and endanger everyone in the building.
"Social media elevates it," Bradley added. "They see it online, they see someone do it, they start laughing, they run away and no one gets hurt and they assume the same will happen when they do it, so they think it's funny to do it in a classroom."
"Parents need to talk to their children and tell them if you see this stuff, don't try to imitate it."
See what others are saying: (CNN) (Fox News) (Time)
Virginia Senate Votes in Favor of 'Red Flag' Gun Bill
Virginia's Senate passed a "red flag" law, which allows law enforcement to temporarily take firearms away from an individual who is deemed a threat to themselves or others.
The vote was close and fully along party lines, with 21 Democrats voting in favor and 19 Republicans voting against it.
Democrats believe the law will prevent gun violence in the state, but Republicans see it as a threat to the Second Amendment.
The vote happened just a few days after a large, and mainly peaceful, pro-gun rally was held in Virginia's capital, Richmond.
The bill still has to go to the state's House of Delegates, which has a slight Democratic majority.
---
Red Flag Law Passes Senate
Virginia's State Senate narrowly passed a bill Wednesday allowing law enforcement to temporarily confiscate firearms from someone deemed a threat, commonly referred to as a 'red flag' law.
The tight vote was strictly along party lines, with all 21 Democrats in the Senate voting yes, and 19 Republicans voting no. The bill, SB 240 specifically states that a law-enforcement officer or attorney can apply for an emergency substantial risk order. This order would "prohibit a person who poses a substantial risk of injury to himself or others from purchasing, possessing, or transporting a firearm."
If that order is issued, a judge or magistrate can issue a search warrant allowing for firearms to be temporarily removed from that person. Democrats in Virginia have long been fighting for gun-control measures to be passed. They stand behind SB 240 because they believe it will lead to fewer mass shootings and other forms of gun violence in general.
State Sen. Janet Howell (D-32) tweeted that she believes this bill will prevent crime.
Sen. George Barker (D-39) first introduced the bill. According to the Washington Post, he said it moved the state in "a positive direction" and the law could "protect lives and reduce violence in Virginia."
State Democrats are not alone in supporting this measure. Nationally, red flag laws generally have a lot of support from the public. According to an August 2019 study from APM Research Lab, Americans are generally in favor of these kinds of legislation.
The study found that 77% support family initiated orders and 70% support police initiated orders. Even when it comes to political parties, both a majority of Republicans and Democrats support it. Gun owners also support it, though by a lesser margin, with 67% of the demographic supporting family initiated orders and 60% supporting police initiated ones. 
Still, Virginia's Senate Republicans were strongly opposed to the measure. They believed it was a heavy infringement on peoples' right to bear arms.
"Each legislator that votes in favor of this bill in my opinion is a traitor to Virginia, a traitor to the Second Amendment and a traitor to our constitutional freedoms," said Republican Sen. Amanda Chase (D-11).
The NRA called SB 240 an "unnecessary attack on Second Amendment rights."
Pro-Gun Rally and What Happens Next
SB 240 is one of many gun control laws Virginia is working on passing. This Senate vote came just a few days after a major pro-gun rights rally happened in Richmond, Virginia's capital city.
Virginia Governor Ralph Northam declared a state of emergency ahead of Monday's event, and guns were not allowed at the rally, largely over fears that there could be a repeat of what happened in Charlottesville in 2017.
According to reports, about 22,000 people attended the rally, which remained largely peaceful. No violence was reported, though some extremist groups were present.
At the rally, several of the gun-rights activists spoke out against the gun control legislation floating through Virginia. One clip from the rally, shared by BuzzFeed News reporter Andrew Kimmel went viral. In it, Richard Vaughan, Sheriff of Grayson County in Virginia, said he and his county would not enforce enacted gun control legislation.
This is Sheriff Richard Vaughan of Grayson County, VA. "If the bills go through as proposed, they will not be enforced. They are unconstitutional." This is not true, according to the Exec. Dir. of the VA Assoc. of Chiefs of Police… #Richmond2ARally pic.twitter.com/mjpQupE6of

— Andrew Kimmel (@andrewkimmel) January 20, 2020
"If the bills go through as proposed, they will not be enforced," he said. "They are unconstitutional. We support and uphold the constitution of the United States and the constitution of Virginia. And that's what we'll do." 
SB 240 is not set in stone yet, though. The bill still has to go to Virginia's House of Delegates, which has a Democratic majority but only by a slim margin.
Michelle Carter, Who Encouraged Her Boyfriend's Suicide, Released From Prison Early
Michelle Carter was released early from prison for good behavior after serving 11 months of her 15-month sentence for involuntary manslaughter.
Carter was charged in 2017 after encouraging her boyfriend to kill himself through text messages and phone calls as he contemplated suicide.
Her release comes about a week after the US Supreme Court said it would not hear her appeal to overturn her conviction.
---
Who is Michelle Carter?
Michelle Carter, the Massachusetts woman who encouraged her boyfriend's suicide when she was 17-year-old, was released from prison Thursday, months ahead of schedule.
The now 23-year-old was found guilty of involuntary manslaughter in 2017 after making a series of texts and calls to 18-year-old Conrad Roy III, convincing him to carry out plans to take his own life. Roy died by suicide in 2014 when he poised himself with carbon monoxide inside of his pickup truck.
According to investigators, Carter suggested multiple ways for Roy to end his life and at one point even pushed him to return to his car when he was having second thoughts.
Carter was released from the women's center at the Bristol County House of Corrections after serving 11 months of her 15-month sentence. She had previously been denied parole in September but according to the Bristol County Sheriff's Office, she has now earned enough credit for good behavior and attending jail programs to qualify for an early exit.
"Ms. Carter has been a model inmate in Bristol County," a spokesperson for the Sheriff's Office said in a statement. "She has attended programs, had a job inside the jail, has been polite to our staff and volunteers, has gotten along with other inmates, and we've had no discipline issues with her whatsoever."
Conviction Stands
Carter's released comes about a week after the US Supreme Court said it would not hear her appeal to vacate her conviction.
During her 2017 sentencing, the judge ruled that her "virtual presence" made her responsible for Roy's death. Her legal team fought against the verdict, but Carter ultimately began serving her prison sentence last February after Massachusetts' highest court refused to overturn her conviction.
Carter's lawyers then filed a petition to the Supreme Court last July, arguing that it was against her First Amendment rights to free speech to convict her "based on words alone." Her lawyers also questioned whether the conviction was constitutional in regard to the Fifth Amendment's due process clause.
The Supreme Court's refusal to see Carter's case left her conviction intact and while she has now completed her time behind bars, Carter still has five years of probation to serve.
In response to the news of her release, Roy's family said, "news of the Supreme Court denying to hear her case far out shadowed the news of her early release. Her time in jail, no matter how long or short, will not change the outcome of a guilty verdict which is thankfully being upheld."
"July 12, 2014, our lives were forever changed, and the world lost a beautiful soul. Michelle Carter is the reason for that," the statement continued. "She was the only person who could have saved him. She didn't, in fact she was on the line with him as he was dying, moaning in pain, gasping for last breaths. Who could do that?"
"She did, and we'll never really know why."
See what others are saying: (NBC News) (Fox News) (CNN)